Drinkable Straw Jelly Tapioca Desserts Now Serving at Ginza Cozy Corner
It is no secret that Japanese desserts are not only delicious, but beautiful works of art crafted with meticulous love and care. If you're looking to tickle that sweet tooth of yours then you'll want to pay a visit to any branch of Ginza Cozy Corner in Japan which sell everything from cakes to traditional Japanese sweets.
The shop has just added two new flavours to its Straw Jelly series of desserts which it advertises as "sweets that you can drink" as they find that fine line between drink and dessert. These are the Strawberry & Blueberries and the Mango Passion. Both arrived on July 12 and are available for a limited time only.
The Strawberry & Blueberry features a layer of strawberry flavoured jelly with fresh strawberries and blueberries and second layer of cream cheese filled with tapioca pearls.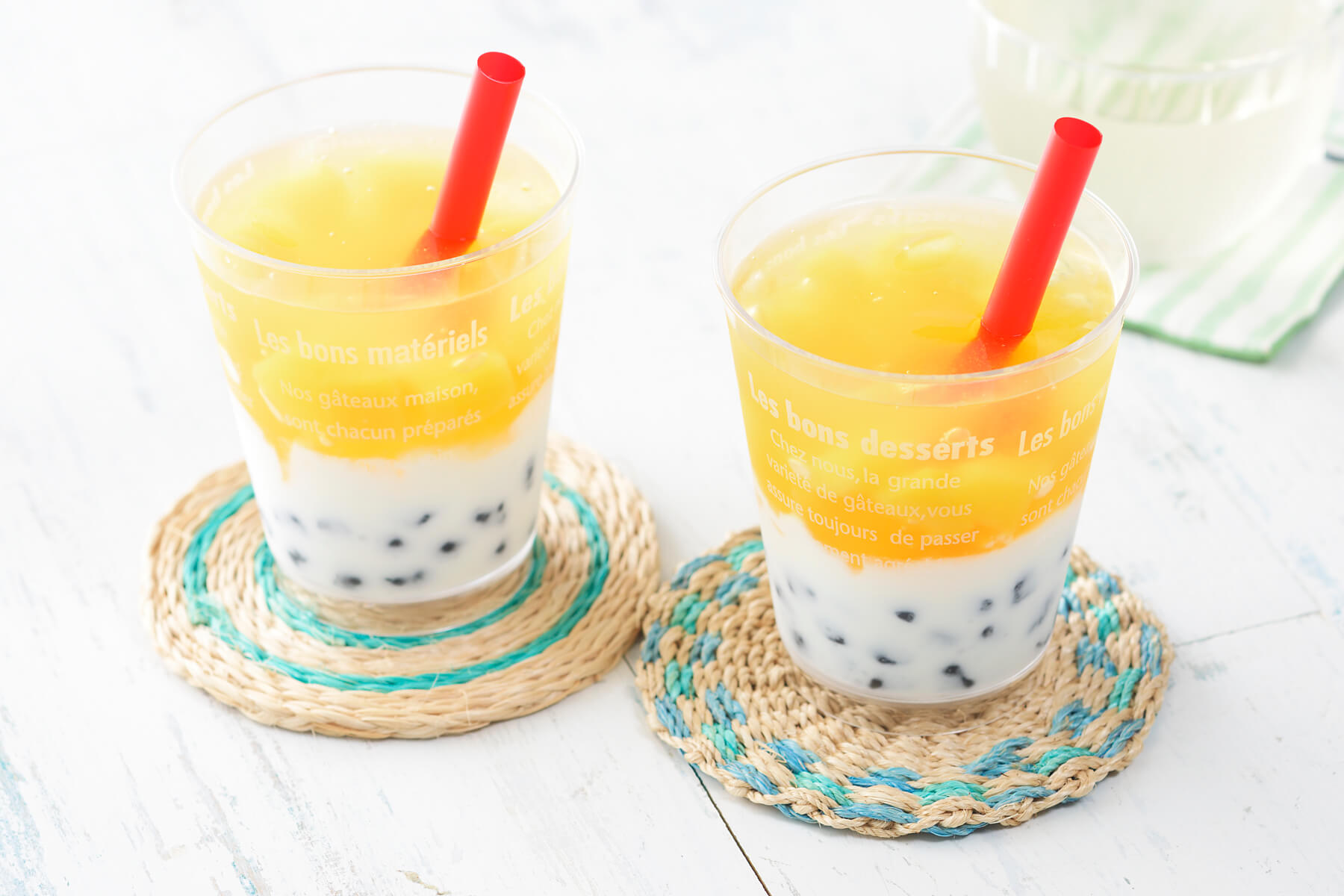 Our second option, the alluringly named Mango Passion, is topped with passion fruit jelly packed with a mango compote. Underneath it is a creamy coconut mousse laced with tapioca pearls.
We are completely spoiled for choice between these two syrupy and chewy delicious delights. Both are on sale right now at Ginza Cozy Corner until August 29.
Information
Straw Jelly – Strawberry & Blueberry / Mango Passion
Available: July 12, 2019 – August 29, 2019
Price: ¥378 (Tax Included)
*Please note that stock may sell out. Please also note that select branches are not participating in the selling of these desserts.
Ginza Cozy Corner Official Website: https://www.cozycorner.co.jp/index.html
RELATED ENTRIES
Luxurious Gin Infused White Chocolate by Dean & DeLuca Tempts With Tasty Allure

Asakusa-based 'aromatic raw chocolate' brand MAISON CACAO created a new gin-flavoured white chocolate for Dean & DeLuca which was released in Japan on January 15, 2021.

The "Aroma Raw Chocolate (Gin)" keeps the original flavour of the white chocolate and infuses with a craft gin known as "COMMON" by Toranomon Joryusho.

Aroma Raw Chocolate GIN FOR DEAN & DELUCA | ¥2,592 (Tax Included)

​One bite into a piece of this artisanal chocolate fills the mouth with a tang of subtly fruity chocolate. Then comes the refreshing taste of the gin which complements the sweetness and adds sophistication to the chocolate in an exquisite balance of flavours.

 COMMON gin is fruity and clear

COMMON craft gin has a 'botanical' flavour. Its base is a shochu made on the islands of Hachijō-jima and Nii-jima. It also contains soft water taken from Okutama Sawai.

"It has a faint fruity taste that combines with the flavour of the cacao, and he used really delicious white chocolate," explains Shingo Ishihara of MAISON CACAO who helped in the chocolate's development. "I hope people indulge in its enjoyable melt-in-the-mouth texture."

Information

Aroma Raw Chocolate GIN FOR DEAN & DELUCA

Japanese Name: アロマ生チョコレート GIN FOR DEAN & DELUCA

Released: January 15, 2021
DEAN & DELUCA Official Website: https://www.deandeluca.co.jp/

Snoopy and Charlie Brown Turn Into Confections at Japanese Convenience Stores

Bandai's character-inspired Japanese confectionery series Tabemas is releasing two new traditional Japanese wagashi confections inspired by the Peanuts comic series. Snoopy and Charlie Brown will arrive at Lawson convenience stores across Japan on January 19, 2021.

Tabemas Snoopy | ¥264 Each (Before Tax)

The cute confections capture the little details of the iconic characters, from Snoopy's doggo features and collar to Charlie Brown's hair and shirt. The Snoopy confection is filled with chocolate bean paste—a nod to his favourite chocolate chip cookies—while Charlie Brown is filled with custard bean paste as a nod to his trademark shirt. The packaging features exclusive art drawn for the Peanuts comic's 70th anniversary with Snoopy atop his dog house.

© 2021 Peanuts Worldwide LLC

Information

Tabemasu Snoopy / Charlie Brown
Release Date: January 19, 2021

Available: At the chilled sweets section of Lawson convenience stores in Japan (Excluding Natural Lawson and Lawson Store 100)

*Available while supplies last

*Stock date may differ from branch to branch

*Select stores not participatingProduct Page: https://www.bandai.co.jp/candy/tabemas/snoopy03/

Delicious Valentine's Day Desserts Served Up at Eggs 'n Things

Eggs 'n Things is set to serve up a special limited-time Valentine's menu in Japan from January 16 to February 28 including the Torokeru Fondant Chocolate Pancakes and Strawberry & Banana Chocolate French Toast.

Valentine's Menu

Torokeru Fondant Chocolate Pancakes | Eat In ¥1,480 (Before Tax)

Torokeru Fondant Chocolate Pancakes | Takeout ¥1,080 (Before Tax)

 

Strawberry & Banana Chocolate French Toast | Eat In ¥1,380 (Before Tax)

Strawberry & Banana Chocolate French Toast | Takeout ¥980 (Before Tax)

Valentine's Drinks

Strawberry White Mocha | Hot or Iced ¥680 (Before Tax)

Hawaiian Cafe Mocha | Hot or Iced ¥580 (Before Tax)

This lovingly-prepared chocolate and fruit-loaded line-up is sure to get the butterflies stirring hungrily for this year Valentine's.

Miffy Cookies Get Baked Up by Netherlands Confectionery Theo Blom at Dick Bruna TABLE

The popular wine bar Dick Bruna TABLE, where customers can enjoy a glass of wine with a meal together with illustrations by Dick Bruna, the creator of Miffy, is now selling a batch of Miffy cookies created by the popular confectionery Theo Blom located in Utrecht, Netherlands.

Miffy Cookies & Chocolate | ¥4,000 (Before Tax)

Miffy Cookies | ¥4,000 (Before Tax)

Utrecht is the birthplace of Miffy author and creator Dick Bruna, and Theo Blom is a place that Bruna himself actually often visited. The confectionery is known for its tins which can be reused after the contents are eaten. The cute Miffy tins are definitely keepers.

Information

Dick Bruna TABLE – Miffy Cookies & Chocolate
Released: Mid December 2020
Location: Dick Bruna TABLE
Address: 3-1-1 Sannomiyacho, Chuo-ku, Kobe
Opening Hours:
[Weekdays] 11:00-15:00 (Last Orders 14:00) / 17:00-23:00 (Last Orders 22:00)
[Saturdays] 11:00-23:00 (Last Orders 22:00)
[Sundays/Public Holidays] 11:00-21:00 (Last Orders 20:00)
Access: 078-333-3332
Official Website: https://dickbrunatable.com/

McDonald's Japan Adds Crème Brûlée and Belgian Chocolate Pies to the Menu

McDonald's Japan is bringing back its popular Belgian Chocolate Pie from last year and is also introducing a new Crème Brûlée Pie, both of which will hit the menu at all McDonald's branches from January 13 for a limited time.

Crème Brûlée Pie | ¥150 (Before Tax)

Belgian Chocolate Pie | ¥150 (Before Tax)

The hot pies are filled with deliciously sweet cream and are a perfect, cosy treat during the cold weather.

Information

Crème Brûlée Pie / Belgian Chocolate Pie
Serving: January 13, 2021 – Mid February 2021
Available: McDonald's Japan
Price: ¥150 Each (Before Tax)
Official Website: https://www.mcdonalds.co.jp/

Nana's Green Tea x Häagen-Dazs Release Chocolate Matcha Glass Dessert

Nana's Green Tea is serving up a brand-new dessert in collaboration with Häagen-Dazs for Valentine's Day at 77 branches in Japan. The dessert was released on January 6 and will be available up to February 14.

Matcha Chocolate Glass with Häagen-Dazs | ¥880 (Before Tax)

The dessert is a tempting sight to behold – not only is it delicious but visually appealing to the eye too, and layered with various textures so that every bite is a surprise.

The dessert is made with Häagen-Dazs' "Sweet Chocolate" ice cream coupled with Nana's Green Tea's own original matcha ice cream, soft and crunchy meringue sticks, crumbled cookies, white chocolate whipped cream, and matcha chiffon cake. Sat at the bottom waiting to be discovered is a sweet strawberry sauce for a tangy kick.

Information

Nana's Green Tea – Matcha Chocolate Glass With Häagen-Dazs
Serving: January 6, 2021 – February 14, 2021
Price: ¥880 (Before Tax)
Available: 77 Nana's Green Tea branches in Japan (Excluding DiverCity Tokyo Plaza, Tokyo Dome, and Iias Okinawa Toyosaki)
Official Website: http://www.nanasgreentea.com/

Mister Donuts x Pierre Marcolini Luxury Doughnuts Hit Japan

Mister Donuts has teamed up with Belgian chocolate brand Pierre Marcolini to release the "misdo meets PIERRE MARCOLINI Collection" of doughnuts which hit Japanese branches on Friday (January 8).

Fondant Chocolate Doughnut – Chocolate | ¥200 (Before Tax)

Fondant Chocolate Doughnut – Caramel | ¥200 (Before Tax)

Fondant Chocolate Doughnut – Raspberry | ¥200 (Before Tax)

Fondant Chocolate Doughnut – Hazelnut | ¥200 (Before Tax)

Danish Chocolate – Raspberry | ¥230 (Before Tax)

Danish Chocolate – Hazelnut | ¥230 (Before Tax)

The doughnuts are part of Mister Donuts "misdo meets" series which first began in 2017 to combine the highest quality ingredients and techniques to in order to bake up the best possible doughnuts. This time, it has joined sticky bakers fingers with the popular Begian chocolate brand Pierre Marcolini to create a new kind of fondant chocolate doughnut and danish. The line-up is made with high quality authentic chocolate and has a bitter kick to it – perfect for those who aren't into sweeter treats. The heart-shaped danishes are also spot on for the Valentine's season in Japan.

Information

misdo meets PIERRE MARCOLINI Collection
Serving: January 8, 2021 – Mid March 2021
Available: Mister Donut Japan (Select branches not participating)
Official Website: https://www.misterdonut.jp

Gudetama Doughnuts at Floresta Celebrate the New Year

Floresta Nature Doughnuts, a doughnut cafe that hand-makes doughnuts using organic ingredients, is baking up two new Gudetama doughnuts with New Year's messages on them. They will be served from January 9 to 24.

Florest Gudetama Collab Doughnuts | ¥450 (Before Tax)

The doughnuts capture the lazy and lethargic energy of Gudetama. The crowning Gudetama is made from Japanese pumpkin and is sat on a bed of sweet white chocolate. Both doughnuts are also available as a set coming with an extra of any of Floresta's signature doughnuts.

Relax and take in the new year together with Gudetama.

7 Days of Strawberry Dessert Love at Isetan Shinjuku This January

Isetan Shinjuku has announced a special one-week event titled "7 Days of Loving Strawberries" which is centred around cute and delicious strawberry desserts and will run this month from January 13-19. Ten cafes and restaurants are participating with a sweet and succulent line-up including strawberry daifuku, strawberry shortcake, special parfaits and crepes, and more.

Strawberry Candle Pavlova @ mihopan popcake | Two for ¥972 (Tax Included) *Limited quantities

MIGAKI-ICHIGO Strawberry Parfait @ Ichibiko | ¥1,980 (Tax Included)

Strawberry Shake @ Ichigo-ya Sunsunen | ¥721 (Tax Included)

Crispy Strawberry Mille-Feuille Crepe @ Sorairo Crepe | ¥935 (Tax Included) *Limited quantities

Strawberry Shortcake Parfait @ Shiseido Parlour | ¥1,045 (Tax Included)

Strawberry Daifuku @ Berry UP! | ¥432 (Tax Included)

Ripe Strawberry Milk Pudding @ Kanjyuku Ichigo Kashi Kekyusho | ¥486

Whole Strawberry Sandwich @ Sajisakon | From ¥864 (Tax Included)

MIGAKI-ICHIGO Strawberry Daifuku @ Seigetsudo Hoten | ¥432 (Tax Included)

Information

7 Days of Loving Strawberries (Japanese Name: いちごに恋する七日間)
Running: January 13, 2021 – January 19, 2021
Location: Isetan Shinjuku Floor B1F
Official Website: https://mi-journey.jp/foodie/66251/

Matcha and Strawberry Parfaits Whipped Up at Saryo FUKUCHA in Kyoto

Saryo FUKUCHA in Kyoto is now serving up a very special selection of succulent strawberry and matcha parfaits until May 30, 2021. These exquisite delights will see only 10 made of each per day.

Saryo FUKUCHA is a cafe that was opened by FUKUJUEN in Kyoto Station in April 2019. This year, they have brought back their extremely popular strawberry and matcha parfaits : the Konome, Konoha, and Konoka. They have also introduced a new addition to the line-up: the Strawberry & Matcha Milk Parfait. Also on the menu is a strawberry matcha latte.

Matcha & Strawberry Parfaits


Konome | ¥1,350


Konoha | ¥1,450


Konoka | ¥1,550


Strawberry Matcha Milk Parfait | ¥800


Strawberry Matcha Latte | ¥650

Discover the taste of Japanese tea in a new way with Saryo FUKUCHA's matcha and strawberry parfaits and latte.

Information

Saryo FUKUCHA
Address: 901 Higashi Shiokojicho, Karasumadori Shiokoji Sagaru,, Shimogyo-Ku Kyoto Station Bldg. 2F, Kyoto 600-8216 Kyoto Prefecture
Opening Hours: 8:30-21:00 (Last Orders 20:30)
*The cafe is currently running on reduced opening hours as of December 25, 2020 due to COVID-19. Hours are now 08:30-19:00 (Last Orders 18:30) on weekdays and 08:30-20:00 (Last Orders 19:30) on weekends. Times are subject to change.
TEL: 075-744-0552

Official Website: https://fukucha-fukujuen.com/

Tuck Into a Strawberry and Herb Full Fruit Course at Fruits Salon in Ginza

Fruits Salon, a cafe inside Beauty Connection Ginza that serves full courses of fruit, has introduced a new strawberry and herb course to its menu which is being served until February 1, 2021.

Fruits Salon opened in November last year and garnered much attention for its full course fruit dishes. In August, the cafe served up the "Peach Full Course" which proved super popular. Last month, they offered a menu centred on juicy and sweet grapes. For December and January, the course features four items that combine the taste of seasonal strawberries and fragrant herbs.


Strawberry & Herb Full Course | ¥4,400 (Tax Included)

1st Plate: Shortcake

The first plate is a strawberry herb shortcake which contrasts beautiful red strawberries with white cream. It contains a jam made with milk sauce and gin, resulting in a harmonious balance between sweet and sour.

2nd Plate: Soup

The second plate is a hot strawberry and elderflower soup, combined with a mix of creamy yogurt, pistachio salt, and red wine reduction.

3rd Plate: Parfait

The third plate is the main: a milk gelato parfait with sorbet and chamomile. It also contains granita and champagne. The glass is completely stuffed to the brim and overflowing with sweet treat delights.

This extravagant full course is booking-only and lasts 90 minutes. That's 90 minutes of pure indulgence.

Information

Beauty Connection Ginza Fruits Salon
Address: GINZA gCUBE 2F, 7-9-15 Ginza, Chuo-ku, Tokyo
Opening Hours: 11:00-20:00
Closed: Tuesdays
TEL: 03-6263-8392

Official Website:  https://www.beauty-connection.jp/fruits/

Japan's Kirby Cafe to Celebrate the Near Year With a Special 2021 Menu Addition

The Kirby Cafe in Tokyo has announced a seasonal dish for the new year as part of the cafe's "Sweet NEW YEAR 2021" celebration which it will begin serving from January 1, 2021.


Kirby Burger & New Year Dessert | ¥1,980 (Before Tax)

The dish comes with a miniature version of Kirby Cafe's popular burger on a teeny-tiny plate measured at just 10cm in circumference.

The mini dish looks super cute lined up next to the cafe's plush toys.


The plate that the food is served on comes as a free souvenir which you can take home with you after eating. These will be limited in stock so will be available while supplies last for the New Year.

Information

Sweet NEW YEAR 2021
Kirby Burger & New Year Dessert
Serving: January 1, 2021 – January 31, 2021
Kirby Cafe Official Website/Table Reservations: https://kirbycafe.jp