Explore The Hidden Beauty, Culture And Local Cuisine Of Hida Takayama In A Yukata
Shimocho is one of the districts of Hida Takayama and is overflowing with traditional culture that you absolutely must experience. To make the most of your trip, there is a summer yukata-wearing programme running from July 20th which is the perfect opportunity to wear cooling and refreshing Japanese clothes while strolling and exploring the streets. 
This year will be the 7th time the programme has been run. The Hida Takayama de Nippon no Natsu Yasumi programme allows visitors to dress in a comfortable and cooling yukata, stroll, explore, try different foods and enjoy the culture of the area. This year's theme is "romance and yukatas" and gives visitors the opportunity to enjoy programme-limited desserts and the rich culture of the district.  
Discover Hidden Beauty with the Stroll Map
Visitors will be given a map packed with wonderful spots of the area. The map will also include the destinations of 31 shops where you can enjoy special experiences, meals and desserts that are limited to those who take part in the yukata programme. Recommended spots to visit are also drawn on the map in a very cute handwriting-like style, so you can stop by these places easily while enjoying your walk. There are even many places on the map that only a local would know about. 
Some of the special benefits of the programme allow you to enjoy the best regional cuisine that Hida has to offer, including the wonderful experience of restaurants that have been loved by the locals for generations, a beef delicacy restaurant, and much more. Besides food, the programme also gives you the opportunity to witness the beautiful festival floats used during the Takayama festival at the Takayama Matsuri Yatai Kaikan. You can also enjoy experiencing baking your own senbei crackers and gold panning.  
The programme includes a wide range of experiences for you to enjoy from local shops to food to culture to some new experiences.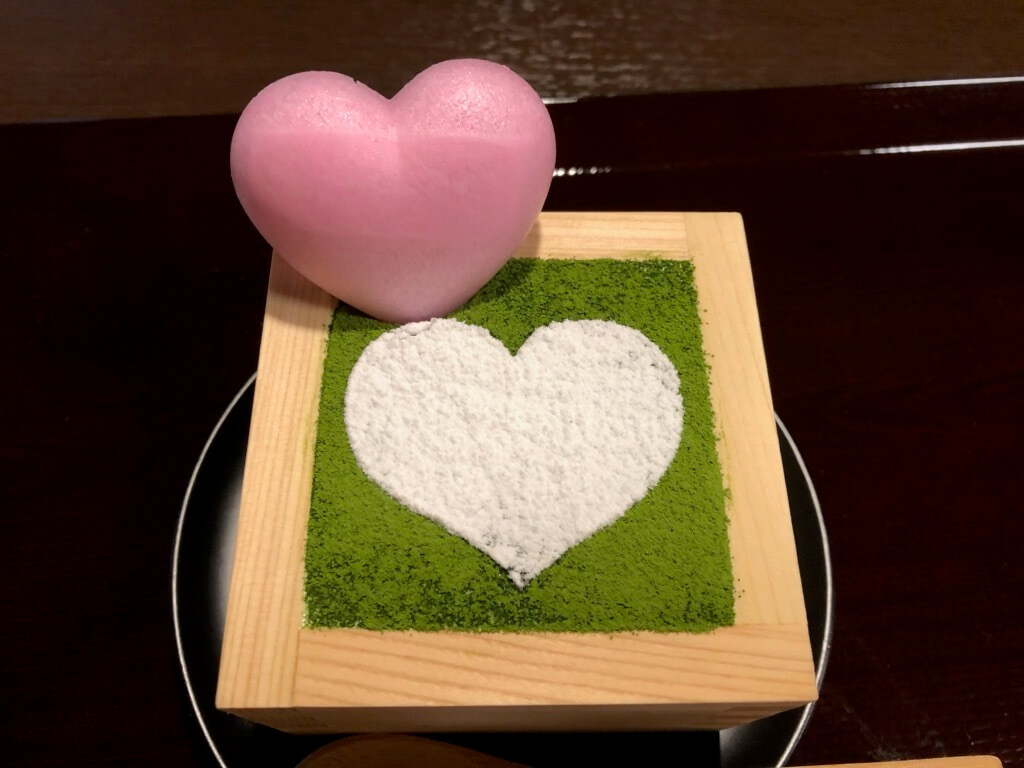 An old-style café called Sabou Usagi is particularly popular with the locals. Here, the coffee is made using a vacuum coffee maker. With the summer programme, you can enjoy the delicious heart Tiramisù served here.
The stroll map includes a variety of locations such as the Takayama Tourist Information Centre, Hida Takayama Tourism Convention Association, Hida Takayama Travel Hotel Association and much more. The map also includes some of the accommodations available around Takayama, some important train stations and much more. You can easily download this map from the official website. (Japanese only )  
Stroll the Streets in an Elegant Yukata
Change into a traditional Yukata that matches the beautiful surrounding townscape. There are four shops Yukata rental shops available to pick up your favourite Yukata, so there is no need to worry if you did not come prepared. There are also some accommodations that allow for yukata rental. 
If you decide to join the Hida Takayama Nippon Natsu Yasumi programme, make sure to share your beautiful memories on Instagram with the hashtag #Hidasummer 
Information
Hida Takayama de Nippon no Natsu Yasumi Programme
Running: July 20 ー September 8, 2019 
Location: Shimocho, Takayama (in the general area of Sakurayama Hachimangu Shrine, Kamiichinomachi, Takayama, Gifu)
Official Website:  https://hida-natsu.jp/
RECOMMENDED ENTRIES
Hi everyone, this is Midori from MMN's Editorial Department!

Do you know what a Yukata is? It's a long, casual garment that resembles a kimono. As they are made of light and breathable material, this traditional Japanese clothing is usually worn in the summer. A beautiful yet refreshing garment is the perfect clothing for a summer festival and other summer events. How would you like to try one on? Today, I'll be introducing you to this year's latest Yukatas.

KIMONOMACHI: Polyester Yukata Perfect for a Hot Summer's Day

These yukata are made from polyester which is breathable and ventilating. From subtle and mature patterns for adults to large, modern and vivid patterns, there is a wide range of fabric designs to choose from.  

Cream Water-Colour Camellia Flower Yukata: ¥11,880 (after tax) 

You also do not have to worry about coordinating your outfit as you can putchase a set that includes a Sash (obi) and Japanese wooden clogs (geta). This is recommended for those of you who are completely new to yukata-wearing.  

▼ KIMONOMACHI main shop

Official Website: https://www.kimonomachi.co.jp/

Cayhane Yukata: Easy to Wear By Yourself 

Cayhane sells yukata that are made from materials sourced from all over Japan. 

Reiría Minana Yukata: ¥7,128

The Yukata sold here consist of a top and bottom half, which makes it easy for anyone to put on.

You can also get yukata with a separate skirt too, meaning that you can wear the skirt with your other normal clothes on a regular day too.

▼ Cayhane

Official Website: http://www.cayhane.jp/shop/c/c01

kyomadoka: Wear a Yukata Designed By an AKB48 Graduate 

Haruna Kojima, who graduated from Japan's world famous idol group AKB48, created the designs for a collection of kyomadoka Yukata.

¥45,360 (after tax)

Not only are the designs made with lots of care and attention, but the materials used have been carefully sourced. The patterns are mature yet cute. 

▼kyomadoka: Haruna Kojima Original Design Yukata

Purchase here: https://isetan.mistore.jp/onlinestore/brand/006180/list?categoryId=01_061604&rid=24098c5b16c840e39ea3dddf42efd3ad

Sales Start: June 5, 2019

Felissimo Neko-Bu™: Fill Yourself With Feline Fabulousness

Cat-Themed Retro Modern Yukata ¥8,400 (before tax)

Notice the cute, round eyes of a cat amongst beautiful camellia flowers. Felissimo Neko-Bu™ sells cat-themed goods that are also perfect for adults. This retro-modern design is both cute and mature.

Look closely and you will also notice a striped pattern. Felissimo are selling many other cat-themed Yukata besides this so please check them out.

This is a design of a tiger playing with green foxtail grass.

▼Felissimo Neko-Bu™

Official Website: https://www.nekobu.com/

RiLi.tokyo Sells Yukata That Look Like Japanese Sweets

RiLi.tokyo sells Yukata that are perfect for walking the streets of Asakusa, Kyoto and other traditional-style streets that are full of dark and mature colours.

RiLi Yukata: ¥11,990 each (before tax)

The sash is a waist band with wrinkles so that it does not hurt when you put it on. You will notice that it is incredibly easy to wear these. All Yukata in this series use similar colours, so it is easy to coordinate your outfit with other friends and family members. ♡

Official Website: https://rili.tokyo/#new

Furifu and Touken Ranbu-ONLINE- Collaborative Yukata

Furifu is dedicated to creating new styles of traditional Japanese fashion. They have released a retro-modern style kimono brand through a collaborative effort with the game Touken Ranbu-ONLINE- . This includes three Yukata themed around the characters Kashuu Kiyomitsu, Tsurumaru Kuninaga and Kasen Kanesada.

 Kasen Kanesada ¥62,640 (after tax )

Tsurumaru Kuninaga: ¥62,640 (after tax)

Kashuu Kiyomitsu: ¥62,640 (after tax )

▼Furifu Touken Ranbu Collaborative Yukata

Official Website: https://mgos.jp/furifu/index.html

All these Yukata are available online. This would be the perfect way to stay cool and beautiful during the summer. Wearing one to a summer event would be a wonderful experience. ♡

Keio Plaza Hotel is expanding their yukata experience service plan "Easy Kimono". The plan, which allows guests to wear Japanese traditional clothing called yukata, was originally a weekday-limited plan. Now, the plan will be expanded to include the weekends and national holidays. The plan was launched in June 2017 through a collaboration with Keio Department Store's dressing rooms. Keio Plaza Hotel's objective is to spread Japanese culture and offer guests the opportunity to fully experience Japan. The hotel also offers tea ceremony and Ikebana flower arranging classes.

There are two yukata plans on offer: a standard plan available for men and women and a women-limited premium plan which includes top quality cotton yukata that have a mature feel to them. Both plans come with wooden clogs, an ornate kanzashi hairpin, a drawstring purse and a map of wonderful locations to take a stroll in Shinjuku. Head to the third floor lobby in the South Building of the hotel to arrive at the Keio Department Store Dressing Rooms. Here, you can choose your favourite yukata. Once you put it on, the staff will take a commemorative photo with a camera or your smartphone.

You can rent these yukata for a maximum of six hours, during which time you can take as many selfies as you want, enjoy a meal in Tokyo, and have a relaxing stroll around the streets of Shinjuku. This luxurious plan is a chance to experience the great feeling of wearing a yukata.

Information

Easy Kimono Yukata Wearing Plan (aimed at overseas foreigners)

Reservations: Everyday from 10:00am ー 4:00 pm

Returns: No later than 6:00pm on the day of rental.

(Arrangement/dressing takes approximately 30 ー 40 minutes)

Prices

Standard plan

1 person: ¥5,400 (after tax)

Women (up to 170cm tall, medium size) :  Selection of 30 yukata patterns

Men (Up to 185 cm tall, medium, large, extra large size): Selection of 6 yukata patterns

Premium plan (women-limited) 

1 person: ¥7,560 (after tax)

Women (up to 170cm tall, medium size) : Selection of 15 top-quality cotton yukata patterns

* Extended rental: ¥2,160 (after tax). Extended rental returns are expected by 12:00pm the following day.

Reservations can be made on the Hotel's Official Website: (English website only) https://www.keioplaza.com/offers/easykimono.html

Feel the Spirit of Japanese Culture With Hotel Gajoen Tokyo's Yukata Plan

Japanese museum and hotel Hotel Gajoen Tokyo is currently offering its new "Yukata Plan" until September 30. The plan includes a yukata service, lunch or dinner, and a chance to witness the Hyakudan Kaidan, or '100 Step Staircase,' which was registered by Tokyo Prefecture as a Tangible Cultural Property in 2009 for its exceptional architecture and artistic beauty.

The plan lets guests wear a beautiful and colourful yukata allows them to get a feel for the Japanese spirit. After enjoying a special food course specially prepared by the hotel's chef, you will head on over to observe the Hyakudan Kaidan, something offered in the hotel's popular summer plan. Yukata are available for men, women and children, making it perfect for groups, couples and families. What's more is that you can take home the yukata, obi sash and geta shoes you choose.

Once you chance into your yukata you can stroll to some of Meguro's famous spots such as Meguro River as well as Ryūsenji temple and Ōtori-jinja Shrine, both of which are just a 10-minute walk from the hotel.

Enjoy a real Japanese time this summer at Hotel Gajoen Tokyo.

Information

Yukata Plan

Prices

Lunch: Adults ¥13,500 / Children ¥10,000

Dinner: Adults ¥16,000 / Children ¥10,000 (Each price includes price for 1 person, tax and service charge)

*Those who order the dinner plan will receive an original Gajoen senko hanabi firework

Hotel Gajoen Tokyo: http://www.hotelgajoen-tokyo.com/
RELATED ENTRIES
Buddhist-Life Themed Cafe Opens at Takayama Zenko-ji Temple in Gifu

Takayama Hotel Zenko-ji isn't your typical hotel: this Buddhist temple invites anyone, regardless of faith or nationality, to stay in one of its five rooms. The property has now opened the 'Activity Cafe Zenko-ji,' a place to rest and relax while learning more about various cultures and, of course, traditional Buddhism. 

The well-ventilated and airy temple.
All drinks, including coffee and tea, are free of charge. 

The Takayama Zenko-ji Lounge Area

Enjoy free Wi-Fi, ample power supplies, and clean restrooms. 

Feel free to work remotely and have meetings in the main hall. 

Being in a new space will open up your mind and expand your creativity. 

The cafe was first opened for a limited time beginning in April 2021, inviting locals and tourists alike to come and find stress relief while praying for an end to the Coronavirus pandemic. However, given the location's immediate popularity, it will now be open for good. 

In the midst of the Coronavirus pandemic, an increasing number of people have lost their physical and mental balance. For both the locals and visiting tourists, the temple is meant to be a place where anyone can find a sense of calm and peace of mind. Deep in the city of Takayama, this is where people are meant to relax, feel energized, and regain who they used to be before this stress became the new normal. 




Hiroshi Yamamoto, a Buddhist priest who works as the manager at Temple Hotel Zenko-ji, is the founder of the Activity Cafe. Hoping to help bring back the bustling tourist atmosphere of Takayama, he intends the space to be a meeting ground for locals and visitors from around the world to interact naturally. 

After graduating from an American university and working as an English teacher, Yamamoto became ordained as a Buddhist monk. Now a certified meditation instructor, he specializes in teaching meditation and Buddhist programs in English. 

Those utilizing the cafe can experience asceticism by walking through a dark tunnel to help find their inner peace, and can also try their hand at sutra-writing!

How would you like to spend some time at the Activity Cafe in Takayama? 

Information

Activity Cafe Takayama Zenko-ji

Address: 4-3 Tenma-cho, Takayama, Gifu

Phone: 0577-32-8470

Reservations not needed

Official Site: https://oterastay.com/zenkoji/cafe/

New atmos x NIKE Collection Inspired by Summer Festivals

Sneaker shop atmos will be releasing a colorful new collection of shoes inspired by Japan's famed summer festivals! Called the RETRO SUMMER PACK, sales will begin in most atmos stores on August 9, 2021, as well as on the atmos online shop. To celebrate the launch, a pop up shop will open in Harajuku for a limited-time on the same day. The lottery is now open on atmos-tokyo.com. 

NIKE AIR MORE UPTEMPO '96: ¥20,900 (Tax Included)

NIKE WMNS AIR FORCE 1 ʻ07 LV8 ¥13,200 (Tax Included)


NIKE WAFFLE TRAINER 2 ¥12,100 (Tax Included)


NIKE AS M NSW TEE MAX90 TD RESU ¥4,950 (Tax Included)


The AIR MORE UPTEMPO sneakers feature traditional Japanese patterns inspired by Kuniyoshi Utagawa, one of Japan's most famous ukiyo-e artists. Traditional Japanese patterns like chrysanthemums and pine needles decorate the AIR FORCE 1 shoes, while the lemon, strawberry and melon colors covering the WAFFLE TRAINER 2 and t-shirts were inspired by the most sought-after summer treat, shaved ice!

At the atmos pop up shop, it's all about the retro theme. Inside the store, visitors can stroll down memory lane, with every square-inch of space filled with Showa era nostalgia. Certain items will only be available here, so don't miss out! 

Information

Atmos RETRO SUMMER PACK

Lottery Now Open

How to Enter: http://www.atmos-tokyo.com

POP UP SHOP 'atmos shop' 

Event Period: August 9, 2021-August 22, 2021

Reservation Needed

Address: 1F 4-31-2 Jingumae, Shibuya, Tokyo

Telephone: 03-5411-4285

Hours: 11:00-20:00

Naruto and Boruto Summer Event Begins at Nijigen no Mori

Nijigen no Mori, an amusement park located on Awaji Island in Hyogo, began a summer event at its Naruto and Boruto-themed zone on July 22 which is set to run until September 30.

Event-exclusive stickers

The event includes a huge water gun event where 25 litres of water will be sprayed to cool down guests during the hot summer event. With themed character panels displayed around the park, join Naruto and the gang, including Zabuza and Haku, for some summer fun. All guests receive a free original sticker too.

© 岸本斉史 スコット/集英社・テレビ東京・ぴえろ

Information

NARUTO&BORUTO SHINOBI-ZATO
Running: July 22, 2021 – September 30, 2021

Location: Nijigen no Mori

Opening Hours: 10:00-18:00
Price: Free (But park entry payment required)
Official Website: https://nijigennomori.com/naruto_shinobizato/

MIDTOWN ART PALETTE Brings Dreamy Digital Artwork to Tokyo Midtown For Summer

Tokyo Midtown's annual MIDTOWN ART PALETTE has returned again for the summer, opening on July 16 and running until September 5. This year, the event delivers a Digital Art Garden with gorgeous dream-like digital artwork.

Digital Art Garden

Last year's event

Experience a distinctively Japanese way to stay cool and refreshed on a wooden veranda with light and mist dancing through the outdoor space inspired by traditional Japanese rock gardens. Find yourself bewitched by an enchanting summer evening as the digital art transforms throughout the day.

This year's event is being held with all proper social distancing measures in place.

Take digital art home with you with AR fireworks

Locate five QR codes dotted around Tokyo Midtown which when accessed via your smartphone will award you with artistic AR fireworks, allowing you to enjoy fireworks with you wherever you point the camera on your screen, including at home.

Sanrio's Harmonyland Theme Park Announces 30th Anniversary Event For Summer

Continuing the character park's 30th anniversary celebrations, Sanrio Harmonyland opened its 30th Anniversary ~Special Summer~ event on July 16 which is running until August 31. There's a whole bunch of events and shows for Sanrio fans to look forward to this summer.

30th Special Greeting

For the entire duration of the event, lots of characters will come out to greet park guests twice a day. This includes Hangyodon and Tuxedosam, both of who haven't visited Harmonyland in almost 10 years. Pochacco will be there too in a brand-new costume.

Obake Ondo! DoRoRoNRoN!

The characters will be out dressed in cute summery yukata where they will invite guests to dance Bon Odori with them.

Parade Parallel ~30th Memories~

A special 30th anniversary rendition of the park's Parade Parallel will take place, taking songs and performances from past runs of this event which has been held since the park first opened.

30th Anniversary Night Party

Hello Kitty, Dear Daniel, Cinnamoroll, Kuromi, and 10 dancers will host a special anniversary night show to give thanks to guests for the past 30 years.

Running: July 17th-18th, 22nd-24th / August 7th-8th, 13th-15th, 21st-22nd, 28th-29th

Character Menu: Hello Kitty's Cheese in Hamburger Curry – Cinnamoroll's Beef Stew Rice – Smiling Pompompurin's Pork Cutlet Curry | ¥1,380 Each

Wish Me Mell's Heart Korokke White Sauce Omurice | ¥1,400

Acrylic Stand Keyrings | ¥748 Each

Guests can get their hands on exclusive anniversary merchandise and enjoy some limited-time dishes too.

ⓒ 2021 SANRIO CO., LTD. S/D・G

teamLab Forest Fukuoka's Interactive Digital Art Installations Get Summer Makeover

teamLab Forest Fukuoka is getting a makeover for the summer season from July 17. Look out for seasonal digital installations including a bed of bright yellow sunflowers, animals made of summer flowers walking around, and more.

Summer Digital Artworks

Shifting Valley, Living Creatures of Flowers, Symbiotic Lives

Animals of Flowers, Symbiotic Lives II

Soft Terrain and Granular Topography, 2020

Flutter of Butterflies, Ephemeral Life

For summertime only, teamLab's Athletics Forest presents Shifting Valley, Living Creatures of Flowers, Symbiotic Lives – A Whole Year per Year where various animals made from seasonal flowers, such as sunflowers, roam the area. There's also A Whole Year per Year / Soft Terrain and Granular Topography – A Whole Year per Year where visitors can see varying levels of three-dimensional soft terrain, and Flutter of Butterflies, Ephemeral Life – A Whole Year per Year, where butterflies flutter in summer colours.

The teamLab Athletics Forest and Catching and Collecting Forest are new museums by teamLab. In the Athletics Forest, visitors use three-dimensional thinking using the body, while in the Catching and Collecting Forest, they capture the wonder of catching and collecting things as children.

 
teamLab's artworks are not pre-recorded images that are played back; they are created by a computer program that continuously renders the artwork in real time. As a whole, they are continuously changing, and previous visual states are never replicated. The picture at this moment can never be seen again.

Information

teamLab Forest Fukuoka – Summer 2021

Start Date: July 17, 2021

Venue: BOSS E・ZO FUKUOKA (Floor 5F)

Address: 2 Chome-2-6 Jigyohama, Chuo Ward, Fukuoka

Official Website: https://www.teamlab.art/e/forest/

Hello Kitty Summer Event Themed On the Undersea Palace Princess Oto-hime Kicks Off in Hyogo

The Hello Kitty media art facility and restaurant HELLO KITTY SMILE on Awaji Island kicked off a summer event on July 1. Titled "HELLO KITTY SMILE Oto-hime Ryugu-jo Beach Summer Festival," the event is set to run until the end of August.

Digital fireworks set the summer vibe

Catch your own Sanrio figure

Decorate your own Sanrio character ceramic

Children's meal at the Party Terrace


Hello Kitty afternoon tea at the Party Balcony

Spicy tortilla at the Garden Terrace

The event is themed on Oto-hime, the princess of the underwater palace Ryugu-jo which features in the Japanese folktake of Urashima Taro. It focuses on Hello Kitty and is a celebration of Bon odori, a type of dance that takes place during the Japanese summertime Bon Festival. Hello Kitty performs the dance on stage, and the audience can join in with handclapping, dancing, and waving the free fan they receive upon entering the venue. Visitors can also buy a ticket to meet Hello Kitty, and those who do receive a free plush toy along with a photo with the Sanrio queen herself.

At the event, visitors can enjoy Sanrio versions of all the fun things Japanese summer festivals, or natsumarui, have to offer like catching a Sanrio figure instead of a goldfish, painting ceramics, making vinyl prints, squirting water pistols, jumping on a giant trampoline, and so much more.

Other things to look out for include special screenings at the HELLO KITTY SMILE theatre and the firework projection mapping show. The event also has four different restaurants which are serving limited-time, seasonal summer treats: the Party Terrace, Party Balcony, Restaurant Tamatebako, and Garden Terrace.

Ⓒ2021 SANRIO CO., LTD. APPROVAL NO. L627610

Information

HELLO KITTY SMILE Oto-hime Ryugu-jo Beach Summer Festival

Japanese Event Title: HELLO KITTY SMILE 乙姫竜宮城 海辺の夏祭り

Running: July 1, 2021 – August 31, 2021
Opening Hours:10:00-19:00 (Last Entries 18:00)
*Brunch served exclusively on weekends and public holidays at the Party Terrace at 9:00-10:00 (last orders 10:30)

Closed: Tuesdays

Address: 985-1 Nojimahikinoura, Awaji, Hyogo 656-1721, Japan

Official Website: https://awaji-resort.com/hellokittysmile/

LOUANGE TOKYO Le Musée Releases Refreshing Summer Dessert Menu

LOUANGE TOKYO has released their 'SUMMER COLLECTION 2021' menu line-up of refreshing desserts for cooling down this summer. They are available to enjoy at LOUANGE TOKYO Le Musée in Ginza, Tokyo.

PARFAIT SOFT PISTACHE

PARFAIT SOFT CANECHEE

CRYSTAL MELON

CRYSTAL PECHE (Available from July)

PARFAIT FLAFFY NOOMY CARAMEL ORANGE (Also available online)

PARFAIT FLAFFY NOOMY MIXED BERRY (Exclusive to Cake.jp)

LOUANGE TOKYO Le Musée's SUMMER COLLECTION 2021 includes a seasonal fruit parfait made by world class baker Koji Fujita, artistic summery ice creams, and more. All the mouth-watering picks are served in delicious luxury.

KYARY PAMYU PAMYU meets IMABARI: A Visit to the Historical Sea Route

Imabari is a city in Ehime Prefecture that faces the Seto Inland Sea. Since olden times, it has flourished as an important location for marine traffic. It's home to a bounty of recognised national treasures and historical heritage sights, and is also famous for its production of citrus fruits such as mikan. Japanese pop star, model, and icon Kyary Pamyu Pamyu took a trip to this ancient city to discover its wonder and beauty.

A Visit to the Historical Sea Route

Oyamazumi Shrine

A 'power spot' revered by prominent people

Oyamazumi Shrine has been revered by prominent figures throughout history as a place dedicated to the god of the mountain, god of the ocean, and the god of war. It's home to numerous Important Cultural Properties which are available for viewing by the public such as the armour worn by the military commander Minamoto no Yoshitsune when the Minamoto clan won the Genpei War (1180-1185), armour worn by women, and more. The shrine is also a notable power spot for the ancient tree that has stood there for 2,600 years and is now recognised as a natural monument of Japan. Power spots are places in Japan where the spiritually-inclined draw energy from.

Information

Oyamazumi Shrine

Address: 3327 Omishimacho Miyaura, Imabari, Ehime 794-1393, Japan

TEL: 0897-82-0032

Opening Hours: Sunrise to 17:00

National Treasure Building: 8:30-17:00 (Last Entries 16:30)

Official Website: https://oomishimagu.jp/

Kurushima Kaikyo Service Area

Lip-smacking food aplenty

If you're one for great views, then the Kurushima Kaikyo service area is a must-visit, offering a panoramic look at the Kurushima Strait of the Seto Inland Sea. The service area is very well know particularly for the Jaguchi Mikan Juice, something of a city legend in Ehime where you can enjoy fresh mikan juice straight from a tap. You can also tuck a rice bowl dish made with tachiuo hairtail caught in the Seto Inland Sea that's made to look like Kurushima Kaikyō Bridge, or try Imabari's soul food dish: the Imabari Yakibuta Tamago Meshi, a pork, egg, and rice bowl. Don't pass up the chance to snap a photo at the designated photo spot with the Seto Inland Sea in the back either like Kyary above.

Information

Kurushima Kaikyo Service Area

Address: 3-9-68 Ohamacho, Imabari, Ehime, 794-0002, Japan

Food Court: [Weekdays] 8:00-21:00 / [Weekends & Holidays] 7:00-22:00

Shops: [Weekdays] 8:00-21:00 / [Weekends & Holidays] 7:00-22:00

Outside Shopping Area & Cafes: [Weekdays] 9:00-17:00 / [Weekends & Holidays] 9:00-18:00

Official Website: https://www.jb-highway.co.jp/sapa/kurushima.php

Murakami Suigun Museum

Dedicated to the Imabari heroes who protected the ocean




Murakami Suigun Museum is dedicated to kaizoku—pirates, or lords of the sea—something which conjures to mind villainy or bad guys, but the Murakami pirates were also considered heroes who helped maintain order and protect the sea during the Sengoku warring period of Japan. The museum features many displays of Murakami family treasures including the battle surcoat which the pirate leader wore over his armour, proudly bearing the Murakami family crest. Visitors can wear replicas of this coat, which Kyary tired herself: "Now I'm sorta like a military commander too," she said.

Information 

Murakami Suigun Museum

Address: 1285 Miyakubocho Miyakubo, Imabari, Ehime 794-2203, Japan
TEL: 0897-74-1065

Opening Hours: 9:00-17:00

Closed: Mondays (or Tuesday if the Monday falls on a public holiday) / New Year Holidays (Dec 29-Jan 3)

Official Website: https://www.city.imabari.ehime.jp/museum/suigun/

Roadside Station Yoshiumi Iki-iki-kan

A bundle of fun and entertainment in one place

Roll on up to Roadside Station Yoshiumi Iki-iki-kan to enjoy a shichirin BBQ feast with fresh seafood caught in the Seto Inland Sea while gazing out across Kurushima Kaikyo. This building complex serves as a resting spot and is also the perfect place to purchase local souvenirs including Ehime specialty products. It's also famous for its offering the chance to board a boat to ride around Kurushima Kaikyo, renting out bicycles, and more. You'll also be able to meet Koro-chan, a popular fish who has lived there for 30 years.

Information

Roadside Station Yoshiumi Iki-iki-kan

Address: 4520-2 Yoshiumichomyo, Imabari, Ehime 794-2114, Japan

TEL: 0897-84-3710

Opening Hours: 9:00-17:00

Restaurant: 10:00-16:00 (Last Orders 15:00)

Closed: New Year's Day (and certain days in winter)

Official Website: http://www.imabari-shimanami.jp/ikiiki/

Dolphin Farm Shimanami

Meet the cute and friendly dolphins

Dolphin Farm Shimanami, which is connected to Hakata Beach, is the best and biggest place in Japan to interact with dolphins. Visitors can get close to them and the dolphins will show off their tricks and skills. There's even a car camping area you can stay at.

Information

Dolphin Farm Shimanami

Address: 1673 Hakatacho Kanoura, Imabari, Ehime 794-2302, Japan

TEL: 0897-72-8787

Opening Hours: 9:00-17:00

Closed: On days with bad weath

Official Website: https://www.df-shimanami.com/

Hakata Beach

A white sandy beach rolling out 200-meters 

Hakata Beach is located at the base of Oshima Bridge in Hakata. The beach is famous for its salt which is best tried on their popular sweet-tasting sea salt ice cream.

Information

Hakata Beach

Address: 1668-1 Hakatacho Kanoura, Imabari, Ehime 794-2302, Japan

Sea Bathing: Early July – Late August

Official Website: https://www.city.imabari.ehime.jp/kanko/spot/?a=198

Imabari Towels

High quality towels woven with tradition and technique

Imabari is the biggest producer of towels in Japan. Even their white towels alone have countless types you can choose from, allowing you to pick which level of softness and comfort you want. The iconic brand logo is also impactful, capturing the quality, production, and enthusiasm that the makes have for the product. Kyary herself uses them all the time!

Information 

Imabari Towel

Official Website: https://www.imabaritowel.jp/

Sunrise Itoyama

Need a bike?

Sunrise Itoyama, located in the Imabari Central Cycling Terminal, is a rental bicycle service that has bikes and helmets for everyone's needs. Rent out a bike and ride the Shimanami Sea Route which connects Ehime and Hiroshima with a series of bridges that hop across the islands of the Seto Inland Sea.

Information 

Sunrise Itoyama

Address: 2-8-1 Sunabacho, Imabari, Ehime 794-0001, Japan

TEL: 0898-41-3196

Rent-a-Cycle Details: https://www.sunrise-itoyama.jp/archives/rentacycle/

Official Website: https://www.sunrise-itoyama.jp/

Marutomi

The famous restaurant known to every local

If you want the real experience of Imabari's yakitori soul food, you should visit Marutomi, a yakitori eatery. Imabari yakitori is different from the usual Japanese yakitori as it doesn't come skewered. Instead, the chicken is cut into small pieces and fried that way. One of the most popular ways to have it is with the skin on so the outside is crunchy and the inside succulent. It goes perfect with a cup of sake too.

Information 

Marutomi

2-3-6 Katayama, Imabari, Ehime 794-0063, Japan

TEL: 0898-23-2740

Opening Hours: 17:30-22:00

Closed: Wednesdays

Official Website: https://maru-marutomi.jp/

Imabari Castle

A castle by the sea

Imabari Castle, built by the daimyo Tōdō Takatora, is known famously as one of Japan's three "Castles on the Sea" and was also listed in Japan's Top 100 Castles. When it was first constructed, boats could enter the moat from the ocean. It's a site that breathes the prosperity that Imabari has enjoyed as a significant location for maritime traffic, the same Imabari that the Murakami pirates sought to protect. Head on up to the top of the castle to stand on the observation deck and gaze at an unbroken view of the city.

Information

Imabari Castle

Address: 3-1-3 Toricho, Imabari, Ehime, 794-0036, Japan

TEL: 0898-31-9233

Opening Hours: 9:00-17:00

Closed: December 29 – December 31

Official Website: https://www.city.imabari.ehime.jp/museum/imabarijo/

Kirosan Observatory Park

A breathtaking spectacle to remember

Kirosan Observatory Park is officially recognised by Setonaikai National Park. Standing atop the observation deck fills the eyes with wonder as they gaze upon a panoramic stretch of Imabari, the Seto Inland Sea, and Kurushima Kaikyo all at once. Kyary wrapped up her time in Imabari here as the sunset coloured the sky and sea in warm evening hues.

Information 

Kirosan Observatory Park

Address: 487-4 Yoshiumicho Minamiura, Imabari, Ehime 794-2115, Japan

No Fixed Holidays

Open 24-hours a day

Official Website: https://www.city.imabari.ehime.jp/kanko/spot/?a=182

Imabari Tourism Information: https://www.city.imabari.ehime.jp/kanko/

We hope you enjoyed joining Kyary on her adventures across Imabari, and perhaps she even got you a little curious in wanting to visit the city yourself. It's a treasure trove filled with vistas by the sea, in nature, and in the city itself with its Important Cultural Properties. Food is also a big part of travel for many people, so you can rest assured that your belly will be satisfied in Imabari as you try their speciality mikan, fresh seafood fished in the Seto Inland Sea, and more.

Celebrate Sasuke Uchiha's Birthday at Fuji-Q Highland's Naruto x Boruto Summer Event

Fuji-Q Highland began its 'NARUTO x BORUTO Fuji Hidden Leaf Village' event on Wednesday which is set to run throughout summer until August 29. The event is taking place to celebrate the birthday of the popular character Sasuke Uchiha from the Naruto franchise.

During the event, a keyword rally will take place, and a special menu will be served up.

Keyword Rally

Guests must play and ride six Naruto-themed attractions at the park where they will be able to collect keywords related to the Uchiha family. Those who manage to answer all the questions correctly will receive one of two free exclusive pins. The Sasuke & Itachi design will be available from June 9 to July 22 and the Uchiha Family design from July 23 to August 29. Check out the designs below, both of which are must-grabs for fans of Sasuke and the Uchihas.

Pin Design 1: Sasuke & Itachi (Uchiha Brothers) | Available: June 9, 2021 – July 22, 2021 

Pin Design 2: Sasuke & Sakura & Sarada (Uchiha Family) | Available: July 23, 2021 – August 29, 2021

Special Menu

Guests will also be able to enjoy a special menu line-up including a ramen dish served at Ichiraku, the ramen bar at Fuji-Q Highland which is themed on the same eatery of the same name in Naruto, and two cakes at Fuji-Q Highland's official hotel resort and spa.

Uchiha Brother's Spicy Ramen | ¥1,500 (Tax Included)

Uchiha Brother's Print Cake

Uchiha Family's Print Cake


ⓒ岸本斉史 スコット/集英社・テレビ東京・ぴえろ

Information

Uchiha's Summer
Running: June 9, 2021 – August 29, 2021

Where: Fuji-Q Highland

Official Website: https://www.fujiq.jp/

All About Matsuyama | Final Episode: Introducing the New Matsuyama Tourist Information Centre

The reception staff are ready and waiting to greet customers with a smile

The all new Matsuyama Tourist Information Centre finally opened in the heart of Matsuyama—the capital city of Ehime Prefecture in Japan—in Okaido on May 27. You'll find it on the first floor of Matsuyama Mitsukoshi which isn't even a one-minute walk from Okaido Station. It features an interior fusion combining history and culture with a design inspired by Matsuyama Castle while also throwing in a contemporary feel.

Six giant screens serve as the perfect place for tourism-related PR of Matsuyama

The first sight many visitors will lay their eyes on upon entering the information centres are the six screens spanning 1.5 meters high and 4.5 meters across the wall. Here, a variety of promotional material centred on the highlights of Matsuyama will be displayed.

The information centre offers many useful services, including for foreign customers who don't speak Japanese. There is a translation and interpreting service, money exchange, rental electrical outlets for smart devices, and more. The staff themselves are multilingual, but the interpreting service includes access to a call centre which you can access using the free WiFi or using an iPad. The availability of foreign currency exchange is also extremely beneficial as Matsuyama is a city abundant with long-standing shops that have been around for decades and longer. Another convenience with the centre is easy access to public transport. If you're looking to travel around the prefecture, we recommend paying a visit to the centre first as it's sure to provide valuable information. You can even rent mobile batteries for your smartphone to lessen the stress when sightseeing.

The pictogram shows the many handy services available

Visitors will also find a comprehensive duty-free counter inside the information centre which covers all stores in Okaido, Gintengai, Matsuchika Town, Dogo Shoten, and Ropeway Shotengai. You must spend over ¥5,000 (before tax) on products to be duty-free eligible. Since it's a comprehensive service, if you have multiple receipts you can be exempt from tax as long as all your receipts exceed ¥5,000. Participating stores have special stickers plastered up inside so tourists can quickly and easily identify them.

Stores participating in the duty-free service have stickers and signs to show it

For example, if you spend ¥500 at participating stores in Dogo Shotengai, ¥1,000 in Okaido Shopping Street, and ¥3,500 in Gintengai Shotengai, and take all three of those receipts adding up to ¥5,000 to the information centre, you can get your items duty free. But keep in mind that the receipts have a validity period on them, so be sure to check opening hours.

The Matsuyama Tourist Information Centre serves as the perfect site for bringing in all kinds of tourists, including foreign travellers, to Matsuyama post-COVID. The information also goes by the cute nickname "Dan Dan info." Dan dan is an old Ehime phrase meaning "thank you" and ties in with the smiling and hospitable welcome staff wish to greet guests with. It's exciting to look into the future and see how Matsuyama's tourism and economic growth will develop in its shopping districts, stores, and elsewhere. Make one of your first stops the Matsuyama Tourist Information Centre when visiting the city.

All About Matsuyama | Episode 8: Souvenirs Are Part of Matsuyama's Fun and Are Everywhere

The all new Matsuyama Tourist Information Centre opened in the heart of Matsuyama—the capital city of Ehime Prefecture in Japan—in Okaido on May 27. In celebration of its opening, this new featured series by MOSHI MOSHI NIPPON will explore the wonders of Matsuyama, a city abundant with places to shop, leisurely hot spots, must-visit restaurants, and opportunities to dive deep into its history and culture. You're sure to discover something new and exciting about Matsuyama in this series.

From tasty treats to home and lifestyle goods, Matsuyama has no shortage of souvenirs

Popular sightseeing spots and delicious food you can't get anywhere else—these are all part of the fun experience to be had when travelling. To wrap up your time there and memorialise all that's happened, nothing's better than picking up a little souvenir. In Episode 8 of All About Matsuyama, we take a look at the many wonderful items you can take home with you as souvenirs from food to traditional handicrafts, special dyed fashion and accessories, and more. MOSHI MOSHI NIPPON has picked out a range of delightful treats like Matsuyama's famous tartes, jakoten, three-colour botchan dango as well as Tobe ware porcelain which is an Ehime tradition, and iyo-kasuri fabric which is one of Japan's three main kasuri fabrics.

First on the list is the 'tarte,' a speciality product of Shikoku which is more of a sponge cake. They're made of a soft and fluffy sesame seed-coloured sponge and coarse red bean paste. A famous treat of Matsuyama, you can find these tarts just about anywhere in Okaido Shopping Street, near Dogo Onsen, and elsewhere.

Jakoten is considered a soul food of Ehime Prefecture. It's made from fish that are blended into a paste and fried. You can find jakoten everywhere in Matsuyama, but every restaurant serves theirs with different textures and flavours. Many places fry them fresh, so be sure to try a bunch to compare the flavours and then you can decide which to buy as a souvenir. There are even places so popular that they have lines outside them before they even open.

The botchan dango is something many of our readers have probably seen or heard about. These three-coloured skewered dango are served bite-sized, cute enough to snap a photo of. The ones sold at Dogo Onsen are something of a speciality. They have their name from Natsume Soseki's novel Botchan. You'll find them all around Dogo Shotengai.

Tobe ware is a traditional type of porcelain from Tobe in Ehime, known for its smooth touch and durability. This traditional porcelain has been handed down from old times until today, and in recent years, ceramists have been hammering out their own unique shapes, so have become popular as stylish, everyday use lifestyle items.

You can't talk about Ehime's traditional craftwork without mentioning iyo-kasuri fabric. Matsuyama used to have huge production output of this fabric type, which stands as one of three of Japan's most famous kasuri fabrics alongside kurume-gasuri from Fukuoka and bingo-kasuri from Hiroshima. Production has dwindled in modern times, but if you go to Art Labo KASURI Rekishikan, you can learn all about iyo-kasuri. There are lots of gorgeous iyo-kasuri products to buy like cute pouches, bags, and more.

And that's our list of must-grab souvenirs. There are of course endless other things you can get your hands on, so if you're lost on what to pick up, try asking at the Matsuyama Tourist Information Centre.

Stay tuned for the next and final episode of All About Matsuyama.