Explore The Hidden Beauty, Culture And Local Cuisine Of Hida Takayama In A Yukata
Shimocho is one of the districts of Hida Takayama and is overflowing with traditional culture that you absolutely must experience. To make the most of your trip, there is a summer yukata-wearing programme running from July 20th which is the perfect opportunity to wear cooling and refreshing Japanese clothes while strolling and exploring the streets. 
This year will be the 7th time the programme has been run. The Hida Takayama de Nippon no Natsu Yasumi programme allows visitors to dress in a comfortable and cooling yukata, stroll, explore, try different foods and enjoy the culture of the area. This year's theme is "romance and yukatas" and gives visitors the opportunity to enjoy programme-limited desserts and the rich culture of the district.  
Discover Hidden Beauty with the Stroll Map
Visitors will be given a map packed with wonderful spots of the area. The map will also include the destinations of 31 shops where you can enjoy special experiences, meals and desserts that are limited to those who take part in the yukata programme. Recommended spots to visit are also drawn on the map in a very cute handwriting-like style, so you can stop by these places easily while enjoying your walk. There are even many places on the map that only a local would know about. 
Some of the special benefits of the programme allow you to enjoy the best regional cuisine that Hida has to offer, including the wonderful experience of restaurants that have been loved by the locals for generations, a beef delicacy restaurant, and much more. Besides food, the programme also gives you the opportunity to witness the beautiful festival floats used during the Takayama festival at the Takayama Matsuri Yatai Kaikan. You can also enjoy experiencing baking your own senbei crackers and gold panning.  
The programme includes a wide range of experiences for you to enjoy from local shops to food to culture to some new experiences.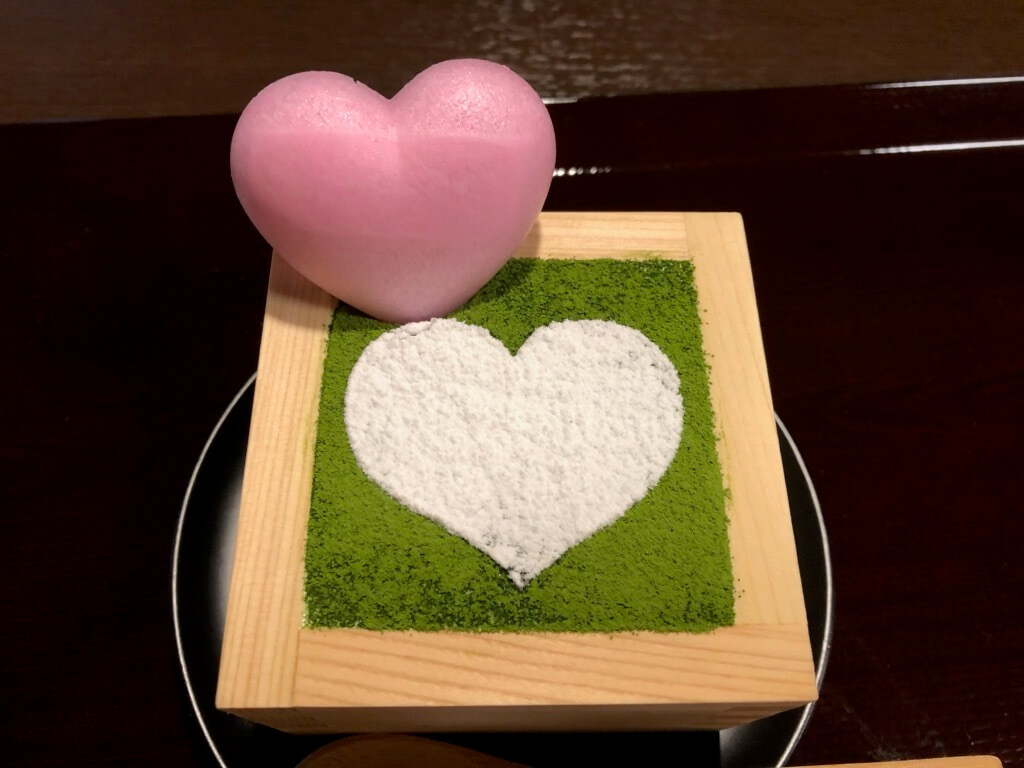 An old-style café called Sabou Usagi is particularly popular with the locals. Here, the coffee is made using a vacuum coffee maker. With the summer programme, you can enjoy the delicious heart Tiramisù served here.
The stroll map includes a variety of locations such as the Takayama Tourist Information Centre, Hida Takayama Tourism Convention Association, Hida Takayama Travel Hotel Association and much more. The map also includes some of the accommodations available around Takayama, some important train stations and much more. You can easily download this map from the official website. (Japanese only )  
Stroll the Streets in an Elegant Yukata
Change into a traditional Yukata that matches the beautiful surrounding townscape. There are four shops Yukata rental shops available to pick up your favourite Yukata, so there is no need to worry if you did not come prepared. There are also some accommodations that allow for yukata rental. 
If you decide to join the Hida Takayama Nippon Natsu Yasumi programme, make sure to share your beautiful memories on Instagram with the hashtag #Hidasummer 
Information
Hida Takayama de Nippon no Natsu Yasumi Programme
Running: July 20 ー September 8, 2019 
Location: Shimocho, Takayama (in the general area of Sakurayama Hachimangu Shrine, Kamiichinomachi, Takayama, Gifu)
Official Website:  https://hida-natsu.jp/
RECOMMENDED ENTRIES
Hi everyone, this is Midori from MMN's Editorial Department!

Do you know what a Yukata is? It's a long, casual garment that resembles a kimono. As they are made of light and breathable material, this traditional Japanese clothing is usually worn in the summer. A beautiful yet refreshing garment is the perfect clothing for a summer festival and other summer events. How would you like to try one on? Today, I'll be introducing you to this year's latest Yukatas.

KIMONOMACHI: Polyester Yukata Perfect for a Hot Summer's Day

These yukata are made from polyester which is breathable and ventilating. From subtle and mature patterns for adults to large, modern and vivid patterns, there is a wide range of fabric designs to choose from.  

Cream Water-Colour Camellia Flower Yukata: ¥11,880 (after tax) 

You also do not have to worry about coordinating your outfit as you can putchase a set that includes a Sash (obi) and Japanese wooden clogs (geta). This is recommended for those of you who are completely new to yukata-wearing.  

▼ KIMONOMACHI main shop

Official Website: https://www.kimonomachi.co.jp/

Cayhane Yukata: Easy to Wear By Yourself 

Cayhane sells yukata that are made from materials sourced from all over Japan. 

Reiría Minana Yukata: ¥7,128

The Yukata sold here consist of a top and bottom half, which makes it easy for anyone to put on.

You can also get yukata with a separate skirt too, meaning that you can wear the skirt with your other normal clothes on a regular day too.

▼ Cayhane

Official Website: http://www.cayhane.jp/shop/c/c01

kyomadoka: Wear a Yukata Designed By an AKB48 Graduate 

Haruna Kojima, who graduated from Japan's world famous idol group AKB48, created the designs for a collection of kyomadoka Yukata.

¥45,360 (after tax)

Not only are the designs made with lots of care and attention, but the materials used have been carefully sourced. The patterns are mature yet cute. 

▼kyomadoka: Haruna Kojima Original Design Yukata

Purchase here: https://isetan.mistore.jp/onlinestore/brand/006180/list?categoryId=01_061604&rid=24098c5b16c840e39ea3dddf42efd3ad

Sales Start: June 5, 2019

Felissimo Neko-Bu™: Fill Yourself With Feline Fabulousness

Cat-Themed Retro Modern Yukata ¥8,400 (before tax)

Notice the cute, round eyes of a cat amongst beautiful camellia flowers. Felissimo Neko-Bu™ sells cat-themed goods that are also perfect for adults. This retro-modern design is both cute and mature.

Look closely and you will also notice a striped pattern. Felissimo are selling many other cat-themed Yukata besides this so please check them out.

This is a design of a tiger playing with green foxtail grass.

▼Felissimo Neko-Bu™

Official Website: https://www.nekobu.com/

RiLi.tokyo Sells Yukata That Look Like Japanese Sweets

RiLi.tokyo sells Yukata that are perfect for walking the streets of Asakusa, Kyoto and other traditional-style streets that are full of dark and mature colours.

RiLi Yukata: ¥11,990 each (before tax)

The sash is a waist band with wrinkles so that it does not hurt when you put it on. You will notice that it is incredibly easy to wear these. All Yukata in this series use similar colours, so it is easy to coordinate your outfit with other friends and family members. ♡

Official Website: https://rili.tokyo/#new

Furifu and Touken Ranbu-ONLINE- Collaborative Yukata

Furifu is dedicated to creating new styles of traditional Japanese fashion. They have released a retro-modern style kimono brand through a collaborative effort with the game Touken Ranbu-ONLINE- . This includes three Yukata themed around the characters Kashuu Kiyomitsu, Tsurumaru Kuninaga and Kasen Kanesada.

 Kasen Kanesada ¥62,640 (after tax )

Tsurumaru Kuninaga: ¥62,640 (after tax)

Kashuu Kiyomitsu: ¥62,640 (after tax )

▼Furifu Touken Ranbu Collaborative Yukata

Official Website: https://mgos.jp/furifu/index.html

All these Yukata are available online. This would be the perfect way to stay cool and beautiful during the summer. Wearing one to a summer event would be a wonderful experience. ♡

Keio Plaza Hotel is expanding their yukata experience service plan "Easy Kimono". The plan, which allows guests to wear Japanese traditional clothing called yukata, was originally a weekday-limited plan. Now, the plan will be expanded to include the weekends and national holidays. The plan was launched in June 2017 through a collaboration with Keio Department Store's dressing rooms. Keio Plaza Hotel's objective is to spread Japanese culture and offer guests the opportunity to fully experience Japan. The hotel also offers tea ceremony and Ikebana flower arranging classes.

There are two yukata plans on offer: a standard plan available for men and women and a women-limited premium plan which includes top quality cotton yukata that have a mature feel to them. Both plans come with wooden clogs, an ornate kanzashi hairpin, a drawstring purse and a map of wonderful locations to take a stroll in Shinjuku. Head to the third floor lobby in the South Building of the hotel to arrive at the Keio Department Store Dressing Rooms. Here, you can choose your favourite yukata. Once you put it on, the staff will take a commemorative photo with a camera or your smartphone.

You can rent these yukata for a maximum of six hours, during which time you can take as many selfies as you want, enjoy a meal in Tokyo, and have a relaxing stroll around the streets of Shinjuku. This luxurious plan is a chance to experience the great feeling of wearing a yukata.

Information

Easy Kimono Yukata Wearing Plan (aimed at overseas foreigners)

Reservations: Everyday from 10:00am ー 4:00 pm

Returns: No later than 6:00pm on the day of rental.

(Arrangement/dressing takes approximately 30 ー 40 minutes)

Prices

Standard plan

1 person: ¥5,400 (after tax)

Women (up to 170cm tall, medium size) :  Selection of 30 yukata patterns

Men (Up to 185 cm tall, medium, large, extra large size): Selection of 6 yukata patterns

Premium plan (women-limited) 

1 person: ¥7,560 (after tax)

Women (up to 170cm tall, medium size) : Selection of 15 top-quality cotton yukata patterns

* Extended rental: ¥2,160 (after tax). Extended rental returns are expected by 12:00pm the following day.

Reservations can be made on the Hotel's Official Website: (English website only) https://www.keioplaza.com/offers/easykimono.html

Feel the Spirit of Japanese Culture With Hotel Gajoen Tokyo's Yukata Plan

Japanese museum and hotel Hotel Gajoen Tokyo is currently offering its new "Yukata Plan" until September 30. The plan includes a yukata service, lunch or dinner, and a chance to witness the Hyakudan Kaidan, or '100 Step Staircase,' which was registered by Tokyo Prefecture as a Tangible Cultural Property in 2009 for its exceptional architecture and artistic beauty.

The plan lets guests wear a beautiful and colourful yukata allows them to get a feel for the Japanese spirit. After enjoying a special food course specially prepared by the hotel's chef, you will head on over to observe the Hyakudan Kaidan, something offered in the hotel's popular summer plan. Yukata are available for men, women and children, making it perfect for groups, couples and families. What's more is that you can take home the yukata, obi sash and geta shoes you choose.

Once you chance into your yukata you can stroll to some of Meguro's famous spots such as Meguro River as well as Ryūsenji temple and Ōtori-jinja Shrine, both of which are just a 10-minute walk from the hotel.

Enjoy a real Japanese time this summer at Hotel Gajoen Tokyo.

Information

Yukata Plan

Prices

Lunch: Adults ¥13,500 / Children ¥10,000

Dinner: Adults ¥16,000 / Children ¥10,000 (Each price includes price for 1 person, tax and service charge)

*Those who order the dinner plan will receive an original Gajoen senko hanabi firework

Hotel Gajoen Tokyo: http://www.hotelgajoen-tokyo.com/
RELATED ENTRIES
BAYCREW'S STORE Spring/Summer 2021 Collection Unveiled

BAYCREW'S STORE has unveiled its Spring/Summer 2021 Collection which is now available for pre-order.

Line-Up Excerpt

IENA

IENA brings French-like stripes for the forthcoming warm seasons in the form of a cut and sewn. This is layered with short pants and wedge sandals to complete this marine look.

SLOBE IENA

SLOBE IENA is serving beauty and sophistication with a laced patchwork skirt, resulting in some inevitable double-takes as a gaze at the silhouette and textures of the skirt leaves you loving the cuteness of the look from every angle. The tucked-in shirt bring that in-right-now element while the slipper shoes help to elevate the length of the legs.

Spick and Span

This look by Spick and Span centres on this year's must-have long green coat. The interior blue tones balance the whole outfit out. The coat sleeves are rolled up, allowing the stripes of the shirt to come through stylishly. This colour scheme is definitely a springtime delight.

Watch Gifu Prefecture's 'Jikabuki' Local Kabuki Theatre Plays On YouTube

As part of this year's Gifu, Land of Clear Waters Ji-Kabuki All-Star Performance 2020, Gifu Prefecture has posted a special commentary video over on the official YouTube channel of Gifu Seiryu Bunka Plaza which combines footage from two local kabuki plays held this year.

The local kabuki of Gifu

Japan is home to 200 jikabuki, or 'local kabuki,' preservation organisations, 30 of which can be found in Gifu Prefecture. Gifu is one of the most active regions for jikabuki in the whole of Japan. The prefecture also has 9 historical shibai-goyas, or playhouses, some of which are over 100 years old.

Gifu, Land of Clear Waters Ji-Kabuki All-Star Performance 2020

https://www.youtube.com/channel/UCx_NJKW7JOicMjhzfqBC1hQ 

Gifu Seiryu Bunka Plaza made the decision to postpone the 11 jikabuki performances that were scheduled to take place January to July 2020 this year. They are being rescheduled for 2021, so for now people can enjoy the content over on their official YouTube channel.

Solo Sauna Tune: Tokyo's New Privacy Guaranteed Finnish-Style Sauna

Solo Sauna Tune is a new sauna that offers "total privacy" which is set to open its first branch inside UNPLAN Kagurazaka in Tokyo this November.


Most sauna facilities in Japan cater to groups, but at Solo Sauna Tune, all guests are given their own space where they can undress, bathe, and relax in their own private room. This is especially desirable during the current pandemic where social distancing is paramount, and is a great opportunity for people not wanting to travel in groups.

The solo saunas are heated using sauna stoves imported from Finland. Adding water to the sauna stones lets guests control the amount of steam in the room so they can adjust as they like. There is also a Japanese white birch aroma provided to the löyly (Finnish for 'steam').

Guests can also cool off in cold water. The Chiller provides water at 15℃. There are also overhead showers for cooling down, and the showerheads can be adjusted to make the water come out like mist.

The relaxation area is coloured in a stylish black where guests can kick back for a while.


After using the sauna, guests can visit the powder room where there are a varieties of free amenities. There's also a café which serves craft beers, food, and other treats.

Information

Solo Sauna Tune
Address: UNPLAN Kagurazaka, 23-1 Tenjincho, Shinjuku-ku, Tokyo
Grand Opening November 2020

Opening Hours: TBA

Prices: TBA
Access: 3-minutes on foot from Kagurazaka Station / 7-minutes on foot from Edogawabashi Station / 9-minutes on foot from Ushigome-Kagurazaka Station

Official Website: https://www.solosauna-tune.com/

Animal Crossing: New Horizons to Host Kanda Shrine's Summer Festival In-Game

Noryo Matsuri is a popular summer festival held every August at Kanda Shrine in Tokyo, bringing in over 40,000 visitors every year to enjoy a variety of fun and exciting activities like the big bon-odori dance to anime songs, live performances, events in collaboration with anime series and more. Unfortunately, the event was cancelled this year due to COVID-19.


However, that isn't stopping the festival from being held in some sort of form. In fact, the festival organisers are teaming up with Animal Crossing: New Horizons to bring the festival to the Nintendo Switch title in Japan.

Players can even get their hands on some original Kanda Shrine outfits, as well as visit Kanda Shrine Island by using Luna's dreaming service in game (until September 30).

Information

Kanda Shrine Noryo Matsuri x Animal Crossing
Release Date: August 28, 2020 at 10:00 (JST)
Official Website: https://www.kandamyoujin.or.jp/atumori/

Dreaming Service: August 28, 2020 – September 30, 2020
Dreaming Service ID: DA-0760-0601-9410

Japan's New High Speed Bus Travels From Kyoto to Mount Koya

Keihan Bus and Nankai Rinkan Bus are bringing back their high-speed bus service this year which will run from September 18 to November 30. The service will incorporate a mandatory booking system, making it even more convenient than last year.

Mount Kōya is the name of the temple settlement found in Wakayama which first settled in 819. It is the centre for the Kōyasan Shingon sect of Japanese Buddhism and is designated as a World Heritage Site, one of many found in Kyoto alongside Kinkaku-ji, Kiyomizu-dera, and Shimogamo Shrine.

The new Kyoto Koya-san buses offer a smooth, direct ride to the World Heritage Site, arriving there from Kyoto in just 2 hours and 40 minutes.

Information

Kyoto Koya-san Bus (Japanese Name: 京都高野山線)
Running: September 18, 2020 – November 30, 2020

Keihan Bus Official Website: https://www.keihanbus.jp/

Kyoto's Famous Kifune Shrine Celebrates Tanabata With Bamboo Lamp Light-Up

Kifune Shrine, which is dedicated to the god of water Takaokami no Kami, is currently holding evening illuminations with Tanabata bamboo lamps until August 15, 2020.

About Kifune Shrine

Kifune Shrine is one of Kyoto's foremost historical shrines. Records show that the shrine was already built in 677 during the reign of Emperor Tenmu. It is located near the source of Kamo River and is dedicated to the god of water who is said protect Kyoto's water sources. The area is also known for kawadoko which is where Kibune's restaurants build platforms over the river where visitors can enjoy their meal as the water flows beneath them.

Kifune Shrine and Tanabata

Tanabata is said to originate from the Suijinsai Festival (Water God Festival), with the stars themselves as the god of water. At Kifune Shrine, which is dedicate to Takaokami no Kami—the god of water—people not only pay their respects to the blessing of water, but hold Tanabata events as well as the Kifune Water Festival.

For this year's Tanabata event, bamboo lamps will be lit up with wishes written on them by people.

Tanabata Shinto Rituals and the Kifune Water Festival

Tanabata Shinto rituals and the Kifune Water Festival will be held on July 7 where people will express their gratitude to the god who watches over Kifune's waters as well as pray for water's blessing throughout the year.

Information

Kifune Shrine Tanabata Bamboo Lamp Light-Up
Running: July 1, 2020 – August 15, 2020
Time: From sunset to 20:00
Location: Kifune Shrine, 180 Kuramakibunecho, Sakyo-ku, Kyoto
TEL: 075-741-2016

Official Website: http://kifunejinja.jp

Fufu Nara: The First Luxury Hotel Set to Open in Nara Park is Designed by Kengo Kuma

Fufu Nara is set to be the first luxury hotel to open inside Nara Park on June 5, 2020. Designed by industry-leading Japanese architect Kengo Kuma, the hotel promises a unique dining experience with food served using herbal medicines that can only be tasted here, and guest rooms that are covered in art made by Nara-based artists who use traditional techniques. Both the dining and accommodation experiences aim to immerse guests in the culture of Nara.

Witness the handiwork of Nara's artists

Nara is a city steeped with beautiful history and culture. This has been captured by the artists who have collaborated with Fufu Nara in the form of paintings, crafts, entrance decorations, and more. A stay at Fufu Nara is an opportunity to witness first hand the deep traditions and techniques of Nara's art world.

There are 30 rooms in total which are split into five different types. For example, one room type is designed around the old Japanese style of sitting on the floor. Inks and woods are used in the room to enhance that feeling that you're in Nara, and the colour tones too are chosen to bring to mind the ancient city.

Fufu Nara's dining concept

Nara Prefecture is closely tied to herbal medicines. Herbal medicine came about in the year 611 during the monarch of Empress Suiko. It is written in the Nihon Shoki that the use of herbal medicine had already been adopted by the time Prince Shōtoku was serving under the Empress. Many different traditional herbal medicines are still used in Nara today, including Angelica root, shakuyaku peonies, fennel, and so on. Traditional herbal medicines have become popular again in the prefecture in recent years.

The food prepared at Nara Fufu makes use of ingredients grown and produced in Nara, from vegetables to herbs and beyond. Breakfast, lunch, and dinner all incorporate Japanese and Chinese herbal ingredients.

Spa by sisley

The hotel also has a spa made in collaboration with French luxury skin care brand Sisley. There, guests can enjoy Fufu Nara's medicated baths.

Information

Fufu Nara
Address: 1184-1 Takabatakecho, Nara, Nara Prefecture
Grand Opening: June 5, 2020
Price: From ¥77,000 (for 1 night and 2 meals for 2 guests in 1 room) *Tax and service charge included; spa charged separately
TEL: 0557-52-6606
Official Website: https://fufunara.jp

MAXPLAN AZABU10: The New Landmark of Tokyo's Azabu Juban District

MAXPLAN Co. is set to open MAXPLAN AZABU10 on October 22, 2020 which is set to become the new symbol and a landmark of Tokyo's Azabu Juban District. The building will offer many unique and extraordinary experiences.

Nakamura Suzuko (CEO, MAXPLAN Co.) | Comment

"This project borrows the strength of internationally-active architect Kengo Kuma. I am overjoyed to have the opportunity to be a driving force together with him once again. This building, which is the 'Azabu Juban Development Project,' will be a place that creates and discovers new collective value between companies and individuals. A place of creative symbiosis. It aims to offer well being for companies that brings about a sense of cultural values. It will be a creative space for companies and individuals to resonate, bounce ideas off, and flow with one another. I pray from the bottom of my heart that these things will serve as a connection to how we want to live in the future."

Kengo Kuma (Architect) | Comment

"Azabu Juban is Tokyo's intersection between tradition and the future. I wanted to create a symbol for this district of 'fluctuations' around its crossroads. Combining panels of varying sizes with different heights, thicknesses, and textures expresses the district's diversity and energy. I wanted the building to blend in as part of the 'fluctuations,' as well as create a small 3D city which itself has 'fluctuations' […]"

We look forward to seeing how this new landmark and symbol of Azabu Juban brings together the traditional and the futuristic.

Information

MAXPLAN AZABU10
Building Site: 4-1-1 Azabu Juban, Minato Ward, Tokyo
Access: 1-minute on foot from Azabu Juban Station (via Tokyo Metro Namboku Line and Toei Oedo Line)
Grand Opening: October 2020 (subject to change)

Join Kawaii Virtual Traveller Emma on Her Global Sightseeing Tour

While the world is on lockdown, embark on a global adventure from the comfort of your own home with kawaii virtual character Emma.


The newly-launched EMMA Travel project follows the adventures of Emma as she travels from country to country, discovering and learning new things.

Satisfying your thirst for adventure couldn't have been easier. Emma will be uploading pictures of her adventures to Instagram so you can enjoy travelling without leaving your house. All her travels will be documented in English to cater to foreigners who are eagerly awaiting the chance to visit Japan.

While global lockdown measures are still in place, join Emma as she takes you on a virtual tour of must-visit sightseeing locations.

1→10, Inc. Brings Magical Shores Interactive Land Art to Siloso Beach in Singapore

Japanese creative studio 1→10, Inc. opened up Singapore's first ever permanent interactive land art exhibition "Magical Shores" on January 23 this year together with Lighting Planners Associates (LPA), a lighting company based in both Tokyo and Singapore.

Magical Shores spans 400 meters of Sentosa's Siloso Beach, turning it into an immersive, multi-sensory experience of AI-operated lights and sounds which elevate the beauty of the surrounding natural environment.

Guide To Magical Shores | Siloso Beach, Sentosa:

AI technology responds to visitors on the beach, giving them a breathtaking and unique performance. Sensors are dotted around the area which use sensing data to react based on people's movement around the beach. The AI is constantly developing as it collects big data about the temperature and climate of Siloso Beach as well as that of people's movements.


In two of the interactive areas, people can witness the "Circle of Life" beginning with the big bang. After that there is magma, followed by heavy rainfall and eventually flowing water which gives birth to life. Cells divide as plants begin to sprout, fish swim in the sea, and birds and insects sing in the mountains. At the end, life falls, and the process begins again.


Japanese musician Masakatsu Takagi was put in charge of the music and sound design of the exhibition. Takagi is known for having written the music for Wolf Children and The Boy and the Beast. He took inspiration from his music project "Marginalia," a sound diary where he would record the sounds of birds, insects, the wind, rain, and so on from his studio window. Takagi did field recording on the beach to capture the sounds of nature to use for the art exhibition.

Kuniyuki Takahashi also offered his musicianship to the exhibition. Based in Sapporo, he is an internationally-recognised composer. He also recorded the sounds of Siloso Beach, and together with Takagi, created the perfect soundtrack for Magical Shores.

Magical Shores is currently temporarily closed as a result of the coronavirus but will resume once more as soon as the situation allows it.

Yowamushi Pedal Anime's 'Five Bridges of Amakusa' Ranks Number One in Places People Want to Visit Most

Seikatsu Guide, and online website that helps support and promote local regions around Japan, has announced its Top 10 selection for "Places I Most Want To Go And See (Western Japan)" as voted for by people.

Right now, most of us are under lockdown and are prohibited from making trips deemed unnecessary. So why not make a list of places you want to visit for when we can next travel? One of those places should be the Five Bridges of Amakusa in Kumamoto Prefecture.

"Yowamushi Pedal" Anime | Five Bridges of Amakusa in Kumamoto


Taking the number one spot on the list is Five Bridges of Amakusa which is located in Kamiamakusa, Kumamoto. As the name suggests, five bridges make up the landmark, all of which stretch from Misumimachi and connect to Oyano Island, Nagaura Island, Oike Island, and Maejima Island. The bridges are a famous sightseeing spot and have been chosen as one of Japan's "100 Best Evening Spots" and "100 Best Roads."


One woman in her 30's said, "I've been there on numerous occasions. It's a really beautiful place." A man in his 30's also commented, "I love the [Yowamushi Pedal] manga. If you're going as a fan, that scene is really exciting, so I went there on my bike."

Comment from the person in charge of the Kamiamakusa Planning Committee

"Thank you for honouring us with 1st place in this […] ranking. Five Bridges of Amakusa features as the location for the race in the Yowamushi Pedal movie. It gets its name from its five bridges which connect the islands along National Route 266. The area is also nicknamed 'Amakusa Pearl Line' for the abundance of pearls that can be found here. It was also selected as one of Japan's 100 Roads. It's a truly beautiful bridge which is also an example of Japan's fine bridge building craftsmanship."

They continue: "Amakusa is surrounded by the beautiful ocean and spectacular mountains. Most of the city is located in Unzen-Amakusa National Park. There are islands that sit atop the glistening sea, and there's the Amakusa Alps which offer a spectacular view. It hails as one of Japan's best places for nature! There are many fun outdoor activities to experience, like dolphin watching, kayaking, cycling, and more. We have incredible food like kuruma prawns, which are a speciality food here, as well as free range local chickens. You can relax your mind and body with a dip in the hot springs while gazing at the ocean. Please be sure to drop by Kamiamakusa to enjoy everything it has to offer."

Other places that ranked on the list include the following.

2nd Place – "Manpuku" TV Drama | Porto Europe, Wakayama

3rd Place – STU48 Promotional Video | Chichibugahama Beach, Kagawa

4th Place – "Yatsuhakamura" Movie | Makido Cave, Okayama

5th Place – "Segodon" TV Drama | Tatsumonjizaka Trail (Ryumonjizaka), Kagoshima

Kanucha Resort in Okinawa Announces Spring and Summer Activity Program for 2020

Located in the city of Nago in Okinawa lies Kanucha Resort, a hotel resort which boasts 2.6 million square meters of land. The resort has revealed its spring and summer program which invites guests to enjoy everything Okinawa has to offerーnot just its breathtaking oceans.

What is Kanucha Resort?

Kanucha Resort sits on the east coast of Nago on the northern part of the Okinawa mainland. It's surrounded by the vast rolling sea and mother nature, and also faces Oura Bay, which is known for its coral reefs, which includes blue coral. Guest rooms come in nine styles, all of which incorporate gorgeous wooden decor. The resort has a bounty of restaurants, its own golf course, the beach, and over 70 activities to choose from, all of which makes Kanucha Resort a little town of its own. In the past winter months just gone, it also celebrate the 20th anniversary of Okinawa's largest illumination event, Stardust Fantasia.

Buggy Ride Tours & Buggy Adventure Tours

Experience a different side of Okinawa away from the beaches with an off-road ride through Yanbaru no Mori Forest on a quad bike.


Running: All Year

Time: 9:00-17:00

Meeting Locations: Buggy Ride Tour @ Dokidoki Yambarunture / Buggy Adventure Tour @ Matayoshi Coffee Farm

Ages: 4 years and older

Coral Snorkeling Tour in Banana Boats

Witness the tropical fish swimming around you, and gaze upon the gorgeous coral reefs, as you explore the waters below when you climb off the banana boat.

Running: July 23, 2020 – August 31, 2020

Time: 60 minutes

Ages: 5 to 65 years

Mangrove Kayak Tour Along the Kesaji River

The Okinawan mainland is home to many mangroves. See them together with the expand of Yanbaru's nature with a kayak ride along the Kesaji River.

Running: All Year

Time: Subject to change each day depending on how busy it is – please enquire directly

Courses: 150 Minutes (5 years and older) / 90 Minutes (3 years and older)

Star Sommelier to Space Walk

Hear about the moon and space with talks from Hoshi no Somurie® ("Star Sommeliers") and use a telescope to observe the stars at the planetarium.

Running: Monday-Thursday

Time: 20:00-20:50

Meeting Point: Leisure Counter

Oura Mangrove Kayak

Enjoy a round trip kayak ride around the Oura Mangrove which has been designated as an Important Cultural Property of Nago.

 

Running: All Year Round

Time: Please enquire directly

Ages: 3 years old and above (*For guests only)

Meeting Point: Wansaka Oura Park

For more details on the activities available at Kanucha Resort, visit their website here.

Information

Kanucha Resort

Address: 156-2 AbuNago, Okinawa

TEL: 0980-55-8880

FAX: 0980-55-8693
Reservations: 0980-55-8484 (9:00-18:00)

Access: 1 and a half hours by car from Naha Airport

Official Website: https://www.kanucha.jp/en/