The Leo Lionni Cafe in Ginza Extended Its Running Period and Refreshed Its Menu
The Leo Lionni cafe located at Sunday Brunch, MARRONNIER GATE GINZA 1 is remaining open for a longer period due to popular demand. The limited-time cafe will now be open until September 29. This cafe is themed around the world of Leo Lionni; a famous children's picture book author whose illustrated stories include Swimmy and Frederick. Some of his works have even featured in school textbooks. After much anticipation, the cafe has released a brand new menu.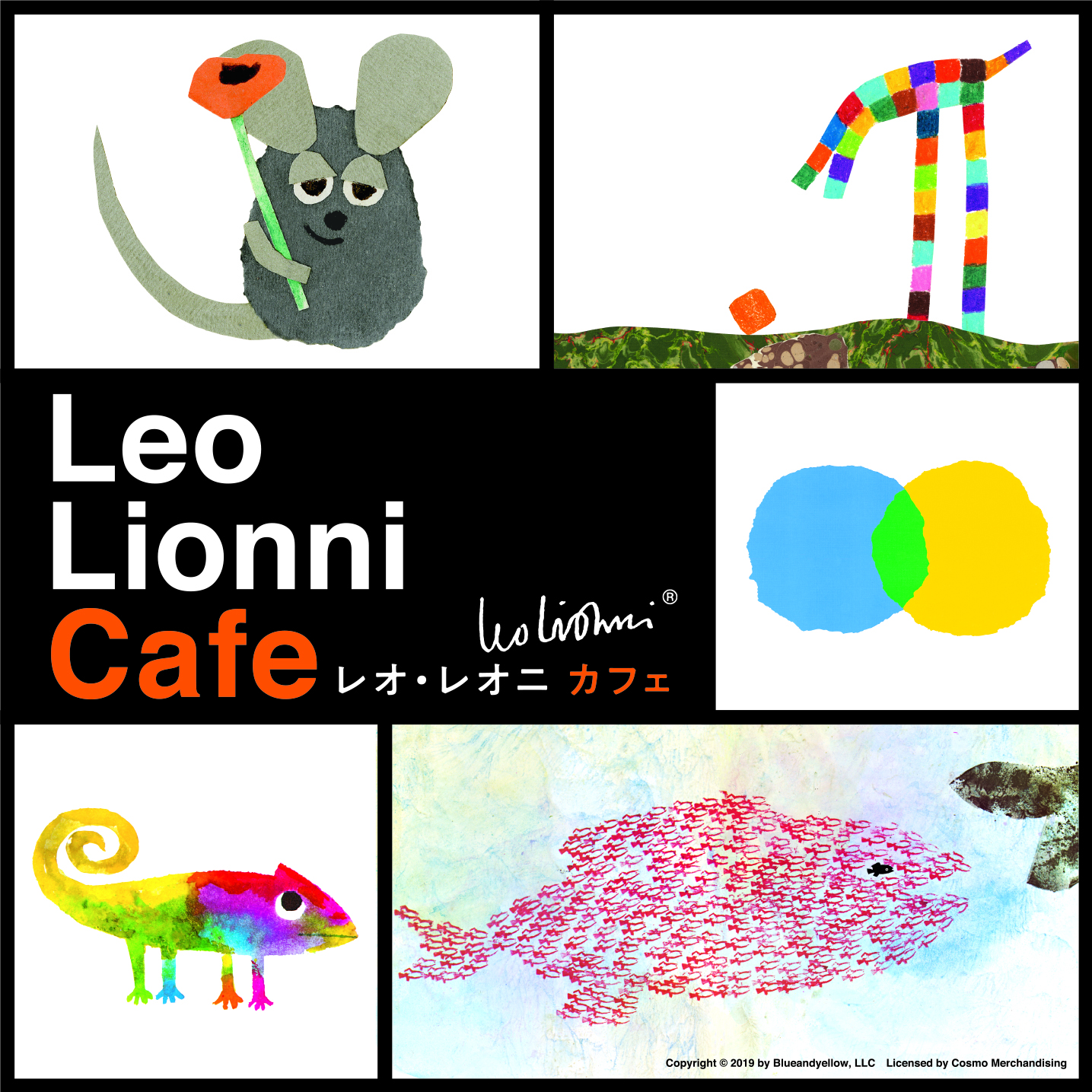 The renewed menu includes three new items which are based on Frederick; the story which has been praised as Lionni's best and most popular by both children and adults. A new Frederick-themed meal, cake and drink will be made available from July 20. When you order the Frederick-themed meal, the world of Frederick will unfold before you as if it has been cut straight out of the book and served up on a plate. There is no doubt that you will find these dishes so cute that you will not want to eat them.
Frederick's Sunny Soup and Rice: ¥1,480
This is a corn, pumpkin and minced chicken dish served with a cold soup and brown rice. This depicts the image of Frederick collecting the sun as he does in the story. The rice is served hot.
"I know it" Cheesecake: ¥1,250 (price with drink set)
This is a baked cheesecake made using rhubarb and summer berries sourced from Hotaru Noen Tatsuno Farm, Nagano. This delicious cheesecake depicts the scene right at the end of the story where the mice praise Frederick saying: "but Frederick! You are a poet," to which Frederick replies: "I know it".
Frederick Cheese Tea: ¥900 
This is a pineapple iced tea with cream cheese and a Frederick biscuit perched on the top. The pineapple flavour is sweet yet slightly sour. This is bound to leave you feeling refreshed, making it the perfect summer drink. 
From July 13 to September 29, 2019, there will be a special discount campaign running at the Minna no Leo Lionni Ten; an exhibition dedicated to Lio Lionni which is currently running at the Seiji Togo Memorial Sompo Japan Nipponkoa Museum of Art. Please consider stopping by. 
Copyright © 2019 by Blueandyellow, LLC Licensed by Cosmo Merchandising
Information
Leo Lionni Cafe
Running: April 3 ー September 29, 2019 
Opening Hours: 11:00 ー 21:00 
Last orders: Food: 20:00, cakes/drinks: 20:30
Reservations can be made for until 5 pm. Customers without reservations will be served on a first-come-first-served basis after 5 pm.
Running at: Sunday Brunch  MARRONNIER GATE GINZA 1 (4th floor)
Address: 2 Chome-2-14 Ginza, Chuo City, Tokyo
* New menu will be released on July 20
Official Website: http://leolionnicafe.com/
Minna no Leo Lionni Ten Exhibition (Tokyo)
Location: Seiji Togo Memorial Sompo Japan Nipponkoa Museum of Art
Running: July 13 ー September 29, 2019 
Opening Hours: 10:00 ー 18:00 (Last entries accepted until: 17:30)
Closed: Mondays (Exceptions: July 15, Aug 12, September 16, 23)
Website: https://www.asahi.com/event/leolionni/
Minna no Leo Lionni Ten Exhibition X Leo Lionni Cafe Reciprocal Discount Scheme
If you attend the Minna no Leo Lionni Ten Exhibition held in Shinjuku and retain your ticket or ticket stub, you can exchange it at the Leo Lionni Cafe for a ¥100 discount off your meal. Likewise, if you attend the Leo Lionni Cafe, you will be presented with a ¥100 discount for entry to the Minna no Leo Lionni Ten Exhibition. 
※ ¥100 will be taken off your meal price at the Leo Lionni cafe for every exhibition ticket presented.
※ Please be aware that ¥100 discounts for the Leo Lionni Exhibition will no longer be available once stocks have been fully depleted. 
RECOMMENDED ENTRIES
Tokyo Disneyland's Hot Jungle Summer Event Offers Up Flames, Drenching Water & Delicious Food

Hi, everyone! It's Midori from MMN's editorial team.

Donald Duck is the star of Tokyo Disneyland right now with his Hot Jungle Summer festival that is running right now until September 1. It is packed full of events, limited time food and exclusive goodies all themed around summer.

The limited time food is taking on water and fire motifs with restaurants serving up both cool and refreshing looking items and hot summery items. I paid a visit to the festival together with Kanako so we could try out these seasonal meals and drinks.

Sparkling Drink (Blue Syrup) – ¥380

We headed over to Boiler Room Bites located inside Adventureland and tired out their blue coloured "sparkling drink." Blue syrup is added to the cup inside which chewy pieces of jelly bob up and down in the soda. Its appearance alone is enough to cool you down, it's really pretty!

They sell other sparkling drinks too, including a red coloured one with raspberry syrup and a yellow one with lemon syrup. It's cute and fun for you and your friends to get different coloured ones♡

For an extra ¥350 you can also get this huge yellow souvenir straw with Donald on the front. Simply kawaii♡

Cream Shaved Ice (Tropical Fruits) – ¥550 (Tax Included)

The tropical fruits flavour of Tokyo Disneyland's popular cream shaved ice is available for the festival only. It's a mix of shaved ice and soft serve ice cream.

It's sold at Troubadour Tavern in Fantasyland and comes with huge pieces of pineapple. It's not too sweet and is the perfect refreshment for the hot summer weather.

Special Set: ¥960 (Tax Included)

You can get this special set at the refreshment corner of World Bazaar. It comes with a bright red hot dog topped with cheese and a vegetable sauce packed full of veggies. The sauce is spicy and will whet your appetite!

It also comes with a drink and fries so you're sure to get your lunchtime fill.

Special Set: ¥1,080 (Tax Included)

Camp Woodchuck Kitchen in Westernland is popular for its turkey legs. This mouthwatering set comes with a tasty hamburger seasoned with curry sauce and topped with cheese. Even in the hot summer this one is a must-try. It also comes with fries and a drink.

The restaurant sells a whole load of other bites too like the onigiri burger, waffle sandwiches and more, all ideal for lunch. Sift through the menu and make your choice♡

Mango Milk Soft Serve Ice Cream w/ Raspberry Sauce – ¥400 (Tax Included)

If you want ice cream then you'll want to head to Squeezer's Tropical Juice Bar in Adventureland where they're selling mango and milk flavoured soft serve ice cream drizzled in raspberry sauce. The sweetness of the ice cream and sourness of the raspberry sauce go together really well. It's available for a limited time only so don't miss out!

That goes for everything else listed here, it's all limited-time-only, so if you're in Tokyo this summer then be sure to head on over ASAP!

©Disney

Bring Back Childhood Memories At The Lisa and Gaspard Afternoon Tea Collaboration Café

From July 25 to August 28, four Afternoon Tea shops will be collaborating with the French picture book Gaspard and Lisa to celebrate the book's 20th anniversary. The collaboration will only be running at the following branches: AEON Lake Town kaze, Koshigaya, LaLaport Yokohama, Terrace Mall Shonan and Nagoya LACHIC.

Tomboy Lisa Katsu Curry Plate (Drink included): ¥1,491 (after tax)  

Lisa's Tomato Chicken Curry (Kids Drink included) : ¥1,005 (after tax) 

The Tomboy Lisa Katsu Curry Plate consists of a European-style curry with a crispy chicken cutlet and carrot marinade. There is also a sweet apple and honey tomato chicken curry which is limited to kids only.

Peach Peach Clown Parfait Straight Out of the Picture Book: ¥1,404 (after tax)


Lisa and Gaspard Strawberry/ Melon Sundae Sodas: ¥864 (after tax)

The menu also includes desserts and drinks from the picture book. For example, the peach peach clown parfait and two flavours of Lisa and Gaspard Sundae Soda. Make sure you order one of these drinks to go with one of the five delicious collaboration meals. 

During the collaboration period, the tea shop will be decorated with a special Lisa and Gaspard theme. There will be photo spots and even a book corner with 20 Lisa and Gaspard books (limited to Nagoya LACHIC only).

This is the perfect place to enjoy a special summer meal with your family so please check it out!

©2019 Anne Gutman & Georg Hallensleben / Hachette Livre

Kaori's Easy Recipe: Learn to Make Mickey Mouse Gratin Pie

With just a small bit of ingenuity, turn everyday food into something cute using Kaori's easy recipe! With a few simple ideas, an ordinary recipe magically transforms into a cute dish.

Today, I will show you the perfect recipe for using the Mickey Mouse bread warmer you can buy online at Belle Maison. The warmer can be used for bread, pies and more. They will keep your food from going cold and drying out so it'll still be as delicious as when you put it in!

1. Ingredients

Frozen pie sheets

Frozen gratin

2. Leave the pie sheets to come to room temperature for 5-10 minutes and then roll out slightly.

3. Cut out two large circles for the face. If you don't have a cutter you can substitute it with a cup or something similar

4. Take one of the circles and cut a smaller size circle like below.

5. Using egg yolk, stick the hollow circle from Step 4 onto the circle from Step 3. For the ears, check the size of the face you have cut out and cut them accordingly. Affix to the face with egg yolk.

6. Layer egg yolk over the years and the outside of the face and then pierce holes with a fork all over.

7. Add the frozen gratin to the middle and bake at 200℃ for 13-15 minutes.

The recipe may be simple but looks just like something sold at Mamma Biscotti's Bakery in Tokyo Disneyland! You can add mint sauce to the middle or even make it a meat pie. Whatever you do it's sure to be delicious!

Pop into your bread warmer for cute presentation. These make for great nibbles to share with people!

Kaori invites you into her world of character-themed food dishes in her recipe series. Be sure to check out her Instagram where she has uploaded many pictures of her character dishes!

©️Disney

Profile

Kaori Kubota (@kaopan27)
I live in Hokkaido and I love to make character themed foods, desserts and pastries♡

I want to see my family smile, so I enjoy putting in a bit of effort to make character foods and changing food into something cute♡

You can see more of my character foods and character bento boxes on my Instagram page→@kaopan27

Catch Your Favourite Pokémon at the Pokémon Café in Nihonbashi

Hello, everyone. I'm Ren Koseki.

Whether it's the anime series, Pokémon Go or one of the many other games, the Pokémon franchise is loved by kids and adults alike. There was even the recent Detective Pikachu movie which was a huge hit as well! Obviously I went to see it too. That fluffy Pikachu was just too cute. Check out my Detective Pikachu hat in the photo.

I absolutely adore Pokémon and find myself often dining together with them at the Pokémon Café. Today, I'd like to show you all what it's like there!

The Pokémon Café is located inside the Pokémon Center (a merchandise shop) on the 5th floor of Nihombashi Takashimaya S.C.. It's important to keep in mind that the café is reservation-only. You must book a specific time slot before going. You can do this by heading to the café's official website.

Pokémon roam all around the café – it's like a dream come true for all fans! Trying to spot them all is another part of the fun of coming here.

There's a photo spot inside with two Pikachu in the background wearing cute staff uniforms. Expect to see Pikachu in many different forms like this which you won't find anywhere else.

Of course, the food and drinks on the menu are all Pokémon-themed too. Here is the drink I ordered:

Choose-Your-Own-Pokémon Latte: ¥756 (Tax Included)

The café's classic latte. You can choose to have latte art from all Pokémon up to No. 251 in the Pokédex. I ordered the Detective Pikachu version of Jigglypuff. I didn't want to ruin the beautiful art so it was hard to drink!

And for food…

Eevee Teriyaki Chicken Burger: ¥1,598 (Tax Included)

I ordered the Eevee burger which is available for a limited time until September 6. The café menu has regular options as well as limited-time-only items too so you're bound to see something new every time you visit.

Most importantly however is that you can expect a visit to your table from a real Pokémon!

Whoa, so fluffy! Eevee came to visit me this time around. You will get a visit from either Pikachu or Eevee. This was my 4th or 5th time at the café but the first time I got to encounter Eevee!

The Pokémon are led to each table by the staff to strike cute poses for you, and you're free to take as many photos and videos are you like!

This is my personal recommendation, but it's fun to take a photo together with your latte art and plush toy of your favourite Pokémon.

It looks like my Squirtle is enjoying itself too.

And that's the Pokémon Café, a dreamland for any Pokémon lover. Be sure to visit♡

Information

Pokémon Cafe
Address: 2-1-2 Nihombashi | Nihombashi Takashimaya SC East Bldg. 5F, Chuo 103-0027, Tokyo Prefecture
Business Hours: 10:30-22:00

Access: 5-minutes on foot from Tokyo Station's Yaesu North Exit via JR Line / 5-minutes on foot from Nihonbashi Station's B2 Exit via Tokyo Metro Ginza Line and Tozai Line / 4-minutes on foot from Nihonbashi Station via Toei Asakusa Line

TEL: 03-6262-3439

Reservations: https://reserve.pokemon-cafe.jp/

Official Website: https://www.pokemoncenter-online.com/cafe/

TALENT PROFILE

Ren Koseki

Earns charismatic support as a model from young girls. She appears in a variety of media with her cute appearance which says things you cannot imagine and speaks the opinions of a generation. She also films, edits and posts videos on her YouTube channel, 'Ren Channel.'

Pompompurin Cafe Collaborates With Bonobono To Release Cute Summer Menu

Pompompurin cafe Harajuku, Umeda and Yokohama will be collaborating with much-loved manga and anime character Bonobono. The collaboration will see a new menu make its way to the three Pompompurin cafes from July 11 to September 1, 2019. 

The theme of the collaboration is Bonobono and Pompompurin on a fun trip to the beach. The collaboration menu includes four meals that are both cute and delicious enough to fully satisfy both Bonobono and Pompompurin fans. 

Two friends swimming in white curry: ¥1,290 (before tax) 

Order the white curry dish and you will see the two pals are wearing matching mushrooms as hats. Pompompurin has come prepared to swim in the curry with a lifering made from a crispy mochi wafer (monaka). The two friends seem to be having lots of fun on their beach trip. The dish is decorated with large and colourful vegetables, shellfish-shaped ham and starfish-shaped bell pepper. This healthy dish is both filling and beautiful.  

Pompompurin English Muffin and Bonobono Doria (Doria: rice casserole dish with a creamy white sauce) ¥1,390 (before tax )

In the English muffin and doria meal, a slice of English muffin is topped with vegetables and a burger. Pompompurin's face is drawn on a slice of cheese that is placed on top. The meat doria is a casserole topped with a creamy white sauce, decorated with Bononono's face. Both the pals are seen expressing their friendship by wearing matching berets. This comes as a set with a salad topped with shellfish-shaped ham and chips. What a filling meal. 

Pompompurin Pancake Featuring Bonobono : ¥1,090 (before tax)

The pancake dessert plate features a Pompompurin pancake alongside a Bonobono sherbet that is ramune flavoured. The sherbert might be your first time tasting the unique Japanese flavour of ramune. Ramune is a Japanese soft drink that is blue in flavour and perfect for the summer. Make sure to leave enough room for dessert!

Good Pals in a Fluffy Soda ♪: ¥900 (before tax)  

Order the fluffy soda and you will be served with an ocean blue drink. Blue curaçao liqueur and grapefruit syrup are mixed with soda and topped with whipped cream. On top of the drink sits a mango ice cream-flavoured Pompompurin and a marshmallow Bonobono. This refreshing drink depicts the image of the two friends enjoying a swim in the blue ocean. 

Customers who order from the limited-time collaboration menu will receive a free postcard. 

All customers who dine in the café will receive a free table mat. Those who order a drink will receive a free drink coaster. 

※ These will no longer be given to customers when stock runs out.

Fill yourself with delicious and cute meals and drinks.  

© Mikio Igarashi /Takeshobo, Fuji TV, Eiken © 1996, 2019 SANRIO CO., LTD. APPROVAL NO.S601363

Information

Pompompurin Cafe, Harajuku

Address: CUTE CUBE HARAJUKU (floor 3), 1-7-1, Jingumae, Shibuya, Tokyo

Opening Hours: 11:00 ー 21:00 (Last orders: 20:00)  / (Drinks last orders: 20:30)

 

Pompompurin Cafe, Umeda 

Address: Hankyu Sambangai South Bldg. Basement floor 2, 1-1-3 Shibata, Kita-ku, Osaka

Opening Hours: Weekdays: 11:00 ー 22:00(Last orders: 21:30), Weekends/national holidays: 10:00 ー 22:00 (last orders: 21:30)

 

Pompompurin Cafe, Yokohama

Address: YOKOHAMA SOTETSU SQUARE, 2 Chome-1-5 Minamisaiwai, Nishi Ward, Yokohama, 

Opening Hours: 10:00 ー 21:00 (Last orders: 20:30)

  

Bonobono Official Website: http://www.bonoanime.jp/

Pompompurin Cafe Official Website: http://pompom.createrestaurants.com
RELATED ENTRIES
Hyatt Centric Ginza to Display Christmas Tree Made by Social Advocacy Group HERALBONY

From December 1 until December 25, guests at Hyatt Centric Ginza will be able to see the first-ever Christmas tree designed by the social advocacy group HERALBONY. The Light-Hearted ART TREE will welcome guests to the 4F library and lounge area, and the tree lighting ceremony will be streamed on Instagram live.

It's no surprise that the hotel is collaborating with HERALBONY again–from May to November of this year, the HERALBONY ART ROOM was open for guests to enjoy. This is the first time that the unit is designing a Christmas tree, and the piece is inspired by one of their most iconic pieces of art–Yukihito Okabe's Hoo! Hey! Visitors of all ages can enjoy this beautiful piece, filled with color and sure to bring joy.

Along with the tree, the showcase and lounge will also be decorated in a number of HERALBONY pieces. Come enjoy the Christmas season in this one-of-a-kind space!

Information

Hyatt Centric Ginza x HERALBONY

On Display: December 1 – December 25, 2022

Venue: 4F Library / Lounge

Official Site: http://hyattcentricginza.jp

Kirby Cafe Reveals Exclusive Winter 2022 Menu

The Kirby Cafe has announced a warm and tasty new winter menu! New items will be available from November 17, 2022 until February 28, 2023, and are sure to warm up fans of the beloved video game series.

Menu

Winter Kirby Burger & Pasta with Powdered Snow Cheese (30th Anniversary Version)

Winter Waddle Dee Burger & Pasta with Powdered Snow Cheese

Waddle Dee's Dreamy White Stew

Chef Kawasaki's Winter Hors d'oeuvres with Roast Beef

Transform! Carby Cake

Kirby's Dream Ricotta Pancake

Whispy Woods Blessed Tart

Elfilin's Twinkle☆Frozen Drink

The Winter 2022 menu offers a variety of adorable and tasty menu items featuring Kirby and his friends all dressed up for the colder months. From a burger and pasta set to piping hot stew and fluffy ricotta pancakes, there's sure to be something for every taste. 

 

The Carby cake, inspired by Kirby's special transformation in the recent game Kirby and the Forgotten Land, has been reimagined in a winter version. Fans won't want to miss out!

This winter, come enjoy plenty of Kirby-inspired treats while you can!

©Nintendo / HAL Laboratory, Inc.

13th BT21 Cafe to Open in Tokyo, Yokohama, Nagoya, Osaka, and Sapporo

The 13th iteration of the BT21 Cafe will open at six venues in five cities around Japan. Fans in Tokyo, Yokohama, Nagoya, Osaka, and Sapporo will want to visit this exclusive event titled ~MAGICAL TIME~. The first cafe opens in Shibuya on November 3. In celebration of BT21's 5th anniversary, this special cafe is filled with joy and excitement and aims to give fans the best possible experience.

Cafe Menu

Magical Tea Time Set

Food Plate

Food Plate (7 varieties)

Dessert Plate

Dessert Plate (7 varieties)

Drinks

Magical Milk Tea

Black Tea

Iced Coffee / Hot Coffee

Original Goods

Acrylic Keychain (7 varieties, Random)

Acrylic Clip (7 varieties, Random)

Satin Sticker (7 varieties)

Clear Folder (2 varieties)

Handkerchief (7 varieties)

Tote Bag

Mug

Masking Tape / Balloon on a Stick

Dolomite Coaster (2 varieties) / Mirror (2 varieties)

[Online Store Exclusive] Acrylic Keychain (7 varieties, Random)

The cafe's new menu includes afternoon tea, perfect for warming the body and soul during the cold winter months. The colorful food items and desserts are sure to be a hit on social media, and fans will enjoy the Magical Milk Tea and other dishes inspired by the popular BT21 characters.

 

In addition to new merchandise and bonuses featuring newly-drawn art, a photo spot will welcome guests to the cafe and invite them to celebrate this five-year milestone. 


Why not take a break from everyday life to enjoy a magical time with these cute characters?

©BT21

Information

BT21 Cafe #13 ~MAGICAL TIME~

Venue/Dates


■Shibuya, Tokyo:

BOX cafe&space SHIBUYA109

Running: November 3 – December 10, 2022

Address: SHIBUYA109 B2F (2-29-1 Dogenzaka, Shibuya-ku, Tokyo)

■Oshiage, Tokyo:

BOX cafe&space Tokyo Solamachi

Running: January 13 – February 19, 2023

Address: Tokyo Skytree Town, Solamachi 1F (1-1-2 Oshiage, Sumida-ku, Tokyo)

■Yokohama, Kanagawa:

Collabo_Index Lumine Yokohama

Running: January 13 – February 5, 2023

Address: Lumine Yokohama 6F (2-16-1 Takashima, Nishi-ku, Yokohama, Kanagawa)

■Nagoya, Aichi:

BOX cafe&space Nagoya LACHIC #1

Running: December 2, 2022 – February 5, 2023

Address: LACHIC B1F (3-6-1 Sakae, Naka-ku, Nagoya, Aichi)

■Shinsaibashi, Osaka:

Shinsaibashi contact

Running: November 11 – December 18, 2022

Address: 1-6-24 Kitahorie, Nishi-ku, Osaka

■Sapporo, Hokkaido:

Cafe Interlude, Coach & Four Shinakawa

Running: November 3 – December 29, 2022

Address: 18-chome 3-jo, Kita-ku, Sapporo

Reservations: https://box-cafe.jp/



Online Shop

Open: November 3, 11:00 – December 4, 23:59
https://box-cafe.jp/online_store/

Coji-Coji and Sunday Brunch to Release First Limited Edition Christmas Cakes

Momoko Sakura's popular character Coji-Coji and the Shimokitazawa branch of Sunday Brunch are teaming up for some exclusive Christmas cakes! Preorders are scheduled to open on November 1, 2022. 

Currently, a special collaboration menu featuring Coji-Coji is available at Sunday Brunch Shimokitazawa. This has been a huge hit, and on weekends, young people in their 20s and 30s can be seen lining up for a seat. The newly-announced Christmas cakes are a first for the popular collab, and fans won't want to miss snagging one for their holiday table. Sunday Brunch will also release its standard Christmas cakes alongside these new additions. 

Coji-Coji's Christmas Fruit Tart

This lovely shortcake is decorated with Coji-Coji's face and scrumptious fruit. The strawberry filling suits the outer layer perfectly. 

[Price] Small (12cm): ¥3,800 (Tax Included) / Large (15cm): ¥4,800 (Tax Included)

*Must be picked up at the Shimokitazawa location. Delivery is not available. 

*Preorders open from November 1 until December 18 both online and in-store. 

*Limited quantity available.

Strawberry & Gingerbread Man

This Christmas shortcake blends strawberries, blueberries, and a delightful gingerbread man. The fluffy sponge will melt in your mouth, and this is a must-have for strawberry lovers!

*Must be picked up at the Shimokitazawa store.

[Price] Small (12cm): ¥3,600 (Tax Included) / Large (15cm): ¥4,600 (Tax Included)

Information

Coji-Coji x Sunday Brunch Christmas Cakes

Collaboration Cafe

Venue: Sunday Brunch Shimokitazawa (2F, 2-29-2 Kitazawa, Setagaya-ku, Tokyo) 

Online Store: https://sundaybrunch.stores.jp/

170 Artists Collaborate on VISIONS 2023 ILLUSTRATORS BOOK, On Sale Now

VISIONS 2023 ILLUSTRATORS BOOK, the newest edition of the popular art book edited by pixiv, was released on October 4, 2022. Art fans know the pixiv website as a place to share artwork, manga, and more. 

The VISIONS book series began publication in 2020, and the total number of copies sold worldwide has surpassed 150,000. The latest 2023 issue features works by 170 creators, allowing readers a glimpse into the current state of illustration today.

The cover art was drawn by Mika Pikazo, a character designer for many popular titles including Fire Emblem Engage, the latest in Nintendo's Fire Emblem series. Mika Pikazo has long been pursuing new forms of expression in digital art, including incorporating cubism. Digital art is often treated as something vastly different from traditional art such as paintings and sculptures, but the cover art of this book challenges this belief by blending digital and traditional art. Pikazo's vivid colors and exquisite brushwork are a must-see.

 

In addition to providing the cover art, a 7,000-word special interview with Mika Pikazo delving into his thoughts and vision can be found in the new book, providing a detailed view of what the digital art scene will look like in 2023.

Sunday Brunch Reveals Coji-Coji Collaboration Menu for a Limited Time

Sunday Brunch Shimokitazawa has announced a new limited-time collaboration menu inspired by Momoko Sakura's Coji-Coji! The collab will run from October 7 until December 11, 2022. Previously, the restaurant held a Maruko & Coji-Coji Cafe that did extremely well in 2020, so there's no doubt this will also be a huge success.

Guests can enjoy savory and sweet dishes along with drinks inspired by the adorable character. Some of these items were featured in the previous collaboration, and will only be available at the Shimokitazawa location. Plenty of characters will appear, and exclusive merchandise will be available at the store. There will be no reservations available, so be sure to show up early! More information will be available on the official Twitter page, so check back soon.

Menu

Coji-Coji's Avocado and Nuts Taco Rice *Vegetarian Menu

Coji-Coji's Pumpkin Cream Udon *Vegan Menu

Jiro's Trifle

Coji-Coji's Secret Cake (6 varieties) *Cake and Drink Set

Land of Fairy Tales Sweets Set *Includes Drink

Coji-Coji's Cream Soda

Suzy and Buhi-Buhi's Cream Soda

Information

Coji-Coji × Sunday Brunch 

Running: October 7 – December 11, 2022
Venue: Sunday Brunch Shimokitazawa
(2-29-2 Kitazawa, Setagaya-ku, Tokyo 2F)

Official Twitter: @cafe_marucoji 

Shaun the Sheep Fall Menu and Workshops Available for a Limited Time at Sunday Brunch Kichijoji

The popular series Shaun the Sheep is collaborating with Sunday Brunch Kichijoji at Kichijoji PARCO! A Shaun the Sheep-inspired autumn menu will be available starting September 12. Guests can also take part in a Halloween Fruit Tart-making workshop on September 17 and 24 and October 22 and 29. Families, couples, and friends are invited to enjoy the flavors of fall at Shaun's Cafe.

Menu

Shaun's Tomato Cheese Cream Penne with French Toast

Shirley's Autumn Vegetables and Hamburger Meat Doria

From Left: Shirley's Grape Jelly & Muscat Soda / Shaun's Coffee Jelly Milk Float / Bitzer's Blue & Orange Soda

Baby Shaun's Chestnut & Berry Pancakes

Baby Bitzer's Grape & White Chocolate Hotcakes

Gift Workshop

Shaun's Halloween Fruit Tart Workshop

Information

Shaun the Sheep with Sunday Brunch Cafe

Venue: Sunday Brunch Kichijoji (Kichijoji PARCO 4F, 1-5-1 Kichijoji Honcho, Musashino,
Tokyo)

Limited Fall Menu: Available starting September 22

Workshop Dates: September 17, 24 / October 22, 29

Reservations/Details: https://www.shauncafe.com/

Q-pot CAFE to Offer Cute Halloween Sweets to Celebrate 10th Anniversary

Q-pot CAFE in Omotesando will be offering up some Halloween treats to celebrate the location's 10th anniversary! Guests will be able to sample these special sweets from September 3 until October 31, 2022.

Happy Halloween! Afternoon Tea Set

The festive Happy Halloween afternoon tea features pink Jack-o'-lantern macarons and other Halloween-inspired sweets.

Fluffy Floating Ghost Plate (Drink Included)

The adorable ghost is made from fluffy milk mousse covered with gyuhi, a typical ingredient in Japanese sweets made from rice flour. Inside is blackcurrant and redcurrant jelly with an incredibly sweet and sour flavor.

Black Devil Tea Mocha

Featuring large devil wings, this tasty and eye-catching beverage is a mix of black tea, chocolate, and milk. When the cocoa cream melts, the taste changes to something creamy and cozy, perfect for the autumn months.

Shimmering Blueberry & Grapefruit Soda

This refreshing sweet and sour drink combines blueberries and pink grapefruit along with soda and pearl powder.

Come enjoy Halloween while celebrating the cafe's 10th anniversary!

Information

Q-pot CAFE 10th Halloween Menu

Location: Q-pot CAFE Omotesando

Running: September 3 – October 31, 2022

Hours: 11:00-19:00 (Last Order at 18:30)

Details/Reservations: http://www.Q-pot.jp/news/2022/08/1746.html

Blue Lock Anime Pop-Up Store and Cafe to Open at Tokyo Solamachi Tree Village

A pop-up store and cafe inspired by the anime series Blue Lock will open in September! The series is due to begin airing in October 2022.

The limited-time cafe and shop will open at Tokyo Solamachi Tree Village. Guests will be able to enjoy original dishes inspired by characters from the series, and goods featuring new illustrations will be on sale!

If you're a fan of the series, you won't want to miss taking a trip to Skytree in September!

Information

Blue Lock Tree Village Cafe

Running: September 1 – September 30, 2022

Location: Tokyo Solamachi West Yard, 4F, #4

Official TV Channel Shop ~Tree Village~

Shop Hours: 9:00-21:00

Tree Village Official Site: https://tree-village.jp/

Matsuzaki Shoten to Hold First Collaboration Between Ginza's Matsuzaki Senbei and Cat's ISSUE

Matsuzaki Shoten will hold a special collaboration event between Ginza's Matsuzaki Senbei and Cat's ISSUE starting on August 6, 2022. The Cat's Festival 2022 will be an incredible event for cat lovers, and guests will be able to grab some special hand towels and bowls produced exclusively for the festival. In addition, there will be an exhibition of works by Ayako Ishiguro, a picture book artist associated with Cat's ISSUE.

Ginza's Matsuzaki Senbei x Cat's ISSUE

This Japanese-style hand towel features illustrations of unique cats based on the concept color of Matsuzaki Shoten, the main Matsuzaki Senbei shop in Ginza.

Ginza's Matsuzaki Senbei x Cat's ISSUE

Matsuzaki Senbei's flagship product has been decorated with cat illustrations, each painted by hand. During the event, customers can choose four of their favorite pieces from a total of nine different patterns and pack them in a box wrapped with beautiful paper with a special design.  Guests can also purchase these goods separately. 

Collaboration with Ayako Ishiguro, a Picture Book Artist Specializing in Monster Art

This comical cat scroll created by Ayako Ishiguro will be on display during the exhibition. Hand towels made in collaboration with Ishiguro will also be on sale. These have previously been sold to huge fanfare.


If you love cats and classic Japanese art, this is the event for you!

Information

MATSUZAKI Cat's ISSUE – Cat Festival 2022
Running: August 6 – August 21, 2022
Venue: Matsuzaki Shoten (4-13-8 Ginza, Chuo-ku, Tokyo)
Details: https://cats-issue.com/

Teppanyaki and Yakiniku Restaurant Honten Yamashina Opens in Ginza

On July 18, the upscale teppanyaki and yakiniku restaurant Honten Yamashina opened a new location in Ginza! The hybrid restaurant has taken over the entire top floor of GINZA PLACE, which is directly connected to Ginza Station. Overlooking the Ginza 4-chome intersection, it's a gorgeous place to enjoy some authentic Japanese cuisine. 

Honten Yamashina mainly uses fully-matured Omi beef, the highest grade available among Shiga Prefecture's top-tier beef, from Okazaki Farm. The cows are allowed to fatten for a considerable amount of time and live stress-free lives for over 40 months. Less than 1% of all Wagyu cattle are shipped after 24 months of age, and this delectable meat is characterized by its sharp taste and fattiness. 

Luxurious Wagyu and Sea Urchin Sushi

Early Summer Plate to Enjoy with Seasonal Flowers

Selected Extra-thick Beef Tongue Steak Made with Refined Attention to Detail

Grilled Spiny Lobster Made on a Charcoal Grill

The Playful Yamashina Wagyu Slider

Melt-in-your-mouth Sweet Amala Tomato (Vegetable of the Day)

Hand-selected Omi Beef Steak

Truffle Omurice

Japanese-style Teppanyaki

Guests can enjoy authentic Japanese teppanyaki cuisine with a modern twist. While sitting at the contour, visitors will enjoy a live performance by Taku Osada, a teppanyaki chef with over 20 years of experience.  

The wide variety of meat can be enjoyed in a number of different ways, whether it be raw, grilled, stewed, or properly cooked. From tongue and rump to filet and sirloin, you won't leave hungry. Visitors can also enjoy seafood and seasonal Japanese vegetables along with their meat, and the flowers and leaves that adorn each plate will change depending on the time of year.

In addition to rare teppanyaki dishes like skirt steak and 3cm-thick beef tongue, Honten Yamashina also offers some playful dishes such as sliders. As the temperature differs on different parts of the steel cooking plate, each item can be cooked to a temperature that maximizes its specific flavor. Honten Yamashina also has a massive cellar housin over 1,000 bottles of wine and hard-to-find spirits. 

Japanese-style Yakiniku

For those looking for a more private experience, guests can enjoy yakiniku in a completely separate room. Each private room has a grill that will cook meat to the perfect temperature, and only at Honten Yamashina can you enjoy fully-matured Omi beef. The signature cutlet sandwich is made with chateaubriand cooked at a low temperature and deep-fried in a thin batter, then served on crispy bread with a soft, fluffy interior.

Teppanyaki and yakiniku are typically thought of as meat-based dishes, but the restaurant can accommodate vegetarian guests if contacted in advance. 

When Japan opens up to tourism, will you be visiting this incredible restaurant in the heart of Tokyo?

That Time I Got Reincarnated as a Slime Exhibition 2 in Tokyo to Show Footage from Upcoming Film

The second exhibition for the popular manga, novel, and anime series That Time I Got Reincarnated as a Slime will open at Matsuya Ginza on July 21. With over 30 million copies in print, the series has become massively popular both in Japan and abroad, and an anime film is scheduled to release this November. 

The exhibition will be open until August 9, 2022, and is then scheduled to begin a regional tour.

Certain scenes from the highly-anticipated upcoming film will be shown exclusively at the exhibition. Those who are having trouble waiting until November won't want to miss this rare chance!

During the previous exhibition, guests were able to enter a lottery to win a signboard autographed by Miho Okasaki, the voice of Rimuru. Due to the large number of entries, prizes for the second lottery are even more incredible!

The following autographs, which were previously displayed during the last exhibition, will be given away to some lucky fans. More details are available on the official Twitter page!

Signboard autographed by That Time I Reincarnated as a Slime author Fuse / Signboard autographed by Tenchura! That Time I Reincarnated as a Slime author Fuse / Signboard autographed by That Time I Got Reincarnated as a Slime: Trinity in Tempest artist Tae Tono / Signboard autographed by That Time I Got Reincarnated as a Slime: The Ways of the Monster Nation author Sho Okagiri / Signboard autographed by That Time I Got Reincarnated (Again!) as a Workaholic Slime illustrator Shizuku Akechi / Signboard autographed by The Slime Diaries: That Time I Got Reincarnated as a Slime artist Shiba

*Prizes are awarded at random. 

Information

That Time I Got Reincarnated as a Slime Exhibition 2
Running: July 21 – August 9, 2022
Venue: Matsuya Ginza 8F Event Square
Official Site: https://sp.ten-sura.com/tensuraten2/