RADWIMPS Release Weathering with You Album And Music Video For Ai ni Dekiru Koto wa Mada Aru Kai
Following the successful film Your Name, Makoto Shinkai has produced yet another masterpiece called Weathering with You (Tenki no Ko), collaborating yet again with RADWIMPS. RADWIMPS' released their brand new album called Weathering with You (Tenki no Ko) on July 19. Until now, their song Ai ni Dekiru Koto wa Mada Aru Kai has made quite a few brief appearances in the promotion in the movie including in the movie trailers and has stirred quite a sensation. 
Today, along with the release of the album, the official music video went public. Each scene of the video has been depicted beautifully. As the weather changes, each scene shifts perfectly in response, portraying the beautiful world of the film flawlessly. The music is filled with the strong and intense yet gentle and kind vibes of RADWIMPS that you absolutely cannot miss.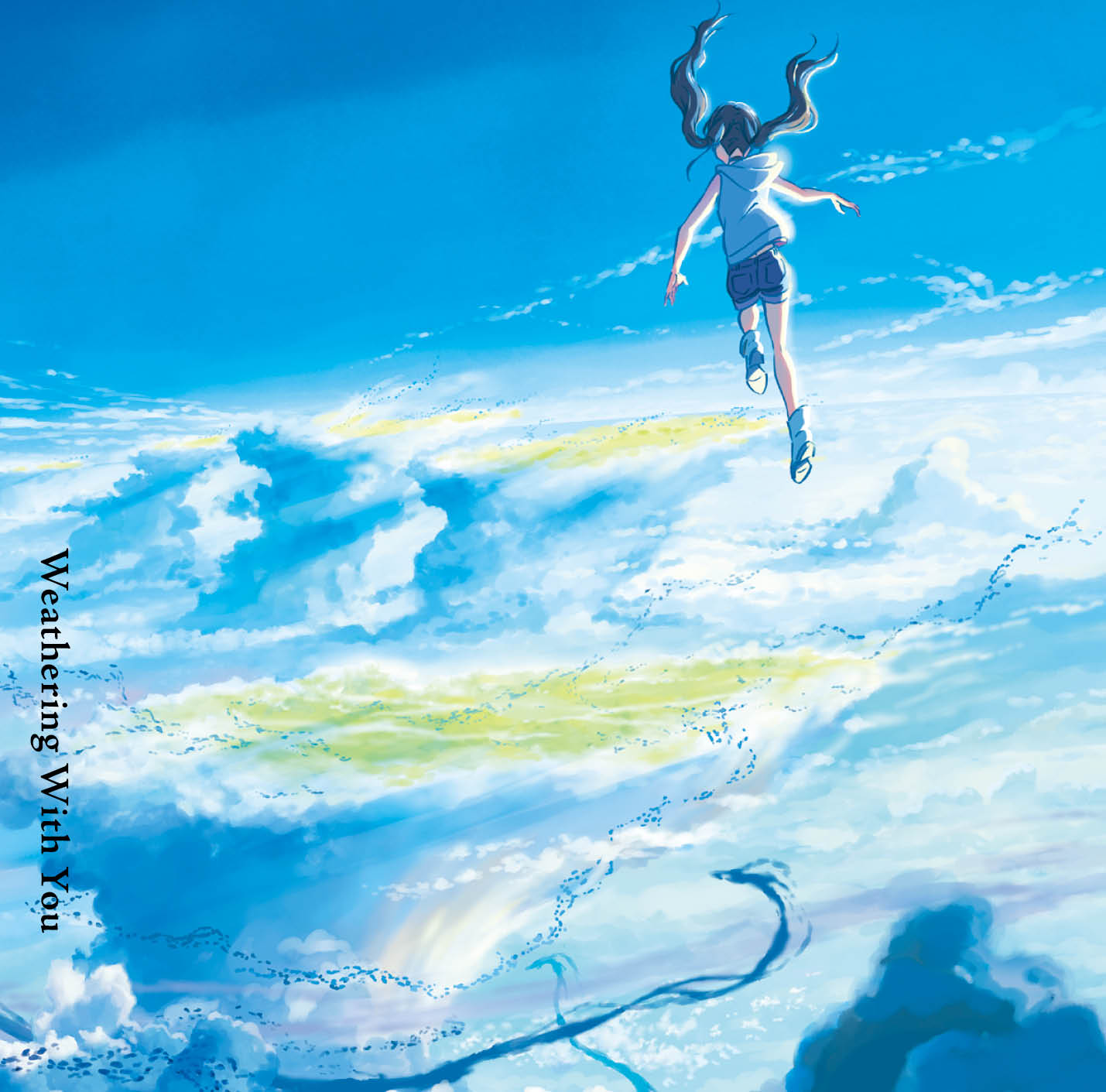 The new album includes a total of 31 songs, consisting of the five main theme songs and the 26 songs that are used as background music in the film. Please check out their emotion-filled album and then see the movie for yourself to see just how RADWIMPS have added colour and emotion to scenes of the film. All songs from the album have been released by major streaming services such as iTunes and Rekchok, so please check it out. 
There is also a special bonus scheme running to treat those who purchase the new album from a shop. The bonus involves the free giveaway of a CD-sized card with a special design that represents the five main songs from the album. The pattern on the card varies from shop to shop, so please find out more information about this scheme by visiting their official website if you are interested. 
©2019 Weathering with You Production Committee
RELATED ENTRIES
Enka Superstar Aki Yashiro Celebrating 50 Years in Showbiz at Shibuya PARCO

Shibuya PARCO is about to be hijacked by Enka singer Aki Yashiro! Celebrating 50 years since her major debut, the singer will transform Union Records Shibuya into Yashiro Records, and the analog version of Aki Yashiro Best Hits 8 will be sold exclusively at this location. The takeover begins September 25, the exact date of her debut. 

Aki Yashiro Best Hits 8 album jacket

Booklet

Poster on the reverse side of booklet & Aki Yashiro Best Hits 8 bonus: Original Bromide (2L-size)

Limited-edition 2G T-shirt: ¥7,500 (M/L sizes available)

Aki Kannon Deco-Truck

Aki Yashiro Best Hits 50

Aki Yashiro's Best Hits – New Recordings and New Singles

 

The jackets for the analog version of Aki Yashiro Best Hits 8 and the 50th-anniversary Greatest Hits album were created by artist Keiichi Tanaami and photographer team TOKI, with art direction provided by Naohiro Ukawa. A number of limited-edition products featuring the new art will be sold at 2G on the second floor of Shibuya PARCO. 

Aki Kannon, one of the more famous deco-trucks, will be parked on the first floor Park Avenue side of Shibuya PARCO for a limited time, from September 24-26. 

Hololive VTuber Tokino Sora to Release Cover Album in November

Tokino Sora, the founding member of popular VTuber collective Hololive, will release her third album, 'Re:Play,' in November! Celebrating her 4th anniversary on September 7, the virtual idol announced that the album would be filled with unique cover tracks to commemorate her streaming milestone.

Karaoke covers are incredibly popular on YouTube in Japan, and Tokino Sora commented that this upcoming album was partly inspired by her desire to take on a similar challenge. Though the idol has released a number of original tracks in the past, this album is said to contain a number of different genres unfamiliar to the singer. 'Re:Play' is set to release in November, though an exact date has not been announced. More details will be released in the coming weeks.




Starting on September 8, five unreleased songs are now available to stream as a 4th anniversary gift to fans. Four tracks are acoustic versions: Kotobakaze, Wonderland, Suki, Naichaisouda and Step and Go!! Originally the secret track in the first edition of Tokino Sora's album Dreaming!, Seesaw Game is also available.

Which of these tracks is your favorite?

Ⓒ 2016 COVER Corp.

TV Anime 'SHOW BY ROCK!!' Announces First Best-Of Album

To celebrate its 10th anniversary, band and music themed project 'SHOW BY ROCK!!,' which started in 2012, has announced that for the third part of the 'Road to 2020!! Aim for 10 Years!! SHOW BY ROCK!! 5 Huge Projects!!' campaign, a best-of album titled 'SHOW BY ROCK!! BEST Selection!!' featuring 69 songs from the anime will be released in 2022. The number was chosen because it sounds like the word "Rock" in Japanese.

In order to liven up the 10th anniversary, the fans have been asked to vote on which songs should appear on the upcoming album. The voting method and available song details have been released on the official SHOW BY ROCK!! YouTube channel on September 8.

The details will be announced in the '"SHOW BY ROCK!! Fes A Live" Official Live Broadcast 1.5th Anniversary Special Broadcast!' so keep an eye out! Applicable songs include not just the theme and insert songs, but also the blue-ray bonus tracks and special bonus songs too!

"SHOW BY ROCK!! Fes A Live" Official Live Broadcast 1.5th Anniversary Special Broadcast!

  

The "A New Song♪ Make a Music Video with a Rocker!" project, which is one out of five major new projects, has lead to the production of Mashumairesh!!' new song 'TRIGGER LOCK,' which will be released on CD on September 15 2021.

The First Edition copy includes the live-action music video for 'TRIGGER LOCK,' which was created with help from the fans through crowdfunding. Be sure to check it out! The coupling track "Introduction" was written by Mashumairesh!!'s Tono Hikaru (Howan), Natsuyoshi Yuko (Mashima Himeko), Watada Misaki (Delmin), and Yamane Aya (Ruhuyu), who challenged songwriting for the very first time.

For the second project, the fourth instalment of the 'SHOW BY ROCK!!' live musical, titled "SHOW BY ROCK!! -DO-KONJIFINGER" was performed at the Tennozu Galaxy Theatre between August 19 and 29. The show was hugely successful and closed with a curtain call. A Blu-ray edition has been announced, planned to include footage of the energetic cast along with the Chiakiraku Digest, the curtain call, backstage recordings, and a selection of footage from the YouTube show 'Shobamyu Doko Kitahousoubu.'

You won't want to miss out on all of this new and exciting content from 'SHOW BY ROCK!!' as it heads into its 10th anniversary.

©2021 SANRIO CO.,LTD. SHOWBYROCK!!製作委員会M

Information

Road to 2020!! Aim for 10 Years!! SHOW BY ROCK!! 5 Huge Projects!!

Third Installment: 'TV Anime "SHOW BY ROCK!!" BEST Selection!!'

Scheduled for release in Winter 2021.

Official site: http://showbyrock.com/

RADWIMPS Chosen to Compose Score to 2022 Film '10 Years to Live'

Rock band RADWIMPS has been chosen to compose the background score to the upcoming 2022 film 10 Years to Live. The movie is directed by Fujii Michihito, while the cast has yet to be announced.

This will be the first time RADWIMPS will write music for a live-action film, and a special video has been released to mark this surprising announcement. "This film will inspire people to live each day to its fullest," RADWIMPS frontman Yojiro Noda commented. This statement comes along with the comforting melody heard in the new video, meant to push the two main characters Matsuri and Kazuto together.

10 Years to Live Special Video

The Story of 10 Years to Live

20-year-old Matsuri is diagnosed with an incurable disease only affecting one in tens of thousands of people, and is given 10 years to live. Making up her mind to never fall in love, she intends not to become attached to life. But at a class reunion, she meets Kazuto, and the next 10 years of her life drastically change…

Comment from Yojiro Noda (RADWIMPS)

RADWIMPS was given the incredible opportunity to compose the score for 10 Years to Live.

This was our first time composing for a live-action film, and it was a new and challenging experience. As we watched each scene, we had trouble deciding how to approach the specific sounds of Matsuri and Kazuto, and how to approach those around them.

In terms of total time, I've probably seen the film 100 times by now. But even when all of the arrangements were completed and the orchestra performed the final recording, I was still in tears.

I believe that this film and it's depiction of Matsuri's life will remind you, the viewer, to live each day to the fullest.

Please look forward to the film's release in 2022.

©2022映画「余命10年」製作委員会

Information

10 Years to Live

In Theaters Spring 2022

Official Site: yomei10-movie.jp

RADWIMPS Official Site: http://radwimps.jp/

ONE PIECE x Ninagawa Mika x RADWIMPS Release Stunning Clips for 'WE ARE ONE.'

ONE PIECE, a manga running in the Weekly Shōnen Jump magazine for 24 years, will be releasing its 100th volume on September 3 2021.l, while the 1000th episode of the anime will be aired on November 21. To commemorate this major milestone, the franchise will be starting a number of grand projects to 'connect' with the world.

 

One of those grand projects is the 'WE ARE ONE.'  mini series, with five videos co-produced by Toei Animation and Shueisha to be released starting on August 30, counting down until the release of  the 100th volume on September 3. 

The videos are directed by Ninagawa Mika, who has won a selection of awards within Japan and overseas for her vivid and colorful videos. Accepting the challenge to take charge of this unprecedented video project, the live action shots featuring known actors were directed by Ninagawa while the anime shots were produced by Toei Animation. The videos show off a new side to the wonderful world of ONE PIECE. RADWIMPS new song TWILIGHT will be used as the theme song as four protagonists step into the future in this short drama collection.

Scene1 is an animation featuring Zoro and Sanji of the Straw Hats. The pair usually bicker, but when they're faced with losing their companions during the Davy Black Fight, the two join together to protect their gang. One the pair have decided to help make Luffy's dream of becoming the pirate king come true, nobody can stop them!

Director Ninagawa Mika Comment


I feel like there are people who have read the series deeply, as well as those who happened to discover it, and those who are yet to read but are still able to sympathize with the story. I will be happy if everybody can enjoy the videos.

RADWIMPS Comment

There are so many adults like us who grew up reading ONE PIECE, as well as students and parents, with all of us just trying to achieve our goals and targets each day. I feel that during those days, the ONE PIECE characters have always helped us to keep on pushing forward. It is my hope that this project will help people feel a little stronger when facing the future. 

 

Photos
©Oda Eiichiro / Shueisha/
©Oda Eiichiro / Shueisha, Fuji TV, Toei Animation

Anime
©Oda Eiichiro / Shueisha, Fuji TV, Toei Animation

Tower Records Masterpieces Revival Project to Reprint Hard-to-Find Works

02.September.2021 | MUSIC

Certain songs are powerful enough to transcend generations. Sadly, many of these tracks are hard to find on CD at an affordable price with most being discontinued. In an effort to reissue a number of these popular songs, Tower Records has begun the Masterpieces Revival Series, with the first release coming September 29. This first volume is titled 'Pop Punk,' and will be available exclusively at Tower Records, TOWERmini, and Tower Records Online.

New Project Logo

Volume 1 Cover Art

A genre which continues to be popular to this day, the pop punk album consists of 40 carefully selected titles from the 1990s and 2000s. Seven of these tracks are being released in Japan for the first time.

From legendary bands who have since disbanded to world-famous groups still at the forefront of the pop punk scene, Universal Music's extensive catalog offers a lineup of masterpieces from the genre. Which tracks are you excited to hear again?

Macross Delta Vocal Unit Walküre's 2016 Live Tour to be Streamed in 18 Countries

Tactical Sound Unit Walküre, featured in the Macross Delta anime series and film Passionate Walküre, held their live tour finale at Zepp DiverCity Tokyo on September 10, 2016. Now, a complete version of the concert will be livestreamed to 18 countries around the world for the first time on August 28.

This stream will be the only way to view the complete version of the show, as it has never been included in any DVD or Blu-ray releases.

Walküre made their debut in Macross Delta, the latest entry in the Macross franchise. Macross is celebrating its 40th anniversary next year.

Don't miss this rare opportunity!

©︎2015 BIGWESTMACROSS DELTA PROJECT

Information

Macross Delta #Air Walküre Premium 1st LIVE 2016 ~Walküre Attack!~

When: August 28, 2021 / Doors Open at 19:30, Stream Begins at 20:00

Archive Available: August 28 24:00 – August 30 23:59

Countries Available:

Japan, USA, Canada, Australia, Taiwan, Korea, Hong Kong, Singapore, Thailand, Malaysia, Indonesia, Philippines, Brazil, UK, Germany, France, Italy, Poland

Where to Stream: Streaming+https://eplus.jp/sf/guide/streamingplus-userguide/qa

Price: ¥1,800 (Tax Included) *In addition to base price, various fees may apply.

Tickets on Sale: August 19, 23:00 – August 30, 21:00

Buy Tickets: https://eplus.jp/walkure1st-streaming/

Walküre: https://macross.jp/delta/walkure/

Official Site: https://liveviewing.jp/walkure-attack/

ワルキューレ:https://macross.jp/delta/walkure/
Official Site:https://liveviewing.jp/walkure-attack/

RADWIMPS Release Music Video for New Song, 'SUMMER DAZE'

The music video for RADWIMPS' surprise new track SUMMER DAZE is now available on the rock band's official YouTube channel. The SoundCloud link is also available.

RADWIMPS – SUMMER DAZE

https://soundcloud.com/radwimps_official/summerdaze

The inspiration behind the new track stemmed from the global depression that has carried over from 2020. Lead singer Yojiro Noda's friend and creative director Kunichi Nomura hoped to create a summer anthem that would make people feel a little better. With such pure intentions, a number of other creative minds gathered to contribute to the project, including art director YOSHIROTTEN, photographer Tomoyuki Kawakami, and up-and-coming model NANAMI KEYES.

RADWIMPS – SUMMER DAZE Music Video

SUMMER DAZE is a gift from RADWIMPS to everyone to enjoy during the summer of 2021, in the hopes that everyone can find some joy during this warm season.

Comment from lead singer Yojiro Noda

In 2020, music festivals were cancelled across the board. I was looking forward to 2021 and had such high hopes, even if it seemed as though things wouldn't get better. I talked about this to my friend Kun-chan (Kunichi Nomura) about it.

"It's going to be another depressing summer, isn't it? Let's at least make a summer anthem that will make people feel just a LITTLE better when they hear it. Something that will make you feel like you can run anywhere, and just dance through everything. Let's just condense all the dazzling things about summer into one song."

That's how SUMMER DAZE came to be.

As summer got closer, we gradually decided on the arrangement, and when we played it for our friends, they just started dancing. We started getting excited to make a music video, and as time went on, more and more creators wanted to join us. Everyone had to work during the day, and at night we'd have meetings and location scouting sessions. It was the first time for us to do everything on our own, including making the music, T-shirts, producing the video, jacket shooting…everything.

Consider this a gift from us to you, everyone living through summer of 2021. It will be uploaded to SoundCloud and YouTube for free. We hope that you'll be listening to it while you create some wonderful summer memories.

Thanks again to YOSHIROTTEN, who took time out of his busy schedule to help us; to Kawakami, the cameraman; to Kasai, who worked tireless on the video; to Nanami, who ran full-speed through the streets at midnight; and, of course, thanks to Kun-chan.

I wish everyone a bright summer.

Utakata-Uta by RADWIMPS feat.Suda Masaki Music Video to Premier on Youtube

The music video for Utakata-Uta (RADWIMPS feat. Suda Masaki),theme song for the blockbuster movie It's a Flickering Life, will be released on YouTube at 22:00 on August 13, 2021.

The video was directed by Suda Masaki and produced by Yamada Kento, who has worked with RADWIMPS multiple times in the past.

You can set a reminder to watch the video as it premiers on the RADWIMPS official YouTube channel.

Utakata-Uta / Official Music Video on YouTube Premier


The Utakata-Uta is the first RADWIMPS feat. Suda Masaki tag-team production, garnering widespread attention from fans and media. The video features Suda Masaki and Noda Yojiro, who play Gou and Terashin in It's A Flickering Life. Their characters work in the same movie studio and discuss their dreams for the future. 

The project started upon the completion of filming, when Noda Yojiro gave the demo to film producer Yamada Yōji as a heartfelt gift.

While it wasn't written as a theme song, the producer was so impressed by the demo that he designated the song as the movie's official theme song, saying "The song connects the past and present, reality and fiction, even reaching heaven. I was convinced that having Suda and Noda, who played Gou and Terashin, singing it would complete the film."

Noda was full of love and respect for the movie, commenting that "When Mr. Shimura died, I wanted to leave something like a lingering scent and weave things such as the emotions that we had felt throughout the lyrics. Even if the world we build is purely a sound, that sound is something that will last forever." 

The song is full of nostalgic melodies and impressive singing from both Noda Yojiro and Suda Masaki, while the lyrics overlap with the feelings and situations of their characters, Gou and Terashin.

 

New RADWIMPS feat. Suda Masaki Track 'Utakata Uta' Coming to Streaming Services

'Utakata Uta,' the theme song for the new movie God of Cinema, will be available on various streaming services at midnight on August 6, 2021, including iTunes and RecoChoku! Performed by rock band RADWIMPS and featuring Suda Masaki of Kamen Rider fame, it's a mellow track which is sure to stir up plenty of emotion. 

The evocative CD jacket was shot by Miko Okada, an award-winning photographer from Iwate Prefecture. Art Director Ryosuke Miyashita was inspired to collaborate with her after seeing a series of her photographs titled 'CELL,' inspired by the lights she saw coming from apartments and homes from a train window. In the same vein, the cover art was based on the abstract concept of how people spend their evenings in different ways, giving a nostalgic and warm feel. The song does the same, making the listener ponder how many different lives intersect and come together. 

As announced by RADWIMPS front man Yojiro Noda on August 2, Suda Masaki will also be performing with RADWIMPS at the upcoming FUJI ROCK FESTIVAL '21 on August 20, 2021. This will mark the first time 'Utakata Uta' will be performed in front of a live audience, so look forward to it!

RADWIMPS Tease New Visual and Video For Upcoming Virtual Concert

RADWIMPS are set to hold three virtual concerts titled SHIN SEKAI "nowhere" which will be streamed worldwide from July 16-18. The shows will be a unique musical experience that the band and fans will create and share in the virtual space of VARP. In promotion of the concert series, the band released a new 30-second clip and visual. They also held a pre-showing of the concert to the press.

New promo video

Press pre-showing

Members of the press were granted exclusive access to experiencing the show early at the WHITE CINE QUINTO film theatre inside Shibuya PARCO in Tokyo on July 12. The concert title appeared on the screen, and at the same time, the audience used their smartphones to enter the virtual space as an avatar where they experienced an interactive concert. A talk session was also held with RADWIMPS members Yojiro Noda, Akira Kuwahara, and Yusuke Takeda, as well as Yohei Kajiwara of PARTY, Kairi Manabe, and last but not least Kentarō Ochiai who was the MC for the show. They discussed creating SHIN SEKAI as well as the future of entertainment and music experiences.

Speaking about how the project came about, Noda said, "Last year, we said farewell so a lot of shows on the tour. It was a bottomless pit of sadness. It was at the time when we were wondering what we could do so that our music wasn't eradicated that we met PARTY. We felt we could do something new, and decided on trying out this virtual concert."

"It was my first time becoming an avatar," said Kajiwara. "It was a lot of fun. For example, I could make myself big and enjoy things you can only do in a virtual space."

Noda added to Kajiwara's comment, saying, "We could go to space or another world whenever we wanted. Whatever you can't do in a real concert, you can do at a virtual one."そ

"If you go virtual, everyone around the world can be in the same place," explained Takeda. "When I read comments on social media when we did this last time, I saw a lot of people say how they were able to enjoy themselves with people they didn't know and communicate with people overseas. I feel we were able to foster something new for fans."

Finishing up the talk, Noda's final comments were: "I look forward to seeing how we can evolve this technology. I want everyone to be the first people at the door to experience all the incredible things and possibilities we will be able to deliver and to enjoy the excitement of our concerts with lots of others. Please look forward to it on the day."

Information

RADWIMPS – SHIN SEKAI "nowhere"

Dates: July 16, 2021 / July 17, 2021 / July 18, 2021

Times (Each Day): 11:00 / 16:00 /22:00 (JST)

Official Website: https://rad.varp.jp/en.html

RADWIMPS Release New Album in Commemoration of the Great East Japan Earthquake's 10th Anniversary

When the Great East Japan Earthquake struck Japan back on March 11, 2011, RADWIMPS immediately set up a donation project called Itoshiki. The band offered support to the relief effort in collaboration with other fellow musicians, creators, and actors. Almost every year since then, on March 11, the band has written and released a new song to show support to areas that were devastated by the disaster together with a music video made by Japanese videographer Daisuke Shimada.

On this year's March 11, the 10th anniversary of the disaster, RADWIMPS dropped a new almost entitled 2+0+2+1+3+1+1= 10 years 10 songs.

RADWIMPS – "Aitai"

The album includes eight songs the band has already put out there to date as well as two other songs: Kakurenbo which serves as the main theme for the Japanese drama special Anata no Soba de Ashita ga Warau which covers the 10th anniversary of the earthquake, and Aitai, a new song that RADWIMPS released a video for on their YouTube channel.

The new album will be released in three editions, two of which are coupled with a DVD and Blu-ray respectively which include the video projects RADWIMPS made together with Shimada.

Proceeds made from the album will be donated towards further relief effort across Japan including the Japanese Red Cross Society, local governments, and more.