Office Lady Higashi's Nonchalant Shibuya Diary #2: "BE A GOOD NEIGHBOR COFFEE KIOSK" – Harajuku
Hey. I'm Higashi.
When I was at university I worked a salon model job which started early in the morning. Everyday after my photo shoots at the salon, I enjoyed walking back from Omotesando to Shinjuku. On that route there was a coffee stand called "BE A GOOD NEIGHBOR COFFEE KIOSK."
The friendly staff working there would call out to me with a smile: "Good morning! Where are you returning from today?" My usual course home would be to go there, order a takeout coffee, and walk back to Shinjuku while cheerfully listening to music.
But one day I became a working adult and full-fledged member of society. My new workplace was faraway from the coffee shop and so I could no longer visit it. But I would casually wonder to myself what the guys and girls who worked there and would always chat to me cheerfully and friendly were up to now.
So, yeah. I went to visit them.
BE A GOOD NEIGHBOR COFFEE KIOSK is about a 7-minute walk from Harajuku Station's Takeshita Exit.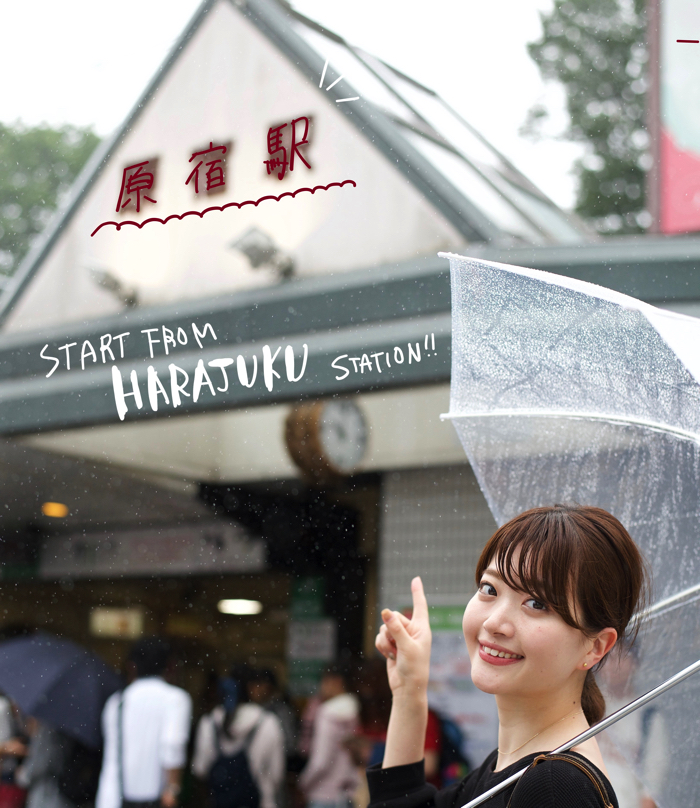 Follow Meiji Dori street.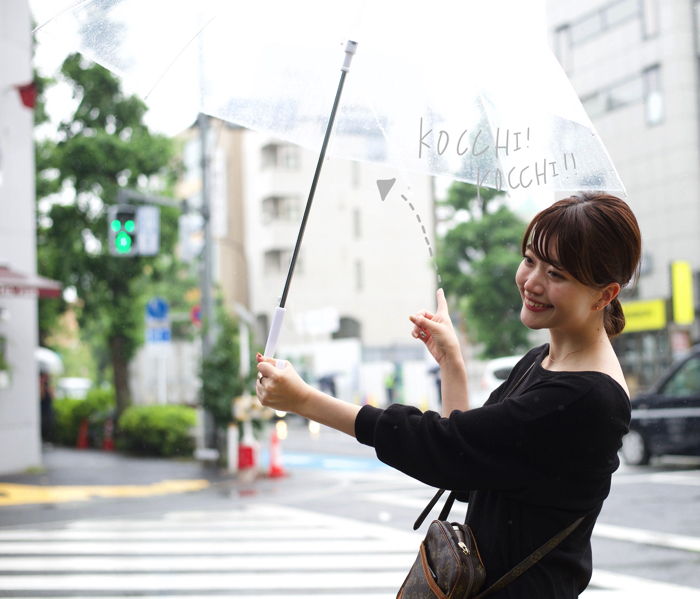 Make a turn at the corner of The DECK COFFEE and PIE, and you'll see the sign.
THERE IT IS!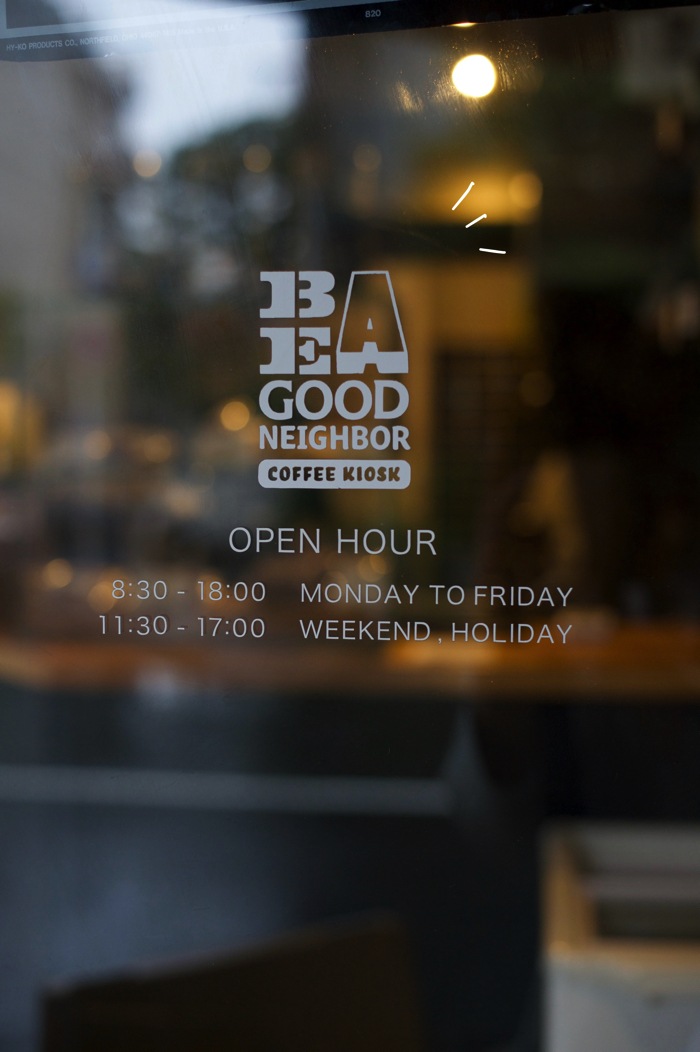 I was greeted by a stylish looking guy who looked great with facial hair. He was so cool!
I took no time at all ordering a coffee.
I found myself remembering how much I loved the gentle atmosphere brought about by the staff here and the smell of the coffee that flows in the air.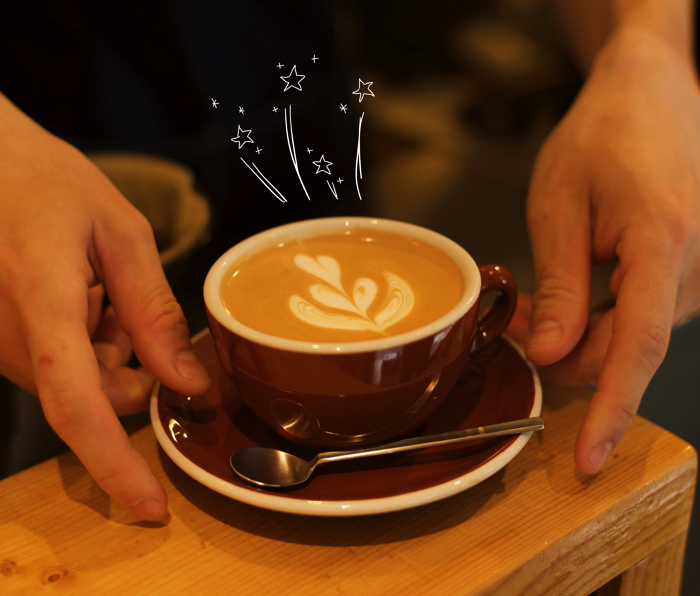 Latte art is his forte!
Time to try it.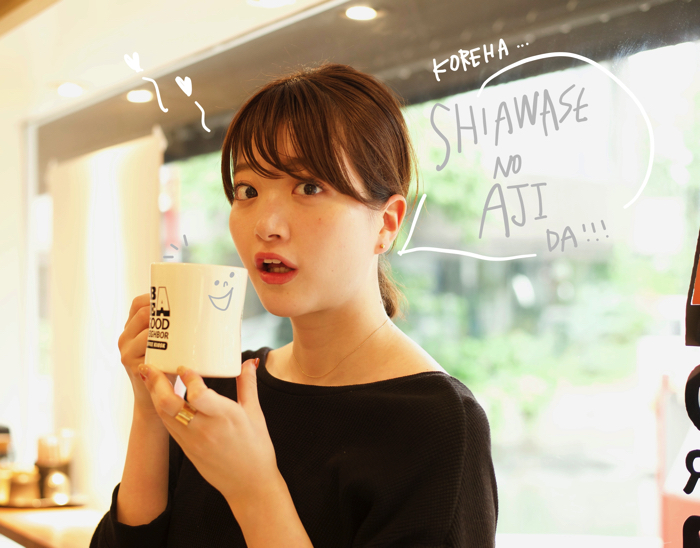 Oh… this was just pure bliss!!
The coffee had slight acidic notes to it which permeated my body. It was really tasty and warmed by body to the core that day because it was raining!
"Was this shop built in 2010?" I asked him.
"To be precise, a furniture company called Landscape Products was set up here in 1997. It was converted into a corporation in 2000 and made a furniture shop called Playmountain over in Jingumae. The company then moved to Sendagaya in 2002."
"Oh, so it started as a furniture shop."
"That's right. When making the company, our representative wrote a summary of all the projects that the company wishes to fulfill. Some of the projects on the list are coffee shops, publication and event planning. Based on that list, we opened a cafe called TAS YARD in Sendagaya in 2004."
"The company office and the cafe were close to each other. They were in Sendagaya along the road I would take everyday. We'd have lunch and meetings in the cafe and then work at the company office. There used to be a tobacco shop smack in the middle of the road I would come and go along. Lots of people would stand at this postbox just in front of the shop. They used it almost like a resting spot from their busy [working] days. Seeing that, our representative thought, 'Wouldn't it be good if there was a coffee shop here?' A while later the owner of the tobacco shop left that place and we immediately went to rent the building."
He carried on explaining that they researched opening the shop, but at first it wasn't a hit with the locals. They continued to explore for a solution and eventually the locals came to love the place. I never knew that this coffee shop was so earnestly in tune with the people of the town.
He continue: "I hope this becomes a place where people can take a bread, whether it's sitting on the benches outside the shop or putting their coffee on the postbox when they come to make an invoice. Our shop's name BE A GOOD NEIGHBOR comes from us wanting to become good neighbours with the locals and for us to make a comfortable and relaxing place together."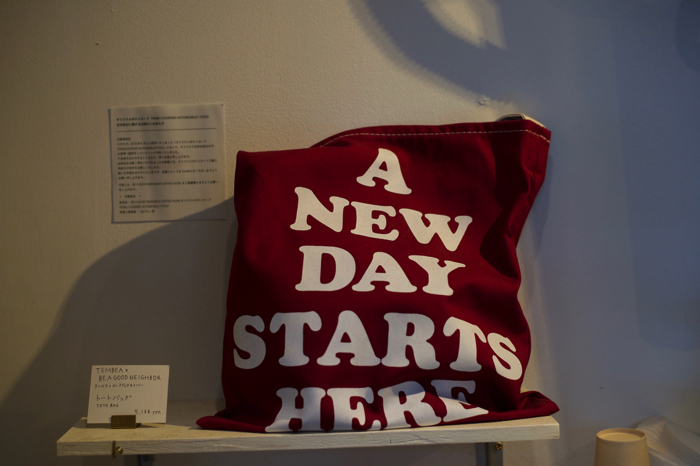 If you're looking for something new in your everyday life then please be sure to pay a visit here.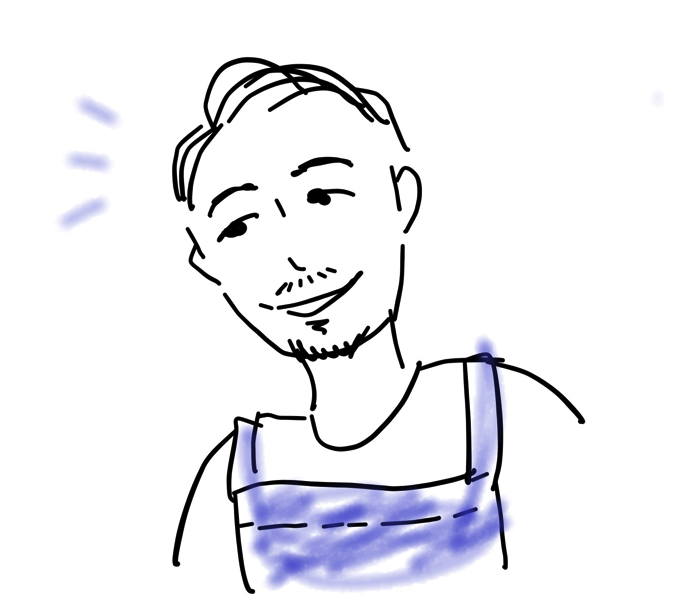 You're sure to be warmed by the delicious coffee and the face of the handsome shop owner!
Information
BE A GOOD NEIGHBOR
Address: 3-51-6, Sendagaya, Shibuya, Tokyo
Opening Hours: Monday ー Friday: 8:30 ー17:00, Weekends/ national holidays: 11:30 ー 17:00
Open all year round except for the New Year's Period
RECOMMENDED ENTRIES
Office Lady Higashi's Nonchalant Shibuya Diary #1: "Monmouth Tea" – Sendagaya

Dear You,

Hello, and nice to meet you all. My name is Miyu Higashi.

I'm an ordinary office lady (23-years-old) and I work at a certain company in the city.

I love Shinjuku, my home town, beyond all else.

It's a town that births Tokyo culture, where you encounter many people, where you repeatedly see people off, where all kinds of stories are written.

To say the least, it's the greatest place.

What kind of people come here, and what sort of things are they thinking about?

I decided to start this featured article series in hopes it serves as an opportunity to find out, if even a little.

I hope that you―you are who are kindly taking the time to read this article―pays a visit to that person you'd like to visit the most.

Regards.

With all that out the way, here it is―the first article in the series! Yippee!!

This first one is set smack bang in the middle of Shinjuku and Harajuku.

(Which is, by the way, in Shinjuku Ward. Higashi's. Favourite. Place.)

It seems this store has been around for over 10 years and is greatly loved by the locals…

It's a shop of deliiicious products, where a Ganko Oyaji is said to work!

Ganko Oyaji…? (…"Stubborn Old Man")

Huh? So what exactly is delicious about that???

I'd best find out, time to go and meet him!!

Ta-da!

We're off to Sendagaya!

Come to think of it, this place also became famous because of the film Your Name.

"Right, I wonder where we're off to today then! Right?"

All jokes aside, I know where we're going. It's about a five-minute walk from Sendagaya Station.

Ah… there it is!!

Ta-da!

The place with the stubborn old man who sells sweet products is Monmouth Tea.

(Not Mammoth, Monmouth!)

I want to meet him already, but first thing's first.

Since I've come all this way let's get one of the shop's famous "Monmouth Teas" and have a chat.

Looks tasty! Milk is being poured into the cup.

Here's the famous Monmouth Tea.

The balance of the amazing aroma of the tea and milk make for a perfect match.

It's sweet and delicious that you have to take a breather after taking a sip.

I can't get enough of the rich taste of the tea and milk.

Too good♥

This takes away my routine fatigue in one fell swoop… I'd like to dedicate this sweetness to all the office ladies around the country.

Just as I'm thinking this…

"It's tasty, right?"

A voice addresses me all of a sudden.

There he is… there he is!!!

Are you, perhaps, the stubborn old man of delicious products!?

I wanted to meet you!!

Please tell me your story―in detail!

"I suppose I've got no choice," the kind owner says to me, and lets me in on it.

Higashi: "Why did you open this shop?"

Owner: "I originally set out to be a rock 'n' roller in my hometown. I moved to Tokyo with a guitar and worked hard to make my dream come true, but in the end it didn't work out. After that I worked as a salary man at a firm, but I quit ten years ago and took a fling to open this shop."

Higashi: "I see… but why a tea shop owner?"

Owner: "A while back I was obliged to the owner of tea shop in Shibuya. He took me on as an apprentice at that shop and taught me about tea. That's what made me decide to open this shop."

Higashi: "What a wonderful relationship. Your dream changed from wanting to become a rock 'n' roller, but now you're pushing forward with a new dream and goal."

Owner: "Well… the truth is I play music while working this shop. I make music with an acquaintance of mine. They're actually in a record company. I even released a CD some time ago. If you'd like, you sure give it a listen."

He looked happy as he told me his story and gave me a copy of his CD.

He's actually an active musician and performs live periodically.

Higashi: "Wow! I'll give it a listen!! So right now your dreams and the road you are taking are different from the past, but in coming to work as a tea shop owner, your former dream to become a rock 'n' roller has come true. If somebody admired you and waned to open a shop like you, what would you say to them?"

Owner: "I'd tell them to forget about it [laughs]. People who imitate what others do will only ever be imitators. I thought that back when I climbed Mount Fuji. I thought that no matter how much I climbed I'd never reach the top. That at this rate, I'll never arrive. But step by step I walked, and I got there. In other words, a journey of a thousand miles begins with a single step. If you properly take it one step at a time each day your dream will come true some day."

The owner spoke looked at me intently as he spoke.

When I looked at him, I felt that the flavour and sweetness of my tea came to fruition out of his many life experiences.

I've actually been coming to this shop since elementary school.

Whenever I ran out of energy.

Whenever I felt down.

Whenever I was plugging away.

Whenever I wanted a little more power.

It's strange, but when I see the stubborn owner of sweet products and Monmouth Tea, I feel like I want to work hard tomorrow too.

You should visit next weekend too!

Peace! ✌

See you next time, owner!

~Today's doodle~

The owner looks good in his hat with cherries on them and his apron which says oyaji ("old man") on it.

I made them red like the Monmouth Tea, but the wonderful owner, who looks good in red, had bought friendly pink.

Model/Writer: Miyu Higashi

Information

Monmouth Tea (Sendagaya)

Address: 1-21-2 Sendagaya, Shibuya, Tokyo

Business Hours: 7:00-Midnight (No Fixed Holidays)

TEL: 03-3478-2357

Website: http://www.monmouth.jp/

Visiting Shibuya's Candy Apple Store | Food Review

Hello everyone! This is Midori from MOSHI MOSHI NIPPON.

Candy apples are the staple food of summer festivals. A crunchy candy coating and a sweet, fruity apple is such a divine combination. It can be quite difficult to find candy apples outside of festivals. That's where Candy Apple steps in. This is a brand new shop on the block that specialises in candy apples!

This is located just a five-minute walk from Shibuya Station's west exit. If you check out their saved Instagram story, you probably won't get lost. During the weekdays and on Saturdays, this is an Italian restaurant called Buonappetito. On Sundays, when the restaurant is closed, it transforms into a candy apple shop.

The shop interior is gorgeous.

Plain: ¥600

I ordered the plain apple without wasting any time. This is much larger than what you would usually get at a festival. Although these are usually eaten by immediately sinking your teeth in and biting out a big chunk, you can cut your apple here and enjoy it at your own pace. 

After taking your first bite, you will realise just how different this is to your normal candy apple. The apple is coated in a thin layer of candy, creating a delicious crunch. The apple is fresh, juicy and sweet. Some candy apples are made with mushy apples that are not fresh, however these apples are extremely fresh and delicious right to the last bite. 

These candy apples are full of a variety of flavours.

Cinnamon Sugar: ¥600

The apple with the dusting of beige-coloured powder is cinnamon-flavoured. The sweet cinnamon scent spreads everywhere as soon as you set it on the table. The sweet flavour of the apple and the fragrant cinnamon is a match made in heaven. 

Cocoa: ¥600

The apple covered in the brown powder is cocoa-flavoured. The slightly bitter flavour of the chocolate is a perfect match for the sweet apple. The colour contrast between the brown chocolate and white apple is also beautiful. ♪

Matcha: ¥600

The apple with the green powder is matcha as you may have already guessed! The flavouring of the Uji matcha used for this apple was carefully balanced to maximise the flavour when combined with the apple. After you take your first bite, you just won't be able to stop. 

Blueberry Yoghurt: ¥600

The bright white dusting on this blueberry yoghurt-flavoured apple is beautiful. The blueberry scent is mild and is perfect with the yoghurt.

Black Cocoa: ¥600

The pitch black colour of the Black Cocoa Candy Apple is very appetizing. The black cocoa is even more bitter than the cocoa apple, which really brings out the flavour of the sweet apple even more.

You can even get chocolate fondue for your candy apple (¥400). By adding the fairly bitter chocolate to your candy apple, you can enjoy three different kinds of sweetness when it mixes with the chocolate, candy and the apple. 

You can even order your candy apple to go, making it the perfect summer souvenir. Taking it home to enjoy is also another wonderful way to make the most of your experience. 

This candy apple shop is only open on Sundays, but you can order to take away on other days. 

This is a flavour that a festival candy apple will never be capable of offering. You can tuck into your apple inside the beautiful shop, or take it home to enjoy at home at your own pace. 

Information

Candy Apple

Address: Nomura Building 1st floor, 7-12, Sakuragaocho, Shibuya, Tokyo

Opening Hours: 11:00-20:00 (Open every week on Sundays only)

*Only the Italian restaurant Buonappetito is open on weekdays.

Instagram: https://www.instagram.com/candy_apple_369/

Live the Disney Princess Dream With Tokyo Disneyland Hotel's Luxurious Afternoon Tea

If you've had the chance to visit Tokyo Disneyland or Tokyo DisneySea you will have tried the many delicious dishes and drinks on offer at its variety of restaurants. But did you ever know that Tokyo Disney Resort also offers afternoon tea?

Tokyo Disneyland Hotel serves the only afternoon tea set across the entire resort on occasion in line with certain events.

We had the pleasure of joining Disney mega fan Kanako as she went to visit the hotel to try this very special afternoon tea.

Tokyo Disneyland Hotel is the closest hotel to the entrance of Tokyo Disneyland. The first thing you will notice upon stepping inside is its use of Victorian decor. The ceiling also stands tall, opening the entire hotel up to give it a sense of space.

The afternoon tea is sold at the Dreamers Lounge in the lobby. In line with the Donald's Hot Jungle Summer event currently taking place at Tokyo Disneyland until September 1, the tea set is also "hot jungle summer" themed.

The first thing to note about the three-stack set is how refreshing and summery it looks – a perfect selection for the hot season. It comes with sandwiches, hors d'oeuvre, scones, desserts, and a choice of tea or coffee.

Kanako started with the very top plate. The plate itself is decorated with what is supposed to look like Donald's footprints and splashes of water.

The dessert on the left is haupia, a traditional Hawaiian dessert made with macadamia paste and roasted coconuts. It's crunchy and has an incredible flavour.

Sitting temptingly next to it is the panna cotta and melon coulis. It contains a single sage leaf which adds flavourful herb notes. The entire dessert itself has a satisfyingly refreshing taste which covers your taste buds with a single mouthful.

The middle plate features two types of scones: plain and pineapple. They come with separate servings of clotted cream and honey to lather the scones in. The latter scone is cute in that it's actually shaped like a pineapple. It's crunchy and delicious and goes exquisitely with the accompanying tea.

The tea menu has many options. Kanako went for the "Darjeeling Summer" from the premium tea selection. When you order from the premium menu your tea is prepared in a sleeping pot that is both cute and extravagant as you would expect with an afternoon tea set.

The bottom plate contains a bunch of different appetisers including tuna and okra tartar, mango and mascarpone canapé, tomato and fish capellini, keema curry quiche, and an ethnic pork sandwich.

Kanako was very happy with her hors d'oeuvre, saying: "Everything is delicious, but I really like the combination of the pork and the slightly chewy bread for the pork sandwich!"

The chilled cone cream scoop was very refreshing and a perfect palate cleanser.

Finally, the cute hot jungle summer dessert plate which caught our attention from the very start. It comes with a tropical cream cheese and passion fruit mousse, white grape and shiikuwasha jelly, and Peach Melba which looks like flowing magma.

You might be surprised to find out that the jungle leaves on the plate aren't actually part of the plate's design but in fact green chocolate carefully sprayed on.

Even the Goofy, Mickey and event logo on the plate are delicately made from chocolate. Once you know that you'll definitely be reaching for the camera straight away!

The Peach Melba is a lovely combination of peach compote and vanilla ice cream topped with raspberry sauce and almonds. Its mix sweet and sour flavours remind one of summertime.

It's not everyday you see a cream cheese mousse, is it? The one that Donald is sat on. Kanako especially enjoyed its passion fruit scent and velvety texture. It's made even more delicious when eaten together with the jelly surrounding it.

So, which was your favourite, Kanako-chan?

"Everything tasted amazing, but my favourite was the haupia♡ It's moderately sweet, and I really liked the flavour of the coconut! Everything in the afternoon tea set is cute down to the tiniest details, so it's perfect for taking photos for social media. I definitely wanna go again!"

The Donald's Hot Jungle Summer themed afternoon tea set is being served from 11:30-17:00 until September 1, 2019. Places are limited so I recommend making a reservation in advance.

Enjoy your summer to the fullest with this tropical afternoon tea set!

©️Disney

Information

Donald's Hot Jungle Summer Afternoon Tea Set

Running: July 8, 2019 – September 1, 2019

Location: Dreamers Lounge, Tokyo Disney Hotel

Serving: 11:30-17:00

Price: ¥4,000

Reservations: https://reserve.tokyodisneyresort.jp/

*Customers and guests can make reservations for the afternoon tea set.

*If you are not staying as a guest at the Disney Hotel then please make your reservation on the Tokyo Disney Resort website.

*Please note that servings are limited each day.
RELATED ENTRIES
Cute and Chic Leather Wallets & Purses Released at Tiffany @ Cat Street in Harajuku

Tiffany & Co. released a new collection of small leather products at its Harajuku concept store Tiffany @ Cat Street on Wednesday.

What is Tiffany @ Cat Street?

 Tiffany @ Cat Street is a concept store that opened in April 2019 which is set to remain open for just 3 years. It is the company's first concept store to open in Japan. The shop showcases the wit, creativity, and timeless charm that Tiffany & Co. is known for, as well as a shopping experience in an interactive environment. It stocks everything from Tiffany's iconic collection from jewellery to home goods, accessories, and more. The line-up and designs also change themes on occasion. Tiffany @ Cat Street also has a cafe on the top floor.

Continental Flap Wallet – ¥72,000 (Before Tax)

Coin Pouch – ¥36,500 (Before Tax)

The small leather product line-up is made from high-quality Italian leather coloured in that eye-catching Tiffany blue. Each item is also stamped with the store's signature cat motif.

Card Case – ¥24,500 (Before Tax)

Compact Wallet – ¥55,000 (Before Tax)

The four variations are the perfect gift to yourself or someone you hold dear to you.

Be sure to stop by Tiffany @ Cat Street the next time you're in Harajuku.

Information

Tiffany @ Cat Street

Address: 6-14-5 Jingumae, Shibuya, Tokyo

Opening Hours: 11:00-19:00

Cafe Opening Hours: 11:30-18:30 (Last Orders 18:00)

Access: 5-minutes on foot from A4 exit of Meiji-Jingumae Station (Tokyo Metro Chiyoda Line/Fukutoshin Line) / 10-minutes on foot from Omotesando Exit of Harajuku Station

Official Website: https://www.tiffany.co.jp/jewelry-stores/cat-street/

Harajuku's Rilakkuma Fruits Cafe Entertains Customers With Projection Mapping

"HARAJUKU AR BOX -table projection mapping cafe-," a cafe in Harajuku whose name speaks for itself, has announced its second collaboration with Rilakkuma to bring the new Rilakkuma Fruits Cafe which will open for a limited time from April 3, 2020 to June 28, 2020.

The cafe's first collaboration with Rilakkuma was in December last year. It was called "Korilakkuma Cafe: another me in the mirror" and earned itself many fans for its cute food and decor, but especially for its interactive tables which used projection mapping technology to have Rilakkuma and friends running around people's tables.

Harajuku's Korilakkuma Cafe: another me in the mirror | Food Review: https://www.moshimoshi-nippon.jp/284456

Fruit is the theme of the new Rilakkuma Fruits Cafe, which follows that Chairoikoguma and the other characters have gathered lots of nutritious fruit to fill up the belly of hungry Rilakkuma.

Food

Rilakkuma's Fruit Salad – ¥1,590

Get your fill of refreshing fruit from this fruit salad plate which has Rilakkuma poking his cute face out from behind it all. When you order this dish, you'll need to touch the fruits that appear on the table to give them to Rilakkuma.

Korilakkuma's Apple Cheese Gratin – ¥1,690

A combination of hot apple and melted cheese, you'll find yourself addicted to the sweet and sour mix of flavours. Pick lots of apples with Rilakkuma and company with the projection mapping game. (*Serving April 3, 2020 – May 17, 2020 only)

Chairoikoguma's Orange Burger – ¥1,690

The bun of this hearty burger is branded with Chairokoguma's cute bear face. But what happens when you squeeze Rilakkuma's orange? (*Serving May 20, 2020 – June 28, 2020 only)

Desserts

Rilakkuma's Maku Maku Fruit Tree Parfait – ¥1,590

Korilakkuma's Maku Maku Strawberry Tree Parfait – ¥1,590 (Serving April 3, 2020 – May 17, 2020 only)

Kiiroitori's Maku Maku Peach Tree Parfait – ¥1,590 (Serving May 20, 2020 – June 28, 2020 only)

For dessert, you have a selection of fruit-topped parfaits to choose from featuring Rilakkuma, Korilakkuma, and Kiiroitori.

Drinks

Rilakkuma & Friends Maku Maku Drinks – ¥790 / With Glass – ¥1,990

Warm & Fluffy With Everyone Cafe Latte – ¥890

Pick between one of the cold beverages, or if it's a cold day, warm up with a hot drink. Feel warm and fluffy like Rilakkuma and his friends with a warm beverage after your parfait.

Exclusive Merchandise & Bonus Items

Pin Badges (9 Designs/Chosen Randomly) – ¥400

Acrylic Key Rings (8 Designs/Chosen Randomly) – ¥500

Get your hands on a selection of original merchandise too, including pin badges, acrylic key rings, and more.

Stickers (4 Designs/Chosen Randomly)

Coasters (4 Designs/Chosen Randomly)

Book a table online in advance and receive one of four possible stickers. Order a drink at the cafe and get one of the four coasters!

You're sure to get your five-a-day when you dine at the Rilakkuma Fruits Cafe, opening for spring on April 3, 2020 in Harajuku.

©2020San-X Co., Ltd. All Rights Reserved.

Information

Rilakkuma Fruits Cafe

Running: April 3, 2020 – June 28, 2020

Location: HARAJUKU AR BOX-table projection mapping cafe- (Lucessimo Bldg. Floor 2F, 4-28-28 Jingumae, Shibuya, Tokyo)

Table Bookings: Now Open

*Table Projection Mapping seats for two people are ¥2,960 (before Tax)

Official Website: https://rilakkuma-fruits-cafe.jp/

Pompompurin Celebrates 24th Anniversary With Birthday Menu at the Pompompurin Cafe

Sanrio's popular character Pompompurin is celebrating his 24th anniversary at three branches of the Pompompurin Cafe in Harajuku, Yokohama, and Umeda with a special birthday menu that will be served for the whole month of April.

A special celebratory menu for the floppy-eared golden retriever

The official date for Pompompurin's birthday is April 16. The birthday menu line-up includes two food items, a drink made in collaboration with popular Japanese picture book author Yukako Ohde, and some novelty gifts.

Birthday Menu

Happy Birthday Flower Bouquet Bisque – ¥1,590 (Before Tax)

This cute bisque soup has Pompompurin and Muffin holding a colourful boquet made from broccoli and mashed potatoes made to look like roses. It has a rich but mild flavour, and is both adorable and filling.

Happy Birthday Strawberry Mousse – ¥790 (Before Tax)

The strawberry mousse has a fluffy texture and refreshing, sweet taste. It can be eaten as it is or drizzled with the accompanying raspberry sauce.

Yukako Ohde x Pompompurin Lemonade – ¥550 (Before Tax)

Take a sip from this delicious lemonade from a straw adorned with a cute, warm illustration of Pompompurin by Yukako Ohde.

Exclusive Anniversary Novelty Gifts

Lunch Mat Design

Customers who dine at any of the three cafes during the anniversary celebration will receive a free lunch mat.

Coaster Designs

And those who order the lemonade will receive a coaster with designs illustrated by Yukako Ohde. The designs are different at each branch of the Pompompurin Cafe. You can also receive another special coaster if you spend over ¥1,000 each (tax included) at Pompompurin Cafe Umeda and KIDDY LAND Osaka Umeda. Simply show your receipts at the cafe.

©1996,2020 SANRIO CO., LTD. APPROVAL NO.S605291

Information

■Pompompurin Cafe Harajuku

Address: CUTE CUBE HARAJUKU 3F, 1-7-1 Jingumae, Shibuya, Tokyo

Opening Hours: 11:00-21:00 (Food Last Orders 20:00 / Drinks Last Orders 20:30)

Access: 3-minutes on foot from the Takeshita Exit at Harajuku Station

TEL: 03-5786-0770

■Pompompurin Cafe Yokohama

Address: Yokohama Sotetsu Square, 2-1-5 Minamisaiwai, Nishi-ku, Yokohama-shi

Opening Hours: 10:00-21:00 (Last Orders 20:30)

Access: 5-minutes on foot from West Exit at Yokohama Station via JR Line

TEL: 045-311-6750

■Pompompurin Cafe Umeda
Address: Hankyu Sanbangai South Wing B2F, 1-1-3 Shibata, Kita-ku, Osaka-shi
Opening Hours: Weekdays 11:00-22:00 (Last Orders 21:30) / Weekends & Holidays 10:00-22:00 (Last Orders 21:30)
Access: 3-minutes from Osaka Station via JR Line
TEL: 06-6292-7140

Pompompurin Cafe

Official Website: http://pompom.createrestaurants.com

mūya: Tokyo's New Cafe Opening by 'Bread, Espresso &' Serving Fluffy Mū Bread

Bread, Espresso & is a cafe chain with 17 branches in Japan, including Omotesando. The company is set to open an entirely new cafeーspecialising in Bread, Espresso &'s popular mū breadーcalled mūya on April 17, 2020 in Asakusa Mizumachi.

Bread, Espresso &: https://www.moshimoshi-nippon.jp/254815

Mizumachi is a new shopping centre also opening on April 17, 2020. It's near Solamachi in Tokyo Skytree Town, and sits betwixt Kaminarimon and Tokyo Skytree.

mū

Mū is an original bread recipe baked up by Bread, Espresso & that's made with lots of butter, giving it a rich taste. The word means "soft" in French. When you break a piece off the fluffy loaf, that rich buttery smell fills your nose.

inside the cafe

The mū loaf is a cube shape, and the interior of the shop has cube designs all over it.

Customers sit at tables with chairs that stack up like cubes – a unique and original design.

French toast

Mū is the main dish at mūya, which can be served as it is, as a sandwich, as French toast, or even in a parfait.

When you're passing through Asakusa, be sure to pop into mūya to try the famous mū bread of Bread, Espresso &.

Information

mūya

Address: 1-2-12 Mukojima, Sumida City, Tokyo 131-0033
Opening Hours: 8:00-20:00
No Fixed Holidays

TEL: 03-6240-4880
Homepage: http://www.bread-espresso.jp/

Succulent Strawberry Drinks & Desserts Served Up at GELATO PIQUE CAFE

GELATO PIQUE CAFE branches in Japan began their "Strawberry Fair" on Wednesday serving up drinks and desserts made using seasonal strawberries.

What is GELATO PIQUE CAFE all about?
"Desserts for adults" is the concept at GELATO PIQUE CAFE, a cafe brand developed by GELATO PIQUE which specialises is comfy loungewear. The cafe, which has branches in Tokyo, Osaka, Nagoya, and elsewhere in Japan, serves comfort food and is interested in the health and happiness of its guests. Their menu is overflowing with ideas, with all options made using only the best selected ingredients.

The enticing line-up is nothing short of kawaii, and screams springtimeーfitting for the season as Japan celebrated Vernal Equinox Day yesterday, the first day of springーwith sweet and sour strawberries adorning their crepes, smoothies, gelatos, soft serve ice creams, and more.

Strawberry Mille Feuille Crepe – ¥830 (Before Tax)

Topped with a whole strawberry, this mille feuille-inspired seasonal crepe is made with an in-house crafted strawberry cream, mille feuille puff pastry, and vanilla gelato. The strawberries used are a mix, all grown in Kumamoto Prefecture, including yuubeni, koinozomi, koiminori, and others. Much love and care is put into growing strawberries in Kumamoto, making them sweet and delicious.

White Strawberry & Red Strawberry Gelato – ¥460 (Before Tax)

This two-coloured serving of gelato ice cream is made with sweet-smelling white strawberries and a brand of red strawberry from Fukuoka called amaou. No strawberry lover will be able to resist this pick.

Strawberry Smoothie – ¥590 (Before Tax)

Enjoy a cold strawberry smoothie made from seasonal strawbs, milk, and honey. Indulge in the refreshing sweetness of the strawberries, and enjoy the cute pink flavour of the beverage.

Strawberry Milk Soft Serve Ice Cream – ¥450 (Before Tax)

Or grab yourself a cone of soft serve ice cream to enjoy the combination of flavours: sweet and sour strawbs and sweet, creamy milk.You can also get a mix together with the light blue vanilla flavour.

Information

Strawberry Fair

Running: March 18, 2020 – May 31, 2020

Location: GELATO PIQUE CAFE (Participating Branches: atré EBISU, LUMINE Ikebukuro, Mitsui Outlet Park Makuhari, Mitsui Outlet Park Kisarazu, Mitsui Outlet Park Jazz Dream Nagashima, Gotemba Premium Outlets, Nagoya LACHIC, Mozo Wonder City, Namba Marui, Mitsui Outlet Park Hokuriku Oyabe)

Official Website: https://pique-cafe.com/

*Strawberry variety is subject to change depending on production conditions

Shirasagi Coffee: Ehime Prefecture's Cafe Releases Springtime Cherry Blossom Menu

Shirasagi Coffee, a cafe in Ehime Prefecture, has released a new seasonal menu full of strawberries and cherry blossoms to commemorate the spring season.

Shirasagi Coffee's logo features a heron, a reference to a legend that says the locals of Matsuyama in Ehime noticed that a white heron healed its injured leg by bathing in the hot springs of Dōgo Onsen, one of the oldest hot springs in  Japan. The cafe was renovated using furniture made from scrap wood from when Dōgo Onsen was built. It's an artistic cafe that has garnered much attention from both locals and tourists.

Thick-Cut Natural Yeast Toast

This thick-sliced bread is provided by Panya Uzu, a bread shop also in Matsuyama, Ehime. Perfect for breakfast or lunch, it's topped with a cherry blossom jam and mascarpone cheese cream.

Top: Cream Soda / Right: Cherry Blossom Tea Latte / Left: Cherry Blossom & Strawberry Mint Sour

This line-up of three drinks are made using seasonal strawberries grown in Ehime Prefecture.

Sweet Bavarois

Bavarois is a classic dessert at Shirasagi Coffee, and this one is made using matcha grown in the village of Shingu in Ehime and is coated in a cherry blossom cream.

Spring Madonna Parfait

This limited-time parfait is stacked with 12 different ingredients of varying textures and flavours, including cherry blossom, as well as Ehime strawberries, chestnuts, and matcha. It's the culmination of Ehime's springtime ingredients.

Takeout Drinks

Mini Parfait

The cafe also serves mini parfaits, drinks and other items for takeout. Pick something out and go and observe the cherry blossoms for Hanami at Dōgo Park.

Information

Shirasagi Coffee

Address: 2F, 12-1 Dōgoyunomachi, Matsuyama, Ehime Prefecture

Opening Hours: 08:00-18:00 (from 07:00 on weekends and public holidays)

No Fixed Holidays

Closest Station: Dogo Station via Iyotetsu

Official Website: https://shirasagicoffee.com/

*Open everyday until 22:30 from March 23, 2020

*Table reservations available on weekdays

*Breakfast-only until 11:00

Gluten-Free Vietnamese Bánh Mi Baguettes Sold at the New Bánh mi Tokyo

In Vietnamese cuisine, a Bánh mi is a baguette stuffed with various ingredients and served as a sandwich. It's a popular meal in Vietnam, and in recent years has seen an appearance in Japan.

Bánh mi Tokyo opened in Gaiemmae, Tokyo on March 16, 2020. They serve bánh mi with a Japanese taste, and their bread is made from 100% rice flour with no artificial flavourings or purified sugar.

Bánh mi are generally made with lard or margarine, but at Bánh mi Tokyo, they are made with with ingredients with good-quality oil content like rice koji sweet sake and nuts, which give them a richness and creaminess and remove things like trans-fats that are a burden on the body. This also greatly cuts calories and other fats too.

Mackerel Curry Bánh Mi

All bánh mi overflow with original flavours, from the chicken-filled "Standard Bánh Mi" to the "Mackerel Curry Bánh Mi" which is made with curry flavoured grilled mackerel, "Five Spice Char Siu Bánh Mi" stuffed with juicy pork belly, and more.

Bánh mi Tokyo also serves high-quality original coffees which are a must-try together with your bánh mi

Information

Bánh mi Tokyo

Address: 1F, 3-1-25 Jingumae, Shibuya, Tokyo)

Opening Hours

[Weekdays] Morning 8:30-9:30 / Lunch 11:00-15:00 (Last Orders 14:30) / Cafe 15:00-17:30 (Last Orders 17:00)

[Weekends & Holidays] Lunch 11:00-15:00 (Last Orders 14:30) / Cafe 15:00-18:30 (Last Orders 18:00)

*Please note that opening hours are subject to change as a result of the coronavirus. Check the cafe's official website for the latest information.

TEL: 070-4142-0868

Official Website: https://banhmi-tokyo.com/

MUUN SEOUL: Harajuku's Korean Cafe Serving Instagrammable 'Fatcaron' Macarons

MUUN SEOUL is a cafe located along Tonchan-dori Street in Harajuku that serves Instagram-worthy South Korean food.

Photo by Nagisa Kobayashi @popo_318

Photo by Nagisa Kobayashi @popo_318

The cafe sells "fatcarons," a South Korean-style macaron which have proven very popular with young women in Japan.

Photo by Taeco @taecostagram

Fatcarons are larger than the standard macaron. They are topped with things like strawberries, given marble textures, and more to give them a cute appearance. MOON SEOUL serves many different varieties, all of which are standout compared to normal macarons.

Photo by Sara @__sar310

But the fatcaron experience at MOON SEOUL isn't complete without ordering the drink above. It's strawberry milk flavoured, but the milk is whipped until it's fluffy, giving it a taste like no other strawberry milk you've tried. It also has sliced strawberries inside and on top, so if you love strawberries, you'll love this.

Photo by Yuina @popochan726

You can order your fatcarons for takeout too in a clear takeaway box so you can go have a dessert picnic with your friends, and get a great photo of them all together too.

Harajuku's KAWAII MONSTER CAFE Begins Spring Fair 'KAWAII×Sakura×Easter 2020'

If you've never heard of the KAWAII MONSTER CAFE in Tokyo, then you're going to want to visit by the time you see what they're cooking up for spring.

This year, the cafeーwhich is based on the idea of customers being inside the stomach of a giant monster that's eaten Harajuku wholeーis holding a spring fair entitled "KAWAII×Sakura×Easter 2020" which is running from March 13 to April 26. The menu line-up incorporates elements of Japanese spring with a colourful Harajuku twist, from Easter to cherry blossoms.

*Menu item names have been translated from Japanese

Colourful Pop Burger Cock-A-Doodle-Doo Monster – ¥1,680

This new chicken monster burger is stuffed full of delicious goodness, including sukiyaki.

Cherry Blossom Bloom Rice – ¥1,300

The year is 2020, and spring has arrived in Japan. This Earth-inspired blue rice has cherry blossom coloured cheese fondue dolloped on top of it which is sat on a bed of black curry. The spicy curry has delicious burnt caramel inside it.

Tropical Bibimbap – ¥1,200

Bibimbap, the soul food of South Korea. This colourful version is topped with edible flowers and cherry blossom wheat-gluten bread, giving it that springtime feeling. The specially-made monster furikake gives the dish a real spicy kick.

UFO Doughnut Pancakes – ¥1,200

These chewy in-house made doughnuts are filled fat with strawberries, mikan, lemon mousse, and strawberry ice cream. Doughnut pancakes are the latest gourmet indulgence in Harajuku.

Sakura Mousse Piyo Piyo Cake – ¥980

Aka-chan is the name of this newborn monster chick, whose cute face is made from cherry blossom mousse.

Pastel Easter Sakura Rabbit Parfait – ¥2,400

Wearing a cute pointy hat and a colourful dress, this sakura Easter bunny is caked in strawberry, orange, and melon flavoured cream, strawberry ice cream, panna cotta, Japanese pudding, fresh strawberries, and raspberry sauce.

A trip to Harajuku this spring isn't complete without a visit to the KAWAII MONSTER CAFE, so don't miss out on their spring fair.

Information

KAWAII×Sakura×Easter 2020

Running: March 13, 2020 – April 26, 2020

Address: YM Square Bldg. 4F, 4-31-10 Jingumae, Shibuya, Tokyo
Access: 5-minutes on foot Harajuku Station via JR / 1-minutes on foot from Meiji-Jigumae Station via Chiyoda Line and Fukutoshin Line
TEL/FAX: 03-5413-6142/03-5413-6143

Business Hours
Weekdays & Saturday:
[Lunch] 11:30-16:30 (last entry 15:30 / last orders 16:00 – 90 min stay max)
[Dinner] 18:00-22:30 (last orders 22:00)

Sundays & Holidays:
11:00-20:00 (last orders 19:30)

Official Website: http://kawaiimonster.jp

Shiseido Parlour to Open New Restaurant at WITH HARAJUKU in Tokyo

Shiseido Parlour, a pioneer of Japanese-style Western cuisine, has announced that it is opening its new restaurant and lounge Shiseido Parlour The Harajuku on the 8th floor of WITH HARAJUKU, a shopping centre located in front of Harajuku Station in Tokyo, on April 25, 2020.

Goshu no Sosai With Seasonal Ingredients

Main Dish

Shiseido Parlour The Harajuku breathes new life into the Japanese-style Western cuisine that has been cultivated in Ginza for 100 years, serving up a new prix fixe-style fixed price menu that elevates the taste, smell, and appearance of the seasonal ingredients used, from a Japanese way of thinking. This food can be enjoyed with a glass of one of the main wines selected by the restaurant's sommeliers, high-quality tea, and more.

Meals are enjoyed even more by the view offered at the restaurant, where you can see shrine groves of Meiji Jingu Shrine.

Main Dining

Forest Dinner (Chef's Recommendation) – ¥12,000 (Tax Included)

The design concept for the restaurant interior is forests. The restaurant promises a relaxing atmosphere like that of being wrapped amongst the mighty trees of the woods, the cool air blowing, and the rays of the sun spilling through the trees.

The interior design was created by Kazuya Ura, a Japanese architect who was involved with the building plan for the Kyoto State Guest House. The restaurant lounge features glass art on the wall which captures the image of sunlight filtering through the trees. This was created by Japanese glass designer Ikko Itabashi.

Lounge

The chic red lounge offers a view of the garden terrace and faces the direction of Akasaka. Tuck into appetisers and desserts and enjoy sipping on a drink. This is a great place to sit after your meal or for meeting up with someone.

If you're visiting Harajuku during your trip to Japan, why not pop into the new Shiseido Parlour The Harajuku?

Information

Shiseido Parlour The Harajuku

Address: WITH HARAJUKU (Floor 8F), 1-14-30 Jingumae, Shibuya, Tokyo
Opening Hours: 

Dining/Lunch: 11:30-15:30 (Last Orders 14:00)
Dinner: 18:00-22:00 (Last Orders 20:30)
Lounge: 11:30-22:30 (Last Orders 21:30)

Closed: Mondays (Except on public holidays), and closed April 27, 2020
Official Website: https://parlour.shiseido.co.jp/en/index.html

THE LOCAL COFFEE STAND FUKUOKA: New Coffee Shop Opens in Fukuoka's Hakata Ward

Japan's biggest online coffee publisher Good Coffee is opening a new cafe called "THE LOCAL COFFEE STAND FUKUOKA" in Hakata, Fukuoka.

Good Coffee looks to bring together coffee lovers with all kinds of coffee shops. THE LOCAL COFFEE STAND FUKUOKA will be their second branch of "THE LOCAL COFFEE STAND" in Japan following the branch they opened in Shibuya, Tokyo.

Good Coffee provides a wealth of information and the latest news on where to get delicious coffee inside and outside Japan. They have joint sponsorship and manage the TOKYO COFFEE FESTIVAL where roasters from across the country all come together and serve coffee in a variety of ways, host live performances, and more.


The coffee beans at THE LOCAL aren't roasted in-house. Instead, the head barista, Yuji Otsuki, personally selects roasts every month from shops published on Good Coffee. This is a rare style of coffee shop in Fukuoka where every month, customers can enjoy a different cup of high quality coffee every month from popular roasters inside and outside Japan from the comfort of Fukuoka.

The coffee beans used for the cafe's opening month of March will be drip coffee from GLITCH COFFEE&ROASTERS in Jinbocho, Tokyo and espresso from CRAFTSMAN COFFEE ROASTERS in Shimonoseki, Yamaguchi. Events are scheduled to be held at THE LOCAL COFFEE STAND FUKUOKA every month where baristas and coffee roasters will be invited as guests.

Find your new favourite coffee at THE LOCAL COFFEE STAND FUKUOKA.

Information

THE LOCAL COFFEE STAND FUKUOKA

Address: 2-14-1 Hakataekihigashi, Hakata, Fukuoka, Fukuoka Prefecture

Opening Hours: 9:00-23:00 (*Pre-opening hours)
Access: 5-minutes from Hakata Station's Tsukushi Exit
Official Website: http://thelocal2016.com/fukuoka/

Starbucks Reserve Roastery Tokyo to Release Butterscotch Latte

Starbucks Coffee Japan is launching a new drinks promotion in Japan on March 13 entitled "New Latte Love Coffee." The first two drinks in the series will celebrate the 1st anniversary of the coffee wonderland Starbucks Reserve® Roastery Tokyo. The drinks are the Butterscotch Latte and Butterscotch Coffee Jelly Frappuccino®.

Left: Butterscotch Coffee Jelly Frappuccino® – Tall ¥590 (Before Tax) / Right: Butterscotch Latte – Short ¥420 Tall ¥460, Grande ¥500, Venti® ¥540 (Tax not included in drink prices)

The new beverages incorporate a butterscotch sauce which offers a rich and smooth buttery taste and sweet caramel. Each drink is carefully crafted with a shot of freshly-made espresso, the butterscotch sauce, and steamed milk.

The Frappuccino® version is filled with a Starbucks-original coffee jelly made using the coffee chain's "Espresso Roast" which goes perfectly with the milk of the cold drink. It's almost like a dessert in a cup, especially with the addition of the butterscotch sauce.

Starbucks Reserve® Roastery Tokyo is also widening its range of milks in line with the new beverages. Soy milk is already a standard there, but now customers can also enjoy oat milk for a limited time, as well as almond milkーthe latter of which will be put onto the regular menu.

Oat Milk Latte/Almond Milk Latte – ¥Short 390, Tall ¥430, Grande ¥470, Venti®︎ ¥510

The subtle sweetness of the oat milk used in the Oat Milk Latte goes perfect with the taste of the espresso. A Starbucks-original almond milk is also used for the Almond Milk Latte, adding a fragrant almond taste to the coffee beverage.

Enjoy your coffee with your milk of choice from six kinds: Starbucks Milk, Low-Fat, Fat-Free, Soy, Oat, and Almond.

Information

Butterscotch Latte

Running: March 13, 2020 – June 16, 2020

Butterscotch Coffee Jelly Frappuccino®︎

Running: March 13, 2020 – April 8, 2020

Oat Milk

Running: March 13, 2020 – April 8, 2020

Almond Milk

Release Date: March 13, 2020

Official site:https://www.starbucks.co.jp/