2019 Top 10 Souvenirs Available at Daimaru Department Store, Tokyo
Looking for some delicious, well presented Japanese souvenirs? Head to Daimaru department store which is adjoined to Tokyo Station. On the first floor and basement floor lies a Japanese-style desserts and sweets area which contains approximately 70 delicious brands. Every day, approximately 30,000 desserts are sold to customers who are looking for souvenirs to bring to their family and friends. 
Now we have arrived at the summer holidays, there are many tourists who will soon reach the stage of panic where they are unsure of what souvenirs to bring back to their loved ones. Luckily, Daimaru Department store is a goldmine of beautifully presented Japanese-style sweet snacks made by top brands. Today, we present you with a list of the 10 fastest-selling souvenirs that were sold from July 2018 to June 2019. There is still plenty of time to get your hands on these souvenirs!
1st Place: N.Y.C. SAND: Caramel Sandwich Biscuits (box of 8) ¥1,080 (1st floor)
 As you take a bite, you will notice that the biscuit, chocolate and caramel will balance in perfect harmony just for a brief glorious moment. 
2nd place: Fukusaya: Fukusaya Cube (Cut into two) ¥270 (1st floor)
Have a small slice of luxury with this traditional recipe castella sponge cake which was specially made by experienced bakers. This is presented in a small, cute box. 
3rd place: Kamakura Toshimaya: Hato Sable (box of 10) ¥1,080 (1st floor)
This is a crispy dove-shaped shortbread biscuit which has a rich buttery flavour. This was first produced in the early 1900's during the Meiji period and is a souvenir limited to Tokyo.
4th place: Asakusa Mangando: Imokin ¥129 each (1st floor)
This baked treat is packed with the delicious flavour of sweet potatoes. The freshly baked scent is enough to draw you in.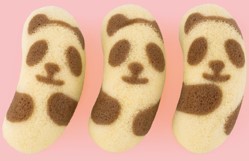 5th place: TOKYO BANANA STUDIO: Panda Banana Yoghurt (Box of 4) ¥515 (1st/basement floor) 
Children would just love to see the cute panda design. Wrap yourself in the mild banana yoghurt-flavoured cream.
6th place: Noix: Walnut cookie (Box of 4) ¥648 (1st floor)
This crunchy cookie is topped with a generous amount of caramelised walnuts.
7th place: Nenrinya: Mount Baum Shikkarime ¥756 (1st floor)
The outside of this baumkuchen is fragrant and crispy whilst the inside is soft and spongy. Take a bite to experience the wonderful texture of this European-style baked good. 
8th place: Azabujuban Agemochi-ya: Panchetta Agemochi (40g) ¥442 (1st floor)
The flavour of this baked mochi dough is like eating bacon cooked in an Italian style. This new flavour is a wonderful discovery that you should also try.
9th place: Sugar Butter Tree: SUGAR BUTTER SAND TREE (Box of 10) ¥690 (1st floor)
The crispy biscuit and melty white chocolate is a sublime combination that you will want to try again and again.
10th place:  Kanou Shoujuan: Ikkoten ¥270 each (1st floor)
A whole Japanese chestnut is smothered in a thick layer of Tamba Dainagon adzuki bean mix that is simmered lightly. This is especially delicious when eaten with tea. 
What do you think? When in desperate need of a souvenir for your family, friends or work colleagues back home, how about choosing one of the souvenirs listed above?
Information
2019 Souvenirs at Daimaru Department Store, Tokyo
Available Period: July 31 ー August 31.
Avaialble at: Daimaru Department Store Tokyo, Floor 1/Basement floor Hoppe Town
Daimaru Tokyo
Address: 1-9-1, Marunouchi, Chiyoda, Tokyo
Website: https://www.daimaru.co.jp/tokyo/
RECOMMENDED ENTRIES
Six Recommended Souvenirs You Can Buy At Tokyo Station

It is already summer! As people return to their families in the countryside or embark on a special trip with friends, Tokyo station is just a thriving hive of busy bees. That is why today we will be introducing you to a variety of general souvenirs that you can buy at Tokyo Station and take to your friends and family. 

Souvenirs for Visitors to Japan

Tokyo Station Hand Towel (SHARED TOKYO): ¥1,404 (after tax )    ※ GRANSTA-limited 

This hand towel is decorated with classic illustrations of Tokyo Station's reliefs and clematis flowers. The flowers portray the message: "happiness of travellers"

Furoshiki Patchin (SHARED TOKYO ) 1 set: ¥2,484 (after tax) 

This is a beautiful shaped piece of wood with four holes. When you wrap your bento lunch inside a cloth, this piece of wood comes in handy when tying the corners of the cloth together. In moments, you can turn a normal piece of cloth into a useful bag. When you are going on a trip and have lots of luggage, this will come in very handy. 

Character-themed Souvenirs

Suica Penguin O-mikuji Fortunes (TRAINIART TOKYO): ¥594 each (after tax)

Perhaps you are familiar with the Suica card, which is a form of rechargeable contactless card used to pay for train fares in Japan. For fans of the adorable Suica Penguin, which is the mascot of the card, this gift is a must. Peel off the sticker on the bottom and a red string will be revealed. Pull the string and your fortune will be revealed to you!

Unusual Souvenirs

Stained Glass-Style Bookmark (Neue ): ¥1,188 (after tax) 

How about a luxurious stained glass-style book mark? This would make the perfect gift for any bookworm. Just having this would make you excited to get reading.

Bullet Train Souvenirs 

TOKYO STATION SOCKS (Happy Socks): ¥972 (children )/¥ 1,620 (prices after tax ) ※GRANSTA-limited 

The pop-coloured socks are perfect for pumping energy through any child's feet! There are also socks for adults which come in more mature colours which are easier to colour coordinate. These socks are easy to put on and are a great way to add a touch of cuteness to your look. 

Electric Pen: E6 Series Super Komachi Shinkansen /Electric Car Pen E5 Hayabusa (Neue): ¥648 (after tax)

 Tip the pen and the bullet train will zip to Tokyo Marunouchi Station. There's no doubt that train fans and children would love to get this present. 

We hope this article helps you choose a souvenir on your next visit to Tokyo station.

Information

Tokyo Station City Official Website: 

Most Popular Sweets & Chocolate Sold at Tokyo Station

Summer is here, and if you're travelling around Japan, chances are you'll be using Tokyo Station station at some point.

We recently covered 6 must-buy souvenirs at Tokyo Station. Today we'll be looking at the most popular Japanese and western sweets you can pick up there as ranked by sales.

Western Sweets & Snacks

1st Place: Maple Butter Cookie (Contains 18) – ¥1,900 (Tax Included) / Sold @ The Maple Mania

These cookies are made from maple sugar and fermented butter and baked with dark chocolate in the middle to make a crunchy cookie sandwich. They have been the most popular treat since they were released♡

2nd Place: Tokyo Station Waffles (10 Included) – ¥1,300 (Tax Included) / Sold @ R.L waffle cake

A flagship product of R.L. Waffle Cake, their fluffy waffles contain cream and fruit. These Tokyo Station exclusives have been improved this year and are now made with bamboo charcoal. This set of 10 plain waffles are available for a limited time only.

3rd Place: Tokyo Gianduja Chocolate Pie (Contains 8) – ¥1,080 (Tax Included) / Sold @ Caffarel

Chocoholics are going to love Caffarel's chocolate pies which are made lusciously with their gianduja chocolate. The pies enjoy repeat purchases from people who enjoy the crunchy outside of the pie and rich chocolate centre. They are enjoyed by people of all ages.

4th Place: Tokyo Kaminariya (Contains 8) – ¥1,062 (Tax Included) / Sold @ Tokyo Kaminariya

Tokyo Kaminariya is known for its sweet cone puffs which topped with fluffy cream, nuts and sesame seed bean paste. They are shaped like the god of thunder's horn and are cat tongue biscuits containing fragrant rice flour.

5th Place: Tokyo Station Assorted Cookies (Contains 20) – ¥1,965 (Tax Included) / Sold @ Tokyo Milk Cheese

This cookie assortment features the classic Salt & Camembert and Honey & Gorgonzola flavours. A perfect souvenir from Tokyo with its cute packaging!

Japanese Sweets & Snacks

1st Place: Kinpira Gobo (1 Bag) – ¥350 (Tax Included) / Sold @ Nishikihonrin

This crispy snack retains the original flavour of the ingredients and is made using 100% domestic wheat flour. It contains great burdock and spicy finely chopped vegetable flavours. It's a perfect little treat to yourself or someone you know and is a hit with foreign customers!

2nd Place: Mame Daifuku: ¥206 (Tax Included) / Sold @ Ginza Kanra

A hallmark product of Ginza Kanra, these soft daifuku contain whole adzuki beans grown by contracted farmers. Their simple flavour has transcended generations and is a beloved traditional Japanese dessert with all ages.

3rd Place: Panda no Tabi (Contains 5) – ¥1,080 (Tax Included) / Sold @ Keishindo

Keishindo's senbei shrimp rice cookies have various designs on them including cute pandas as well as famous sites in Tokyo such as Tokyo Tower and Kaminarimon. Exclusive to Tokyo Station, these are a fun and delicious choice.

4th Place: Wasanbon (Contains 9) – ¥756 (Tax Included) / Sold @ Kurio Shoten Gransta

Wasanbon is a type of traditional Japanese sugar. This product is made with traditional molasses which has been used since the store first opened. Using high quality sugar, Kurio Shoten has created a sweet and simple delicious snack.

5th Place: edocco Nami Ningyo Yaki – ¥1,080 (Tax Included) / Sold @ Hattendo & edocco

Ningyo yaki are little baked doll cakes, and these ones have a "raw" texture to them which is both moist and chewy, a texture enjoyed by Japanese people.

Did you enjoy this list? Be sure you get to try all the sweets and snacks you can in Japan and share them as souvenirs when you travel back home!

Black Cheesecake & Other Delicious Seasonal Desserts Cooked Up at Daimaru Tokyo

School's nearly out for summer in Japan with summer break set to begin on July 20. Kids and adults alike can look forward rolling up to Daimaru Tokyo to get their sweet tooth hands on one of five special desserts available at Hoppe Town on the ground and first floor from July 17 to 23.

Let's take a look at these mouth-watering delights.

Basket Cheesecake (8cm) – ¥400 @ Aoyama Fromage (Floor 1F)

This cheesecake is all the rage in the dessert world this year for its eye-catching black surface. The burnt surface enjoys just the right amount of bitterness and is a perfect match for the soft, rich center.

CAKETALE (6 Included) – ¥648 @ CAKETALE (Floor 1F)

Tuck into one of six different of these different takes which have been turned into cat tongue biscuits. Flavours include strawberry shortcake, cheesecake, mont blanc and more, and they come in some seriously kawaii packaging which looks just like a book.

Tokyo Saku Saku Tiramisu Panda Package (16 Included) – ¥1,080 @ Tokyo Oraikan (Floor 1F)

Sink your teeth into these cute and crunchy rich panda tiramisu cakes♡

Dashi Shoyu (1 Bag) – ¥388 @ Okashi Rakuichi (Floor B1F)

This popular brand with their delicious flavours and cute packaging designs have their own shop in Senju in a low-lying part of the city where the Metropolitan Electric Railway runs through. This is their most popular product, a bag of crunchy soy sauce covered balls with a rich flavour.

Tokyo Lemonche (Includes 8) – ¥1,555 @ Tokyo Lemonche (Floor B1F)

A perfect summer treat, the Tokyo Lemonche is a light and refreshing lemon puff sandwich filled with lemon cream. You can really taste the original flavour of lemon in them.

Make a stop by Daimaru Tokyo this summer if you're in Japan!

Information

Seasonal Desserts

Running: July 17, 2019 – July 23, 2019

Location: Hoppe Town, Daimaru Tokyo (Floors B1F & 1F)

Daimaru Tokyo Official Website: https://www.daimaru.co.jp/tokyo/

Tokyo Station's Pokémon Store & Tokyo Gourmet Zone Announce Collaborative Event

Tokyo Gourmet Zone in Tokyo Station's First Avenue shopping complex turned 1 year old on June 28. To celebrate its 1st anniversary, the station's Pokémon Store located along Tokyo Character Street is teaming up with Tokyo Gourmet Zone to host a Pokémon-themed event where you can meet Pikachu, get your hands on original merchandise, and more.

From July 13th to 15th at 11:00-15:00, if you order a soft drink or dessert at participating restaurants in Tokyo Gourmet Zone you can receive the above-pictured 1st anniversary lunch mat with a Pikachu design. These are limited to 1,000 per day on a first-come, first-served basis.

You can also get a photo with Pikachu on the same three days. Your photo will be printed with an original photo frame.

Over at the photo spot, you can get your photo taken next to 278 Pokémon plush toys. This is running right now until September 1 and includes Pokémon No. 001-251 in the Pokédex and all 28 forms of Unown.

Several restaurants at Tokyo Gourmet Zone are also serving special meals in celebration of the 1st anniversary. These are available now until July 31.

Head to Tokyo Gourmet Zone and help Pikachu in celebrating their first year!

©2019 Pokemon. ©1995-2019 Nintendo/Creatures Inc./GAME FREAK inc.

Pokémon, ポケットモンスター and ポケモン are registered trademarks of Nintendo, Creatures and Game Freak.

Information

Tokyo Gourmet Zone 1st Anniversary x Pokémon Tokyo Station

Running: June 28 – September 1, 2019

Location: Tokyo Station First Avenue Floor 2F (Tokyo Station Yaesu North Exit Floor 2F)

Official 1st Anniversary Website:  https://www.tokyoeki-1bangai.co.jp/tokyogourmetzone1st/

Photo With Pikachu Event

Running: July 13 – 15, 2019

Slots: ①11:00 / ②13:00 / ③15:00 / ④17:00 (30 minutes each)

Participation: Free
RELATED ENTRIES
Seven Days War Anime Film Release Promoted With Themed Cafe in Shinjuku

To celebrate the December 13th release of the upcoming anime film Seven Days War, a themed cafe will open at EJ Anime Theater in Shinjuku, Tokyo. The cafe will collaborate with popular creator Pantovisco who has over 680,000 followers across his social media.

The collaboration was born from Pantovisco's being able to relate to the theme of Seven Days War which focuses on the heart of today's youth.

The cute menu line-up features Seven Days War-inspired food and desserts with Perochi and his friends joining in with the fun.

There's also a drinks menu with a line-up of colourful beverages and lattes which you can get various latte art drawings on.

And for every food item ordered on the collaboration menu, you'll receive an original sticker selected randomly from several designs.

And if you order a drink, you'll get a special card introducing various characters from both Seven Days War and the world of Pantovisco.

©2019 Osamu Souda・KADOKAWA / Seven Days War Production Committee

©Pantovisco

Information

Cafe de Perochi with Seven Days War

Running: December 13, 2019 – January 12, 2020

Location: EJ Anime Theater Shinjuku Floor 5F (Shinjuku Bunka Bldg., 3-13-3 Shinjuku, Shinjuku Ward, Tokyo)

*Please check the EJ Anime Theater website for details on the menu items and more

・All customers using the cafe during this collaboration must each order at least one item

・Entry restrictions and time limits may be implemented during very busy hours

・Cash only

・Photography allowed including posting online. Post with the hashtag #EJアニメシアター and let them know how you liked it!

*Photography is prohibited for certain displays which will be marked in Japanese with "撮影禁止"

Seven Days War Official Website: http://7dayswar.jp/

Pantovisco Official Website: http://www.pantovisco.com/
EJ Anime Theater Shinjuku Official Website: https://ej-anime-t.jp/shinjuku/

Cafe Webpage: https://ej-anime-t.jp/cafe_and_gallery/perochi_7dayswar/

Kirby Pop-Up Shop 'PLAYFUL KIRBY' to Open in Laforet Harajuku in Tokyo

LEGS is opening a Kirby-themed pop-up shop named 'PLAYFUL KIRBY' for a limited time in Laforet Harajuku, a landmark of Tokyo's fashion hub Harajuku.

The shop has invited popular Japanese illustrator Shogo Sekine on board, who is known for its distinct typography work which mixes fashion with messages written in English, to create an original line of Kirby apparel and miscellaneous fashion items.

PLAYFUL KIRBY is also teaming up with Converse. Kirby has inhaled a few too many Converse Stars and has turned into a truly fashionable pink blob. The line-up is unisex so can be enjoyed by anyone and everyone. It will include items also available to purchase at Converse Stars branches as well as Laforet Harajuku exclusives.

Witness Nintendo's Dream Land hero in an all-new light as he becomes a fashion icon at Laforet Harajuku this month from December 16 to 26.

©Nintendo / HAL Laboratory, Inc.

*Photos are for illustrative purposes only

Information

PLAYFUL KIRBY

Running: December 16, 2019 – December 26, 2019

Location: Laforet Harajuku's 2nd Floor CONTAINER (1-11-6 Jingumae, Shibuya, Tokyo)

Opening Hours: 11:00-21:00 (Until 19:00 on December 26, 2019)

PLAYFUL KIRBY Official Website: http://playfulkirby.jp

Laforet Harajuku Official Website: https://www.laforet.ne.jp/

Starbucks Reserve® Roastery Tokyo Collaborates With Traditional Kyoto Dollmakers

Starbucks Reserve® Roastery Tokyo released six new products on December 5 in collaboration with Shimada Koen Ningyo Kobo, a long-standing traditional maker of Japanese gosho-ningyo dolls.

Golden Cup, Shimada Koen Ningyo Kobo – ¥50,000 (Before Tax)

The relationship between Starbucks and Shimada Koen Ningyo Kobo began when Starbucks opened its branch at Kyoto Ninenzaka Yasaka Chaya in Kyoto, which is known for having tatami flooring, as the dollmaker's studio is located near it. There is a waving cat wearing a green apron at that Starbucks which was designed by the 5th generation of Shimada Koen.

Waving Cat, Shimada Koen Ningyo Kobo – ¥30,000 (Before Tax)

Shimada Koen specialises in making gosho-ningyo, dolls with distinct features such as stout forms, pure white skin, tiny legs and hands, a big face, and an overall cute appearance reminiscent of a child. In the Edo Period they were developed as gifts associated with the Court.

Bell Rat, Shimada Koen Ningyo Kobo – ¥3,500 (Before Tax)

The line-up of six dolls feature Starbucks Reserve® Roastery Tokyo motifs and are made with considered thought in mind, including the bonds between people and enjoying happiness throughout the yearーdesires upheld by Starbucks.

Information

Starbucks Reserve® Roastery Tokyo x Shimada Koen Ningyo Kobo Collaboration
Running: From December 5, 2019 until stock runs out

Sold At: Starbucks Reserve® Roastery Tokyo

Starbucks Reserve® Roastery Tokyo

Address: 2-19-2 Aobadai, Meguro, Tokyo

Business Hours: 7:00-23:00

No Fixed Holidays.

Access: 14-minutes on foot from Naka-Meguro Station / 14-minutes on foot from the East Exit of Ikejiri-Ōhashi Station

Official Website: https://www.starbucks.co.jp/roastery/

KIRBY CAFÉ: The World's First Permanent Kirby-Themed Café to Open in Tokyo

The KIRBY CAFÉ is set to open on the 4th floor of Toyko Solamachiーthe shopping, dining and entertainment complex under Tokyo Skytreeーon December 12, 2019 as the world's first permanent Kirby-themed café.

Though we still have a week to wait until Kirby inhales us whole into his café, the official website is already live, showcasing a new line-up of food and merchandise different from that held at the pop-up Kirby cafés (which we have covered extensively in Fukuoka and even Tokyo Solamachi, the latter of which has seen the most pop-ups).

Some of the menu items are served in a Kirby lunch box, on a Kirby plate, and more. Let's take a look. Menu items below are translated from Japanese.

KIRBY CAFÉ's Stone Baked Pizza ~Maximum Tomato Margherita~ – ¥1,380 (Before Tax)

KIRBY CAFÉ's Stone Baked Pizza ~Greedy Half 'n' Half~ – ¥3,980 (Before Tax)

Served on an original plate, the half 'n' half comes served with two pizza flavours of your choice. Perfect for those times when you can't decide because all the options are too good!

Kirby's Munching Loco Moco Bowl – ¥1,980 (Before Tax)

Munch and chew on this tasty serving of loco moco just like Kirby is adorably doing on the lunch box it comes in.

Whole Egg Plant & Meat Pasta: Say Your Wish to the Galaxy – ¥1,380 (Before Tax)

Meta Knight's Precious Matcha Mousse – ¥780 (Before Tax)

Doctor Kirby's Secret Lab Soda – ¥1,280 (Before Tax)

As well as these incredible-looking dishes, there's lots of other cute ones you can order for takeout too.

If you visit the KIRBY CAFÉ, you'll have to pay a visit to KIRBY CAFÉ THE STORE as well which is located on the 2nd floor of Solamachi. There's around 200 pieces of Kirby merchandise including exclusives as well as KIRBY CAFÉ-themed items.

The KIRBY CAFÉ has its own soundtrack which you can actually buy at the store too. It will be released on December 12. We did an article about it here.

Customers can received a specially-made sticker with the CD design when they buy something at the café or store.

The KIRBY CAFÉ gives priority to reservations, so if you're hoping to get sucked into the world of Kirby, be sure to book in advance.

Information

KIRBY CAFÉ TOKYO

Grand Opening: December 12, 2019

Address: Tokyo Skytree Town Solamachi Floor 4F (1-1-2 Oshiage, Sumida, Tokyo)

Opening Hours: 10:00-22:00 (Last Orders 21:00)

*No fixed holidays except where Tokyo Solamachi is closed

Reservations & Website: https://kirbycafe.jp/tokyo/

*Reservations for February 2020 onward will open on Christmas Day at 18:00 (JST)

*Reservations can only be made via the official website – phone reservations not available

*The merchandise corner at the café is limited to café customers

*Depending on how busy the café is, customers may be permitted entry on the day without a reservation

*There is an allocated 85-minute time limit for using the café, and a group limit of up to 8 people

KIRBY CAFÉ THE STORE

Address: Tokyo Skytree Town Solamachi East Yard Floor 2F (1-1-2 Oshiage, Sumida, Tokyo)

Opening Hours: 10:00-21:00

Ginza Sony Park's Milan Design Week 2019 Exhibition to be Shown in Tokyo

Ginza Sony Park is set to display their #012 Affinity in Autonomy exhibition at the Ginza Sony Park buildingーwhich is a project for the renovation of the Sony Buildingーfrom December 14, 2019.

Affinity in Autonomy was first shown by Sony at Milan Design Week 2019 which was held back in April. It received huge praise from attendees, and so Ginza Sony Park are bringing it back home to showcase at the building, which has enjoyed over 5 million visitors since it opened, for more people to experience it. The exhibit looks at elevating the affinity between humans and robots so that they may co-exist.

Also as part of the exhibition, Sony will showcase five individual pieces entitled Awakening, Accordance, Autonomous, Affiliation, and Association, which make use of image sensors. As visitors experience each one in order, their affinity towards robots will grow. Sound and visuals will play in response to people's movements.

The exhibition combines sound, colour and interaction, offering new insight into robots. What's more is that the robots recognise humans and response in real time, further enhancing the realism offered by the experience.

If you're in Tokyo this holiday season, and are looking for the robots, then be sure to pay a visit to Ginza Sony Park.

Information

#012 Affinity in Autonomy

Running: December 14, 2019 – January 13, 2020 (Closed December 31, 2019 and January 1, 2020)

Time: 10:00-20:00

Location: Ginza Sony Park PARK B2 / PARK B3 (5-3-1 Ginza, Chuo Ward, Tokyo)
Entry: ree

Event Page: https://www.ginzasonypark.jp/program/020/

My Hero Academia Event to Take Place at Tokyo Tower

An event is set to take place at Tokyo Tower from December 7 in promotion of the upcoming anime film My Hero Academia: Heroes: Rising, which is set to release on December 20.

If you pick up a Tokyo Tower Main Deck ticket, which takes you up 150 meters in the tower, you'll receive a ticket with a limited-edition design, a folder, and one of six possible stickers as pictured above.

The Main Deck will be decorated with all things My Hero Academia, including original illustrations as well as key visuals for the upcoming movie. There will also be photo panels featuring classic lines said by characters where you can take photos.

A stamp rally will also be held throughout the tower at the event Collect all six stamps and receive one of six possible desk mats.

Stamp Rally

Price: ¥600

Running: Weekdays 10:00-18:00 (Reception Closes 17:30) / Weekends 10:00-20:00 (Reception Closes 19:30)

Available: Stamp Rally counter on the first floor of Tokyo Tower

*Please note that you will also have to pay the entrance fee to the Main Deck to participate

Test your My Hero Academia knowledge with the official quiz taking place on weekends up the outer staircase. Those who take part will be able to take a photo together with Midoriya and Bakugo and will receive a certificate.

Running: Weekends & Public Holidays 10:00-16:00 (Not running during rainy weather)

*A Main Deck entry ticket is required to access the outer staircase. A ticket to the event is also required to receive the certificate

Choose a beverage inspired by your favourite character. Every drink ordered comes with a My Hero Academia coaster.

Location: Cafe La Tour, Main Deck Floor 1F

Opening Hours: 9:30-22:45 (Last Orders 22:00)

Price: ¥600 Each

Don't miss out on the chance to grab some Tokyo Tower-exclusive My Hero Academia merchandise either.

Location: Merchandise Counter, Tokyo Tower Floor 1F

Opening Hours: 10:00-18:00 (Until 20:00 on weekends)

©2019 "My Hero Academia THE MOVIE" Production Committee ©Kohei Horikoshi / Shueisha

Information

Tokyo Tower x My Hero Academia: Heroes: Rising

Running: December 7, 2019 – January 5, 2020

Location: Tokyo Tower (4-2-8 Shiba-koen, Minato, Tokyo)

Event Page: https://itateri.com/heroaca.html

Top 10 Most Popular Souvenirs to Pick Up at Tokyo Station's HANAGATAYA Store | 2019 Edition

HANAGATAYA is a souvenir variety shop that opened in Tokyo Station's central passage back in July. After over 5 months of sales, the store has revealed its Top 10 most popular products based on sales.

The line-up features a selection of HANAGATAYA exclusives, as well as products from elsewhere which have received pre-sales at HANAGATAYA. You will be spoilt for choice with this selection, all of which are perfect for ringing in the New Year when travelling back home. Let's take a look.

1st Place

Banana Custard Cream – Tokyo 2020 Olympic Emblem Design (Tokyo 2020 Official Licensed Product) – Contains 8 – ¥1,134 (Tax Included)

Officially licensed by the Tokyo 2020 Olympics, these chewy cakes are made from domestic Japanese rice, and are filled with deliciously creamy banana custard.

2nd Place

Tokyo Banana Butter Madeleine (Tokyo Banana World) – Contains 4 – ¥560 Tax Included)

Exclusive to HANAGATAYA come these all-new butter madeleine's created by famous confectionery company Tokyo Banana. These baked treats feature a buttery fragrance and taste, and are made with a banana confiture and finished with fresh lemon.

*Exclusive to HANAGATAYA GRANSTA Tokyo Central Street

3rd Place

Toro One Press Chocolate Chick (Tokyo Hiyoko) – Contains 3 – ¥648 (Tax Included)

This year marks 107 since the company Hiyoko was established. The "Toro One Press Chocolate Chick" is a new confection from them: an adorable skyward-looking chick made up of three chocolate layersーeach with their own distinct flavour. At the heart of the chick is a moist chocolate paste.

*Exclusive to Tokyo Station

4th Place

Cheese Wich – Contains 5 – ¥594 (Tax Included)

These light and refreshing cheese cookies, called Cheese Wiches, are filled with a chocolate-coated melted cheese sauce. Three layers means an enjoyable amalgamation of flavours and textures.

*Exclusive to Tokyo Station

5th Place

Chocolate Chestnut Eggs (Ginza Tamaya) – Contains 4 – ¥800 (Tax Included)

"Goma Tamago" is a popular bite-sized egg-shaped confection. This chestnut flavour was created for HANAGATAYA, a mix of dark chocolate and vanilla flavoured chestnut paste.

*Exclusive to Tokyo Station

6th Place

Strawberry Cookie Sandwich (Berry UP!) – Contains 8 – ¥1,296 (Tax Included)

Berry UP! is a cute confectionery brand which creates baked strawberry sweets. Keeping with that theme, they have created a crunchy quintuple-layered cookie sandwich filled with sweet and sour strawberry chocolate.

7th Place

Shinjuku Curry Ebi (Shinjuku Nakamuraya) – Contains 6 – ¥600 (Tax Included)

If you're looking for something more savoury, then this one's for you: Shinjuku Nakamuraya's light, fluffy and melt-in-the-mouth ebi, coated in curry spices. One nibble is enough to get you instantly hooked.

8th Place

Strawberry Polvorón (Berry UP!) – Contains 6 – ¥1,296 (Tax Included)

Another entry from Berry UP!, these polvorón shortbreads are made from lots of fresh strawberries mixed with condensed milk and mascarpone, creating a subtle sweetness that's enough to have your mouth watering.

9th Place

BLUE MELTIN SAND (Tokyo Campanella) – Contains 8 – ¥1,200 (Tax Included)

What if herbal tea and cookies became its own snack? That's what Tokyo Campanella asked too, and so make it a reality. Their BLUE MELTIN SANDs are cat's tongue cookies stuffed with a herbal tea sauce that has a natural blue colour.

10th Place

Premium Cacao Full Sablé (Mary Chocolate) – Contains 18 – ¥1,350 (Tax Included)

Finally, we have a premium edition of chocolate company Mary Chocolate's Cacao Full Sablés. This one's for the adults, a sophisticated combination of bittersweet chocolate and berries.

*Exclusive to HANAGATAYA GRANSTA Tokyo Central Street

Did you enjoy this list? Which one takes your fancy the most? Whether as a souvenir for the folks back home, or as a treat to yourself to celebrate 2020, if you're in Tokyo this year then be sure to give HANAGATAYA a visit.

Doraemon Future Department Store: Secret Gadget Lab, Exclusive Merchandise & More

Doraemon Future Department Store is the world's first official Doraemon shop, and it's set to open tomorrow on December 1, 2019. Before its grand opening, however, the store has given customers a sneak peek into what to expect.

The shop's concept is from the perspective of Doraemon, who says, "I'll help make your future a good one." It's split into three areas: the Secret Gadget Lab, the Customise Zone, and the Shop Zone, each of which offers a unique Doraemon experience you won't find anywhere else.

Secret Gadget Lab

The Anywhere Door

Just like in the manga and anime series, the Dokodemo Door, or Anywhere Door, lets you travel anywhere.

Discover secret gadgets, like the air gun!

Have a go at trying to shoot and hit the 10 targets within the time limit.

*Requires one Doraemon Future Department Store coin to play

Dorayaki Baybayin Game

Touch the dorayaki to increase your score. Touch too many, and something crazy might just happen…

*Requires one Doraemon Future Department Store coin to play

Fly as far as you can with the Bamboo Copter

Reach the goal with the Take-copter, or Bamboo Copter.

*Requires one Doraemon Future Department Store coin to play

Customise Zone

Embroidered items

Embroider Doraemon characters and the logo onto towels, bags, clothes and more.

Characters (18 Designs): ¥700 Each (Before Tax)

Text  (45 Designs): ¥400 Each (Before Tax)

*The place where a design is embroidered is chosen for you

*There may be a waiting time during busy hours

 

Carved Seal Items

Have character designs, text and more carved onto various items like key rings.

Plate Key Ring (10 Designs) – ¥1,000 Each (Before Tax)

Room Key Holder (6 Designs) – ¥1,200 Each (Before Tax)

¥500 per carving (Before Tax)

*There may be a waiting time during busy hours

Shop Zone (Exclusive Merchandise)

These cute mugs have illustrations of Doraemon's secret gadgets on one side, and the first letter of those gadgets written in Katakana on the other side. It makes you want to collect them all!

Product Name (Pictured): Doraemon Dora-moji Mug Cup A

Price: ¥1,200 (Before Tax)

This cute figure of Doraemon is actually a piggy bank, a perfect gift to yourself or someone else!

Product Name: Doraemon Piggy Bank

Product: ¥4,000 (Before Tax)

Book Corner

There's even a book shop where you can pick up the latest issues of the Doraemon comic.

Bonus Items

To celebrate its grand opening, the store will give out the following items to customers.

Those who purchase any piece of merchandise will receive a free postcard with an original design with every transaction.

For every ¥4,000 (tax included) spent on a transaction on merch, you'll get an original handkerchief.

And for every book bought, you'll get a holographic postcard featuring a design of volume 0 of the manga.

*Bonus items available while supplies last

Information

Doraemon Future Department Store

Address: DiverCity Tokyo Plaza 2F, 1-1-10 Aomi, Koto Ward, Tokyo

Grand Opening: December 1, 2019

No fixed holidays except when DiverCity Tokyo Plaza is closed.

Indulge in Omotesando This Christmas With Q-Pot CAFE.'s Afternoon Tea Set

Christmas is almost here, and at Q-pot CAFE. in Omotesando, the festivities have already begun as they begin serving a selection of special Christmas-exclusive menu items. These will be available until December 25.

Q-pot. is known for its accessory brand, which features jewellery made to look like sweets and desserts. It is also known for the Q-pot CAFE. which flips that concept, instead making sweets and desserts that look just like real accessories.

I visited Q-pot CAFE. to treat myself to their exciting Christmas afternoon tea.

Q-pot. Omotesando is a 7-minute walk from Omotesando Station's A2 exit. You'll spot the entrance by its sparkly illuminations as pictured above.

The cafe is split into seven concept rooms, such as Melt, Chocolate, BisQuit, SAKURA, and so onーso you can pick which sounds good to you and sit there. It also gives a reason to go back more than once!

The Story of Sweet Kingdom Afternoon Tea Set ¥2,400 (Tax Included/Drink Included)

The afternoon tea set: an indulgence any cafe-lover craves for at least once. And since Christmastime is coming, you want to enjoy a little treat too, right? Well, this two-tiered set comes with desserts, sweets, and some light food too.

The top plate includes gingerbread man pops, cupcakes, vanilla panna cotta, and macarons.

The gingerbread man pops are filled with caramel ganache, while the red velvet cupcakes topped with pistachio cream and made to look like a Christmas tree. The panna cotta is also sprinkled with dragees to look like stardust.

The macarons are strawberry and melon flavoured. The melon one has a particularly rich flavour and contains red melon pieces. This macaron is so popular that there are people who go to Q-pot CAFE. just to sink their teeth into one of them.

The bottom plate contains some hearty and crunchy  croissants filled with roast beef, mini tomatoes, and broccoli. It also comes with a side of rich cheese soup with onions and potatoes inside.  It's a great palate cleanser after the desserts.

Pistachio Cream Tea Latte ¥750 (Tax Included) *Also sold separately

The drink that's served with the afternoon tea set is a Christmas-only pistachio cream tea latte.  It's a latte made with one of the cafe's original flavoured tea brews called "Flower Garden." The tea ensures the drink isn't overly-sweet and leaves it with a mild flavour. It also comes with a holly-shaped cookie. This drink is also available to order separately from the drinks menu.

The set comes with a special fairy tale-like Christmas lunch mat.

CHRISTMAS CAKE ~The Story of Sweet Kingdom~ ¥3,800 (Tax Included)

The cafe is also selling a cake that looks like something out of a children's picture book. It's topped with a coconut meringue snowman, gingerbread man, and strawberry Santa. This would make a great addition to a home party.

Saku Saku Meringue ¥600 (Tax Included)

Take away some crunchy snow-white meringues too, so addictive you won't be able to stop after just one!

The cafe is also selling a Christmas collection of their dessert-like accessories too.

Christmas Tree Cupcake: Necklace ¥10,000/Bag Charm ¥8,000 (Before Tax)

The Christmas tree cupcake features a chocolate cookie-like base topped with a realistic pistachio cream adorned with pearls.

Strawberry Santa Claus: Necklace ¥10,000/Bag Charm ¥8,000 (Before Tax)

Check out these adorable bright-red strawberry Santas too!

Q-pot CAFE. has lots of other Christmas food and accessories in addition to these too, so if you're in Tokyo anytime from now up to Christmas Day, then be sure to visit.

Writer: Ellie (MOSHI MOSHI NIPPON)

Translator: Joshua Kitosi-Isanga

Information

Q-pot. Omotesando

Address: 3-4-8 Jingumae, Shibuya, Tokyo

Opening Hours: 11:00-20:00 (Last Orders 19:30)

Closed: New Year's Holidays

Official Website: https://www.q-pot.jp/eng/

Tokyo Disneyland's Very Very Minnie! 2020 Event: Merchandise & Food Releasing Early

The all-new Minnie's Style Studio is set to open in Tokyo Disneyland on April 15, 2020 as a character greeting location where you can meet the Disney cast. In the run up to its opening, Minnie Mouse is hosting a 70-day kawaii-packed event entitled "Very Very Minnie!" which will run at the park from January 10 to March 19 next year.

A special selection of merchandise and food themed on Minnie Mouse, from her polka dots to her ribbon, will be made available from January 9ーthe day before the event starts. Let's take a look at what we can expect for the opening of the New Year!

Special Merchandise (Available: From January 9, 2020)

 

Parkers – Medium ¥4,900, Large ¥5,200 / Cap – ¥3,000 / Scarf Towel – ¥1,500

Wide Bath Towel – ¥3,400

Dress up like Minnie Mouse with one of the two parkers, one featuring white and black polka dots of different sizes, and the other with red and white ones. There's also a cute cap, a scarf towel, and more.

Cushion – ¥2,300

Hand Cream Set – ¥1,600

Wall Pocket – ¥2,900 (*Items in pockets sold separately)

There's also the wide bath towel featuring the Disney characters dressed in their new costumes which you'll see them wearing for the Very Very Minnie! entertainment shows, a cushion which you can put your hands in to keep warm this winter, a useful wall pocket which you can store various items inーand many more items, up to 70 of them!

Special Merchandise Split Across 3 Months

Get one of 8 possible costumes for your Minnie Mouse posy plushy, as well as three different postcard sets. All of these items will roll out across a three month period: on January 9, February 3, and March 2 respectively.

Posy Plushie Costumes – ¥2,200 Each / Postcard Set – ¥1,300 (*Posy Plushies sold separately)

For the first month, January 9 will bring three costumes, including Minnie's new Very Very Minnie! outfit, as well as one called "Super Dancing Mania" and another called "Resident of Mishika." The first postcard set will also come with 7 designs all themed around Minnie.

And on March 2, 2020, which is known as "Minnie's Day" at Tokyo Disney Resort®, guests can get their hands on a plush toy wearing Minnie's "Hippity Hoppity Springtime" outfit at Grand Emporium which was voted as her No. 1 outfit based on a user poll held on the Tokyo Disney Resort® website.

Special Menu Items (Available: From January 9, 2020)

Of course, there'll be plenty of delicious treats to munch on too, all so cute they seem a waste to eat.

Special Dessert Plate (Waffle & Doughnuts) – ¥1,500 / Served at: Center Street Coffeehouse

At Center Street Coffeehouse, this special dessert plate will be served from 1pm-6pm, which will include a set of cream-filled doughnuts and waffles drizzled in a sweet and sour strawberry sauce.

Strawberry Cheese Brownie Crepe – ¥700 / Sold at: Cafe Orleans

Cafe Orleans will serve a crepe topped with a strawberry cheese brownie and drizzled in raspberry sauce and a strawberry compote.

Cranberry Vanilla Mouse Cake with Souvenir Plate – ¥800 / Yoghurt & Raspberry Mouse with Souvenir Cup – ¥800 / Served at: Sweetheart Cafe

Also at the Sweetheart Cafe, you can get your hands on one of two of these desserts which come with souvenir merchandise you can take home with you. Both items feature Minnie in her cute new outfit.

Special Set – ¥1,980 / Served at: The Plaza Inn

The Plaza Inn has a very special set prepared: a hearty meal featuring two hamburgers, ice cream for dessert with a white chocolate mousse adorned with Minnie's ribbon, and more.

Don't miss this Minnie-exclusive event when it begins in the New Year!

*All photos are for illustrative purposes only

©Disney

Tokyo's My Hero Academia Themed Hotel Rooms Unveil Designs | Tokyo Prince Hotel

Tokyo Prince Hotel has announced a collaboration with the upcoming anime film My Hero Academia: Heroes: Rising which is set for release on December 20, 2019. Bookings are now open for their My Hero Academia themed hotel rooms, which will be available to stay in from December 7 this year until February 29, 2020.

The room designs and hotel plans were revealed today. There are two plans available: the "Concept Room Plan" where guests can stay in a room that recreates the world of the movie and comes with free merchandise and a themed drink, and the "Regular Room Plan," which features a regular hotel room decked out with lots of My Hero Academia decorations, and also comes with the merch and drink.

The concept room is split into two rooms: the first recreating the room in which the students of class 1-A meet the protagonist, Izuku Midoriya, and the second on Midoriya's bedroom.

Expect to see illustrations of the students as well as the Villains in the rooms too. Bookings are first-come, first-served, so don't miss out!

©️2019 "My Hero Academia THE MOVIE" Production Committee ©️Kohei Horikoshi/Shueisha

Information

My Hero Academia Collaboration Hotel Plan

Location: Tokyo Prince Hotel

Running: December 7, 2019 – February 29, 2020

Bookings: Open from December 22, 2019 (First-come, first-served)

Booking Page: https://www.princehotels.co.jp/tokyo/plan/contents/myheroacademia_stay/

Plan Details

①Concept Room Plan (Original Merchandise & Drink)

②Regular Room Plan (Original Merchandise & Drink)

Amenities:

・Pop-up card

・Metal keyring

・Pass case

・Toothbrush set

・Original drink (w/ coaster)

Tokyo Station's Top 10 Edible Winter Souvenirs as Chosen by Station Staff

There is just a month and a half left of 2019, with Christmas, the winter holidays and New Year celebrations right around the corner.

Tokyo Station City has compiled a list of must-grab food-related souvenirs and gifts at Tokyo Station. If you've ever visited Tokyo Station, you'll know that you can be spoilt for choice from the amount of goodies you can get your hands on. The list is based on the votes of 305 station staff members working at Tokyo Station who have voted on their Top 10 most recommend souvenirs to pick up this winter.

The staff members went around the shopping area and taste-tested different edible souvenirs across an 8-day period. Their early thoughts as they went down the list were how delicious or unique things were, but they soon began to take it more seriously to consider things like price, how easy an item was to carry and transport, and what certain people might like in particular.

If you're travelling to or from Tokyo Station during the holiday season, be sure to bookmark this list so you know what to buy for on the flight back home!

1st Place

Rakumadoka @ Terra Saison (GRANSTA) – 5 Set ¥1,080 (Tax Included) / 8 Set ¥1,728 (Tax Included)

This cheesecake is like a cream cheese-stuffed souffle-like sandwich. Branded with the words "Gin no Suzu" (a place in Tokyo Station) and "Tokyo," this seasonal product is exclusive to Tokyo Station. In December last year, they sold over 1,500 in a day.

2nd Place


Mount Baum Kuchen @ Nenrinya (Meihinkan) – ¥1,080 (Tax Included)

With its French bread texture, this delightful treat has a fragrant scent, is moist, and is simply delicious. It has a rich buttery taste and is baked slowly to perfection.

3rd Place

Shinjuku Curry Arare Ebi @ HANAGATAYA (GRANSTA) – 6 Set ¥600 (Tax Included)

This rich curry snack is made by Shinjuku Nakamuraya, and has a light melt-in-the-mouth texture with spicy curry seasoning and shrimp flavour. The shrimp flavour comes from a mix of shrimp powder and shrimp oil. The mix of curry powder and spices gives it a really authentic curry taste.

4th Place

Tokyo Vegetable Rice Crackers @ nomono (GRANSTA Marunouchi) – 12 Set ¥950 (Tax Included) / 18 Set ¥1,598 (Tax Included)

An assortment of rice crackers with three different flavours: great burdock, onion, and pumpkin. They have a set of 18 too which is perfect for handing out to lots of people.

5th Place

Maple Pie Sandwich @ The Maple Mania (GRANSTA) – 8 Set ¥1,944 (Tax Included)

Coated in caramel, this crunchy pie is made with a cream laced with maple sugar. Exclusive to Tokyo Station, the packaging design for this dessert is made with souvenirs in mind as it's made so it's easy to carry and take around with you.

6th Place

Kuzumochi @ Funabashiya Koyomi (ecute Tokyo) – 24 Cut (Serves 1-1.5) ¥790 (tax Included) / 36 Cut (Serves 2-3) ¥895 (Tax Included) / 48 Cut (Serves 4-5) ¥1,200 (Tax Included)

Funabashiya's kuzumochi is made with wheat starch that is fermented over a 450 day period before being cooked. It claims to be "the only fermented Japanese wagashi confection." Since it is fermented over such a long period of time, it takes on a unique flavour and elasticity.

7th Place

Cheddar Cheese Pie Sandwich @ Tokyo Milk Cheese Factory (ecute Keiyo Street) – 6 Pack ¥1,620 (Tax Included)

A crunchy pie filled with an addictive cheddar cheese cream. Exclusive to ecute Keiyo Street.

8th Place (Joint)

Premium Cacao Full Shortbread @ HANAGATAYA (GRANSTA) 8 Set ¥648 (Tax Included) / 18 Set ¥1,350 (Tax Included) / 27 Set ¥2,052 (Tax Included)

This is a premium edition of the store's Cacao Full Shortbread, made using the methods used to make the chocolate brand Merry Chocolate. The crunchy texture and full-bodied flavour of the cacao has been left as it is, while a few things have been added to make it a little more luxurious: French sour cream butter, strawberries, and raspberries.

8th Place (Joint)

Yaoki Senbei @ Mankaso (Meihinkan) – 16 Set ¥1,080 (Tax Included)

These plump senbei rice crackers are made with 100% domestic rice and come in six different delicious flavours: agodashi soy sauce, salted, shrimp, seaweed, plum and coarse sugar, and chirimen pepper.

10th Place

Tartlette Neuf @ le billet (ecute Tokyo) – 6 Pack ¥1,728 (Tax Included) / 9 Pack ¥2,592 (Tax Included)

la billet make their own tarts, and this assortment comes in a variety of flavours. Exclusive to Tokyo Station. A great option as a gift for meeting a business in Japan.

Which of these looks most tempting to you? Let us know on Twitter or Facebook!