Stone Oven Cooked Burgers Served at New Ishigamaya GOKU BURGER in Omotesando
Stone oven hamburger chain Ishigamaya Hamburg has opened its first global flagship branch Ishigamaya GOKU BURGER in Omotesando. The restaurant will be open for a limited-period of 2 years.
The classic hamburger is made from 100% ground beef, but at Ishigayama Hamburg they serve what is known as the "Hamburg Steak," a mix of onions, spices, breadcrumbs, milk and other ingredients in the patty. It's a popular dish in Japan alongside ramen and tonkatsu.
We visited Ishigamaya GOKU BURGER to see what a hamburger tastes like at a place that specialises in juicy, stone oven cooked Hamburg Steak.
The restaurant faces Omotesando Hills. It's in the same building as Heiroku Sushi on the second floor. It's very easy to spot with its big sign that reads "GOKU BURGER."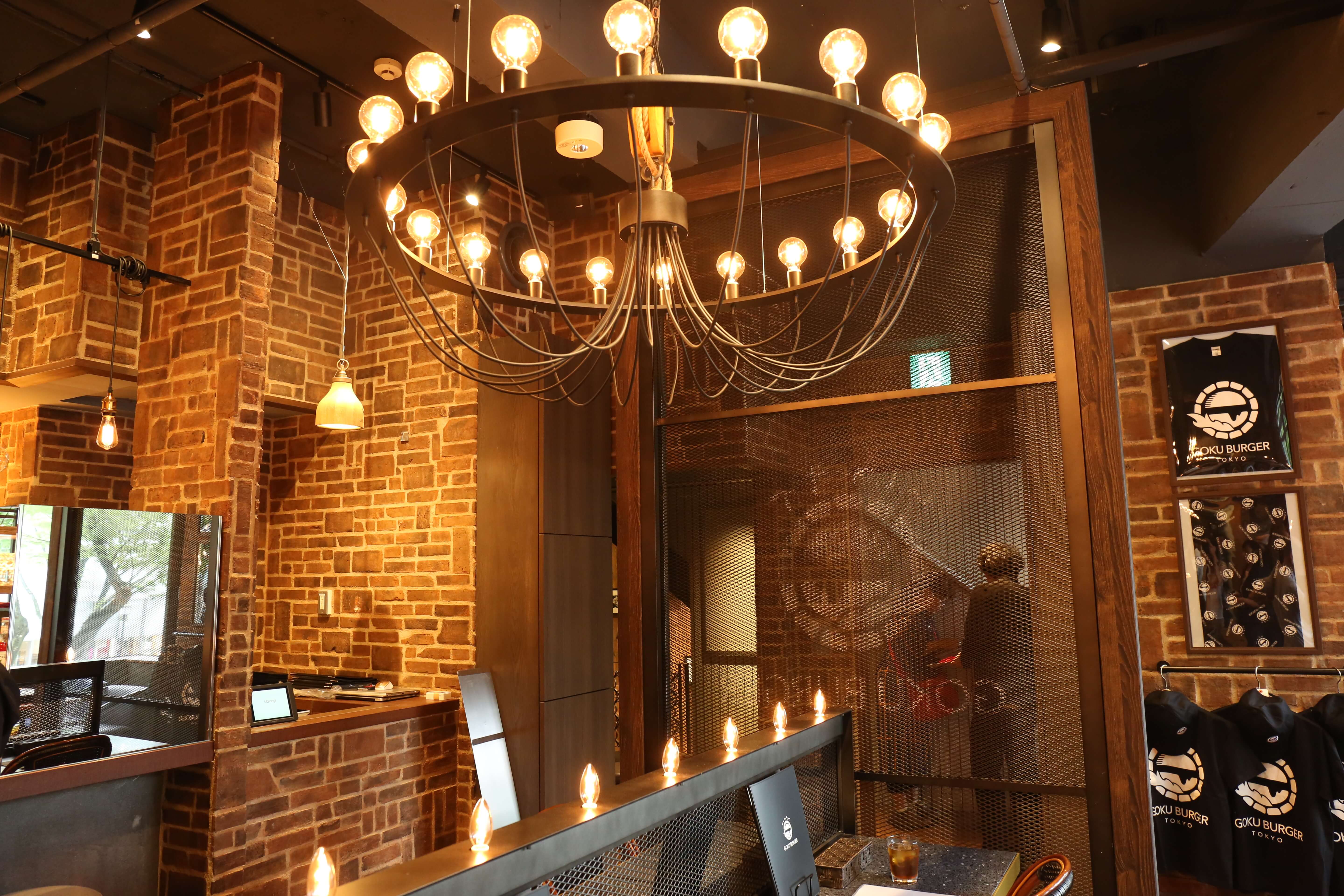 The cosy burger joint has a casual atmosphere to it, lit up by its many variations of lamps.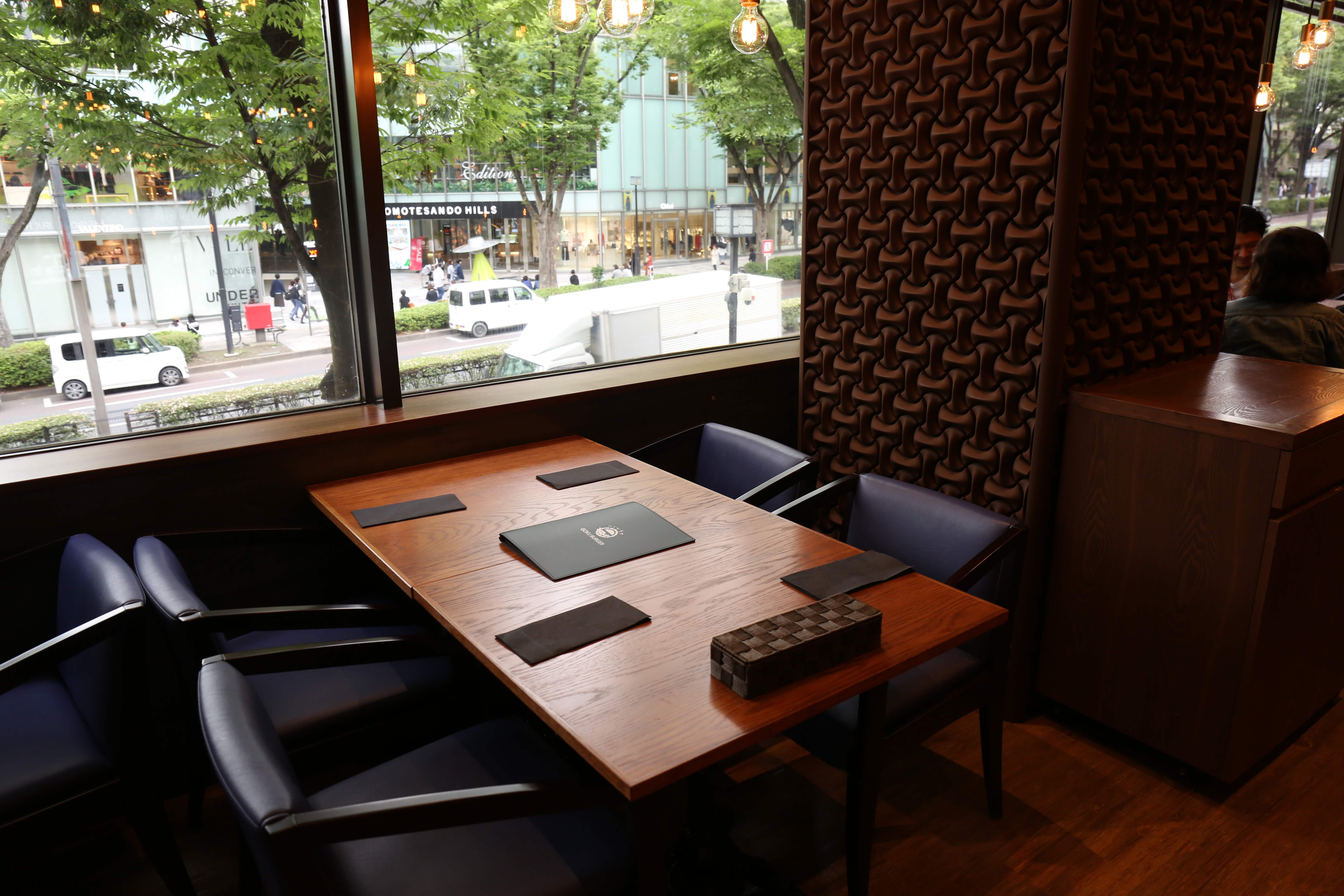 From the big windows you can look down onto the the streets of Omotesando.
From your table you can see the large stone ovens which cook the famous Hamburg Steak. The smell is incredible.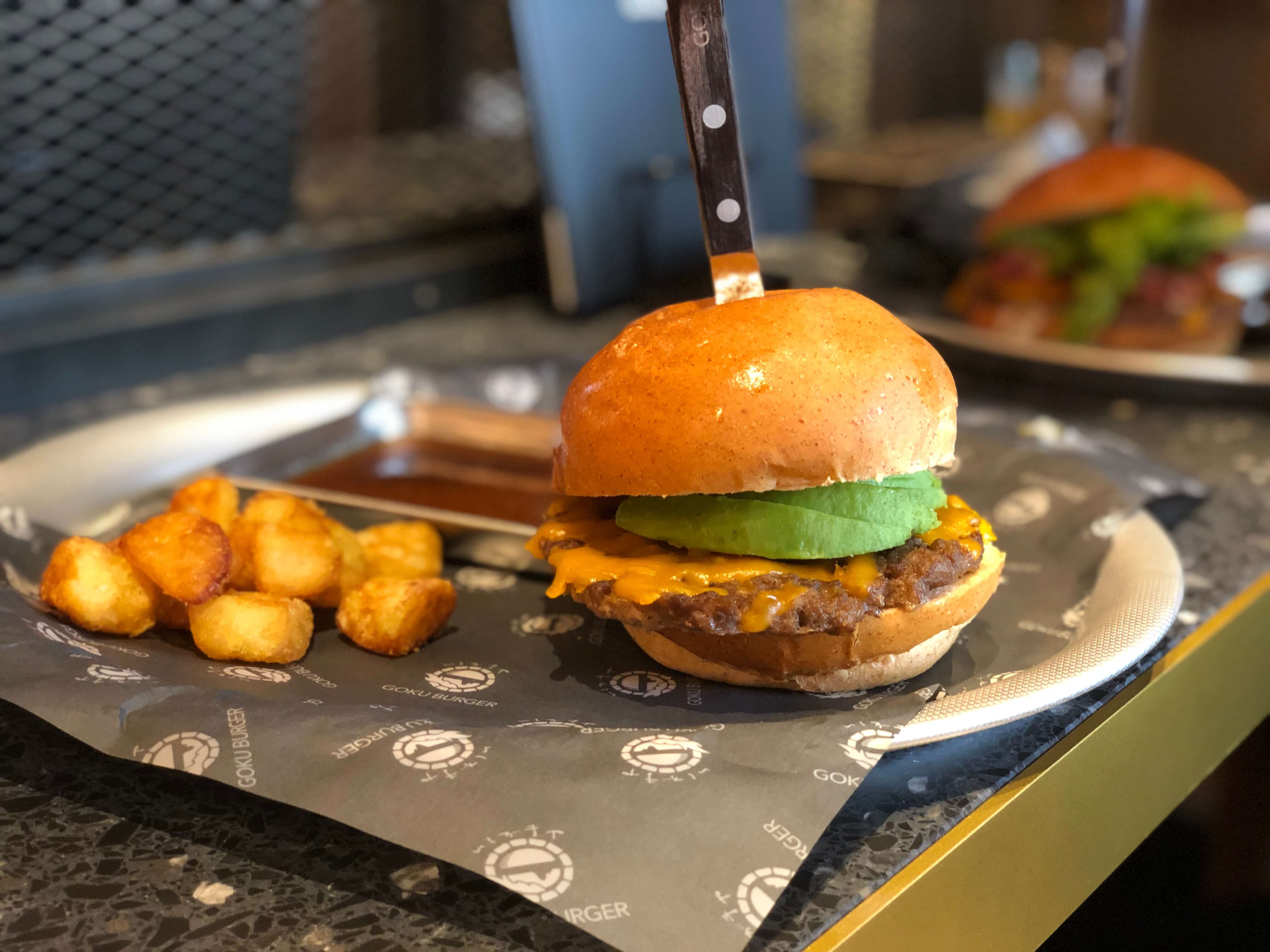 I ordered the ¥1,450 Avocado Cheeseburger. It looks really cool with the knife stuck through it. You can choose from three different sauces to coat your burger: Original, Teriyaki and the Chef's Special. I went with Original.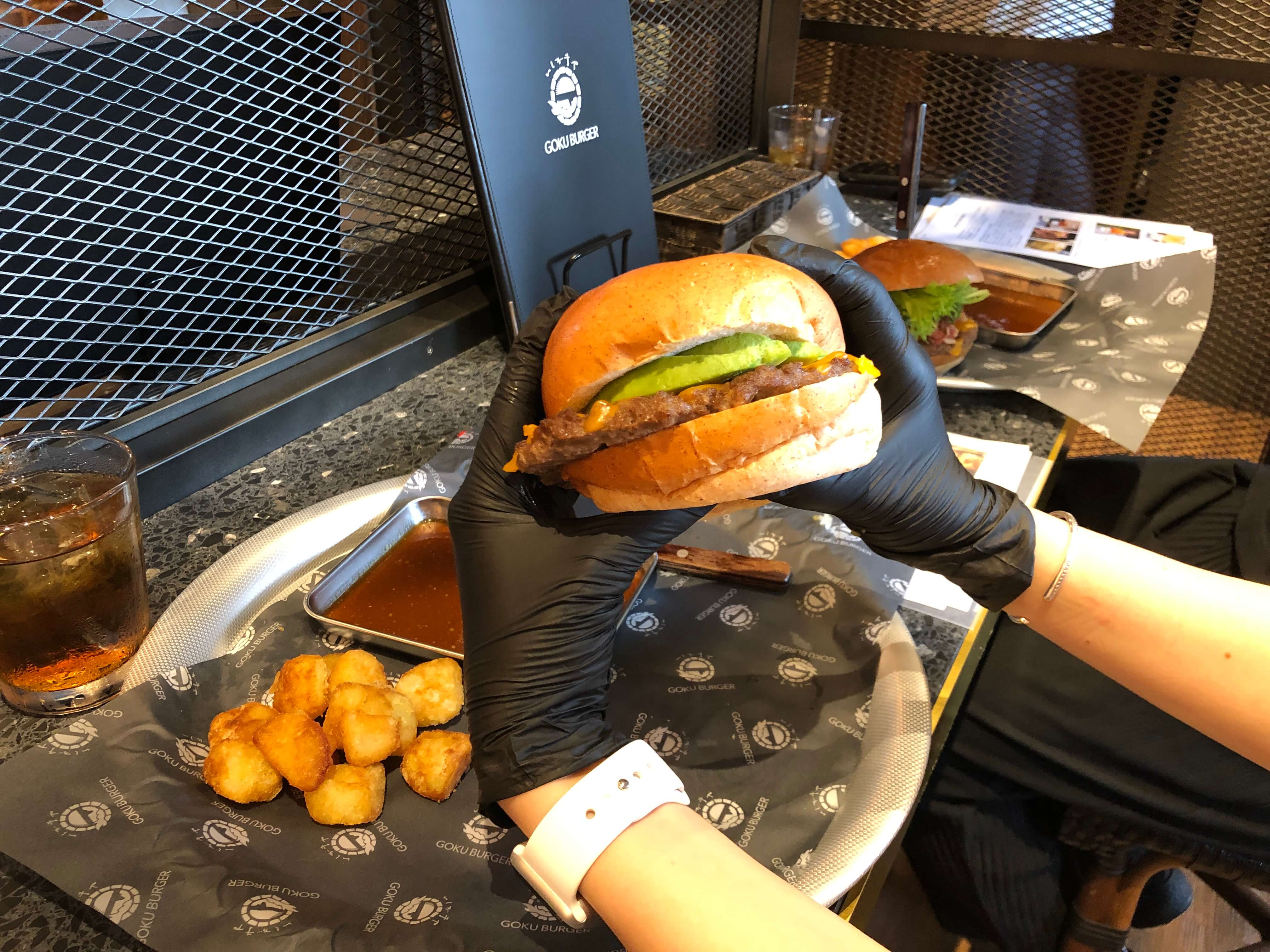 Time to tuck in! But before that, you've got to put on the gloves provided by the restaurant which come with every burger. So what explains why the sauce is served in a separate tray! The fact you get your own gloves is a great idea since it means it'll keep your hands nice and clean so you won't get grease all over them.。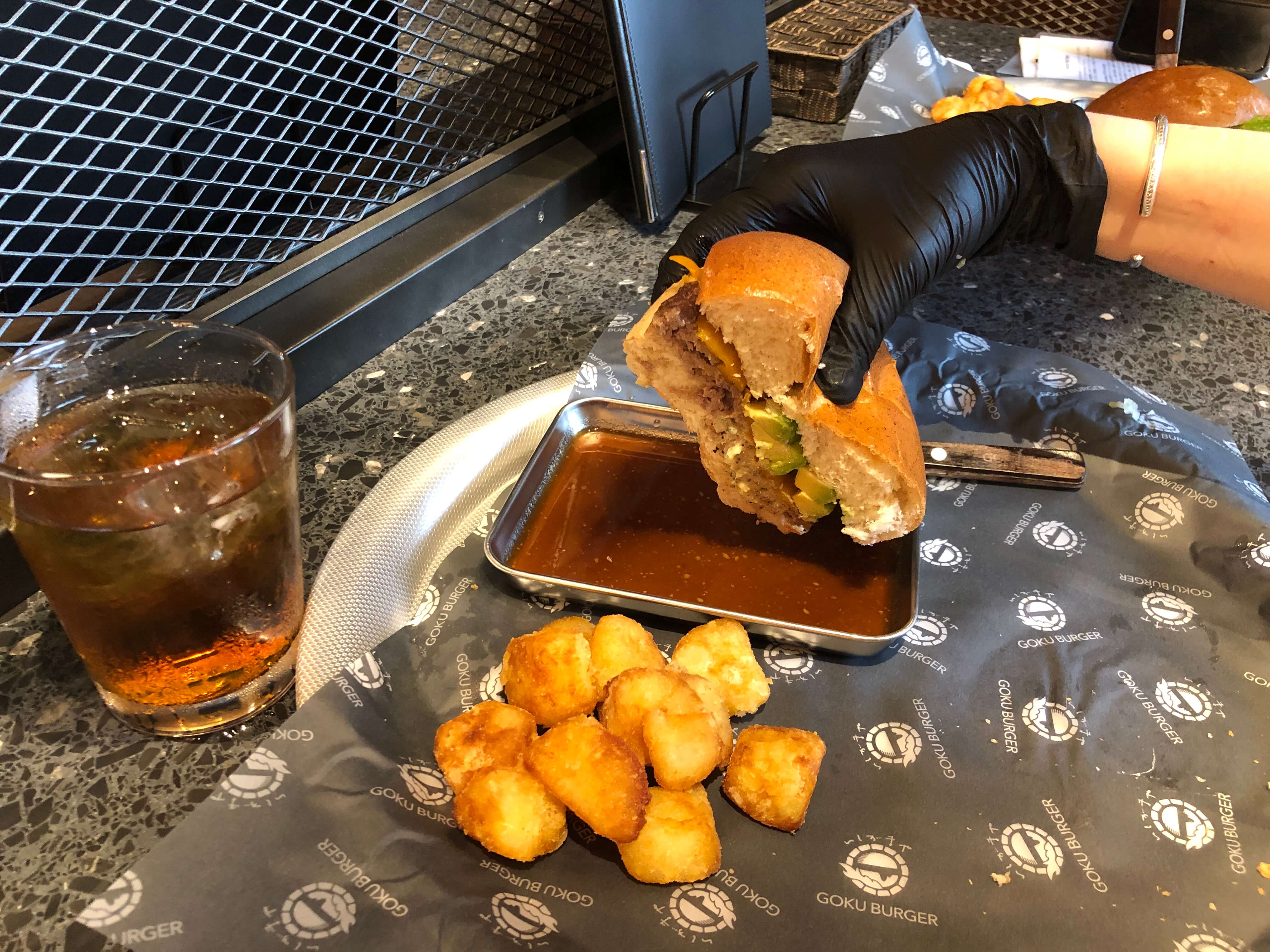 The meat is succulent and extremely juicy. The burger juices and sauce blend together to make a really delicious flavour which make you just keep on dipping.
The hamburgers are made with red meat that has only a little fat content, with each burger formed by hand individually. And by cooking them in a stone oven it means the burger will cook evenly and all at once, sealing the flavours and juices in even more compared to infrared cookers. The buns too have an amazing taste and are nice and fluffy.
The potato fries are round rather than long and thin. They don't go soggy and go amazingly with the sauce too.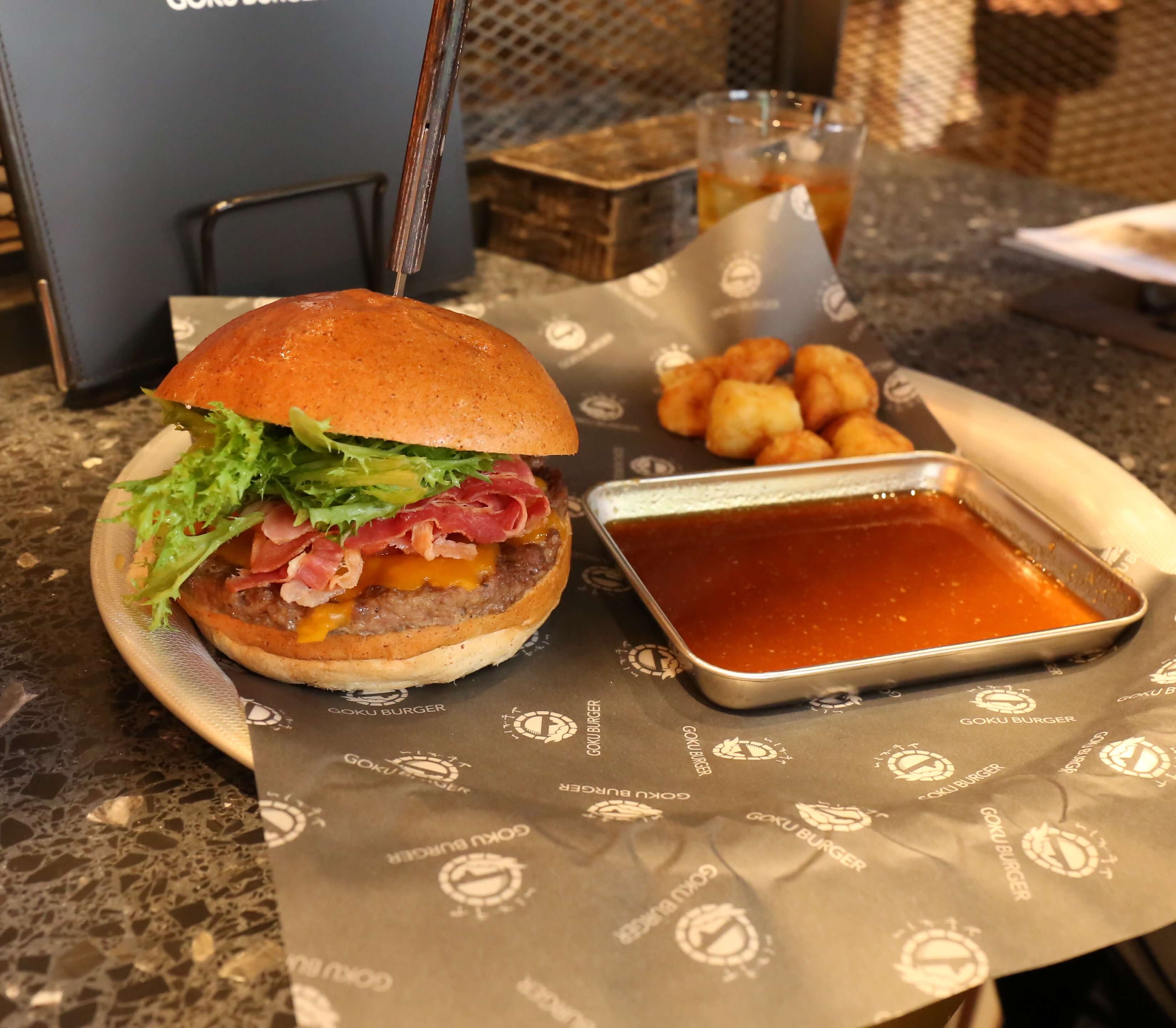 The ¥1,580 BLT Burger looks tasty too, it's packed full of colourful ingredients.
When you order the ¥1,380 Premium Hamburg Steak Regular Set they pour the sauce over for you, so I had to take a photo. The thick steak is crispy on the outside and soft on the inside so it maintains its juiciness.
If you love burgers then you'll definitely want to pay a visit to Ishigamaya GOKU BURGER to try a burger like no other.
RECOMMENDED ENTRIES
Japanese Food Served American Style at J.S. BURGERS CAFE

All twelve branches of the American-style hamburger restaurant J.S. BURGERS CAFE in Japan began holding the "Edo x American Fair" from April 17.

The fair takes Japanese food connected to Edo like sukiyaki, sushi and tempura and turns them into classic American-style food like hamburgers, sandwiches, popcorn shrimp and more.

"Sukiyaki" Bacon Cheeseburger: ¥1,380

The burger is made with an original patty of soft and melt-in-the-mouth sliced beef rib which is covered in a sweet and spicy soy sauce that brings out the full flavour of the beef. It's topped with sauteed edible chrysanthemums, grilled spring onion and other ingredients that give it that sukiyaki appearance. But it also comes with smoked bacon and Gouda cheese to make it that collaboration between Japanese and American flavours.

Roast Beef "Sushi" Sandwich: ¥1,280

This sandwich takes soft and fatty roast beef and makes it look like meat-topped sushi. It's covered in an aioli sauce that's made with shredded dried plum and beefsteak as well as wasabi for a refreshing kick. Many flavours and textures can be enjoyed with this sandwich, from the beefsteak plant to the seaweed butter. It also comes with a side of fries seasoned with black sesame seed pepper.

"Tempura" Shrimp Fritter w/ Honey & Plum Dressing: ¥780

A delicious plate of fried shrimp in a special coating that comes with a mayo dip laced with sweet honey and sour shredded dried plum.

"Miso" Clam Chowder: ¥350

Clam chowder is an American classic, but this one is infused with secret Japanese flavours. The spring onions and ginger give it a flavoursome kick.

L'OCCITANE Omotesando: Japan's First Spa & Cafe Combination Store

The new L'OCCITANE Omotesando Voyage Sensoriel will open in the Omotesando and Harajuku area―Tokyo's hub of trends and culture―on July 27. This new concept store is Japan's first ever spa and cafe establishment where customers can enjoy L'OCCITANE with all five of their senses.

1st Floor: VERBENA CAFÉ by L'OCCITANE

Nestled in the corner of the first floor is the chic VERBENA CAFÉ where customers are treated to a menu blooming with fresh verbena, an ingredient you don't see everyday.


Fresh Verbena Blanc Manger – ¥1,280 (Tax Included)

Mango Verbena Parfait – ¥1,480 (Tax Included)

Sweet Tea Float Series – ¥1,280 Each (Tax Included)

The menu is tied to the seasons, so for this summer, you can look forward to cooling yourself off with the Fresh Verbena Blanc Manger and Mango Verbena Parfait, both made with fresh seasonal fruits, or a choice of one of the refreshing Sweet Tea Floats.

1st Floor: petit Spa L'OCCITANE

Also located on the first floor is the petit Spa L'OCCITANE which is opening as the first spa attached to a main branch. Their beauty menu covers everything from ageing care to relaxation. They also offer facial treatment services using Immortelle Divine Harmony―the latest in L'OCCITANE's skincare range―as well as the relaxing L'OCCITANE spa service which is guaranteed to send you off into a beautiful sleep.

1st Floor: VOYAGE SENSORIEL

The shop will also sell the elusive 86 Collection, a series of fragrances made in collaboration with Pierre Hermé Paris and sold at select stores only across the world.

Additionally, to celebrate the opening of the VERBENA CAFÉ, the shop will also sell limited edition verbena products and kits which can be gift wrapped.

If you're looking for a little luxury while in Tokyo then look no further than the spectacular new  L'OCCITANE Omotesando Voyage Sensoriel, opening July 27.

Information

L'OCCITANE Omotesando Voyage Sensoriel

Grand Opening: July 27, 2019
Address: Emoto Bldg. 1F/B1F, 4-29-4 Jingumae, Shibuya, Tokyo
Business Hours: 11:00-21:00 (Cafe Last Orders 20:00)
Official Website: https://jp.loccitane.com/omotesando

6 Must-Visit Little-Known Good Cafés in Omotesando

Omotesando―The hub for the latest trends and fashion in Japan, home to iconic landmark stores and sites aimed at the country's youth to cafés and restaurants that make you feel like a celebrity. Weekends are an especially busy time in the high-end avenue of Omotesando where shops and streets bustle with lines of locals and tourists out on shopping sprees.

Today we are joined by Japanese Instagrammer omao who's in-the-know when it comes to cafes, something you can tell with just one glimpse of their page. For those of you who are left wondering where to stop off for a coffee break or some lunch during your visit to the Omotesando and Harajuku area, omao is here to show you some stylish and little-known good spots.

Bread, Espresso &

At Bread, Espresso &, you can enjoy some seriously bread and coffee. This café and bakery offers both dine-in and takeout services. It's tucked away from the main street just a 5-minute walk from Omotesando Station's A2 exit.

On my visit this time, I ordered several different bread options. Everything looked so delicious that I felt spoiled for choice!

Red bean butter. There's no way on earth that could ever be unappetising. The pastry is super soft. Each individual order is packaged in its own bag which left a good impression with me in the hygiene department.

▼Bread, Espresso &

Address: 3-4-9 Jingumae, Shibuya, Tokyo

Business Hours: 8:00-20:00

No Fixed Holidays

Website: http://www.bread-espresso.jp/

CHAVATY

CHAVATY is a café specialising in milk tea. This one is also within just 5-minutes walking distance from the A2 exit of Omotesando Sation.

When I took this photo I ordered the tea latte and scone set. When you order an iced tea latte it comes in a cute bottle, but it was hot on this day so I got it hot. What surprised me from the get go was hot big the drink is! It's hugely satisfying, you really get your fill.

The houjicha latte I tried once was tasty too, but I was interested in the uva milk tea this time around. The scones were scrumptious as well! I particularly liked the honey-like fruit that comes with them.

▼CHAVATY

Address: Minami-Harajuku Bldg. 1F, 4-6-9 Jingumae, Shibuya, Tokyo

Business Hours: 10:00-20:00 (Last Orders 19:30)

No Fixed Holidays

Information: https://tabelog.com/tokyo/A1306/A130602/13224245/

montoak

montoak is a suspicious-looking building just an 8-minute stroll from Harajuku Station. It's my favourite spot; I've been here so many times.

The menu is delicious and there are lots of seats. My weakness is the Gorgonzola cheesecake.

▼montoak

Address: 6-1-9 Jingumae, Shibuya, Tokyo

Business Hours: 11:00-03:00

No Fixed Holidays

Website: https://www.montoak.com/

LATTEST

Another 5-minute stroller from Omotesando Station's A2 exit is LATTEST which I place in my top three favourite cafés in Omotesando. It can be a little hard to find, but it's a lot bigger than I thought.

I experienced their seasonal rose mocha. Simply amazing! Milk foam is just what I like. It's smooth and moist, and there's not a lot of it so it's not heavy. I like the coffee beans they use too. Cafés that have tasty mochas are just the best, right?

▼LATTEST

Address: LATTEST 1F, 3-5-2 Jingumae, Shibuya, Tokyo

Business Hours: 10:00-19:00

No Fixed Holidays

Website: http://www.lattest.jp/

The Local Coffee Stand

The Local Coffee Stand is sandwiched in the middle of Shibuya and Omotesando and about an 8-minute walk from Omotesando Station.

Their lattes are so, so good! First up, the foam is plump, and the sweetness of the milk really stands out. And the espresso, although it's full-bodied, isn't bitter and mixes deliciously with the milk. The coffee beans and food are both high-quality like that of a select shop, so I wanted to try eating and drinking everything they had.

I recommend the macadamia cookies. They have an eggy fragrance and are just mouth-watering.

I pretty much liked everything about this place.

▼The Local Coffee Stand

Address: 2-10-15 Shibuya, Shibuya Ward, Tokyo

Business Hours: Weekdays 8:00-20:00 / Weekends 9:00-19:00

No Fixed Holidays

Website: http://thelocal2016.com/

Franze & EVANS London

This is a popular Italian cafe-deli based in London. It's located away from the busy main street and can be reached in just 3-minutes from exit A3 of Omotesando Station.

During those awkward times when you want to eat a salad but want to eat cake too then this is the place you need to go. Their carrot cake is truly amazing, as is their salad. All the cakes they sell just seem to sparkle before you that it's nearly impossible to pick just one. The lemon cake caught my attention too…

It doesn't need to be said how great everything tastes, but the portions need to be mentioned as they are nice and hearty, and I love this place because of it.

▼Franze & Evans London

Address: Franze & Evans London 1F, 4-9-4 Jingumae, Shibuya, Tokyo

Business Hours: [Mon-Sat] 11:00-22:00 (Last Orders 21:30) / [Sun & Holidays] 11:00-21:00 (Last Orders 20:30)

No Fixed Holidays

Website: http://www.franzeevans.jp/#/

Did you enjoy these picks? omao has plenty of other recommendations and photos of coffee and desserts over on their Instagram page. If you're stuck for choice on what café to visit while in the city then be sure to follow them on Instagram.

Photo & Text: omao

Translation: Joshua Kitosi-Isanga
RELATED ENTRIES
THE STRINGS Omotesando Introduces New 'Violet Halloween Afternoon Tea'

THE STRINGS Omotesando will be offering a new and limited 'Violet Halloween Afternoon Tea' at the 'Cafe & Dining ZelkovA' 1F between October 5 and October 31 2021.

 

The Halloween themed afternoon tea offers a selection of cute sweets, including black monster themed Maritozzo and purple taro Mont Blanc cream puffs topped with witch hats.

The cool Autumnal menu is made up of sweet and savory violet snacks, with purple potatoes, cassis, blueberries and more. You'll find yourself able to taste the season, with the rich fig cheesecake and sweet chestnut scones.

Enjoy bottomless drinks with a selection of 16 herbal and flavored teas, coffees and lattes. You can even enjoy a cup of tea from TWG, a luxury brand from Singapore.

This adult-aimed afternoon tea is full of luxurious ingredients, such as parfait-like organic vegetables and salmon micuy, roasted Angus beef, and violet desserts. Spend your afternoon relaxing on the French and Italian crafted sofas while you take a break from the hustle and bustle of the city.

 

  

Why not spend an elegant Autumn afternoon enjoying a luxurious afternoon tea, watching out over the iconic zelkova-lined streets of Omotesando?

Gas Mask Plant Pots Showcased as Part of TENEO's Exhibition Tour

Japanese men's brand TENEO and Shibakusa Pottery, which was founded in 1841 in Hida-Takayama, are set to begin their first exhibition tour on July 9 which aims to make traditional Japanese craftsmanship part of our modern lives as contemporary art.

FULL HAND MADE with HAMAMOTO 

TENEO is rooted in the concept of combining and evolving the differing cultures and backgrounds of Japan and France. Shibakusa Pottery has been producing pottery in Gifu's city of Takayama since the Edo Period and operates on the motto of "Handing down tradition is on the decline; tradition is the continuation of innovation." Both TENO and SHibakusa have come together to launch a project that aims to develop and advance traditional craftsmanship, and so they are opening a series of exhibition pop-up shops beginning at DiEGO Omotesando in Tokyo on July 9 before heading to Discover Japan Lab. in Shibuya PARCO, g GIFT AND LIFESTYLE in Roppoingi Hills, and elsewhere.


Pre-orders for the products to be showcased at the pop-up shop are now available to pre-order online in Japan at TENEO and will be shipped in October. Exhibits include works by the young bonsai master Yusuke Hamamoto, flower arrangements Ayayoshi Ozono who maintains long-time traditional Japanese styles and techniques, and more.


The project will  collaborate with the international tattoo artist Hiro in October as well as many other traditional artists and craftsmen from inside and outside Japan. The pop-up shop also sees the release of the 'GAS MASK POT/VASE.' The purpose of these works is to show people new forms and ways of expressing tradition.

Information

TENEO POP UP  

Location: DiEGO Omotesando
Running: July 9, 2021 – July 24, 2021

Address: Oriental Harajuku 205, 4-17-8 Jingumae, Shibuya, Tokyo

Opening Hours: 13:00-18:00 (Wednesday to Saturday only)
Official Website:  https://www.di-ego.net

Location: Discover Japan Lab.
Running: July 30, 2021 – August 5, 2021

Address: 15-1 Udagawacho, Shibuya, Tokyo

Opening Hours 11:00-20:00
Official Website: https://shibuya.parco.jp/shop/detail/?cd=025804

Location: g GIFT AND LIFESTYLE
Running: August 6, 2021 – End of August 2021

Address: Roppongi Hills HILLSIDE B1F, 6-10-2 Roppongi, Minato-ku, Tokyo
Opening Hours: 11:00-21:00
Official Website: https://g-roppongi.jp



Project Details: https://prtimes.jp/main/html/rd/p/000000003.000068928.html

TENEO Official Website: https://teneo.work

Disney x MOUSSY Release Retro Clothing Collection

High-casual brand MOUSSY has collaborated with Disney to release the "Disney SERIES CREATED by MOUSSY." The Spring/Summer 2021 collection dropped in Japan on Wednesday (February 24).

PALS TAPESTRY SH JKT | ¥34,980 (Tax Included)

PALS TAPESTRY SK | ¥19,910 (Tax Included)

MATCHING OUTFITS POJ | ¥8,250 (Tax Included)

ALWAYS COOL TSJ | ¥6,600 (Tax Included)

The collection combines 70s-80s vintage taste with a 90s street style to create a special retro fusion design. The items are crafted by Japanese artisans from the gobelin-stich fabric series PALS TAPESTRY and feature Minnie and Mickey Mouse in different attire including cute matching outfits.

©Disney

Valentine's Themed Menu Now Serving at FENDI CAFFE by ANNIVERSAIRE in Omotesando

Luxury Italian brand FENDI is currently teamed up with the iconic Aoyama-based ANNIVERSAIRE CAFÉ OMOTESANDO to serve up a special Valentine's Day themed menu at the cafe which it's calling "FENDI CAFFE by ANNIVERSAIRE."

Cake Set | ¥2,800 (Before Tax)


Tart Saison | ¥1,000 (Before Tax)

The cake set and tart saison are revamps of current menu items, now topped with in-season strawberries. The cafe has also been adorned with romantic red roses and multi-coloured decorations for this year's Valentine's Day.

Information

FENDI CAFFE by ANNIVERSAIRE
Running: November 28, 2020 – February 14, 2021
Where: FENDI CAFFE by ANNIVERSAIRE
Address: 3-5-30 Kita-Aoyama, Minato-ku, Tokyo

Opening Hours: 11:00-20:00
TEL: 03-5411-5988
FENDI Official Website: http://www.fendi.com

Valentine's Dessert Sets Served Up at Harajuku's Tea Latte Shop CHAVATY

CHAVATY, a cafe in Harajuku that serves tea lattes made with high quality tea leaves, is getting ready for Valentine's Day early with the release of some tasty new desserts which they began serving up on Thursday (January 14).


Valentine's Set | ¥1,100 (Before Tax)


Valentine's Scone Set (6 Included) | ¥2,480 (Tax Included)


Raspberry Chocolate | ¥970 (Tax Included)

The Valentine's Set comes with a cute scone as well as fondant chocolate made with rich, high-grade chocolate from the French chocolate brand Cacao Barry. It also comes with a tea latte of your choice. There's also a scone set which comes with two each of three different scones for a total of six including the Berry & Cocoa Pink Chocolate, Orange & Chocolate Chip Double Chocolate, and Dried Fruits & Nuts White Chocolate. CHAVATY has also made their own seasonal homemade spread: the Raspberry Chocolate.

Information

CHAVATY Valentine's Set
Running: January 14, 2021 – February 14, 2021

Address: Minami-Harajuku Bldg. 1F, 4-6-9 Jingumae, Shibuya, Tokyo

Official Website: https://chavaty.shop-pro.jp/

SHIRO's Omotesando Cosmetic and Beauty Store Gets Museum-Like Makeover

The flagship store of cosmetic brand SHIRO, SHIRO Omotesando, received a makeover on Friday last week (December 18). The shop, which has moved to the building's second floor, has increased in size by 30%, allowing for SHIRO to display its 70 or so skincare and cosmetic products like a museum.

Ingredients Showcase

The many ingredients used in SHIRO's products are now on display—something which customers don't normally get to see―such as extract of gagome kombu, tamanu, pot marigold, and more. The line-up is packed solely with high quality ingredients by trusted producers and is a chance for people to get to know about the products they are buying even more.

The Edible Display

A special display of edibles, which will change depending on the harvesting seasons, can be enjoyed including ginger, yuzu, aloe, and more.

8 Drawers

Underneath the displayed ingredients are eight drawers which reveal the actual size of the ingredients before they are turned into products. It also reveals when they are produced, information about the producers, and so on.

Store Design

The store has of course undergone a full revamp, with the walls layered with gravel and soil, further adding to the display of the raw materials and ingredients. The wall design incorporates a traditional Japanese architecture method which results in it looking like something straight out of nature.

Limited Edition Products

To celebrate the renovations at SHIRO Omotesando, the store will be selling a limited-edition SHIRO PERFUME as well as a selection of products available at only select stores like SHIRO LIFE and SHIRO HOME items.

SHIRO BEAUTY (B1F)

SHIRO BEAUTY is a salon on floor B1F that manages SHIRO Omotesando. It's set to close on December 31 and will reopen in mid-February next year to bring in haircut, hair colouring, head spa, and other services as well as facials, body treatments, and more.

SHIRO PERFUME

SHIRO PERFUME will be sold in limited quantities and is exclusive to SHIRO Omotesando.

SHIRO PERFUME – WISHING WELL | ¥10,500 (Before Tax)

SHIRO PERFUME – WISHING WELL Fragrance
A warm and cosy fragrance with fresh berry notes on top and bitter orange for accent.

TOP: Bitter Orange, Berries, Redcurrants
MIDDLE: Jasmine, Rose
LAST: Wood, Cedarwood, Musk

Information

SHIRO Omotesando
Address: 5-2-7 Jingumae, Shibuya, Tokyo
Opening Hours: 11:00-20:00
Access: 5-minutes on foot from Omotesando Station's A1 Exit
TEL: 03-6712-5546
SHIRO Official Website: https://shiro-shiro.jp/

McDonald's Japan's Gurakoro Burger Gets New Beef Stew Flavour

The Gurakoro Burger is a seasonal item added to McDonald's Japan's winter menu every year. This year, they are releasing a new rich beef stew flavour on December 2 for a limited period.

"Gurakoro" is a portmanteau of the Japanese words for "gratin" and "korokke," the latter being the Japanese version of a French croquette. The Gurakoro burgers are crunchy on the outside and melty on the inside. They first appeared at McDonald's Japan in 1993 and have returned every winter since, popular for its combination of the Gurakoro patty which is filled with creamy ebi, cabbage, a special korokke sauce, and an egg sauce, all squished between a toasted bun.

Gurakoro Burger | ¥340

The burger was created with a new recipe in 2019 that makes the flavour richer. The number of egg yolks used for the egg sauce was also increased, as was the spiciness of the korokke sauce.

Beef Stew Gurakoro | ¥390

This year, McDonald's Japan is adding a beef stew sauce made with a combination of red wine and demiglace sauce. Added to this is mustard, creating a delicious flavour that goes hand in hand with the creamy gratin korokke.

Sailor Moon Handbags and Accessories Released in Collaboration With Samantha Thavasa

Samantha Thavasa Japan Limited launched a new collection of merchandise last Friday (November 6) in collaboration with the Sailor Moon franchise to promote the upcoming two-part Sailor Moon Eternal anime film which will be released on January 8, 2021 and February 11, 2021 respectively.

The collection features an original line-up of bags, purses, and accessories created by Samantha Thavasa Group. They were released at SAMANTHAVEGA, Samantha Thavasa Petit Choice, and Samantha Tiara respectively.


Each of the bags by SAMANTHAVEGA are nods to each of the Sailors' costumes with their colouring, ribbons, and more. And they're not just for show either – they are practical and functional handbags.


Samantha Thavasa Petit Choice has crafted a handful of delicate and fashionable purses for keeping your coins safe.


And from Samantha Tiara is a collection of breathtakingly beautiful accessories including necklaces and a ring, all of which when bought are packaged in a gorgeous box inspired by Super Sailor Moon's outfit.

The brands have also created a separate series of items based on Super Sailor Moon.


From SAMANTHAVEGA is a collection of stylish bags and a pass case each of which have glitter on them.


There's also the eye-catching pink leather purses by Samantha Thavasa Petit Choice which are based on the Climax Moon Compact from the anime and manga series.


Samantha Tiara has also created even more accessories and jewellery including two different rings and necklaces.


The necklace and ring pictured above will be available to purchase online only in Japan from November 20.

A Sailor Moon pop-up store is now open inside Samantha Thavasa Omotesando GATES until November 17 where you can get your hands on some of these items. There's also a special photo spot for taking pictures and giant LED displays promoting Sailor Moon Eternal.

Information

Samantha Thavasa x Sailor Moon Eternal
Release Date: November 6, 202
*サマンサタバサ公式オンラインショップは11時~順次発売

Sailor Moon Pop-Up Store
Location: Samantha Thavasa Omotesando GATES

Address: 6-5-6 Jingumae, Shibuya, Tokyo
Opening Hours: 11:00-20:00
TEL: 03-3400-2258

Special Site: https://online.samantha.co.jp/layout/feature/20sailormoon.html

Marvel Superhero Cafe to Open in Harajuku This October

Japanese company LEGS is set to open a Marvel themed cafe for a limited time in the Omotesando and Harajuku area of Tokyo from October 30, 2020. The cafe's concept is centred on themes such as power, courage, talent, justice, and camaraderie, and will serve up a special menu inspired by the heroes of the Marvel universe.

The cafe will be decorated in all things Marvel, with Spiderman, Iron Man, and Captain America statues stood proud and ready to welcome customers. There will also be a photo spot in celebration of the upcoming film Black Widow which will be released in Japan first on April 29, 2021 and subsequently the US on May 7, 2021.

The menu line-up will be inspired by Marvel's roster of characters such as Spiderman, Iron Man, Thor, Captain America, Black Widow, and more.

The Menu

<Marvel> Paprikash | ¥1,599 (Before Tax)

A paprikash inspired by the one that Marvel demigod Vision makes in Captain America: Civil War. This one's sure to have you feeling assembled and ready.

<Captain America> American Tomato Pasta | ¥1,7900 (Before Tax)

A Japanese-style napolitan pasta with a tomato sauce that packs a punch to charge up your power.

<Iron Man> Evening Doughnut-Style Bagel Sandwich | ¥1,799 (Before Tax)

A bagel sandwich inspired by the doughnut eaten by Tony Stark under the sunset.

The Drinks

<Captain America> Ramune Soda | ¥1,099 (+¥700 for coaster) (Before Tax)

A bubbly ramune soda for when you're in need of a power kick, topped with a cherry.

<Marvel> Cafe Latte | ¥899 (+¥1,500 for mug) (Before Tax)

A cafe latte which comes with an original mug.

All customers who book in a table advance (¥650 per person before tax) and order from the themed menu will receive one of the above-pictured face mask cases from seven different designs.

Exclusive Merchandise

The cafe will also sell a range of original merchandise in several different designs such as the cafe logo, items based on the menu art, art from the Marvel movies, and more.

<Cafe Logo Series> Acrylic Keyring (6 Designs) | ¥750 (Before Tax)

<Menu Art Series> A4 Folder | ¥400, Bandana Handkerchief | ¥800 (Before Tax) *Available early November

<Movie Series> Avengers: Infinity War Postcards (8 Designs) | ¥250 (Before Tax)

Ⓒ 2020 MARVEL

Information

Marvel Cafe Produced by OH MY CAFE

Location: TOKYO BOX cafe&space Omotesando

Address: 6-3-7 Jingumae, Shibuya, Tokyo

Running: October 30, 2020 – November 29, 2020

Official Website: https://heroes.ohmycafe.jp/

Kawaii Bear Themed Cafe Menu Arriving at Tokyo's Q-pot CAFE. This Christmas

Q-pot CAFE. in Omotesando, Tokyo, has revealed its upcoming Q-pot CAFE. "KUMA"STMAS MENU which is set to be served from November 1 to December 25.

Happy Merry "KUMA"STMAS!

"KUMA"STMAS is a portmanteau of the Japanese word for bear (kuma) and Christmas. The cafe's cute menu is here to bring warmth and cosiness this holiday season.

Merry "KUMA"STMAS Plate w/ Drink – ¥2,060 (Tax Included)

A sweet assortment cute enough to tug your heartstrings.

Q-pot CAFE.'s pastry chefs take their time to delicately handmake the adorable bear's baby face oat milk cookie. The cookie is sat on top of a fluffy duvet of whipped cream, berry jam with fresh berries, and a chocolate génoise cake. It's a sweet and tangy combination of raspberry and strawberry.

The cookie-topped cake is also served with a rich pistachio cream Christmas tree.

Merry "KUMA"STMAS Bitter Caramel Milk Tea – ¥750 (Tax Included)

A warm and cosy beverage to heal your heart, mind, and soul. This baby bear looks sweet but has delightfully rich notes thanks to the caramel. The tea is one of the cafe's originals, the "Sweet Weekend," which has a refreshing after taste and goes perfectly with the caramel cream.

Merry "KUMA"STMAS Afternoon Tea Set | ¥2,400 per person (Tax Included) *Photo shows a set for two

If you love teddy bears, then this afternoon tea set is a dream come true.

Top Plate

The top plate is a delicate assortment of sweet and crunchy oat milk cookies, a glass dessert of fromage blanc and fresh orange jelly, velvet cupcakes topped with pistachio cream made to look like a Christmas tree, and creamy macarons.

Bottom Plate

The bottom plate is the savoury selection and comes with croissants stuffed with roast beef topped with honey mustard sauce, a rich potato potage, and skewers piercing olives, mini tomatoes, and pickles.

Special Novelty <Teddy Bear Message Card>

Customers who book a table in advance to the cafe will receive a free teddy bear message card. These are limited in stock, so if you're in Tokyo don't miss out.

Information

Q-pot CAFE. "KUMA"STMAS

Location: Q-pot CAFE. Omotesando

Running: November 1, 2020 – December 25, 2020

Opening Hours: 11:00-19:00 (Last Orders 18:30)

Online Bookings: Tabelog

TEL :03-6447-1218

Bookable Slots: 11:00/12:30/14:00/15:30/17:00

Jazz Manga Series BLUE GIANT Collaborates With Brooks Brothers in Omotesando

Brooks Brothers, the oldest apparel brand in the US, is teaming up with Shinichi Ishizuka's popular jazz manga series BLUE GIANT with a collaborative event set to take place at Brooks Brothers Omotesando in Tokyo from October 30 to November 15.

The event celebrates the simultaneous release of all 11 volumes of the European edition of the manga series, entitled BLUE GIANT SUPRIME, as well as the first volume of BLUE GIANT EXPLORER which is set in the US—the holy grail of jazz.

The event will showcase Brooks Brothers' iconic button-down shirt with a famous quote said by the protagonist of BLUE GIANT as pictured above which roughly translates to: "A white shirt is proof of a jazzman!!"

There will also be displays of original illustrations drawn by Shinichi Ishizuka himself for the event, panels from the manga on show, original art by popular collage artist Kosuke Kawamura and embroidery artist Mana Morimoto, and more. Visitors will even get to try some embroidery themselves in a special workshop, and much more.

The Aoyama branch of Brooks Brothers recently moved to Omotesando, signalling a new start for the store. Likewise, the BLUE GIANT story is now set in the US, which will make for more new and exciting stories. The event serves to celebrate the new chapters of both Brooks Brothers and BLUE GIANT.

Information

Brooks Brothers x BLUE GIANT "NEW CHAPTER"
Running: October 30, 2020 – November 15, 2020
Opening Hours: 11:00-20:00
Location: Brooks Brothers Omotesando
Address: H-CUBE MINAMIAOYAMA 5-7-1 Aoyama, Minato-ku, Tokyo

Embroidery Workshop
Running: October 30, 2020 – October 31, 2020

Silkscreen Service
Running: October 30, 2020 – November 15, 2020
*Silkscreen service that prints BLUE GIANT motifs, Kosuke Kawamura's original art, and more onto shirts you buy

Brooks Brothers Japan Official Website: http://www.brooksbrothers.co.jp/
BLUE GIANT Official Website: https://bluegiant.jp/

Keep Your Hands Off Eizouken! Themed Cafe to Open at Omotesando Hills in Tokyo

Japanese companies LEGS and TRANSIT GENERAL OFFICE are set to open the new cafe TOKYO BOX cafe&space inside Omotesando Hills on September 10, 2020.

For the grand opening of the cafe, it has been announced that it will team up with the manga series Keep Your Hands Off Eizouken! to promote the upcoming live-action adaptation. The themed event will run from September 10 to October 12.

Keep Your Hands Off Eizouken! is a Japanese manga series written and illustrated by Sumito Ōwara and serialised in Monthly Big Comic Spirits. The live-action film, which will hit Japanese cinemas on September 25, 2020, stars Asuka Saitō, Mizuki Yamashita, and Minami Umezawa—all members of the Japanese idol group Nogizaka46—as the main character.

Customers at the collaborative cafe can enjoy a selection of food inspired by the series as well as get their hands on exclusive merchandise.

The full menu and merch list will be announced in early September on the cafe's official website.

Information

Keep Your Hands Off Eizouken! Cafe
Location: TOKYO BOX cafe&space Omotesando Hills
Address: Omotesando Hills Main Building 3F, 4-12-10 Jingumae, Shibuya, Tokyo

Cafe Official Website: http://eizouken-cafe.jp/

Keep Your Hands Off Eizouken! Live-Action Film Official Website: https://eizouken-saikyo.com/