Miffy Sakura Kitchen Opens Second Shop with Bakery in Yufuin
Miffy Sakura Kitchen, Arashiyama, Kyoto will open a forest-themed shop with an adjoined bakery in Yufuin, Oita on October 31, 2019.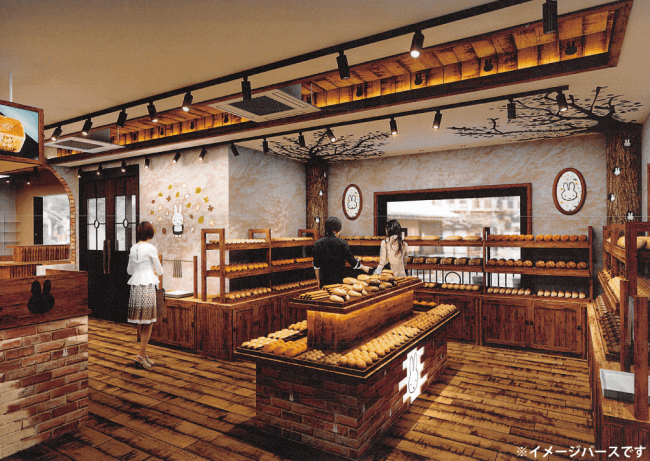 As you enter the new shop, you will be immersed in its happy, warm and comforting atmosphere. Miffy Sakura Kitchen is popular for its Japanese-style kitchenware and miscellaneous goods which cannot be found anywhere else in Japan. The shop will also have an adjoining bakery area called Miffy Mori no Bakery, where customers order their favourite treats to take out. This includes the popular anpan bun, which is a bun containing sweet red bean paste. There will also be character-themed baked goods, soft serve ice cream, drinks and much more. 
You can order your delicious baked goods to go so you can explore the beautiful area of Yufuin, or you can choose to eat inside the bakery's beautiful and photogenic eating area. 
Miffy's good pal Boris will also be making an appearance at the brand new shop. His design will decorate some of the Miffy Sakura Kitchen-limited kitchenware and even some of the baked goods in the bakery. 

Information
Yufuin Miffy Mori no Kitchen/ Miffy Mori no Bakery
Address: 1503-8 Kawakami, Yufuin-cho, Yufu-shi, Oita
Opening Hours: 9:30 ー17:30 (subject to change)
Open all year round/
Grand opening: October 10, 2019
Miffy Sakura Kitchen Official Website: http://www.miffy-sakurakitchen.jp
RECOMMENDED ENTRIES
Miffy Sakura Kitchen & Bakery to Open in Arashiyama, Kyoto

The new takeout bakery Miffy Sakura Kitchen will open in Arashiyama, Kyoto on October 3, fusing traditional Japan with Dick Bruna's cute bunny character.

The bakery faces the main street that runs from Togetsu-kyo Bridge through the Arashiyama Bamboo Grove, the most iconic tourist spots of Arashiyama.

Vintage Mugs – ¥1,200 (Pre-Tax)

Lunch Bowls – ¥2,000 (Pre-Tax)

At the bakery you can get your hands on a range of Miffy licensed merchandise as well as a string of exclusive Miffy Sakura Kitchen made in the style of traditional Kyoto pottery and more.

Of course, there's plenty of delicious goodies to get your fingers on too like anpan sweet bread, danish pastries, ice cream, drinks and more, all inspired by Miffy.

Miffy Anpan – ¥260 (Pre-Tax)

The Miffy anpan is shaped like Miffy's face which is filled with sweet adzuki bean paste.

Miffy Fuku Daruma Bread – ¥350 (Pre-Tax)

This cute and round Miffy bread is made in the image of a daruma doll and is filled with rich matcha cream. Limited quantity available.

Carrot Bread – ¥310 (Pre-Tax)

Miffy loves carrots, so this one's dedicated to her. It's made with carrot puree and contains an egg salad.

Miffy Danish Pastry – ¥500 (Pre-Tax)

When you sink your teeth into this crunchy toasted pastry your mouth is filled with the sweet taste of butter. You can order it as French toast or enjoy it as a sandwich.

Miffy Cube (Matcha & White Chocolate) – ¥230 (Pre-Tax)

This cubed shaped bread bears the shop's logo and Miffy on the front. You'll get addicted to the sweet white chocolate and bitter matcha inside!

The bakery itself will also be decorated with all things Miffy, so if you're a fan of the cute bunny yourself you'll definitely want to go and visit.

■Information

Arashiyama Miffy Sakura Kitchen
Address: 20 Sagatenryuji Tsukurimichicho, Ukyo Ward, Kyoto, Kyoto Prefecture

Grand Opening: October 3, 2018

Opening Hours
Miffy Kitchen: 10:00am-6:00pm
Miffy Bakery: 10:00am-6:00pm

Contact
Miffy Kitchen: 075-863-2022
Miffy Bakery: 075-496-4244

Miffy Sakura Kitchen Offiみっふぃー桜きっちん公式サイト:http://www.miffy-sakurakitchen.jp

Miffy Sakura Kitchen Pastry Takeout Shop to Open in Kyoto

Miffy Sakura Kitchen is Japan's first bread takeout shop to combine the traditional Japanese aesthetic with Miffy. The shop will open in Arashiyama, Kyoto on October 3.

 

Arashiyama is a huge tourist destination and one of Kyoto's most famous. The shop faces the main roads that run through Arashiyama, from Togetsukyo Bridge to the Bamboo Forest, making it an easily accessible location.

Miffy's kitchen will sell items in collaboration with traditional Kyoto handicrafts and Kiyomizu pottery as well as a range of traditional miscellaneous goods. Everything there is Miffy licensed merchandise. There's also the Miffy Sakura Bakery where you'll be able to get your hands on kawaii Miffy themed pastries, Danish pastries, soft serve ice cream, drinks and more.

If you're a Miffy fan then be sure to hit the Miffy Sakura Kitchen & Bakery in Kyoto later this year.

■Information

Miffy Sakura Kitchen – Arashiyama

Address: 20-27 Sagatenryuji Kitatsukurimichicho, Ukyo-ku, Kyoto-shi, Kyoto Prefecture

Opening Day: October 3, 2018

Opening Hours:

Miffy Sakura Kitchen – 10am-6pm (subject to change)

Miffy Sakura Bakery – 10am-5:30pm (subject to change)

No Fixed Holidays.

Miffy Sakura Kitchen Website: http://www.miffy-sakurakitchen.jp (*Will open at the beginning of October)

Miffy English Website: https://www.miffy.com/

Miffy Japanese Website: http://www.dickbruna.jp/

2019 Top 10 Souvenirs Available at Daimaru Department Store, Tokyo

Looking for some delicious, well presented Japanese souvenirs? Head to Daimaru department store which is adjoined to Tokyo Station. On the first floor and basement floor lies a Japanese-style desserts and sweets area which contains approximately 70 delicious brands. Every day, approximately 30,000 desserts are sold to customers who are looking for souvenirs to bring to their family and friends. 

Now we have arrived at the summer holidays, there are many tourists who will soon reach the stage of panic where they are unsure of what souvenirs to bring back to their loved ones. Luckily, Daimaru Department store is a goldmine of beautifully presented Japanese-style sweet snacks made by top brands. Today, we present you with a list of the 10 fastest-selling souvenirs that were sold from July 2018 to June 2019. There is still plenty of time to get your hands on these souvenirs!

1st Place: N.Y.C. SAND: Caramel Sandwich Biscuits (box of 8) ¥1,080 (1st floor)

 As you take a bite, you will notice that the biscuit, chocolate and caramel will balance in perfect harmony just for a brief glorious moment. 

2nd place: Fukusaya: Fukusaya Cube (Cut into two) ¥270 (1st floor)

Have a small slice of luxury with this traditional recipe castella sponge cake which was specially made by experienced bakers. This is presented in a small, cute box. 

3rd place: Kamakura Toshimaya: Hato Sable (box of 10) ¥1,080 (1st floor)

This is a crispy dove-shaped shortbread biscuit which has a rich buttery flavour. This was first produced in the early 1900's during the Meiji period and is a souvenir limited to Tokyo.

4th place: Asakusa Mangando: Imokin ¥129 each (1st floor)

This baked treat is packed with the delicious flavour of sweet potatoes. The freshly baked scent is enough to draw you in. 

5th place: TOKYO BANANA STUDIO: Panda Banana Yoghurt (Box of 4) ¥515 (1st/basement floor) 

Children would just love to see the cute panda design. Wrap yourself in the mild banana yoghurt-flavoured cream.

6th place: Noix: Walnut cookie (Box of 4) ¥648 (1st floor)

This crunchy cookie is topped with a generous amount of caramelised walnuts.

7th place: Nenrinya: Mount Baum Shikkarime ¥756 (1st floor)

The outside of this baumkuchen is fragrant and crispy whilst the inside is soft and spongy. Take a bite to experience the wonderful texture of this European-style baked good. 

8th place: Azabujuban Agemochi-ya: Panchetta Agemochi (40g) ¥442 (1st floor)

The flavour of this baked mochi dough is like eating bacon cooked in an Italian style. This new flavour is a wonderful discovery that you should also try.

9th place: Sugar Butter Tree: SUGAR BUTTER SAND TREE (Box of 10) ¥690 (1st floor)

The crispy biscuit and melty white chocolate is a sublime combination that you will want to try again and again.

10th place:  Kanou Shoujuan: Ikkoten ¥270 each (1st floor)

A whole Japanese chestnut is smothered in a thick layer of Tamba Dainagon adzuki bean mix that is simmered lightly. This is especially delicious when eaten with tea. 

What do you think? When in desperate need of a souvenir for your family, friends or work colleagues back home, how about choosing one of the souvenirs listed above?

Information

2019 Souvenirs at Daimaru Department Store, Tokyo

Available Period: July 31 ー August 31.

Avaialble at: Daimaru Department Store Tokyo, Floor 1/Basement floor Hoppe Town

Daimaru Tokyo

Address: 1-9-1, Marunouchi, Chiyoda, Tokyo

Website: https://www.daimaru.co.jp/tokyo/
RELATED ENTRIES
The Little BAKERY Tokyo Revamps and Reopens With New Eat-In Area

The beloved takeout bakery The Little BAKERY Tokyo, which is just down the road from another of Harajuku's popular eateries THE GREAT BURGER, has undergone refurbishment to add a brand new eat-in space. The site reopened on March 22 as a bakery and cafe.

A tasty new eat-in menu

Crushed Avocado Toast | ¥1,250 (Before Tax)

Homemade Maple Granola | ¥1,350 (Before Tax)

New York Pizza (Pepperoni Slice) | ¥1,000 (Before Tax)

Classic Ham, Egg, & Cheddar Cheese Sandwich | ¥1,500 (Before Tax)

Apple Gorgonzola Cheddar Cheese Sandwich | ¥1,450 (Before Tax)

Bread loaves and takeout goodies

Red Bean Paste & Butter Ball | ¥420

Hokkaido Yotsuha Butter Croissaint | ¥260

Custard Pudding | ¥550

Hokkaido Brioche Loaf – Whole ¥580, Half ¥320 / Hokkaido Whole Wheat Loaf – Whole ¥560, Half ¥300 / Hokkaido Milk Loaf – Whole ¥580, Half ¥320 (Before Tax)

The new eat-in menu features a range of irresistibles like vegan-friendly avocado toast, homemade granola topped with fresh fruits and Greek yogurt, a selection of sandwiches made with homemade brioche toast, New York-style, pizza, and more.

Takeout options includes all the classics like bread loaves, sweet custard pudding, soft and crispy croissants, and so on.

There are around 30 baked delights to pick from at The Little BAKERY Tokyo all of which are made using flour from Hokkaido and natural yeast. All items on the menu are made fresh in-house every day, all ingredients from the salt and sugar to the eggs and more are domestic, and all ingredients are sourced sustainably and locally. The bakery also caters to all needs from those with food restrictions and allergies as well as a fantastic vegan menu which replaces animal products like eggs and butter with soy milk and grapeseed oil.

They even sell American-style doughnuts from the doughnut brand GOOD TOWN DOUGHNUTS who are inspired by doughnuts from Brooklyn. There's around 20-30 to choose from, all colourful and all used with natural ingredients like fruit – none of the bad additives. Of course, there's vegan doughnuts too, so if you're struggling to find vegan food in Tokyo, you know where to go.

One worry in the bakery industry is that of leftover stock. But The Little BAKERY Tokyo has a solution for that: by wrapping up their pastries and baked foods and selling them as 'DAY OLD BREAD' on their online shop so nothing goes to waste, something which has received huge praise from people across Japan.

Japan's Cafe Chain Bread, Espresso & to Open New Branch in Kamata

Hitobito, the company behind Japan's popular bakery cafe chain Bread, Espresso &, is set to open a new branch inside Makita General Hospital in Kamata on March 1. The cafe opened its doors for pre-openings earlier this month with shortened business hours.

 

Bread, Espresso & has 20 branches across Japan including the popular one located in Omotesando, Tokyo. Its frequented by people of all ages for its deliciously soft bread made from 100% Japanese wheat.

The cafe's picture book-like interior design caters to children featuring bread-shaped tables and cute illustrations.




Customers are welcome to try out the free samples on display. Each sample has a little card detailing various information which customers can take to the register if they want to buy that item. Often in Japanese bakeries there are tongs and trays which customers are free to use, but this new style of service lessens contact with others for a safer trip during the pandemic.

The bakery serves Bread, Espresso & classics like French toast and their mu pastries, as well as alternatives like gluten-free breads, no-sugar treats, and more.

Information

Pan, Espresso & Kamata

Address: 8-19-1 Nishi-Kamata, Ota-ku, Tokyo

Opening Hours:  9:00-21:00 (Until 18:00 during pre-opening)

Holidays: None (Except Sundays during pre-opening, after it will be open 7 days a week)

TEL: 03-6424-7920

Pan, Espresso & Official Website: http://www.bread-espresso.jp/

Sailor Moon Eternal's Second Anime Film Promoted With Luna Shaped Bread

Japanese bakery Neko Neko Shokupan is promoting the release of the second in the two-part anime film series Sailor Moon Eternal by baking up a bread inspired by everyone's favourite feline: Luna. The bread will be sold from February 11 to March 25.

Neko Neko Shokupan Luna Bread w/ Chocolate Pen | ¥1,200 (Before Tax)

The bread is made of pastry laced with black cocoa powder. Luna's ears are strawberry flavoured and she  of course has her iconic crescent moon atop her forehead. She arrives safely packaged in a cube-shaped box decorated in night sky stars and the moon. This box is placed in an eye-catching bag with little Sailor Moon details that are sure to be familiar to any fan, including Luna herself as well as Artemis.

The bread is available in-store at Neko Neko Shokupan branches and via the online store All Hearts Mall in Japan

The first film in the Sailor Moon Eternal series was released on January 8, 2021, and the second on February 11, 2021.

©武内直子・PNP/劇場版「美少女戦士セーラームーンEternal」製作委員会

Cat Shaped Bread Releases at Neko Neko Shokupan For Hinamatsuri Festival

Neko Neko Shokupan is celebrating Japan's annual Hinamatsuri festival, also known as Doll's Day, by releasing a set of three limited-edition flavours of its popular cat-shaped bread. It is now available via their online store until March 3, 2021.

Strawberry / Plain / Matcha – ¥4,600 (Tax & Shipping Included)

Neko Neko Shokupan Hinamatsuri Strawberry

Neko Neko Shokupan Hinamatsuri Plain

Neko Neko Shokupan Hinamatsuri Matcha

Neko Neko House

The cute set includes pink-coloured strawberry, white-coloured plain, and green-coloured matcha breads which are available for delivery at addresses in Japan. They arrive in a cute house-shaped box.

Taiwanese Melon Bread Heads to Harajuku Food Factory

The hugely popular Taiwan Melon Pan bread, which sells 10,000 units a month in Osaka, Kichijoji, and Nishiogikita, is now being served at Harajuku Food Factory until February 20.

Taiwan Melon Pan | ¥380 (Before Tax)

Taiwan Cheese Melon Pan | ¥450 (Before Tax)

The Taiwan Melon Pan bread is a combination of sweetness, rich butter, and salt for an irresistible flavour experience.

Information

Harajuku Food Factory – "Taiwan Melon Pan"
Serving: February 3, 2021 – February 20, 2021
Where: Harajuku Food Factory
Address: THE SHARE Floor 1F, 3-25-18 Jingumae, Shibuya, Tokyo
Opening Hours: 11:00-20:00
TEL: 03-5772-8858
Official Website: http://www.opefac.com/

Pokémon, My Melody, Moomin and More Valentine's Day Chocolates Arrive at Daimaru Tokyo

The Hoppe Town area of Daimaru Tokyo is currently celebrating Valentine's Day up to February 14 with the release of a selection of gift chocolates by six brands in collaboration with popular characters.

Pokémon Chocolate Set (Large Box) | ¥1,404 (Tax Included)

My Melody x Goncharoff Chocolates (Contains 21) | ¥2,160 (Tax Included)

Moomin x Merry Chocolate's Hattifatteners Chocolates (Contains 11) | ¥1,188 (Tax Included)

Dick Bruna by Morozoff: Picture Book Chocolates (Contains 15) – ¥864 (Tax Included) / Miffy Pouch Chocolates (Contains 8) – ¥1,320 (Tax Included)

Chatrois Kitten Tiny Plain Chocolates | ¥783 (Tax Included)

Katanukiya Angel Panda | ¥684 (Tax Included)

Which of these cute and tasty-looking treats has caught your eye the most?

©Nintendo・Creatures・GAME FREAK・TV Tokyo・ShoPro・JR Kikaku ©Pokémon
©1976,2021 SANRIO CO,LTD.APPROVAL NO.L613374
©Moomin Characters™

Information

Daimaru Tokyo Valentine's Sweets
Running: January 27, 2021 – February 14, 2021

Location: Hoppe Town on Floor 1F of Daimaru Tokyo
Official Website: https://www.daimaru.co.jp/

Miffy Cookies Get Baked Up by Netherlands Confectionery Theo Blom at Dick Bruna TABLE

The popular wine bar Dick Bruna TABLE, where customers can enjoy a glass of wine with a meal together with illustrations by Dick Bruna, the creator of Miffy, is now selling a batch of Miffy cookies created by the popular confectionery Theo Blom located in Utrecht, Netherlands.

Miffy Cookies & Chocolate | ¥4,000 (Before Tax)

Miffy Cookies | ¥4,000 (Before Tax)

Utrecht is the birthplace of Miffy author and creator Dick Bruna, and Theo Blom is a place that Bruna himself actually often visited. The confectionery is known for its tins which can be reused after the contents are eaten. The cute Miffy tins are definitely keepers.

Information

Dick Bruna TABLE – Miffy Cookies & Chocolate
Released: Mid December 2020
Location: Dick Bruna TABLE
Address: 3-1-1 Sannomiyacho, Chuo-ku, Kobe
Opening Hours:
[Weekdays] 11:00-15:00 (Last Orders 14:00) / 17:00-23:00 (Last Orders 22:00)
[Saturdays] 11:00-23:00 (Last Orders 22:00)
[Sundays/Public Holidays] 11:00-21:00 (Last Orders 20:00)
Access: 078-333-3332
Official Website: https://dickbrunatable.com/

Handmade Double-Wall Miffy Glass Releases at Chiba LOFT in Japan

GOODGLAS Japan is expanding its range of products at Chiba LOFT this Saturday (November 28) which includes the return of last year's popular Miffy glass as well as a Christmas series.

Glass products at GOODGLAS are all handmade and use the traditional glass blowing method. The company has released many different double-wall glass designs including Hello Kitty, shiba inu, and more.

Miffy Glass at Chiba LOFT

miffy ©Mercis bv | ¥3,900 (Before Tax)

A Miffy glass made with traditional glass blowing that captures her adorably long ears, something which the company expressed was difficult to get right and took numerous trial and error attempts.

Christmas season glasses

Christmas Tree & Snowman | ¥6,500 (Before Tax)


Rudolph | With Snow ¥3,300 (Before Tax), Without Snow ¥3,200 (Before Tax)

For the Christmas series, GOODGLAS has crafted Christmastree, snowman, and Rudolph designs. The Rudolph glass is like a snow globe with snow in it.

Gon, the Little Fox

Gon, the Little Fox | ¥3,200 (Before Tax)

This glass is inspired by Gon, the Little Fox, a Japanese children's story. It was created in collaboration with Handa, the town where the story's author Niimi Nankichi was worn and where he wrote the story.

Year of the Ox

GOODGLAS is also planning to release a cow-themed glass to represent the 2021 Year of the Ox.

Information

GOODGLAS New Products
Release Date: November 28, 2020
Available: Chiba LOFT (Floor 8F)
Address: 1-6-2 Sakuragicho, Omiya-ku, Saitama
GOODGLAS Official Website: https://www.r-kj.com/about-2

Cute Miffy Travel Merchandise to be Sold at Pop-Up Store in Shibuya

Pinkoi, the company that runs Asia's biggest global e-commerce site of the same name, has announced a collaboration with Dick Bruna's popular character Miffy, who is celebrating her 65th anniversary this year. A special pop-up store that will open up at Hotel Koe Tokyo from November 19 to December 6.

Miffy fans can look forward to getting their hands on 180 different exclusive items made in collaboration with designers from Taiwan, Hong Kong, Thailand, China, and Japan

Pinkoi x Miffy 〜TRAVEL with Miffy〜

"TRAVEL with Miffy" is the name of the collaboration which features a collection of travel-themed Miffy goods.

Merchandise (Sample)

Re-Mask (Hong Kong) | Face Masks

Face masks have become a normal part of everybody's life this year as a result of the pandemic, so why not go for a cute design? These cotton masks were made by a face mask company in Hong Kong and come in a variety of colours such s white, pink, and navy.


agooday (Taiwan) | Food Eco Bag

An eco-bag perfect for taking to the supermarket when grocery shopping. The inside of the bag is made from vinyl so can be washed. Its small size also makes it conveniently compact for carrying around.


一帆布包 (Taiwan) | Drink Holder

This drink sleeve has a strap on it so you can carry around your hot or cold beverage like a handbag. These are made by a Taiwanese bag brand which has been going for over 30 years.


pupupu (Japan) | Bags

Cute bags with minimalist designs and made from warm and fluffy material perfect for the winter season. Miffy's ears are actually the handles.


寺沼麻美 (Japan) | Mobiles

These cute Miffy mobiles are all handmade, with swaying stars and clouds to help you drift you off to sleep.

Limited Edition Presents

Stickers / Tote Bag / Handkerchief

There's also a selection of goodies visitors can get their hands on. If they post on Twitter, Instagram, or Facebook using the hashtag #pinkoixmiffy while at the pop-up store they can get some Miffy stickers. If they spend over ¥8,000 they'll get the tote bag. Pinkoi members will get one of four possible Miffy handkerchiefs.

Special Website

A special page for the pop-up store will open on Pinkoi's official website on November 12 less than a week before the pop-up store opens so Miffy fans can order items online early.

Information

Pinkoi x Miffy 〜TRAVEL with Miffy〜 TOKYO Pop-up Store
Running: November 19, 2020 – December 6, 2020

Opening Hours: 11:00-19:00 (Open from 14:00 on November 19)

Location: hotel koe tokyo 2F pop up space

Address: 3-7 Udagawacho, Shibuya, Tokyo
Access: 5-minutes on foot from Shibuya Station's A6b Exit

Pinkoi Official Website: https://jp.pinkoi.com

KIDDYLAND Harajuku to Celebrate Miffy's 65th Anniversary

KIDDYLAND Harajuku, a fun and cheerful shopping centre in Harajuku, Tokyo, has announced that it is celebrating the 65th anniversary of Dick Bruna's popular character Miffy from October 10 to March 19 with a different theme every month. Visitors can expect to get their hands on a range of merchandise, freebies, and more.

CARROT

Running from October 10, 2020

A selection of autumn-coloured and carrot-themed Miffy merchandise will be sold. If you head on up to miffystyle on floor 4F of KIDDYLAND Harajuku right, and spend more than ¥1,000, you'll also receive a special Miffy shopping bag completely free (available now). These are limited in stock though so you'll want to get your paws on them quick!

KIDDYLAND x miffystyle Christmas Fair 2020

Running from November 7, 2020

miffystyle and KIDDYLAND are hosting a Christmas fair this year themed on animals. A special range of merchandise with designs of Dick Bruna's animals will be sold. Customers who spend over ¥1,000 at the fair will also receive a free shopping bag, and if they spend more than ¥2,000 some special pink wrapping paper. These are both limited in stock.

A must-grab at the Christmas Fair


Miffy GOODGLAS | ¥3,900 (Before Tax)

One must-get item at the Christmas fair is the cute double-wall glass made by GOODGLAS. Perfect as a gift to yourself or someone else this Christmas. As you pour your drink into it, Miffy's face will appear.

Enjoy the autumn and winter this year with Miffy in Harajuku.

Illustrations Dick Bruna © copyright Mercis bv,1953-2020 www.miffy.com

Enjoy Breakfast With a Feline Twist at eXcafe Gion in Kyoto Where They Serve Cat Shaped Toast

eXcafe Gion, a cafe located near Kyoto's popular tourist spot Yasaka Shrine, introduced its Mikeneko breakfast to the menu on Monday. The breakfast was first put on the menu at the Arashiyama branch of eXcafe.

Gion is one of Kyoto's biggest and most famous shopping districts. eXcafe Gion is located along Shinbashi-dori Street, which is listed as one of Japan's Important Preservation Districts of Historic Buildings, making it within walking distance of many traditional places in Kyoto such as Yasaka Shrine, Hanamikoji Street, Shirakawa, Tatsumidaimyojin Shrine, and more.

eXcafe Mikeneko Breakfast | ¥1,380 (Before Tax)

eXcafe's Mikeneko breakfast menu is made with the new thick-cut, three-coloured cat-shaped bread from the popular cafe Kyoto Neko Neko, which is made with three flavours: caramel, black cocoa, and plain. It comes with various toppings to choose from including anko red bean paste, butter, whipped cream, and fruit, so you can arrange your toast how you like it.

The toast is served with mitarashi-dango for dessert which can be cooked on top of the little stove that you get.

Enjoy a super cute breakfast meal at eXcafe and then a stroll around Gion when visiting Kyoto.

Information

eXcafe Mikeneko Breakfast
Serving: 8:00am-11:00am (Last Orders 10:00am) *Day menu available from 10:00am

Location: eXcafe Gion

Address: 57-1 Motoyoshichō, Higashiyama-ku, Kyoto
Opening Hours: 8:00am-6:00pm
TEL: 075-533-6161

Cute Miffy Merchandise Inspired by Huis Ten Bosch in Nagasaki Released

Huis Ten Bosch, a theme park in Nagasaki which recreates the Netherlands with copies of Dutch-style buildings, is now selling a new line of Miffy merchandise in two different collections: "Kingdom Star Miffy" and "Kingdom Flower Miffy," both of which are available until the end of December this year.


Miffy's simple yet colourful appearance has won him love the world over. Dick Bruna, the Dutch creator of Miffy, has his ties to Huis Ten Bosch back when the area was known as Nagasaki Holland Village, the former theme park.


The Netherlands flag-holding Miffy is now an indispensable figure at Huis Ten Bosch.

Kingdom Miffy arrives as a new line of Miffy merchandise with a kingdom theme to it with such motifs as castles and crowns. The original collection comes in cute pastel colours.


The Kingdom Flower Miffy line-up features beautiful purples and pinks and is reminiscent of the tulips and roses planted at Huis Ten Bosch.

Kingdom Star Miffy is coloured in yellow and orange and features star motifs. Miffy is also wearing a crown.

The merchandise can be bought at Huis Ten Bosch's Dick Bruna shop Nijntje, but the items are also available online for those unable to travel during the pandemic. The line-up includes everything from plush toys to pouches, stationery, and more.

Kingdom Miffy Plushies

Exclusive to Huis Ten Bosch, pick between the tulip Kingdom Flower Miffy or the crown-topped Kingdom Star Miffy.


Kingdom Miffy Towels

Made in Japan, these soft towels feature castle designs, with the Kingdom Flower towel in a cute pink colour and the Kingdom Star version dotted with stars.

Kingdom Miffy Mugs

The mugs, too, incorporate these designs. They are sold in special boxes.

Illustrations Dick Bruna © copyright Mercis bv. 1953-2020 www.miffy.com