Miffy Sakura Kitchen Opens Second Shop with Bakery in Yufuin
Miffy Sakura Kitchen, Arashiyama, Kyoto will open a forest-themed shop with an adjoined bakery in Yufuin, Oita on October 31, 2019.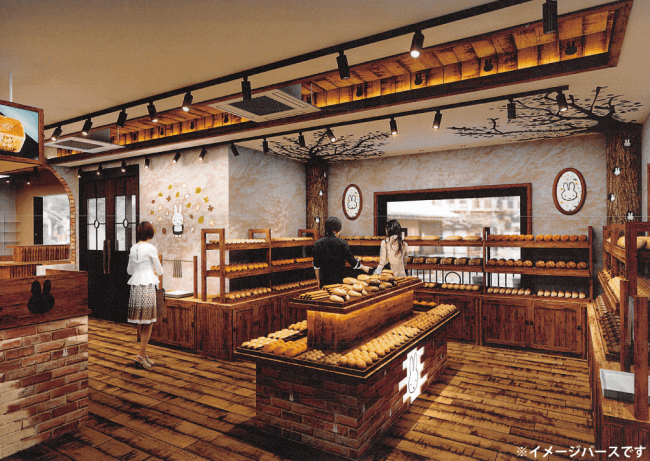 As you enter the new shop, you will be immersed in its happy, warm and comforting atmosphere. Miffy Sakura Kitchen is popular for its Japanese-style kitchenware and miscellaneous goods which cannot be found anywhere else in Japan. The shop will also have an adjoining bakery area called Miffy Mori no Bakery, where customers order their favourite treats to take out. This includes the popular anpan bun, which is a bun containing sweet red bean paste. There will also be character-themed baked goods, soft serve ice cream, drinks and much more. 
You can order your delicious baked goods to go so you can explore the beautiful area of Yufuin, or you can choose to eat inside the bakery's beautiful and photogenic eating area. 
Miffy's good pal Boris will also be making an appearance at the brand new shop. His design will decorate some of the Miffy Sakura Kitchen-limited kitchenware and even some of the baked goods in the bakery. 

Information
Yufuin Miffy Mori no Kitchen/ Miffy Mori no Bakery
Address: 1503-8 Kawakami, Yufuin-cho, Yufu-shi, Oita
Opening Hours: 9:30 ー17:30 (subject to change)
Open all year round/
Grand opening: October 10, 2019
Miffy Sakura Kitchen Official Website: http://www.miffy-sakurakitchen.jp
RECOMMENDED ENTRIES
Miffy Sakura Kitchen & Bakery to Open in Arashiyama, Kyoto

The new takeout bakery Miffy Sakura Kitchen will open in Arashiyama, Kyoto on October 3, fusing traditional Japan with Dick Bruna's cute bunny character.

The bakery faces the main street that runs from Togetsu-kyo Bridge through the Arashiyama Bamboo Grove, the most iconic tourist spots of Arashiyama.

Vintage Mugs – ¥1,200 (Pre-Tax)

Lunch Bowls – ¥2,000 (Pre-Tax)

At the bakery you can get your hands on a range of Miffy licensed merchandise as well as a string of exclusive Miffy Sakura Kitchen made in the style of traditional Kyoto pottery and more.

Of course, there's plenty of delicious goodies to get your fingers on too like anpan sweet bread, danish pastries, ice cream, drinks and more, all inspired by Miffy.

Miffy Anpan – ¥260 (Pre-Tax)

The Miffy anpan is shaped like Miffy's face which is filled with sweet adzuki bean paste.

Miffy Fuku Daruma Bread – ¥350 (Pre-Tax)

This cute and round Miffy bread is made in the image of a daruma doll and is filled with rich matcha cream. Limited quantity available.

Carrot Bread – ¥310 (Pre-Tax)

Miffy loves carrots, so this one's dedicated to her. It's made with carrot puree and contains an egg salad.

Miffy Danish Pastry – ¥500 (Pre-Tax)

When you sink your teeth into this crunchy toasted pastry your mouth is filled with the sweet taste of butter. You can order it as French toast or enjoy it as a sandwich.

Miffy Cube (Matcha & White Chocolate) – ¥230 (Pre-Tax)

This cubed shaped bread bears the shop's logo and Miffy on the front. You'll get addicted to the sweet white chocolate and bitter matcha inside!

The bakery itself will also be decorated with all things Miffy, so if you're a fan of the cute bunny yourself you'll definitely want to go and visit.

■Information

Arashiyama Miffy Sakura Kitchen
Address: 20 Sagatenryuji Tsukurimichicho, Ukyo Ward, Kyoto, Kyoto Prefecture

Grand Opening: October 3, 2018

Opening Hours
Miffy Kitchen: 10:00am-6:00pm
Miffy Bakery: 10:00am-6:00pm

Contact
Miffy Kitchen: 075-863-2022
Miffy Bakery: 075-496-4244

Miffy Sakura Kitchen Offiみっふぃー桜きっちん公式サイト:http://www.miffy-sakurakitchen.jp

Miffy Sakura Kitchen Pastry Takeout Shop to Open in Kyoto

Miffy Sakura Kitchen is Japan's first bread takeout shop to combine the traditional Japanese aesthetic with Miffy. The shop will open in Arashiyama, Kyoto on October 3.

 

Arashiyama is a huge tourist destination and one of Kyoto's most famous. The shop faces the main roads that run through Arashiyama, from Togetsukyo Bridge to the Bamboo Forest, making it an easily accessible location.

Miffy's kitchen will sell items in collaboration with traditional Kyoto handicrafts and Kiyomizu pottery as well as a range of traditional miscellaneous goods. Everything there is Miffy licensed merchandise. There's also the Miffy Sakura Bakery where you'll be able to get your hands on kawaii Miffy themed pastries, Danish pastries, soft serve ice cream, drinks and more.

If you're a Miffy fan then be sure to hit the Miffy Sakura Kitchen & Bakery in Kyoto later this year.

■Information

Miffy Sakura Kitchen – Arashiyama

Address: 20-27 Sagatenryuji Kitatsukurimichicho, Ukyo-ku, Kyoto-shi, Kyoto Prefecture

Opening Day: October 3, 2018

Opening Hours:

Miffy Sakura Kitchen – 10am-6pm (subject to change)

Miffy Sakura Bakery – 10am-5:30pm (subject to change)

No Fixed Holidays.

Miffy Sakura Kitchen Website: http://www.miffy-sakurakitchen.jp (*Will open at the beginning of October)

Miffy English Website: https://www.miffy.com/

Miffy Japanese Website: http://www.dickbruna.jp/

2019 Top 10 Souvenirs Available at Daimaru Department Store, Tokyo

Looking for some delicious, well presented Japanese souvenirs? Head to Daimaru department store which is adjoined to Tokyo Station. On the first floor and basement floor lies a Japanese-style desserts and sweets area which contains approximately 70 delicious brands. Every day, approximately 30,000 desserts are sold to customers who are looking for souvenirs to bring to their family and friends. 

Now we have arrived at the summer holidays, there are many tourists who will soon reach the stage of panic where they are unsure of what souvenirs to bring back to their loved ones. Luckily, Daimaru Department store is a goldmine of beautifully presented Japanese-style sweet snacks made by top brands. Today, we present you with a list of the 10 fastest-selling souvenirs that were sold from July 2018 to June 2019. There is still plenty of time to get your hands on these souvenirs!

1st Place: N.Y.C. SAND: Caramel Sandwich Biscuits (box of 8) ¥1,080 (1st floor)

 As you take a bite, you will notice that the biscuit, chocolate and caramel will balance in perfect harmony just for a brief glorious moment. 

2nd place: Fukusaya: Fukusaya Cube (Cut into two) ¥270 (1st floor)

Have a small slice of luxury with this traditional recipe castella sponge cake which was specially made by experienced bakers. This is presented in a small, cute box. 

3rd place: Kamakura Toshimaya: Hato Sable (box of 10) ¥1,080 (1st floor)

This is a crispy dove-shaped shortbread biscuit which has a rich buttery flavour. This was first produced in the early 1900's during the Meiji period and is a souvenir limited to Tokyo.

4th place: Asakusa Mangando: Imokin ¥129 each (1st floor)

This baked treat is packed with the delicious flavour of sweet potatoes. The freshly baked scent is enough to draw you in. 

5th place: TOKYO BANANA STUDIO: Panda Banana Yoghurt (Box of 4) ¥515 (1st/basement floor) 

Children would just love to see the cute panda design. Wrap yourself in the mild banana yoghurt-flavoured cream.

6th place: Noix: Walnut cookie (Box of 4) ¥648 (1st floor)

This crunchy cookie is topped with a generous amount of caramelised walnuts.

7th place: Nenrinya: Mount Baum Shikkarime ¥756 (1st floor)

The outside of this baumkuchen is fragrant and crispy whilst the inside is soft and spongy. Take a bite to experience the wonderful texture of this European-style baked good. 

8th place: Azabujuban Agemochi-ya: Panchetta Agemochi (40g) ¥442 (1st floor)

The flavour of this baked mochi dough is like eating bacon cooked in an Italian style. This new flavour is a wonderful discovery that you should also try.

9th place: Sugar Butter Tree: SUGAR BUTTER SAND TREE (Box of 10) ¥690 (1st floor)

The crispy biscuit and melty white chocolate is a sublime combination that you will want to try again and again.

10th place:  Kanou Shoujuan: Ikkoten ¥270 each (1st floor)

A whole Japanese chestnut is smothered in a thick layer of Tamba Dainagon adzuki bean mix that is simmered lightly. This is especially delicious when eaten with tea. 

What do you think? When in desperate need of a souvenir for your family, friends or work colleagues back home, how about choosing one of the souvenirs listed above?

Information

2019 Souvenirs at Daimaru Department Store, Tokyo

Available Period: July 31 ー August 31.

Avaialble at: Daimaru Department Store Tokyo, Floor 1/Basement floor Hoppe Town

Daimaru Tokyo

Address: 1-9-1, Marunouchi, Chiyoda, Tokyo

Website: https://www.daimaru.co.jp/tokyo/
RELATED ENTRIES
Flower Miffy Juice Garden in Asakusa Offering Limited-Time Drink Perfect for Early Summer

Flower Miffy Juice Garden, a drink stand inspired by Flower Miffy, a florist version of the Dutch character Miffy, has begun selling the perfect drink for the early summer weather. The Marguerite Cream Soda is on sale now at the Asakusa location.

Marguerite Cream Soda

Flower Miffy Glass Vase Flower Frame

The Marguerite Cream Soda features refreshing lemon soda topped with sliced lemon, thick vanilla ice cream, a Miffy cookie and a marguerite flower. Visitors can also find a special Miffy glass vase at the Asakusa store for a limited time, perfect for displaying flowers at home.


Come enjoy shopping for Miffy goods while sipping a refreshing beverage this summer!

Illustrations Dick Bruna Ⓒ copyright Mercis bv,1953-2022 www.miffy.com

Information

Flower Miffy Juice Garden
Address: Flower Miffy Juice Garden Asakusa
Limited Time Beverage: Marguerite Cream Soda
Available starting April 28, 2022
Official Site: https://www.benelic-flower.com

Pastel Easter Sweets and Bakery Items Coming to Grant Hyatt Tokyo

The luxury hotel Grand Hyatt Tokyo will offer Easter sweets and baked goods at the on-site Fiorentina Pastry Boutique from April 1 until Easter, April 17, to celebrate the arrival of spring.

Easter Egg Macaroon

Easter Cookies with Icing

Easter Lollipop

Easter Bunny Brioche

This year, in addition to the new Easter Bunny and Easter egg macaroons, cookies with icing, lollipop chocolates, brioche in the shape of the Easter Bunny, and other sweets and bakery items will be available. Don't miss it!

Cherry Blossom Themed Drink Appears at Flower Miffy

Flower Miffy Juice Garden, a drink stand featuring Dick Bruna's popular character Miffy, is now offering a limited-time cherry blossom beverage at its Asakusa location!

Strawberry

Green Apple

Cherry Blossom Season with Miffy

The Slightly Sakura Drink is inspired by springtime and features a sweet whipped topping with cherry blossom-colored copeau de chocolat. The base of the drink is sakura-colored milk available in green apple and strawberry flavors. Each beverage comes with a Miffy cookie for added cuteness!

 

A Cherry Blossom flower arrangement is also available for purchase at the Flower Miffy online store. 

Illustrations Dick Bruna Ⓒ copyright Mercis bv,1953-2022 www.miffy.com

Miffy-themed Snack Shop Opens in Gion, Kyoto

Telacoya, a company promoting traditional Japanese culture through the sale of souvenirs, is opening a new Miffy-themed snack shop on March 30, 2022. The adorable concept store is coming to Gion, Kyoto's famed downtown district.




Miffy Buckwheat Cookies

Miffy's Snack Medley

Miffy's Sugar-coated Biscuits

Miffy's Marshmallow Sweets

Miffy Cube Bread

Snuffy's Milk Breadstick

Miffy's Anko Roll

 

The shop caters to those needing a pick-me-up during the day, from children tired of studying to company employees trying to get through the day. Snacktime doesn't only have to be for children.

 

Along with the many sweet offerings available at the new shop, fans of Miffy will find exclusive Miffy merchandise, including limited-edition kitchen goods!

Information

Miffy's Snack Shop by Miffy Kitchen

Grand Opening: March 30, 2022

Address: 572-2 Gionmachi Minamigawa, Shijo-dori, Higashiyama, Kyoto

Official Site: http://miffykitchenbakery.jp/

Limited Edition Flower Miffy Goods Featuring a Cherry Blossom Theme Now on Sale

Flower Miffy, a flower shop inspired by the popular Dutch picture book Miffy, has begun selling a new series of cherry blossom-inspired items! A limited number of postcard sets are also being offered as purchase bonuses. 

Flower Miffy Glass – Sakura Gradient Pink / Pearl: ¥1,595 (Tax Included)

Flower Miffy Sakura Plate: ¥2,090 (Tax Included)

Flower Miffy Mini Towel – Sakura Pink / Ivory: ¥770 each (Tax Included)

The series features original artwork, and fans of Miffy can get their hands on unique glassware, cherry blossom plates, and mini-towels. 

Those spending ¥3,300 (including tax) or more will receive a set of two limited edition postcards. The offer will end as soon as they're gone!

*Offer does not apply to flower arrangements.

Illustrations Dick Bruna Ⓒ copyright Mercis bv,1953-2022 www.miffy.com

Information

Cherry Blossom Series

Release Date: February 10, 2022

Where to Buy: Flower Miffy Shops Nationwide, Flower Miffy Online Shop

Official Site: https://benelic.com/flowermiffy/

Special Exhibition Commemorating Miffy's 65th Anniversary Now on Display at Matsuzakaya Nagoya

Matsuzakaya Nagoya is holding an exhibition to celebrate the 65th anniversary of the birth of Miffy, created by Dutch illustrator Dick Bruna, until January 16, 2022. The theme of the exhibition is "with". It introduces the story of Miffy and her friends, with more than 300 precious original drawings, sketches, and creative notes.

Miffy the Ghost, 2001. (Manuscript)

Miffy the Ghost, 2001. (Manuscript)

Queen Miffy, 2007. (Manuscript)

Miffy and Poppy Pig, 2011. (Manuscript)

Miffy in the snow, 1963. (Manuscript)

Original Goods

UFD Miffy Set of 4  ¥4,400(Tax Included)

Rollbahn M  ¥638(Tax Included)

Pounch M ¥1,760(Tax Included)

Half Zip ¥1,650(Tax Included)

Floating Pen ¥1,320(Tax Included)



This exhibition marks the first visit to Japan of the original drawings including "Usako-chan: Obake ni naru" (2001) and "Usako-chan wa Jyoou-sama" (2007), as well as reference materials. Also, the original drawings of "Usako-chan on Snow Day" (1963), one of Miffy's first four works that has only visited Japan once before, and which features a winter outfit, is exhibited together for the first time. In addition, the exhibition reveals the memories and creative fascination of Bruna, who developed close friendships with Japanese picture book authors and children's literature writers and had a significant influence on the picture book culture in Japan.


The original drawings for "Usako-chan: Obake ni naru" (2001), "Usako-chan wa Jyo-oh-sama" (2007), and "Usako-chan to Fugako-chan" (2011), which was the last work to feature Miffy, are all in Japan for the first time. These drawings tell the story of Miffy playing ghosts, flying airplanes, and spending time with her family and friends.

It is also an opportunity for visitors to trace the creative process of Bruna with notes that show how he repeatedly tweaked his words and cuts that were not selected for the books.

Kaori's Easy Recipe: Learn to Make Miffy Parfait Using Tofu!

With just a small bit of ingenuity, turn everyday food into something cute using Kaori's Easy Recipe! With a few simple ideas, an ordinary recipe magically transforms into a cute dish.

In this recipe, I'll show you how to make an adorable Miffy Parfait using tofu shiratama!

Tofu shiratama can be frozen without hardening, so it's great to use for cooking as well as making sweets.

Ingredients

250g refined rice flour

300g silken tofu

✩ This is about 1 bag of refined rice flour and 1 piece of silken tofu.

Canned fruit or fruit of your choice

①

Put the refined rice flour and silken tofu into a bowl and mix well.

⚠️ Do not drain the tofu!

Don't add water, just these two ingredients.

✩I knead all ingredients and then freeze it.

Feel free to freeze it as dough, or boil it first.

You can put them in Tupperware and store them in water in the refrigerator for a day or two. Don't worry, they won't harden!

②

Add the coloring.

Take a little bit of food coloring and add as you like.

Here, I'm adding the yellow that will be the center of the flower.

③

After mixing the dough, place it on parchment paper and put it in the freezer for about 30 minutes.

You can shape it before placing it in the freezer, but chilling it will make it easier to work with.

④

Cut out Miffy and her flowers.

Place the yellow-colored piece into the middle of the flower.

Roll the rest of the shiratama into balls.

⑤

Boil the shaped shiratama while on the baking sheet.

Boil the round shiratama as well. When they float to the top, place them in cool water.

⑥

Place the shaped shiratama on parchment paper or plastic wrap and let dry briefly before adding decoration.

⑦

Mix black cocoa with a little water, and using the mixture, draw Miffy's face.

⑧

Place the flowers and shiratama balls inside the glass, follow up with your favorite fruits!

(If using canned fruit, feel free to add the syrup as well!)

I hope you enjoy decorating this colorful dish!

Kaori Kubota(@kaopan27)

I live in Hokkaido and I love to make character themed foods, desserts and pastries♡

I want to see my family smile, so I enjoy putting in a bit of effort to make character foods and changing food into something cute♡

You can see more of my character foods and character bento boxes on my Instagram page → @kaopan72

Workshop in Kichijoji Opens to Celebrate Miffy's 65th Birthday

In conjunction with the 65th Anniversary Miffy Exhibition currently being held at the PLAY! MUSEUM in Tachikawa, a special silkscreen workshop is coming only to PLAY! KICHIJOJI! The event, called A Little Kindness in Kichijoji, is currently open for reservations, and will be open each Thursday, Friday, Saturday, and Sunday until September 5, 2021. 

Dick Bruna, the creator of Miffy, often created posters using silk-screening. At the workshop, guests can choose from three different patterns and print their choice on either their own cloth and paper products, or on PLAY! goods. Each Sunday, illustrations from the book Miffy in the Snow can be printed on craft paper multiple times, eventually creating a colored Miffy! During the workshop, guests are asked to try making their own original goods using this time-honored silk-screen technique. No cheating!

At the venue, visitors can take their time reading stories from reporter Shunji Morimoto, who interviewed Bruma countless times. Each tale from his book A Little Kindness: 66 Stories will be available to browse and buy, along with a slide show of Miffy photographs taken by photographer Kotori Kawashima. Various original goods will also be on sale, so keep an eye out!

Won't you come celebrate our favorite bunny's birthday?

Illustrations Dick Bruna © copyright Mercis bv,1953-2021  www.miffy.com

Miffy x studio CLIP Merchandise Collection Revealed

Lifestyle brand 'studio CLIP' is collaborating with children's author Dick Bruna's popular character Miff with a cute merchandise collection that's set to drop at all studio CLIP branches in Japan and the online webstore .st on August 1.

The Line-Up

Limited-edition shopping bags

Fruit Soda & Soft Serve Ice Cream Parfait

studio CLIP collaborates with Miffy every year, and this year is no different, with a special line-up of character goods themed on friends and family. Boris makes an appearance this time too. Items include hand gel holders, vinyl umbrellas, tote bags, and more. There's also exclusive shopping bags for Miffy fans who buy any of the collab merch, as well as themed drinks and desserts at studio CLIP CAFE.

Information

studio CLIP x Miffy

Release Date: August 1, 2021

Locations: studio CLIP / studio CLIP Webstore

Webstore: http://www.dot-st.com/studioclip/ 

Cafe

Running: August 1, 2021 until sold out

Location: 3 studio CLIP CAFE branches (Grand Tree Musashikosugi/Yume Town Hiroshima/Yume Town Hikarinomori)

The new Miffy themed double-wall glass, which was released in November last year and sold out only in one day is back with new designs including standard design from previous collection. 

Double-wall Miffy Glass

miffy style Surprised 

miffy style Sleeping


miffy style Tears 

miffy style Standard


Don't miss out the must-have Miffy themed adorable double wall glass!

©Mercis bv

Kumamon Promotes Strawberry and Whipped Cream Pastry For Pasco Kumamoto Project

The Pasco Kumamoto Prefecture Project is a collaboration between the Japanese pastry company Pasco and Kumamoto Prefecture which has appointed Kumamon, the mascot of Kumamoto, as its head to promote local foods.

The project was started as a reconstruction and restoration effort to help support Kumamoto after the devastating earthquake that struck in 2016 and the 2018 Japan floods. For every select product sold, 0.5 yen is donated to the relief effort to aid victims of the disasters.

The Pasco Kumamoto Prefecture Project is set to run until end end of September this year. It released two items on April 1 as part of the project. It is now releasing two new products: the "Strawberry Jam & Milk Whipped Cream" pastry and "Pancake Omelette Custard & Milk Whipped Cream." The milk, strawberries, and eggs used for these confections are all sourced from Kumamoto

The pastry recipe creates whipped cream from milk and layers it with a strawberry jam made from yuubeni, a popular brand of strawberry grown in Kumamoto, before baking. The pancake omelette is a combination of Jersey milk, eggs, and custard cream to create a fluffy dessert.

Pasco carefully selects ingredients as part of Kumamon's promotional products

The ingredients used in the recipes for these food products are all carefully selected to go deliciously well with Pasco's bread. This includes milk, eggs, and yuubeni strawberries. Pasco plans to used Kumamoto-grown rice for a new product in August.

 

Scan the code on the packaging and meet Kumamon!

A special Kumamon AR service has also been created as part of the project. If you scan the code on the packaging of these products using a smart device, you can take a photo together with Kumamon as pictured above. He has the same design as on the packets.

Information

Pasco Kumamoto Prefecture Project – 2nd Release

Running: June 1, 2021 – July 31, 2021

Available: Supermarkets and shops in Japan

Pasco Official Website: https://www.pasconet.co.jp/

Neko Neko Shokupan x Samansa Mos2 Clothing Collaboration Released

Fashion brand Samansa Mos2 joined paws with the cat-themed bread and pastry store Neko Neko Shokupan to release their first collection together at Samansa Mos2 stores and the online store CAN ONLINE SHOP on May 14.

The Line-Up

Half-Sleeve Photo Print T-Shirts
Colours: Off-White/Unbleached/Beige
Price: ¥3,190 (Tax Included)

Half-Sleeve Monogram Print T-Shirts
Colours: Off-White/Yellow/Brown
Price: ¥3,190 (Tax Included)

Half-Sleeve Back Print T-Shirts
Colours: Off-White/Yellow/Brown
Price: ¥3,190 (Tax Included)

Back print tee design

Shokupan Print Hoodie
Colours: Beige/Khaki
Price: ¥4,290 (Tax Included)


Kid's Line

Photo Print T-Shirt
Colours: Off-White/Yellow
Price: ¥2,530 (Tax Included)

French Flare T-Shirts
Colours: Beige/Khaki
Price: ¥2,530 (Tax Included)

Miscellaneous

Embroidered Canvas Tote Bag
Colours: Unbleached/Beige
Price: ¥3,850 (Tax Included)

Handkerchief
Colours: Beige/Purple
Price: ¥660 (Tax Included)

Reversible Shoulder Pouch
Colours: Beige/Khaki
Price: ¥3,190 (Tax Included)

Bottle Holder
Colours: Beige/Khaki
Price: ¥2,750 (Tax Included)

Mobile Ring Holder
Colours: Beige/Grey
Price: ¥1,650 (Tax Included)

Neko Neko Shokupan are known for their rich and milky cat-shaped bread which uses milk and zero water. They're a hugely popular bakery brand who often find themselves across social media pages including Instagram. This marks their first collaboration with Samansa Mos2 who celebrate their 35th anniversary this year.





The collection features key visuals taken from the Neko Neko Shokupan brand. Items include a variety of tees and hoodies as well as other miscellaneous must-grabs like tote bags, handkerchiefs, bottle holders, and more. There's even a children's line-up as part of Samansa Mos2's kid brand Samansa Mos2 Lagom so parents and their children can coordinate cute matching outfits.





Look felinely-fashionable this summer with the Samana Mos2 x Neko Neko Shokupan collection.