Mogu Mogu Nippon | Convenience Store: 4 Icy and Not-So-Pricey Frozen Treats This Summer
The real heat of summer has finally hit us. As a result, it is getting harder to resist those delicious ice creams in the convenience store that are so easy to get hold of. Convenience stores are constantly refreshing their frozen dessert flavours and it is just too hard to decide which one to go for.
Wondering what tastes good? Don't break a sweat. Dessert-eating professional Yukko is here to help. Check out her Instagram which has plenty of information on the most irresistible frozen desserts at convenience stores.
CREAM CHEESE MACARON ICE 
Seven Eleven sells a macaron ice cream sandwich series which is massively popular every year. You just have to head there now to try the Kiri® cream cheese filling macarons which are collaboration-limited!
Just by looking at the refreshing colour of the macaron is enough to splash life back into your parched body. Sinking your teeth into the crispy macaron sure is fun.
The luxurious ice cream filling is made using 100% Kiri® cream cheese. The ice cream covers a juicy core of passion orange sauce that is thick like treacle. Its sharp, citrusy flavour is bound to instantly revitalise you. The rich cream cheese makes for the perfect balance. 
▼ CREAM CHEESE MACARON ICE 
Price: ¥257 (after tax)
Available at: Most Seven Elevens countrywide (excluding Okinawa)
Strawberries & Condensed Milk Shaved Ice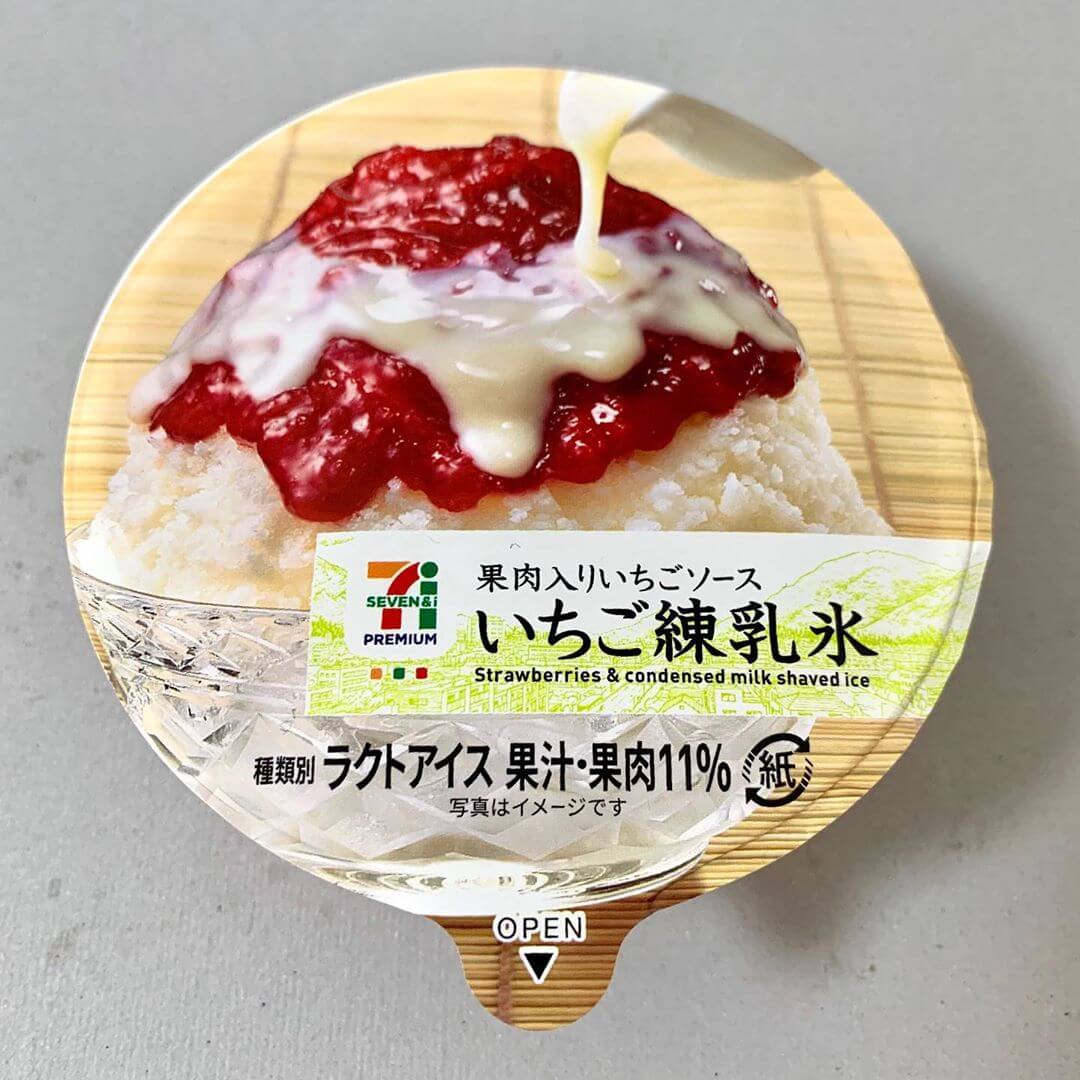 This is part of Seven Eleven's flavoured ice series. 
When you open it, you will be instantly hit by the revitilizing red colour of the strawberries. The strawberry sauce is sweet yet sour and the ice is crunchy. Allow it a bit of time to melt first and the texture will turn syrupy.
The sweet and sour strawberry sauce is a perfect match with the condensed milk flavoured ice, which is both slightly sweet and refreshing. This is a flavour that adults will love just as much as children.
▼ Strawberries & Condensed Milk Shaved Ice
Price: ¥149 (after tax)
Available at: Convenience Store: Most Seven Elevens countrywide.
White Peach Shaved Ice with Peach Pieces
This is yet another dessert from Seven Eleven's ice Series, and this one is bursting with peachy goodness! Despite being just ¥300, it is full of flavour.
Open the lid and you will discover that it is full of delicious fruity pieces of white peach. 
Starting from the top, there are large pieces of peach followed by white peach jelly, white peach shaved ice and then white peach sauce. The peach will immediately melt in your mouth the moment you take a bite. Its juiciness will spread all over your tongue and you will be enlightened with the true refreshing taste of summer. 
White Peach Shaved Ice with Peach Pieces
Price: ¥300 (after tax)
Available at: Seven Eleven
Essel Super Cup Mango 
Having heard all the stories about just how delicious this ice cream is, I just had to try it for myself.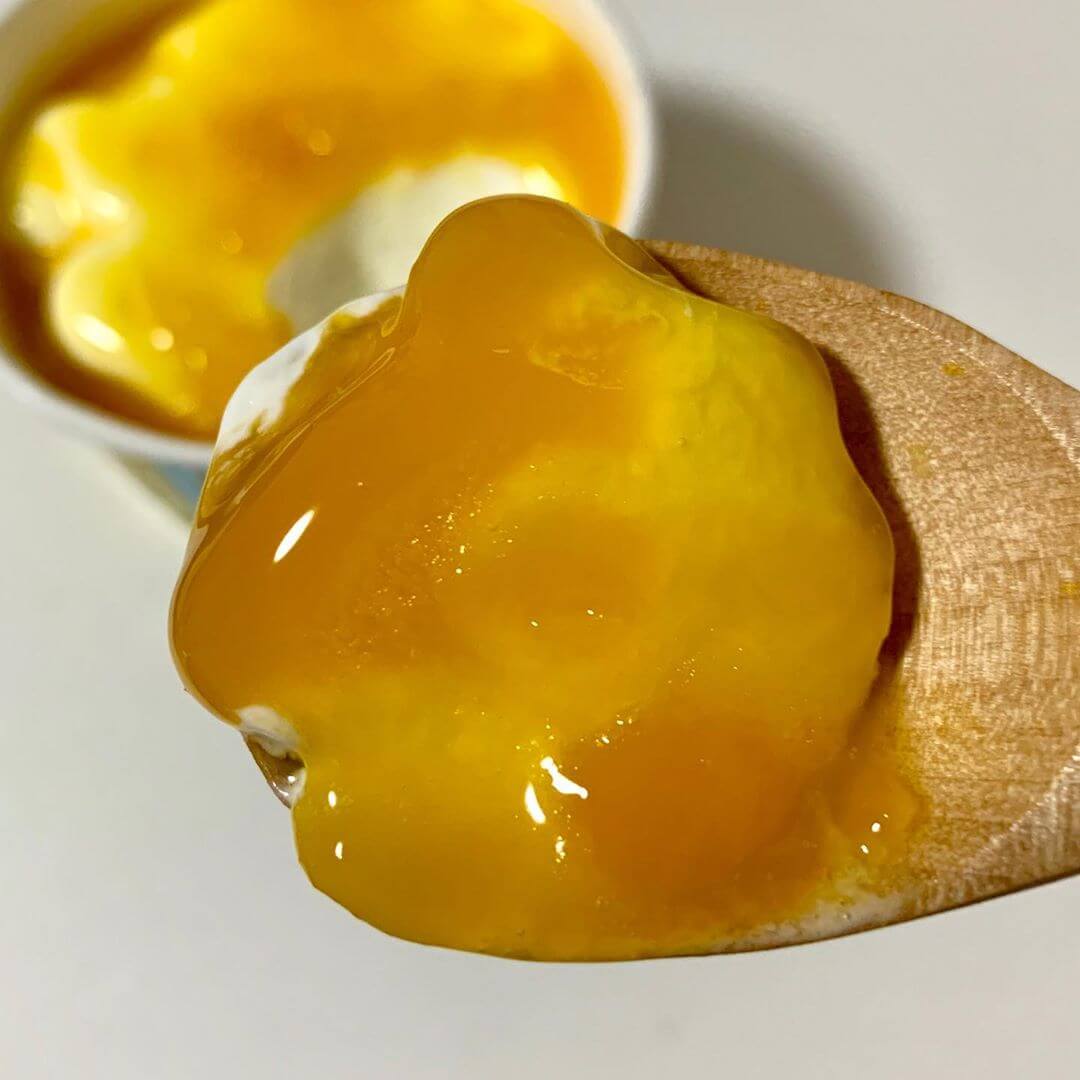 There are four layers to this ice cream. The moment you open the lid, the tropical fruity mango sauce layer will be enough to revitalize you. Once you make it through the mango sauce which is enriched with mango fruit pieces, you will make it to the layer of tofu ice cream. Dig a little deeper and you will arrive at a layer of passion fruit sauce.
If you reach the very bottom, you will hit the mango-flavoured ice cream. If you wait a little while for the ice cream to melt before digging your spoon in, you will be able to truly appreciate the rich-flavoured mango. This ice cream even has a special ingredient; mango pulp. This mango pulp enhances the flavour in an extraordinary way. The discovery of this new flavour will fascinate you to no end. The passion fruit sauce at the bottom has an element of crunchiness to it that resembles sorbet. The mango and mango pulp is an exquisite accent to the flavour, making it deliciously moreish as well as refreshing. 
▼Essel Super Cup Mango 
Price: ¥238 (after tax)
Available at: Convenience stores and supermarkets across the country.
All these convenience store ice creams are just too delicious to miss out on. There are many frozen desserts that will always be available, however, those listed above won't always be around, so try them while you can!
Mogu Mogu Yukko introduces lots of desserts and sweets that are easily found in convenience stores and supermarkets on her Instagram so please check out her other posts.
Writer and Photographer: Mogu Mogu Yukko
RECOMMENDED ENTRIES
Mogu Mogu Nippon | Convenience Store: Top 3 Refreshing Summertime Drinks

Hi, everyone! I'm Heir from MOSHI MOSHI NIPPON's editorial team.

Our office is based in Harajuku, Tokyo's hub for fashion and youth culture. When summertime rolls around and brings the sweltering weather with it, it's ubiquitous to see people walking the streets of Harajuku with bubble tea or iced coffee in their hands to cool down.

Personally, I really love the drinks sold at convenience stores and can drink them whenever. They are cheap and tasty with many new drinks stocking the shelves all the time. There were a lot of popular drinks that began sales in June.

Today, I want to recommend three of these cool beverages to you, all of which saw much attention on Japanese social media.

1. Coffee Beverage | Starbucks Iced Orange Brûlée Latte

This chilled Starbucks drink was released on June 11 and comes in a very summery flavour: Iced Orange Brûlée Latte. Lattes mixed with fruit are always my weakness. This drink is extremely tasty, mixing full-bodied coffee with velvety milk, orange and crème brûlée. Its cute packaging and refreshing flavour make it the perfect choice for the start of summer.

Released: June 11, 2019

Price: ¥200 (Before Tax)

Available: At convenience stores, supermarkets and department stores in Japan

Product Page: https://www.starbucks.co.jp/beverage/rtd/4901777338579/

2. Carbonated Beverage | Gabunomi Soda Float

From the popular Gabunomi drink series comes the new Soda Float flavour. Its packaging alone is enough to cool you down. The drink itself is a cute blue colour which is what made me want to buy it. It's soda mixed with a creamy ice cream float which has an authentic flavour. As is always the case with Gabunomi, they have the perfect balance of sweetness in their carbonated beverages. This drink just makes you want to buy one and head to the seaside!

Released: June 24, 2019

Price: ¥140 (Before Tax)

Available: At convenience stores, supermarkets and department stores in Japan

Product Page: https://www.pokkasapporo-fb.jp/products/soda/gabunomi/JE88.html

3.  Carbonated Beverage | Coca Cola Clear Lime

Clear Coca Cola became a topical drink on social media around the world when it was first released last summer. This summer, the drink is receiving a lime upgrade. By combining the colourless Coke with lime flavour, you can feel super refreshed during the hot and dry weather. Be sure to pick up a bottle if you're in Japan this summer!

Released: June 10, 2019

Price: ¥140 (Before Tax)

Available: At convenience stores, supermarkets and department stores in Japan

Product Page: https://www.cocacola.jp

Mogu Mogu Nippon | Convenience Store: 3 Seven Eleven Matcha Desserts

If you are wondering what Japan is particularly good at, matcha desserts is definitely one of them. However, you don't have to go to a shop that specialises in matcha sweets to get your fill. Matcha desserts can be easily obtained from the convenience store and once you start, it is hard to stop. 

Today, Instagrammer Yukko is going to introduce you to three delicious matcha desserts that you can get from Seven Eleven.

Dorayaki Pancakes Filled With Matcha Cream ¥278 (before tax)

Seven Eleven is always selling some kind of delicious matcha cream-filled dorayaki. This time, the name has been changed slightly. This dorayaki is just ¥3 more expensive than last time, however it looks just as good as it always has. You just will not be able to resist buying it. 

As you take your first bite of this high-quality snack, the scent of the matcha will reach you first, followed by the flavour of the matcha which spreads instantly through your mouth. The matcha is rich yet so light that it will instantly melt on your tongue. The pancakes sandwiching the large creamy matcha filling are both fluffy and thick. Cut it in half and you will not be able to resist. 

This is a wonderful snack to sink your teeth into while you walk. If you want to keep your hands clean, you could even use a spoon to scoop out the filling. Enjoy it in your own unique way as it is tasty no matter how you choose to enjoy it!

Matcha and Matcha Parfait ¥278

As the name implies, this matcha parfait is the perfect opportunity to taste a variety of matcha flavours in one single tub. From the bottom, the cup is filled with matcha jelly, followed by matcha mousse, milk mousse and matcha whipped cream. Within the layers of matcha whipped cream you will discover a goldmine of matcha jelly and a dorayaki pancake core. 

The matcha flavour of the jelly is quite weak, however its wobbly and springy texture contributes to the deliciousness of the parfait. The moderately sweet whipped cream combined with the matcha flavour is perfectly balanced. The milk mousse has a rich, milky flavour. It may be sweet, however the matcha mousse underneath it is slightly bitter, so enjoy them together for a delicious overall flavour. 

The fluffy matcha mousse and rich matcha is unbelievably delicious. The dorayaki centre is soft, fluffy and thick which accents the flavour. Overall, the parfait is not overpoweringly sweet and the matcha flavour is gentle on your tongue.  

Uji Matcha Cream Mochi: ¥110 (before tax )

Uji Matcha Cream Mochi is a soft, thin and chewy dough that is rolled out thin and then wrapped around a large spoon of uji matcha cream. This is always a popular pick. Last time, they served the uji matcha chocolate mochi. I wonder how the Uji Matcha Cream Mochi will taste!

This time, the mochi has a slightly more springy texture. The outside is chewy, yet the inside is gooey. This mochi cake is bursting with matcha so you can really enjoy the matcha flavour. The bitter matcha flavour is perfectly balanced with a touch of sweetness. This dessert even come with a fork so that you don't have to get your hands dirty. 

I know, it is hard to choose which matcha dessert to try. Convenience stores are always refreshing the varieties of goods they sell, so if you are particularly attracted to any of the desserts mentioned above, it is probably best to try them before they are replaced.

Mogu Mogu Yukko introduces lots of desserts and sweets that are easily found in convenience stores and supermarkets on her Instagram so please check out her other posts:

Photos and Text: Mogu Mogu Yukko

Mogu Mogu Nippon | Indulging in Oniku no Osushi's Matsusaka Beef Don in Asakusa

Asakusa is located in Tokyo and is home to many famous tourist and sightseeing spots such as Sensō-ji Temple and the Kaminarimon Gate. It's also a place lined with restaurants serving up an array of gourmet dishes.

We have covered many popular cafés and local specialties in Asakusa in MOSHI MOSHI NIPPON. Today, we will take a look at a sushi restaurant called Oniku no Osushi which opened recently where customers can eat sushi served with Japanese wagyu beef. It is the first big name restaurant from the Gion district of Kyoto to arrive in the country's Kanto region. Since opening its doors, it has been much-talked-about and has enjoyed the hustle and bustle of hungry customers.

The restaurant is about an 8-minute walk from Akasaka Station via the subway and just a 2-minute walk via Tsukuba Express. You'll know the restaurant when you see it as the outside of it incorporates a wooden design. Inside, too, wooden planks and pillars decorate the interior.

Matsusaka beef is a brand of beef in Japan made from the meat of Japanese Black cattle that are reared under strict conditions in Matsusaka, Mie. At Oniku no Osushi, customers are able to eat this beef in the form of sushi marbled and with a rare texture.

I dined together with Chinese model and talent Etsuna. She loves eating out but this was her first time eating rare meat on sushi. We ordered the restaurant's popular Oniku no Osushi platter and the Gyusen Don (served only at lunchtime).

Oniku no Osushi Platter (8 Pieces): ¥5,000

The meat sushi platter comes with eight pieces including two pieces each of lean beef, salted beef, roast beef, and fatty gunkan beef. Excluding the gunkan beef it's recommended eating each piece from the left as pictured above. Everything is already flavoured so you can eat them as they are.

The gunkan beef is best enjoyed while it is still frozen so I started with that. The cold beef just melts as it enters you mouth. It tastes sweet and has a fatty texture to it. The egg yolk mixes together with the beef on your tongue and gives it an even smoother taste.

The meat of the lean beef, salted beef and roast beef sushi is soft and each is layered with refreshing grated lemon and daikon. When you bite into the succulent meat your taste buds are treated to the sweetness of the fat and the meats' rich flavours. I was able to taste the distinct qualities of each type.

Gyusen Don (w/ Cold Miso Soup): ¥2,480

The Gyusen Don is served at lunchtime only. It contains Matsusaka Gyusen® flakes and Kyoto-style tsukemono pickled vegetables, condiments and bite-sized meat pieces. The presentation of the dish is beautiful! You add soy sauce to it and mix with the egg yolk, and it's simple irresistible! We made sure to snap a final photo before tucking in.

The beef of this dish melts in your mouth just like the gunkan beef and blends well with the egg yolk to create a velvety flavour. The dish also has condiments and pickled vegetables too adding to the variety of tastes. If you add wasabi or ginger the flavours are elevated even further, especially when eaten with the Kyoto-style pickled vegetables which creates a spicy tang.

The miso soup that the dish is served with is also Kyoto-style. Wheat starch and pickled vegetables are added to the sweet white broth to create a mellow flavour that goes well with the dish.

Etsuna gave high praise to the dish too: "It was so delicious. I think there are still a lot of foreigners that don't know about meat sushi yet, so I think it'll get popular soon. It's a bit pricey there are a lot of foreign travelers who want to eat tasty Japanese food, so I recommend it to them."

Asakusa is famous for its takeaway food to be eaten while walking, but Oniku no Sushi serves up an Asakusa-exclusive gourmet experience too.

Steamed Rice & Meat: ¥500

If you're walking around Asakusa and are feeling peckish, then you should go for steamed rice and meat (おにくの飯蒸し). It's packed full of beefy flavour.

What did you think of this little Asakusa lunch trip? Of course, Oniku no Osushi has an evening slot for dinner too, so if you'd like to try some Matsusaka beef then be sure to pay a visit.

Writer: Sayuri Mizuno (MMN Editorial Department)

Model: 悦奈(Etsuna)

Information

Information

Oniku no Osushi (Asakusa Branch)

Address: 2-6-14 Asakusa, Taito, Tokyo

Business Hours: 11:30-15:00 / Dinner 18:00-21:00

Closed: Tuesdays

TEL: 03-5811-1939

Access: 7-minutes on foot from Sensō-ji's Kaminarimon Gate / 2-minutes on foot from Asakusa Station via Tsukuba Express
RELATED ENTRIES
Unique Summer Afternoon Tea Available at Haute Couture Cafe in Tokyo

Located along the Meguro River, Haute Couture Cafe is known for serving up some of the best afternoon tea in Tokyo. The location is incredibly photogenic and often pops up on social media, covered in flowers welcoming guests to what feels like a fairy tale land. From July 1 until September 4, visitors to the cafe can enjoy a Peach and Shine Muscat Afternoon Tea set, perfect for summer and incorporating seasonal fruits. 

The fresh peaches and shine muscat (a type of luxurious grape found in Japan) are delivered from a nearby market daily. By using peaches without heating them, such as in the compote, guests can enjoy the juiciness of the raw fruit in a new way.

The lineup of delicately prepared and hearty savory dishes includes Peach and Prosciutto Cappellini, and guests wanting to enjoy more can order this as a lunch or dinner course as well. There are six courses in total, including the fresh-squeezed grape and muscat Mont Blanc plan and a Peach Cheesecake plan with a drink included. The cafe also offers anniversary plans, so why not bring your sweetheart?

The theme of this summer afternoon tea is 'an adorable purple space.' Guests will be surrounded by light purple wisteria as they enjoy this colorful spread.

Why not enjoy this summer treat as you look out over the river? 

FamilyMart Starts Pokemon Campaign, Pikachu Pineapple Frappe Now Available

FamilyMart stores nationwide have started a campaign in collaboration with the free-to-play mobile game Pokemon Cafe ReMix! From June 21 until July 18, visitors will be able to pick up some special treats and exclusive merchandise.

Pikachu Frappes

A new addition to the Frappe series, customers will be able to enjoy Pikachu's Pineapple Frappe starting June 21, featuring Pikachu in a cute cafe uniform. Made with golden pineapple pulp, the drink is perfect for summer, offering a refreshing sweet and sour taste. There are three cup designs available–one with Pikachu in red, one in blue, and another in green.

Original Merchandise Campaign

Part I: June 21, 10:00~ / Original PP Coaster (4 varieties)

Part 2: July 5, 10:00~ / Cafe Menu Design Original Memo Pad (4 varieties)

*Sample Images

A goods campaign is also underway. Customers purchasing three qualifying products will receive exclusive merchandise–while supplies last, of course! The event will run from June 21 at 10:00 through July 18.

Stamp Campaign

Left: 5 stamps, Original Lunch Bag / Right: 10 stamps, Original Plates (Set of 3)

Collecting stamps on the FamilyMart app can also net fans some special prizes! At the same time, Pokemon fans can use the app to win tickets to Pokemon GO Fest 2022 Sapporo.

© 2022 Pokémon. © 1995-2022 Nintendo/Creatures Inc./GAME FREAK inc.
Developed by Genius Sonority Inc.
ポケットモンスター・ポケモン・Pokémonは任天堂・クリーチャーズ・ゲームフリークの
登録商標です。Nintendo Switchのロゴ・Nintendo Switchは任天堂の商標です。

©2022 Niantic, Inc. ©2022 Pokémon. 
©1995-2022 Nintendo/Creatures Inc. /GAME FREAK inc. 
ポケモン・Pokémonは任天堂・クリーチャーズ・ゲームフリークの登録商標です。

Airbnb Reveals Top 10 Most Popular Summer Destinations in Japan

Airbnb boasts one of the largest travel communities in the world, filled with users offering up lodging and those eager to visit somewhere new. The Japanese subsidiary of the company has revealed the top spots added to Japanese users 'Favorites (Wish Lists)' from May 1 to May 17, 2022. Where will travelers in the country be headed this summer?

Golden Week is long gone and users are starting to think about where to visit during the hottest part of the year. This national 'Wish List' might make it easier to pick a spot, with many locations highlighting lesser-known areas!

Gujo Hachiman Villa, Limited to 1 Couple Per Day (Gifu)

This completely private rental villa was made for sauna enthusiasts. One lucky pair per day can book this suite along the Yoshida River flowing through Gujo Hachiman, known as the "City of Water and Dance." Currently booked through the end of August, reservations for September and beyond will be available in early June. Book a stay to enjoy the gorgeous autumn foliage!

A House Surrounded by Lush Greenery in the Countryside (Tottori)

Hosted by a family of musicians and architects, this guesthouse invites guests to enjoy gorgeous Nordic-inspired interiors and the serene quiet of the countryside. For those looking to escape the hustle and bustle of the city, this is the perfect spot.

Hoshina Satomachi, Limited to 1 Couple Per Day (Nagano)

There's nothing like spending the summer in a traditional Japanese home. Enjoy a barbeque on the terrace and relax on the massive lawn. This is the perfect spot for families with children or pets!

Coastal Cabin (Chiba)

You can't have summer without a pool. This luxurious coastal retreat boasts a 15-meter pool, outdoor Jacuzzi, bonfire space, and a barbeque. Relax by the pool while listening to your favorite songs or soak in the outdoor bath as you watch the waves crash along the shore.

An Elegant and Peaceful Log Cabin (Nagano)

Located at 1,300 meters above sea level on the Iizuna plateau, this log cabin is situated in the midst of a dense forest. A perfect space for couples, families, or small groups of friends, guests are welcome to enjoy hiking through this gorgeous landscape in the center of Japan!

Gelato Pique Cafe Unveils New American Cherry Sweets Menu

Summer is fast approaching, and gelato pique cafe knows exactly how to celebrate! From May 25 until July 13, guests can enjoy a selection of four sweets featuring tons of American Cherries.

American Cherry Crepe

Made with a mildly sweet American Cherry Gelato and topped with fresh cherries, this crepe isn't just delicious–it's perfect for posting on social media.

American Cherry Gelato & Sherbet

This blend of gelato and sherbet can only be found at gelato pique cafe. Accented with a fresh American Cherry on top, it's perfect for keeping cool during the summer heat.

American Cherry Float / American Cherry Soda

*The glasses featured in the image will not be available at the cafe. All beverages will be served in take-out cups.

With a dramatic shift in color, these fizzy and refreshing cherry beverages make a huge impact before the first taste. After making a splash last year, the soda has been re-released in a big new way to welcome the beginning of summer!

Information

gelato pique cafe  – AMERICAN CHERRY ~EAT CHERRY NOW!~

Available: May 25 – July 13, 2022

Official Site: https://pique-cafe.com/

Minatomirai Yokohama Opens 'Purplish Flower Garden' Summer Event Inspired by Hydrangea

Anniversaire Cafe Minatomirai Yokohama has opened a limited-time fair inspired by beautiful hydrangea! The 'Purplish Flower Garden' event is currently inviting guests to enjoy gorgeous sweets and drinks inspired by these spring and summer blooms until July 10, 2022.

Purplish Flower Plate

Purplish Flower Pain Perdu

Matcha Mont Blanc

Purplish Soda / Rainy Peach

Purplish Flower Stand Afternoon Tea

Purplish Flower Plate Afternoon Tea

Petits Fleur

The menu includes three desserts, two beverages, two afternoon tea plans, and one take-out dessert perfect for enjoying beside the sea. Come enjoy an elegant moment at the 'Purplish Flower Garden' event if you can!

MINISTOP Ice Cream Specialty Store 'MINI SOF' to Launch My Melody Collaboration

MINI SOF, a shop specializing in soft-serve ice cream since 1980, is now offering products in collaboration with the popular Sanrio character My Melody! A limited number of sweets and goodies will be available until January 31, 2022, with New Year grab bags containing special coupons for sale until January 9, 2022.

W Rich Soft-Serve Ice Cream

My Melody Collaboration Campaign

2022 Lucky Bag

Blanket

Desktop Calendar

Tote Bag

Soft-Serve Vanilla Ice Cream (with Strawberries and Chocolate) with Original Glass

Pink

Purple

Double Rich Strawberry Waffle Cone Soft-Serve with My Melody Collaboration Sleeve

Sleeve Design 1

Sleeve Design 2

Sleeve Design 3

Double Rich Strawberry Shortcake

My Melody Original Pouch

Design 1

Design 2

My Melody Original Keychain

Acrylic Keychain Design 1

Acrylic Keychain Design 2

Participating Characters

My Melody

Kuromi

My Sweet Piano

Information

My Melody Collaboration Campaign

Running: December 30, 2021 – January 31, 2022
*MINI SOF limited-edition pouches and acrylic keychains will also be available.

2022 Lucky Bag

*Limited to two bags per person.

Available: December 30, 2021 – January 9, 2022

Coupon Expiration Date: January 31, 2022

Official Site: https://www.ministop.co.jp/minisof/

English Dessert Strawberry Eton Mess Available at koe lobby During the Holiday Season

The koe lobby on the first floor of hotel koe Tokyo is now selling the traditional English dessert Strawberry Eton Mess for a limited time. 

Eton Mess is made with a mixture of strawberries, meringue, and whipped cream, and is popular during the holiday season!

koe lobby's Eton Mess features a baked meringue with a crispy texture, homemade sweet and sour strawberry sauce, and fluffy cream and fresh strawberries. If you're in the area, be sure to order one before they're gone!

Information

Available: Starting December 21, 2021 

Available Hours: 12:00-18:00 (Last Order at 17:30)

*While supplies last. 

Price: ¥850 (Tax Included) 

*Drink Set: ¥1,290 (Tax Included)

Address: koe lobby (3-7 Udagawacho, Shibuya, Tokyo)

Hours: 7:30-12:00 (Breakfast, Last Order at 11:30) / 12:00-15:00 (Lunch, Last Order at 14:30) / 15:00-20:00 (Tea Time, Last Order at 19:30)

*After 18:00 only drinks and bread are served. 

Official Site: https://hotelkoe.com/food/ 


Attack on Titan and NewDays Collaborate for Second Time

To celebrate the final season of Attack on Titan, NewDays, a convenience store chain in Japan, has started a special campaign until January 10, 2022. Plenty of collaborate snacks will be available for the next few weeks.

Collaboration Food

Special Attack on Titan Packaging

Special Attack on Titan Packaging, "Exterminate Every Last Grain!" 

Luxury Seafood Onigiri (Special Packaging)

Luxury Seafood Onigiri

Nine Titan Bento

Collaboration Merch

Acrylic Keychain

Acrylic Keychain

Pin

Pin

Acrylic Stand

Bonus (Round 1)

Bonus (Round 2)

Present Campaign

A Prize: Signed Poster (3 Winners)

B Prize: NewDays Original Illustration Blanket (50 Winners)

Super-sized luxury onigiri are now available as part of the collaboration, along with special bread and bento featuring images of popular Attack on Titan characters. Seven types of original merchandise will be available at participating NewDays locations, and those spending over ¥600 including one or more Suntory beverages will be entered to win a poster signed by the cast. Don't miss it!

TRUFULL TOKYO Releases First Truffle Ice Cream

Truffles aren't something most people eat every day, but TRUFULL TOKYO wants to change that. The casual truffle brand wants to combine this luxury ingredient with simple dishes to make it easier to chow down on this tasty treat more often, and now, their first product release has been announced! TRUFULL ICE CREAM, playfully created by a French chef, aims to give people a new view of what food can be.

The truffles aren't the only thing that makes this ice cream special. The milk used to create it is gathered at Zao Provence Farm in Miyagi prefecture in the morning and processed the exact same day! After the ice cream is made, it is mixed with plenty of French black truffles, making a flavor like no other. 

The upscale TRUFULL ICE CREAM, a perfect dessert for the discerning adult, is available at CARBON COFFEE in Fukuoka. 

Information

TRUFULL ICE CREAM
Release Date: November 15, 2021

Price: ¥500 for 120ml cup (Tax Included)

Where to Buy: CARBON COFFEE

Address: Royal Building 1F 1-2-34 Daimyo, Chuo-ku, Fukuoka

Official Online Store: Scheduled to Open November 15

Instagram: https://www.instagram.com/trufull_tokyo/ (@trufull_tokyo)

Official Site: https://trufulltokyo.com/

Cute Brothers Grimm's 'Rapunzel' Themed Dessert Buffet to be Held for Six Days

Wedding venue 'Art Grace Wedding Coast Tokyo Bay' will be hosting the 'Princess Rapunzel's Flower Sweets Party,' a colorful garden-themed dessert buffet based on The Brothers Grimm's 'Rapunzel' for six days this Winter. The buffet will be open on November 14, November 21, November 23, December 4, December 8, and December 25. 

 

Rapunzel's Singing Voice Rare Cheese Tart

Sweet and Sour Romance Flavored Strawberry Mont Blanc




Rapunzel's Yellow Carrot Salad

Braided Meat Pie

Dressed Up in Flowers Berry Roll Cake

 

You'll find a selection of over 20 delicious desserts that can be enjoyed by both children and adults at the buffet, including a cheese tart topped with a drawing of Rapunzel, a strawberry mont blanc that tastes like a sweet and sour love with a prince, roll cakes and chiffon cakes topped with plenty of flowers. It isn't just sweets either! You can also enjoy braided meat pies, vegetable and chicken meatballs with tomatoes, and a spicy doria among other savory meals.

The buffet will be held in the spacious wedding venue, which boasts impressive views and a gentle sea breeze. The hall will be decorated in flowers, inviting customers into a spectacular new world. Whether you're a couple, a friend group, or a family with children, be sure to check out this floral sweets party!  

 

Information

Dessert Buffet 'Princess Rapunzel's Flower Sweets Party' 

Availability: November 14, November 21, November 23, December 4, December 8, December 25 (Reservations required) 

Opening Hours: First Session 12:30 ~ 14:00 (L.O 13:30) Second Session: 15:00 ~ 16:30 (L.O 16:00)

Location: Art Grace Wedding Coast Tokyo Bay Guest House

Address: 5-8-2 Meikai, Urayasu City, Chiba 279-0014

Details & Reservations:  https://www.bestbridal.co.jp/guestparty/chiba/artgrace_shinura/2021event-79/ 

Hello Kitty and Pierre Hermé Collaboration Series Coming to Sanrio Stores

Everyone's favorite cartoon cat Hello Kitty is about to celebrate her birthday! To celebrate, Sanrio is releasing a collection of limited-time goods in collaboration with world-famous patisserie Pierre Hermé starting October 20, 2021. These items will be on sale at Sanrio stores nationwide, in specific department stores, and on the official Sanrio online store. 

Collaboration with Hello Kitty's favorite sweet, Ispahan

Ispahan, a raspberry cake, is Hermé's signature dessert. For Hello Kitty's birthday celebration the creator drew the character in an elegant rose-inspired dress inspired by the sweet. This design was made with the hope that Hello Kitty will continue to bring different people and cultures together for years to come. 

Mascot Keychain  Hello Kitty/Mimmy: ¥2,530

Accessory Case: ¥3,080

Inspired by Pierre Hermé's Ispahan and Satine sweets, fans will love these colorful goods perfect for a birthday celebration. 

Hello Kitty Birthday Doll: ¥15,400 (Tax Included)

Each year a Hello Kitty Birthday Doll is released, and 2021 is no different! This year, the doll is wearing an elegant dress designed exclusively for the collaboration. Each one has an embroidered serial number on the left leg, and quantities will be limited. 

Gâteau Anniversaire Hello Kitty: ¥2,640 (Tax Included)

This special birthday dessert will be available at Pierre Hermé Paris Aoyama from November 1 to November 15. It includes a special Hello Kitty Ispahan along with a scoop of rose ice cream and a dusting of raspberry powder!

©'21 SANRIO 著作(株)サンリオ

Information

Hello Kitty and Pierre Hermé Collaboration Design Series

Release Date: October 20, 2021

Sanrio Official Goods Page: https://www.sanrio.co.jp/goodsinfo/kt-pierreherme-202110/ 

Hello Kitty and Pierre Hermé Birthday Doll 2021

Price: ¥15,400 (Tax Included)

Release Date: October 20, 2021

Where to Buy: Sanrio Stores, Sanrio Areas at Department Stores

Gâteau Anniversaire Hello Kitty 

Available: November 1 – 15, 2021 *Limited-time only

Where to Buy: Pierre Hermé Paris Aoyama 2F Heaven

Love Live! Superstar!! Collaborates with ROLL ICE CREAM FACTORY, Available in 8 Stores Nationwide

The original roll ice cream speciality store ROLL ICE CREAM FACTORY will be collaborating with anime Love Live! Superstar!! for a limited time between September 25 and October 21 2021, available at eight stores nationwide. During the event, you will be able to buy character themed roll ice cream, drinks, and original merchandise. The collaboration start date varies by store.

Liella! themed roll ice cream

Drinks

Original goods

Social media campaign

Free original coasters (randomly picked from 12 designs)


Roll Ice Cream Factory is a dessert and roll ice specialty store from New York that opened in Harajuku in 2017. It's delicious and colourful, attracting plenty of customers with their products – the longest queue recorded by the shop was seven hours long!

 

 

 

Love Live! Superstar!!, which is based on Harajuku, is now collaborating with the Harajuku-Omotesando store Roll Ice Cream Factory. The multimedia project is the latest from the Love Live! School Idol series, with an anime airing every Sunday on NHK E TV from July 2021. This new collaboration is based on the theme colors and favorite foods of five Love Live! Superstar!! members, with a menu of limited roll ice cream and drinks available to order. From strawberry and vanilla to matcha, there is plenty of variety in the special menu. Each ice cream and cold drink comes with a collaboration pick.

 

 

For people thinking "I can't eat that much at once," vouchers are available to purchase which allow you to buy collaboration merchandise at any time throughout the campaign. In addition to the cold drinks, two hot drinks will be available for takeout and served in collaboration takeout bags. If you're feeling chilly, these drinks will warm you right up! You will also be offered a fun themed coaster to use during the campaign. A free collaboration coaster will be provided with every item on the collaboration menu, picked randomly from 12 designs. A selection of limited goods are also available in store and a social media campaign to win collaboration posters is currently ongoing, so be sure to check it out.

Information

Love Live! Superstars!! x Roll Ice Cream Factory

Availability: September 25 ~ October 21 2021

September 25: Harajuku-Omotesando, Osaka-Dotonbori

September 26: Shizuoka PARCO, Kobe MARUI

September 27: Ion Mall Tokushima,  Nagasaki Huisten Bosch, AMU PLAZA Kagoshima

September 28: AMU PLAZA Miyazaki

※The collaboration start date may vary depending on the store. 

 

 

Follow & Share Social Media Campaign

Availability: September 25 ~ October 21 2021

Five limited edition collaboration posters are available to give away.

Eight stores participating: Harajuku-Omotesando, Osaka-Dotonbori, Shizuoka PARCO, Ion Mall Tokushima, Kobe MARUI, Nagasaki Huisten Bosch, AMU Plaza Kagoshima)

Entry Details: Follow @rollicecreamfactory on Instagram or @ROLLICErCREAM_F on Twitter, then use the hashtag #Liellaロールアイス to enter.

Winners will be contacted via Instagram and Twitter direct messages.

Official site: https://rollicecreamfactory.com