Moomin Stand in Asakusa Releases Strawberry Daifuku Milk Drink
On July 16 this year, a new branch of Moomin Stand―a drinks shop inspired by the Finnish children's books The Moomins―opened in Asakusa, one of the most popular tourist spots in Tokyo.
Moomin Stand serves original fruity beverages, drinks with rich milk bases and more, all with chewy tapioca-like pearls.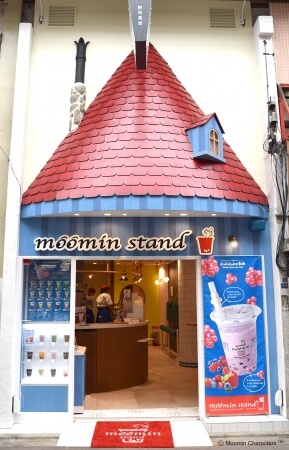 Moonmin Stand is produced by Moomin Café. The first branch opened in Kichijoji and proved popular with women in their 20s and 30s, high school and university students, and families with children. It continues to enjoy flurries of customers; you're guaranteed to be lining up on weekends.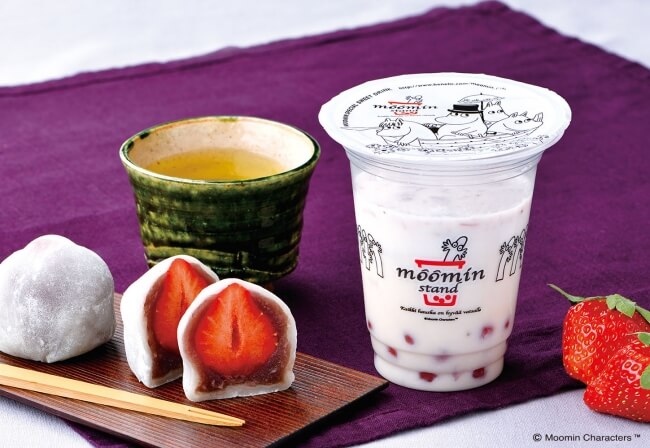 Strawberry Daifuku Milk – ¥700 (Before Tax)
The newly-released Strawberry Daifuku Milk drink is exclusive to the Asakusa branch. Its mix of sweet and sour strawberry flavour with the chewy pearls gives a texture reminiscent to daifuku, a traditional Japanese confection which takes mochi and stuffs it with a sweet filling. The drink has a delicious white bean paste base and is topped off with fresh pieces of strawberry.
The café interior is decorated with beautiful illustrations from The Moomins making for plenty of great photo opportunities. There is also a bar to lean on as well as spaces on the wall to rest your back on to relax with your drink after walking around.
All drinks also come with a cute Hattifattener straw toy that bites onto straws and pens which you can take home with you.
After you've taken a stroll around Asakusa and seen the Kaminari gate, Nakamise Shopping Street and Sensō-ji temple, why not stop off at Moonmin Stand for refreshments?
Information
Moomin Stand Asakusa
Address: 1-1-12 Asakusa, Taito Ward, Tokyo
Opening Hours: 11:00-19:00
Moomin Stand Branch List: http://www.benelic.com/moomin_cafe/moominstand/
Stawberry Daifuku Milk (Cold)
Price: ¥700 (Before Tax)
Released: July 16, 2019
*Comes with Hattifattener straw toy
RECOMMENDED ENTRIES
Introducing Four Delicious Strawberry Desserts This Summer in Hokkaido

Hokkaido is a popular tourist destination for Japanese people as well as foreigners. During the winter, it is the perfect place to go skiing and during the summer, you will not suffer under sweltering heat like the rest of Japan. Hokkaido not only flourishes with wonderful tourist locations and delicious gourmet seafood, but also beautiful and stylish cafés.

Instagrammer Kei @607keih) uses his account to introduce the world to delicious desserts and meals. Today, he will be introducing you to the delicious strawberry-flavoured desserts that Hokkaido's capital Sapporo has to offer.

holidays pancake/ Susukino

Strawberry Pancake with Raspberry Sauce: ¥1200

holidays pancake is only open on Sundays. It is located inside a beer bar called es CRAFT. I ordered the strawberry pancake with raspberry sauce. The plate was stacked with three pancakes which were deliciously covered in fresh cream, whipped cream, vanilla ice cream, strawberries and raspberry sauce. The pancakes were soft and spongy. The flavour of the ricotta cheese really came through. Overall, this pancake is a very unique pancake to Hokkaido. 

The sweetness of the raspberry sauce and sourness of the lemon juice balanced out for a slightly sour tinge. The fresh cream and vanilla ice cream toppings can be obtained for free by simply following the café on Instagram. The variety of toppings add a whole new range of flavours and colours for you to mix and match, so there is no getting bored. You can reserve your spot simply by sending them a direct message on Instagram, or by referring to their story! These pancakes are a rare find in Hokkaido, so you must try them.

▼holidays pancake

Address: 1st floor N-place Building, 3-2-1, 4 Jonishi, Chuo Ward, Sapporo

Access: 3-minute walk from Susuki Station/Hosui-Susukino Station  

Opening Hours: 11:00 ー 16:00(Last orders: 5:30)

Closed: Mondays ー Saturdays

Official Instagram: https://www.instagram.com/kyujitsulab/

BerryBerryCrazy/ Susukino

Berry Berry Crazy is located on the 2nd floor of the building between 5-chome and 6 chome of Tanuki-Koji. The desserts here are made using strawberries sourced from Urakawa Sugano Orchard in Hokkaido. The species of strawberry used in the desserts is completely dependent on what is received upon the delivery of the ingredients that are received on the day. The parfait I ordered was made using a species of strawberry called Kaorino.

The parfait contained fresh strawberries and strawberry compote, whipped cream, strawberry granita, pie crust, chiffon cake, and milk ice cream. You can tell that this parfait is full of strawberry goodness just by looking at it. Not only are the strawberries delicious, but the strawberry granita and strawberry compote were also to die for. This combined with the delicious whipped cream enhances the rich flavour even more. 

▼Berry Berry Crazy

Address: 2nd floor, 5-20-2, Minami 3 Jonishi, Chuo Ward, Sapporo

Access: Approx. 5-minute walk from Odori Subway Station/Susuki Station

Opening Hours: 18:00 ー 24:00 (Last orders: 23:30)

Official Instagram: https://www.instagram.com/berryberrycrazy/

Café Blue/ Chuo Ward


Condensed Milk Strawberry Pancake: ¥1380 ※ Can change pancakes to waffles

A mountain of whipped cream sits on the pancakes served at this popular café. The condensed milk strawberry pancake intrigued me for quite while so I decided to order it. 

The plate is stacked with three pancakes, fresh cream and condensed milk. This is then drizzled with strawberry sauce and topped with vanilla ice cream. The pancakes were fluffy and the cream balanced the overall flavour, making it moderately sweet. The sweetness of the condensed milk and the sourness of the strawberry sauce were so delicious that there was no way I could get bored. 

▼ Café Blue

Address: 16-9-12, Minami 3 Jonishi, Chuo Ward, Sapporo

Access: 5-minute walk from Ropeway iriguchi Station

Opening Hours: 9:00 ー 19:00, (last orders: 18:00) 

Breakfast: 9:00 ー 11:00, lunch/dinner: 10:00 ー 19:00, desserts: 10:00 ー 19:00,

Open all year round.

Official Website: https://cafeblue.exblog.jp/

SHIRAYUKI/Tanuki-Koji 

Fruit Squash: ¥500 each

Shirayuki is located in Tanuki-Koji. The fruit squash here comes in four flavours and each contains popping boba. Today I ordered the Strawberry Squash. Strawberry sauce is drizzled into a cup of carbonated water. Popping boba is then added. The drink is topped with strawberries. 

The bubbles of the carbonated water makes it the perfect way to cool down in the summer. This drink is only available until August 15, so if you want to try it, get there soon.

▼SHIRAYUKI

Address: Shirayuki Sapporo Aiseikan Building, 5 Chome, Minami 1-jo nishi 5, Chuo Ward, Sapporo

Access: Approx. 5-min walk from Odori Subway Station

Opening Hours: 12:30 ー 19:00

No regular holidays

Official Instagram: https://www.facebook.com/shirayuki.hokkaido

So how about it? Kei's Instagram account is full of desserts and meals that you absolutely must try. If you are going to visit Hokkaido, make sure to check out Kei's Instagram so you know exactly which restaurant or café you want to visit!

Original article information and photographer: Kei (@607keih)

Satisfy Your Strawberry Cravings at Strawberry Fetish, Shibuya109

Along with the renovation of department store SHIBUYA109, Japan's first ever shop dedicated to candy-coated strawberries will be opening on the food and drinks floor (basement floor 2). The strawberry sweets shop, appropriately named Strawberry Fetish, will open on June 28, 2019.

Candy-Coated Strawberry Stick: ¥400 (after tax)

The theme here is "strawberry evolution". These strawberry treats are perfect for adults as well as children.

Long Candy-Coated Strawberry Stick: ¥600 (after tax)

Black Candy-Coated Strawberry Stick: ¥200 (after tax)

These candied strawberry treats are an upgraded version of the candied strawberries that are often served at Japanese festivals. From different toppings to different lengths, the menu consists of a wide variety candied strawberry sticks.

Enjoy the crunchy and crispy sound as your teeth break through the carefully crafted candy coating. With just one treat, you can enjoy both delicious crunchiness as well as an elegant yet cute appearance. 

Strawberry X Milk: ¥550 (after tax)

Strawberry X Strawberry: ¥650 (after tax) 

There are also many other strawberry flavoured items on the menu. If you love strawberries, you just have to pop by.

Information

Strawberry  Fetish

Address: Shibuya109 (Basement floor 2), 2-29-1 Dogenzaka, Shibuya City, Tokyo

Opening hours: 10:00 ー 22:00

No regular closing days

Shibuya109

Address: 2-29-1 Dogenzaka, Shibuya City, Tokyo

Website: https://www.shibuya109.jp/

McDonald's Japan Reveals Oreo® Chocolate & Strawberry Oreo® Chocolate Frappes

McCafé by Barista branches of McDonald's in Japan will begin sales of their new Oreo® Chocolate Frappe and Strawberry Oreo® Chocolate Frappe on June 26. The drinks are an upgrade of their hugely popular Chocolate frappe drink with a mix of Oreo cookies and strawberry sauce.

Strawberry Oreo® Chocolate Frappe: Regular ¥410 / Large ¥450

The Strawberry Oreo Chocolate Frappe is a rich chocolatey frappe mixed with fruity strawberry sauce. It's topped with velvety whipped cream which is drizzled in a chocolate sauce made with 54% couverture chocolate from Belgium and topped with Oreo® cookies. One sip invites your taste buds into a myriad of flavours from the crunchy texture of the cookies to the sweet and sour strawberry sauce.

Oreo® Chocolate Frappe: Regular ¥390 / Large ¥430

The Oreo Chocolate Frappe is all of that minus the strawberry sauce. It was first sold at McDonald's Japan back in March this year for a limited time and proved hugely popular with customers.

Lift your spirits during Japan's damp rainy season with a delicious Oreo frappe.

*Oreo is a registered trademark of Mondelēz International, Inc.

Information

Oreo® Chocolate Frappe/Strawberry Oreo® Chocolate Frappe

Running: June 26, 2019 – Mid September 2019 (subject to change)

Available: At McCafé by Barista branches of McDonald's in Japan

Store List (Japanese): http://www.mcdonalds.co.jp/coffee/top.php
RELATED ENTRIES
4 Must-Try Kawaii Bubble Teas & Desserts in Kyoto

Japan is a haven for bubble tea and tapioca-based beverages. Here on MOSHI MOSHI NIPPON we have covered many shops selling these tasty drinks in Harajuku―the town which started the tapioca boom in Japan―but today we will be heading to the ancient city of Kyoto.

We are joined by Kyoto café life tiara who posts photos of the best drinks and desserts they have tried around the Kansai region of Japan. They have provided us with photos of two must-try bubble teas and two must-try desserts in Kyoto.

ROCCA & FRIENDS PAPIER KYOTO in Shijo

ROCCA & FRIENDS PAPIER KYOTO is just a 5-minute walk from Shijo Station. The cafe is made from a traditional townhouse along an old-fashioned Kyoto-esque street.

It takes a little while for your drink to arrive placing your order, but that's because each beverage is carefully handmade from fresh. I ordered the mango smoothie soda and the strawberry smooth soda. Both are fruity and super refreshing and full of chewy tapioca pearls.

▼ROCCA & FRIENDS PAPIER KYOTO

Address: 735-2 Shinkamanzacho, Shimogyo Ward, Kyoto, Kyoto Prefecture

Opening Hours: 10:00-18:00

Closed: Mondays

Official Instagram Page: https://www.instagram.com/rocca.papier/

&Hana in Shijo

&Hana is located at the back of Kyoto Daimaru. The cheese rose tapioca milk tea I bought is a cute pink colour. It's a mix of rose which is good for skin and relaxation, sweet brown sugar tapioca, and sour cheese.

Draped at the back of the cafe are bunches of dried flowers which provide an Instagrammable background for your drinks.

▼&hana

Address: 619 Nishiuoyacho, Shimogyo Ward, Kyoto, Kyoto Prefecture

Opening Hours: Weekdays 11:00-22:00 / Weekends & Holidays 10:00-22:0

No Fixed Holidays

Official Instagram Page: https://www.instagram.com/and_hana_/

KISSHOKARYO KYOTO in Gion

This honey and tea parfait is special because they only serve 20 of them a day. Tapioca pearls go well not just in drinks but in desserts like this one too♡

The fluffy shaved ice is a perfect match with the homemade Earl Grey tea syrup. The rest of the parfait is made up of milk tea flavoured jelly, tapioca pearls, tea ganache, and other delightful surprises.

I enjoyed mine with lots of syrup and roasted soybean flour!

▼KISSHOKARYO KYOTO Gion Honten

Address: 306 Ishibashicho, Higashiyama Ward, Kyoto

Opening Hours: 10:00-19:00 (Last Orders 18:30)

No Fixed Holidays

Official Website: https://kisshokaryo.jp/

MASHOLA in Kawaramachi

MASHOLA is a South Korean-style cafe which of course sells tapioca pearl drinks, but also this delicious capo egg brulee tart as well. As soon as you put the order in their fire up the tarts fresh along with hot tapioca pearls for a heavenly melt-in-the-mouth experience.

They also sell bottled strawberry milk packed full of fresh strawberries, and for an extra ¥80 you can top if off with tapioca.

▼MASHOLA

Address: 406 Sakuranocho, Nakagyo Ward, Kyoto, Kyoto Prefecture

Opening Hours: 11:00-20:00

No Fixed Holidays

Official Website:  https://mashola.business.site/

Did you enjoy this list? Kyoto café life tiara has lots of other tempting recommendations of drinks and desserts on their Instagram page too, so if you're looking for something to try while in the Kansai region of Japan be sure to give them a follow.

Text & Photos: @happy_pinkrose_tiara

Translation: Joshua Kitosi-Isanga

Bubble Tea Gourmets THE ALLEY to Open Flagship Store in Shibuya's Dogenzaka District

Tea enthusiasts THE ALLEY are opening a flagship store in Dogenzaka, Shibuya on September 14, 2019.

THE ALLEY's main customers are women and office workers. It's custom for people to go out for a cup of coffee with friends and coworkers, but THE ALLEY hopes to bring that same idea of "grabbing a coffee" to tea with their drinks line-up. Located at the top of Dogenzaka, the new branch aims to make tea even easier to enjoy while embedding a culture of tea.

Enjoy a drink between shopping or work in one of their 73 comfy seats spread across two floors, or grab a takeaway cup to sip.

"THE ALLEY x thermo mug" 300ml Tumbler – ¥3,500 (Before Tax) / "THE ALLEY x thermo mug" 300ml Stainless Steel Bottle – ¥3,500 (Before Tax)

The cafe has also teamed up with thermo mug to create a seriously stylish tumbler and stainless steel bottle. Both are limited in availability, and if you do decide to grab one, you can get a coupon for one free drink of your voice. They are perfect for using at home, out or at the office.

THE ALLEY is known for its three tea bases: Assam, Royal No. 9, and Jasmine. But the new Dogenzaka branch will have two extra exclusives. The first is White Peach Oolong which originally appeared as a limited-time flavour and in the cafe's milk foam series. It's now a regular at the new cafe. The other is Tieguanyin, a premium oolong tea, whose sales ended in May this year. Due to high demand, they are bringing it back to THE ALLEY Dogenzaka and plan to put it on the menu of other branches in the future.

The cafe has also incorporated paper straws to help combat the use of single-use plastic straws. This includes their thick straws used for tapioca bubble tea drinks and ordinary thin straws for their regular teas.

THE ALLEY Dogenzaka marks the cafe's move from a tea stand into a full-fledged tea shop. If you're in Shibuya, be sure to pay them a visit when they open on September 14.

Information

THE ALLEY Dogenzaka

Grand Opening: September 14, 2019

Address: 1-19-11 Dogenzaka, Shibuya, Tokyo

Business Hours: 10:00-22:30

Official Website: http://www.the-alley.jp/

Top 13 Cream Sodas in Tokyo: Cool Yourself Down This Summer with Classic Drinks & Modern Beverages

Hey, MOSHI MOSHI NIPPON readers! I'm Banako of MOSHI MOSHI FRIENDS.

It's safe to say that most long-standing, older cafés in Japan serve cream soda. It's a drink that bellows with nostalgia, topped cutely with a dollop of ice cream and sparkling bright with vivid colour like some rare jewel.

It's a rather simple drink, but the number of people intrigued by its unique appearance are evidently on the rise. And I'm one of those people! I've had times where if it's available on the menu I want to order it-and further still I've gone out of my way to a café solely because I've wanted some cream soda.

Depending on the vibe and atmosphere of a café, the appearance of the cream soda will be different, which also means a different flavour. This is all part of the enjoyment of cream soda: it's fun to compare the different tastes.

I have made a long list of my most recommended cream sodas in Tokyo, all of which I have actually tried!

To make it easier to picture each drink I have also given a rating out of 5☆ stars for the strength of the fizziness, the sweetness of the soda, and sweetness of the ice cream. Use this as reference when picking your drink of choice. Enjoy this specially curated selection of drinks in cafés that you're going to want to snap lots of pictures of♡

①CAMPUS TOY cafe&bar

CAMPUS TOY is located in the Jinbocho district of Tokyo. This exciting little place has gone for an American pop vibe. They sell toys too.

The extra goodies they put in the cream soda here is influenced by the US too. The owner is a really interesting person, so much so that you end up losing track of the time as you get lost in conversation with them.

Fizziness:★★★★☆

Soda Sweetness:★★☆☆☆

Ice Cream Sweetness:★★★☆☆

CAMPUS TOY cafe&bar

Address: 2-10 Kanda-Jinbocho, Chiyoda Ward, Tokyo

Opening Hours: [Mon-Fri] 18:00-22:00

Closed: Weekends & Public Holidays

Access: 2-minutes on foot from Jinbocho Station's A2 Exit

TEL: 03-3261-7383

Instagram: https://www.instagram.com/campustoy_matz/?hl=ja

②Café Negura

This little-known-good-spot can be found in Shimokitazawa. The café interior has relaxed and retro décor. Their cream soda is served with two stacks of ice cream and a crown of whipped cream topped off with a cherry. What a cute-looking drink!

Fizziness:★★★☆☆

Soda Sweetness:★☆☆☆☆

Ice Cream Sweetness:★★★★☆

▶︎ Café Negura

Address: PACKAGE ONE Floor 1F (North Side), 2-26-13 Kitazawa, Setagaya Ward, Tokyo

Opening Hours: 11:30 ー 20:00

Closed: Mondays & Tuesdays

Access:152m walk from Shimokitazawa Station

Twitter:https://twitter.com/neguracafe_mi

③Sepia

Another retro-style café, except this one is specifically influenced by the Showa period . Situated in Shibamata, everything about this café, from the outside to the interior, breathes retro-Showa. On the second floor is the Candy Candy Museum.

Their cream soda is the quintessential classic cream soda…but with a twist. It has mikan in it, a type of orange, which is very rare with cream sodas. That gives off a retro-ness too. Another cute beverage!

Fizziness:★★★☆☆

Soda Sweetness:★★☆☆☆

Ice Cream Sweetness:★★★☆☆

▶︎ Sepia

Address: 7-4-11 Shibamata, Katsushika Ward, Tokyo

Opening Hours: 10:00-18:30 (Last Orders 18:00

Closed: Tuesdays & Wednesdays

Access: 2-minutes on foot from Shibamata Station (Accessed via the Keisei Line)

Instagram: https://instagram.com/sepiamama?igshid=1urnwdix23qbx

④ALL C'S CAFE

ALL C'S CAFE is in Koenji, the retro hub of Tokyo. Decorations of cute bears are what this café is all about. There are enormous life-sized bears everywhere, so you can get ready to snap some seriously kawaii pictures.

The café itself, as well as the adorable smiley bear on your cream soda, is sure to elicit some high-pitched "Aww's."

Fizziness:★★★☆☆

Soda Sweetness:★★☆☆☆

Ice Cream Sweetness:★★★★☆

▶︎ALL C'S CAFE

Address: Miyake Bldg. 2F, 3-25-24 Koenji, Suginami Ward, Tokyo

Opening Hours: 12:00-22:00

Closed: No Fixed Holidays (except Obon and New Year's Holidays)

Access: 5-minutes on foot from the north exit of Koenji Station (Accessed via the JR Chuo Line)

Website: http://www.allcscafe.com

⑤Café Hosekibako

Hosekibako, which means 'jewelry box' in Japanese, is right next to Chitose-Karasuyama Station. Retro vibes waft their way throughout this cozy little hideaway with the littering of Showa manga and other miscellaneous odds and ends.

This café too has the signature classic cream soda. It has a transparent appearance in its truly beautiful colour.

Fizziness:★★★☆☆

Soda Sweetness:★★★☆☆

Ice Cream Sweetness:★★★☆☆

▶︎ Café Hosekibako

Address: Koyama Mansion 102, 4-18-18 Minamikarasuyama, Setagaya Ward, Tokyo

Opening Hours: 12:00-18:30 (Last Orders 18:00)

Closed: Wednesdays

Access: 5-minutes on foot from the east exit of Chitose-Karasuyama Station (Accessed via the Keio Line)


Website: https://housekibako.wixsite.com/2009

⑥THE GREAT BURGER STAND

This hamburger shop sells an American-style cream soda, topped with swirly ice cream rather than cream soda's classic dollop. That, together with the huge glass it's served in, is enough to get you excited before you even take a sip. The café can be found in Shibuya Stream, meaning you can stop by for a breather after shopping.

Fizziness:★★★★☆

Soda Sweetness:★★☆☆☆

Ice Cream Sweetness:★★★★☆

▶︎THE GREAT BURGER STAND

Address: Shibuya Stream 1F, 3-21-3 Shibuya, Shibuya Ward, Tokyo

Access: 1-minute on foot from Shibuya Station via the JR Yamanote Line 

Opening Hours: 11:00 ー 23:00 (Last orders:  22:30)

Closed when Shibuya Stream is closed.

Access: Approx. 1-minute walk from Shibuya Station (JR Yamanote Line)

Instagram: https://www.instagram.com/the_great_burger/

⑦Coffee Shop Galant

Right beside Ueno Station you'll find Galant, a coffee shop also with an air of retro-Showa to it during the bubble economy period. You'll feel like you've been transported back in time when you see the dazzling décor and the staff uniforms. Peeking through the see-through liquid is a cute red cherry♡

Fizziness:★★★★☆

Soda Sweetness:★★☆☆☆

Ice Cream Sweetness:★★★☆☆

▶︎ Coffee Shop Galant

Address: 6-14-4 Ueno, Taito Ward, Tokyo

Opening Hours: 8:00-23:00

No Fixed Holidays

Access: Directly behind the toy store Yamashiroya (山城屋), just a two minute walk from JR Ueno Station. Also 1-minute on foot from exit 5b of Ueno Station (accessed via the Tokyo Metro Line and Hibiya Line)

Tabelog: https://www.google.co.jp/amp/s/s.tabelog.com/tokyo/A1311/A131101/13039759/top_amp/

⑧bio ojiyan cafe Harajuku

Ojiya, also known as zosui, is a type of Japanese rice-based vegetable soup. In my opinion, the ojiya served here is the tastiest in the world! Their cream soda comes in a large round cup and is a nice refreshment after a spot of ojiya.

Fizziness:★★★★☆

Soda Sweetness:★★☆☆☆

Ice Cream Sweetness:★★★★☆

▶︎bio ojiyan café

Location: 4-26-28 Jingumae, Shibuya, Tokyo

Opening Hours: 11:00-20:00

No Fixed Holidays

Access: 10-minutes on foot from JR Harajuku Station / 3-minutes on foot from the Jingumae Crossing ticket gate elevator exit of Meiji-Jingumae Station (Accessed via the Tokyo Metro Fukutoshin Line)

Website: http://mfs11.com/brand/bio-ojiyan-cafe-harajuku/

⑨PEPPERS DRIVE IN

The main dish at this Kanagawa-based restaurant is curry. Every single thing about PEPPERS DRIVE IN is influenced by retro US elements, from the car park to the nooks and crannies inside and even the trays. You can take some really cute photos literally anywhere in the restaurant. The cream soda portion stays true to the American taste too with a generous serving.


Fizziness:★★★☆☆

Soda Sweetness:★★☆☆☆

Ice Cream Sweetness:★★★☆☆

▶︎PEPPERS DRIVE IN 

Address: 1129-1 Kidokoro, Hiratsuka, Kanagawa

Opening Hours: Lunch 11:30-15:00 (Last Orders 14:45) / Dinner 18:00-22:00 (Last Orders 21:30)

Closed: Wednesdays (Except on public holidays, in which case closed the following day)

Access: 6-minutes by taxi from south exit of Isehara Station (Accessed via the Odakyu Odawara Line) / 16-minutes by taxi from the north exit of Hiratsuka Station (Accessed via the JR Tokaido Main Line)

Official Website: http://www.peppers.co.jp

⑩BRIDGE

I reviewed the melon bread pancakes at this Ginza-based café earlier this year. It's located inside a long-standing department store meaning the cream soda here has been around for a long time too, offering a more traditional taste. They are served on coasters which you can take home with you. It's a great place to stop off for a break when strolling around Ginza.

Fizziness:★★☆☆☆

Soda Sweetness:★★★★☆

Ice Cream Sweetness:★★★☆☆

▶︎BRIDGE

Address: NISHIGINZA Floor B1F, 4-1 Ginza, Chuo Ward, Tokyo

Business Hours: [Monday-Saturday] 11:00-20:30 (Last Orders 20:00) / [Sunday & Holidays] 11:00-20:00 (Last Orders 19:30)

Closed: When NISHIGINZA Department Store is closed.

Website: http://www.nishiginza.co.jp/page/shopguide/detail/?id=33

⑪HIROMAN'S COFFEE

Another snug hideout, situated in the backstreets and surrounded by trees, is HIROMAN'S COFFEE. This cute café has lots of antique picture frames, rabbit ornaments, and other tidbits. Their melon soda arrives in a cute round and plump glass. They plenty of other Instagrammable drinks too including one topped with cotton candy. This one is one to keep coming back to!

Fizziness:★★★★☆

Soda Sweetness:★★☆☆☆

Ice Cream Sweetness:★★★☆☆

▶︎ HIROMAN'S COFFEE

Address: 3-18-12 Jingumae, Shibuya, Tokyo

Opening Hours: 11:00-19:00 (Last Orders 18:30)

No Fixed Holidays

Access: 10-minutes on foot from Meiji-Jingumae Station

Instagram: https://instagram.com/hiromans_coffee?igshid=oumb3g7aergo

⑫ blikje button

⑫blikje button

blikje button in Shimokitazawa, which offers both a café and dining experience, has a vintage vibe to it with decorations that have a handcrafted feel to them.  The glasses the cream sodas come in match that aesthetic. The stroking colours of the sodas are something beautiful to behold!

Fizziness:★★★★☆

Soda Sweetness:★★☆☆☆

Ice Cream Sweetness:★★★☆☆

▶︎blikje button

Address: Shimokitazawa Central Bldg. 2F, 2-14-7 Kitazawa, Setagaya Ward, Tokyo

Opening Hours: 12:00-23:00 (Lunch 12:00-16:00/Café 12:00-18:00/Dinner 17:00-23:00) *Food last orders 22:00, drink last orders 22:30

No Fixed Holidays

Access: 2-minutes on foot from Shimokita Station via the Odakyu Line / 2-minutes on foot from the south-west exit of Shimokitazawa Station via the Keio Inokashira Line

Website: http://www.blikje-button.com/

⑬CAROLINE DINER

CAROLINE DINER is a famous café in Harajuku inspired by American diners. The cream sodas sold here are striking and nothing short of Instagram-worthy! They go perfectly with the stylish interior of the café that you'll no doubt find yourself taking photos.

Fizziness:★★★☆☆

Soda Sweetness:★★★☆☆

Ice Cream Sweetness:★★★☆☆

▶︎CAROLINE

Address: 2-14-11 Jingumae, Shibuya, Tokyo

Opening Hours: 12:00-18:30 (Last Orders 18:00)

Closed: Thursdays

Access: 10-minutes on foot from Meiji-Jingumae Station / 10-minutes on foot from Kita-Sando Station / 10-minutes on foot from Setagaya Station

Website: http://caroline1.theshop.jp/

And that's all from me Banako and my must-try recommendations for Tokyo cream soda. Do you have a favourite from this list?

Tokyo's summer is nowhere near over yet. How about treating to yourself to a nice refreshing cream soda to cool yourself down from the scorching heat?

Tokyo Stroll: The Café That You Want to Visit to See Someone #11 – 'Hatoya' in Asakusa

In this edition of The Café That You Want to Visit to See Someone, I visited Hatoya which is located in Asakusa Shin-Nakamise Arcade.

The streets of Tokyo's historical district of Asakusa are packed to end with cafés. You can be spoiled for choice, but Hatoya stood out to me in particular as it's an especially old café. Business there began back in 1927 but the actual building was built back in the Taisho period, meaning its history spans more than 90 years ago!

The outside appearance of the shop is smart and chic so it's very easy to spot. I couldn't tell by looking from the outside, but the inside is full of old decorations and odds and ends which make you feel the history of the café.

One reason why I wanted to visit this place so much is because I was drawn to their logo. It's really retro-kawaii so I just couldn't resist!

You should take some photos too if you visit.

It was time to head inside. It's really comfy and cozy in there; the atmosphere was nice and relaxed.

Framed on the wall is a map of the Asakusa area during the Taisho era. Hatoya became famous back then because people could buy coffee for a mere 5 sen (a single sen is one-hundredth of a yen).

When business first began at Hatoya, because the café was opposite the stage door of a theatre, all of the famous actors and actresses would pop in. Some include famous Japanese comedian Roppa Furukawa and film actor Kiyoshi Atsumi who played Tora-san in the film series Otoko wa Tsurai yo.

I ordered the café's popular hotcakes which cost ¥600. They have been making these same hotcakes since before the war.

They were nice and fluffy and had a deliciously gorgeous brown colour. The flavour was out of this world when the butter melted from the heat of the hotcakes and mixed together with the syrup.

The portion might look like a lot but they are fluffy and have a light flavour so can be finished with no problem.

And is the café's signature milkshake (¥500).

It's so refreshing that you can knock it back all in one go. It has a simple flavour but it tasted so good!

I also ordered the ¥600 cream soda, my favourite beverage.

I've been to many cafés, and have covered many in this series, but this is the first I have dined at with such a deep history. I found myself enthralled by the stories of the owner who has continued to treasure the café and maintained it all the same since it opened. I feel like I have learned about a world I never knew about. The next time I go to Hatoya with a friend I'll be sure to let them in on its history. I encourage you to visit too!

Writer/Model: Ema Tanioku
Photographer: Haruka Yamamoto
Design: Yuko Abe (ASOBISYSTEM)

TALENT PROFILE

Ema Tanioku

"Emaeri" is the nickname for models Ema and Eri Tanioku, who are Aomoji fashion model twins. Ema and Eri Tanioku specialise in twin fashion coordination. Over the years their fanbase has increased due to their cute looks. Ema Tanioku spreads Harajuku culture within Japan as well as overseas and works as a Harajuku Tourism Ambassador. Starting off as a model, Ema has broadened her talent range from fashion magazines to TV, and from playing the lead role in dramas to movies.

Kyoto's Sweet and Salty Matcha Cheese Tea is an Enlightening Flavour Discovery

Kiyomizu Cheese Kobo opened at Kiyomizu Gojozaka at the foot of the famous Kiyomizudera Temple as Kyoto's first ever cheesecake shop to sell its delicious cheesecakes in a cute jar. On August 13, they released a mouthwateringly rich Matcha Cheese Tea which will enlighten you with a new way to enjoy matcha.

The Matcha Cheese Tea harnesses Kyoto's unbeatable Uji matcha which is full of rich and fresh flavour. A light cloud of fluffy cheese foam floats on top of the drink, adding a salty accent to the overall flavour. A traditional tea combined with a sweet and salty cheese flavour ー this brand new flavour discovery will leave you feeling refreshed and enlightened. The recipe for the cheese foam consists of cream cheese carefully selected by the cheesecake shop's specialists. This is then blended with a small amount of salt to accent the flavour. 

If you mix the matcha milk tea with the cheese foam, the rich matcha mixes with the saltiness of the cream cheese, creating a sweet salty flavour that you will not be able to get enough of. As the flavour is not too overpowering, you can enjoy this drink endlessly and will feel refreshed even on a hot summer's day. 

Matcha Cheese Tea: ¥460

Kiyomizu Cheese Kobo recommends three different ways to drink the Matcha Cheese Tea to enjoy three different levels of flavour combinations. 

① First off, drink just the matcha milk tea so you can experience the true authentic flavour of Kyoto's famous rich Uji matcha tea. 

② Next, move your straw so that you taste just the cheese foam on its own. The fluffy foam will gently slide over your tongue and spread a mild and sweet flavour all over your mouth. 

③ Finally, it's time to mix everything. The saltiness of the cheese foam and the sweetness of the matcha milk will create a new salty sweet flavour that you will want to try again and again.

Whether you are a Japanese local or a foreigner, this drink is a fun new way to enjoy matcha. If you are new to matcha, this is a good way to try the flavour without being too overwhelmed. 

Information

Kiyomizu Cheese Kobo (清水チーズ工房)

Address: 569-10, Shiraitocho, Higashiyama Ward, Kyoto City, Kyoto

Opening Hours: 11:00 ー 17:30

No fixed closed days.

Official Website: http://kiyomizu-cheese.com/

Q-pot Reveals Summery Peach Themed Food and Accessory-Inspired Desserts

Q-pot is an accessory brand whose products are made to look just like delicious desserts. They also have their own cafe in Omotesando where they flip that concept, making desserts that look exactly like real accessories. The cafe has just unveiled its new refreshing peach themed drink and dessert line-up for summer.

Peach Pink Plate w/ Drink – ¥2,060 (Tax Included)

Available this summer only, Q-pot Cafe's peach pink plate is sure to tickle the fancy of girls out there. The peach mousse is a luxurious mix of peach puree and elderflower which give off a positively permeating fragrance. A sumptuous harmony of flavours is brought together when you locate the layers of the mousse which include a jelly centre containing sliced peaches, and an almond crunch bottom.

You also get the choice of one of four fancy macarons which contain refreshing peach sherbet and peach syrup.

Peach Pink Soda Float – ¥750 (Tax Included)

The refreshing peach pink soda float contains a peach syrup that allows the full-bodied fragrance of the peaches to come through as well as a satisfyingly sour pink grapefruit syrup, a dollop of salted milk ice cream, and a topping of peach. The drink sparkles like jewellery, and you're sure to shine beautifully too with just a sip.

Of course, Q-pot being Q-pot means that they have some peach-inspired accessories too.

Peach Whipped Cream Earring Set – ¥10,000 (Before Tax) / Little Peach Cake Necklace – ¥9,500 (Before Tax) / Peach Ice Cream Ring – ¥5,200 (Before Tax) / Peach Key Ring – ¥15,000 (Before Tax)

Express your love for peaches with this glamorously fruity line-up. They will make for perfect additions to your summer look!

Information

Q-pot Cafe "PEACH" MENU

Location: Q-pot Cafe Omotesando

Release Date: August 5, 2019

Reservations accepted via telephone and online.

TEL: 03-6447-1218 (11:00-20:00)

Website reservations accepted from August 5, 2019 at 13:00 (JST)

Q-pot. SUMMER 2019 "PEACH" Accessories

Available: at Q-pot. stores, Q-pot. Online Shop, Q-pot. International Online Shop

Official Website: http://www.q-pot.jp/

My Hero Academia X Monster Strike Collaboration Commemoration Café Menu Release

To commemorate the collaboration between mobile game Monster Strike and manga My Hero Academia, XFLAG STORE SHIBUYA, SHINSAIBASHI and +(PLUS) HANEDA are releasing a new limited period café menu, which includes brand new drinks that come with original sleeves for the cups.

Character Sodas: Izuku Midoriya, Katsuki Bakugou, Shoto Todoroki, Ochaco Uraraka, Tenya Iida

Price: ¥750 each (before tax)

If you order any drink from this café menu, you will be presented with an original badge that is chosen at random. During the commemoration period, the café space will be decorated with special illustrations and there will be special videos running for visitors to enjoy. 

Information

Limited Café Menu

Running: July 17 ー August 4, 2019 

Available at:

XFLAG STORE SHIBUYA

XFLAG STORE SHINSAIBASHI

XFLAG STORE +(PLUS) HANEDA

Bring Back Childhood Memories At The Lisa and Gaspard Afternoon Tea Collaboration Café

From July 25 to August 28, four Afternoon Tea shops will be collaborating with the French picture book Gaspard and Lisa to celebrate the book's 20th anniversary. The collaboration will only be running at the following branches: AEON Lake Town kaze, Koshigaya, LaLaport Yokohama, Terrace Mall Shonan and Nagoya LACHIC.

Tomboy Lisa Katsu Curry Plate (Drink included): ¥1,491 (after tax)  

Lisa's Tomato Chicken Curry (Kids Drink included) : ¥1,005 (after tax) 

The Tomboy Lisa Katsu Curry Plate consists of a European-style curry with a crispy chicken cutlet and carrot marinade. There is also a sweet apple and honey tomato chicken curry which is limited to kids only.

Peach Peach Clown Parfait Straight Out of the Picture Book: ¥1,404 (after tax)


Lisa and Gaspard Strawberry/ Melon Sundae Sodas: ¥864 (after tax)

The menu also includes desserts and drinks from the picture book. For example, the peach peach clown parfait and two flavours of Lisa and Gaspard Sundae Soda. Make sure you order one of these drinks to go with one of the five delicious collaboration meals. 

During the collaboration period, the tea shop will be decorated with a special Lisa and Gaspard theme. There will be photo spots and even a book corner with 20 Lisa and Gaspard books (limited to Nagoya LACHIC only).

This is the perfect place to enjoy a special summer meal with your family so please check it out!

©2019 Anne Gutman & Georg Hallensleben / Hachette Livre

Mogu Mogu Nippon | Convenience Store: Top 3 Refreshing Summertime Drinks

Hi, everyone! I'm Heir from MOSHI MOSHI NIPPON's editorial team.

Our office is based in Harajuku, Tokyo's hub for fashion and youth culture. When summertime rolls around and brings the sweltering weather with it, it's ubiquitous to see people walking the streets of Harajuku with bubble tea or iced coffee in their hands to cool down.

Personally, I really love the drinks sold at convenience stores and can drink them whenever. They are cheap and tasty with many new drinks stocking the shelves all the time. There were a lot of popular drinks that began sales in June.

Today, I want to recommend three of these cool beverages to you, all of which saw much attention on Japanese social media.

1. Coffee Beverage | Starbucks Iced Orange Brûlée Latte

This chilled Starbucks drink was released on June 11 and comes in a very summery flavour: Iced Orange Brûlée Latte. Lattes mixed with fruit are always my weakness. This drink is extremely tasty, mixing full-bodied coffee with velvety milk, orange and crème brûlée. Its cute packaging and refreshing flavour make it the perfect choice for the start of summer.

Released: June 11, 2019

Price: ¥200 (Before Tax)

Available: At convenience stores, supermarkets and department stores in Japan

Product Page: https://www.starbucks.co.jp/beverage/rtd/4901777338579/

2. Carbonated Beverage | Gabunomi Soda Float

From the popular Gabunomi drink series comes the new Soda Float flavour. Its packaging alone is enough to cool you down. The drink itself is a cute blue colour which is what made me want to buy it. It's soda mixed with a creamy ice cream float which has an authentic flavour. As is always the case with Gabunomi, they have the perfect balance of sweetness in their carbonated beverages. This drink just makes you want to buy one and head to the seaside!

Released: June 24, 2019

Price: ¥140 (Before Tax)

Available: At convenience stores, supermarkets and department stores in Japan

Product Page: https://www.pokkasapporo-fb.jp/products/soda/gabunomi/JE88.html

3.  Carbonated Beverage | Coca Cola Clear Lime

Clear Coca Cola became a topical drink on social media around the world when it was first released last summer. This summer, the drink is receiving a lime upgrade. By combining the colourless Coke with lime flavour, you can feel super refreshed during the hot and dry weather. Be sure to pick up a bottle if you're in Japan this summer!

Released: June 10, 2019

Price: ¥140 (Before Tax)

Available: At convenience stores, supermarkets and department stores in Japan

Product Page: https://www.cocacola.jp

Mogu Mogu Nippon | Indulging in Oniku no Osushi's Matsusaka Beef Don in Asakusa

Asakusa is located in Tokyo and is home to many famous tourist and sightseeing spots such as Sensō-ji Temple and the Kaminarimon Gate. It's also a place lined with restaurants serving up an array of gourmet dishes.

We have covered many popular cafés and local specialties in Asakusa in MOSHI MOSHI NIPPON. Today, we will take a look at a sushi restaurant called Oniku no Osushi which opened recently where customers can eat sushi served with Japanese wagyu beef. It is the first big name restaurant from the Gion district of Kyoto to arrive in the country's Kanto region. Since opening its doors, it has been much-talked-about and has enjoyed the hustle and bustle of hungry customers.

The restaurant is about an 8-minute walk from Akasaka Station via the subway and just a 2-minute walk via Tsukuba Express. You'll know the restaurant when you see it as the outside of it incorporates a wooden design. Inside, too, wooden planks and pillars decorate the interior.

Matsusaka beef is a brand of beef in Japan made from the meat of Japanese Black cattle that are reared under strict conditions in Matsusaka, Mie. At Oniku no Osushi, customers are able to eat this beef in the form of sushi marbled and with a rare texture.

I dined together with Chinese model and talent Etsuna. She loves eating out but this was her first time eating rare meat on sushi. We ordered the restaurant's popular Oniku no Osushi platter and the Gyusen Don (served only at lunchtime).

Oniku no Osushi Platter (8 Pieces): ¥5,000

The meat sushi platter comes with eight pieces including two pieces each of lean beef, salted beef, roast beef, and fatty gunkan beef. Excluding the gunkan beef it's recommended eating each piece from the left as pictured above. Everything is already flavoured so you can eat them as they are.

The gunkan beef is best enjoyed while it is still frozen so I started with that. The cold beef just melts as it enters you mouth. It tastes sweet and has a fatty texture to it. The egg yolk mixes together with the beef on your tongue and gives it an even smoother taste.

The meat of the lean beef, salted beef and roast beef sushi is soft and each is layered with refreshing grated lemon and daikon. When you bite into the succulent meat your taste buds are treated to the sweetness of the fat and the meats' rich flavours. I was able to taste the distinct qualities of each type.

Gyusen Don (w/ Cold Miso Soup): ¥2,480

The Gyusen Don is served at lunchtime only. It contains Matsusaka Gyusen® flakes and Kyoto-style tsukemono pickled vegetables, condiments and bite-sized meat pieces. The presentation of the dish is beautiful! You add soy sauce to it and mix with the egg yolk, and it's simple irresistible! We made sure to snap a final photo before tucking in.

The beef of this dish melts in your mouth just like the gunkan beef and blends well with the egg yolk to create a velvety flavour. The dish also has condiments and pickled vegetables too adding to the variety of tastes. If you add wasabi or ginger the flavours are elevated even further, especially when eaten with the Kyoto-style pickled vegetables which creates a spicy tang.

The miso soup that the dish is served with is also Kyoto-style. Wheat starch and pickled vegetables are added to the sweet white broth to create a mellow flavour that goes well with the dish.

Etsuna gave high praise to the dish too: "It was so delicious. I think there are still a lot of foreigners that don't know about meat sushi yet, so I think it'll get popular soon. It's a bit pricey there are a lot of foreign travelers who want to eat tasty Japanese food, so I recommend it to them."

Asakusa is famous for its takeaway food to be eaten while walking, but Oniku no Sushi serves up an Asakusa-exclusive gourmet experience too.

Steamed Rice & Meat: ¥500

If you're walking around Asakusa and are feeling peckish, then you should go for steamed rice and meat (おにくの飯蒸し). It's packed full of beefy flavour.

What did you think of this little Asakusa lunch trip? Of course, Oniku no Osushi has an evening slot for dinner too, so if you'd like to try some Matsusaka beef then be sure to pay a visit.

Writer: Sayuri Mizuno (MMN Editorial Department)

Model: 悦奈(Etsuna)

Information

Information

Oniku no Osushi (Asakusa Branch)

Address: 2-6-14 Asakusa, Taito, Tokyo

Business Hours: 11:30-15:00 / Dinner 18:00-21:00

Closed: Tuesdays

TEL: 03-5811-1939

Access: 7-minutes on foot from Sensō-ji's Kaminarimon Gate / 2-minutes on foot from Asakusa Station via Tsukuba Express

Come Enjoy These Fresh Fruity Drinks at Sour Harajuku

In 2016, fresh fruit juice shop Sour opened in Uraderacho, Kyoto. Now, they will soon open up shop down Cat Street in Harajuku.

Upon your order at Sour, fresh fruit will be squeezed for your drink in a juicer. After adding some sourness to your drink, not only will it taste divine but also look fun.

Like Sour in Kyoto, Sour Harajuku also uses fresh fruit and vinegar cordial. The interior was decorated by the Kyoto clothes shop and gallery VOU/Bou. CRT televisions, fluorescent lamps and other such decorations created by artists from Kyoto also decorate the interior. The colourful fruits of Sour contribute to the pop design atmosphere. 

Drink example: Watermelon Sour/ Lemon Sour: ¥500 (after tax) ー (Appearance changes due to ingredients ) 

Sour offers seasonal menus that makes use of seasonal fruits as well as 20 varieties of vinegar cordial sour drinks. This summer, Sour is selling their standard Lemon Sour, as well as a range of other sour flavours including Watermelon, Passionfruit, Kiwi, Brand Orange, Pineapple, and much more. 

Enjoy a wonderfully refreshing cup of a fruity drink this summer!

Information

Sour Harajuku

Address: MOE Building Floor 2, 5-25-1, Jingumae, Shibuya Ward, Tokyo

Access: 7-minute walk from exit 13 of Shibuya Station (Tokyo Metro line)/ 7-minute walk from exit 7 of Meiji Jingumae Station (Tokyo Metro line)

Opening Hours: 12:00 ー 21:00 (Last Orders: 20:30)

TEL: 03-6805-0199

Instagram: @sour.jp(https://www.instagram.com/sour.jp/?hl=ja)

machi machi Descends Upon Harajuku With Godlike Cheese Tea Limited Edition Menu

Head over to the GOOD MEAL MARKET food court located on floor 2 of Laforet Harajuku because a Cheese Tea shop has just opened up shop.

machi machi is known as the "Cheese Tea God" by Taiwanese media and is certainly stirring up a sensation in Japan too. Each cup extracts the deliciousness of Taiwanese tea. The salty flavour of the rich-flavoured cream cheese will leave you astonished at the discovery of a brand new dessert flavour. This drink is enough to enlighten you with an emotional journey of deliciousness. 

These drinks became a massive hit after they managed to capture the heart of globally famous Hollywood Star Jay Chou, who is known for his love of tea in Taiwan. As the thirst for this drink has spread worldwide, shops have been opening up in London, Korea and many other countries. This shop is gradually capturing more and more fans. 

Season-Limited Melon Cheese Tea: ¥788 (after tax )     Melon Cheese Tea Float: ¥950 (after tax)

Season-Limited Strawberry Cheese Tea Float/Wildberry Cheese Tea Float:¥950 (after tax)

Laforert Harajuku-Limited Brûlée Milk Tea: ¥680 (after tax )

There are currently season-limited and Laforet Harajuku-limited menus available. There are a total of 20 drinks on the menu that have been developed from five varieties of Taiwanese teas as base flavours. The five base teas are: Tieguanyin Oolong tea, Sun Moon Lake Black tea, Jasmine Green tea, Four Seasons Spring tea, and Ceylon Highland Black tea.

machi machi is blessing every country of the world with the sacred flavours of Taiwan, so head to Laforet Harajuku while you have the chance.