Moomin Stand in Asakusa Releases Strawberry Daifuku Milk Drink
On July 16 this year, a new branch of Moomin Stand―a drinks shop inspired by the Finnish children's books The Moomins―opened in Asakusa, one of the most popular tourist spots in Tokyo.
Moomin Stand serves original fruity beverages, drinks with rich milk bases and more, all with chewy tapioca-like pearls.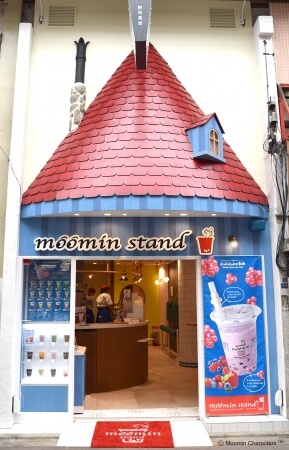 Moonmin Stand is produced by Moomin Café. The first branch opened in Kichijoji and proved popular with women in their 20s and 30s, high school and university students, and families with children. It continues to enjoy flurries of customers; you're guaranteed to be lining up on weekends.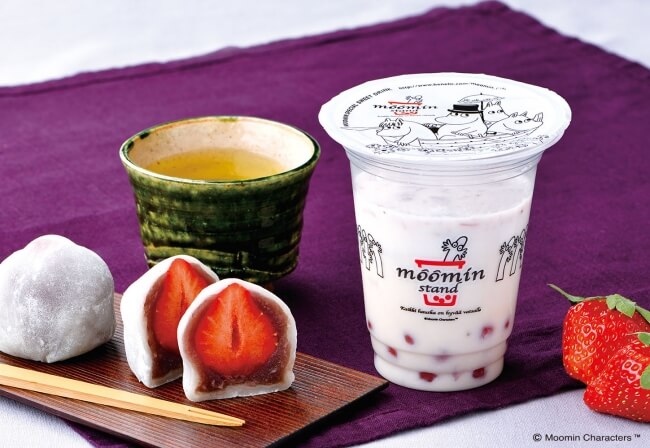 Strawberry Daifuku Milk – ¥700 (Before Tax)
The newly-released Strawberry Daifuku Milk drink is exclusive to the Asakusa branch. Its mix of sweet and sour strawberry flavour with the chewy pearls gives a texture reminiscent to daifuku, a traditional Japanese confection which takes mochi and stuffs it with a sweet filling. The drink has a delicious white bean paste base and is topped off with fresh pieces of strawberry.
The café interior is decorated with beautiful illustrations from The Moomins making for plenty of great photo opportunities. There is also a bar to lean on as well as spaces on the wall to rest your back on to relax with your drink after walking around.
All drinks also come with a cute Hattifattener straw toy that bites onto straws and pens which you can take home with you.
After you've taken a stroll around Asakusa and seen the Kaminari gate, Nakamise Shopping Street and Sensō-ji temple, why not stop off at Moonmin Stand for refreshments?
Information
Moomin Stand Asakusa
Address: 1-1-12 Asakusa, Taito Ward, Tokyo
Opening Hours: 11:00-19:00
Moomin Stand Branch List: http://www.benelic.com/moomin_cafe/moominstand/
Stawberry Daifuku Milk (Cold)
Price: ¥700 (Before Tax)
Released: July 16, 2019
*Comes with Hattifattener straw toy
RECOMMENDED ENTRIES
Introducing Four Delicious Strawberry Desserts This Summer in Hokkaido

Hokkaido is a popular tourist destination for Japanese people as well as foreigners. During the winter, it is the perfect place to go skiing and during the summer, you will not suffer under sweltering heat like the rest of Japan. Hokkaido not only flourishes with wonderful tourist locations and delicious gourmet seafood, but also beautiful and stylish cafés.

Instagrammer Kei @607keih) uses his account to introduce the world to delicious desserts and meals. Today, he will be introducing you to the delicious strawberry-flavoured desserts that Hokkaido's capital Sapporo has to offer.

holidays pancake/ Susukino

Strawberry Pancake with Raspberry Sauce: ¥1200

holidays pancake is only open on Sundays. It is located inside a beer bar called es CRAFT. I ordered the strawberry pancake with raspberry sauce. The plate was stacked with three pancakes which were deliciously covered in fresh cream, whipped cream, vanilla ice cream, strawberries and raspberry sauce. The pancakes were soft and spongy. The flavour of the ricotta cheese really came through. Overall, this pancake is a very unique pancake to Hokkaido. 

The sweetness of the raspberry sauce and sourness of the lemon juice balanced out for a slightly sour tinge. The fresh cream and vanilla ice cream toppings can be obtained for free by simply following the café on Instagram. The variety of toppings add a whole new range of flavours and colours for you to mix and match, so there is no getting bored. You can reserve your spot simply by sending them a direct message on Instagram, or by referring to their story! These pancakes are a rare find in Hokkaido, so you must try them.

▼holidays pancake

Address: 1st floor N-place Building, 3-2-1, 4 Jonishi, Chuo Ward, Sapporo

Access: 3-minute walk from Susuki Station/Hosui-Susukino Station  

Opening Hours: 11:00 ー 16:00(Last orders: 5:30)

Closed: Mondays ー Saturdays

Official Instagram: https://www.instagram.com/kyujitsulab/

BerryBerryCrazy/ Susukino

Berry Berry Crazy is located on the 2nd floor of the building between 5-chome and 6 chome of Tanuki-Koji. The desserts here are made using strawberries sourced from Urakawa Sugano Orchard in Hokkaido. The species of strawberry used in the desserts is completely dependent on what is received upon the delivery of the ingredients that are received on the day. The parfait I ordered was made using a species of strawberry called Kaorino.

The parfait contained fresh strawberries and strawberry compote, whipped cream, strawberry granita, pie crust, chiffon cake, and milk ice cream. You can tell that this parfait is full of strawberry goodness just by looking at it. Not only are the strawberries delicious, but the strawberry granita and strawberry compote were also to die for. This combined with the delicious whipped cream enhances the rich flavour even more. 

▼Berry Berry Crazy

Address: 2nd floor, 5-20-2, Minami 3 Jonishi, Chuo Ward, Sapporo

Access: Approx. 5-minute walk from Odori Subway Station/Susuki Station

Opening Hours: 18:00 ー 24:00 (Last orders: 23:30)

Official Instagram: https://www.instagram.com/berryberrycrazy/

Café Blue/ Chuo Ward


Condensed Milk Strawberry Pancake: ¥1380 ※ Can change pancakes to waffles

A mountain of whipped cream sits on the pancakes served at this popular café. The condensed milk strawberry pancake intrigued me for quite while so I decided to order it. 

The plate is stacked with three pancakes, fresh cream and condensed milk. This is then drizzled with strawberry sauce and topped with vanilla ice cream. The pancakes were fluffy and the cream balanced the overall flavour, making it moderately sweet. The sweetness of the condensed milk and the sourness of the strawberry sauce were so delicious that there was no way I could get bored. 

▼ Café Blue

Address: 16-9-12, Minami 3 Jonishi, Chuo Ward, Sapporo

Access: 5-minute walk from Ropeway iriguchi Station

Opening Hours: 9:00 ー 19:00, (last orders: 18:00) 

Breakfast: 9:00 ー 11:00, lunch/dinner: 10:00 ー 19:00, desserts: 10:00 ー 19:00,

Open all year round.

Official Website: https://cafeblue.exblog.jp/

SHIRAYUKI/Tanuki-Koji 

Fruit Squash: ¥500 each

Shirayuki is located in Tanuki-Koji. The fruit squash here comes in four flavours and each contains popping boba. Today I ordered the Strawberry Squash. Strawberry sauce is drizzled into a cup of carbonated water. Popping boba is then added. The drink is topped with strawberries. 

The bubbles of the carbonated water makes it the perfect way to cool down in the summer. This drink is only available until August 15, so if you want to try it, get there soon.

▼SHIRAYUKI

Address: Shirayuki Sapporo Aiseikan Building, 5 Chome, Minami 1-jo nishi 5, Chuo Ward, Sapporo

Access: Approx. 5-min walk from Odori Subway Station

Opening Hours: 12:30 ー 19:00

No regular holidays

Official Instagram: https://www.facebook.com/shirayuki.hokkaido

So how about it? Kei's Instagram account is full of desserts and meals that you absolutely must try. If you are going to visit Hokkaido, make sure to check out Kei's Instagram so you know exactly which restaurant or café you want to visit!

Original article information and photographer: Kei (@607keih)

Satisfy Your Strawberry Cravings at Strawberry Fetish, Shibuya109

Along with the renovation of department store SHIBUYA109, Japan's first ever shop dedicated to candy-coated strawberries will be opening on the food and drinks floor (basement floor 2). The strawberry sweets shop, appropriately named Strawberry Fetish, will open on June 28, 2019.

Candy-Coated Strawberry Stick: ¥400 (after tax)

The theme here is "strawberry evolution". These strawberry treats are perfect for adults as well as children.

Long Candy-Coated Strawberry Stick: ¥600 (after tax)

Black Candy-Coated Strawberry Stick: ¥200 (after tax)

These candied strawberry treats are an upgraded version of the candied strawberries that are often served at Japanese festivals. From different toppings to different lengths, the menu consists of a wide variety candied strawberry sticks.

Enjoy the crunchy and crispy sound as your teeth break through the carefully crafted candy coating. With just one treat, you can enjoy both delicious crunchiness as well as an elegant yet cute appearance. 

Strawberry X Milk: ¥550 (after tax)

Strawberry X Strawberry: ¥650 (after tax) 

There are also many other strawberry flavoured items on the menu. If you love strawberries, you just have to pop by.

Information

Strawberry  Fetish

Address: Shibuya109 (Basement floor 2), 2-29-1 Dogenzaka, Shibuya City, Tokyo

Opening hours: 10:00 ー 22:00

No regular closing days

Shibuya109

Address: 2-29-1 Dogenzaka, Shibuya City, Tokyo

Website: https://www.shibuya109.jp/

McDonald's Japan Reveals Oreo® Chocolate & Strawberry Oreo® Chocolate Frappes

McCafé by Barista branches of McDonald's in Japan will begin sales of their new Oreo® Chocolate Frappe and Strawberry Oreo® Chocolate Frappe on June 26. The drinks are an upgrade of their hugely popular Chocolate frappe drink with a mix of Oreo cookies and strawberry sauce.

Strawberry Oreo® Chocolate Frappe: Regular ¥410 / Large ¥450

The Strawberry Oreo Chocolate Frappe is a rich chocolatey frappe mixed with fruity strawberry sauce. It's topped with velvety whipped cream which is drizzled in a chocolate sauce made with 54% couverture chocolate from Belgium and topped with Oreo® cookies. One sip invites your taste buds into a myriad of flavours from the crunchy texture of the cookies to the sweet and sour strawberry sauce.

Oreo® Chocolate Frappe: Regular ¥390 / Large ¥430

The Oreo Chocolate Frappe is all of that minus the strawberry sauce. It was first sold at McDonald's Japan back in March this year for a limited time and proved hugely popular with customers.

Lift your spirits during Japan's damp rainy season with a delicious Oreo frappe.

*Oreo is a registered trademark of Mondelēz International, Inc.

Information

Oreo® Chocolate Frappe/Strawberry Oreo® Chocolate Frappe

Running: June 26, 2019 – Mid September 2019 (subject to change)

Available: At McCafé by Barista branches of McDonald's in Japan

Store List (Japanese): http://www.mcdonalds.co.jp/coffee/top.php
RELATED ENTRIES
Flower Miffy Juice Garden in Asakusa Offering Limited-Time Drink Perfect for Early Summer

Flower Miffy Juice Garden, a drink stand inspired by Flower Miffy, a florist version of the Dutch character Miffy, has begun selling the perfect drink for the early summer weather. The Marguerite Cream Soda is on sale now at the Asakusa location.

Marguerite Cream Soda

Flower Miffy Glass Vase Flower Frame

The Marguerite Cream Soda features refreshing lemon soda topped with sliced lemon, thick vanilla ice cream, a Miffy cookie and a marguerite flower. Visitors can also find a special Miffy glass vase at the Asakusa store for a limited time, perfect for displaying flowers at home.


Come enjoy shopping for Miffy goods while sipping a refreshing beverage this summer!

Illustrations Dick Bruna Ⓒ copyright Mercis bv,1953-2022 www.miffy.com

Information

Flower Miffy Juice Garden
Address: Flower Miffy Juice Garden Asakusa
Limited Time Beverage: Marguerite Cream Soda
Available starting April 28, 2022
Official Site: https://www.benelic-flower.com

Moomin Market 2022 to Open at Hiroshima PARCO for a Limited Time

Hiroshima PARCO is currently hosting Moomin Market 2022, an exhibition offering special merchandise inspired by the Finnish character Moomin. The event is open now at PARCO FACTORY in the facility's main building until May 8, 2022. 

Selected Goods Lineup

The Moomins have continued to be loved by audiences around the world since the release of Tove Jansson's novel The Moomins and the Great Flood in 1945. The event is offering a number of new goods, including those from the Moominmamma's Rose series, which are perfect for Mother's Day. Guests should also look forward to the Moomin House on display at the venue!

Moominmamma's Rose Fair to Celebrate Mother's Day with Moomin Style

The Moominmamma Rose Fair is ready to brighten the spring season from April 16 until May 8, 2022!

Moominmamma always brings happiness to those around her and warmly looks after those in need. The adorable mother figure will play a leading role in this event, which is also being held in conjunction with the Spring Festival.

Fruits Sandwich

Latte Art


Original Pin Making

Limited-Edition Goods (Selection) / Pancake Mix

Limited Design Goods Purchase Bonus: Original Card


 

Guests can enjoy washing their hands with rose-scented water at the Floating Flower Walk, and a selection of limited-time food items will be sold during the event. Visitors can also take place in unique workshops where they can make their other Mother's Day gifts.

McDonald's 'McCafe by Barista' to Offer Uji Matcha Sweets for Spring

McDonald's Japan locations with 'McCafe by Barista' areas will begin selling special spring treats for a limited time starting April 6, 2022. Customers will be able to grab the 'Strawberry Uji Matcha Frappe' and the 'Uji Matcha Mont Blanc Tart.'

McCafe by Barista invites guests to enjoy high-quality frappes and smoothies. The Uji Matcha Frappe was added to the regular product lineup in June 2021, and features a mellow matcha flavor. The Strawberry variant is coming back for the first time in three years. The Mont Blanc Tart is a new addition, and is a perfect treat to enjoy with this popular frappe! 

Strawberry Uji Matcha Frappe: ¥490

The Strawberry Matcha Frappe mixes together the full-bodied flavor of matcha together with sweet and sour strawberries. It includes both a strawberry paste made from whole strawberries and a strawberry whipped cream at the bottom. The drink is topped with more strawberry whipped cream and a sprinkling of matcha powder. The refreshing taste of the strawberry sauce coupled with the whipped cream serves to elevate the great flavor of the Uji Matcha even more.

Uji Matcha Mont Blanc Tart: ¥390


The Uji Matcha Mont Blanc Tart is made with Uji Matcha batter, Uji Matcha whipped cream, white bean paste, and green tea cream. The refined sweetness is complemented by the mellow aroma and slight bitterness of Uji Matcha.

How would you like to enjoy these treats beneath the cherry trees?

Information

Strawberry Uji Matcha Frappe

Uji Matcha Mont Blanc Tart

Available: April 6 – Mid-May, 2022

Available at Participating McDonald's Japan Locations with 'McCafe by Barista'

Official Site: https://www.mcdonalds.co.jp/

Odakyu Department Store Shinjuku to Open MOOMIN POPUP STORE by Small Planet

From March 30 until April 12, fans of Moomin will want to visit the Odakyu Department Store in Shinjuku for a special pop-up store!

Lineup

Odakyu Preorder Items 


Toto Bag

Synthetic Leather Coaster

Masking Tape

Event Exclusives

T-Shirt

Acrylic Keychain

Stainless Steel Tumbler

Purchase Bonuses

(March 30 ~) Bonus for purchases of ¥6,600 or more

Pocket Thermos Bottle, Joxter Cloud Design (Not for Sale)

(April 2 ~) Bonus for purchases of ¥3,300 or more

Sea Orchestra Acrylic Keychain (Not for Sale)


(April 9 ~) Bonus for purchases of ¥5,500 or more

Snufkin & Joxter Acrylic Stand Set (Not for Sale)

The pop-up store, which was very well-received last year, focuses on Snufkin, one of the most popular Moomin characters. This year, Snufkin's father, Joxter, will also be making an appearance. The venue will be decorated with original artwork, and a wide variety of Moomin merch will be available, including plush toys, sundries, apparel, and much more.

Information

MOOMIN POPUP STORE by Small Planet

Running: March 30 – April 12, 2022
Address: Odakyu Department Store Shinjuku Main Building 1F (1-1-3 Nishi-Shinjuku, Shinjuku-ku, Tokyo)
Access: Shinjuku Station West Exit
Official Site: https://www.odakyu-dept.co.jp/

Moomin Cafe to Offer Afternoon Tea for a Limited Time

Select Moomin Cafe locations in Japan are now offering Moominmama's Afternoon Tea for a limited time!

This afternoon tea fully expresses the hospitality of Moominmamma, who always warmly welcomes guests. Each set comes on a two-tiered tea stand with wooden plates with a Scandinavian feel, and features desserts and light meals with two different themes: the upper tier being 'Friends of Moomin Valley' and the lower tier being 'Nordic Finland.'

The upper tier will feature sweets such as five-tiered mini pancakes and Snufkin's hat-inspired tarts, while the lower tier will feature a potato and anchovy gratin pie based on Jansson's Temptation,  a familiar Scandinavian home-style dish. In addition, there is a choice of seven types of tea available, including the aromatic Scandinavian Söder tea and Earl Grey, as well as Moomin Café's original flavor of blueberry pancake milk tea.

 

Information

Moominmamma's Afternoon Tea

Available Now After 14:00

Location: Moomin Bakery & Cafe Tokyo Dome City LaQua, Moomin Cafe Tokyo Skytree Town Solamachi, Moomin Cafe Canal City Hakata

Reservations: https://moomincafe.jp/

Official Site: https://benelic.com/moomin_cafe/

Moomin Stand Releases Tasty New Items for a Limited Time Only

Moomin Stand, a drink stand chain based on the popular Finnish fairy tale, is now holding a 'Sweet Chocolate' fair. Two new products–Chocolate Mint Milk and Strawberry Ruby Chocolate–are now on sale for a limited time.

Chocolate Mint Milk

Strawberry Ruby Chocolate

The refreshing Chocolate Mint Milk drink is topped with whipped cream, chocolate chips, and a bitter cocoa cookie perfect for balancing the sweetness of the beverage. The Strawberry Ruby Chocolate drink is made from ruby chocolate, a naturally occurring substance with a bright red color, and is topped with whipped cream and sweet and sour strawberry pulp. 



Which of these drinks would you be grabbing for Valentine's Day?

Asakusa Hanayashiki and the TV animation Gintama announces Details of the Collaboration Event

The amusement park Asakusa Hanayashiki will hold a collaboration event with the TV anime Gintama titled Gintama Festival from December 20, 2021 to January 16, 2022.

Mission clear bonus acrylic coasters (4 types/randomly distributed).

Original Merchandise (example)

Reward for ordering original food: one original coaster (10 types/randomly distributed).

The lineup for the Gintama Festival includes sales of event-exclusive original merchandise, a riddle solving rally, and collaboration food. In addition, the special ticket, an advance ticket with special offers that will make the event even more enjoyable, will be available for purchase.

Please look forward to this special event that Gintama fans can enjoy to the fullest.

©空知英秋/集英社・テレビ東京・電通・BNP・アニプレックス

Information

Gintama Festival

Running: From December 20 until January 16, 2022.

Closed on January 11 and 12.

Where: Asakusa Hanayashiki.

Opening Hours: 10:00~18:00 (Subject to weather conditions).

*Opening hours for January 10 to 14, 2022: 10:00-17:00.

*Last entry is 30 minutes before closing.

Details: https://hanayashiki-event.com/info/753

Limited-Time Autumn Harvest Event Comes to Moominvalley Park

As the summer heat begins to wane and the cool and comfortable autumn air arrives, why not celebrate the season with Moomin? The Moominvalley Park Harvest event is coming for a limited-time only, starting on September 4, 2021 and continuing through October 24, 2021. 

Moominvalley Park is a theme park centered on the popular Swedish comic The Moomins. Announced in 2013, the complex opened on Lake Miyazawa in Hanno, Saitama Prefecture in March 2019. Moominvalley Park has two specific zones: the Metsä area, free to visitors, features lakefront dining and shops, while the Moomin zone contains different attractions, such as Moomin's house and an art museum. 

Images of Last Year's Balloon Art

The creatures who live in the Moominvalley enjoy the bounty of all four seasons, and the harvest from summer to autumn is particularly tasty, filled with berries and mushrooms ripe for the picking. Nutritious blueberries, raspberries, lingonberries and cloudberries spring from the bushes, and the Moomin family would love to welcome you with some of these tasty snacks! Limited-time menu items and workshops will be available, so visitors can have their fill of the autumn season. 

Last year's balloon art event was hugely popular, and will be making a comeback in 2021. Berries are a symbol of the harvest throughout Scandinavia, and guests are welcomed by these sweet treats floating in the sky. Beneath the autumn sky and surrounded by lush trees beside the lake shore, the Moominvalley feels like a storybook brought to life. Don't miss this colorful and joyous event!

Long-Standing Kyoto Tea Wholesaler Yamamasa Koyamaen Opens Cafe in Tokyo

TZEN, a company dedicated to promoting traditional Japanese culture around the world, has teamed up with Yamamasa Koyamaen, a tea wholesaler in business since the Edo period, to open a new matcha cafe in Tokyo!

ATELIER MATCHA, a quick walk from Ningyocho station, is harnessing the concept of 'the third wave of matcha,' serving up premium matcha in a cozy atmosphere. 

MATCHA Cookies & Cream Shake: ¥748 (Tax Included) 

MATCHA with Warabimochi and Red Bean Topping: ¥748 (Tax Included)

MATCHA Jelly Cider: ¥660 (Tax Included)

MATCHA Granola and Yogurt Latte: ¥715 (Tax Included)

MATCHA Cotton Candy Milkshake: ¥748 (Tax Included)

MATCHA Affogato: ¥660 (Tax Included)

MATCHA Shot (Espresso Style): ¥220 (Tax Included) / MATCHA Water: ¥275 (Tax Included) / MATCHA Green Tea: ¥330 (Tax Included)

Supreme MATCHA Terrine: ¥660 (Tax Included)

(This is a partial menu, all prices are for those dining in.)

Matcha is becoming popular around the world. ATELIER MATCHA was created to offer customers a unique experience which showcases the true taste and culture of this beloved tea grown in Japan. 

Yamamasa Koyamaen is a Kyoto institution, cultivating and grinding matcha tea leaves for 160 years. Over 1,000 tea retailers, department stores, domestic and international trading companies and hotels stock their high-grade matcha, gyokuro, sencha, and other specialty teas, making them one of the most recognized and respected names in this traditional Japanese art. The company even prefers to call themselves a 'studio' rather than a 'factory', using the 800-year history of tea cultivation in Uji, Kyoto as a starting point to create their masterpieces. 

ATELIER MATCHA is Yamamasa Koyamaen's first cafe, and also the company's first experience selling directly to consumers. 

Blending the highest-grade matcha with locally made sweets, the cafe hopes customers will enjoy these original creations while surrounded by the relaxing aroma of tea. 

The matcha used in the cafe includes signature Yamamasa Koyamaen blends, including Ogurayama and Tennozan, both varieties often used in tea ceremonies. For a limited time, the cafe is offering a single-origin blend with one rare variety of matcha, as well as a beverage made with tencha, which are the leaves used to make matcha before being ground down in a stone mortar. Visitors can also enjoy gyokuro and hojicha teas, made from carefully selected leaves. 

Pulling recipes from Yamamasa Koyamaen's book 'Kyoto Uji-Koyamaen: Simple Matcha Drinks to Enjoy at Home,' the menu features refreshing drinks blending the traditional with the modern, with unexpected combinations of soda, fruit and yogurt. Seasonal drinks will also be making an appearance, including shaved ice in summer and chocolate drinks in winter. 

The name MATCHA SHOT packs a punch, using matcha instead of espresso for a needed pick-me-up. MATCHA WATER, a refreshing cup of watered-down tea, offers a way to fully enjoy the fullness and more hidden flavors of this popular Japanese tea. 

As expected, ATELIER MATCHA also has a sweets menu set to impress: these sweet treats feature only the best, created with the top 0.03% of total national matcha production. This insanely high-quality matcha is a part of Yamamasa Koyamaen's ultimate matcha experience project, titled "ALL FOR ONE," which provides these rare leaves to some of the country's top professionals in various fields. 

At opening, only limited qualities of the Supreme MATCHA Terrine, made by well-known pâtissier Toshi Yoroizuka, will be available. 

These authentic matcha creations are perfect for a hot summer's day, or as a gift for a friend. When in Tokyo, don't miss it!

Information

ATELIER MATCHA 

Address: 1-5-8 Nihonbashi Ningyocho, Chuo Ward, Tokyo 103-0013, Japan

Access: 30-second walk from Ningyocho Station/5-minute walk from Suitengumae Station

Open Date: August 2, 8:00

Hours of Operation: 8:00-19:00 (Last order 18:30)

Closed on Tuesdays (Open daily throughout August) 

Phone Number: 03-3667-7277

Official Site: https://ateliermatcha.com/

Kageki Shojo!! Anime Series Gets Event at Tokyo's Amusement Park Asakusa Hanayashiki

Asakusa Hanayashiki, an amusement park in Tokyo, has announced a summer event in collaboration with the ongoing anime series Kageki Shojo!! which will take place from August 21 to September 12.

Cute original artwork illustrated for the event

Take part in the stamp rally

Original Ticket Folder (With Pseudo Ticket)

Original merchandise

Bromides: ¥550 (Tax Included)

Acrylic Figure: ¥500 (Tax Included) / Acrylic Figures: ¥880 Each (Tax Included)

Acrylic Keyrings | ¥770 Each (Tax Included)

Pins: ¥300 Each (Tax Included)

Receive a free postcard when you order a drink or dessert

Receive a free coaster when ordering a drink

Receive an original tote bag when buying a special ticket

Kageki Shojo!! is a manga series by Kumiko Saiki. The anime adaptation began airing on July 4. A collection of cute original illustrations of 22 characters from the series have been drawn for the event which will be dotted around the park. Fans can also take part in a themed stamp rally, enjoy food inspired by the series, buy merchandise, and more.

Starbucks Japan Reveals Peach and Pineapple Frappuccinos

Starbucks Coffee Japan is releasing its new summery GO Pineapple Frappuccino® and GO Peach Frappuccino® at all branches on August 4.

Starbucks Japan's first pineapple beverage, plump and sweet

Left: GO Pineapple Frappuccino® | Right: GO Peach Frappuccino® | Tall ¥680 (Takeaway), Tall ¥693 (Have-In)

The two fruity drinks arrive in time for the height of Japanese summer this August. This also marks the first time Starbucks Japan is serving up a pineapple Frappuccino®. The GO Pineapple Frappuccino® is loaded with ripe and fresh pineapple pieces along with a pineapple puree and pineapple sauce. When you've sipped about half the cup, mix in the whipped cream to transform the drink into smooth and milky heaven.

The GO Peach Frappuccino® is also loaded with its titular fruit, making it so refreshing it's like eating a whole juicy peach. Enjoy a combination of fresh peach pieces, puree, and sauce, one which maintains the rich original flavour of this summer-classic fruit.

Reusable Coffee Cup With Changeable Coloured Lids (437ml) | ¥385 (Tax Included)

August 2nd will mark 25 years since Starbucks arrived in Japan, bringing to the country a culture of walking around with your coffee in hand. This summer, the coffee chain is also releasing a new collection of seasonal tumblers, as well a new reusable coffee cup which you can swap out with different coloured lids. While the new beverages are on sale, if you buy one of them together with a reusable cup, you can get a free size upgrade on your Frappuccino®.

Information

GO Pineapple Frappuccino®

GO Peach Frappuccino®

Running: August 4, 2021 – September 21, 2021

Official Website: https://www.starbucks.co.jp/