Moomin Stand in Asakusa Releases Strawberry Daifuku Milk Drink
On July 16 this year, a new branch of Moomin Stand―a drinks shop inspired by the Finnish children's books The Moomins―opened in Asakusa, one of the most popular tourist spots in Tokyo.
Moomin Stand serves original fruity beverages, drinks with rich milk bases and more, all with chewy tapioca-like pearls.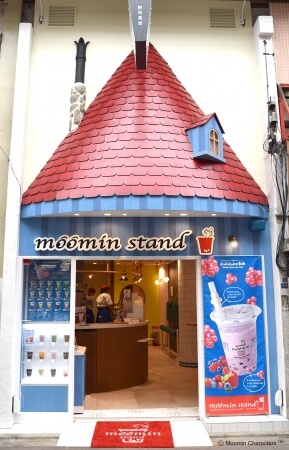 Moonmin Stand is produced by Moomin Café. The first branch opened in Kichijoji and proved popular with women in their 20s and 30s, high school and university students, and families with children. It continues to enjoy flurries of customers; you're guaranteed to be lining up on weekends.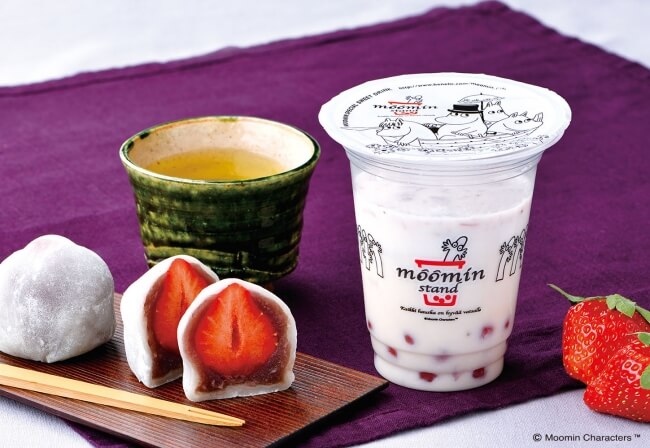 Strawberry Daifuku Milk – ¥700 (Before Tax)
The newly-released Strawberry Daifuku Milk drink is exclusive to the Asakusa branch. Its mix of sweet and sour strawberry flavour with the chewy pearls gives a texture reminiscent to daifuku, a traditional Japanese confection which takes mochi and stuffs it with a sweet filling. The drink has a delicious white bean paste base and is topped off with fresh pieces of strawberry.
The café interior is decorated with beautiful illustrations from The Moomins making for plenty of great photo opportunities. There is also a bar to lean on as well as spaces on the wall to rest your back on to relax with your drink after walking around.
All drinks also come with a cute Hattifattener straw toy that bites onto straws and pens which you can take home with you.
After you've taken a stroll around Asakusa and seen the Kaminari gate, Nakamise Shopping Street and Sensō-ji temple, why not stop off at Moonmin Stand for refreshments?
Information
Moomin Stand Asakusa
Address: 1-1-12 Asakusa, Taito Ward, Tokyo
Opening Hours: 11:00-19:00
Moomin Stand Branch List: http://www.benelic.com/moomin_cafe/moominstand/
Stawberry Daifuku Milk (Cold)
Price: ¥700 (Before Tax)
Released: July 16, 2019
*Comes with Hattifattener straw toy
RECOMMENDED ENTRIES
Introducing Four Delicious Strawberry Desserts This Summer in Hokkaido

Hokkaido is a popular tourist destination for Japanese people as well as foreigners. During the winter, it is the perfect place to go skiing and during the summer, you will not suffer under sweltering heat like the rest of Japan. Hokkaido not only flourishes with wonderful tourist locations and delicious gourmet seafood, but also beautiful and stylish cafés.

Instagrammer Kei @607keih) uses his account to introduce the world to delicious desserts and meals. Today, he will be introducing you to the delicious strawberry-flavoured desserts that Hokkaido's capital Sapporo has to offer.

holidays pancake/ Susukino

Strawberry Pancake with Raspberry Sauce: ¥1200

holidays pancake is only open on Sundays. It is located inside a beer bar called es CRAFT. I ordered the strawberry pancake with raspberry sauce. The plate was stacked with three pancakes which were deliciously covered in fresh cream, whipped cream, vanilla ice cream, strawberries and raspberry sauce. The pancakes were soft and spongy. The flavour of the ricotta cheese really came through. Overall, this pancake is a very unique pancake to Hokkaido. 

The sweetness of the raspberry sauce and sourness of the lemon juice balanced out for a slightly sour tinge. The fresh cream and vanilla ice cream toppings can be obtained for free by simply following the café on Instagram. The variety of toppings add a whole new range of flavours and colours for you to mix and match, so there is no getting bored. You can reserve your spot simply by sending them a direct message on Instagram, or by referring to their story! These pancakes are a rare find in Hokkaido, so you must try them.

▼holidays pancake

Address: 1st floor N-place Building, 3-2-1, 4 Jonishi, Chuo Ward, Sapporo

Access: 3-minute walk from Susuki Station/Hosui-Susukino Station  

Opening Hours: 11:00 ー 16:00(Last orders: 5:30)

Closed: Mondays ー Saturdays

Official Instagram: https://www.instagram.com/kyujitsulab/

BerryBerryCrazy/ Susukino

Berry Berry Crazy is located on the 2nd floor of the building between 5-chome and 6 chome of Tanuki-Koji. The desserts here are made using strawberries sourced from Urakawa Sugano Orchard in Hokkaido. The species of strawberry used in the desserts is completely dependent on what is received upon the delivery of the ingredients that are received on the day. The parfait I ordered was made using a species of strawberry called Kaorino.

The parfait contained fresh strawberries and strawberry compote, whipped cream, strawberry granita, pie crust, chiffon cake, and milk ice cream. You can tell that this parfait is full of strawberry goodness just by looking at it. Not only are the strawberries delicious, but the strawberry granita and strawberry compote were also to die for. This combined with the delicious whipped cream enhances the rich flavour even more. 

▼Berry Berry Crazy

Address: 2nd floor, 5-20-2, Minami 3 Jonishi, Chuo Ward, Sapporo

Access: Approx. 5-minute walk from Odori Subway Station/Susuki Station

Opening Hours: 18:00 ー 24:00 (Last orders: 23:30)

Official Instagram: https://www.instagram.com/berryberrycrazy/

Café Blue/ Chuo Ward


Condensed Milk Strawberry Pancake: ¥1380 ※ Can change pancakes to waffles

A mountain of whipped cream sits on the pancakes served at this popular café. The condensed milk strawberry pancake intrigued me for quite while so I decided to order it. 

The plate is stacked with three pancakes, fresh cream and condensed milk. This is then drizzled with strawberry sauce and topped with vanilla ice cream. The pancakes were fluffy and the cream balanced the overall flavour, making it moderately sweet. The sweetness of the condensed milk and the sourness of the strawberry sauce were so delicious that there was no way I could get bored. 

▼ Café Blue

Address: 16-9-12, Minami 3 Jonishi, Chuo Ward, Sapporo

Access: 5-minute walk from Ropeway iriguchi Station

Opening Hours: 9:00 ー 19:00, (last orders: 18:00) 

Breakfast: 9:00 ー 11:00, lunch/dinner: 10:00 ー 19:00, desserts: 10:00 ー 19:00,

Open all year round.

Official Website: https://cafeblue.exblog.jp/

SHIRAYUKI/Tanuki-Koji 

Fruit Squash: ¥500 each

Shirayuki is located in Tanuki-Koji. The fruit squash here comes in four flavours and each contains popping boba. Today I ordered the Strawberry Squash. Strawberry sauce is drizzled into a cup of carbonated water. Popping boba is then added. The drink is topped with strawberries. 

The bubbles of the carbonated water makes it the perfect way to cool down in the summer. This drink is only available until August 15, so if you want to try it, get there soon.

▼SHIRAYUKI

Address: Shirayuki Sapporo Aiseikan Building, 5 Chome, Minami 1-jo nishi 5, Chuo Ward, Sapporo

Access: Approx. 5-min walk from Odori Subway Station

Opening Hours: 12:30 ー 19:00

No regular holidays

Official Instagram: https://www.facebook.com/shirayuki.hokkaido

So how about it? Kei's Instagram account is full of desserts and meals that you absolutely must try. If you are going to visit Hokkaido, make sure to check out Kei's Instagram so you know exactly which restaurant or café you want to visit!

Original article information and photographer: Kei (@607keih)

Satisfy Your Strawberry Cravings at Strawberry Fetish, Shibuya109

Along with the renovation of department store SHIBUYA109, Japan's first ever shop dedicated to candy-coated strawberries will be opening on the food and drinks floor (basement floor 2). The strawberry sweets shop, appropriately named Strawberry Fetish, will open on June 28, 2019.

Candy-Coated Strawberry Stick: ¥400 (after tax)

The theme here is "strawberry evolution". These strawberry treats are perfect for adults as well as children.

Long Candy-Coated Strawberry Stick: ¥600 (after tax)

Black Candy-Coated Strawberry Stick: ¥200 (after tax)

These candied strawberry treats are an upgraded version of the candied strawberries that are often served at Japanese festivals. From different toppings to different lengths, the menu consists of a wide variety candied strawberry sticks.

Enjoy the crunchy and crispy sound as your teeth break through the carefully crafted candy coating. With just one treat, you can enjoy both delicious crunchiness as well as an elegant yet cute appearance. 

Strawberry X Milk: ¥550 (after tax)

Strawberry X Strawberry: ¥650 (after tax) 

There are also many other strawberry flavoured items on the menu. If you love strawberries, you just have to pop by.

Information

Strawberry  Fetish

Address: Shibuya109 (Basement floor 2), 2-29-1 Dogenzaka, Shibuya City, Tokyo

Opening hours: 10:00 ー 22:00

No regular closing days

Shibuya109

Address: 2-29-1 Dogenzaka, Shibuya City, Tokyo

Website: https://www.shibuya109.jp/

McDonald's Japan Reveals Oreo® Chocolate & Strawberry Oreo® Chocolate Frappes

McCafé by Barista branches of McDonald's in Japan will begin sales of their new Oreo® Chocolate Frappe and Strawberry Oreo® Chocolate Frappe on June 26. The drinks are an upgrade of their hugely popular Chocolate frappe drink with a mix of Oreo cookies and strawberry sauce.

Strawberry Oreo® Chocolate Frappe: Regular ¥410 / Large ¥450

The Strawberry Oreo Chocolate Frappe is a rich chocolatey frappe mixed with fruity strawberry sauce. It's topped with velvety whipped cream which is drizzled in a chocolate sauce made with 54% couverture chocolate from Belgium and topped with Oreo® cookies. One sip invites your taste buds into a myriad of flavours from the crunchy texture of the cookies to the sweet and sour strawberry sauce.

Oreo® Chocolate Frappe: Regular ¥390 / Large ¥430

The Oreo Chocolate Frappe is all of that minus the strawberry sauce. It was first sold at McDonald's Japan back in March this year for a limited time and proved hugely popular with customers.

Lift your spirits during Japan's damp rainy season with a delicious Oreo frappe.

*Oreo is a registered trademark of Mondelēz International, Inc.

Information

Oreo® Chocolate Frappe/Strawberry Oreo® Chocolate Frappe

Running: June 26, 2019 – Mid September 2019 (subject to change)

Available: At McCafé by Barista branches of McDonald's in Japan

Store List (Japanese): http://www.mcdonalds.co.jp/coffee/top.php
RELATED ENTRIES
Starbucks Japan Unveils Candied Sweet Potato Frappuccino®

Starbucks Coffee Japan has revealed the second beverage in its Artful Autumn @ Starbucks® series of drinks. The "Candied Sweet Potato Frappuccino®" will be released at Starbucks branches in Japan on September 23, 2020.

Candied Sweet Potato Frappuccino® | Tall Size Only – ¥590

Each drink is made using a whole chopped and blended Japanese daigaku imo candied sweet potato to serve those autumn flavours, with its marbled golden colour also reminiscent of the autumn leaves. It's topped with whipped cream, black sesame seeds, and sweet potato syrup.

Truly the perfect dessert drink to sip on for the changing seasons.

Information

Candied Sweet Potato Frappuccino®
Serving: September 23, 2020 – October 31, 2020

Available: Starbucks in Japan (select branches not participating)

Starbucks Coffee Japan Official Website: https://www.starbucks.co.jp/

Sweet Potato Milk Bubble Tea Pours Into Chun Shui Tang For Autumn

Chun Shui Tang, a chain of Taiwanese bubble tea stores, is adding a new limited-time drink to the menus of all branches in Japan on September 16: the "Tapioca Sweet Potato Milk Tea."

Tapioca Sweet Potato Milk Tea | ¥650 (Before Tax)

The beverage is made with annouimo sweet potatoes grown on the island of Tanegashima in Kagoshima Prefecture. The potatoes are known for their high sugar content, adding a delicious natural sweetness to the tea. It's blended with a high grade sugar syrup and topped off with whipped cream and sweet potato chips to create a dessert drink.

Those who order the drink via the Smatapi (スマタピ) app from September 9 can get the drink early before its general release on September 16.

In Japan for the autumn season? Enjoy the tasty autumn flavour of sweet potato with the Tapioca Sweet Potato Milk Tea.

Information

Tapioca Sweet Potato Milk Tea

Release Date: September 16, 2020

*Mobile pre-sales available from September 9 to those who order using the Smatapi (スマタピ) app

Available: All Chun Shui Tang shops in Japan

Chun Shui Tang Japan Official Website: https://www.chunshuitang.jp/

Japan's Moominvalley Theme Park Announces 'Harvest Special Week' Autumn Event

Moominvalley Park has announced the special autumn event "Harvest Special Week" which is set to run from September 19 to 27.

Moominvalley Park

Moominvalley Park is a theme park centred on the Moomins. It's located inside Metsä, a bigger Nordic-themed entertainment complex. The theme park is based on the Moomin's home of Moominvalley, where guests can enjoy a variety of activities from enjoying nature to making their own accessories, dining on Northern European food, and more.

Harvest Special Week

The Harvest Special Week is themed on the season of harvest—autumn. Near the entrance to the theme park will be the "Welcome Cove Area" where around 3,600 balloons will be set up, inspired by the berries of Northern Europe during autumn. The design was created by textile designer Masaru Suzuki who has worked with the famous Finnish brand Marimekko.

During the Harvest Special Week event, guests will receive an original pin badge celebrating 75 years of the Moomins. They will be handed out at the Welcome Cove Area (area in Japanese: はじまりの入り江エリア) between 10:00-15:00.

Guests can also take pictures at the Harvest Gate, Berry Road, and Apple Tree photo spots. The shops and restaurants in the park will also sell and serve all things harvest-themed.

Japanese Chawanmushi Egg Custard Dessert Turns Into Drink in Tokyo

Japanese food company Ninben has announced that it is extending its sales period for its drinkable chawanmushi dessert at Nihonbashi Dashi Bar in Tokyo until September 30.

Chawanmushi is a refreshing Japanese egg custard dessert that's perfect for cooling down during the summer, and seeing as the summer heat isn't letting down in Japan just yet, Ninben's drinkable rendition is now available until the end of September.

Chawanmushi Drink | ¥300 (Tax Included)

The chawanmushi drink is a collaboration between the owner of Suzunari and Ninben's Nihonbashi Dashi Bar. The drink was created to get more people enjoying the delicious taste of dashi. Exclusive to Nihonbashi Dashi Bar, which is located inside Ninben in Nihonbashi, Tokyo, the drink is being served for takeout only.

Normally, chawanmushi is eaten with a spoon, so using a straw adds an entirely new experience to enjoying the dessert. It's seasoned with salt from Christmas Island which elevates the flavour of the egg and dashi.

It's still hot in Tokyo, so if you're in the city, then why not order one to cool down?

Information

Nihonbashi Dashi Bar
Address: COREDO Muromach 1 (Floor 1F), 2-2-1 Nihonbashimuromachi, Chuo-ku, Tokyo

TEL: 03-3241-0968

Official Website: www.ninben.co.jp

Autumn Flower Topped Cream Sodas Served at Floral Cafe and Bar HANABAR in Koenji

HANABAR, a floral themed cafe and bar in Koenji, Tokyo, released two breathtaking new cream sodas on Friday which capture the sentimental feeling of summer transitioning to autumn.

HANABAR opened in September 2017 as Japan's "first dried flower cafe." A sister store, gmgm, opened last year selling gorgeously gourmet doughnuts topped with dried flowers. Both stores as produced by Nana Yui, a dried flower artist.

Lavendel | ¥1,100

Coloured an eye-catching purple, this autumn-time cream soda is made with lavender, butterfly pea, and lime.

Aimatsurika | ¥1,100

A refreshing mix of jasmine, grapefruit, and lemon topped with sweet ice cream that has a citrus fruit aftertaste.

The flowers draped inside the ice are all elderflower which has high nutritional value.

Beat the Japanese heat this summer in Tokyo with one of these tantalising cream sodas.

Information

Floral Autumn Colour Cream Sodas
Serving: August 28, 2020 – Late October 2020

HANABAR
Address: 3-30-6 Nishi-Ikebukuro, Toshima-ku, Tokyo
Opening Hours: 12:00-22:00
No Fixed Holidays

Official Website: https://www.hanabar.tokyo/

Moomin Exhibition THE ART AND THE STORY Now On Display at Osaka's ABENO HARUKAS Art Museum

Moomin Exhibition THE ART AND THE STORY is currently ongoing at ABENO HARUKAS Art Museum in Osaka until August 30, 2020. Around 500 pieces of art are being shown, celebrating the beloved characters of the Moomin series created by Finnish illustrator Tove Jansson (1914-2001). The exhibition will subsequently move to Sapporo, Kumamoto, and finally Shizuoka once the Osaka one closes up.

The exhibition's showcase features a specially selected collection from the Moomin Museum—the world's only museum centred on the Moomins with over 2,000 art pieces on display—illustrations and sketches from Moominvalley, and more. There's also ukiyo-e paintings alongside the Moomins, celebrating the 100 year friendship between Japan and Finland.

The Moomins are popular worldwide, especially in Japan, so if you're travelling there this year then be sure to visit the exhibition and find out where it's going next.

Information

Moomin Exhibition THE ART AND THE STORY
Running: Until August 30, 2020

Time: [Tue-Fri] 10:00-20:00 / [Sat-Mon] 10:00-18:00 *Last entries 30 mins before closing time

Location: ABENO HARUKAS Art Museum (ABENO HARUKAS 16F, 1-1-43 Abenosuji, Abeno-ku, Osaka)

ABENO HARUKAS Art Museum Official Website: https://www.aham.jp/
Moomin Exhibition Official Website: https://moomin-art.jp/

Japan's Hello Kitty Themed Hotel Rooms Open at Asakusa Tobu Hotel in Tokyo

Tobu Hotel Management are set to welcome Tokyo's only hotel rooms based around Sanrio's popular character Hello Kitty at Asakusa Tobu Hotel when the hotel official opens for business on October 8, 2020.

There are two different room types, of which there are three rooms for each for a total of 6 rooms: "Cherry Blossom Maiden" and "Japanese Modern," both centred around Hello Kitty.

The Cherry Blossom Maiden room brings together Japanese cherry blossoms with Hello Kitty dressed as a cute maiden. Decorated in pastel pink, this room is all things kawaii, and even comes with a raised flooring area to add to that Japanese vibe.

On the other side of the kawaii coin is the Japanese Modern room. The design here combines Asakusa-style colours with traditional Japanese elements, resulting in a stylish interior.

Reservations for the Hello Kitty Rooms open on August 24 at 10:00 (JST) via the hotel's official website. If you're staying in Japan anytime after October 8, make sure to book your room ASAP!

Information

Hello Kitty Rooms
Official Website Reservations: August 24, 2020 @ 10:00am (JST)
Telephone Reservations: August 31, 2020 @ 10:00am (JST)

*Other guest rooms already available for bookings
Official Website: https://www.tobuhotel.co.jp/asakusa/
TEL: 03-5809-7320 (Weekdays 10:00-18:00)

Asakusa Tobu Hotel
Address: 1-1-15 Asakusa, Taito-ku, Tokyo
Grand Opening: October 8, 2020

Access

30 seconds on foot from Asakusa Station via the Tobu Skytree Line side

1 minute on foot from Asakusa Station via the Tokyo Metro Ginza Line side
3 minutes on foot from Asakusa Station via the Toei Asakusa Line side
1 minute on foot from Kaminarimon

Chewy, Cheesy and Cute Moomin Obanyaki Desserts Now Being Sold at FamilyMart in Japan

Japanese convenience store chain FamilyMart released cream cheese-filled obanyaki branded with Moomin characters on August 4 in celebration of "Moomin's Day" which falls on August 9.

Moomin Mochitto Cheese | ¥138 (Tax Included)

The Moomins are the main characters of Tove Jansson's series of books and comic strips. August 9 is the birthday of the author, and so this date has become known as "Moomin's Day" amongst fans of the series.

Obanyaki are a type of imagawayaki which are like waffles and are filled with various ingredients, the most popular being red bean paste which can often be found at festivals in Japan. These chewy Moomin obanyaku however are filled with cream cheese and are stamped with the familiar faces of Moominvalley including the titular characters, Snufkin, Little My, and the Hattifatteners.

What better way to celebrate Moomin's Day than with a delicious treat? If you're in Japan this summer, head to your closest FamilyMart.

©Moomin Characters™

Information

Moomin Mochitto Cheese

Release Date: August 4, 2020

Available: Approx. 16,600 FamilyMart branches in Japan

FamilyMart Official Website: https://www.family.co.jp/

4 Must-Try Colourful & Kawaii Cream Sodas in Kyoto

The rainy season in Japan, known as Tsuyu, is finally coming to a close, which means the real summer is right around the corner. And what better way to stay cool in Japan during the summertime than with a glass of coo, refreshing cream soda?

We've compiled a list of 4 must-try cream sodas in Kyoto recommended by Tiara on Instagram, who posts photos on her Instagram of drinks and desserts she tries around the Kanto region of Japan, and who has kindly provided us with photos on this occasion too.

and C Kyoto | Kita-ku

Yellow Cream Soda / White Cream Soda / Red Cream Soda / Blue Cream Soda

and C Kyoto is a stylish bar, cafe, and second hand clothes store located right by Hirano Shrine. They serve four different colours of their cream soda which look super cute when lined up in a row.

and C Kyoto
Address: 30 Hirano Kamihatchōyanagichō, Kita-ku, Kyoto
Opening Hours: 12:00-23:00
Closed: Tuesdays
Instagram: https://www.instagram.com/andc102/

BABBI GELATERIA KYOTO | Gion Shijo

Mango Passion / Classic Blue / Amaou Strawberry

BABBI GELATERIA KYOTO is located along the Kamo River and is famous for its gelato. They also sell some super refreshing cream sodas topped with their tasty gelato.

BABBI GELATERIA KYOTO
Address: 134 Saitocho, Shimogyo Ward, Kyoto
Opening Hours: 13:00-20:00 (Temporary hours due to COVID-19)
TEL: 075-585-5200
Official Website: http://www.babbi.co.jp/showcase/gelateria-kyoto/

Kissa Zou | Imadegawa

Pudding a la Mode / Lemon Squash & Elephant Cookie

This cute cream soda comes with an elephant-shaped cookie. The custard pudding has a rich eggy flavour.

Kissa Zou
Address: 440-3 Santeichō, Kamigyō-ku, Kyoto
Opening Hours: 10:00-18:00 (Last Orders 17:00)
No Fixed Holidays
Instagram: https://www.instagram.com/kissa_zou/

Bread, Espresso & Arashiyama Garden | Arashiyama

Cherry Blossom Cream Soda

This old cafe is renovated from an old family estate which was built at the end of the Edo Period and is designated as a cultural property of Kyoto. This beautiful cafe coincides with the gardens and has gorgeous thatched roofing.

Bread, Espresso & Arashiyama Garden
Address: 45-15 Sagatenryuji Susukinobabacho, Ukyo Ward, Kyoto
Opening Hours: 10:00-18:00 (Last Orders 17:00)
TEL 075-432-7940
Official Website: https://bread-espresso.jp

Tiara has lots of other delicious dessert recommendations over on her Instagram, so be sure to follow her if you're travelling in the Kansai region and are in need of a sweet treat.

Original Text & Photo: @happy_pinkrose_tiara

Translation: Joshua Kitosi-Isanga

*The information about the items on this list are correct at the time of publishing. For the latest information, please visit each cafe's official websites and social media pages.

Flower Miffy Juice Garden Asakusa Now Open and Serving Adorable Drinks

The new "Flower Miffy Juice Garden" opened as a permanent addition to Flower Miffy Asakusa on July 21, 2020. Flower Miffy is a Miffy-themed flower and merchandise shop.

Colourful Jelly Soda – Gerbera/Tulip/Sunflower/Lavender: ¥580 Each (Before Tax)

Four new Miffy drinks are being served for the opening of Flower Miffy Juice Garden. Each is a soda beverage is filled with colourful jelly, elderflower syrup made from real flowers, and a soft, bouncy kind of jelly. Each drink itself looks like a colourful bouquet.

Miffy Cream Soda: ¥680 (Before Tax)

Flower Miffy Juice Garden will also introduce the "Miffy Cream Soda" on Saturday August 1 which is a colourful jelly soda topped with ice cream, a Miffy wafer, and flower-shaped chocolate.

Lemonade: ¥480 (Before Tax)


Apple Juice: ¥480 (Before Tax)

Other available drinks include sweet and sour lemonade made using lemons grown in the Seto Inland Sea, 100% apple juice, and other cute delights.

Information

Flower Miffy Juice Garden Asakusa
Address: Aiso Bldg. 1F, 2-19-7 Kaminarimon, Taito-ku, TOkyo

Opening Hours: [Weekdays] 11:30-18:00 / [Weekends & Holidays] 10:30-18:00

Official Website: https://www.benelic-flower.com/
*Please note that the opening hours of Flower Miffy Asakusa and Juice Garden Asakusa are different

Feel Refreshed at Moominvalley Park With the New Hattifatteners Thunder Splash Event

Moominvalley Park is set to hold a new event this summer called Nyoro Nyoro no Kaminari Splash (Hattifatteners's Thunder Splash). Set to run from July 18 to August 30 as part of Metsa Umbrella Sky Design Project 2020, the event will see guests sprayed with mist to cool themselves down in the summer heat.

A rolling cloud of multicoloured umbrellas will float overhead inside the park. It will begin in the "Moominvalley and Umbrella" area and take you to a special zone where lots of Hattifatteners are. Flashes of lightning and sounds of thunder will trigger after which a shower of mist will rain overhead. When the rain falls, the storm sets in, and the thunder roars, it will feel like the mysterious Hattifatteners are alive.

Children's Water Fountain Spot

Right nearby the Moominvalley and Umbrella zone is a water fountain spot where water spurts from the ground. This is great area for kids to keep cool in the summer heat too.

Information

Nyoro Nyoro no Kaminari Splash!

Running: July 18, 2020 – August 30, 2020

Time: 10:00-17:00

Location: Moominvalley Park

*The mist may not be sprayed on days when the weather is bad

Moomin Official Website: https://www.moomin.co.jp/

Houjicha Milk Tea and Genmaicha Milk Tea Made With Japanese Tea Leaves Serving at Gong cha

Gong cha's limited-time "Houjicha Milk Tea" and "Genmaicha Milk Tea" beverages are popular each year, and they returned once again on June 17.

Japanese Tea

Gong cha's menu item "Japanese Tea" was released in 2018 exclusively for Japan, and is enjoyed every year during its annual limited-time run. Made using tea leaves from Japan, its authentic taste and aroma has people begging for more when the year's run is up.

2 Flavours This Year

Houjicha Milk Tea (Regular Size: ¥470) / Recommended Topping: Milk Foam (+¥70) | Serving: From June 17, 2020 for a limited time

The Houjicha Milk Tea is the iconic drink of Gong cha's "Japanese Tea" series. It's a blend the best high quality houjicha and kukicha tea leaves, both of which are grown in Shizuoka Prefecture. Roasting and using them together gives a sweet and deeply rich aroma. Add milk foam as a topping and you've got yourself a rich milk tea.

Genmaicha Milk Tea (Regular Size: ¥470) / Recommended Tapioca (+¥70) | Serving: From June 17, 2020 for a limited time

The Genmaicha Milk Tea is an original blend of Japanese genmai rice and tea leaves from Shizuoka Prefecture. This milk tea keeps the original delicious flavour of the tea and wafts a fragrant rice aroma.