Shop in Harajuku & Omotesando With a Takeout Dessert From Q-pot CAFE
The real summer is here now, and what better way to cool yourself off during your shopping spree in Harajuku and Omotesando than with a cool and refreshing takeout dessert from Q-pot CAFE?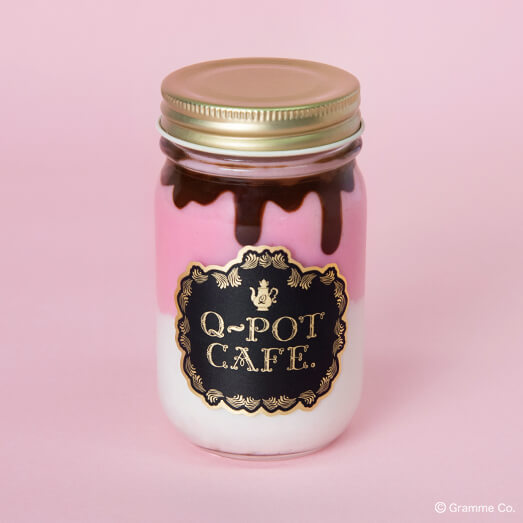 Melty Mousse (Peach x Apricot Seed) – ¥500 (Tax Included)
Q-pot CAFE's Melty Mousses are encased in an adorable jar. This one is a heavenly mix of fruity peach mousse and a smooth apricot kernel milk mousse. Laced in the peach mousse is a divine blend of raspberries and lychees. The subtle sweetness of the peach coupled with the sourness of the raspberries and refreshing taste of the lychees make this dessert a perfect summer pickup. Also hidden within the delicious mix are pieces of fresh and juicy peach.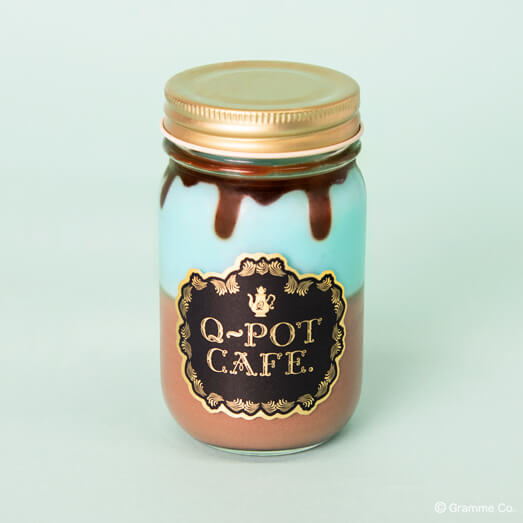 Melty Mousse (Mint x Chocolate) – ¥500 (Tax Included)
This summer sees the return of Q-pot CAFE's popular mint chocolate mousse. Chocolate and mint are always an exquisite combination, and this mousse mix proves it, fusing rich chocolate with a cool mint kick. The cute melty-looking mint chocolate at the top also gives it an appetising appearance.
Cat Ice Creams – ¥600 Each (Tax Included)
Also returning once more this summer are Q-pot CAFE's adorable cat ice creams, a mix of ice cream and various toppings. Choose from strawberry, vanilla or chocolate.
All of these desserts will be available to buy from August 5. They are all super cheap and are perfect for getting for takeout and walking around Harajuku and Omotesando. Be sure to stop by if you're planning a shopping trip there this summer break.
Information
Melty Mousse
Release Date: August 5, 2019
Price: ¥500 (Tax Included)
Available: Q-pot CAFE Omotesando (3-4-8 Jingumae, Shibuya, Tokyo)
Cat Ice Creams
Release Date: August 5, 2019
Price: ¥600 (Tax Included)
Available: Q-pot CAFE Omotesando (3-4-8 Jingumae, Shibuya, Tokyo)
Q-pot CAFE Official Website: https://www.q-pot.jp/shop/cafe/
RECOMMENDED ENTRIES
Q-pot CAFE Dives Into the Ocean This Summer With Food, Desserts & Accessories

Q-pot is an accessory brand whose products are made to look just like delicious desserts. They also have their own cafe in Omotesando where they flip that concept, making desserts that look exactly like real accessories.

Q-pot CAFE has just unveiled its new line-up of "Mint Soda Lagoon" themed drinks and desserts. This dreamy pastel-coloured menu is available this summer only for a limited time.

Mint Soda Lagoon Parfait w/ Drink – ¥1,850 (Tax Included)

Whether you're planning a trip to the beach for a dip in the sea or are out catching some sun while shopping, you're going to want to keep cool this summer, and Q-pot CAFE has you covered. Their delicious, cold pastel-coloured parfait is topped with shell and coral-shaped meringue and contains salt milk ice cream, grapefruit, fluffy mint cream, and lychee jelly. The beautiful gradation of colours and textures through the glass is enough to have you panting for an order. Squished at the bottom of the glass is sponge cake with almonds and a syrupy blueberry anglaise.

Shell Macaron Plate w/ Drink – ¥2,060 (Tax Included)

If you're looking for something a little more by the sea then you'll want to order the shell macaron plate. The standout of this dish is the blueberry flavoured macaron shell which is stuffed full of fluffy strawberry custard cream. It also contains a sweet and sour strawberry and blueberry sauce. It's served with a salted vanilla starfish cookie, tropical passion fruit and mango sherbet, and an additional macaron from which you have a choice of four flavours.

Mint Soda Float – ¥750 (Tax Included)

You're sure to be tempted by this mint soda float which contains a mix of refreshing Blue Curaçao and lychee puree which come together beautifully. It has a taste as refreshing as a mojito and if finished with a dollop of salted milk ice cream, fresh grapefruit, and mint cream which is topped with a mint leaf for extra kick and colour.

Mint Soda Lagoon Afternoon Tea Set for One w/ Drink – ¥2,400 (Tax Included)

There's even an incredibly cute afternoon tea set.

Sitting on the top plate are adorable mini parfaits coming in pink, purple and blue pastel colours. They include sumptuous lychee jelly crowned with mint cream and decorated with shell-shaped meringue.

Also on the upper tier are scones filled with Q-pot CAFE's homemade blueberry jam and fromage blanc cream, salted vanilla starfish cookies, and the cafe's rich macarons.

The second tier has two seriously stuffed crunchy croissants which contain smoked duck and broccoli. You won't be able to resist the combination of the sweet and spicy sauce and mayonnaise either. There's also a serving of rich onion soup made with caramelised onions and melted cheese as well as a side of olives, mini tomatoes and pickles.

Feel like a mermaid of the Mint Soda Lagoon with this luxurious afternoon tea set♡

Q-pot is also selling a new range of accessories in line with the new menu featuring starfish sugar cookies and more.

Starfish Sugar Cookie Necklace – ¥9,000 (Before Tax) / Shell Macaron Ring – ¥5,000 (Before Tax) / Jellyfish Earring – ¥5,200 (Before Tax)

Starfish Sugar Cookie Necklace – ¥9,000 (Before Tax) / Earring and Ring – ¥5,400 Each (Before Tax)

Fall into the Mint Soda Lagoon this summer at Q-pot CAFE in Omotesando, Tokyo.

Information

Q-pot CAFE "MINT SODA LAGOON" Menu

Location: Q-pot Cafe Omotesando

Release Date: August 5, 2019

Reservations accepted via telephone and online.

TEL: 03-6447-1218 (11:00-20:00)

Website reservations accepted from August 5, 2019 at 13:00 (JST)

MINT SODA LAGOON COLLECTION

Release Date: August 3, 2019

Available: at Q-pot stores

Official Website: http://www.q-pot.jp/

Q-pot Reveals Summery Peach Themed Food and Accessory-Inspired Desserts

Q-pot is an accessory brand whose products are made to look just like delicious desserts. They also have their own cafe in Omotesando where they flip that concept, making desserts that look exactly like real accessories. The cafe has just unveiled its new refreshing peach themed drink and dessert line-up for summer.

Peach Pink Plate w/ Drink – ¥2,060 (Tax Included)

Available this summer only, Q-pot Cafe's peach pink plate is sure to tickle the fancy of girls out there. The peach mousse is a luxurious mix of peach puree and elderflower which give off a positively permeating fragrance. A sumptuous harmony of flavours is brought together when you locate the layers of the mousse which include a jelly centre containing sliced peaches, and an almond crunch bottom.

You also get the choice of one of four fancy macarons which contain refreshing peach sherbet and peach syrup.

Peach Pink Soda Float – ¥750 (Tax Included)

The refreshing peach pink soda float contains a peach syrup that allows the full-bodied fragrance of the peaches to come through as well as a satisfyingly sour pink grapefruit syrup, a dollop of salted milk ice cream, and a topping of peach. The drink sparkles like jewellery, and you're sure to shine beautifully too with just a sip.

Of course, Q-pot being Q-pot means that they have some peach-inspired accessories too.

Peach Whipped Cream Earring Set – ¥10,000 (Before Tax) / Little Peach Cake Necklace – ¥9,500 (Before Tax) / Peach Ice Cream Ring – ¥5,200 (Before Tax) / Peach Key Ring – ¥15,000 (Before Tax)

Express your love for peaches with this glamorously fruity line-up. They will make for perfect additions to your summer look!

Information

Q-pot Cafe "PEACH" MENU

Location: Q-pot Cafe Omotesando

Release Date: August 5, 2019

Reservations accepted via telephone and online.

TEL: 03-6447-1218 (11:00-20:00)

Website reservations accepted from August 5, 2019 at 13:00 (JST)

Q-pot. SUMMER 2019 "PEACH" Accessories

Available: at Q-pot. stores, Q-pot. Online Shop, Q-pot. International Online Shop

Official Website: http://www.q-pot.jp/

Q-pot Cafe's Dreamy Sailor Moon Afternoon Tea | Food Review

Hey, readers. I'm Midori from MMN's editorial team.

Sailor Moon fans are going to want to visit Q-pot right now―a cafe in Omotesando that makes desserts that look like real accessories―as the cafe is currently collaborating with the franchise. The inside of the cafe has been transformed into a cute and magical Sailor Moon world, the kind you could only imagine in your dreams. It has blown up since it opened on June 30 across Japanese social media.

There was no way I was going to miss a chance to eat here, so I took a trip to Q-pot to see what kind of kawaii things they had on the menu for the collaboration.

You'll know Q-pot when you see it in Omotesando by the pouring teapot on the wall next to the menu outside.

Strung up at the entrance are lots of ema plaques where people write their wishes and goals.

As soon as you step inside the cafe you are transported into a world of cute. The various chocolate and biscuit decorations on the wall are just plain kawaii. It gets you excited to start eating♡

I started by ordering the drink set which comes with the Moon Twilight Soda and Tuxedo Night Mocha. The soda contains berries and its lemon and apple flavour gives it a sweet and sour taste. The pink gradation is cute too♡

The mocha takes inspiration from Tuxedo Mask flying through the city at night. The rim of the glass is lined with sparkly sugar. The drink isn't just an ordinary cafe mocha – it secretly contains a sweet strawberry flavour which adds an enchanting aftertaste.

Next I tried the Transformation Brooch Macaron Cake. Shaped as a macaron, this cake is based by the brooch necklace which Usagi uses to transform into Sailor Moon. It's served on a ribbon-shaped plate which you can take home with you. The cake is filled with apricot and mango mousse inside which is pineapple♡

On top of the macaron is another exquisite macaron containing lemon jelly. The jelly and fruit sparkle to create a girly and gorgeous dessert. After you've eaten you can take the plate back to use at home!

And now for the crowning jewel: the Sailor Moon Afternoon Tea Set! This is one that anybody is going to crave when seeing it. It comes with two plate packed with food and desserts. The ribbon at the top is cute too.

The upper tier is adorned with macarons, mousse cakes, cookie sandwiches, and glass desserts.

The lower tier has sandwiches, vichyssoise soup, and olive and tomato pinchos.

The glass dessert is a raspberry mousse topped with Sailor Moon's Moon Stick. The mousse is fluffy and very tasty. The sourness of the berries isn't too strong either – it's a nice and light flavour.

When biting into the mousse cakes your mouth is filled with the gentle sweetness of the white chocolate.

Macarons are a popular dessert at Q-pot. The Sailor Moon ones are bite-sized and almost seem a waste to eat because of how cute they are. The cookie sandwiches, which are based on Luna and Artemis, are stuffed with lemon cream which has a refreshing taste. The cookies also have a delicious buttery flavour.

The lower tier sandwiches contain duck and broccoli. The sandwiches are small but you get a lot of veg so you won't go hungry. The soup is great not just as a light meal but as a palate cleanser after the desserts too. Try eating some when your stomach says it's full from all the sweet stuff!

My belly was pretty full after this afternoon tea set. I recommend ordering it for lunch.

If you're looking for a place to eat out with your girl friends when why not enter the fairy tale world of Q-pot for the Sailor Moon collaboration? Q-pot even has its own merchandise too so be sure to check it out!

©Naoko Takeuchi・PNP・Toei Animation
RELATED ENTRIES
Make Your Own Original KitKat at Tokyo's KitKat Chocolatory Miyashita Park Shibuya

Nestlé Japan is opening a new branch of KitKat Chocolatory inside Shibuya's new shopping mall Miyashita Park on August 4, 2020.


KitKat Chocolatory is a direct-to-consumer chain, serving premium, handcrafted KitKats made with top quality ingredients and production methods under full direction by Takagi Yasumasa―the owner and chef of LE PATISSIER TAKAGI. Its product line-up features a range perfect as gifts to friends, family and co-workers, or as a treat to yourself.

Japan is home to eight KitKat Chocolatory branches. The new Miyashita Park Shibuya branch will open as the fourth in Tokyo, as well as the first where you can create your own KitKat products.

My KITKAT: ¥2,000 (Before Tax)

"My KITKAT" comes as the world's first KitKat service where consumers can create their own original chocolate bars.

KitKat Waffle: ¥1,000 (Before Tax)

KitKat Chocolatory Sublime Soft Cream: ¥630 (Before Tax)

KitKat Chocolatory Miyashita Park Shibuya will also sell a variety of unique and exclusive KitKat desserts, like luxurious soft serve ice cream topped with couverture chocolate. It will also offer a cafe menu created by Nespresso, where customers can pair Chocolatory desserts with seasonal coffee menus, and more.

Shibuya-esque wall art will decorate the interior of the shop, making for plenty of photo opportunities.

Information

KitKat Chocolatory Miyashita Park Shibuya

Grand Opening: August 4, 2020

Address: Miyashita Park South 2F, 6-20-10 Jingumae, Shibuya, Tokyo

Opening Hours: 11:00-21:00 (Last Orders 20:00)

TEL: 03-6427-6811

Official Website: https://nestle.jp/brand/kit/chocolatory/

Disney's Zootopia Accessory Collection to be Released by Q-pot.

Q-pot. is releasing a new Zootopia themed collection on August 1, 2020 as part of its Disney-inspired accessory line "Disney Story Dreamed by Q-pot."

Zootopia is an animated film released by Disney in 2016 which takes place in the titular city where anthropomorphic animals coexist. Q-pot. has created a unique collection in the brand's style which combines the worlds of Nick Wilde and Judy Hopps, the two main characters of the film who form an unlikely duo.

Judy Carrot Cake & Carrot Recorder

Homemade Carrot Cake – Necklace: ¥11,000, Bag Charm ¥9,000 | Carrot Recorder – Piercing, Earring (1 Piece) ¥5,000 (Before Tax)

The necklace and bag charm feature a cute cut of Judy's face in the style of a frosting-loaded cake, and are attached with the carrot recorder pen from the movie which brings her and Nick together. The carrot recorder pen also comes as an earring and piercing.

Nick Carrot Cake & Pawpsicle


Homemade Carrot Cake – Necklace: ¥11,000, Bag Charm ¥9,000 | Ice Candy – Piercing, Earring (1 Piece) ¥5,000 (Before Tax)

Nick's accessories are attached with detailed recreations of the pawpsicles made by him in the movie.

Police Badge Cookie


Police Badge Cookie – Badge, Brooch – ¥6,500 (Before Tax)

Once you're fixed on your Judy and Nick carrot cake accessories, don't forget your police badge either!

The items in this collection are a must-have for any fan of Zootopia.

Information

Zootopia Collection
Release Date: August 1, 2020 at 12:00pm (JST)
Buy: Q-pot. ONLINE SHOP 
*On August 1 and 2, two items max per person

Q-pot. Stores
Order Window: August 1, 2020 – August 16, 2020
Participating Stores: Omotesando / Tokyo Skytree Town Solamachi / Takashimaya / LUCUA Osaka / Q-pot. ONLINE SHOP

Delivery Window: Early November 2020

Official Website: https://www.q-pot.jp/news/2020/07/1285.html

Laforet Harajuku's Midsummer Takeaway Desserts Include Cinnamoroll Goodies

Eight shops inside Laforet Harajuku are participating in the shopping mall's midsummer takeout dessert event which is taking place from August 1 to 31. This includes the new milk dessert shop "MILK MILK MILK" which opened as the first branch in Japan on July 17 this year. Desserts and merchandise of Sanrio's popular character Cinnamoroll, who won this year's 2020 Sanrio Character Ranking, will also be sold.

café de paris | Floor B1F


Many Many Fruits Sandwich: Mango ¥626 / Green Grape ¥561 (Tax Included) *Takeout only

Fresh fruit is packed onto these adorable looking sweet sandwiches.

CAFE CREPE | Floor 1F


Honey Summer Orange: ¥730 (Tax Included) *Takeout only

Another cute summer dessert finished with swirls of fresh cream, fresh orange, and a round dollop of ginger ice cream.

MILK MILK MILK! | Floor 2F


Milk Bottle Smoothie: ¥880 (Tax Included) *Takeout and have-in

Served in a cute milk bottle, what better way to cool down than with a cool strawberry smoothie?

Cinnamoroll Milk Pudding: ¥1,078 (Tax Included) *Takeout and have-in


Cinnamoroll Sky Beaker Parfait: ¥1,048 (Tax Included) *Have-in only

There are two tasty Cinnamoroll desserts to choose from, including the milk pudding made with Hokkaido milk and a parfait with a gradient or jelly and chocolate mint ice cream, topped with mint, and served in a beaker.

© 2001,2020 SANRIO.,CO.LTD. APPROVAL NO.S610695

Information

Laforet Harajuku Summer Takeout Menu
Running: August 1, 2020 – August 31, 2020
Official Website: https://www.laforet.ne.jp/

4 Must-Try Colourful & Kawaii Cream Sodas in Kyoto

The rainy season in Japan, known as Tsuyu, is finally coming to a close, which means the real summer is right around the corner. And what better way to stay cool in Japan during the summertime than with a glass of coo, refreshing cream soda?

We've compiled a list of 4 must-try cream sodas in Kyoto recommended by Tiara on Instagram, who posts photos on her Instagram of drinks and desserts she tries around the Kanto region of Japan, and who has kindly provided us with photos on this occasion too.

and C Kyoto | Kita-ku

Yellow Cream Soda / White Cream Soda / Red Cream Soda / Blue Cream Soda

and C Kyoto is a stylish bar, cafe, and second hand clothes store located right by Hirano Shrine. They serve four different colours of their cream soda which look super cute when lined up in a row.

and C Kyoto
Address: 30 Hirano Kamihatchōyanagichō, Kita-ku, Kyoto
Opening Hours: 12:00-23:00
Closed: Tuesdays
Instagram: https://www.instagram.com/andc102/

BABBI GELATERIA KYOTO | Gion Shijo

Mango Passion / Classic Blue / Amaou Strawberry

BABBI GELATERIA KYOTO is located along the Kamo River and is famous for its gelato. They also sell some super refreshing cream sodas topped with their tasty gelato.

BABBI GELATERIA KYOTO
Address: 134 Saitocho, Shimogyo Ward, Kyoto
Opening Hours: 13:00-20:00 (Temporary hours due to COVID-19)
TEL: 075-585-5200
Official Website: http://www.babbi.co.jp/showcase/gelateria-kyoto/

Kissa Zou | Imadegawa

Pudding a la Mode / Lemon Squash & Elephant Cookie

This cute cream soda comes with an elephant-shaped cookie. The custard pudding has a rich eggy flavour.

Kissa Zou
Address: 440-3 Santeichō, Kamigyō-ku, Kyoto
Opening Hours: 10:00-18:00 (Last Orders 17:00)
No Fixed Holidays
Instagram: https://www.instagram.com/kissa_zou/

Bread, Espresso & Arashiyama Garden | Arashiyama

Cherry Blossom Cream Soda

This old cafe is renovated from an old family estate which was built at the end of the Edo Period and is designated as a cultural property of Kyoto. This beautiful cafe coincides with the gardens and has gorgeous thatched roofing.

Bread, Espresso & Arashiyama Garden
Address: 45-15 Sagatenryuji Susukinobabacho, Ukyo Ward, Kyoto
Opening Hours: 10:00-18:00 (Last Orders 17:00)
TEL 075-432-7940
Official Website: https://bread-espresso.jp

Tiara has lots of other delicious dessert recommendations over on her Instagram, so be sure to follow her if you're travelling in the Kansai region and are in need of a sweet treat.

Original Text & Photo: @happy_pinkrose_tiara

Translation: Joshua Kitosi-Isanga

*The information about the items on this list are correct at the time of publishing. For the latest information, please visit each cafe's official websites and social media pages.

Dragon Ball Confections Kamehameha Into FamilyMart Convenience Stores in Japan

Character-inspired Japanese confectionery series Tabemas has revealed that its next batch of sweet treats are Dragon Ball Super inspired. The sweets were released at FamilyMart convenience stores in Japan on July 28, 2020.

'Tabemas' is an abbreviation of the Japanese words taberareru masukotto, meaning 'mascots that you can eat.' It is a Japanese confectionery series that combines well-known characters and Japanese sweets made from ingredients like red bean paste, sugar and rice flour. The sweets are also made with a dough called "nerikiri" which is used in making traditional Japanese wagashi sweets.

Tabemas Dragon Ball Super: ¥369 Before Tax | 1 set of 2

The confection designs include the iconic Dragon Balls from the series up to Seven-Stars, as well as Shenron.

Shenron is matcha-flavoured. Using nerikiri dough, Tabemas has brought the dragon god to life with his iconic red gaze, whiskers, and tail. Each of the seven Dragon Balls are filled with custard cream. One set of these confections comes with both Shenreon and one of the Dragon Balls, so fans can enjoy both flavours.

As well as all of the seven Dragon Balls, there are two secrets ones too. What exactly they are requires a trip to FamilyMart.

©Bird Studio/Shueisha・Fuji TV・Toei Animation

Information

Tabemas Dragon Ball Super
Released: July 28, 2020

Available: At the chilled desserts section of FamilyMart convenience stores in Japan

*Available while supplies last

*Stock date may differ from branch to branch

*Select stores not participating

Official Website:  https://www.bandai.co.jp/candy/tabemas/dragonball/

Tokyo Banana's New Disney Sweets Collection Looks Delicious

Japan's popular confectionery souvenir shop Tokyo Banana is collaborating with Disney for one week from July 29 to August 7 at the Hankyu Umeda branch of Tokyo Banana in Osaka.

Officially named the "Disney SWEETS COLLECTION by Tokyo Banana," the line-up brings together the iconic Disney characters and centres them around the company's brand concept which is to bring happiness to all who see and taste their products.

Mickey Mouse Pancake Sandwich: ¥1,080 for 4 / ¥1,382 for 6 (Tax Inclusive)

A box of "Mickey Mouse Pancake Sandwiches" contains baked, deliciously fluffy treats filled with soft cream. They come in two shapes: Mickey's face and the iconic Tokyo Banana. The Mickey ones contain caramel cream and roasted almonds while the Tokyo Banana designs are filled with banana milk cream and chocolate chips.

Mickey Mouse Chocolate Sandwich: ¥1,080 for 12 / ¥2,160 for 24

The "Mickey Mouse Chocolate Sandwich" are crunchy cat tongue biscuits which have Tokyo Banana's distinct milky flavour. They are made to be like a delicious banana milkshake you can eat and contain rich chocolate.

 © Disney

Information

Mickey Mouse Pancake Sandwich / Mickey Mouse Chocolate Sandwich
Running: July 29, 2020 – August 4, 2020

Available: Tokyo Banana Hankyu Umeda
Official Website: https://www.tokyobanana.jp/disney/

Positively Peachy Desserts Whipped Up at Cafe Comme Ca's Second Peach Fair

Cafe Comme Ca has announced that its second "Peach Blossom Spring Story" fair will run at several branches (see below) from August 1, 2020 to August 26, 2020. Sweet-tooths and peach lovers won't be able to resist this fruity dessert line-up, including a cake made using a type of peach known as the "Miss Peach" from Fukushima Prefecture.

Cafe Comme Ca is a chain of cafes in Japan known for its artistic cakes which are made using fresh and specially selected fruits from across Japan.

Peach & Raspberry Cream Shortcake: Single Slice ¥1,100 (¥1,200 at the Ginza Branch) *Tax inclusive

An immaculate combination of fresh, sweet peaches and fluffy sponge. Enjoy together with the sweet and sour kick from the raspberry cream.

Miss Peach Cake: Single Slice ¥1,100 (¥1,400 at the Ginza Branch) *Tax inclusive

Made with rich, sweet Miss Peach peaches from Fukushima Prefecture, this cake has a fromage blanc base.

*The following branches will serve with white peaches from Okayama instead: Kyoto, Keihan City Mall, Sanyo Department Store, Fukuya Hatchobori, Fukuya Hiroshima Station, MITSUKOSHI Matsuyama, Fukuoka VIORO, and Izutsuya Kokura. Price: Single Slice ¥1,200.

Peach & Grape Cake: Single Slice ¥900 (Tax Included)

Laced with fresh peach juice and decorated beautifully with super sweet grapes. The mascarpone base is a match made in heaven.

*The Ginza branch will use peaches and grapes from Nagano Prefecture. Price: Single Slice ¥1,100.

Peach & Mango Cake: Single Slice ¥990 (Tax Included)

A sweet and fruity combination of peaches and soft mango with a cheese cream base.

*The Ginza branch will use peaches from Nagano Prefecture and mangoes from Mexico. Price: Single Slice ¥1,100.

Harajuku's KAWAII MONSTER CAFE Serves Up a Special Summertime 5th Anniversary Lunch Menu

KAWAII MONSTER CAFE HARAJUKU is celebrating its 5th anniversary this year with a special limited-time summer lunch menu which is now being served until September 30.

KAWAII MONSTER CAFE opened its crazy doors on August 1, 2015. Since then, it has become an iconic must-visit spot of Tokyo's youth fashion hub Harajuku, serving Harajuku-esque food, drinks, and desserts. And they haven't held back on their colourful anniversary lunch either.

*Menu names have been translated from Japanese. The main dishes listed are an excerpt from the full menu.

MAIN DISHES

KAWAII Cold Noodles ~5 Years Begun~ | ¥980

This gorgeously colourful KAWAII MONSTER CAFE-style serving of cold noodles looks just like a parfait. The rainbow of ingredients is made to look like the goldfish scooping game seen at Japanese festivals.

Colourful Pop Burger – Froggy Looking Back Over 5 Years | ¥1,480

This frog burger has been seen at the cafe before, but this one celebrates 5 years of KAWAII MONSTER CAFE. It's a filling combination of bacon, cheddar cheese, lettuce, tomato, and of course the patty, all topped with BBQ sauce. It's served with both shoestring potato chips and lattice-cut potato chips.

SWEETS


Choppy Macaron Ice Cream | ¥950

The popular "tunkaron" macarons make their way to the KAWAII MONSTER CAFE in this ice cream dessert which is a combination of vanilla, strawberry, and chocolate ice cream made to look like the cafe's mascot Choppy. He's surrounded by a bed of sweet cotton candy.

Colourful Rainbow Ice Cream Cake (Quarter) | ¥800

KAWAII MONSTER CAFE's popular "Poison Cake" dessert arrives in an ice cream version for thr 5th anniversary. The marshmallow ice cream is filled with chocolate chips and the whole thing is coated in cream cheese. It's topped off with a rainbow made entirely from chocolate.

Melty Ice Cream Chocolate Banana Pie: ¥1,300

A custard pie topped with an upside down ice cream and adorned with a kaleidoscope of fresh cream, chocolate, sweets, and more. As you eat through the dessert, you'll find a chocolate coated banana – a classic sweet treat sold at Japanese summer festivals.

DRINK

Shake Hip Shake Chocolate Banana / Harajuku Decora Smoothie / Frozen Lemonade Ginger

Shake Hip Shake Chocolate Banana | ¥900

A shake that mixes cocoa and banana to create that Japanese summertime chocolate banana flavour.

Harajuku Decora Smoothie | ¥900

This peach smoothie is subtly sweet and has a satisfying texture that feels good when it goes down the throat. It's topped with fresh peach and nata de coco.

Frozen Lemonade Ginger | ¥850

A combination of sour lemon and fragrant ginger makes this a healthy beverage. Topped with lemon and ginger sherbet, it's a frozen, non-alcoholic cocktail.

Briana Gigante Shake: ¥950

This shake is a collaboration with Briana Gigante, a YouTuber. It's also inspired by her, mixing together coffee jelly, berry sauce, and brown cane sugar. It's finished with a topping of fresh strawberry, Oreo, and chocolate lips.

KIDS MENU

Kids Pop Mini Sliders w/Drink: ¥780

A colourful slider dish that's sure to be adored by kids. It comes with both a mini cheeseburger and fried shrimp burger with a side of nuggets and fries.

Kids Kiss Parfait: ¥850

The cafe's "Poison Parfait" has been turned into a kids version, layered with strawberry sauce, milk sauce, Japanese pudding, vanilla and strawberry ice cream, gummies, marshmallows, fresh berries, and chocolate lips.

Information

KAWAII MONSTER CAFE HARAJUKU
Address: YM Square Bldg. 4F, 4-31-10 Jingumae, Shibuya, Tokyo

Opening Hours: 11:30-19:00

No Fixed Holidays
Access: 5-minutes on foot Harajuku Station via JR / 1-minutes on foot from Meiji-Jigumae Station via Chiyoda Line and Fukutoshin Line

Official Website: https://kawaiimonster.jp/

Flower Miffy Juice Garden Asakusa Now Open and Serving Adorable Drinks

The new "Flower Miffy Juice Garden" opened as a permanent addition to Flower Miffy Asakusa on July 21, 2020. Flower Miffy is a Miffy-themed flower and merchandise shop.

Colourful Jelly Soda – Gerbera/Tulip/Sunflower/Lavender: ¥580 Each (Before Tax)

Four new Miffy drinks are being served for the opening of Flower Miffy Juice Garden. Each is a soda beverage is filled with colourful jelly, elderflower syrup made from real flowers, and a soft, bouncy kind of jelly. Each drink itself looks like a colourful bouquet.

Miffy Cream Soda: ¥680 (Before Tax)

Flower Miffy Juice Garden will also introduce the "Miffy Cream Soda" on Saturday August 1 which is a colourful jelly soda topped with ice cream, a Miffy wafer, and flower-shaped chocolate.

Lemonade: ¥480 (Before Tax)


Apple Juice: ¥480 (Before Tax)

Other available drinks include sweet and sour lemonade made using lemons grown in the Seto Inland Sea, 100% apple juice, and other cute delights.

Information

Flower Miffy Juice Garden Asakusa
Address: Aiso Bldg. 1F, 2-19-7 Kaminarimon, Taito-ku, TOkyo

Opening Hours: [Weekdays] 11:30-18:00 / [Weekends & Holidays] 10:30-18:00

Official Website: https://www.benelic-flower.com/
*Please note that the opening hours of Flower Miffy Asakusa and Juice Garden Asakusa are different

McDonald's Japan Reveals Mango and Muscat Creamy Frappes

McDonald's Japan will release their new "Mango Creamy Frappe" and "Muscat Creamy Frappe" at McCafé by Barista branches on July 22, 2020.

Mango Creamy Frappe: Regular ¥470 / Large ¥540

The Mango Creamy Frappe is made with Alphonso mangoes, which is considered by some at the king of mangoes. The beverage is a combination of McDonald's regular "Mango Smoothie" topped with whipped cream for a sweet and tropical flavour explosion.

Muscat Creamy Frappe: Regular ¥470 / Large ¥540

The new whipped cream-topped Muscat Creamy Frappe uses fresh and fruity muscat grapes for a sweet and sour kick.

Information

Mango Creamy Frappe / Muscat Creamy Frappe

Running: July 22, 2020 – Late August 2020

McDonald's Japan Official Website: https://www.mcdonalds.co.jp/

Gourmet Flower Doughnuts Released at gmgm in Tokyo's Koenji District

gmgm released a new collection of "Cold Flower Doughnuts" on July 17 for the summer season which you need to scoop up to eat.

gmgm is a cosy cafe and doughnut shop in Koenji, Tokyo which serves beautiful doughnuts topped with edible flowers.

Scoopable "Cold Flower Doughnuts" – ¥450 (Before Tax)

Combined with refreshing summertime lemon jelly is a creamy panna cotta filled with lumps of fresh fruit.

On the surface of the jelly is colourful and elegant seasonal edible flowers.


The bottom layer is the super soft panna cotta which enjoys the richness of the fresh cream and the juiciness of the fruits.

Information

gmgm
Address: 3-60-10 Koenjiminami, Suginami-ku, Tokyo

Open: Fridays, Weekends, National Festival Days
Business Hours: 12:00〜19:00
*Flower doughnuts available online 7 days a week

Official Website: https://www.gmgm.info/shop

Harajuku's New Chocolate Dessert Shop SÔ CÔ La Now Open For Business

The first Tokyo branch of the chocolate dessert shop SÔ CÔ La opened in Harajuku on July 15, 2020. Together with Harajuku Milk & Mot Tram—a shop which opened in collaboration with bubble tea shop Mot Tram and fresh cream shop Milk—SÔ CÔ La serves to further cement Harajuku as the number one place to go for desserts.

SÔ CÔ La Soft Serve Ice Cream: ¥550


SÔ CÔ La Soft Serve Ice Cream Sundae: ¥550

SÔ CÔ La will serve a range of desserts using ruby chocolate—the officially-recognised fourth type of chocolate alongside milk, dark, and white—the cocoa beans of which have a natural pink colour. It has a sweet, sour, and fruity taste. Customers can look forward to trying a range of rich desserts made with this rare type of chocolate and blended with dark chocolate.

The crunchiness of the shop's handmade "Aragosta Cones" goes perfectly with the rich chocolate blend ice cream.

Information

SÔ CÔ La Harajuku

Address: THE SHARE 1F, 3-25-18 Jingumae, Shibuya, Tokyo

Opening Hours: 11:00-20:00

TEL: 03-5772-8858

Instagram: @socola_of