Stay in a Traditional Japanese Hotel in Kosuge Village Where the Population is Just 700
NIPPONIA Kosuge Genryū no Mura is a new hotel opening in the village of Kosuge in Kitatsuru District, Yamanashi Prefecture on August 17. The hotel is renovated from an old Japanese-style house that was originally used for local personages and was constructed over 150 years ago.
Kosuge is about two-hours from Tokyo and is completely enveloped in the natural environment with 95% of the land occupied by trees and nature. Its population is around 700 which is a mere third of its peak population. It is currently faced with a serious depopulation problem due to its ageing population.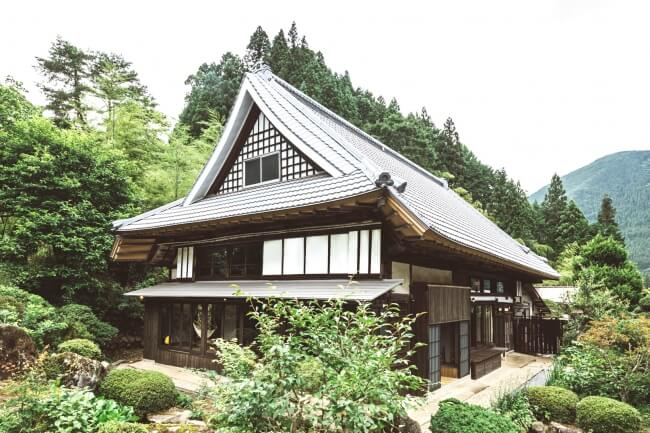 The hotel will open in an effort to pass on the beautiful landscapes and culture of the village to the next generation. It hopes to aid in solving the problem of its declining population and empty houses while acting as a means to bring in tourism and sightseeing.
The hotel serves as just the first part of this village revitalisation project. It features 4 guest rooms called OHYA as a restaurant that seats 22.
There are three rooms in the main building and one in the basement. Each is designed with privacy in mind and each has its own concept.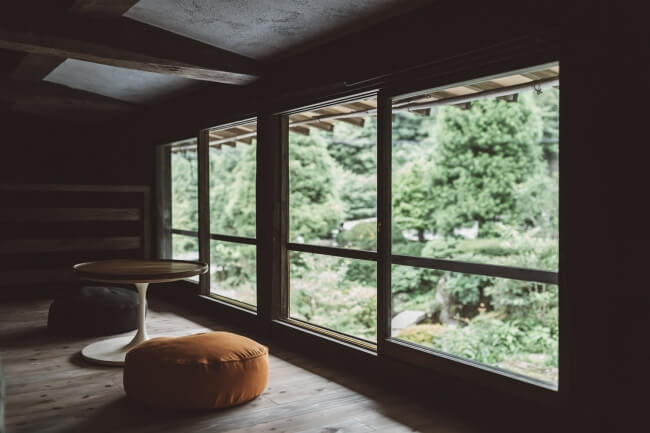 OHYA 1
From the rooms guests can enjoy the view of the gorgeous Japanese-style gardens surrounding the hotel.
The restaurant menu concept is titled 24 Sekki, which denotes the twenty four seasonal turning points of the old Japanese calendar, and is made using carefully local ingredients so that guests can enjoy an authentic Kosuge experience.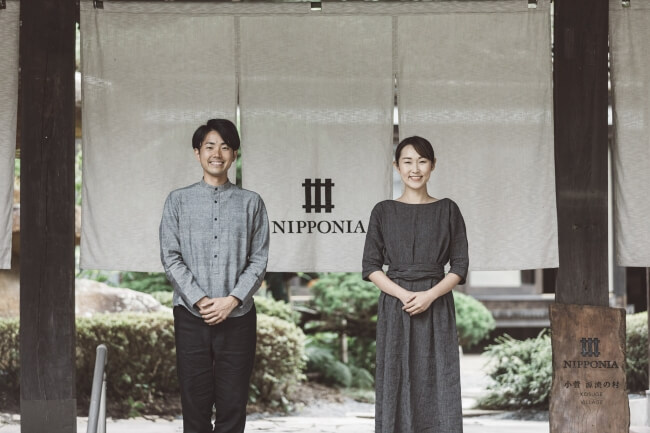 All the staff at the hotel are local villagers. The majority of the ingredients used in there are grown and produced by the farmers of Kosuge. The hotel also offers other services for guests to  get to know the area better such as nature walks and bike rides through the village. You are made to feel like one of the locals.
A second building will be renovated in May 2020 to accommodate two more rooms. There are 70-100 vacant buildings in Kosuge, so there are plans in place to receive permission from landlords to make further repairs, improvements and renovations.
If you're travelling to Japan and are looking for a truly remote experience then why not visit the quaint little village of Kosuge in Yamanashi Prefecture?
Information
NIPPONIA Kosuge Genryū no Mura
Address: 3155-1 Kosuge, Kitatsuru District, Yamanashi Prefecture (In Japanese: 山梨県北都留郡小菅村3155-1)
Grand Opening: August 17, 2019
Rooms: 4 (10 People)
Price: From ¥25,000 per person (includes one breakfast)
Access:
①Approximately 2 hours by car from Tokyo.
②1 hour by bus from Ōtsuki Station via the JR Chūō Main Line, 70-minutes by car from Oume Interchange
③1 hour by bus from Okutama Station via the Ōme Line, 20-minutes by car from Lake Okutama
TEL: 042-887-9210
Reservations: Open from August 1, 2019 via the following website: https://www.ikyu.com/vacation/00050804/
RECOMMENDED ENTRIES
Red Mount Fuji Curry Inspired by Japanese Ukiyo-e Painter Hokusai

The Mount Fuji Lava Cafe, located in the Fujisan World Heritage Center in Yamanashi Prefecture, released a new Red Mount Fuji Curry on January 12 inspired by the woodblock print Fine Wind, Clear Morning from Hokusai's Thirty-six Views of Mount Fuji series of landscape prints.

Red Mount Fuji Curry: ¥1,500 (Tax Included)

This red hot lava curry gets its vibrant colour from its picante spices and red chili oil. But it's not simply a bowl of spiciness – it also has typical Japanese flavours like a dashi made from skipjack tuna and kombu. It's also mixed with grape juice made from grapes grown in Fuefuki, Yananashi for deeper flavour.

Upon ordering this curry you can pick from three different levels of spiciness. Those who order the highest level, dubbed "Mount Fuji's Peak," are offer to take part in an eating challenge. If you're able to devour the hottest version of this curry within 22 minutes and 30 seconds the price of your bill will be wiped and you will receive a free ice cream.

The Red Mount Fuji Curry serves as a follow up to the cafe's original Blue Mount Fuji Curry which erupted in popularity on Japanese social media.

Mount Fuji Pancakes Made in Lava Furnace Now Available in Yamanashi Prefecture

These 'Mount Fuji Pancakes' are cooked in lava furnaces at Mount Fuji. They're being sold at The Noborisaka Hotel.

Mount Fuji Pancakes

Price: ¥980 (Tax Included)

Cooking the pancakes in a lava furnace causes the molecules to vibrate due to the far infrared effect. This means it cooks at a high temperature in a short period of time. Because of this, the necessary moisture ceases to evaporate, resulting in a soft, fluffy and deliciously cooked pancake. They're made with mascarpone which leaves a refreshing taste in your mouth

Strawberry Chocolate Fondue Pancake

Price: ¥1,880 (Tax Included)

Mount Fuji European Style Curry (only 30 served per day)

Price: ¥1,280 (Tax Included)

There's other dishes cooked in the furnaces too including pizza, steak and fried vegetables. It's different from cooking in an ordinary furnace. The surface doesn't burn but the heat, juices and flavour remain inside.

Try this ultimate Mount Fuji meal for yourself.

■Information

Mount Fuji Pancake

Opening Hours: 10:00am-9:00pm (Last Orders 8:00pm)

Address: The Norisaka Hotel 1F (6832 Funatsu, Fujikawaguchiko-machi, Minamitsuru-gun, Yamanashi Prefecture)

TEL: 0555-28-5310

Website: http://hotel-noborisaka.jp

Spend some quality relaxation time at an old Japanese residence—4 lodging rooms recommended by Airbnb

Autumn will soon be upon us as we gradually approach the end of summer. Today, we will take a look at several private rooms recommended by Airbnb located in old Japanese residences where you can stay and spend some leisurely time while immersing yourself in the tail end of summer.

Kyoto: Step back in time to the Taisho and Meiji periods to a 100-year-old townhouse

This townhouse was build 100 years ago and was renovated back in 2013. It is located in the heart of Kyoto and is conveniently accessible during a sightseeing trip.

This traditional townhouse was built by Japanese artisans and is a very impressive-looking building indeed! Part of the charm can also be accredited to the small garden which you can view from the 1st floor.

Fukushima: Reserve a registered tangible cultural property 330m2 Japanese-style house

"Nihon Kaoku Hibiki no Yado" is a reconstructed lodging that was officially selected as a tangible cultural property. The grounds have spanned 13223m2 since the end of the Edo period and are home to trees that are more than 300 years old, allowing you to truly feel the history of the place.

There is no doubt that your soul will grow warm if surrounded by lots of people around a saucepot at the hearth.

Gunma: Moments away from hot springs! A house hidden away in the boundless expanse of mountains

 

"MAYUDAMAHOUSE" was built 134 years ago at the prefectural boundary of Gunma and Nagano. It is surrounded by many hot springs, including Shima Tamura which became the model for Kusatsu Onsen and Spirited Away.

 The back of the house is dotted with edible wild plants which you can eat as they are with things like tempura. Another highlight of this locations is the freedom to enjoy as much nature to your heart's content.

Saitama: A former rice dealing townhouse situated in Kawagoe aka "Little Edo"

 

Located in Kawagoe, also known as "Little Edo," this townhouse is a designated important scenic structure of the city. It's a long-standing machiya-zukuri, or traditional wooden townhouse.

 You can kick back and relax under the hori-gotatsu, an earlier version of the modern kotatsu, or unwind in a bathtub made from granite and cypress.

It's the perfect lodging to destress and remedy fatigue. There's also a room tucked away upstairs, meaning you can sneak off for a while on your own little adventure.

How about spending your trip discussing your summer memories while feeling like you're living in an old time Japanese house?
RELATED ENTRIES
Instagram Launches #MY TOKYO IS Campaign With Tokyo Metropolitan Government

Instagram launched a campaign with the Tokyo Metropolitan Government entitled "#MY TOKYO IS" on November 11 together with three limited-time stamps that can be used on people's Instagram stories.

The campaign is a global initiative to have people capture their favourite moments in Tokyo in the form of photos, videos and stories on Instagram. Shared posts will be used to curate places and scenery in Tokyo that the Tokyo Metropolitan Government want to showcase to the people of the world. This curation will take the form of an exhibitionーwhich will take place at GINZA ATRIUM on floor 6F of GINZA SIX and GINZA TSUTAYA BOOKS in late March 2020ーas well as a website and a book.

Statistics have shown that Instagram has a significant influence on the Japanese economy in terms of tourism, and so the Tokyo Metropolitan Government hopes that this interactive campaign will help to promote the city to tourists and travellers worldwide.

The stamps created as part of the campaign only appear in the tray when you're in the city of Tokyo. When you click the stamp, the #MYTOKYOIS search result page will be displayed, allowing you to see the other photos and videos posted by the people who have used the campaign hashtag.

If you're in Tokyo, then be sure to get involved in the campaign and show the world your favourite things about the city!

Information

Enter via Feed Posts

・Follow the official Tokyo Tokyo Instagram account @tokyotokyooldmeetsnew

・Add hashtags #MYTOKYOIS and #TokyoTokyo to your post

・Add spot or location info to the photo or video you took, and post

Enter via Stories

・Follow the official Tokyo Tokyo Instagram account @tokyotokyooldmeetsnew

・Use the #MYTOKYOIS sticker or add the hashtag #MYTOKYOIS using the text tool / hashtag sticker

・Add spot or location sticker of the photo or video you took, and post

#MY TOKYO IS Campaign Website

Hotel Chinzanso Tokyo to Hold Christmas Evening Party at Le Jardin Restaurant

Hotel Chinzanso Tokyo has announced that it will hold a special Christmastime "Evening Party" from December 20-25 at Le Jardin, the hotel's stylish cafe/restaurant that offers a gorgeous view of the hotel's quiet garden landscape.

The Evening Party will take place just a little later than afternoon tea time where customers can tuck into some succulent meat and fish. The hotel has held it for the past 14 years, and anyone that has experienced it will tell you that you'll want to go back after trying it once.

At the party, seasonal food is served on an extravagant 3-tier hors d'oeuvres stand together with champagne. You will never forget the taste of the chef's specially-prepared thick cut roast beef, as well as your own choice of dessert, tea, coffee and more.

The roast beef in particular is hugely popular, with repeat customers flocking to get a taste of its delicious flavour. It's seasoned with salt, fennel, rosemary and juniper berries, and garlic before being browned in the frying pan and subsequently cooked in an airtight pack together with a mirepoix made from carrots, onions, celery and other ingredients on a low heat at 63°C for 3 hours. This is the secret to the meat's popularity, resulting in soft and succulent heaven.

Menu items will be served in Christmas colours, including some made to look like Christmas trees, and there is also a meal plan that includes a present.

Enjoy a wonderful dinner time this Christmas in Tokyo at Hotel Chinzanso Tokyo.

Information

Christmas Evening Party

Running: December 20, 2019 – December 25, 2019

*Reservations required

*Musical performances to take place on December 20 and 21 (18:30-21:00)

Time: 18:00-22:00 (Last Orders 20:30)

Location: Le Jardin, Hotel Chinzaso Tokyo Floor 3F

Price: ¥4,600 (¥8,000 w/ present) (Tax & service charge not included)

Reservations/Enquiries: 03-3943-0920 (10:00-21:00)

Keio Plaza Hotel Tama's Hello Kitty & Sanrio Rooms Celebrate 5th Anniversary

To celebrate 5 years since the grand opening of the Hello Kitty Room at Keio Plaza Hotel Tama, guests are being treated to a very special present.

Friday November 1 marked the 45th anniversary of Hello Kitty. Together with the 5th anniversary of the hotel room, all guests who stay in any of the Sanrio character-themed hotels at Keio Plaza Hotel from now until February 29 next year will receive an application paper. Once they fill it out and then post it in the box in the lobby on the second floor they will be entered for a chance to win a one-night ticket to one of the three Sanrio character rooms. Exclusive merchandise will also be sold to commemorate the 5-year milestone.

The hotel poster promotional videos for the three rooms over on their homepage. This includes the revamped Hello Kitty Room, the My Melody Room which opened back in June, and the Little Twin Stars Room.

Information

Sanrio Character Room Ticket Campaign

Running: November 1, 2019 – February 29, 2020

Keio Plaza Hotel Tama

Address: 1-43 Ochiai, Tama, Tokyo

Official Website: https://www.keioplaza.com/tama/index.html

Sightseeing in Ise: 4 Must-Visit Souvenir Shops Near Ise Grand Shrine

The city of Ise is located in central Mie Prefecture on the eastern tip of Kii Peninsula, the largest peninsula on Japan's largest main island Honshu. Every year, the autumn season brings in a flurry of tourists and sightseers who flock to see the city's leaves expressing their vibrant hues of red and yellow. The city boasts a magnificent catalogue of sightseeing spots, but perhaps the most famous of all is Ise Grand Shrine, whose inner and outer shrine give visitors a sense of what the townscape looked like in ancient times. This can also be seen at Sarutahiko Shrine, amongst other places.

In this article, we're going to introduce you to 4 must-visit souvenir shops near the inner shrine for your Ise travel bucket list.

Amano Pearl

When talking about specialty products of Ise, the one thing that's sure to come to the minds of Japanese people are the pearls sold in the city. Amano Pearl can be found in Oharaimachi, an almost 1km long street lined with traditional shops. The owner themselves purchases and appraises the pearls while the shop staff manufacture and design gorgeous accessories to sell at an affordable price.

Accessory – ¥2,200

This rose-shaped necklace is a design favoured by women of all ages. They have plenty of other high-quality bargain picks like this too.

The shop's diverse line-up of beautifully accessories includes those perfect for combining with one pieces and dresses, as well as for parties. Prices and designs vary greatly, so there's bound to be something for everyone who steps inside this quaint store. So if you're shopping for souvenirs during your trip to Ise, then you absolutely have to pay a visit to Amano Pearl to see the city's famous pearls.

▶︎Amano Pearl – Oharaimachi Branch

Address: 45 Ujiimazaikechō, Ise, Mie

Opening Hours: 9:00-17:00

No Fixed Holidays

Official Website: https://www.amanopearl.jp/

Matsujiro Honey – Ise Oharaimachi Branch

Matsujiro Honey is a long-standing honey shop that was established back in 1912. The shop sells various varieties of honey, including flavours you won't find in supermarkets like apple honey and soba honey.

Hanabana – ¥864

Hanabana is the shop's No. 1 most popular variety of honey and it's made in Mie Prefecture. Its name in Japanese means "flowers," and as the name suggests, it includes the nectar of numerous types of flowers. It has a smooth texture and distinct full-bodied floral fragrance.

Centre: Mini Honey Soap – ¥503 / Right: Honey Soap – ¥2,200 / Left: ¥2,200 Honey Face & Body Oil (48ml) – ¥2,200

The shop even sells its own honey-imbued cosmetics, all made with natural ingredients. Their soap is made with their popular Hanabana honey, and gives off a flavoursome honey smell. Your skin is left smooth, moisturised and smelling great after using it.

Their rich honey oil too is made with 90% plant-derived oil and is free from preservatives. It's a great option for the coming dry season and is gentle on the skin.

If you visit the shop, they let you taste test their different types of honey too! Find your favourite.

▶︎Matsujiro Honey – Ise Oharaimachi Branch

Address: 7 Ujinakanokirichō, Ise, Mie

Opening Hours: 10:00-17:00

No Fixed Holidays

Official Website: https://www.matsujiro.shop/

Uoharu

Uroharu first opened its doors in 1931. Their products are sold as souvenirs to help spread the word of Ise's rich food culture.

Same No Tare – Salt Flavour / Mirin Flavour

The item you absolutely want to look out for when going into Uohara is their "Same No Tare," another Ise speciality. It was originally only eaten in Shima, Ise, but it was picked up on national television, leading it to become a food souvenir associated with Ise.

Uoharu's products are seafood based, and there's plenty to choose from. If you're looking for a food product specifically from Ise then look no further than Uoharu.

▶Uoharu

Address: 49 Ujinakanokirichō, Ise, Mie

Opening Hours: 9:00-17:00 (*Changes depending on season)

Closed: Wednesdays (Except on national holidays in which case closed on Thursdays)

Official Website: https://www.samenotare.jp/uoharu/

Henbaya – Oharaimachi Branch

Yet another speciality product of Ise comes from the much-beloved Henbaya, which first opened way back in 1775. The speciality products, also called "henbaya," can be ordered either for takeout or enjoyed in the shop.

Henbaya (Includes 2) – ¥160

Henbaya are thin, round sticky rice cakes made with top of the range domestic ingredients and packed with smooth red bean paste. Both sides of these deliciously fragrant rice cakes are browned, and when bitten into, fill and melt in your mouth with the sweet, smooth flavour of the bean paste.

At the Oharaimachi branch of Henbaya they sell various other rice cakes too, all chewy and made with high quality ingredients from Japan. Pick up a pair and enjoy the sweet taste of Ise.

▶︎Henbaya – Oharaimachi Branch

Address: 1-149-1 Ujiurata, Ise, Mie

Closed: Mondays (Except on national holidays in which case closed on Tuesdays)

Opening Hours: 9:00-17:00 (Eating in-store runs until 16:30)

*Products may sell out before 17:00

*Opening hours subject to change for January

So, if you're making a trip to the beautiful city of Ise, you now know the must-visit spots for finding souvenirs. Let us know if you visit any!

Kyoto Sightseeing | Yokokuji Temple's Autumn Event Schedule Announced

Yanagidani Kannon, also known as Yokokuji Temple, is located in Kyoto Prefecture's city of Nagaokakyo and has been used as a place of prayer for many people with eye disease since the Heian Period. It is believed that praying at the temple will cure eye disease.

For autumn-time this year, the temple is set to hold an event titled "Yanagidani Kannon Autumn Colours Week" from November 2 to December 1. With a seasonal schedule that includes illuminations in the gardens to a flower display at the temple water basin, if you're looking for the must-visit locations in Kyoto this autumn, then you'll want to add Yokokuji Temple to your list.

Jodoen Garden Illuminations

Last year's popular light-up event is making a return for 2019, with gorgeous illuminations developed by light designer Yuuki Kogawa which will brighten the area with an enchanting and mystifying aura different from a usual visit to the garden.

Dates: November 8th, 15th, 22nd-23rd

Time: 17:30-18:30  (Reception open from 17:00)

Price: ¥2,500 (Includes limited edition goshuin stamp)

No. of People: 20 (Bookings Only)

Bookings: https://yanagidani.jp/contact/

Special Opening of the Joshoin

Normally, the Joshoin only opens on the 17th of every month, but for this autumn week event, it will be open every day. It's an area normally limited to officials and those in the imperial family. The beauty of its autumn colours have come to be enjoyed by VIPs, dating back to the pre-war period when it was designated as a place of scenic beauty.

Hanachomizu Flower Water Basin

At every temple and shrine in Japan there is a water basin which you are to use to cleanse yourself before entering. The Hanachomizu has become hugely popular on social media since the name first appeared 3 years ago, where leaves and flowers are placed into the basin. It has become adopted at temples across the country, with the one at Yokokuji Temple starting the trend. When it was first posted onto social media, it received reactions from over 80,000 people both in Japan and overseas. The flowers used change with the seasons, from hydrangeas to maple leaves.

Limited Edition Goshuin Stamp Book Designs – Garasha Matsuri & More

Visitors will be able to pick up limited-edition goshuin stamp books which never fail to sell out whenever they are released. Goshuin are collectable stamps/seals at temples around Japan. They are ¥500 each and limited in stock.

This is just a small peek into what's to come during Yanagidani Kannon Autumn Colours Week. If you're in Kyoto, make sure you pay a visit to Yokokuji Temple.

Information

Yanagidani Kannon Autumn Colours Week

Running: November 2, 2019 – December 1, 2019

Time: 9:00-16:00 (Joshoin open 10:00-15:00)

Location: Yanagidani Kannon, Yokokuji Temple (Dōnotani-2 Jōdodani, Nagaokakyo, Kyoto)

Entry Price: ¥300

Full Ticket: ¥1,100→¥1,100 (Includes entry to multiple areas)

Official Website: http://yanagidani.jp/

Hoshino Resorts to Open New Facilities in Okinawa, Hawaii & 3 More Places

Hoshino Resorts opened HOSHINOYA Guguan in Taiwan in June and Iriomotejima Hotel in Okinawa in October this year. It will also open Risonare Nasu in November. The hotel chain has now just announced that it will open 5 more new facilities in 2020, pushing the number of locations they manage up to 45 next year.

Iriomotejima Hotel

Risonare Nasu

Hoshino Resorts prides itself on offering a hotel experience that makes use of local regions as well as offering unique experiences. With their catalogue of facilities now set to increase, the company has a released a video detailing the five new hotels.

The five new hotels will open in Hawaii, Nagato in Yamaguchi Prefecture, Tsuchira in Ibaraki Prefecture, Kohama Island in Okinawa Prefecture, and mainland Okinawa.

The Hawaii hotel, named Hoshino Resorts Surf Jack Hawaii, describes itself as an "ohana-friendly retro boutique hotel with a satisfying Waikiki experience."

Nagato, Yamaguchi will give rise to the 16th hotel in Hoshino Resorts' brand of KAI hotels, named KAI Nagato. It will open in the Yumoto Hot Spring area and be inspired by Yamaguchi's traditional tea houses as well as buke samurai culture. Look forward to bathing in the hot springs of this traditional Japanese inn, steeped in history and culture.

Over in Ibaraki Prefecture, Hoshino Resorts will open Japan's biggest cycling resort, named Hoshino Resort BEB5 Tsuchiura, which we covered earlier this month. It will act as a "base camp" to enjoy cycling, with its core concept being "more an izakaya and less travel-focused where you can enjoy a laid-back time with friends." It hopes to put a new spin on travel by combining the worlds of cycling and accommodation.

Okinawa is getting three new hotels. Hoshino Resorts Risonare Kohama will feature 60 rooms each their own private villas. Its concept is "a private beach resort on a remote island swimming with the manta rays" and will offer a beach and resort-like experience to guests with views of the white sand and blue ocean.

HOSHINOYA Okinawa will be inspired by gusuku which refers to castles in the Ryukyu Islands that feature stone walls, with the hotel itself being enveloped in one. The hotel will be surrounded by the gorgeous ocean and coast, offering that quintessential Okinawan resort experience.

The tables at Hoshino Resorts Banta Cafe will offer a breathtaking view of Okinawa's grand seas, with a menu serving food and drink made with Okinawan ingredients.

2020 is looking to be a big year for Hoshino Resorts as it begins expansion. If you're travelling to Japan, why not check if one of their hotels is near where you're looking to stay?

Eat & Drink in Harajuku at MOSHI MOSHI ROOMS' Rooftop BBQ

Since opening in Harajuku last year, MOSHI MOSHI NIPPON's ultra-kawaii hotel MOSHI MOSHI ROOMS has been the talk of the town. We are here to announce a new BBQ plan for guests which is held on the hotel rooftop and which you can attend empty-handed.

MOSHI MOSHI ROOMS is only an 8-minute walk from Harajuku Station. You'll know you've arrived when you spot our neon sign pictured above. It's on the roof of this building you can look forward to getting your teeth into a delicious BBQ and chugging down drinks.

The rooftop design takes on a pop appearance, mixing blue with yellow. This cute design alone is enough to get you excited for what's to come. And since there are no tall buildings around us, you get a great view of Harajuku from below.

The BBQ plan comes equipped with everything you need: a fire, plates, cups, ingredients, and alcohol. We have a great option of drinks, including beer, wine, whisky, and soft drinks. There's also a beer server so you can enjoy your beer nice and frosty. If we don't have a drink you'd like, you can bring your own too. There's a FamilyMart and other shops nearby, so head there to stock up.

BBQ Set – ¥6,000 Per Person (Before Tax) *Photo is a select portion example for 5 people

For grub, our lineup includes meat, fish, egetables, fried onigiri, and sweets. There's Japanese beef too, as well as Japanese chicken, pork, lamb, sausage, and more. We prepare the most delicious ingredients for the current season. There's a lot of different meats to choose from, so rest assured you won't go hungry.

All the food is seasoned for you, so you can drop it all on straight away and get straight to eating.

Make a toast with your drinks and tuck in! The wagyu beef is nice and plump once it comes off the fire. One bite of the soft meat will treat your taste buds to a luxurious sweetness and the meat's delightful juices.

The chicken is seasoned sweet and spicy. It has a crunchy exterior and soft inside. The lamb is seasoned well too and has that distinct deep flavour lamb has.

Our fish and vegetables are all in season too. The fish pictured above is salmon cooked in foil and seared skipback tuna. The salmon is seasoned with butter and soy sauce. All of the delicious flavour of the skipback tuna is intensified while prepared on the fire, and the inside is sumptuously tender. It's seasoned with citrus soy sauce.

This here is giant okra which I tried for the first time. Giant okra is in season right now too. It's a lot more elastic than your regular size okra and has a juiciness when you bite into it.

I was so full already… until dessert arrived! These is a dessert sweet potato roasted on the fire.

I topped it with vanilla ice cream and tea flavoured ice cream before sprinkling on cornflakes to finish.

The mix of the hot potato and cold ice cream is a match made in heaven inside your mouth. The roasted sweet potato has a subtle sweetness which mixes perfectly with the creamy ice cream. I originally thought I was full but there's always room for dessert.

There are parasols too in case it rains. You can even rent out tents from the hotel if you like.

If you're looking to stay in Harajuku, come and see us at MOSHI MOSHI ROOMS and enjoy a BBQ with a rooftop view of Harajuku.

Writer: Sayuri Mizuno (MOSHI MOSHI NIPPON)

Translator: Joshua Kitosi-Isanga

Information

MOSHI MOSHI ROOMS BBQ Plan

Address: 2-18-7 Jingumae, Shibuya, Tokyo

Price: From ¥6,000 Per Person (Reservations Available)

Set Ingredients:

・Meat: Wagyu beef and other meats in season

・Fish: In season fish

・Vegetables: In season vegetables

・Other: Fried Onigiri, Satsuma Sweet Potato Dessert

・Drinks: 1 Beer Server, White Wine, Red Wine, Whisky, Shochu, Tea, Water, Orange Juice, Cola (soft drinks are served in 2ltr bottles)

Set Equipment:

・Grill, BBQ, Tongs, Plates, Cutlery, Cups

Reservation/Enquiries: info@moshimoshi-nippon.jp

*Prepared ingredients will differ from season to season

3 Must-Visit Locations to See Kyoto's Autumn Colours at Night in 2019

Kyoto is known as the ancient capital of Japan. It is said to be the place where quintessential Japanese culture started, and has charmed the world over with its incredibly rich 1,200-year history.

Autumn is a popular season in Japan, especially amongst tourists and travellers. While in spring you have the bright pink cherry blossoms, when autumntime rolls around, the trees turn into enchanting reds and yellows. People from around the world flock to see this incredible sight, with Kyoto being a very popular location.

KYOTO SIDE, a regional information website run by Kyoto Prefecture, has listed a number of must-visit places around the city for seeing the autumn foliage, which is known as koyo in Japanese. Of course, viewing the beautiful colours of the trees and their leaves is a must during the daytime, but seeing them in the evening has become popular in recent years too. It offers you an entirely different experience and atmosphere. Here's three places you should jot down for your Kyoto trip this autumn.

Jitokuin Temple: A place of rest created by the chief priest and locals

Jitokuin Temple is located in the town of Yosano in Yosa District. Maple trees were planted almost 11 years ago with the help of locals and the chief priest to create local ties. Every autumn, the trees behind the mountain bloom in vivid hues, leading the temple to be nicknamed "Koyo-ji," or "Temple of Autumn." The locals work hard in the surrounding gardens day by day, so the sights change a little bit every year.

The maple trees are planted in a way that it looks like they take an entire side of the mountain. They are a sight to be hold during the day, but for one week in November there will be illuminations in the evenings, creating a magical scene under the night sky.

Light-Up Period: November 9, 2019 – November 16, 2019

Light-Up Time: 17:00-20:00 (Temple is open 09:00-20:00)

Autumn Foliage Peak Period: Early-Mid November

Address: 2250 Akeshi, Yosano, Yoza-gun, Kyoto

Support Fund: ¥300

Official Website: http://jitokuin.com

Nariaiji Temple: The 5-storey pagoda comes together with the autumn colours

Nariaiji Temple, located in Kyoto Prefecture's city of Miyazu, is an ancient temple betwixt mountains overlooking Amanohashidate, one of Japan's "Three Scenic Views." It's home to a grand 5-storey pagoda which is surrounded by hundreds of maple trees, offering an incredible, quintessentially Japanese view during autumn.

During the day, you can snap some gorgeous photos with the Sea of Japan and Amanohashidate in the back. For two nights only, on Saturday November 9 and Sunday November 10, the entire area will be beautifully lit up with warm illuminations.

Light-Up Period: November 9, 2019 – November 10, 2019

Light-Up Time: Sunset – 21:00 (Temple is open 08:00-16:30)

Autumn Foliage Peak Period: Early-Late November

Address: 339 Nariaiji, Miyazu, Kyoto

Price: ¥500

Official Website: http://www.nariaiji.jp/

Kasagiyama Prefectural Natural Park: A bright-red landscape from the mountain peak

Kasagiyama Prefectural Natural Park: is located atop Mt. Kasagi and is also home to Kasagi-dera, a temple with a 1,300-year history. During autumn, one entire side of the park is dyed in autumnal colours.

This November, the area will be lit up for a limited period, offering a gorgeous view from the mountain peak of the trees below as well as the flowing Kizugawa river.

Light-Up Period: November 1, 2019 – November 30, 2019

Light-Up Time: 17:00-21:00 (Temple is open 09:00-16:00)

Autumn Foliage Peak Period: Early-Mid November

Address: Mt. Kasagi, Kasagi, Soraku District, Kyoto

Price: Illuminations – Free / Temple – Adults ¥300, Children ¥100

Official Website: https://www.kasagidera.or.jp

See Japan's autumn colours in an entirely new way this year at one of Kyoto's many autumn-time illumination events.

THE MACHIYA SHINSEN-EN: Kyoto's New Traditional & Modern Fused Hotel

THE MACHIYA SHINSEN-EN is a new hotel that just opened on Tuesday (October 15) located just a five-minute walk from Kyoto's world heritage site Nijō Castle. Renovated from an old Kyoto-esque townhouse, this 21-room hotel fuses traditional Japanese architecture with the modern, complete with a lounge on the first floor decked with an open space where guests can enjoy a gorgeous breakfast if they choose the option. The friendly staff will be waiting to welcome guests to the hotel like friends.

The hotel's name derives from Shinsenen, a Japanese Buddhist temple and Kyoto sightseeing  spot located just a one-minute walk from the site. The temple is home to Japan's only "ehomaki shrine" where Toshitokujin, the goddess of auspicious directions for the current year, is enshrined. The temple is also home to an enormous and beautiful lake, and is said to provide good luck with marriage ties, something which is known to everyone in Kyoto. The "machiya" part of the hotel's name means "townhouse" in Japanese.

The hotel combines the traditional with the modern effortlessly, with four types of suite rooms available including the spacious corner suite rooms, as well as suite rooms that focus more on traditional Japanese architecture, namely that of the old-fashioned townhouse. All suite rooms have a kitchen, washer/dryer, and other convenient amenities for those looking for a longer stay, as well as for families and larger groups.

THE SHINSEN-EN Deluxe Suite

Located on the top floor, this corner suite room offers a spacious environment and enjoys plenty of natural lighting for the window which takes up an entire wall. There are both beds as well as a tatami area with futons so you can pick how you want to sleep. There's also a roomy washroom as well as a dining space with a fully-equipped kitchen and washer dryer. The room also has a sofa, TV, refrigerator, free WiFi, and more for your convenience.

THE MACHIYA Deluxe Suite (Dragon)

This suite room has a Japanese aesthetic with its paper sliding doors and hanging scrolls. Natural light seeps in from the ceiling window fitted to the high ceiling. As well as the Japanese-style bedroom, it also has a western-style bedroom and living room, as well as both beds and futons, so you can pick if you want a Japanese sleep or a western sleep. There is a fully-equipped kitchen and washer dryer. The room also has a sofa, TV, refrigerator, free WiFi, and more for your convenience.

THE SHINSEN-EN Suite

The entrance to this suite room has lattice doors and stone paving, welcoming you with that traditional Japanese aesthetic. The spacious room basks in natural lighting from the enormous windows. There is a fully-equipped kitchen and washer dryer. The room also has a sofa, TV, refrigerator, free WiFi, and more for your convenience.

In addition to suite rooms there are four other types including Deluxe Twin, Superior Hollywood Twin, Hollywood Twin, and Classic Hollywood Twin. The rooms enjoy indigo blue and orange colouring for a relaxed and modern feel. Each have their own washrooms, toilets, sofas and desks. Additionally, all first floor rooms can be connected, so you can turn them into full 2-3 or 4-5 people spaces.

Guests can use the first floor lounge space freely and at their own leisure. And if they choose so they can also enjoy breakfast there.

The front desk staff can speak both English and Japanese so can support foreign travelers. The hotel is situated in a great place for sightseeing, so be sure to consider booking at the all-new THE MACHIYA SHINSEN-EN if travelling to Tokyo.

Information

THE MACHIYA SHINSEN-EN

Opened: October 15, 2019

Address: 17-1 17 Shinsenencho, Nakagyo Ward, Kyoto

Access: 5-minutes on foot from Nijōjō-mae Station

Rooms: 21 (approx. 22-45㎡)

Capacity: 2-5 people

Breakfast: Served in first floor lounge for an additional fee

Official Website: https://shinsen-en.com/

Experience Art and the Japanese Tea Ceremony Come Together at hotel koe tokyo's Private Lounge

"hotel koe tokyo" isn't your everyday normal hotel. Developed and produced by "koe," the hotel brings together fashion, music, cuisine, and a luxury accommodation experience. In line with DESIGNART TOKYO 2019, the hotel has announced it will hold a reservation-only event entitled "DESIGNART TOKYO 2019: Tea ceremony by artless+asahiyaki" at its third-floor private lounge on October 19 and 20.

Asahi ware is a type of Japanese pottery originating in Uji, Kyoto almost 400 years ago. Hosai Matsubayashi is the 16th generation master of this long-running workshop, known as Asahiyaki, and he's set to collaborate with Shun Kawakami, an artist and art director of global branding agency artless Inc. The collaboration is being held to promote Japanese culture not only to the people of Japan but those overseas too, and "hotel koe tokyo" is the perfect place to do it due to the huge number of foreign visitors that stay at the hotel.

The two of them have taken the traditional Japanese tearoom and have put a modern spin on it. Normally, this private lounge of the hotel is only usable by guests staying there, but this reservation-only event will grant exclusive access to all. It brings together Japanese tea and art in the form of a special tea-making course. Attendees will follow Hosai Matsubayashi's instructions and prepare their own tea. During the session, both Matsubayashi and Kawakami will give talks on their work while you enjoy your tea.

Take advantage of this special occasion to learn about the beauty of Japanese tea.

Information

Tea ceremony by artless + asahiyaki
Dates: Saturday October 19, 2019 / Sunday October 20, 2019
Time: 4 Slots – ①12:00 / ②13:30 / ③15:00 / ④16:30 (60 minutes each)
Capacity: 10 per slot
Location: hotel koe tokyo ("koe lounge" on Floor 3F)
Content: Tea Making + Tea Art
Price: ¥3,000 (Before Tax)
Reservations:  https://www.tablecheck.com/ja/shops/hotelkoe-tokyo-privatelounge/reserve
*This event is reservation-only

Suiran Ranks as Japan's Best Hotel in Condé Nast Traveler For Second Year in a Row

"Suiran, a Luxury Collection Hotel, Kyoto" has ranked as the number one hotel in Japan for the second year in a row in the Japan's Top Hotels category of Readers' Choice Awards 2019 in Condé Nast Traveler.

The Condé Nast Traveler Readers' Choice Awards lists the world's best travel experiences as ranked by international travellers. Over 600,000 people voted Suiran as Japan's best hotel for the second time.

Suiran is located in Arashiyama, Kyoto and first opened in March 2015 under a brand of luxury hotels known as The Luxury Collection®. The hotel's concept is to make full use of Arashiyama's appeal, lauded for its deep culture and history, while paving the way to the future. It houses guests from around the world who can enjoy a view of Arashiyama's lush natural landscape which changes beautifully with the seasons, and who can experience a fusion of the traditional and the modern while being served classic Kyoto hospitality.

Speaking about the award, the hotel's general manager Hiroyuki Hatori said the following: "I am greatly honoured that we have been given the number one spot two years in a row in this internationally-recognised poll. To all the people in the region who continue to support Suiran, and to all our guests who use the hotel, I thank you from the bottom of my heart. These results are an incentive to further work hard with our associates to ensure this is a hotel that people will love even more."

If you are travelling to Kyoto and looking for a place to stay, why not consider the city's best: Suiran, a hotel which continues to pass down tradition while embracing the modern?

Information

Suiran, a Luxury Collection Hotel, Kyoto

Address: 12 Sagatenryūji Susukinobabachō, Ukyo Ward, Kyoto

Access: 15-minutes on foot from Saga-Arashiyama Station / 6-minutes on foot from Arashiyama Station via Keifuku Electric Railroad / 15-minutes on foot from Arashiyama Station via the Hankyu Arashiyama Line

Official Website: https://www.marriott.com/hotels/travel/ukylc-suiran-a-luxury-collection-hotel-kyoto/

Izu Shaboten Zoo Opens New Hotel Izushaboten Village

Izu Shaboten Zoo in Ito, Shizuoka has opened its very own hotel Izushaboten Village Petit Hotel which is less than a minutes' walk from the zoo itself, making it an ideal location for those looking to see the animals so they can take their time at their own leisure.

The hotel offers various different rooms, from modern and chic to the Izu Shaboten Zoo Room, Pirate Room and more. Each room has its own unique touch you won't find anywhere else. The hotel also offers an accommodation plan that comes with entry tickets to the zoo.

For food, guests can enjoy dining at La Chic, a new restaurant that opened in spring this year that makes use of homegrown vegetables and produce sourced from contracted farmers. Food is served in a semi-buffet style in mornings and evenings so you can make up your own dish. Non-guests can eat here too if they make a reservation*.

*Reservations for non-guests are dependent on free tables and other conditions. The menu style and ingredients and subject to change without notice.

If you're looking to visit Izu Shaboten Zoo, consider booking a room at their official hotel.