Night Party at Harajuku's Conveyor-Belt Dessert Cafe Ron Ron for 20 Year Olds Only
MAISON ABLE Cafe Ron Ron is a popular conveyor-belt dessert cafe in Harajuku. We visited the cafe last year when it had just dropped, so be sure to check out our cover story if you want more information.
The cafe has just announced a night party that is exclusive to those in their 20's. Titled "Cafe Ron Ron 20ty's Night Party -PINK FRIDAY- supported by MAISON ABLE," the event began yesterday and will run every night up to September 27.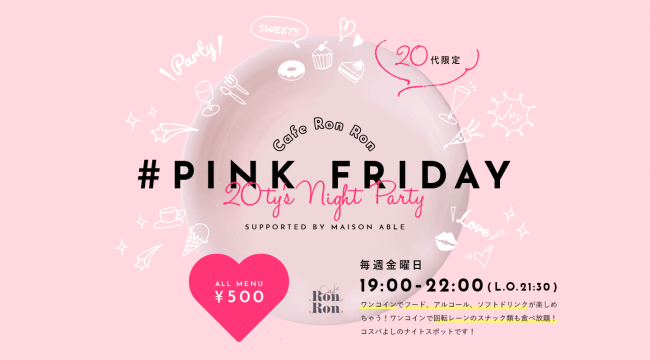 Customers can enjoy all-you-can-eat unlimited snacks for just ¥500 with no time restrictions. For an additional fee, you can also pick from the food menu which features 5 dishes and order from the drinks menu which includes alcohol.
Everything on the food and drinks menu is ¥500 too, making it a delicious bargain!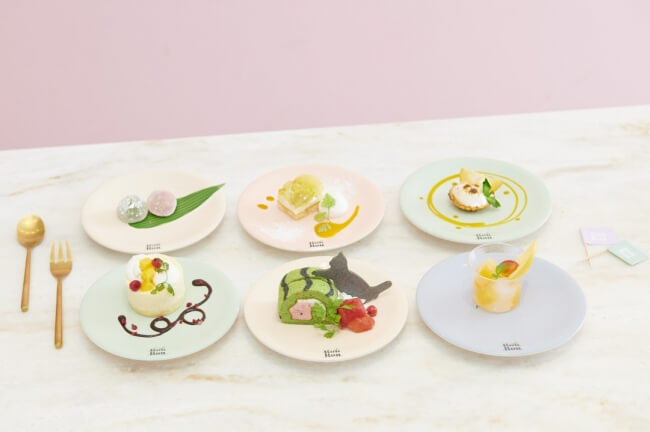 Desserts are served at varying time slots from 19:00. Depending on what time you arrive or decide to start eating the menu will change which is all part of the fun!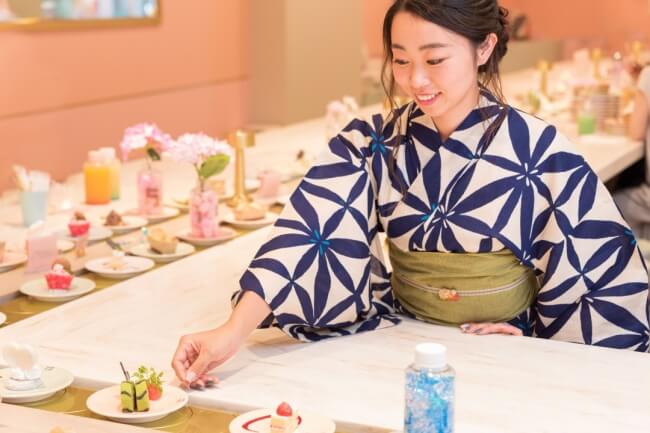 The cafe has also teamed up with the fashion rental shop airCloset next door so customers can enjoy dining at Cafe Ron Ron while wearing a yukata.
You can even continue wearing the kimono after you've eaten so you can stroll the streets of Harajuku, go to nearby festivals and more for an exciting day out in Japan's youth and culture hub. The yukata can be rented by people of all ages – full details on the websites below.
Information
Cafe Ron Ron 20ty's Night Party -PINK FRIDAY- supported by MAISON ABLE
Location: MAISON ABLE Cafe Ron Ron (6-7-15 Jingumae, Shibuya, Tokyo)
Running: August 2, 2019 – September 27, 2019
Conditions: Restricted to those aged 20-29 years (*photo ID required upon entry)
Opening Hours: 19:00-22:00 (Last Entries 21:30)
Official Website: http://cafe-ronron.com/pinkfriday/
airCloset x ABLE
Address: 6-7-15 Jingumae, Shibuya, Tokyo
Running: July 27, 2019 – September 30, 2019
Opening Hours: Weekdays 11:00-21:00 / Weekends 11:00-19:00 (Last fittings at 17:00)
Return Periods: By 21:00 on weekdays / By 19:00 on weekends)
Closed: Tuesdays
Cautions:
・Please take a camisole or tank top that can be worn under your yukata
・Foreigners are asked to take a copy of their passport when renting
・There is a luggage storage service for those who are returning on the same day
Official Website: http://cafe-ronron.com/yukataderonron/
RECOMMENDED ENTRIES
Tokyo Stroll: Indulge at Harajuku's Conveyor Belt Dessert Cafe 'MAISON ABLE Cafe Ron Ron'

MAISON ABLE Cafe Ron Ron is a new hot spot in Harajuku that has been popping up all over Japanese social media. It's so popular that it's common to see lines of people waiting outside to get in, and that's due to the fact that this is the world's first-ever all-you-can-eat conveyor belt dessert cafe!

MMN decided to visit the cafe to see what all the fuss was about. Unfortunately, it was raining on the day, but that didn't stop the smiles on girls' faces waiting outside for it to open which gleamed like a clear summer's day.

We visited the cafe with Japanese model Rinko Murata who has a weakness for sweet things and whose anticipation for this place was growing.

Upon entering the cafe you must first buy a ticket from the ticket machine. It costs ¥1,800 (tax included) for all-you-can-eat desserts and a drink.

This is the drink shelf. You can choose your favourite from a selection of colourful beverages that come in original bottles.

Rinko-chan picked out a photogenic-looking drink too!

If you stand against the pastel pink walls you can snap a cute photo from any angle!

Rinko-chan was quick in wanting to snap one. There are messages written over the walls too. It makes you want to take your dessert in hand and take lots of pictures.

The dessert lane stretches a sweet 38 meters. There are over 25 delights to choose from which appetisingly pass by one by one. They arrive crowning pastel coloured plates looking like precious gems and jewels. There's even light savoury food in addition to the sweet stuff.

You're allowed 40 minutes. Heaven begins as you sit down: pick, take a photo, tuck in and repeat.

Is this one an ice cream? It actually isn't – underneath the cone hides potato salad! This is one of the non-dessert light foods and is perfect for cleansing your palate. There's a meat ball burger, nikuman meat bun, popcorn and others too. (And keep in mind that items change depending on the season!)

All the sweets are bite-sized meaning you can enjoy lots of different kinds one after the other.

"Eating something this cute feels such a waste!" commented Rinko-chan.

Piling up the plates after you've finished is kinda fun too!

The shortcake dessert with the black cat wafer is the most popular. Only 10 of them come by in an hour. Rinko-chan was lucky enough to get her hands on one.

The cat has an iconic presence in the cafe. In fact, the "Ron Ron" in the cafe's name comes from French and refers to the purring sound a cat makes when it's happy.

There's a super cute girly powder room up on the second floor.

They have hair straighteners, makeup and other bits and bobs that customers are free to use. Use of the powder room isn't included within the time restriction of the all-you-can-eat service, so once you've filled your belly with treats you can hit it up, touch up your makeup and head out shopping.

If you're in Harajuku why not enjoy lots of desserts and a girly time over at MAISON ABLE Cafe Ron Ron?

MOSHI MOSHI NIPPON Social Media Campaign

Running: November 29, 2018 – December 4, 2018

We are giving away chekki photographs of Rinko Murata randomly to 2 lucky people who follow us on either our Instagram, Twitter or Weibo pages and share this article (or hit 'Like' on Instagram). Anyone from around the world can participate in this campaign, so get involved!

Writer: Ai Watanabe

Photographer: Haruka Yamamoto

Translator: Joshua Kitosi-Isanga

Information

MAISON ABLE Cafe Ron Ron
Address: 6-7-15 Jingumae, Shibuya, Tokyo
Business Hours: 11:00-19:00 (Last Orders 18:00)
TEL: 03-5468-8290
Price: ¥1,800 (Tax Included) w/drink [40 Minutes Allowed]

Website: https://cafe-ronron.com/

5 Tasty Ice Cream Shops in Harajuku You Must Visit

Hi, everybody. I'm Midori from the MMN editorial department.

Spring is here, the season when ice cream finally becomes delicious to eat again! Ice cream in Harajuku isn't just simply cute-looking, it's extremely delicious too. Grab your Harajuku-style ice cream in one hand and let's go shopping!

Roll Ice Cream Factory

The unique thing about Roll Ice Cream Factory is the way the ice cream there is made, which you get to see done right in front of you. The staff pour liquid ice cream onto an ice cold plate and then scoop it into a roll. The store releases new flavours all the time. Right now the big one during Golden Week is the Detective Pikachu ice cream. The shop also has Pikachu pictures and decorations around too so if you're in the city be sure to pay a visit before the collaboration ends!

Food Review: Detective Pikachu & ROLL ICE CREAM FACTORY Collaboration

A visit to ROLL ICE CREAM FACTORY in Harajuku

▲Roll Ice Cream Factory
Address: Just Harajuku Floor 1F, 4-28-12 Jingumae, Shibuya, Tokyo
TEL: 03-3470-0227
No Fixed Holidays.
Business Hours: 10:00-21:00
Official Homepage: http://rollicecreamfactory.com/

Detective Pikachu Roll Ice Cream
Available: April 24, 2019 – May 10, 2019

Eiswelt Gelato


If you want cute 'n' tasty then Eiswelt Gelato is the place to go. It's also away from busy Takeshita Street.

The ice cream here is so cute that it almost seems a waste to eat, but the flavours are the real deal. It's so delicious that it'll be gone before you know it. I recommend the mint frog ice cream I ate in the article below!

Cute & Delicious Animal Gelato at Eiswelt Gelato on Takeshita Street in Harajuku

▲Eiswelt Gelato Harajuku

Address: 1-8-5 Jingumae, Shibuya, Tokyo

Opening Hours: 10:00-20:00

TEL: 03-6804-3103

Website: http://www.eiswelt-gelato.com/

Eddy's Ice Cream


If you want cute pop ice cream then you'll want to make a trip to Eddy's Ice Cream! Not only is the ice cream kawaii but the shop interior is too♡

Their huge toppings are what make them stand out from the rest. They come piled with candy floss and more. Their designs too make them seem a serious waste to slurp up. They sell things besides ice cream too so if you've got a friend with teeth sensitive to cold foods then take them here while you order your ice cream!

"Eddy's Ice Cream"—A Booming Ice Cream Shop With a Colourful Selection in Harajuku

▲Eddy's Ice Cream

Address: Eddy's Ice Cream 1F, 4 Chome-26-28 Jingumae, Shibuya, Tokyo

Opening Hours: 11:00-20:00

Closed: No fixed holidays

TEL: 03-6438-9742

Access: 10 minutes' walk from Harajuku Station via the JR Line / 8 minutes' walk from Meiji Jingumae Station via Tokyo Metro

Official Homepage: http://eddysicecream.jp/

LE SHINER


LE SHINER is located along Takeshita Street and specialises in amazing rainbow ice cream. The ice creams sit really tall too making them a serious luxury. The shop's exterior design is also incredible cute! They also sell rainbow toast, rainbow cheese dogs and more too, an incentive to go back on more than one occasion♡

Grab LE SHINER's Rainbow Cheese Dog and Go Shopping in Harajuku

Introducing a new sweets item gaining popularity in Takeshita Street, Harajuku –"Rainbow Soft Cream!"

▲LE SHINER
Address: COXY176 Bldg. 1F, 1-7-10 Jingumae, Shibuya, Tokyo
Opening Hours: Weekdays 11:00-18:00 / Weekends & Holidays 10:30-19:00
Access: 3-minutes on foot from Harajuku Station's Takeshita Exit (via JR Yamanote Line) / 4-minutes on foot from Exit 5 of Meiji-Jingumae Station (via Tokyo Metro Chiyoda Line)
TEL: 070-1361-8686

Information: https://tabelog.com/tokyo/A1306/A130601/13220138/

Harajuku Denki Shokai

Harajuku Denki Shokai is known for its light bulb ice cream but now they also sell animal themed ice cream! You'll be completely spoilt for choice on which to go for. They sell lots of other cute items too besides ice cream so you can enjoy this place all year round. The shop is making new animal-inspired ice creams all the time so if you've been there before then you should definitely go again!

▲Doubutsuen
Address: Harajuku Denki Shokai Floor B1F, 3-20-10 Jingumae, Shibuya, Tokyo
TEL: 03−6434−5074
Business Hours: 11:00-19:00
Official Twitter: https://twitter.com/__doubutsuenn

Treat yourself to some cute Harajuku-style ice cream this spring and summer!

Come Witness The Hello Kitty X KAWAII MONSTER CAFÉ HARAJUKU Collaboration

Sanrio and Harajuku's KAWAII MONSTER CAFÉ have set out on a two-month collaboration which will run until September 1. Sitting at the heart of Harajuku, which is the home of kawaii culture, the KAWAII MONSTER CAFÉ is topping up its kawaii powers with the release of Hello Kitty collaboration meals and merchandise that you cannot obtain from anywhere else.

For the collaboration, Hello Kitty has transformed her look, turning into a kawaii Harajuku girl. 

Once you enter the café, you will immediately notice the giant cake-shaped merry-go-round called the SWEETS GO ROUND. This time, you will notice that Hello Kitty's head garnishes the top of the cake.

Make your way through the cafe and you will eventually come across the Mel-Tea Hello Kitty Room, which is a special room that must be reserved in order to experience. On pink tatami flooring sits multiple low tea tables, representing the traditional culture of Japan in a colouful pop style. Foreigners would  just love to spend some time in this room. Looking around the room, the macarons and strawberries remain in their usual places. 

You will notice Hello Kitty's ribbon and even many Hello Kitty stuffed toys also decorating the room. This entire new kawaii world locked in this room was created by Sebastian Masuda. Surrounded by a world of pastel colours and kawaii decorations, you just have to take photos. 

Reservations

If you wish to book the Mel-Tea Hello Kitty Room, please talk to a member of staff. 

Tel: 03−5413−6142

Reservation Times

Weekdays: 11:00, 13:00, 15:00

Sundays/ Weekends: 11:00, 13:00, 15:00, 17:00, 19:00

※ Two-hour time slots ※ Number of seats is limited

This is a unique opportunity to taste only the most kawaii of menus as Hello Kitty teams up with the KAWAII MONSTER CAFÉ. Let's check out the menu!

Colourful Pop Hello Kitty Burger: ¥1,680 (before tax) 

Hello Kitty Harajuku Rainbow Curry: ¥1,580 (before tax)

Harajuku X KAWAII X Hello Kitty SWEETS GO ROUND Cake: ¥1,480 (before tax)

Harajuku KAWAII 原宿 KAWAII Poison Parfait: ¥2,480 (before tax )

There are also many Harajuku-style Hello Kitty goods that you should check out. The biscuits and stickers would make the perfect souvenirs.

Not only has the food been given a Hello Kitty upgrade, but the MONSTER CAFÉ's iconic Monster Girls have also transformed their look for the Hello Kitty collaboration. If you are a fan of Hello Kitty or kawaii culture, you absolutely must check this out. 

If you ever find yourself in Harajuku, please consider stopping by the KAWAII MONSTER CAFÉ to witness the Hello Kitty collaboration project. 

Information

Harajuku × KAWAII × Hello Kitty

Running: July 12 ー September 1, 2019 

Access: 5-minute walk from JR Harajuku Station/1-minute walk from Meiji Jingumae Station, Chiyoda Line

TEL: 03−5413−6142

Opening Hours:

Weekdays/ Saturdays: 

Lunch: 11:30 ー 16:30 (Last entries: 15:30, last orders: 16:00,  90-minute time slots)

Dinner: 18:00 ー 22:30 (Last orders: 22:00)

Sundays/ National Holidays: 11:00 ー 20:00 (Last orders: 19:30)

※ 2-hour time slot restriction applies during peak times

No regular holidays

Official Website: http://kawaiimonster.jp/day/pc/
RELATED ENTRIES
Cute and Chic Leather Wallets & Purses Released at Tiffany @ Cat Street in Harajuku

Tiffany & Co. released a new collection of small leather products at its Harajuku concept store Tiffany @ Cat Street on Wednesday.

What is Tiffany @ Cat Street?

 Tiffany @ Cat Street is a concept store that opened in April 2019 which is set to remain open for just 3 years. It is the company's first concept store to open in Japan. The shop showcases the wit, creativity, and timeless charm that Tiffany & Co. is known for, as well as a shopping experience in an interactive environment. It stocks everything from Tiffany's iconic collection from jewellery to home goods, accessories, and more. The line-up and designs also change themes on occasion. Tiffany @ Cat Street also has a cafe on the top floor.

Continental Flap Wallet – ¥72,000 (Before Tax)

Coin Pouch – ¥36,500 (Before Tax)

The small leather product line-up is made from high-quality Italian leather coloured in that eye-catching Tiffany blue. Each item is also stamped with the store's signature cat motif.

Card Case – ¥24,500 (Before Tax)

Compact Wallet – ¥55,000 (Before Tax)

The four variations are the perfect gift to yourself or someone you hold dear to you.

Be sure to stop by Tiffany @ Cat Street the next time you're in Harajuku.

Information

Tiffany @ Cat Street

Address: 6-14-5 Jingumae, Shibuya, Tokyo

Opening Hours: 11:00-19:00

Cafe Opening Hours: 11:30-18:30 (Last Orders 18:00)

Access: 5-minutes on foot from A4 exit of Meiji-Jingumae Station (Tokyo Metro Chiyoda Line/Fukutoshin Line) / 10-minutes on foot from Omotesando Exit of Harajuku Station

Official Website: https://www.tiffany.co.jp/jewelry-stores/cat-street/

Sanrio's Adorable Pompompurin and Cinnamoroll Characters Turn Into Tasty Desserts at Convenience Stores in Japan

Confectionery company Domremy has baked Sanrio's popular characters Pompompurin and Cinnamoroll into delicious desserts which released at supermarkets and select convenience stores in Japan on April 1. The desserts include "Pompompurin Tart," "Pompompurin Crepe," and "Cinnamoroll Parfait."

The desserts are also wrapped in cute packaging with designs of the characters, making it look like Pompompurin and Cinnamoroll really have been turned into tasty treats!

Pompompurin Tart

This homemade tart has an eggy flavour to it, with Purin's cute face and butt plastered on both the front and back. There are four possible facial expressions you can get your hands on.

Cinnamoroll Parfait

The custard mousse in this parfait is laced with strawberry whipped cream, and our little snug Cinnamoroll is made from milk pudding and more whipped cream. There are three possible facial expressions to find.

Pompompurin Crepe

The Pompompurin crepes are filled with whipped cream, Japanese custard pudding, and caramel sauce. There are four different packaging prints to find, all showcasing just how kawaii Pompompurin can be.

Information

Pompompurin Tart / Pompompurin Crepe / Cinnamoroll Parfait

Released: April 1, 2020

Available: Supermarkets and select convenience stores in Japan

Domremy Official Website: http://www.domremy.com/

Doremo LeTAO: Strawberry Pancakes Whipped Up For Spring at Popular Cafe Near New Chitose Airport

Doremo LeTAO has released a new pancake flavour called "Very Berry" for the spring season which tops the cafe's popular pancakes with strawberries and raspberries.

What is Doremo LeTAO?

Doremo LeTAO is about 7-minutes by car from New Chitose Airport in Hokkaido. This desserts cafe makes use of its almost 5,300m² space to pack in all the charm of the brand. Its concept is "Sweets Resort" with which it whips up everything from authentic homemade pastries made using Japanese white birch yeast, cakes and cheesecakes to eat in or take away, soft-serve ice cream which is served all year round and is made with milk from Jersey cattle and cheese, and more.

It also serves melt-in-the-mouth pancakes and seasonal parfaits, as well as meals too like their original Beef Stroganoff which is made with beef fillet and local Hokkaido ingredients. They even serve pasta which is made from 100% "yumechikara" Hokkaido wheat.

Very Berry Pancakes – ¥1,600 (Before Tax) / With Drink – ¥1,930 (Before Tax)

Doremo LeTAO's pancakes have been a hit with customers ever since they entered the menu line-up and never fail to boast the true cookery craftsmanship of their chefs. Each pancake takes about 20 minutes to make, and flavours range from classics to exclusive ones each month. At Doremo LeTAO, it feels like they drop a tasty new strawberry pancake on us every year, and this year it's the rich berry-topped "Very Berry" which combines strawberries with raspberries, and it's thanks to the cheese flavour in their pancakes that it all comes together so well.

Topped with sliced strawberries, sorbet, and a drizzle of sauce, these really are the pancakes of the gods, and they're available this spring only.

Information

Doremo LeTAO

Address: 6-1-1 Asahicho, Chitose, Hokkaido

Opening Hours: 10:00-18:00

No Fixed Holidays

Official Website: https://www.letao.jp/global/en/

Cute Pompompurin Puddings to be Released in Collaboration With Pastel

Desserts brand Pastel is collaborating with popular Sanrio character Pompompurin to release a selection of puddings at Pastel stores around Japan for the whole month of April.

Pastel prides itself on the smooth texture of its purinーa type of Japanese custard pudding. The company will celebrate Pompompurin's birthday, which falls on April 16, with a line of 4 adorable Pompompurin desserts.

Pompompurin's Mini Pudding – ¥380 (Before Tax)

The classic style of Japanese custard pudding, smooth and topped with whipped cream. It's finished with a cute sprinkled design of Pompompurin.

Soft and Fluffy Pompompurin – ¥450 (Before Tax)

Pompompurin is looking cute in this one as he pokes his head out of the caramel-drizzled and marshmallow-topped pudding.

Pompompurin's À La Mode – ¥600 (Before Tax)

Served in an original design cup branded with Pompompurin's adorable face, this à la mode includes a pudding topped with an orange slice and cherry.

Pompompurin's Chiffon – ¥2,200 (Before Tax)

This fluffy chiffon cake is about 15 meters across in size, and is made with pudding cream, glazed in caramel sauce, and topped with a Pompompurin who's just taking a little rest. *Available on weekends only

Shopper Bag Design (Available while supplies last)

When you order any of these desserts, you'll receive an exclusive Pastel x Pompompurin collaborative bag which makes for a great gift or souvenir to friends.

Don't miss out on these tasty Pompompurin treats.

Information

Pastel x Pompompurin Collaboration

Running: April 1, 2020 – April 30, 2020

Location: Pastel stores in Japan

Pastel Official Website: http://pastel-pudding.com

See 3,000 Rhododendrons in Full Bloom at the Tsutsuji Garden by Lake Ashi in Hakone

May is the most colourful time of the year at Hotel de Yama near Lake Ashi in Hakone, when a total of 3,000 rhododendronsーcomprised of 30 different typesーbloom their beautiful flowers in the large Tsutsuji Garden, where one can enjoy a great view of Mount Fuji and Lake Ashi.

Tsutsuji Garden at Hotel de Yama

"Tsutsuji" is the Japanese word for rhododendron. The Tsutsuji Garden at Hotel de Yama was once the villa of Koyata Iwasaki, "the fourth and last president of a unified Mitsubishi." During that time, numerous varieties of rhododendrons were planted in the garden, which have since been maintained. There are plants amongst them that are over 100-years-old, ones that tower over the human stature, and more; with petals that bloom pink, red, purple, and white.

A combined view of the kaleidoscopic rhododendrons and Mount Fuji

The staff who are experts on the garden have set up two photo frame stands in two of the best spots in the garden for taking picturesque photos. Snap some Instagrammable and memories with the colourful rhododendrons and Mount Fuji together.

Rhododendron Desserts: Saison a colorier – ¥1,634 / Tea Set – ¥2,360 (Before Tax)

Salon de thé Rosage, the dessert restaurant that sits in front of the hotel, is serving up a new special dessert called "Saison a colorier" in line with the full bloom of the rhododendrons. It captures the colourful pink, red, white, and purple appearance of the flowers, and looks like a mini version of the hotel's garden on your plate. The main part of the dessert is the tea mousse, which has a bright red colour as it is coated beautifully in a strawberry puree nappage. The tea used in the mouse is an original rhododendron blend exclusive to the restaurant.


The white rhododendron dessert is a macaron that's filled with raspberry sorbet. The red which contrasts with the white is a rhododendron milk tea cream and fresh raspberries. The rest of the plate is adorned with pink jelly and edible flowers. The perfect afternoon tea to finish off your time at Tsutsuji Garden.

Grab These Adorable and Delicious-Looking Kirby Figures at Japan's Game Centres

The second batch in a series of Kirby figurines, based on the Kirby's Dream Land game series, began rolling out at game centres across Japan on March 26, 2020. They are part of the "Palcolce collection," a line of palm-sized figures themed around desserts.

Three figures make up the second batch of the series, which includes Kirby standing atop a Star Block shortcake holding a bright-red strawberry, another of Waddle Dee climbing a cupcake on chocolate ladder, and Kirby flying through the sky on a cheesecake Warp Star.

A third batch is also planned drop in the near future.

Collect all three from arcades throughout Japan to create a truly kawaii Kirby scene!

©Nintendo / HAL Laboratory, Inc. KB19-3661

Information

Kirby – Paldolce collection vol.2

Release Date: Rolling out March 26, 2020

Figures: 3

Available: Amusement centres throughout Japan (*select branches not participating)

Official Website:  https://bpnavi.jp/s/toru/pc/prizes/81933

Harajuku's Rilakkuma Fruits Cafe Entertains Customers With Projection Mapping

"HARAJUKU AR BOX -table projection mapping cafe-," a cafe in Harajuku whose name speaks for itself, has announced its second collaboration with Rilakkuma to bring the new Rilakkuma Fruits Cafe which will open for a limited time from April 3, 2020 to June 28, 2020.

The cafe's first collaboration with Rilakkuma was in December last year. It was called "Korilakkuma Cafe: another me in the mirror" and earned itself many fans for its cute food and decor, but especially for its interactive tables which used projection mapping technology to have Rilakkuma and friends running around people's tables.

Harajuku's Korilakkuma Cafe: another me in the mirror | Food Review: https://www.moshimoshi-nippon.jp/284456

Fruit is the theme of the new Rilakkuma Fruits Cafe, which follows that Chairoikoguma and the other characters have gathered lots of nutritious fruit to fill up the belly of hungry Rilakkuma.

Food

Rilakkuma's Fruit Salad – ¥1,590

Get your fill of refreshing fruit from this fruit salad plate which has Rilakkuma poking his cute face out from behind it all. When you order this dish, you'll need to touch the fruits that appear on the table to give them to Rilakkuma.

Korilakkuma's Apple Cheese Gratin – ¥1,690

A combination of hot apple and melted cheese, you'll find yourself addicted to the sweet and sour mix of flavours. Pick lots of apples with Rilakkuma and company with the projection mapping game. (*Serving April 3, 2020 – May 17, 2020 only)

Chairoikoguma's Orange Burger – ¥1,690

The bun of this hearty burger is branded with Chairokoguma's cute bear face. But what happens when you squeeze Rilakkuma's orange? (*Serving May 20, 2020 – June 28, 2020 only)

Desserts

Rilakkuma's Maku Maku Fruit Tree Parfait – ¥1,590

Korilakkuma's Maku Maku Strawberry Tree Parfait – ¥1,590 (Serving April 3, 2020 – May 17, 2020 only)

Kiiroitori's Maku Maku Peach Tree Parfait – ¥1,590 (Serving May 20, 2020 – June 28, 2020 only)

For dessert, you have a selection of fruit-topped parfaits to choose from featuring Rilakkuma, Korilakkuma, and Kiiroitori.

Drinks

Rilakkuma & Friends Maku Maku Drinks – ¥790 / With Glass – ¥1,990

Warm & Fluffy With Everyone Cafe Latte – ¥890

Pick between one of the cold beverages, or if it's a cold day, warm up with a hot drink. Feel warm and fluffy like Rilakkuma and his friends with a warm beverage after your parfait.

Exclusive Merchandise & Bonus Items

Pin Badges (9 Designs/Chosen Randomly) – ¥400

Acrylic Key Rings (8 Designs/Chosen Randomly) – ¥500

Get your hands on a selection of original merchandise too, including pin badges, acrylic key rings, and more.

Stickers (4 Designs/Chosen Randomly)

Coasters (4 Designs/Chosen Randomly)

Book a table online in advance and receive one of four possible stickers. Order a drink at the cafe and get one of the four coasters!

You're sure to get your five-a-day when you dine at the Rilakkuma Fruits Cafe, opening for spring on April 3, 2020 in Harajuku.

©2020San-X Co., Ltd. All Rights Reserved.

Information

Rilakkuma Fruits Cafe

Running: April 3, 2020 – June 28, 2020

Location: HARAJUKU AR BOX-table projection mapping cafe- (Lucessimo Bldg. Floor 2F, 4-28-28 Jingumae, Shibuya, Tokyo)

Table Bookings: Now Open

*Table Projection Mapping seats for two people are ¥2,960 (before Tax)

Official Website: https://rilakkuma-fruits-cafe.jp/

Japan's First Guest House Meiji Kinenkan Officially Designated as Tangible Cultural Property

Meiji Kinenkan, located in Minato, Tokyo, was officially designated as a Tangible Cultural Property this month.

Meiji Kinenkan was built in 1881 as a dining and reception hall used for receiving important guests from abroad to the Akasaka Temporary Palace. In October 1881, a dinner was held at the site with Prince Albert Victor and Prince George who visited Japan that autumn. Five years later, in 1886, Empress Shōken received foreign guests in Western clothing for the first time. In 1888, a meeting attended by Emperor Meiji was held to discuss the draft of the Constitution, which is represented in artwork you can see on the walls of Meiji Kinenkan. During the construction of Meiji Jingu Gaien in 1918, Meiji Kinenkan was dedicated to Meiji Jingu from the Ito family and relocated to where it stands today. Before the war, the building was known as the "Constitution Memorial Hall" and was used for events related to the Imperial Family. It was renamed "Meiji Kinenkan" in 1947 and became a wedding hall of Meiji Jingu.

Dining hall used as the stage for Emperor Meiji's Imperial Court diplomacy

Golden roosters flutter on the walls around the black-lacquered mantle piece mirror

This building was used for court diplomacy under Emperor Meiji. Located on the grounds of Meiji Kinenkan, its interior exemplifies the idea of "Modern Meiji." It has survived two relocations, the Great Kantō earthquake of 1923, and the Second World War. The lavish decor is a harmonious fusion of the traditional and the modern, with the overhead chandeliers, golden roosters, and mantle piece with its black lacquering and towering mirror.

Overlooking the garden, offering not only a modern cafe experience but banquets too

The Meiji Kinenkan Main Building was designated as an Tangible Cultural Property for its 100+ years of history, honouring its historical background, cultural role, and value as a building. Today, it is used for many different things, from a wedding reception to a venue for company parties.

On weekdays, it is mainly used for its "kinkei" lounge, a spacious area that faces a gorgeous green garden planted with a variety of flowers that bloom through the seasons. Its interior decor also has history, such as its ceiling which is a reflection of the Meiji Period. They even serve cake from Meiji Kinenkan's original sweets brand "Kaminomi no Mori" and coffee.

Pompompurin Celebrates 24th Anniversary With Birthday Menu at the Pompompurin Cafe

Sanrio's popular character Pompompurin is celebrating his 24th anniversary at three branches of the Pompompurin Cafe in Harajuku, Yokohama, and Umeda with a special birthday menu that will be served for the whole month of April.

A special celebratory menu for the floppy-eared golden retriever

The official date for Pompompurin's birthday is April 16. The birthday menu line-up includes two food items, a drink made in collaboration with popular Japanese picture book author Yukako Ohde, and some novelty gifts.

Birthday Menu

Happy Birthday Flower Bouquet Bisque – ¥1,590 (Before Tax)

This cute bisque soup has Pompompurin and Muffin holding a colourful boquet made from broccoli and mashed potatoes made to look like roses. It has a rich but mild flavour, and is both adorable and filling.

Happy Birthday Strawberry Mousse – ¥790 (Before Tax)

The strawberry mousse has a fluffy texture and refreshing, sweet taste. It can be eaten as it is or drizzled with the accompanying raspberry sauce.

Yukako Ohde x Pompompurin Lemonade – ¥550 (Before Tax)

Take a sip from this delicious lemonade from a straw adorned with a cute, warm illustration of Pompompurin by Yukako Ohde.

Exclusive Anniversary Novelty Gifts

Lunch Mat Design

Customers who dine at any of the three cafes during the anniversary celebration will receive a free lunch mat.

Coaster Designs

And those who order the lemonade will receive a coaster with designs illustrated by Yukako Ohde. The designs are different at each branch of the Pompompurin Cafe. You can also receive another special coaster if you spend over ¥1,000 each (tax included) at Pompompurin Cafe Umeda and KIDDY LAND Osaka Umeda. Simply show your receipts at the cafe.

©1996,2020 SANRIO CO., LTD. APPROVAL NO.S605291

Information

■Pompompurin Cafe Harajuku

Address: CUTE CUBE HARAJUKU 3F, 1-7-1 Jingumae, Shibuya, Tokyo

Opening Hours: 11:00-21:00 (Food Last Orders 20:00 / Drinks Last Orders 20:30)

Access: 3-minutes on foot from the Takeshita Exit at Harajuku Station

TEL: 03-5786-0770

■Pompompurin Cafe Yokohama

Address: Yokohama Sotetsu Square, 2-1-5 Minamisaiwai, Nishi-ku, Yokohama-shi

Opening Hours: 10:00-21:00 (Last Orders 20:30)

Access: 5-minutes on foot from West Exit at Yokohama Station via JR Line

TEL: 045-311-6750

■Pompompurin Cafe Umeda
Address: Hankyu Sanbangai South Wing B2F, 1-1-3 Shibata, Kita-ku, Osaka-shi
Opening Hours: Weekdays 11:00-22:00 (Last Orders 21:30) / Weekends & Holidays 10:00-22:00 (Last Orders 21:30)
Access: 3-minutes from Osaka Station via JR Line
TEL: 06-6292-7140

Pompompurin Cafe

Official Website: http://pompom.createrestaurants.com

McDonald's Japan Releases Citron and Pistachio Flavoured Macarons at McCafé by Barista Branches

McCafé by Barista branches of McDonald's in Japan released two new flavours in their macaron series on Wednesdayーpistachio and citronーwhich will be served for a limited time until the end of August this year.

 
The pistachio and citron flavours join McCafé by Barista's colourful macaron series alongside vanilla, raspberry, and chocolate, which cost just ¥150 each.

The pistachio flavour is filled with a pistachio powder-dusted pistachio cream, giving the crunchy macaron a deliciously nutty flavour and fragrance.


The citron macaron is filled with a refreshing and sour lemon cream. Both of the new flavours are the perfect treat for the start of spring and going into the summer season. They're even better with one of McCafé by Barista's high quality coffees.



McCafé by Barista is also serving the "Special Macaron Set" for ¥500 which comes with any two macarons of your choice and a medium hot or iced latte.

Information

Macaron Pistachio / Macaron Citron

Serving: March 25, 2020 – Late August 2020 (subject to change)

Available: McCafé by Barista in Japan

McDonald's Japan Official Website: http://www.mcdonalds.co.jp/

Kawaii Tama & Friends Double Walled Glasses Releases in 10 Varieties

R&K Japan, the overseas division of Aiwa, released a new line of 10 double walled glasses based on the popular character franchise Tama & Friends. The first ever double walled glasses to be made of the series, the line-up includes the characters Tama, Pochi, Tora, Beh, Momo, Koma, Nora, Gon, Kuro, and Buru.

Tama – ¥3,900 (Before Tax)

Pochi – ¥3,900 (Before Tax)

What is Tama & Friends?

Tama & Friends is an original character franchise that was created by Sony Creative Products in 1983. The world of Tama & Friends was first inspired from an actual missing cat poster with the phrase "Have You Seen My Tama?" Since then, it has grown into a full franchise with many popular characters. It spawned its first anime series in 1993 which helped its popularity grow in Japan.  A new 11-episode series entitled Uchitama?! Have you seen my Tama? aired in January this year and ended just last Thursday.

Tora – ¥3,900 (Before Tax)

Beh – ¥3,900 (Before Tax)

Tama & Friends Double Walled Glasses

The glasses are designed by double walled glass pioneers GOODGLAS. Each one is handmade and can be used for hot and cold beverages.

Information

Tama & Friends Double Walled Glasses

Sold at: Ikebukuro LOFT, Yokohama LOFT, Chiba LOFT, Umeda LOFT, Kobe LOFT, Tenjin LOFT

Tama & Friends Official Online Shop: http://www.tamafriends-shop.jp/

mūya: Tokyo's New Cafe Opening by 'Bread, Espresso &' Serving Fluffy Mū Bread

Bread, Espresso & is a cafe chain with 17 branches in Japan, including Omotesando. The company is set to open an entirely new cafeーspecialising in Bread, Espresso &'s popular mū breadーcalled mūya on April 17, 2020 in Asakusa Mizumachi.

Bread, Espresso &: https://www.moshimoshi-nippon.jp/254815

Mizumachi is a new shopping centre also opening on April 17, 2020. It's near Solamachi in Tokyo Skytree Town, and sits betwixt Kaminarimon and Tokyo Skytree.

mū

Mū is an original bread recipe baked up by Bread, Espresso & that's made with lots of butter, giving it a rich taste. The word means "soft" in French. When you break a piece off the fluffy loaf, that rich buttery smell fills your nose.

inside the cafe

The mū loaf is a cube shape, and the interior of the shop has cube designs all over it.

Customers sit at tables with chairs that stack up like cubes – a unique and original design.

French toast

Mū is the main dish at mūya, which can be served as it is, as a sandwich, as French toast, or even in a parfait.

When you're passing through Asakusa, be sure to pop into mūya to try the famous mū bread of Bread, Espresso &.

Information

mūya

Address: 1-2-12 Mukojima, Sumida City, Tokyo 131-0033
Opening Hours: 8:00-20:00
No Fixed Holidays

TEL: 03-6240-4880
Homepage: http://www.bread-espresso.jp/