Kaori's Easy Recipe: Learn to Make Steamed Minnie Mouse Cocoa Cakes
With just a small bit of ingenuity, turn everyday food into something cute using Kaori's easy recipe! With a few simple ideas, an ordinary recipe magically transforms into a cute dish.
Today, I will show you the perfect recipe for making chocolate Minnie Mouse cakes using the Mickey Mouse Tezukuri Okazu Maker kit which you can buy on Belle Maison.
1. Ingredients
About 3-4 prep bowls
1 large egg
40g sugar
Oil or 10g melted unsalted butter
15ml milk
50g weak flour (sifted)
10g cocoa
5g baking powder
2.
①Crack the egg into a mixing bowl, add the sugar and whisk well.
②Add a drizzle of oil or melted butter and milk and whisk again.
③Add the sifted flour and stir in gently with a rubber spatula.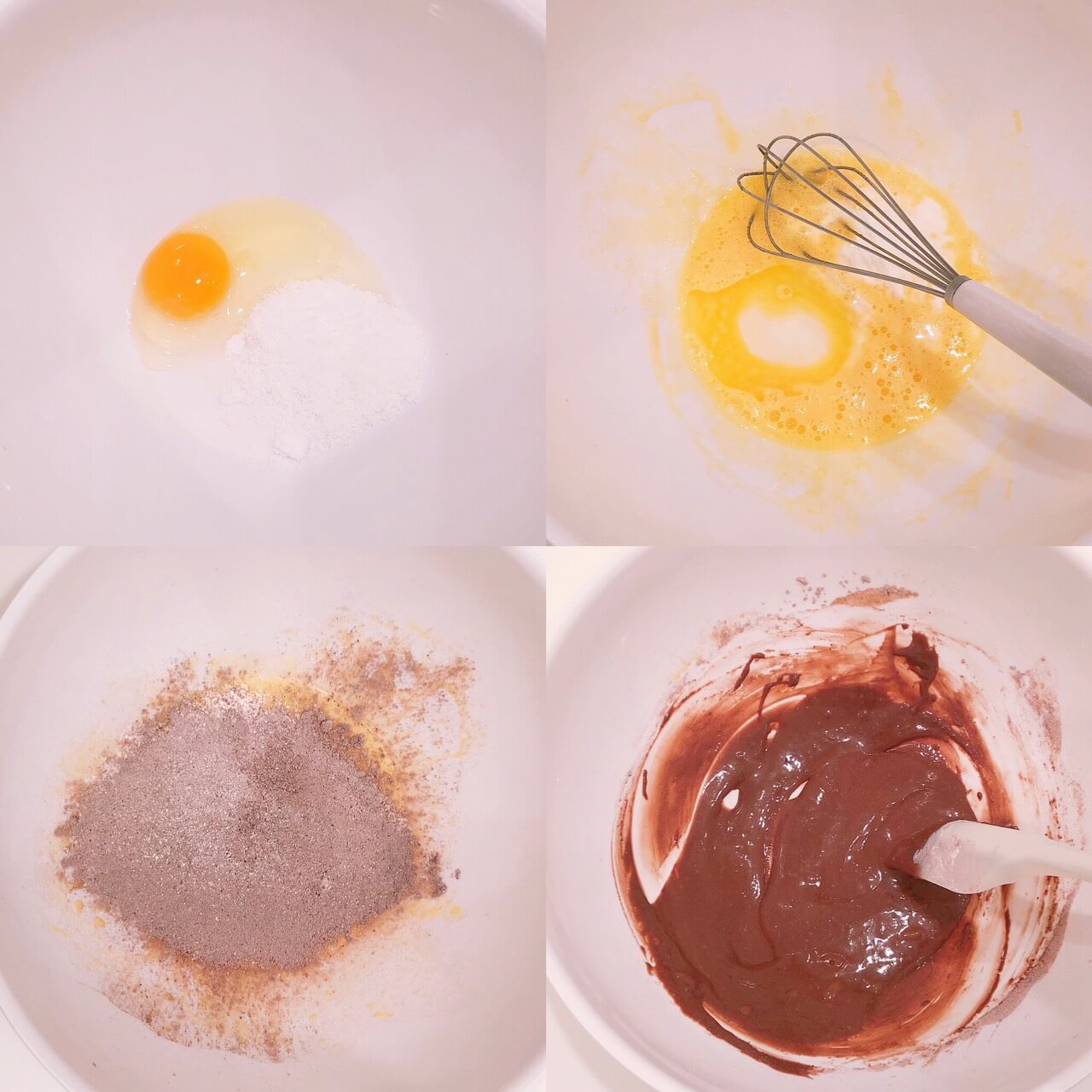 3.
Oil the silicone cake moulds and spoon in your mix.
4.
Steam on a high heat for about 10 minutes.
5.
Now it's time to make Minnie's ribbon. I got this ribbon mould from Daiso. Place it onto some baking paper and outline the shape with a pen. Fill the outline with red-coloured chocolate and leave to set in the fridge. Once it has completely set, add the polkadots.
6.
Once the cake has finished steaming, stick her onto a lollipop stick so it the cake be eaten like a lollipop, and fix the ribbon onto the top of Minnie's head.
And she's finished! It looks cute when you put a Mickey and Minnie one together side by side. You can make a lot of cute recipes using the Okazu Maker, so get your hands on one and try making your own!
Kaori invites you into her world of character-themed food dishes in her recipe series. Be sure to check out her Instagram where she has uploaded many pictures of her character dishes!
©️Disney
Profile
Kaori Kubota (@kaopan27)
I live in Hokkaido and I love to make character themed foods, desserts and pastries♡
I want to see my family smile, so I enjoy putting in a bit of effort to make character foods and changing food into something cute♡
You can see more of my character foods and character bento boxes on my Instagram page→@kaopan27
RECOMMENDED ENTRIES
Kaori's Easy Recipe: Learn to Make Mickey Mouse Gratin Pie

With just a small bit of ingenuity, turn everyday food into something cute using Kaori's easy recipe! With a few simple ideas, an ordinary recipe magically transforms into a cute dish.

Today, I will show you the perfect recipe for using the Mickey Mouse bread warmer you can buy online at Belle Maison. The warmer can be used for bread, pies and more. They will keep your food from going cold and drying out so it'll still be as delicious as when you put it in!

1. Ingredients

Frozen pie sheets

Frozen gratin

2. Leave the pie sheets to come to room temperature for 5-10 minutes and then roll out slightly.

3. Cut out two large circles for the face. If you don't have a cutter you can substitute it with a cup or something similar

4. Take one of the circles and cut a smaller size circle like below.

5. Using egg yolk, stick the hollow circle from Step 4 onto the circle from Step 3. For the ears, check the size of the face you have cut out and cut them accordingly. Affix to the face with egg yolk.

6. Layer egg yolk over the years and the outside of the face and then pierce holes with a fork all over.

7. Add the frozen gratin to the middle and bake at 200℃ for 13-15 minutes.

The recipe may be simple but looks just like something sold at Mamma Biscotti's Bakery in Tokyo Disneyland! You can add mint sauce to the middle or even make it a meat pie. Whatever you do it's sure to be delicious!

Pop into your bread warmer for cute presentation. These make for great nibbles to share with people!

Kaori invites you into her world of character-themed food dishes in her recipe series. Be sure to check out her Instagram where she has uploaded many pictures of her character dishes!

©️Disney

Profile

Kaori Kubota (@kaopan27)
I live in Hokkaido and I love to make character themed foods, desserts and pastries♡

I want to see my family smile, so I enjoy putting in a bit of effort to make character foods and changing food into something cute♡

You can see more of my character foods and character bento boxes on my Instagram page→@kaopan27

Kaori's Easy Recipe: Learn to Make Winnie the Pooh S'more Cookies

With just a small bit of ingenuity, turn everyday food into something cute using Kaori's easy recipe! With a few simple ideas, an ordinary recipe magically transforms into a cute dish.

In this edition, we'll be using a recipe from the Disney dessert cookbook Oishii Disney Sweets Recipes. In the book, there is a recipe for making s'more cookies of Mickey's gloves, but I decided to shake things up a bit and make Winnie the Pooh ones instead. The glove recipe is super cute as well, so if you can get your hands on the book I definitely recommend trying that out too.

A s'more is a marshmallow wedged between chocolate and cookies. The cookie dough isn't overly sweet so it's extremely delicious even if you pack full with marshmallows and chocolate.

Ingredients

Cookie Dough

100g unsalted butter

80g powdered sugar

A pinch of salt

20g egg yolk (1 medium egg)

190g sifted wheat flour

S'mores

Marshmallows

Chocolate

Chocolate Pen

1.

Allow the unsalted butter to come to room temperature then knead in a bowl well. Slowly add the the powdered sugar, egg yolk and sifted flour in that order while mixing.

2.

Once the mix comes together, line it across a baking sheet and flatten evenly. Once flat, put in the refrigerator and chill in the refrigerator from at least an hour to overnight. In the recipe book it says to use a round dough cutter but I actually own a Winnie the Pooh cutter so I used that. Cut the dough to the size of your liking. Line them on a baking tray and bake at 160℃ for approximately 20 minutes.

3.

Once baked, leave to cool. Next, start drawing on the face. I made a video to show how I did it so check it out below.

4.

Place the marshmallows on the side of your cookie without the face and melt in a 500w microwave for 20 seconds. Place the chocolate on the warm marshmallows and then pop the face back on. The marshmallows and chocolate are more delicious when melted, so I recommend eating them as soon as you take them out of the microwave.

It was fun to put in the amount of chocolate and marshmallows that I wanted.

They are perfect for parties too!

Kaori invites you into her world of character-themed food dishes in her recipe series. Be sure to check out her Instagram where she has uploaded many pictures of her character dishes!

©️Disney

Profile

Kaori Kubota (@kaopan27)
I live in Hokkaido and I love to make character themed foods, desserts and pastries♡

I want to see my family smile, so I enjoy putting in a bit of effort to make character foods and changing food into something cute♡

You can see more of my character foods and character bento boxes on my Instagram page→@kaopan27

Information

Oishii Disney Sweets Recipes (Japanese Title: おいしい ディズニー スイーツレシピ)

Price: ¥1,200 (Tax Included)

Available: Amazon Japan, Rakuten and elsewhere

Kaori's Easy Recipe: Learn to Make Disney Tsum Tsum Chocolate Covered Cookies

With just a small bit of ingenuity, turn everyday food into something cute using Kaori's easy recipe! With a few simple ideas, an ordinary recipe magically transforms into a cute dish.

In this recipe, we'll learn how to make a recipe from the book Disney Tsum Tsum Sweets Recipes pictured above.

As well as the characters pictured on the front cover, others include Winnie the Pooh, Donald Duck and Daisy Duck. We'll make the ears from marble chocolate than our usual chocolate plastic. The middle is like a sandwiched cookie, so you get a deliciously crunchy texture♡

1. Ingredients

Silicone cupcake case (my cupcake sections are 6cm)

White chocolate

Matcha chocolate

Marble chocolate

Chocolate plastic (also called "modelling chocolate")

Chocolate pen

Oreo cookies

Pink, yellow, blue and green food colouring

2. Melt the chocolates separately over a bain marie and pour them into separate sections of the cupcake case, about halfway in each.

3. Place Oreo cookies into each like so.

4. Cover the cookies with the remaining chocolate and chill in the refrigerator until set.

5. Once fully set, the final step is to decorate with our chocolate plastic, marble chocolate and chocolate pen.

Sully's purple ears are made with chocolate plastic.

Pooh's ears are made from marble chocolate.

To see how I fully decorated my cookies check out the video I made below!

Lining them up like Disney Tsum Tsum toys makes them look really cute! All of the recipes I used this time are from the Japanese recipe book Disney Tsum Tsum Sweets Recipes (Japanese Title: ディズニーツムツムのスイーツレシピ). It shows how to create lots of different characters!

Kaori invites you into her world of character-themed food dishes in her recipe series. Be sure to check out her Instagram where she has uploaded many pictures of her character dishes!

Kaori Kubota (@kaopan27)
I live in Hokkaido and I love to make character themed foods, desserts and pastries♡

I want to see my family smile, so I enjoy putting in a bit of effort to make character foods and changing food into something cute♡

You can see more of my character foods and character bento boxes on my Instagram page→@kaopan27

©Disney
RELATED ENTRIES
Kyoto Sweets Shop Otabe Rereleases Demon Slayer: Kimetsu no Yaiba Snacks with New Designs

Otabe, one of the most popular sweets souvenir shops in Kyoto, Otabe, is known for its delicious matcha and mini-desserts. Starting May 12, the company has released nine uniquely packaged sweets inspired by Demon Slayer: Kimetsu no Yaiba. The limited-edition packaging will feature popular characters from the series. Previously, the company released matcha cakes for the crossover–this time, fans can enjoy choco-an flavor!

Demon Slayer: Kimetsu no Yaiba Choco-an

Demon Slayer: Kimetsu no Yaiba Matcha

Demon Slayer: Kimetsu no Yaiba Otabe (with Original Sticker)

Original Sticker: 15 varieties, 1 given at random

Focusing on the hashira from the series, fans will want to be on the lookout for their favorite character. These sweets can be bought at select stations in the Kyoto and Osaka area, major Kyoto tourist attractions, and online. In addition, matcha flavored treats will also be on sale featuring Tanjiro Kamado, Nezuko Kamado, Zenitsu Agatsuma, Hashibira Inosuke, Kagaya Ubuyashiki, and Muzan Kibutsuji.



©吾峠呼世晴/集英社・アニプレックス・ufotable

Information

Demon Slayer: Kimetsu no Yaiba Choco-an
Release Date: May 12, 2022
Price: ¥432 (Tax Included)
Where to Buy: Train station in Kyoto & Osaka area, Major Kyoto tourist attractions, online.
Details: http://www.otabe.kyoto.jp/kimetsunoyaiba/

Fruit Cakes from Patisserie Giraud Available at Gotanda Station for a Limited Time

Those passing through Gotanda Station in Tokyo might want to keep an eye out for some tasty treats on sale for a limited time. Patisserie Giraud has opened a limited-time pop-up location inside the aptly-named shop Have You Eaten This Before? The pop-up will be open until May 31, 2022.



Have You Eaten This Before? features a rotating selection of products perfect as gifts, souvenirs, or as a treat for yourself. Along with six cakes made to look just like fruits, a selection of other baked goods will also be available.

Lineup

Strawberry

Orange

Lemon

Red Apple

Green Apple

Melon

While it might be difficult to eat these beautiful cakes, you'll never forget the way the juice-filled mousse and crispy pastry fill your mouth. Which one would you like to bring home?

Information

Patisserie Giraud Limited-Time Shop
Open: May 16 – May 31, 2022
Hours: Weekdays 10:00-22:00 / Weekends & Holidays 10:00-21:00
Location: JR East Gotanda Station

Official Site: https://www.giraud.co.jp

Hilton Osaka to Hold Cinnamoroll and Sanrio Character Sweets Buffet

Folk Kitchen, a restaurant on the second floor of Hilton Osaka, will hold the Sanrio Characters Sweets Buffet ~Joyful Summer Festival~ from May 20 until September 11, 2022. The event is being held to celebrate Cinnamoroll, Pompompurin, and Pochakko coming in first, second, and third in the Sanrio Character Awards. A lineup of 25 different sweets will be available, including those filled with summer fruits like mango, peach, and watermelon! In addition, a "Zero Leftovers Campaign" will be implemented–so be sure to clear your plate!

Happy Festival Heart Mousse

Joyful Pink Cake / Lime & Raspberry

Fluffy and Crunchy Mango Pavlova

Decorated with chocolate and adorable character designs, the Happy Festival Heart Mousse is a scrumptious dish blending the flavor of banana, caramel, and rum. The Joyful Pink Cake will be a smash-hit with Sanrio lovers, featuring the soft taste of white mousse and raspberry compote with a fresh lime flavor. Tons of other original sweets will be available, including everything from gingerbread to orange tarts.

 

Visitors can also find plenty of vegan sweets. Summer Blue Sky Jello features contrasting colors of pineapple pulp and soymilk cream that look like clouds floating against a summer sky. Be sure to try the Almond & Watermelon Jello and Grapefruit and Lychee Jello too!

Mickey and Minnie Costumes Now Available for LOVOT Home Robots

GROOVE X's home robot series LOVOT is set to launch a new collaboration with the Disney store.

The Minnie and Mickey LOVOT Costumes are available for purchase at the Disney Flagship Shop Tokyo, Disney Store Shinjuku Takashimaya, Disney Store LUCUA Osaka, and the Disney Official Online Store shopDisney.

LOVOT Costume – Mickey


This fancy costume will make your LOVOT look just like Mickey Mouse, dressed up with an elegant gold bow tie.
The white gloves and large round ears are too adorable. (The bow tie is removable!)


Mickey Costume Purchase Bonus: Mickey Design


LOVOT Costume – Minnie

The Minnie costume features a red and white polka dot dress and a cute ribbon. The lace visible beneath the hem of the dress is a key point.

Minnie Costume Purchase Bonus: Minnie Design

The costumes also come with special serial numbers that can be entered into the LOVOT app to give your robot Mickey or Minnie eyes! Disney fans won't want to miss out on this chance!

Information

LOVOT Costumes / Mickey & Minnie
*Includes nose and hangar for LOVOT models

Release Date: April 26, 2022
Price: ¥25,300 each (Tax Included)

Where to Buy:
Disney Flagship Shop Tokyo, Disney Store Shinjuku Takashimaya, Disney Store LUCUA Osaka, Disney Official Online Store shopDisney
: http://shopDisney.jp/c/lovot/

*Not available at LOVOT stores or LOVOT Online. 

Disney SERIES CREATED by MOUSSY 2022 Summer Collection Launched

High-casual brand MOUSSY released the Disney SERIES CREATED by MOUSSY 2022 Summer Collection on April 20, 2022! Items from the collection are available at the SHEL'TTER WEB STORE, ZOZOTOWN, the MOUSSY Flagship Shop, and Lumine EST Shinjuku. 

The collection was created with a unique message in mind: "Seek a Miracle." These items could only be created by the designers at MOUSSY, so Disney fans won't want to miss out.

Collection Lineup

The 2022 Summer Collection features unique artwork drawn exclusively for the new release. The new collection offers retro and nostalgic designs based on 70s and 80s vintage taste and 90s street fashion.


Certain products in the collection will be made-to-order in an attempt to reduce environmental waste, a cause important to MOUSSY. More information can be found at the website listed below!



Will you be grabbing some of these items for the hot summer months?

New Toy Story 3 Collection Features Toys and Goods from the Popular Pixar Film

A new collection of goods inspired by Toy Story 3 is here! Items from the Andy's World Collection will be available to purchase at the shopDisney online store, the Disney Flagship Tokyo store, and at Tokyo Disney Resort on April 28 and at Disney Store locations nationwide on May 3. 

The items in the collection were inspired by the many popular toy characters in the film, with designs ranging from images taken straight from the film to the wallpaper in Andy's room.  

The item lineup includes a wide variety of apparel and lifestyle items that can be used both at home and on the go. From short-sleeved shirts and laptop computer cases to tissue box covers and stuffed animals, there's something for every fan! 

 

© Disney/Pixar © Just Play, LLC Mr. Potato Head & Mrs. Potato Head are trademarks of Hasbro used with permission.
© Hasbro. All Rights Reserved. Mattel toys used with permission. © Mattel, Inc. All Rights Reserved. Corvette®

Maison de FLEUR Releases Colorful Disney Girls Collection

Japanese accessories brand Maison de FLEUR has opened orders for its new Disney Girls Character Collection! The adorable items are now available on the shop's e-commerce site STRIPE CLUB and ZOZOTOWN until May 8, 2022.

The new collection features four popular female Disney characters–Minnie Mouse, Daisy Duck, Clarice, and Marie. Fans can grab tote bags and card cases inspired by each of these famous characters, with delivery scheduled for late July.

Collection

Minnie Mouse 

Daisy Duck 

Clarice 

Marie 





The tote bags feature accents inspired by each character's prominent color. The combination of casual canvas and luxurious ruffles is very on-brand, and despite the smaller size, these bags can easily hold a folding umbrella, tumbler, and lots of other items.


The card cases are sure to complement any bag, and each one comes with a charm. Try carrying them together with a matching tote!


Mickey Mouse Merchandise Appears at Shinsaibashi PARCO in Osaka

Mickey Mouse is beloved by people all over the world. To liven up the Golden Week holiday, Shinsaibashi PARCO in Osaka is showing off the 'Mickey Mouse Osaka Collection' for a limited time, This collection, available until May 8, is the first Disney collection featured at Shinsaibashi PARCO.




A number of Mickey Mouse-inspired products created by numerous designers will be featured, all of which already have shops in Shinsaibashi PARCO. A Mickey Mouse Collection pop-up shop is also open for a limited time at THE WINDOW SHINSAIBASHI on the first floor.

©Disney

©Disney Artwork by Yoshirotten

©Disney Designed by Javier Calleja

©Disney Designed by Keiichi Tanaami

©Disney Designed by Tetsuya Nakamura

 

Visitors can also enjoy the 'Mickey Mouse Now and Future' exhibition at the PARCO GALLERY on the 14th floor. The exhibition is a collaborative art project by artists from around the world who love Mickey! Curated by Shibuya's contemporary art gallery NANZUKA, fans won't want to miss this unique collection of art.

Information

Mickey Mouse Osaka Collection

Running: April 22 – May 8, 2022

Location: 1F THE WINDOW SHINSAIBASHI

Mickey Mouse Now and Future

Running: April 23 – May 16, 2022

Location: 14F PARCO GALLERY 

Pixar Fest Pop-Up Store by Small Planet to Open at Shinjuku Odakyu for the First Time

From April 13 until April 25, fans of Disney Pixar will want to visit the first floor of the Odakyu Department store in Shinjuku! The Pixar Fest Pop-Up Store by Small Planet will be selling a large collection of items featuring popular characters from Toy Story, Monsters, Inc., Cars, and more!

A wide variety of PIXAR goods such as bags, towels, mugs, stationery, and apparel will be available, and the Disney Friend of Nature Pop-Up Store by Small Planet will be held simultaneously, featuring sustainable and eco-friendly Disney items.

PIXAR FEST POP UP STORE by Small Planet Goods at a Glance

[Exclusive Event Item] IC Card Case: ¥2,310 

[Event Exclusive Item] Drawstring Bag: ¥660 *On sale April 16

[Event Exclusive Item] Random Pin Collection (12 varieties): ¥440 each

Purchase Bonus: Tote Bag

Purchase Bonus: Acrylic Coaster

Starting April 13, guests spending ¥6,600 (including tax) or more at the venue will receive one special tote bag while supplies last! Starting April 23, guests spending ¥2,750 (including tax) will receive a Toy Story acrylic coaster.

Disney FRIEND OF NATURE POP UP STORE by Small Planet Goods at a Glance

[Event Exclusive Item] Mug Made from Recycled Goods "Green Vibes Only!": ¥2,310

[Event Exclusive Item] Eco Bag "Green Vibes Only!": ¥3,190 *On sale April 15

Be sure to visit the pop-up shop to grab some exclusive merch while you can!

©Disney/Pixar
©Disney

Information

Pixar Fest Pop-Up Store by Small Planet

Disney Friend of Nature Pop-Up Store by Small Planet
Running: April 13 – April 25, 2022
Hours: 10:00-20:30 *Closes at 20:00 on April 17 and April 24
Venue: Odakyu Department Store Shinjuku Main Building 1F, Special Venue (In front of the Central Entrance)
Address: 1-1-3 Nishishinjuku, Shinjuku-ku, Tokyo
Access: In front of the Shinjuku Station West Entrance
Official Site: https://www.odakyu-dept.co.jp/

Tapioca and Crepe Store 'Pearl Lady' Collaborates with Sanrio Character Cogimyun

Pearl Lady, a tapioca and crepe specialty shop, will begin selling a special crepe inspired by the Sanrio character Cogimyun starting April 8, 2022! These gorgeous treats will be available at participating Pearl Lady locations while supplies last.

Cogimyun's Sparkling Strawberry Crepe

Cogimyun's Sparkling Strawberry Crepe, topped with a Cogimyun cookie, includes sweet and sour strawberry cream. 

The dough, made with tapioca flour, offers a slightly chewy texture with a rich milk and butter flavor. Customers will also receive a special sticker as a purchase bonus. Be sure to enjoy the new Cinnamoroll drink available at Pearl Lady's sister shop CHABAR!

CHABAR x Cinnamoroll Collaboration Drink

Kyo Hayashiya and Hayashiya Shinbei Offering Special Parfaits Perfect for Spring

Hibiya Hayashiya Shinbei in Tokyo Midtown Hibiya is now offering a scrumptious Strawberry Matcha Parfait until April 24, 2022! If that's not up your alley, four Kyo Hayashiya locations in Shinjuku, Omiya, Yokohama, and Ikebukuro will begin offering a Matcha and Berry Mascarpone Parfait from April 1 until May 8, 2022. 

Strawberry Matcha Parfait


The Strawberry Matcha Parfait is an eye-catching mix of green and pink, reminiscent of cherry blossoms and bright green grass. Green tea blends with rose jelly and lychee sorbet, offering a refreshing taste with a hint of bitterness. The sweet accent of crunchy chocolate feuillantine gives each bite a little kick.

Matcha and Berry Mascarpone Parfait


The Matcha and Berry Mascarpone Parfait mixes the deep, bitter taste of Uji matcha, the sweet and sour taste of berries, and the gentle sweetness of mascarpone cream. The berry sauce is blended with crunchy chocolate feuillantine, a layer of whipped cream, green tea jelly, green tea ice cream, and milk panna cotta. To finish, it's garnished with refreshing raspberry sorbet, bittersweet matcha ice cream, and fresh strawberries.

Information

Strawberry Matcha Parfait

Price: ¥1,650 (Tax Included) / with Tea: ¥2,090 (Tax Included)

Available: March 18 – April 24, 2022

Available at Hibiya Hayashiya Shinbei (Tokyo Midtown Hibiya 2F)

Matcha and Berry Mascarpone Parfait

Price: ¥1,430 (Tax Included) / with Tea: ¥1,870 (Tax Included)

Available: April 1 – May 8, 2022

*Available until April 30 at the SOGO Yokohama location.

Available at the following 4 Kyo Hayashiya locations. 

・Takashimaya Times Square (Shinjuku Takashimaya Times Square Main Building 2F)

・Seibu Ikebukuro (Seibu Ikebukuro Main Building 8F)

・SOGO Omiya (SOGO Omiya Main Building 9F) 

・SOGO Yokohama (SOGO Yokohama 10F)

McDonald's 'McCafe by Barista' to Offer Uji Matcha Sweets for Spring

McDonald's Japan locations with 'McCafe by Barista' areas will begin selling special spring treats for a limited time starting April 6, 2022. Customers will be able to grab the 'Strawberry Uji Matcha Frappe' and the 'Uji Matcha Mont Blanc Tart.'

McCafe by Barista invites guests to enjoy high-quality frappes and smoothies. The Uji Matcha Frappe was added to the regular product lineup in June 2021, and features a mellow matcha flavor. The Strawberry variant is coming back for the first time in three years. The Mont Blanc Tart is a new addition, and is a perfect treat to enjoy with this popular frappe! 

Strawberry Uji Matcha Frappe: ¥490

The Strawberry Matcha Frappe mixes together the full-bodied flavor of matcha together with sweet and sour strawberries. It includes both a strawberry paste made from whole strawberries and a strawberry whipped cream at the bottom. The drink is topped with more strawberry whipped cream and a sprinkling of matcha powder. The refreshing taste of the strawberry sauce coupled with the whipped cream serves to elevate the great flavor of the Uji Matcha even more.

Uji Matcha Mont Blanc Tart: ¥390


The Uji Matcha Mont Blanc Tart is made with Uji Matcha batter, Uji Matcha whipped cream, white bean paste, and green tea cream. The refined sweetness is complemented by the mellow aroma and slight bitterness of Uji Matcha.

How would you like to enjoy these treats beneath the cherry trees?

Information

Strawberry Uji Matcha Frappe

Uji Matcha Mont Blanc Tart

Available: April 6 – Mid-May, 2022

Available at Participating McDonald's Japan Locations with 'McCafe by Barista'

Official Site: https://www.mcdonalds.co.jp/