Seafood Heaven at Shizuoka's New Restaurant Atami Ginza Osakana Shokudo
Atami Ginza Shopping District in Shizuoka's seaside city of Atami is enjoying a new boom of bustling customers this year, and they're sure to continue pouring in with the opening of its new seafood entertainment restaurant Atami Ginza Osakana Shokudo. The eatery opened its grand doors on August 8, offering fresh, flavourful seafood dishes. In the evenings, the restaurant turns into Osakana Sakaba where they serve gorgeous sake.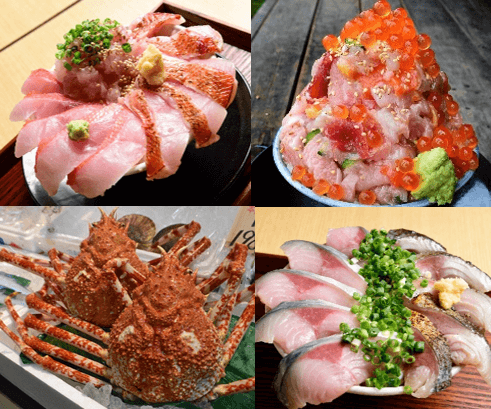 Atami is home to many fishing harbours, including those in Ajiro, Izuyama, and Hatsushima. Atami's waters are a treasure trove of sea life, offering a bounty of seafood such as mackerel, salmon, shrimp, Splendid alfonsino, shellfish, and more.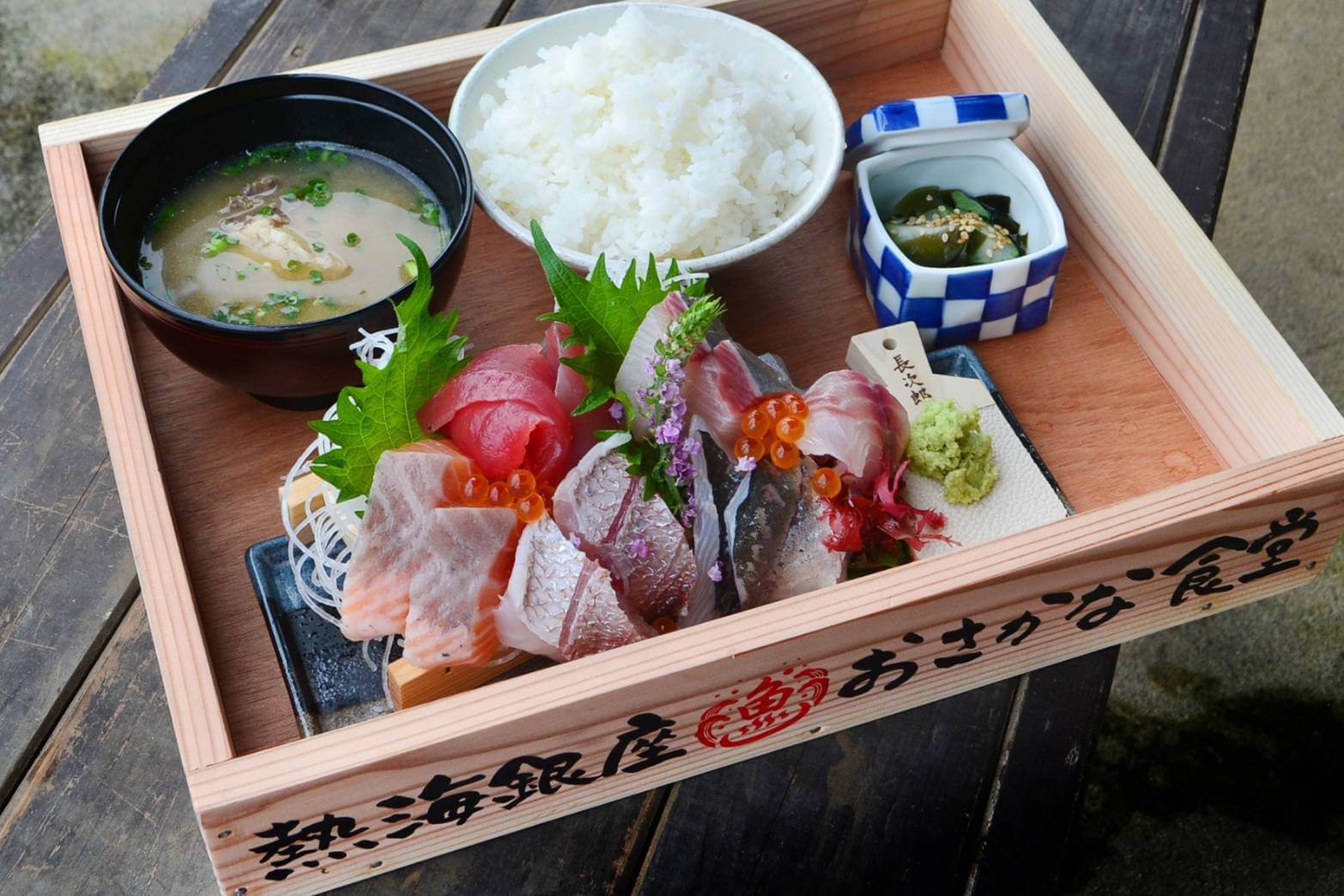 The restaurant uses a previously vacant building which has been renovated for the opening. Their menu concept is "Atami nostalgia" which will fuse together traditional Atami food with new spins. Food is prepared in an open kitchen in a variety of ways including sashimi, grilled, steamed, and so on.
Splendid Alfonsino Rice Bowl – ¥2,780 (Before Tax)
The absolute must-try on their menu is their Splendid alfonsino rice bowl. It's topped generously with huge cuts of horse mackerel, mackerel, and Splendid alfonsino, all caught fresh from neighbouring harbours.
The restaurant also serves the ginormous Japanese spider crab which is a local speciality in the city of Izu. They are kept fresh in tanks in the restaurant. In the evening, when the restaurant turns into a bar, you can have this crab served however you like: as sashimi, grilled, or even steamed. As well as fresh seafood, they also serve vegetables and other meat, all sourced locally. Tofu, desserts and other food is too.
Japan is known for its exquisite seafood. If you're travelling to Shizuoka this summer, be sure you pay a visit to the new Atami Ginza Osakana Shokudo.
Information
Atami Ginza Osakana Shokudo (Osakana Sakaba at night)
Address: 8-8 Ginza-cho, Atami, Shizuoka Prefecture
Opening Hours: Lunch 11:00-16:00 (Last Orders 15:30) / Dinner 17:00-22:00 (Food Last Orders 21:00/Drink Last Orders 21:30)
No Fixed Holidays
Access: 14-minutes on foot from JR Atami Station
Official Website: http://www.osakana-atami.com/
RECOMMENDED ENTRIES
Irresistible Midsummer Parfait Fair Tantalises at Shiseido Parlour in Ginza

Get ready to dine on desserts in style as Shiseido Parlour announces its second-ever Midsummer Parfait Fair at its Salon de Cafe in Ginza which will be held from August 1 to 25.

Four incredible summery parfaits make the fair's lineup, each centred around local and seasonal fruits. This year sees the return of the popular mango, fig and strawberry flavours, and for the first time ever, a melon flavour made with melons from the city of Furano in Hokkaido.

Hokkaido Prefecture Furano Melon Parfait – ¥1,980 (Tax Included)

Made with sweet and fragrant Furano melons grown in Hokkaido's city of Furano, this angelic delight of a parfait is made with classic silky vanilla ice cream, refreshing hibiscus jelly, and for added accent, a squeeze of cranberry sauce. The fresh melon piece toppings are packed full of mouth-watering melon juice. The melon is served in several different ways for textural enjoyment including skinless slices, a slice with the skin on, and melon balls.

Wakayama Prefecture Kinokawa Fig Parfait – ¥2,160 (Tax Included)

The seasonal figs in this parfait have been grown and nurtured laboriously. The figs are plucked in Wakayama prefecture and are served fresh on your dessert. Tucked under the hearty serving of figs is a red wine-laced compote, sauce and sherbet while placed gracefully on top is a baked tuile. There is also a fig and apple jelly for that cheek-sucking sweet kick.

Okinawa Prefecture Apple Mango Parfait – ¥2,580 (Tax Included)

If you love mangoes, then you're in for a treat with this parfait which is prepared with mangoes from Okinawa which have been cut up into different shapes and sizes. The dessert contains a midsummer medley of ingredients including a tropical homemade mango sherbet, an exotic sauce, milk flavoured ice cream, and cranberry sauce. Savour the succulent taste, smooth texture and sweet aroma of the elusive Keats mango, the richest and most delicious of all mangoes, and one which has only a limited production in Okinawa from mid-August onward.

Nagano Prefecture Hatake Kobo Koihime Strawberry Parfait – ¥1,890 (Tax Included)

Finally, this tempting parfait is made with strawberries from Hatake Kobo in Nagano. Because of the regional climate of Nagano, these gorgeous strawberries are delicious from summer through fall. They are served with classic vanilla ice cream for the absolute perfect pairing.

Which of these do you want to try the most?♡

Information

Salon de Cafe – Shiseido Parlour

Address: Tokyo Ginza Shiseido Building 3F, 8-8-3 Ginza, Chuo, Tokyo
Opening Hours: [Tuesday-Saturday] 11:30-21:00 (Last Orders 20:30) / [Sunday & Holidays] 11:30-20:00 (Last Orders 19:30)

Closed: Mondays (Unless it falls on a national holiday)

*Closed August 26, 2019 – October 31, 2019 for renovations

Official Website: https://parlour.shiseido.co.jp/?rt_pr=pl274

Mogu Mogu Nippon | Indulging in Oniku no Osushi's Matsusaka Beef Don in Asakusa

Asakusa is located in Tokyo and is home to many famous tourist and sightseeing spots such as Sensō-ji Temple and the Kaminarimon Gate. It's also a place lined with restaurants serving up an array of gourmet dishes.

We have covered many popular cafés and local specialties in Asakusa in MOSHI MOSHI NIPPON. Today, we will take a look at a sushi restaurant called Oniku no Osushi which opened recently where customers can eat sushi served with Japanese wagyu beef. It is the first big name restaurant from the Gion district of Kyoto to arrive in the country's Kanto region. Since opening its doors, it has been much-talked-about and has enjoyed the hustle and bustle of hungry customers.

The restaurant is about an 8-minute walk from Akasaka Station via the subway and just a 2-minute walk via Tsukuba Express. You'll know the restaurant when you see it as the outside of it incorporates a wooden design. Inside, too, wooden planks and pillars decorate the interior.

Matsusaka beef is a brand of beef in Japan made from the meat of Japanese Black cattle that are reared under strict conditions in Matsusaka, Mie. At Oniku no Osushi, customers are able to eat this beef in the form of sushi marbled and with a rare texture.

I dined together with Chinese model and talent Etsuna. She loves eating out but this was her first time eating rare meat on sushi. We ordered the restaurant's popular Oniku no Osushi platter and the Gyusen Don (served only at lunchtime).

Oniku no Osushi Platter (8 Pieces): ¥5,000

The meat sushi platter comes with eight pieces including two pieces each of lean beef, salted beef, roast beef, and fatty gunkan beef. Excluding the gunkan beef it's recommended eating each piece from the left as pictured above. Everything is already flavoured so you can eat them as they are.

The gunkan beef is best enjoyed while it is still frozen so I started with that. The cold beef just melts as it enters you mouth. It tastes sweet and has a fatty texture to it. The egg yolk mixes together with the beef on your tongue and gives it an even smoother taste.

The meat of the lean beef, salted beef and roast beef sushi is soft and each is layered with refreshing grated lemon and daikon. When you bite into the succulent meat your taste buds are treated to the sweetness of the fat and the meats' rich flavours. I was able to taste the distinct qualities of each type.

Gyusen Don (w/ Cold Miso Soup): ¥2,480

The Gyusen Don is served at lunchtime only. It contains Matsusaka Gyusen® flakes and Kyoto-style tsukemono pickled vegetables, condiments and bite-sized meat pieces. The presentation of the dish is beautiful! You add soy sauce to it and mix with the egg yolk, and it's simple irresistible! We made sure to snap a final photo before tucking in.

The beef of this dish melts in your mouth just like the gunkan beef and blends well with the egg yolk to create a velvety flavour. The dish also has condiments and pickled vegetables too adding to the variety of tastes. If you add wasabi or ginger the flavours are elevated even further, especially when eaten with the Kyoto-style pickled vegetables which creates a spicy tang.

The miso soup that the dish is served with is also Kyoto-style. Wheat starch and pickled vegetables are added to the sweet white broth to create a mellow flavour that goes well with the dish.

Etsuna gave high praise to the dish too: "It was so delicious. I think there are still a lot of foreigners that don't know about meat sushi yet, so I think it'll get popular soon. It's a bit pricey there are a lot of foreign travelers who want to eat tasty Japanese food, so I recommend it to them."

Asakusa is famous for its takeaway food to be eaten while walking, but Oniku no Sushi serves up an Asakusa-exclusive gourmet experience too.

Steamed Rice & Meat: ¥500

If you're walking around Asakusa and are feeling peckish, then you should go for steamed rice and meat (おにくの飯蒸し). It's packed full of beefy flavour.

What did you think of this little Asakusa lunch trip? Of course, Oniku no Osushi has an evening slot for dinner too, so if you'd like to try some Matsusaka beef then be sure to pay a visit.

Writer: Sayuri Mizuno (MMN Editorial Department)

Model: 悦奈(Etsuna)

Information

Information

Oniku no Osushi (Asakusa Branch)

Address: 2-6-14 Asakusa, Taito, Tokyo

Business Hours: 11:30-15:00 / Dinner 18:00-21:00

Closed: Tuesdays

TEL: 03-5811-1939

Access: 7-minutes on foot from Sensō-ji's Kaminarimon Gate / 2-minutes on foot from Asakusa Station via Tsukuba Express
RELATED ENTRIES
Surround Yourself in Atami's Natural Environment and Relax With a Special Hot Spring Plan

Onsen ryokan hot spring inn SOKI ATAMI is collaborating with Shiseido's skin and mind brand BAUM to offer a special new accommodation plan for the spring season. SOKI ATAMI x BAUM -Fresh Verdure & Healthcare- will run from May 1, but pre-bookings are already open on SOKI ATAMI's website.

Free gift bag to the first 100 people who make a reservation

Enjoy deep relaxation with sachets filled with natural smells like wood

A candle-lit night under the starry sky

Fresh verdure and caring for one's health is the theme of this event which takes place deep within Atami. The plan includes the Forest Twin bedroom which is fitted with a half open-air hinoki area that faces the mountains and lets guests feel like they are surrounded by the new green leaves of spring. Rooms are also kitted out with amenities such as BAUM's Hydro Essence Lotion which captures the essence of fresh trees and shrubs. Guests are invited to experience Atami's hot spring culture and cuisine as they allow their mind and body to relax, ultimately benefitting their health. This season is known for its bounteous verdure and refreshing breeze, but it's also said to help alleviate the May blues which many Japanese people experience after starting school or work again, the negative feelings of the rainy season, and more, all of which can put one's spiritual state out of kilter. The scent of trees will rid guests of stress, nerves, and tension, and bring about relaxation, peaceful sleep, and a good detoxing.

BAUM is a skin and mind brand that helps support the strength of one's skin by focusing attention on the water storage, growth, and environmental protection of trees and forests while showing the importance of looking after your mind and body. The brand is giving free gift bags to the first 100 people that make a reservation to show how anyone can enjoy a sustainable life using an everyday item.

On the top floor of the inn is a tearoom where guests can make their own sachets using hinoki cypress. Guests can also enjoy the Aroamtic Room Spray and Aromatic Candles provided by BAUM, all to further aid in relaxation and restoration. In the evenings, the lights will be switched off at the cafe and be replaced with candlelight which will serve as a romantic replacement to shine against the overhead backdrop of the starry night sky.

Information

SOKI ATAMI x BAM -Verdure & Healthcare-

Japanese Plan Name: SOKI ATAMI × BAUM 〜新緑と養生〜

Running: May 1, 2021 – Late June 2021

Reservations: Now Open
Make a reservation here: https://x.gd/rH5wO
Official Website: https://www.so-ki.jp

PROJECT ATAMI Launches to Promote Artists in Atami

The all-new PROJECT ATAMI has been launched by AKAO ART RESIDENCE and artist support group ATAMI (ASIAN) ART GRANT.」

PROJECT ATAMI comes as a way to shine the light on the art of creators in Atami, a city in Shizuoka. It's a chance to learn about the city and experience it using all five senses so people walk away never forgetting their Atami experience.

©️HIRO TANAKA

Kujira no Me by Maki Ohkojima, France,  2019 (Photo by Serge Koutchinsky)

©️Koichi Mitsuoka

©️Taira Ichikawa

©️Ichiro Endo, Wall Art Festival

little hong kong; a little rooftop, 2020

©️Akio Suzuki

Hiromi Miyakita ©️Yusuke Suzuki

1. AKAO ART RESIDENCE

At AKAO ART RESIDENCE, 20 artists get to stay at Hotel New Akao each year and have free reigns to create. Artists communicate with coordinators and hotel staff about their work from beginning to end throughout a period of a month. The program sees artists leaving their work bit by bit in the hopes that the hotel guests will be able to enjoy it.

Participating Artists

HIRO TANAKA, Maki Ohkojima, Mitsuoka Koichi, Taira Ichikawa (Term 1: March-April)

Ichiro Endo, Akio Suzuki, Hiromi Miyakata, 花坊 (Term 2: May-June)

2. ATAMI (ASIAN) ART GRANT

ATAMI (ASIAN) ART GRANT is providing 30 artists with funds raised through sponsorship, donations, and crowdfunding, and will invite them to Atami in November. There, they will be asked to draw murals which will be installed around the city.

Information

PROJECT ATAMI

・AKAO ART RESIDENCE

Running: April 2021 – December 2021

Location: Akao Resort Park

Address: 1993-250 Atami, Atami-shi, Shizuoka

・ATAMI(ASIAN)ART GRANT

Running: November 2021

Location: Akao Resort Park, around Atami

PROJECT ATAMI Official Website: https://projectatami.com

Shizuoka's Strawberry Cafe Ichigo BonBonBERRY ATAMIHOUSE. Releases Winter Menu

Ichigo BonBonBERRY ATAMIHOUSE. is the first cafe to open in Atami specialising exclusively in strawberry desserts. This Christmas, the cafe is serving up a new Christmas cake, winter afternoon tea set, and strawberry milk beverage, all of which hit the menu on Friday (December 4).

Hitorijime Christmas Cake | ¥1,000 (Before Tax) *Comes with drink

A dreamy Christmas cake for one loaded with cream and sweet strawberries. There's a strawberry on top and more in the middle squished between soft sponge.

Winter Afternoon Set | ¥1,200 (Before Tax)

The cafe has turned its popular afternoon tea into a wintertime version for Christmas, served with a mini bavarois in the shape of a strawberry, strawberry ice cream, melty fondant chocolate, and a rum raisin chocolate tiramisu. A delightful combination of sweet, tangy, and rich flavours.

Hot Strawberry Milk | ¥400 (Before Tax)

A hot strawberry milk to feel cosy in the cold winter weather, topped with plenty of cream and a sprinkling of strawberry powder. Enjoy it as it is or mix together for a creamier beverage.

The winter menu is seasonal and so will only be available this wintertime.

Information

Ichigo BonBonBERRY ATAMIHOUSE.
Address: 3-16 Tawarahonchō, Atami, Shizuoka
Opening Hours: 10:00-18:00
Access: 2-minutes from Atami Station (JR Line side)
Official Website: http://www.atami-bonbonberry.com

SOKI ATAMI: The New Hot Spring Hotel in Shizuoka's City of Atami

SOKI ATAMI is a new hot spring accommodation set to open in the town of Koarashicho in Atami, Shizuoka, on November 1, 2020.

The town of Koarashicho is considered the annex, as it were, to Atami. SOKI ATAMI can be reached in around 40 minutes by bullet train from Shinagawa Station. The accommodation takes into account the value of Atami's hot spring resorts and what's on offer there. It will serve a 'sojourn style' of accommodation that allows you to return to yourself as you are, without any stresses, something which is enhanced thanks to being situated away from the hustle and bustle of the city in nature.

Just being yourself

The accommodation, surrounded by nature, offers a panoramic view of the ocean, and consists of a reception wing, guest room wing, and restaurant wing. In the 'Village Garden,' there are trees growing citrus fruits and a variety of plants and crops, showcasing the regional lifestyle and natural features.

Guest Rooms

There are 54 guest rooms in total ranging from 40㎡ to 65㎡ which can fit up to 4 people. Guests can enjoy the hot springs with all room types. TONERICO:INC. is in charge of the inter design who have given it a natural feel.

Tea Salon & Bar

The Tea Salon & Bar on the top floor overlooks Atami Bay. Guests can enjoy sipping on tea grown in Shizuoka as well as tucking into seasonal meals made using Japanese ingredients. There's also a terrace from which guests can enjoy the firework festivals held at Atami Bay throughout the year.

Public Onsen

The public baths benefit from the changing seasons which changes up the bathing experience. The water is perfect for de-stressing, moisturising, and making your skin look beautiful.

Dining Room

In the restaurant wing is the dining room designed by age co.,ltd which has worked on many different ryokan and restaurants. Fish, vegetables, and other ingredients are all sourced locally and directly.

Information

SOKI ATAMI
Grand Opening: November 1, 2020

Address: 4-36 Koarashichō, Atami, Shizuoka

Access: 10-minutes by car from Atami Station

Official Website: http://www.so-ki.jp/

Japan's New High Speed Bus Travels From Kyoto to Mount Koya

Keihan Bus and Nankai Rinkan Bus are bringing back their high-speed bus service this year which will run from September 18 to November 30. The service will incorporate a mandatory booking system, making it even more convenient than last year.

Mount Kōya is the name of the temple settlement found in Wakayama which first settled in 819. It is the centre for the Kōyasan Shingon sect of Japanese Buddhism and is designated as a World Heritage Site, one of many found in Kyoto alongside Kinkaku-ji, Kiyomizu-dera, and Shimogamo Shrine.

The new Kyoto Koya-san buses offer a smooth, direct ride to the World Heritage Site, arriving there from Kyoto in just 2 hours and 40 minutes.

Information

Kyoto Koya-san Bus (Japanese Name: 京都高野山線)
Running: September 18, 2020 – November 30, 2020

Keihan Bus Official Website: https://www.keihanbus.jp/

MAXPLAN AZABU10: The New Landmark of Tokyo's Azabu Juban District

MAXPLAN Co. is set to open MAXPLAN AZABU10 on October 22, 2020 which is set to become the new symbol and a landmark of Tokyo's Azabu Juban District. The building will offer many unique and extraordinary experiences.

Nakamura Suzuko (CEO, MAXPLAN Co.) | Comment

"This project borrows the strength of internationally-active architect Kengo Kuma. I am overjoyed to have the opportunity to be a driving force together with him once again. This building, which is the 'Azabu Juban Development Project,' will be a place that creates and discovers new collective value between companies and individuals. A place of creative symbiosis. It aims to offer well being for companies that brings about a sense of cultural values. It will be a creative space for companies and individuals to resonate, bounce ideas off, and flow with one another. I pray from the bottom of my heart that these things will serve as a connection to how we want to live in the future."

Kengo Kuma (Architect) | Comment

"Azabu Juban is Tokyo's intersection between tradition and the future. I wanted to create a symbol for this district of 'fluctuations' around its crossroads. Combining panels of varying sizes with different heights, thicknesses, and textures expresses the district's diversity and energy. I wanted the building to blend in as part of the 'fluctuations,' as well as create a small 3D city which itself has 'fluctuations' […]"

We look forward to seeing how this new landmark and symbol of Azabu Juban brings together the traditional and the futuristic.

Information

MAXPLAN AZABU10
Building Site: 4-1-1 Azabu Juban, Minato Ward, Tokyo
Access: 1-minute on foot from Azabu Juban Station (via Tokyo Metro Namboku Line and Toei Oedo Line)
Grand Opening: October 2020 (subject to change)

Kyoto Brighton Hotel Offers 5 New Hotel Plans For Springtime, Cherry Blossom & Temple Experiences

Kyoto Brighton Hotel is now selling reservations for its new "Haru no Asobi Plan" (Springtime Fun Plan) which is taking place between March and May this year and offers guests the opportunity to enjoy Kyoto in the spring and its cherry blossoms.

Spring in Kyoto is the most popular season for tourists and travellers who flock from not only across Japan but from around the world. The Haru no Asobi Plan is made up of 5 exciting plans to see the ancient capital's breathtaking cherry blossoms, vibrant green maples, and other offerings.

"Asakatsu" – An early morning temple visit and stroll

Get away from the crowded streets and enjoy the rare opportunity to experience incredible early morning sights you don't normally get to see. Spend a quiet morning in a gorgeous environment in this plan. Several temples and gardens are in place for the experience: Kōdaiji Temple, Bishamon-do Temple, Taizō-in, Haradanien, and Tenryū-ji.

Kiyomizu-dera Temple special night viewing

One of the must-visit spots when travelling to Kyoto is Kiyomizu-dera, officially a World Heritage Site. This plan rents out the temple for you to experience it at nighttime. The main building is currently undergoing large-scale renovation to secure the roof as well as the inner construction of the temple. Seeing the temple is truly a sight to behold.

You are guaranteed a view of the famous "Stage of Kiyomizu," an enormous veranda attached to the main hall. The surrounding trees will be lit with enchanting lights, and you'll be able to gaze at the distant city nightscape. Experience Kyoto like never before as the warm lights illuminate the Niōmon (Deva Gate), 3-storey pagoda, and purified water which runs from the Otowa Waterfall.

Discover the world of Kyoto embroidery

The traditional practice of Kyounui, or Kyoto-style embroidery, has continued since the Heian Period and is even garnering attention overseas. It's a delicate and refined style of embroidery unique to Kyoto.

After your embroidery session which will take place in a Kyoto town house nearby the cherry blossom-filled Hirano Shrine, you'll look at kimono and yukata so beautiful they'll look like they should be in an art museum, before heading to eat together with the creator.

See the green maple trees of Hōgon-in on a private train

Board the private 1-2 carriage Randen train on the Keifuku Electric Railroad, which runs from Shijō-Ōmiya to Arashiyama. This cute retro train will take you Arashiyama where the green maples are breathtakingly beautiful.

You'll also get to stroll through the quaint gardens of Hōgon-in Temple, view artwork painted by Noriko Tamura, and more.

Sky Bus

Enjoy a panoramic view on a private ride of the Sky Bus, a double-decker bus which is gaining huge popularity right now. You will ride through the city of Kyoto and see the rows of pink cherry blossoms. In April, they will also do an evening tour of the cherry blossoms so you can see them at night, and in May they'll do a green maple tree tour.

Discover the beauty of Kyoto in this very special hotel plan at Kyoto Brighton Hotel.

Bunjee Jump From the Top of Kyoto Tower With Their New VR Experience

Have you ever wondered what the thrill of bungee jumping would be like, but are too afraid of heights to even consider putting it on your bucket list? Have no fear, because Kyoto Tower is bringing a new VR bungee jumping experience to the top of the building which will be available to experience from February 1 for a limited time.

This VR experience was first brought to the tower in the fall of 2018, and this year it is making its grand return. After the event originally ended, there was huge demand for it to be held again.

Those brave enough to have a go at this VR bungee jump (or bungy, depending where you are from), will go above and beyond the 100 meter observation deck to the highest accessible point of Kyoto Towerーup 120.9 metersーwhich is normally closed off to the public, to the special VR deck which has been prepared.

The experience will offer you not only the thrill of jumping from Kyoto's tallest structure, but the chance to gaze upon a panoramic view of the beautiful city too.

Information

Kyoto Tower VR Bungy Jump

Running: February 1, 2020 – March 31, 2020

Time: 12:00-21:00 (Last Entries 20:45)

Location: Kyoto Tower Observation Deck – Floor 1F (the 11th floor of Kyoto Tower)

Price:

・VR Bungy Ticket: ¥800 (Tax Included)

・Observation Deck & Bungy Set Ticket (Tax Included): Adults: ¥1,400 (Individual Purchase: ¥1,600)/High School Students: ¥1,300 (Individual Purchase: ¥1,450)/Elementary & Junior High Students: ¥1,100 (Individual Purchase: ¥1,350)

*Ages 7+ only

*Set tickets are available to purchase on floor 1F of Kyoto Tower

*Run times subject to change

*Ticket charges applied for ages 7+; those aged below 7-years-old are not permitted to use the VR system

*An entry ticket to the Kyoto Tower observation deck is not necessary to experience the VR system

Official Website: https://vr-bungee.com/

Japan Shopping Festival: Hello Kitty Supports Huge Shopping Event Aimed at Foreigners

一The Japan Shopping Tourism Organization (JSTO) has announced that it will hold an event titled "Japan Shopping Festival" aimed at foreign tourists in Japan from December 1, 2019 to February 29, 2020.

①Questionnaire Campaign

A questionnaire will be carried out for non-Japanese travellers to win round-trip tickets to Japan. Travellers will be selected randomly from a lucky draw.

②Instagram Photo Contest

Follow Japan Shopping Festival on Instagram and post photos related to the designated themes with the hashtag #jsfphoto. The themes are: ①Memories of what you bought and experienced in Japan, ②Your favourite fruits in Japan, and ③Good things about Japan you want to boast.

③Coupons, Goods & Experiences

Japan Shopping Now is one of Japan's biggest online shopping portal sites, and they are now promoting information on Japanese shopping overseas in English, Traditional Chinese, Simplified Chinese, and Korean. This includes coupons, sales, and more at almost 1,000 participating stores.

④Special Events

・Japan Shopping Festival Tohoku (December 1, 2019 – February 29, 2020)

This shopping festival will take place at 6 prefectures across Tohoku. Discover Japanese confectioneries, fashion, sake, fruit and more, including a tie-up with JR EAST PASS.

Official Website:  http://tohoku.japanshopping.org/

・Matsuyama Shopping Festival (December 1, 2019 – March 31, 2020)

From Okaido Shopping Street to Matsuyama Gintengai Shopping Arcade, Matsuchika Town, and more, look forward to end-of-year lucky draws, food events, shopping, and so on.

Official Website:  http://matsuyama.japanshopping.org/

Discover the wonders of shopping in Japan and learn more about the country with the Japan Shopping Festival.

Top 4 Places to Visit in Kyoto This Winter: Snow, Gourmet Food, Hot Springs & More

Kyoto is known as the ancient capital of Japan. It is said to be the place where quintessential Japanese culture started, and has charmed the world over with its incredibly rich 1,200-year history. Today, we take a look at some of the best places to visit in Kyoto this winter as covered by the November 2019 issue of Japanese magazine Mou Hitotsu no Kyoto ("The Other Kyoto").

From gourmet food to sightseeing spots, the arts and moreーif you're in Kyoto this year, you have plenty of reasons to leave your hotel room or house.

Yuki Tourou: See the snowy thatched-roof huts

Miyama Kayabuki no Sato is located in Miyamachokita, Nantan. It is home to 39 houses with thatched roofs and is a popular sightseeing spot due to its gorgeous natural scenery throughout the entire year. It was listed in Japan's Groups of Traditional Buildings in 1993.

In the New Year, snow falls on the huts, which looks beautiful when they light up the "Yuki Tourou"ーor snow lanternsーin late January every year. There are stalls that serve hot food in this little town, and they also host an event where you can make your own snow lantern.

Running: January 25, 2020 – February 1, 2020

Official Website: http://www.yukitouro.jp/

Amanohashidate: One of Japan's "Three Scenic Views"

Amanohashidate is a sandbank located in Miyazu Bay that separates the north and south inlet of the Asoumi Sea. It formed as a result of pebbles being carried by the ocean current for thousands of years. Its name comes from the way it looks like a bridge spanning across the sky. It is known as one of Japan's "Three Scenic Views"

Amanohashidate is a sight to behold at any point throughout the year, but if you can travel there in the winter, you're in for a surprise, as the entire sandbank is littered with pure white snow. On very cold days in the morning the snow even covers the tops of the pine trees, but when the sun rises and the temperature warms up the snow on the frost-tipped trees melts. This has led to it being called an "illusionary sight" due to its rarity. Make a point of getting up super early so you don't miss it!

Address: Tango-Amanohashidate-Ōeyama Quasi-National Park, Miyazu, Kyoto

Official Website: https://www.amanohashidate.jp/lang/en/

Fukuchiyama Castle: The magnificent castle of snow

Fukuchiyama Castle sits atop a tall hill in the city of Fukuchiyama. The castle was established as the new Tanba province by Akechi Mitsuhide in 1579 following the province's capture in 1576. The castle was demolished once during the Meiji Period but was restored again in 1986. It is now the only castle that remains today built by Mitsuhide.

The castle architecture has a lot of personality, and during the winter months takes on a gorgeous white as a result of the snow. Gazing across the castle land from the watchtower is an absolute must when visiting. Also, if you're visiting next year, the new Fukuchiyama Mitsuhide Museum is set to open on January 11, so be sure to check that out too.

Address: 5 Chome Naiki, Fukuchiyama, Kyoto

Opening Hours: 9:00-17:00 (Last Entries 16:30)

Closed: December 28-31, 2019 / January 4-6, 2020

Entry Price: General ¥330 / Elementary & Junior High School Students ¥110
Official Website: https://dokkoise.com/en/temple_shrine/index.html

Monjusou Shourotei: Feast on crab fondue while gazing at Amanohashidate

Monjusou Shourotei is a ryokanーa Japanese-style innーlocated along Amanohashidate, one of Japan's Three Scenic Views which we mentioned earlier on this list. All guests staying at the inn are given a window view of Amanohashidate from their rooms.

The inn offers an original salted snow crab fondue. Snow crab is particularly enjoyed for its degree of freshness. It's served with vegetables and the boiled crab itself, making for a delicious combination of flavours.

The hot springs at Amanohashidate are famous and praised as "the baths of the gods." They are also said to leave your skin looking beautiful after a dip. The inn also offers open-air baths lined with stones from Shikoku and wild grass from the mountains, offering a truly indulging experience.

Address: Amanohashidate Monjudomisaki, Miyazu, Kyoto

Official Website: https://shourotei.com/

These are just some of the incredible places you can enjoy in wintertime Kyoto. You can find more information on Kyoto Side or from one of our many articles on Kyoto.

TOTOCO Odawara: Kanagawa's Sea Food Theme Park Opens November 22

Gyoko no Eki TOTOCO Odawara is a new "fish theme park" set to have its grand opening on November 22, 2019 at 10:00am (JST).

The facility was established to promote further exchanges with Odawara Fishing Port which is said to be the biggest fish market in western Kanagawa Prefecture. It is the first "Fishing Port" (Gyoko no Eki*) and will sell seafood sourced locally, fishery products and more, as well as hold events to help promote Odawara.

The building has three flours. The first floor is like a marketplace where fish, fishery products, produce, and more will be sold. The second and third floors house seafood restaurants and offer a panoramic view of Sagami Bay. This view is best observed from the terrace while you enjoy your delicious meal.

*Fishing Port (in Japanese: Gyoko no Eki, or 漁港の駅) is a registered trademark of Odawara City to highlight facilities that promote exchange with Odawara Fishing Port. (Registered Trademark No.: 6163121).

Odawara Fishing Port sells fresh fish sourced from the waters of Sagami Bay, which houses a variety of fish species, as well as fish and processed marine products from around Japan. TOTOCO Odawara will sell these very same products, all delivered directly from the port, to help spread the fishing culture and economy of Odawara.

Let's take a look at some of the delicious gourmet seafood meals you can expect to tuck into at TOTOCO Odawara!

Totomaru Summit Bowl – ¥2,480

A hearty and towering dish so high that it looks like it might topple over.

Greedy Sea Urchin Eggs & Salmon Roe Bowl – ¥4,280

A dream combination you've been waiting for your entire life. Savour the richness and sweetness of both of these mouth-watering delights.

Oyster Egg Donburi Set – ¥1,680

You can't even see the rice any more for the pile of tasty oyster eggs, with their exquisitely soft texture.

Osashimi Tengoku – Odawara Kaisen GO GO

The third floor of the building is home to Osashimi Tengoku – Odawara Kaisen GO GO, a restaurant that calls itself "Sashimi Heaven" and offers a 59 minute all-you-can-eat buffet of fish, sides, desserts and more.

59 Minute All-You-Can-Eat
Adults – ¥2,590 / Children (Elementary School & Younger) – ¥1,390 / 3-Years & Younger – Free (All Prices Before Tax)

Gyoko no Eki TOTOCO Odawara is easily reachable from Tokyo and right next to the local station. If you've come to Japan looking to try the country's famous seafood, then make sure to put this place on your list.

Information

Gyoko no Eki TOTOCO Odawara

Address: 1-28 Hayakawa, Odawara, Kanagawa Prefecture (West side of of Odawara Fishing Port)
Opening Hours: 9:00-17:00 (Subject to change depending on the season)
Access: By train – 10 minutes on foot from JR Hayakawa Station / By car – 2 minutes from Seishō Bypass Hayakawa Interchange or 4 minutes from Odawara-Atsugi Road Odawara-Nishi Interchange
Official Website: https://www.totoco-odawara.com

Instagram Launches #MY TOKYO IS Campaign With Tokyo Metropolitan Government

Instagram launched a campaign with the Tokyo Metropolitan Government entitled "#MY TOKYO IS" on November 11 together with three limited-time stamps that can be used on people's Instagram stories.

The campaign is a global initiative to have people capture their favourite moments in Tokyo in the form of photos, videos and stories on Instagram. Shared posts will be used to curate places and scenery in Tokyo that the Tokyo Metropolitan Government want to showcase to the people of the world. This curation will take the form of an exhibitionーwhich will take place at GINZA ATRIUM on floor 6F of GINZA SIX and GINZA TSUTAYA BOOKS in late March 2020ーas well as a website and a book.

Statistics have shown that Instagram has a significant influence on the Japanese economy in terms of tourism, and so the Tokyo Metropolitan Government hopes that this interactive campaign will help to promote the city to tourists and travellers worldwide.

The stamps created as part of the campaign only appear in the tray when you're in the city of Tokyo. When you click the stamp, the #MYTOKYOIS search result page will be displayed, allowing you to see the other photos and videos posted by the people who have used the campaign hashtag.

If you're in Tokyo, then be sure to get involved in the campaign and show the world your favourite things about the city!

Information

Enter via Feed Posts

・Follow the official Tokyo Tokyo Instagram account @tokyotokyooldmeetsnew

・Add hashtags #MYTOKYOIS and #TokyoTokyo to your post

・Add spot or location info to the photo or video you took, and post

Enter via Stories

・Follow the official Tokyo Tokyo Instagram account @tokyotokyooldmeetsnew

・Use the #MYTOKYOIS sticker or add the hashtag #MYTOKYOIS using the text tool / hashtag sticker

・Add spot or location sticker of the photo or video you took, and post

#MY TOKYO IS Campaign Website