Starbucks Celebrates an Artful Autumn with Green and Pink Frappuccinos
From August 30, 2019, Starbucks Coffee Japan is celebrating the coming of autumn with their scheme Artful Autumn @ Starbucks®.
The concept of this year is "Be colourful" and sees the release of new drinks that burst into colour for a beautiful moment. Through art and colour, Starbucks is creating an opportunity for many to experience the unique colourfulness of autumn. 
The two new drinks to make it to Starbucks' menu are the colourful and cute Green Apple Jelly Frappuccino® and Baked Apple Pink Frappuccino®, which are both made using autumn apples. From the species of apple to the way it is prepared and arranged, two completely new apple frappuccinos have been invented.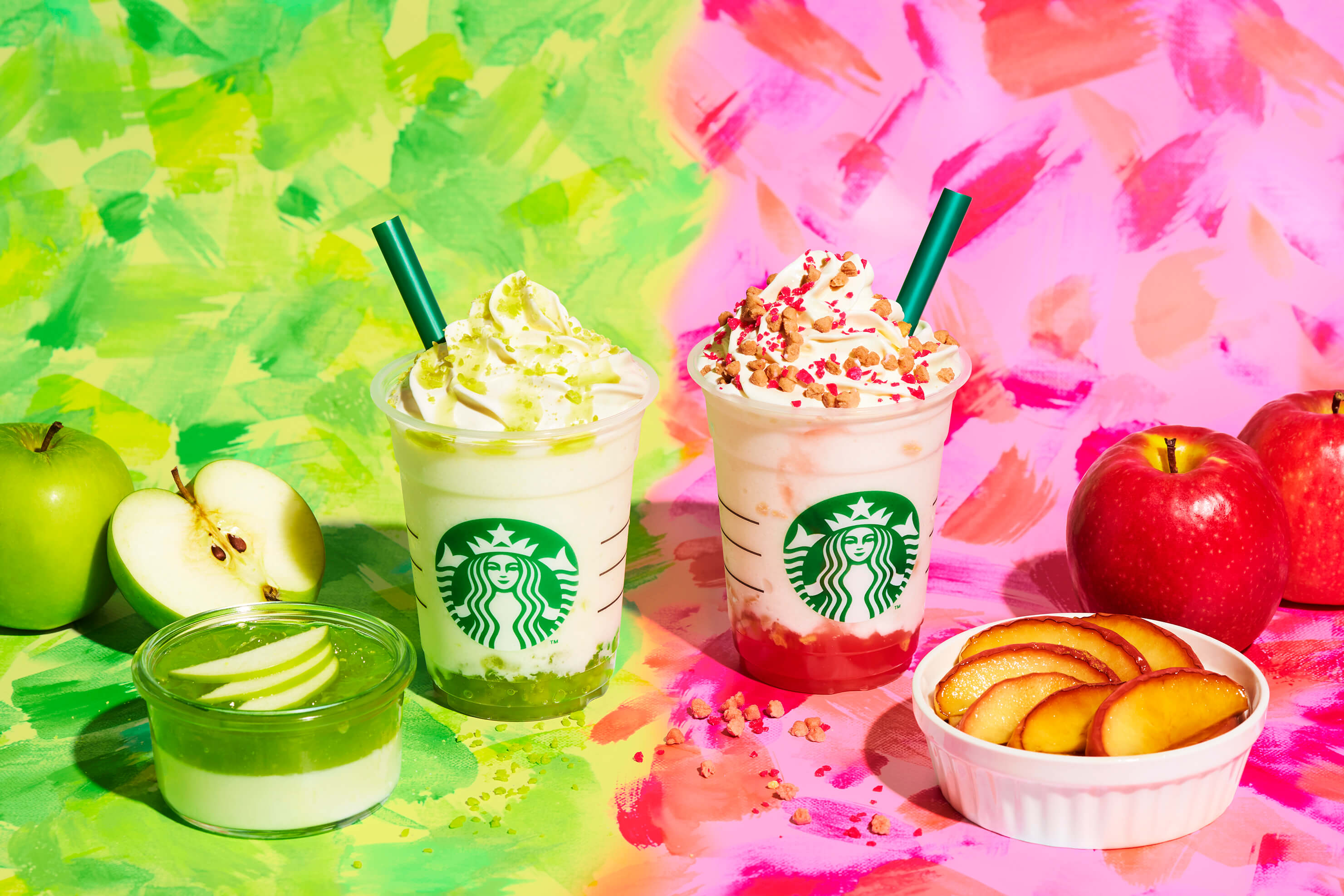 Left: Green Apple Jelly Frappuccino® /Right: Baked Apple Pink Frappuccino®: ¥580 (price before tax, tall size only)
The Green Apple Jelly Frappuccino® consists of wobbly green apple jelly and crunchy fruit, creating a fun texture in your mouth. Overall, there is a sweet and tangy yet creamy flavour. As the heat of summer still lingers during early autumn, this frappuccino is bound to be just what you need for a quick refresh. The whipped cream on top of the frappuccino is topped with thin shavings of green apple and vivid green candy pieces, adding a wonderful crunchy texture to the soft and fluffy cream. 

The Baked Apple Pink Frappuccino® is based on a pink baked apple. The sweetness and crunchiness of the crumble is a fun texture to enjoy. You will be able to taste baked apple with a faint taste of cinnamon. As it is still rather hot but not unbearable, this frappuccino is the perfect way to satisfy your sugar craving. This frappuccino is topped with bright pink and crunchy apple candy and crumble pieces, creating a wonderful texture adventure.
Make sure to also look out for the Apple Jelly Iced Tea and Baked Apple Iced Tea which will also be making an appearance at Starbucks.  
The colourful appearance, delicious flavour and texture of these two frappuccinos will enlighten you to a whole new world of unique colors, textures and flavors so please come try them for yourself. 
Information
Artful Autumn @ Starbucks® Drinks
Selling: August 30, 2019 ー September 19, 2019
*These may sell out. 
Available at: Most Starbucks Cafes across Japan 
Official Website: https://www.starbucks.co.jp/
RECOMMENDED ENTRIES
Coca Cola Adds Yamagata Prefecture to Stylish Regional Design Series

Coca Cola is adding a brand new design to their famous and stylish regional series. Coca Cola's Slim Bottle Region Design series features illustrations of famous landmarks around Japan on a slim and stylish bottle.  Yamagata Prefecture will be making its grand debut on the slim and stylish bottle on September 2nd and will be sold only in Yamagata Prefecture. 

The Slim Bottle Region Design series aims to add a refreshing kick to your travels. So far, a total of 31 different designs have been released. These new Coca Colas are the perfect way to splash excitement into whatever new food you discover on your travels in the region and will also provide you with the energy boost you need on a tough day of traveling. In previous years, this stylish Coca Cola bottle has even become a very popular souvenir. 

So far, designs based on regions all over the country have been featured on these bottles. Locations used so far include Hokkaido, Tohoku, Kanto, Hokushinetsu, Tokai, Kansai, Chugoku, Shikoku, Kyushu and Okinawawa. With Yamagata added to the collection, there will be a grand total of 32 different designs.   

Different illustrations to represent the famous foods and culture of Yamagata prefecture cover the entire surface of the bottle. You will notice a person waving a hat decorated with safflowers on a summer night which represents the prefecture's famous Hanagasa Festival. The illustration of the stylish streets of the Ginzan Onsen will definitely trigger nostalgic memories of the Taisho Era for many. The prefecture's specialty ー small and sweet sakuranbo cherries ー also make an appearance on the bottle. 

Information

Coca Cola Slim Bottle Region Designs

Coca Cola Slim Bottle Yamagata Design

RRP Price: ¥125 (250ml slim bottle)

Available: Souvenir shops, supermarkets, vending machines and elsewhere in Yamagata Prefecture.

On Sale: September 2, 2019

Coca Cola Official Website: cocacola.jp

4 Must-Try Kawaii Bubble Teas & Desserts in Kyoto

Japan is a haven for bubble tea and tapioca-based beverages. Here on MOSHI MOSHI NIPPON we have covered many shops selling these tasty drinks in Harajuku―the town which started the tapioca boom in Japan―but today we will be heading to the ancient city of Kyoto.

We are joined by Kyoto café life tiara who posts photos of the best drinks and desserts they have tried around the Kansai region of Japan. They have provided us with photos of two must-try bubble teas and two must-try desserts in Kyoto.

ROCCA & FRIENDS PAPIER KYOTO in Shijo

ROCCA & FRIENDS PAPIER KYOTO is just a 5-minute walk from Shijo Station. The cafe is made from a traditional townhouse along an old-fashioned Kyoto-esque street.

It takes a little while for your drink to arrive placing your order, but that's because each beverage is carefully handmade from fresh. I ordered the mango smoothie soda and the strawberry smooth soda. Both are fruity and super refreshing and full of chewy tapioca pearls.

▼ROCCA & FRIENDS PAPIER KYOTO

Address: 735-2 Shinkamanzacho, Shimogyo Ward, Kyoto, Kyoto Prefecture

Opening Hours: 10:00-18:00

Closed: Mondays

Official Instagram Page: https://www.instagram.com/rocca.papier/

&Hana in Shijo

&Hana is located at the back of Kyoto Daimaru. The cheese rose tapioca milk tea I bought is a cute pink colour. It's a mix of rose which is good for skin and relaxation, sweet brown sugar tapioca, and sour cheese.

Draped at the back of the cafe are bunches of dried flowers which provide an Instagrammable background for your drinks.

▼&hana

Address: 619 Nishiuoyacho, Shimogyo Ward, Kyoto, Kyoto Prefecture

Opening Hours: Weekdays 11:00-22:00 / Weekends & Holidays 10:00-22:0

No Fixed Holidays

Official Instagram Page: https://www.instagram.com/and_hana_/

KISSHOKARYO KYOTO in Gion

This honey and tea parfait is special because they only serve 20 of them a day. Tapioca pearls go well not just in drinks but in desserts like this one too♡

The fluffy shaved ice is a perfect match with the homemade Earl Grey tea syrup. The rest of the parfait is made up of milk tea flavoured jelly, tapioca pearls, tea ganache, and other delightful surprises.

I enjoyed mine with lots of syrup and roasted soybean flour!

▼KISSHOKARYO KYOTO Gion Honten

Address: 306 Ishibashicho, Higashiyama Ward, Kyoto

Opening Hours: 10:00-19:00 (Last Orders 18:30)

No Fixed Holidays

Official Website: https://kisshokaryo.jp/

MASHOLA in Kawaramachi

MASHOLA is a South Korean-style cafe which of course sells tapioca pearl drinks, but also this delicious capo egg brulee tart as well. As soon as you put the order in their fire up the tarts fresh along with hot tapioca pearls for a heavenly melt-in-the-mouth experience.

They also sell bottled strawberry milk packed full of fresh strawberries, and for an extra ¥80 you can top if off with tapioca.

▼MASHOLA

Address: 406 Sakuranocho, Nakagyo Ward, Kyoto, Kyoto Prefecture

Opening Hours: 11:00-20:00

No Fixed Holidays

Official Website:  https://mashola.business.site/

Did you enjoy this list? Kyoto café life tiara has lots of other tempting recommendations of drinks and desserts on their Instagram page too, so if you're looking for something to try while in the Kansai region of Japan be sure to give them a follow.

Text & Photos: @happy_pinkrose_tiara

Translation: Joshua Kitosi-Isanga

Colourful New Agar & Mango Jelly Drink Released at Kyo Yakasa Pudding in Kyoto

Kyo Yakasa Pudding opened its doors to the world back in April, and since then they have whipped up many different kinds of Japanese custard pudding, known as purin. Earlier this month they released their all new "Yasaka Cider," a jelly-like drink which became a hit on Japanese Instagram (search with #京八坂プリン).

The shop's most popular product since launching is the Kyo Yasaka Pudding―named just like the shop. It has a honey and lemon flavoured jelly which is full of agar and mango jelly balls, giving it a cute appearance and very refreshing flavour and completely new kind of texture.

Now, the shop has released its new Yasaka Cider. The word "Cider" in Japanese doesn't actually refer to the alcoholic drink, but instead is usually a carbonated mixture of lemon and/or lime.

Available this summer only, the Yasaka Cider is the perfect accompaniment for cooling yourself down while strolling the streets of Kyoto, filled with Kyo Yasaka Pudding jelly, agar balls, mango jelly balls, and an in-house made lemon slice and honey mix. The beverage is made fresh to order and comes in a cute bag which you can carry around easily with you.

There are lots of great photo opportunities for Instagram in the store too! If you're in or travelling to Kyoto this summer then be sure to stop.

Information

Kyo Yakasa Pudding

Address: 87-4 Hoshinocho, Higashiyama, Kyoto, Kyoto Prefecture

Opening Hours: 10:00-17:30

No Fixed Holidays

Website: http://www.kyo-yasaka-pudding.co.jp
RELATED ENTRIES
Starbucks Japan Unveils Candied Sweet Potato Frappuccino®

Starbucks Coffee Japan has revealed the second beverage in its Artful Autumn @ Starbucks® series of drinks. The "Candied Sweet Potato Frappuccino®" will be released at Starbucks branches in Japan on September 23, 2020.

Candied Sweet Potato Frappuccino® | Tall Size Only – ¥590

Each drink is made using a whole chopped and blended Japanese daigaku imo candied sweet potato to serve those autumn flavours, with its marbled golden colour also reminiscent of the autumn leaves. It's topped with whipped cream, black sesame seeds, and sweet potato syrup.

Truly the perfect dessert drink to sip on for the changing seasons.

Information

Candied Sweet Potato Frappuccino®
Serving: September 23, 2020 – October 31, 2020

Available: Starbucks in Japan (select branches not participating)

Starbucks Coffee Japan Official Website: https://www.starbucks.co.jp/

Sweet Potato Milk Bubble Tea Pours Into Chun Shui Tang For Autumn

Chun Shui Tang, a chain of Taiwanese bubble tea stores, is adding a new limited-time drink to the menus of all branches in Japan on September 16: the "Tapioca Sweet Potato Milk Tea."

Tapioca Sweet Potato Milk Tea | ¥650 (Before Tax)

The beverage is made with annouimo sweet potatoes grown on the island of Tanegashima in Kagoshima Prefecture. The potatoes are known for their high sugar content, adding a delicious natural sweetness to the tea. It's blended with a high grade sugar syrup and topped off with whipped cream and sweet potato chips to create a dessert drink.

Those who order the drink via the Smatapi (スマタピ) app from September 9 can get the drink early before its general release on September 16.

In Japan for the autumn season? Enjoy the tasty autumn flavour of sweet potato with the Tapioca Sweet Potato Milk Tea.

Information

Tapioca Sweet Potato Milk Tea

Release Date: September 16, 2020

*Mobile pre-sales available from September 9 to those who order using the Smatapi (スマタピ) app

Available: All Chun Shui Tang shops in Japan

Chun Shui Tang Japan Official Website: https://www.chunshuitang.jp/

Kawaii Fruit Desserts Now Being Sold at Shibuya Scramble Square in Tokyo

Tokyu Food Show Edge and +Q Beauty inside Tokyo's Shibuya Scramble Square mixed-use skyscraper are now serving a succulent selection of autumn fruit desserts, incorporating autumn flavours like chestnuts, apples, and Japan's famous Shine Muscat grapes.

Let's take a look, and try not to drool too much on your keyboard.

MORI YOSHIDA PARIS

Mont Blanc | ¥918 (Tax Included)

A mont blanc with cream draped around like a helix. Inside you will find Crème Chantilly and chestnuts, while the base is baked in parcel.

apple & roses

Caramel Apple Rose Cake/Raspberry Rose Cake | ¥2,160 (Tax Included)

These rich butter and almond rose cakes come in two flavours: caramel apple with apples specially selected from Nagano Prefecture, and raspberry, which add a sweet and sour kick.

Péché Mignon

Feuilletée (Box of Two) | ¥756 (Tax Included)

Feuilletée pies filled with a chestnut paste which add a delightful sweetness. The box contains two base flavours: chestnut and chestnut chocolate.

c7h8n4o2


Fresh Fruit Tablet Shine Muscat | ¥2,592 (Tax Included)

Whole specially selected Shine Muscat grapes wrapped in chocolate and shaped into a tablet bar. The chocolate is a rich 70% Piura Quemazon from Pacari Chocolate which blends deliciously with the grape juice.

Atelier Anniversary


Whole Chestnut Pound Cakes (Set of 4) | ¥1,404 (Tax Included)

The dough is combined with chestnut paste and each mini pound cake contains a whole chestnut.

ANNA'S by Landtmann


Red Apple | ¥693 (Tax Included) *Eat-in price

This apple cake is filled with apple mousse, chocolate mousse, and chocolate sponge. The entire thing is coated in a red apple glaze, giving it a cute appearance.

6 Best Spots to Visit in Japan's Oita Prefecture During Autumn – MOSHI MOSHI NIPPON

Oita in Kyushu has been nicknamed "Hot Spring Prefecture Oita" due to having the largest number of hot spring water sources and outputs in Japan. Oita welcomes many visitors every year who flock to the prefecture's many famous hot spring locations like Beppu and Yufuincho Kawakami.

But the charm of Oita doesn't lie solely in its hot springs. It's also a location that offers breathtaking scenery during autumn. We've picked 6 spots around Oita Prefecture that are must-visits during autumn.

Keiseki-en

The gorge of Yabakei is designated as a Place of Scenic Beauty in Japan. Keiseki-en is a beautiful Japanese garden that was built to commemorate the completion of the Yabakei dam. It's home to over 31,000 individual trees of around 100 species as well as a lake, waterfalls, and crags. It's a place that boasts natural beauty throughout all four seasons.

Address: 2286-1 Yabakeimachi Ōaza Ōshima, Nakatsu, Oita

Kinrin Lake

Kinrin Lake is one of Yufu's most famous sightseeing spots for the mysterious torii gate that sits within the lake. Spring water and hot spring water flows through the lake, and because the temperature of the water is warm throughout the year, you can see steam rising from the surface in the early hours of winter days. Tenso Shrine also sits on the bank of the lake which is home to a sacred tree that's designated as a natural monument.

Address: 1561 Yufuinchō Kawakami, Yufu, Oita
Access: 20 minutes on foot from Yufuin Station (JR Line)

Kyusuikei

Kyusuikei's scenery spans through the prefectural road that connects the Kokonoe IC to Yamanami Highway. Its 2km expanse is made up of sheer cliffs which create the valley that is known for its autumn colours. Visitors can enjoy a panoramic view of the maple and ginkgo trees from the observation deck that runs along the cliff. There are other nearby sightseeing spots too like Kokonoe Yume Otsurihasi Bridge and Kyusuikei Onsen hot springs.

Address: Tano, Kokonoe, Kusu District, Oita
Access: 20-minutes by car from Kokonoe IC

Hakubakei

The valley of Hakubaki was designated as a Place of Scenic Beauty of the city of Usuki. In autumn, surrounding trees are dyed in reds and yellows, bringing people from all over to witness the spectacle. And because the valley it at a high altitude, the gradation of the colourful trees changes as you go further in.

Address: Badai, Usuki, Oita
Access: 5-minutes by car from Usuki IC

Fukiji Temple

Fukiji Temple was built in the Heian Period for the high priest of Usa Jingu. The temple is a national treasure, and the Amida-Nyōrai contained inside is designated by the Japanese government as an Important Cultural Property.

Address: 2395 Tashibufuki, Bungotakada, Oita
Access: 30-minutes by car from Usa Station

Mount Kuju

Mount Kuju stands as the highest mountain in Kyushu Island at nearly 1,800-meters tall, which has also led to to be nicknamed the "Rooftop of Kyushu." Its has many peaks, the highest being Mount Nakadake at 1,791-meters. One peak in particular draws mountain climbers, and that's Mount Taisen. At its apex one can enjoy the breathtaking autumn colours together with the sight of the rolling mountains.

Address: Tano, Kokonoe, Kusu District, Oita
Access: 40-minutes by car from Kokonoe IC.

See Japan's Autumn Colours on a Bus Tour to the Chapel of the Wind and Rokko Alpine Botanical Garden

The Mount Rokko Cable Car & Tourism Company has announced a special bus tour which will take passengers to the Chapel of the Wind and Rokko Alpine Botanical Garden. Running on weekends and public holidays between October 24 and November 15, the bus will depart from Kobe Sannomiya, and will also include a special lunch at the Rokko View Palace inside Rokko Garden Terrace.

What to look forward to

Chapel of the Wind, known as Kaze no Kyokai in Japanese, was built by internationally-renowned Japanese architect Tadao Ando. It's open for the autumn season only, and the bus tour will give you a chance to go inside and take in one of Ando's early works.

The lunch offered on the tour will be served at Rokko View Palace inside Rokko Garden Terrace, a staggering 880m above sea level. The menu includes roast chicken and beef, salad, bread, and dessert.

Rokko Alpine Botanical Garden will be in full autumn bloom during the bus tour, with reds, yellows, and oranges presented by the beeches and maples. There's also an exhibition taking place at the garden centred on Persian cyclamens and diamond lilies. You will stroll leisurely through the garden as the garden staff take you on a tour to see the beautiful autumnal sights.

Japanese Chawanmushi Egg Custard Dessert Turns Into Drink in Tokyo

Japanese food company Ninben has announced that it is extending its sales period for its drinkable chawanmushi dessert at Nihonbashi Dashi Bar in Tokyo until September 30.

Chawanmushi is a refreshing Japanese egg custard dessert that's perfect for cooling down during the summer, and seeing as the summer heat isn't letting down in Japan just yet, Ninben's drinkable rendition is now available until the end of September.

Chawanmushi Drink | ¥300 (Tax Included)

The chawanmushi drink is a collaboration between the owner of Suzunari and Ninben's Nihonbashi Dashi Bar. The drink was created to get more people enjoying the delicious taste of dashi. Exclusive to Nihonbashi Dashi Bar, which is located inside Ninben in Nihonbashi, Tokyo, the drink is being served for takeout only.

Normally, chawanmushi is eaten with a spoon, so using a straw adds an entirely new experience to enjoying the dessert. It's seasoned with salt from Christmas Island which elevates the flavour of the egg and dashi.

It's still hot in Tokyo, so if you're in the city, then why not order one to cool down?

Information

Nihonbashi Dashi Bar
Address: COREDO Muromach 1 (Floor 1F), 2-2-1 Nihonbashimuromachi, Chuo-ku, Tokyo

TEL: 03-3241-0968

Official Website: www.ninben.co.jp

Autumn Flower Topped Cream Sodas Served at Floral Cafe and Bar HANABAR in Koenji

HANABAR, a floral themed cafe and bar in Koenji, Tokyo, released two breathtaking new cream sodas on Friday which capture the sentimental feeling of summer transitioning to autumn.

HANABAR opened in September 2017 as Japan's "first dried flower cafe." A sister store, gmgm, opened last year selling gorgeously gourmet doughnuts topped with dried flowers. Both stores as produced by Nana Yui, a dried flower artist.

Lavendel | ¥1,100

Coloured an eye-catching purple, this autumn-time cream soda is made with lavender, butterfly pea, and lime.

Aimatsurika | ¥1,100

A refreshing mix of jasmine, grapefruit, and lemon topped with sweet ice cream that has a citrus fruit aftertaste.

The flowers draped inside the ice are all elderflower which has high nutritional value.

Beat the Japanese heat this summer in Tokyo with one of these tantalising cream sodas.

Information

Floral Autumn Colour Cream Sodas
Serving: August 28, 2020 – Late October 2020

HANABAR
Address: 3-30-6 Nishi-Ikebukuro, Toshima-ku, Tokyo
Opening Hours: 12:00-22:00
No Fixed Holidays

Official Website: https://www.hanabar.tokyo/

Starbucks Japan's Chocolate Chestnut Frappuccino® Arrives This Autumn

The autumn leaves are set to fall on Starbucks in Japan again this year as the coffee chain announces the return of the "Artful Autumn @ Starbucks® Promotion" which is set to begin on September 2, 2020.

This year's drink concept is "Naturally Good Artfully Simple" which hopes to have customers feeling peaceful and enjoying the transition from summer into autumn.

Autumnal beverages made with whole blended chestnuts

Chocolate Chestnut Frappuccino®: ¥590 (Tall Only)
Chocolate Chestnut Latte: Short ¥450 / Tall ¥490 / Grande ¥530 / Venti® ¥570

What makes the Chocolate Chestnut Frappuccino® so special is its use of whole blended Japanese chestnuts—the quintessential autumn flavour of the country. The delicately broken pieces of chestnut add texture to the smooth milk and coffee and invite you into the cosy embrace of the season. Starbucks has chosen chocolate as the perfect partner to the chestnut. To best enjoy the balance of both flavours, the beverage is loaded with a "Chestnut Cacao Sauce" which gives the drink's appearance a beautiful marble effect. Everything's topped off with a squirt of whipped cream and a topping of chocolate flakes and candied cacao nibs.

Then there's the Chocolate Chestnut Latte, a combination of the same tasty Chestnut Cacao Sauce together with steamed milk and espresso carefully prepared by the baristas. The hot drink is completed by a topping of chocolate flakes and candied cacao nibs. The result is a wonderful mix of chestnut, chocolate, and espresso.

Another seasonal Starbucks latte


Autumn Latte: Short ¥340 / Tall ¥380 / Grande ¥420 / Venti® ¥460

The Autumn Latte is made with Starbucks Japan's "Autumn Blend" coffee beans. It has a smooth and gentle flavour.

Autumn in Japan is a time for seriously tasty drinks and desserts, so if you're in the country this autumn, be sure to stop on by Starbucks for an autumn coffee.

Information

Chocolate Chestnut Frappuccino®
Chocolate Chestnut Latte
Autumn Latte
Running: September 2, 2020 – October 31, 2020

Available: Starbucks in Japan (select branches not participating)

Starbucks Japan Official Website:  https://www.starbucks.co.jp/

Experience a Crisp Japanese Autumn While Ice Skating in Karuizawa

This autumn, Karuizawa Hoshino Area is opening up the Kera-Ike Skate Rink for a limited time from October 16 where visitors can skate around the ice while soaking up the reds and yellows of the surrounding forest.

Karuizawa Hoshino Area is a resort managed by Hoshino Resorts. The middle of October is when Karuizawa's red maple trees blossom, while the beginning of November marks the incoming yellow karamatsu Japanese larches.

An ice skating rink enveloped in a forest

Kera-Ike Skate Rink is a frozen lake in the middle of a forest in Karuizawa. It's located ride by Karuizawa Wild Bird Sanctuary, so Hoshino Resorts had the idea to turn it into an ice rink so that people can enjoy the local wildlife while skating. For this year's opening of the ice rink, Hoshino Resorts has a range of art content related to Japanese autumn for people to enjoy too.

Reds, Yellows, and White

Karuizawa sits 1,000 meters above sea level, and so the autumn leaves begin showing from the middle of October. This is when the urushi Japanese lacquer trees and momiji maples dye the forest a bright-red. Following shortly after are the karamatsu Japanese larches which add a bright yellow to the red hues. Visitors can soak up the kaleidoscope of colours while skating across the pure white ice rink.

Beautiful autumn leaf themed content

The ice skating chairs are a popular item at Kera-Ike Skate Rink and are a great way for beginners and children to enjoy being on the ice. This year, the chairs have been pained in the same colours at the autumnal leaves.

Autumn leaf decorations on the windows

The rink-side cafe has six giant glass windows spanning 2.5 meters across. Each window has its own unique autumn leaf design on it.

Autumn Leaf Latte

The cafe will serve the perfect autumn-time beverage, a latte topped with momiji and kaede maple leaves designs made from pumpkin powder—a fitting flavour for the season.

Information

Kera-Ike Skate Rink
Running: October 16, 2020 – November 10, 2020
*Run period subject to change depending on the autumn leaves.
*The 2020-21 skate rink opening period runs until March 7, 2021. Closed November 26, 2020 and January 19-21, 2021.
Opening Hours: 10:00-16:00

Official Website: http://www.hoshino-area.jp/archives/area/skate

4 Must-Try Colourful & Kawaii Cream Sodas in Kyoto

The rainy season in Japan, known as Tsuyu, is finally coming to a close, which means the real summer is right around the corner. And what better way to stay cool in Japan during the summertime than with a glass of coo, refreshing cream soda?

We've compiled a list of 4 must-try cream sodas in Kyoto recommended by Tiara on Instagram, who posts photos on her Instagram of drinks and desserts she tries around the Kanto region of Japan, and who has kindly provided us with photos on this occasion too.

and C Kyoto | Kita-ku

Yellow Cream Soda / White Cream Soda / Red Cream Soda / Blue Cream Soda

and C Kyoto is a stylish bar, cafe, and second hand clothes store located right by Hirano Shrine. They serve four different colours of their cream soda which look super cute when lined up in a row.

and C Kyoto
Address: 30 Hirano Kamihatchōyanagichō, Kita-ku, Kyoto
Opening Hours: 12:00-23:00
Closed: Tuesdays
Instagram: https://www.instagram.com/andc102/

BABBI GELATERIA KYOTO | Gion Shijo

Mango Passion / Classic Blue / Amaou Strawberry

BABBI GELATERIA KYOTO is located along the Kamo River and is famous for its gelato. They also sell some super refreshing cream sodas topped with their tasty gelato.

BABBI GELATERIA KYOTO
Address: 134 Saitocho, Shimogyo Ward, Kyoto
Opening Hours: 13:00-20:00 (Temporary hours due to COVID-19)
TEL: 075-585-5200
Official Website: http://www.babbi.co.jp/showcase/gelateria-kyoto/

Kissa Zou | Imadegawa

Pudding a la Mode / Lemon Squash & Elephant Cookie

This cute cream soda comes with an elephant-shaped cookie. The custard pudding has a rich eggy flavour.

Kissa Zou
Address: 440-3 Santeichō, Kamigyō-ku, Kyoto
Opening Hours: 10:00-18:00 (Last Orders 17:00)
No Fixed Holidays
Instagram: https://www.instagram.com/kissa_zou/

Bread, Espresso & Arashiyama Garden | Arashiyama

Cherry Blossom Cream Soda

This old cafe is renovated from an old family estate which was built at the end of the Edo Period and is designated as a cultural property of Kyoto. This beautiful cafe coincides with the gardens and has gorgeous thatched roofing.

Bread, Espresso & Arashiyama Garden
Address: 45-15 Sagatenryuji Susukinobabacho, Ukyo Ward, Kyoto
Opening Hours: 10:00-18:00 (Last Orders 17:00)
TEL 075-432-7940
Official Website: https://bread-espresso.jp

Tiara has lots of other delicious dessert recommendations over on her Instagram, so be sure to follow her if you're travelling in the Kansai region and are in need of a sweet treat.

Original Text & Photo: @happy_pinkrose_tiara

Translation: Joshua Kitosi-Isanga

*The information about the items on this list are correct at the time of publishing. For the latest information, please visit each cafe's official websites and social media pages.

Flower Miffy Juice Garden Asakusa Now Open and Serving Adorable Drinks

The new "Flower Miffy Juice Garden" opened as a permanent addition to Flower Miffy Asakusa on July 21, 2020. Flower Miffy is a Miffy-themed flower and merchandise shop.

Colourful Jelly Soda – Gerbera/Tulip/Sunflower/Lavender: ¥580 Each (Before Tax)

Four new Miffy drinks are being served for the opening of Flower Miffy Juice Garden. Each is a soda beverage is filled with colourful jelly, elderflower syrup made from real flowers, and a soft, bouncy kind of jelly. Each drink itself looks like a colourful bouquet.

Miffy Cream Soda: ¥680 (Before Tax)

Flower Miffy Juice Garden will also introduce the "Miffy Cream Soda" on Saturday August 1 which is a colourful jelly soda topped with ice cream, a Miffy wafer, and flower-shaped chocolate.

Lemonade: ¥480 (Before Tax)


Apple Juice: ¥480 (Before Tax)

Other available drinks include sweet and sour lemonade made using lemons grown in the Seto Inland Sea, 100% apple juice, and other cute delights.

Information

Flower Miffy Juice Garden Asakusa
Address: Aiso Bldg. 1F, 2-19-7 Kaminarimon, Taito-ku, TOkyo

Opening Hours: [Weekdays] 11:30-18:00 / [Weekends & Holidays] 10:30-18:00

Official Website: https://www.benelic-flower.com/
*Please note that the opening hours of Flower Miffy Asakusa and Juice Garden Asakusa are different

Houjicha Milk Tea and Genmaicha Milk Tea Made With Japanese Tea Leaves Serving at Gong cha

Gong cha's limited-time "Houjicha Milk Tea" and "Genmaicha Milk Tea" beverages are popular each year, and they returned once again on June 17.

Japanese Tea

Gong cha's menu item "Japanese Tea" was released in 2018 exclusively for Japan, and is enjoyed every year during its annual limited-time run. Made using tea leaves from Japan, its authentic taste and aroma has people begging for more when the year's run is up.

2 Flavours This Year

Houjicha Milk Tea (Regular Size: ¥470) / Recommended Topping: Milk Foam (+¥70) | Serving: From June 17, 2020 for a limited time

The Houjicha Milk Tea is the iconic drink of Gong cha's "Japanese Tea" series. It's a blend the best high quality houjicha and kukicha tea leaves, both of which are grown in Shizuoka Prefecture. Roasting and using them together gives a sweet and deeply rich aroma. Add milk foam as a topping and you've got yourself a rich milk tea.

Genmaicha Milk Tea (Regular Size: ¥470) / Recommended Tapioca (+¥70) | Serving: From June 17, 2020 for a limited time

The Genmaicha Milk Tea is an original blend of Japanese genmai rice and tea leaves from Shizuoka Prefecture. This milk tea keeps the original delicious flavour of the tea and wafts a fragrant rice aroma.