Help Me Choose! Japan's Trending Makeup #3: Autumn & Winter Cosmetics
"Help Me Choose!" is the first ever featured article series where I, Yuri "Yurippa" Suganuma, feature as the writer, model and director.
I've been conservative with my eyeliner when doing my makeup recently, instead wanting to go for a more effortless style to convey my eyes. I've also been having more fun with eyeshadow, and I've wanted to make my lips the centerpiece of my makeup, so I've been making additions and subtractions which has slowly led to a more grown-up look.
So, for my recommended autumn/winter cosmetics this time around I'll be focusing on eyeshadow, lips, and cheeks. These are items I've been interested in and am buying. Here's my review.
▶︎THREE
THREE Dimensional Vision Eye Palette 03 – ¥7,020 (Tax Included)
This palette features four colours, none of which you will ignore. The colours also have different textures including pearl, matte powder, and cream.
Today's Makeup:
①For the whole eyelid
②For the undereye
③Adds gradation to the double eyelid
④Adds accent to the inner corner
I tried playing around a bit! Although I added colour and glitter to the inner corners of my eyes I'm all about it.
According to THREE, this is the order you should put these items on:
1. Add the ② cream eyeshadow to your whole eyelid
2.Add the ③ colour as a base around the edge of your ueye
3.Layer ① on your whole eyelid
4.Finish with ④ as a highlighter
Using the cream eyeshadow as a base brings out the orange to make it look even better!
Part of the fun of this eye palette is how easily arranged it all is. The colours in this palette in particular are extremely popular.
▶︎RMK
RMK Stone Blossom Brush 03 – ¥3,456 (Tax Included)
The thin powder blends softly into your cheeks. It gives gentle colouring while still bringing your whole face to life, making it an indispensable item. And terracotta looks good on anyone.
And how about combining it with this?
RMK Stone Blossom Lips 05 – ¥3,780 (Tax Included)
This lipstick is a smooth cream type. The orange hype is just beginning. It has a slightly deep colour and gives off a casual grown-up vibe. It also has moisturizing ingredients in it making it great for winter when your lips dry up.
By the way, this collection was inspired by the stony beaches of Málaga in Spain. The items are limited-edition so get your hands on them ASAP.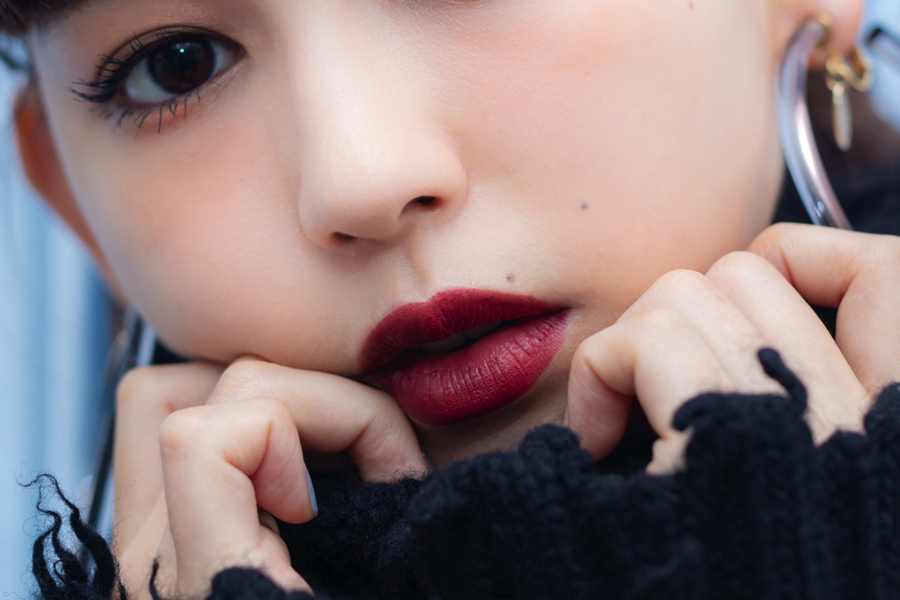 ▶︎CHANEL
(New Colour) Rouge Allure Velvet Extreme 130 – ¥4,536 (Tax Included)
From my always-favourite Rouge Allure Velvet series comes a new colour and a limited-edition colour from CHANEL! At first glance, No. 130 looks like a deep red, but when you put it on it also has a slight purple tinge to it, serving up a wine colour.
The deep burgundy makes you look like a lady and is sure to captivate. If you're a girl who loves autumn/winter collections then you won't be able to resist the colour of this one!
(Limited Edition Colour) Rouge Allure Velvet Extreme 128 – ¥4,536 (Tax Included)
Orange beige. Beige lipstick has yet to become a thing around the world, but this colour isn't overly plain and even works on myself! The beige has a subtle, healthy orange in it. Another stylish colour from CHANEL.
Another thing I like is how the case is matte (normally in the Velvet series it's glossy). Autumn/winter vibes, I'm all about it!
▶︎GUERLAIN
GUERLAIN Glitter Eyeliner 02 KAKI & 03 BURGUNDY – ¥5,508 Each (Tax Included)
This glittery liquid eyeliner gleams and looks just as it does when applied to yourself. It gives your eyes a beautiful impact, and both of this colours are good taste.
▶︎SHIRO
SHIRO Ginger Lipstick 9I08 Vintage Brown – ¥4,320 (Tax Included)
SHIRO have released their very first lipstick collection. The vintage brown has a deep, elegant look to it. SHIRO really are amazing. They've become a brand I just can't let go. Everyone who sees this colour says it's cute. I especially want to recommend this one to those of you who are beginners to orange and browns. It's a really stylish one.
Incidentally, the brand actually changed its logo to commemorate its 10th anniversary, from "shiro" to "SHIRO."
"Do you have anything a little more natural?"
▶︎THE PUBLIC ORGANIC
THE PUBLIC ORGANIC Essential Oil Colour Lipstick Noble Orange – ¥700 (Tax Included)
This organic cosmetic item is 100% natural. It's made with the skin in mind to ensure it's good to it. It also has a nice roughness to it like when taking your makeup off with soap. This terracotta orange adds just a touch of colour so as to make full use of the lips' natural colour.
This lipstick was originally released as a limited-edition item last year and blew up on social media, but they are set to bring it back as a regular item this year on September 25.
ーYurippa's Closing Commentsー
In the end, I end up going for deep coloured lips and burgundy eyes every autumn and winter, but with these items they're not just simply deep reds or browns. When you apply them they have a faint orange or purple in them. I think that was the original intention of those brands. I love little devilish things like that, and so I recognize to the fun of cosmetics year by year.
I'm actually really into the new eyeshadow from TOMFORD, but I wasn't able to get ahold of it by the photoshoot so I had to leave it out this time, TOMFORD's eyeshadow is amazing  too!
I'm a girl who loves autumn and winter, so I'm looking forward to the coming seasons. I want to use lots of different coloured items and become an even more beautiful woman―more than in summer and more than I am now!
Writer / Model  Yuri Suganuma
Photographer  / Haruka Yamamoto
TALENT PROFILE
Yuri Suganuma
Yuri Suganuma is a model with a high fashion sense that has been picked up by various magazines. She receives much love and support from girls of the same generation as her to whom she is known by her nickname "Yurippa." She has a huge influence across her social media. Recently, she has stepped into other fields outside of modelling, such as appearing in TV shoots and in music videos. She is skilled in make-up and involved in the development of cosmetics.
RECOMMENDED ENTRIES
Experience Japanese Culture #5: Film camera part 2 – developing and printing pictures for the first time!

Welcome to Model Yuri Suganuma's series where she discovers a new hobby! This is a continuation from her previous article where she first discovers her love for film cameras. Lately, she's becoming more absorbed in this hobby, and after paying a visit to a second-hand camera shop in Shinjuku, she managed to get her hands on her dream camera! However, unless she gets her photos developed and printed, or gets them transferred into a digital format, she won't be able to see any of her pictures. Upon this realisation, she travelled to Gakuei-daigaku station because her favourite photo shop "monogram" is located on this street. Presenting her much-loved film camera along with her first film roll full of dear memories to the staff, they took it off her hands to get the photos developed and printed. Monogram is known to take a lot of care in printing their photos perfectly. Did any of Yurippa's photos really catch her eye?

"This photo shop has such a cool image!" exclaimed Yurippa. She brought along with her two films she had taken with a film compact camera that she bought last month. She managed to restrain herself from getting them developed as soon as possible, committing to the decision to get them developed at an opportunity where we could also tag along!

After Yurippa handed the undeveloped film to the staff, they asked her a series of questions: would you like prints or digital photos on a CD? What size would you like the prints? What kind of photo paper would you like them to be printed on? And lastly, would you like a white border on your prints? Yurippa couldn't believe just how much choice she was given! That's right – monogram can fulfil this many requests! Yurippa wanted a copy of the photos on her phone as well as prints so she asked for both digital photos on CD and prints on matte paper with a white border.

Another cool service offered by monogram is that you can choose to have a colour tint on your photos. Monogram is also popular because of their ability to adjust the colours for printed and digitalised negative photos. There aren't many photo shops around like this that will adjust the colours for you. They will also avoid loading their conversations with technical terms (unless you want them to). Yurippa asked for "California style" vivid photographs. They wrote down her order – take a look at her order sheet! Can you see just how unique monogram is in comparison to other photo shops? Yurippa waited in excitement to witness the outcome.

They really proved their ability to produce special photos! First off, they placed the film in the developer. As well as developing solution, there are a range of chemicals in the machine. Afterwards, the film was processed for negative photos.

The negative images were scanned and then printed on photo paper. This is the stage at which they were made into California style photographs. Three staff members at monogram overlooked the printing process. As each has their own unique style of printing, they can be designated to certain customers. This truly is the real world of a photography specialists! The staff just say: "leave it to us", and they adjust the colours to complement the photo!

Whilst waiting for the prints to be done, Yurippa spent some time browsing the shop for another film for her camera, which is the Konica Genba Kantoku that uses 35mm film. This is a standard film size that is easy to get your hands on. A staff member at the store explained to her what the numbers written on the film box meant. 100 is well suited for photos taken during the day, whereas 400 is an allrounder, as it is also suitable for taking photos during the day and also photos taken indoors. On the other hand, 800 is suited to photos taken indoors, on cloudy days and during the night. In other words, this number is the measurement of the film's sensitivity to light in numerical value (ISO), they explained. As Yurippa is always on the go with her camera and taking photos during the day, she chose an ISO 400 film. She decided to purchase the Kodak ULTRAMAX400 for photos with an American vibe.

Although this store specialises in developing photos, the shop is filled with camera accessories. A silver hand strap particularly caught Yurippa's eye. Just by attaching one of these accessories, your camera will look really glamourous! Having said that, they suited her camera to the extent that they appeared to have been specifically made for it!

The silver leather hand strap was launched as monogram's 10-year anniversary edition accessory. It costs ¥ 2,000+ tax.

…The prints are ready! They were all perfect personal photos. Yurippa was constantly hiding the photos and peaking at them. She selected her favourite ones to share with us – the feeling of the matte paper was really nice.

They look so cool! Did I really take these myself? She asked. The locations in the photos are very distinct. Although digital photos are very useful, the feel of prints in your very own hand is just a wonderful feeling. You would want to give these to friends as a present. Having said that, the quality of these photos is so high that you begin to question whether you actually took them yourself!

Finally, we asked Yurippa for her thoughts on today. "I used to think that developing photos involved exposing them to lasers. I was surprised to discover that this can be done with developing solution! There is just too much that I don't know about photos taken with film. It is great fun to learn so much! I initially started this whole photo project because I didn't have anything in particular that I would call a hobby, but now there's no doubt that this is becoming one of my new favourite hobbies!

<Shop information>

monogram

Address:2-19-13, Takaban, Meguro, Tokyo

Phone number:03-3760-5852

Opening hours: 12:00〜20:00(Closed on Wednesdays)

Access:1-minute walk from East exit of Gakuei-daigaku station  (Tokyu Yokohama line)

<Profile>
Model:Yuri Suganuma @yurippa93
yuri_profile

Yuri Suganuma is a model with a high fashion sense that has been picked up by various magazines. She receives much love and support from girls of the same generation as her to whom she is known by her nickname "Yurippa." She has a huge influence across her social media. Recently, she has stepped into other fields outside of modelling, such as appearing in TV shoots and in music videos. She is skilled in make-up and involved in the development of cosmetics.

Help Me Choose! Japan's Trending Makeup #2: Yurippa's Repeat Cosmetic Pickups♡

This is my first ever series I've ever been put in charge of as a writer and model.

As long as you're stocked up on these items, you're good to go. In this special edition, I will showcase cosmetics that I'm a repeat buyer of and would definitely buy again.

▽Skincare

The first thing I should mention is my skin type.

・I have tough skin and so it doesn't blemish easily

・It becomes dull when I have lack of sleep

・With my combination skin, it's easy to spot oily areas (T Zone) and dry areas (around the eyes, U Zone)

Like this.

Using my knowledge of various cosmetics and methods I have tried I would like to showcase my recommendations. (Don't worry if you don't have the same skin type as me as some of the items I have picked can be used with other types too, so be sure to take a look.)

Finally, you'll be happy to know that these can be used during all seasons.

So, ready to give it a go?

▶︎Dior Capture Youth Series

Quickly and actively delays the appearance of signs of ageing. This series was created to retain youthful looking skin. There are six serums to choose from which cater to different skin conditions. Each can be used on their own or in combination with your own serum products. I've made a custom serum for myself by combining two different types.

1. Intense Rescue Oil (30ml) – ¥12,420 *Photo is my own. Price shown is as was on the day of purchase.

(Effective against dry skin and helps maintain moisture. Supplements lipids.)

2. Glow Booster (30ml) – ¥12,420 *Photo is my own. Price shown is as was on the day of purchase.

(Rich in Vitamin C. Leaves skin glowing and feeling invigorated.)

For face lotion, I use 3.Enzyme Solution. It has a refreshing water-like texture and leaves skin moist. Good to use on skin that favours serums in this series.

Enzyme Solution (150ml) – ¥7,452 *Photo is my own. Price shown is as was on the day of purchase.

For cream, I use 9.Capture Youth Creme. It doesn't remove the face lotion or the serum and doesn't feel sticky.

Capture Youth Age-Delay Advanced Creme (50ml) – ¥12,420 *Photo is my own. Price shown is as was on the day of purchase.

It's safe to say that after using this series, I don't even know what dry skin is anymore. It really is that effective!

▶︎FEMMUE

5. Lumière Vital C  (30ml) – ¥8,000 (Before Tax) *Photo is my own. Price shown is as was on the day of purchase.

6. Ideal Oil (30ml) – ¥6,000 (Before Tax) *Photo is my own. Price shown is as was on the day of purchase.

FEMMUE is a really popular brand right now from the hub of beauty, South Korea. Firstly, it's steeped in fragrance. It's rich in floral scents like perfume. Simply holding the bottles fills you with a feeling of satisfaction. It leaves your skin feeling clear, smooth and glowing. And though it's a thick oil, the skin absorbs it extremely well. 10/10 from me!

I might recommend it to girls who've just stepped into adulthood, girls who want to look sexy, and those who want to be popular! It's perfect for skin that blemishes easily.

▶︎dear mayuko

7. Innocent Skin Serum (20ml) – ¥8,424 *Photo is my own. Price shown is as was on the day of purchase.

This serum contains sericin which comes from silkworm cocoons. Sericin ensures your skin is moist and is gentle on the skin. Despite being a beauty product the texture of this serum is really silky (like water!) and will leave your skin soft and healthy.

Personally, I recommend using it as a booster serum! It's an easy way to nourish the skin before putting on any makeup. It will also help things like face lotions and milky lotions soak in better. The serum itself soaks into your skin nice and quickly so it won't ruin your makeup. Its warm matte texture and colour will leave you looking soft♡

▶︎Kiehls

4. Kiehl's Ultra Face Cream (49g) – ¥4,000 (Before Tax) *Photo is my own. Price shown is as was on the day of purchase.

This cream spreads lightly on the skin. It's also very clear to see that it lets no moisture escape…! That's how dense this cream is, it's like it adds a cover to your face. It also doesn't clear away face lotion or any beauty essences. It reaaally moisturises your skin. This is my 5th or 6th time buying it.

8. Kiehl's Ultra Face Cleanser – ¥2,800 (Before Tax) *Photo is my own. Price shown is as was on the day of purchase.

This can be used on any skin time. (It's also good for people with eyelash extensions!)

It's a gel-type cleanser. What's good about it being gel-type is that cleans off better than oil and yet doesn't take in unnecessary moisture from the skin. You also don't get that stretched feeling after you wash your face. This can really be used all season and by anyone. I haven't used any other cleansers the past three or four times. It's one I can trust.

▽Cosmetics

Be sure to check out my recommended lipsticks from last time too!

https://www.moshimoshi-nippon.jp/183569

▶︎CANMAKE

8. Quick Lash Curler (Transparent Type) – ¥680 (Before Tax) *Photo is my own. Price shown is as was on the day of purchase.

I often use this as a top coat. It makes it harder for your eyelashes to sag and can be used with any kind of mascara. You get a great product for a cheap price, so there's no need to feel guilty about picking up something cheap. You'll end up picking it up multiple times a day, and the cosmetic pouch one stick comes with is sure to come in handy too!

▶︎BIODERMA

2. Sensibio H2O – ¥1,200 (Before Tax) *Photo is my own. Price shown is as was on the day of purchase.

This is a cleansing water to be used with sensitive skin. Pour some onto a cotton pad and simply wipe to remove your makeup without any unwanted excess being left on. It's a super convenient product to have during those times when your makeup need a quick fix up. It's often used in makeup shoots too! They have both small and large bottles, so try starting from the handy mini size first ☺

▶︎M.A.C

1. Strobe Cream Peachlite – ¥4,500 (Before Tax) *Photo is my own. Price shown is as was on the day of purchase.

A glittery pink cream that feels comfortable on the skin. When used as a base for your makeup it will brighten your skin, or when used as a highlight it will glimmer in the light on your shiny skin. It might be nice to add to the décolleté or when you are exposing skin too to add a little something. This item has many different uses!

▶︎Primavista

3. Long Keep Base UV – ¥2,800 (Before Tax) *Photo is my own. Price shown is as was on the day of purchase.

This product can won't blemish skin at all even if it's been working all throughout the day. It goes on gently and soaks up quickly. This means it can be used when you don't have much time, such as when you're in a hurry in the morning. It feels so light it makes you wonder whether you've even put any on! It also holds up well against sweat and oil so I highly recommend it for the coming season! (It's been a No. 1 best seller for 9 years in a row.)

As a footnote, I'll just add that I'm actually a model for Primavista's products and I'm really glad I discovered them.

▶︎YSL

5. TOUCHE ÉCLAT BLUR PRIMER 1 – ¥6,300 (Before Tax) *Photo is my own. Price shown is as was on the day of purchase.

This is a makeup base that has gold pearls in it. It fixes the uneven parts of the skin to make it uniform making it perfect for foundation. It has a semi-matte consistency and the goal pearls give your skin a gorgeous gloss.

10. LE CUSHION ENCRE DE PEAU B30 – ¥7,500 (Before Tax) *Photo is my own. Price shown is as was on the day of purchase.

This is the covering power, moisturisation and texture I wanted! It feels very light on the face, so much so that it feels like you have none on, but it's the opposite of useless―it covers the face completely. As expected of them. It's easy to put on too, just pat it onto your face with a sponge. It's very durable too!

▶︎MIMURA

4. Smooth Skin Cover – ¥4,200 (Before Tax) *Photo is my own. Price shown is as was on the day of purchase.

This too is a makeup base and evens out the odds of your face. It's silky and makes you look extremely beautiful so it's the perfect accompaniment to makeup. It also thankfully contains SPF20 and PA++ and is free from ethanol, colouring agents and synthetic fragrances, making it kind to skin. I would also recommend it to people with weak skin. This is my second pot ♡

▶︎LANCOME

6. Grandiôse Mascara (Volume Type) BK – ¥4,200 (Before Tax)

The rose design of the cap is so cute! This is the No. 1 easiest product to coat. The shape of brush has been carefully calculated to curve with your eyelashes. It does nothing short of bolstering the volume of them. It has also received high praise for how easy it comes off with hot water. But it doesn't blot either. This one's for those who want to emphasise their gaze♡

▶︎CLINIQUE

7. Lash Power Mascara Long-Wearing Formula BK – ¥3,780

We can all relate to mascara becoming clumpy. This formula entwines with each eyelash hair to give big, beautiful eyes. It makes you feel good when applied. Though this is my third time buying it it never fails to make me say out loud to myself, "Wow, how beautiful." You don't have to worry about sweat or oil either, plus it comes off easily with hot water♡

▶︎MAYBELLINE

9. Hyper Sharp Liner BK – ¥1,200 (Before Tax) *Photo is my own. Price shown is as was on the day of purchase.

I have loved and used MAYBELLINE since I was a high school student. I've used many different eyeliners but always end up returning to the same place. The Hyper Sharp Liner is easy to draw with, doesn't smear, and the tip of the brush is thin and soft, so drawing on cat eyes is so much easier now. It's perfect! Get it ASAP!

What do you think of my list? The categories are a bit jumbled, but I have listed all the items I highly recommend.

A lot of the items I've presented are expensive, but even if they are pricey, the quality is good and the effects they have really work! I wonder if the reason for people in their teens and 20s focus so much on skin care is because they have seen the speed at which you can revitalise your skin, or have the power to 'rebirth' oneself.

My skin is changing entirely now compared to back when I thought it was okay to not take care of it. I want to make more recommendations to people at my age and invest in my future self.

Be sure to reference this last, and thank you for reading! Until next time ☺

Writer / Model  Yuri Suganuma
Photographer  / Hikari Shibata

Translator / Joshua Kitosi-Isanga

TALENT PROFILE

Yuri Suganuma

Yuri Suganuma is a model with a high fashion sense that has been picked up by various magazines. She receives much love and support from girls of the same generation as her to whom she is known by her nickname "Yurippa." She has a huge influence across her social media. Recently, she has stepped into other fields outside of modelling, such as appearing in TV shoots and in music videos. She is skilled in make-up and involved in the development of cosmetics.

Help Me Choose! Japan's Trending Makeup: #1 Lipsticks Loved by Everyone!

This is my first ever series I've ever been put in charge of as a writer and model.

Moshi Moshi Nippon is where I start!

To briefly explain my makeup history, I first became interested in makeup when I was in elementary school after I went to a drugstore and saw cosmetics all lined up. After entering middle school, I was an awkward girl hooked on eyeshadows. I realised in high school that unique people get a lot of attention, and so I wanted to learn more about makeup. Every week, if I had a free moment, I'd pop down to the department store and little by little, deepened my knowledge about cosmetics. At around the age of 22 or 23, I achieved my certification as a "Cosmetics/ Skincare Meister". (There's still a lot to learn though…)

At 23, I started writing a series of my own about makeup!
Even if it's just a little bit, I want everyone to feel like they can use my articles to help themselves find their favourite cosmetics.

As this is my first ever business, I was obviously quite nervous about a few things.

As the impression that makeup leaves, and everyone's individual tastes can always completely change in an instant, I made this report which puts the spotlight on lipsticks that are suitable for a range of people!

These are recommendations by Yurippa!

These lipsticks are perfect for spring and summer!

If you're looking for stylish yet affordable lipsticks, join me and take a peak of my world of makeup through my eyes!

▽ Yurippa's recommended lipsticks!

・3CE  MOOD RECIPE MATTE LIP COLOR #909 ¥2160

Feels like a cream when you spread it on your lips.

A matte finish colour that sticks to your lips.

Very good colouring

Slightly deep red coral…

Gives an adult-like impression!

Coordination ideas: Perfect highlight for an all black outfit or a white shirt, or all navy look. I think it would make a great contrast with blue!

Suitable for all skin types (yellow base, blue base)

No matter where you go, you'll be complimented for your lipstick coordination ♡

To buy this, search for "3ce" lipstick

It'll be somewhere around the 4th or 5th link down. Look out for the product number #909.

This is a very popular lipstick!

・another item・

・M・A・C

(Left)Dubonnet ¥3240

Matte finish wine purple colour.

Deep with an edgy finish.

M・A・C lipstick colours are very defined and difficult to rub off!

You don't even need to top up very much throughout the day.

(Right)Chili (MINI size) ¥1404

This is an orange brown matte lipstick.

There are many models these days who use this colour.

If you are not sure what colour suits you, you can play it safe with this.

All these lipsticks smell like vanilla.

※M・A・C lipstick is sold at some stores.

・CHANEL Rouge, Allure, Velvet series ¥4536

These are also matte lipsticks.

If you compare the feel of 3CE and M・A・C lipsticks, you'll find they both have a different matte texture.

You can really feel the moisture in this!!

A smooth, matte finish.

I'm way too keen on this series. I mainly have lipsticks from the colour version.

The texture, quality of colour, and the exquisite choice of colour is what makes this lipstick so addictive!

(Left)No.58 Rouge Vie

Deep, strong red

(Right)No.61 La Secrete

Salmon pink

▽2019 Perfect for spring and summer Lip

・ADDICTION  Lipstick Sheer 003 cherry cherry ¥3024

Finally here's a non-matte lipstick that I like! Haha…

But despite I love matte lipsticks so much, this lipstick just has the cutest texture! I fell in love with it at first sight.

The transparency is perfect for the shade of red.

Despite the strong red colour, it is rather transparent, giving a "pop" look.

The more you apply, the cuter your lips!

How about wearing a white shirt to match your red lips?

…or a patterned shirt, woven bag and denim bottoms??

Allow yourself to be driven by the wild feeling of spring and summer fashion. This lipstick is a must for your handbag!

I really want to wear cherry earrings to match the lipstick!

・shiro ginger lip butter(lip gloss)9C06 copper brown  ¥4104

A matte brown-orange.

This is quite a fashionable colour that will make you appear more like an adult.

A lip balm and gloss in one! No need to apply a balm as a base to stop your lips from drying out.

The shade is rather nice and the colouring is perfect.

The small touch of gloss will make you seem more adult-like ♡

It has a smooth texture and spreads smoothly!

The natural scent of ginger makes it seem just like an organic cosmetics product like "shiro".

Look no further for a lipstick you can use all year round!

The new colours came out on 7th March as a product not just for spring and summer, but also autumn and winter.

・Celvoke  Enthrall gloss 03 ¥3024

Orange/brown, glossy and plenty of moisture.

This will give you the plump lips that every girl wants!

As the colour is quite toned-down and dark, use a subtle amount of eyeshadow,  give your cheeks a matte finish and your lips will become the glossy accent to finish your look!

▽ Stylish yet affordable!

・CANMAKE Lip Tint Matte 03 rose ¥650

This is a rather girly rose pink.

Although this is a strong-coloured lip tint, it holds moisture so you don't have to worry about your lips drying out.

Spreads completely over your lips perfectly.

You would look so cute if you combined this with a floral outfit or gingham checks♡

01 coral

04 Terracotta red

・INTEGRATE Silky Matte Lip(Lip/cheek colour)PK384 ¥1296

Bright coral with a slight glossy semi-matte finish.

This is a fresh colour which will brighten your face.

Enjoy the light texture as you apply it.

As you can colour both your cheeks and your lips with this lipstick, this is perfect for those of you with busy mornings or those of you who are not good at makeup and are uncertain of how to balance colours!

This is an easy way to achieve a balanced look!

~ <Extra!> If you get your hands on this you should celebrate! ~

Pat McGrath is a hair and makeup artist. She owns the makeup brand "Pat McGrath"♡

She still hasn't been to Japan.

She is involved in famous fashion show brands and collections and is a hair and makeup specialist.

From the packet design, these products overflow with cuteness!

The smooth matte lipstick is absolutely perfect when it comes to durability and colour.

This high-quality lipstick is a leading lipstick ー no doubt about it!

Just how people buy CDs because of the awesome CD designs, you might end up getting this just for the packaging!

・Pat McGrath MATTETRANCE LIPSTICK

Elson 2  (The Perfect Red) ¥4752

Omi (Mid-tone Rose) ¥4752

(The packaging and the lipstick are just so beautiful!)

You can purchase these online.

I don't think there's many people who use these lipsticks!

If you have them, you can boast about your fashion to others! ☺︎

That's all!

…and that wraps up my personal lipstick report!

I didn't even realise that I wrote an entire report…

I want to continue with a second and even third series!

I aim to write these reports in a style that creates a close connection with my readers.

If you want to ask questions or need advice, I'm making an advice corner where you can reach me personally!

Let's be friends!

Writer / Model  Yuri Suganuma

Photographer    Haruka Yamamoto

Make & Hair      Yusuke Hashimoto
RELATED ENTRIES
Japan's Men Skin Care Brand BULK HOMME to Release Products in France & UK

BULK HOMME, a Japanese skin care brand for men, is releasing a line of its popular products in France and the United Kingdom on March 20, 2020. To date, the company has focused in the Asian region, stocking shelves in Taiwan, China, South Korea and Hong Kong. This will be the first time the company makes its mark in Europe.

BULK HOMME placed top in the Hair Product category at Cosmoprof Bologna 2019 for its product "THE SHAMPOO," held in Italy last March, making it the first Japanese men's brand to do so. French professional footballer Kylian Mbappé was even enlisted as the global ambassador for the brand in June 2019.

The company is also using its European expansion as an opportunity to replace its outer packaging form a clear case to paper that has been certified by the Forest Stewardship Council. This will begin rolling out this March.

Products Releasing in France/UK

THE FACE WASH

THE TONER

THE LOTION

THE SHAMPOO

THE TREATMENT

THE SCALP SERUM

THE BUBBLE NET

BULK HOMME is aiming to be in 100 stores throughout France and the UK by March 2021, focusing on getting into upend department stores and with future plans to get into cosmetic stores.

Information

BULK HOMME

Release Date: (France/UK): March 20, 2020

Official Website: https://bulk.co.jp/

Visiting @cosme TOKYO in HarajukuーThe Place That Satisfies All Of Your Makeup & Cosmetic Needs

@cosme TOKYO is a new flagship store that opened in front of Harajuku Station in Tokyo on January 10, 2020.

@cosme is a web portal centred on makeup and cosmetics. Offering a wealth of beauty information from a number of perspective, the website lets you see the latest trending items in the makeup world from the word on the streetーby letting people comment on and rank itemsーoffers solutions to skincare and makeup-related problems, and more.

@cosme TOKYO is the first-ever physical store by @cosme. Its floor space spans over 1,300 square meters where it houses an enormous selection of cosmetics and makeup products, from inexpensive and affordable quality items to luxury brands. Since opening, it has become the talk of the town in Harajuku.

It's comprised of three floors, each with their own highlights. Let's go and check it out.

1st Floor: A Hall of Fame for the latest most popular cosmetics

When you walk into the first floor area, the first thing that's sure to catch your eye is the incredible "Best Cosmetic Award Tower," a collection of items that have have won past cosmetic awards for being the best. All the cosmetics are stacked up high in their own little display case.

As you proceed further across the shop floor, there is the "@cosme Weekly Ranking" corner which ranks the most popular items on the website for that week, so customers can always know what products are the best to incorporate into their makeup and beauty routine.

But perhaps the centrepiece of @cosme TOKYO is the "Tester Bar," where customers are free to try out products using the puffs and cotton pads provided. There's also a tap and sink for rinsing. You can't deny how great this service is; without worrying about others, you can try out all the cosmetics to your heart's desire and then buy them if they're to your liking.

There are also smart lockers so you can lock your things away, allowing for your hands to be free while you test makeup and shop. But it doesn't stop there, as there's even a foreign currency exchange machine which caters for 85 currencies in 120 countries.

2nd Floor: Men's cosmetics, beauty equipment, and more

Up on the second floor, you'll find another area that ranks products, this time the ones with the most sales at @cosme TOKYO. Everything is displayed in such a way that it's easy to find products as they are separated by base makeup, mascara, lipsticks, and so on. You'll find pop artwork hand drawn by the staff to highlight products, so enjoy comparing and considering all the different items.

Recently in Japan, men's products have been garnering attention, and so @cosme have created an entire section dedicated to male and unisex makeup items. Picking out makeup with your partner is goals, and now it's finally becoming a reality.

Another area that's popularーwith both Japanese people and foreignersーis one that stocks cosmetics made with naturally-derived ingredients from Japan, as well as products with Japanese-style packaging. It's perfect if you're looking for Japanese-specific items or for gifts and souvenirs.

Also on the second floor are beauty mirrors so you can check yourself out as well as two Tester Bars, so you can try out products here too.

If you have kids, you can drop them off in the kid's area while you shop. There's also bread-feeding rooms and places for changing diapers. They have it all!

3rd Floor: A place to relax exclusive to @cosme app users

The third floor is home to a lounge that can only be used by those who have the @cosme app installed on their phone. It can be used for relaxing or for hanging out with friends. It's hard to find a such a quiet and relaxing place like this so close to Harajuku Station.

If you want to retouch your makeup, there's a powder space you can do that for free, as well as oxygen boxes. This floor is packed full of different great services.

@cosme also has its own points system. One point equals one yen, and you get five for just visiting the store.

Anyone and everyone can enjoy a fun and easy shopping experience

 

Each product in the store has a JAN code on it which when scanned at one of the tablets in store will give you information about that product in multiple languages, including English, Simplified/Traditional Chinese, and Korean. This goes for the map of each floor too, so you can find out what each floor offers without getting lost.

@cosme TOKYO also has free Wi-Fi, and can also ship products around Japan. It offers a comprehensive shopping experience that caters to both Japanese and foreign customers.

You're sure to find many items you like when visiting @cosme TOKYO, so you can't miss out on visiting if you're travelling to Harajuku or Tokyo. Enjoy shopping!

Information

@cosme TOKYO
Opened: January 10, 2020

Address: 1-14-27 Jingumae, Shibuya, Tokyo
Opening Hours: 10:00-21:00
No Fixed Holidays
Official Website: https://www.cosme.net/flagship/

Cosmetic Brand SUQQU Releases Origami-Themed Spring Colour Collection

Cosmetic brand SUQQU released their Spring Colour Collection on January 10, 2020. The collection is inspired by Japanese origami, which is light, beautiful and easy to adapt to a variety of situations. 

SUQQU Vibrant Rich Lipstick: ¥5,000 (Before Tax)

The Vibrant Rich Lipstick is SUQQU's first matte lipstick. It feels light on your skin and doesn't rub off easily. Its rich and radiant colour adds a vivid streak of life to your lips, easily becoming the focal point of your overall look. Its bold colour also has a soft pigment which compliments your skin for a natural look. These lipsticks enjoy a brand new texture comparable to Japanese washi paper, providing the complexion and voluminous lips that all adults desire. These lipsticks will brighten up your entire face with colours perfect for spring. 

If you like these lipsticks, then check out the rest of the Spring Colour Collection which includes eye shadows, blushers, highlights, nail polishes and much more. 

SUQQU's Spring Colour collection is the perfect way to prepare for spring 2020. 

Information

SUQQU 2020 Spring Colour Collection
Release Date: January 10, 2020

SUQQU Vibrant Rich Lipstick (10 standard colours, 3 limited edition colours): ¥5,000 (Before Tax)

SUQQU Designing Colour Eyes (1 new colour, 1 limited edition colour):¥6,800 Each (Before Tax)

SUQQU Glow Touch Eyes (2 new colours, 1 limited edition colour): ¥3,700 Each (Before Tax)

SUQQU Waterproof Eyelash Mascara (2 limited edition colours):¥4,300 Each (Before Tax)

SUQQU Pure Colour Blush (2 limited edition colours): ¥5,500 Each (Before Tax)
SUQQU Shimmer Liquid Highlighter (1 new colour): ¥3,900 (Before Tax)
SUQQU Nail Colour Polish (3 limited edition colours): ¥2,500 (Before Tax)

SUQQU Official Website: https://www.suqqu.com

Cosmetics brand SHIRO to Release Natural Makeup that Improves Your Skin

Cosmetics brand SHIRO is known for producing makeup that both looks after your skin and brings out your natural beauty. From March 5, 2020, they will be releasing the Calendula Liquid Eyeshadow for a refined and sparkly finish to your eyes and the Calendula Liquid Cheek Tint for silky smooth cheeks and a natural complexion.

Calendula, often known as Pot marigold, is a plant known for its miraculous skin-treating abilities. SHIRO has harnessed its moisturising and healing properties, developing two new products that enjoy the benefits of locking moisture into the skin and a beautiful, natural look. Each Calendula plant is raised organically and harvested by hand in Shimokawa, Hokkaido.

Calendula Liquid Eyeshadow (Comes in 6 colours): ¥3,500 (Before Tax)

Apply the Calendula Liquid Eyeshadow to instantly capture anyone's gaze. The eyeshadow is water-based, locking in moisture and adding a dynamic effect to your eyes. A small amount will spread far and evenly, instantly attaching to your skin for no risk of smearing. 

From top left  0C01 Dusk Orange/0C02 Copper Brown/0C03 Sparkle Light

From bottom left 0C04 Sand Beige/0C05 Grayish Beige/0C06 Sepia Brown

The eyeshadows come in six different colours: four glitter finishes and two matte finishes so you can change your look depending on the occasion.

Calendula Liquid Cheek Tint (Comes in 4 colours): ¥3,500 (Before Tax)


The Calendula Liquid Cheek Tint is oil-based and spreads evenly over your cheeks for a silky smooth, natural complexion. This is perfect for contouring your cheeks so you can enjoy both a radiant glow and healthier skin. 

From top left  0C07 Raw Umber/0C08 Foggy Pink,  From bottom left 0C09 Coral/ 0C10 Copper Red

This is available in four colours and can also be used as an eyeshadow or to colour your lips after using the 0C01 Copper Red Lip Liner.

SHIRO is not only available in Japan, but also has three shops in London and one in New York. SHIRO uses carefully-selected natural ingredients to bring out the natural beauty of your skin.

Rather than hiding your skin, this makeup embraces it, caring for it and adding a natural finish. 

Pokémon Cosmetic Series: Face Masks, Hand Cream & Pouch Set Return in Limited Quantities

We have good news for all you Trainers out there, whether you've picked up a copy of Pokémon Sword or Pokémon Shield (or both!) or you're out there in the wild on Pokémon GO.

Self-care is important when out there catching Pokémon, so the Pokémon Cosmetic Series has decided to restock some of their old favourites. The Pokémon Hand Cream & Pouch Set and Face Mask 5 Set were reintroduced to variety shops across Japan on Tuesday November 26, and they're all available in limited quantities.

The set of 5 face masks includes not only the Pikachu, Eevee, Snorlax and Mew designs from July, but the all-new Gengar edition too. They contain a mix of collagen, hyaluronic acid and shea butter, and are a perfect combatant to the dry weather this winter, ensuring your skin stays moisturised and beautiful. And since they come as a set, they would make for a great gift, especially for Christmas, or even for using during sleepovers with friends.

The hand creams from this September gone have also made a return with each now coming as a set with their own pouches. The creams moisture hands skin, leaving them nice and smooth, and each has its own unique fragrance.

The pouches can only be bought with these sets and feature the same Pokémon as their respective creams. Their small size means you can put them into your handbag too.

Also, every Train who spends over ¥2,000 (excluding tax) on these items will receive an acrylic charm too which can hook onto your pouch, handbag, backpackーwherever you keep your TMs and Poké Balls! There's 8 to catch, and they're given out randomly. Which one has caught your eye the most?

Information

Pokémon Hand Cream & Pouch Set

Price: ¥2,150  (Before Tax)
Scent: Sweet Soap Bubbles

Available: At variety shops across Japan

Release Date: Rolls out from November 26, 2019

Face Mask 5 Set

Price: ¥180,0  (Before Tax)

Available: At variety shops across Japan

Release Date: Rolls out from November 26, 2019

Pokémon Gift Cosmetic Series Official Website:  https://lovisia.jp/pokemon/

Frozen 2: Make Your Makeup as Beautiful as Elsa With This Tutorial

Frozen 2 dropped its icy embrace on the world today and Disney fans are more thrilled than ever.

All of the characters in the film have their own charm, but it's Elsa whose beauty has captivated the world over. With the release of the new film and the cold approach of winter, why not try doing your makeup like the queen of Arendelle?

Step ①: Cheeks

Fallen pink snowflakes on those sweet cheeks

Use a blueish-pink blush and apply lower than your cheekbone and on the tip of your nose. Blend in a circular motion to make the blush round. This will create a white, almost transparent glow and will uplift your cheeks.

Step ②: Eyeshadow

Bewitching purple to stand out in a snowy world

Apply a reddish-purple eyeshadow over your eyelidd. A tip is to connect the outline the inner and outer corners of your eyes with a straight line. Then add a bold and shiny purple shadow on top of that across your eyelids. Apply to your lower eyelid too beneath the pupil. If the outline of your eyeshadow has an oblong shape when you open your eye, that's good.

Step ③: Eyeliner

Eyeliner to look like a sophisticated queen

Using a black liquid eyeliner, follow your eyeline from the inner corner to the outer corner of your eye. Extend the outer line a little and make it parallel. For your lower eyelid, use a black pencil to fill between your eyelashes.

Step ④: Lipstick

Pink lips ready to sing

Use a blueish-pink lipstick on your lips, and make sure it's layered on nice and thick to serve that sweet aesthetic.

An elegant queen that can harness the ice and the snow

Elsa has the power to turn anything she touches into ice. If you catch a gaze of her enchanting purple eyeshadowed eyes, your heart is sure to skip a beat. If you follow these four makeup points, you too can easily look like the ice queen herself. A perfect look for dates, parties and get-togethers this winter season.

The long-awaited sequel to Disney's blockbuster animated is finally upon us. The first Frozen film touched the entire world with its frosty beauty with both its story and music. Let It Go in particular was a worldwide phenomenon, and was an immense hit in Japan too.

Frozen 2 sees Elsa embark on a dangerous journey with Anna, Kristoff, Olaf and Sven as she discovers why she was born with magical powers, the answer to which is threatening her kingdom.

The new film's main theme, Into The Unknown, captures the complex feelings and emotions Elsa holds as she steps forth, with all her anxieties and hopes, into a new world.

Frozen 2 Trailer Japanese Version

The first Frozen film was a widespread global hit and there's no denying that Frozen 2 will follow in its footsteps. Get together with your family, friends or lover to watch it for the best experience.

*All cosmetics used are personal items owned by the stylist

Model: Aiko

Writer: Ai Watanabe

Photographer: Haruka Yamamoto

Makeup: 橋本 裕介

Translator: Joshua Kitosi-Isanga

Information

Frozen 2

Release Date: November 22, 2019

Distributed by: Walt Disney Studios/Motion Pictures

Directors: Chris Buck/Jeniffer Lee

Starring: Idina Menzel (as Elsa), Kristen Bell (as Anna)

Official Website: https://disney.co.uk/movies/frozen-2

6 Must-Buy Japanese Fall/Winter Cosmetic & Skincare Items – MOSHI MOSHI NIPPON

Japanese cosmetics company Shiseido has released its new fall/winter skincare and cosmetic items. With the cold weather cloaking us with its bitter chill, we risk our skin becoming dry and flaky. Plus, with Christmas and the New Year right around the corner, now is the season to dress up and look stylish for parties and get-togethers.

We have selected 6 cosmetic items at Shiseido you should ready yourself with for the increasingly cold weather.


d program Kandan Barrier Essence: Protect your skin from the temperature difference

Outside it's cold, but indoors it's hot. That kind of temperature difference can damage your skin, but Shiseido has developed a product to tackle the problem. Part of their d program series, this product protect the skin from drying out by maintaining moisture in your skin during cold winters. The texture is adapted to those who have sensitive skin after washing. Skincare is important during this season, so be sure yours is protected.

d program Kandan Barrier Essence – ¥3,000

Official Webpage: https://www.shiseido.co.jp/dp/


ELIXIR REFLET Balancing Oyasumi Mask: Tighten your pores and replenish moisture overnight

The ELIXIR REFLET Balancing Oyasumi Mask coats your skin in a gel that balances sebum production and tightens pores while replenishing moisture. It's to be used 2-3 times a week and worn while you sleep, so apply it before getting into bed and enjoy waking up with gorgeous and glowing skin. It's a simple skincare routine and a great product that can be used for beautiful skin all-year round.

ELIXIR REFLET Balancing Oyasumi Mask

Official Webpage: https://www.shiseido.co.jp/elixir/reflet/

Senka All Clear Double W Foam: Cleanse your face and remove your makeup with thick foam
Senka is a skincare brand hugely popular not only in Japan but Taiwan, South Korea, and other parts of southeast Asia. This new product is a 2-in-1 makeup remover and facial cleanser.

One push of the bottle releases a nice thick dollop of foam which you apply to your face. You don't need any water, you can wash just with this. It's made with rice bran oil which easily removes makeup as well as unclogs pores for thoroughly cleansed and beautiful skin. It's a great product to use in those mornings when you're not using makeup.

In the same series from Senka is their White Beauty Serum in Foundation, a natural-looking foundation that gives that no-makeup look. It's packed full of beautifying components and is a great skincare option when using makeup.

This line is also easy to buy if you're living outside of Japan, so be sure to check it out.

Sengan Senka Senka All Clear Double W Foam -open price

Junpaku Senka White Beauty Serum in Foundation -open price

Official Webpage: http://www.hada-senka.com/


 Majolica Majorca Shadow Customize: Add accent to your night-out eye makeup

Majolica Majorca Shadow Customize is the perfect choice for eye shadow when you're looking to spice up your look for a Christmas or New Year's. It can also be used as everyday eye shadow, and contains highlight pearls and shading pearls which help to highlight your eye makeupーideal for parties. The line-up includes 19 colours, including 3 new ones: Masala Chai (reddish-brown), Cinnamon (orange), and Odo Brown (walnut). Pick your weapon of choice!

Majolica Majorca Shadow Customize: ¥500

Official Webpage: https://www.shiseido.co.jp/mj/


Integrate Nuance Eyebrow Mascara: Road to natural-looking eyebrows

Whenever you're going to an event, you want to put some effort into your eyebrows, right? This product is the ideal choice for getting those natural-looking eyebrows. It's a mascara but it's powdered so doesn't clump your brows. It comes in 5 different colours, so coordinate your brows accordingly with your outfit.

Integrate Nuance Eyebrow Mascara

Official Webpage: http://www.shiseido.co.jp/ie/

Limited Edition Frozen 2 Items: Great gift ideas
Five brands have teamed up with "Frozen 2″ to release their own Anna and Elsa-inspired cosmetic designs.

MAQuillAGE's lipstick is shiny like snowflakes and is fun to use when putting on your makeup.

Limited Edition "Frozen 2"  Designs

Official Webpage: https://www.shiseido.co.jp/cms/onlineshop/campaign/h/collaboration/

Pokémon Cosmetic Series: Hand Cream to Protect Your Hands Catching Pokémon During the Winter

The Pokémon Cosmetic Series is the gift that keeps on giving. Trainers who missed out on catching the immensely popular Pokémon Hand Cream from last year will be happy to hear that a new line of hand creams just dropped on Thursday (September 26).

This time around, Slowpoke and Mew have joined the fray, in addition to Pikachu and Eevee returning. Their fragrance has been made even more tempting.

The cosmetic series has enjoyed incredible popularity with its diverse line-up, which has spanned face masks, lip cream, hand cream, lip gloss, point packs, mirrors, and body gel. The hand cream in particular was a huge hit amongst fans, who can delight in two new additions: Slowpoke with his cute expression, and the mysterious Mew.

Pokémon Hand Cream – ¥800 (Before Tax)

Pikachu and Eevee's tube designs have been updated too and made even cuter than before. The four creams are a great gift to either yourself or friends.


Each bottle has a different fragrance: Pikachu's floral pink bouquet, Eevee's refreshing oriental lime, Slowpoke's luxurious cherry blossom, and Mew's soft and pure soap.

These creams aren't just cute and for show however, they really work: moisturising your skin with their fresh texture and leaving it nice and smooth without that unwanted stickiness. Their small size makes them a super ideal thing to have in your bag alongside your Poké Balls and Pokédex during the dry weather. No Trainer should leave home without one!

aminoRESQ: The No. 1 Hair Care Brand in Four Countries Revamps Its Design & Formula

The amino acid-blended shampoo brand aminoRESQ revamped its packaging design and improved its ingredient formula on September 25, 2019.

The hair care brand is popular not just in Japan, but around the world, and is ranked number one in four countries. It has proven a popular choice amongst models and beauty Instagrammers. Over 4 million items in the series have been sold. Up to now, other amino acid-based shampoos slacked when it came to how well it actually washed hair, but aminoRESQ solves that problem, having created a shampoo that washes thoroughly but gently.

The new and improved aminoRESQ is a rich blend of 6 amino acids and ingredients which nourish both the scalp and hair from their roots. It also contains proteins for a high-quality wash. They are absorbed well by the hair and supplement efficiently.

Their moist series of products battle against dry hair and prevent it from becoming frizzy, keeping it nice and moist.

The smooth series has a combination of amino acids, moisturising keratin, and silk for a smooth and glossy finish.

There are 20 types of amino acids spread across the series, such as serine, glycine, glutamic acid, alanine and ricin, which provide nutrition and nourishment to every point of your hair, making it strong and beautiful. If this sounds like something you're looking for, why not give it a shot?

Cute Pikachu, Mew, Eeevee and Snorlax Blush & Powder Release in Pokémon Cosmetic Series

The next set of beauty items in the popular Pokémon Cosmetic Series has finally been revealed: the Pokémon Cheek and Pokémon Pressed Powder will be released on September 10. The line-up includes Pikachu, Eevee, Mew, and Snorlax.

Pokémon Cheek – ¥1,300 (Before Tax)

The Pokémon Cheek is a cream-type blush that spreads smoothly on your skin without any stickiness. It's comfortable on the skin and is durable. It also contains micropearls and so gives your skin a natural shine.

It comes in four colours: Pikachu Milky Pink, Eevee Rose Pink, Snorlax Coral Pink, and finally Mew Pearl White which brightens your natural skin tone. The blush comes as a stick and so is ncie and easy to apply and carry around.

Pokémon Pressed Powder – ¥1,500 (Before Tax)

The pressed powder comes with its very own powder puff featuring a cute original design. The powder is mixed with minerals that are gentle on the skin as well as collagen. It leaves your face looking smooth and natural without any unwanted shiny patches.

Pick from four different colours: Pikachu Pink which brightens natural skin colour, Eevee Mint which elevates transparency, Snorlax Yellow which conceals blemished, and Mew Purple which brings out transparency and shimmer.

When out there in the wild catching Pokémon, why not look good at the same time? Be sure to check out the Pokémon Cosmetic Series, and stay tuned for any new products that are released.

Information

Pokémon Cosmetic Series – Pokémon Cheek / Pokémon Pressed Powder

Release Date: September 10, 2019

Available: Pokémon Center,  ITS'DEMO, Tokyu Hands, Village Vanguard, and elsewhere

Official Website: https://lovisia.jp/pokemon/

Japanese Cosmetic Picture Book #2: Brightening Oil & Beauty Essence by AGILE COSMETICS PROJECT

Japan is home to an abundance of top-class, high quality cosmetic items. Knowledge about these cosmetics is slowly becoming widespread outside the country, with travellers stuffing their suitcases with everything they can to take back home with them.

Our featured series Japanese Cosmetic Picture Book is all about us here in the MOSHI MOSHI NIPPON team recommending products to you, our readers, that are made in Japan and that we use ourselves. Look forward to learning about the latest in cosmetics from the land of the rising sun.

Left: Clock G.e.n.e / Right: White Oil

The products we are taking a look at today are the White Oil and Clock G.e.n.e by AGILE COSMETICS PROJECT. The White Oil is an indispensable partner for the summer season while the Clock G.e.n.e is an essence that conditions the skin throughout the day.

AGILE COSMETICS PROJECT is a Japanese skincare brand that launched in November last year. They use completely natural ingredients in their products that are safe and good for your skin. What's characteristic about them however is that they update their products based on the demands of customers. To make products that their customer base will want to continue using, they focus on how an item feels on the skin, the functionality of its visual aspect, and its palatability amongst other things, all while making speedy improvements.

Has there ever been another brand that has listened to the desires of its users?

White Oil – ¥6,400 (Before Tax/Free Shipping) / Repeat Purchase – ¥5,500 (Before Tax/Free Shipping)

The White Oil is a two-layer product and so is to be shaken first before being used. Mixing two separate layers makes it easier for the oil to come together, down to the smallest corners of the outer layer. Ensure you mix it well before use.

When applied to your skin, it has a smooth texture despite being oil and does not become sticky. It feels very comfortable and natural on the skin and never becomes sticky even after applying, all while ensuring it stays moist. Since it's fairly smooth it means you can use it in summer and before you put on any makeup.

It's a personal favourite of mine. It makes a skincare routine super simple: after applying skin lotion you use the oil and you're done. It even comes in a stylish bottle and has a pleasant herb fragrance. I also have sensitive skin, so the fact that it's free from petroleum-based oils, mineral oil, parabens, UV absorption, and synthetic colouring is a huge plus.

I have used it for a week so I can't feel any change to my skin tone yet, but it has been incredible for keeping my skin in good condition. There are a lot of people on social media who have used it and have said that their skin tone has become brighter, so I will wait and continue using it!

Clock G.e.n.e – ¥7,000 (Before Tax/Free Shipping)

The second product to showcase is Clock G.e.n.e which was developed to create and maintain a "daily rhythm" in your skin. This liquid essence will treat one's tired skin, whether it be from your body clock being off, stress or the like. It adds moisture to the skin throughout the day and also protects it from damage and repairs at night.

It comes in a pipette-type bottle. It is added to your skin after applying moisturiser and makes it super soft. This too is made from 98% natural ingredients and is free from silicon, parabens, mineral oil, synthetic fragrances, and synthetic colouring, meaning people with sensitive skin can use it freely without worry.

If you use skin lotion, Clock G.e.n.e and White Oil in that order, your skin is going to feel completely different the next year. When you start using these items, people are going to complement how smooth your skin looks, so for me the effects are outstanding.

Even now, with the high level of satisfaction people have with these two products, the company are continuing to update them based on feedback buyers can give via the QR code that is coupled with the products. I feel strongly AGILE COSMETIC PROJECT's desire to create products that they want consumers to continue using means that they are making good products. Both items are sold online, but the first production batch for Clock G.e.n.e is currently sold out. They are set to release more in the near future, so be sure to peruse their website.

Writer: Sayuri Mizuno (MOSHI MOSHI NIPPON)

Translator: Joshua Kitosi-Isanga

Duty Free Japanese Cosmetics Now Available at Narita Airport

The JAPAN DUTY FREE Main Building Shop reopened on floor 3F of Narita Airport Terminal 2 on August 9, 2019, where they are now selling products by Kagurazaka-based cosmetics brand Makanai Cosmetics.

The JAPAN DUTY FREE store's concept is making people feel the beauty of Japan in a modern way.

To celebrate the shop's reopening, they are now selling the "HAPPY BAG" which contains seven popular cosmetic items by the brand. Arriving in a cloth bag with an original design, this bag is exclusive to the JAPAN DUTY FREE store. They are also selling the brand's most popular set of hand cream and lip cream as well as a set of supplements and powder to protect against UV rays. Those who spend over ¥15,000 will also receive special bath powder as a gift.

Makanai Cosmetics are already set up in Terminal 1 of the airport, and with the opening of the second branch, are set to deliver J-Beauty to even more people arriving from around the world.

Information

JAPAN DUTY FREE Main Building Shop

Location: Duty Free Area, Narita International Airport Terminal 2 Floor 3F

Opening Hours: 7:30-21:30

Makanai Cosmetics Narita Airport Branch

Location: Narita International Airport Terminal 1, Central Building Floor 4F

Opening Hours: 8:00-20:00

Official Website: http://en.makanaicosmetics.co.jp/