Experience Japanese Culture #5: Film camera part 2 – developing and printing pictures for the first time!
Welcome to Model Yuri Suganuma's series where she discovers a new hobby! This is a continuation from her previous article where she first discovers her love for film cameras. Lately, she's becoming more absorbed in this hobby, and after paying a visit to a second-hand camera shop in Shinjuku, she managed to get her hands on her dream camera! However, unless she gets her photos developed and printed, or gets them transferred into a digital format, she won't be able to see any of her pictures. Upon this realisation, she travelled to Gakuei-daigaku station because her favourite photo shop "monogram" is located on this street. Presenting her much-loved film camera along with her first film roll full of dear memories to the staff, they took it off her hands to get the photos developed and printed. Monogram is known to take a lot of care in printing their photos perfectly. Did any of Yurippa's photos really catch her eye?
"This photo shop has such a cool image!" exclaimed Yurippa. She brought along with her two films she had taken with a film compact camera that she bought last month. She managed to restrain herself from getting them developed as soon as possible, committing to the decision to get them developed at an opportunity where we could also tag along!
After Yurippa handed the undeveloped film to the staff, they asked her a series of questions: would you like prints or digital photos on a CD? What size would you like the prints? What kind of photo paper would you like them to be printed on? And lastly, would you like a white border on your prints? Yurippa couldn't believe just how much choice she was given! That's right – monogram can fulfil this many requests! Yurippa wanted a copy of the photos on her phone as well as prints so she asked for both digital photos on CD and prints on matte paper with a white border.
Another cool service offered by monogram is that you can choose to have a colour tint on your photos. Monogram is also popular because of their ability to adjust the colours for printed and digitalised negative photos. There aren't many photo shops around like this that will adjust the colours for you. They will also avoid loading their conversations with technical terms (unless you want them to). Yurippa asked for "California style" vivid photographs. They wrote down her order – take a look at her order sheet! Can you see just how unique monogram is in comparison to other photo shops? Yurippa waited in excitement to witness the outcome.
They really proved their ability to produce special photos! First off, they placed the film in the developer. As well as developing solution, there are a range of chemicals in the machine. Afterwards, the film was processed for negative photos.
The negative images were scanned and then printed on photo paper. This is the stage at which they were made into California style photographs. Three staff members at monogram overlooked the printing process. As each has their own unique style of printing, they can be designated to certain customers. This truly is the real world of a photography specialists! The staff just say: "leave it to us", and they adjust the colours to complement the photo!
Whilst waiting for the prints to be done, Yurippa spent some time browsing the shop for another film for her camera, which is the Konica Genba Kantoku that uses 35mm film. This is a standard film size that is easy to get your hands on. A staff member at the store explained to her what the numbers written on the film box meant. 100 is well suited for photos taken during the day, whereas 400 is an allrounder, as it is also suitable for taking photos during the day and also photos taken indoors. On the other hand, 800 is suited to photos taken indoors, on cloudy days and during the night. In other words, this number is the measurement of the film's sensitivity to light in numerical value (ISO), they explained. As Yurippa is always on the go with her camera and taking photos during the day, she chose an ISO 400 film. She decided to purchase the Kodak ULTRAMAX400 for photos with an American vibe.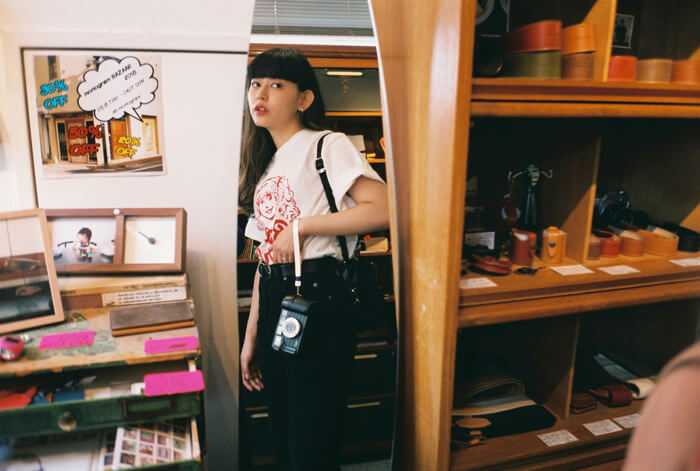 Although this store specialises in developing photos, the shop is filled with camera accessories. A silver hand strap particularly caught Yurippa's eye. Just by attaching one of these accessories, your camera will look really glamourous! Having said that, they suited her camera to the extent that they appeared to have been specifically made for it!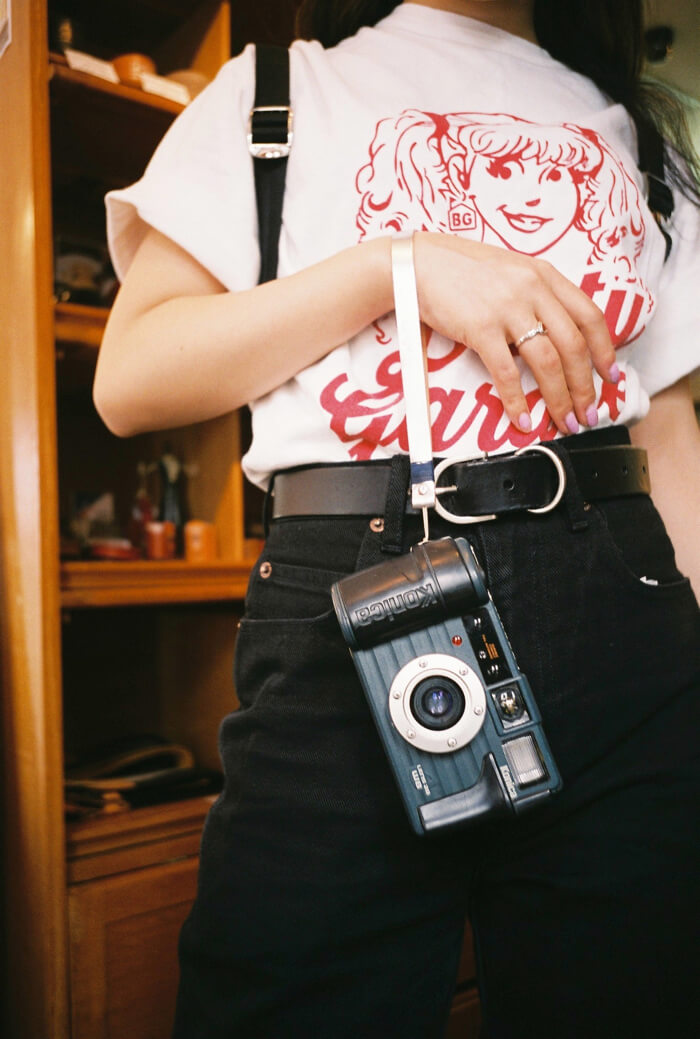 The silver leather hand strap was launched as monogram's 10-year anniversary edition accessory. It costs ¥ 2,000+ tax.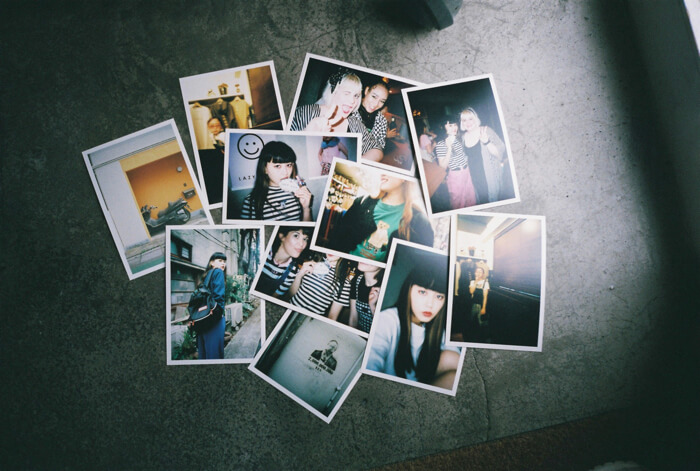 …The prints are ready! They were all perfect personal photos. Yurippa was constantly hiding the photos and peaking at them. She selected her favourite ones to share with us – the feeling of the matte paper was really nice.
They look so cool! Did I really take these myself? She asked. The locations in the photos are very distinct. Although digital photos are very useful, the feel of prints in your very own hand is just a wonderful feeling. You would want to give these to friends as a present. Having said that, the quality of these photos is so high that you begin to question whether you actually took them yourself!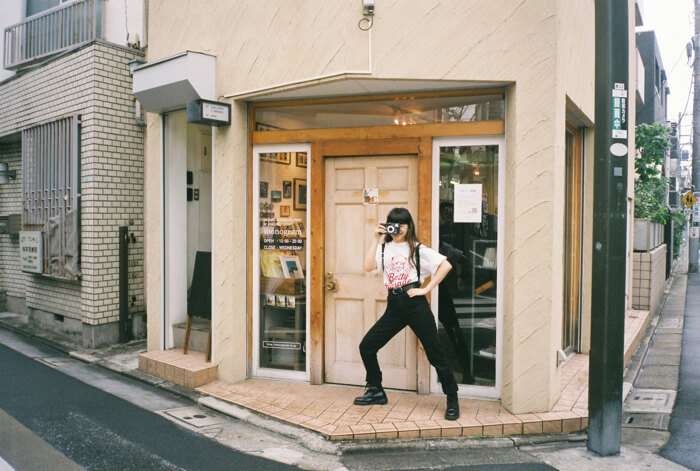 Finally, we asked Yurippa for her thoughts on today. "I used to think that developing photos involved exposing them to lasers. I was surprised to discover that this can be done with developing solution! There is just too much that I don't know about photos taken with film. It is great fun to learn so much! I initially started this whole photo project because I didn't have anything in particular that I would call a hobby, but now there's no doubt that this is becoming one of my new favourite hobbies!
<Shop information>
monogram
Address:2-19-13, Takaban, Meguro, Tokyo
Phone number:03-3760-5852
Opening hours: 12:00〜20:00(Closed on Wednesdays)
Access:1-minute walk from East exit of Gakuei-daigaku station  (Tokyu Yokohama line)
<Profile>
Model:Yuri Suganuma @yurippa93
yuri_profile
Yuri Suganuma is a model with a high fashion sense that has been picked up by various magazines. She receives much love and support from girls of the same generation as her to whom she is known by her nickname "Yurippa." She has a huge influence across her social media. Recently, she has stepped into other fields outside of modelling, such as appearing in TV shoots and in music videos. She is skilled in make-up and involved in the development of cosmetics.
RECOMMENDED ENTRIES
Experience Japanese Culture #4 – Searching for a Film Camera in Shinjuku's Used Camera Shops

This is Yuri 'Yurippa' Suganuma's featured article series in which she takes us on her adventures to cultivate new hobbies.

Yurippa has been interested in photography for some time now, but she's been unsure which camera she should buy. So, she decided to head to some used camera stores,  Lucky Camera Shop andChuko Camera Box in Shinjuku to find the perfect camera that best suits her. Was she able to find the right one…? Let's find out!

The first place Yurippa stopped by was Lucky Camera Shop. It's located next to Isetan Shinjuku and has a kind of foreign, non-Japanese air to it. When Yurippa saw the eye-catching red exterior of the shop, it was loved at first sight. In any case, time to head in!

The store is lined with cameras made in lots of different countries including Japan, Germany and the US. Lucky Camera Shop puts a lot of effort into stocking foreign-made cameras and mechanical cameras with everything built in. They have a varied line-up, including famous Leica cameras.

The Leica parts were all expensive – the bodies and lenses were both over ¥100,000 ($915)!

Yurippa was shown a camera she was interested in from inside the showcase. The left was a single-lens reflex Olympus OM-1 and the right was a Barnack Leica. 35mm films are all the rage right now, and these were some of the first models to use them. Both are at a nice, compact size.

Yurippa was blown away looking through the viewfinder of the Olympus OM-1. 'You can see things easily, so much so that everything looks even more beautiful through the viewfinder!' she said.

Next, Yurippa also tried the Barnack Leica. It's a valuable camera that has you feeling a little nervous touching it. She said surprised at how quiet the shutter was, to which the shop assistant explained, "This is a different single-lens reflex to that of the OM-1. There's no mirror inside so the shutter is quiet." Yurippa learned much about how cameras are put together differently, as well as the diverse number of types available.

■Information

Lucky Camera Shop

Address: Gomeikan Bldg. 1F, 3-3-9 Shinjuku, Shinjuku-ku, Tokyo

TEL: 03-3354-7898

Opening Hours: 10:00-20:00

Access: 5-minutes on foot from JR Shinjuku Station / 1-minute on foot from Shinjuku Sanchome Station

Website: http://lucky-camera.com/

The next shop Yurippa headed to was Chuko Camera Box. It's a used camera store located along Shinjuku Electric Street (Shinjuku Denki-gai). The showcase is crowded with cameras, and the shop has an atmosphere to it like a secret hideout.

"It'd be great to have a camera that's small and easy to use. One that I can take out and snap a photo with straight away. That'd definitely be fun!" said Yurippa while looking in earnest for a camera.

She continued to search with these keywords in mind, focusing on auto-focus film compact cameras. And then, she found it. In her hands was the Genba Kantoku from Konica. You can snap a photo just by pressing the shutter. It has auto-focus, flash and auto-load. "It's a little big, but it's affordable and seems easy to use!"

Chuko Camera Box is famous for its friendly store clerk and regular customers. Yurippa learned that the Genba Kantoku was formerly used for recording at construction sites. It's durable and can get wet or be dropped and has an excellent lens. She's finally made her purchase!

■Information

Chuko Camera Box

Address: 1-13-7 Nishi-Shinjuku, Shinjuku, Tokyo

Tel: 03-5339-2701

Opening Hours: 10:00-20:30

Access: 2-minutes on foot from Shinjuku Station

Website: http://camerabox.web.fc2.com

Yurippa loaded her Genba Kantoku right away with 35mm film. Simply take out the film tip and close it on its back. Film cameras can seem tricky, but there are easy-to-use ones like this too!

Yurippa was hugely satisfied finally getting her hands on her long-sought film camera. In the second part of this article, she will develop and print the photos that she has taken with her Genba Kantoku at a photo shop.

How about getting yourself your own film camera and to start up photography yourself?

<Profile>

Model: Yuri Suganuma @yurippa93

Yuri Suganuma is a model with a high fashion sense that has been picked up by various magazines. She receives much love and support from girls of the same generation as her to whom she is known by her nickname "Yurippa." She has a huge influence across her social media. Recently, she has stepped into other fields outside of modelling, such as appearing in TV shoots and in music videos. She is skilled in make-up and involved in the development of cosmetics.

Photographer & Writer: Haruka Yamamoto

Translator: Joshua Kitosi-Isanga

Experience Japanese Culture #3: Temari Sushi Lesson in a Japanese Food Class at Dikanyama

Japanese model Yuri Sugunama, a.k.a "Yurippa," is taking us on the third trip in her series series where she goes to personally experience Japanese culture and cultivate new hobbies. This time, she gets involved in a cooking lesson to make springtime temari sushi! Yurippa has always had an interest in homemade cooking but never really had the opportunity to challenge herself to it. So, how did she do…?


uki-uki cafe is located in Daikanyama which is just one stop from Shibuya on the Tōkyū Tōyoko Line. It's an easy place to get to just 5-minutes from the station tucked away in a quiet residential area. Upon opening the door to the café, you are greeted with a fresh space full of green plant life. You'll totally forget about the hustle and bustle of the city.


Teaching the lesson is uki-uki cafe's representative, Ayumi Kashiwabara. She's a food co-ordinator who promotes happy cooking that you'll unintentionally want to take a photo of. Not only does she serve food that makes your everyday dining table evermore buoyant, she also holds cooking lessons every now and then. "Call me Ayu-chan-sensei, okay?" she says with a pose. She's extremely friendly!


Today's challenge is making two items: 'temari sushi' and 'spring mizore soup.' First off, the temari sushi! You begin by mixing together 250g of rice with 25ml of vinegar, 15g of sugar, and 1/2 teaspoon of salt. This is then divided into 8 portions. Spread out some clingfilm and place ham in the middle. Then put one portion of rice on top and roll. Do this for all 8 portions. Roll the ham and rice into one and when taking the clingfilm off make sure that they stay together and don't separate.


Next is making plum lotus roots. Fill the holes of the lotus roots with bainiku plum. Use your finger to delicately press it all together. It's easy if you use a tube for this part. An excited Yurippa exclaimed, "This is the first time in my life I'm making food using bainiku plum!"


At this point, Ayu-chan-sensei added a small touch: "It'll look gorgeous if you do it like this." With just a little twist, she made it look even more fantastic by putting on thinly sliced lemon and sprinkling over some pepper. The two of them looked like they were having fun cooking next to each other.



Before dishing up the temari sushi, it's time to make the mizore soup. Add two teaspoons of Japanese dashi to 120ml of water and mix in one teaspoon of soy sauce, one teaspoon of sake, one teaspoon of mirin, and a little salt. Bring to the boil and just add some grated daikon. Daikon skin has nutritional value, so wash it thoroughly and rub dry.


Finally, add green beans into the mizore soup, put in wheat gluten, and… "All done!"


Yurippa's colourful temari sushi and mizore soup is complete and perfect for spring. Going out and adding seasonal a lunch mat, pair of chopsticks and tableware is fun too.


Yurippa was happy, commenting: "I can feel that food made by hand really is more delicious! It was easy and didn't take long, plus I like how exciting it looks. I want to invite my friends over to my house for a meal."

Cooking lessons are held once in a while at uki-uki cafe where you can learn how to make food that'll make your ordinary days more fun. If you think a cooking lesson is a little too much to handle, then just pop in to the café for a kawaii meal. Coming face to face with the food at uki-uki cafe will surely make your day that much happier.

■Information
uki-uki cafe
Address: 88.DAIKANYAMA 3F, Daikanyamacho, Shibuya, Tokyo
Opening Hours: 11:00-18:00 (Lunch Last Orders 16:00 / Last Orders 17:30)
Access: 5-minutes on foot from Daikanyama Station via the Tōkyū Tōyoko Line
Website: http://ayupichi.com/index.html
*Cooking classes are held at irregular periods. Please enquire beforehand if you are a visitor from overseas.

Model: Yuri Suganuma @yurippa93


Yuri Sugunuma is a model with a high fashion sense that has been picked up by various magazines. She receives much love and support from girls of the same generation as her to whom she is known by her nickname "Yurippa." She has a huge influence across her social media. Recently, she has stepped into other fields outside of modelling, such as appearing in TV shoots and in music videos. She is skilled in make-up and involved in the development of cosmetics.

Writer & Photographer: Haruka Yamamoto

Translator: Joshua Kitosi-Isanga

Experience Japanese Culture #2: Comparing Tastes of Unique Japanese Chocolates – From Matcha to Sake

Japanese model Yuri Sugunama, a.k.a "Yurippa," is taking us on her next trip in this series where she goes to personally experience Japanese culture and cultivate new hobbies. Yurippa loves chocolate – she eats one tablet of the stuff day. In this Valentine's-special second entry, Yurippa sampled different chocolates that are popular right now.

For Valentine's Day in Japan, it's custom for girls give guys chocolate and convey their feelings towards them. Guys return the favour on a day called White Day, which falls on March 14. So, since there's one month to go before the big day, that means the most delicious chocolate in the world is about to hit shelves in Japan – popular both in Japan and overseas.

The first pick was the classic "KitKat," a very well-known brand in over 100 countries. The Japanese brand of KitKat is actually made in Japan. It's received much attention around the world for its original flavours. It's also known for being associated with exam season for students – the word KitKat in Japanese (kitto katto) almost sounds like the phrase "Kitto Katsu!" which means "You will surely win!"

Yurippa tried out the new "KitKat Chocolatory" series, created by the chef and owner of "La Patissier Takagi," Yasumasa Takagi. The "Sublime Valentine's Assortment" costs ¥2,400 (tax excl.) and includes 7 KitKat bars with 6 different flavours. There's dark chocolate, milk chocolate, white chocolate, matcha, raw, and a pink coloured ruby flavour. It's a great selection to share and eat together with people.

The centerpiece of the collection is new Ruby KitKat, developed by the Swiss chocolate makers Barry Callebaut over a period of more than 10 years. The chocolate uses no colouring agents – the pink colour is made naturally to create an entirely new chocolate. Yurippa gave it her stamp of approval, saying it'll be popular with girls for its vivid pink colour. She couldn't contain her surprise for this newfound chocolate, saying "The berry flavour has a sour taste, but it's different from strawberry chocolate. It's something I've never tasted before."

Next on the list is "Tea Chocolate Premium Matcha 7". Costing just ¥1,000 (tax excl.), these chocolates are made by Shizuoka Matcha Sweet Factory "Nanaya," who are known for producing the world's most rich flavoured matcha gelato. These matcha chocolates don't hold back on the milk so as to bring out the fragrance and taste of the tea leaves to the max. The set comes with 7 different matcha chocolates of varying intensity and 1 houjicha flavoured chocolate.

Yurippa expressed her excitement for the delicious chocolate before opening it. "When you open the packaging, the fresh smell of the tea whets your appetite so much you can't wait to tuck in!"

The chocolate and tea leaves have a good combined balance of 3.1%, and the smell and taste of the leaves kicks in with a strong flavour combination of 21%. "The tea leaf combination is different but my impression of the chocolate changed dramatically!"

"If you eat the chocolates in order as written on the packaging, you can understand each flavour's intensity much better! This chocolate would go better with hot milk or soy milk than coffee. The richer chocolate flavours are fairly moderate when it comes to sweetness, so if you're on a diet then you can eat them without feeling guilty."

The last pick is from the long-standing chocolate maker Mary Chocolate. The KANADE Japanese Sake Truffles (¥1,000) come in 3 flavours – milk, sweet and white – and are topped with carefully selected Japanese sake. Only the finest sake from Japan is used, such as Gokyo Junmai Sake from Yamaguchi Prefecture. Since the truffles contain alcohol, be wary not to hand them out to minors or people that are driving.

"There's a good balance between the chocolate and sake, and depending on which brand of sake is used, you can enjoy a different flavour on your taste buds from each!"

Yurippa's favourite was the milk truffle topped with Koyama Shuzo. She was very satisfied having recently acquired a taste for sake. "It brings out the enduring qualities of refreshing Japanese sake and a fruitiness. I really want people who like Japanese sake to try these! If you're not too good with sake from Japan, then I recommend the white chocolate truffle with Ichiro from Dewazakura. The subtle fragrance of sake that you can feel inside the smooth texture of the white chocolate makes it really sophisticated."

Yurippa gives friend chocolate to everyone on Valentine's Day, guys and girls. Why don't you try tasting this unique Japanese collection of chocolates recommended by Yurippa with everyone?

Model:Yuri Suganuma @yurippa93

Yuri Sugunuma is a model with a high fashion sense that has been picked up by various magazines. She receives much love and support from girls of the same generation as her to whom she is known by her nickname "Yurippa." She has a huge influence across her social media. Recently, she has stepped into other fields outside of modelling, such as appearing in TV shoots and in music videos. She is skilled in make-up and involved in the development of cosmetics.

Writer:Ryoichi Komaba

Photographer:Haruka Yamamoto

Translator: Joshua Kitosi-Isanga

Experience Japanese Culture #1: Japanese Kickboxing at "FIGHT CLUB 428" in Shibuya

Japanese model Yuri Suganuma, a.k.a. 'Yurippa,' is beginning a new serialized project in which she goes to personally experience different areas of Japanese culture. In this first entry, Yurippa headed to FIGHT CLUB 428 in Shibuya to learn kickboxing, a form of martial art known to be very effective when it comes to dieting and getting rid of stress.

FIGHT CLUB 428 sits in the heart of Dogenzaka, a 7-minute walk from Shibuya Station. Serving up a convenient fitness menu and equipped with a bar, 428's kick-back and welcoming atmosphere is its charm point.

It's actually not that well known, but kickboxing is a sport that originated in Japan. Traditionally, it's a martial art and combat sport that is fought without weapons and uses the game rules of Muay Thai.

The gym itself is clean, and women can also enjoy using the facility without worry. Female members of the gym are generally around the age of 25, and everyone there is extremely friendly, so it's also a great place to make friends. You can also rent gym clothing if you want, meaning you can drop in empty-handed even if you're on a trip.

Yurippa took a 1-day course (¥3,000) where she was taught by kickboxing teacher Ohno Umihiko. Just wow, being taught by a former kickboxer… not to mention how handsome he is!

Before starting training, you just stretch your body. Your muscles are quite stuff during the winter season making it easier to hurt yourself, so do it slowly and carefully.

One stretching is over, Yurippa moved onto the training basics – how to skip-rope. She was taught the proper way to jump like you see in movies and dramas: by using your ankles. But she was still a bit stiff somewhere, maybe because she wasn't used to the jump roping yet, or maybe because she was still nervous from the gym atmosphere.

Moving on, Yurippa finally transitioned to the next phase: how to punch. The teacher wrapped bandage around her fists so she couldn't injure them.

Once her bandages were on, her fighting spirit came through suddenly and she put on her war face. She settled on her fighting pose and was brimming with motivation!

She focused on jabs for the punching basics, learning to punch straight and how to hook.

The teacher praised Yurippa for having an aptitude for punching which raised her ferociousness even more. She went all out when practicing a finishing punch combination!

Her smug face and pose makes her look like she's saying "How do I look? Am I cool?"

Don't forget to rehydrate during training intervals. By the way, you can buy this bottle at the gym.

Next is punching the focus mitts while wearing gloves. Before punching the mitts, it's customary to set your gloves on them first.

Kickboxing its more effective for dieting than it looks because it uses your whole body. You also have to twist around a lot, so you can really tone up your waist line.

The mid-kicks were a particularly good stress-reliever for Yurippa. If you aim at the mitts and kick with everything you have it makes a really great sound, so can be very exhilarating.

The teacher is very skilled in his way of teaching. Girl-Fighter-Yurippa has been born magnificently! Originally, Yurippa did slow activities such as yoga and was bad at them. She said that the movements in kickboxing are cool and it's something she wanted to challenge herself to at least once. "Having finally experienced it, it was even more fun than I expected. I want to try continuing it!"

The gym also has a popular bar. The owner Ohno loves alcohol. He wanted more people to know about the gym so he built a bar than anyone can visit easily. The bar also comes with a special bonus: when the gym is full, people can order drinks for just ¥300! FIGHT CLUB 428 – the place where you can kickbox and enjoy a drink on the side. If you're in Shibuya, then be sure to stop by.

■Information

FIGHT CLUB 428

Address: 2-27-2 Dogenzaka, Shibuya, Tokyo

Opening Hours: Monday to Thursdays 7am-12am / Fridays to Saturdays 7am-7am next day / Sundays 7am-6pm

Access: 7-minutes' by foot from Shibuya Station via the Keio Inokashira Line, Tokyu Toyoko Line, Tokyo Metro Lines, JR Lines

Price: 1-Day Course ¥3,000 (tax incl.) / Personal Training ¥7,000 (tax incl.)

Website: http://fightclub.co.jp

Model:Yuri Suganuma @yurippa93

Yuri Sugunuma is a model with a high fashion sense that has been picked up by various magazines. She receives much love and support from girls of the same generation as her to whom she is known by her nickname "Yurippa." She has a huge influence across her social media. Recently, she has stepped into other fields outside of modelling, such as appearing in TV shoots and in music videos. She is skilled in make-up and involved in the development of cosmetics.

Writer:Ryoichi Komaba

Photographer:Haruka Yamamoto

Translator:Joshua Kitosi-Isanga

【Kyoto Stroll】 Two travellers, one day of tourist spots, gourmet food and activities in Kyoto!

Welcome back to MOSHI MOSHI NIPPON's "Tokyo Stroll" series that recommends you travel destinations! Today, Hikari Shibata and Yuri Suganuma are leaving Tokyo and heading to the old capital Kyoto.

Together, Hikari and Yuri took the 07:00AM shinkansen train to Kyoto, arriving at 10:00AM. The first thing on their list was to fill up on some Kyoto gourmet! Sifting through Instagram and other SNS sites for the most popular spots, they decided to try some rare Kyoto confectionary at "Otabe Honkan".

 

Having set their hearts on eating before sightseeing, they visited "Otabe Honkan", a place they researched prior to their trip. After taking the subway to Jujo Station then walking for about nine minutes, they arrived.

They ordered according to what was popular online – "Kuchidoke Aisu" ( melt-in-the-mouth ice cream, ¥500 including tax), and the "Soufflé Sandwich" (¥162), which is new on the menu.

The melt-in-the-mouth "Kuchidoke Aisu" is an adzuki bean and milk shaved ice dessert which is topped with fluffy fresh cream and matcha. The Japanese word "ookini" (meaning "thank you" Kansai dialect) was written in matcha on the dessert – how cute! ♡

Hikari: The fresh cream wasn't too sweet. Yummy!! Every now and then, I got a mouthful of adzuki beans. I really liked the variety of flavours ◎.

The new soufflé sandwich was made by adding velvety cream cheese to the bread dough.

Yuri: The soufflé was soooo fluffy! The cream cheese flavour and the sandwich is a match made in heaven!

Otabe Honkan works with a factory as a joint establishment. The factory produces a variety of popular brand confectionaries from different parts of Kyoto. Fresh Yatsuhashi is one of the famous products made by Otabe.

The factory also holds handmade sweet-making classes and allows visitors to the view the factory, so if you're interested, check the link to the website below.

■Information

Otabe Honkan

Adress:35,2, Nishikujo Takahatacho, Minami Ward, Kyoto,

Opening hours: 09:00 〜 18:00

Off to Kyoto Tower – the symbol of Kyoto!

Stomachs full, the girls return to Kyoto Station and make their way to Kyoto Tower, which is the tallest building in Kyoto. The observation room is elevated 100 metres above the ground, and offers a stunning view of the streets. The many souvenir shops make it all the more popular with tourists.

On the 3rd floor of Kyoto Tower, there is a Makizushi sample-making event! (Makizushi: sushi rolled in seaweed with a filling). There are many classes running here that allow visitors to experience Japan to the full. Yuri and Hikari decided to try out something very unique to Kyoto. They headed to the Otabe dojo to learn how to make fresh Yatsuhashi sweets by hand.

Before preparation, they got changed into specialist clothing and then took a commemorative photo…but what is this photo really for?

To make these fresh Yatsuhashi by hand, the girls made a steamed flour dough, stuffed it with anko red bean paste et voila! The thick and chewy texture of the mochi made the kneading process hard work! Yuri and Hikari were silently working all the way through, kneading and kneading and kneading until their work was approved by their sensei.

Here's a picture of their highly praised Yatsuhashi. Our confectionary chefs made plain Yatsuhashi, matcha Yatsuhashi and Murasaki Imo (purple sweet potato) Yatsuhashi! Now it's time to enjoy the snacks with a tea ceremony!

Yuri: We made these ourselves and to no surprise, they're delicious!

Hikari: The dough is chewy and has a gentle flavour!

At the end, the girls received a souvenir gift and a certificate, and with that, class had ended. Inside the souvenir package, there was the photo taken at the start of the class! This put a smile on their faces.

■Information

Kyoto Tower Sando Otabe Taiken Dojo (京都タワーサンド おたべ体験道場)

Address:Kyoto Tower Building floor 2, 721-1, Higashishiokojicho, Shimogyo Ward, Kyoto

Reservations: https://otabe-ktt.dt-r.com/

*Reservation possible for up to the previous day at 15:00

 

>>next page Go to Kiyomizu-dera
RELATED ENTRIES
Demon Slayer: Kimetsu no Yaiba Collaborates With Fujifilm's instax Cameras

Fujifilm Imaging Systems is collaborating with the popular TV anime series Demon Slayer: Kimetsu you Yaiba to release two models of its instant photo-printing instax cameras based on the main characters Tanjiro and Nezuko. Pre-orders will open in Japan at Fujifilm as well as camera and electronic stores in Japan on November 25 at 10:00am (JST) and be released on December 10.

First introduced in 1998, the instax instant camera allows users to take and produce photos on the spot. The new Demon Slayer models are packed in limited-edition boxes in promotion of the recently-released anime film Demon Slayer: Mugen Train which hit theatres in Japan on October 16, 2020.


Tanjiro Model

Nezuko Model

The collaboration uses the instax mini 11 model as its base are adds motifs that reference Tanjiro and Nezuko.

Each comes with its own themed accessories too including a shoulder pouch and camera strap. All these items are exclusive to those who purchase the box.

More info as well as a promotional video can be found over on instax's official website here.

©Koyoharu Gotouge/Shueisha・Aniplex・ufotable

Information

instax mini 11 x Demon Slayer: Kimetsu no Yaiba Box
Pre-Orders: November 25, 2020 at 10:00am

Release Date: December 10, 2020
Official Website: https://instax.jp/kimetsu/

Canon to Release Special Hello Kitty iNSPiC Mobile Printer

Canon Marketing Japan has announced the release of a special Hello Kitty model of its iNSPiC PV-123 pocket-sized mini printer.

The iNSPiC PV-123 is a mini printer designed for the smartphone generation that lets users print photos instantly. Canon's new model is made in collaboration with Sanrio's popular character Hello Kitty.

Not only does the printer itself feature a cute Hello Kitty design, it also lets users print special Hello Kitty themed frames and stamps using the Canon Mini Print app. These are available until October 31, 2021 for the Hello Kitty model only.

The iNSPiC PV-123 HELLO KITTY is the perfect companion for mobile printing, making it super easy to print your memories wherever you are.

Canon Reveals Pikachu Design iNSPiC REC Camera

Canon Marketing Japan has announced that a Pikachu model of its new concept camera iNSPiC REC will be released in Japan at the end of October this year.

iNSPiC REC PIKACHU MODEL – Front face design


Camera's back design

The cover is coloured in a bright Pikachu yellow with a print of his adorable and chubby winking face.

Other face design (8 designs)

As well as the standard front face Pikachu design, customers will also get an additional one of the above eight possible designs too as a set. These other face designs are chosen randomly.

Cusomers who order the iNSPiC REC PIKACHU MODEL early will also get a Pikachu tail neck strap, key ring, and additional front cover too.

Fujifilm's New Instax Mini 11 Adds Selfie Mode For Those Perfect Close-Up Shots

Fujifilm has revealed its new Instax Mini 11 (Mini 11), which is set for release in early April 2020. The camera is the latest addition to the company's "Instax" series of cameras which allow for instant printing of photos.

The Mini 11 is the first Instax model to introduce an "Automatic Exposure" function which enables the camera to automatically detect the level of ambient light in the frame when the shutter button is pressed. As a result, the camera will optimise the shutter speed and flash output accordingly. This allows users to snap pictures optimally exposed to the main subject of the photo as well as the background in all situations, whether it be in the bright outdoors or in a dark restaurant or party.

The new Mini 11 also introduces a new "Selfie Mode," which has perfected the art of close-up selfies. It's activated simply by pulling out the front end edge of the lens you've powered the camera on.

The camera's design has also been completely revamped for optimal use. Not only is the Mini 11 thinner and lighter, it has a rounded body that makes it fit perfectly into users' hands. A different material from the main body of the camera is used around the lens to make it more stylish, and the "Instax" brand logo is engraved on the back.

The Mini 11 comes in five pale tone colours ((Blush Pink, Sky Blue, Charcoal Gray, Ice White and Lilac Purple) and two replaceable accessories for the shutter button.

Help Me Choose! Japan's Trending Makeup #3: Autumn & Winter Cosmetics

"Help Me Choose!" is the first ever featured article series where I, Yuri "Yurippa" Suganuma, feature as the writer, model and director.

I've been conservative with my eyeliner when doing my makeup recently, instead wanting to go for a more effortless style to convey my eyes. I've also been having more fun with eyeshadow, and I've wanted to make my lips the centerpiece of my makeup, so I've been making additions and subtractions which has slowly led to a more grown-up look.

So, for my recommended autumn/winter cosmetics this time around I'll be focusing on eyeshadow, lips, and cheeks. These are items I've been interested in and am buying. Here's my review.

▶︎THREE

THREE Dimensional Vision Eye Palette 03 – ¥7,020 (Tax Included)

This palette features four colours, none of which you will ignore. The colours also have different textures including pearl, matte powder, and cream.

Today's Makeup:

①For the whole eyelid

②For the undereye

③Adds gradation to the double eyelid

④Adds accent to the inner corner

I tried playing around a bit! Although I added colour and glitter to the inner corners of my eyes I'm all about it.

According to THREE, this is the order you should put these items on:

1. Add the ② cream eyeshadow to your whole eyelid

2.Add the ③ colour as a base around the edge of your ueye

3.Layer ① on your whole eyelid

4.Finish with ④ as a highlighter

Using the cream eyeshadow as a base brings out the orange to make it look even better!

Part of the fun of this eye palette is how easily arranged it all is. The colours in this palette in particular are extremely popular.

▶︎RMK

RMK Stone Blossom Brush 03 – ¥3,456 (Tax Included)

The thin powder blends softly into your cheeks. It gives gentle colouring while still bringing your whole face to life, making it an indispensable item. And terracotta looks good on anyone.

And how about combining it with this?

RMK Stone Blossom Lips 05 – ¥3,780 (Tax Included)

This lipstick is a smooth cream type. The orange hype is just beginning. It has a slightly deep colour and gives off a casual grown-up vibe. It also has moisturizing ingredients in it making it great for winter when your lips dry up.

By the way, this collection was inspired by the stony beaches of Málaga in Spain. The items are limited-edition so get your hands on them ASAP.

▶︎CHANEL

(New Colour) Rouge Allure Velvet Extreme 130 – ¥4,536 (Tax Included)

From my always-favourite Rouge Allure Velvet series comes a new colour and a limited-edition colour from CHANEL! At first glance, No. 130 looks like a deep red, but when you put it on it also has a slight purple tinge to it, serving up a wine colour.

The deep burgundy makes you look like a lady and is sure to captivate. If you're a girl who loves autumn/winter collections then you won't be able to resist the colour of this one!

(Limited Edition Colour) Rouge Allure Velvet Extreme 128 – ¥4,536 (Tax Included)

Orange beige. Beige lipstick has yet to become a thing around the world, but this colour isn't overly plain and even works on myself! The beige has a subtle, healthy orange in it. Another stylish colour from CHANEL.

Another thing I like is how the case is matte (normally in the Velvet series it's glossy). Autumn/winter vibes, I'm all about it!

▶︎GUERLAIN

GUERLAIN Glitter Eyeliner 02 KAKI & 03 BURGUNDY – ¥5,508 Each (Tax Included)

This glittery liquid eyeliner gleams and looks just as it does when applied to yourself. It gives your eyes a beautiful impact, and both of this colours are good taste.

▶︎SHIRO

SHIRO Ginger Lipstick 9I08 Vintage Brown – ¥4,320 (Tax Included)

SHIRO have released their very first lipstick collection. The vintage brown has a deep, elegant look to it. SHIRO really are amazing. They've become a brand I just can't let go. Everyone who sees this colour says it's cute. I especially want to recommend this one to those of you who are beginners to orange and browns. It's a really stylish one.

Incidentally, the brand actually changed its logo to commemorate its 10th anniversary, from "shiro" to "SHIRO."

"Do you have anything a little more natural?"

▶︎THE PUBLIC ORGANIC

THE PUBLIC ORGANIC Essential Oil Colour Lipstick Noble Orange – ¥700 (Tax Included)

This organic cosmetic item is 100% natural. It's made with the skin in mind to ensure it's good to it. It also has a nice roughness to it like when taking your makeup off with soap. This terracotta orange adds just a touch of colour so as to make full use of the lips' natural colour.

This lipstick was originally released as a limited-edition item last year and blew up on social media, but they are set to bring it back as a regular item this year on September 25.

ーYurippa's Closing Commentsー

In the end, I end up going for deep coloured lips and burgundy eyes every autumn and winter, but with these items they're not just simply deep reds or browns. When you apply them they have a faint orange or purple in them. I think that was the original intention of those brands. I love little devilish things like that, and so I recognize to the fun of cosmetics year by year.

I'm actually really into the new eyeshadow from TOMFORD, but I wasn't able to get ahold of it by the photoshoot so I had to leave it out this time, TOMFORD's eyeshadow is amazing  too!

I'm a girl who loves autumn and winter, so I'm looking forward to the coming seasons. I want to use lots of different coloured items and become an even more beautiful woman―more than in summer and more than I am now!

Writer / Model  Yuri Suganuma
Photographer  / Haruka Yamamoto

TALENT PROFILE

Yuri Suganuma

Yuri Suganuma is a model with a high fashion sense that has been picked up by various magazines. She receives much love and support from girls of the same generation as her to whom she is known by her nickname "Yurippa." She has a huge influence across her social media. Recently, she has stepped into other fields outside of modelling, such as appearing in TV shoots and in music videos. She is skilled in make-up and involved in the development of cosmetics.

Help Me Choose! Japan's Trending Makeup #2: Yurippa's Repeat Cosmetic Pickups♡

This is my first ever series I've ever been put in charge of as a writer and model.

As long as you're stocked up on these items, you're good to go. In this special edition, I will showcase cosmetics that I'm a repeat buyer of and would definitely buy again.

▽Skincare

The first thing I should mention is my skin type.

・I have tough skin and so it doesn't blemish easily

・It becomes dull when I have lack of sleep

・With my combination skin, it's easy to spot oily areas (T Zone) and dry areas (around the eyes, U Zone)

Like this.

Using my knowledge of various cosmetics and methods I have tried I would like to showcase my recommendations. (Don't worry if you don't have the same skin type as me as some of the items I have picked can be used with other types too, so be sure to take a look.)

Finally, you'll be happy to know that these can be used during all seasons.

So, ready to give it a go?

▶︎Dior Capture Youth Series

Quickly and actively delays the appearance of signs of ageing. This series was created to retain youthful looking skin. There are six serums to choose from which cater to different skin conditions. Each can be used on their own or in combination with your own serum products. I've made a custom serum for myself by combining two different types.

1. Intense Rescue Oil (30ml) – ¥12,420 *Photo is my own. Price shown is as was on the day of purchase.

(Effective against dry skin and helps maintain moisture. Supplements lipids.)

2. Glow Booster (30ml) – ¥12,420 *Photo is my own. Price shown is as was on the day of purchase.

(Rich in Vitamin C. Leaves skin glowing and feeling invigorated.)

For face lotion, I use 3.Enzyme Solution. It has a refreshing water-like texture and leaves skin moist. Good to use on skin that favours serums in this series.

Enzyme Solution (150ml) – ¥7,452 *Photo is my own. Price shown is as was on the day of purchase.

For cream, I use 9.Capture Youth Creme. It doesn't remove the face lotion or the serum and doesn't feel sticky.

Capture Youth Age-Delay Advanced Creme (50ml) – ¥12,420 *Photo is my own. Price shown is as was on the day of purchase.

It's safe to say that after using this series, I don't even know what dry skin is anymore. It really is that effective!

▶︎FEMMUE

5. Lumière Vital C  (30ml) – ¥8,000 (Before Tax) *Photo is my own. Price shown is as was on the day of purchase.

6. Ideal Oil (30ml) – ¥6,000 (Before Tax) *Photo is my own. Price shown is as was on the day of purchase.

FEMMUE is a really popular brand right now from the hub of beauty, South Korea. Firstly, it's steeped in fragrance. It's rich in floral scents like perfume. Simply holding the bottles fills you with a feeling of satisfaction. It leaves your skin feeling clear, smooth and glowing. And though it's a thick oil, the skin absorbs it extremely well. 10/10 from me!

I might recommend it to girls who've just stepped into adulthood, girls who want to look sexy, and those who want to be popular! It's perfect for skin that blemishes easily.

▶︎dear mayuko

7. Innocent Skin Serum (20ml) – ¥8,424 *Photo is my own. Price shown is as was on the day of purchase.

This serum contains sericin which comes from silkworm cocoons. Sericin ensures your skin is moist and is gentle on the skin. Despite being a beauty product the texture of this serum is really silky (like water!) and will leave your skin soft and healthy.

Personally, I recommend using it as a booster serum! It's an easy way to nourish the skin before putting on any makeup. It will also help things like face lotions and milky lotions soak in better. The serum itself soaks into your skin nice and quickly so it won't ruin your makeup. Its warm matte texture and colour will leave you looking soft♡

▶︎Kiehls

4. Kiehl's Ultra Face Cream (49g) – ¥4,000 (Before Tax) *Photo is my own. Price shown is as was on the day of purchase.

This cream spreads lightly on the skin. It's also very clear to see that it lets no moisture escape…! That's how dense this cream is, it's like it adds a cover to your face. It also doesn't clear away face lotion or any beauty essences. It reaaally moisturises your skin. This is my 5th or 6th time buying it.

8. Kiehl's Ultra Face Cleanser – ¥2,800 (Before Tax) *Photo is my own. Price shown is as was on the day of purchase.

This can be used on any skin time. (It's also good for people with eyelash extensions!)

It's a gel-type cleanser. What's good about it being gel-type is that cleans off better than oil and yet doesn't take in unnecessary moisture from the skin. You also don't get that stretched feeling after you wash your face. This can really be used all season and by anyone. I haven't used any other cleansers the past three or four times. It's one I can trust.

▽Cosmetics

Be sure to check out my recommended lipsticks from last time too!

https://www.moshimoshi-nippon.jp/183569

▶︎CANMAKE

8. Quick Lash Curler (Transparent Type) – ¥680 (Before Tax) *Photo is my own. Price shown is as was on the day of purchase.

I often use this as a top coat. It makes it harder for your eyelashes to sag and can be used with any kind of mascara. You get a great product for a cheap price, so there's no need to feel guilty about picking up something cheap. You'll end up picking it up multiple times a day, and the cosmetic pouch one stick comes with is sure to come in handy too!

▶︎BIODERMA

2. Sensibio H2O – ¥1,200 (Before Tax) *Photo is my own. Price shown is as was on the day of purchase.

This is a cleansing water to be used with sensitive skin. Pour some onto a cotton pad and simply wipe to remove your makeup without any unwanted excess being left on. It's a super convenient product to have during those times when your makeup need a quick fix up. It's often used in makeup shoots too! They have both small and large bottles, so try starting from the handy mini size first ☺

▶︎M.A.C

1. Strobe Cream Peachlite – ¥4,500 (Before Tax) *Photo is my own. Price shown is as was on the day of purchase.

A glittery pink cream that feels comfortable on the skin. When used as a base for your makeup it will brighten your skin, or when used as a highlight it will glimmer in the light on your shiny skin. It might be nice to add to the décolleté or when you are exposing skin too to add a little something. This item has many different uses!

▶︎Primavista

3. Long Keep Base UV – ¥2,800 (Before Tax) *Photo is my own. Price shown is as was on the day of purchase.

This product can won't blemish skin at all even if it's been working all throughout the day. It goes on gently and soaks up quickly. This means it can be used when you don't have much time, such as when you're in a hurry in the morning. It feels so light it makes you wonder whether you've even put any on! It also holds up well against sweat and oil so I highly recommend it for the coming season! (It's been a No. 1 best seller for 9 years in a row.)

As a footnote, I'll just add that I'm actually a model for Primavista's products and I'm really glad I discovered them.

▶︎YSL

5. TOUCHE ÉCLAT BLUR PRIMER 1 – ¥6,300 (Before Tax) *Photo is my own. Price shown is as was on the day of purchase.

This is a makeup base that has gold pearls in it. It fixes the uneven parts of the skin to make it uniform making it perfect for foundation. It has a semi-matte consistency and the goal pearls give your skin a gorgeous gloss.

10. LE CUSHION ENCRE DE PEAU B30 – ¥7,500 (Before Tax) *Photo is my own. Price shown is as was on the day of purchase.

This is the covering power, moisturisation and texture I wanted! It feels very light on the face, so much so that it feels like you have none on, but it's the opposite of useless―it covers the face completely. As expected of them. It's easy to put on too, just pat it onto your face with a sponge. It's very durable too!

▶︎MIMURA

4. Smooth Skin Cover – ¥4,200 (Before Tax) *Photo is my own. Price shown is as was on the day of purchase.

This too is a makeup base and evens out the odds of your face. It's silky and makes you look extremely beautiful so it's the perfect accompaniment to makeup. It also thankfully contains SPF20 and PA++ and is free from ethanol, colouring agents and synthetic fragrances, making it kind to skin. I would also recommend it to people with weak skin. This is my second pot ♡

▶︎LANCOME

6. Grandiôse Mascara (Volume Type) BK – ¥4,200 (Before Tax)

The rose design of the cap is so cute! This is the No. 1 easiest product to coat. The shape of brush has been carefully calculated to curve with your eyelashes. It does nothing short of bolstering the volume of them. It has also received high praise for how easy it comes off with hot water. But it doesn't blot either. This one's for those who want to emphasise their gaze♡

▶︎CLINIQUE

7. Lash Power Mascara Long-Wearing Formula BK – ¥3,780

We can all relate to mascara becoming clumpy. This formula entwines with each eyelash hair to give big, beautiful eyes. It makes you feel good when applied. Though this is my third time buying it it never fails to make me say out loud to myself, "Wow, how beautiful." You don't have to worry about sweat or oil either, plus it comes off easily with hot water♡

▶︎MAYBELLINE

9. Hyper Sharp Liner BK – ¥1,200 (Before Tax) *Photo is my own. Price shown is as was on the day of purchase.

I have loved and used MAYBELLINE since I was a high school student. I've used many different eyeliners but always end up returning to the same place. The Hyper Sharp Liner is easy to draw with, doesn't smear, and the tip of the brush is thin and soft, so drawing on cat eyes is so much easier now. It's perfect! Get it ASAP!

What do you think of my list? The categories are a bit jumbled, but I have listed all the items I highly recommend.

A lot of the items I've presented are expensive, but even if they are pricey, the quality is good and the effects they have really work! I wonder if the reason for people in their teens and 20s focus so much on skin care is because they have seen the speed at which you can revitalise your skin, or have the power to 'rebirth' oneself.

My skin is changing entirely now compared to back when I thought it was okay to not take care of it. I want to make more recommendations to people at my age and invest in my future self.

Be sure to reference this last, and thank you for reading! Until next time ☺

Writer / Model  Yuri Suganuma
Photographer  / Hikari Shibata

Translator / Joshua Kitosi-Isanga

TALENT PROFILE

Yuri Suganuma

Yuri Suganuma is a model with a high fashion sense that has been picked up by various magazines. She receives much love and support from girls of the same generation as her to whom she is known by her nickname "Yurippa." She has a huge influence across her social media. Recently, she has stepped into other fields outside of modelling, such as appearing in TV shoots and in music videos. She is skilled in make-up and involved in the development of cosmetics.

Help Me Choose! Japan's Trending Makeup: #1 Lipsticks Loved by Everyone!

This is my first ever series I've ever been put in charge of as a writer and model.

Moshi Moshi Nippon is where I start!

To briefly explain my makeup history, I first became interested in makeup when I was in elementary school after I went to a drugstore and saw cosmetics all lined up. After entering middle school, I was an awkward girl hooked on eyeshadows. I realised in high school that unique people get a lot of attention, and so I wanted to learn more about makeup. Every week, if I had a free moment, I'd pop down to the department store and little by little, deepened my knowledge about cosmetics. At around the age of 22 or 23, I achieved my certification as a "Cosmetics/ Skincare Meister". (There's still a lot to learn though…)

At 23, I started writing a series of my own about makeup!
Even if it's just a little bit, I want everyone to feel like they can use my articles to help themselves find their favourite cosmetics.

As this is my first ever business, I was obviously quite nervous about a few things.

As the impression that makeup leaves, and everyone's individual tastes can always completely change in an instant, I made this report which puts the spotlight on lipsticks that are suitable for a range of people!

These are recommendations by Yurippa!

These lipsticks are perfect for spring and summer!

If you're looking for stylish yet affordable lipsticks, join me and take a peak of my world of makeup through my eyes!

▽ Yurippa's recommended lipsticks!

・3CE  MOOD RECIPE MATTE LIP COLOR #909 ¥2160

Feels like a cream when you spread it on your lips.

A matte finish colour that sticks to your lips.

Very good colouring

Slightly deep red coral…

Gives an adult-like impression!

Coordination ideas: Perfect highlight for an all black outfit or a white shirt, or all navy look. I think it would make a great contrast with blue!

Suitable for all skin types (yellow base, blue base)

No matter where you go, you'll be complimented for your lipstick coordination ♡

To buy this, search for "3ce" lipstick

It'll be somewhere around the 4th or 5th link down. Look out for the product number #909.

This is a very popular lipstick!

・another item・

・M・A・C

(Left)Dubonnet ¥3240

Matte finish wine purple colour.

Deep with an edgy finish.

M・A・C lipstick colours are very defined and difficult to rub off!

You don't even need to top up very much throughout the day.

(Right)Chili (MINI size) ¥1404

This is an orange brown matte lipstick.

There are many models these days who use this colour.

If you are not sure what colour suits you, you can play it safe with this.

All these lipsticks smell like vanilla.

※M・A・C lipstick is sold at some stores.

・CHANEL Rouge, Allure, Velvet series ¥4536

These are also matte lipsticks.

If you compare the feel of 3CE and M・A・C lipsticks, you'll find they both have a different matte texture.

You can really feel the moisture in this!!

A smooth, matte finish.

I'm way too keen on this series. I mainly have lipsticks from the colour version.

The texture, quality of colour, and the exquisite choice of colour is what makes this lipstick so addictive!

(Left)No.58 Rouge Vie

Deep, strong red

(Right)No.61 La Secrete

Salmon pink

▽2019 Perfect for spring and summer Lip

・ADDICTION  Lipstick Sheer 003 cherry cherry ¥3024

Finally here's a non-matte lipstick that I like! Haha…

But despite I love matte lipsticks so much, this lipstick just has the cutest texture! I fell in love with it at first sight.

The transparency is perfect for the shade of red.

Despite the strong red colour, it is rather transparent, giving a "pop" look.

The more you apply, the cuter your lips!

How about wearing a white shirt to match your red lips?

…or a patterned shirt, woven bag and denim bottoms??

Allow yourself to be driven by the wild feeling of spring and summer fashion. This lipstick is a must for your handbag!

I really want to wear cherry earrings to match the lipstick!

・shiro ginger lip butter(lip gloss)9C06 copper brown  ¥4104

A matte brown-orange.

This is quite a fashionable colour that will make you appear more like an adult.

A lip balm and gloss in one! No need to apply a balm as a base to stop your lips from drying out.

The shade is rather nice and the colouring is perfect.

The small touch of gloss will make you seem more adult-like ♡

It has a smooth texture and spreads smoothly!

The natural scent of ginger makes it seem just like an organic cosmetics product like "shiro".

Look no further for a lipstick you can use all year round!

The new colours came out on 7th March as a product not just for spring and summer, but also autumn and winter.

・Celvoke  Enthrall gloss 03 ¥3024

Orange/brown, glossy and plenty of moisture.

This will give you the plump lips that every girl wants!

As the colour is quite toned-down and dark, use a subtle amount of eyeshadow,  give your cheeks a matte finish and your lips will become the glossy accent to finish your look!

▽ Stylish yet affordable!

・CANMAKE Lip Tint Matte 03 rose ¥650

This is a rather girly rose pink.

Although this is a strong-coloured lip tint, it holds moisture so you don't have to worry about your lips drying out.

Spreads completely over your lips perfectly.

You would look so cute if you combined this with a floral outfit or gingham checks♡

01 coral

04 Terracotta red

・INTEGRATE Silky Matte Lip(Lip/cheek colour)PK384 ¥1296

Bright coral with a slight glossy semi-matte finish.

This is a fresh colour which will brighten your face.

Enjoy the light texture as you apply it.

As you can colour both your cheeks and your lips with this lipstick, this is perfect for those of you with busy mornings or those of you who are not good at makeup and are uncertain of how to balance colours!

This is an easy way to achieve a balanced look!

~ <Extra!> If you get your hands on this you should celebrate! ~

Pat McGrath is a hair and makeup artist. She owns the makeup brand "Pat McGrath"♡

She still hasn't been to Japan.

She is involved in famous fashion show brands and collections and is a hair and makeup specialist.

From the packet design, these products overflow with cuteness!

The smooth matte lipstick is absolutely perfect when it comes to durability and colour.

This high-quality lipstick is a leading lipstick ー no doubt about it!

Just how people buy CDs because of the awesome CD designs, you might end up getting this just for the packaging!

・Pat McGrath MATTETRANCE LIPSTICK

Elson 2  (The Perfect Red) ¥4752

Omi (Mid-tone Rose) ¥4752

(The packaging and the lipstick are just so beautiful!)

You can purchase these online.

I don't think there's many people who use these lipsticks!

If you have them, you can boast about your fashion to others! ☺︎

That's all!

…and that wraps up my personal lipstick report!

I didn't even realise that I wrote an entire report…

I want to continue with a second and even third series!

I aim to write these reports in a style that creates a close connection with my readers.

If you want to ask questions or need advice, I'm making an advice corner where you can reach me personally!

Let's be friends!

Writer / Model  Yuri Suganuma

Photographer    Haruka Yamamoto

Make & Hair      Yusuke Hashimoto

Rikako Ōya's #OOTD (September 2018)

Rikako "Ricopin" is a Japanese model and this is her featured article series in which she delivers the latest fashion from Japan.

For her 8th entry to the series, Ricopin is serving us a "Neo-Punk Mix" theme. The style incorporates elements of hardcore punk while lacing it with the kind of street and girly vibes that are in today―Ricopin style. She's also joined once more by Yuri Suganuma again this month in her personal co-ord section.

Street Mix means playing with colours & designs

The t-shirt and knitted fabric pants have that 90s street style vibe to them. Nonchalantly added to that is checkered outerwear and a pair of boots which act as her punk components. By daring to add these colours it creates a unique, one-step-ahead of the pack punk style.

KAWI JAMELE (LTN Showrooms): T-Shirt ¥2,800, Knitted Pants ¥11,800, Knitted Beret ¥2,800, Boots ¥13,800

*Everything else are items from the stylist.

An orthodox punk look with leather and a checkered pattern

The leather jacket and checkered skirt alone give that "hard" look – they're an indispensable combination in punk. The bright red t-shirt adds a change to the look while the long length of the skirt adds the kind of silhouette that's in right now.

Aymmy in the batty girls: T-Shirt ¥7,500, Checkered Long Skirt ¥22,000

*Everything else are items from the stylist.

Serving spicy sweetness with a rockabilly mix

This style combines a glittery top with a circular skirt that falls gently. These girly monotone items serve a 50s rockabilly style while the redness of the hat give a punk element.

Aymmy in the batty girls: Beret ¥8,000, Skirt ¥14,000 / KAWI JAMELE (LTN Showroom): Shoes ¥12,800

*Everything else are items from the stylist.

<Ricopin's Thoughts>

"I've loved that hard style since long ago. During middle school I was crazy on black co-ords, and before that I wore a lot of leather accessories. But this time I did things like combining a jacket with a deep blue checkered pattern, and added more colours to the co-ords. Even thought it was in the 'hard' realm I really felt a newness! The purple and orange combination in the first co-ord is also my theme colour for this year. I also added purple lipstick to match. Just wearing that really brings out your face. It makes you look stylish so I recommend it. The styling of the third co-ord with the checkered skirt is my favourite! The glitter material and skirt seem girly but they're also cool. It seems easy to look flashy by just adding small accessories. The truth is whenever I go shopping after doing these shoots [for this article series] I'm learning while remembering how I combined things. Up to now I've done a lot of styles that are more bright and cheerful so for autumn and winter I sure want to go for something chic and cool!"

Cooperating Stores

LTN Showroom (KAWI JAMELE) (03-6690-8776), Aymmy in the batty girls  (03-3470-0140)

In this section, Style Leader Ricopin shows us what clothes she's into right now. This month she's joined again by Yuri Suganuma, a model who Ricopin has much respect and affection for.

Serving autumn with colours that are more chic than usual

<Ricopin Interview>

"I haven't owned a lot of autumn browns and smoky colours up to now, but recently I've been wearing beige Chinos, and I like incorporating pink beige like today, so I've started collecting them. They are mellow colours but have their standout traits. I'm losing my strength to them they're so easy to get by with (laughs). For example although t-shirts are standard simply changing the colour makes it autumn-like and changes the entire feel. That's what I'm showing. I combined it with black but short pants and sandals aren't too heavy and look good for the turning point of the seasons. It was a very fun photo shoot♡"

<Yuri Suganuma Interview>

"The first thing that popped into my head for this autumn coloured shoot was the colour orange. The orange skirt and orange logo on the t-shirt gives a sense of uniformity.The skirt and boots are also leather. Heavy material like that brings out the seasonal vibes. Incidentally, when I came up with this outfit, I realised the colours felt Halloween-y and thought 'this really is an autumn outfit!' (laughs) And Ricopin combined beige with black so we look like twins which I'm glad about!"

Information

■Information
Rikako Ōya 

Won the grand prix in the 2009 LOVE Berry auditions. Currently signed to LesPros Entertainment. " Known as "Ricopin" by her fans, she is active as a model and talent. She has an interest in playing the guitar, DJing, Harajuku Fashion and film cameras. She appears on the radio show "Oya & Takami no Shaberi Suta!".

Twitter: @lespros_ricopin

Instagram: @rikako_ooya

Taylor Swift Appears in instax's Chekki Photo Commercial for the First Time

instax known for manufacturing their popular instant cameras which allow you to print the photo you have taken right there and then.

Taylor Swift has featured in the company's new TV commercial entitled "Now or never" which began airing in Japan on August 25.

Taylor Swift is a global partner of instax. The commercial features snaps of her using the camera backstage on tour and in her everyday life. The "Now or never" message encapsulates being able to snap any moment with an instax camera and print it instantly.

instax 'Now or never.' commercial (30 second version).

Taylor Swift gives her thoughts on the commercial.

The video gives us a peek at the international superstar in a light we're usually not exposed to.

A website has also been set up for promoting Taylor Swift. A range of photos taken with the instax as well as information on numerous campaigns will be made available on the website soon.

Additionally, 'Taylor Swift Editions' of the instax SQUARE SQ6 camera and instax SQUARE Film will go on sale from October 20, 2018. Both were designed by Taylor Swift herself.

The SQ6 Taylor Swift Edition features a stylish black body and the newspaper-like pattern seen on her latest album reputation coloured in gold. The ring part around the lens is also gold to add to the classy design. Taylor Swift's own signature signed by her is also printed on the back. The film is also black like the camera and includes her signature.

More information on Taylor Swift's collaboration with instax will be released in the near future, so keep your eyes peeled.

■Information
Fuji Film instax Cheki Series Commercial – "Now or never." (15 secs. / 30 secs.)
Broadcasting: Nationwide in Japan
Cast: Taylor Swift
Initial Broadcast: August 25, 2018

Experience Japanese Culture #4 – Searching for a Film Camera in Shinjuku's Used Camera Shops

This is Yuri 'Yurippa' Suganuma's featured article series in which she takes us on her adventures to cultivate new hobbies.

Yurippa has been interested in photography for some time now, but she's been unsure which camera she should buy. So, she decided to head to some used camera stores,  Lucky Camera Shop andChuko Camera Box in Shinjuku to find the perfect camera that best suits her. Was she able to find the right one…? Let's find out!

The first place Yurippa stopped by was Lucky Camera Shop. It's located next to Isetan Shinjuku and has a kind of foreign, non-Japanese air to it. When Yurippa saw the eye-catching red exterior of the shop, it was loved at first sight. In any case, time to head in!

The store is lined with cameras made in lots of different countries including Japan, Germany and the US. Lucky Camera Shop puts a lot of effort into stocking foreign-made cameras and mechanical cameras with everything built in. They have a varied line-up, including famous Leica cameras.

The Leica parts were all expensive – the bodies and lenses were both over ¥100,000 ($915)!

Yurippa was shown a camera she was interested in from inside the showcase. The left was a single-lens reflex Olympus OM-1 and the right was a Barnack Leica. 35mm films are all the rage right now, and these were some of the first models to use them. Both are at a nice, compact size.

Yurippa was blown away looking through the viewfinder of the Olympus OM-1. 'You can see things easily, so much so that everything looks even more beautiful through the viewfinder!' she said.

Next, Yurippa also tried the Barnack Leica. It's a valuable camera that has you feeling a little nervous touching it. She said surprised at how quiet the shutter was, to which the shop assistant explained, "This is a different single-lens reflex to that of the OM-1. There's no mirror inside so the shutter is quiet." Yurippa learned much about how cameras are put together differently, as well as the diverse number of types available.

■Information

Lucky Camera Shop

Address: Gomeikan Bldg. 1F, 3-3-9 Shinjuku, Shinjuku-ku, Tokyo

TEL: 03-3354-7898

Opening Hours: 10:00-20:00

Access: 5-minutes on foot from JR Shinjuku Station / 1-minute on foot from Shinjuku Sanchome Station

Website: http://lucky-camera.com/

The next shop Yurippa headed to was Chuko Camera Box. It's a used camera store located along Shinjuku Electric Street (Shinjuku Denki-gai). The showcase is crowded with cameras, and the shop has an atmosphere to it like a secret hideout.

"It'd be great to have a camera that's small and easy to use. One that I can take out and snap a photo with straight away. That'd definitely be fun!" said Yurippa while looking in earnest for a camera.

She continued to search with these keywords in mind, focusing on auto-focus film compact cameras. And then, she found it. In her hands was the Genba Kantoku from Konica. You can snap a photo just by pressing the shutter. It has auto-focus, flash and auto-load. "It's a little big, but it's affordable and seems easy to use!"

Chuko Camera Box is famous for its friendly store clerk and regular customers. Yurippa learned that the Genba Kantoku was formerly used for recording at construction sites. It's durable and can get wet or be dropped and has an excellent lens. She's finally made her purchase!

■Information

Chuko Camera Box

Address: 1-13-7 Nishi-Shinjuku, Shinjuku, Tokyo

Tel: 03-5339-2701

Opening Hours: 10:00-20:30

Access: 2-minutes on foot from Shinjuku Station

Website: http://camerabox.web.fc2.com

Yurippa loaded her Genba Kantoku right away with 35mm film. Simply take out the film tip and close it on its back. Film cameras can seem tricky, but there are easy-to-use ones like this too!

Yurippa was hugely satisfied finally getting her hands on her long-sought film camera. In the second part of this article, she will develop and print the photos that she has taken with her Genba Kantoku at a photo shop.

How about getting yourself your own film camera and to start up photography yourself?

<Profile>

Model: Yuri Suganuma @yurippa93

Yuri Suganuma is a model with a high fashion sense that has been picked up by various magazines. She receives much love and support from girls of the same generation as her to whom she is known by her nickname "Yurippa." She has a huge influence across her social media. Recently, she has stepped into other fields outside of modelling, such as appearing in TV shoots and in music videos. She is skilled in make-up and involved in the development of cosmetics.

Photographer & Writer: Haruka Yamamoto

Translator: Joshua Kitosi-Isanga

MMN Festival 2018: Review of Airbnb Tours Held by Popular Japanese Models

MOSHI MOSHI NIPPON FESTIVAL 2018 in SHIBUYA was held across the weekend of March 24 and 25 and promoted Japanese culture to the world from Shibuya. The event ended with huge success.

One of the popular aspects of the event were the original tours held in collaboration with Airbnb. Three models who performed on stage at the festival's Harajuku Kawaii Market, presented by Mynavi Baito, became guides and took attendees on their own original tours.

Let's review each of the tours so you can get a feel for walking the streets of Harajuku and participating in workshops with the models!

Guide: Yuri Suganuma – Getting Involved in a Workshop with Yuri Suganuma

Yuri 'Yurippa' Suganuma worked as a guide at the Swag Workshop. She learned how to make a 'swag' from Asami Char Tanabe, a popular type of wall decoration similar to a wreath.

What colours shall we go with?" "Aah, that's cute!" Yurippa and those who got involved in the workshop were back and forth with each other having fun.

At the end of the workshop, everyone held their swag for a photo. It was a special workshop for those involved, who also posted their photos on social media.

Guide: Saki Shibata – Shibatabi

Saki 'Shibasaki' Shibata held a tour on both days of the festival called 'Shibatabi,' a play on her nickname where 'tabi' means a 'trip' or to travel.

On the 24th, Shibasaki took part in the CHACO workshop, something she had always been interested in. Everyone made matching piercings and earrings together before eating some lunch later on.

Originally, the group were scheduled to go to Cat Street for some shopping, but the weather was too good, and the cherry blossoms were in full bloom. So, they had a change of plan and instead made a trip to Yoyogi Park. They spent hanami strolling through the park.

To wrap up, they walked back to their starting point of SHIBUYA CAST, ending the first day of Shibatabi.

On the 25th, Shibatabi began with dressing up in kimono! Each person in the group had their kimono fitted in succession, and when everyone had theirs on they departed for Onden Shrine. There, they admired the booths such as the target practice game and glimpsed the performances on stage. To commemorate the day, they received a goushuin, before heading to their next destination SHANTi. This is Shibasaki's favourite curry soup restaurant. Everyone enjoyed eating curry together before heading back to SHIBUYA CAST and scattering

Shibatabi was like hanging out as friends with Shibasaki. She plans to hold it again every now and then, so be sure to keep up to date with her social media or check the MOSHI MOSHI NIPPON website and our social media too.

Guide: Ayumi Seto – Aymmy in the batty girls Tour

Model and designer Ayumi Seto gave a tour of 'Aymmy in the batty girls.' The first half of the tour centered around a workshop. Everyone created their own original mugs using Aymmy designs.

 The tickets for this tour were like golden tickets as there were only 5 available. Those lucky few who obtained one were a little nervous in front of Ayumi.

Following the workshop was a trip to the Aymmy in the batty girls store, where everyone was given tips and trucks for co-ords and styling with this year's spring and summer items.

If you were one of the people who was able to spend a wonderful day on one of these exclusive tours: how did you find it?

MOSHI MOSHI NIPPON will be teaming up with Airbnb again to hold future tours the way we know how. If you want the chance to get involved with one, then be sure to stay up to date via our website and social media.

Experience Japanese Culture #3: Temari Sushi Lesson in a Japanese Food Class at Dikanyama

Japanese model Yuri Sugunama, a.k.a "Yurippa," is taking us on the third trip in her series series where she goes to personally experience Japanese culture and cultivate new hobbies. This time, she gets involved in a cooking lesson to make springtime temari sushi! Yurippa has always had an interest in homemade cooking but never really had the opportunity to challenge herself to it. So, how did she do…?


uki-uki cafe is located in Daikanyama which is just one stop from Shibuya on the Tōkyū Tōyoko Line. It's an easy place to get to just 5-minutes from the station tucked away in a quiet residential area. Upon opening the door to the café, you are greeted with a fresh space full of green plant life. You'll totally forget about the hustle and bustle of the city.


Teaching the lesson is uki-uki cafe's representative, Ayumi Kashiwabara. She's a food co-ordinator who promotes happy cooking that you'll unintentionally want to take a photo of. Not only does she serve food that makes your everyday dining table evermore buoyant, she also holds cooking lessons every now and then. "Call me Ayu-chan-sensei, okay?" she says with a pose. She's extremely friendly!


Today's challenge is making two items: 'temari sushi' and 'spring mizore soup.' First off, the temari sushi! You begin by mixing together 250g of rice with 25ml of vinegar, 15g of sugar, and 1/2 teaspoon of salt. This is then divided into 8 portions. Spread out some clingfilm and place ham in the middle. Then put one portion of rice on top and roll. Do this for all 8 portions. Roll the ham and rice into one and when taking the clingfilm off make sure that they stay together and don't separate.


Next is making plum lotus roots. Fill the holes of the lotus roots with bainiku plum. Use your finger to delicately press it all together. It's easy if you use a tube for this part. An excited Yurippa exclaimed, "This is the first time in my life I'm making food using bainiku plum!"


At this point, Ayu-chan-sensei added a small touch: "It'll look gorgeous if you do it like this." With just a little twist, she made it look even more fantastic by putting on thinly sliced lemon and sprinkling over some pepper. The two of them looked like they were having fun cooking next to each other.



Before dishing up the temari sushi, it's time to make the mizore soup. Add two teaspoons of Japanese dashi to 120ml of water and mix in one teaspoon of soy sauce, one teaspoon of sake, one teaspoon of mirin, and a little salt. Bring to the boil and just add some grated daikon. Daikon skin has nutritional value, so wash it thoroughly and rub dry.


Finally, add green beans into the mizore soup, put in wheat gluten, and… "All done!"


Yurippa's colourful temari sushi and mizore soup is complete and perfect for spring. Going out and adding seasonal a lunch mat, pair of chopsticks and tableware is fun too.


Yurippa was happy, commenting: "I can feel that food made by hand really is more delicious! It was easy and didn't take long, plus I like how exciting it looks. I want to invite my friends over to my house for a meal."

Cooking lessons are held once in a while at uki-uki cafe where you can learn how to make food that'll make your ordinary days more fun. If you think a cooking lesson is a little too much to handle, then just pop in to the café for a kawaii meal. Coming face to face with the food at uki-uki cafe will surely make your day that much happier.

■Information
uki-uki cafe
Address: 88.DAIKANYAMA 3F, Daikanyamacho, Shibuya, Tokyo
Opening Hours: 11:00-18:00 (Lunch Last Orders 16:00 / Last Orders 17:30)
Access: 5-minutes on foot from Daikanyama Station via the Tōkyū Tōyoko Line
Website: http://ayupichi.com/index.html
*Cooking classes are held at irregular periods. Please enquire beforehand if you are a visitor from overseas.

Model: Yuri Suganuma @yurippa93


Yuri Sugunuma is a model with a high fashion sense that has been picked up by various magazines. She receives much love and support from girls of the same generation as her to whom she is known by her nickname "Yurippa." She has a huge influence across her social media. Recently, she has stepped into other fields outside of modelling, such as appearing in TV shoots and in music videos. She is skilled in make-up and involved in the development of cosmetics.

Writer & Photographer: Haruka Yamamoto

Translator: Joshua Kitosi-Isanga