teamLab Now Holding Digital Art Exhibition at World Heritage Site Shimogamo Shrine in Kyoto
With the increase in number of collaborations between contemporary digital art and traditional and historical Kyoto sites, teamLab is getting in on the action with its new digital art exhibition "Digitized Forest at the World Heritage Site of Shimogamo Shrine."
We are joined by Instagrammer Macchan who recently attended the exhibition and who has provided photos for us.
Shimogamo Shrine is a shrine located between the Kamo River and Mount Kōya. It was registered it as a World Heritage Site by UNESCO. The shrine is associated good luck in marriage and welcomes sightseers from Japan and around the world. It can be reached by the 205 Bus from Kyoto Station and getting off at either Shimogamo Shrine (下鴨神社) or Tadasu Forest (糺ノ森前). It's also about a 20-minute taxi ride from Kyoto Station.
This marks the third run of teamLab's "Digitized Forest" exhibition at Shimogamo Shrine, and this year's exhibition has been made even bigger. It is running until September 2, 2019.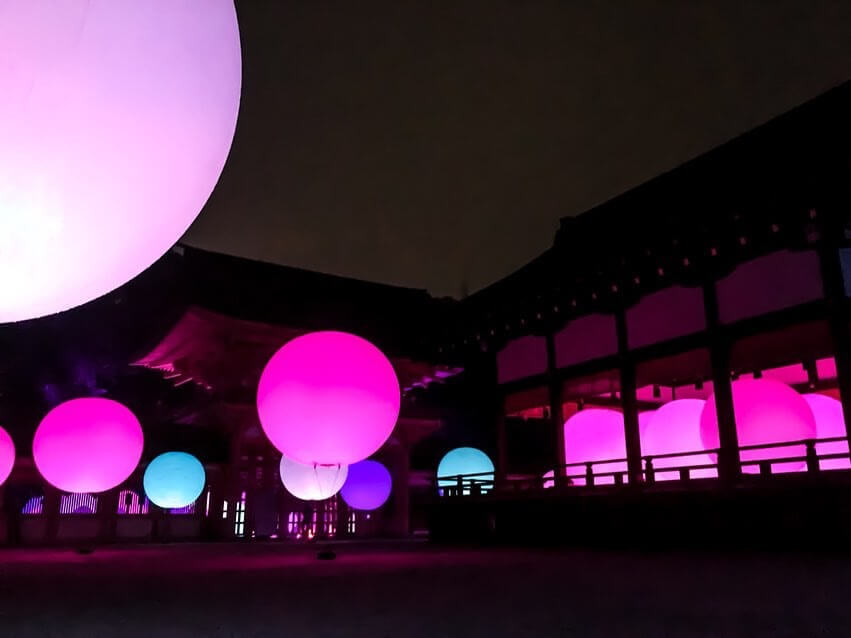 Floating by the Rōmon Gate of the shrine are spheres of light which change colour and emit various musical tones unique to the colour when touched by a person. They also react to the other spheres around them, changing to the same colour and letting out the same tone, creating a chain reaction.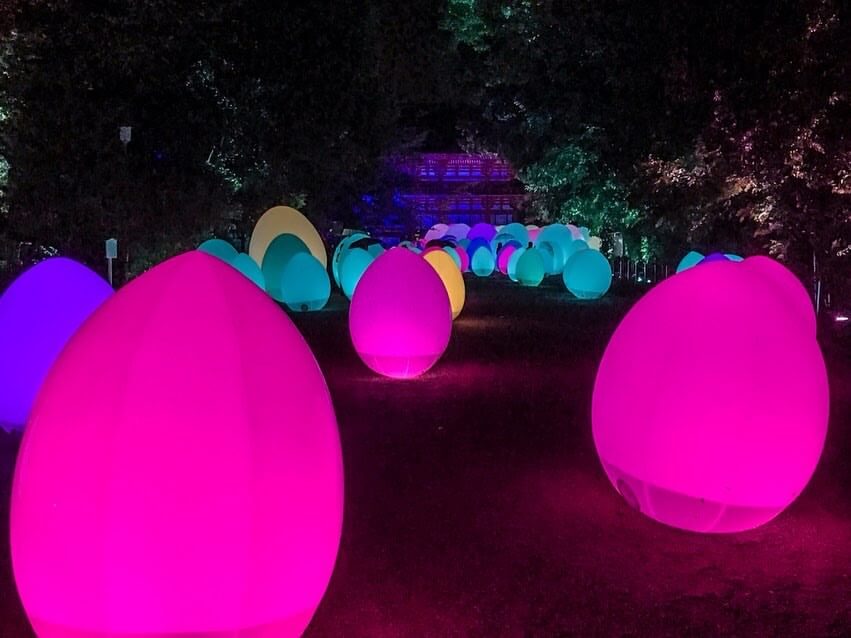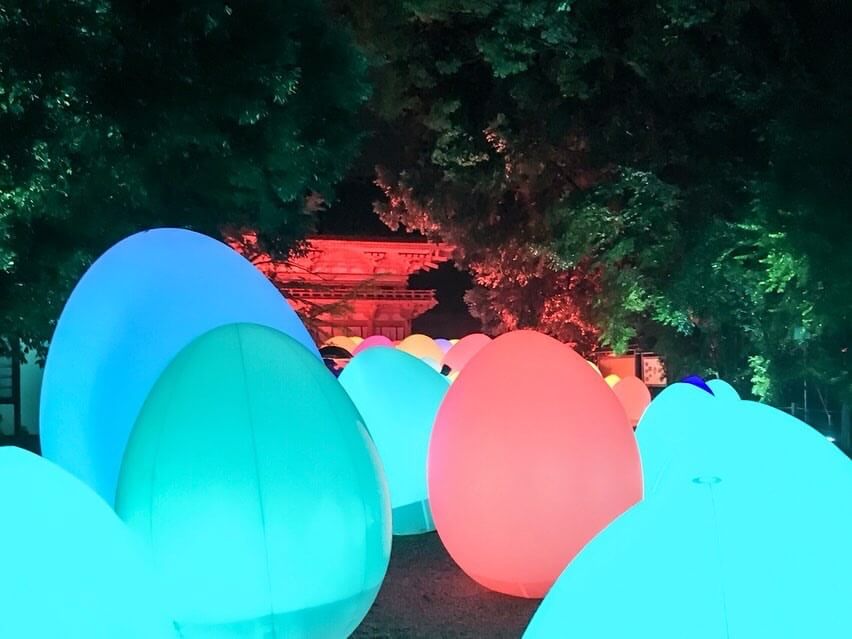 Egg-shaped orbs of light can be found dotted around the Tadasu Forest by the shrine which illuminate the trees. Like the light spheres, when the eggs are pushed they change colour and play a musical noise specific to that colour, the sound and tone spreading through the forest.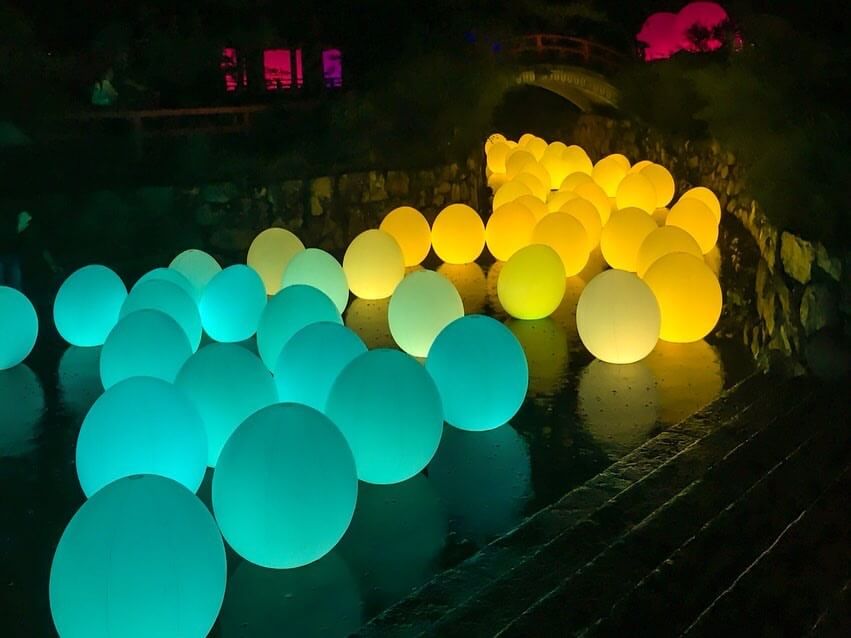 These objects of light can also be found at Mitarashi Pond where they float on the water. The orbs shine brightly and then fade slowly as if breathing. If pushed by people or blown by the wind they will change colour and emit sound.
The best part about teamLab's art exhibitions is how visitors become part of the exhibition itself by interacting with the installations, offering a much more engaging experience than simply looking. Visit Shimogamo Shrine before the exhibition ends to see digital art meet a traditional Japanese shrine at night.
If you're looking for more sightseeing recommendations for Kyoto then be sure to follow Macchan on Instagram!
Photos by まっちゃん
Information
Shimogamo Shrine
Address: 59 Shimogamo Izumikawachō, Sakyo Ward, Kyoto, Kyoto Prefecture
Official Website: https://www.shimogamo-jinja.or.jp/english/
Digitized Forest at the World Heritage Site of Shimogamo Shrine, Kyoto Art by teamLab – TOKIO INKARAMI
Running: August 17, 2019 – September 2, 2019
Time: 18:30-22:00 (Last Entries 21:30)
Location: Shimogamo Shrine
Price: Weekdays ¥1,300 / Weekends ¥1,500
*Free entry for elementary school children and below. Must be accompanied by a parent or guardian aged 20+.
Official Website: https://www.teamlab.art/e/shimogamo/
RELATED ENTRIES
teamLab Forest Fukuoka to Introduce Spring Sakura Theme for a Limited Time

Starting March 4, the permanent museum teamLab Forest Fukuoka will transform its artwork into a stunning spring theme. Guests will be able to enjoy gorgeous cherry blossoms for a limited time, and starting March 24, the Catching and Collecting Forest will also be transformed in the same way.

TeamLab's works are created in real time by procedural generation, meaning that they are always changing and evolving. Each work changes depending on the season.

▼Starting March 4

Both Shifting Valley, Living Creatures of Flowers, Symbiotic Lives – A Whole Year per Year and Animals of Flowers, Symbiotic Lives II – A Whole Year per Year are only available to see during spring. Come and see animals made entirely of cherry blossoms as they roam through the museum!

The work titled Soft Terrain in Granular Topography shows multicolored grains of light pouring from the sky, while Flutter of Butterflies, Ephemeral Life surrounds visitors with brightly colored butterflies

▼Starting March 24

In the Catching and Collecting Forest, visitors can explore with their smartphones and catch various animals made entirely of cherry blossoms.

Information

teamLab Forest Fukuoka – SBI SECURITIES Co., Ltd.
Venue: BOSS E・ZO FUKUOKA 5F, Next to Fukuoka PayPal Dome
Address: 2-2-6 Jigyohama, Chuo-ku, Fukuoka
Official Site: http://forest.teamlab.art

teamLab Opens Solo Exhibition at the Kumu Art Museum in Tallinn, Estonia

Art collective teamLab has opened a new solo exhibition at the Kumu Art Museum in Tallinn, Estonia. One of the largest museums in all of Scandinavia, the exhibition will run through May 7, 2023, and guests can also enjoy a large amount of Estonian art from the 18th century onward. In 2008, the Kumu Art Museum won the European Museum Forum award for the Best Museum in Europe. 

teamLab – Impermanent Flowers Floating in a Continuous Sea

 

teamLab: Impermanent Flowers Floating in a Continuous Sea depicts flowers that are continuously growing and dying, multiplying in an eternal sea in which everything is connected. Guests can feel as though they've become one with the art as they stroll through the exhibition. 

 Black Waves: Immersive Mass is made up of interconnected waves. Without a beginning or an end, visitors progress through the workspace until they too are drawn into the water.

Waves in classical East Asian art are often represented by sets of lines, but these detailed waves are unique.

teamLab – Black Waves: Immersive Mass ©teamLab

 

In Black Waves: Immersive Mass, flowers can be seen blooming, blossoming, and seeing the end of their lives. When people touch the flowers, they wither and die.

teamLab – Proliferating Immense Life ©teamlab

The flicker of flame will welcome guests to this part of the museum. Visitors can even take the work home by approaching it with the Distributed Fire app on their smartphones. When held up to another person's smartphone, the flames will connect and grow larger.

 

teamLab continues to find ways to connect people through modern experimental artworks. What will they create next?

 teamLab – Universe of Fire Particles ©teamLab

 

Kumu Art Museum –  Photo: Tõnu Tunnel. (Courtesy of the Art Museum of Estonia.)

 

 

Come dive into the world of teamLab in the frosty north!

Information

teamLab: Impermanent Flowers Floating in a Continuous Sea
#teamLabKumu
Running: November 11, 2022 – May 7, 2023
Address: Kumu Art Museum (Weizenbergi 34 / Valge 1 10127 Tallinn)
Details: https://www.teamlab.art/jp/e/kumuartmuseum/ 

teamLab Fukuyama Castle Light Festival Opens to Celebrate the Hiroshima Castle's 400th Anniversary

The art collective TeamLab will hold the TeamLab Fukuyama Castle Festival of Light event at Fukuyama Castle in Hiroshima Prefecture from December 2, 2022 to January 29, 2023. The exhibition will transform the stone walls, the tower, and the outside of the iconic castle, which is currently celebrating its 400th anniversary. Light art will transform the space in different ways depending on the number of guests and the weather. 

In August 2022, Fukuyama Castle recieved a major restoration with iron paneling installed on the north side, the only such restorative technique used on a Japanese castle to date. As guests walk around the keep, the included musical experience will change according to your walking speed and pace.

teamLab <Castle Tower> 

The stone walls of Fukuyama Castle will depict animals shaped by flowers as they continuously die and are reborn. When guests touch the flowers, they disperse; if they continue to touch and the flowers disperse too much, the animal dies and disappears.

Built during the Edo period, the castle survived the Meiji Restoration but was damaged heavily in WWII.

teamLab <Animals of Flowers, Symbiotic Lives in the Stone Wall>

Ovoids made of light sit at the bottom of the castle. When pushed by a person or blown by the wind, these unique creations will change color and interact with the nearly ovoids, which will change to the same color and make a similar tone.

teamLab <Resisting and Resonating Ovoids on the Stones of Oblivion>

In the Sketch Generals section, visitors can draw historical warlords associated with Fukuyama Castle, including Katsunari Mineno, the first lord of the Fukuyama domain and builder of Fukuyama Castle, Nobunaga Oda, Hideyoshi Toyotomi, Nagamasa Kuroda, Ieyasu Tokugawa, and Masahiro Abe. When the generals are touched, famous quotes appear in speech bubbles!

In addition, visitors can turn their own drawings of generals into pins that they can take home as souvenirs!

teamLab <Sketch Generals>

teamLab <Sketch Factory>

Several other works will be exhibited around the castle during the event as well.

 

The castle tower was designated a National Treasure in the early Showa era but was destroyed by fire in an air raid during World War II. It was rebuilt in 1966. 



teamLab's Digitized City project has become popular across the world, allowing the art collective to utilize real-world locales to display artworks without damaging or altering the location chosen.

With its lengthy history, Fukuyama Castle is a magnificent canvas, transforming as both visitors and nature interact with the lights. People, animals, nature, and art can live side by side, without boundaries. Wouldn't you like to come to visit this winter?

teamLab <Walk, Walk, Walk -Fukuyama Castle>

©チームラボ

Information

FUKUYAMA CASTLE EXPO 2022 – teamLab Fukuyama Castle Light Festival
Running: December 2, 2022 – January 29, 2023
Venue: Fukuyama Castle (1 Chome-8-3 Marunouchi, Fukuyama, Hiroshima)
Official Site: http://fukuyamacastle.teamlab.art

TeamLab Unveils Three New Works at Singapore's Permanent 'Future World' Exhibition

Art collective TeamLab has redesigned two exhibitions at Marina Bay Sands Singapore. The world's first permanent exhibition from the creators, Future World: Where Art Meets Science, was opened in 2016 at the Museum of Art and Science. Guests can now enjoy three new works along with the Digital Light Canvas, a huge, interactive space inviting guests to share their own pieces of art.

Drawing Flight

Visitors can immerse themselves in these impressive new works while experiencing a complex, three-dimensional world. They can also create new worlds with others!


Future World


The Drawing Flight, part of the Amusement Park of the Future series, is based on the concept of co-creation, allowing visitors to not only draw an airplane that will fly but also allowing them to operate it from a pilot's point of view using a tablet. Whether visitors draw a butterfly or a hawk, they'll see the world from the perspective of each creature and enter a world constructed by the creature's unique perceptions.

Aerial Climbing through a Flock of Colored Birds

In Aerial Climbing through a Flock of Colored Birds, guests are asked to perceive the world with their entire bodies. Visitors cross a space with sticks floating three-dimensionally in the air.

Autonomous Abstraction, Continuous Phenomena from the Universe to the Self

Autonomous Abstraction, Continuous Phenomena from the Universe to the Self offers a new and abstract concept. As people touch the dots, the rhythm of the dots flickers and their hue changes and disintegrates. The picture will then change dramatically, and despite these changes, the beauty remains.

Digital Light Canvas

Graffiti Nature – Red List Digital Light Canvas

 

Digital Light Canvas is a space consisting of a 15-meter-diameter circular link of light and a 20-meter-high cylinder of light made up of a collection of light dots.  Team Lab's interactive artwork, which changes depending on how many people are around, is on permanent display.

Drawing Factory

By visiting the Digital Light Canvas area, guests can also enjoy the Drawing Factory, where they can turn their own drawings into pins, T-shirts, and other items!

Come fully experience this curious art exhibition!

© チームラボ

Information

Future World: Where Art Meets Science

Final Fantasy Artist Yoshitaka Amano Holds Art Exhibition at Myoshin-ji in Kyoto

Yoshitaka Amano, known by international fans as the artist behind the legendary Final Fantasy video game series, is celebrating his 70th birthday with a unique art project from November 23 until December 8 at Myoshin-ji in Kyoto. 

On the first day of the event, the venue, decorated with autumn leaves, was crowded with visitors including foreign tourists, who marveled at the fantastic space filled harmoniously with gold and blue. The exhibition will be held at Myoshin-ji, the head temple of the associated branch of Rinzai Zen Buddhism. This collection of works was designed to question visitors' sensibilities and provide a new kind of art exhibition for fans to enjoy.

After the exhibition, the main art piece by Yoshitaka himself will be converted to 3DCG, and a Virtual Golden World will be developed in collaboration with the Yoshitaka Amano VR Museum. By integrating traditional and modern art methods, guests will be able to engage more deeply in the art by enjoying digital works, the metaverse, and NFTs.

Don't miss this curious exhibition!

Information

Golden World: Infinite Light by Yoshitaka Amano 

~GOLDEN VIEW OF THE WORLD~

Running: November 23 – December 8, 2022

Venue: Myoshin-ji

Hours: 9:00-12:00 / 13:00-16:00

Tickets on sale until 15:30 each day.

Official Site: https://www.myoshinji.or.jp/


Collaboration NFTs Highlight Drafts of Kyoto's Traditional Painted Silk

The NFT marketplace HINATA will start selling collaborative pieces on November 25, combining classical drafts of Kyoto printed silk images with modern art pieces by up-and-coming creators.

Kyoto Printed Silk Draft x Modern Ukiyo-e Artist Ono Tako

Draft (Left) and Spring Dreamland – Sunshine by Ono Tako

Ono Tako is a modern-day ukiyo-e artist who creates unique paintings combining Eastern and Western elements.

A beautiful woman stands in front of lush spring scenery in this gorgeous piece.

 

Although this is clearly an ukiyo-e piece, it has a more modern flare, expressing a more universal standard of beauty while also infusing traditional elements.

 

A total of six works will be available in two variations: the soft and warm Sun and the calm and tranquil Shade. 



Ono Tako: https://twitter.com/ono800

Kyoto Printed Silk Draft x Illustrator Omulettomato

Draft (Left) and Full Moon by Omulettomato

Omulettomato is an illustrator who is rapidly gaining popularity for their feminine portraits.

 

Three different drafts depicting beautiful Japanese nature have been combined and transformed into a modern lady with moe elements.


A total of eight works will be available in three variations: Daybreak, Sunrise, and Full Moon.


Omulettomato: http://omutoma.tumblr.com

Enjoy this curious collaboration and own a piece of classical and modern Japanese culture.

Hirosaki and Hakodate to Begin Winter Tourism Campaign with Snow Miku Starting December 2022

The cities of Hirosaki and Hakodate in Hokkaido have announced that they will team up with Hatsune Miku's popular iteration Snow Miku to promote tourism in the area this winter. A number of activities will begin in December 2022.

[Snow Miku x Hirohako] Collaboration Project

■Hirohako Winter Tourism Campaign Poster Featuring Snow Miku

・Period: Mid-November~February 28, 2023

・Locations: Facilities in both cities, tourist facilities, hotels, shopping areas

■Snow Miku Illustration Contest Exhibition Event

Over 50 illustrations have been submitted under the theme of Snow Miku and Hakodate / Snow Miku and Hirosaki. These will be on display through the winter!

・Running: December 1, 2022 – February 28, 2022

・Venues: Hirosaki Municipal Tourist Center (Hirosaki)
                    Kanemori Red Brick Warehouse (Hakodate)

■Snow Miku Photo Spot

Snow Miku panels featuring shamisen and apples from Hirosaki will be on display, while the Hakodate version will include references to squid fishing and footbaths. 

・On Display: December 1, 2022 – February 28, 2022

・Locations: JR Hirosaki Station, Chuohirosaki Station (Hirosaki)
                        JR Hakodate Station, Hakodate Airport (Hakodate)

■Digital Stamp Rally Using the Mikunavi App

A number of panels will be installed at five checkpoints in Hirosaki and Hakodate. A total of 1,000 people–500 in each city–will win original merch including a Snow Miku mask case and decorated masking tape. All you need to do is check in!

・Available: December 1, 2022 – February 28, 2022

・Locations: (Hirosaki) Hirosaki Municipal Tourist Center, Hirosaki City Machinaka  Information Center,

                         Hirosaki Tourist Information Center, Hirosaki Castle Information Center, Tsugaru-han Neputa Village

      (Hakodate) Kanemori Red Brick Warehouse, Yunokawa Hot Spring Footbath, Goryōkaku Tower,

Hakodate Green Plaza C Block (Hakodate Lumi-Pop), Old Public Hall of Hakodate Ward

■Hirohako Winter Tourism Campaign Theme Song and Music Video 

The tourism theme song will get a new music video that will be broadcast on YouTube, at local tourist facilities, and on TV and radio!

・On Air: December 1, 2022~

・Theme Song: Mahou no Keshiki (Lyrics/Composition: ryuryu)

■Snow Miku Welcome Announcements to be Broadcast at Tourism Facilities, etc. 

A one-minute welcome announcement by Snow Miku will air at tourist facilities!

・Running: December 1, 2022 – February 28, 2022

・Locations: Tourist areas in both cities

■Snow Miku Filters Using AR

When each barcode is scanned with a smartphone, Snow Miku will appear on the screen! Visitors can take pictures with Snow Miku to commemorate their winter trip to Hirosaki and Hakodate.

・Available: December 1, 2022 – February 28, 2022

NAKED GARDEN ONE KYOTO to be Held at Ninna-ji, a World Heritage Site

From December 10 until December 18, 2022, creative company NAKED will hold NAKED GARDEN ONE KYOTO at Ninna-ji! The event is part of a larger next-generation art project being held around Kyoto until Christmas Day.

This exhibition marks the first metaverse-centered event at Ninna-ji, and guests will be able to enjoy a virtual fashion show in collaboration with Jotaro Saito, a kimono designer from Kyoto. Participants will begin by creating their own avatar by snapping a photo of their face. After that, they will be able to choose a kimono by Saito to use as clothing for their avatar before taking to the runway with other visitors from all around Japan.

NAKED's goal is to bring traditional Japanese kimono culture into the digital space, and the company believes that this is only the beginning. In the future, NAKED hopes to bring other artists into the metaverse as well.
 

NAKED Distanced Lanterns


NAKED Tsukubai

Five-Storied Pagoda Projection Mapping


DANDELION PROJECT

Virtual Fashion Show


Limited Edition Paper Goshuin

This year's event also includes the DANDELION PROJECT, popular with art fans around the world. Created by Ryotaro Muramatsu, the art project has appeared in a number of towns and cities around the world, inviting participants to create flowers and send them around the globe digitally as a hope for peace. Visitors can use their smartphones to send dandelion fluff digitally to other participants around the world, sharing a wish for world peace. 

This year, the participatory art piece was installed in the main temple. Why not visit this stunning exhibition in Kyoto this winter? 

Information

NAKED GARDEN ONE KYOTO Ninna-ji
Venue: Ninna-ji (Five-storied Pagoda, Main Temple)
Running: December 10 – December 18, 2022
*No admission on December 17 due to a private event.
Hours: 17:30-21:30 *Last entry at 21:00
Official Site: https://garden.naked.works/kyoto/

monopo Collaborates with Kyoto-Based Brand Shokuraku Asano to Share Traditional Japanese Textiles with the World

Global creative agency monopo is teaming up with Shokuraku Asano, a 100-year-old obi maker from Kyoto! The company is working to create a digital experience for interested viewers, sharing each artisan's personal story. Those who love Japanese culture are welcome to enjoy traditional Japanese crafts in an entirely new way!

Using a one-of-a-kind QR obi, a new storytelling method is showing off the hard work and love that goes into the company's textiles. A special website and video allow interested viewers to experience the process of making an obi digitally, simply by using their smartphone. Even those unable to visit Japan to see these obi in person can dive into the history of the area's textiles and become more acquainted with one part of Kyoto's manufacturing culture. 

Kyoto was the ancient capital of Japan. The city is known for its history and preservation of Japanese culture, and prior to the pandemic, the city was constantly filled with visitors from around the world anxious to learn more about the country's traditional culture. When the pandemic hit the world in 2020, it changed the city forever–tourists disappeared and the city became much quieter. Now that Japan has opened its borders, however, tourists are returning in droves.

While Shokuraku Asano upholds tradition, it also seeks to leave a mark on new generations by embracing new technology. This unique project is worth noting, so get your smartphone out and start learning!

We applaud monopo's attempt to share this incredible traditional Japanese craftsmanship with people around the world. 

Special Jujutsu Kaisen Exhibition Highlights Attractions and Products from Kyoto

From November 11 until December 8, a series of Kyoto-inspired Jujutsu Kaisen goods will be on sale outside the West Gate at JR Kyoto Station! Along with the merchandise, fans will also be able to snag local foods at the exhibition. 

Collaborative Packaging: Local Products from Kyoto

*The products shown are under development and may change slightly. 

Purchase Bonus: Limited Edition Kyoto Postcard

*The postcard's design will change during the first and second halves of the exhibition.

*Postcards from the Sendai venue will not be available.

*Postcards will only be available while supplies last.

Be sure to grab some of these Jujutsu Kaisen products packed with Kyoto charm!

©芥見下々/集英社・呪術廻戦製作委員会

Kyoto National Museum Decorated by NAKED and Kojima Shouten's Famous Lanterns for Special Event

From December 10 until December 25, the Light and Food Ensemble event will be held in the garden of the Kyoto National Museum.

A new projection mapping show featuring enormous flowers will be shown on the wall of the Meiji Kotokan Hall, unchanged since its opening in 1897. The history of Kyoto will take center stage, however–NAKED is only there to make it all the more impressive.

NAKED will also collaborate with Kojima Shouten for the first time, decorating the venue with the local company's famous lanterns.

At the venue, local shops from Kyoto will be selling sweets to guests. Come enjoy Kyoto in a whole new way during this exclusive winter event!

Information

Light and Food Ensemble

Running: December 10 – December 25, 2022

Hours: 18:00-21:30 (Last entry at 21:00)

Light and Food Ensemble ~Evening Flower Banquet Directed by NAKED~

Venue: Kyoto National Museum

Tickets / Official Site: https://ensemblekyoto.com/

Final Fantasy Artist Yoshitaka Amano Holds Art Exhibition at Myoshin-ji in Kyoto

Yoshitaka Amano, known by international fans as the artist behind the legendary Final Fantasy video game series, is celebrating his 70th birthday with a unique art project in Kyoto. 

The exhibition will be held at Myoshin-ji, the head temple of the associated branch of Rinzai Zen Buddhism. Stepping into the temple, guests will be met with colorful autumn leaves and a sea of gold and blue art pieces.


"I want people to enter this world of light and experience being part of it," Amano said. "Rather than art being something flat on a wall, I want to present something new and unique." This collection of works was designed to question visitors' sensibilities and provide a new kind of art exhibition for fans to enjoy.

The main art piece, newly painted by Amano himself, will be on display in the Dharma Hall, which was decorated by one of Kano Tan'yu's masterpieces. Tan'yu was an Edo-period painter. 

The three meter tall column features Amano's own interpretation of Hiten, part of Mount Meru, a part of Buddhism cosmology considered to be the centre of all the physical, metaphysical and spiritual universes. Four smaller pieces will be displayed on all four sides to create a three-dimensional mandala. 

Information

Golden World: Infinite Light by Yoshitaka Amano 

~GOLDEN VIEW OF THE WORLD~

Running: November 23 – December 8, 2022

Venue: Myoshin-ji (1 Hanazonomyoshinjicho, Ukyo-ku, Kyoto)

Hours: 9:00-12:00 / 13:00-16:00 *Tickets sold until 15:30

Admission: Adults ¥700 / Children ¥400

Details: https://goldenworld.jp/

Official Site: https://www.myoshinji.or.jp/