teamLab Now Holding Digital Art Exhibition at World Heritage Site Shimogamo Shrine in Kyoto
With the increase in number of collaborations between contemporary digital art and traditional and historical Kyoto sites, teamLab is getting in on the action with its new digital art exhibition "Digitized Forest at the World Heritage Site of Shimogamo Shrine."
We are joined by Instagrammer Macchan who recently attended the exhibition and who has provided photos for us.
Shimogamo Shrine is a shrine located between the Kamo River and Mount Kōya. It was registered it as a World Heritage Site by UNESCO. The shrine is associated good luck in marriage and welcomes sightseers from Japan and around the world. It can be reached by the 205 Bus from Kyoto Station and getting off at either Shimogamo Shrine (下鴨神社) or Tadasu Forest (糺ノ森前). It's also about a 20-minute taxi ride from Kyoto Station.
This marks the third run of teamLab's "Digitized Forest" exhibition at Shimogamo Shrine, and this year's exhibition has been made even bigger. It is running until September 2, 2019.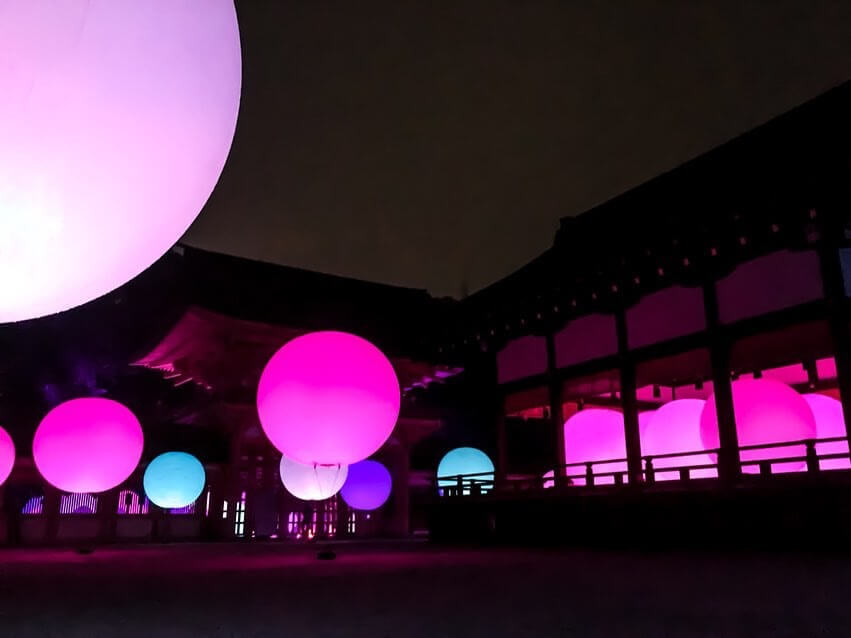 Floating by the Rōmon Gate of the shrine are spheres of light which change colour and emit various musical tones unique to the colour when touched by a person. They also react to the other spheres around them, changing to the same colour and letting out the same tone, creating a chain reaction.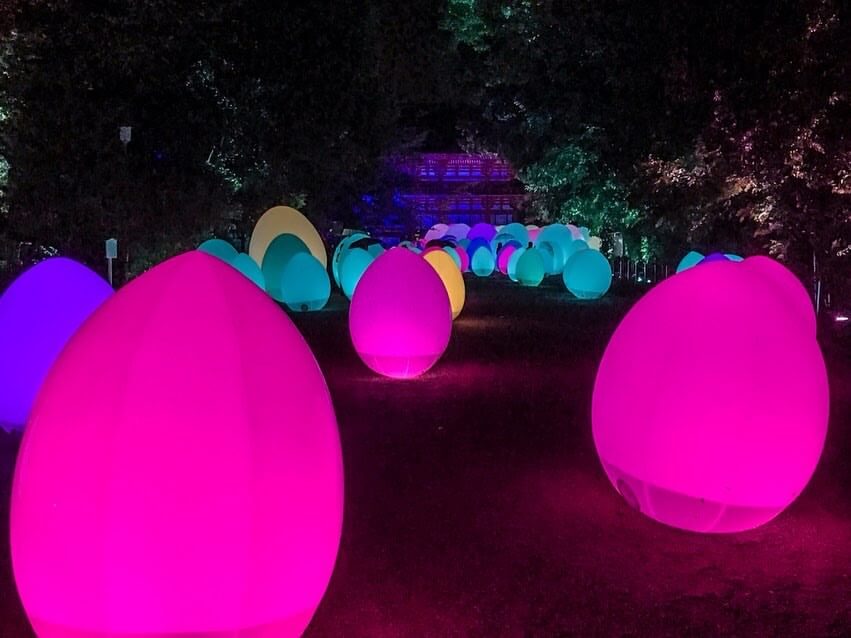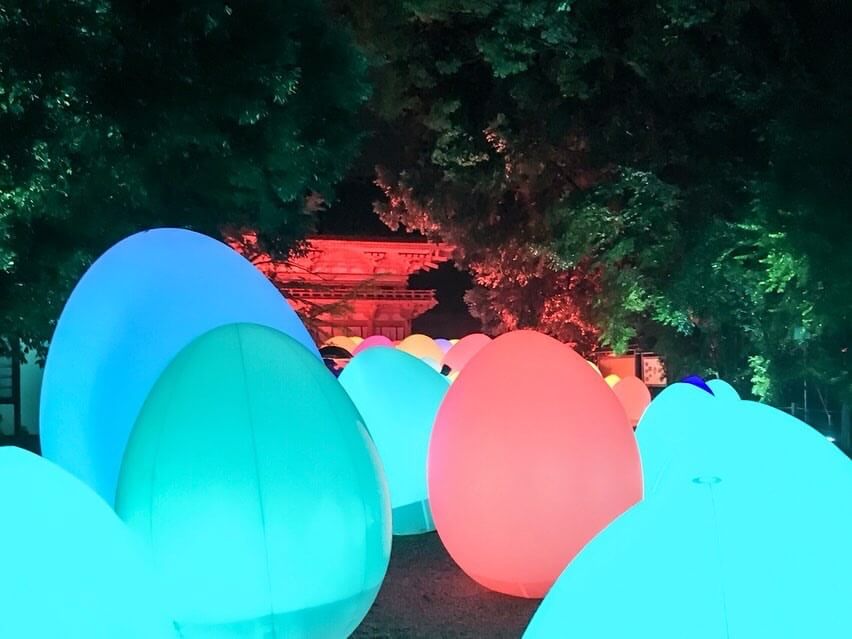 Egg-shaped orbs of light can be found dotted around the Tadasu Forest by the shrine which illuminate the trees. Like the light spheres, when the eggs are pushed they change colour and play a musical noise specific to that colour, the sound and tone spreading through the forest.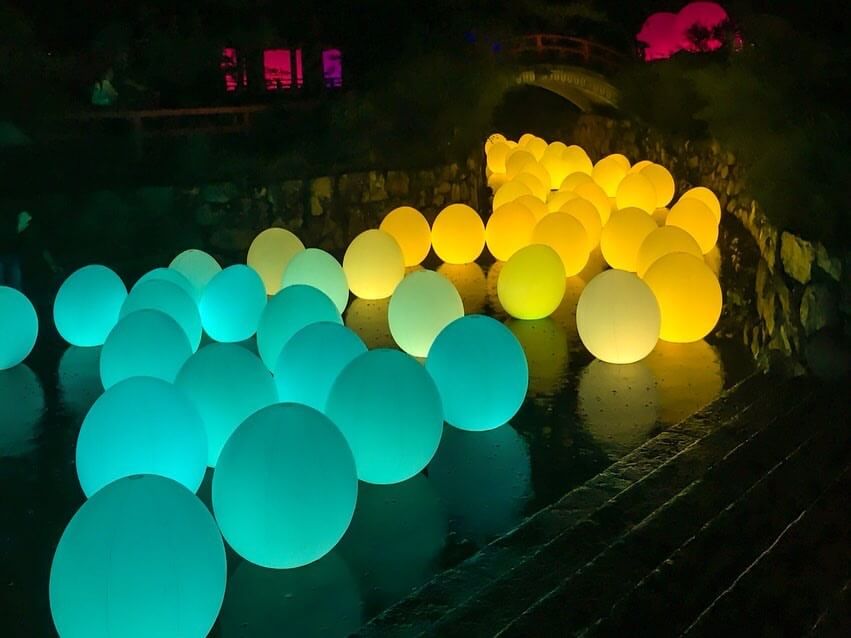 These objects of light can also be found at Mitarashi Pond where they float on the water. The orbs shine brightly and then fade slowly as if breathing. If pushed by people or blown by the wind they will change colour and emit sound.
The best part about teamLab's art exhibitions is how visitors become part of the exhibition itself by interacting with the installations, offering a much more engaging experience than simply looking. Visit Shimogamo Shrine before the exhibition ends to see digital art meet a traditional Japanese shrine at night.
If you're looking for more sightseeing recommendations for Kyoto then be sure to follow Macchan on Instagram!
Photos by まっちゃん
Information
Shimogamo Shrine
Address: 59 Shimogamo Izumikawachō, Sakyo Ward, Kyoto, Kyoto Prefecture
Official Website: https://www.shimogamo-jinja.or.jp/english/
Digitized Forest at the World Heritage Site of Shimogamo Shrine, Kyoto Art by teamLab – TOKIO INKARAMI
Running: August 17, 2019 – September 2, 2019
Time: 18:30-22:00 (Last Entries 21:30)
Location: Shimogamo Shrine
Price: Weekdays ¥1,300 / Weekends ¥1,500
*Free entry for elementary school children and below. Must be accompanied by a parent or guardian aged 20+.
Official Website: https://www.teamlab.art/e/shimogamo/
RELATED ENTRIES
Take a Summer Trip to Karuizawa in Style at Hoshino Resorts BEB Karuizawa

"BEB" is a brand of hotel established by Hoshino Resorts which aims to support young people travelling by being cost-effective as well as make travelling more fun for the younger generation. This year, BEB5 Karuizawa is promoting a spending a fun and stylish summertime.

Enjoy the outdoors in a wide, open space

The indoor "Yagura Room" is fitted with spacious sofas and bed spaces where people can chat together, read a book, and enjoy their free time. There's also "TAMARIBA," a 24-hour public space with a garden, lounge, cafe, and library. A cool breeze sweeps through the tall windows, letting in cool air on a hot summer's day. Guests can kick back and enjoy some relaxation. The cafe even sells wine so guests can treat themselves to an evening drink or have a little drinking get-together with friends.

Summer resort rental items

Guests can experience the true thrill of summertime in Karuizawa with a selection of rental items including straw hats, a bug catching net, portable speakers, electric fans, and more. These can be rented from July 13, 2020 to August 31, 2020.

The lush green outdoors surrounds the hotel

BEB5 Karuizawa is located in one corner of the Karuizawa Hoshino Area which is home to a bright green forest. Located laong the bath is Harunire Terrace which is home to 16 unique shops, and there's even a hot spring which flows directly from the water source.

Hoshino Onsen Tonbo no Yu

There are plenty of things for guests to do outside, including participating in a nature tour hosted by wild flora and fauna specialists Picchio, having a picnic at the benches by the flowing water, and more.

Karuizawa is one of Japan's best places for a summer retreat. Just a one hour bullet train ride from Tokyo, it's an easy place to access from the country's capital.

Information

Hoshino Resorts BEB5 Karuizawa

Address: Hoshino, Karuizawa-machi, Kitasaku-gun, Nagano
TEL: 0570-073-022 (Hoshino Resorts Booking Centre)
Rooms: 73 (Check In 15:00 / Check Out 11:00)

Price: From ¥9,000 per night (1 room for 2 people, service charge and meal charged separately)
Official Website: https://hoshinoresorts.com/ja/hotels/beb5karuizawa/

Wine and Dine at Four Seasons Hotel Kyoto's Luxurious New 'Champagne Garden'

Four Seasons Hotel Kyoto opened its limited-time "Champagne Garden" on July 3 at its first floor outdoor terrace restaurant Brasserie. Running until September 6, customers can enjoy free-flow French Bollinger champagne and cocktails.

Four Seasons Hotel Kyoto opened back in October 2016 as a luxury hotel, home to the famous Sekisuien Gardens which have a history spanning back 800 years and are mentioned in the The Tale of the Heike epic. The hotel's first floor restaurant Brasserie has towering 9-meter tall windows that look out onto these gardens, while inside customers can enjoy dining in a stylish environment.

The champagne served in the Champagne Garden is produced by the French Champagne house Bolligner, a company that started by Jacques Bollinger in 1829. Fermented in oak barrels, the champagne has sophisticated and complex flavours. In 1884, Bolligner received a Royal Warrant from Queen Victoria.

At the Champagne Garden, guests can enjoy four different types of canapé made by the restaurant's head chef Koga together with a glass of Bolligner. They can also order rosé wine, cocktails, or soft drinks too, all of which are free-flow. And since the restaurant faces the garden, guests can enjoy the view of the greenery throughout all four seasons, in central Kyoto.

Four Seasons Hotel Kyoto reopened on July 1 after closing temporarily due to COVID-19. The hotel has launched its "Lead With Care" program which ensures guests and staff are at the top of the priority list for safety against the coronavirus.

Information

Four Seasons Hotel Kyoto – Champagne Garden
Running: July 3, 2020 – September 6, 2020

Location: Brasserie, Four Seasons Hotel Kyoto Floor 1F

Address: 445-3 Myōhōin Maekawachō, Higashiyama-ku, Kyoto
Time: 11:00-20:30
Price: ¥8,800 per person (90 minute window)
*15% service charge and 10% consumption tax charged separately

*Booking in advance recommended

TEL:  075-541-8288

Official Website: https://www.fourseasons.com/jp/kyoto/

Hoshinoya Tokyo Ranks Number One On 'World's Best Awards 2020 Top Hotels in Tokyo'

Travel + Leisure published their "World's Best Awards 2020 Top Hotels in Tokyo" list on July 8, 2020 on which Hoshinoya Tokyo, managed by Hoshino Resorts, placed No. 1.

"World's Best Awards" is a list of the top hotels as ranked by travel magazine Travel + Leisure's user ratings. The hotel category takes into account the facilities, location, service, food, and more offered at each hotel.

Established in Otemachi, Tokyo in July 2016, Hoshinoya Tokyo is a ryokan-style hotel which has two basement floors and 17 upper floors. It has a traditional Japanese ryokan vibe to it with its tatami mats, sliding doors, bamboo materials, and more, plus guests must take their shoes off at the entrance. And while it has traditional elements, it caters to the modern lifestyle, combining the best of both worlds. It offers guests a chance to easily experience Japanese culture and what it's like to stay in a ryokan.

Information

Hoshinoya Tokyo
Address: 1-9-1 Otemachi, Chiyoda-ku, Tokyo

TEL: 0570-073-066

Rooms: 84

Check In @ 15:00 / Check Out @ 12:00

Access: 10-minutes on foot from Tokyo Station's Marunouchi North Exit / 2-minutes on foot from Otemachi Station's A1 and C2 exits (via Tokyo Metro)

Official Website: https://hoshinoya.com/en/

Osaka's Hirakata Park Announces After-Hours Horror Event

Hirakata Park has announced the horror-themed event "Yamibiraki no Yoru" which will be held at the Osaka amusement park during the night from August 26 to September 13.

Two Japanese horror entertainment companies are coming together to set up spooky spots around the park for the event. For the event, visitors will need to clear a mission to reach the goal which will involve the use of a smartphone or tablet.

Yamibiraki no Yoru – Synopsis

"There is a rumour that once a year, Hirakata Park opens up during the middle of the night. And though it's open in the middle of the night, the only staff that can be spotted around are those with vacant looks in their eyes. What's more is that there aren't any visitors around. At some point, this rumour came to be called Yamibiraki no Yoru, 'Open in Darkness.' And this summer, an event is being held, on the same day that rumour was named, and with the same name…"

Scary School Stories VR x Real Scary Experience

Hirakata Park is also holding a haunted house event during the daytime from July 17, 2020. Themed on Kokkuri-san, a Japanese supernatural game, the event will combine the use of VR technology and real interactive scares.

Information

Hirakata Park 2020 – "Yamibiraki no Yoru"
Location: Hirakata Park (Meeting Spot: Hirakata Park East Gate)
Running: August 26, 2020 – September 13, 2020 (Closed September 2 and 9)
Slots: 1. 19:00 2. 19:20 3. 19:40 4. 20:00 5. 20:20 (Required Time: 1 hour)
Ticket Price: ¥20,000 per group (max 4 people per group)
Ticket Release Date: July 11, 2020 from 10:00 (JST)
Ticket Vendor: Lawson (L-Code: 58003)

Official Website: https://www.mbs.jp/obake/

Kyoto's World Heritage Site Nijo Castle Announces Summer Evening Illumination Event

NAKED, INC. has announced that it is holding a special summertime light-up event at Nijo Castle, a World Heritage Site in Kyoto, from August 8 to August 30. The company has also released its first ever 3DCG VR experience NAKED NINJA -Nijo-jo Castle- on the official NAKED, INC. online store.

Enjoy art entertainment in person or at home

NAKED, INC. has collaborated with many World Heritage Sites, Cultural Properties, tourism centres, leisure spots, and more over the years. Right now, the company is grappling with the question of what the shape of tourism, as well as art and entertainment, looks like during the COVID-19 outbreak—and what shape it will take post-pandemic. Nijo Castle is no exception, a place that enjoys tourism from both Japanese people and people overseas. In considering these issues, NAKED has conceived two different ways Nijo Castle can still entertain tourism now and in the near future.

The first is holding an event in person at Nijo Castle in the form of an outdoor light-up event that will have people wandering around as opposed to being stationary. In spring of 2017, NAKED held "Nijo Castle Cherry Blossom Festival 2017" where they hosted a variety of performances and events in line with the season. In fact, one such event was planned to take place at Nijo Castle this summer, but it had to be reconsidered as a result of COVID-19. Those involved still wanted to come up with a way that people who live close by could still enjoy some leisure time this summer, which is what led to this light-up event from NAKED.

Visitors will be able to enjoy the light-up safely by staying a set distance from one another while walking around Nijo Castle. The number of people inside at once will also be restricted. As well as this, people will need to wear masks, temperature will be regulated, and alcohol gel will be provided—all to ensure that visitors are kept safe.

The second way that NAKED has devised for people to still enjoy Nijo Castle is with the release of NAKED NINJA -Nijo-jo Castle-, the company's first ever full 3DCG VR experience that lets people enjoy Nijo Castle online in a virtual space. This is so that people who cannot visit Nijo Castle can still enjoy its sights. NAKED plans to launch even more real and virtual, offline and online experiences in the future too in order to promote tourism in a new way during COVID-19.

Information

Nijo Castle x NAKED Summer Special Light-Up 2020
Running: August 8, 2020 – August 30, 2020

Time: 19:00-22:00 (Last Entries 21:20)
Location: Nijo Castle

Address: 541 Nijojocho, Nakagyo Ward, Kyoto場

NAKED NINJA-Nijo-jo Castle- VR
Price: ¥880 (Tax Included)

Official Website: https://event.naked.works/nijojo-summer2020/

RELAX FUJINO: The New Glamping Guest House Opening in Kanagawa

Hibiya-Kandan is set to open a new glamping guest house by the name of "RELAX FUJINO" on August 21, 2020.

Just an hour and a half's journey from the city, RELAX FUJINO is opening in Kanagawa Prefecture's town of Fujino, a place known for its abundant nature and traditional arts. It aims to be a place where both "the heart and body can be happy."

The guest house promises to serve guests the ultimate relaxation experience, have them feeling positive about themselves, and opening their eyes to new discoveries. They will be able to enjoy the region's culture and nature while indulging in the kind of luxurious experience that Hibiya-Kandan is known for offering.

The glamping site is home to two separate sites: the Japanese-style "RURI" and the Western-style "ECRU," both of which have decks offering a panoramic view of the mountain range. Each site also has its own dome-shaped tent which span 28 square meters in length. There are counter tables which offer a panoramic view of the sights, garden tables, and even BBQ spaces. This mix of indoors and outdoors makes guests feel like part of Fujino's gorgeous natural environment. There are communal showers and toilets inside too, as well as a nearby hot spring facility.

The food served is made with plenty of organic vegetables grown in Fujino. A stay at the site means you get a free dinner and breakfast too.

There are plenty of both indoor and outdoors activities to get involved in, like yoga, coffee roasting, crafts, blueberry picking, and more.

Bookings open on August 1, 2020. If you're in Japan this summer, then why not get away from the hustle and bustle and enjoy a relaxing time out in nature?

Information

RELAX FUJINO
Grand Opening: August 21, 2020 (Bookings open from August 1, 2020)
Address: 4611-1 Magino, Midori-ku, Sagamihara, Kanagawa
TEL: 042-649-0286

Official Website: https://hibiya-stay.com/relax/

Kyoto's Famous Kifune Shrine Celebrates Tanabata With Bamboo Lamp Light-Up

Kifune Shrine, which is dedicated to the god of water Takaokami no Kami, is currently holding evening illuminations with Tanabata bamboo lamps until August 15, 2020.

About Kifune Shrine

Kifune Shrine is one of Kyoto's foremost historical shrines. Records show that the shrine was already built in 677 during the reign of Emperor Tenmu. It is located near the source of Kamo River and is dedicated to the god of water who is said protect Kyoto's water sources. The area is also known for kawadoko which is where Kibune's restaurants build platforms over the river where visitors can enjoy their meal as the water flows beneath them.

Kifune Shrine and Tanabata

Tanabata is said to originate from the Suijinsai Festival (Water God Festival), with the stars themselves as the god of water. At Kifune Shrine, which is dedicate to Takaokami no Kami—the god of water—people not only pay their respects to the blessing of water, but hold Tanabata events as well as the Kifune Water Festival.

For this year's Tanabata event, bamboo lamps will be lit up with wishes written on them by people.

Tanabata Shinto Rituals and the Kifune Water Festival

Tanabata Shinto rituals and the Kifune Water Festival will be held on July 7 where people will express their gratitude to the god who watches over Kifune's waters as well as pray for water's blessing throughout the year.

Information

Kifune Shrine Tanabata Bamboo Lamp Light-Up
Running: July 1, 2020 – August 15, 2020
Time: From sunset to 20:00
Location: Kifune Shrine, 180 Kuramakibunecho, Sakyo-ku, Kyoto
TEL: 075-741-2016

Official Website: http://kifunejinja.jp

Chocolate-Piled Shaved Ice & Other Summer Season Delights at BEL AMER Kyoto Villa

Kyoto-based chocolate bar BEL AMER Kyoto Villa is serving up the perfect line of new chocolatey bites for summer 2020.


The entire line-up is a delight to look at, from a mountain of chocolate piled on top of shaved ice, a summertime mango and melon dessert, and more.

Chocolate Noir Shaved Ice x Matcha: ¥1,540 (Tax Included)

Shaved ice is the quintessential summertime dessert in Japan, and since this one is being served at a shop specialising in chocolate, what better way to serve it than drizzled in a mountain of the stuff? The shaved ice is covered in rich chocolate cream and chocolate sauce and is topped with chocolate nibs. It's also served with a side of matcha sauce which you can pour over yourself, creating a delicious harmony of flavours.


Mille-Feuille au Chocolat Exotic With 196℃ Chocolate Ice Cream: ¥1,650 (Tax Included)

This summertime dessert is made with lots of mango and melon. In the centre of it all is even more mango, as well as pineapple and coconuts, for a flavourful layered experience. Served on the side is ice cream made from BEL AMER Kyoto Villa's own original couverture chocolate.

Summer Pavlova: ¥1,320 (Tax Included)

This piece of art of a dessert is a must for lovers of matcha and melon. It's made from fluffy meringue topped with white chocolate, matcha mousse, and chocolate cream, which itself is then topped with refreshing melon and grapes for a refreshing kick.


Chocolate Croquette Sandwich: ¥990 (Tax Included)

BEL AMER Kyoto Villa is also serving up a very unique dish indeed which mixes together chocolate and croquette—a flavour that actually works, combining sweetness and bitterness. The croquette is made from potatoes. The brioche sandwich also contains cheese and bacon.

These are just some of the delights on show at BEL AMER Kyoto Villa this summer. If ever you're in Kyoto, be sure to stop by, especially in the summer.

Information

BEL AMER Kyoto Villa Bettei Sanjo

Address: 66 Sanjodori Sakaimachi Higashi Iru Kitagawa Masuyacho, Nakagyo-Ku, Kyoto

TEL: 075-221-7025

Official Website: https://www.belamer-kyoto.jp

4 Refreshing Matcha Shaved Ice Flavours Released at Itohkyuemon in Kyoto

Kyoto's famous tea shop Itohkyuemon began serving four new Uji matcha and shaved ice mixed desserts on its menu yesterday (June 29). Itohkyuemon was founded in 1832 in the latter period of Edo. Ujitawara, the place in Kyoto where the shop is located, is famous for the tea served by Itohkyuemon which has been harvested by the Ito family for years.

Uji Matcha Parfait Ice: ¥1,490 (Tax Included) | Serving: Until Late September 2020 | Avaialble: Itohkyuemon JR Uji Station/Itohkyuemon Gionshijo

The Uji Matcha Parfait Ice uses a blend of matcha and milk-infused ice as its base. It's then topped with sweet treats like rice flour dumplings, red bean paste, ice cream, matcha jelly, and more to turn it into a parfait.

Uji Matcha Daifuku Ice: ¥1,290 (Tax Included) | Serving: Until Late September 2020 | Avaialble: Itohkyuemon JR Uji Station/Itohkyuemon Gionshijo

This Uji Matcha Daifuku Ice is an upgrade of the one Itohkyuemon served last year. It has a creamy custard base with matcha daifuku hidden in the shaved ice.

Fluffy Uji Kindokei Vanilla Ice Cream: ¥990, Matcha Ice Cream ¥1,090 (Tax Included) | Serving: Until Late September 2020 | Avaialble: Itohkyuemon JR Uji Station/Itohkyuemon Gionshijo


Fluffy Uji Kindokei Rice Flour Dumpling: ¥850, Rice Flour Dumpling & Vanilla Ice Cream ¥970, Rice Flour Dumpling Matcha Ice Cream ¥1,090 Serving: Until Late September 2020 | Avaialble: Itohkyuemon Uji Main Branch

These two "Kindokei" (Gold Watch) servings use more ice. At the main branch of Itohkyuemon they're more crunchy, while at the JR Uji Station and Gionshijo branches they're more fluffy.

Yukai Resort Premium Toba Saichoraku: The New Hot Spring Resort Hotel in Mie Prefecture

Yukai Resort, a company in Japan which manages lots of famous hot spring resorts across the country, opened Yukai Resort Premium Toba Saichoraku in Toba, Mie on June 5, 2020.

Yukai Resort manages 29 well-established hot spring resort hotels and ryokan throughout Japan, including hotels where you can get one night with dinner and breakfast from just ¥7,500 (before tax) to ryokan where you can enjoy kaiseki meal courses, and more. All their luxury establishments feature hot springs surrounded in lush environments.

Yukai Resort Premium Toba Saichoraku opened on June 5, 2020 and is taking all of the necessary precautions against COVID-19 to protect guests and so that guests can enjoy a comfortable stay.

Yukai Resort Premium Toba Saichoraku is 10 minutes by car from Toba Aquarium and 30 minutes from Ise Grand Shrine, making it a great location to enjoy the sightseeing spots of Ise and Shima. The hotel's concept is centred on being an "active resort" where you can get the full Toba experience with history, the sea, and activities.

The large open-air communal baths look out onto Toba Bay. The baths are designed like infinity pools, giving the effect that they are connected to the sea. Guests can enjoy a dip in the day or evening so they can enjoy both a blue sky or starry sky. There are also saunas.

There is also an indoor swimming pool with warm water, as well as foot baths, a kids play park, karaoke room, and many more fun features.

Yukai Resort Premium Toba Saichoraku also houses Yukai Resort's first ever indoor glamping guest rooms with large tents decked with beds, sofa, carpet, cushions, and other amenities for a glamorous camping experience. There are glamping rooms with their own open-air baths that look out onto Toba Bay too, as well as both Japanese-style and Western-style rooms.

As a precaution against COVID-19, the restaurant is serving its food for takeout only until August 31, 2020. Guests can enjoy their meal in their rooms or in one of the many communal spaces. There's plenty of health Japanese food to enjoy including sushi, Matsuzaka roast beef, eel, tuna, and more.

Local Shaved Ice Recipes Whipped Up at Hoshino Resorts KAI This Summer

Hoshino Resorts has brought back its annual local shaved ice festival for the summer which will be served at branches of Hoshino Resorts KAI, a hot spring ryokan brand. It has been held every year since 2017 and gives people the chance to enjoy shaved ice with a variety of syrups and toppings inspired by local regions in which branches of KAI are dotted around.

Strawberry Shaved Ice | Hoshino Resorts KAI Nikko (Chuzenji Onsen, Tochigi Prefecture)

Tochigi Prefecture has enjoy est the largest harvest of strawberries in Japan for the last 50 years. This shaved ice is doused in a sweet strawberry syrup and a bitter matcha sauce. It can be enjoyed while gazing out to Nikko's beautiful scenery where you can see Chuzenji Lake and Mount Nantai from 1,300 meters above sea level in Hoshino Resorts KAI Nikko.

Hydrangea Shaved Ice | Hoshino Resorts KAI Hakone (Hakone Yumoto Onsen, Kanagawa Prefecture)

The Hakone area enjoys long blooming periods of hydrangeas. During their full bloom, the Hakone Tozan Line mountain railway gets nicknamed the "Hydrangea Line" and becomes a popular route for sightseeing. This refreshing shaved ice has hydrangea flavoured jelly and syrup.

Art Shaved Ice | Hoshino Resorts KAI Sengokuhara (Sengokuhara Onsen, Kanagawa Prefecture)

Hoshino Resorts KAI Sengokuhara is surrounded by many art museums, so what better way to keep with the them than with an art-inspired shaved ice dessert? Show your art skills by using strawberry red, orange-flavoured orange, and other colourful syrups to create your own unique design on your fluffy white canvas of shaved ice.

Apple Shaved Ice | Hoshino Resorts KAI Alps (Omachi Onsen, Nagano Prefecture)

Nagano Prefecture is famous in Japan for its apples. There are two types of syrup poured over this shaved ice, including one that tastes like mashed apples, and another made from Bramley apples.

Ginger Shaved Ice | Hoshino Resorts KAI Izumo (Tamatsukuri Onsen, Shimane Prefecture)

The ginger adds a sharp bite to the sweetness of this refreshing shaved ice and is perfect for overcoming the summer heat.

Tomato Shaved Ice | Hoshino Resorts KAI Aso (Sen no Moto Onsen, Oita Prefecture)

Made from tomatoes harvested in summertime, this sweet and sour shaved ice takes on a gorgeous red colour. Tomatoes are low in calories and have many nutritional ingredients, and are a good source of vitamin C and D, making this a healthier option.

And there are lots of other flavours to come from Hoshino Resorts KAI this summer too.

Information

Hoshino Resorts KAI Local Shaved Ice 2020 (Japanese Name: 界のご当地かき氷 2020)
Running: July 11, 2020 – August 31, 2020

Price: Free

Available: At 15 Hoshino Resorts KAI branches
Official Website: https://kai-ryokan.jp/features/kakigori/
Notes: Reservations not required

Hoshino Resorts KAI Official Website: https://kai-ryokan.jp/

BEAMS Japan Kyoto finally opened on June 11, 2020 after the postponed grand opening of ShinPuhKan shopping centre in which it is located.

BEAMS Japan Kyoto comes as the first branch of BEAMS Japan in Kyoto and aims to be a hub of made-in-Japan products from BEAMS's "TEAM JAPAN" range, a project to curate content across a broad range of categories based on the keyword "Japan." The store will collaborated with Kyoto-based creators and businesses and offer a wide selection of branded products, original apparel lines, and more—through the lens of TEAM JAPAN.

The 3.5m high ceiling art of the legendary mythical bird Hou-ou catches the eye upon entry, and the shop lends a modern tinge to its traditional aesthetic. Here, BEAMS JAPAN's many different products are lined up against one another.


BEAMS JAPAN opened a brand in Shinjuku in April 2016 and subsequently in Shibuya in December 2019. BEAMS Japan Kyoto comes as the company's third branch.