Dare To Treat Yourself to One of These 5 Halloween Dishes
One of Japan's most favourite celebrations of the year is Halloween. As autumn is setting in, you will notice halloween decorations gradually drift into shop windows and more importantly, Halloween-themed desserts and meals taking over restaurant menus. To prepare for this delicious apocalypse, we are now unveiling this year's top Halloween meals and desserts you really need to look out for. 
Krispy Kreme Halloween Doughnuts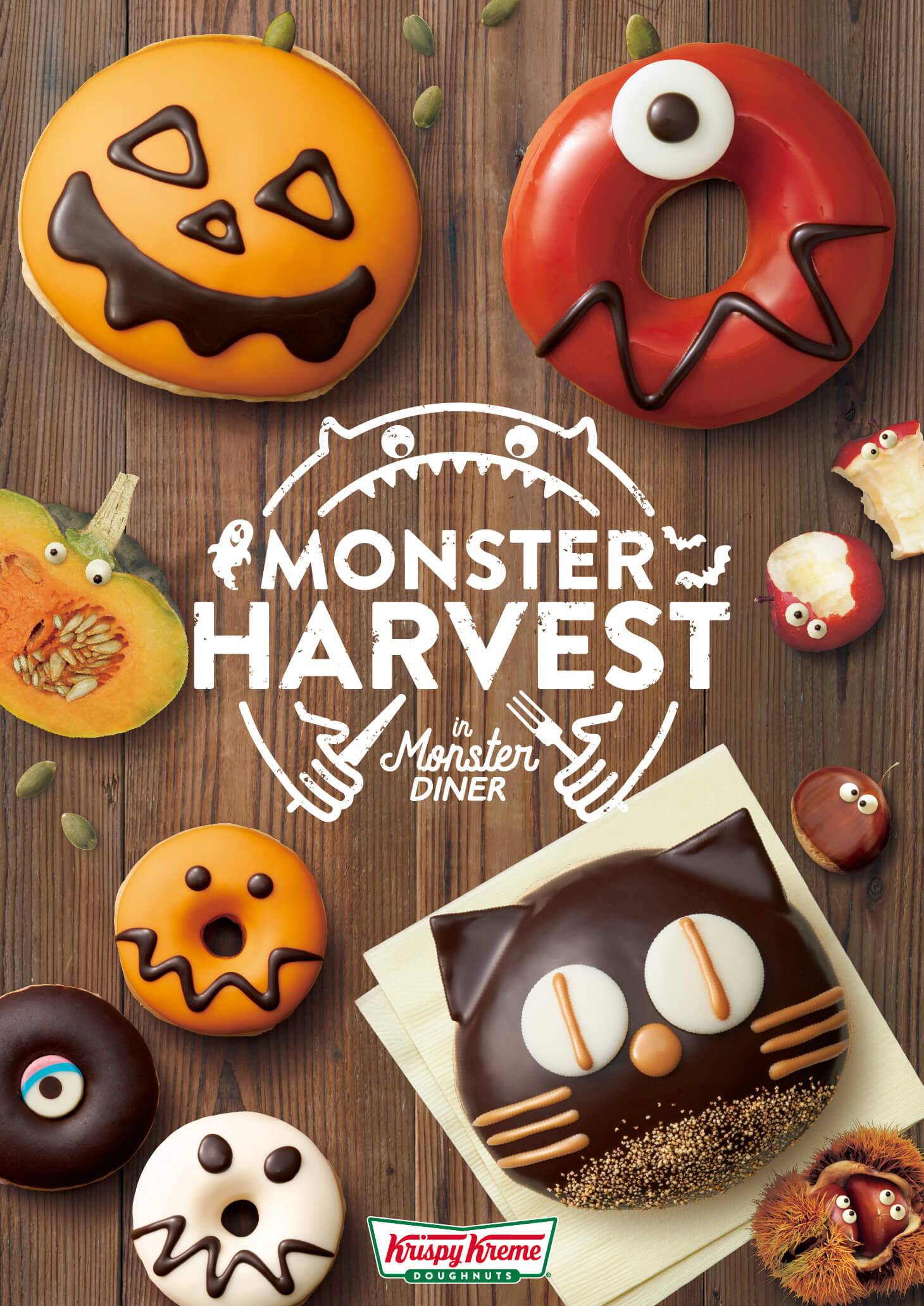 Krispy Kreme branches across Japan will be releasing their pumpkin, chestnut and apple flavoured selection called MONSTER HARVEST in Monster DINER from September 11 to October 31.
*Some branches may not sell the Halloween collection. 
Halloween Dozen (Box of 12) Available: September 11 ー October 31, 2019 Price: ¥2,000 (before tax)
If you're having a Halloween party with friends and family then this box of a dozen doughnuts is the perfect treat. It contains autumn-limited flavours such as pumpkin, apple chestnut as well as some of KKDJ's classic doughnuts. Here's a nice trick to save money on your treats: You save ¥440 if you purchase this box over individually purchasing the same doughnuts. Add a splash of autumn colour to your Halloween with this beautiful box of delicious doughnuts. 
▼Krispy Kreme Doughnuts Japan Website: https://krispykreme.jp/
Halloween Menu at The Pokémon Cafe, Nihonbashi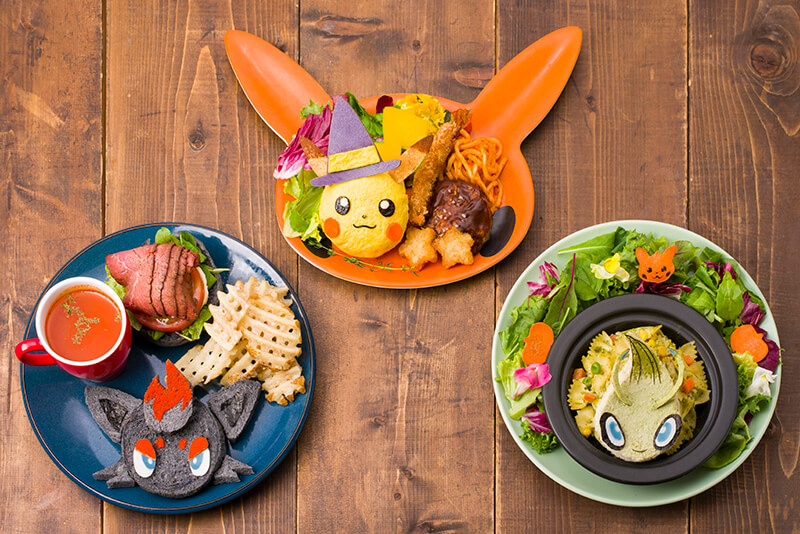 The Pokémon Cafe in Nihonbashi, Tokyo has revealed its Halloween food and drink line-up for the spooky season which will arrive early on September 7 be served until October 31.
Pikachu's Greedy Halloween Plate 2019 – ¥1,706 (w/ Plate ¥2,894)
This year's Halloween plate features Pikachu wearing a witch's hat. This filling plate features a pumpkin salad, spaghetti and more. Plenty to keep you going until the late-night candy snacking!
When ordering a drink at the cafe you'll receive one of six possible original design coasters. New designs will replace these from September 7. One of the six designs is being kept a secret!
 For the duration of the Halloween event, there's also a limited-edition lunch mat and clear coaster to get your hands on. These are limited in stock so you'll want to catch 'em all quickly! And don't forget, you have to book a table in advance to dine at the Pokémon Cafe.
© 2019 Pokémon.©1995-2019 Nintendo/Creatures Inc./GAME FREAK inc.
 Pokémon, ポケットモンスター and ポケモン are registered trademarks of Nintendo, Creatures Inc. and GAME FREAK inc.
▼ Pokémon Cafe
Address: 2-1-2 Nihombashi | Nihombashi Takashimaya SC East Bldg. 5F, Chuo 103-0027, Tokyo Prefecture
Business Hours: 10:30-22:00
Closed during Nihombashi Takashimaya SC East Bldg's closed hours.
Reservations: https://reserve.pokemon-cafe.jp/
Official Website: https://www.pokemoncenter-online.com/cafe/
Cute Halloween Desserts at The Capitol Hotel Tokyu in Tokyo
The Capitol Hotel Tokyu in Tokyo has revealed that  that it will serve up its Halloween Sweets Selection again this year at the hotel's pastry boutique ORIGAMI located on floor B2F. The confectionery chefs have spun some spooky fun into this collection of 10 cute treats.
 Frankenstein – ¥1,760 / Phantom – ¥1,760 / Cyclops – ¥1,760
The Phantom is a popular confection every year at the hotel, but this year he's had two new freaky friends carved out for him: Frankenstein's monster and a Cyclops. These white chocolate monsters are filled with chocolate-covered almonds, macadamia nuts and other hidden delights.
▼Halloween Sweets Selection
Running: October 1, 2019 – October 31, 2019
Location: ORIGAMI, The Capitol Hotel Tokyu Floor B2F
Full Sweets Line-Up: https://www.tokyuhotels.co.jp/capitol-h/restaurant/boutique/plan/50306/index.html
The Capitol Hotel Tokyu
Address: 2-10-3 Nagatacho, Chiyoda Ward, Tokyo
Official Website: https://www.tokyuhotelsjapan.com/global/capitol-h/
Cool, Cute and Cutting Edge Halloween Treats: Alice Halloween Party Buffet 2019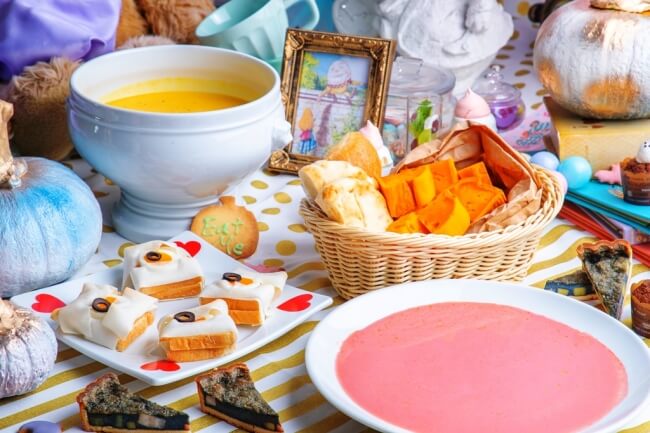 Fantasy-themed restaurant Alice in an Old Castle has unveiled a new Halloween edition of their grand all-you-can-eat buffet. The Alice Halloween Party Buffet 2019 will take place from September 7 to October 31, 2019, serving up 30 varieties of desserts and light bites for their Halloween-limited event. 
This season, they are serving a mummy-themed croque madame and carrot cake with a vibrant orange Halloween colour. They will also be bringing out their Alice in Wonderland Pink Spicy Curry which is a filling curry which has become the popular number one. The Pumpkin Potage Soup and many other autumn-themed dishes will also become part of the lineup. There is surely no better way to enjoy your time than to indulge in these splendid desserts and delicious snacks. 
▼ Alice in an Old Castle
Address: Floor B1 Suzuwa Building, 2-16-8, Minami Ikebukuro Toshima, Tokyo
Regular Opening Hours: Mon-Fri, 17:00-23:30(L.O.22:30)
Weekends/national holidays  16:00-23:30(L.O.22:30)
No regular holidays (dependent on Suzuwa Building closing times)
Website: https://www.hotpepper.jp/strJ000999805/
Omotesando Q-pot CAFE. Cute Halloween Menu 
Q-pot. is known for its accessory brand, which features jewellery made to look like sweets and desserts. It is also known for the Q-pot CAFE. which flips that concept, instead making sweets and desserts that look just like real accessories. For Halloween this year, the Q-pot CAFE. has whipped up a spooky menu with the theme "DEVIL NIGHT" featuring appearances of all things Halloween from pumpkins to ghosts.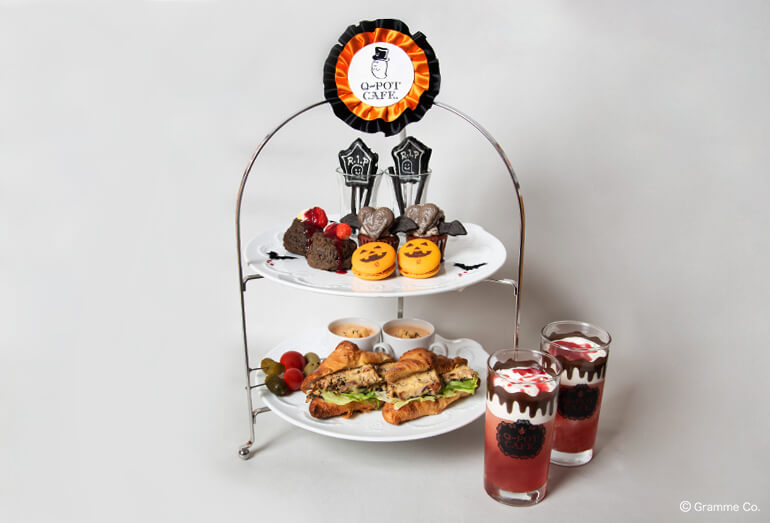 Vampire Afternoon Tea Set – ¥2,400 each (price after tax, a minimum of two people required)
*Contains milk, eggs and wheat
Take a look at this spooky afternoon tea set perfect for adults! From devils to monsters, Q-pot CAFE. has recruited a number of freaky friends for their themed dishes to terrorize your tastebuds.
The top plate comes with sponge and cream cheesecake pops coated in chocolate and salty breadsticks. The set also comes with homemade scones made from butter cream and sweet and tangy berry sauce, devil heart macaron-topped cupcakes, and pumpkin macarons which are bound to set your Halloween levels to max!
The bottom plate features savoury foods. The croissants are filled with egg, aromatic basil and dried tomatoes which provide an interesting texture.  The set also includes skewers of olives, mini tomatoes and pickles, and a Halloween Pumpkin soup.
If you are experiencing Halloween in Japan, you just have to try the themed desserts and meals!
RECOMMENDED ENTRIES
Creepy-Cute Halloween Menu Spooks This October at Hotel Chinzanso Tokyo

The Bistro is a restaurant at Hotel Chinzanso Tokyo which offers casual dining in a warm and welcoming spacious environment. This October, the restaurant is set to serve up at "creepy-cute" Halloween menu with bone-chilling designs and delicious flavours.

The first dreadful dish is the pain de campagne which is made to look like real lips and fingers. The pork and foie gras pâté fingers are complete with a balsamic jelly coffin while the caprese lips are a mix of tomato and mozzarella cheese.

Next on the menu is a meaty meal made to look like squashed eyeballs. The eyeballs are made from small onions and are filled with blueberries to give them a very creepy and realistic look. They are served with beef cheek which has been marinated in red wine for three days before being cooked.

For dessert, look forward to meeting a seriously cute purple sweet potato mont blanc monster.

Making a return this year is a cooking lesson where a chef will teach you how to make a Halloween themed afternoon tea made up of sweets, scones and more. This is a rare chance to ask questions to a professional chef.

There will also be a children's event which is held every year and welcomes more than 200 kids. They can dress up and join in the stamp rally where they will be given a map to find all the stamp locations dotted around the hotel while gathering snacks. After the rally ends they can enjoy some Halloween desserts in the hotel's cafe Foresta.

Information

The Bistro Halloween ~Grown-Up's Halloween Dinner~

Running: October 1, 2019 – October 31, 2019

Time: 17:00-22:00
Location: The Bistro at Hotel Chinzanso Tokyo

Price: ¥6,390 (Tax and service charge excluded from price)

Event Page (Japanese): https://hotel-chinzanso-tokyo.jp/restaurant/plan/725d0986cd17bf2.html

Halloween Afternoon Tea Cooking Lesson
Date: October 16, 2019
Location: Camellia (Banquet Building Floor 3F)
Times:

[Slot 1] Sign-up from 11:00 / Lesson 11:30 / Dining 12:45-14:15

[Slot 2] Sign-up from 15:00 / Lesson 15:30 / Dining 16:45-18:15

Price: ¥6,800 (Tax and service charge included in price)

Bookings: Open from September 2, 2019

Capacity: 30 people per slot (Bookings done via online payment)
Bookings (Japanese): https://hotel-chinzanso-tokyo.jp/restaurant/plan/615d09977613e3e.html

Children's Halloween Stamp Rally & Cafe 2019
Date: October 30, 2019 – October 31, 2019
Times:

[Slot 1] Stamp Rally from 11:30 / Cafe Desserts 12:00-13:30

[Slot 2] Stamp Rally from 14:30 / Cafe Desserts 15:00-16:30

Price: Parent & Child Dessert Set ¥2,500 (Tax and service charge included in price)

*The stamp rally is free to participate in. Up to 3 children per adult. It costs ¥500 for an additional single children's dessert.
*For children aged 0 to preschool age. Costumes can be full outfits or part outfits.

*Stamp rally participation only is not permitted.

Location: Foresta at Hotel Chinzanso Tokyo
Bookings: Open from September 2, 2019
Capacity: 90 people per slot (Includes children) *Please book 3 days in advance
Bookings (Japanese): https://hotel-chinzanso-tokyo.jp/restaurant/plan/655ca72f362a69c.html

Halloween Treats, Wagashi, Drinkable Potato Desserts & More at GINZA SIX This Autumn

This autumn, Ginza's biggest shopping complex GINZA SIX is serving up a sumptuous selection of seasonal sweets and desserts. Their main components this year are apples and potatoes. Expect to enjoy potato in an entirely new way, and get ready for the spooky season with a line-up of Halloween treats that everyone can enjoy.

Let's take a look at just some of the gourmet delights arriving for the autumn season, some of which are already on sale.

Potato Desserts

Drinkable Potatoes (Purple Sweet Potato/Ripe Potato/Potato Leaf) – ¥600 Each @ Minamikaze Noukasha Dessert House (Available: October 1 – October 31)

We're at a point in time now where not only can we eat potatoes―we can drink them too! These potato dessert drinks come in three flavours: fruity Purple Sweet Potato, rich Ripe Potato, and Potato Leaf. The potatoes used to make all of the drinks were farmed from Minamikaze Noukasha's 160 potato farms.

Set of 5 Native Potato Pies (Oiran Potato/Genji Potato/White Potato/Hayato Potato/Tanegashima Purple Sweet Potato) – ¥2,500 @ Minamikaze Noukasha Dessert House (Available: October 1 until all sold)

Methods to make potato cultivation even easier were introduced almost 400 years ago in Japan. Cultivating original varieties of potatoes is difficult―it's mostly not done today. These pies are proudly made with those rare native potato varieties.

Potato Parfait – ¥2,000 @ JOTARO SAITO (Quantity: Only 10 served per day)

This gorgeous parfait is made with a purple sweet potato and sweet potato cream and is layered with agar-agar, rice flour dumplings, and ice cream. Inspired by the form of an affogato, it's topped with potato ice cream drizzled in a warm rice sauce.

Halloween Goodies For Grown-Ups

Halloween Party Pumpkin Purin – ¥4,800 @ Marlowe (Available: October 1 – October 31) *Must order within 3 days

This party-sized Halloween-exclusive rich pumpkin custard pudding contains cinnamon and nutmeg. It's even topped up with a jack-o-lantern face.

Glowing Lollipop Candy – ¥833-¥1,111 @ Candy Art Museum by PAPABUBBLE (Available: September 21 – October 31)

These lollipops come on sticks with LED lights that make the candy glow a ghoulish light, making them a great Halloween treat.

Halloween Afternoon Tea Set – ¥4,200 @ THE GRAND GINZA (Available September 1 – October 31)

Feast on an exquisite Halloween afternoon tea set made up of an exquisite selection of drinks and desserts.

Apple Desserts

Apple Gummy – ¥2,777 / Apple Gummy Candy – ¥1,666 @ Candy Art Museum by PAPABUBBLE (Available: August 27 – November 4)

The apple gummy is about the size of a Jonathan apple. If you're wondering what flavour it is, you'll have to wait until you bite into it to find out! The apple gummy candy set takes on flavours of different apple varieties.

Pom Caramel – ¥800 Each @ PHILIPPE CONTICINI (Available: August 27 – November 4)

These cute and round vanilla flavoured apple mousses are filled with an apple compote, which has a hint of star anise, and cream caramel. They're packed full of apple-y goodness and maintain PHILIPPE CONTICINI's refined flavours.

This Year's Must-Try Autumn Treats

Bessei Maruto Parfait "Shubo" – ¥2,300 @ Nakamura Tokichi Honten (Available: October 1 – November 30)

Exclusive to the Ginza branch of Nakamura Tokichi is this specially made parfait, layered with autumn-time ingredients including Japanese chestnut matcha cream, fig, chestnut sherbet, and bean paste. You can really taste the rich matcha notes in this beautiful dessert.

Kyoto Koicha Terrine Inori no Kajitsu – ¥2,000 @ Tsujiru (Available from September 1)

A great little gift is this terrine chocolat, made with chestnut, black soybeans, fig, and cranberries.

Did you enjoy this list? All of these items are autumn-exclusives and some are very limited in stock. Be sure to enjoy all the flavours of autumn this year in Japan.

*All listed prices include tax

Information

GINZA SIX

Address: 6-10-1 Ginza, Chuo Ward, Tokyo

Opening Hours: Shops/Cafes (B2F-5F) 10:30-20:30 / Restaurants (6F, 13F) 11:00-23:00

*Business hours differ from shop to shop.

No Fixed Holidays (But shops and restaurants will be closed on August 26, 2019)

Access: Directly connected to Ginza Station via the Tokyo Metro Ginza Line, Marunouchi Line and Hibiya Line.

TEL: 03-6891-3390
Website: http://ginza6.tokyo/

Sanrio Puroland Halloween 2019: IT Chapter Two, Horror Doll House & More Spooky Events

Sanrio Puroland is readying its tricks and treats for its Halloween festival this year. Titled "PURO HALLOWEEN PARTY ~KAWAII MASQUERADE~" the festival will run from September 13 to October 31.

This will be the park's first mask-themed festival and each day will be split into two slots: Day and Night. During the daytime, guests are invited to the park's "Cute Masked Party" string of events. But when night falls, the monsters will come out for the "Beautifully Scary Masquerade Party."

IT Chapter Two Collaboration

With IT Chapter Two right around the corner―the sequel to one of the biggest horror hits in years―Sanrio Puroland is collaborating with the film. This includes Hello Kitty taking Pennywise's place in the movie poster.

Hello Kitty's Red Balloon Mousse Cake – ¥650

In the Character Food Court on the first floor, you'll be able to order this mousse cake inspired by Pennywise's red balloons which is cutely topped with Hello Kitty ears. There will also be IT Chapter Two themed photo spots, and when evening sets in, red balloons will decorate the Lady Kitty House. IT might even appear somewhere in places you wouldn't expect…

Horror Content Made Even Scarier For 2019

Prepare to have your pants scared off with the scream-inducing Ghost Pierrot Masquerade Theater. The hugely popular mission-clear style haunted house returns and is open to everyone ages 10+ years. Can you survive the attack from the ghostly clown? If he sees you, it's over…

Location: Discovery Theater (Floor 1F)

Time: Approx. 15-minutes

Age Limit: 10-years-old and above

Lady Kitty House Transforms Into Doll House

The Lady Kitty House always has something special planned each year, and this year it's bringing something new. During the day the house will take on the form of a cute Halloween doll house.

But at night, it will become a horror doll house as the dolls are turned into butterflies as a result of a curse. Look forward to an ambivalent mix of terror and beauty.

The creeps will be made creepier on weekends and holidays one hour before the park closes when the dolls at the Horror Doll House start moving. Dress up in your Halloween attire and enjoy the hair-raising world of Lady Kitty House this year.

Join The Halloween Party Ball Mask Parade

The ball mask parade will take place on the first floor Puro Bridge. The Sanrio cast will be dressed up in ballroom attire with masks and dance elegant dances, pull onlookers into a frightening yet beautiful world.

Kawaii Masquerade Masks: Plastic – ¥800 Each / Paper – ¥400 Each

Join the fun by getting your hands on one of six character masks. Donning one of these may just be the thing you need to protect yourself from any ghosts in the area!

Location: Puro Bridge (Floor 1F)

Participating Cast: Hello Kitty, Cinnamoroll, My Melody, Kuromi, Wish me mell, Pompompurin

*More details can be found on the official homepage

Halloween Photo Spots

Have your photo taken together with the dressed-up Sanrio cast at the photo spot located in the Rainbow Hall on the third floor. Take your photo as you are or put on a mask and become one with the paintings.

Halloween Food

 

From Top Left: My Melody & Kuromi's Masquerade Party Curry ¥1,400 / Cinnamon's Black Halloween Ramen ¥1,100 / Masked Ball Black Omurice ¥1,300 / Dancing My Melody Corn Soup Pasta ¥1,300 / Hello Kitty's Masquerade Dress Parfait ¥850 / Cinnamon's Halloween Rare Cheese Tart ¥600 / Purin's Masquerade Doughnuts ¥600

"Black & Purple" is the theme for this year's Halloween menu which is packed with cute character dishes and desserts. 11 items adorn the menu including Kuromi's Black Night Cocoa which is served in the evening only.

Exclusive Halloween Merchandise

Mascots – ¥1,944 Each

Lots of character merchandise will be sold featuring the cast in their new Halloween costumes this year, from key rings to bags and more.

Dress Up & Get Discount

As part of the Halloween celebrations, if you arrive at the park in full Halloween dress you can get a discount on Passport Tickets. Be sure to go clad in your best outfit to have the most fun!

*All listed prices include tax

©1976,2009 SANRIO CO., LTD. ©1976,1990,1996,2001,2005,2010,2019  SANRIO CO., LTD.

©2019 Warner Bros. Entertainment Inc. All Rights Reserved.

Information

PURO HALLOWEEN PARTY ~KAWAII MASQUERADE~
Running: September 13, 2019 – October 31, 2019

DAY: Weekdays – Until 14:30 / Weekends – Until 15:00

NIGHT: Weekdays – From 14:30 Until Closing / Weekends – From 15:00 Until Closing

*Weekday closing hours during the Halloween period is 6:00pm. Times subject to change.

Event Page: https://www.puroland.jp/2019_halloween/

Halloween Dress-Up Discount
Running: September 13, 2019 – October 31, 2019
Price: 1-Day Ticket – ¥2,500 (Adults & Children) / Night Ticket – ¥1,500
Conditions: Print off a discount ticket from the Puroland homepage (or show on your digital device) and dress in full Halloween-themed attire
*Must be full dress. Those wearing only face paint, only capes and so on will not receive the discount.
*Full conditions can be found on the website below (in Japanese)

Discount: https://www.puroland.jp/halloween-narikiri/

Sanrio Puroland

Address: 1-31 Ochiai, Tama, Tokyo

Official Website: https://www.puroland.jp/

Tokyo Disney Resort Reveals Its Spooky Halloween Programme and Character Costumes

Get ready for some spooky fun as Tokyo Disney Resort® transforms for the 52-day-long horrifically exciting Disney Halloween from September 10 to October 31. Head to DisneySea to be captivated by the new harbor show Festival of Mystique, or get spooked out of your skin at the Spooky "Boo!" Parade at Disneyland. Today, we will be revealing the spooky looks of both parks.

Tokyo DisneySea Festival of Mystique Costumes

Working with the main theme of a medieval European halloween, inspiration has been taken from the living creatures and waves at the port town Porto Paradiso. 

Mickey Mouse's costume inspiration comes from the the bones and scaly body of a sea creature. He will also be seen wearing a broach decorated with beautiful jewels. 

Minnie Mouse's costume resembles that of a medieval princess. You will see her in a fancy hat that bears beautiful pearls. Her costume is covered in scales on the chest and on the back which really suits her.

Tokyo Disneyland's Spooky Boo! Parade Costumes

Disney friends have joined forces with a group of spooky spirits. You just can't miss out on this rare chance to see your favourite Disney characters disguised as ghosts and skeletons. The strange and unusual atmosphere is sure to send a chilling shiver down your spine. 

Mickey and Minnie will be completely refreshing their colourful look. Mickey's necktie and Minnie's skirt are very mysterious and particularly intriguing.  Please come check them out!

Enjoy the beautiful costumes and the fun range of events this Halloween at Tokyo Disney Resort.

©️Disney

Q-pot CAFE. Omotesando Unveils Halloween Menu & Accessories For 2019

Q-pot. is known for its accessory brand, which features jewellery made to look like sweets and desserts. It is also known for the Q-pot CAFE. which flips that concept, instead making sweets and desserts that look just like real accessories.

For Halloween this year, the Q-pot CAFE. has whipped up a spooky menu with the theme "DEVIL NIGHT" featuring appearances of all things Halloween from pumpkins to ghosts.

Devil Obake-chan Plate (w/Drink) – ¥2,060 (Contains milk, eggs and wheat)

This kawaii dessert plate features a ghost made from a chewy vanilla gyūhi mousse filled with berry sauce. It comes with crunchy black bat cookies made with rich black cocoa cream and a pumpkin flavoured jack-o-lantern macaron.

Black Cat Plate (w/Drink) – ¥2,060 (Contains milk, eggs and wheat)

Steer clear from black cats this Halloween, except for this one which is a dark Graham cracker made from bitter caramel and chocolate mousse and is filled with almonds and dried cranberries. Flying around the kitty are the same crunchy black bat cookies made with rich black cocoa cream and the pumpkin flavoured jack-o-lantern macaron.

Vampire Chocolate Latte – ¥750 / +¥100 as Set (Contains milk and wheat)

Don't fear―you won't turn into a vampire if you take a sip from this chocolate latte topped with latte art of a flying bat. This frothy rich dark chocolate delight includes smashed Oreos.

Strawberry Cheese Tea – ¥750 / +¥100 as Set (Contains milk)

The strawberry cheese tea is a unique mix of the cafe's high quality black tea and salty cream cheese. It's smooth to taste and is surprisingly light to drink. Add a fruity strawberry punch to the cheese tea by pouring in the accompanying strawberry sauce.

Vampire Afternoon Tea Set For One – ¥2,400 (Contains milk, eggs and wheat)

They even have a gorgeously spooky afternoon tea set.

The top plate comes with sponge and cream cheese cake pops coated in chocolate, salty breadsticks, homemade scones made from butter cream and sweet and sour berry sauce, devil heart macaron-topped cupcakes, and pumpkin macarons.

The bottom plate features savoury foods including croissants filled with egg, basil and dried tomatoes, as well as olives, mini tomatoes, pickles, and a soup.

As well as Halloween food, the cafe also has a line-up of "DEVIL NIGHT" themed accessories for sale.

[From Top Left Clockwise] Vampire Bat Piercings (Pair) ¥8,000 / Mini Devil Ghost Sheet Necklace (Set/Special Packaging) ¥21,000 / Vampire Bat Brooch ¥7,000 / Vampire Bar Ring ¥12,000 / Vampire Spider Ring ¥13,000

Black Cat Necklace ¥16,000 / Silk Hat Charm ¥4,500

The black cat jewellery is a new addition to this year's line-up.

Enjoy a very cute and special Halloween in Japan this year at Q-pot CAFE.

*All listed prices are pre-tax

Information

2019 HALLOWEEN MENU

Running: September 10, 2019 – October 31, 2019

Address: Q-pot CAFE. Omotesando (3-4-8 Jingumae, Shibuya, Tokyo)

*The Halloween menu price will increase in line with the Japan's increase in consumption tax from 8% to 10% from October 1, 2019

Reservations: https://www.q-pot.jp/cafe.php

Q-pot. 2019 HALLOWEEN "DEVIL NIGHT" Jewellery

Release Date: September 7, 2019

Available: At Q-pot. (3-4-8 Jingumae, Shibuya, Tokyo) / Q-pot. Pop-Up Shop at IKSPIARI / Q-pot. ONLINE SHOP (from noon)/ Q-pot. INTERNATIONAL ONLINE SHOP
RELATED ENTRIES
Deliciously Luxurious Matcha Shaved Ice to be Served in Shinjuku This Summer

This summer, Southern Tower Dining and Lounge South Court—both of which are located inside Odakyu Hotel Century Southern Tower—are serving up a fluffy matcha shaved ice dessert called Wa -Nagomi- from June 1 to September 30.

Southern Tower's Famous Fluffy Light Snowfall Wa -Nagomi- Shaved Ice | Eat In ¥1,470, Takeout ¥700

The matcha-flavoured shaved ice has a texture as light and fluffy as snow. As you spoon through the dessert your taste buds are met with a range of delicious tastes and textures like the Japanese rice flour confection known as gyuhi, winter melon syrup, black soybean flour ice cream, and cream.

The dessert can also be ordered for takeout. The black soy bean flour ice cream adds a crunchy cereal-like texture to the soft shaved ice, and with the takeout option, there's also chocolate-coated wheat bran and brown sugar syrup.

Information

Wa -Nagomi-

Japanese Name: 和 -なごみ-

Serving: June 1, 2021 – September 30, 2021

Where: Southern Tower Dining / Lounge South Court (Odakyu Hotel Century Southern Tower Floor 20F)

Address: 2-2-1 Yoyogi, Shibuya, Tokyo

Opening Hours:

[Southern Tower Dining] 11:30-16:00 (Last Orders 15:00) / 17:30-22:00 (Last Orders 21:00)

[Lounge South Court] 10:00-23:30 (Last Orders 22:30)

Southern Dining Official Website: https://www.southerntower.co.jp/restaurant_lounge/st_dining/bar_lunch/

Peter Luger Steak House Opens First Japanese Branch at Ebisu Garden Place

Hailing originally from Brooklyn, the 130-year-old Peter Luger Steak House has announced the opening of its first-ever Japanese branch which will welcome customers at Ebisu Garden Place in Tokyo this September with its 3-storeys of red brick.

Peter Luger is credited with spreading the mouth-watering wonder of dry-aged beef steak to the world which has made the restaurant's name globally famous. The restaurant of course wields a Michelin Star and has been featured high on the Zagat Survey for over 30 years.

The secret behind Peter Luger's signature ingredient

The restaurant's beef fillet and New York strip are signature items on the menu, both of which are made from porterhouse steak. Their steak is also made from USDA Prime beef which is dry-aged by hand to intensify the flavour and aroma.

The porterhouse is placed directly onto the broiler and seasoned solely with salt. The steak is flipped only once during the broiling process. A knob of melted butter is added to a serving platter and the steak is sliced atop it. It's then placed back into the broiler for a few minutes depending on the doneness requested by the customer. It's this process that gives Peter Luger's steaks their deliciousness. 

 

Brooklyn red brick building and theatre decor

The Japanese branch takes inspiration from the Brooklyn restaurant with its red brick exterior.

The first floor is home to the bar where customers can enjoy food and cocktails. There's also a takeout shop with gifts and other items.

The second floor is the spacious dining space which is home to Peter Ruger's first-ever open kitchen. The third floor is another seating area with balcony-like seats so you can look out over the city.

There are seven private dining rooms of varying sizes for those looking a little more intimacy and privacy. The restaurant's lighting was also designed by a New York designer.

Information

Peter Luger Steak House Tokyo

Grand Opening: September 9, 2021

Address: 4-19-19 Ebisu, Shibuya, Tokyo

Bookings: From August 2021

Peter Luger Steak House Japan Official Website: https://peterluger.co.jp/

Ginza's Italian Restaurant FARO Earns Michelin Star

FARO, an innovative Italian restaurant in Ginza, Tokyo, has earned itself a Michelin Star in Michelin Guide Tokyo 2021 which went on sale on December 10, 2020.

Located on the 10th floor of the Tokyo Ginza Shiseido Building, the restaurant offers a taste of contemporary Italy, fusing tradition and innovation with a menu that incorporates Japanese ingredients and culture for an original dining experience.

Chef's Special: Potato spaghetti

The individual credited with the creation of a new food culture is FARO's executive chef Kotaro Noda who is the only Japanese person to own two Michelin-starred restaurants in Italy. He has been at the forefront of the Italian cooking world for the past 20 years.

Vegan Menu: Daikon Mochi [Winter Season Item]


Flower Tart

FARO puts a lot of work into its array of colourful vegan courses. These courses aren't only aimed at vegans either – they are available to anyone wanting to eat delicious and healthy food.

The restaurant is also a display of Japanese craftsmanship, with all cutlery, crockery, table accessories, and more made using traditional Japanese methods, like the lattice work on the doors from Niigata Prefecture, the Tajimi and Arita ware, fabrics from Imabari, Edo kiriko cut glasses, and more.

The decor of FARO is an elegant and stylish fusion of both Japanese and western tastes, with a colour gradation representing the earth, sea, and sky. This colouring offers a completely different dining in both the daytime or during evening hours.

Information

FARO
Address: 8-8-3 Ginza, Chuo-ku, Tokyo

Opening Hours: [Lunch] 12:00-13:30 / [Dinner] 18:00-20:30

Closed: Sundays/Mondays/Mid August/New Year Holidays
TEL: 0120-862-150 / 03-3572-3911
Official Website: https://faro.shiseido.co.jp/ 

SOAK: Tokyo's New Entertainment Restaurant & Bar Opens Bookings

Japanese creative company BAKERU has opened bookings for the new entertainment restaurant and bar SOAK which is set to open on November 13, 2020 on the top floor of MIYASHITA PARK's new brand hotel "sequence MIYASHITA PARK" in Shibuya, Tokyo. The restaurant will served up a 'Japanese innovative' menu made by Takeshi Nagashima of Nishiazabu 81 and Hideaki Nagaya of L'Effervescence.

An otherworldly restaurant and bar serving Japanese innovative cuisine

"BUILD NEO TOKYO" is the theme of SOAK. SOAK welcomes by Takeshi Nagashima of Nishiazabu 81 which delivers performance style-entertainment to customes, and Hideaki Nagaya of L'Effervescence, who was chosen for "JAPANESE CUSINE TOP 5 CHEF IN HONG KONG." Bartending will be Takashi Goto who has worked as the main bartender at Sake Bar DECIBEL in New York and Shampoo in Shinjuku Golden Gai.

An event and party space which can hold up to 100 people

Located just a 3-minute walk from Shibuya Station, SOAK can be used as a party and event space with a maximum capacity of 100 people whether it be a wedding reception or a gathering of friends, family, or business, as well as for events, catering to any and every need. The space was designed by Noiz, a leading interior designer in Japan. The monuments were designed by contemporary artist Akira Yoshida, while the audio design is by Acoustic Engineering and the music is selected by Hirokazu Yamasaki from the post-rock and instrumental band Toe.

OYU: The rooftop terrace offering a panoramic view of Shibuya

Take in a panoramic view of Shibuya atop the rooftop terrace, and enjoy the pool either in the sunlight or shrouded luxuriously in the night with gorgeous illuminations and a glass in hand.

The pre-opening is set for November 13, 2020, but this is subject to change depending on the state of the pandemic.

Information

SOAK

Pre-Opening: November 13, 2020

Address: MIYASHITA PARK North Floor 18F, 6-20-10 Jingumae, Shibuya, Tokyo

Opening Hours: 17:00-24:00 (Last Orders 23:30)

Closed: Mondays

TEL: 03-6427-9989 (17:00-22:00)

Official Website: https://soaks.tokyo/

Catch the Chansey Pokémon Doughnut at Mister Donut This Winter

Mister Donut Japan revealed last month that it is set to team up with Pokémon this winter with a special campaign starting on November 15. Before then however, from November 13, the doughnut chain will be releasing the "Mister Donut Chansey Christmas-chu Collection" of doughnuts and merchandise.

Mister Donut Chansey Christmas-chu Collection

Pikachu Doughnut (Custard Whip) | ¥240 (Before Tax)

Mister Donut is releasing four doughnuts this year, one of which is the popular Pikachu doughnut from last year which is coated in chocolate.

Chansey Doughnut | ¥200 (Before Tax)

Chansey, which is known as Lucky in Japanese, is bringing you luck this year in the form of a strawberry chocolate-coated doughnut complete with an adorable face, ears, and belly.

Poké Ball | ¥200 (Before Tax)

Great Ball | ¥200 (Before Tax)

The Poké Ball doughnut has also been transformed from the classic Pon de Ring doughnut from last year and turned into an actual ball shape. It's filled with whipped cream and coated in a strawberry glaze while the Great Ball version is filled with custard whipped cream and is coated in chocolate.

Pon de Ring Wreath: Pudding Flavour, Strawberry Flavour, Chocolate Flavour | ¥150 (Before Tax)

For the holiday season, Mister Donut is also bringing back their classic Pon de Ring series in three flavours.

As well as doughnuts, Pokémon fans can get their hands on a selection on Christmas mugs and bowls too. Perfect for putting under the tree this year.

©2020 Pokémon. ©1995-2020 Nintendo/Creatures Inc./GAME FREAK inc.
ポケットモンスター・ポケモン・Pokémonは任天堂・クリーチャーズ・ゲームフリークの登録商標です。

Information

Mister Donut x Pokémon

Pon de Ring Wreaths

Running: November 13, 2020 – Late December 2020
Available: Most Mister Donut branches in Japan

Official Website: https://www.misterdonut.jp

Sanrio Puroland Halloween Makeup Developed in Collaboration With POLA

POLA INC. is collaborating with Sanrio Entertainment's amusement park Sanrio Puroland for their ongoing PURO HALLOWEEN PARTY event which is being held both at the park and online. The company has developed cute and sophisticated Halloween makeup inspired by the looks being worn by the Sanrio characters at Puroland for Halloween.

Halloween is a time to dress up as your favourite spooky figure, and POLA has jumped on board by creating a range of makeup looks to support Halloween outfits this year that anyone can do at home. Each look has a step-by-step visual guide as well as a video to help you along the way.

All the products used for the looks are by POLA and can all be bought at their nearly 4,000 stores including the 670 POLA THE BEAUTY branches and their flagship store POLA GINZA. Select branches in China, Taiwan, Hong Kong, Thailand, Macao, and Singapore are also stocking the items.

Cute Halloween Confections Make Their Way to Ginza Cozy Corner This October

Ginza Cozy Corner released a new collection of Halloween confections on October 19.

JOYJOY Halloween Party (9 Included) | ¥2,400 (Before Tax) | Available: October 19, 2020 – October 31, 2020

The tasty line-up features a collection of playful ghouls and ghosts partying at a haunted house. Bites include an eyeball tart, orange-flavoured Jack-o'-lantern roll cake, and lots more. Plus, the box they come in can be cut out and used as a photo prop for snapping cute Halloween pictures.

Imp's Trickster Mont Blanc | ¥580 (Before Tax) | Serving: October 19, 2020 – October 31, 2020

There's also a colourful mont blanc layered with four different creams: strawberry, lemon, melon, and blueberry, and inside—a mouth-watering tangy orange sauce surprise.

Kaori's Easy Recipe: Learn to Make Jack Skellington Stained Glass Cookies

With just a small bit of ingenuity, turn everyday food into something cute using Kaori's Easy Recipe! With a few simple ideas, an ordinary recipe magically transforms into a cute dish.

I have the perfect Halloween recipe for you this time. If we're talking Halloween, then who else but Jack Skellington is the man for the job? Here's my recipe to make Jack Skellington Stained Glass Cookies.

Ingredients

 

70g unsalted butter
50g icing sugar (or high quality white sugar if you don't have)
A pinch of salt
30g egg
110g weak flour
10g black cocoa
1 white chocolate pen
Hard candy of your choice crushed into small pieces

*To crush the candy, you can put into a zip lock bag and use a rolling pin

1


Place all ingredients except the egg into a food processor and blitz. After, place the egg into the blitzed mix and blitz once again. Once combined, wrap with cling film and place into the refrigerator for 1+ hours until set.

2


Use a rolling pin to roll out circles of equal thickness for Jack's head. Use a cutter to cut out the eyes, and place into the refrigerator one more to set.

3

Bake in the oven at 180°C for 10 minutes and take out again.

4


Place your crushed candy into the eye holes and bake for a further 5 minutes.
*The candy will melt into place and even out, so feel free to pile on the pieces

*Be careful not to overcook the candy as it will turn brown

5


Allow to cool. Be very careful handling and placing down the cookies as the eyes will be delicate. Decorate Jack's nose and mouth with the chocolate pen and he's ready for your Halloween party!

Kaori invites you into her world of character-themed food dishes in her recipe series. Be sure to check out her Instagram where she has uploaded many pictures of her character dishes!

Kaori Kubota (@kaopan27)

I live in Hokkaido and I love to make character themed foods, desserts and pastries♡

I want to see my family smile, so I enjoy putting in a bit of effort to make character foods and changing food into something cute♡

You can see more of my character foods and character bento boxes on my Instagram page → @kaopan72

Sanrio Themed Cafe Celebrates Characters' Monthly Magazine 'Ichigo Shimbun'

Sanrio is once again collaborating with the EGG & SPUMA cafe located on the 8th floor of Shinjuku Lumine EST to celebrate the 45th anniversary of Ichigo Shimbun, a monthly magazine published by Sanrio which includes information about the latest character merchandise, the Sanrio Character Awards, and more. The limited-time cafe will run from November 1, 2020 to late January 2021.

Sanrio fans can expect a very special menu line-up of food, drinks, and desserts based on their favourite characters from the Sanrio roster.

There will in fact be two different menus served on separate occasions. The first menu will welcome a soufflé omelette topped with a potato salad Pochacco while the second will see an adorably pink My Melody cream stew.

There will also be an incredibly cute two-tiered afternoon tea set with desserts and savoury items.

For drinks, there is a Hello Kitty strawberry milk, Cinnamoroll milk, and milk caramel pudding Pompompurin.

© 2020 SANRIO CO., LTD. APPROVAL NO. L613344

And everyone who orders from the collaborative menu will receive one of eight possible coasters as thanks for visiting.

Information

Ichigo Shimbun 45th Anniversary CAFE
Location: EGG & SPUMA, Shinjuku Lumine EST Floor 8F, 3-38-1 Shinjuku, Shinjuku Ward, Tokyo
Running: November 1, 2020 – Late January 2021

Opening Hours: 11:00-21:00 (Last Orders)

TEL: 03-6273-0255
Official Website: http://salt-group.jp/shop/egg-spuma/

Pokémon Cafe and Pikachu Sweets by Pokémon Cafe Reveal New Desserts Including Polteageist Tea Set

Pokémon Cafe and Pikachu Sweets by Pokémon Cafe are releasing a new teatime menu at their respective branches on October 24, 2020.

Pokémon Cafe

Polteageist & Sinistea Tea Party! Fruit Tea Set ~Apple Flavoured~ | ¥1,188 (Tax Included)


Polteageist & Sinistea Tea Party! Fruit Tea Set ~Strawberry Flavoured~ | ¥1,188 (Tax Included)

Pokémon Cafe is serving up two different fruit tea sets based on the Ghost-type Pokémon Polteageist and Sinistea. Customers are free to pour in their desired amount of fruit syrup which changes the colour of the tea. The sets come with a cute cookie too.

Pikachu Sweets by Pokémon Cafe

Left: Polteageist's Tea Party! Fruit Tea ~Mixed Berry Flavour~ / Right: Polteageist's Tea Party! Fruit Tea ~Peach Orange Flavour~ | ¥700 Each (Before Tax)

Pikachu Sweets by Pokémon Cafe is also going to serve up some Polteageist themed fruit teas as well as a selection of desserts like macarons and financier almond cakes which have Pokémon tail and ear designs.

After ordering one of the Polteageist fruit teas, customers can place their cups under the Polteageist tea pot as pictured above and activate the pot to dispense their drink, so it's like Polteageist  really pouring tea for you.

Left: Swirlix Strawberry Macaron | Middle: Pikachu Vanilla Macaron | Right: Galarian Ponyta Pistachio Macaron – ¥500 Each (Before Tax)

Treat yourself to one of the super cute Swirlix, Pikachu, or Ponyta macarons each with designs that tell you instantly which Pokémon they're inspired by.


Polteageist Fruit Tea and & Pikachu Macaron Set

Customers can order a tea and macaron combination set too.

Pikachu Parfaits

Pikachu Glass Parfait Set | ¥1,500 (Before Tax)

An adorable set of Pikachu parfaits, one being caramel banana flavoured and the other chocolate.

Pikachu Tea Party Assortment – Pika Pika Pikavee Set | ¥2,800 (Before Tax)

Another set to share between friends and family, this time with two Pikachu glass desserts as well as Pikachu and Eevee cupcakes.

Pikachu Tea Party Assortment – Ghost Type Set | ¥2,800 (Before Tax)

This set comes with the Pikachu glass desserts as well as Ghost-type Gengar and Litwick mousse cakes.

The Polteageist teapot and Sinistea teacup used at the Pokémon Cafe and Pikachu Sweets by Pokémon Cafe will also be released at Pokémon Center Online in Japan on December 5, 2020.

© 2020 Pokémon.©1995-2020 Nintendo/Creatures Inc./GAME FREAK inc.
Pokémon, ポケットモンスター, and ポケモン are registered trademarks of Nintendo, Creatures Inc., and GAME FREAK inc..

Information

Pokémon Cafe (Nihombashi, Tokyo)
Address: Nihombashi Takashimaya SC East Bldg. 5F, 2-1-2 Nihombashi, Chuo Ward, Tokyo
Business Hours: 10:30-22:00
No Fixed Holidays (Except when Nihombashi Takashimaya SC is closed)
Reservations: https://www.pokemoncenter-online.com/cafe/reservation.html

Pokémon Cafe (Shinsaibashi, Osaka)
Address: Daimaru Shinsaibashi Honkan 9F, 1-7-1 Shinsaibashisuji, Chuo Ward, Osaka, Osaka Prefecture
Business Hours: 10:00-21:30
No Fixed Holidays (Except when Daimaru Shinsaibashi is closed)
Reservations: https://www.pokemoncenter-online.com/cafe/reservation.html

Pikachu Sweets by Pokémon Café 

Address: Sunshine City Alpa Floor 2F, 3-1-2 Higashiikebukuro, Toshima City, Tokyo

Opening Hours: 10:00-20:00
Official Website: https://www.pokemoncenter-online.com/cafe/pikachu_sweets/

*Opening hours subject to change, please check in advance before travelling.

*Food served and duration subject to change without notice.

*Photos are for illustrative purposes only.

*Seat reservations are taken online only – phone reservations not available.

Shibuya's L'OCCITANE CAFE Reveals Spooky Parfait For Halloween 2020

L'OCCITANE CAFE Shibuya is getting ready for Halloween with the reveal of its sweet potato and apple parfait which will be served from October 21 to 31. The Tokyo-based cafe is centred on the food culture and lifestyle of Provence in southern France.

Sweet Potato and Apple Parfait | ¥1,280 (Tax Included)

The seasonal treat is a mix of purple sweet potato and regular sweet potato, baked apples, apple sherbet, and vanilla ice, all topped off with whipped cream, roasted nuts, and almond tuile biscuits in the shape of ghosts and a pumpkin.

Information

Sweet Potato and Apple Parfait
Serving: October 21, 2020 – October 31, 2020

L'OCCITANE CAFE Shibuya
Address: 2-3-1 Dogenzaka, Shibuya, Tokyo
Opening Hours:
[Sun-Thur] 11:00~22:00 (Last Orders 21:00)
[Fri-Sat] 11:00-23:00 (Last Orders 22:00)
TEL:03-5428-1563
Access: Straight ahead of Shibuya Station's 5th Exit (Inokashira Exit)
L'OCCITANE Japan Official Website: https://jp.loccitane.com/

Rilakkuma Book Cafe Themed Afternoon Teas in Osaka Will Serve Bear-Huggingly Kawaii Food

Major bookstores across Japan are rolling out the Rilakkuma Book Fair where fans can get their hands on short Rilakkuma fairy tails, exclusive merchandise, and more.


In line with the event, Fruits Parlor & Bakery Season & Co., a cafe in Umeda, Osaka, is serving up a special menu with the theme "Rilakkuma Book Cafe" from October 30 to November 30. This includes a afternoon teas which also celebrates the cafe's 1st anniversary, more exclusive merchandise, and novelties for customers who order from the Rilakkuma menu.

Rilakkuma Zukin Afternoon Tea | ¥4,000 (Before Tax) *Reservation-only

A special afternoon tea featuring 13 different goodies from desserts to a sandwich, quiche, and more. It comes with a fruit iced tea welcome drink too.

Rilakkuma Yuki Hime Afternoon Tea | ¥4,000 (Before Tax) *Reservation-only

A different afternoon tea that serves up 12 items. This also comes with a fruit iced tea.

Rilakkuma's Honey Apple Smoothie | ¥800 (Before Tax)

A honey apple smoothie topped with refreshing vanilla ice cream, smooth fresh cream, and a Rilakkuma jelly candy.

Rilakkuma's Royal Chocolate Milk Tea | ¥1,200 (Before Tax)

Classic royal milk tea served with chocolate Rilakkumas. Eat on their own or dip into your tea!

The cafe is now taking reservations for the afternoon teas. Bookings must be made two days in advance by telephone or the official website.

Information

Rilakkuma Book Cafe
Running: October 30, 2020 – November 30, 2020
Reservations: https://season-co.shop/rilakkuma2020/

Fruits Parlor & Bakery Season & Co.
Address: LINKS UMEDA 1F, 1-1 Ofukacho, Kita-ku, Osaka
Opening Hours: 9:30-22:00 (Last Orders 21:30)
TEL: 06-6743-4212
Official Website: https://season-co.shop