Go Grape Picking, Buy Fresh Fruit and Veg & More at Hills Marche in Tokyo This Autumn
Hills Marche is a market held every Saturday at ARK Hills in Tokyo, and on September 28, it is set to hold the Hills Marche 10th Anniversary "Great Harvest Festival."
Hills Marche began in September 2009 as the first project of Marche Japon which is run by the Japanese Ministry of Agriculture, Forestry and Fisheries. It has become one of Tokyo's representative markets, with more than 740,000 people having attended since its establishment.
The 10th Anniversary Great Harvest Festival brings together farmers from all across Japan, with fresh fruit and vegetables harvested from that morning. There will also be various events including a grape-picking session. Lots of lunch options will also be served using fresh vegetables used as the market.
Farmers Band Together
A total of 44 sellers from both Japan and overseas will set up shop for the Marche. The first 100 people to shop at over 5 stalls and collect the stamps will also receive a festival tote bag.
Taste and Compare 10 Varieties Of Grape
From popular varieties such as Shine Muscats to rarer, hard-to-find varieties, choose from 10 different types of grapes to enjoy. You'll be surprised at how different their sweetness and sourness is!
Go Grape Picking
Have even more fun by picking your own grapes at Karayan Square. Kids and adults alike will enjoy this experience. Bring friends and family and relish in the flavours of the autumn harvest.
Time: From 11:00
Price: ¥500
Anyone can join, but the grapes are limited in stock, so it's first-come, first-served!
Bistro Marche with Ark Hills Cafe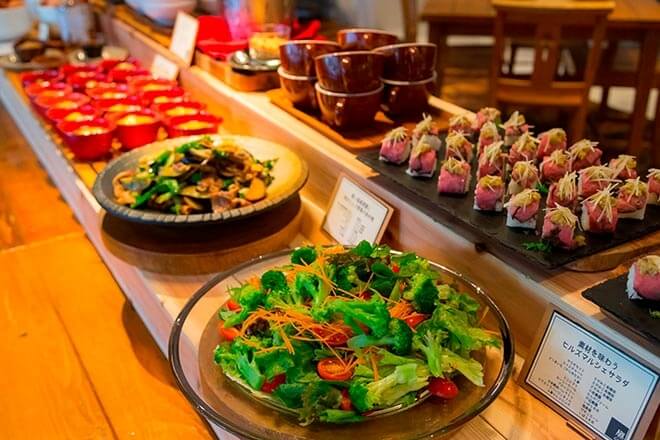 The Ark Hills Cafe is also celebrating its 10th anniversary alongside Hills Marche and will collaborate with the market for the occasion. Tuck into a healthy buffet made with ingredients from Hills Marche and enjoy a saxophone performance by Japanese musician Shunosuke Ishikawa. There will also be discount lunches using the ingredients from the market from September 24 to 27.
Price: General – ¥1,000 (Tax Included) / Elementary School Children & Younger – ¥500 (Tax Included)
Time: 10:00-15:00 (Last Entries 14:00)
Jazz Performances: ①11:15 / ②12:15 (subject to change)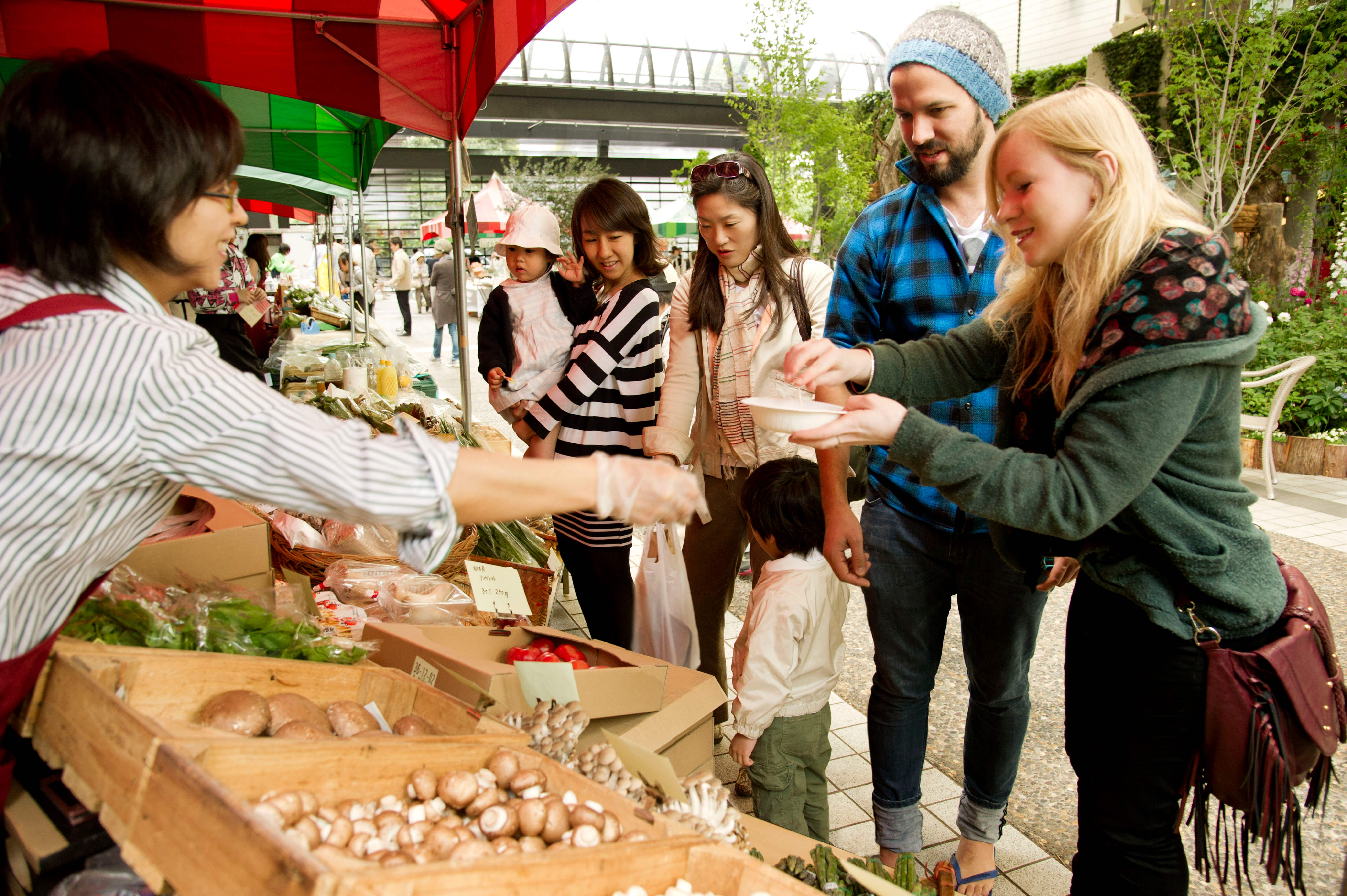 There's plenty more to look forward to as well, including lots for parents and children to enjoy together such as workshops.
Information
Hills Marche 10th Anniversary "Great Harvest Festival"
Date: September 28, 2019
Time: 10:00-15:00
Location: ARK Hills Karayan Square (1-12-32 Akasaka, Minato Ward, Tokyo)
*Hills Marche is normally held until 14:00, but it has been extended an extra hour for the anniversary
*An opening ceremony will also be held from 9:20-9:50 to commemorate the celebrations
*Festival will go ahead if it rains but will stop if the weather turns stormy
Official Website: https://www.arkhills.com/en/hillsmarche/
RECOMMENDED ENTRIES
Gamers! Rally Your Teammates For A New Quest: TOKYO GAME SHOW

The TOKYO GAME SHOW is in a league of its own. It is a mecca for gamers who cannot get enough of Japanese games and entertainment. This is where Japan's major game publishers from all kinds of platforms unite to put on an enormous exhibition. 

This includes the opportunity to explore games that are yet to be released as well as hear new announcements about the direction developers are steering the future of gaming. There's no lagging behind. This is a major event for the gaming industry, raking in leagues of heroes every year. 

On August 28, a total of 2,417 game booths were announced, which is the largest number the event has ever seen in its history. This event is home to games on a range of platforms including for console, smartphone and PC. The enormous variety of genres includes the most cutting-edge and latest trends including Esports, VR and much more.

For those of you who love cosplay, this event is your chance to finally meet your fantasy. The outside area of Hall 9 will have a Cosplaying Area Stage where two events will take place: a cosplay fashion show and a gathering. 

On Saturday 14th, Hall 1 event stage will hold the Cosplay Collection Night@2019 event where participants and event staff will take over the stage in game character cosplay. Spectating is free, so feel free to watch as each cosplayer dominates the entire stage, showing off their excellent craftsmanship and skills as they walk the runway and strike a pose definitely worth saving in your highlights! 

On Sunday 15th at 2:30 pm, cosplayers will take to the stage in units of two or more to put on a dance or combat show that you just cannot critically miss out on. 

Schedule:

September 14 (Sat)  From 12:00 ー Cosplay Runway  From 15:30 ー Cosplay Runway

September 15 (Sun) From 13:30 ー Cosplay Runway From 14:30 ー Cosplay Dance and Combat Shows From 15:30 ー Cosplay Runway

The Gathering is where cosplayers can interact with one another and have photos taken ー the perfect opportunity to send those friend requests. On September 14, a gathering dedicated to the Final Fantasy Tales Series will take place on the Cosplay Area Stage. On September 15, there will be gatherings for the Dynasty Warriors and Samurai Warriors series.

Schedule:

September 14  13:00-13:30 Final Fantasy Series Gathering  14:00-15:00 Final Fantasy Tales Series Gathering 

September 15 12:30-13:00 Dynasty Warriors and Samurai Warriors Series Gathering

More information on the exhibitions, booths and events will be announced on the morning of September 12 so please check it out. 

There is no better way to multi kill your time than to spend the entire day at TOKYO GAME SHOW 2019 ー get your tickets and GLHF!

Information

TOKYO GAME SHOW 2019

Event Information

Business Days*: September 12 & 13, 2019 (10:00~17:00)

*Business Days are open to industry and press only.

Public Entry*: September 14 & 15, 2019  (10:00~17:00)

*Doors may open at 9:30 am according to conditions on the day.  

Venue: Makuhari Messe (Mihama Ward, Chiba)

Exhibition Halls 1-11/ Event Hall/ International Conference Hall

Entry Fee: Advanced tickets: ¥1,500 (after tax)

On The Door: ¥2,000 (after tax)

Those under Elementary School age can enter for free (public entry days only)

Official Website: https://expo.nikkeibp.co.jp/tgs/2019/en/

Tokyo Disney Resort Unveils Its Spooky Halloween Merchandise and Food Menus

This year's Disney Halloween is set to hit Tokyo Disneyland® and Tokyo DisneySea® on September 10. In the run up to the event, Tokyo Disney Resort released some of the parks' Halloween merchandise early on Monday.

Special Merchandise

Long-Sleeve T-Shirt: Men's ¥3,600 / Women's ¥3,300 (*Men's in picture)

Gloves – ¥1,200 @ Grand Emporium, Tokyo Disneyland

From skeletal hand gloves to ghostly headbands, ghoulish Mickey ears and more, Tokyo Disneyland® has you set for your Halloween dress-up this year.

Headbands & Ear Hats @ Grand Emporium, Tokyo Disneyland & Emporio, Tokyo DisneySea

Grab the cute pumpkin-coloured Minnie headband or cool bandage-wrapped ear hat at both parks and get your scare on.

We recommend picking a full set, such as the skeleton t-shirt with the skele-ghost ear hat, or the bridal costume for a hauntingly beautiful Halloween. Mix and match to make your own spooky looks.

Special Food Menus

Popcorn Soda & Doughnut – ¥600 @ Captain Hook's Galley, Tokyo Disneyland

Forget trick-or-treat candy and order one of the many fun menu items at the parks, including this fizzy caramel popcorn flavoured beverage. The scrumptious popcorn coupled with the pumpkin flavoured doughnut make for a delightfully delicious combination.

Chicken & Vegetable Steamed Bun – ¥600 @ Nautilus Galley, Tokyo DisneySea / Teriyaki Chicken Rubber Ring Steamed Bun – ¥600 @ Seaside Snacks, Tokyo DisneySea

From a bandage-wrapped mummy steamed bun to a purple rubber ring steamed bun with a bat on it, Tokyo DisneySea and Tokyo Disneyland aren't short of Halloween bites this year, all so cute they seem a waste to eat!

Cassis & Passion Fruit Wine Cocktail – ¥680 @ Cafe Portofino, Tokyo DisneySea

Whisky & Orange Cocktail – ¥680 @ Barnacle Bill's, Tokyo DisneySea

Choose from five striking alcoholic drinks including the Cassis & Passion Fruit Wine Cocktail, which has a perfect balance of sweet and sour, and the Whiskey & Orange Cocktail, a mix of whisky, black tea and orange cocktail for an easy-to-knock-back flavour combination.

There is much terrifying excitement to be had this Disney Halloween. Put on your Halloween costume, order some food, and take lots of Instagrammable pictures at night. You won't soon be forgetting your Halloween experience at Tokyo DisneySea or Tokyo Disneyland.

©Disney

*The merchandise and menu items shown are subject to change without notice. Additionally, items are subject to selling out or discontinuation. Photos are for illustrative purposes only.

The Peninsula Tokyo Hotel Now Offers Restaurant IPPUDO's Ramen as Room Service

The Peninsula Tokyo is teaming up with tonkotsu ramen specialist restaurant chain IPPUDO―which has restaurants across the world―to offer their ramen as room service at their hotel.

The hotel and restaurant first came together in autumn last year to begin plans for their collaboration, which comes in response to many guests at the hotel asking staff where a great place to eat tonkotsu ramen is, and even some expressing their desire to dine at IPPUDO.

IPPUDO is a prominent ramen chain in Japan and so is sure to please the palates of all guests.

The ramen is boiled fresh in the kitchen and is delivered to guest rooms in a soup together with what looks like a jewellery box, but instead of being filled with rings and necklaces it's packed full of delicious ingredients to add to your broth, including walleye pollock roe―which is a staple with tonkotsu ramen―as well as mustard greens, red pickled ginger, cloud ear mushroom, seaweed, and more. Topping the broth is boiled egg, fried garlic, sesame seeds, BBQ sauce specially prepared by the hotel's restaurant Hei Fung Terrace, XO sauce which originates from The Peninsula Hong Kong, and more.

Enjoy the ultimate ramen room service now at The Peninsula Tokyo.
RELATED ENTRIES
Complete a Mission and Explore Enoshima with The Mekakushi Dan

Ever dreamt of teaming up with the Mekakushi Dan from the Kagerou Project to complete a mission? Now you can and explore the wonders of Enoshima while you are at it. From September 14 to November 17, Enoshima will hold its biggest ever real life rescue game featuring Japanese mixed-media project The Kagerou Project. The event will be called Mekakucity Quest in Enoshima and will run over approximately two months.

From games and music to novels, anime and manga, The Kagerou Project characters have dominated the scene in a large range of media forms. The Mekakucity Quest in Enoshima was created in collaboration with SCRAP, who are famous countrywide for their real life escape games. 

This game can only be cleared by walking around Enoshima to find hints and answers to the challenges but don't worryーThe Mekakushi Dan will be in contact with you via the messaging app LINE to help you solve the riddles. 

Upon accepting your mission, you will receive a mission guide full of information on the mouthwatering gourmet food and fascinating history of Enoshima. The guide will take you on a wonderful journey of discovery through locations popular among tourists and even romantic date spots. This is the perfect way to enhance your Enoshima experience. 

Multimedia creator Jin, who is the founder of the Kagerou Project, has teamed up with SCRAP to create this exciting real life game which is full of fun contents that anyone can enjoy. The original storyline takes advantage of the wonders of Enoshima, creating a unique experience that is not available anywhere else. It is a rare opportunity to get close to the Mekakushi Dan and simultaneously enjoy the exciting culture of Enoshima. 

Your journey will start at Subana Kaikan (スバナ会館) which will be selling lots of Kagerou Project collaboration merchandise that cannot be obtained from anywhere else. Make sure to check out the official website for more information. 

There is an exciting bonus in store for those who successfully clear the game: A surprise phone call from Ene and Shintaro! Just hearing the voice message of these two popular characters is enough to send some fans wild. Those who clear the game will also have the opportunity to take part in a special lottery for the chance to win a ticket to watch the debut screening of the anime Kagerou Daze No.9 before anyone else. This series is set to go live next spring. 

*The debut screening is a private event that you can only take part in by clearing the Mekakucity Quest in Enoshima. There is no general screening event for those who do not succeed. 

As the sweltering heat of summer has finally subsided, this is the perfect chance to explore the wonderful tourist spots and indulge in the delicious local food of Enoshima while facing challenges with your pals or even your partner.

Information

Mekakucity Quest in Enoshima

Start Point: Subana Kaikan (スバナ会館), 1-9-12, Katasekaigan, Fujisawa, Kanagawa

Running: September 14 ー November 17, 2019 

Approximate amount of time required to complete the quest: 2 hours

Ticket Availability:

Selling on September 12, 2019 (10:00ー16:00)

*  Advanced tickets and more information is available on the official website.

* It is possible to obtain tickets after the ticket sale period has ended.

Official Website: https://realdgame.jp/mekakucityquest/

Tickets: http://bit.ly/2kJajwP

Pompompurin Zombieland: Save Pompompurin From Zombies at Sanrio's Horror Event

Sanrio's popular character Pompompurin is collaborating with Obaken, a horror experience creative company, to bring the brand new horror event known as Pompompurin Zombieland to Sanrio Puroland on November 16 and 30.

Tickets will go on pre-sale for official Pompompurin ambassadors, or Pombassadors, on September 14 at 10:00am (JST) and general sales will begin on September 28 at 10:00am (JST). To find out more about Pombassadors and how to become one click here.

Pompompurin Zombieland Promo Video

Horror experience planner Obaken is set to shake the cute world of Pompompurin into a terrifying zombie-infested one. In the story, Pompompurin was happily looking for some tasty mushrooms to pick when all of a sudden he eats a poisonous one by mistake. It is your mission to deliver him the antidote to stop him from becoming a zombie. Other unfortunate victims who also ate poisonous mushrooms have died and returned as the living dead and will roam around Puroland. The antidote to save Pompompurin, who is on the brinks of turning into a green zombie, lies in the non-poisonous mushrooms located in 6 areas of the park.

You must survive getting infected by the zombie virus and get your hands on mushrooms. If you succeed you'll receive an exclusive Pompompurin Zombieland pin badge stating that you have cleared the mission.

You can even pick up an exclusive Zombie Purin t-shirt. These are limited in stock and can't be bought anywhere else.

Additionally, if you wear a combination of yellow and brown-coloured clothing when attending the event―which are the colours of Pompompurin―you'll get the above-pictured Zombie Purin sticker.

Full details can be found on the event's website below. Don't miss out on this creepy-cute experience this autumn.

©︎'96, '19 SANRIO

Escape From Godzilla at TOKYO MYSTERY CIRCUS Escape Game Theme Park

TOKYO MYSTERY CIRCUS's catalogue of games just keeps on growing. The puzzle and escape game theme park has just announced the return of its escape game Escape From Shin Godzilla which is being held in collaboration with the 2016 film Shin Godzilla.

The event was previously held last April where it ran until October, enjoying huge popularity with over 40,000 escape game-goers. Players took the role of a member of the Kyosaitai―the anti-Godzilla task force―based in Kabukicho, Shinjuku where you will be tasked with solving puzzles to defeat the colossal giant.

The thrilling event returns once more with original visuals created to make it look like Godzilla has really invaded Kabukicho. Tickets are now on sale, and you can pick up exclusive merchandise and themed food at the venue too. Can you defeat Godzilla?

TM&©TOHO CO., LTD. ©SCRAP

Information

Escape From Shin Godzilla

Location: Himitsu Kichi Lab, TOKYO MYSTERY CIRCUS (Floor B1F)

Running: October 4, 2019 – November 10, 2019

Times

Weekdays: 13:20 / 16:20 / 19:20
Weekends & Holidays: 10:10 / 12:40 / 15:10 / 17:40 / 20:10
*The event will end 100 minutes after each starting time

Price
Advance: Single ¥3,300 / Group ¥12,000 / Repeater Group Ticket ¥12,000
Same-Day: Single ¥3,800 / Group ¥14,000 / Repeater Group Ticket ¥14,000
*Same-day tickets will not be available if all advance tickets sell out

 

TOKYO MYSTERY CIRCUS

Address: APM Bldg., 1-27-5 Kabukicho, Shinjuku, Tokyo, 160-0021

Opening Hours: Weekdays 11:30-23:00 / Weekends & Holidays 09:30-23:00

No Fixed Holidays.

Price: Free Entry (*Separate tickets required for games)

Official Homepage (English): https://mysterycircus.jp/en/

Event Page (Japanese): https://mysterycircus.jp/shin-godzilla/

Halloween at HEP FIVE Osaka: Horror Ferris Wheel, Guillotine Photo Spot & More

Osaka's landmark shopping centre HEP in Umeda is just a short 3-minute walk from Umeda Station, meaning you don't have to worry so much about looking over your shoulder to see if Michael Myers or Dracula is following this Halloween as you make your way to "HEP FIVE HORROR×HORROR AUTUMN."

This bone-chilling event is set to deliver horror, beauty and fashion all in one place.

Junji Inagawa's Horror Ferris Wheel

The Horror Ferris Wheel was such a hit last year that it's set to return again this Halloween, better and scarier than ever. There will be two Ferris wheels, each inspired by two of ghost story writer Junji Inagawa's masterpieces. Incorporating an all-new horror system, the Ferris wheels will take riders up 106 meters high for a hair-raising experience they cannot escape. Once you're in, you're in until the end.

Monster Food

Of course, no Halloween party is complete without some fang-tastic food. HEP FIVE's restaurants have each whipped up their own unique dishes for the holiday.

Lulu Hashimoto's Doll World

Lulu Hashimoto has garnered attention both in Japan and overseas as the "living doll" for her doll costume. She will be present at HEP FIVE where you can get a photo with her at the first floor entrance atrium.

Date: October 12, 2019

Time: Slot ① 13:00 (Floors 5F-6F), Photos at 13:30 / Slot ② 15:00 (Floors 3F-4F), Photos at 15:30 /  Slot ③ 17:00 (Floors B1F & 2F), Photos at 17:30

Locations: The initial fan greeting will take place at various places across the shopping centre, and photos will take place on the first floor atrium

Getting a Photo: Tickets will be handed out from 11:00 on the day. 15 people per slot on a first-come, first-served basis.

Horror Show Time

Ghost performed Sadawo is set to take on the form of Japan's most famous horror icon Sadako from Ringu while riding a Segway. Look forward to a whole host of terrifying performances.

Date: October 19, 2019

Times: ①12:00 (Floots 6F-7F) / ②14:00 (Floors 4F-5F) / ③16:00 (Floors 2F-3F) / ④18:00 (Floors B1F-1F)

Locations: Various places across the shopping centre

Guillotine Photo Spot

Get your photo taken at the guillotine photo spot at the first floor atrium and look like something straight out of a slasher movie. Make it even better by dressing up in cosplay or Halloween outfits with friends!

Enjoy a horror experience like no other this Halloween at HEP in Umeda, Osaka.

Information

HEP FIVE "HORROR×HORROR AUTUMN"

Location: HEP FIVE (5-15 Kakudacho, Kita Ward, Osaka, Osaka Prefecture)

Date: September 20, 2019 – October 31, 2019
HEP FIVE Official Website: https://www.hepfive.jp/

Warm The Cockles Of Your Heart This Christmas at HOSHINO Karuizawa Area

This holiday season, Hoshino Resorts is set to hold a Christmas event at HOSHINO Karuizawa Area, a place managed by the company which brings together people who love culture and nature. It will run from November 16 to December 25.

The event's theme is "A Town Where Happiness Shines." From mistletoe illuminations to xmas desserts and more, you're sure to have the cockles of your heart warmed this year at this happiness-filled festival.

Mistletoe Illuminations

At Harunire Terrace, where 16 shops line the cosy wooden terrace, the columns and overhangs will be adorned in Christmas garlands, and mistletoe-shaped illuminations will dangle from tree branches.

You can spot a lot of mistletoe in Karuizawa Wild Bird Sanctuary. Even in wintertime the plant does not wither, instead keeping its green leaves, which in folklore has led it to be viewed as a symbol of immortality.

Mistletoe is known in many cultures as a symbol of happiness. In the Western world, lovers who stand under mistletoe are expected to kiss. The warm illuminations are set to light a warm and romantic atmosphere to all those who attend.

Mistletoe Lanterns

As well as the illuminations, there will also be mistletoe lanterns hiding in the trees to celebrate romantic love this Christmas. Get ready to count down with everybody at the event as when you reach zero, all of the lanterns will turn on at the same time. There will even be mini live performances where you can sing along to Christmas songs.

Christmas Sweets at Hoshino Resorts Karuizawa Hotel Bleston Court

Order the "Episode de Noel" at Hoshino Resorts Karuizawa Hotel Bleston Court for a delicious Christmas sweets dessert course of 4 treats.

This is just a peek inside the stocking of what's to come at the festival. There will be a hot chocolate bar, fresh s'mores, kids events, photo spots, a Christmas market, and more. Ride your sleigh into HOSHINO Karuizawa Area this winter.

Information

HOSHINO Karuizawa Area Christmas 2019

Running: November 16, 2019 – December 25, 2019

Time: 16:00-23:00 (Times differ for certain events)

Location: HOSHINO Karuizawa Area

Entry: Free

TEL: 0267-45-5853

Mistletoe Illuminations

Location: Harunire Terrace

Running: November 16, 2019 – December 25, 2019

Time: 16:00-23:00

Mistletoe Lanterns

Location: Harunire Terrace, Woods

Running: December 7th, 8th, 14th, 15th, 21st-25th

Time: 16:50-17:10

Price: Free

Dessert Course

Running: December 13, 2019 – December 25, 2019

Time: 10:00-16:00

Price: ¥3,500 (pre-tax and service charge)

HOSHINO Karuizawa Area

Address: Hoshino Nagakura, Karuizawa, Kitasaku District, Nagano Prefecture

TEL: 0267-45-5853

Access: 15-minutes by car from Karuizawa Station (via JR Hokuriku Shinkansen)

Official Website (English): http://www.hoshino-area.jp/en

Gamers! Rally Your Teammates For A New Quest: TOKYO GAME SHOW

The TOKYO GAME SHOW is in a league of its own. It is a mecca for gamers who cannot get enough of Japanese games and entertainment. This is where Japan's major game publishers from all kinds of platforms unite to put on an enormous exhibition. 

This includes the opportunity to explore games that are yet to be released as well as hear new announcements about the direction developers are steering the future of gaming. There's no lagging behind. This is a major event for the gaming industry, raking in leagues of heroes every year. 

On August 28, a total of 2,417 game booths were announced, which is the largest number the event has ever seen in its history. This event is home to games on a range of platforms including for console, smartphone and PC. The enormous variety of genres includes the most cutting-edge and latest trends including Esports, VR and much more.

For those of you who love cosplay, this event is your chance to finally meet your fantasy. The outside area of Hall 9 will have a Cosplaying Area Stage where two events will take place: a cosplay fashion show and a gathering. 

On Saturday 14th, Hall 1 event stage will hold the Cosplay Collection Night@2019 event where participants and event staff will take over the stage in game character cosplay. Spectating is free, so feel free to watch as each cosplayer dominates the entire stage, showing off their excellent craftsmanship and skills as they walk the runway and strike a pose definitely worth saving in your highlights! 

On Sunday 15th at 2:30 pm, cosplayers will take to the stage in units of two or more to put on a dance or combat show that you just cannot critically miss out on. 

Schedule:

September 14 (Sat)  From 12:00 ー Cosplay Runway  From 15:30 ー Cosplay Runway

September 15 (Sun) From 13:30 ー Cosplay Runway From 14:30 ー Cosplay Dance and Combat Shows From 15:30 ー Cosplay Runway

The Gathering is where cosplayers can interact with one another and have photos taken ー the perfect opportunity to send those friend requests. On September 14, a gathering dedicated to the Final Fantasy Tales Series will take place on the Cosplay Area Stage. On September 15, there will be gatherings for the Dynasty Warriors and Samurai Warriors series.

Schedule:

September 14  13:00-13:30 Final Fantasy Series Gathering  14:00-15:00 Final Fantasy Tales Series Gathering 

September 15 12:30-13:00 Dynasty Warriors and Samurai Warriors Series Gathering

More information on the exhibitions, booths and events will be announced on the morning of September 12 so please check it out. 

There is no better way to multi kill your time than to spend the entire day at TOKYO GAME SHOW 2019 ー get your tickets and GLHF!

Information

TOKYO GAME SHOW 2019

Event Information

Business Days*: September 12 & 13, 2019 (10:00~17:00)

*Business Days are open to industry and press only.

Public Entry*: September 14 & 15, 2019  (10:00~17:00)

*Doors may open at 9:30 am according to conditions on the day.  

Venue: Makuhari Messe (Mihama Ward, Chiba)

Exhibition Halls 1-11/ Event Hall/ International Conference Hall

Entry Fee: Advanced tickets: ¥1,500 (after tax)

On The Door: ¥2,000 (after tax)

Those under Elementary School age can enter for free (public entry days only)

Official Website: https://expo.nikkeibp.co.jp/tgs/2019/en/

Andy Warhol Exhibition to Grace Kyoto's Kyocera Museum of Art in 2020

An exhibition centred around Andy Warhol, the American artist who was at the forefront of the pop art movement, is set to roll up to the Kyocera Museum of Art in Kyoto on September 19, 2020.

The exhibition will showcase pieces available only at the The Andy Warhol Museum in Pennsylvania, US. It will be the first Andy Warhol exhibition of its kind to hit Japan and will also touch on his deep knowledge of Kyoto.

The exhibition will be the first to take place in the museum's new Toyama Cube building which is currently under construction.

More details will be announced on the exhibition's website and social media accounts below.

Interact with Animals and Watch a Traditional Performance at Tobu Zoo's Autumn Night Event

Tobu Zoo will be extending their opening hours on September 14, 15, 21 and 22 to 8pm to hold a special Autumn Night event.

Animal Dinner (A chance to feed the animals)


This is a wonderful opportunity to feed the penguins and elephants. 

Running: September 14, 15, 21 and 22

Penguin Dinner Time: From 5pm

Elephant Dinner Time: From 5:30pm 

Price: ¥500 per group  (maximum of 25 groups)

For both events above, the feeding time will end once 25 groups have participated. 

Animal Night Guide

This is a chance to learn about the lifestyles and fascinating features of each species directly from the team of zookeepers that raise them.

Running: September 14, 15, 21, 22 

Monkey World Jungle Night: From 6:10pm (lasts approx. 20 mins)

Lion Night: 7:20pm (lasts approx 10 mins) 

White Tiger Night: 7:30pm (lasts approx 10 mins) 

* The nighttime lion and white tiger guides will replace the daytime guides running from 2:30pm and 2:40pm respectively.

Traditional Theatre Performance of an Animal Ghost Story

The team of zookeepers has prepared and handmade a traditional Japanese Kamishibai theatre performance. Kamishibai is a form of Japanese street theatre and storytelling which was particularly popular during the 90s. Join the zookeepers on a quiet evening as they tell an old yet terrifying ghost story. Make sure to check out the zookeeper's interesting costumes too. 

Running: September 15, 22

Times: From 7:00pm (approx. 20 mins long)

Location: Japanese Animal House (日本産動物舎)

Autumn Night ZOO Special Event: Penguin Bar

This bar is the perfect place to sip on your favourite spirits whilst enjoying the graceful view of penguins. You can also purchase merchandise here. Some of the merchandise has been designed with the inspiration of the penguins' names and even their food. 

Open: September 14, 21

Opening Hours: 5:30pm ー 8:00pm (last orders: 7:30pm)

Location: Penguin Land 

There are so many exhibits and fun attractions running until 8pm. Enjoy a refreshing Autumn night at Tobu Zoo with your family and friends.

Information

Autumn Night ZOO

Running: September 14, 15, 21, 22

Opening Hours: 9:30am  ー 8:00pm (last entries: 7:00pm)

*  Certain events may be cancelled and opening hours may change due to the weather. 

Tobu Zoo

Address: 10 Suka, Miyashiro, Minamisaitama District, Saitama

Website: http://www.tobuzoo.com/global/english/

Disney Christmas 2019 at Tokyo DisneySea: Spend This Year's Holiday Season With That Special Someone♡

Tokyo Disney Resort has announced this year's Disney Christmas which will take place at Tokyo Disneyland® and Tokyo DisneySea® from November 8 to December 25. This is the Tokyo DisneySea® event line-up. For the Tokyo Disneyland® schedule, click here.

'Tis the season to be jolly this year at Tokyo DisneySea, where the Christmas spirit is set to fall and settle like December snow across the park with a fantastic line-up of festive entertainment programs, magical decorations and more. Guests are invited to join the Disney cast in welcoming a very merry Christmas at this year for Disney Christmas 2019.

It's Christmas Time!


The "It's Christmas Time!" show returns again this year to Mediterranean Harbor to wrap guests in the Christmas spirit, featuring Mickey Mouse and friends along with singers and dancers who will perform to classic Christmas tunes.

Colour Of Christmas


This magical performance takes place at nighttime on the water at Mediterranean Harbor, featuring a huge 15-meter tall shimmering Christmas tree. Held annually, this will mark the show's eighth and final run. Disney characters including Mickey will also be present for the performance.

The whole of Mediterranean Harbor will be wrapped in the Christmas spirit, with the huge tree in the centre and little trees all around, and onlookers all with their own wishes for the holiday season. Snow will also fall during the performance to create a romantic atmosphere.

Special Christmas Merchandise

Pouch – ¥2,000 (Tax Included)

Around 65 very special pieces of merchandise will be available for guests to pick up, many themed on the It's Christmas Time! show. The pouch features the cute scene of Mickey and Minnie line dancing which you will see in the show. The available plush toys also have a Christmas-y gold bell on them. All of these items will be available from November 1.

There will also be adorable Duffy and Friends merchandise to pick up. Some of these items are themed on Cape Cod Village in winter, an area in the park which serves as a greeting spot for Duffy and his friends. These Christmas items will be available from November 6.

Christmas Food & Drink

A festive feast of 15 drinks and dishes will be served for Disney Christmas, from seafood pasta to roast beef sandwiches and more. There will also be a reindeer-inspired dessert as well as alcoholic cocktails and much, much more.

Enjoy a very merry Christmas this year at Tokyo DisneySea.♡

Scorch your Senses at the Spicy as Hell and Tasty as Well 2019 Food Festival Round 2 in Shinjuku

Spicy as Hell and Tasty as Well 2019 will be holding round 2 on August 16, 2019 at Okubo Park, Kabukicho in Shinjuku. This will be the event's biggest gekikara gourmet saiten (super spicy festival) Japan has ever seen. 

Food services that represent the spicy foods of the world have all joined forces at Kabukicho in Shinjuku; Asia's largest entertainment district to tinge it with a luminescent spicy red colour. So far, around 0.7 million people with a burning passion for spice have made their way to the spice central to test their tolerance to the range of gourmet spicy dishes. From beginner to mania, the event caters to all levels of spice-lovers. From a tiny touch of spice to spicy as hell, there is a wide range of spice levels to choose from. The dishes served and participating shops are changed each week, so you can enjoy a new spicy experience each week. 

At the 1st Round, spice fans had their fill of Ciao em Cafe's Bún bò Huế. This café, which originates from the outskirts of Tokyo in Hana-Koganei, took part in the event for the first time. One of their signature dishes is the Vietnamese soup, which captured the hearts of many women for its perfectly balanced sweet yet spicy flavour.  Despite being Menya Mazeharu's first time serving at the event, their queues stretched out into the sunset from morning to evening each day .

Round 2 will see Cheese to Gibier Curry Naru Ichizoku and Tokyo spice curry Aka to Kuro spicing up the event for the first time. This is the perfect opportunity to experience Awajishima Curry made with the world's most sense-scorching spices including ghost pepper, trinidad scorpion pepper, and the carolina reaper. Tokyo spice curry serves up red curry dishes made with ingredients traditionally used in natural Chinese food therapy. Their black curries are Kashmiri curries that will leave you feeling satisfied. 

These are just a selection of the vast number of noteworthy spicy dishes. You are bound to find the perfect curry to spice up your life at this event, so please check it out.

Information

Spicy as Hell and Tasty as Well 2019 (激辛グルメ祭り2019)

Venue: Okubo Park, Kabukicho, Shinjuku 

Address: 2-43, Kabukicho, Shinjuku, Tokyo

Access: 3-min walk from Seibu-Shinjuku Station or an 8-min walk from Shinjuku station (JR/ Odakyu/ Keio lines)

Entry: Free to enter, pay for your food and drinks. 

Schedule:

2nd round: Aug 16 ー 21

3rd round:  Aug 23 ー 28

4th round: Aug 30 ー Sept 4 

5th round: Sept 6 ー 11

6th round: Sept 13 ー 18 

* Closed on Aug 15, 22, 29 and Sept 5, 12 to change the shops.

* Open on rainy days (closed during stormy weather).

* Spicy as Hell and Tasty as Well is open for a total of 38 days this year, the longest it has ever run in history.  

Website: https://www.gekikara-gourmet.com/

A Date With Yutaro: Soaking Up the Japanese Summer Sun & Visiting the Art Aquarium | Tokyo Stroll

It's been a while since our last date with Yutaro. He's been very busy with film shoots. He had some spare time today so we paid a visit to Nihonbashi for our next date. "ECO EDO Nihonbashi: Enjoy Cool Edo With All Five Senses" is an event held every year in the Nihonbashi area which takes the Edo period cultural idea of "coolness"―an in, to enjoy being cool during the summer-and puts a modern spin on it. There are many exciting things to look forward to, including the art aquarium which proves massively popular every year.

We gave ourselves more time to arrive at the meeting place to be in the safe side, but it seems Yutaro-kun was already there waiting for us!

Nihonbashi Information Center | IPPIN CAFÉ "Sparkling Herb Tea" – ¥518 (Tax Included)

"Here, you must be boiling." Yutaro-kun kindly offers a cup of IPPIN CAFE's limited-edition sparkling herb tea. It's a delicious mix of fizzy soda and lemon, a perfect refreshment for the summer. Since he ordered takeout the drink came with a goldfish straw. Goldfish are a staple sight during Japanese summer festivals so it's very fitting for the occasion! 

With our drinks in hand, it's time to head to Nihonbashi for our Edo summer date!

Wind-Chime Forest Path

Lining the path between Fukutoku Shrine and Fukutoku Garden is the Wind-Chime Forest Path where around 200 Edo-style wind chimes dangled. This year, during the evenings, the path is illuminated with beautiful lighting. 

When the breeze rolls past the wind chimes ring one by one-a cool and refreshing sound.

"I hear each one of these Edo wind chimes are individually handmade by craftsmen."

When you hear the sound of the wind chimes it makes you feel cool like a gentle breeze of the wind.

After strolling along the Wind-Chime Forest Path we make our way towards this year's ECO EDO Art Aquarium event.

The moment we step instead Yutaro is already dazzled by all the goldfish: "Wow! I knew about this place from what I'd seen online, but this my first time here! This art aquarium really is something!"

The full title of the event is "ECO EDO Nihonbashi ART AQUARIUM 2019 ~Edo, Coolness of Kingyo~ & Night Aquarium."  Goldfish were a huge part of the common culture in Nihonbashi during the Edo period. This event recreates that and brings that "coolness" aspect while combining it with contemporary art by having people observe the fish in lots of different artistic environments.

Super Oiran

"This is the biggest fish tank, apparently it has 3,000 fish swimming inside!"

"Seeing the light reflect on the water from the illuminations lets you see the fish in a different light, doesn't it?"

Looks like Yutaro-kun is having a lot of fun taking photos.

He's equally interested in just about every fish tank!

These other fish tanks have a different aesthetic to them. Their Japanese-style designs make for great photos.

Kaleidorium 3D

"This one's beautiful, it's like a kaleidoscope."

It really does look like one. When you take a peek instead you can glimpse all kinds of colourful fish gently swimming around.

Ceiling Kingyo

"There're goldfish swimming on the ceiling too. So cool! This aquarium is incredible. It brings together the great culture of Edo and contemporary art."

The Art Aquarium bustles every single year with visitors, but this year will mark its last run. It's being held at Nihonbashi Mitsui Hall, so if you have the chance to go then please do.

We of course checked out some local Nihonbashi treats too! We stopped by morozoff for some cheesecake after the aquarium.

morozoff Kamadashi Cheesecake (Goldfish) – ¥270 Each (Tax Included)

These cute cheesecakes with their goldfish designs are available for a limited time only. They're filled with sweet red bean paste. They perfect with iced tea.

"Got some! Let's eat them while we head back."

Goldfish Lantern Walkway

Our first date in Nihonbashi was so much fun. While on the date Yutaro-kun spoke about the new live-action film he's in, Kaguya-sama: Love Is War.

"It's a romance film with mind games to try and make the other person confess their love. I play the character Tsubasa. His number one highlight scene is the kabedon scene. That was my first day shooting, so I was super nervous, but I got along well with the other actors, and the atmosphere on set was harmonious, so I was able to relax for the shoots. Tsubasa is a genuine guy who will believe things that have been said to him in earnest. You've definitely gotta check out all his scenes throughout the film!"

"A lot of the cast are the same age as me, so we were all energetic together in the waiting room. There's a scene at the end where all the cast get together. It took 3 days to shoot so we ended up getting along really well."

"This film has made me realise that love comes in many shapes, and that mind games happen in a variety of ways between guys and girls. There's cute scenes that express that small bit of pride that teenagers have, the embarassment they feel, when they get butterflies, scenes that will warm your heart. The film has various elements to it so I thoroughly enjoyed watching it myself. I hope that couples in love in their teens and twenties watch it, and I also hope that married couples watch it and crack up laughing too."

"In the film it's summer break, and they go and see fireworks and stuff. It's definitely one to watch durnig the summer. You're gonna come watch it too, right? Shall we go?"

An offer we cannot refuse! We'll definitely go and see it with you, Yutaro-kun! 

Model: Yutaro

Writer: Yuki Yokoo

Photographer: Kayo Sekiguchi

Information

ECO EDO Nihonbashi 2019 ~Enjoy Cool Edo With All Five Senses~

Running: July 5, 2019 – September 23, 2019

Location: Nihonbashi Area

TEL: 03-3242-0010 (Nihonbashi Information Center)

Event Page: https://www.nihonbashi-tokyo.jp/en/ecoedo2019/

ECO EDO Nihonbashi ART AQUARIUM 2019 ~Edo, Coolness of Kingyo~ & Night Aquarium

Running: July 5, 2019 – September 23, 2019

Location: Nihonbashi Mitsui Hall Floor 5F (Entrance at 4F),  COREDO Muromachi 1, 2-2-1 Nihonbashimuromachi, Chuo Ward, Tokyo

Opening Hours: Art Aquarium 11:00-19:00 / Night Aquarium From 19:00

[Sun-Fri] 11:00-22:00 (Last Entries 22:00) [Sat & days prior to public hoiday] 11:00-23:30 (Last Entries 23:00)

Access: Directly connected to Exit A6 of Mitsukoshimae Station, accessible on the Tokyo Metro Ginza Line and Hanzomon Line / Directly connected to Shin-Nihombashi Station / 8-minutes on foot from East Exit of Kanda Station JR 8-minutes on foot from Nihonbashi Exit of Tokyo Station

TEL: 03-3270-2590

Event Page: https://www.nihonbashi-tokyo.jp/en/ecoedo2019/contents/005.html

Kaguya-sama: Love Is War Film

Release Date: September 6, 2019

Adapted from the manga of the same name by Aka Akasaka (Shueisha/Weekly Young Jump)

Cast: Sho Hirano (King & Prince), Kanna Hashimoto, Hayato Sano, Natsumi Ikema, Nana Asakawa, Mayu Hotta, YUTARO, Takashima Masahiro, Jiro Sato

Official Website: https://kaguyasama-movie.com/

TALENT PROFILE

Yutaro

Yutaro was born in Hiroshima on June 3rd 1998. His modeling career has earned him lots of attention as a fashion icon of the new generation. The famous model also works as a "charisma" shop assistant. Yutaro has gained his reputation as a "mysterious and handsome guy" from his appearance on Japanese variety shows. His debut was made on the show "Gyoretsu no Dekiru Horitsu Sodanjo" and has since then appeared on numerous different TV shows. He challenged himself to appear on stage for the very first time in March this year and is gaining popularity by the day for his diverse work.

Harajuku Summer Festival 2019 to Take Place at Togo Shrine

GLOBAL PRODUCE, a Japanese event organiser, is set to sponsor Harajuku Summer Festival 2019 which will be held at Togo Shrine in Harajuku, Tokyo on August 23. Bringing together professional event producers, the festival will combine elements of traditional Japanese culture with the latest trends.

Food trucks and stalls will open in the dozens, including appearances from the shaved ice shop Kooriya bebe which makes its fluffy shaved ice from the natural spring waters of Mount Fuji―perfect for the hot weather―as well as Ichika, a cafe known for its tapioca Japanese tea lattes made with high quality tea leaves from Kagoshima. Current popular restaurants will also serve up delicious summertime food. There will even be the Harajuku Bon Odori 2019 dance event, and the marchers for the Tokyo 2020 Olympics will also be present.

Tokyo Bijin Project will make their first ever live appearance, a group of shining Japanese women with "wisdom, dignity and compassion" who are set to speak out for other strong women. They will talk leadership, interpretation, attending to people, the spread of Japanese culture, and more.

If you are in Japan for the summer then make sure you attend all of the different summer festivals you can.

Information

GLOBAL PRODUCE presents Harajuku Summer Festival 2019 at Togo Shrine

Date: August 23, 2019

Time: 19:00-21:00 (Reception open from 18:30)

Location: Togo Shrine (1-5-3 Jingumae, Shibuya, Tokyo)

Togo Shrine Official Website: http://www.togojinja.jp/