Tokyo Disney Resort Reveals Its Spooky Halloween Programme and Character Costumes
Get ready for some spooky fun as Tokyo Disney Resort® transforms for the 52-day-long horrifically exciting Disney Halloween from September 10 to October 31. Head to DisneySea to be captivated by the new harbor show Festival of Mystique, or get spooked out of your skin at the Spooky "Boo!" Parade at Disneyland. Today, we will be revealing the spooky looks of both parks.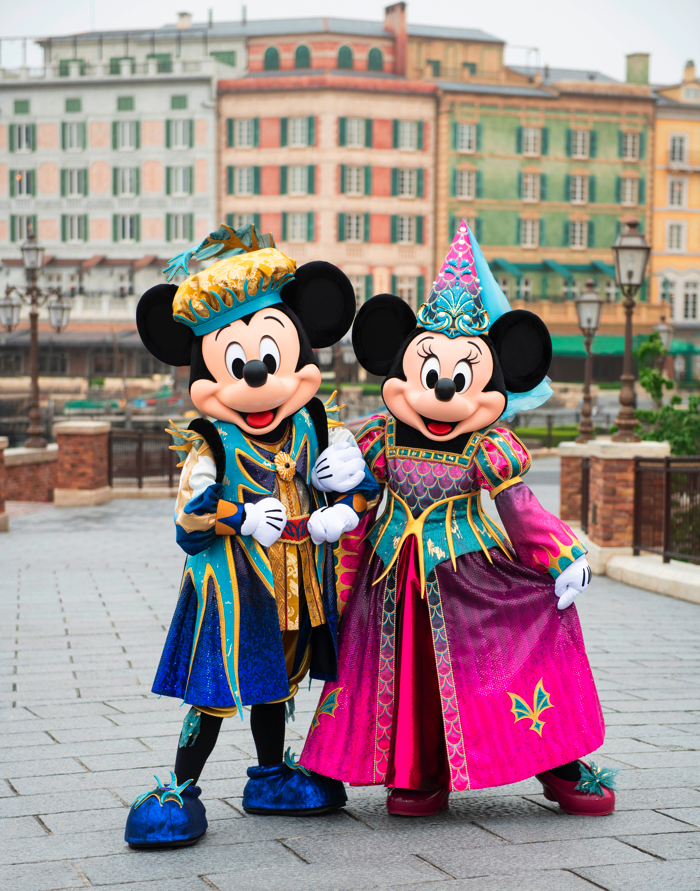 Tokyo DisneySea Festival of Mystique Costumes
Working with the main theme of a medieval European halloween, inspiration has been taken from the living creatures and waves at the port town Porto Paradiso. 
Mickey Mouse's costume inspiration comes from the the bones and scaly body of a sea creature. He will also be seen wearing a broach decorated with beautiful jewels. 
Minnie Mouse's costume resembles that of a medieval princess. You will see her in a fancy hat that bears beautiful pearls. Her costume is covered in scales on the chest and on the back which really suits her.
Tokyo Disneyland's Spooky Boo! Parade Costumes
Disney friends have joined forces with a group of spooky spirits. You just can't miss out on this rare chance to see your favourite Disney characters disguised as ghosts and skeletons. The strange and unusual atmosphere is sure to send a chilling shiver down your spine.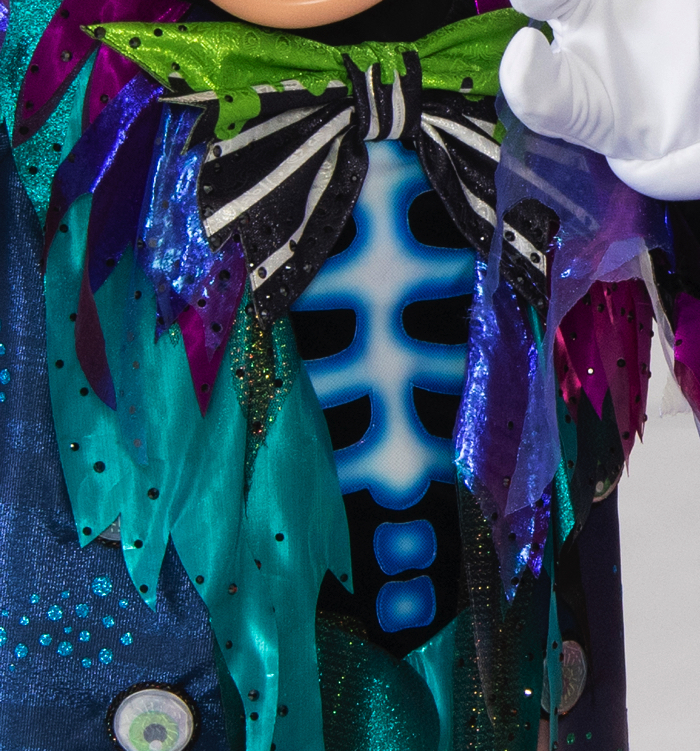 Mickey and Minnie will be completely refreshing their colourful look. Mickey's necktie and Minnie's skirt are very mysterious and particularly intriguing.  Please come check them out!
Enjoy the beautiful costumes and the fun range of events this Halloween at Tokyo Disney Resort.
©️Disney
RECOMMENDED ENTRIES
New Must-Grab Disney Merchandise Features Mickey Mouse, Marvel & Star Wars

Japan's consumption tax is set to increase on October 1 from 8% to 10%. If you're looking to bulk buy or grab up must-have items from Japan then now is the perfect time before the percentage goes up!

Today we will take a look some of Disney's premium pieces of merchandise which are must-grabs before the tax increase.

Disney Senryobako – ¥ 2,982,650 (Tax Included) *Rate subject to change

A senryobako, or "thousand gold coin box," is a box that was used during the Edo period to store koban, the former Japanese oval coin. This box features a Mickey and Minnie Mouse design that reads "Forever together" at the top. It also includes a set of 50 koban featuring Mickey and Minnie designs on them. This is a super special and premium gift item!

Available At: GINZA TANAKA

Mickey 90th Anniversary Design Signature Pot (18cm) – ¥30,000 (Before Tax) *Comes in 11 colours

This pot is being released in celebration of 90 years since Mickey's screen debut. The pot lid features the iconic outline of Mickey Mouse. It's also delivered in limited-edition packaging.

Available At: Le Creuset

Movie Masterpiece DIECAST: Avengers 1/6 Scale Iron Man Mark 7 Figure – ¥58,800 (Tax Included) 

This highly detailed figure looks like Iron Man jumped right out of the movie theatre screen. Several different models and pieces are on sale too for each movie the superhero features in the Marvel Universe. Collect them all to create a whole range of poses.

Available At: Hot Toys

ROYAL SELANGOR Star Wars Vehicles "X-Wing" – ¥37,800 (Tax Included)

ROYAL SELANGOR Star Wars Figurine "Darth Vader" – ¥54,000 (Tax Included)

Malaysian-based company Royal Selangor is the largest pewter manufacturer and retailer in the world. Their new X-Wing and Darth Vader models elicit that vintage space opera vibe.

Available At: Royal Selangor

Each and every one of these items is a luxury Disney product. If you're a collector or are looking to buy a present for a fan then now's the best time to grab any of these premium products!

©Disney © 2019 MARVEL © &TM Lucasfilm Ltd.

Disney Christmas 2019 at Tokyo DisneySea: Spend This Year's Holiday Season With That Special Someone♡

Tokyo Disney Resort has announced this year's Disney Christmas which will take place at Tokyo Disneyland® and Tokyo DisneySea® from November 8 to December 25. This is the Tokyo DisneySea® event line-up. For the Tokyo Disneyland® schedule, click here.

'Tis the season to be jolly this year at Tokyo DisneySea, where the Christmas spirit is set to fall and settle like December snow across the park with a fantastic line-up of festive entertainment programs, magical decorations and more. Guests are invited to join the Disney cast in welcoming a very merry Christmas at this year for Disney Christmas 2019.

It's Christmas Time!


The "It's Christmas Time!" show returns again this year to Mediterranean Harbor to wrap guests in the Christmas spirit, featuring Mickey Mouse and friends along with singers and dancers who will perform to classic Christmas tunes.

Colour Of Christmas


This magical performance takes place at nighttime on the water at Mediterranean Harbor, featuring a huge 15-meter tall shimmering Christmas tree. Held annually, this will mark the show's eighth and final run. Disney characters including Mickey will also be present for the performance.

The whole of Mediterranean Harbor will be wrapped in the Christmas spirit, with the huge tree in the centre and little trees all around, and onlookers all with their own wishes for the holiday season. Snow will also fall during the performance to create a romantic atmosphere.

Special Christmas Merchandise

Pouch – ¥2,000 (Tax Included)

Around 65 very special pieces of merchandise will be available for guests to pick up, many themed on the It's Christmas Time! show. The pouch features the cute scene of Mickey and Minnie line dancing which you will see in the show. The available plush toys also have a Christmas-y gold bell on them. All of these items will be available from November 1.

There will also be adorable Duffy and Friends merchandise to pick up. Some of these items are themed on Cape Cod Village in winter, an area in the park which serves as a greeting spot for Duffy and his friends. These Christmas items will be available from November 6.

Christmas Food & Drink

A festive feast of 15 drinks and dishes will be served for Disney Christmas, from seafood pasta to roast beef sandwiches and more. There will also be a reindeer-inspired dessert as well as alcoholic cocktails and much, much more.

Enjoy a very merry Christmas this year at Tokyo DisneySea.♡

Disney Christmas 2019 at Tokyo Disneyland: Spend This Year's Holiday Season With That Special Someone♡

Tokyo Disney Resort has announced this year's Disney Christmas which will take place at Tokyo Disneyland® and Tokyo DisneySea® from November 8 to December 25. This is the Tokyo Disneyland® event line-up. For the Tokyo DisneySea® schedule, click here.

Disney Christmas Stories

Disney Christmas Stories celebrates the holiday season with a magical parade which will bring together the Disney cast members with their loved ones. The characters will dress in festive outfits and deliver to guests their own Christmas stories. Seven joyous Christmas stories will unfold before guests' eyes, from a merry family outing with Donald Duck, his beloved Daisy Duck and his three nephews Huey, Dewey, and Louie, to the star couple Mickey and Minnie Mouse.

The parade will seemingly stop all of a sudden which will be followed by ringing bells, signalling the start of a Christmas party. Snow will fall along the parade route, and the cast members will invite guests to join them in celebrating a heart-warming Christmas.

Christmas Decorations

An enormous 15-meter tall Christmas tree will tower over World Bazaar and illuminate the streets with its brilliant lights together with dazzling projections, combining with the festive music to create a romantic atmosphere.

The plaza in front of Cinderella's Castle will glimmer with Christmas adornments as well as Christmas presents, Winnie the Pooh decorations, and more. Each themed land across the park will also be embellished in Christmas colours, bringing a merry little Christmas to the park.

Special Christmas Merchandise

Glass Set – ¥2,200 (Tax Included)

Around 65 special Disney Christmas themed items are set to go on sale from November 1, from glasses to cushions and more, all of which can be used for Christmastime at home. Featuring designs of the Disney characters, each item is sure to bring an air of that nostalgia we all feel at Christmas.

Christmas Food & Drink


Also available from November 1 is a very special Christmas menu made up of 15 dishes and drinks. There's the seafood cream bread packed with melted cheese, a hot dog dressed in the colours of Christmas with its eye-catching red bun and white cheese, and more. There's also a dish inspired by the Disney film Beauty and the Beast who are set to appear in the parade.

Enjoy a very merry Christmas this year at Tokyo Disneyland.

Soar All Over The World With DisneySea's Brand New Attraction Soaring: Fantastic Flight

Tokyo DisneySea will open their new attraction Soaring: Fantastic Flight on July 23. This ride is an immensely popular attraction at theme parks around the world. DisneySea has created a new adaptation of this ride, offering a brand new and original experience to visitors.

Model Saki Shibata from MOSHI MOSHI NIPPON Editorial Department headed to DisneySea with model Kanako for an exclusive opportunity to experience this attraction before it opens to the rest of the public!

Climb up the stairs next to the Mediterranean Harbor and the attraction will lie right before your eyes. 

Before you enter the building, you will notice that there are lots of photo spots outside. 

You will also spot Camellia Falco; a keen flyer who became the first woman to be accepted in the Society of Explorers and Adventurers in 1851.

The Museum of Fantastic Flight located in the Mediterranean Harbor is celebrating Camellia Falco's innovation in the field of aviation by holding a special commemorative exhibition dedicated to her and her research. 

The final room of the museum is a gallery filled with Camellia's outstanding achievements.

Finally, it was time to climb aboard the invention of Camellia and her colleagues; an aircraft called the Dream Flyer.

The Dream Flyer was a magnificent trip. We soared through the sky, through the nature and around famous places of the world.

We were propelled from one place to another, experiencing a range of new atmospheres and surroundings in so many ways. At each location, we felt the wind and temperature of each country on our skin and could even smell a mix of intriguing smells unique to each location. 

The final destination we arrived at was our most favourite… 

This DisneySea original attraction is overflowing with imagination. It was like flying through an imaginary world. You absolutely must check it out. 

Fantastic Flight Churros (Pineapple): ¥400

Fantastic Flight Drink (Lychee Bubble Tea): ¥450

To celebrate the opening of the new attraction, new Fantastic Flight-themed merchandise and foods have been released. Zambini Brothers' Ristorante is even selling pineapple flavoured churros and bubble tea. Just looking at the blue sky colour of these delicious treats will leave you feeling refreshed.

Postcard: ¥200 

Origami Notebook: ¥400

Socks (22 ー 25cm/ 25 ー 27cm): ¥700

Please check out the full goods range!

It has been quite a while since DisneySea has opened a new attraction, so the park is booming with excitement in anticipation for its grand opening to the public! Climb aboard the Soaring: Fantastic Flight ride and embark on a worldwide adventure! 

©Disney

Tokyo Disney Resort® To Release FASTPASS App

On July 23, 2019, Tokyo Disney Resort will launch a new Tokyo Disney Resort App for smartphones which allows you to obtain FASTPASS tickets for rides from any location in the park.

After entering the park, you can download your FASTPASS tickets using the app. This allows visitors to fully immerse themselves in the magical atmosphere of the park, giving them more time to enjoy the delicious food and discover the shops without having to rush to the other side of the park to get to the machines selling the FASTPASS tickets. 

You can use the app to get FASTPASS tickets at a total of 18 park attractions at the resort. This even includes tickets for the brand new DisneySea® attraction Soaring: Fantastic Flight, which will open on July 23, 2019. 

Downloading the Tokyo Disney Resort App is sure to save a lot of time and energy so you and your friends and family can focus on having a good time and discovering this enchanted world. 

©️Disney
RELATED ENTRIES
Disney Japan Celebrates Zootopia's 5th Anniversary With New Merchandise

Walt Disney Japan is celebrating the 5th anniversary of the internationally-beloved animated feature film Zootopia with the release of a new merchandise collection which will roll out in the form of pre-sales at select Disney Japan stores and on shopDisney on February 6 before hitting all Disney Japan stores on March 2.

Disney's Zootopia 5th Anniversary Items

The merchandise line-up features familiar faces from the movie such as Nick Wilde and Judy Hopps in the form of T-shirts, figures, plush toys, tote bags, cushions, tissue box covers, and more. It's a must-grab for any fan of the popular film who wants to add to their Disney collection.




©Disney




©Disney

Zootopia Character Tsum Tsum Collection

©Disney

The characters of Zootopia also meet Disney's hugely popular Tsum Tsum plush toy series. There are seven in the collection which capture the cute expressions of each character.


©Disney

Plush Toy Key Rings ¥1,980 Each / Pin Set ¥6,600 / Pouch ¥1,760 / Key Ring ¥990 / Figure ¥4,840 / Mug ¥1,320


©Disney

Tsum Tsum Plush Toys – ¥660 Each

Japanese Spring Cherry Blossom Desserts and Food Bloom Pink at Tokyo Solamachi This March

Spring is arriving early at Tokyo Solamachi where shops and restaurants will be serving up their own cherry blossom themed desserts and dishes from March 1.

The Line-Up: A Delectable Excerpt

Vibrant Cherry Blossom Desserts Welcome Spring

Hanami Soft | ¥800

Where: Gion Tsujiri (East Yard Floor 6F)

Serving: March 1, 2021 – April 30, 2021

Feel the warm breeze of Japanese hanami with a parfait serving of cherry blossom bavarian cream and jelly, Uji match soft serve ice cream, cherry blossom chocolate, white flour dango dumplings, high quality red bean paste, wafer, and other little assorted treats.

Sakura Mochi Flavoured Spring Pancakes | ¥935

Where: Coconoha (West Yard Floor 4F)

Serving: March 1, 2021 – April 11, 2021

Coconoha's popular fluffy pancakes topped livingly with cherry blossom ice cream, chewy white flour dumplings, and sweet red bean paste.

 

Takeout Cherry Blossom Food

Sakura Sushi | Takeout ¥2,138, Eat-In ¥2,178

Where: Kirby Cafe Tokyo (East Yard 4F)

Serving: From March 19, 2021

A picnic serving of six springtime sushi rolls decorated with Kirby references which comes in a cute lunchbox.

Cherry Blossom Lassi | ¥520

Where: AMARI DELI (West Yard Floor 2F)

Serving: March 1, 2021 – April 11, 2021

A cherry blossom lassi in full bloom with fluffy whipped cream and finished with sprinkles of pink-coloured chocolate.

 

Cute Spring Cherry Blossom Snacks

Financier Sandwich Box – Sakura & Matcha | ¥1,500 (Contains 4)

Where: Afternoon Tea Room (East Yard Floor 3F)

Serving: February 25, 2021 – April 21, 2021

An assortment of two financier cakes: the Sakura Financier Sandwich which is cherry blossom flavoured and filled with white chocolate, roasted walnuts, and strawberry flakes, and the Matcha Financier Sandwich which is filled with milk chocolate, roasted walnuts, and pistachio. Available while supplies last.

 

Restaurant Menus Beckon Hanami

Spring Roast Beef Nigiri & Cherry Blossom Dashi Kishimen Noodles | ¥1,380

Where: Sugimoto (East Yard Floor 6F)

Serving: March 1, 2021 – April 11, 2021

Roast beef sushi rolls made with Nagoya Owari beef and served with slightly-salted flat kishimen noodles served in a cherry blossom flavoured broth. Limited to 10 servings per day.

This is just a sampled look at what's to come at Tokyo Solamachi this spring – if you're in Tokyo for the cherry blossom season, be sure to visit!

Information

Cherry Blossom Desserts & Dishes

Where: Tokyo Solamachi

Address: 1-1-2 Oshiage, Sumida-ku, Tokyo

Starting: March 1, 2021

TEL: 0570‐55‐0102 (11:00-19:00)

Tokyo Solamachi Official Website: http://www.tokyo-solamachi.jp/

Laforet Harajuku Welcomes High-End Brands and Tokyo's First Femtech Store For Spring 2021

Starting this month, Laforet Harajuku is readying itself for Spring 2021 with the rollout of items by high-end brands and shops, all with an audience in mind who simply love culture regardless of their age or gender. This spring will see the opening of Lois CRAYON, a brand that emphasises individuality and will be celebrating its 50th anniversary next year, as well as "circle in circle," a new spot that will serve as a gathering place for a variety of clothing brands like l'atelier du savon, CHILD WOMAN, and more.


Laforest will also welcome LOVE PIECE CLUB to Tokyo for the first time, a shop which opened as Japan's first centring on Femtech. It offers a variety of items to help support women's health through technology.

AIR will offer a diverse wardrobe of unisex items from popular street brands such as REVENGE STORM, STARWALK, THEATER8, and more. CHOA ONNI is exhibiting South Korean culture like wearing K-pop idol clothes to take photos, and ovgo B.A.K.E.R is serving up vegan food and gluten-free cookies.


Public toilets will display photos by photography unit Toki to Yamikaya and Alexander Julian.


March 6 | New Store Opening
《Floor 1F》Lois CRAYON




4.23| New Store Opening
《Floor 3.5F》circle in circle




March 26 | New Store Opening
《Floor B0.5F》LOVE PIECE CLUB




February 11 | New Store Opening

《Floor 3F》『    』AIR




February 25 | New Store Opening
《Floor B0.5F》ME'VE the store
 

March 12 | New Store Opening
《Floor B0.5F》




February 25 | New Store Opening
《Floor 5F》SpRay/Libby&Rose




February 25 | New Store Opening
《Floor B1F》CHOA ONNI




March 6 – April 4 | New Store Opening
《Floor 2F》ovgo B.A.K.E.R





《Floor B1F》Women's & Men's Gallery Toilets

  

 Toki with Alexander Julian

Alexander Julian
Yamikaya / FLOWER PUSHER

■Laforet Harajuku 2021 SS Promo Visual

Laforet Harajuku's Spring/Summer 2021 promo visual was created by Japanese art director Uenishi Yuri. Following the Autumn/Winter 2020 theme, Uenishi has conceived a new concept: 'CHARGE.' This theme focuses on the roots of plants that spread underground, with the yellow colour used in the visual reminiscent of electricity or lightning flashes.

Disney Japan Celebrates Minnie's Day With Exclusive Minnie Mouse Merchandise

Minnie's Day is set to fall in Japan on March 2, so to celebrate, Walt Disney Japan is getting in on the festivities nice and early by announcing the release of a new Minnie Mouse merchandise collection, called the "Disney ARTIST COLLECTION by Kelly Park," which will be officially released at Disney stores in Japan on February 23. Pre-sales will also roll out at select stores and Disney Japan's online store shopDisney from February 19.

©Disney

©Disney

Plushie ¥3,300 / Makeup Brush Set ¥2,640 / Tote Bag ¥2,090 / Room Fragrance ¥4,180 / iPhone Case (iPhone 11) ¥3,520 / Mirror ¥2,420 / Ballpoint Pen & Notebook Set ¥1,980 – (Prices Include Tax)

©Disney

nuiMOs Plushie ¥2,750 (Tax Included)


Kelly Park is an artist that is enjoying immense popularity in South Korea right now. Their new "Disney ARTIST COLLECTION by Kelly Park" is an exclusive release in collaboration with Disney Store.

The line-up is a celebration of all things Minnie Mouse for her big day, aptly named "Minnie's Day," on March 2. Vibrant blue is the main colour for the collection which Kelly Park has created to support fellow dreamers out there – those who have big hopes and aspirations in their everyday lives. The designs are bright, beautiful, and full of positivity, making them a perfect pick for the coming spring season. Minnie fans can feel fresh this spring season with fahsion items, accessories, stationery, a variety of lifestyle goods, and more.

Disney's popular nuiMOs plushie range will welcome an exclusive new Minnie Mouse plushie on February 26 which features the date "March 2, 2021" on it for Minnie's Day. It also comes with a pin. These plushies are limited-edition and only 320 will be sold – a number that of course aligns with March 2.

Celebrate the day of the original Disney Princess with the new Disney ARTIST COLLECTION by Kelly Park.

Tokyo Nightlife Beckons With Tokyo Tower's NAKED SAUNA & SPA

It's time to strip down and relax as Japanese company NAKED announces that its 'NAKED NIGHT SAUNA' event, which is being held as part of its 'NAKED SAUNA & SPA' project, will take place atop Tokyo Tower from March 12 to 14. Visitors will also receive a relaxation drink called 'CHILL OUT' in collaboration with Endian.

NAKED SAUNA & SPA is a sauna project launched by NAKED in November 2020 to promote equilibrium of the senses. The first event was held in the village of Achi in Nagano Prefecture which is known for being Japan's best location for enjoying the starry night sky. The second event was themed around the concept 'Art of Meditation.' It was held in Ariake and had visitors becoming one with nature as they sat under the expanse of Tokyo's night sky to enjoy every gleaming speck that twinkled above them. It was an opportunity for busy city workers to reset and recalibrate.

Now, the project is set to host its third event in collaboration with Tokyo Tower. Visitors can enjoy towering above the capital's city streets as they enjoy a sauna experience inside exclusive tents. It will be a fusion of analogue and technology as people enjoy sitting by the fire, smoking shisha, and gazing at mist that will be pumped and illuminations that will be lit to create atmosphere. Of course, this entire event will be held in accordance with government guidelines to prevent the spread of COVID-19. Social distancing will be enforced which will include a drive-through system so you don't come into contact with people, and all visitors will have their own tents (groups of 4 max), and all tent saunas will be separated with partitions.

The tent saunas that will be used are MORZH SKY, a type of tent with a transparent roof made by the Russian tent company MORZH. They are provided by Sauna Camp.Inc. The tents are fitted with a stove and chimney so visitors can adjust the temperature to their liking.

To attend the event, you must register to the Facebook online community NAKED SAUNA CLUB and fill out the form that will be made available there on March 1 and 2. A select number of visitors will be chosen at random on March 3 and winners will be contacted directly on March 4 with further instructions.

If you're in Tokyo this March, then don't miss out on a chance to kick back and unwind up Tokyo Tower with a sauna treat.

Information

NAKED NIGHT SAUNA at Tokyo Tower

Running: March 12, 2021 – March 14, 2021

Location: Tokyo Tower

Address: 4-2-8 Shibakoen, Minato-ku, Tokyo

Opening Hours: 17:00-20:00

Price: ¥20,000 (tax included) for 1-day tent rental (max 4 people)

Tickets: Will be posted on NAKED SAUNA CLUB Facebook Group

NAKED Official Website: https://naked.co.jp

Disney Japan Celebrates The Aristocats' Marie Day & Cat Day With Cute Feline Merch

Walt Disney Japan is releasing a new collection of merchandise of its famous feline characters in line with Japan's Cat Day and Disney's O'Malley Day, both of which fall on February 22. The items will be released at Disney Stores in Japan on February 16 but pre-sales will hit select shops and Disney Japan's online store shopDisney on February 12.

©Disney

Loungewear ¥5,060 / Mat ¥4,400 / Vanity Pouch ¥2,860 / Sweatshirt ¥4,290 / Snowdome ¥10,780 / Figurines <Dinah> <Marie> <Figaro> ¥2,420 Each / Figurine <Cheshire Cat> ¥2,640 / Cushion ¥4,180 / Mug ¥1,650

Hand Mirror ¥1,760 / Plushie Key Chain ¥2,750 / Smartphone Case ¥3,520 / Mini Towels ¥660 (Prices Include Tax)

Familiar kitty faces from some of Disney's most celebrated animated films can be seen all around in the collection, including cats from The Aristocats, Cinderella, Alice in Wonderland, Pinocchio, and more. Pink is the base colour for the collection, perfect for the forthcoming spring season.

The line-up is a must-grab for any fan of Disney's cats, from figurines and a mug to a cushion, sweatshirt, vanity pouch, and more.

©Disney

Information

Cat Day Merchandise
Pre-Sale Release Date: February 12, 2021

Pre-Sale Locations: Disney Store Sendai Toei Plaza / Disney Store Shibuya Koen-dori / Disney Store Kyoto Shijo Kawaramachi / Disney Store Shinsaibashi

General Release Date: February 16, 2021
Product Page: http://shopDisney.jp/cat-day/2021/

Japan's Snoopy Themed PEANUTS Cafe Reveals Charlie Brown Inspired Dessert

Six branches of the hugely-popular PEANUTS Cafe in Japan are welcoming a collection of tasty new seasonal menu items this Saturday which are set to be served until March 14.

The Limited-Time Line-Up

Brownie Charles's Brownie Chocolat | ¥950 (Before Tax)

Strawberry Whipped Hot Chocolate | Eat In ¥750 – Takeout ¥700 (Before Tax)

The collection includes a chocolate brownie inspired by the scene when Charlie Brown meets Peggy Jean for the first time. He is very nervous and mistakenly introduces himself as "Brownie Charlies." There's also a sweet strawberry hot chocolate topped with a squirt of whipped cream and drizzle of strawberry sauce.

(C) 2021 Peanuts Worldwide LLC

Information

PEANUTS Cafe Limited-Time Menu
Running: February 13, 2021 – March 14, 2021
Participating Branches: PEANUTS Cafe Nakameguro, PEANUTS DINER Yokohama, PEANUTS DINER Kobe, PEANUTS Cafe Kobe, PEANUTS Cafe Snoopy Museum, PEANUTS Cafe Nagoya
PEANUTS Cafe: http://www.peanutscafe.jp/
PEANUTS DINER: http://www.peanutsdiner.jp/
Snoopy Japan Official Website: http://www.snoopy.co.jp/

Baumkuchen Served Hot at Your Home Baked Up by Nenrinya

Japanese bakery and confectionery company Nenrinya is releasing a takeout baumkuchen dessert which can be warmed up at home. The baumkuchen was released at Nenrinya's JR Shinagawa Station branch on Monday (February 1) and will be released at their Daimaru Tokyo and Sogo Yokohama branches on February 16.

Hot Baum Shikkarime | ¥432 (Tax Included)

To heat up, you simply microwave it for 30 seconds at 500W. This leaves the inside moist and adds a crunch to the outside, all while helping to emit the sumptuous smell of that butter. It goes perfect with a cup of coffee, tea, or milk. Customise by adding some whipped cream or pour some melted chocolate over.

Information

Hot Baum Shikkarime

Japanese Product Name: ホットバーム しっかり芽

Nenrinya JR Shinagawa Station

Running: February 1, 2021 – April 30, 2021

*Serving from 12:00pm at this branch

Nenrinya Daimaru Tokyo & Nenrinya Sogo Yokohama

Running: February 26, 2021 – February 28, 2021

Nenrinya Official Website: https://www.nenrinya.jp/

Cute Milk Bottle Pudding Releases at Milk Bakers in Tokyo

Tokyo-based bakery Milk has released an adorable new milk pudding at two of its branches, both of which are served in cute milk bottles.

Smooth Pudding / Milk Pudding – ¥380 Each (Tax Included)

Box of 4

Box of 8

Pudding Soft

Carefully-selected and fresh milk of high quality is used to make these Japanese-style puddings, known as purin. Each and every one is handmade individually, and they can be bought separately or in boxes of 4 and 8. No preservatives, additives, of any nasty stuff is added to the dessert either.

Also on the menu is a milk-loaded soft serve ice cream. The cup it's served in has a cute retro design to it.

Information

Milk Pudding
Available: Milk Sano / Milk Shibuya
Address: 2-7-1 Sano, Adachi-ku, Tokyo
TEL: 03-5613-5550
Opening Hours: 10:00-18:00
Closed: Wednesdays
Official Website: https://tokyo-milk.jp/

Love Me Pom Poko! Manga Gets Themed Cafe at NewType Shinjuku in Tokyo

NewType Shinjuku, a subculture cafe and bar in Tokyo, is collaborating with Modomu Akagawara's manga series Love Me Pom Poko! from February 6 to 28. The cute and charming world of the series arrives not only on the food and drinks menu but in the form of merchandise and decorations too. As is the case with collaboration cafes in Japan, there's some free novelties for customers to enjoy when they purchase something from the menu too.

The Menu

©Modomu Akagawara/Hakusensha

©Modomu Akagawara/Hakusensha

Merchandise Line-Up

©Modomu Akagawara/Hakusensha

Novelty Coasters

©Modomu Akagawara/Hakusensha

Love Me Pom Poko! is not that known in the West yet, but if you happen to be in Tokyo this month, be sure to stop on by to experience the art of the series yourself.

Information

Love Me Pom Poko! Collab Cafe
Running: February 6, 2021 – February 28, 2021
Location: NewType Shinjuku
Address: Dash Bldg. 1F, 5-12-16 Shinjuku, Shinjuku-ku, Tokyo
Opening Hours: [Weekdays] 16:00-20:00 / [Weekends & Holidays] 11:00-20:00
TEL: 03-5315-4799
Official Website: http://ntsnjk.tokyo/

Taiwanese Melon Bread Heads to Harajuku Food Factory

The hugely popular Taiwan Melon Pan bread, which sells 10,000 units a month in Osaka, Kichijoji, and Nishiogikita, is now being served at Harajuku Food Factory until February 20.

Taiwan Melon Pan | ¥380 (Before Tax)

Taiwan Cheese Melon Pan | ¥450 (Before Tax)

The Taiwan Melon Pan bread is a combination of sweetness, rich butter, and salt for an irresistible flavour experience.

Information

Harajuku Food Factory – "Taiwan Melon Pan"
Serving: February 3, 2021 – February 20, 2021
Where: Harajuku Food Factory
Address: THE SHARE Floor 1F, 3-25-18 Jingumae, Shibuya, Tokyo
Opening Hours: 11:00-20:00
TEL: 03-5772-8858
Official Website: http://www.opefac.com/

Blue Bottle Coffee to Open Pop-Up Stores at Shibuya Scramble Square in Tokyo

Blue Bottle Coffee Japan has announced that it will open a pop-up store on the second floor of Shibuya Scramble Square in Tokyo from February 10 to March 15.

Cacao Candy & Instant Coffee Set | ¥2,800 (Before Tax)

Coffee Set | ¥3,200 (Before Tax)

Sweet Bean Jelly & Instant Coffee Set | ¥3,000 (Before Tax)

The pop-up shop will sell a variety of Blue Bottle Coffee products like fresh coffee beans, mugs, Valentine's Day gifts, item sets, and more.

Information

Blue Bottle Coffee Pop-Up Store
Running: February 10, 2021 – March 15, 2021
Location: Shibuya Scramble Square Floor 2F

Address: 2-24-12 Shibuya, Shibuya-ku, Tokyo
Opening Houes: 11:00-20:00
Official Website: https://store.bluebottlecoffee.jp/