Cruise by the Dazzling Blue Grotto Illuminations in Fukuoka
As part of a project to vitalise and develop the town of Hakata in Fukuoka and promote its wonderful culture to the people of the world, the Blue Grotto FUKUOKA Executive Committee is set to hold a special illumination event titled Blue Grotto FUKUOKA at Nakasu Bridge from September 16 to October 6.
This illumination event first began in Nakameguro, Tokyo back in 2014 where it enjoyed great success. The location was then moved in 2016 to Shibuya where over 2.8 million people attended. It was then held outside the Tokyo area for the first time in Sapporo in February 2018 and then in Osaka in September of the same year. This enabled it to become widespread across the country and has consequentially made it become one of the main illumination events of Japan.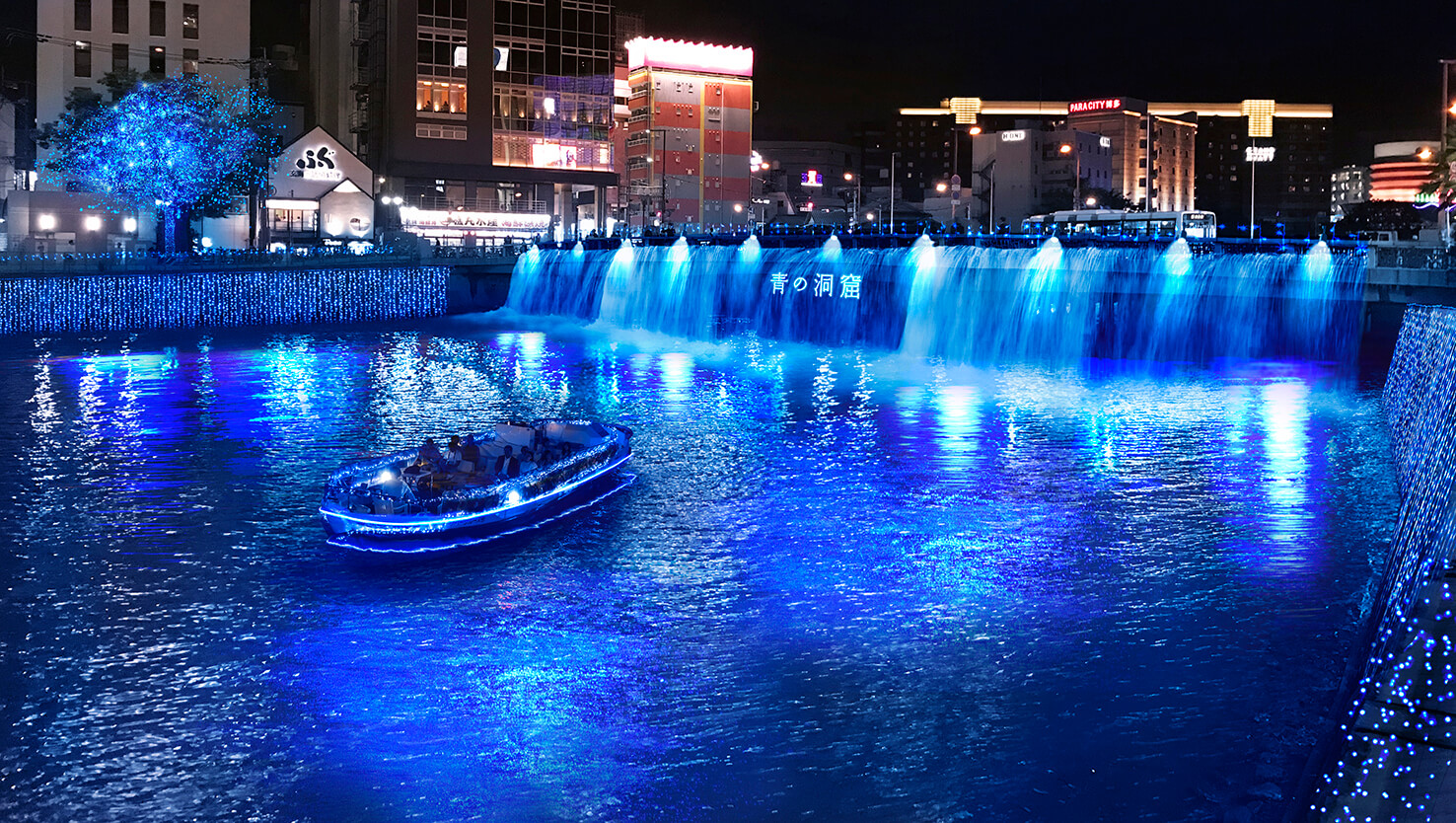 Blue Grotto will now make its way to Kyushu for the first time with Blue Grotto FUKUOKA. Boats will be prepared for the romantic and magical cruise which will take passengers from Nakasu Bridge to Canal City Hakata and Hakata Bay.
As well as the breathtaking lights, passengers can look forward to a specially-prepared pasta meal made by Nisshin Foods using Blue Grotto brand products.
Information
Blue Grotto FUKUOKA
Running: September 16, 2019 – October 6, 2019
Location: Nakasu Bridge (中洲懸橋), Fukuoka
Illumination Times: 18:30-22:00 (subject to change)
Access: 6-minutes on foot fromNakasu-Kawabata Station / 7-minutes on foot from Tenjin-Minami Station
Official Website: http://shibuya-aonodokutsu.jp/
RECOMMENDED ENTRIES
Blue Grotto Illuminations Arrives at Japan's Biggest Ferris Wheel in Osaka

Blue Grotto is an illumination event that first appeared in Nakameguro in winter 2014. It made a return in winter 2016 in Shibuya and again in December 2017 which almost 2.7 million people turned up to.

The event made its Hokkaido debut in Sapporo this year in February where people from inside and outside Japan attended.

Now the event is being taken to Osaka where it is collaborating with the Redhorse Osaka Wheel, the tallest Ferris wheel in Japan.

Enjoy illuminations, special decorations and a specially prepared pasta menu by Nisshin Foods served inside the wheel.

■Information Blue Grotto Osaka

Location: Redhorse Osaka Wheel (EXPOCITY, 2-1 Senribanpakukoen, Suita-shi, Osaka)

Running: September 11, 2018 – September 30, 2018Time: 6:30pm-11:00pm (Reception Open Until 10:40pm) *Time subject to changeAccess: 2-minutes on foot from Bampaku-kinen-koen StationOsaka Wheel:  

http://osaka-wheel.com/

Blue Grotto Club: https://aodo.jp/

The annual Christmas illumination event in Shibuya, "Ao no Dokutsu," will be held.

 "Ao no Dokutsu SHIBUYA" will be held in the area between Shibuya Park Street to Yoyogi Park Zelkova Street from the 22nd of November 2017 (Wed.) to the 31st of December 2017 (Sun.)

This event started in the winter season of 2014 with the name, "Nakamguro Ao no Dokutsu" and has been gaining much popularity. The event was renewed last year and the venue of the event was changed to Shibuya.

The number of the visitors to "Ao no Dokutstu SHIBUYA" exceeded one million within three weeks and more than 2.4 million visitors in total visited the event. The event is gaining popularity from both Japanese and foreign visitors as one of the most popular winter illumination spots.

 "Ao no Dokutsu" which is becoming more famous every year will be held in 2017. The event will turn all of Shibuya into a blue color.

The illumination can be viewed until late December so why not check out this venue when you visit Shibuya.

■Information

Ao no Dokutsu SHIBUYA
Venue: The street (800m long) between Shibuya Park Street and Yoyogi Park Zelkova Street

Access: 2 minutes on foot from Shibuya Station (JR/Tokyo Metro/ Kyoo Inogashira Line/Each line of Tokyu)

You can get off at JR Harajuku Station, Tokyo Metro Meiji Jingukyu Mae Station/Yoyogi Park Station/Odakyu Line Yoyogi Hachiman Station to get to the venue.

Light-up time: 17:00 to 22:00 ※Please note that the time might be changed.

Light-up period: 2017,11,22 (Wed.) to 2017,12,31 (Sun.)

Number of light bulbs: about 600 thousand.

URL:http://shibuya-aonodokutsu.jp ※Information will be released subsequently

Enjoy Cherry Blossoms and Illuminations at Yomiuri Land This Spring

Japanese amusement park Yomiuri Land is set to hold its first ever Yozakura Jewel Illumination event from March 21 to April 7. It will combine evening-time cherry blossoms with gorgeous illuminations.

The event will give bloom to various attractions, such as "Jewel Aurora ~Nighttime Ferris Wheel" designed by internationally-active Japanese lighting artist Motoko Ishii. The park's 180-meter long strip of cherry trees will combine the vivid cherry blossoms with bright pink lights.

Sakura Promenade: 180-meters of magical cherry trees

Using the light pink cherry blossoms as the base, the Sakura Promenade will be lined with bright lights in the evening, creating a memorable and must-see display.

Jewel Aurora ~Nighttime Ferris Wheel: Illuminated in Cherry Blossom Pink

The huge Ferris wheel will be lit up with colourful lights in the image of cherry blossoms.

Bandit: The fastest ever hanami experience at 110km!

Enjoy a fast hanami flower-viewing of the cherry blossoms at high speed on Bandit, the park's most popular roller coaster.

Gondola Sky Shuttle: Hanami from above

Enjoy gazing at the cherry blossoms up high over the trees aboard the gondola. It will be like gliding over a pink carpet.

Cherry Blossom Tunnel

Walk through the 180-meter long cherry blossom tunnel and enjoy the sights whether strolling or kicking back on the benches.

Yomiuri Land Oka no Yu: Hanami from the open-air baths

For a separate fee, sit under the cherry trees inside the open air baths for a relaxing experience.

Enjoy a different kind of hanami this year at Yomiuri Land with their many cherry blossom events.

Information

Yozakura Jewel Illuminations

Running: March 21, 2019 – APril 7, 2019

Time: 16:00-20:00

Price: General Night Pass: ¥2,400 / 3-12 Year Olds & Seniors (65+): ¥1,600

Night Entry: General: ¥1,400 / Junior High School Students: & Seniors (65+) ¥600 / Elementary School Students: ¥300

*Free for those below elementary school age.

*Guests are not allowed to take cans, bottles or alcohol into the park. They can however take bento boxes.

Yomiuri Land

Address: 4015-1 Yanokuchi, Inagi, Tokyo
Website: http://www.yomiuriland.com/jewellumination/
RELATED ENTRIES
Hikari no Sumika Winter Illuminations 2020-2021 to Take Place at Gotemba Kogen Toki no Sumika

Toki no Sumika is set to host its 19th annual winter illumination event "Hikari no Sumika" from September 19, 2020 to March 21, 2021.

Forest of Trees Illuminations


The Forest of Trees was created together with locals and wraps visitors in a magical fantasy land of lights underneath the shimmer of stardust. This trail of trees leads visitors to the next area, the Royal Palace on the Hill.

Royal Palace on the Hill


The "Versailles Lights" water laser show entertains onlookers with a rhythmic show. A new spot has also been developed this year called "It's a colorful world" where cuter balls of light change colour to the sounds that play. There's also one of the world's biggest "Bells of Love" clad in colours galore to radiate the dark night, "Slow House Twinkle," and "Super Searchlight."

Tunnel of Lights


Spanning 370m along, the "Tunnel of Lights" changes colours as time passes, enveloping people in a sparkling galaxy of illuminations. There'll be plenty of photo opportunities.

Twin Trees & First Dream Bridgeツインツリーと初夢の橋

The colour of the 120-year-old fir tree at the site this year will be white. The 20 meter-tall tree will be decorated simply and gently, with more LED lights than ever before, to enhance its beauty. The "First Dream Bridge" will give rise to the "Stardust Road" of countless illuminations that run along it.

Underwater Paradise Aquarium

Around 4,500 goldfish of 200 species, including rare kinds, from all around Japan are collected here. It continues to grow as Japan's only goldfish aquarium both in name and reality. Enjoy seeing them swim while gorgeous lights light up the room.

Information

Hikari no Sumika 2020-2021

Running: September 18, 2020 – March 21, 2021

Address: Gotemba Kogen Toki no Sumika, 719 KōyamaGotemba, Shizuoka

Illumination Times: 17:30-22:00

Car Park Spaces: 2,000
Enquiries: 0550-87-3700 (9:00-20:00)

Official Website: http://www.tokinosumika.com/illuminations2017/renewal/

5 Peachy Desserts to Indulge Yourself in This Summer in Fukuoka

We've featured many different must-eat desserts in Fukuoka on here MOSHI MOSHI NIPPON. Today, we're adding to that long list of tasty treats as we are joined by moe one again who has provided us with tasty photos from their Instagram along with descriptions of 5 peachy desserts to indulge yourself in this summer in Fukuoka.

Related Article: 5 Must-Try Desserts On Fukuoka's Beach-Lined City Of Itoshima

Kurasukoto | Hiroo, Fukuoka

Peach Shaved Ice

This super cute-looking pink shaved ice is drizzled in a syrup made from Fresh peaches grown in Kyushu. It's made even more refreshing with the freeze dried raspberries and crunchy pistachios. Hidden underneath everything is lots of almond jelly.

Kurasukoto
Address: 2F, 1-11-21, Hiroo, Chuo-ku, Fukuoka
Opening Hours: 11:30-17:00 (Last Orders 16:15)
Closed: Sunday / Monday
Official Website: https://www.kurasukoto.com/shop-hirao/

REC COFFEE | Yakuin, Fukuoka

White Peach & Lychee Tiramisu Parfait

This exquisite takeout parfait is made with a mix of white peach jelly, mascarpone, and rich espresso.

White Peach Tart

If coffee's not to your taste, then this luxurious and cute tart topped with really thinly sliced white peach will be. It's really refreshing, you'll finish it in no time!

REC COFFEE Yakuin Station
Address: 1F, 1-1-26 Shirogane, Chuo-ku, Fukuoka
Opening Hours: [Mon-Thu] 8:00-01:00 | [Fri-Sat] 8:00-02:00 | [Sun & Holidays]  10:00-01:00
Official Website: https://rec-coffee.com/

Pâtisserie Georges Marceau | Tenjin Watanabe-dori, Fukuoka

Flora

This parfait is made with a generous portion of fresh peaches. Looking at the glass, you can see lots of different layers of goodies, so no matter where you spoon from it's incredibly delicious. The textures of the tea sablé biscuit, mint and red shiso jelly, and nata de coco makes for a great combination.

Pâtisserie Georges Marceau

Address: 1F, 5-8-19 Watanabe-dori, Chuo-ku, Fukuoka

Opening Hours: 10:00-20:00 (Until 19:00 on Sundays)

No Fixed Holidays
Official Website: http://gm.9syoku.com/patisserie/

NOOICE food and coffee | Yakuin, Fukuoka

Whole Peach Plate Parfait

The name says it all: a whole stunning peach, and one served with a dollop of pistachio ice cream. Underneath the peach is an Earl Grey and mascarpone pudding. Peach and Earl Grey is simply a match made in heaven♡

NOOICE food and coffee

Address: 1-18-3 住所:福岡県福岡市中央区今泉1-18-3 1F
営業時間:9:00〜17:00
定休日:火曜日
Official site:https://www.nooice-cafe.com/

Tino | Ropponmatsu, Fukuoka

Cold Peach Lemon Cream Pasta

This one isn't a dessert but a pasta dish! It has a rich flavour but the lemon cream sauce and fresh peach adds a fresh taste to it.

Tino

Address: Takahashi Apartment 2F, 4-6-25 Ropponmatsu, Chuo-ku, Fukuoka
Opening Hours: [Lunch] 11:00-15:00 | [Dinner] 17:30-21:00
Instagram: https://www.instagram.com/tino_64st/

Did you enjoy these picks? If you're looking for even more desserts to try in Fukuoka then be sure to check out moe's Instagram page which is filled with just that!

—–

Original Japanese Text & Photos: moe

*The information about the items on this list are correct at the time of publishing. For the latest information, please visit each cafe's official websites and social media pages.

Anime LED Manhole Covers Light Up Around Tokorozawa in Saitama Prefecture

Japanese manga and light novel publishing company KADOKAWA is promoting titles from its series catalogue in a unique way: by displaying illustrations of the series on manholes around Tokorozawa in Saitama Prefecture. The manholes were laid on August 1, 2020, and are the first manholes in Japan to feature LED lighting.

LED Manholes

In 2003, Tokorozawa City Department of Waterworks and Sewerage became the first company in Japan to use manholes for advertising. The new LED manholes will run along the closest station to Tokorozawa Sakura Town, which was built by and is managed by KADOKAWA. That station is Higashi-Tokorozawa Station, and it will run from there past numerous facilities leading up to Tokorozawa Sakura Town.

Tokorozawa Sakura Town

Tokorozawa Sakura Town is part of the Cool Japan Forest Project, a joint project between KADOKAWA and the city of Tokorozawa. Set to have its grand opening on November 6, 2020, this large-scale facility includes an anime hotel, library museum and bookshelf theatre, restaurants, shops, and more.

LED Manhole Designs

Left: Daytime / Right: Nighttime

The LED manholes will take people right up to Tokorozawa Sakura Town, as well as function as crime prevention tools during nighttime for neighbouring facilities.

There are 28 designs in total from the following series and franchises:

A Certain Magical Index

Re:Zero − Starting Life in Another World

Mobile Suit Gundam: The Origin

The Five Star Stories

Anime Tourism Association Official Character "Junrei-chan"

Bungo Stray Dogs

Uzaki-chan Wants to Hang Out!

Yamato Takeru

The Melancholy of Harumi Suzumiya

Lucky Star

Slayers

Date A Live

Overlord

Sword Art Online

Full Metal Panic!

Rascal Does Not Dream of Bunny Girl Senpai

Neon Genesis Evangelion

Record of Lodoss War

Sgt. Frog

Spice and Wolf

KonoSuba

Kino's Journey

Cautious Hero: The Hero Is Overpowered but Overly Cautious

Inuyasha Spin-Off Anime 'Yashahime' Releases First Trailer, Promotional Exhibition to Take Place Across Japan

The first trailer for the upcoming TV anime series Yashahime: Princess Half-Demon is here. The anime, which will air from October 3, serves as a spin-off series of the anime adaptation of Inuyasha which originally ran from 2000-2004 and wrapped up with Inuyasha: The Final Act in 2010.

Confirmed cast members for Yashahime: Princess Half-Demon include Sara Matsumoto as Towa Higurashi, Mikako Komatsu as Setsuna, and Azusa Tadokoro as Moroha.

To promote the series, a series of exhibitions celebrating the history of Inuyasha will take place across Japan including Tokyo, Osaka, Nagoya, Fukuoka, and Niigata—the latter of which is the hometown of Inuyasha author Rumiko Takahashi. Merchandise will also be available for fans to buy.

The main visual for the exhibition

Details on tickets, merchandise, and the full content of the exhibition will be announced in the near future, so stay tuned.

ⒸRumiko Takahashi / Shogakukan・Yomiuri Telecasting Corporation・Sunrise 2009

Information

Inuyasha Exhibition

Tokyo Exhibition

Running: November 7, 2020 – November 23, 2020
Time: 10:00-21:00 (Last Entries 20:00)
Location: Ikebukuro PARCO 7F PARCO FACTORY
*Open until 18:00 (Last Entries 17:00 on November 23
*Advance tickets to be sold but are not required
*Opening hours subject to change depending on the COVID-19 situation at the time
*Exhibition subject to sudden changes, postponement, or cancellation depending on the COVID-19 situation at the time
*For the latest details and updates, check the event's official website and Twitter page

Niigata, Nagoya, Osaka and Fukuoka Exhibitions
Details TBA

TV Anime "Yashahime: Princess Half-Demon"
Initial Broadcast: October 3, 2020
Sunrise Official Website: http://hanyo-yashahime.com/
YTV Official Website: https://www.ytv.co.jp/hanyo-yashahime/

Tokyobike is set to open a new shop in Fukuoka, its first branch outside of Tokyo. The shop will have its pre-opening this week on July 23 followed by its grand opening on August 1. The store is being managed by FILAMENTS Inc. which is known for running the Hiroshima-based sports bike store "grumpy" as well as the bicycle lifestyle shop "pop grumpy."

What is Tokyobike?

Tokyobike is a bicycle manufacturer which launched in 2002 on the east side of Tokyo. Specialising in bikes that can be enjoyed in the city and people's everyday lives, the company now has over 200 stores in Japan, as well as three directly-managed shops in Tokyo and eight partner shops overseas.

The company's Tokyobike Plus brand is a concept shop made in collaboration with a range of the company's unique partners and offers a "plus" factor and value that can only be experienced with Tokyobike, showcasing a range to customers that shows them how to enjoy the bicycle life.

Tokyobike Plus Fukuoka is located in Yakuin which is just a 10-minute walk from Tenjin in central Fukuoka. It's surrounded by bustling cafes, interior design shops, popular confectionery stores, and more. It's also close to Ohori Park, Fukuoka Zoo and Botanical Garden, Ropponmatsu, and plenty of other places within 3km which can be easily reached by bike.

The store offers bike repairs and maintenance, sells bike-related goods which can be sifted through with a complementary cup of coffee, and staff can give information to riders on how best to enjoy riding around Fukuoka. Its interior design was conceived by Makoto Obuchi of GO!design factory Inc. who is responsible for creating the designs for the Italian restaurant Cernia in Fukuoka, the Akasaka-based izakaya Machiya Akariya, Meshiya Koyama Parking in Kego, and more.

To celebrate the opening of Tokyobike Plus Fukuoka, the first 80 customers will receive a free original Tokyobike hand towel designed by Kamawanu, a company specialising in making hand towels which are individually dyed using a traditional method known as chuusen.

Information

Tokyobike Plus Fukuoka
Address: 16-1 Yakuinifukumachi, Chūō-ku, Fukuoka
Opening Hours: 11:00-19:00
Closed: Tuesdays/Wednesdays
TEL: 092-406-7039

Official Website: https://tokyobike-fukuoka.com

Kyoto's World Heritage Site Nijo Castle Announces Summer Evening Illumination Event

NAKED, INC. has announced that it is holding a special summertime light-up event at Nijo Castle, a World Heritage Site in Kyoto, from August 8 to August 30. The company has also released its first ever 3DCG VR experience NAKED NINJA -Nijo-jo Castle- on the official NAKED, INC. online store.

Enjoy art entertainment in person or at home

NAKED, INC. has collaborated with many World Heritage Sites, Cultural Properties, tourism centres, leisure spots, and more over the years. Right now, the company is grappling with the question of what the shape of tourism, as well as art and entertainment, looks like during the COVID-19 outbreak—and what shape it will take post-pandemic. Nijo Castle is no exception, a place that enjoys tourism from both Japanese people and people overseas. In considering these issues, NAKED has conceived two different ways Nijo Castle can still entertain tourism now and in the near future.

The first is holding an event in person at Nijo Castle in the form of an outdoor light-up event that will have people wandering around as opposed to being stationary. In spring of 2017, NAKED held "Nijo Castle Cherry Blossom Festival 2017" where they hosted a variety of performances and events in line with the season. In fact, one such event was planned to take place at Nijo Castle this summer, but it had to be reconsidered as a result of COVID-19. Those involved still wanted to come up with a way that people who live close by could still enjoy some leisure time this summer, which is what led to this light-up event from NAKED.

Visitors will be able to enjoy the light-up safely by staying a set distance from one another while walking around Nijo Castle. The number of people inside at once will also be restricted. As well as this, people will need to wear masks, temperature will be regulated, and alcohol gel will be provided—all to ensure that visitors are kept safe.

The second way that NAKED has devised for people to still enjoy Nijo Castle is with the release of NAKED NINJA -Nijo-jo Castle-, the company's first ever full 3DCG VR experience that lets people enjoy Nijo Castle online in a virtual space. This is so that people who cannot visit Nijo Castle can still enjoy its sights. NAKED plans to launch even more real and virtual, offline and online experiences in the future too in order to promote tourism in a new way during COVID-19.

Information

Nijo Castle x NAKED Summer Special Light-Up 2020
Running: August 8, 2020 – August 30, 2020

Time: 19:00-22:00 (Last Entries 21:20)
Location: Nijo Castle

Address: 541 Nijojocho, Nakagyo Ward, Kyoto場

NAKED NINJA-Nijo-jo Castle- VR
Price: ¥880 (Tax Included)

Official Website: https://event.naked.works/nijojo-summer2020/

Street Fighter Exhibition at Fukuoka City Science Museum Rescheduled For July

The Street Fighter exhibition "Street Fighter: Ore Yori Tsuyoi Yatsura no Sekai Ten" (Street Fighter Exhibition: The World of Those Stronger Than Me) was originally scheduled to run from March 14 to May 24 but was cancelled due to the COVID-19 outbreak. However, it has been announced that the exhibition has been rescheduled and will take place from July 1 to September 22.

A ticket system is in place where attendees need to book a time and date in advance as a precaution against the novel coronavirus. Tickets can be bought in advance from the exhibition's official website.

Street Fighter is a fighting video game franchise developed and published by Capcom. The first game was released in 1987 for arcades. Street Fighter II was released in 1991 is hailed as a landmark title in the series and would set the standard of fighting games that followed. The latest instalment to the series, Street Fighter V, was released in 2016, with Street Fighter V: Champion Edition following in 2019.

The Street Fighter exhibition is set to display treasured documents and art pieces from the franchise, as well as showcase a cabinet of the arcade games. With full support and cooperation from Capcom, the exhibition is a must-visit for all fans of the influential fighting game.

Here's just a select glimpse of what to expect.

Street Fighter Gallery

This incredible gallery features a physical catalogue of game packages and cases, posters, and much more from across the series.

Memorable Street Fighter Scenes

①BONUS STAGE 2020 in FUKUOKA

Interactive Content: Destroy the car with a Surge Fist

②CONTINUE? Match Loss Facial Expression Collection

EXTRA ROUND: Secrets

A display of initial Street Fighter concepts, logos, character art, backgrounds, and more

CONTINUE: The Legend of Street Fighter Continues to Evolve

Information

Street Fighter Exhibition (Japanese Name: ストリートファイター「俺より強いやつらの世界展」)
Running: July 1, 2020 – September 22, 2020
Closed: Tuesdays (Except August 11/August 18/September 22)
Time: 9:30-18:00 (Last Entries 17:30) (Open until 21:30 from August 7-19)

Location: Fukuoka City Science Museum (4-2-1 Ropponmatsu, Chuo Ward, Fukuoka)
Price: General ¥1,100 / High School & Junior High School Students ¥800 / Ages 4+ ¥500

Official Website: https://streetfighter.artne.jp/

Help Fukuoka's Hotels During COVID-19 With Crowdfunding Project

Fukuoka's tourism industry is suffering greatly as a result of the novel coronavirus (COVID-19) pandemic, and so the city has launched a crowdfunding project to ask for people's help and support.

By donating, you can receive a special ticket which can be used when travel returns to normal which can be used at hotels you have donated towards. The tiers are priced at ¥3,000 and ¥5,000, which will get you tickets priced at ¥3,300 and ¥5,500 respectively to be used in the future. If you're thinking of travelling to Fukuoka, or already had plans booked to go there, then consider donating towards the city.

Fukuoka is a city loved by Japanese people and foreigners alike. It has a rich food culture, incredible festivals, a rich history, and an amalgamation of urban and rural scenery.

1→10, Inc. Brings Magical Shores Interactive Land Art to Siloso Beach in Singapore

Japanese creative studio 1→10, Inc. opened up Singapore's first ever permanent interactive land art exhibition "Magical Shores" on January 23 this year together with Lighting Planners Associates (LPA), a lighting company based in both Tokyo and Singapore.

Magical Shores spans 400 meters of Sentosa's Siloso Beach, turning it into an immersive, multi-sensory experience of AI-operated lights and sounds which elevate the beauty of the surrounding natural environment.

Guide To Magical Shores | Siloso Beach, Sentosa:

AI technology responds to visitors on the beach, giving them a breathtaking and unique performance. Sensors are dotted around the area which use sensing data to react based on people's movement around the beach. The AI is constantly developing as it collects big data about the temperature and climate of Siloso Beach as well as that of people's movements.


In two of the interactive areas, people can witness the "Circle of Life" beginning with the big bang. After that there is magma, followed by heavy rainfall and eventually flowing water which gives birth to life. Cells divide as plants begin to sprout, fish swim in the sea, and birds and insects sing in the mountains. At the end, life falls, and the process begins again.


Japanese musician Masakatsu Takagi was put in charge of the music and sound design of the exhibition. Takagi is known for having written the music for Wolf Children and The Boy and the Beast. He took inspiration from his music project "Marginalia," a sound diary where he would record the sounds of birds, insects, the wind, rain, and so on from his studio window. Takagi did field recording on the beach to capture the sounds of nature to use for the art exhibition.

Kuniyuki Takahashi also offered his musicianship to the exhibition. Based in Sapporo, he is an internationally-recognised composer. He also recorded the sounds of Siloso Beach, and together with Takagi, created the perfect soundtrack for Magical Shores.

Magical Shores is currently temporarily closed as a result of the coronavirus but will resume once more as soon as the situation allows it.

Cherry Blossoms and Rape Blossoms Compete For Spring at Kusaba River in Fukuoka

The town of Chikuzen in Fukuoka Prefecture is home to a 2km strip of cherry blossom trees which bloom their pink beauty along the Kusaba River in spring. The area sees countless people flock there during the Hanami season to see the trees in full bloom.

But Kusaba River isn't only home to cherry blossoms; it also sees rape blossoms sprout their yellow flowers during springtime, which offers a beautiful contrast to the overhead pink from the cherry trees.

The place is lit up in the eveningsーa great chance to see the cherry blossoms in a different light at night.

Rich verdure lines the whole of Kusaba River, so be sure to visit if you're heading to Fukuoka this spring to see the cherry and rape blossoms.

Information

Kusaba River

Address: 875 Hisamitsu, Chikuzen, Asakura-gun, Fukuoka

Bloom Period: Late March – Early April

Access: 5-minutes on foot from Shincho Bus Stop (新町バス停) via Nishi Tetsu Bus

THE LOCAL COFFEE STAND FUKUOKA: New Coffee Shop Opens in Fukuoka's Hakata Ward

Japan's biggest online coffee publisher Good Coffee is opening a new cafe called "THE LOCAL COFFEE STAND FUKUOKA" in Hakata, Fukuoka.

Good Coffee looks to bring together coffee lovers with all kinds of coffee shops. THE LOCAL COFFEE STAND FUKUOKA will be their second branch of "THE LOCAL COFFEE STAND" in Japan following the branch they opened in Shibuya, Tokyo.

Good Coffee provides a wealth of information and the latest news on where to get delicious coffee inside and outside Japan. They have joint sponsorship and manage the TOKYO COFFEE FESTIVAL where roasters from across the country all come together and serve coffee in a variety of ways, host live performances, and more.


The coffee beans at THE LOCAL aren't roasted in-house. Instead, the head barista, Yuji Otsuki, personally selects roasts every month from shops published on Good Coffee. This is a rare style of coffee shop in Fukuoka where every month, customers can enjoy a different cup of high quality coffee every month from popular roasters inside and outside Japan from the comfort of Fukuoka.

The coffee beans used for the cafe's opening month of March will be drip coffee from GLITCH COFFEE&ROASTERS in Jinbocho, Tokyo and espresso from CRAFTSMAN COFFEE ROASTERS in Shimonoseki, Yamaguchi. Events are scheduled to be held at THE LOCAL COFFEE STAND FUKUOKA every month where baristas and coffee roasters will be invited as guests.

Find your new favourite coffee at THE LOCAL COFFEE STAND FUKUOKA.

Information

THE LOCAL COFFEE STAND FUKUOKA

Address: 2-14-1 Hakataekihigashi, Hakata, Fukuoka, Fukuoka Prefecture

Opening Hours: 9:00-23:00 (*Pre-opening hours)
Access: 5-minutes from Hakata Station's Tsukushi Exit
Official Website: http://thelocal2016.com/fukuoka/

Osaka Hirakata Park's 'Time Travel Fantasy' Illumination Event Extended to Spring

Hirakata Park's "Hikari no Yuenchi" illumination event, which has been running for the autumn and winter season and is set to finish on March 1, 2020, is being extended into the spring season due to its huge popularity. The spring period will run from March 20 to April 7.

The theme of this year's Hikari no Yuenchi is "Time Travel Fantasy." Dazzle your eyes with a bright selection of breathtaking illuminations inside the event's four areas, such as the lights along Time Travel Fantasy Street where the symbol of the parkーa 10-meter tall treeーstands gloriously, or the Illumination Flower Garden. The blue and purple winter colours of the lights will change into springtime pinks, greens, and yellows.

Illumination Flower Garden

Flowering illuminations will twinkle atop the hill in spring pastel colours like cherry blossom pinks, fresh verdure green, and rape blossom yellows.

The dazzling delights of the winter season will continue into the spring period, like the 24 different night attractions, and the illumination food too like the "shining bubble tea." We also recommend taking advantage of the "Night Fee," which sees a special entry price open from 16:00.

Enjoy the cool spring breeze and gorgeous Japanese illuminations at Hirakata Park this March.