ONSEN GUEST HOUSE TSUTAYA to Open in Hakone This November
ONSEN GUEST HOUSE TSUTAYA is a new hot spring and guest house facility set to open in the town of Sokokura in Hakone on November 26. The building is being renovated from an old guest house that has enjoyed a long history of hot springs since the Edo period.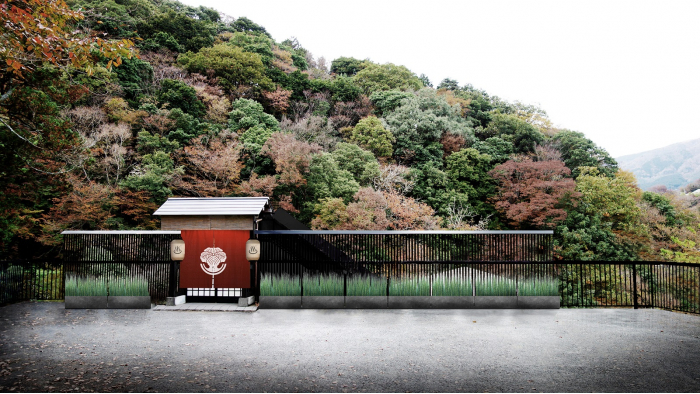 Sokura Onsen is about a 90 minute car drive from the city centre and is considered one of Hakone's "7 Hot Springs," a list that has been around since the Edo period. The place is said to have been used and loved by many military commanders back in the day for the high water yield gifted by the water source.
When the building was first constructed it was known as "Tsutaya Ryokan" and became a famous guest house with not only locals but travellers who would arrive all the way from Tokyo. ONSEN GUEST HOUSE TSUTAYA combines history of both Sokura Onsen and Tsutaya Ryokan.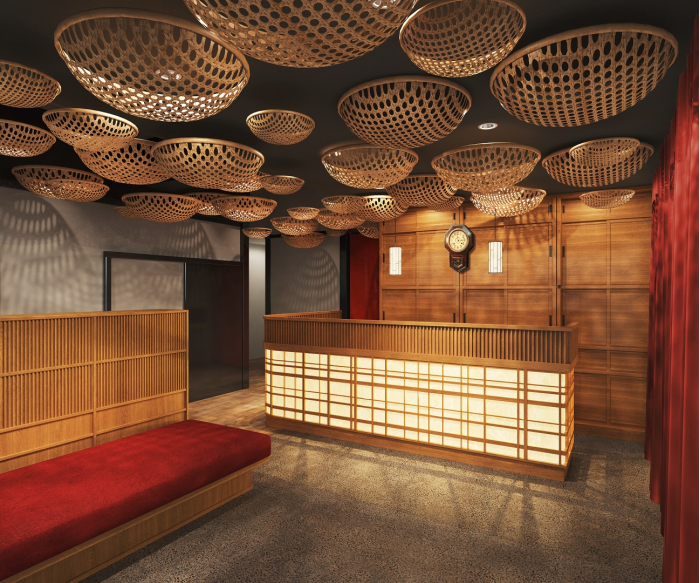 The renovated building was built 29 years ago. Though it has been revamped, it still maintains a nostalgic air to it in the style of a traditional guest house. It's home to 6 spacious ryokan-type rooms and 46 compact rooms.
There is a space where one can gaze at the river after taking a dip in the hot springs, as well as a lounge with tables which encourages you to socialise with people you have just met. There are male and female open-air baths and indoor baths as well as a cooking space and laundry service for those looking to stay longer.
 The facility offers a retro environment in which each guest can relax and enjoy their own time as they please. Throughout the guest house is original old-fashioned furniture that has been upcycled, including kotatsu tables and shelves, to give that sense of traditional Japanese culture. This has been combined with contemporary art to create a fusion of the old and new.
It is a harmonious combination of a traditional Japanese hot spring ryokan, or inn, and a guest house, which means travellers from abroad will be able to enjoy the beauty of the country's traditional culture.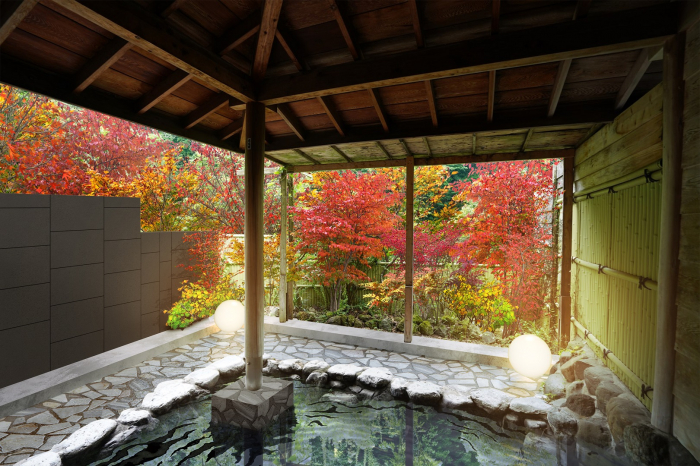 Escape the noisy city and enjoy peace and tranquillity surrounded in the colours of autumn at ONSEN GUEST HOUSE TSUTAYA
Information
ONSEN GUEST HOUSE TSUTAYA (Sokokura no Yu Tsutaya Ryokan)
Address: 240-1 SokokuraHakone, Ashigarashimo-gun, Kanagawa 250-0403
Arrival: 10-minutes on foot from Miyanoshita Station or 12-minutes on foot from Kowakidani Station, both via the Hakone Tozan Line 
Grand Opening: November 26, 2019 (Bookings begin in late October)
Official Website: https://hakone-tsutaya.com/
RECOMMENDED ENTRIES
Kusatsu Onsen's Emerald Green Pudding is a Must-Try After a Dip in the Hot Springs

Kusatsu Onsen is a hot spring resort in Gunma Prefecture that is one of Japan's three principle hot spring locations. The site opened its new Japanese custard dessert (known as 'purin') shop, Kusatsu Onsen Pudding, on August 24, which serves the most incredibly smooth purin you have ever tried, each inspired by the hot springs.

Once you've stepped out of the nice warm hot springs of Kusatsu Onsen you can refresh yourself with a delicious purin packed full of love from the shop which has created a flavour you can only try by travelling to Gunma and going there. Each and every dessert is made fresh in the shop to further elevate its exclusivity as a local speciality.

Kusatsu Onsen Pudding also makes sure to use local and regional ingredients where it can to help support manufacturers and producers. Their purin is also made with a special type of milk sourced from in Gunma known as Haruna milk. The milk is made as delicious as can be by ensuring cows are raised on a healthy natural diet of grass on green pastures in Gunma bathed in plenty of sunlight.

Yuhata Purin

The Yuhata purin is inspired by the hot spring areas where mineral deposits are harvested, its jelly taking on a gorgeous emerald green colour. It's lemon and lime flavoured, the perfect flavour to enjoy when stepping out of the hot water, and one which goes surprisingly well with purin.

Yumomi Purin

The staple purin of the store, this purin is based on yumomi, a method used for cooling the hot water with paddles from which cold water gushes forth. This velvety delight is made with lots of fresh cream and high-quality vanilla beans from Madagascar for added punch.

Furomage

A pun on the word fromage, with furo in Japanese meaning "bath," the Furomage purin uses a rich cream cheese base which has a seriously smooth texture. It's topped off with strawberry jelly for the perfect combination, packing a perfect balance between sweet and sour.

Yuhata Soft (Milk/Yuhata/Mixed)

Choose from the Yuhata soft serve ice cream which is ramune flavoured and inspired by the flowing water of the hot springs or the Haruna milk-mixed vanilla flavoured Milk soft serve. If you can't pick, then choose mixed for a bit of both. A satisfyingly refreshing pick for when you're done in the hot springs.

The shop has plans to sell purin made using bamboo steamers in the near future, so you're pudding can be steamed like yourself after a dip in the water! The wooden spoons used to eat the desserts are also made in the image of the paddles used in yumomi too.

Cruise by the Dazzling Blue Grotto Illuminations in Fukuoka

As part of a project to vitalise and develop the town of Hakata in Fukuoka and promote its wonderful culture to the people of the world, the Blue Grotto FUKUOKA Executive Committee is set to hold a special illumination event titled Blue Grotto FUKUOKA at Nakasu Bridge from September 16 to October 6.

This illumination event first began in Nakameguro, Tokyo back in 2014 where it enjoyed great success. The location was then moved in 2016 to Shibuya where over 2.8 million people attended. It was then held outside the Tokyo area for the first time in Sapporo in February 2018 and then in Osaka in September of the same year. This enabled it to become widespread across the country and has consequentially made it become one of the main illumination events of Japan.

Blue Grotto will now make its way to Kyushu for the first time with Blue Grotto FUKUOKA. Boats will be prepared for the romantic and magical cruise which will take passengers from Nakasu Bridge to Canal City Hakata and Hakata Bay.

As well as the breathtaking lights, passengers can look forward to a specially-prepared pasta meal made by Nisshin Foods using Blue Grotto brand products.

Information

Blue Grotto FUKUOKA

Running: September 16, 2019 – October 6, 2019

Location: Nakasu Bridge (中洲懸橋), Fukuoka

Illumination Times: 18:30-22:00 (subject to change)
Access: 6-minutes on foot fromNakasu-Kawabata Station / 7-minutes on foot from Tenjin-Minami Station

Official Website: http://shibuya-aonodokutsu.jp/

Mitama Hot Spring in Yamanashi Ranks in Japan's Top 100 Night Views & Registers as Night View Heritage

Located in the beautiful little town of Ichikawamisato in Yamanashi Prefecture is Mitama Hot Spring, a "day-trip" type hot spring, which has just received a double award: it has been listed as one of Japan's Top 100 night views for the first time, and as a Night View Heritage of Japan.

Mitama Hot Spring is built on the southern tip of the Kōfu Basin―Kōfu being Yamanashi's capital city-which can be viewed in a breathtaking 180 degree panoramic view from the northern side of the open-air baths. The majority of the hot spring also faces the south which means a breathtaking nighttime view of the city, picturesque against a resplendent sky, as you soak in the warm embrace of the hot spring.

During the day, one's eyes can roll their gaze across the Yatsugatake Mountains at the front, and in the direction of west is Mount Kita, the second tallest mountain in Japan after Mount Fuji.

Mitama Hot Spring should absolutely be on your bucket list of things to do when visiting Yamanashi Prefecture.

Information

Mitama Hot Spring

Address: 2608 Ōtsuka, Ichikawamisato, Nishiyatsushiro District, Yamanashi Prefecture

Opening Hours: 10:00-23:00 (Last Entries 22:00)

*Closed around 5 days a year for inspection and maintenance

Price: General ¥700 / Elementary School Children ¥500 / Toddlers – Free

*General price set to increase to ¥780 this October

Official Website: http://www.mitamanoyu.jp/
RELATED ENTRIES
GUNDAM FACTORY YOKOHAMA x my route Launch Collaborative Campaign

Japanese company @YOKOHAMA is helping to promote the regional development of Yokohama by collaborating with GUNDAM FACTORY YOKOHAMA using the multimodal mobility service app "my route" with the launch of a campaign.

The campaign is taking place for residents of Yokohama, running from February 8 to 28. All people need to do is download and open the app and fill out the form. Fifty lucky people will have the chance to win a free ticket to GUNDAM FACTORY YOKOHAMA, an amusement park themed on the popular Gundam franchise.

my route is an app that lets users search for the most affordable way to travel as well as letting them book and buy tickets. @YOKOHAMA's portal site is also now linked to the app, offering information about local stores, events, and other information regarding Yokohama.

Information

GUNDAM FACTORY YOKOHAMA Collaboration Download Campaign
Running: February 8 – 28 2021

GUNDAM FACTORY YOKOHAMA
Open: December 19, 2020 – March 31, 2022
Location: Yokohama, Yamashita Futo
Address: 279-25, Yamashitacho, Naka Ward, Yokohama, Kanagawa

Access: Minato Mirai Line

7-minute walk from Motomachi-Chukagai Station (Minatomirai Line)
Yokohama BAYSIDE BLUE Bus: 3-minute walk from Yamashitafuto Bus Stop

GUNDAM FACTORY YOKOHAMA Official Website: https://gundam-factory.net/

Special Edition Website: https://www.at-yokohama.net/topics/article20210208_02.html

Made in OME: Japan's Millennials Promote Micro Tourism Project For Ome in Tokyo

Ome—a city located in western Tokyo that's about an hour's train ride from the populous Shinjuku. It's a place enjoyed by many for its hiking and river swimming locales, as well as its architecture, in which one can still feel the influences of Japan's Edo period, and kindness of the locals.

MATINOEKI OUME, an Ome-based company, recently launched its "Made in OME" project which aims to revitalise the city. The project will create a new kind of Ome through the eyes of the millennial generation. Its goal is to polish and refine the appealing aspects of Ome to offer up new tourism opportunities while bringing in new fans to the city.

Made in OME's first step towards that is teaming up with DJ and YouTuber Yuna Yabe and illustrator and streamer MIOCHIN, two models signed to ASOBISYSTEM who will represent the millennial generation as the navigators of this journey as they participate in workshops with local producers and manufacturers, developing a variety of products such as sweets made with ingredients from Ome, like baumkuchen and chocolate rolls, and more.

You can catch their activity live over on MIOCHIN's official Instagram page. Visit Made in OME's official website below for more details.

Yuna Yabe


MIOCHIN

The two of them will host a free 'monitor tour' on February 21, 2021. These monitor tours aim to have people developing a strong relationship with new products from Ome. Participants will learn about the history and culture of Ome via local producers and manufacturers with products such as sake and indigo dyeing. Made in OME plants to expand their range of tourist monitor tours in the future.

Local Ome residents will also be invited to the tour in the evening of the same day. Learn all there is to know about Ome at Made in OME's website which is available in English, Japanese, and Chinese.

Information

Made in OME
Instagram: made_in_ome
Official Website (English): http://madeinome.com/en/

MATINOEKI OUME opened in November 2016. Its focus is on livening up the city of Ome and getting more people to learn about its wonders by offering information on famous tourist spots, stocking a bounty of local products, and more.

MATINOEKI OUME Official Website: https://www.matinoeki-oume.com/

FANCL Ginza Square Opens Onsen Hot Spring That You Can Walk Into Wearing Your Clothes

FANCL has brought the hot spring experience to its flagship site FANCL Ginza Square for a limited time with a variety of content that makes visitors feel like they've come to a Japanese onsen. The experience, named Tabi Suru Square Yu, is running until February 11, 2021.

Café au Lait / Fruit au Lait / Soy Milk Aojiru – ¥300 Each

Reiwa Honzen (FANCL Ginza Square Floor 9F)

Lunch Sana Winter Seafood Bento | ¥3,500

Winter Dinner Seafood Course | From ¥9,000

FANCL BROWN RICE MEALS (FANCL Ginza Square Floor B1F)

Hiroshima Oyster & Spinach Risotto Parmesan Cheese Galette Lunch Set | ¥1,850

Tomato Cream Pasta Lunch Set ¥1,850

Original Hand Towel

FANCL Ginza Square Onsen Essentials Set | ¥3,668

Breathing exercises at SUU-HAKU

At Tabi Suru Square Yu, visitors can enter a room that fully recreates the experience of being in a hot spring. The room is set at the same temperature, is filled with the same aromas, and is decorated in the same way. Visitors sit on one of the relaxation sheets to soak up the experience – effectively getting into a hot spring without having to change their clothes.

A variety of classic drinks and dishes sold at hot springs in Japan will also be sold, and visitors can get involved in the breathing exercises on offer.

YOKOHAMA AIR CABIN: Japan's First Permanent Inner-City Cable Car Opens in April

Japan is set to get its first ever permanent city cable car in Yokohama on April 22 called the YOKOHAMA AIR CABIN.

The YOKOHAMA AIR CABIN is a cable car system that will offer locals and tourists a chance to enjoy Yokohama from a new perspective whether during the hot summers or during the cool evenings when the city lights wake up.

The system will be connected directly to Sakuragichō Station and Shinko Pier for easy, quick access to enjoy Yokohama Minato Mirai from up high.

If you're planning a trip to Yokohama at some point, be sure to take a ride on YOKOHAMA AIR CABIN, officially opening on April 22, 2021.

Information

YOKOHAMA AIR CABIN
Opening: April 22, 2021
Operating Hours: 10:00-22:00
Duration: 5-minutes
Price: General ¥1,000 / Children ¥500

Hoshino Resorts BANTA CAFE Releases Video of Magical Beachside Illuminations

The incredible beachside Hoshino Resorts BANTA CAFE, which offers guests a breathtaking ocean view along the Okinawan coast, released a video on the official Hoshino Resorts YouTube page showcasing the cafe's ongoing illumination event, "Illumi Banta," which is running until February 28, 2021. Guests can enjoy some limited-time menu options and then take a romantic stroll along the beach with a warm lantern in hand.

Okinawa is known for its warm climate, rarely dipping below 15°C in the chilly season of winter. There are many celebratory days enjoyed every year around Christmas and New Years, and so BANTA CAFE decided to get in on the action with Illumi Banta, which has been running since December 1 last year—while following the necessary precautions against COVID-19 to ensure everyone stays safe. The spacious cafe is mostly outdoors so visitors can enjoy their time without worry.

A seat at the cafe in on a clear evening guarantees a front row seat to a beautiful orange sunset that sinks into the horizon. Normally, the cafe closes as sunset arrives, but for this event, opening hour have been extended into the night.

BANTA CAFE is located in the village of Yomitan where the beautiful ocean is surrounded by coral reef, enormous rocks, and a rich natural environment. It's a must-visit if travelling to Okinawa.

Information

Illumi Banta
Running: December 1, 2020 – February 28, 2021 (Except February 1st-5th)
Time: 18:00-22:00 (Last Orders 21:00)

BANTA CAFE
Address: 560 Gima, Yomitan, Nakagami District, Okinawa
TEL: 098-921-6810
Opening Hours: 10:00 to one hour after sunset (from 08:00 on weekends and holidays)
Official Website: https://banta-cafe.com/en/

Nagasaki's 112 Year Old Hotel Nampuro Opens Terraces With Panoramic Ocean and Sky Views

The 112-year-old Hotel Nampuro in Nagasaki is set to open the new Sky Terrace and Ocean Terrace this month. These vistas offer breathtaking, unbroken views of the sea and sky that make it feel as if you're floating on the ocean with rolling skies ahead that stretch to the horizon.

Observation Terrace (1)

Observation Terrace (2)

Infinity Pool-Style Open-Air Bath

Silky Bath

Beautifying Bubble Baths

Jacuzzi Bath (Male Only)

Children's Bath

Hinoki Sauna & Steam Sauna

Iyashi Onsen Cafe

Rental Open-Air Bath

The observation terrace offers an incredible panoramic view of the great Ariake Sea that offers a picturesque spectacle at all times of the day. Guests can enjoy seeing the morning, noon, and night skies which merge together with the ocean for an unbeatable result. There's also a "no talking" rule on the terrace so guests can fully soak up what's in front of them as they take a luxirous soak in the warm baths.

The infinity pool-style open-air bath offers a refreshing view while making it seem as if you are part of the ocean. The silky bath uses delicate micro bubbles which become an air cushion and promote good blood circulation using massage. The jacuzzi bath relaxes the entire body with stimulating bubbles, while the children's bath allows kids to get in on the fun too. Both saunas are a change to unwind fatigue and the tired body. The steam sauna is set at a lower temperature than your usual high-temperature dry sauna which ensures it doesn't have as much strain on the body so guests can sweat it out comfortably. The freshly-brewed coffee available at the hot spring is also exclusive to the hotel's Onsen Cafe.

Universal Studios Japan Announces Easter Universal Celebration 2021

Universal Studios Japan is set to spring into Easter starting on March 12 with the announcement of Universal Easter Celebration 2021. This year, which marks the 20th anniversary since USJ opened, will see the park's cute and iconic characters once again lull guests into an unforgettable Easter dream at Universal Wonderland and Minion Park.

Universal Easter Celebration

USJ will see colourful pastel decorations cover the Universal Wonderland and Minion Park areas, and the characters too will be dressed in their seasonal Easter costumes. A special Easter rendition of the Wonderland Seasons Joy show will also take place to commemorate the park's 20th anniversary with song and dance.

Wonderland Seasons Joy ~Easter Ver.~

Minion Park Easter

The park will also introduced a special egg hunt after Elmo and the Minions dropped some of their eggs. If you manage to find them all you get a limited-edition gold medal. USJ is also taking the Easter festivities online too with a special celebratory live stream called Let's Cooking! Kawaii Easter Party

WIZARDING WORLD and all related trademarks, characters, names, and indicia are © & ™ Warner Bros. Entertainment Inc. Publishing Rights © JKR. (s21)
Minions and all related elements and indicia TM & © 2021 Universal Studios. All rights reserved.
TM & © 2021 Sesame Workshop
© 2021 Peanuts Worldwide LLC TM & © Universal Studios & Amblin Entertainment
Universal Studios Japan TM & © Universal Studios. All rights reserved.

© Nintendo

Information

Universal Easter Celebration
Running: March 12, 2021 – June 27, 2021
Location: Universal Studios Japan
Official Website: https://www.usj.co.jp/web/en/us

200 Varieties of Japanese Iris to Bloom at Odawara Flower Garden

The plum blossoms of Odawara Flower Garden, which is located in Odawara, Kanagawa, are at the height of their blossom right now. The park's Keiryu no Baien ("Mountain Stream Plum Garden") area boasts the largest collection of plum blossoms in Japan's Kanto region, with 480 trees spanning 200 species.

480 individual Japanese ayame plum blossoms of 200 varieties will adorn the garden once again this year. The event has a different theme each year, with this year's focusing on the interweaving of red and white coloured flowers on each tree branch.

Visitors will be able to see the beautiful colour combination from many different iris varieties such as the murui-shibori which sometimes sees red safflowers come to life, the wachigai which witnesses wonderful variegated flowering, the impeccably beautiful maki-tateyama, and more.

2021 Keiryu no Baien
Running: January 23, 2021 – March 7, 2021
Location: Odawara Flower Garden
Address: 3798-5 Kuno, Odawara, Kanagawa
Entry: Free
Parking: Free
Opening Hours: 9:00-17:00

*No holidays for the duration of the event – open every day

Keiryu no Baien Guide Tour

Takayuki Otsubo, the president of the garden, is also an advisor on the management of its plants. He will be offering a detailed tour for the event.

Date: February 21, 2021
Times: 10:30 / 13:30 (1 hour each)
Participation: Free
Capacity: 30 per slot (first-come, first-served)

*Tour will be held seated indoors if it rains

Keiryu no Baien Flowers and Kimono Girls

A kimono rental and fitting service will be available at the event so visitors can take photo next to the gorgeous flowers while adorned in traditional Japanese dress.

Date: February 13, 2021
Time: 9:30-16:00 (Bookable slots)
Price: ¥3,000 (Tax/Rental/Fitting included)
No. of People: 15 (Booking required)
Bookings: By phone call by February 7, 2021
TEL: 0465-34-2814

*Must be at least 140m tall
*Visitors are asked to do their own makeup
*Male kimono are available in limited quantities

Plum Menu

The Odawara Flower Garden cafe, Cafe Hibiscus, is serving a selection of plum blossom themed meals and drinks for the festival. This includes the above-pictured new soba noodle dish, which is topped with plum pulp grown in Odawara as well as kamaboko fish cake, shrimp fritters, and spring onion. The broth in particular is worth of note which the staff went to great lengths to create. There's also plum blossom ice cream too made with nanko plums, as well as other delicious bites.

Plum Blossom Festival Soba Noodles – ¥600 (Tax Included) / With Drink ¥700 (Tax Included)

Plum Ice Cream – ¥380 (Tax Included)

Location: Cafe Hibiscus
Opening Hours: 10:00-16:00 (Last Orders 15:30)
*No holidays for the duration of the event – open every day

Plum Blossom Souvenirs


A selection of plum blossom-themed souvenirs will be available like umeboshi dried plum, plum jelly, and more.

Available: From early January 2021
Location: Entrance souvenir corner
Opening Hours: 9:00-17:00

Super Nintendo World Releases Virtual Tour of Entire Theme Park Area

Universal Studios Japan (USJ) announced last month that its highly-anticipated new Super Nintendo World area will open on February 4, 2021, which also happens to fall on the day of USJ's 20th anniversary.

Super Nintendo World comes as the world's first theme park area to be based around Nintendo's characters and games, combining innovative ideas with cutting-edge technology.

With just one month left until the grand opening, USJ has launched a special website for Super Nintendo World which offers a virtual tour through each part of the new theme park area. Mario fanatics are sure to be delighted by the adornments from Bowser's Castle to Pipes, Mushrooms, Question blocks, and more, as well as familiar faces like Goombas, Thwomps, Yoshi—the list goes on.

Accessing the site will bring you to an overview of the map. As you scroll down the website takes you on a virtual journey to each of its iconic attractions, all of which are designed to make you feel like you're really in the world of Super Mario.

teamLab Reconnect Project Combines Art With the Sauna Experience in Roppongi

Art collective teamLab has announced the opening of teamLab Reconnect: Art with Rinkan Sauna Roppongi which will run for half a year starting this March in Roppngi, Tokyo.

Since 2019, teamLab has been combining saunas with digital art to create wholly new and unique sauna experiences never before seen.

teamLab Reconnect's aim is not to offer a luxury and high-end venue for seeing artwork, but to put visitors into a luxurious state to experience the art. Through contrast bath therapy, where visitors are placed in a hot sauna followed by cold water and then relaxation, they can open their minds and senses to a variety of artworks and in essence become part of the art itself. teamLab hopes this will enable visitors to realise their own existence―their mind, body, and environment―and in turn 'reconnect' with the world and time.

Levitation
teamLab, 2021, Digital Installation, Sound: Hideaki Takahashi

teamLab Reconnect will welcome a variety of new artworks based on teamLab's new art project 'Supernature Phenomenon' which captures different natural phenomena in nature.

Proliferating Immense Life – A Whole Year per Year
teamLab, 2020, Interactive Digital Installation, Sound: Hideaki Takahashi

This artwork captures the life cycle of flowers. It is not a pre-recorded image that is played back; it is created by a computer program that continuously renders the work in real time. The interaction between people and the installation causes continuous change in the artwork, meaning previous visual states can never be replicated, and will never reoccur.

Since opening their sauna in Mifuneyama Rakuen in Kyushu back in 2019, which won the SAUNACHELIN two years in a row in 2019 and 2020, teamLab has gone on to create new works of sauna art such as teamLab: A Forest Where Gods Live and teamLab Ruins and Heritage: Rinkan Spa & Tea Ceremony.

Information

teamLab Reconnect: Art with Rinkan Sauna Roppongi
Location: teamLab Reconnect, 5-10-25 Roppongi, Minato-ku, Tokyo
Running March 2021 – August 2021
Official Website: https://www.teamlab.art/e/reconnect/

hotel androoms Announces Opening of New Kyoto Shijo Branch in March

Solare Hotels and Resorts has announced that a new branch of hotels androoms will open in Kyoto Shijo on March 6, 2021. In the run up to its grand opening, the company has opened a website where guests can book hotels with Solare Hotels and Resorts at the cheapest possible price. The website will begin rolling out more information about each hotel on the site through the year.

Access

hotel androoms Kyoto Shijo is located a convenient 5-minute walk from Kyoto Station's Karasuma Line section and 7 minutes from the Central Exit in the JR section, placing it within close distance to many of Kyoto's sightseeing spots.

The hotel offers seven different room types from standard to double to premium twin. One room can house a maximum of three people, accommodating groups and families. It also promises to be packed with a variety of exclusive services you won't find at other hotels.

Specialty coffee by Unir Kyoto

hotel androoms Kyoto Shijo will welcome the opening of a new branch of Unir inside the hotel which serves coffee made from specially-selected coffee beans. The coffee is hand-roasted on site with baristas pouring their love and skill into every cup.

Breakfast delivered right to your room

The morning time is your time and should be used as you please without you having to rush around, so says the hotel, and so it offers a breakfast delivery service which must be booked in advance.

Relax and unwind in the modern-style baths

Those looking for a little relaxation can look forward to pushing all their stresses aside in a modern bathing area which is inspired by a cave. It's open from 3pm-2am and again from 6am-10am.

If you're planning a trip to Kyoto and want a hotel with easy access to all the hot spots then be sure to consider hotel androoms Kyoto Shijo.

Tokyo Welcomes New KISS,TOKYO Bench at Shibuya River Street

What is being dubbed as a new sightseeing spot in Shibuya, "KISS,TOKYO," an artistic bench, appeared at Shibuya River Street on Christmas Day. The street runs from SHIBUYA STREAM towards Daikanyama.

About KISS,TOKYO

"KISS,TOKYO" is a project and nod towards those who love Tokyo, taking inspiration from the "I♡NY" slogan and logo. Japan isn't a country where kisses are used as greetings like other places around the world, but the bold notion of "KISS,TOKYO" expresses the feeling of love wards the people and city. It's a mark to welcome visitors to the capital of Japan.

The bench was made in cooperation with the Shibuya City Tourism Association and Tokyu and under a crowdfunder.

Pop-Up Store

A pop-up shop is now open at WIRED SHIBUYA selling merchandise with the KISS,TOKYO logo on it. It will run until January 31, 2021.

If you're planning a trip to Shibuya, make sure you get a photo with the city's new sightseeing and tourist spot.

Information

KISS,TOKYO Bench

Location: Shibuya River Street (3-22 Shibuya, Shibuya-ku, Tokyo)

Pop-Up Store
Running: December 25, 2020 – January 31, 2021
Location: WIRED SHIBUYA (3-27-1 Shibuya, Shibuya-ku, Tokyo)

KISS,TOKYO Official Homepage: https://kiss.tokyo/