Kusatsu Onsen's Emerald Green Pudding is a Must-Try After a Dip in the Hot Springs
Kusatsu Onsen is a hot spring resort in Gunma Prefecture that is one of Japan's three principle hot spring locations. The site opened its new Japanese custard dessert (known as 'purin') shop, Kusatsu Onsen Pudding, on August 24, which serves the most incredibly smooth purin you have ever tried, each inspired by the hot springs.
Once you've stepped out of the nice warm hot springs of Kusatsu Onsen you can refresh yourself with a delicious purin packed full of love from the shop which has created a flavour you can only try by travelling to Gunma and going there. Each and every dessert is made fresh in the shop to further elevate its exclusivity as a local speciality.
Kusatsu Onsen Pudding also makes sure to use local and regional ingredients where it can to help support manufacturers and producers. Their purin is also made with a special type of milk sourced from in Gunma known as Haruna milk. The milk is made as delicious as can be by ensuring cows are raised on a healthy natural diet of grass on green pastures in Gunma bathed in plenty of sunlight.
Yuhata Purin
The Yuhata purin is inspired by the hot spring areas where mineral deposits are harvested, its jelly taking on a gorgeous emerald green colour. It's lemon and lime flavoured, the perfect flavour to enjoy when stepping out of the hot water, and one which goes surprisingly well with purin.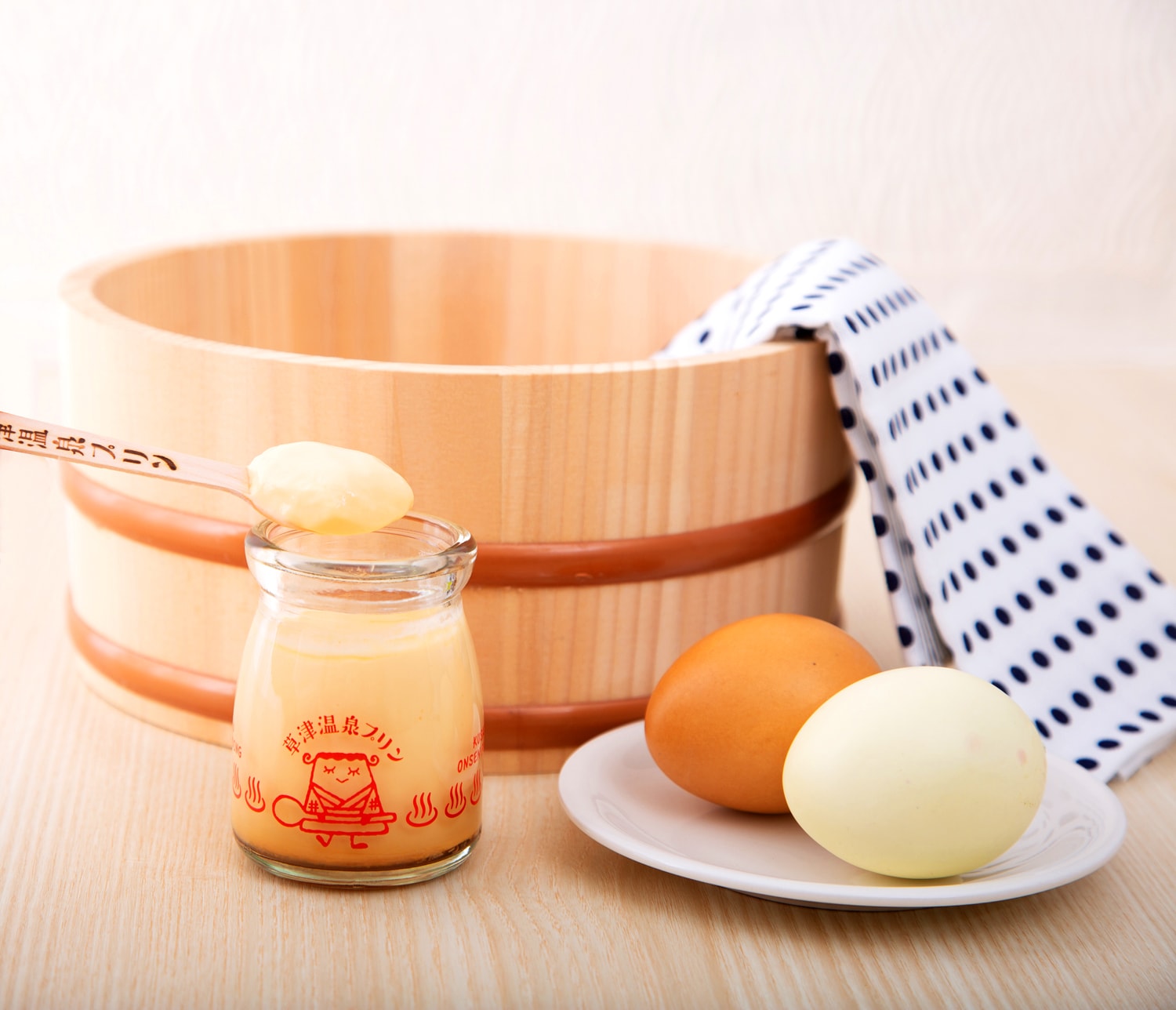 Yumomi Purin
The staple purin of the store, this purin is based on yumomi, a method used for cooling the hot water with paddles from which cold water gushes forth. This velvety delight is made with lots of fresh cream and high-quality vanilla beans from Madagascar for added punch.
Furomage
A pun on the word fromage, with furo in Japanese meaning "bath," the Furomage purin uses a rich cream cheese base which has a seriously smooth texture. It's topped off with strawberry jelly for the perfect combination, packing a perfect balance between sweet and sour.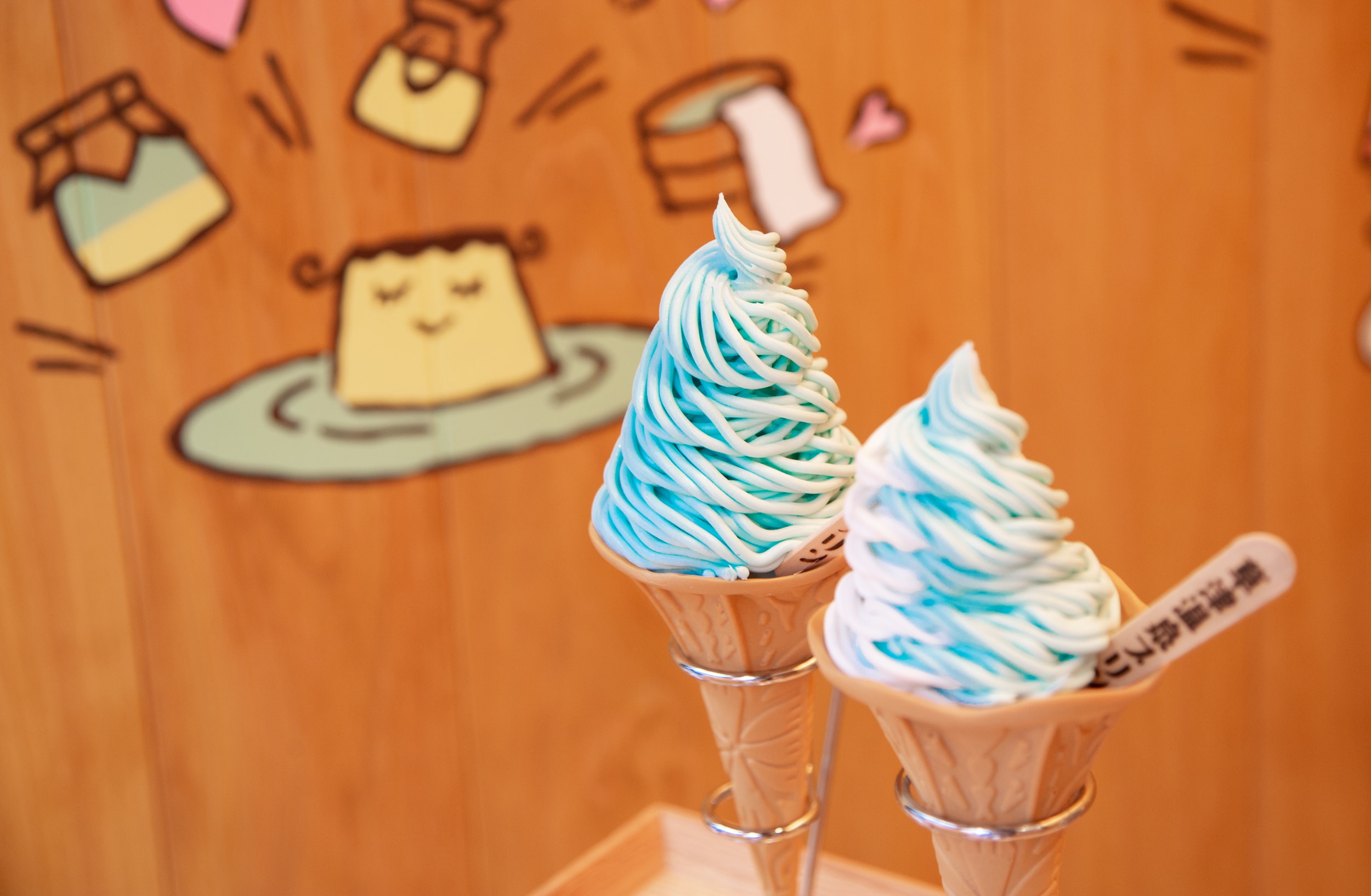 Yuhata Soft (Milk/Yuhata/Mixed)
Choose from the Yuhata soft serve ice cream which is ramune flavoured and inspired by the flowing water of the hot springs or the Haruna milk-mixed vanilla flavoured Milk soft serve. If you can't pick, then choose mixed for a bit of both. A satisfyingly refreshing pick for when you're done in the hot springs.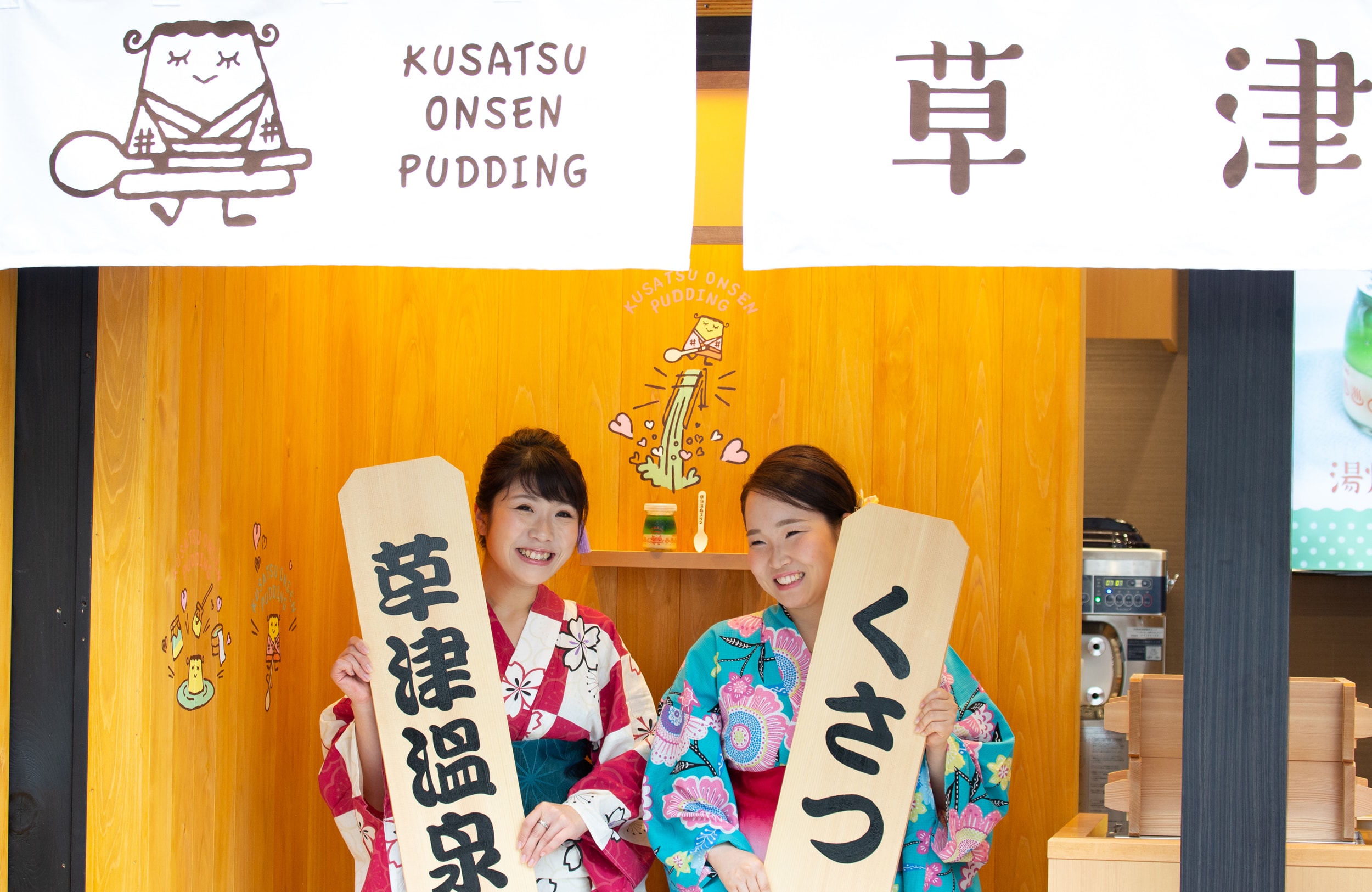 The shop has plans to sell purin made using bamboo steamers in the near future, so you're pudding can be steamed like yourself after a dip in the water! The wooden spoons used to eat the desserts are also made in the image of the paddles used in yumomi too.
RECOMMENDED ENTRIES
Mitama Hot Spring in Yamanashi Ranks in Japan's Top 100 Night Views & Registers as Night View Heritage

Located in the beautiful little town of Ichikawamisato in Yamanashi Prefecture is Mitama Hot Spring, a "day-trip" type hot spring, which has just received a double award: it has been listed as one of Japan's Top 100 night views for the first time, and as a Night View Heritage of Japan.

Mitama Hot Spring is built on the southern tip of the Kōfu Basin―Kōfu being Yamanashi's capital city-which can be viewed in a breathtaking 180 degree panoramic view from the northern side of the open-air baths. The majority of the hot spring also faces the south which means a breathtaking nighttime view of the city, picturesque against a resplendent sky, as you soak in the warm embrace of the hot spring.

During the day, one's eyes can roll their gaze across the Yatsugatake Mountains at the front, and in the direction of west is Mount Kita, the second tallest mountain in Japan after Mount Fuji.

Mitama Hot Spring should absolutely be on your bucket list of things to do when visiting Yamanashi Prefecture.

Information

Mitama Hot Spring

Address: 2608 Ōtsuka, Ichikawamisato, Nishiyatsushiro District, Yamanashi Prefecture

Opening Hours: 10:00-23:00 (Last Entries 22:00)

*Closed around 5 days a year for inspection and maintenance

Price: General ¥700 / Elementary School Children ¥500 / Toddlers – Free

*General price set to increase to ¥780 this October

Official Website: http://www.mitamanoyu.jp/

The New Kaga Onsen Hot Spring Town-Inspired Purin Shop Kaga no Yu Purin

Kaga no Yu Purin is a new shop specialising in Japanese custard puddings, known in Japanese as 'purin,' that is inspired by Kaga Onsen―a collection of hot spring towns in Ishikawa Prefecture. It will open on June 29.

The shop encourages people to experience Kaga Onsen's ancient hot spring culture while enjoying their desserts made with fresh ingredients from Kaga such as milk and eggs. The shop itself too has that Japanese hot spring atmosphere to it.

One of their standout purin is the Awa Purin (Bubble Pudding), the first purin in Japan to be inspired by the bubbles of hot springs. Not only is its appearance bubbly, the texture is too so it just melts on your tongue. Other purin flavours include strawberry, which are made with local strawberries, Kaga-bocha tea, and pumpkin.

If you're passing through the hot spring region of Kaga Onsen then be sure to treat yourself to one of these special purin.

Information

Kaga no Yu Purin

Address: 1-55 Kosuganamimachi, Kaga, Ishikawa Prefecture

Business Hours: Weekdays 10:00-16:00 / Weekends & Holidays 10:00-17:00

Access: 1-minute on foot from Kagaonsen Station

Official Website: https://kaganoyupudding.com/

Hot Spring Theme Park Solaniwa Onsen Osaka Bay Tower to Open in 2019

The Kansai region's biggest hot spring style theme park Solaniwa Onsen, spanning 16,500m², is set open on floors 2 to 5 at Osaka Bay Tower North on February 26, 2019.

Osaka Resort City 200 (ORC 200) changed its name to Osaka Bay Tower on March 27, 2018. Following that, Hotel Osaka Bay Tower―which welcomes all guests from business people to families―underwent a re-branding and re-opened on March 29. The tower is now set to expand its facilities even further with the grand opening of Solaniwa Onsen.

The hot spring theme park is themed on "Beauty, Healing, Taste." It will be decked out with natural hot springs, stone saunas, relaxation facilities, restaurants, stores and more. Based on the concept of the Azuchi–Momoyama period of Japanese history, the park fuses traditional Japan with the modern to offer a unique and exceptional experience.

The area in which the park is being set up is where an already hugely popular theme park is based. A world fair is set to take place there in 2025 which will bring more international attention to the Osaka Bay area.

There will be many types of bathing experiences on offer at Solaniwa Onsen such as a natural hot spring with low alkalinity for beautiful skin, an open-air bath with the water source running into it, a bath that overlooks an immense Japanese-style garden, a bath with carbonic acid water, another that changes daily, and more. There are also baths that can be booked for 2-5 people for a more private bathe.

The female locker room at the park is home to Japan's biggest powder room which spans close to 100m². There they have a range of beauty equipment, cosmetic rental services and more. The menu includes a combination of traditional food crafted by Tsubouchi Sekisai―who is said to have been a chef to Oda Nobunaga―and modern cuisine.

Step back into the Azuchi–Momoyama period at Solaniwa Onsen.

Information

Solaniwa Onsen Osaka Bay Tower
Address: 1-2-3 Benten, Minato Ward, Osaka, Osaka Prefecture
Grand Opening: February 26, 2019
Opening Hours: 11:00am-9:00am (next day)
Price: Weekday ¥2,400 / Weekends & Holidays ¥2,600 / Special Day ¥2,800
Access: The closest station is Bentenchō Station which is connected to the Osaka Loop Line and Osaka Metro Chūō Line. You can also access the station by boarding the Rapid train on the JR Line at Kansai Airport Station (ETA: 60-minutes).

Official Website: http://www.solaniwa.com

Fujiyama Onsen: The Hot Spring Facility With a Mount Fuji View Undergoes Renovation

Fujiyama Onsen is currently undergoing renovation and will reopen on July 14. Located in Yamanashi Prefecture, the site sits at the foot of Mount Fuji.

The facility is being fitted with a new stone sauna where you can have a clear view of Mount Fuji. There's also a new hammock resting spot as well as hot yoga classes amongst other things. All of these changes transform Fujiyama Onsen from a simple natural hot spring site into a full-day experience.

The fourth and highest floor now has a relaxation area with a picturesque view. There's also other stone saunas in a quiet area with the lights dimmed for winding down, as well as break rooms called 'hot rooms.'

Hot rooms are equipped with heated flooring and there's a reading corner with manga and magazines as well as cushions. Everyone is free to move between the sauna area and hot rooms.

*A separate fee of ¥600 is charged for use of the stone sauna area and hot room space.

The third floor resting area has rooms with tatami flooring and a wide view of Mount Fuji as well as hammocks and a kid's room. There are 6 hammocks – three chair types and three for laying down.

The menu of the site's restaurant, Fujiyama Dining, has also been updated. You can look forward to specially made Yamanashi Prefecture chicken and lots of locally source ingredients as well as beer.

Hot Yoga classes begin from July 21. By exercising at high temperatures, you'll be able to stretch your muscles much easier as well as get rid of any waste in your body. It's also good for dieting and your skin.

Gaze at Mount Fuji while having a relaxing time at Fujiyama Onsen.

■Information
Fujiyama Onsen

Address: 4-17-1 Shinnishihara, Fujiyoshida, Yamanashi Prefecture

Business Hours

・Morning Bath: 7:00am-9:00am

・Regular Bath: 10:00am-11:00pm

・Restaurant: 11:30am-10:30pm (Last Orders 10:00pm)

Price

・Morning Bath: Adults ¥620 / Children ¥310

・Regular Bath: Adults – Weekdays ¥1,400 / Weekends & Holidays ¥1,700

Children – Weekdays ¥700 / Weekends & Holidays – ¥850¥1,700

*Price includes entry fee, bath towel and face towel rental.

*Weekday prices to adopt weekend and holiday prices during the summer season.

*Includes stone sauna yukata and dry towel rental.

TEL: 0555-22-1126
RELATED ENTRIES
Kyoto Sweets Shop Otabe Rereleases Demon Slayer: Kimetsu no Yaiba Snacks with New Designs

Otabe, one of the most popular sweets souvenir shops in Kyoto, Otabe, is known for its delicious matcha and mini-desserts. Starting May 12, the company has released nine uniquely packaged sweets inspired by Demon Slayer: Kimetsu no Yaiba. The limited-edition packaging will feature popular characters from the series. Previously, the company released matcha cakes for the crossover–this time, fans can enjoy choco-an flavor!

Demon Slayer: Kimetsu no Yaiba Choco-an

Demon Slayer: Kimetsu no Yaiba Matcha

Demon Slayer: Kimetsu no Yaiba Otabe (with Original Sticker)

Original Sticker: 15 varieties, 1 given at random

Focusing on the hashira from the series, fans will want to be on the lookout for their favorite character. These sweets can be bought at select stations in the Kyoto and Osaka area, major Kyoto tourist attractions, and online. In addition, matcha flavored treats will also be on sale featuring Tanjiro Kamado, Nezuko Kamado, Zenitsu Agatsuma, Hashibira Inosuke, Kagaya Ubuyashiki, and Muzan Kibutsuji.



©吾峠呼世晴/集英社・アニプレックス・ufotable

Information

Demon Slayer: Kimetsu no Yaiba Choco-an
Release Date: May 12, 2022
Price: ¥432 (Tax Included)
Where to Buy: Train station in Kyoto & Osaka area, Major Kyoto tourist attractions, online.
Details: http://www.otabe.kyoto.jp/kimetsunoyaiba/

Fruit Cakes from Patisserie Giraud Available at Gotanda Station for a Limited Time

Those passing through Gotanda Station in Tokyo might want to keep an eye out for some tasty treats on sale for a limited time. Patisserie Giraud has opened a limited-time pop-up location inside the aptly-named shop Have You Eaten This Before? The pop-up will be open until May 31, 2022.



Have You Eaten This Before? features a rotating selection of products perfect as gifts, souvenirs, or as a treat for yourself. Along with six cakes made to look just like fruits, a selection of other baked goods will also be available.

Lineup

Strawberry

Orange

Lemon

Red Apple

Green Apple

Melon

While it might be difficult to eat these beautiful cakes, you'll never forget the way the juice-filled mousse and crispy pastry fill your mouth. Which one would you like to bring home?

Information

Patisserie Giraud Limited-Time Shop
Open: May 16 – May 31, 2022
Hours: Weekdays 10:00-22:00 / Weekends & Holidays 10:00-21:00
Location: JR East Gotanda Station

Official Site: https://www.giraud.co.jp

Hilton Osaka to Hold Cinnamoroll and Sanrio Character Sweets Buffet

Folk Kitchen, a restaurant on the second floor of Hilton Osaka, will hold the Sanrio Characters Sweets Buffet ~Joyful Summer Festival~ from May 20 until September 11, 2022. The event is being held to celebrate Cinnamoroll, Pompompurin, and Pochakko coming in first, second, and third in the Sanrio Character Awards. A lineup of 25 different sweets will be available, including those filled with summer fruits like mango, peach, and watermelon! In addition, a "Zero Leftovers Campaign" will be implemented–so be sure to clear your plate!

Happy Festival Heart Mousse

Joyful Pink Cake / Lime & Raspberry

Fluffy and Crunchy Mango Pavlova

Decorated with chocolate and adorable character designs, the Happy Festival Heart Mousse is a scrumptious dish blending the flavor of banana, caramel, and rum. The Joyful Pink Cake will be a smash-hit with Sanrio lovers, featuring the soft taste of white mousse and raspberry compote with a fresh lime flavor. Tons of other original sweets will be available, including everything from gingerbread to orange tarts.

 

Visitors can also find plenty of vegan sweets. Summer Blue Sky Jello features contrasting colors of pineapple pulp and soymilk cream that look like clouds floating against a summer sky. Be sure to try the Almond & Watermelon Jello and Grapefruit and Lychee Jello too!

Yunohana Onsen Resort Reveals Contemporary Art-Inspired Guest Rooms

Sumiya Kihoan, a cozy inn at Yunohana Onsen in Kameoka City in Kyoto, opened a unique new guest room on April 28, 2022. The room's concept is "where guests can stay in the middle of contemporary art," and was inspired by the works of internationally-acclaimed contemporary artist Yukinori Yanagi. The new room, created as part of the Art Room Project, has been named 'Kofuu.'

The Icarus Corridor Connecting Heaven and Earth

Heavenly Bath Welcoming a Rainbow at Dusk

In-Ground Bath Featuring Oribe Glazed Ceramic

Concept Drawing of the Art Room Project by Yukinori Yanagi


The new room includes an open-air bath where guests can be transported into the world of Yanagi's contemporary art while gazing at the gorgeous Kyoto landscape. Upon entering the inn, guests are greeted by a long corridor leading to the bedrooms, dining room, and two creative open-air baths. The space was created in collaboration with Yanagi and local artists and craftsmen, such as potter Ishii Naoto, obi craftsman Yamaguchi Genbei X, plasterer Kusumi Akira, and Japanese paper craftsman Hatano Wakaru. A delicious menu is prepared by chef Hosoi Kunihiko.

Tapioca and Crepe Store 'Pearl Lady' Collaborates with Sanrio Character Cogimyun

Pearl Lady, a tapioca and crepe specialty shop, will begin selling a special crepe inspired by the Sanrio character Cogimyun starting April 8, 2022! These gorgeous treats will be available at participating Pearl Lady locations while supplies last.

Cogimyun's Sparkling Strawberry Crepe

Cogimyun's Sparkling Strawberry Crepe, topped with a Cogimyun cookie, includes sweet and sour strawberry cream. 

The dough, made with tapioca flour, offers a slightly chewy texture with a rich milk and butter flavor. Customers will also receive a special sticker as a purchase bonus. Be sure to enjoy the new Cinnamoroll drink available at Pearl Lady's sister shop CHABAR!

CHABAR x Cinnamoroll Collaboration Drink

Kyo Hayashiya and Hayashiya Shinbei Offering Special Parfaits Perfect for Spring

Hibiya Hayashiya Shinbei in Tokyo Midtown Hibiya is now offering a scrumptious Strawberry Matcha Parfait until April 24, 2022! If that's not up your alley, four Kyo Hayashiya locations in Shinjuku, Omiya, Yokohama, and Ikebukuro will begin offering a Matcha and Berry Mascarpone Parfait from April 1 until May 8, 2022. 

Strawberry Matcha Parfait


The Strawberry Matcha Parfait is an eye-catching mix of green and pink, reminiscent of cherry blossoms and bright green grass. Green tea blends with rose jelly and lychee sorbet, offering a refreshing taste with a hint of bitterness. The sweet accent of crunchy chocolate feuillantine gives each bite a little kick.

Matcha and Berry Mascarpone Parfait


The Matcha and Berry Mascarpone Parfait mixes the deep, bitter taste of Uji matcha, the sweet and sour taste of berries, and the gentle sweetness of mascarpone cream. The berry sauce is blended with crunchy chocolate feuillantine, a layer of whipped cream, green tea jelly, green tea ice cream, and milk panna cotta. To finish, it's garnished with refreshing raspberry sorbet, bittersweet matcha ice cream, and fresh strawberries.

Information

Strawberry Matcha Parfait

Price: ¥1,650 (Tax Included) / with Tea: ¥2,090 (Tax Included)

Available: March 18 – April 24, 2022

Available at Hibiya Hayashiya Shinbei (Tokyo Midtown Hibiya 2F)

Matcha and Berry Mascarpone Parfait

Price: ¥1,430 (Tax Included) / with Tea: ¥1,870 (Tax Included)

Available: April 1 – May 8, 2022

*Available until April 30 at the SOGO Yokohama location.

Available at the following 4 Kyo Hayashiya locations. 

・Takashimaya Times Square (Shinjuku Takashimaya Times Square Main Building 2F)

・Seibu Ikebukuro (Seibu Ikebukuro Main Building 8F)

・SOGO Omiya (SOGO Omiya Main Building 9F) 

・SOGO Yokohama (SOGO Yokohama 10F)

McDonald's 'McCafe by Barista' to Offer Uji Matcha Sweets for Spring

McDonald's Japan locations with 'McCafe by Barista' areas will begin selling special spring treats for a limited time starting April 6, 2022. Customers will be able to grab the 'Strawberry Uji Matcha Frappe' and the 'Uji Matcha Mont Blanc Tart.'

McCafe by Barista invites guests to enjoy high-quality frappes and smoothies. The Uji Matcha Frappe was added to the regular product lineup in June 2021, and features a mellow matcha flavor. The Strawberry variant is coming back for the first time in three years. The Mont Blanc Tart is a new addition, and is a perfect treat to enjoy with this popular frappe! 

Strawberry Uji Matcha Frappe: ¥490

The Strawberry Matcha Frappe mixes together the full-bodied flavor of matcha together with sweet and sour strawberries. It includes both a strawberry paste made from whole strawberries and a strawberry whipped cream at the bottom. The drink is topped with more strawberry whipped cream and a sprinkling of matcha powder. The refreshing taste of the strawberry sauce coupled with the whipped cream serves to elevate the great flavor of the Uji Matcha even more.

Uji Matcha Mont Blanc Tart: ¥390


The Uji Matcha Mont Blanc Tart is made with Uji Matcha batter, Uji Matcha whipped cream, white bean paste, and green tea cream. The refined sweetness is complemented by the mellow aroma and slight bitterness of Uji Matcha.

How would you like to enjoy these treats beneath the cherry trees?

Information

Strawberry Uji Matcha Frappe

Uji Matcha Mont Blanc Tart

Available: April 6 – Mid-May, 2022

Available at Participating McDonald's Japan Locations with 'McCafe by Barista'

Official Site: https://www.mcdonalds.co.jp/

Sweets Shop Patisserie Pinede Offering Cat-Shaped Strawberry Mille-feuille

The sweets shop Patisserie Pinede will be offering the Yummy Kitty Cat Mille-feuille from March 18 until March 22, 2022!

The store holds a special 'Meow Meow' event on the 22nd of each month. In Japanese, the word for two, ni, sounds similar to nyan, the Japanese word for meow.


The event means tons of cat-themed sweets and decorations, including a tasty strawberry mille-feuille. This includes layers of puff pastry, cream, icing, and plenty of fruit. 

While it's hard to cut into something so cute, the sweet and sour taste is the perfect way to enjoy this meow-gical holiday!

Information

Yummy Kitty Cat Mille-feuille
Available: March 18 – March 22, 2022

Location: Patisserie Pinede

Official Site:  https://pinede.co.jp

THE STRINGS Omotesando Offering Cherry Blossom & Strawberry Afternoon Tea for Take-Out

The ZelkovA Cake Boutique at the wedding venue THE STRINGS Omotesando is offering a Cherry Blossom & Strawberry Afternoon Tea set to-go from March 3 until April 26! How would you like to experience an authentic afternoon tea experience from the comfort of your own home?

Mini Afternoon Tea Set

The original take-out box can be displayed on a table in a standard three-tier afternoon tea format. Each set contains a number of spring-inspired sweets including a tasty Mont Blanc with strawberries and a tiramisu made with sponge cake soaked in strawberry extract and layered with cherry blossom mascarpone cream. The savory menu also includes pink strawberry sandwiches with shrimp and cabbage.

 

Two kinds of tea from the luxury Singapore tea brand TWG will be included in the set, and a mini afternoon tea set with seven types of sweets will also be available for purchase.

Q-pot CAFE Introduces Cherry Blossom Inspired Seasonal Menu

To celebrate the arrival of spring, Q-pot Cafe is introducing a cherry blossom-themed menu for a limited time!

Cherry Blossom Romantic Dress Cake  Plate with Drink: ¥2,100 (Tax Included)

Enjoy this pink cherry blossom mousse and pure white whipped cream to celebrate the end of the gloomy winter season.

Rich pistachio mousse, strawberry pulp, fragrant almonds, and fluffy genoise come together in a scrumptious melt-in-your-mouth explosion of flavor.

Romantic Berry Blossom Tea: ¥850 (Tax Included) / Set Menu +¥200 (Tax Included)

A play on Q-pot Cafe's popular Flower Garden tea, the Berry Blossom Tea has a rich cherry blossom aroma with raspberries and milk added. 

Romantic Berry Blossom Tea with Bottle: ¥1,296 (Tax Included)

Take-out drinks in patterned bottles are also available! By bringing the bottle with you, the Berry Blossom Tea will be discounted to ¥750 (tax included). 

Information

2022 Q-pot Cafe Seasonal Menu

Location: Q-pot Cafe Omotesando

Available: March 1 – April 14, 2022

Online Reservations Open

Sheraton Grande Tokyo Bay Hotel Cafe Toastina Offering Strawberry Sweets for a Limited Time

Cafe Toastina, located inside the Sheraton Grande Tokyo Bay Hotel in Chiba Prefecture, is now offering delicious and very photogenic strawberry sweets and baked goods until March 31, 2022! There are tons of different ways to enjoy the event: the Sheraton Sweets Box is filled with mini-sweets and is available to take with you, and the Friday Sweets Buffet will allow guests to enjoy as many treats as they can! A cute photo wall covered in strawberries will also serve as the perfect photo spot, so visit while you can.

Strawberry Champagne Mousse

Strawberry Mille-feuille

Strawberry Paris-Brest

Strawberry Milk France / Danish with Strawberry & Mascarpone Cream

Sheraton Sweets Box

Information

Strawberry Sweets & Bakery
Running: February 15 – March 31, 2022
Location: Cafe Toastina (Hotel 2F) 10:00-23:00

Friday Sweets Buffet
Running: Fridays from February 18 – March 25, 2022

Details/Reservations: https://toastina.sheratontokyobay.com/

Peanuts Cafe Offering Love-Themed Seasonal Menu

Peanuts Cafe Nakameguro and six other locations have begun selling love-themed desserts and drinks for a limited time! Be sure to stop in by March 14 to try these tasty treats based on your favorite characters.

Lucy's Ruby Chocolate Mousse / Sally's Pink Dress Hot Chocolate

Love Each Other Special Donut

Love Each Other Latte Art

USHIO CHOCOLATL Collaboration Chocolate

Love Each Other Chocolate Brownie

 

Join Snoopy, Lucy, Sally, and other Peanuts characters as they express love for their family and friends. Guests ordering one of these love-themed desserts or drinks will receive a special paper lunch mat perfect for posting on social media!

(C) 2022 Peanuts Worldwide LLC (短縮形 (C) 2022 Peanuts)