Kusatsu Onsen's Emerald Green Pudding is a Must-Try After a Dip in the Hot Springs
Kusatsu Onsen is a hot spring resort in Gunma Prefecture that is one of Japan's three principle hot spring locations. The site opened its new Japanese custard dessert (known as 'purin') shop, Kusatsu Onsen Pudding, on August 24, which serves the most incredibly smooth purin you have ever tried, each inspired by the hot springs.
Once you've stepped out of the nice warm hot springs of Kusatsu Onsen you can refresh yourself with a delicious purin packed full of love from the shop which has created a flavour you can only try by travelling to Gunma and going there. Each and every dessert is made fresh in the shop to further elevate its exclusivity as a local speciality.
Kusatsu Onsen Pudding also makes sure to use local and regional ingredients where it can to help support manufacturers and producers. Their purin is also made with a special type of milk sourced from in Gunma known as Haruna milk. The milk is made as delicious as can be by ensuring cows are raised on a healthy natural diet of grass on green pastures in Gunma bathed in plenty of sunlight.
Yuhata Purin
The Yuhata purin is inspired by the hot spring areas where mineral deposits are harvested, its jelly taking on a gorgeous emerald green colour. It's lemon and lime flavoured, the perfect flavour to enjoy when stepping out of the hot water, and one which goes surprisingly well with purin.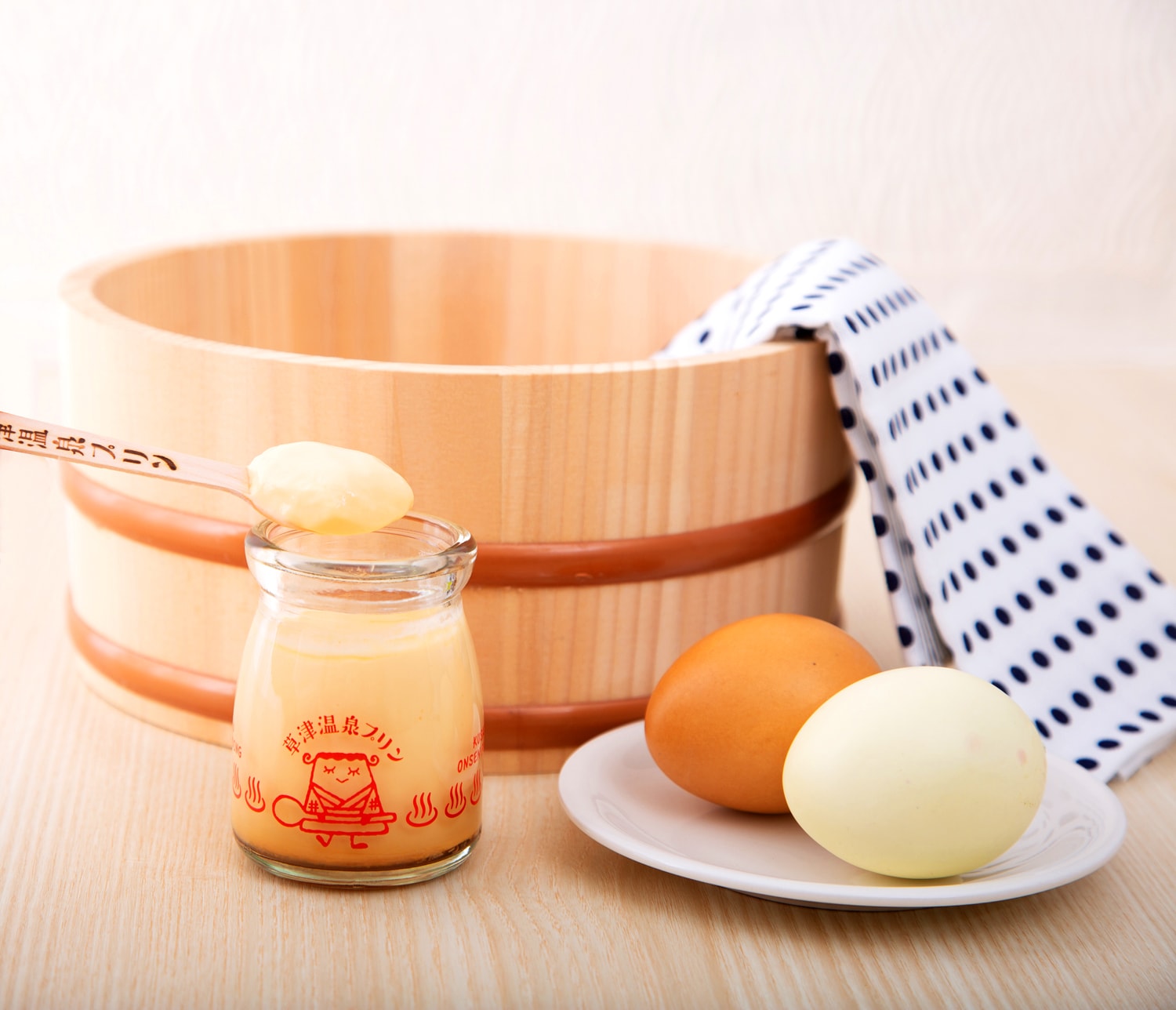 Yumomi Purin
The staple purin of the store, this purin is based on yumomi, a method used for cooling the hot water with paddles from which cold water gushes forth. This velvety delight is made with lots of fresh cream and high-quality vanilla beans from Madagascar for added punch.
Furomage
A pun on the word fromage, with furo in Japanese meaning "bath," the Furomage purin uses a rich cream cheese base which has a seriously smooth texture. It's topped off with strawberry jelly for the perfect combination, packing a perfect balance between sweet and sour.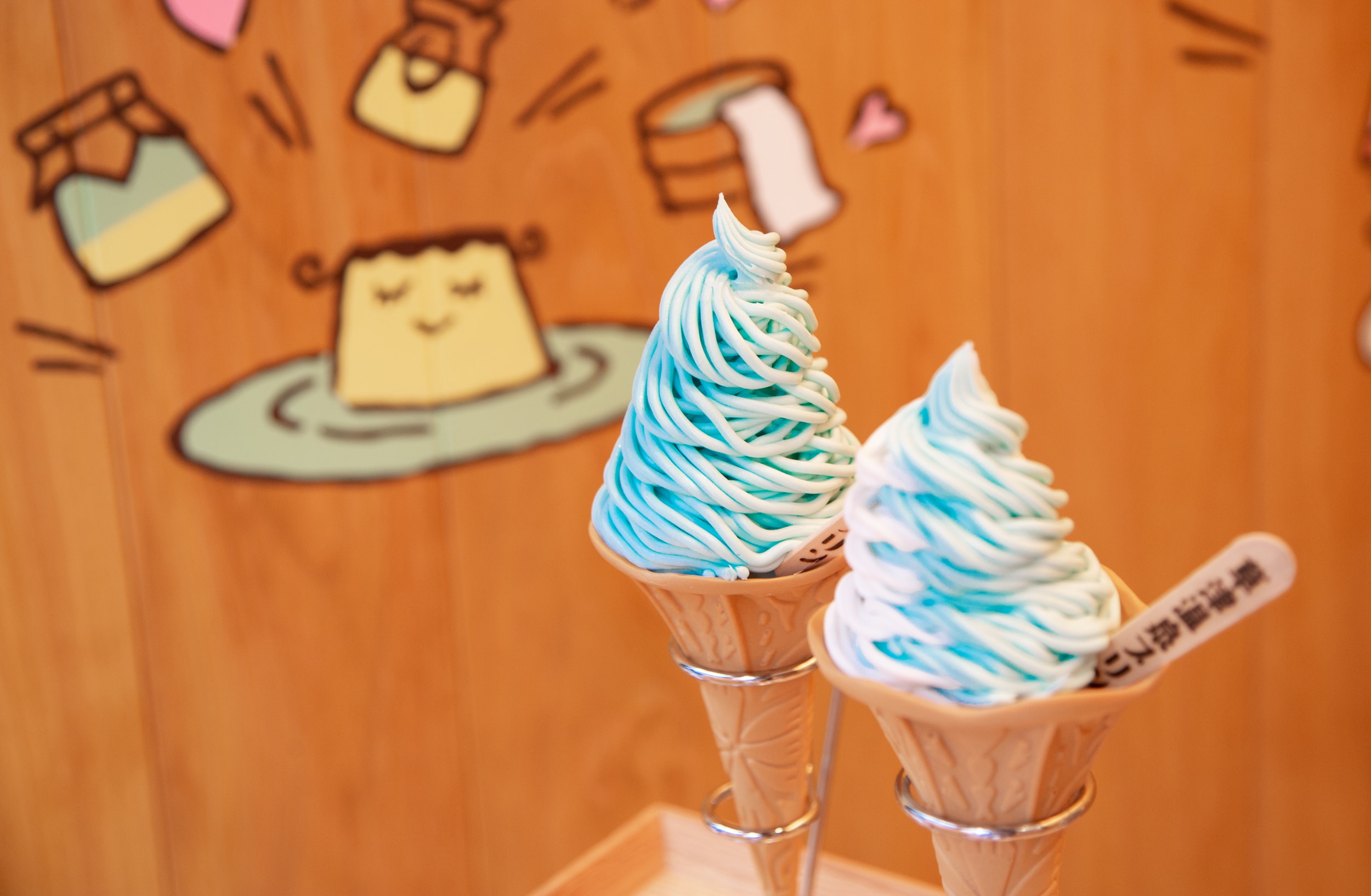 Yuhata Soft (Milk/Yuhata/Mixed)
Choose from the Yuhata soft serve ice cream which is ramune flavoured and inspired by the flowing water of the hot springs or the Haruna milk-mixed vanilla flavoured Milk soft serve. If you can't pick, then choose mixed for a bit of both. A satisfyingly refreshing pick for when you're done in the hot springs.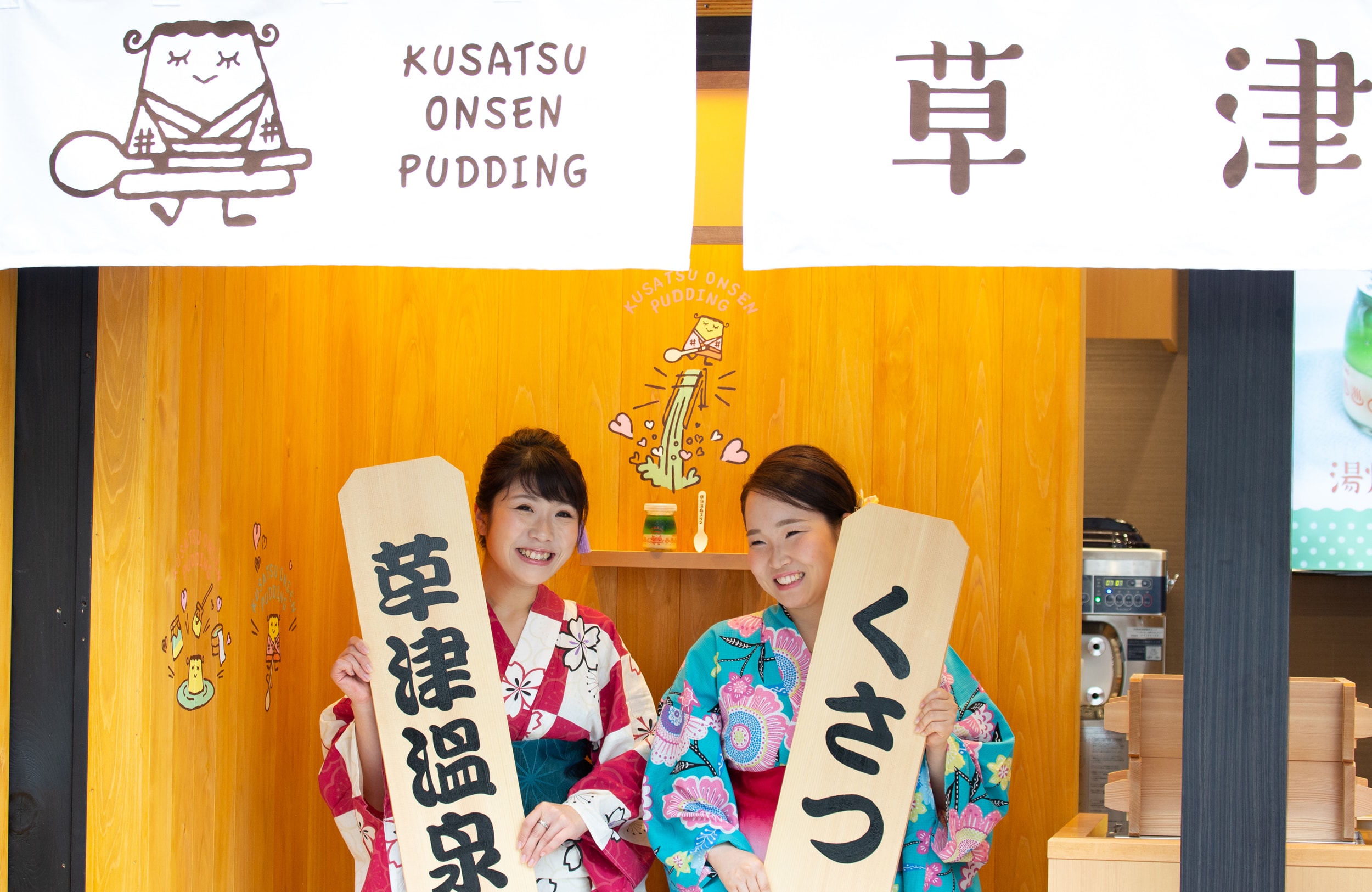 The shop has plans to sell purin made using bamboo steamers in the near future, so you're pudding can be steamed like yourself after a dip in the water! The wooden spoons used to eat the desserts are also made in the image of the paddles used in yumomi too.
RECOMMENDED ENTRIES
Mitama Hot Spring in Yamanashi Ranks in Japan's Top 100 Night Views & Registers as Night View Heritage

Located in the beautiful little town of Ichikawamisato in Yamanashi Prefecture is Mitama Hot Spring, a "day-trip" type hot spring, which has just received a double award: it has been listed as one of Japan's Top 100 night views for the first time, and as a Night View Heritage of Japan.

Mitama Hot Spring is built on the southern tip of the Kōfu Basin―Kōfu being Yamanashi's capital city-which can be viewed in a breathtaking 180 degree panoramic view from the northern side of the open-air baths. The majority of the hot spring also faces the south which means a breathtaking nighttime view of the city, picturesque against a resplendent sky, as you soak in the warm embrace of the hot spring.

During the day, one's eyes can roll their gaze across the Yatsugatake Mountains at the front, and in the direction of west is Mount Kita, the second tallest mountain in Japan after Mount Fuji.

Mitama Hot Spring should absolutely be on your bucket list of things to do when visiting Yamanashi Prefecture.

Information

Mitama Hot Spring

Address: 2608 Ōtsuka, Ichikawamisato, Nishiyatsushiro District, Yamanashi Prefecture

Opening Hours: 10:00-23:00 (Last Entries 22:00)

*Closed around 5 days a year for inspection and maintenance

Price: General ¥700 / Elementary School Children ¥500 / Toddlers – Free

*General price set to increase to ¥780 this October

Official Website: http://www.mitamanoyu.jp/

The New Kaga Onsen Hot Spring Town-Inspired Purin Shop Kaga no Yu Purin

Kaga no Yu Purin is a new shop specialising in Japanese custard puddings, known in Japanese as 'purin,' that is inspired by Kaga Onsen―a collection of hot spring towns in Ishikawa Prefecture. It will open on June 29.

The shop encourages people to experience Kaga Onsen's ancient hot spring culture while enjoying their desserts made with fresh ingredients from Kaga such as milk and eggs. The shop itself too has that Japanese hot spring atmosphere to it.

One of their standout purin is the Awa Purin (Bubble Pudding), the first purin in Japan to be inspired by the bubbles of hot springs. Not only is its appearance bubbly, the texture is too so it just melts on your tongue. Other purin flavours include strawberry, which are made with local strawberries, Kaga-bocha tea, and pumpkin.

If you're passing through the hot spring region of Kaga Onsen then be sure to treat yourself to one of these special purin.

Information

Kaga no Yu Purin

Address: 1-55 Kosuganamimachi, Kaga, Ishikawa Prefecture

Business Hours: Weekdays 10:00-16:00 / Weekends & Holidays 10:00-17:00

Access: 1-minute on foot from Kagaonsen Station

Official Website: https://kaganoyupudding.com/

Hot Spring Theme Park Solaniwa Onsen Osaka Bay Tower to Open in 2019

The Kansai region's biggest hot spring style theme park Solaniwa Onsen, spanning 16,500m², is set open on floors 2 to 5 at Osaka Bay Tower North on February 26, 2019.

Osaka Resort City 200 (ORC 200) changed its name to Osaka Bay Tower on March 27, 2018. Following that, Hotel Osaka Bay Tower―which welcomes all guests from business people to families―underwent a re-branding and re-opened on March 29. The tower is now set to expand its facilities even further with the grand opening of Solaniwa Onsen.

The hot spring theme park is themed on "Beauty, Healing, Taste." It will be decked out with natural hot springs, stone saunas, relaxation facilities, restaurants, stores and more. Based on the concept of the Azuchi–Momoyama period of Japanese history, the park fuses traditional Japan with the modern to offer a unique and exceptional experience.

The area in which the park is being set up is where an already hugely popular theme park is based. A world fair is set to take place there in 2025 which will bring more international attention to the Osaka Bay area.

There will be many types of bathing experiences on offer at Solaniwa Onsen such as a natural hot spring with low alkalinity for beautiful skin, an open-air bath with the water source running into it, a bath that overlooks an immense Japanese-style garden, a bath with carbonic acid water, another that changes daily, and more. There are also baths that can be booked for 2-5 people for a more private bathe.

The female locker room at the park is home to Japan's biggest powder room which spans close to 100m². There they have a range of beauty equipment, cosmetic rental services and more. The menu includes a combination of traditional food crafted by Tsubouchi Sekisai―who is said to have been a chef to Oda Nobunaga―and modern cuisine.

Step back into the Azuchi–Momoyama period at Solaniwa Onsen.

Information

Solaniwa Onsen Osaka Bay Tower
Address: 1-2-3 Benten, Minato Ward, Osaka, Osaka Prefecture
Grand Opening: February 26, 2019
Opening Hours: 11:00am-9:00am (next day)
Price: Weekday ¥2,400 / Weekends & Holidays ¥2,600 / Special Day ¥2,800
Access: The closest station is Bentenchō Station which is connected to the Osaka Loop Line and Osaka Metro Chūō Line. You can also access the station by boarding the Rapid train on the JR Line at Kansai Airport Station (ETA: 60-minutes).

Official Website: http://www.solaniwa.com

Fujiyama Onsen: The Hot Spring Facility With a Mount Fuji View Undergoes Renovation

Fujiyama Onsen is currently undergoing renovation and will reopen on July 14. Located in Yamanashi Prefecture, the site sits at the foot of Mount Fuji.

The facility is being fitted with a new stone sauna where you can have a clear view of Mount Fuji. There's also a new hammock resting spot as well as hot yoga classes amongst other things. All of these changes transform Fujiyama Onsen from a simple natural hot spring site into a full-day experience.

The fourth and highest floor now has a relaxation area with a picturesque view. There's also other stone saunas in a quiet area with the lights dimmed for winding down, as well as break rooms called 'hot rooms.'

Hot rooms are equipped with heated flooring and there's a reading corner with manga and magazines as well as cushions. Everyone is free to move between the sauna area and hot rooms.

*A separate fee of ¥600 is charged for use of the stone sauna area and hot room space.

The third floor resting area has rooms with tatami flooring and a wide view of Mount Fuji as well as hammocks and a kid's room. There are 6 hammocks – three chair types and three for laying down.

The menu of the site's restaurant, Fujiyama Dining, has also been updated. You can look forward to specially made Yamanashi Prefecture chicken and lots of locally source ingredients as well as beer.

Hot Yoga classes begin from July 21. By exercising at high temperatures, you'll be able to stretch your muscles much easier as well as get rid of any waste in your body. It's also good for dieting and your skin.

Gaze at Mount Fuji while having a relaxing time at Fujiyama Onsen.

■Information
Fujiyama Onsen

Address: 4-17-1 Shinnishihara, Fujiyoshida, Yamanashi Prefecture

Business Hours

・Morning Bath: 7:00am-9:00am

・Regular Bath: 10:00am-11:00pm

・Restaurant: 11:30am-10:30pm (Last Orders 10:00pm)

Price

・Morning Bath: Adults ¥620 / Children ¥310

・Regular Bath: Adults – Weekdays ¥1,400 / Weekends & Holidays ¥1,700

Children – Weekdays ¥700 / Weekends & Holidays – ¥850¥1,700

*Price includes entry fee, bath towel and face towel rental.

*Weekday prices to adopt weekend and holiday prices during the summer season.

*Includes stone sauna yukata and dry towel rental.

TEL: 0555-22-1126
RELATED ENTRIES
Tokyo's Pokémon Café Adds Eevee Frappe to the Menu

The Pokémon Café in Ikebukuro, Tokyo, is adding an apple flavoured Eevee frappe to its ever-growing Pikachu Sweets by Pokémon Café menu. The frappe will be available from October 2 to December 4.

Eevee Apple Pie Frappe

The sweet tang of the apple combines with the caramel to create a tasty dessert drink, topped with whipped cream, crunchy piece bits, and a cute Eevee tail cookie.

Buy the separate Eevee sleeve to put on your drink to make a fully complete and adorable Eevee frappe♡

© 2020 Pokémon.©1995-2020 Nintendo/Creatures Inc./GAME FREAK inc.
Pokémon, ポケットモンスター and ポケモン are registered trademarks of Nintendo, Creatures Inc. and GAME FREAK inc.

Hotel New Otani Tokyo, Osaka & Makuhari Now Serving Rich Chestnut Pancakes For Autumn

The Tokyo, Osaka, and Makuhari branches of Hotel New Otani are now serving seasonal autumn versions of their specially made pancakes at their coffee shop and all-dining restaurant SATSUKI until November 30, 2020

Fantastically fluffy pancakes

Hotel New Otani has been serving its special pancakes for the past 10 years which have become a favourite amongst guests.

The hotel's pastry chefs have whisked up a variety of flavours in line with the changing seasons this past decade using strictly-selected ingredients including strawberry, melon, mango, chestnut, and more.

A marriage of rich chestnut and fluffy pancake

Hotel New Otani Specially Made Chestnut Pancakes 2020 | ¥2,800 (Before Tax/Service Charge)


Chestnuts are the flavourful theme for autumn 2020's pancakes, made with strictly-selected chestnut astringent skin, sweet bean jelly, and topped with a chestnut macaron.
The pancakes are served with melt-in-the-mouth Italian ricotta. There are two different doughs, one made from coffee flour which has high nutritional value, and the hotel's original "White Cereal" which is a combination of millets and amaranth.
The pancakes are cooked on a low heat for about 5 minutes on each side so they rise to a fluffy 5cm thickness and become startlingly smooth.

Strawberries for winter

For this year's winter, the hotel will be serving strawberry pancakes.

Enjoy a selection of seasonal pancakes when staying at Hotel New Otani.

Information

Hotel New Otani Tokyo
Location: SATSUKI, Hotel New Otani Tokyo Main Lobby
Address: 4-1 Kioicho, Chiyoda-ku, Tokyo
Bookings/Enquiries: 03-5275-3177 (10:00-21:00)
Official Website: https://www.newotani.co.jp/tokyo/restaurant/satsuki/

Hotel New Otani Makuhari
Location: SATSUKI, Hotel New Otani Makuhari
Address: 2-120-3 Hibino, Mihama-ku, Chiba, Chiba Prefecture
Bookings/Enquiries: 043-299-1848 (07:00-21:00)
Official Website: https://www.newotani.co.jp/makuhari/restaurant/satsuki/

Hotel New Otani Osaka
Location: SATSUKI, Hotel New Otani Osaka
Address: 1-4-1 Shiromi, Chuo-ku, Osaka, Osaka Prefecture
Bookings/Enquiries: 06-6949-3234 (07:00-20:00)
Official Website: https://www.newotani.co.jp/osaka/restaurant/satsuki/

Kaori's Easy Recipe: Learn to Make Winnie the Pooh Pumpkin Soft Cookies

With just a small bit of ingenuity, turn everyday food into something cute using Kaori's Easy Recipe! With a few simple ideas, an ordinary recipe magically transforms into a cute dish.

Halloween in closing in, so for this recipe I'll be using pumpkin to make delicious cookies—crunchy on the outside and moist in the middle. This recipe rolls the dough into a ball, so it's a great alternative for people who aren't good with shaping or cutting cookies.

Ingredients

50g pumpkin (mashed and skin removed)

20g-25g sugar (I used sanonto sugar to bring out the sweetness of the pumpkin, but white sugar is fine too)

30g unsalted butter

A pinch of salt

60g weak flour

1

Combine and mix the steamed pumpkin, room temperature butter, and sugar. Then incorporate the salt and flour and mix again.

2

Now to shape everything. For pumpkin decorations, roll the pumpkin together and create a little depression in the top. Use a toothpick or something similar to create five indents around the outside as pictured above.

To make Pooh Bear, simply roll round and add the ears.

3

Bake at 150℃ for 20-25 minutes. Leave to cool, then decorate Pooh's facial features with a chocolate pen.

Kaori invites you into her world of character-themed food dishes in her recipe series. Be sure to check out her Instagram where she has uploaded many pictures of her character dishes!

Kaori Kubota (@kaopan27)

I live in Hokkaido and I love to make character themed foods, desserts and pastries♡

I want to see my family smile, so I enjoy putting in a bit of effort to make character foods and changing food into something cute♡

You can see more of my character foods and character bento boxes on my Instagram page → @kaopan72

Starbucks Japan Unveils Candied Sweet Potato Frappuccino®

Starbucks Coffee Japan has revealed the second beverage in its Artful Autumn @ Starbucks® series of drinks. The "Candied Sweet Potato Frappuccino®" will be released at Starbucks branches in Japan on September 23, 2020.

Candied Sweet Potato Frappuccino® | Tall Size Only – ¥590

Each drink is made using a whole chopped and blended Japanese daigaku imo candied sweet potato to serve those autumn flavours, with its marbled golden colour also reminiscent of the autumn leaves. It's topped with whipped cream, black sesame seeds, and sweet potato syrup.

Truly the perfect dessert drink to sip on for the changing seasons.

Information

Candied Sweet Potato Frappuccino®
Serving: September 23, 2020 – October 31, 2020

Available: Starbucks in Japan (select branches not participating)

Starbucks Coffee Japan Official Website: https://www.starbucks.co.jp/

Halloween Doughnuts Creep Their Way Into Krispy Kreme Doughnuts in Japan

Halloween arrived at Krispy Kreme Doughnuts in Japan on September 16 with the "monster HARVEST" collection of themed doughnuts. Available until November 1, the spooky lineup incorporates a selection of Japanese autumn flavours like pumpkin and purple sweet potato.

The doughnut collection is here to put us in the Halloween spirit nice and early. Krispy Kreme Japan's popular jack-o'-lantern doughnuts are back this year, as are the new black cat doughnuts which first arrived last year. A completely new purple sweet potato flavour was also introduced to the menu on September 1.

Pumpkin Pudding Jack-o'-lantern | ¥240 (Before Tax)

The jack-o'-lantern doughnuts have been made even more delicious for Halloween 2020 by using pumpkins from Hokkaido and filling them with velvety pumpkin Japanese-style pudding. Add to that the chocolate facial features and you've got yourself a tantalising treat for the spooky season.

Black Cat Caramel | ¥250 (Before Tax)

A black cat made with big white chocolate eyes and a dark chocolate face topped with crunchy almond pieces and stuffed with caramel cream.

Muchimochi Purple Sweet Potato Mont Blanc | ¥240 (Before Tax)

The tasty, chewy, and hot purple sweet potato doughnut is made with sliced sweet potato and coated in powdered sugar. It's served hot which makes the flavour even more intense.

Halloween Dozen (12 Doughnuts) | ¥2,000 (Before Tax)

Share a dozen with friends this Halloween which includes not only two of each of the ones already shown, but Krispy Kreme's popular "Chocolate Sprinkle" and "Original Glazed®" too.

Halloween Mini Box (20 Doughnuts) | ¥2,000 (Before Tax)

There's also a colourful box of 20 mini versions of the doughnuts too.

Information

monster HARVEST
Running: September 16, 2020 – November 1, 2020

Krispy Kreme Doughnuts Official Website: https://krispykreme.jp

Pastel Coloured Halloween Served Up at Grand Nikko Tokyo Bay Maihama's Happy Halloween Sweets Buffet

Grand Nikko Tokyo Bay Maihama is a new hotel which opened on July 1 this year. Easily spotted by its pink exterior, the hotel offers Grand Nikko's brand concept of guests releasing all of their sense to enjoy a relaxing and sophisticated time while providing a refreshing resort-like experience.

This Halloween, the hotel's all-dining restaurant Le Jardin will serve up its "Happy Halloween Sweets Buffet" from October 10 to 16.

There will be 20 different desserts to pick from all in pastel colours, offering a different kind of Halloween vibe. Desserts are decorated with cute Halloween motifs like Jack-o'-lanterns, ghosts, and pumpkins. The chefs will also be certain desserts in front of guests like pumpkin mont blanc, praline mille-fuille, and pavlova.

There will also be a savoury menu too like roast beef in onion sauce, seafood acqua pazza, bread, salad, soups, and more, as well as soft drinks and non-alcoholic cocktails.

The restaurant will be restricting the number of people allowed in the dining area at once to protect diners during the pandemic.

Information

Happy Halloween Sweets Buffet
Location: Le Jardin – Grand Nikko Tokyo Bay Maihama Floor 3F
Running: October 10, 2020 – October 16, 2020

Time: 12:00-14:30 (Last Orders 14:00)

Prices: General ¥4,500 / 9-12 years old ¥2,780 / 4-8 years old ¥1,580 / 3 years old and below – Free
Enquiries/Bookings: 047-711-2427 (10:00-18:00)

Official Website: https://bit.ly/325uwjt

Grand Nikko Tokyo Bay Maihama
Address: 1-7 Maihama, Urayasu, Chiba

Official Website: https://tokyobay.grandnikko.com

Luxurious Shine Muscat Grape Parfait Served Up at Hotel Gajoen Tokyo For Autumn

Hotel Gajoen Tokyo, a museum and hotel combination, is home to New American Grill "KANADE TERRACE," the hotel's restaurant popular for its food grilled in the open kitchen, its afternoon teas made with seasonal ingredients, and cocktail lineup.

This autumn, Hotel Gajoen Tokyo is serving up its new "Shine Muscat Parfait," an richly-sweet and elegance-scented dessert made using Shine Muscat grapes.

Shine Muscat Parfait ¥2,800 | With Champagne ¥3,600 (Before Tax & Service Charge)

The parfait is layered with Kyoho grape and shampagne jelly, crémet d'Anjou which is made from fresh cheese, and maqui berry granola. It's topped with blackcurrant sherbet and tuile.

Information

Shine Muscat Parfait
Serving: October 1, 2020 – November 20, 2020

Location: New American Grill "KANADE TERRACE" (Hotel Gajoen Tokyo)

Serving Hours: 14:30-17:30 everyday

Official Website: https://www.hotelgajoen-tokyo.com/archives/54655

Tangled Inspired Disney Princess Cake Revealed by Ginza Cozy Corner

Ginza Cozy Corner has revealed its new Disney princess cake based on the 2010 animated film Tangled which will be available to order at all branches in Japan from October 1, 2020.

Tangled Dress Cake | ¥3,500 (Before Tax)

The cake is centred on the golden-lock beauty Rapunzel, with her dress as the foundation for the cake. The cake is made with cream chess, strawberry jam, and blueberries, while Rapunzel's iconic hair is lemon flavoured.

Decorate the cake yourself

The cake comes with the parts for you to decorate yourself. This adds a whole new level of fun to parties!

Exclusive Rapunzel design box

This cake was actually sold earlier this year during the Hinamatsuri festival in Japan, with all 1,000 cakes being sold out. It is now returning on October 1 and is made-to-order only.

Information

<ラプンツェル>ドレスケーキ

店頭受付

予約受付:10月1日(木)より *4日前までの予約限定
引き渡し:10月5日(月)より

Online Orders

Order Here: Ginza Cozy Corner

Order Window: From October 1, 2020
Delivery Window: From October 6, 2020

Official Website: https://www.cozycorner.co.jp/

Sweet Potato Milk Bubble Tea Pours Into Chun Shui Tang For Autumn

Chun Shui Tang, a chain of Taiwanese bubble tea stores, is adding a new limited-time drink to the menus of all branches in Japan on September 16: the "Tapioca Sweet Potato Milk Tea."

Tapioca Sweet Potato Milk Tea | ¥650 (Before Tax)

The beverage is made with annouimo sweet potatoes grown on the island of Tanegashima in Kagoshima Prefecture. The potatoes are known for their high sugar content, adding a delicious natural sweetness to the tea. It's blended with a high grade sugar syrup and topped off with whipped cream and sweet potato chips to create a dessert drink.

Those who order the drink via the Smatapi (スマタピ) app from September 9 can get the drink early before its general release on September 16.

In Japan for the autumn season? Enjoy the tasty autumn flavour of sweet potato with the Tapioca Sweet Potato Milk Tea.

Information

Tapioca Sweet Potato Milk Tea

Release Date: September 16, 2020

*Mobile pre-sales available from September 9 to those who order using the Smatapi (スマタピ) app

Available: All Chun Shui Tang shops in Japan

Chun Shui Tang Japan Official Website: https://www.chunshuitang.jp/

FUFU NIKKO: The New Hot Spring Hotel in Nikko, Tochigi Prefecture

Kato Pleasure Group is set to open its 4th branch of FUFU NIKKO hotels in Nikko, Tochigi on October 2, 2020 following their Atami, Lake Kawaguchi, and Nara branches.

A resort steeped in Japanese history and culture

The site in which the hotel is located has a sacred air to it. It dates back to the Meiji Period and has continued into modern times. Upon entering the hotel, your ears are treated to the sound of classical music. Overhead you will spot high ceilings made from wood which give it a warm and welcoming atmosphere.The shadows of the outside walls, the warmth of the inviting lights, and the metallic decorations which catch the light present a calm and quiet mood.

Classy and sophisticated cuisine

Both the food and plates it is served on capture the essence and beauty of the Japanese way. Meals are prepared using seasonal ingredients from Tochigi as well as high quality foods like foie gras, truffles, and caviar. Each dish expresses elegance and refinement and combines both Japanese and Western flavours.

Hot spring water sourced from Tamozawa

All rooms at the hotel are fitted with hot springs or large baths which natural light from the outdoors shining through. In the open-air baths, guests get to experience the surrounding sights of nature coupled with the sound of the flowing stream and chirping birds.

Information

FUFU NIKKO JAPAN

Grand Opening: October 2, 2020

Address: 1573-8 Honcho, Nikko, Tochigi Prefecture

Official Website: https://www.kpg.gr.jp/

Luxurious Matcha Loaded Parfait Served Up at MICASADECO&CAFE KYOTO

MICASADECO&CAFE KYOTO had to shorten its menu due to the effects of COVID-19. Their legendary parfait too was taken off the list, but now has finally returned, and even more delicious looking than ever.

MICASADECO&CAFE KYOTO has tried to make the parfait as breathtaking as possible, and they've certainly captured that. It's vivid like the furisode long-sleeved kimono worn by the maiko of Kyoto, beautiful and dignified.

Uji Matcha Pudding & Raspberry Parfait | ¥1,250 (Tax Included)

This towering parfait is made up of many layers, one of which is a homemade Japanese-style pudding made with high quality matcha from Uji, Kyoto. It has a subtly sweet and deep flavour, and is taken to the next level with the matcha sauce it's served with.

The homemade raspberry jam brings a delightful sweetness too as well as adds that eye-catching aspect they're going for. As you spoon your way through, your taste buds are treated to an amalgamation of indulging flavours.

The lid that's sat on top of the parfait is actually a tuile biscuit. The best way to go about beginning your feast is to break the biscuit and then pour the matcha sauce inside.

Hidden within the parfait are also pieces of homemade matcha brownies made with lots of top grade matcha.

These parfaits will be served from September 14 but are limited in stock, so if you're in Kyoto this month, make sure you don't miss out.

Kawaii Fruit Desserts Now Being Sold at Shibuya Scramble Square in Tokyo

Tokyu Food Show Edge and +Q Beauty inside Tokyo's Shibuya Scramble Square mixed-use skyscraper are now serving a succulent selection of autumn fruit desserts, incorporating autumn flavours like chestnuts, apples, and Japan's famous Shine Muscat grapes.

Let's take a look, and try not to drool too much on your keyboard.

MORI YOSHIDA PARIS

Mont Blanc | ¥918 (Tax Included)

A mont blanc with cream draped around like a helix. Inside you will find Crème Chantilly and chestnuts, while the base is baked in parcel.

apple & roses

Caramel Apple Rose Cake/Raspberry Rose Cake | ¥2,160 (Tax Included)

These rich butter and almond rose cakes come in two flavours: caramel apple with apples specially selected from Nagano Prefecture, and raspberry, which add a sweet and sour kick.

Péché Mignon

Feuilletée (Box of Two) | ¥756 (Tax Included)

Feuilletée pies filled with a chestnut paste which add a delightful sweetness. The box contains two base flavours: chestnut and chestnut chocolate.

c7h8n4o2


Fresh Fruit Tablet Shine Muscat | ¥2,592 (Tax Included)

Whole specially selected Shine Muscat grapes wrapped in chocolate and shaped into a tablet bar. The chocolate is a rich 70% Piura Quemazon from Pacari Chocolate which blends deliciously with the grape juice.

Atelier Anniversary


Whole Chestnut Pound Cakes (Set of 4) | ¥1,404 (Tax Included)

The dough is combined with chestnut paste and each mini pound cake contains a whole chestnut.

ANNA'S by Landtmann


Red Apple | ¥693 (Tax Included) *Eat-in price

This apple cake is filled with apple mousse, chocolate mousse, and chocolate sponge. The entire thing is coated in a red apple glaze, giving it a cute appearance.