Food Review: Nutrient-Packed Vegan Cup Noodles Vegewel RICE NOODLES
Frembassy is a Japanese company whose aim is to create a barrier-free food culture in Japan where everybody can laugh and enjoy their meals together. On Thursday, the company introduced its new Vegewel RICE NOODLES on Vegewel Marché, a food website run by the company, which will be sold for a limited time. The cup noodles are vegetarian and vegan-friendly and packed with healthy ingredients.
Vegewel RICE NOODLES are made with no animal products, dairy, egg, wheat or crustaceans, and contain no chemical or synthetic seasonings. They can be enjoyed by both children and adults alike.
The bowl contains the noodles, seasoning, and soup powder. Simply put all the ingredients into the bowl, pour over hot water, and leave for 3 minutes before tucking in.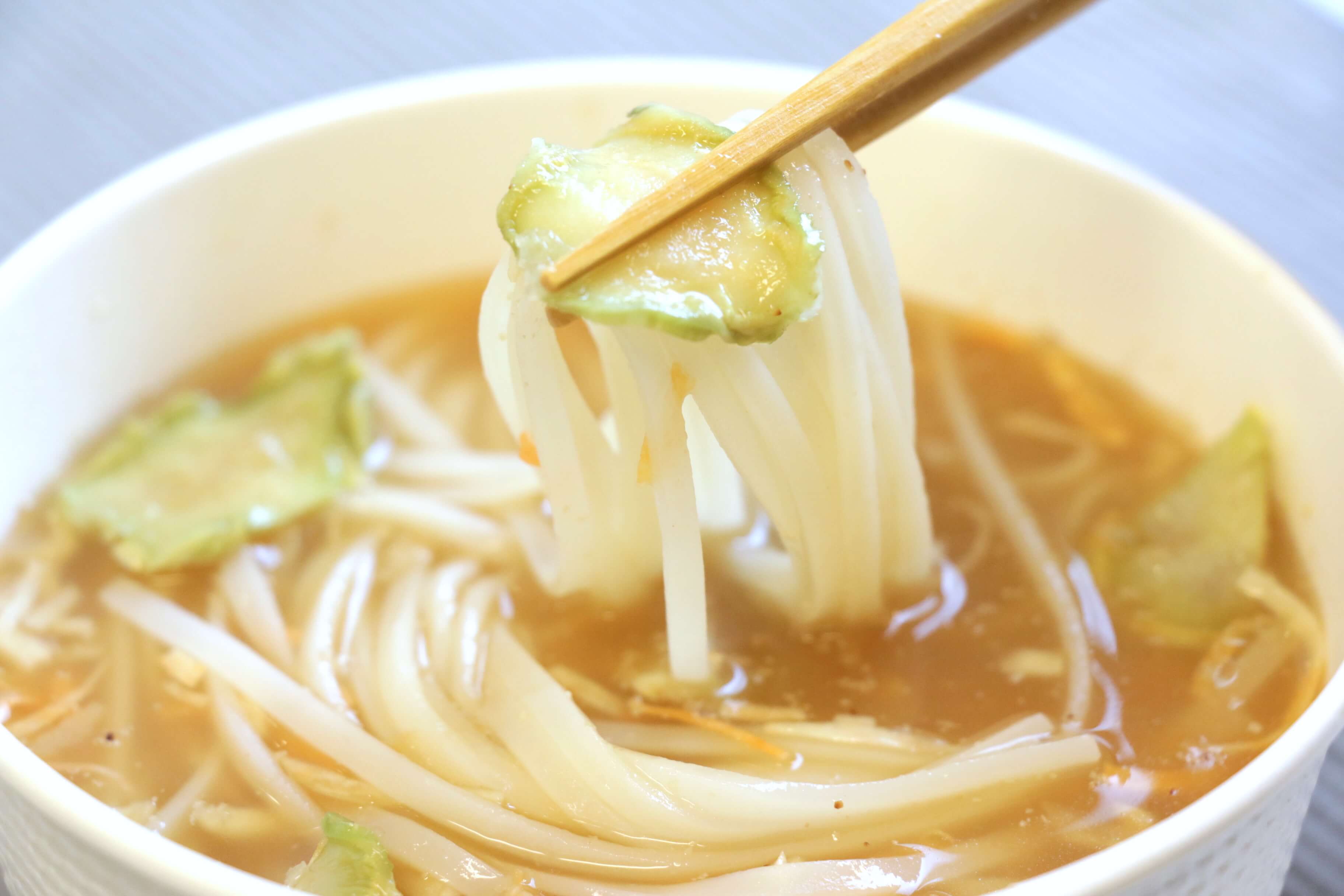 The chewy noodles are an original creation made from rice flour and made specifically for Vegewel RICE NOODLES. The flour is made from Akitakomachi, a type of rice, and provides a great flavour balance with the other ingredients.
The soup and seasoning contains absolutely no additives, chemical seasonings, or yeast extract.  To ensure no quality is lost in the flavour of the cup noodles, only citric acid is added to the rice flour noodles. The bowl is packed full of crispy cut up vegetables which is rare when it comes to cup noodles in Japan. The secret to their crispiness comes from allowing the vegetables to dry in a vacuum drier in cold vapour. Normally, glucose is added to the dried vegetables, but that has been taken out of the process for these noodles too.
One bowl contains 125g of vegetables, letting you get 1/3 of your daily intake of veggies. Their delicious taste coupled with sweet mirin makes for a treat for your taste buds. The seasoning is simple, but once you've put everything together, the flavour takes on a whole new level.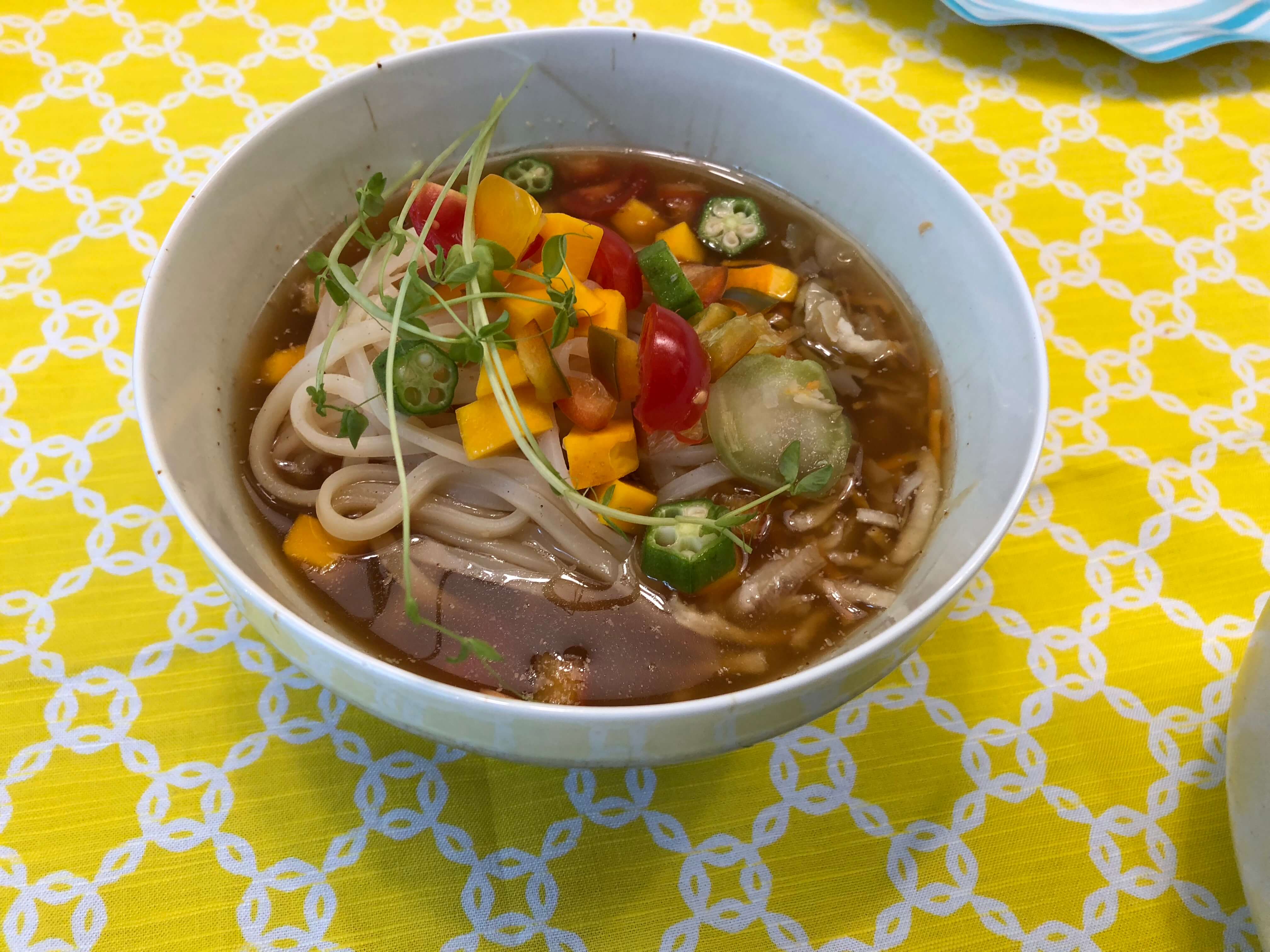 I recommend adding lots of fresh vegetables like okra and tomato, maybe even a sprinkle of paprika and a small dash of extra virgin olive oil.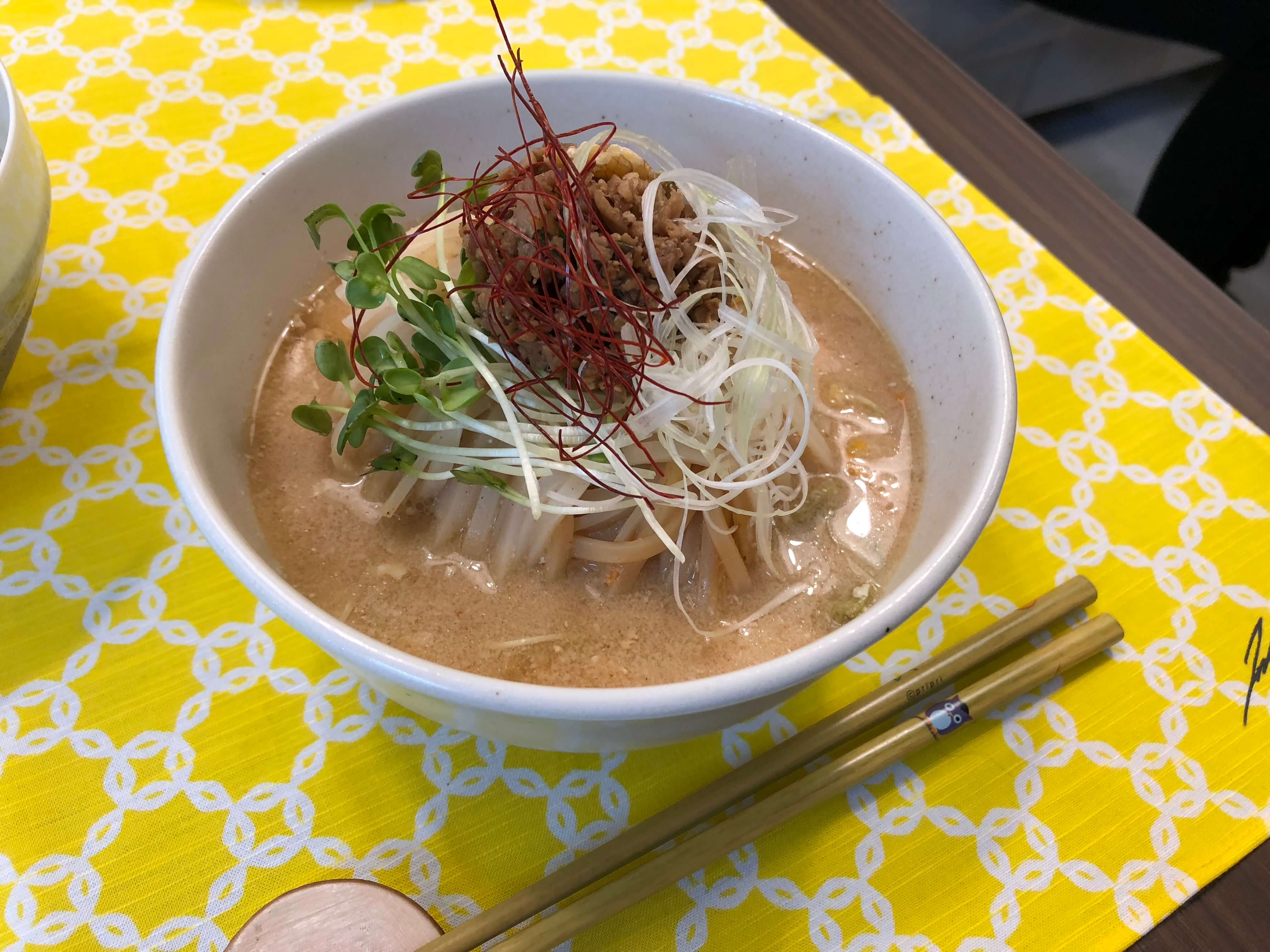 A bowl contains 266Kcal which is is much lower compared to your ordinary cup noodles. It's also low in fats and zero in cholesterol. It makes for a simple, healthy and light lunch or even dinner. Japan is still catching up when it comes to vegan cuisine, so this is a great option if you're staying there and in need of something!
Information
Vegewel RICE NOODLES
Price: ¥590 (Before Tax)
Product Page: https://vegewel.com/en/marche/products/ricenoodles
Ingredients
Noodles: Japanese Rice (Made in Japan), Corn Starch, Citric Acid
Seasoning: Yacón (Hokkaido), Broccoli (Hokkaido), Daokon (Aichi), Carrot (Aichi)
Soup: Soy Sauce Powder (Soy Sauce/Tapioca), Shiitake Powder, Sesame Powder, Onion Powder, Tomato Powder, Rock Salt, Mirin Powder
RECOMMENDED ENTRIES
The Fanciest Egg and Rice Dish You've Ever Seen Will Be Sold at Grand Hyatt Tokyo

Towering over the bustling city of Tokyo is the capital's luxury hotel Grand Hyatt Tokyo. Starting from October 1, the hotel's restaurant Shunbou, which serves Japanse-style cuisine, is introducing an all-new exquisite serving of TKG, or tamago kake gohan ("egg on rice").

The dish will be made with shinmai, or "new rice," which refers to the new rice harvested for the current year. It's topped with rich egg―a simple combination but incredibly delicious and loved by people in Japan. Normally TKG stops there, but Grand Hyatt Tokyo is taking it to the next level with a topping of caviar to create the most exquisite egg on rice you have ever seen.

Rice: The best of the best

The rice served at the hotel is harvested in the city of Nanyō in Yamagata Prefecture. It's a special kind of rice known as Tsuyahime, and the hotel makes strict selections of the harvested rice, ensuring they serve the best possible rice to guests. This rice is served only at Grand Hyatt Tokyo making it even more special.

Nanyō is blessed with rich soil. The farms have been using organic fertiliser for well over 10 years, meaning their beautiful harvests are reduced in agricultural chemicals and chemical fertilisers unlike many other farms. The rice's taste quality value has also been listed as over 80, much higher than your average rice.

Sturgeon Caviar

The caviar used in this dish is from the Sturgeon fish from Kagawa prefecture. Everything from the food to the temperature of the water for the fish is considered from when they are a young age, allowing for the best possible caviar. They are seasoned with the perfect salt quantity and are additive free, allowing for a creamy and velvety taste and texture that just melts in your mouth the moment it hits your tongue.

Rich Egg Yolk

The eggs served on the rice are from what is known as one of the country's best egg specialist shops in Kyoto. To ensure the perfect egg, the shop takes great care in the fodder and water given to the chickens from the time they are chicks. This takes away the unpleasant raw smell characteristic of eggs, and is also a healthier lifestyle for the chickens themselves. The eggs are also packed with nutrients that are said to be lacking in the people of today including vitamins, DHA, niacin, and so on.

To top it all off, the hotel has created their own original blend of dashi soy sauce just for this dish.

Information

Shunbou's Special New Rice Tamago Kake Gohan

・Freshly boiled new rice

・2 eggs

・Caviar (15 grams)

・Specially-made dashi soy sauce

*From December onward the dish will be served with Shunbou Original Caviar

Restaurant: Shunbou, Grand Hyatt Tokyo

Available: From October 1, 2019

Serving Times: Lunch 11:30-14:00 (Until 15:00 On Weekends & Holidays) / Dinner 18:00-21:30

Price: ¥20,000 (before tax and service charge)

Official Website: https://www.tokyo.grand.hyatt.co.jp/en/restaurants/shunbou-restaurant/

Dragon Quest Slime Bread Releasing at Lawson Store 100 in Japan

Convenience store Lawson Store 100 is teaming up with Nintendo in promotion of the upcoming video game Dragon Quest XI S: Echoes of an Elusive Age – Definitive Edition, an enhanced port of Dragon Quest XI: Echoes of an Elusive Age for the Nintendo Switch™ that's set for release on September 27, 2019, by releasing three new breads inspired by the Slime monster from the game at branches around Japan on September 25.

Slime Bread Slime Flavour (Sweet Lime) – ¥108 (Tax Included)

Coming in the classic light blue colour is this "slime flavoured" Slime (which is actually sweet lime flavoured!) It's filled with refreshing sweet lime jelly.

Behemoth Slime Mango Flavour – ¥108 (Tax Included)

The Behemoth Slime is orange coloured and has a tropical mango aroma. It's filled with a rich sweet and sour mango cream with fresh pieces of mango in it.

Metal Slime Black Sesame Flavour – ¥108 (Tax Included)

Made to look like metal, this Slime is black sesame flavoured, and is packed with rich black sesame bean paste.

The developer of these products, who is also a huge fan of Dragon Quest, commented the following: "I created these Slime breads because I wanted to people to feel like they were going on an adventure in the world of Dragon Quest. The Slimes are something that can only be found in that world. I took great care to make it as realistic as possible so it would feel like you had your very own Slime. I referenced the game during the planning of this product so that it both looked fun and tasted delicious."

Elaborating on this final point, they continue: "For example, the [sweet lime] Slime Bread contains lemon [sic] flavoured jelly which is based on the Slime jelly from the game, and when you defeat (or in this case 'eat') the slime you are awarded with a treasure! You obtain Slime jelly, and that's the fun aspect of this product."

When you go to buy one of these Slime breads and the cashier scans it, the till will play the "Level Up" sound from the game. The stores will also have other references to the game in the form of posters and other hidden features, so make it your quest to find them all.

© 2017, 2019 ARMOR PROJECT/BIRD STUDIO/SQUARE ENIX All Rights Reserved.

Information

Slime Bread / Behemoth Slime Bread / Metal Slime Bread

Release Date: September 25, 2019

Available: Lawson Store 100 branches across Japan

Lawson Store 100 Official Website (Japanese): http://store100.lawson.co.jp/

Sensuously Scrumptious Mont Blanc Parfait Arrives at GINZA SIX Tsujiri

The Ginza branch of long-standing Uji tea shop Tsujiri has unveiled a seasonal treat that will be available this autumn only. It was released on September 18 and will be served until October 31.

Tsujiri Ginza is the only branch of Tsujiri in the Kanto region of Japan, aiming to offer a "new kind of matcha experience" to the people of Tokyo. This autumnal mont blanc parfait dessert is made from an aromatic chestnut cream made in France, matcha soft serve ice cream made by the Uji matcha experts at Tsujiri, and fluffy fresh cream, creating a seasonal mix of flavours.

Once you're done shopping around the extravagant town of Ginza, why not treat yourself to a tasty matcha-packed delight?

Information

Tsujiri Ginza

Address: GINZA SIX Floor B2F, 6-10-1 Ginza, Chuo Ward, Tokyo

Opening Hours: 10:30-20:30

TEL: 03-6263-9988

Tsujiri Official Website: http://www.tsujiri.jp
RELATED ENTRIES
BOTANIST Tokyo's Autumn Vegan Menu Arrives This September in Harajuku

BOTANIST Tokyo, the flagship shop of BOTANIST in Harajuku/Omotesando, has revealed a new limited-time autumn vegan menu which will be served on the 2nd floor BOTANIST Café from September 5 to October 30.

BOTANIST Café has been serving vegan food since September 2018, with meals and desserts made healthy and delicious. Vegan food is hard to come by in Japan, but restaurants and new establishments are beginning to cater to the vegan lifestyle.

This year's limited-time autumn menu is being served to promote the launch of BOTANIST's new vegan line of hair care products. There are two hot soups to choose from as well as three desserts—the sweet treats being the "Banana & Chamomile Pound Cake" made without butter, the rich-tasting "Melt-In-The-Mouth Tiramisu," and the "Sweet Potato Mont Blanc" which is made with whole sweet potatoes.

VEGAN MENU – AUTUMN

Banana & Chamomile Pound Cake | ¥1,000 (Tax Inclusive) *Drink included

Made with sweet ripe bananas and laced with chamomile, this pound cake brings the autumn vibes with the mix of walnuts and finished with smooth soy cream.

Sweet Potato Mont Blanc | ¥500 (Tax Inclusive)

This velvety mont blanc is like you're eating a sweet potato as it is. It's spread with lumps of adzuki beans for added texture.

Melt-In-The-Mouth Tiramisu | ¥650 (Tax Inclusive)

The name of this dessert speaks for itself. It's made with fairtrade coffee beans – and cream cheese which perfectly balances out the bitterness of the coffee flavour.

Sweet Potato Soy Potage | ¥510 (Tax Inclusive)

A rich, melty potage with a smooth texture and subtle sweet after taste. The black pepper adds a delicious bite.

Pumpkin Soy Potage | | ¥510 (Tax Inclusive)

Made using a whole pumpkin, this hearty potage is a perfect combination of bitterness from the pumpkin skin and the natural sweetness from the pumpkin itself. For an extra ¥160 you can order some bread for dipping.

Information

Limited-Time Vegan Menu
Running: September 5, 2020 – October 30, 2020

BOTANIST Tokyo
Address: 6-29-2 Jingumae, Shibuya, Tokyo (1st Floor – Shop / 2nd Floor – Cafe)
TEL: 1st Floor: 03-5766-3777 / 2nd Floor: 03-5766-3778
Opening Hours: 11:00-20:00

Official Website: https://shop.botanistofficial.com/

Street Fighter V's 'Ring of Destiny' and 'Ring of Prosperity' Stages Jacked by Cup Noodle

Street Fighter V's DLC stages "Ring of Destiny" and "Ring of Prosperity" have been taken over by Nissin Foods's instant cup noodle brand Cup Noodle in Japan.

The Street Fighter video game series has sold over 44 million copies worldwide. Cup Noodle's collaboration with the internationally-celebrated series comes in promotion of the 2020 season of the Street Fighter League: Pro-JP, an e-sports league featuring Capcom's popular Street Fighter series in Japan. Both the "Ring of Destiny" and "Ring of Prosperity" stages will feature a Cup Noodle design until the final day of the league's grand finale, after which the stages will return to normal. This date has yet to be announced.

Nissin Foods | Comment

"We are supporting the biggest battle held by the Street Fighter V community by collaboration with [two of] the game's stages. In recent years, more people have woken up to gaming receiving much more attention. We see countless competitors around the world who are showing their talents. Momofuku Ando, the founder of [Nissin Food Products Co., Ltd.], invented the world's first instant noodles, Cup Noodle, which has been enjoyed by many competitors for being time-saving, allowing for them to hone their skills in their spare time. Cup Noodle wholeheartedly supports Street Fighter League: Pro-JP 2020 and the fiery passion of participating competitors. Hungry To Win!"

©CAPCOM U.S.A., INC. 2016, 2020 ALL RIGHTS RESERVED.

1/1 Scale Plastic Cup Noodle Model to be Released Worldwide

BANDAI SPIRITS is teaming up with Nissin Foods to release the new "BEST HIT CHRONICLE 1/1 Cup Noodle," a plastic model of Nissin Foods's popular Cup Noodle product that you can assemble. It will be released in Japan on September 18, 2020―the day of Cup Noodle's birthday―and will roll out outside Japan after then.


BEST HIT CHRONICLE 1/1 Cup Noodle: ¥2,420 (Tax Included)

Since launching in 1971, the instant cup noodle brand Cup Noodle has filled the bellies of people around the world. BANDAI SPIRITS has now turned the product into a a fun 1/1 scale plastic assembly kit as part of the BEST HIT CHRONICLE line.

The kit was made by 3D scanning real Cup Noodles to make it as realistic as possible, from the cup to the noodles and toppings.

The kit comes with actual ingredients used in Cup Noodles including egg, shrimp, meat, and spring onion. You get to decide how much you want to top your noodles with.

The outside of the cup can also be removed so you can see what the inside of Cup Noodle looks like.

The cup design of Cup Noodle has gone unchanged since its release, making it a very familiar sight to all who have tucked into a cup. The plastic model recreates all of its distinct features, combining the iconic white, red, and gold colours. They even have the line inside the cup which tells you where to stop pouring your hot water.


The design is so detailed it even has the ingredient list, allergy breakdown, and more—all recreated with the same font and font size.

Information

BEST HIT CHRONICLE 1/1 Cup Noodle
Release Date: September 18, 2020
Available: Japan (Hobby shops, toy shops, online, Nissin Online, and elsewhere)

Vegan Almond Caramel Sponge Cake Now Available at TOKYO BANANA in Tokyo Station

TOKYO BANANA WORLD released a new vegan-friendly almond caramel flavour of its popular Tokyo Banana sponge cakeーthe official souvenir sweet of Tokyoーat the TOKYO BANANA store on the JR side of Tokyo Station on March 15, 2020.

This is TOKYO BANANA's first vegan-friendly sweet. It's made from 100% plant-based ingredients while keeping 100% of the product's delicious flavour. That includes almond milk, which is promoted for its health and beauty benefits, and delicious caramel.

TOKYO BANANA Almond Caramel Sandwiches – Box of 4: ¥680 (Tax Included) / Box of 8: ¥1,200 (Tax Included)

Other ingredients include beat sugar, which is made from beetroot, a subtle banana flavour, and crunchy roasted almonds, all wrapped together in a bite-size sponge cake.

The product is both vegan and vegetarian friendly, containing no eggs or dairy products.

This tasty snack is available only at TOKYO BANANA in Tokyo Station, so be sure to pop buy and pick some up if you're travelling through there.

Information

Tokyo Banana Almond Caramel Sand

Released: March 15, 2020

Available: TOKYO BANANA (JR Tokyo Station)

Official Website: https://www.tokyobanana.jp/ 

One Piece's Luffy, Ace and Whitebeard Appear in Anime's Final Commercial Collaboration With Nissin Cup Noodles

Instant noodle brand Nissin Foods released their final animated commercial in collaboration with the One Piece anime series on February 7. The commercial is part of the company's "HUNGRY DAYS" series of ads.

The commercial comes as the sequel to their first collaboration with the anime series which featured the character Zoro back in May. The video gained huge attention across social media with a combined view count of over 22 million views across Twitter, Facebook and YouTube, making it Nissin's most watched online video. Together with the trailer announcing the start of the series and the second collaboration, the series as a whole has amassed over 44 million views across their social media platforms.

In the final video, which translates to "Cavalry Battle," we see a shift in one from all the commercials up to now. It portrays the original story's Battle of Marineford as a massive, heated cavalry battle as seen in the series' sports episodes.

Keep an eye out for a number of different characters, such as Luffy, Ace, Whitebeard, Blackbeard, and more. The characters are voiced by the original cast, and there is also narration by popular Japanese voice actress Megumi Hayashibara who voices Rebecca in the One Piece anime. The character design is by Eisaku Kubonouchi, and the music used to portray the hot-blooded battle is Maximum the Hormone's song Hungry Pride.

See the epic conclusion to this series below.

Information

HUNGRY DAYS One Piece Cavalry Battle (Japanese Title: ワンピース頂上騎馬戦篇)

Released: February 7, 2020 (Airing in Japan until May 16, 2020)

Nissin Brand Website: https://www.cupnoodle.jp/

Japan's First CBD Shop 'HealthyTOKYO' to Open in Harajuku in February

HealthyTOKYO is set to open as the first shop in Japan specialising in the selling of CBD oil, and it's doing so in Harajukuーone of Tokyo's most famous towns that's at the forefront of trends and pop culture. It is both a shop and a cafe.

CBD oil has seen a spike in sales over the past year. Made from hemp, research shows that there are many health benefits to using CBD. The main gains are from helping reduce stress, relieving pain, improving sleep, and helping prevent skin inflammation.

CBD is used by mixing it with food or drink. It's also been recognised as having an effect as an ingredient in cosmetics and creams. While CBD oil is legal in Japan, the country's law is strict when it comes to traces of THC, and so only allows oils with 0%.


As well as the oil itself, HealthyTOKYO will also stock a variety of vegan sweets and drinks containing CBD. The food line-up includes vegan-friendly cheesecake, mont blanc, and gateau chocolate, as well as gluten-free lasagne, amongst many other things. For drinks, there's a variety of organic matcha, coffee, and more. A lot of these foods and drinks can be ordered with CBD oil too.

HealthyTOKYO brand CBD products all use naturally derived CBD oil, and the shop offers degrees of strength and different flavours too. They sell cosmetics, creams, and other products too.

If you've been looking for CBD while in Japan, or even vegan-friendly or gluten-free foods, then make sure you pay a visit to the country's first CBD shop and cafe in Harajuku.

One Piece's Vivi Appears in Anime's Third Commercial Collaboration With Nissin Cup Noodles

Instant noodle brand Nissin Foods just dropped the third animated commercial in collaboration with the One Piece anime series on December 6. The commercial is part of the company's "HUNGRY DAYS" series of ads.

The commercial comes as the sequel to their first collaboration with the anime series which featured the character Zoro back in May. The video gained huge attention across social media with a combined view count of over 22 million views across Twitter, Facebook and YouTube, making it Nissin's most watched online video. Together with the trailer announcing the start of the series and the second collaboration, the series as a whole has amassed over 35 million views.

The new commercial sees Vivi taking the spotlight. Like the previous commercials, it re-imagines the characters as ordinary high school students. This edition sees Vivi announcing to the rest of the characters that she is transferring schools, and we see just how much she cherishes them as friends.

The video features over 50 characters in various scenes.

The video even features actual voice actors from the anime series reprising their roles for the commercial, including Misa Watanabe who voices Vivi, Mayumi Tanaka (Luffy), Akemi Okamura (Nami), Masako Nozawa (Doctor Kureha), and others. The character designs were designed by Eisaku Kubonouchi and the music is by BUMP OF CHICKEN.

We look forward to seeing who will play the main role of the next commercial. Stay tuned for the next edition.

One Piece's Nami Appears in Anime's Second Commercial Collaboration With Nissin Cup Noodles

Instant noodle brand Nissin Foods just dropped the second animated commercial in collaboration with the One Piece on September 13. The commercial is part of the company's "HUNGRY DAYS" series of ads.

The commercial comes as the sequel to their first collaboration with the anime series which featured the character Zoro back in May. The video gained huge attention across social media with a combined view count of over 21 million views across Twitter, Facebook and YouTube, making it Nissin's most watched online video. Together with the video announcing the start of the series the series has over 25 million views. According to the CMDB, Japan's commercial research institute, the Zoro video is the number one most liked commercial from any company in Japan, making it 20 years since Nissin has achieved that status.

The new commercial sees Nami taking the spotlight. Like the Zoro edition, it re-imagines the characters as ordinary high school students. In this parallel world, we see Nami living her ordinary, day-to-day life as a student, with appearances from familiar faces.

Eisaku Kubonouchi

BUMP OF CHICKEN

The video features voice acting from Mayumi Tanaka and Akemi Okamura who voices Luffy and Nami in the anime series respectively. Eisaku Kubonouchi (creator of Tsurumoku Dokushinryo) is in charge of the character designs while BUMP OF CHICKEN performs the music.

The video will be available to watch until May 16, 2020. Be sure to check it out alongside the previous work.

One Piece Collaborates With Nissin in Cup Noodle Commercial Featuring Character Zoro

Instant noodle brand Nissin Foods just released a new animated commercial in collaboration with the anime series One Piece. The commercial is part of the company's "HUNGRY DAYS" series and this time centres around the One Piece character Zoro.

Nissin has made four other videos in the series so far, all in collaboration with various anime franchises including Kiki's Delivery Service, Heidi, Girl of the Alps, Sazae-san, as well as an animated original entitled Saishukai ("The Last Time"). Nissin commercials have become the nation's favourite in the food industry. The series has become a big hit having been viewed over 18 million times.

A year after the TV anime series One Piece ended, Nissin initiated a collaboration with the series. which lead to the creation of this animated commercial.

The commercial re-imagines the characters as ordinary high school students. It follows the story of main character Luffy's friend Zoro and his youthful strive for improvement!

Hungry Days One Piece Zoro Version

Esteemed manga artist Eisaku Kubonouchi, who is known for creating the manga series Tsurumoku Dokushinryo, worked on the character design for the commercial, while and the music was created by BUMP OF CHICKEN. The voice actors/actresses for the characters including Luffy (Mayumi Tanaka) and Zoro (Kazuya Nakai) are the same people who voice acted for the anime too! The narration was directed by famous voice actress Megumi Hayashibara.

Tuck Into Halloween Themed Vegan Food at BOTANIST Tokyo

BOTANIST Tokyo is the flagship store of Japanese botanical lifestyle brand BOTANIST, and it's there at their cafe on the second floor that they are selling Halloween themed vegan food from October 12 to October 31.

BOTANIST Tokyo is an entry brand into a botanical lifestyle. This special food event can be enjoyed by both vegans and those who haven't tried vegan food before. The menu contains a range of delicious, naturally-tasting food using absolutely no meat products, dairy products and so on.

VAMPIRE BURGER: ¥1,400 (Tax Included) *Comes with drink

As well as the cafe's usual vegan menu, you can look forward to three additional spooky selections: the Vampire Burger, Black Cat's Tiramisu, and Ghost Raspberry Tiramisu.

Black Cat's Tiramisu: ¥650 (Tax Included) / Raspberry Tiramisu: ¥650 (Tax Included)

These cute vegan Halloween delicacies will have you snapping photos without realising.

Customers who dine at the cafe on October 27 can receive a free Halloween hair service by SALONIA Hair Salon. There are wonderful presents available for people who take a picture of themselves at the cafe and post it on social media on the day too. Both the inside and outside of the cafe will be decorated with botanical Halloween decorations too and you're free to take pictures.

Enjoy a vegan-style Halloween this year!

Information

BOTANIST Tokyo

Address: 6-29-2 Jingumae, Shibuya, Tokyo

Opening Hours: 11:00-20:00

No Fixed Holidays.

BOTANIST Tokyo: http://botanistofficial.com/shop/

Halloween Themed Menu

Running: October 12, 2018 – October 31, 2018

The vegan restaurant located inside the forest of Karuizawa "RK GARDEN" was opened

The vegan restaurant, RK GARDEN surrounded by flowers and trees of Karuizawacho, Nagano Prefecture which serves organic vegetables produced in the Shinshu Area started this year's operation from the 20th of April 2018.

RK GARDEN serves healthy vegan foods that do not use any egg, dairy products and animal-related ingredients. Since they use freshly cropped organic vegetables they purchase their vegetables from contracted farmers every morning, you can enjoy the deliciousness of fresh seasonal vegetables. Why not try eating healthy foods and become healthy?

The menu items they sell include "Rosemary-flavored potato gallate and grilled vegetables" using organic whole-grain, gallate made of potato and grilled vegetables produced in Karuizawawa and "Seasonal highland vegetables and home-made vegan quiche using mini tomatoes" which taste and look good.

The interior of the restaurant does not have any windows because they wanted their customers to feel the nature of Karuizawa and is filled with the scent of greens, sunlight, surrounded by flowers and trees. You can enjoy the warmth of Karuizawa's nature with the antique interiors.

The restaurant can be used as a space for after wedding parties and usual parties, so why not make an unforgettable memory in this restaurant surrounded by the flowers and trees of Karuizawa?

■Information

RK GARDEN

Address: 1138-1, Oiwake, Karuizawacho, Nagano Prefecture

Business hours: Morning Time 9:00~11:00

     Lunch Time  11:00~16:00(LO)

Fixed holiday: Tuesday

TEL:0267-31-5330

Website: https://www.rustic-kitchen.net/

New menu item for vegans and vegetarians will be sold at the restaurant, "Kamakura Yasai Curry Kantakun."

Curry is a very dish among Japanese people and it is regarded as a standard menu item of Japanese food. The restaurant "Kamakura Yasai (vegetable) Curry Kantakun" located on Komachi Street, Kamakura is run by a farm family and offers curries that use vegetables produced in Kamakura. The restaurant will start offering a new menu item for vegetarians and vegans who have egg/dairy allergies. The name of the menu is "Noka no (farm family's) Yasai Curry" and it uses 10 different kinds of vegetables produced in Kamakura. The menu will be sold from the 4th of April.

 

Kamakura's soil includes lots of minerals, so the colors of the vegetables produced in this area are very vivid. The restaurant uses fresh vegetables produced by Kamakura Leaf (Sekiya, Kamakura) which are delivered on a daily basis.

 

"Kamakura Yasai Curry Kantakun" was opened in 2014 under the concept of "introducing the great flavor of Kamakura vegetables." "Kanta Curry" made with chicken broth used to be their standard menu but they developed this new vegetable curry named "Noka no Yasai Curry" to meet their customers' (vegetarian and parents who have children with allergies) requests.

 

Noka no Yasai Curry – 1400 yen (10 plates will be served per day)

This healthy and colorful menu item uses 10 different kinds of deep fried and boiled Kamakura vegetables. The red colored soup of the curry is made with lots of tomatoes.

Vegetables that will be used during spring/summer season.

White bitter gourd/kohlrabi/collinky(Japanese pumpkin)/island okra/trumpet zucchini/banana pepper/fairy tale/green egg plant

※The vegetables used for each curry will differ depending on the supply situation

 

Their menus which are Kanta Curry (1200 yen), Keema Curry (1200 yen) and Yokubari Set (1500 yen) use fresh Kamakura vegetables (about 10 different kinds – deep fried or boiled)!

Let's try their healthy menus items using lots of vegetables.

■Information

Kamakura Yasai Curry Kantakun

Address: 1F/14 seats, 1-4-2, Yukinoshita, Kamakura, Kanagawa Prefecture

Business hours: 11:00 to 15:00 / Saturday and Sunday – until 17:00

Fixed holiday: None

TEL:050-5594-8247

Website:http://miyashitakikaku.com/