Food Review: Nutrient-Packed Vegan Cup Noodles Vegewel RICE NOODLES
Frembassy is a Japanese company whose aim is to create a barrier-free food culture in Japan where everybody can laugh and enjoy their meals together. On Thursday, the company introduced its new Vegewel RICE NOODLES on Vegewel Marché, a food website run by the company, which will be sold for a limited time. The cup noodles are vegetarian and vegan-friendly and packed with healthy ingredients.
Vegewel RICE NOODLES are made with no animal products, dairy, egg, wheat or crustaceans, and contain no chemical or synthetic seasonings. They can be enjoyed by both children and adults alike.
The bowl contains the noodles, seasoning, and soup powder. Simply put all the ingredients into the bowl, pour over hot water, and leave for 3 minutes before tucking in.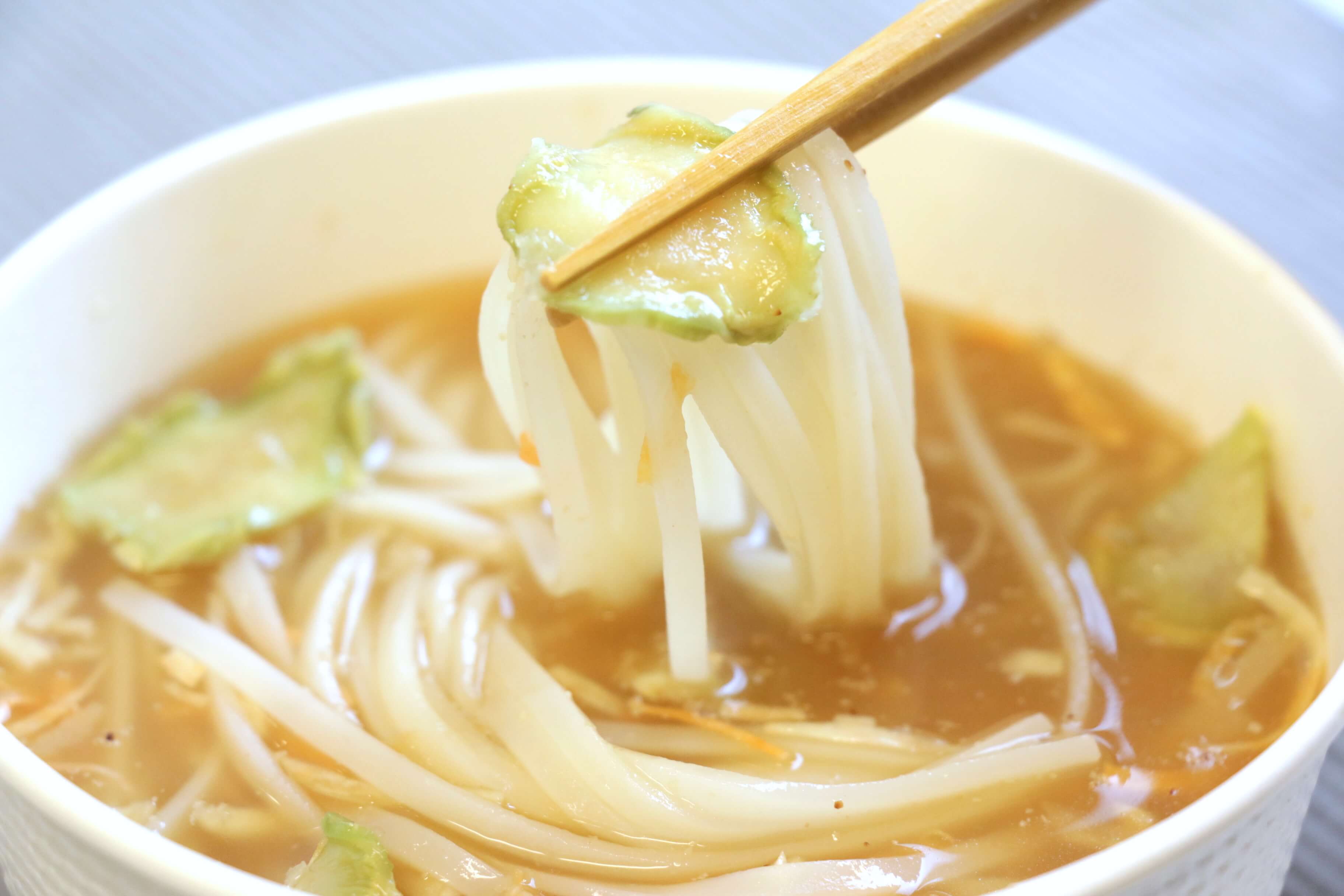 The chewy noodles are an original creation made from rice flour and made specifically for Vegewel RICE NOODLES. The flour is made from Akitakomachi, a type of rice, and provides a great flavour balance with the other ingredients.
The soup and seasoning contains absolutely no additives, chemical seasonings, or yeast extract.  To ensure no quality is lost in the flavour of the cup noodles, only citric acid is added to the rice flour noodles. The bowl is packed full of crispy cut up vegetables which is rare when it comes to cup noodles in Japan. The secret to their crispiness comes from allowing the vegetables to dry in a vacuum drier in cold vapour. Normally, glucose is added to the dried vegetables, but that has been taken out of the process for these noodles too.
One bowl contains 125g of vegetables, letting you get 1/3 of your daily intake of veggies. Their delicious taste coupled with sweet mirin makes for a treat for your taste buds. The seasoning is simple, but once you've put everything together, the flavour takes on a whole new level.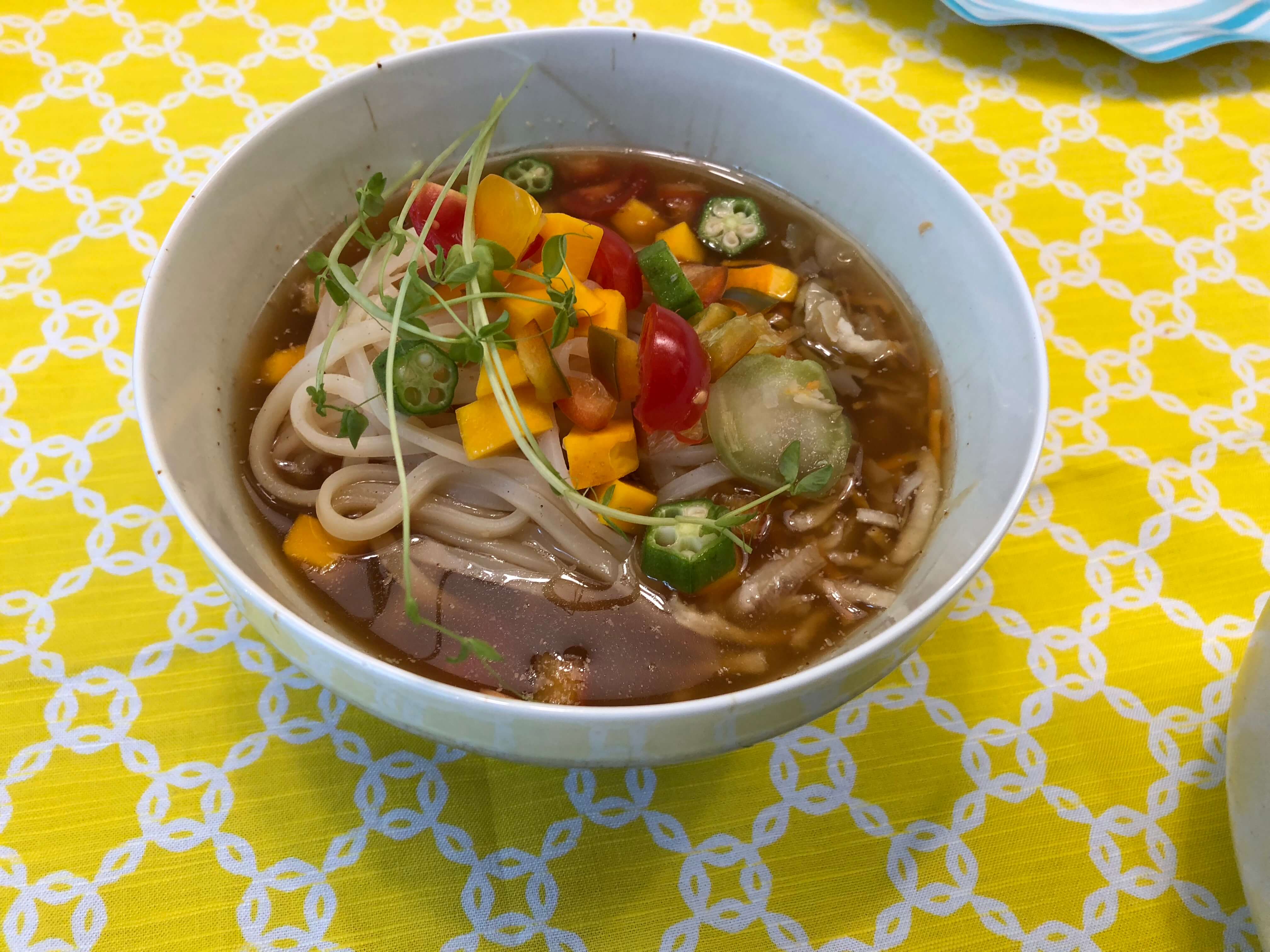 I recommend adding lots of fresh vegetables like okra and tomato, maybe even a sprinkle of paprika and a small dash of extra virgin olive oil.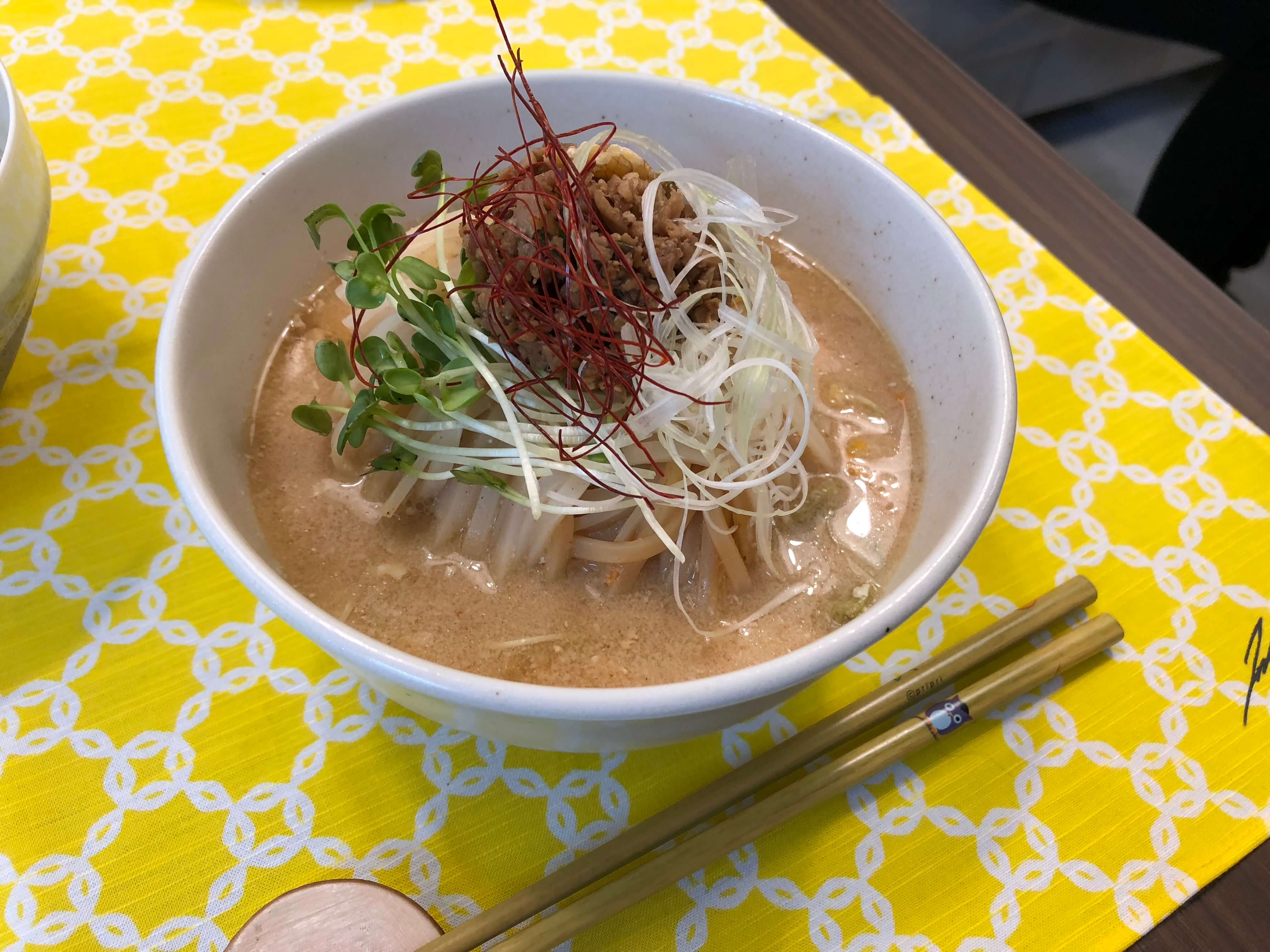 A bowl contains 266Kcal which is is much lower compared to your ordinary cup noodles. It's also low in fats and zero in cholesterol. It makes for a simple, healthy and light lunch or even dinner. Japan is still catching up when it comes to vegan cuisine, so this is a great option if you're staying there and in need of something!
Information
Vegewel RICE NOODLES
Price: ¥590 (Before Tax)
Product Page: https://vegewel.com/en/marche/products/ricenoodles
Ingredients
Noodles: Japanese Rice (Made in Japan), Corn Starch, Citric Acid
Seasoning: Yacón (Hokkaido), Broccoli (Hokkaido), Daokon (Aichi), Carrot (Aichi)
Soup: Soy Sauce Powder (Soy Sauce/Tapioca), Shiitake Powder, Sesame Powder, Onion Powder, Tomato Powder, Rock Salt, Mirin Powder
RECOMMENDED ENTRIES
The Fanciest Egg and Rice Dish You've Ever Seen Will Be Sold at Grand Hyatt Tokyo

Towering over the bustling city of Tokyo is the capital's luxury hotel Grand Hyatt Tokyo. Starting from October 1, the hotel's restaurant Shunbou, which serves Japanse-style cuisine, is introducing an all-new exquisite serving of TKG, or tamago kake gohan ("egg on rice").

The dish will be made with shinmai, or "new rice," which refers to the new rice harvested for the current year. It's topped with rich egg―a simple combination but incredibly delicious and loved by people in Japan. Normally TKG stops there, but Grand Hyatt Tokyo is taking it to the next level with a topping of caviar to create the most exquisite egg on rice you have ever seen.

Rice: The best of the best

The rice served at the hotel is harvested in the city of Nanyō in Yamagata Prefecture. It's a special kind of rice known as Tsuyahime, and the hotel makes strict selections of the harvested rice, ensuring they serve the best possible rice to guests. This rice is served only at Grand Hyatt Tokyo making it even more special.

Nanyō is blessed with rich soil. The farms have been using organic fertiliser for well over 10 years, meaning their beautiful harvests are reduced in agricultural chemicals and chemical fertilisers unlike many other farms. The rice's taste quality value has also been listed as over 80, much higher than your average rice.

Sturgeon Caviar

The caviar used in this dish is from the Sturgeon fish from Kagawa prefecture. Everything from the food to the temperature of the water for the fish is considered from when they are a young age, allowing for the best possible caviar. They are seasoned with the perfect salt quantity and are additive free, allowing for a creamy and velvety taste and texture that just melts in your mouth the moment it hits your tongue.

Rich Egg Yolk

The eggs served on the rice are from what is known as one of the country's best egg specialist shops in Kyoto. To ensure the perfect egg, the shop takes great care in the fodder and water given to the chickens from the time they are chicks. This takes away the unpleasant raw smell characteristic of eggs, and is also a healthier lifestyle for the chickens themselves. The eggs are also packed with nutrients that are said to be lacking in the people of today including vitamins, DHA, niacin, and so on.

To top it all off, the hotel has created their own original blend of dashi soy sauce just for this dish.

Information

Shunbou's Special New Rice Tamago Kake Gohan

・Freshly boiled new rice

・2 eggs

・Caviar (15 grams)

・Specially-made dashi soy sauce

*From December onward the dish will be served with Shunbou Original Caviar

Restaurant: Shunbou, Grand Hyatt Tokyo

Available: From October 1, 2019

Serving Times: Lunch 11:30-14:00 (Until 15:00 On Weekends & Holidays) / Dinner 18:00-21:30

Price: ¥20,000 (before tax and service charge)

Official Website: https://www.tokyo.grand.hyatt.co.jp/en/restaurants/shunbou-restaurant/

Dragon Quest Slime Bread Releasing at Lawson Store 100 in Japan

Convenience store Lawson Store 100 is teaming up with Nintendo in promotion of the upcoming video game Dragon Quest XI S: Echoes of an Elusive Age – Definitive Edition, an enhanced port of Dragon Quest XI: Echoes of an Elusive Age for the Nintendo Switch™ that's set for release on September 27, 2019, by releasing three new breads inspired by the Slime monster from the game at branches around Japan on September 25.

Slime Bread Slime Flavour (Sweet Lime) – ¥108 (Tax Included)

Coming in the classic light blue colour is this "slime flavoured" Slime (which is actually sweet lime flavoured!) It's filled with refreshing sweet lime jelly.

Behemoth Slime Mango Flavour – ¥108 (Tax Included)

The Behemoth Slime is orange coloured and has a tropical mango aroma. It's filled with a rich sweet and sour mango cream with fresh pieces of mango in it.

Metal Slime Black Sesame Flavour – ¥108 (Tax Included)

Made to look like metal, this Slime is black sesame flavoured, and is packed with rich black sesame bean paste.

The developer of these products, who is also a huge fan of Dragon Quest, commented the following: "I created these Slime breads because I wanted to people to feel like they were going on an adventure in the world of Dragon Quest. The Slimes are something that can only be found in that world. I took great care to make it as realistic as possible so it would feel like you had your very own Slime. I referenced the game during the planning of this product so that it both looked fun and tasted delicious."

Elaborating on this final point, they continue: "For example, the [sweet lime] Slime Bread contains lemon [sic] flavoured jelly which is based on the Slime jelly from the game, and when you defeat (or in this case 'eat') the slime you are awarded with a treasure! You obtain Slime jelly, and that's the fun aspect of this product."

When you go to buy one of these Slime breads and the cashier scans it, the till will play the "Level Up" sound from the game. The stores will also have other references to the game in the form of posters and other hidden features, so make it your quest to find them all.

© 2017, 2019 ARMOR PROJECT/BIRD STUDIO/SQUARE ENIX All Rights Reserved.

Information

Slime Bread / Behemoth Slime Bread / Metal Slime Bread

Release Date: September 25, 2019

Available: Lawson Store 100 branches across Japan

Lawson Store 100 Official Website (Japanese): http://store100.lawson.co.jp/

Sensuously Scrumptious Mont Blanc Parfait Arrives at GINZA SIX Tsujiri

The Ginza branch of long-standing Uji tea shop Tsujiri has unveiled a seasonal treat that will be available this autumn only. It was released on September 18 and will be served until October 31.

Tsujiri Ginza is the only branch of Tsujiri in the Kanto region of Japan, aiming to offer a "new kind of matcha experience" to the people of Tokyo. This autumnal mont blanc parfait dessert is made from an aromatic chestnut cream made in France, matcha soft serve ice cream made by the Uji matcha experts at Tsujiri, and fluffy fresh cream, creating a seasonal mix of flavours.

Once you're done shopping around the extravagant town of Ginza, why not treat yourself to a tasty matcha-packed delight?

Information

Tsujiri Ginza

Address: GINZA SIX Floor B2F, 6-10-1 Ginza, Chuo Ward, Tokyo

Opening Hours: 10:30-20:30

TEL: 03-6263-9988

Tsujiri Official Website: http://www.tsujiri.jp
RELATED ENTRIES
Nissin Cup Noodle Collaborates with the Disney Store on New Product Line

Walt Disney Japan has announced a new collaboration collection with the popular food Nissin Cup Noodles. These items will be available at Disney Flagship Tokyo, Disney Stores nationwide, and the official Disney online store shopDisney.

 The First Collaboration with Cup Noodle

The first series of Disney-designed products with Cup Noodle flare will go on sale on September 9, with the second round of products available on September 23.

In addition to Disney-designed Cup Noodles, this year's lineup includes a variety of playful items based on the theme of "making the three minutes you spend waiting for your food more fun."

The Cup Noodle Set, which includes three different flavors, comes in an original case and is ideal for enjoying yourself or as a small gift. The collection's Cup Noodle Stopper with an Hourglass holds down the lid of a cup of hot water and measures the three minutes until the Cup Noodle is ready to eat. Also available are plush toys in special costumes and apparel such as jerseys and T-shirts featuring Mickey Mouse. Other items, such as mobile phone rings and pouches, will also be available.

TSUM TSUM & Cup Noodle

From the popular TSUM TSUM series, Mickey Mouse, Donald Duck, and Goofy will appear wearing costumes and colors inspired by Cup Noodles!

TSUM TSUM Plushies: ¥1,980 each (Tax Included)

Information

Cup Noodle & Disney Store Collaboration

Where to Buy: Disney Flagship Tokyo, Disney Stores nationwide, shopDisney

Release Date: Round 1 Items September 9 / Round 2 Items September 23

Special Website: http://shopDisney.jp/cupnoodle/

*Items may be out of stock.

*Product designs, prices, release dates, sales outlets, and specifications are subject to change.

*Some items may not be available at all stores.

Goods Brand 3COINS to Collaborate with Cup Noodle for New Collection

Sundries brand 3COINS is teaming up with the Nissin Foods mainstay Cup Noodle for a new collection! The items will be on sale starting March 28, 2022.

The collection of original 3COINS items feature Cup Noodle-inspired illustrations by SANLEMO. The go-to food of college students everywhere, Cup Noodle was created in 1971 and celebrated 50 years in 2021. The three cute girls appearing in the new collection were inspired by the three classic flavors of Cup Noodle.

Lineup

Cup Noodle 3-Flavor Set in Original Box (Available Exclusively at 3COINS+plus Stores)


Fans can grab mini reusable bags, glasses, towels, memo pads, and more. Which flavor of Cup Noodle will you be repping?

Enjoy Kyoto Vegan Ramen Among teamLab's Artwork in Tokyo with New Store

teamLab Planets TOKYO DMM, located in Toyosu, Tokyo, have completed the refurbishment of their outdoor food stand, opening Vegan Ramen UZU Tokyo on October 8 2021. The new shop allows customers to eat vegan ramen from Kyoto in a new art space from teamLab. In addition, the teamLab Flower Shop & Art will be opening, a shop where customers can purchase orchids previously used in one of the group's art pieces to take home with them. 

 

Menu

Vegan Ramen Flower (Cool): ¥1,980 (Tax Incl.)

Vegan Ramen Tea: ¥1,650 (Tax Incl.)

Vegan Ramen Soy Sauce: ¥1,320 (Tax Incl.)

Vegan Ramen Miso (Spicy): ¥1,320 (Tax Incl.)

Newly Released Works

Reversible Rotation – Non-Objective Space, teamLab, 2021


Table of Sky and Fire, teamLab Architects, 2021


Floating Flower Garden: Flower, Myself and Cognate, Garden and Myself as One

teamLab Planets Original Tote Bag


 

The menu at Vegan Ramen UZU uses no animal products like meat or fish, instead condensing the taste of vegetables into a delicious ramen that you can enjoy in a space designed by teamLab. Vegan Ramen UZU Kyoto first opened in March 2020 to great popularity, with many customers queuing for over an hour to get inside the store. 

At the new Tokyo store, customers can enjoy a bowl of vegan ramen while enjoying teamLab's latest art installations, the Non-Objective Space and the Table of Sky and Fire.

Not only that, you can also take home some of the orchids used in the Floating Flower Garden: Flower, Myself and Cognate, Garden and Myself as One exhibit that was held from July 2, along with a section of teamLab merchandise such as stickers, patches, postcards, and more, at the newly opened teamLab Flower Shop & Art store.

Look forward to tasting this healthy ramen while immersed in an artistic space!

Cup Noodles Celebrate 50 Years with Goods from Fashion Brand niko and…

Popular Japanese fashion brand niko and…will release a number of items in collaboration with globally-beloved Cup Noodle starting October 6, 2021. Preorders are now open on the official online store, so be sure to check it out before everything's gone!

Collection at a Glance

Cushion & Blanket: ¥4,180 (Tax Included) / Apron: ¥3,080 (Tax Included) /  Coat: ¥5,390 (Tax Included) 

Storage Box: ¥2,200 (Tax Included) / Tote Bag: ¥2,750 (Tax Included) / Shoulder Bag: ¥2,420 (Tax Included)

Cup Noodles originally hit the market in 1971, and in the past 50 years, the product has become incredibly popular as an affordable meal around the world. Blending the worlds of food and fashion, this collaboration with niko and…will offer people a chance to show off their noodle love with some fashionable items. The illustrations featured on the limited-time collection were provided by German artist Stefan Marx. The lineup has plenty of variety, with fashion items and household items galore, offering something for everyone!

Enjoy a Healthy Junk Food Menu at Shibuya LOFT's New Cafe 2foods

Shibuya LOFT opened its new '2foods' cafe on April 15 which serves junk food healthily.

2foods uses absolutely no eggs or milk in their menu – everything is plant based and healthy, making it a haven for vegan foodies, especially in Japan where there aren't as many vegan places as other countries. What's better is that everything's reasonably priced too. There are around 60 menu items to choose from, like curry and soba as well as desserts, organic coffees and lattes, cold pressed juice, and more.

Artist's rendition of the cafe

Curry | ¥1,023 (Tax Included)

A hearty and spicy curry served with brown rice which is better for digestion.

Tantanmen Ramen | ¥968 (Tax Included) | Shibuya LOFT exclusive

A ramen soup with 100% gluten free rice flour noodles, soy milk, sesame seeds, peanuts, soy meat, and other healthy and natural ingredients.

Egg Doughnut Sandwich | ¥528 (Tax Included)

A vegan egg sandwich that doesn't use eggs but tastes just like them.

Gateau Chocolate | ¥528 (Tax Included)

A rich chocolate gateau made with brown rice powder and soy cream.

Information

2foods Shibuya LOFT

Opened: April 15, 2021

Address: Shibuya LOFT (Floor 2F), 21-1 Udagawacho, Shibuya, Tokyo
Opening Hours: 11:00-20:00 
TEL: 03-6416-4025 

Official Website: https://www.loft.co.jp/

Tokyo's New Vegan Dessert Shop the vegan marshmallooow Opens in Ginza

Ginza Mitsukoshi is welcoming a limited-time vegan dessert shop by the name of 'the vegan marshmallooow' which is open from April 1 to June 30. This shop is known amongst the vegan community in Japan for its vegan cakes, and due to that positive response, is now opening its first long-term promotional pop-up shop in collaboration with Mitsukoshi Isetan Group.

Online orders opened at Mitsukoshi Isetan on March 27 with a delicious line-up that includes their signature vegan chocolate cake.

A look at just some of the mouth-watering line-up

Chocolate Cake

Their number one most popular order: a gorgeously gluten-free mirror cake made with rich chocolate.

 

<NEW> Whole Fruit Cake

For those who like something a little more fruity and refreshing, this juicy cake is topped with assorted fruits like setoka orange, peach, kiwi, blueberry, strawberry, and more. The gluten-free sponge and soy cream give it a light texture that's also rich.

 

<NEW> Special Chocolate Cake Slice

An exquisite three-layered version of the shop's iconic chocolate make made with plant-based ingredients. Its triple tier is formed harmoniously of sponge, chocolate mousse, and cream. A single serving for a single sweet tooth.

Strawberry Shortcake

Two moist layers of gluten-free strawberry sponge with a soy milk base. Smooth, creamy, light, and delicious.

 

Mont Blanc

This mont blanc is specially made with Japanese chestnuts. The addition of soy cream elevates the nutty flavour throughout. A crunchy tart and fluffy sponge also makes for a textural sensation.

the vegan marshmallooow's vegan cake now available online at Mitsukoshi Isetan

Vegan Chocolate Cake Set (3 Pieces)

The Little BAKERY Tokyo Revamps and Reopens With New Eat-In Area

The beloved takeout bakery The Little BAKERY Tokyo, which is just down the road from another of Harajuku's popular eateries THE GREAT BURGER, has undergone refurbishment to add a brand new eat-in space. The site reopened on March 22 as a bakery and cafe.

A tasty new eat-in menu

Crushed Avocado Toast | ¥1,250 (Before Tax)

Homemade Maple Granola | ¥1,350 (Before Tax)

New York Pizza (Pepperoni Slice) | ¥1,000 (Before Tax)

Classic Ham, Egg, & Cheddar Cheese Sandwich | ¥1,500 (Before Tax)

Apple Gorgonzola Cheddar Cheese Sandwich | ¥1,450 (Before Tax)

Bread loaves and takeout goodies

Red Bean Paste & Butter Ball | ¥420

Hokkaido Yotsuha Butter Croissaint | ¥260

Custard Pudding | ¥550

Hokkaido Brioche Loaf – Whole ¥580, Half ¥320 / Hokkaido Whole Wheat Loaf – Whole ¥560, Half ¥300 / Hokkaido Milk Loaf – Whole ¥580, Half ¥320 (Before Tax)

The new eat-in menu features a range of irresistibles like vegan-friendly avocado toast, homemade granola topped with fresh fruits and Greek yogurt, a selection of sandwiches made with homemade brioche toast, New York-style, pizza, and more.

Takeout options includes all the classics like bread loaves, sweet custard pudding, soft and crispy croissants, and so on.

There are around 30 baked delights to pick from at The Little BAKERY Tokyo all of which are made using flour from Hokkaido and natural yeast. All items on the menu are made fresh in-house every day, all ingredients from the salt and sugar to the eggs and more are domestic, and all ingredients are sourced sustainably and locally. The bakery also caters to all needs from those with food restrictions and allergies as well as a fantastic vegan menu which replaces animal products like eggs and butter with soy milk and grapeseed oil.

They even sell American-style doughnuts from the doughnut brand GOOD TOWN DOUGHNUTS who are inspired by doughnuts from Brooklyn. There's around 20-30 to choose from, all colourful and all used with natural ingredients like fruit – none of the bad additives. Of course, there's vegan doughnuts too, so if you're struggling to find vegan food in Tokyo, you know where to go.

One worry in the bakery industry is that of leftover stock. But The Little BAKERY Tokyo has a solution for that: by wrapping up their pastries and baked foods and selling them as 'DAY OLD BREAD' on their online shop so nothing goes to waste, something which has received huge praise from people across Japan.

Japanese Springtime Flowers Bloom a Delicious Menu at TREE by NAKED Yoyogi Park

Spring has arrived at TREE by NAKED Yoyogi Park, a cafe run by NAKED that's located in Yoyogi Park in Shibuya, Tokyo. On Monday, the cafe launched a seasonal menu which incorporates a variety of spring flowers like cherry blossoms, showy's baby breath from Kumamoto, keiou-zakura from Yamagata, and more.

TREE by NAKED Yoyogi Park first opened in July 2017. It's an experience-based art restaurant where customers can enjoy Japan's latest cutting edge technology and next-generation gastronomy. Its popularity has risen rapidly, earning itself a reputation for offering an experience that stimulates all five of the senses, as well as for its photogenic interior decor.

With the pandemic restricting travel in Japan, people are unable to visit places far away across the country, and so the cafe is bringing a little bit of different places around Japan, namely their flowers, in collaboration with JA Kumamoto Uki and JA Yamagata.

Kumamoto is the only place in Japan that grows show's baby breath. They are raised with the prefecture's rich water and soil to blossom beautiful white and pink. These flowers can not only be enjoyed at TREE by NAKED Yoyogi Park as decorations, but customers can actually buy a bouquet of them too. Thanks to the skills of producers, the flowers can be grown out of season over a long period running from December to April, allowing people to enjoy their gorgeous springtime hues even if it's not spring.

Açaí Lemonade – Eat In ¥825 / Takeout ¥810

Cherry Blossom & Strawberry Nicecream – Eat In ¥770 / Takeout ¥756

"Power & Healthly" are the concepts for the lunch and cafe-time menu which includes both food and drink. The cafe's popular homemade açaí lemonade has been turned into a springtime version with fresh cherry blossom petals. There's also a vegan-friendly ice cream made with banana, avocado, soy milk, and a blend of strawberry and cherry blossom. It has a slight salt tang to it.

Vegan Cherry Blossom Latte – Eat In ¥770 / Takeout ¥756

Vegan Avocado & Sprout Sandwich – Eat In ¥1,100 / Takeout ¥1,080

The cafe's popular cherry blossom latte from last year returns with a soy milk base. There's also sandwiches, including a vegan one fried in coconut oil.

Strawberry Mille-Feuille – Eat In ¥1,650

The cafe's strawberry mille-feuille is so popular that they have to make a limited batch each day. It's even been featured on Instagram. With the strawberry season here, customers can enjoy fresh whole strawberries topping their dessert.

The cafe will also be running an evening cafe and bar experience with a range of desserts, food, and alcohol.

Information

Spring Menu

Released: March 15, 2021

Where: TREE by NAKED Yoyogi Park

Address: 1-10-2 Tomigaya, Shibuya, Tokyo

Opening Hours: 11:00-20:00 (EVENING CAFÉ & BAR TIME from 16:00) *Last orders at 19:00

Closed: Tuesdays/Wednesdays

TEL: 03-6804-9038

TREE by NAKED Yoyogi Park Official Website: https://tree.naked.works/yoyogi/

Vegan Food Heads to Tokyo Midtown at New FRUITS IN LIFE Juice Bar and Deli

FRUITS IN LIFE is a new fruit juice bar and deli set to open in Tokyo Midtown on March 2, 2021. The eatery will serve up a fruity vegan menu.

Slow Juice (6 Flavours) | ¥850 Each (Before Tax)

Smoothies (11 Flavours) | Medium ¥550, Large ¥700 (Before Tax)

Fruful 200 Set | ¥1,250 (Before Tax)

Smoothie Parfaits: Avocado & Banana ¥1,000 (Before Tax) / Amaou Strawberry ¥1,250 (Before Tax)

FRUITS IN LIFE opens its first branch in Tokyo Midtown

Enjoy 200g of fresh fruits with Fruful 200

The menu is entirely plant-based ranging from smoothies and cold press slow juices to avocado toast made with a 100% whole wheat focaccia, the rice paper-wrapped salad baton filled with fruit and veg, and more. The lunch menu also includes the one plate Fruful 200 Set which contains 200g of fruits, and more. There's also fruit desserts like jelly and smoothie parfaits. The Avocado Banana Parfait is packed with vitamins and over 200g of fruits, is only 438ml, and is low in calories.

Information

FRUITS IN LIFE Tokyo Midtown
Grand Opening: March 2, 2021
Location: Tokyo Midtown Plaza Floor B1F

Address: 9-7-2 Akasaka, Minato-ku, Tokyo
Opening Hours: [Weekdays] 8:30-21:00 (Last Orders 20:30) / [Weekends & Holidays] 10:00-21:00 (Last Orders 20:30)

No Fixed Holidays
TEL 03-6447-1190
Fruful 200 Official Website: https://aoki-group.com/fruful200/
FRUITS IN LIFE Official Website: http://www.fruitsinlife.com/

Winter Vegan Food to be Served Up at BOTANIST Tokyo in Harajuku This Holiday Season

BOTANIST's flagship shop BOTANIST Tokyo will be serving up a special Northern European-themed holiday season menu at its second floor BOTANIST Cafe from October 31, 2020. The line-up is made with the wish in mind that everyone can live with hope in mind as we draw closer to the end of 2020 and ready for the start of the New Year.

Holiday Menu

All food on the seasonal holiday menu is vegan and promised to be filling, delicious, and healthy.

White Mushroom & Meatball Pasta | ¥1,250 (Tax Included)

A vegan pasta with must-have meatballs covered in a lip-smacking tomato sauce. The pasta is made from rice flour.

Shiitake Patty & Shimeji Sauce Hamburger | ¥1,500 (Tax Included)

A vegan burger with a patty made from shiitake mushrooms and doused in an aromatic shimeji mushroom sauce. It's served with hot hasselback potatoes which are seen in the cuisine of North Europe as well as cauliflower.

Five Mushroom Soy Potage | ¥510 (Tax Included)

A rich potage made from five varieties of mushroom including shiitake, eryngii, shimeji, and hen-of-the-wood. It has a full-bodied flavour and is nothing short of delicious.

​

Vegan Doughnut Holiday Cake | ¥600 (Tax Included)

A Christmas cake where you can pick two vegan doughnuts from a selection of flavours. It's filled with soy cream which goes perfectly with the chewy rice flour doughnuts.

Christmas Set To Go


Christmas Set To Go: ¥2,200 (Tax Included) / Uber Eats: ¥2,600 (Tax Included)

A Christmas set that can be ordered to go or via Uber Eats. Perfect for get-togethers with friends and families.

BOTANIST Botanical Winter Coffret


BOTANIST Botanical Winter Coffret (Premium Hair Care Set) | ¥8,690 (Tax Included)

At BOTANIST Tokyo's first floor shop, they have announced the release of a new hair care collection called BOTANIST Botanical Winter Coffret which will hit shelves on October 31, 2020.

BOTANIST Tokyo's vegan winter menu will arrive on October 31, 2020 which is the final day of their vegan autumn menu. Check out their autumn food line-up here.

Information

BOTANIST Tokyo
Address: 6-29-2 Jingumae, Shibuya, Tokyo (1st Floor – Shop / 2nd Floor – Cafe)
TEL: 1st Floor: 03-5766-3777 / 2nd Floor: 03-5766-3778
Opening Hours: 11:00-20:00

Official Website: https://shop.botanistofficial.com/

BOTANIST Tokyo's Autumn Vegan Menu Arrives This September in Harajuku

BOTANIST Tokyo, the flagship shop of BOTANIST in Harajuku/Omotesando, has revealed a new limited-time autumn vegan menu which will be served on the 2nd floor BOTANIST Café from September 5 to October 30.

BOTANIST Café has been serving vegan food since September 2018, with meals and desserts made healthy and delicious. Vegan food is hard to come by in Japan, but restaurants and new establishments are beginning to cater to the vegan lifestyle.

This year's limited-time autumn menu is being served to promote the launch of BOTANIST's new vegan line of hair care products. There are two hot soups to choose from as well as three desserts—the sweet treats being the "Banana & Chamomile Pound Cake" made without butter, the rich-tasting "Melt-In-The-Mouth Tiramisu," and the "Sweet Potato Mont Blanc" which is made with whole sweet potatoes.

VEGAN MENU – AUTUMN

Banana & Chamomile Pound Cake | ¥1,000 (Tax Inclusive) *Drink included

Made with sweet ripe bananas and laced with chamomile, this pound cake brings the autumn vibes with the mix of walnuts and finished with smooth soy cream.

Sweet Potato Mont Blanc | ¥500 (Tax Inclusive)

This velvety mont blanc is like you're eating a sweet potato as it is. It's spread with lumps of adzuki beans for added texture.

Melt-In-The-Mouth Tiramisu | ¥650 (Tax Inclusive)

The name of this dessert speaks for itself. It's made with fairtrade coffee beans – and cream cheese which perfectly balances out the bitterness of the coffee flavour.

Sweet Potato Soy Potage | ¥510 (Tax Inclusive)

A rich, melty potage with a smooth texture and subtle sweet after taste. The black pepper adds a delicious bite.

Pumpkin Soy Potage | | ¥510 (Tax Inclusive)

Made using a whole pumpkin, this hearty potage is a perfect combination of bitterness from the pumpkin skin and the natural sweetness from the pumpkin itself. For an extra ¥160 you can order some bread for dipping.

Information

Limited-Time Vegan Menu
Running: September 5, 2020 – October 30, 2020

BOTANIST Tokyo
Address: 6-29-2 Jingumae, Shibuya, Tokyo (1st Floor – Shop / 2nd Floor – Cafe)
TEL: 1st Floor: 03-5766-3777 / 2nd Floor: 03-5766-3778
Opening Hours: 11:00-20:00

Official Website: https://shop.botanistofficial.com/

Street Fighter V's 'Ring of Destiny' and 'Ring of Prosperity' Stages Jacked by Cup Noodle

Street Fighter V's DLC stages "Ring of Destiny" and "Ring of Prosperity" have been taken over by Nissin Foods's instant cup noodle brand Cup Noodle in Japan.

The Street Fighter video game series has sold over 44 million copies worldwide. Cup Noodle's collaboration with the internationally-celebrated series comes in promotion of the 2020 season of the Street Fighter League: Pro-JP, an e-sports league featuring Capcom's popular Street Fighter series in Japan. Both the "Ring of Destiny" and "Ring of Prosperity" stages will feature a Cup Noodle design until the final day of the league's grand finale, after which the stages will return to normal. This date has yet to be announced.

Nissin Foods | Comment

"We are supporting the biggest battle held by the Street Fighter V community by collaboration with [two of] the game's stages. In recent years, more people have woken up to gaming receiving much more attention. We see countless competitors around the world who are showing their talents. Momofuku Ando, the founder of [Nissin Food Products Co., Ltd.], invented the world's first instant noodles, Cup Noodle, which has been enjoyed by many competitors for being time-saving, allowing for them to hone their skills in their spare time. Cup Noodle wholeheartedly supports Street Fighter League: Pro-JP 2020 and the fiery passion of participating competitors. Hungry To Win!"

©CAPCOM U.S.A., INC. 2016, 2020 ALL RIGHTS RESERVED.