Miyako Hotel Hakata Opens With Instagram-Worthy Pool, Michelin-Led Restaurant Menu & More
Miyako Hotel Hakata will have its grand opening on September 22, 2019. To help spread word of the luxurious secrets behind its doors, an official report was released detailing everything there is for guests to look forward to.
Its metropolitan exterior is inspired by the spectacular natural landscapes of Kyushu
Miyako Hotel Hakata can be found by taking the Tsukushi Exit of Hakata Station where it stands directly in front, towering above the surrounding buildings. The basement floor of the hotel is directly connected to the station for ease of access. This floor is also home to a convenience store, restaurants and more and can be used by non-guests too.
The building is a gorgeous eye-catching glass cube which offers an abundance of natural light during the day. At night, the hotel exterior is illuminated with 168 LED lights, giving it an metropolitan appearance. The building rooftop has a running 'waterfall' which is inspired by the majestic rural environments of Kyushu. Its iconic design makes it instantly-recognisable, with hopes in mind that this will make it a new landmark of Hakata.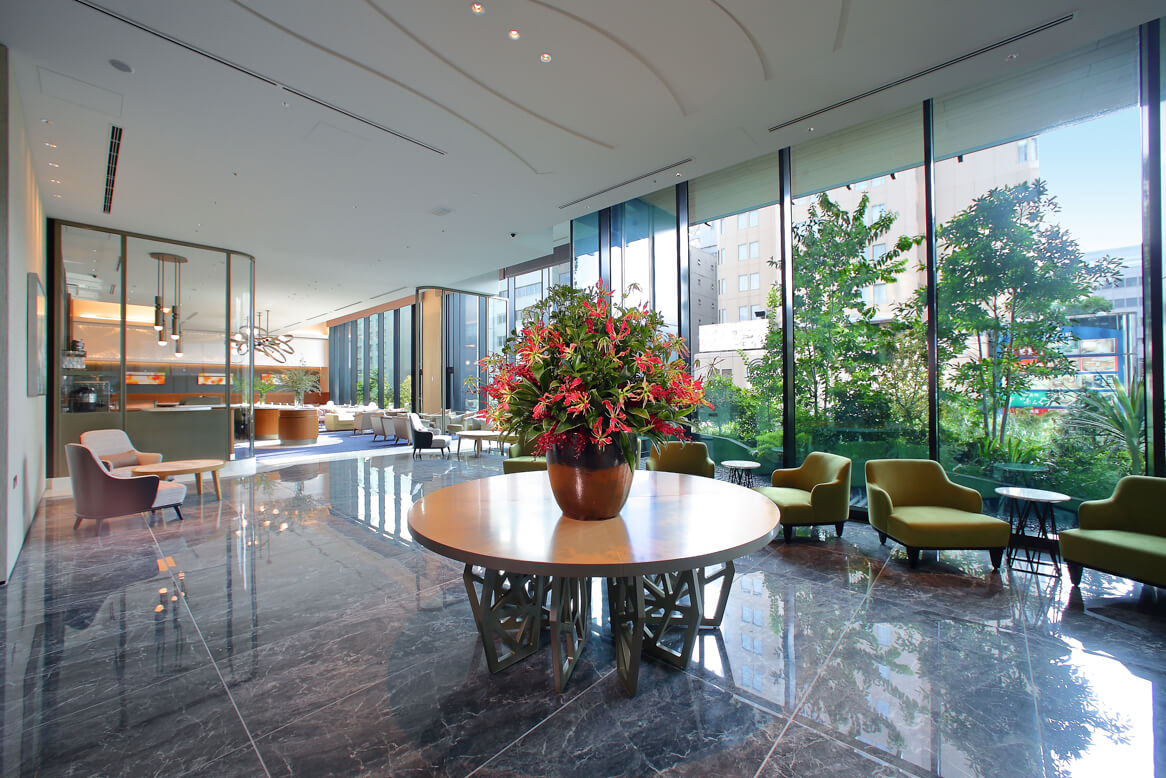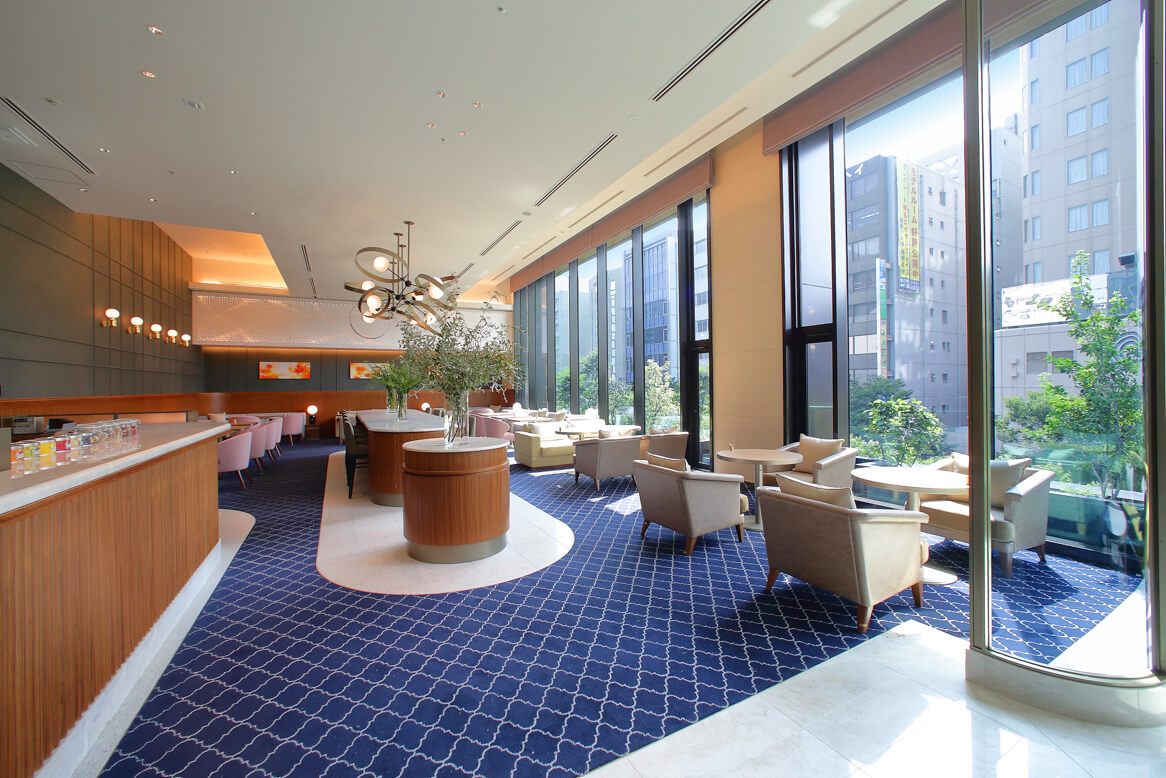 The lobby houses a gorgeous cafe lounge serving food and drink
Up on the 3rd floor is the clean, bright and spacious front lobby where staff are waiting to greet guests warmly. In addition to the reception desk, there is CAFÉ EMPATHY, a cafe and lounge which can be used by both guests and non-guests. The cafe is produced by Transit General Offiice which is known for having produced the The Rail Kitchen Chikugo―a restaurant train―amongst a host of shared offices, hotels and more.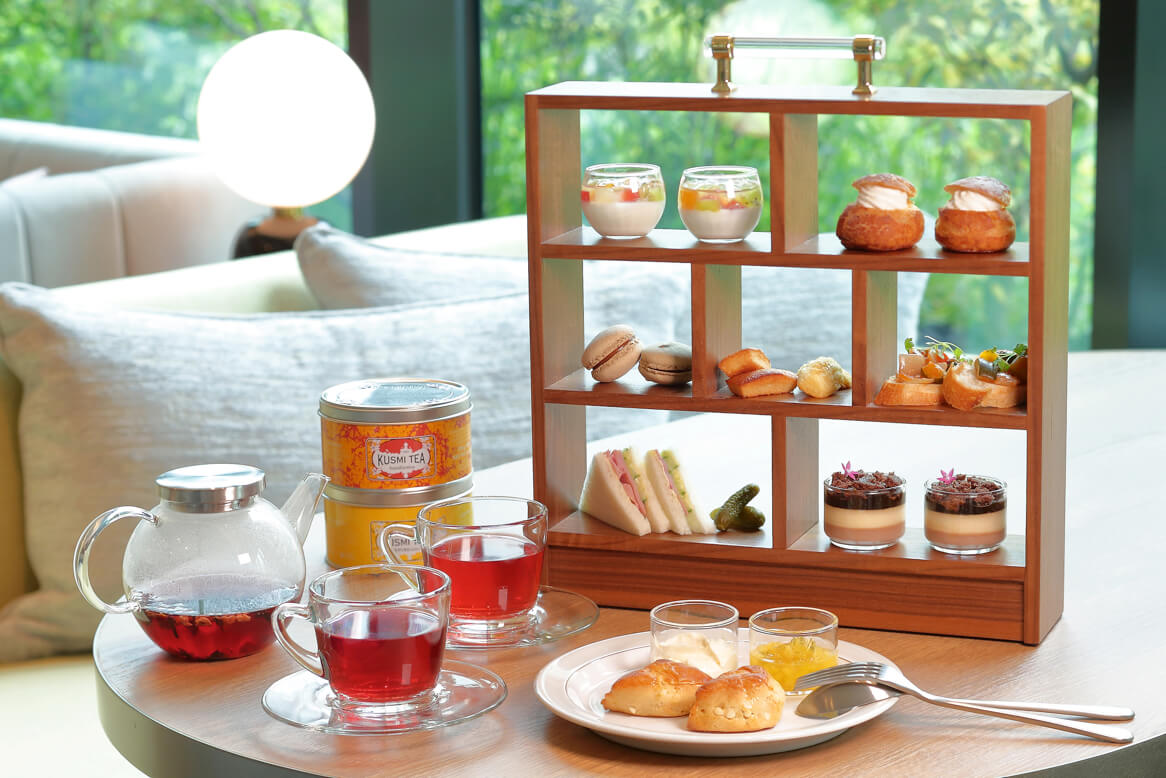 The spectacular menu line-up includes an array of delicious drinks from herbal teas to flavoured lattes, as well as an assortment of light meals made using ingredients from around Kyushu. They also serve an original afternoon tea that's served from 14:30. Everything on the menu is nothing short of Instagrammable and perfect for those who love to wine and dine on drinks and food that is both cute and fancy.
The colourful flavoured lattes come in four flavours and can also be ordered for takeout. One of them is the Beets Latte which is a pink colour which comes from the beetroot used to make it. It has a subtle sweetness and smooth flavour.
The stocked teas include those made by Paris-based tea company KUSMI TEA, such as the Anastasia which is a mix of standard black tea and citrus, as well as an array of decaffeinated fruit teas.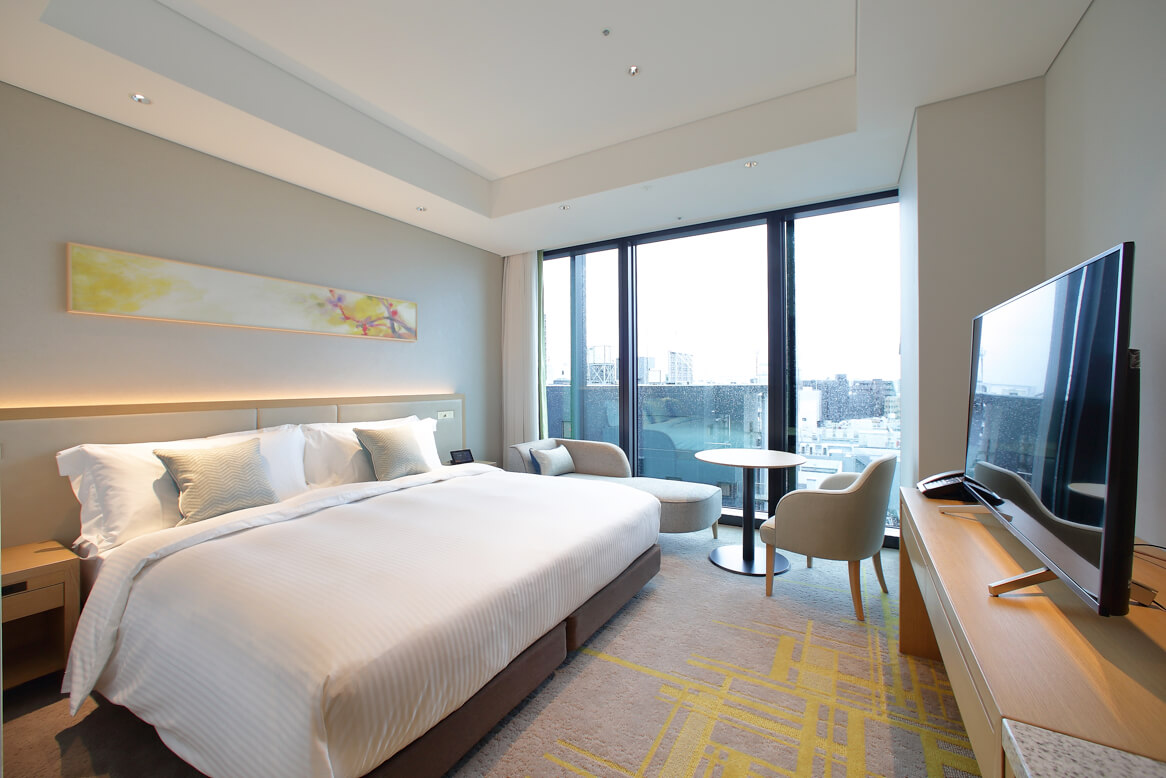 Spend your time in luxury in your room
Floors 5 through 12 are all lined with guest rooms. There are four types of rooms, all large, including Twin and Double. Each and every room has been given the same level of care and attention to create the most comfortable experience for guests.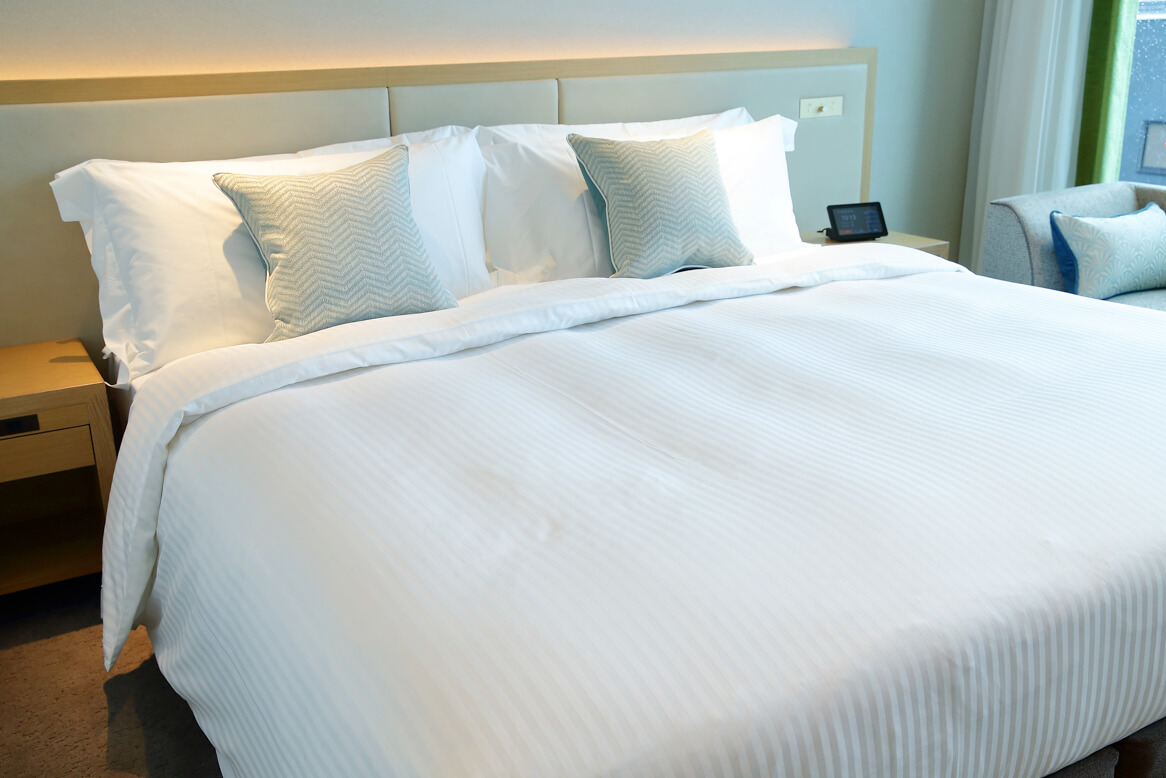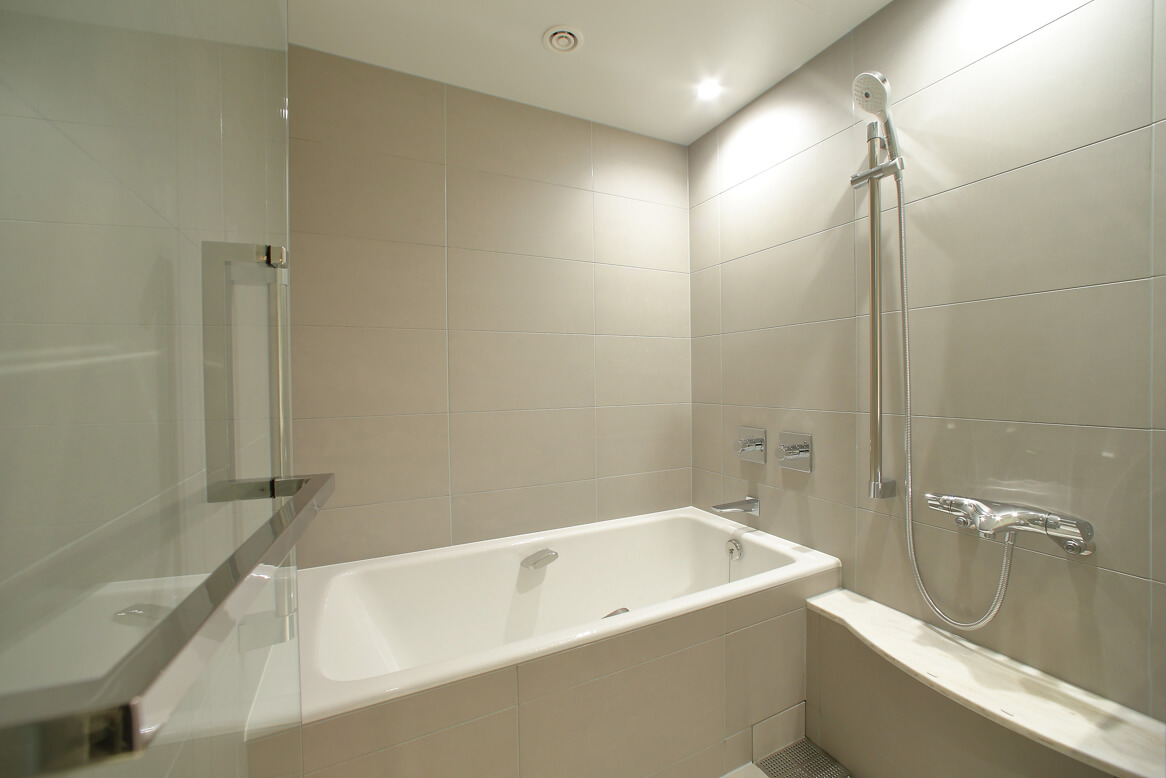 The Deluxe room is the perfect package if you're looking to indulge in a little extravagance, whether as a treat to yourself or together with that special someone. The room design is stylish and simple, allowing for optimal relaxation. The bed is roomy and is ideal for watching the television or chatting.
All guest rooms are also equipped with tablets from which you can control the air con, lights and so on. The TV can even tell you whether the restaurant is full or not which is a super convenient feature.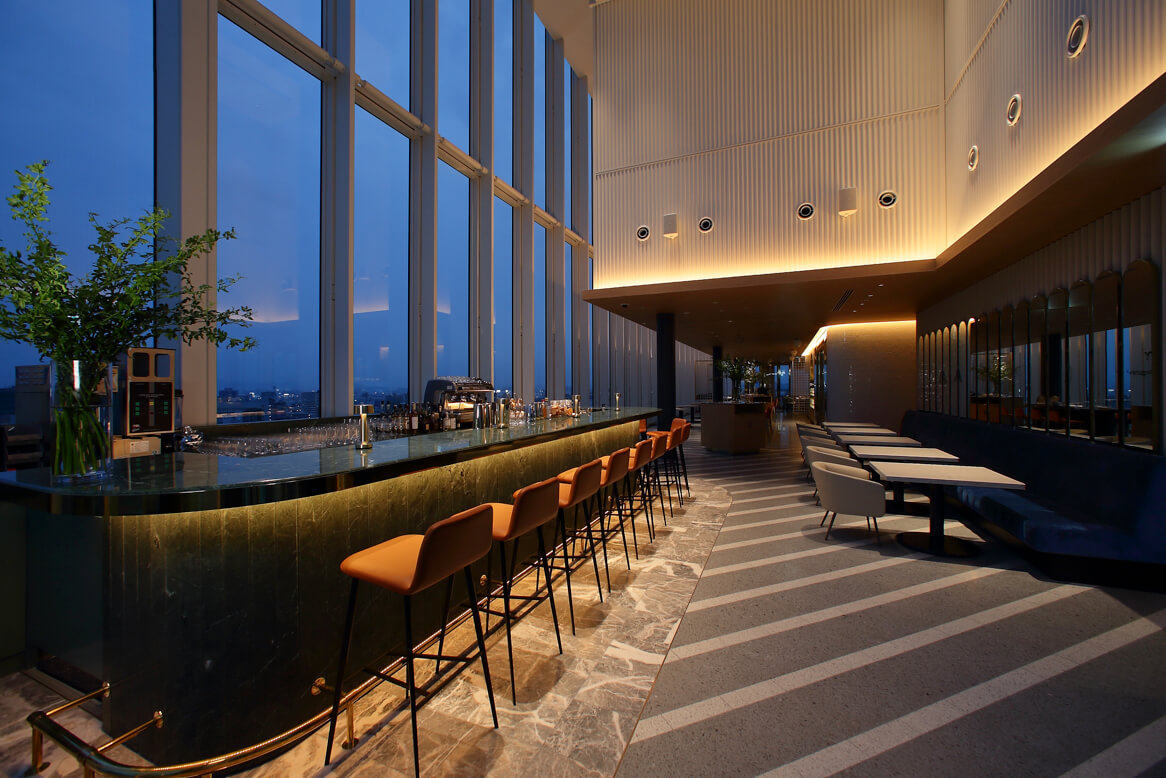 A restaurant and bar menu created by a Michelin-starred chef & dreamy terrace pool
On floor 13―the top floor―you will find Miyako Hotel Hakata's must-see feature: the SOMEWHERE RESTAURANT & BAR. This all-dining restaurant's concept is "A Beautiful Place Somewhere." Its dinner menu was conceived by Michihoro Haruta, the chef at Crony, a Michelin 1-starred restaurant in Nishi-Azabu, Tokyo. The innovative menu is made with local ingredients from Fukuoka and across Kyushu. The wine menu was created by Kazutaka Ozawa, a sommelier at Crony. The restaurant enjoys a laid-back atmosphere that isn't overly formal or strict, with a glass exterior including the roof, allowing diners to enjoy the romantic evening atmosphere.
Breakfast is served to both guests and non-guests and is served as a western-style buffet packed full of assorted foods such as freshly-baked bread, omelette, Eggs Benedict, and more. They serve an original Japanese-style breakfast too for those who fancy Japanese food. The tall windows allow natural light to pour into the restaurant.
Right next to the restaurant is the hotel's very own spa, offering a natural hot spring pool, jet bath, footbath and more. As part of the hotel's grand opening, the spa is free for all guest until March 31, 2020. The hotel offers rental swimsuits too so you can freely and easily enjoy a nighttime dip. And when night truly sets in, you can gaze an unbroken view of Hakata from the roof, and the 'waterfall' next to the pool will also be lit up.
There's even a special poolside menu so you can order cocktails and light food from the terrace. With everything illuminate in beautiful lighting, your cocktail in hand, you can certainly snap some Instagram-worthy shots. And if you're looking for a warm bath, there is a large public bath and even a sauna indoors.
RELATED ENTRIES
BT21 Amusement Park Event to Open in Tokyo, Osaka, and Fukuoka

NAMJATOWN, a theme park located in Ikebukuro, Tokyo, will be holding a special BT21 event from May 14 until June 12, 2022! The 'BT21 MerryLand ~Welcome to our Dreamy World!~' event celebrates the popular LINE FRIENDS characters, and guests can enjoy lots of games and treats!



The event recreates MerryLand, an amusement park in the BT21 member's dreams. Guests can participate in three unique mini-games inspired by amusement park attractions, along with a stamp rally and riddle-solving game! Original merchandise and menu items will also be available.

Original Mini-Games

BT21 MerryLand Spinning Ferris Wheel / BT21's  Whirling Teacups ♪ / The Full Stomach Yum-yum Wagon

Mini-Game Prizes

A Prize: Relaxing Cushion (7 varieties)

B Prize: Bandana (7 varieties)


C Prize: Mini Acrylic Stand (7 varieties, random)


D Prize: Character Pin (7 varieties, random)

*The design for A Prize and B Prize will differ depending on the mini-game.
(Guests can choose the design for each game.)
*For C Prize and D Prize, the design is the same for all mini-games.

Venue Exclusive Project! Rally Game

Rally Game Prizes

Participation Prize: Mascot Rubber Charm (7 varieties, random)
*Prizes are the same for each Rally Game.

Original Merchandise

Original Food & Drinks

Soft Drink with Acrylic Coaster / Fortune Latte (14 varieties) / Icing Cookie (7 varieties)


Those unable to attend the event can head to the Namco Parks Online Store to play some web-based mini-games offering the same prizes! Certain pieces of merchandise will also be available for purchase online.

Following Tokyo, the event will head to HEP FIVE in Osaka from July 2 until July 24 and Canal City Hakata in Fukuoka from August 5 until August 28.

©Bandai Namco Amusement Inc.

Information

BT21 MerryLand

Tokyo Event
Venue: NAMJATOWN
Address: Sunshine City World Import Part Building 2F/3F (3-1-3 Higashi-Ikebukuro, Toshima-ku, Tokyo)
Running: May 14 – June 12

Osaka Event
Venue: Hugood! from NAMJATOWN
Address: HEP FIVE 9F (5-15 Kakudacho, Kita-ku, Osaka)
Running: July 2 – July 24, 2022

Fukuoka Event
Venue: Namco Canal City Hakata
Address: Canal City Hakata South Building B1F (1-2-74 Sumiyoshi, Hakata-ku, Fukuoka)
Running: August 5 – August 28, 2022

Online Sales / Online Lottery Wheel

 https://parks2.bandainamco-am.co.jp/ 
Sales Period: May 16, 11:00 – June 13, 23:59

Official Site: https://event.bandainamco-am.co.jp/cx/bt21-merryland/ 

Yunohana Onsen Resort Reveals Contemporary Art-Inspired Guest Rooms

Sumiya Kihoan, a cozy inn at Yunohana Onsen in Kameoka City in Kyoto, opened a unique new guest room on April 28, 2022. The room's concept is "where guests can stay in the middle of contemporary art," and was inspired by the works of internationally-acclaimed contemporary artist Yukinori Yanagi. The new room, created as part of the Art Room Project, has been named 'Kofuu.'

The Icarus Corridor Connecting Heaven and Earth

Heavenly Bath Welcoming a Rainbow at Dusk

In-Ground Bath Featuring Oribe Glazed Ceramic

Concept Drawing of the Art Room Project by Yukinori Yanagi


The new room includes an open-air bath where guests can be transported into the world of Yanagi's contemporary art while gazing at the gorgeous Kyoto landscape. Upon entering the inn, guests are greeted by a long corridor leading to the bedrooms, dining room, and two creative open-air baths. The space was created in collaboration with Yanagi and local artists and craftsmen, such as potter Ishii Naoto, obi craftsman Yamaguchi Genbei X, plasterer Kusumi Akira, and Japanese paper craftsman Hatano Wakaru. A delicious menu is prepared by chef Hosoi Kunihiko.

teamLab Opens 8th Annual Art Exhibition at Mifuneyama Rakuen in Saga Prefecture

From July 15 until November 6, 2022, the 'teamLab: A Forest Where Gods Live' exhibition at Mifuneyama Rakuen, an ancient forest at the Takeo Hot Springs in Saga Prefecture. The massive event is held each summer and fall and was named CNN World's 'Best Outdoor Art Exhibition to Visit' in 2021 and one of the Top 10 Art Installations in the world by DesignboomMagazine in 2017.

Works on Display

Universe of Water Particles on a Sacred Rock, 2017

Drawing on the Water Surface Created by the Dance of Koi and Boats – Mifuneyama Rakuen Pond, 2015

Ever Blossoming Life Rock, 2017

 Life is Continuous Light – Azalea Valley, 2017

Rock Wall Spatial Calligraphy, Continuous Life – Five Hundred Arhats, 2017

Split Rock and Enso, 2017

Resonating Forest – Cherry Blossoms and Maple, 2017

Megaliths in the Bath House Ruins, 2019

Graffiti Nature – Living in the Ruins of a Bathhouse, Red List, 2017-

Resonating Forest in the Ravine, 2019

Abstract and Concrete – Forest Entrance, 2018

Flowers Bloom in an Infinite Universe inside a Teacup, 2016

Forest and Spiral of Resonating Lamps in the Forest – One Stroke, Summer Forest, 2018

Mifuneyama is said to have risen from the Ariake Sea 3 million years ago. The 500,000 square meter Mifuneyama Rakuen Park was created in 1845, at the end of the Edo period. The park is home to megaliths, caves, and forests that have been slowly shaped over thousands of years. teamLab believes that the shapes and textures of these objects are important, serving as traces of ancient people and natural changes over time.  The concept of the project is that non-material digital technology can turn nature into art without harming it.


The creative team will be holding a number of other high-profile exhibitions this year, including installations in Paris, Tallinn, Shanghai, and Geneva. Their sauna collaboration with TikTok for teamLab Reconnect in Roppongi made huge waves in 2021–guests would take alternating hot and cold baths to experience intense physical sensations while surrounded by digital art.

Kanahei's Small Animals Inspires Hotel Room at Hotel New Otani Tokyo

Hotel New Otani Tokyo will offer special collaboration rooms inspired by illustrator Kanahei's characters Piske & Usagi from May 1, 2022 to April 30, 2023.

Original Cushion / Acrylic Stand

The room is completely decorated with brand new illustrations of Piske and Usagi made exclusively for the collaboration. A total of five original amenities will be included with each room plan, including an original cushion and acrylic stand. Come surround yourself with complete cuteness!

Oakwood Hotel Oike Kyoto Reveals Room Plan with UNDERSON UNDERSON Washi Underwear

The lifestyle brand UNDERSON UNDERSON is all about making skin healthier by using washi paper. The unique brand has teamed up with Oakwood Hotel Oike Kyoto, known for its traditional washi decorations, for a special accommodation plan! Booking a room will get you a fancy new pair of underpants and some other popular items. The plan began on April 11, 2022, and will continue through the end of the year.

UNDERSON UNDERSON Underwear

UNDERSON UNDERSON Stretchy Washi Mask

john masters organics × UNDERSON UNDERSON Mask & Air Refreshener

The plan wants to allow visitors to enjoy their stay in Kyoto while experiencing traditional Japanese washi paper with both their eyes and their skin. The walls of the Oakwood Hotel Oike Kyoto feature artwork and furnishings with Japanese flare and have been upgraded to include HAMADAWASHI's Tosa washi paper. This material has been used in the restoration of cultural heritage sites such as Nijo Castle and Ginkaku-ji Temple. Tosa washi can also be found on the partitions at Cafe O and on the walls of the coworking space!


To celebrate the collaboration, UNDERSON UNDERSON will be giving away underwear and other items made of its iconic WASHIFABRIC.


While this may sound like a strange collab, how would you like to give this underwear a try?

Information

Oakwood Hotel Oike Kyoto
UNDERSON UNDERSON Underwear Collaboration Room Plan
Available: April 11 – December 31, 2022
Reservations / Official Site: https://oakwood.jp/kyoto-oike/

Tea-focused Starbucks Scheduled to Open at AMU Plaza Hakata City

Starbucks will open the first Starbucks Tea & Cafe location in Kyushu at AMU Plaza Hakata on April 27, 2022. This spin-off shop specializes in colorful, aromatic tea-based beverages, and has locations in Tokyo, Toyama, and Osaka. 

 

Starbucks Coffee AMU Plaza Hakata, the first Starbucks Tea & Cafe to open in the Kyushu area, is a new store on the second floor of Amu Plaza Hakata directly connected to JR Hakata Station.

Yuzu & Citrus Lavender Sage Tea / Japanese Chai Tea Latte / Strawberry & Passion Tea Frappucino®

Starbucks Tea & Cafe will offer a lineup of 13 types of tea-based beverages, including tea lattes and tea frappuccinos made with seasonal ingredients. The Japanese Chai Tea Latte is new this season and includes hojicha with spices like yuzu peel, ginger, Japanese pepper, and cinnamon. 

Come enjoy this cozy space and enjoy a warm cup of tea at this unique Starbucks where tea is the main attraction!

Information

Starbucks Coffee AMU Plaza Hakata 2F
Address: JR Hakata City 2F (1-1 Hakataekichuogai, Hakata-ku, Fukuoka)
Hours: 8:00-22:00

Opening April 27, 2022

Official Site: https://www.starbucks.co.jp/

W Osaka Reveals Special Menu Inspired by Fashion Duo AMIAYA

Luxury hotel W Osaka will be offering 'ICHIGO AFTERNOON TEA – Dressed up for Spring,' a special menu inspired by the fashion duo AMIAYA, from April 1 until May 31, 2022. The menu items will be available at the Living Room area on the hotel's third floor.

W Osaka Fashion Ambassador AMIAYA

ICHIGO AFTERNOON TEA – Dressed up for Spring

LIVING ROOM

The event will utilize some of the popular strawberry dishes currently popular at the hotel, but will also include some raspberries and orange sweets. Some dishes will be decorated with flower petals, inspired by the vivid fashion of W Osaka's fashion ambassador AMIAYA. The twins have attracted worldwide attention as models and DJs, and they celebrated their first anniversary on March 16. 

Savory options include a Quiche with Sakura Shrimp and Spring Cabbage and Caramelized Onion and Chevre Cheese plate. Guests can enjoy a total of 12 items prepared by the W Osaka chef team, all displayed on a beautiful afternoon tea stand. Each menu comes with a welcome drink and free refills for tea and coffee.

The Royal Park Hotel Iconic Kyoto to Offer Immersive Meditation Rooms

The pandemic has caused problems for people all over the world. Mental health has taken a beating over the last few years, and in order to help people take back control of their mental wellness, The Royal Park Hotel Iconic Kyoto will begin offering immersive meditation rooms for guests only! These rooms will allow guests to enjoy a soothing private space and will be available starting April 1, 2022.

Blank meditation 

tea mediation 

The Medicha meditation rooms consist of two spaces: 'blank,' where guests are surrounded by mist, and 'tea,' where guests will immerse themselves in beautiful water patterns. An original program shown on in-room televisions at the hotel will also instruct guests in the art of meditation. 

In 'Blank Meditation,' guests will stand in a cool mist and immerse themselves in layers of diverse sounds and shifting colors of light. This will help quiet the mind and create a 'blank slate' mentally. 

The 'Tea Meditation' room invites visitors to spend time with themselves while getting lost in shimmering water patterns in a dimly lit space as they carefully brew their own tea. Two types of tea are on offer, each with distinct aromas and flavors.


 

Hotel New Otani Tokyo to Hold Fourth Collaboration with Paul & Joe

From April 1 until June 30, 2022, Hotel New Otani Tokyo will hold its fourth collaboration with the Paris-born fashion brand Paul & Joe! One specially designed room will be available per day. The brand is extremely popular with women in their 20s and 30s, and those wanting to reserve a room will want to act quickly, as the previous collab room was booked up almost immediately!

The pink and ivory interior is dotted with chrysanthemums and images of Gipsy and Nounette, the iconic cats of brand designer Sophie. Everything from the couch cushions to the hairbrush is completely inspired by Paul & Joe.

Items Only Available in the Paul & Joe Room


4th Collaboration Cosmetics

Limited Edition Pajama and Slipper Set with Room Plan

The fourth cosmetic collection has been sourced from the Les Vacances series, a collection made to take on summer vacation. The lineup includes a body primer sunscreen made to moisturize and protect and an 'After Sun Oil' with a floral citrus scent perfect for use after outdoor lounging.

A special Les Vacances-themed spa bag will also be available for guests to take home. Enjoy taking it to the pool, to the spa, or simply while taking a stroll around the hotel. 

Guests can also take home a sample of the brand's Protecting Foundation Primer, a makeup base that has taken home a number of Best Cosmetics Awards. Selected skincare samples, such as lotions and oils, will also be included in the room package. 

One of the collaboration plans will also allow guests to take home an exclusive pair of pajamas and slippers decorated with an adorable cat design. 

*Guests cannot choose the pajama color or slipper pattern.
*The design of pajamas and slippers is subject to change without notice.

INN THE PARK Fukuoka Allows Guests to Spend the Night in a Public Park

INN THE PARK Fukuoka is the first place in Kyushu where you can spend the night overnight in a public park! No, you won't be sleeping on a bench or on the ground–this is way fancier. This is the second such location, with the first opening in Shizuoka in 2017. 

Spherical Tent

Glamping

Cabin

Suite

Restaurant

The new facility will be located in Uminonakamichi Seaside Park in Higashi-ku, Fukuoka City. The park is about 6km from east to west and includes a zoo, outdoor swimming pool, aquarium, outdoor theater, and more. Guests can overlook Hakata Bay while enjoying these many fun outdoor activities and delightful accommodations! 

How about staying here on your next trip to Japan?

The Ryokan Tokyo Yugawara Opens in Kanagawa Prefecture, Features Hot Spring Bath Cafe

The Ryokan Tokyo Yugawara, a traditional-style Japanese inn and hot spring located in Kanagawa Prefecture, will open on March 18, 2022. The hot springs in the area have a storied history, appearing in the oldest collection of Japanese poems from the year 759 AD and loved by great writers such as Natsume Souseki and Ryunosuke Akutagawa. There is also a cafe inviting visitors to enjoy delicious meals as they relax in the springs.

Onsen Dojo operates and plans hot spring facilities, including the 'Ofuro Cafe' brand, resort facilities, and more. The company also provides support for local business investments. 

St. Regis Hotel Osaka Offering Updated Strawberry Afternoon Tea Menu

The St. Regis Hotel Osaka's current strawberry-themed afternoon tea set has been updated as of March 7, 2022!

The Fifth Avenue Collection, a strawberry afternoon tea set inspired by the hottest trends in New York fashion, is now available at the St. Regis Bar. The St. Regis New York Hotel was founded in 1904, and is located on 5th Avenue, one of the most famous shopping streets in the world. This new afternoon tea set features a gorgeous three-tiered array of colorful savory and sweet dishes inspired by the many fashion items that line the shop windows of the NYC street.

The Spring Collection features brand new items, including six sweet items, four savory items, two scones, and three pass-around glass desserts. 

 

The legs extending from the Strawberry Heels glass dessert give a nod to the classiest scenery in New York, while the Strawberry & Mango Shortcake adds a vibrant touch of yellow, popular on the runway this season.





The desserts include lime and strawberry macaroons and plenty of chocolate for cocoa lovers. Those wanting something savory can enjoy meat-filled crepes and the spring vegetable and smoked salmon rolls. This bright and colorful set is sure to brighten up anyone's mood!


Information

Strawberry Afternoon Tea 'Fifth Avenue Spring Collection'

Available: March 7 until May
Location: The St. Regis Bar, 12F
Reservations/Official Site: https://www.stregisbar.stregisosaka.com/