New Bubble Tea Shop Opens in Ochanomizu to Heal Fatigue and Improve Skin
Sugar Factory is the mastermind behind four trendy brands in Japan including the colourful candy floss shop TOTTI CANDY FACTORY, which is famous for its giant Harajuku rainbow cotton candy, and candy coated strawberry shop Strawberry Fetish. On September 26, they will be opening a bubble tea shop in Ochanomizu called Wu-Cha which is committed to serving only the best quality.
Wu-Cha uses large tapioca pearls sourced from Taiwan. From start to finish, the process of making these fresh tapioca pearls involves four hours of careful procedures. They are boiled and steamed carefully according to a strict schedule to create a springy texture. As the pearls are soaked evenly in syrup, each pearl is packed with deliciousness that will explode in your mouth with every bite. 
Okinawa Brown Sugar Milk Tea: ¥470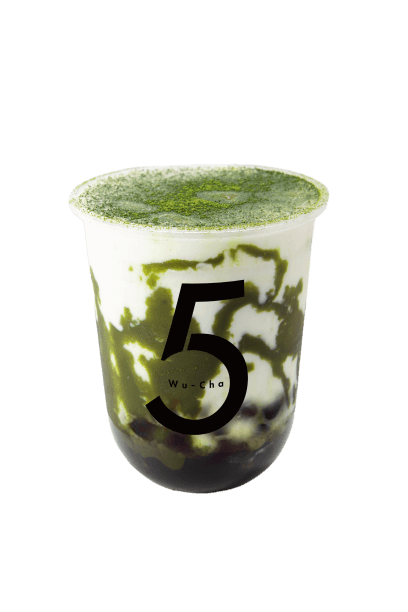 Matcha Milk Tea: ¥550
Extensive research went into creating recipes to use these tapioca pearls. Raw ingredients such as Okinawa brown sugar and Kyoto Uji matcha have been carefully sourced from their places of origin to maximize the flavours. A generous amount of all these special ingredients have been used to develop these delicious and authentic milk teas.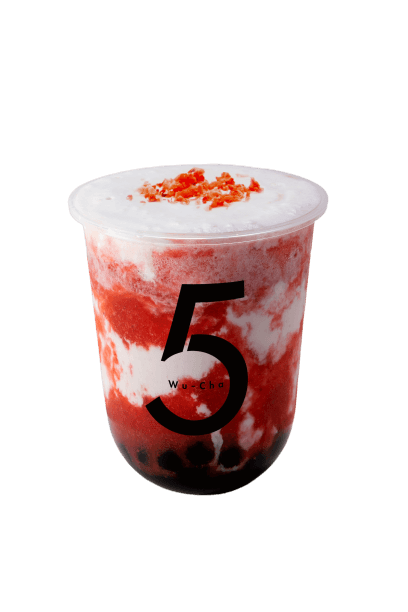 Strawberry Milk: ¥550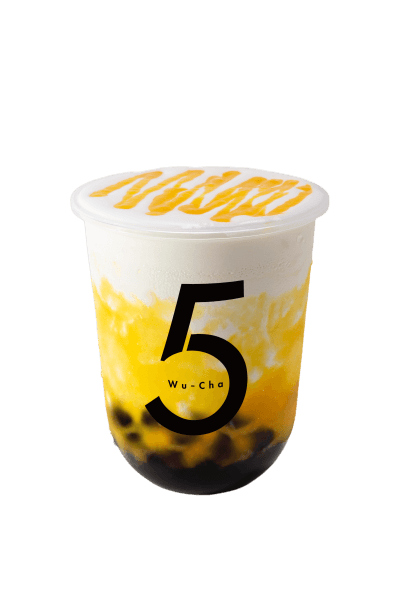 Mango Yoghurt: ¥ 550
The Strawberry Milk and Mango Yoghurt are made with fresh fruit pieces and look just as refreshing as they taste.  
Beautiful Skin Tea: ¥450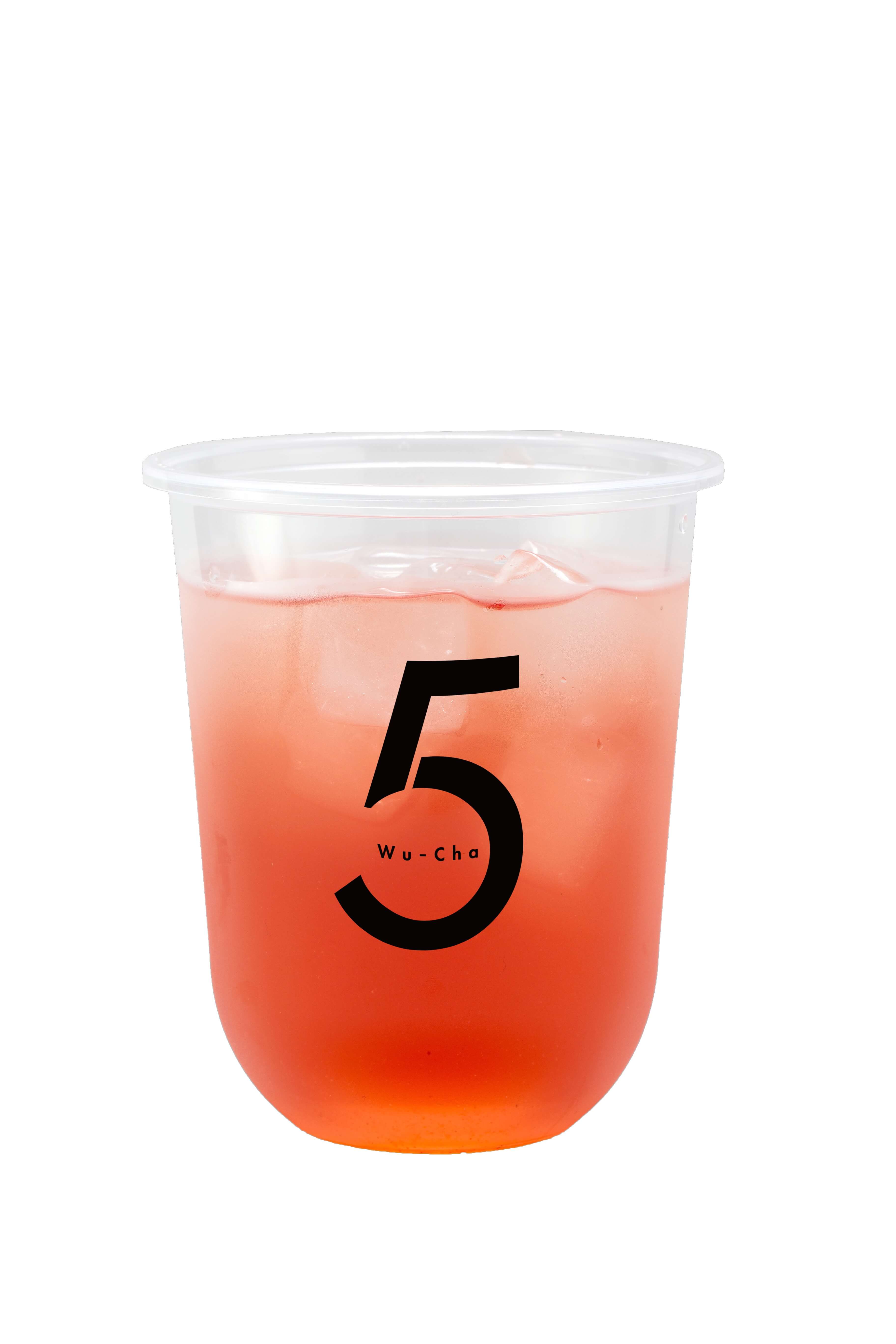 Fatigue Recovery Tea: ¥450
There is a large variety of drinks to enjoy with a range of healing effects. Alongside the bubble tea series and the fruity tea series, there is also a herb tea series. 
Whether you are tired, unwell or just in need of a quick sugar boost, this bubble tea shop is the fairy godmother to all your problems. Every drink is packed with love and you absolutely must try it. 
Information
Wu-Cha (伍茶)
Address: 3-20-4, Ogawa-machi, Kanda, Chiyoda, Tokyo
Opening Hours: 11:00-21:00
No regular holidays
RECOMMENDED ENTRIES
Starbucks Japan's Autumn Beverage Line-Up Includes Golden Sweet Potato Frappuccino & Macchiato

Starbucks Japan has unveiled the second batch of drinks in its ongoing Artful Autumn @ Starbucks® promotion: the "Sweet Potato Gold Frappuccino®" and the "Sweet Potato Gold Macchiato." Both will go on sale on September 10.

The concept for this year's Artful Autumn is "Be Colourful," and that shines true with this golden, autumnal coffee line-up.

The Sweet Potato Gold Frappuccino® contains a rich syrup made from cured sweet potato. It retains the rich, full-bodied aroma, sweetness and deep flavour of the Japanese sweet potato (satsumaimo). The drink's main characteristic is the crunchy texture left behind from the potatoes. Its golden appearance comes from the honey and sweet potato blend sauce. This sauce swirls around the beverage which can be seen through the cup, giving it that artistic flavour required to be considered for the Artful Autumn selection. The cold coffee beverage is drizzled in this same sauce, rich in flavour and fragrance.

Each cup of the Sweet Potato Gold Macchiato is made delicately in a mix of foamed milk, sweet potato honey, and a shot of freshly extracted espresso. The combination of the sweet and rich sweet potato and full-bodied espresso roast coupled with the caramel-y flavour is a coffee match made in heaven. The hot beverage is topped with more of that incredible sauce drizzled in the classic way of a macchiato.

Warm yourself up this season with the latest in the Artful Autumn collection.

Information

Sweet Potato Gold Frappuccino®

Price: Tall ¥580 (*Only Tall size available)

Sweet Potato Gold Macchiato

Price: Short ¥440 / Tall ¥480 / Grande ¥520 / Venti® ¥560

Running: September 20, 2019 – October 10, 2019

Available: At most Starbucks branches in Japan

*Listed prices do not include tax

Starbucks Japan Official Website: https://www.starbucks.co.jp/

Warm Up With a Cup Of Hot Tapioca at Mister Donut

The beautiful warmth of summer is slowly fading away, ready to let in the cool autumn weather and subsequent winter. What better way to warm yourself up than with a nice hot cosy drink? Mister Donut is lovingly pouring two new seasonal hot tapioca drinks this autumn from September 20, including the Hot Milk Tea and the Hot Matcha Milk.

Mister Donut's "Hot Tapioca" beverages first hit back in the spring where they tantalised the taste buds of customers, with each sip becoming more delicious and addictive after the next. The Hot Milk Tea is a mix of royal milk tea made with uva tea leaves and tapioca while the Hot Matcha Milk combines matcha-flavoured tapioca with milk.


It seems that even after these hot drinks have been released, Mister Donut's regular Tapioca Milk Tea and Tapioca Matcha Milk beverages are still enjoying big sales. It's always nice to have a choice to order what you like depending on your mood.

Tapioca Hot Milk Tea: ¥496 (Tax Included)

Indulge in this black tea filled with chewy tapioca and steeped in rich uva tea leaves to create a full-bodied royal milk tea.

Tapioca Hot Matcha Milk: ¥496 (Tax Included)

For something a little more Japanese-tasting, enjoy a cup of hot milk mixed with tapioca matcha.

These drinks will be sold until mid-February 2020, so if you're in need of warming up this autumn and winter in Japan, head to Mister Donut.

Information

Hot Tapioca Drinks: Hot Milk Tea/Hot Matcha Milk

Running: September 20, 2019 – Mid February 2020 (Release dates may differ from branch to branch)

Mister Donut Japan Official Website: https://www.misterdonut.jp

Check Out the Chocolate Matcha Frappé at McDonald's This Autumn

McDonald's is bringing back its irresistible Uji Matcha drinks series this autumn and adding a brand new drink: The Choco Matcha Frappé, which will be sold from September 25 for a limited period. This drinks series is only available at McDonalds Restaurants which serve the McCafé by Barista menu. 

The overwhelmingly popular Uji Matcha Series is currently being served for a limited period. From a Strawberry Matcha Frappé to Uji Matcha Chocolate and even Oreo® Cookie toppings, this series is the perfect way to indulge in a fusion of Japanese and western flavours. The Choco Matcha Frappé is the latest drink to join this series.

The base of the chocolate Matcha Frappé consists of chocolate whipped cream and a layer of high quality Belgian couverture chocolate sauce. The next layer is the frappé, which consists of matcha milk made from matcha sourced from Uji, Kyoto. This is topped with chocolate whipped cream and chocolate sauce and sprinkled with bitter cocoa Oreo® pieces. The faint green colour of the matcha is a wonderful contrast with the chocolate colour, creating the image of autumn.  

The mild flavour of the Uji matcha and chocolate is a matcha match made in heaven that you will want to taste again and again. The crunchy, bitter Oreo® cookie pieces create a texture adventure and enhances the flavours of the chocolate and matcha. This frappé is the perfect way of enjoying both the colours and flavours of autumn.  

The Matcha Frappé Latte, Matcha Latte and Iced Matcha Latte have been returning to the menu year after year since their first appearance in 2014. These drinks are also available this year. The entire drinks series is made using the slightly bitter Uji matcha sourced from Kyoto: the birthplace of matcha. The mellow flavour is perfectly balanced out by the milk. These matcha drinks are definitely worth trying. 

Information

Choco Matcha Frappé

Price (After Tax): Regular ¥490 /  Large ¥530

Selling: September 25 – Mid October 2019 (subject to change)

Matcha Frappé Latte

Price (After Tax): Regular ¥450 / Large ¥490

Selling: Until mid-October (subject to change)

Iced Matcha Latte

Price (After Tax): Regular ¥390 / Large ¥430

Selling: Until mid-October (subject to change)

Matcha Latte

Price (After Tax): Small ¥350 / Regular ¥390

Selling: Until mid October (subject to change)

Available only at McDonald's branches in Japan with a McCafé by Barista area.

* Please visit McDonald's official website to find out more information. 

* Only available during "McCafé by Barista" opening hours. Opening hours vary from branch to branch.
RELATED ENTRIES
Enjoy a Cup of High Quality Japanese Tea in the Morning at This New Cafe in Nagoya

Mirume Shinryoku Sabo is a new cafe and tea-lover paradise that opened in Nagoya on May 10, 2021, serving high quality bottled Japanese tea, desserts, and other delicious delights.

Daifuku : Eat-In ¥250 (Tax Included)

Ise Tea Sweet Bean Jelly: Eat-In ¥250 / Store ¥500 (Tax Included)

Ise Tea Cheesecake: Eat-In ¥350 / Store ¥3,300 (Tax Included)

Mirume Shinryoku Sabo is the newest cafe to be opened by Shinryoku Sabo, an award-winning tea company in Mie Prefecture. The cafe's tea experience includes using a kyuusu, which is a type of small teapot, to brew Isecha green tea. Customers can learn the best way to prepare tea from an in-house instructor of Japanese tea, who will also provide backstory on the tea leaves used. Their deliciously brewed cup can be paired with a variety of desserts like daifuku, maju, cheesecake, and more.

The cafe also sells the "Morning Bottle," its signature bottled cold-brew tea which is prepared on the day in the early morning. Bottles can be returned to the cafe to be reused, allowing for no waste. Since the tea is cold-brewed, it also contains little caffeine.

Information

Mirume Shinryoku Sabo
Address: 1-36-57 Nagono, Nishi Ward, Nagoya, Aichi 451-0042, Japan
Opening Hours: [8:00-10:00] Morning Bottle only / [11:00-22:00] Cafe & Store
Closed: Wednesdays

TEL: 052-551-3366

Official Site:https://www.shinryokusabo.co.jp/

Hatsune Miku Features in Pocari Sweat Promotion as Official Ambassador

Otsuka Pharmaceutical released a 30-second video titled "Netsunarero" on their official YouTube channel on May 6 announcing Hatsune Miku and members of Leo/need from the Project Sekai Colorful Stage ft. Hatsune Miku mobile game as the official ambassadors for the Japanese sports drink Pocari Sweat.

The importance of "Netsunare"

The video stresses the importance of netsunare – sweating in order to get used to the heat during summer. Leading the promoting of this message is Hatsune Miku who is followed by Leo/need, MEIKO, Mirai Akari, Fuji Aoi, and YuNi. The video features the original song Waiting for Clear Weather created by Orangestar for the Project Sekai Colorful Stage ft. Hatsune Miku mobile game. The popular track has been streamed over 1.9 million times as of April 2021.

The Character Line-Up

Since December 2019, Otsuka Pharmaceutical has appointed Hatsune Miku, MEIKO, Leo/need, MEIKO, Mirai Akari, Fuji Aoi, YuNi, and other familiar faces as official ambassadors for Pocari Sweat to spread information on how to overcome Japan's hot summer weather to the world. It is part of the beyond2020 project which Otsuka describes: "With an eye to 2020 and beyond, this cultural program will contribute to the creation of a legacy befitting a maturing society that will make the next generation proud, through Japan's strength which consists of its local and diverse culture."

Leo/need from Project Sekai Colorful Stage ft. Hatsune Miku

Project Sekai Colorful Stage ft. Hatsune Miku is a mobile game for iOS/Android. The members of Leo/need include guitarist and vocalist Ichika Hoshino, keyboardist Saki Tenma, drummer Honami Mochizuki, and bassist Shino Hinomori. They will release their first single on June 9, 2021.

Twitter Campaign

Otsuka Pharmaceutical is also holding a Twitter campaign in Japan as part of the promotion where 200 random people can win a box of seven 500ml Pocari Sweat bottles for cooling down in the summer heat.

How to Sign Up

Step 1: Follow Pocari Sweat on Twitter @pocarisweat_jp

Step 2: Retweet or quote any of Pocari Sweat's posts featuring the hashtag #ネツナレろ ("Netsunarero")

Running: May 6, 2021 – May 19, 2021 (Japan Only)

Campaign Site: https://pocarisweat.jp/action/pocarimiku/netsunarero/

© SEGA / © CP / © CPM / © Mirai Akari Project / © YuNi / © Fuji Aoi

Godzilla Energy Drink Releases in Japan to Promote Godzilla vs. Kong

In promotion of the Godzilla vs. Kong movie, Japanese soft drink manufacturing company Cheerio Corporation released a new energy drink called GODZILLA ENERGY on April 30.

The Godzilla franchise began in 1954 with the first movie release. Since then, it has gone on to receive 29 films, three animations, and three Hollywood adaptations. An anime series began airing last month, and Godzilla vs. Kong was released worldwide on March 31 (but is releasing in Japan on May 14).

GODZILLA ENERGY is imbued with the full force of Godzilla's energy so you too can stomp relentlessly on your way to victory. The 500ml can has today's standard 210mg caffeine and 630mg arginine今.

The can's design features a monstrous image of Godzilla with a neon logo and the drink itself is the same vibrant colour.

TM & © TOHO CO., LTD.

Information

GODZILLA ENERGY

Released: April 30, 2021

Where: Japan (Cheerio Online Shop / Cheerio Vending Machines in Japan / Stores in Japan)

Godzilla Official Website: https://godzilla.jp

Non-Alcoholic Cocktails Made With Vinegar Get Served at Tokyo's Royal Park Hotel

Royal Park Hotel is collaborating with the Japanese condiment brand Mizkan, which is known for its vinegars, mustards, salad dressings and more, to serve non-alcoholic cocktails made with vinegar. The Non Alco-Vinegar Cocktail Fair will be held from May 1 to June 30.

Royal Park Hotel x Mizkan

Tropical Princess/FLORAL BEAUTY Vinegar Cashew/Frozen Fruity Su/Blueberry Black Vinegar Soy Milk Shake/Vinegar Fruit Yogurt/Ponzu & Tomato Ginger

The non-alcoholic vinegar cocktails were created for both drinkers and non-drinkers of alcohol as a way to enjoy the food scene more. The alcoholic drinks used in cocktails gives them a kick, and so does vinegar when used in food. These beverages combine vinegar with a range of fruits, teas, carbonated water, and other ingredients.

The line-up was conceived by the Vinegar Club who have also posted recipes for various cocktails on their website – links below.

McDonald's Japan Releases Peach Smoothie and Frappe Made From Three Kinds of Peaches

McDonald's Japan is releasing two new beverages at McCafé by Barista® on April 28 each made with three varieties of peach: the Gorotto Peach Smoothie and Fuwa Fuwa Peach Creamy Frappe.

Gorotto Peach Smoothie: Regular ¥440 / Large ¥480

Fuwa Fuwa Peach Creamy Frappe: Regular ¥490 / Large ¥530

McDonald's Japan's original Peach Smoothie and Peach Frappe beverages first appeared in 2015 and have been slurped up by customers every year since. This year, they return even juicier and more delicious than ever before by being made with three kinds of peach juice: yellow peach, white peach, and for the first time, nectarine.

The Gorotto Peach Smoothie cup is topped with a sauce made from fresh white peach pieces that give an exquisite sweet kick to the richly sweet yellow peach. The nectarine adds a sweet and sour layer to the mix for the ultimate peach combination. The Fuwa Fuwa Peach Creamy Frappe has all of this plus a topping of fluffy whipped cream. And for an extra ¥60, customers can double the amount of sauce they can have on either of these drinks.

While these limited-time drinks are on offer, customers can pick up a stamp card. For every peach frappe or smoothie ordered, they'll get a stamp. Collect all four and get yourself a free regular-sized mango smoothie, green smoothie, chocolate frappe, or espresso frappe. The card is valid from April 28, 2021 to September 30, 2021.

Information

Gorotto Peach Smoothie / Fuwa Fuwa Peach Creamy Frappe

Release Date: April 28, 2021

Where: McCafé by Barista branches of McDonald's in Japan

McDonald's Japan Official Website: https://www.mcdonalds.co.jp/

Matcha and Latte Cookies and Drinks Released by Yojiya

Kyoto makeup brand Yojiya is now selling its own collection of snacks and drinks which it released via its website last week.

Yojiya Matcha Sandwich Cookies | ¥1,400 (Tax Included)

Yojiya Cafe Latte Chocolate Cookies | ¥1,350 (Tax Included)

Yojiya Matcha Milk | ¥950 (Tax Included)

Yojiya's snack line-up is made with the idea of being able to enjoy high-quality food products at home. Their collection includes crunchy matcha and cafe latte cookies along with matcha milk, the latter of which is made with famous Uji matcha from Uji, Kyoto. Perfect for a tea/coffee break or as a souvenir.


Snoopy Cherry Blossom Marshmallow Latte and Lemonade Serve Up at PEANUTS Cafe Nakameguro This Spring

PEANUTS Cafe Nakameguro is now serving up two new cherry blossom beverages for the spring season: the Sakura Lemonade and Sakura Charred Marshmallow Latte, both of which are now available to order until April 11.

Sakura Charred Marshmallow Latte ¥700 (Before Tax) / Sakura Lemonade ¥650 (Before Tax)

PEANUTS Cafe Nakameguro serves limited-time drinks every cherry blossom season in Japan, and this year is no different. Both beverages capture the cute pink tones of the country's national flower which invite feelings of springtime walks and Hanami flower viewing.

(C) 2021 Peanuts Worldwide LLC

Information

PEANUTS Cafe Nakameguro Spring 2021 Drinks

Serving: March 20, 2021 – April 11, 2021

Address: PEANUTS Cafe Nakameguro, 2-16-8 Aobadai, Meguro-ku, Tokyo

TEL: 03-6452-5882

Official Website: http://www.peanutscafe.jp/

SOUR & HIGUMA Doughnuts Pop-Up Shop to Open at THE LIVELY Fukuoka Hakata

Lifestyle hotel THE LIVELY Fukuoka Hakata is opening a two-day pop-up shop in collaboration with the sour mixed drinks shop SOUR and the Tokyo-based doughnut shop HIGUMA Doughnuts on March 26 and 27.

 

The pop-up will serve up a special springtime selection of menu items from both brands, with SOUR bringing their refreshing drinks made with fresh fruits and HIGUMA Doughnuts with their high quality ingredients from Hokkaido.

 

The Menu

HIGUMA Doughnuts

Plain Doughnut: ¥250

Sugar/Cinnamon Sugar/Salted Black Soy Bean Soy Flour Doughnuts: ¥300

Special Honey Mascarpone Doughnut: ¥350

Hokkaido Vanilla Ice Cream/Strawberry Mascarpone Doughnuts: ¥600

Double: ¥800

 

SOUR

Salted Cherry Blossom Lemon Sour: ¥500

Edible Spring Flowers & Herbs Sour: ¥800

Super Strawberry Sour: ¥1,000

Information

SOUR x HIGUMA Doughnuts Pop-Up Shop

When: March 26, 2021 – March 27, 2021 @ 19:00-22:30

Where: THE LIVELY BAR at THE LIVELY Fukuoka Hakata

Address: 5-2-18 Nakasu, Hakata-ku, Fukuoka-shi, Fukuoka

THE LIVELY Official Website: https://en.the-lively.com/fukuoka

Asahi Soft Drinks has revealed a new flavour of Monster Energy, "Super Cola," which will go on exclusive sale in Japan on March 30.

Monster Energy Super Cola Tin Bottle (500ml)

The beverage is a unique cola blend that offers the perfect combination of refreshment and boost of energy. The tin bottle features the classic Monster design coloured red as reminiscent of cola.

Information

Monster Energy Super Cola Tin Bottle (500ml)

Release Date: March 30, 2021

Where: Japan

Official Website: https://www.asahiinryo.co.jp/

Starbucks Japan Reveals Banana Almond Milk Frappuccino®︎ For Spring 2021

Dear readers, the time has finally come once again—the Spring season at Starbucks Japan officially begins on March 17, which means we can expect plenty of tasty-looking beverages to drool over. This begins with two coffee delights: the light and uplifting Banana Almond Milk Frappuccino®︎ and the subtly sweet Honey Oat Milk Latte, both of which will hit Starbucks branches across Japan this Wednesday.


Banana Almond Milk Frappuccino®︎ | ¥620 (Tall Size Only)

The Banana Almond Milk Frappuccino is exactly what it says on the cup. A bright, uplifting combination of naturally-sweet banana and the nutty flavour of almond milk. The drink is topped with Starbucks' first-ever almond milk whipped cream and finished with a topping of banana chips fried in coconut oil for texture.




Honey Oat Milk Latte | Short ¥430, Tall ¥470,  Grande ¥510,  Ventii®︎ ¥550

The Oat Milk Latte made a delicious appearance at Starbucks Japan last year for a limited time where coffee-loving customers could customise their beverage. This year, it arrives in a new flavour: added to the shot of espresso and oat milk is an irresistible squeeze of honey flavoured-sauce which has a slight fruity flavour to it.

 

This is just the start of the Spring season at Starbucks in Japan, there are sure to be even more drinks to come so stay tuned.

Information

Banana Almond Milk Frappuccino®︎ / Honey Oat Milk Latte

Running: March 17, 2021 – April 13, 2021

Where: Starbucks Japan (Select branches not participating)

Official Website: https://www.starbucks.co.jp/

Japan's Moomin Stand Takeout Drinks Chain Releases New Beverages For Spring 2021

The Japanese Moomin-themed drinks chain Moomin Stand released two new seasonal drinks on Friday (March 12) for the spring season as part of its "Spring Arrives in Moominvalley" event. The two drinks feature a cute cup with a Moomin looking out the window as well as a straw with Moomin, Snufkin, and Little My walking together.

Moomin House Blue Raspberry Smoothie | Regular Size ¥630, Large Size ¥750 (Before Tax)

A refreshing blue raspberry smoothie made with yogurt and mixed berries. The cup comes with a cute Moominhouse lid.

Moominvalley Spring Soda | Regular Size ¥550, Large Size ¥670 (Before Tax)

Spring has arrived in Moominvalley, so the locals are out for a stroll together as featured on the straw design. This drink is made with springtime pineapple and nata de coco.

McDonald's Japan Releases Coffee Jelly Pudding Frappe

McDonald's Japan continues its flurry of delicious releases to its diverse menu with the addition of the new Coffee Jelly Pudding Frappe which hit McCafé by Barista® branches of McDonald's on Wednesday (March 10).

The sweet beverage takes rich-tasting Japanese custard pudding, known as purin, and turns it into a drink. It's topped with fluffy whipped cream and dunked with chewy pieces of coffee-flavoured jelly which sit temptingly at the bottom of the cup waiting to be enjoyed. Together with a drizzle of caramel sauce, the drink is a perfect balance of sweet and full-body. A must-grab for the arrival of the warm spring weather.