New Bubble Tea Shop Opens in Ochanomizu to Heal Fatigue and Improve Skin
Sugar Factory is the mastermind behind four trendy brands in Japan including the colourful candy floss shop TOTTI CANDY FACTORY, which is famous for its giant Harajuku rainbow cotton candy, and candy coated strawberry shop Strawberry Fetish. On September 26, they will be opening a bubble tea shop in Ochanomizu called Wu-Cha which is committed to serving only the best quality.
Wu-Cha uses large tapioca pearls sourced from Taiwan. From start to finish, the process of making these fresh tapioca pearls involves four hours of careful procedures. They are boiled and steamed carefully according to a strict schedule to create a springy texture. As the pearls are soaked evenly in syrup, each pearl is packed with deliciousness that will explode in your mouth with every bite. 
Okinawa Brown Sugar Milk Tea: ¥470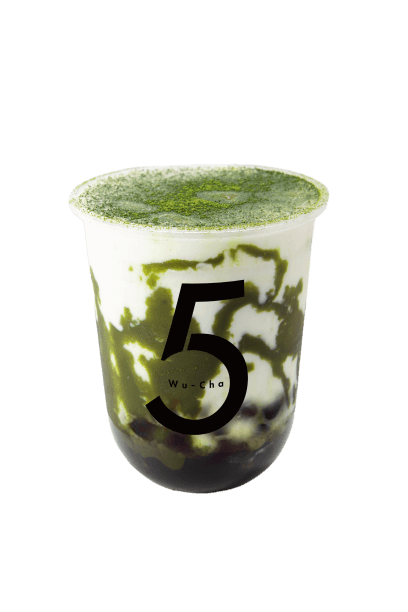 Matcha Milk Tea: ¥550
Extensive research went into creating recipes to use these tapioca pearls. Raw ingredients such as Okinawa brown sugar and Kyoto Uji matcha have been carefully sourced from their places of origin to maximize the flavours. A generous amount of all these special ingredients have been used to develop these delicious and authentic milk teas.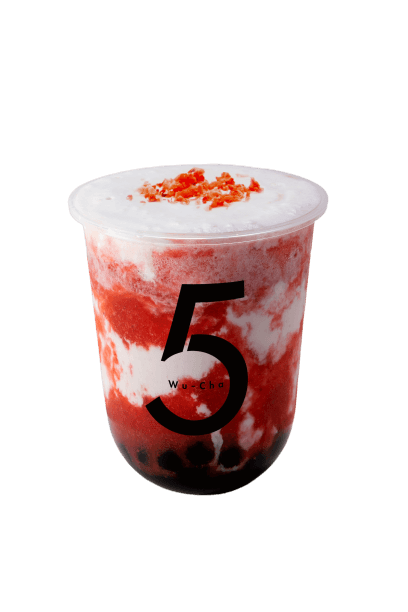 Strawberry Milk: ¥550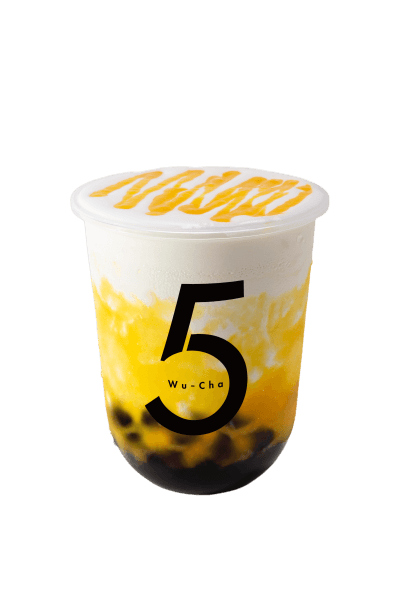 Mango Yoghurt: ¥ 550
The Strawberry Milk and Mango Yoghurt are made with fresh fruit pieces and look just as refreshing as they taste.  
Beautiful Skin Tea: ¥450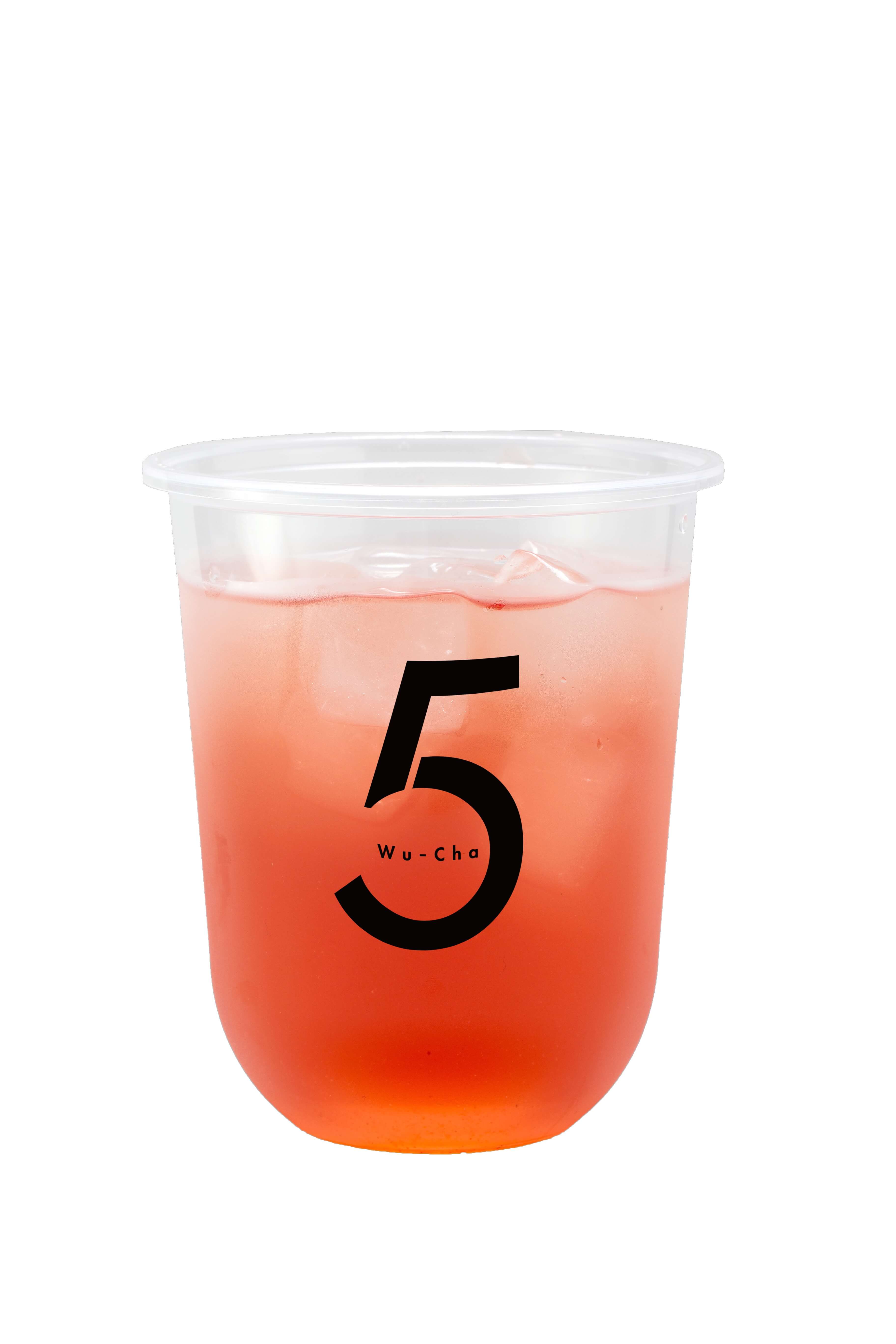 Fatigue Recovery Tea: ¥450
There is a large variety of drinks to enjoy with a range of healing effects. Alongside the bubble tea series and the fruity tea series, there is also a herb tea series. 
Whether you are tired, unwell or just in need of a quick sugar boost, this bubble tea shop is the fairy godmother to all your problems. Every drink is packed with love and you absolutely must try it. 
Information
Wu-Cha (伍茶)
Address: 3-20-4, Ogawa-machi, Kanda, Chiyoda, Tokyo
Opening Hours: 11:00-21:00
No regular holidays
RECOMMENDED ENTRIES
Starbucks Japan's Autumn Beverage Line-Up Includes Golden Sweet Potato Frappuccino & Macchiato

Starbucks Japan has unveiled the second batch of drinks in its ongoing Artful Autumn @ Starbucks® promotion: the "Sweet Potato Gold Frappuccino®" and the "Sweet Potato Gold Macchiato." Both will go on sale on September 10.

The concept for this year's Artful Autumn is "Be Colourful," and that shines true with this golden, autumnal coffee line-up.

The Sweet Potato Gold Frappuccino® contains a rich syrup made from cured sweet potato. It retains the rich, full-bodied aroma, sweetness and deep flavour of the Japanese sweet potato (satsumaimo). The drink's main characteristic is the crunchy texture left behind from the potatoes. Its golden appearance comes from the honey and sweet potato blend sauce. This sauce swirls around the beverage which can be seen through the cup, giving it that artistic flavour required to be considered for the Artful Autumn selection. The cold coffee beverage is drizzled in this same sauce, rich in flavour and fragrance.

Each cup of the Sweet Potato Gold Macchiato is made delicately in a mix of foamed milk, sweet potato honey, and a shot of freshly extracted espresso. The combination of the sweet and rich sweet potato and full-bodied espresso roast coupled with the caramel-y flavour is a coffee match made in heaven. The hot beverage is topped with more of that incredible sauce drizzled in the classic way of a macchiato.

Warm yourself up this season with the latest in the Artful Autumn collection.

Information

Sweet Potato Gold Frappuccino®

Price: Tall ¥580 (*Only Tall size available)

Sweet Potato Gold Macchiato

Price: Short ¥440 / Tall ¥480 / Grande ¥520 / Venti® ¥560

Running: September 20, 2019 – October 10, 2019

Available: At most Starbucks branches in Japan

*Listed prices do not include tax

Starbucks Japan Official Website: https://www.starbucks.co.jp/

Warm Up With a Cup Of Hot Tapioca at Mister Donut

The beautiful warmth of summer is slowly fading away, ready to let in the cool autumn weather and subsequent winter. What better way to warm yourself up than with a nice hot cosy drink? Mister Donut is lovingly pouring two new seasonal hot tapioca drinks this autumn from September 20, including the Hot Milk Tea and the Hot Matcha Milk.

Mister Donut's "Hot Tapioca" beverages first hit back in the spring where they tantalised the taste buds of customers, with each sip becoming more delicious and addictive after the next. The Hot Milk Tea is a mix of royal milk tea made with uva tea leaves and tapioca while the Hot Matcha Milk combines matcha-flavoured tapioca with milk.


It seems that even after these hot drinks have been released, Mister Donut's regular Tapioca Milk Tea and Tapioca Matcha Milk beverages are still enjoying big sales. It's always nice to have a choice to order what you like depending on your mood.

Tapioca Hot Milk Tea: ¥496 (Tax Included)

Indulge in this black tea filled with chewy tapioca and steeped in rich uva tea leaves to create a full-bodied royal milk tea.

Tapioca Hot Matcha Milk: ¥496 (Tax Included)

For something a little more Japanese-tasting, enjoy a cup of hot milk mixed with tapioca matcha.

These drinks will be sold until mid-February 2020, so if you're in need of warming up this autumn and winter in Japan, head to Mister Donut.

Information

Hot Tapioca Drinks: Hot Milk Tea/Hot Matcha Milk

Running: September 20, 2019 – Mid February 2020 (Release dates may differ from branch to branch)

Mister Donut Japan Official Website: https://www.misterdonut.jp

Check Out the Chocolate Matcha Frappé at McDonald's This Autumn

McDonald's is bringing back its irresistible Uji Matcha drinks series this autumn and adding a brand new drink: The Choco Matcha Frappé, which will be sold from September 25 for a limited period. This drinks series is only available at McDonalds Restaurants which serve the McCafé by Barista menu. 

The overwhelmingly popular Uji Matcha Series is currently being served for a limited period. From a Strawberry Matcha Frappé to Uji Matcha Chocolate and even Oreo® Cookie toppings, this series is the perfect way to indulge in a fusion of Japanese and western flavours. The Choco Matcha Frappé is the latest drink to join this series.

The base of the chocolate Matcha Frappé consists of chocolate whipped cream and a layer of high quality Belgian couverture chocolate sauce. The next layer is the frappé, which consists of matcha milk made from matcha sourced from Uji, Kyoto. This is topped with chocolate whipped cream and chocolate sauce and sprinkled with bitter cocoa Oreo® pieces. The faint green colour of the matcha is a wonderful contrast with the chocolate colour, creating the image of autumn.  

The mild flavour of the Uji matcha and chocolate is a matcha match made in heaven that you will want to taste again and again. The crunchy, bitter Oreo® cookie pieces create a texture adventure and enhances the flavours of the chocolate and matcha. This frappé is the perfect way of enjoying both the colours and flavours of autumn.  

The Matcha Frappé Latte, Matcha Latte and Iced Matcha Latte have been returning to the menu year after year since their first appearance in 2014. These drinks are also available this year. The entire drinks series is made using the slightly bitter Uji matcha sourced from Kyoto: the birthplace of matcha. The mellow flavour is perfectly balanced out by the milk. These matcha drinks are definitely worth trying. 

Information

Choco Matcha Frappé

Price (After Tax): Regular ¥490 /  Large ¥530

Selling: September 25 – Mid October 2019 (subject to change)

Matcha Frappé Latte

Price (After Tax): Regular ¥450 / Large ¥490

Selling: Until mid-October (subject to change)

Iced Matcha Latte

Price (After Tax): Regular ¥390 / Large ¥430

Selling: Until mid-October (subject to change)

Matcha Latte

Price (After Tax): Small ¥350 / Regular ¥390

Selling: Until mid October (subject to change)

Available only at McDonald's branches in Japan with a McCafé by Barista area.

* Please visit McDonald's official website to find out more information. 

* Only available during "McCafé by Barista" opening hours. Opening hours vary from branch to branch.
RELATED ENTRIES
McDonald's 'McCafe by Barista' to Offer Uji Matcha Sweets for Spring

McDonald's Japan locations with 'McCafe by Barista' areas will begin selling special spring treats for a limited time starting April 6, 2022. Customers will be able to grab the 'Strawberry Uji Matcha Frappe' and the 'Uji Matcha Mont Blanc Tart.'

McCafe by Barista invites guests to enjoy high-quality frappes and smoothies. The Uji Matcha Frappe was added to the regular product lineup in June 2021, and features a mellow matcha flavor. The Strawberry variant is coming back for the first time in three years. The Mont Blanc Tart is a new addition, and is a perfect treat to enjoy with this popular frappe! 

Strawberry Uji Matcha Frappe: ¥490

The Strawberry Matcha Frappe mixes together the full-bodied flavor of matcha together with sweet and sour strawberries. It includes both a strawberry paste made from whole strawberries and a strawberry whipped cream at the bottom. The drink is topped with more strawberry whipped cream and a sprinkling of matcha powder. The refreshing taste of the strawberry sauce coupled with the whipped cream serves to elevate the great flavor of the Uji Matcha even more.

Uji Matcha Mont Blanc Tart: ¥390


The Uji Matcha Mont Blanc Tart is made with Uji Matcha batter, Uji Matcha whipped cream, white bean paste, and green tea cream. The refined sweetness is complemented by the mellow aroma and slight bitterness of Uji Matcha.

How would you like to enjoy these treats beneath the cherry trees?

Information

Strawberry Uji Matcha Frappe

Uji Matcha Mont Blanc Tart

Available: April 6 – Mid-May, 2022

Available at Participating McDonald's Japan Locations with 'McCafe by Barista'

Official Site: https://www.mcdonalds.co.jp/

Pastel Easter Sweets and Bakery Items Coming to Grant Hyatt Tokyo

The luxury hotel Grand Hyatt Tokyo will offer Easter sweets and baked goods at the on-site Fiorentina Pastry Boutique from April 1 until Easter, April 17, to celebrate the arrival of spring.

Easter Egg Macaroon

Easter Cookies with Icing

Easter Lollipop

Easter Bunny Brioche

This year, in addition to the new Easter Bunny and Easter egg macaroons, cookies with icing, lollipop chocolates, brioche in the shape of the Easter Bunny, and other sweets and bakery items will be available. Don't miss it!

Chocolate Specialty Shop Minimal Offering Rare Strawberry and Chocolate Treats

Japan-based chocolate specialty store Minimal is now offering a limited-edition set of gateau chocolates with fresh strawberries from Mei Strawberries in Kagawa Prefecture. These are available for preorder and are perfect for Valentine's Day!

These sweets were a huge hit last year, selling out immediately. The rare variety of strawberries used is only found in 1 percent of Japanese strawberry farms, and these are blended with milk cream and specialty chocolate. 




The strawberry jam found on the top of each chocolate piece is made from these rare Nyohou strawberries.  Originally a small-grained variety, the Nyohou varietals send from Mei Strawberries in Kagawa Prefecture are larger with a beautiful dark-red color. Fragrant, juicy, and sweet, they also have a slight acidity that provide a more complex flavor.


 

To maximize the natural strawberry flavor, the chocolate is made from Madagascar cocoa beans with a more berry-like flavor. Only slightly roasted, the graininess is intact, leaving a more powerful and rich flavor. A milky sweet cream has also been added to the center to provide a better balance.

This is the second year that the company has worked with these strawberries from Mei, and after making a number of prototypes, Minimal has found the best possible way to express these unique flavors in harmony. 


Information

Fresh Gateau Chocolate & Strawberries featuring Mei Strawberries

Price: ¥3,510 (Tax Included)
Release Date:   

Online Store/LINE Preorders: December 24, 2021~

Yoyogi Ueno Store: January 15, 2022

Sales Period: Until the End of February 2022
LINE: https://page.line.me/yrn4346m?openQrModal=true

Official Site: http://mini-mal.tokyo

Tottori Prefecture's White Rabbit of Inaba Wins Top Prize in Japan's Indie Souvenir Contest

From July 29 to August 11, over 320,000 people from around Japan voted for their favorite lesser-known local souvenir. Sponsored by Japanese e-commerce site Mercari, the contest highlighted 47 unique goods from around the country, one for each prefecture. The winners have been announced, and the White Rabbit of Inaba from Tottori Prefecture has won first place, receiving more than 60,000 votes.

A music video-style web commercial featuring the winning product is now being produced to support the shop and particular region of Tottori. The music will be performed by electro-pop group Frasco.

In Japan, the rabbit is known for bringing good fortune, and has been a beloved symbol since ancient times.  The white rabbit in particular, featured in the local Izumo myth 'The White Rabbit of Inaba,' plays a major role in connecting the characters Onamuchi-no-kami and Princess Yakami. In 1968, the famous confectionery 'White Rabbit of Inaba' was created in the hopes of bringing good luck to those visiting the area.

Much like how an indie music group has a small group of hardcore fans but may not be well-known outside of small circles, these indie souvenirs are popular with locals, but may not be known to those outside the community. On the official website, fans can see their favorite treats displayed on what looks like album covers as an homage to this fitting comparison.

On social media, there was incredible support for the project from all kinds of people: those who made the souvenirs in the first place, those who love their local area, and those who were seeing these treats for the first time and dying to try them.

Which of the 47 souvenirs would you be most happy to receive?

Long-Standing Kyoto Tea Wholesaler Yamamasa Koyamaen Opens Cafe in Tokyo

TZEN, a company dedicated to promoting traditional Japanese culture around the world, has teamed up with Yamamasa Koyamaen, a tea wholesaler in business since the Edo period, to open a new matcha cafe in Tokyo!

ATELIER MATCHA, a quick walk from Ningyocho station, is harnessing the concept of 'the third wave of matcha,' serving up premium matcha in a cozy atmosphere. 

MATCHA Cookies & Cream Shake: ¥748 (Tax Included) 

MATCHA with Warabimochi and Red Bean Topping: ¥748 (Tax Included)

MATCHA Jelly Cider: ¥660 (Tax Included)

MATCHA Granola and Yogurt Latte: ¥715 (Tax Included)

MATCHA Cotton Candy Milkshake: ¥748 (Tax Included)

MATCHA Affogato: ¥660 (Tax Included)

MATCHA Shot (Espresso Style): ¥220 (Tax Included) / MATCHA Water: ¥275 (Tax Included) / MATCHA Green Tea: ¥330 (Tax Included)

Supreme MATCHA Terrine: ¥660 (Tax Included)

(This is a partial menu, all prices are for those dining in.)

Matcha is becoming popular around the world. ATELIER MATCHA was created to offer customers a unique experience which showcases the true taste and culture of this beloved tea grown in Japan. 

Yamamasa Koyamaen is a Kyoto institution, cultivating and grinding matcha tea leaves for 160 years. Over 1,000 tea retailers, department stores, domestic and international trading companies and hotels stock their high-grade matcha, gyokuro, sencha, and other specialty teas, making them one of the most recognized and respected names in this traditional Japanese art. The company even prefers to call themselves a 'studio' rather than a 'factory', using the 800-year history of tea cultivation in Uji, Kyoto as a starting point to create their masterpieces. 

ATELIER MATCHA is Yamamasa Koyamaen's first cafe, and also the company's first experience selling directly to consumers. 

Blending the highest-grade matcha with locally made sweets, the cafe hopes customers will enjoy these original creations while surrounded by the relaxing aroma of tea. 

The matcha used in the cafe includes signature Yamamasa Koyamaen blends, including Ogurayama and Tennozan, both varieties often used in tea ceremonies. For a limited time, the cafe is offering a single-origin blend with one rare variety of matcha, as well as a beverage made with tencha, which are the leaves used to make matcha before being ground down in a stone mortar. Visitors can also enjoy gyokuro and hojicha teas, made from carefully selected leaves. 

Pulling recipes from Yamamasa Koyamaen's book 'Kyoto Uji-Koyamaen: Simple Matcha Drinks to Enjoy at Home,' the menu features refreshing drinks blending the traditional with the modern, with unexpected combinations of soda, fruit and yogurt. Seasonal drinks will also be making an appearance, including shaved ice in summer and chocolate drinks in winter. 

The name MATCHA SHOT packs a punch, using matcha instead of espresso for a needed pick-me-up. MATCHA WATER, a refreshing cup of watered-down tea, offers a way to fully enjoy the fullness and more hidden flavors of this popular Japanese tea. 

As expected, ATELIER MATCHA also has a sweets menu set to impress: these sweet treats feature only the best, created with the top 0.03% of total national matcha production. This insanely high-quality matcha is a part of Yamamasa Koyamaen's ultimate matcha experience project, titled "ALL FOR ONE," which provides these rare leaves to some of the country's top professionals in various fields. 

At opening, only limited qualities of the Supreme MATCHA Terrine, made by well-known pâtissier Toshi Yoroizuka, will be available. 

These authentic matcha creations are perfect for a hot summer's day, or as a gift for a friend. When in Tokyo, don't miss it!

Information

ATELIER MATCHA 

Address: 1-5-8 Nihonbashi Ningyocho, Chuo Ward, Tokyo 103-0013, Japan

Access: 30-second walk from Ningyocho Station/5-minute walk from Suitengumae Station

Open Date: August 2, 8:00

Hours of Operation: 8:00-19:00 (Last order 18:30)

Closed on Tuesdays (Open daily throughout August) 

Phone Number: 03-3667-7277

Official Site: https://ateliermatcha.com/

Starbucks Japan Reveals Peach and Pineapple Frappuccinos

Starbucks Coffee Japan is releasing its new summery GO Pineapple Frappuccino® and GO Peach Frappuccino® at all branches on August 4.

Starbucks Japan's first pineapple beverage, plump and sweet

Left: GO Pineapple Frappuccino® | Right: GO Peach Frappuccino® | Tall ¥680 (Takeaway), Tall ¥693 (Have-In)

The two fruity drinks arrive in time for the height of Japanese summer this August. This also marks the first time Starbucks Japan is serving up a pineapple Frappuccino®. The GO Pineapple Frappuccino® is loaded with ripe and fresh pineapple pieces along with a pineapple puree and pineapple sauce. When you've sipped about half the cup, mix in the whipped cream to transform the drink into smooth and milky heaven.

The GO Peach Frappuccino® is also loaded with its titular fruit, making it so refreshing it's like eating a whole juicy peach. Enjoy a combination of fresh peach pieces, puree, and sauce, one which maintains the rich original flavour of this summer-classic fruit.

Reusable Coffee Cup With Changeable Coloured Lids (437ml) | ¥385 (Tax Included)

August 2nd will mark 25 years since Starbucks arrived in Japan, bringing to the country a culture of walking around with your coffee in hand. This summer, the coffee chain is also releasing a new collection of seasonal tumblers, as well a new reusable coffee cup which you can swap out with different coloured lids. While the new beverages are on sale, if you buy one of them together with a reusable cup, you can get a free size upgrade on your Frappuccino®.

Information

GO Pineapple Frappuccino®

GO Peach Frappuccino®

Running: August 4, 2021 – September 21, 2021

Official Website: https://www.starbucks.co.jp/

Sumikko Gurashi Bubble Tea Released by XIE XIE PEARL

Bubble tea shop XIE XIE PEARL is collaborating with San-X and their popular corner-dwelling characters Sumikko Gurashi with a line-up of drinks and merch until August 23.

Fruit is the theme of the collaboration which arrives in a line-up of colourful beverages served in limited-time cups. Each character's drink is loaded with toppings.

Shirokuma's Peach Milk | ¥756 (Tax Included)

Neko's Jewel Berry Lemonade | ¥756 (Tax Included)

Tonkatsu's Caramel Banana Milk | ¥756 (Tax Included)

Penguin's Jewel Mint Lemonade | ¥756 (Tax Included)

Original collab goods

Large Stickers | 4 Designs | ¥330 (Tax Included)

Mini Tote Bag | ¥990(Tax Included)

Mirrors | 5 Designs | ¥550 (Tax Included)

Re-release of previous collab merch

Free novelty stickers and pouch

If you order one of the collab drinks you'll receive a free sticker, and if you order all four drinks, you get an original Sumikko Gurashi pouch. All you need is your receipt to show at the register.

©︎2021 San-X Co., Ltd. All Rights Reserved.

Information

XIE XIE PEARL x Sumikko Gurashi

Running: July 22, 2021 – August 23, 2021

Official Website: https://www.krg-inc.com


New Cocktail Menu Gets Served at KYOTO YURA HOTEL MGallery

KYOTO YURA HOTEL MGallery is now serving a new cocktail and afternoon tea menu in collaboration with Perrier Promotion.

KYOTO YURA HOTEL MGallery is a hotel group based in Paris, France which operates over 5,000 hotels and resorts in 110 countries worldwide. Together with the mineral water brand Perrier, the two companies launched the 'Perrier Promotion with KYOTO YURA HOTEL MGallery' on July 21 which includes a special cocktail and afternoon tea line-up being served up at Lounge & Bar 1867.

Perrier x MURAKAMI Tote Bag

Perrier Cacao & Orange Asian Fizz Mocktail | ¥1,300 (Tax Included)

Perrier Umami & Ryokucha Green Tea Sour Mocktail | ¥1,300 (Tax Included)

Perrier Citrus Iced Tea Mocktail | ¥1,300 (Tax Included)

Perrier Evening Iced Coffee Cocktail | ¥1,700 (Tax Included)

Perrier Flower & Fruit Afternoon Cocktail | ¥1,700 (Tax Included)

Perrier Promotion with KYOTO YURA HOTEL MGallery is an all-day special event taking place at the hotel. At both the hotel entrance, as well as Lounge & Bar 1867, an artwork collaboration by Takashi Murakami and Perrier is being displayed for the duration of the event, adding a colourful vibe to the spaces.

The drinks line-up includes three mocktails which are available on the free flow drinks menu when ordering the hotel's popular afternoon tea. The afternoon tea set was conceived by pastry chef Jennie Chiu and is packed full of summer fruits like passion fruit and mango.

During the collaboration, the first 200 people to order either the afternoon tea set or high tea set will also receive a free novelty tote bag featuring the Takashi Murakami's characters Kaikai and Kiki.

In the evenings, the Perrier Pop-Up Bar are serving two alcoholic cocktails alongside the mocktails.

Showa Summer Dessert Drinks Get Served Up at AWESOME STORE & CAFE IKEBUKURO in Tokyo

AWESOME STORE & CAFE IKEBUKURO is now serving up two new summer-exclusive dessert drinks inspired by the Japanese Showa era. The 'Imitation Gold' and 'Blue Light Awesome' are both available now until September 26.


Imitation Gold: ¥467 (Tax Included) / Blue Light Awesome: ¥467 (Tax Included) *both served in plastic cups (see below)

The Imitation Gold's flavour is reminiscent of an energy drink. It's topped with vanilla ice cream and colourful gummies. The Blue Light Awesome is a Blue Hawaiian syrup-infused pineapple juice topped with vanilla ice cream and a cherry. Both of these cute dessert drinks are the perfect refreshments for the summer.

Those who buy both drinks will also receive an original black straw to make the drinks even more Instagrammable. These are available while supplies last.

Some other popular must-tries

Other classics on the menu to try include soft and chewy bagels, coffees, and more.

Chocolate High | ¥396 (Tax Included)


Ebi Avocado | ¥396 (Tax Included)


Fuwa Toro Bacon Omelette | ¥396 (Tax Included)


AWESOME Organic Coffee (Hot/Iced) | From ¥217 (Tax Included)

Information

AWESOME STORE & CAFE IKEBUKURO
Opening Hours: 10:00-21:00 (Currently operating on reduced hours – closes at 20:00)
TEL: 03-5944-9754
Address: Q Plaza IKEBUKURO 1F, 1-30-3 Higashi-Ikebukuro, Toshima-ku, Tokyo
Official Website: https://www.awesomestore.jp/store/pages/cafe.aspx

McDonald's Japan Releases Strawberry and Banana Frappes at McCafe by Barista®

McDonald's Japan released its new Strawberry & Condensed Milk Frappe and Banana Caramel Frappe beverages at McCafe by Barista® branches up and down the country on July 14. The fruity frappes and the perfect choice for the hot summer season.

Strawberry & Condensed Milk Frappe | Regular: ¥490


The strawberry frappe is made with a sweet and tangy strawberry sauce that has fresh strawberry pieces in it as well as juice taken from amaou strawberries grown in Fukuoka which are known for their fresh and sweet taste. Added to the cup is rich condensed milk along with a squirt of whipped cream for a milky and velvety finish.

Banana Caramel Frappe | Regular: ¥490


The banana frappe is filled with a banana puree sauce, banana syrup, and a crème brûlée syrup. It's topped with smooth whipped cream and a drizzle of caramel sauce. The banana and caramel make for a delicious combination.

Matcha Republic Takes Kyoto's Uji Matcha to Tokyo For the First Time

Uji-based matcha tea shop Matcha Republic is taking their menu to Tokyo for the first time with a pop-up shop inside Shibuya Hikarie which will run from July 15-28.

Matcha Ink Hikarie Exclusive Version Premium Matcha Latte | ¥681 (Tax Included)

Original Clear Shopping Bag

Matcha Republic's ink bottle matcha lattes are super popular on Japanese social media. For their Tokyo pop-up shop, their premium matcha latte arrives in an exclusive design. The dirnk is made from only the best picked matcha leaves to make a smooth, milky beverage. The bottle is also sold in an original shopping bag.

Matcha Panna Cotta Hikarie Exclusive Version | ¥681 (Tax Included)

The brand's popular panna cotta set also arrives in a Hikarie exclusive design. The delicious dessert is made with fragrant Uji matcha.

PREMIUM GOLDEN UJI MATCHA CASTELLA | ¥2,381 (Tax Included)

Matcha Republic's moist matcha castella is sprinkled delicately with gold leaf, creating a luxurious dessert.

Information

Matcha Kyowakoku

Location: Shibuya Hikarie ShinQs B2 Food Stage

Running: July 15, 2021 – July 28, 2021

Opening Hours: 11:00-20:00

Official Website: https://www.matcha-republic.com

NiziU Debut New Song 'Super Summer' in Coca-Cola Commercial

As part of Coca-Cola System's 'Coca-Cola Summer Campaign,' the drinks giant is releasing a new summer entry to their Kono Shunkan ga, Watashi (Me in This Moment) TV commercial series on June 28, promoting the start of a new summer. The commercial features the members of Japanese music group NiziU enjoying the hot weather and includes their new song Super Summer which doesn't have a release date yet.

NiziU'z shoot for the commercial

On set, NiziU arrived with smiles and said to the staff, 'We look forward to working with you!' This shoot took place by the sea. The scene begins on the beach, and because the members were so engaged in the shoot, they didn't notice the wave rolling up to them, making them scream out 'Cold!' when it hit their feet. When they're running along the beach, all the members showed how each of them runs in their own unique way. There's also a scene when they're flying a kite, and when they were filming it, a bee appeared out of nowhere. The shoot was full of smiles from start to end, and it shows in the final cut.

NiziU | Interview

How did the shoot go on this 'New Summer Start' commercial, and what were some fun moments?


―RIKU
"We had fun being our normal, natural selves, and I think it shows in the commercial. I experienced at lot of first-time things in this one, so it was a lot of fun."

―RIO
"Drinking Coca-Cola by the beach makes tastes super good! I enjoyed how refreshed I felt after it took the heat away."

―RIMA
"I was able to enjoy feeling summer nice and early with the other members and some Coca-Cola!"

All of you are your normal, natural selves in this commercial. How did you find doing the activities together?


―AYAKA
"Everyone took the coke dropping way too seriously, it was a little scary <laughs>, but I enjoyed how natural we were!"

― MIIHI
"It'd been a while since I flew a kite and the other stuff, so I was hypnotised. It was fun, so I'd love to go to a lodging house with everyone if we get time and do it all again! <laughs>"

 ―MAYA
"It was my first time flying a kite. You need to be able to run a lot to keep it up high, so I was running around all over the place <laughs>."



What parts of the commercial would you want people to look out for?


―MAKO
'New Summer Start' was the theme, so we showed us enjoying the summer in the moment, so I hope people look out for that! I'd also love for it to encourage people to try something new!"

―NINA
"You get to see all of us looking natural in this commercial, so I definitely want people to check that out!"

―MAYUKA
"I personally think the part where we're all enjoying drinking Coca-Cola at the beach is a must-see part."

 

With the core message of the commercial mind, is there anything you too want to try doing this summer?


―MAKO
"Going to the beach with everyone!"

―MAYUKA
"You're here now, aren't you? <laughs>"

―ALL MEMBERS
<Laughs>

―MAKO
"We're here! <laughs> But I want to come here in our free time too! <laughs>"

 ―RIKU
"I want to try dares! A lot of the members aren't good with them, so I want to go and have fun doing that with everyone! <laughs>"

―MAYUKA
"I want to eat a big shaved ice with everyone!"

―RIKU
"We're gonna get brain freeze! <laughs>"

 ―MAYUKA
"It'll make a good memory though!"

―ALL MEMBERS
"For sure! Sounds fun!"

 ―AYAKA
"I want to try making a watermelon dessert!"

―MAKO
"I love that! You're the best, AYAKA! <laughs>"

―NINA
"I love ice cream, so I wanna try making some myself to enjoy with everyone!"

―RIO
"I'm bad at swimming, so I want to learn to swim this summer!"

 ―MAYA
"I want to go to a summer camp with all the members, with a BBQ and campfire, and to try out new things together!"

―MIIHI
"I really love summer festivals, so I want to eat something at home with someone you can only get at summer festivals, like whole pickled cucumbers!"

―RIMA
"Summer means nagashi somen noodles, so I really want those!"

―MAKO
"Shall we go get some bamboo then? <laughs>"

―RIKU
"Let's all get some together! <laughs>"


As part of the Coca-Cola Summer Challenge, NiziU had a go at the summer Coke mix challenge in a video which shows you how to best into Coke in summer.