Dark and Delicious Halloween Spirit Possesses Crunchy and Creamy Pastries
Every year choux pastry shop CROQUANTCHOU ZAKUZAKU sells 2 million of their unique, crunchy and creamy choux pastries. This Halloween, these white angelic sticks of heaven have been possessed by the Halloween spirit and will be sold from October 1 – 31.
The devilishly delicious Black Zaku and Black Zaku Soft Serve Ice Cream were overwhelmingly popular when they were first sighted last year. Now they are being revived again for the Halloween season and will be haunting practically all CROQUANTCHOU ZAKUZAKU branches across Japan. 
Black cocoa powder is infused into the crunchy choux pastry. The empty shell is then filled with a molten custard core which is made using Hokkaido milk and purple sweet potato paste. Once you take your first crunchy bite, you will be completely possessed by the Halloween spirit.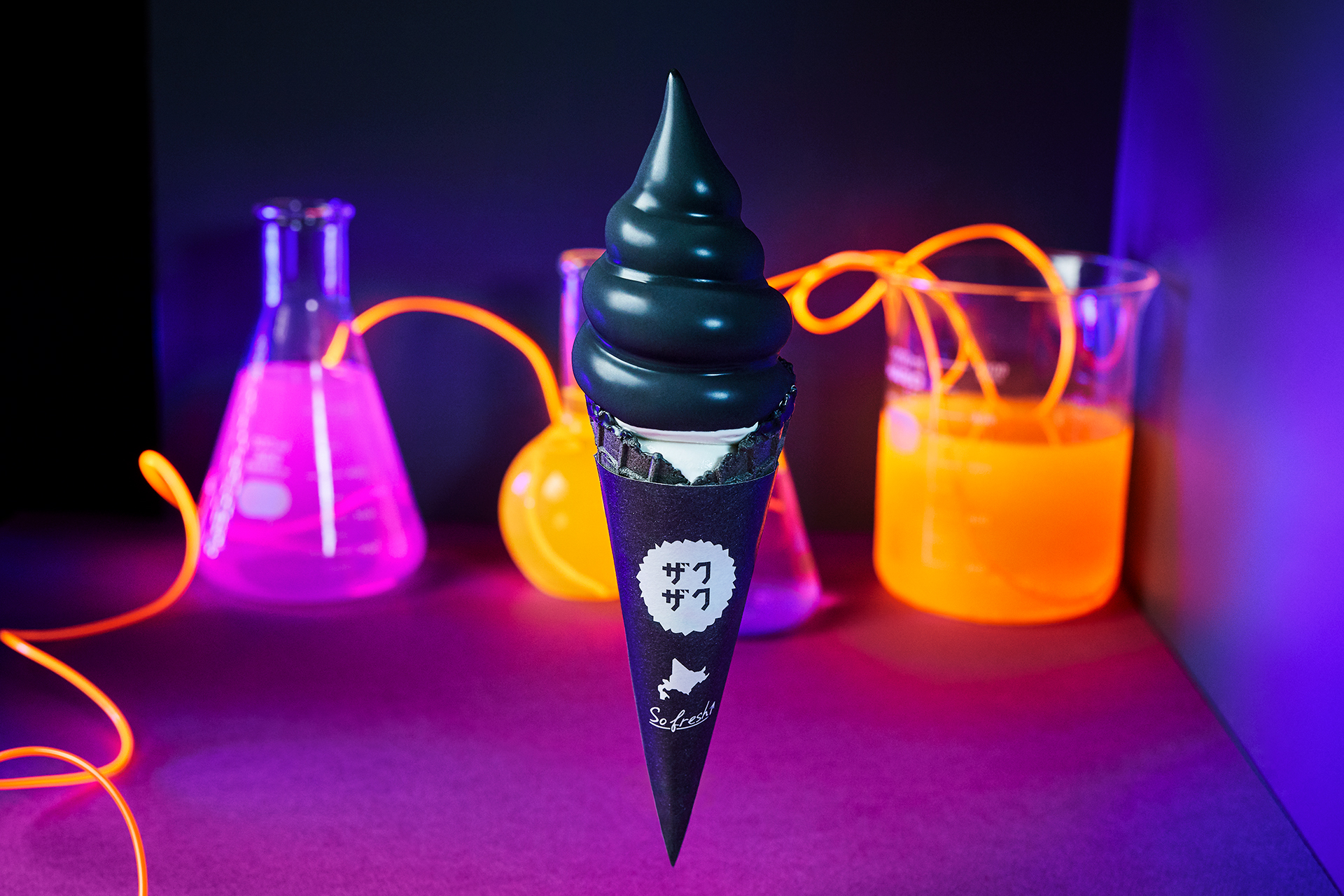 This Halloween, the original pure white ice cream has been inverted. From the ice cream to the wafer cone, the Black Zaku Soft Serve is completely black. The ice cream is incredibly soft and creamy and full of flavour. The black colour comes from white chocolate dyed with bamboo charcoal. This chilling ice cream is only around for the Halloween season and tastes wicked!
 There is more than just Halloween treats at the shop. The regular Croquant Chou Zaku Zaku and regular Zaku Zaku Soft® are also being served. Head to a store with an adjoining kitchen to sink your teeth into freshly made delicious treats. 
There is no better trick to treating yourself this Halloween than to indulge in a beautiful, black, crunchy and creamy sweet treat!
Information
CROQUANTCHOU ZAKUZAKU
Available: October 1, 2019 – October 31, 2019
Available at all CROQUANTCHOU ZAKUZAKU shops across Japan excluding Kumamoto  Sakuramachi branch. Website: https://zakuzaku.co.jp/
RECOMMENDED ENTRIES
ROPPONGI HILLS HAPPY HALLOWEEN 2019: Monster Desserts, Horror Film Parade & More

Roppongi Hills has announced this year's Halloween festival. Titled "ROPPONGI HILLS HAPPY HALLOWEEN 2019," it will take place from October 1 to 31, packed full of spooky fun from a Halloween costume parade to a ghoulish gourmet menu line-up, featuring an always-unique array of food and drink.

Halloween Cupcakes – ¥638 Each @ LOLA'S Cupcakes Tokyo (Available from October 5)

LOLA'S Cupcakes has baked up an assortment of cute monster motif cupcakes, with flavours including pumpkin, purple sweet potato and more. Whichever one you pick, it's sure to give you a smile and delight your taste buds.

Halloween Mixed Berry Cake – ¥530 @ Roasted coffee laboratory

Creepy eyeballs adorn this cake, which is topped with blackberries and blueberries while drizzled in bloody blackcurrant jam. The cake is layered with sponge, fresh cream and a sweet and sour strawberry jelly.

Happy Monster – ¥980 @ Cafe Crepe

Delight in this cute pumpkin and fresh cream crepe, filled with pumpkin ice cream and snug in an orange crepe wrap. Housed inside is an adorable purple sweet potato mont blanc monster wearing a witch's hat.

A movie-themed parade will take place on Saturday October 26 at the event in line with the 2019 Tokyo International Film Festival. Children and adults can take part in the parade if they dress up. The 1km parade will last 25 minutes.

Gift bags will be given to all kids who get involved!

▼Halloween Parade

Date: October 26, 2019

Time: 10:30-13:30 (subject to change)

Location: Roppongi Hills Arena

Participation Conditions: Anybody who dressed up can join (the theme is "Movies")

Participation: Free

Enquiries: 03-6406-6000 (Roppongi Hills Information)

Halloween will hit Roppongi Hills for the entire month of October. Be sure to visit if you're in Japan next month!

Cute Disney Halloween Confections Coming to Ginza Cozy Corner

Ginza Cozy Corner has revealed a new batch of adorable Disney-themed Halloween sweets that will be available to purchase between September 27 and October 31.

Disney Halloween Collection (9 Sweets) – ¥2,300 (Before Tax)

Ginza Cozy Corner's Halloween treats prove popular every single year. This year they're taking on a completely new theme they are calling "Mickey & Friends' Trick or Treat." The Disney Halloween Collection includes an assortment of individual confections each with motifs of Mickey and the Disney cast, such as Goofy, Pluto and Donald Duck.

Mickey's is a candy apple tart, Minnie's is a candy-inspired roll cake, Donald's is a chocolate ice cream tart―the list goes on. Each one has been carefully designed to be as cute and delicious as possible. Perfect finger-food treats for Halloween parties and simple get-togethers!

Mickey Mouse Pumpkin Pudding – ¥360 (Before Tax)

Minnie Mouse Pumpkin Pudding – ¥360 (Before Tax)

There are also Mickey and Minnie-themed puddings made with sweet and rich pumpkin. These milk puddings spurt out bright-red raspberry sauce when your spoon hits the middle. Each pudding also comes with its very own Mickey or Minnie dressed in vampire outfits.

Be sure to visit Ginza Cozy Corner if you're in Japan for Halloween this year for some cute and tasty Disney treats!

©Disney

Information

Ginza Cozy Corner

Line-Up: Disney Halloween Collection (9 Sweets) / Mickey Mouse Pumpkin Pudding / Minnie Mouse Pumpkin Pudding

Available: September 27, 2019 – October 31, 2019

Official Website: https://www.cozycorner.co.jp/

Tokyo DisneySea's Dark Halloween Festivities For 2019 Begin

Disney Halloween 2019 has finally begun! The Tokyo DisneySea fun is set to run until October 31 where it will provide guests with a dark and mysterious Halloween experience that will keep you on edge… like something's about to happen, but you're not sure what.

Tokyo DisneySea's decor takes on a more grown-up bewitching look compared to Tokyo Disneyland's cute decorations.

Hung throughout the park you will find decorative banners featuring illustrations of Disney characters dressed in their spooky garments. This year, Mickey, Minnie and the rest of the cast invite guests into a truly bewitching wonderland.


If you pop over to American Waterfront you'll find some great photo opportunities, like the Minnie Mouse and Daisy Duck statues waiting to welcome you at the entrance, clad in hauntingly beautiful attire and stood next to night-black pumpkins and dried flowers.


You'll find the rest of the costumed characters further in too. Be sure to get photos with everyone!

Chicken & Vegetable Steamed Bun – ¥600 @ Nautilus Galley / Teriyaki Chicken Rubber Ring Steamed Bun – ¥600 @ Seaside Snacks

Nothing has been left out from the Halloween spell this year, even the food menu and drinks which arrive in festive colours like black and purple like this bandage-wrapped mummy steamed bun and rubber ring steamed bun.

Inside the mummy is a delicious concoction of chicken, cabbage, and other veg.

The rubber ring steamed bun is the perfect snack to munch on as you walk around the park. It's filled with rich teriyaki chicken wrapped in a striking purple dough.

All of the food is packaged in cute packaging too―don't throw it away straight away and check out which illustration you got!

Assorted Sweets – ¥430 @ Gondolier Snacks and elsewhere

Check out these bite-sized confections, from a mini baumkuchen cake on a lollipop stick to strawberry cheesecake and purple sweet potato cream mochi. The chewy mochi Mickey can only be described as kawaii♡

Grape Tapioca Tea – ¥500 @ Mamma Biscotti's Bakery

Sparkling Black Tea Tapioca Drink – ¥450 @ Hudson River Harvest

Tokyo Disneyland's tapioca drinks are really popular in summer, and for Halloween they've arrived with all-new flavours, exclusive to the Disney Halloween event.

There's lots to see and experience at this year's Disney Halloween. Be sure to look everywhere, even in shop windows. And if you're eager to see more of the food and drinks available at both parks then click here.
RELATED ENTRIES
Nana's Green Tea x Häagen-Dazs Release Chocolate Matcha Glass Dessert

Nana's Green Tea is serving up a brand-new dessert in collaboration with Häagen-Dazs for Valentine's Day at 77 branches in Japan. The dessert was released on January 6 and will be available up to February 14.

Matcha Chocolate Glass with Häagen-Dazs | ¥880 (Before Tax)

The dessert is a tempting sight to behold – not only is it delicious but visually appealing to the eye too, and layered with various textures so that every bite is a surprise.

The dessert is made with Häagen-Dazs' "Sweet Chocolate" ice cream coupled with Nana's Green Tea's own original matcha ice cream, soft and crunchy meringue sticks, crumbled cookies, white chocolate whipped cream, and matcha chiffon cake. Sat at the bottom waiting to be discovered is a sweet strawberry sauce for a tangy kick.

Information

Nana's Green Tea – Matcha Chocolate Glass With Häagen-Dazs
Serving: January 6, 2021 – February 14, 2021
Price: ¥880 (Before Tax)
Available: 77 Nana's Green Tea branches in Japan (Excluding DiverCity Tokyo Plaza, Tokyo Dome, and Iias Okinawa Toyosaki)
Official Website: http://www.nanasgreentea.com/

Catch the Chansey Pokémon Doughnut at Mister Donut This Winter

Mister Donut Japan revealed last month that it is set to team up with Pokémon this winter with a special campaign starting on November 15. Before then however, from November 13, the doughnut chain will be releasing the "Mister Donut Chansey Christmas-chu Collection" of doughnuts and merchandise.

Mister Donut Chansey Christmas-chu Collection

Pikachu Doughnut (Custard Whip) | ¥240 (Before Tax)

Mister Donut is releasing four doughnuts this year, one of which is the popular Pikachu doughnut from last year which is coated in chocolate.

Chansey Doughnut | ¥200 (Before Tax)

Chansey, which is known as Lucky in Japanese, is bringing you luck this year in the form of a strawberry chocolate-coated doughnut complete with an adorable face, ears, and belly.

Poké Ball | ¥200 (Before Tax)

Great Ball | ¥200 (Before Tax)

The Poké Ball doughnut has also been transformed from the classic Pon de Ring doughnut from last year and turned into an actual ball shape. It's filled with whipped cream and coated in a strawberry glaze while the Great Ball version is filled with custard whipped cream and is coated in chocolate.

Pon de Ring Wreath: Pudding Flavour, Strawberry Flavour, Chocolate Flavour | ¥150 (Before Tax)

For the holiday season, Mister Donut is also bringing back their classic Pon de Ring series in three flavours.

As well as doughnuts, Pokémon fans can get their hands on a selection on Christmas mugs and bowls too. Perfect for putting under the tree this year.

©2020 Pokémon. ©1995-2020 Nintendo/Creatures Inc./GAME FREAK inc.
ポケットモンスター・ポケモン・Pokémonは任天堂・クリーチャーズ・ゲームフリークの登録商標です。

Information

Mister Donut x Pokémon

Pon de Ring Wreaths

Running: November 13, 2020 – Late December 2020
Available: Most Mister Donut branches in Japan

Official Website: https://www.misterdonut.jp

Sanrio Puroland Halloween Makeup Developed in Collaboration With POLA

POLA INC. is collaborating with Sanrio Entertainment's amusement park Sanrio Puroland for their ongoing PURO HALLOWEEN PARTY event which is being held both at the park and online. The company has developed cute and sophisticated Halloween makeup inspired by the looks being worn by the Sanrio characters at Puroland for Halloween.

Halloween is a time to dress up as your favourite spooky figure, and POLA has jumped on board by creating a range of makeup looks to support Halloween outfits this year that anyone can do at home. Each look has a step-by-step visual guide as well as a video to help you along the way.

All the products used for the looks are by POLA and can all be bought at their nearly 4,000 stores including the 670 POLA THE BEAUTY branches and their flagship store POLA GINZA. Select branches in China, Taiwan, Hong Kong, Thailand, Macao, and Singapore are also stocking the items.

Cute Halloween Confections Make Their Way to Ginza Cozy Corner This October

Ginza Cozy Corner released a new collection of Halloween confections on October 19.

JOYJOY Halloween Party (9 Included) | ¥2,400 (Before Tax) | Available: October 19, 2020 – October 31, 2020

The tasty line-up features a collection of playful ghouls and ghosts partying at a haunted house. Bites include an eyeball tart, orange-flavoured Jack-o'-lantern roll cake, and lots more. Plus, the box they come in can be cut out and used as a photo prop for snapping cute Halloween pictures.

Imp's Trickster Mont Blanc | ¥580 (Before Tax) | Serving: October 19, 2020 – October 31, 2020

There's also a colourful mont blanc layered with four different creams: strawberry, lemon, melon, and blueberry, and inside—a mouth-watering tangy orange sauce surprise.

Kaori's Easy Recipe: Learn to Make Jack Skellington Stained Glass Cookies

With just a small bit of ingenuity, turn everyday food into something cute using Kaori's Easy Recipe! With a few simple ideas, an ordinary recipe magically transforms into a cute dish.

I have the perfect Halloween recipe for you this time. If we're talking Halloween, then who else but Jack Skellington is the man for the job? Here's my recipe to make Jack Skellington Stained Glass Cookies.

Ingredients

 

70g unsalted butter
50g icing sugar (or high quality white sugar if you don't have)
A pinch of salt
30g egg
110g weak flour
10g black cocoa
1 white chocolate pen
Hard candy of your choice crushed into small pieces

*To crush the candy, you can put into a zip lock bag and use a rolling pin

1


Place all ingredients except the egg into a food processor and blitz. After, place the egg into the blitzed mix and blitz once again. Once combined, wrap with cling film and place into the refrigerator for 1+ hours until set.

2


Use a rolling pin to roll out circles of equal thickness for Jack's head. Use a cutter to cut out the eyes, and place into the refrigerator one more to set.

3

Bake in the oven at 180°C for 10 minutes and take out again.

4


Place your crushed candy into the eye holes and bake for a further 5 minutes.
*The candy will melt into place and even out, so feel free to pile on the pieces

*Be careful not to overcook the candy as it will turn brown

5


Allow to cool. Be very careful handling and placing down the cookies as the eyes will be delicate. Decorate Jack's nose and mouth with the chocolate pen and he's ready for your Halloween party!

Kaori invites you into her world of character-themed food dishes in her recipe series. Be sure to check out her Instagram where she has uploaded many pictures of her character dishes!

Kaori Kubota (@kaopan27)

I live in Hokkaido and I love to make character themed foods, desserts and pastries♡

I want to see my family smile, so I enjoy putting in a bit of effort to make character foods and changing food into something cute♡

You can see more of my character foods and character bento boxes on my Instagram page → @kaopan72

Sanrio Themed Cafe Celebrates Characters' Monthly Magazine 'Ichigo Shimbun'

Sanrio is once again collaborating with the EGG & SPUMA cafe located on the 8th floor of Shinjuku Lumine EST to celebrate the 45th anniversary of Ichigo Shimbun, a monthly magazine published by Sanrio which includes information about the latest character merchandise, the Sanrio Character Awards, and more. The limited-time cafe will run from November 1, 2020 to late January 2021.

Sanrio fans can expect a very special menu line-up of food, drinks, and desserts based on their favourite characters from the Sanrio roster.

There will in fact be two different menus served on separate occasions. The first menu will welcome a soufflé omelette topped with a potato salad Pochacco while the second will see an adorably pink My Melody cream stew.

There will also be an incredibly cute two-tiered afternoon tea set with desserts and savoury items.

For drinks, there is a Hello Kitty strawberry milk, Cinnamoroll milk, and milk caramel pudding Pompompurin.

© 2020 SANRIO CO., LTD. APPROVAL NO. L613344

And everyone who orders from the collaborative menu will receive one of eight possible coasters as thanks for visiting.

Information

Ichigo Shimbun 45th Anniversary CAFE
Location: EGG & SPUMA, Shinjuku Lumine EST Floor 8F, 3-38-1 Shinjuku, Shinjuku Ward, Tokyo
Running: November 1, 2020 – Late January 2021

Opening Hours: 11:00-21:00 (Last Orders)

TEL: 03-6273-0255
Official Website: http://salt-group.jp/shop/egg-spuma/

Pokémon Cafe and Pikachu Sweets by Pokémon Cafe Reveal New Desserts Including Polteageist Tea Set

Pokémon Cafe and Pikachu Sweets by Pokémon Cafe are releasing a new teatime menu at their respective branches on October 24, 2020.

Pokémon Cafe

Polteageist & Sinistea Tea Party! Fruit Tea Set ~Apple Flavoured~ | ¥1,188 (Tax Included)


Polteageist & Sinistea Tea Party! Fruit Tea Set ~Strawberry Flavoured~ | ¥1,188 (Tax Included)

Pokémon Cafe is serving up two different fruit tea sets based on the Ghost-type Pokémon Polteageist and Sinistea. Customers are free to pour in their desired amount of fruit syrup which changes the colour of the tea. The sets come with a cute cookie too.

Pikachu Sweets by Pokémon Cafe

Left: Polteageist's Tea Party! Fruit Tea ~Mixed Berry Flavour~ / Right: Polteageist's Tea Party! Fruit Tea ~Peach Orange Flavour~ | ¥700 Each (Before Tax)

Pikachu Sweets by Pokémon Cafe is also going to serve up some Polteageist themed fruit teas as well as a selection of desserts like macarons and financier almond cakes which have Pokémon tail and ear designs.

After ordering one of the Polteageist fruit teas, customers can place their cups under the Polteageist tea pot as pictured above and activate the pot to dispense their drink, so it's like Polteageist  really pouring tea for you.

Left: Swirlix Strawberry Macaron | Middle: Pikachu Vanilla Macaron | Right: Galarian Ponyta Pistachio Macaron – ¥500 Each (Before Tax)

Treat yourself to one of the super cute Swirlix, Pikachu, or Ponyta macarons each with designs that tell you instantly which Pokémon they're inspired by.


Polteageist Fruit Tea and & Pikachu Macaron Set

Customers can order a tea and macaron combination set too.

Pikachu Parfaits

Pikachu Glass Parfait Set | ¥1,500 (Before Tax)

An adorable set of Pikachu parfaits, one being caramel banana flavoured and the other chocolate.

Pikachu Tea Party Assortment – Pika Pika Pikavee Set | ¥2,800 (Before Tax)

Another set to share between friends and family, this time with two Pikachu glass desserts as well as Pikachu and Eevee cupcakes.

Pikachu Tea Party Assortment – Ghost Type Set | ¥2,800 (Before Tax)

This set comes with the Pikachu glass desserts as well as Ghost-type Gengar and Litwick mousse cakes.

The Polteageist teapot and Sinistea teacup used at the Pokémon Cafe and Pikachu Sweets by Pokémon Cafe will also be released at Pokémon Center Online in Japan on December 5, 2020.

© 2020 Pokémon.©1995-2020 Nintendo/Creatures Inc./GAME FREAK inc.
Pokémon, ポケットモンスター, and ポケモン are registered trademarks of Nintendo, Creatures Inc., and GAME FREAK inc..

Information

Pokémon Cafe (Nihombashi, Tokyo)
Address: Nihombashi Takashimaya SC East Bldg. 5F, 2-1-2 Nihombashi, Chuo Ward, Tokyo
Business Hours: 10:30-22:00
No Fixed Holidays (Except when Nihombashi Takashimaya SC is closed)
Reservations: https://www.pokemoncenter-online.com/cafe/reservation.html

Pokémon Cafe (Shinsaibashi, Osaka)
Address: Daimaru Shinsaibashi Honkan 9F, 1-7-1 Shinsaibashisuji, Chuo Ward, Osaka, Osaka Prefecture
Business Hours: 10:00-21:30
No Fixed Holidays (Except when Daimaru Shinsaibashi is closed)
Reservations: https://www.pokemoncenter-online.com/cafe/reservation.html

Pikachu Sweets by Pokémon Café 

Address: Sunshine City Alpa Floor 2F, 3-1-2 Higashiikebukuro, Toshima City, Tokyo

Opening Hours: 10:00-20:00
Official Website: https://www.pokemoncenter-online.com/cafe/pikachu_sweets/

*Opening hours subject to change, please check in advance before travelling.

*Food served and duration subject to change without notice.

*Photos are for illustrative purposes only.

*Seat reservations are taken online only – phone reservations not available.

Shibuya's L'OCCITANE CAFE Reveals Spooky Parfait For Halloween 2020

L'OCCITANE CAFE Shibuya is getting ready for Halloween with the reveal of its sweet potato and apple parfait which will be served from October 21 to 31. The Tokyo-based cafe is centred on the food culture and lifestyle of Provence in southern France.

Sweet Potato and Apple Parfait | ¥1,280 (Tax Included)

The seasonal treat is a mix of purple sweet potato and regular sweet potato, baked apples, apple sherbet, and vanilla ice, all topped off with whipped cream, roasted nuts, and almond tuile biscuits in the shape of ghosts and a pumpkin.

Information

Sweet Potato and Apple Parfait
Serving: October 21, 2020 – October 31, 2020

L'OCCITANE CAFE Shibuya
Address: 2-3-1 Dogenzaka, Shibuya, Tokyo
Opening Hours:
[Sun-Thur] 11:00~22:00 (Last Orders 21:00)
[Fri-Sat] 11:00-23:00 (Last Orders 22:00)
TEL:03-5428-1563
Access: Straight ahead of Shibuya Station's 5th Exit (Inokashira Exit)
L'OCCITANE Japan Official Website: https://jp.loccitane.com/

Rilakkuma Book Cafe Themed Afternoon Teas in Osaka Will Serve Bear-Huggingly Kawaii Food

Major bookstores across Japan are rolling out the Rilakkuma Book Fair where fans can get their hands on short Rilakkuma fairy tails, exclusive merchandise, and more.


In line with the event, Fruits Parlor & Bakery Season & Co., a cafe in Umeda, Osaka, is serving up a special menu with the theme "Rilakkuma Book Cafe" from October 30 to November 30. This includes a afternoon teas which also celebrates the cafe's 1st anniversary, more exclusive merchandise, and novelties for customers who order from the Rilakkuma menu.

Rilakkuma Zukin Afternoon Tea | ¥4,000 (Before Tax) *Reservation-only

A special afternoon tea featuring 13 different goodies from desserts to a sandwich, quiche, and more. It comes with a fruit iced tea welcome drink too.

Rilakkuma Yuki Hime Afternoon Tea | ¥4,000 (Before Tax) *Reservation-only

A different afternoon tea that serves up 12 items. This also comes with a fruit iced tea.

Rilakkuma's Honey Apple Smoothie | ¥800 (Before Tax)

A honey apple smoothie topped with refreshing vanilla ice cream, smooth fresh cream, and a Rilakkuma jelly candy.

Rilakkuma's Royal Chocolate Milk Tea | ¥1,200 (Before Tax)

Classic royal milk tea served with chocolate Rilakkumas. Eat on their own or dip into your tea!

The cafe is now taking reservations for the afternoon teas. Bookings must be made two days in advance by telephone or the official website.

Information

Rilakkuma Book Cafe
Running: October 30, 2020 – November 30, 2020
Reservations: https://season-co.shop/rilakkuma2020/

Fruits Parlor & Bakery Season & Co.
Address: LINKS UMEDA 1F, 1-1 Ofukacho, Kita-ku, Osaka
Opening Hours: 9:30-22:00 (Last Orders 21:30)
TEL: 06-6743-4212
Official Website: https://season-co.shop

Halloween Food Served Up at Meiji Jingu Shrine's Constitution Memorial Hall

Meiji Kinenkan, also known as Constitution Memorial Hall, has announced that its beer terrace Sekirei will open up for October to serve up a Halloween themed menu.

Meiji Kinenkan is a unique and premium venue at Meiji Jingu Shrine that serves as a host to many different kinds of gatherings. It was designated as an important cultural property of Tokyo for its architecture in March of this year.

Sekirei normally opens during the summertime each year, but this year they've decided to open up for business for the autumn season too. Guests can enjoy a line-up of over 40 different food items in the beautiful autumn-kissed gardens along with beer and a selection of other beverage.

Halloween Menu

The Halloween menu arrived on Monday and features a colour arrangement of tasty bites, with an original line-up of foods and desserts conceived by Meiji Kinenkan's chef who specialises in French cuisine at the site.

Other Autumn Options

Autumn is a very pleasant season in terms of weather, and so as well as the Halloween menu, Sekirei has cooked up a separate seasonal assortment too including Japanese roast beef with vegetables, fried masutake mushroom and salmon, and more.

Sekirei has a special indoor all-you-can-drink plan as well in case it rains, so guests don't have to worry about the weather and can keep warm indoors if the occasion calls for it.

Cute Cinnamoroll Halloween Doughnuts to be Sold at Floresta in Japan

Floresta Nature Doughnuts, a chain of shops that sell delicious doughnuts that are healthier to your body than regular doughnuts, is collaboration with popular Sanrio characters Cinnamoroll and Cappuccino for some adorable Halloween doughnuts.

Cinnamoroll / Cappuccino – ¥450 Each (Before Tax)

Donning their snug Halloween hats, which are made from purple sweet potato, Cinnamoroll and Cappuccino sit atop their doughnut that's covered in white chocolate spider web and topped with a star made from pumpkin.

The doughnuts will be released at Floresta on October 17, just two weeks before Halloween, at 12:00am in Japan. They are sold individually or as part of the Cinnamoroll Hallloween Doughnuts Box which contains two of each.

Cute, colourful, and a healthier option. If you're in Japan this Halloween, join Cinnamoroll and Cappuccino for the holiday season.

Information

Cinnamoroll Hallloween Doughnuts
Serving: October 17, 2020 – October 31, 2020

Release Date: October 17, 2020 at 12:00am (JST)
Floresta Oraganic Store: https://floresta-ec.jp

*Product is limited in stock. Only orders only.

Experience Shinjuku's Famous Halloween Event Online at Virtual Shibuya

The Virtual Halloween Committee has announced that it will host an online Halloween event inside Virtual Shibuya as a result of the pandemic and to mitigate crowded streets in Shibuya, a place which becomes a sea of people during the spooky holiday season.

The event, titled Virtual Shibuya au 5G Halloween Fes, will begin on October 26 and run up to Halloween Day. It is being promoted with the hashtag #StayVirtual.


Shibuya 5G Entertainment Project launched its new digital platform "Virtual Shibuya" back in May of this year. Officially recognised by Shibuya City, Virtual Shibuya comes in response to the effects of the novel coronavirus (COVID-19) which has brought tight restrictions to the economy and people's way of life. It will enable people to continue enjoying entertainment from the comfort of their homes by participating in a whole host of virtual events and activities. The project aims to deliver content from Shibuya with live performances from artists, art exhibitions, talks, and more. The use of 5G and the latest cutting edge technology will connect the real Shibuya to a virtual space, combining the realms of the digital and real world.

The Halloween event is inviting a host of Japanese artists and comedians to perform inside the virtual space, which itself will be littered with all things Halloween like Jack-o'-lanterns, bats, and more. Users will also be able to dress their avatars in the appropriate clothing in line with the holiday season of scares. All of this aims to deliver the famous Shibuya Halloween experience that the people of Tokyo are so used to.

Virtual Shibuya au Halloween Fes

Virtual Shibuya is evolving and will be updated for the upcoming Halloween event. Users can look forward to a host of music events and talk events during this age of the 'new normal.'

au 5G Presents Kyary Pamyu Pamyu: Virtual Mini Live

Virtual Shibuya will host its very first virtual live concert to open the Halloween festival. Japanese pop star Kyary Pamyu Pamyu is included in the performance line-up, who will be serving a very special one-night-only Halloween themed show inspired by horror movies. Titled "Kyary Pamyu Pamyu Online Halloween Live 2020 THE FAMILY 10.31," you can find out more about the concert here.

au 5G Presents BiSH: Virtual Live

Japanese idol group BiSH will also be playing a special Halloween show at the event.

au 5G Presents "Everyone's 5G" – Comedy Duo Wagyu Perform

Japanese comedy duo Wagyu will perform live using 5G technology which will render them in high-speed, high quality holograms.


The rest of the line-up and more details about the event will be announced in the coming weeks.