Taste Different Japanese Teas in Wine Glasses in Fukuoka
Neworld has teamed up with Asakura, Fukuoka-based tea manufacturing company Seichajo Yamashina to offer an all-new tea-tasting course. Reservations opened on September 25 and can be made via telephone call.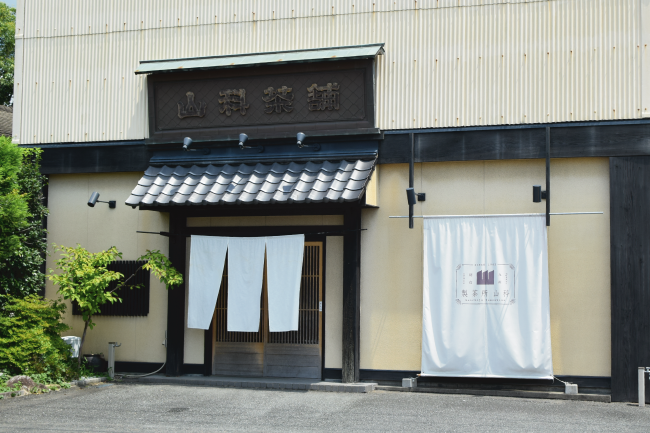 Yamashina Tea Stall first opened its doors to the public back in 1947 in the city of Asakura, Fukuoka. This long-standing tea shop oversees every aspect of their original blends, from the tea leaf selection to the roasting.
The shop's representative, Koya Yamashina, is a tea professional, having worked as an instructor on Japanese tea as well as an established Japanese tea critic. He has travelled up and down Kyushu―one of the five main islands of Japan where Fukuoka sits―which has enabled him to select only the best tea for the shop, considering the taste, smell, season, place of production, and growers themselves.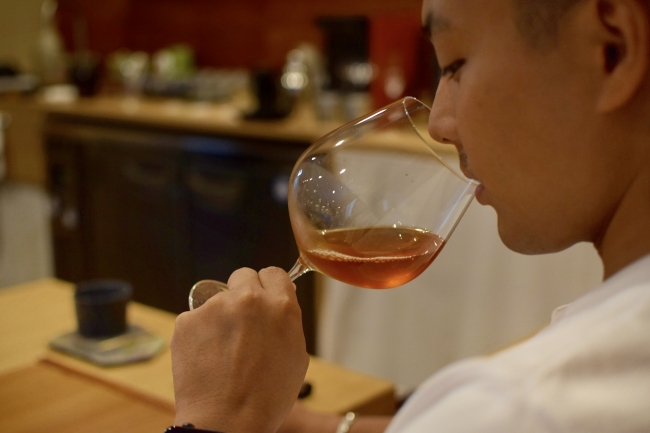 Yamashina Tea Stall promises a fun and authentic experience when it comes to Japanese tea, for the very fact that it has had its hands on so many different types. That's where their new program comes in to play, where they will pair different Japanese teas into different wine glasses―provided by Tokyo glass makers Kimura Glass―for tasters to get the best out of the tea, including the flavours and fragrance.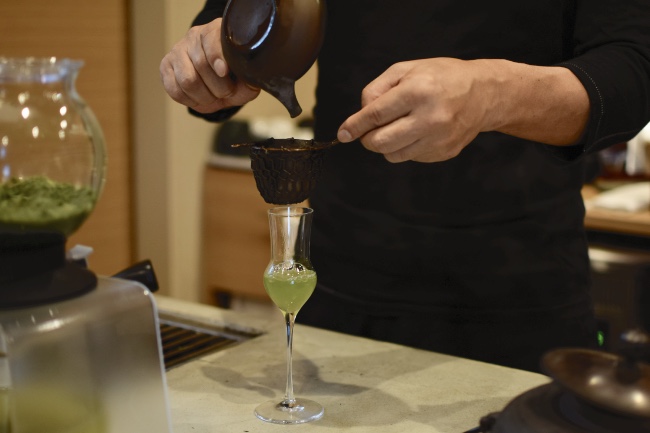 Let's take a look at the course.
Piccolo 6oz Flute & Yama no Asatsume
This brand of tea is called Chiran Yama no Asatsume and it comes from Kagoshima Prefecture. It's grown in Ushirodake, an area in Kagoshima with a high altitude, the only place it can be grown. It has a distinct fresh and sweet fragrance. The tea is served in a 6oz Piccolo glass which is a popular glass for champagne. Its delicate rim and form makes it the perfect shape to enjoy the full taste of the tea.
Garson 3oz Grappa & Yame Gyokuro
Yame Gyokuro is known as one of the most luxury teas in Japan. Served in a Garson glass, it has a thin, long shape, making it ideal for smelling the gentle aromas of the gyokuro tea and for enjoying its smooth, sweet taste.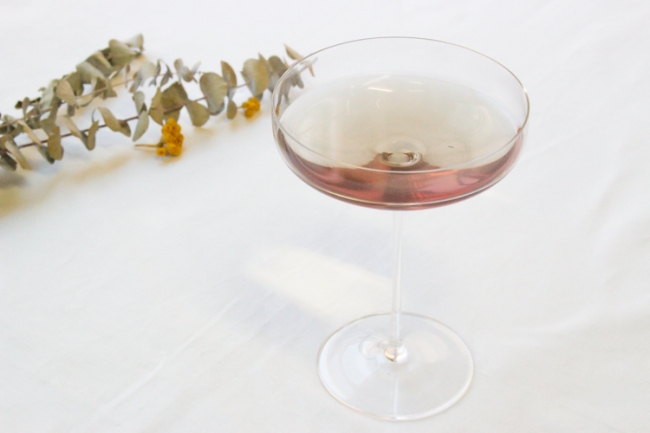 Pivo Orthodox 63224-210 & Sun Rouge
Sun Rouge is an extremely rare variety of tea grown on the distant island of Tokunoshima which is south of Kagoshima. It is served in a classic champagne glass, much different from the flute-type champagne glasses. The liquid is allowed to spread over a wider surface, letting you take in the distinct beautiful purple colour of the tea while enabling the fragrance to dance around the elegant glass.
This is just a snapshot of the many drinks this course has to offer. If you're looking to experience Japanese tea in style, then why not try out this course? They even sell sets of glasses and tea so you can take them home with you!
Information
Yamashina Tea Stall
Address: 1635 Amagi, Asakura, Fukuoka
Opening Hours: 10:00-18:00
Course Name: CRAFT STORE x Seichajo Yamashina Japanese Tea Course (5 Types)
Price: ¥1,800
Reservations: Telephone (Limited number of places, please enquire ASAP)
TEL: 0120-177-515
Homepage: https://www.e-ochaya.net/
RECOMMENDED ENTRIES
Experience the Heart of the Japanese Tea Ceremony This Autumn in Ginza

In line with the annual autumn event Ginchakai―which is held in Ginza and brings together multiple schools of tea in Japan for an open-air tea ceremony―Tokyu Plaza Ginza is hosting an event themed on the heart of the Japanese tea ceremony.

This special event will serve Japanese omotenashi, or "hospitality," thorough various exhibits including a co-project with Tokyo University of the Arts, an exhibition by one of Japan's leading confectionery companies Toraya Confectionery, and more.

The co-project with Tokyo University of the Arts will feature installations produced by the university that is centred on calligraphy drawn by Japanese calligrapher Shoko Kanazawa, who performs both in Japan and overseas, and the tea ceremony. There will also be several tokonoma alcoves around the event which will be like miniature gardens where one can enjoy the beauties of nature. There will even be covers of famous songs about autumn on October 27 at the KIRIKO TERRANCE on the roof.

Up in the KIRIKO LOUNGE on the 6th floor, Toraya will serve up a selection of traditional Japanese confections, including those that had already been created by the end of the Edo period. You can order a set of two confections and a drink. Sweets include the Kiren Kaki, which is made to look like a Japanese permission, and the Kuri Goyomi, which is made with chestnuts, sugar, and agar-agar.

Soak up the enchanting nostalgia of autumn while enjoying the Japanese tea ceremony at Tokyu Plaza Ginza.

Information

The Heart of the Tea Ceremony in Ginza (Japanese Title: 銀座で触れる、茶の湯の心)

Running: September 26, 2019 – October 27, 2019

Location: Various places around Tokyu Plaza Ginza

GINZA Tokonoma Alcoves: Admire the Season With Tokonoma Art

Running: September 26, 2019 – October 27, 2019

Time: 11:00-21:00
Locations: Floors 3, 4, and 6

Autumn Music Performances

Date: October 27, 2019

Time: 12:00-15:30

Location: KIRIKO TERRACE on the Tokyu Plaza Ginza rooftop

TOKYU PLAZA GINZA x Bunkamura SPECIAL PROGRAM ~ Toraya Confectionery~

Running: October 11, 2019 – October 27, 2019

Time: 11:00-23:00 (Until 21:00 on Sundays and public holidays)

Location: KIRIKO LOUNGE (Tokyu Plaza Ginza Floor 6F)

Tokyu Plaza Ginza

Address: 5-2-1 Ginza, Chuo Ward, Tokyo

Official Website: https://ginza.tokyu-plaza.com/

New Bubble Tea Shop Opens in Ochanomizu to Heal Fatigue and Improve Skin

Sugar Factory is the mastermind behind four trendy brands in Japan including the colourful candy floss shop TOTTI CANDY FACTORY, which is famous for its giant Harajuku rainbow cotton candy, and candy coated strawberry shop Strawberry Fetish. On September 26, they will be opening a bubble tea shop in Ochanomizu called Wu-Cha which is committed to serving only the best quality.

Wu-Cha uses large tapioca pearls sourced from Taiwan. From start to finish, the process of making these fresh tapioca pearls involves four hours of careful procedures. They are boiled and steamed carefully according to a strict schedule to create a springy texture. As the pearls are soaked evenly in syrup, each pearl is packed with deliciousness that will explode in your mouth with every bite. 

Okinawa Brown Sugar Milk Tea: ¥470

Matcha Milk Tea: ¥550

Extensive research went into creating recipes to use these tapioca pearls. Raw ingredients such as Okinawa brown sugar and Kyoto Uji matcha have been carefully sourced from their places of origin to maximize the flavours. A generous amount of all these special ingredients have been used to develop these delicious and authentic milk teas. 

Strawberry Milk: ¥550

Mango Yoghurt: ¥ 550

The Strawberry Milk and Mango Yoghurt are made with fresh fruit pieces and look just as refreshing as they taste.  

Beautiful Skin Tea: ¥450

Fatigue Recovery Tea: ¥450

There is a large variety of drinks to enjoy with a range of healing effects. Alongside the bubble tea series and the fruity tea series, there is also a herb tea series. 

Whether you are tired, unwell or just in need of a quick sugar boost, this bubble tea shop is the fairy godmother to all your problems. Every drink is packed with love and you absolutely must try it. 

Information

Wu-Cha (伍茶)
Address: 3-20-4, Ogawa-machi, Kanda, Chiyoda, Tokyo

Opening Hours: 11:00-21:00

No regular holidays

Delicious and Instagrammable: 7 Bubble Tea Drinks Unique to Sapporo, Hokkaido

Bubble tea is a national sensation in Japan. Until now, MOSHI MOSHI NIPPON has been introducing quite a lot of bubble tea shops in Harajuku, however today, we are going to introduce you to some special bubble teas that you can only get in Sapporo, Hokkaido.

When it comes to cafés, desserts and drinks in Sapporo, you can always count on Instagrammer Kei to pick out the most unique and cute places.  Check out his Instagram (@607keih) which is home to a precious collection of mouthwatering and delicious pictures.

And with that let's get started:

Club China/Tanukikoji 

Almond Jelly Coconut Milk and Bubble Tea ¥600 (strawberry sauce topping: +¥50)

(Chinese almond jelly is sometimes made with apricot kernels.)


Club China is a Chinese restaurant where you can enjoy authentic Chinese food in a classy atmosphere. This rare bubble tea is the perfect way to discover authentic Chinese flavours. You can change the sweetness of your drink by adding gomme syrup, brown sugar sauce or strawberry sauce.

▶︎ Club China (クラブチャイナ)

Address: SYOKUSAN 35 Building 3rd Floor

3-chōme-5 Minami 3 Jōnishi, Chūō-ku, Sapporo, Hokkaido

Opening Hours

・Lunch: 11:00 ー 15:00(Last orders: 14:30)

・Tea 14:30 ー 17:00

・Dinner: 17:00 ー 22:00(Last orders: 21:00)

Closed: Wednesdays (Open on national holidays)

Website: http://www.clubchina.jp/index.html

Oukacha (Located inside Izakaya Chorotto)/Higashi Ward

Strawberry Milk Cream: ¥580

There is a famous Izakaya (Japanese-style pub) in the Higashi-ku area. However, during the daytime, it is sometimes taken over by a bubble tea shop called Oukacha. The drink to look out for is their homemade brown sugar syrup bubble tea, which you can order with topping of whipped cream. This is the way to treat anyone with a sweet tooth! 

▶︎ Oukacha (Located inside Izakaya Chorotto 桜華茶)

Address: 7-1-24, Kita 15 Johigashi, Higashi Ward, Sapporo, Hokkaido

As the opening and closing days/times are irregular, please check them on the shop's official Instagram or Twitter. 

o.cha.bar/Tanukikoji

Ritz Cream Cheese Churros: ¥550, Okinawa Brown Sugar Bubble Milk: ¥650

MESSE Building is a mall full of interesting restaurants including a Bikkuri Donkey. Head to the 5th floor to discover a Taiwanese and Korean restaurant called o.cha.bar. This is where you will come across the Okinawa Bubble Milk. This is a bubble tea which is topped with a generous serving of cream made using salt sourced from Okinawa. The tapioca is imported directly from Taiwan and has a very springy texture. Maximise your experience by dipping the churros in the cream cheese. 

▶︎ o.cha.bar(オチャバー)

Address: N.MESSE Building 5th floor, Minami 3-jo Nishi 3, Chuo-ku, Sapporo-shi, Hokkaido 

Opening Hours: 11:30 ー 21:00

Closed: No regular holidays 

Official Twitter: https://twitter.com/ochabar1

cafe & kitchen unique/Higashi Ward

Strawberry Milk: ¥480 , Matcha: ¥480, Served in a bottle: +¥80

cafe&kitchen unique is famous for their delicious fluffy pancakes that are made in a deep pot and topped with beautiful toppings. However, their bubble teas which are sold in cute bottles are also something you do not want to miss. The Strawberry Milk contains fruity pieces which perfectly compliment the milk. The Matcha Milk has a gentle sweet flavour that adults would love.  

▶︎ cafe&kitchen unique (cafe&kitchen ユニック)

Address: 3 Chome-2-6 Kita 10 Johigashi, Higashi Ward, Sapporo, Hokkaido 

Opening Hours

Lunch : 11:00 ー 14:00

Coffee Time: 14:00 ー 17:00

Dinner: 17:00 ー 22:00

Closed: The 1st and 3rd Thursday of every month. 

Official Website: https://cafekitchen-unique.com/

MY TAPIOCA KOUTA/Higashi Ward

Brown Sugar Bubble Tea Latte 

Ramen restaurant Ore no Ramen Kouta also runs the bubble tea shop MY TAPIOCA KOUTA, where it is possible to order just a bubble tea. The brown sugar adds a strong accent to the flavour. The tapioca pearls are large and although this is filling drink, it is also cheap which makes it a good deal. The shop is open late into the night which is perfect for those late night cravings. 

▶︎ MY TAPIOCA KOUTA

Address: 4-5-26, Honcho 1 jo, Higashi Ward, Sapporo

Opening Hours: 11:00 ー 23:30

Official Twitter: https://twitter.com/tapiocamy

Milk san Asabu Branch/Asabu

Strawberry Milk: ¥650, Brown Sugar Milk: ¥570, Tapioca Topping: ¥70 (served in a bottle) 

Milk san serves delicious drinks made using milk which is specially produced by dairy farmers, contributing to the delicious Hokkaido goodness of the drink. The small tapioca pearls and the rich milky flavour are the perfect combination. The brown sugar flavour is only available at the Asabu branch, so we recommend you try it. As these drinks are served in cute bottles, you just have to post a picture on Instagram. 

▶︎ Milk san Asabu

みるくsan麻生店

Address: Karumu Asabu 1st floor, 5-2-8, Kita 39 Jonishi, Kita Ward, Sapporo 

Opening Hours: 10:00 ー 19:30

Official Website: https://www.milk-san.com/

Iced Biscuit Shop SHONPY/Susukino

Chocolate Mint Frappé: ¥690, Strawberry Milk Bubble Tea with a Tapioca Float: ¥690 

One by one, this shop makes iced biscuits that are original down to their shape. SHONPY also delivers countrywide. The Strawberry Milk Bubble Tea comes with a tapioca float that is too cute to consume. It is filled with fruit such as strawberries and bananas that are a perfect match with the tapioca. The Chocolate Mint Frappé comes in a very cute bottle. This shop opened in Harajuku too.

▶︎SHONPY

Address: SUSUKINO LAFILER 2nd floor, 4 Chome, Minami 4 Jonishi, Chuo Ward, Sapporo, Hokkaido 

Opening Hours: 10:00 ー 21:00

No fixed holidays

Official Website: http://shon-py.jp/

So, how about it? If you ever find yourself in Hokkaido, Kei's recommended Hokkaido-limited bubble teas are bound to make your trip special. 

Kei's Instagram is full of delicious desserts and mouthwatering meals. When in doubt of where to eat out, Kei's Instagram is bound to save your day so please check it out.

 

Photos & Text: Kei(@607keih)
RELATED ENTRIES
FUKUCHA to Offer Limited-Time Strawberry Desserts with Uji Tea Pairings

FUKUCHA Teahouse, a Fukujen cafe in Kyoto, will start a limited-time Strawberries and Uji Tea Fair on January 8, 2022. Last year's Matcha fair was incredibly popular, and certain items will also be available again in 2022. The new menu includes a strawberry version of the popular Herbal Tea Pairing Set, making it even more fun and elegant! Guests can enjoy flavorful Uji green tea along with a number of tasty strawberry treats. 

Mont Fraise: ¥1,150

Mont Fraise means 'mountain of strawberries' in French. This dessert is made with thin white chocolate and sponge cake soaked in matcha syrup with matcha cream and strawberries covering every inch. It is also served with a green tea chocolate sauce. 

Strawberry Pairing Set: ¥1650

The strawberry version of the popular Herbal Tea Pairing Set on the regular FUKUCHA menu.
・Ginger Blend Genmaicha and Strawberry Cheese Tart
・Hibiscus Blend Hojicha and Strawberry Chocolate Bonbons
・Cinnamon Blend Twig Tea with Strawberry Cream
・Peppermint Blend Twig Tea with Large Strawberry

Marscapone Strawberries: ¥1450

Using 10 strawberries, this parfait is designed to look like a herbarium. Putting a spoon into the light mascarpone cream will reveal the bright green color of the matcha chocolate sauce.

Information

Strawberry and Uji Tea Fair

Running: January 8 – May 15, 2022
*Limited to 10 Servings per day.

Official Site: https://www.fukujuen.com/

Wakura Onsen in Ishikawa Prefecture to Hold Special Illumination, Luxurious Tea Time

The Wakura Onsen Tourist Association is sponsoring a new project to illuminate Seirinji Temple, a nationally registered cultural property. Along with this light show, guests can enjoy a luxurious tea time starting on January 8, 2022. This year, the pavilion and garden will be lit up again, and the entrance will be decorated with traditional local paper lanterns. 

The historic property was built in 1909 as a resting place for Emperor Taisho. Only two such buildings exist in Japan: one in Hamada City, Shimane Prefecture, and the other at Wakura Onsen. Both were registered as Tangible Cultural Properties of Japan in 2017. 

 

Last year, the area was photographed for posters and pamphlets as part of the 'Japanese Beauty Hokuriku' campaign organized by JR East, JR West, and the Central JR Railway.

Each Saturday evening through February 26, guests will be invited to enjoy a different kind of atmosphere while enjoying a very fancy tea time. The program has been very well received by visitors, so it shouldn't be missed!


The light-up of the temple and garden, with its slowly changing colors, will transport guests to another world. The entrance to Seirinji Temple will be redecorated and lit up, and a pathway of lights will be created from the gate to the entrance of the pavilion using paper lanterns.

Information

Seirinji Temple Illuminations & Luxury Tea Time

Running: Saturdays from January 8 – February 26, 2022 

First Seating: 17:00  

Second Seating: 18:00

Address: Seirinji Temple, Wakura Onsen (61 Wakuramachi, Nanao, Ishikawa)

*Available for guests of Wakura Onsen

Official Site: https://www.wakura.or.jp

Winter Scenery Coming to teamLab Forest Fukuoka for a Limited Time

The permanent museum teamLab Forest Fukuoka is bringing winter scenery to the virtual exhibition for a limited time starting November 20, 2021. Many of the virtual exhibits will be covered in fluffy snowflakes as butterflies flutter by in seasonal winter colors. Animals made of winter flowers will wander by guests as they explore this magical world. 

Works to Feature Seasonal Changes

Soft Terrain and Granular Topography – A Whole Year per Year – teamLab, 2020

Flutter of Butterflies, Ephemeral Life – A Whole Year per Year – teamLab, 2020

Shifting Valley, Living Creatures of Flowers, Symbiotic Lives – A Whole Year per Year – teamLab, 2020

Animals of Flowers, Symbiotic Lives II – A Whole Year per Year – teamLab, 2019

teamLab's works are drawn in real-time by computer programs and are constantly changing and evolving, with many changing with the seasons. This is the perfect place to enjoy the winter season out of the cold!

TRUFULL TOKYO Releases First Truffle Ice Cream

Truffles aren't something most people eat every day, but TRUFULL TOKYO wants to change that. The casual truffle brand wants to combine this luxury ingredient with simple dishes to make it easier to chow down on this tasty treat more often, and now, their first product release has been announced! TRUFULL ICE CREAM, playfully created by a French chef, aims to give people a new view of what food can be.

The truffles aren't the only thing that makes this ice cream special. The milk used to create it is gathered at Zao Provence Farm in Miyagi prefecture in the morning and processed the exact same day! After the ice cream is made, it is mixed with plenty of French black truffles, making a flavor like no other. 

The upscale TRUFULL ICE CREAM, a perfect dessert for the discerning adult, is available at CARBON COFFEE in Fukuoka. 

Information

TRUFULL ICE CREAM
Release Date: November 15, 2021

Price: ¥500 for 120ml cup (Tax Included)

Where to Buy: CARBON COFFEE

Address: Royal Building 1F 1-2-34 Daimyo, Chuo-ku, Fukuoka

Official Online Store: Scheduled to Open November 15

Instagram: https://www.instagram.com/trufull_tokyo/ (@trufull_tokyo)

Official Site: https://trufulltokyo.com/

Contemporary Art Festival ART@FUKUOKA Opens at Daimaru Fukuoka Tenjin

Department store Daimaru Fukuoka Tenjin will host the contemporary art festival ART@FUKUOKA for the first time, from October 13 until October 25, 2021. 

The art market is growing year by year, with more and more people curious about incorporating unique works into their interior design, or purchase pieces as assets. In particular, the contemporary art market has become the focus of a large movement and continues to elevate a number of new personalities. The ART@FUKUOKA festival will feature 300 works by promising young artists from both Japan and abroad. This is a great chance for those unfamiliar with the contemporary art world to get a feel for what it represents!

Main Building 8F Works at a Glance

Banksy「Golf Sale」

Sadamasa Motonaga – Untitled

©Motonaga Data Research Office

Nick Walker – Vandalism

DOLK – Winner blue dolk

ONEMIZER – Bicause Pipi

ART ~New Expressions~ (Main Building Antenna Plus 1F) Works at a Glance

The contemporary art movement is gaining more popularity worldwide. Each year, expressions become more and more diverse, and more unique creators spring onto the scene. The ART ~New Expressions~ section focuses on artists with the potential to lead the next generation. 

Syoichi Mukai 

 BABYTECTOR [PRISM]. 2021. 

Takakura Kazuki

  Emoji_Alligator_Emoji (Output. ver). 2021. 

KENZ


  BREAK DANCE. 2021. 

Wakaba Higuchi

  Panther and Phoenix. 2021. 

Information

ART@FUKUOKA

Running: October 13 – October 25, 2021

Entry Free

Address: Daimaru Fukuoka Tenjin

Venue 1/Main Building, 8F: 10:00-6:00 *Closes at 5 PM on October 25

Venue 2/Antenna Plus, Main Building 1F: 10:00-8:00

Official Site: https://www.daimaru.co.jp/fukuoka/

"Katanukiya" opens in Fukuoka, Selling Kumamon Katanuki Baum for Limited Time Only

Ginza-based Katanukiya, a store that specializes in shaped Baum, will be opening a limited-time shop in Daimaru Fukuoka Tenjin between October 1 and October 31. The store will stock both the 'Panda Series' and panda sable. 

Kumamoto Panda Baum: ¥594 (Tax Incl.)

Kumamon Shaped Katanuki Baum: ¥540 (Tax Incl.)

Ghost Panda Baum: ¥540 (Tax Incl.)

Panda Baum: ¥540 (Tax Incl.)

Amabie Baum: ¥540 (Tax Incl.)

 

The new 'Kumamoto Panda Baum' will be debuting at the Daimaru Fukuoka Tenjin store, along with the 'Kumamon Shape Katanuki Baum.' A new baum featuring the Amabie, a creature which is said to have appeared in Kumamoto during the Edo period and represents a bright, hopeful future, will also be available. Why not enjoy some cute character Baum this Autumn?

 

Information

Katanukiya Limited-time Shop

Shop Duration: October 1 ~ October 31 2021

Location: Daimaru Fukuoka Tenjin, Main Building 2F Confectionery Exhibition Hall

Official Site: https://www.daimaru.co.jp/fukuoka/ 

Fukuoka Unko Museum Finale Campaign Held, Halloween Event Coming to Tokyo

With the Unko (Poop) Museum's run in Fukuoka coming to an end, the Unko Museum Fukuoka Thank You Campaign will be running from October 1 until October 24 to show appreciation for guest's patronage over the past six months. A number of new photo spots and merchandise will be available, and concurrently, the Unko Museum Tokyo will be holding a special Halloween event from October 1 until October 31, 2021. 

Photo Spot

The Golden Poo

Ticket Pre-order Bonus: Limited-Edition Fukuoka Clear Folder

Influencers should take a trip to Fukuoka because a new photo spot is inviting photo-savvy visitors to sit on a golden toilet bowl for some one-of-a-kind pictures. Is it strange? Sure, but how could people not like that kind of Instagram post? 

Each person who takes the time to rub the giant Golden Poo at the gift shop will receive an exclusive not-for-sale golden poo sticker! Anyone who spends over ¥1,300 (including tax) in a single transaction will also receive an exclusive bag!

Halloween Event「MAX UNKO HALLOWEEN 2021」

Umberto, the guardian God of the Unko Museum, dressed up for Halloween

Umberto Sticker

The Unko Volcano, known as the symbol of the museum, will be illuminated with a special Halloween image! Though the space will still be as fun as ever, it will be just a little more spooky than usual–and those who show up in costume will get a free Umberto sticker! Following the Unko Museum Instagram account will also get you some additional goods, so be sure to do so. This event will certainly be one you'll never forget. 

Autumn Scenery Coming to teamLab Forest Fukuoka for a Limited Time Only

The permanent museum teamLab Forest Fukuoka is bringing autumn scenery to the virtual exhibition for a limited time only beginning September 18, 2021. A number of animals made of autumn foliage will be roaming through the space, and you won't want to miss this memorable experience!

teamLab Forest Highlights

Shifting Valley, Living Creatures of Flowers, Symbiotic Lives – teamLab, 2020

Animals of Flowers, Symbiotic Lives II – teamLab, 2019

Soft Terrain and Granular Topography –  teamLab, 2020

Flutter of Butterflies, Ephemeral Life –  teamLab, 2020

The prolific works of the teamLab art collective change with the seasons. In the Forest of Movement, guests can enter the 'Shifting Valley, Living Creatures of Flowers, Symbiotic Lives' exhibit, where creatures made of flowers exist in a three-dimensional space. For this fall event, these flowers will be those found in the autumn months. The 'Soft Terrain and Granular Topography' will display tons of colorful grains raining down on visitors, while the 'Flutter of Butterflies, Ephemeral Life' will change the usual butterflies to have autumn colors as they fly around guests. 

teamLab Forest is a new museum created by art collective teamLab. The museum consists of two sections: the first, 'The Catching and Collecting Forest,' invites guests to explore with their smartphone to capture various unique creatures, while the second, 'The Athletics Forest,' is a physical creative space which asks visitors to use their body to immerse themselves in interactive areas. 

Would you like to visit this distinctive museum in Fukuoka on your next trip to Japan?

Information

teamLab Forest Fukuoka – SBI SECURITIES Co., Ltd.

Autumn Scenery Coming on September 18, 2021

Venue: BOSS E・ZO FUKUOKA 5F, Next to Fukuoka PayPal Dome (2-2-6 Jigyohama, Chuo-ku, Fukuoka)

Official Site: http://forest.teamlab.art

Ichiban Kuji to Open Fourth Official Shop in Kyushu, First in the Region

Offered by BANDAI SPIRITS, Ichiban Kuji is a popular brand of lottery in Japan, in which players are guaranteed to win a piece of merchandise. This no-lose game is often seen in collaboration with popular anime and game series, and a number of dedicated BANDAI SPIRITS Ichiban Kuji stores are starting to pop up around Japan. Now, the fourth of these shops is opening in Fukuoka on September 9, making it the first in Kyushu.

Upcoming Products

Ichiban Kuji – Disney's Twisted Wonderland, Vol. 4

Release Date: September 10, 2021

Ichiban Kuji – Monogatari Series

Release Date: September 18, 2021

Ichiban Kuji – Kirby Series KIRBY'S BURGER

Release Date: September 24, 2021

Ichiban Kuji – Mobile Suit Gundam Gunpla 2021

Release Date:  September 25, 2021

Prior to opening brick-and-mortar stores, Ichiban Kuji took place at convenience stores, bookstores, and game centers across Japan. In December 2020, the first dedicated shop opened in Umeda, Osaka, with the following two opening in Ikebukuro in Tokyo and Yokohama in Kanagawa in March 2021. Popularity is only increasing, as fans continue to enjoy the unique collection of products.

The new Fukuoka location is the largest of any Ichiban Kuji shops to date, and also features the Ichiban Coffret, a lineup of high-quality pop culture-inspired cosmetics for purchase.




Information

Ichiban Kuji Official Shop – Hakata Bus Terminal

Address: Hakata Bus Terminal 7F (2-1 Hakataekichuogai, Hakata Ward, Fukuoka, Fukuoka Prefecture)

Open Date: September 9, 2021

Hours: 10:00-23:00

*Hours subject to change in order to prevent the spread of COVID-19.

Official Site: https://bandainamco-am.co.jp/chara_shop/ichibankuji-official-shop/

Experience "Love" with All Five Senses at Disney Princess Exhibition, Visiting Fukuoka, Osaka in 2022

The WHAT IS LOVE? -Sparkling Secrets of the Princess' World- exhibition, based on "Courage and Kindness" and held to commemorate the Global Princess Celebration, is currently touring in Tokyo and Nagoya. The event has announced that the next venue will be in the Fukuoka Asian Museum from January 2, 22. The exhibit will be held in Osaka in Summer 2022.

 

In addition, the Disney Princess Exhibition VR, currently being held at Docomo Shop D Garden in Nagoya, will move to the Docomo Shop Grand Front in Osaka from September 12, 2021, with ticket reservations currently being accepted.

 Original Goods Samples

Earl Gray Tea: ¥1,296 (Tax Included)

 2 Pocket Mirror File (A4, Key Visual): ¥462 (Tax Included)

 Framed Poster (A3, Princess Aurora) ¥1,100 (Tax Included)

 Room Fragrance (Jasmine) ¥5,280 (Tax Included)

The concept of the exhibition is WHAT IS LOVE, reflecting the title. At the exhibition, you can learn more about the "Love" that made each Princess shine throughout their story, featuring 12 Princesses: Snow White from Snow White, Cinderella from Cinderella, Aurora from Sleeping Beauty, Belle from Beauty and the Beast, Jasmine from Aladdin, Pocahontas from Pocahontas, Mulan from Mulan, Tina from Princess and the Frog, Rapunzel from Tangled, Merida from Brave, and Moana from Moana.

The exhibition consists of six areas where you can experience "Love" as taught by Disney Princess, using video, digital technology, music, and fragrances to stimulate all five senses. By experiencing the exhibition, your own world will begin to shine as you learn more about the various types of "Love" that can be felt towards your soulmate, family, friends, and yourself. 

 

A selection of popular exhibition original goods are currently on sale at the Tokyo venue (Shibuya Marui) and the Nagoya venue (JR Nagoya Takashimaya).  They can also be purchased through the official online shop, so don't miss out!

 

Information

WHAT IS LOVE?  ~Sparkling Secrets of the Princess' World~

Fukuoka

Venue: Fukuoka Asian Art Museum Planning Gallery

Duration: January 2 ~ March 27, 2022

 *Admission fees and ticket sales information will be announced in future.

 *The addition of a VR exhibition is unconfirmed

Osaka

Date: Summer 2022

 

Online shop: https://store.plusmember.jp/princessexhibition/ 

Three PEANUTS Collaboration Tea Cans Available From Senchado Tokyo

Single-origin Sencha speciality store Senchado Tokyo will be collaborating with PEANUTS for the PEANUTS ~Look To Tomorrow~ limited event, held between August 11 and 24, 2021.

"We're All Friends" Theme

"We're All friends" is the theme of the PEANUTS ~Look to Tomorrow~ collab, with PEANUTS & Friends themed goods available to purchase. Senchado Tokyo offers "teatime with friends" and "a solo teatime."

The collaboration has been produced and designed to offer a fun teatime at home, with joy in every option.

The collaboration item designs feature Snoopy reading while drinking tea, Snoopy relaxing in an empty cup, and Charlie Brown enjoying some tea while listening to records.

PEANUTS Collaboration Single-Origin Sencha Can: ¥1,977 (Tax Included)

PEANUTS Collaboration Hojicha Can: ¥1,836 (Tax Included)

PEANUTS Collaboration Genmaicha: ¥1,944 (Tax Included)

The Sencha is made using single-origin blend Uji Midori from Kyoto, while the Hojicha is made with stems shallowly roasted in far-infrared to bring out a dazzling fragrance. The Genmaicha blend uses single-origin Saemidori and brown rice.

Whether you're relaxing with a cup of tea or enjoying a toast with somebody precious, why not invite Snoopy to join your teatime?

。

CLOUDY Opens Africa-Themed Apparel Event Inside Hakata Hankyu

Apparel brand CLOUDY opened a pop-up event at the Media Stage on the first floor of Hakata Hankyu on July 28 which will run until August 3.

Hakata Hankyu exclusive tee design

CLOUDY was established with the goal of creating education and employment opportunities in Africa. Part of its proceeds are donated to the NPO Doooooooo.

At the event, CLOUDY will be selling a collection of apparel made using traditional weaving techniques from Ghana, such as handmade baskets which take two weeks to make, quilted bags with African prints, hand-woven canvas tote bags made from eco-friendly fabrics, tees made out of recycled materials, and more, all colourful for the spring and summer seasons. A limited-edition Hakata Hankyu tee will also be available to purchase.

Information

CLOUDY Pop-Up Event

Running: July 28, 2021 – August 3, 2021

Location: Hakata Hankyu Floor 1F, 1-1 Hakataekichuogai, Hakata-ku, Fukuoka

Opening Hours: 10:00-20:00 (Until 18:00 on August 3)

CLOUDY Official Website: https://cloudy-tokyo.com/