Taste Different Japanese Teas in Wine Glasses in Fukuoka
Neworld has teamed up with Asakura, Fukuoka-based tea manufacturing company Seichajo Yamashina to offer an all-new tea-tasting course. Reservations opened on September 25 and can be made via telephone call.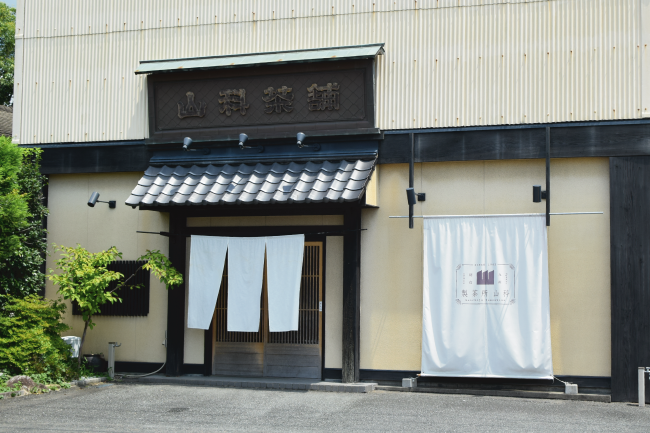 Yamashina Tea Stall first opened its doors to the public back in 1947 in the city of Asakura, Fukuoka. This long-standing tea shop oversees every aspect of their original blends, from the tea leaf selection to the roasting.
The shop's representative, Koya Yamashina, is a tea professional, having worked as an instructor on Japanese tea as well as an established Japanese tea critic. He has travelled up and down Kyushu―one of the five main islands of Japan where Fukuoka sits―which has enabled him to select only the best tea for the shop, considering the taste, smell, season, place of production, and growers themselves.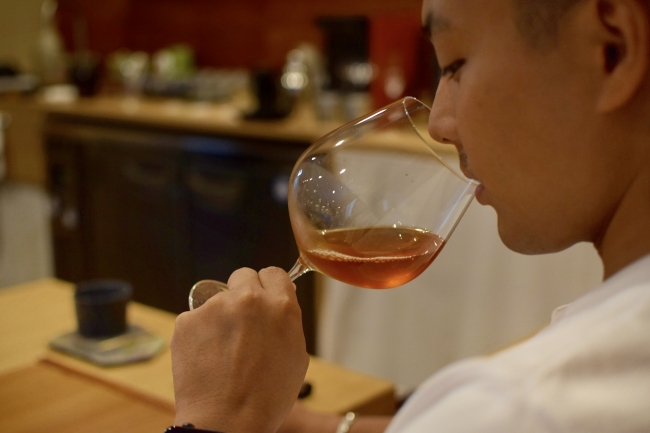 Yamashina Tea Stall promises a fun and authentic experience when it comes to Japanese tea, for the very fact that it has had its hands on so many different types. That's where their new program comes in to play, where they will pair different Japanese teas into different wine glasses―provided by Tokyo glass makers Kimura Glass―for tasters to get the best out of the tea, including the flavours and fragrance.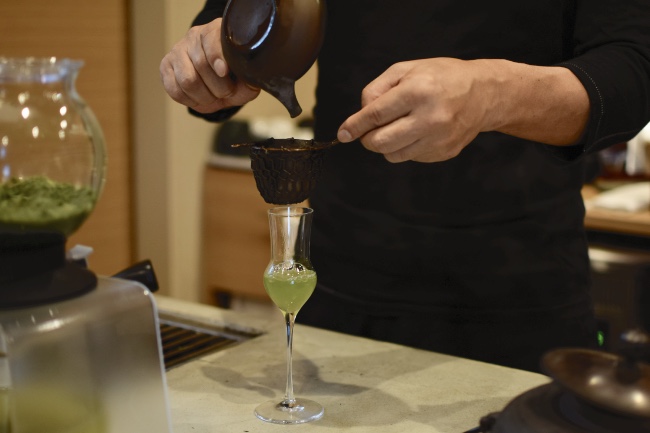 Let's take a look at the course.
Piccolo 6oz Flute & Yama no Asatsume
This brand of tea is called Chiran Yama no Asatsume and it comes from Kagoshima Prefecture. It's grown in Ushirodake, an area in Kagoshima with a high altitude, the only place it can be grown. It has a distinct fresh and sweet fragrance. The tea is served in a 6oz Piccolo glass which is a popular glass for champagne. Its delicate rim and form makes it the perfect shape to enjoy the full taste of the tea.
Garson 3oz Grappa & Yame Gyokuro
Yame Gyokuro is known as one of the most luxury teas in Japan. Served in a Garson glass, it has a thin, long shape, making it ideal for smelling the gentle aromas of the gyokuro tea and for enjoying its smooth, sweet taste.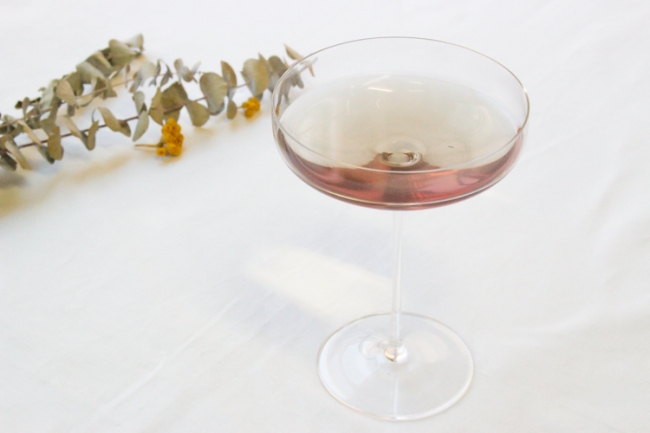 Pivo Orthodox 63224-210 & Sun Rouge
Sun Rouge is an extremely rare variety of tea grown on the distant island of Tokunoshima which is south of Kagoshima. It is served in a classic champagne glass, much different from the flute-type champagne glasses. The liquid is allowed to spread over a wider surface, letting you take in the distinct beautiful purple colour of the tea while enabling the fragrance to dance around the elegant glass.
This is just a snapshot of the many drinks this course has to offer. If you're looking to experience Japanese tea in style, then why not try out this course? They even sell sets of glasses and tea so you can take them home with you!
Information
Yamashina Tea Stall
Address: 1635 Amagi, Asakura, Fukuoka
Opening Hours: 10:00-18:00
Course Name: CRAFT STORE x Seichajo Yamashina Japanese Tea Course (5 Types)
Price: ¥1,800
Reservations: Telephone (Limited number of places, please enquire ASAP)
TEL: 0120-177-515
Homepage: https://www.e-ochaya.net/
RECOMMENDED ENTRIES
Experience the Heart of the Japanese Tea Ceremony This Autumn in Ginza

In line with the annual autumn event Ginchakai―which is held in Ginza and brings together multiple schools of tea in Japan for an open-air tea ceremony―Tokyu Plaza Ginza is hosting an event themed on the heart of the Japanese tea ceremony.

This special event will serve Japanese omotenashi, or "hospitality," thorough various exhibits including a co-project with Tokyo University of the Arts, an exhibition by one of Japan's leading confectionery companies Toraya Confectionery, and more.

The co-project with Tokyo University of the Arts will feature installations produced by the university that is centred on calligraphy drawn by Japanese calligrapher Shoko Kanazawa, who performs both in Japan and overseas, and the tea ceremony. There will also be several tokonoma alcoves around the event which will be like miniature gardens where one can enjoy the beauties of nature. There will even be covers of famous songs about autumn on October 27 at the KIRIKO TERRANCE on the roof.

Up in the KIRIKO LOUNGE on the 6th floor, Toraya will serve up a selection of traditional Japanese confections, including those that had already been created by the end of the Edo period. You can order a set of two confections and a drink. Sweets include the Kiren Kaki, which is made to look like a Japanese permission, and the Kuri Goyomi, which is made with chestnuts, sugar, and agar-agar.

Soak up the enchanting nostalgia of autumn while enjoying the Japanese tea ceremony at Tokyu Plaza Ginza.

Information

The Heart of the Tea Ceremony in Ginza (Japanese Title: 銀座で触れる、茶の湯の心)

Running: September 26, 2019 – October 27, 2019

Location: Various places around Tokyu Plaza Ginza

GINZA Tokonoma Alcoves: Admire the Season With Tokonoma Art

Running: September 26, 2019 – October 27, 2019

Time: 11:00-21:00
Locations: Floors 3, 4, and 6

Autumn Music Performances

Date: October 27, 2019

Time: 12:00-15:30

Location: KIRIKO TERRACE on the Tokyu Plaza Ginza rooftop

TOKYU PLAZA GINZA x Bunkamura SPECIAL PROGRAM ~ Toraya Confectionery~

Running: October 11, 2019 – October 27, 2019

Time: 11:00-23:00 (Until 21:00 on Sundays and public holidays)

Location: KIRIKO LOUNGE (Tokyu Plaza Ginza Floor 6F)

Tokyu Plaza Ginza

Address: 5-2-1 Ginza, Chuo Ward, Tokyo

Official Website: https://ginza.tokyu-plaza.com/

New Bubble Tea Shop Opens in Ochanomizu to Heal Fatigue and Improve Skin

Sugar Factory is the mastermind behind four trendy brands in Japan including the colourful candy floss shop TOTTI CANDY FACTORY, which is famous for its giant Harajuku rainbow cotton candy, and candy coated strawberry shop Strawberry Fetish. On September 26, they will be opening a bubble tea shop in Ochanomizu called Wu-Cha which is committed to serving only the best quality.

Wu-Cha uses large tapioca pearls sourced from Taiwan. From start to finish, the process of making these fresh tapioca pearls involves four hours of careful procedures. They are boiled and steamed carefully according to a strict schedule to create a springy texture. As the pearls are soaked evenly in syrup, each pearl is packed with deliciousness that will explode in your mouth with every bite. 

Okinawa Brown Sugar Milk Tea: ¥470

Matcha Milk Tea: ¥550

Extensive research went into creating recipes to use these tapioca pearls. Raw ingredients such as Okinawa brown sugar and Kyoto Uji matcha have been carefully sourced from their places of origin to maximize the flavours. A generous amount of all these special ingredients have been used to develop these delicious and authentic milk teas. 

Strawberry Milk: ¥550

Mango Yoghurt: ¥ 550

The Strawberry Milk and Mango Yoghurt are made with fresh fruit pieces and look just as refreshing as they taste.  

Beautiful Skin Tea: ¥450

Fatigue Recovery Tea: ¥450

There is a large variety of drinks to enjoy with a range of healing effects. Alongside the bubble tea series and the fruity tea series, there is also a herb tea series. 

Whether you are tired, unwell or just in need of a quick sugar boost, this bubble tea shop is the fairy godmother to all your problems. Every drink is packed with love and you absolutely must try it. 

Information

Wu-Cha (伍茶)
Address: 3-20-4, Ogawa-machi, Kanda, Chiyoda, Tokyo

Opening Hours: 11:00-21:00

No regular holidays

Delicious and Instagrammable: 7 Bubble Tea Drinks Unique to Sapporo, Hokkaido

Bubble tea is a national sensation in Japan. Until now, MOSHI MOSHI NIPPON has been introducing quite a lot of bubble tea shops in Harajuku, however today, we are going to introduce you to some special bubble teas that you can only get in Sapporo, Hokkaido.

When it comes to cafés, desserts and drinks in Sapporo, you can always count on Instagrammer Kei to pick out the most unique and cute places.  Check out his Instagram (@607keih) which is home to a precious collection of mouthwatering and delicious pictures.

And with that let's get started:

Club China/Tanukikoji 

Almond Jelly Coconut Milk and Bubble Tea ¥600 (strawberry sauce topping: +¥50)

(Chinese almond jelly is sometimes made with apricot kernels.)


Club China is a Chinese restaurant where you can enjoy authentic Chinese food in a classy atmosphere. This rare bubble tea is the perfect way to discover authentic Chinese flavours. You can change the sweetness of your drink by adding gomme syrup, brown sugar sauce or strawberry sauce.

▶︎ Club China (クラブチャイナ)

Address: SYOKUSAN 35 Building 3rd Floor

3-chōme-5 Minami 3 Jōnishi, Chūō-ku, Sapporo, Hokkaido

Opening Hours

・Lunch: 11:00 ー 15:00(Last orders: 14:30)

・Tea 14:30 ー 17:00

・Dinner: 17:00 ー 22:00(Last orders: 21:00)

Closed: Wednesdays (Open on national holidays)

Website: http://www.clubchina.jp/index.html

Oukacha (Located inside Izakaya Chorotto)/Higashi Ward

Strawberry Milk Cream: ¥580

There is a famous Izakaya (Japanese-style pub) in the Higashi-ku area. However, during the daytime, it is sometimes taken over by a bubble tea shop called Oukacha. The drink to look out for is their homemade brown sugar syrup bubble tea, which you can order with topping of whipped cream. This is the way to treat anyone with a sweet tooth! 

▶︎ Oukacha (Located inside Izakaya Chorotto 桜華茶)

Address: 7-1-24, Kita 15 Johigashi, Higashi Ward, Sapporo, Hokkaido

As the opening and closing days/times are irregular, please check them on the shop's official Instagram or Twitter. 

o.cha.bar/Tanukikoji

Ritz Cream Cheese Churros: ¥550, Okinawa Brown Sugar Bubble Milk: ¥650

MESSE Building is a mall full of interesting restaurants including a Bikkuri Donkey. Head to the 5th floor to discover a Taiwanese and Korean restaurant called o.cha.bar. This is where you will come across the Okinawa Bubble Milk. This is a bubble tea which is topped with a generous serving of cream made using salt sourced from Okinawa. The tapioca is imported directly from Taiwan and has a very springy texture. Maximise your experience by dipping the churros in the cream cheese. 

▶︎ o.cha.bar(オチャバー)

Address: N.MESSE Building 5th floor, Minami 3-jo Nishi 3, Chuo-ku, Sapporo-shi, Hokkaido 

Opening Hours: 11:30 ー 21:00

Closed: No regular holidays 

Official Twitter: https://twitter.com/ochabar1

cafe & kitchen unique/Higashi Ward

Strawberry Milk: ¥480 , Matcha: ¥480, Served in a bottle: +¥80

cafe&kitchen unique is famous for their delicious fluffy pancakes that are made in a deep pot and topped with beautiful toppings. However, their bubble teas which are sold in cute bottles are also something you do not want to miss. The Strawberry Milk contains fruity pieces which perfectly compliment the milk. The Matcha Milk has a gentle sweet flavour that adults would love.  

▶︎ cafe&kitchen unique (cafe&kitchen ユニック)

Address: 3 Chome-2-6 Kita 10 Johigashi, Higashi Ward, Sapporo, Hokkaido 

Opening Hours

Lunch : 11:00 ー 14:00

Coffee Time: 14:00 ー 17:00

Dinner: 17:00 ー 22:00

Closed: The 1st and 3rd Thursday of every month. 

Official Website: https://cafekitchen-unique.com/

MY TAPIOCA KOUTA/Higashi Ward

Brown Sugar Bubble Tea Latte 

Ramen restaurant Ore no Ramen Kouta also runs the bubble tea shop MY TAPIOCA KOUTA, where it is possible to order just a bubble tea. The brown sugar adds a strong accent to the flavour. The tapioca pearls are large and although this is filling drink, it is also cheap which makes it a good deal. The shop is open late into the night which is perfect for those late night cravings. 

▶︎ MY TAPIOCA KOUTA

Address: 4-5-26, Honcho 1 jo, Higashi Ward, Sapporo

Opening Hours: 11:00 ー 23:30

Official Twitter: https://twitter.com/tapiocamy

Milk san Asabu Branch/Asabu

Strawberry Milk: ¥650, Brown Sugar Milk: ¥570, Tapioca Topping: ¥70 (served in a bottle) 

Milk san serves delicious drinks made using milk which is specially produced by dairy farmers, contributing to the delicious Hokkaido goodness of the drink. The small tapioca pearls and the rich milky flavour are the perfect combination. The brown sugar flavour is only available at the Asabu branch, so we recommend you try it. As these drinks are served in cute bottles, you just have to post a picture on Instagram. 

▶︎ Milk san Asabu

みるくsan麻生店

Address: Karumu Asabu 1st floor, 5-2-8, Kita 39 Jonishi, Kita Ward, Sapporo 

Opening Hours: 10:00 ー 19:30

Official Website: https://www.milk-san.com/

Iced Biscuit Shop SHONPY/Susukino

Chocolate Mint Frappé: ¥690, Strawberry Milk Bubble Tea with a Tapioca Float: ¥690 

One by one, this shop makes iced biscuits that are original down to their shape. SHONPY also delivers countrywide. The Strawberry Milk Bubble Tea comes with a tapioca float that is too cute to consume. It is filled with fruit such as strawberries and bananas that are a perfect match with the tapioca. The Chocolate Mint Frappé comes in a very cute bottle. This shop opened in Harajuku too.

▶︎SHONPY

Address: SUSUKINO LAFILER 2nd floor, 4 Chome, Minami 4 Jonishi, Chuo Ward, Sapporo, Hokkaido 

Opening Hours: 10:00 ー 21:00

No fixed holidays

Official Website: http://shon-py.jp/

So, how about it? If you ever find yourself in Hokkaido, Kei's recommended Hokkaido-limited bubble teas are bound to make your trip special. 

Kei's Instagram is full of delicious desserts and mouthwatering meals. When in doubt of where to eat out, Kei's Instagram is bound to save your day so please check it out.

 

Photos & Text: Kei(@607keih)
RELATED ENTRIES
Sanrio Releases Tea Gift Set in Collaboration With World Tea Brand LUPICIA

World tea brand LUPICIA launched its 7th collaboration with Sanrio on Thursday (February 25) featuring a range of tea gift sets. Every year, LUPICIA releases a wide variety of rea-related gift sets for White Day, the spring season, Mother's Day, and more.

Four Fruit Fruity Tea With Lidded Mug

Hello Kitty LUPICIA Mug & Flavoured Tea | ¥3,300 (Tax Included)

My Melody LUPICIA Mug & Flavoured Tea | ¥3,300 (Tax Included)

Cinnamoroll LUPICIA Mug & Flavoured Tea | ¥3,300 (Tax Included)

Kuromi LUPICIA Mug & Flavoured Tea | ¥3,300 (Tax Included)

This year adds the dearly beloved Kuromi to the new collaboration which features a variety of fresh and fruity teas together with a mug that comes with a lid to keep your tea hot.

Will you be having tea with Hello Kitty, My Melody, Cinnamoroll, or Kuromi?

(c)'21 SANRIO 著作(株)サンリオ

teamLab Serves a Forest Sauna, Ruins Art, and Tea Experience at Mifuneyama Rakuen Hotel

If you visit Mifuneyama Rakuen Hotel in Saga Prefecture, you'll discover teamLab's permanent exhibition teamLab Ruins and Heritage: Rinkan Spa & Tea Ceremony. On Friday (February 19), the exhibition began serving EN TEA, a new brand of tea grown in Hizen.

The exhibition is an art and sauna experience by teamLab and the Mifuneyama Rakuen Hotel Rakan Bath, the winner of SAUNACHELIN in 2019 and 2020. There, visitors can clear their minds, feel the ever-expanding space through their bodies, and immerse themselves in the art and the forest dotted with ruins. After their sauna experience, they can enjoy a cup of EN TEA to wind down.

EN TEA is a brand of tea made in collaboration with tea master Shunichi Matsuo and Maruwakaya, a brand that focuses on Japanese traditional culture and brings together artisans. It's brewed at a low temperature for 15 minutes which lowers the amount of caffeine inside. After enjoying the sauna, visitors can visit the EN TEA HOUSE at Mifuneyama Rakuen Hotel for their cup.

BEAMS JAPAN x Fukushima Prefecture's Fukushima Mono Mappu Project Heads to Kyoto

Fukushima Mono Mappu, a project run in collaboration with BEAMS JAPAN and Fukushima Prefecture, has set up to shop in Kyoto for the first time at BEAMS JAPAN KYOTO where their line-up of products will be available for purchase until March 14.

Shirakawa Daruma BEAMS JAPAN KYOTO Exclusive Model (Purple) | Small ¥900, Medium ¥1,800, Large ¥4,500 (Before Tax)

The Fukushima Mono Mappu project launched in January 2018 as a way to promote Japan's prefecture of Fukushima across the country. The collaborative project has released many different items, and now the people of Kyoto will be able to enjoy what the prefecture has to offer. To celebrate its first time in Kyoto, BEAMS JAPAN KYOTO will also be selling an exclusive purple daruma.

Information

Fukushima Mono Mappu – Peko Taro's City Trip 

Japanese Event Title: ふくしまものまっぷ べこ太郎の都旅

Running: February 17, 2021 – March 14, 2021

Location: BEAMS JAPAN KYOTO

Opening Hours: 11:00-20:00

Address: Shinpuhkan, 586-2 Banocho, Nakagyo Ward, Kyoto, 604-8172

TEL: 075-708-6848

Official Website: https://www.beams.co.jp

Doraemon Future Department Store to Open Pop-Up Shop in Hakata

Doraemon's official shop Doraemon Future Department Store, which is located in Odaiba, Tokyo, has announced that it will open a pop-up shop in Hakata, Kyushu, from February 18 to March 7. Fans can get their hands on a selection of exclusive merchandise and more.

Not Only Merchandise, But Services Too

1. Customise Service


The pop-up shops will offer a customisation service which lets customers have different embroideries put into the T-shirts, tote bags, and key rings. The work is done on the spot by hand so you can see the result of what will be a very special item of which only one exists in the world. Perfect for Doraemon fans and gifts to friends and family.

2. Post Office


The shop will offer a postal service for sending off Doraemon letters and postcards with original Doraemon stamps.

Bonus Items: 1st Anniversary Postcard / Mini Tote Bag

There are also bonus items for fans to get their hands on depending on how much they spend.

1. Customers who buy anything from the pop-up store will receive a free 1st anniversary postcard. One per transaction, available while supplies last.

2. Customers who spend over ¥5,000 (tax included) in a single transaction will receive a free tote bag. One per transaction, available while supplies last.

Universal Points Card

Points cards will be available which allow fans to buy additional exclusive merchandise as well as receive discounts. 1 point = ¥1 discount. Points are gained during transactions. These cards can be used not only at the pop-up shop but the main store in Odaiba as well as online. There's also a handy app tied to the card.

Information

Doraemon Future Department Store in JR Hakata City 2021
Running: February 18, 2021 – March 7, 2021
Where: JR Hakata City AMU EST Floor 1F POPUP STAGE
Address: 1-1 Hakata Station Central Gate, Hakata-ku, Fukuoka-shi, Fukuoka
Opening Hours: [Mon-Sat] 10:00-21:00 / [Sun & Holidays] 10:00-20:00
Doraemon Future Department Store Official Website: https://mirai.dora-world.com/

CoCo Fresh Tea & Juice Releases Valentine's Day Chocolate CoCo Dinosaur Beverages

Tastea Trustea Japan released two new beverages on Friday (February 5) for Valentine's Day at CoCo Fresh Tea & Juice in Japan: the CoCo Dinosaur and Tapioca CoCo Dinosaur.

CoCo Dinosaur ¥520 / Tapioca CoCo Dinosaur ¥580

The two teach beverages are made with a rich chocolate sauce and fresh milk. They are topped with chocolate and brown sugar syrup for a sweet combination of flavours and textures. An enjoyable beverage that is both refreshing and Instagram-worthy for Valentine's Day.

Information

CoCo Fresh Tea & Juice
Serving: February 5, 2021 – End of February 2021
Where: All 12 branches of CoCo Fresh Tea & Juice in Japan
CoCo Fresh Tea & Juice Japan Official Website: https://cocofreshtokyo.amebaownd.com/

Japan's First Earl Grey Shop Makes Appearance at Chocolate Mode 2021 Event in Saitama

&EARL GREY, the first shop in Japan to sell exclusively earl grey products, is appearing at the Chocolate Mode 2021 event at Isetan Urawa in Saitama which is taking place until February 14. Visitors can look forward to tucking into a sweet selection of delicious earl grey flavoured ice creams.

Double Chocolate Gelato & Macaron: Chocolate & Continental Earl Grey / Chocolate & Sunshine Earl Grey / Chocolate & Exotic Earl Grey – ¥605 Each (Tax Included)

Earl Grey Rich Milk Tea Gelato: Butterfly Pea & Earl Grey / Pistachio & Matcha / Mango Passion & Jasmine / Mixed Berries & Rooibos / Peche de Vigne & Honeybush Lavender – Single ¥495, Double ¥550, Triple ¥605 (Before Tax)

&EARL GREY has prepared a sweet line-up of rich ice creams made using high quality tea leaves from Japan, China, Sri Lanka, South Africa, and elsewhere. And for Valentine's Day, some of the ice cream options have been topped with cute macarons.

Japan Hotels | New Hotel The OneFive Terrace Fukuoka to Open on December 15

Hakata Hotels is welcoming the third branch of its The OneFive brand hotels with the opening of The OneFive Terrace Fukuoka in Chuo, Fukuoka, on December 15, 2020.

The OneFive is based around the old Japanese way of ichigo ichie, which roughly translates to "treasure every meeting, for it will never reoccur." It has taken considerate measures to question what really constitutes as necessary service when it comes to hotels, and launched as a new brand of simple yet comfortable and high quality hotels serving Japanese omotenashi, or hospitality.

Simple yet fine quality comfort

The OneFive Terrace Fukuoka is located in busy central Hakata—within walking distance of the entertainment district of Nakasu and the lively riverside area of Tensu—while offering spacious and comfy rooms.

Rooms are 27㎡~48㎡ in size, with Double Rooms being equipped with king size beds and Twin Rooms with two double beds. Each has a bath, toilet, and wash area, as well as a writing desk, closet, and other pieces to make the hotel stay as comfortable and convenient as possible. There are of courses terraces too, living up to the hotel's name, which act as 'another living room' for guests.

The 4 S's of Japanese Tea at The OneFive Terrace Fukuoka

1. Select
A selection of specially-selected teas from around locations in Kyushu such as Yame (Fukuoka), Chiran (Kagoshima), Ureshino (Saga), and elsewhere.

2. Style
Enjoy tea in a variety of different styles from creamy and foamy draft tea to hand drip tea and more.

3. Sweets
The hotel's pastry chefs will whip up a range of tea-flavoured desserts that fuse the traditional Japanese taste with modern western ideas.

4. Scene

All guests staying at The OneFive Terrace Fukuoka are offered a welcome cup of tea. The hotel is a chance for them to appreciate the local culture, region, and lifestyle arranged in a contemporary way.

Tokyo Tower to Begin Morning Tea Gathering On 150-Meter Main Deck

Tokyo Tower is set to host a special morning tea gathering on its 150-meter-high main deck, which overlooks central Tokyo, from November 21, 2020.

A peaceful morning cup of tea above Tokyo

Tokyo is a communications tower in the middle of Tokyo which has its own observation deck open to the public which offers an incredible view of the capital. During the day, the tower is very busy with visitors, and so this morning tea gathering aims to offer people a chance to enjoy the tower and its view in peace and quiet, before opening hours, with a cup of Japanese tea.

An open display showcasing Japanese crafts

The event is cooperating with the Japan-France Tea Ceremony Association who is providing specially-selected traditional Japanese tea-making and serving equipment, all of which were made by traditional Japanese artisans and have been passed down since the Edo Period for an authentic.

Open to foreigners even if you don't know Japanese or the etiquette of the Japanese tea ceremony

Don't worry if you can't speak Japanese or don't know the manners or proper etiquette when it comes to the Japanese tea ceremony – the event is open to all, and you can participate without sitting in the traditional seiza positioning. The staff can speak English, French, and Spanish, so foreign tourists won't miss out on anything.

Information

Morning Tea Gathering
Running: November 21, 2020 / December 5, 2020 / December 19, 2020 / January 9, 2021 / January 23, 2021 / February 6, 2021 / February 20, 2021
Time: Meeting at 8:15am / Entering at 8:30am
Meeting Point: Tokyo Tower Floor 1F Foot Town
Sign Up: アソビューサイト

Kawaii Bear Themed Cafe Menu Arriving at Tokyo's Q-pot CAFE. This Christmas

Q-pot CAFE. in Omotesando, Tokyo, has revealed its upcoming Q-pot CAFE. "KUMA"STMAS MENU which is set to be served from November 1 to December 25.

Happy Merry "KUMA"STMAS!

"KUMA"STMAS is a portmanteau of the Japanese word for bear (kuma) and Christmas. The cafe's cute menu is here to bring warmth and cosiness this holiday season.

Merry "KUMA"STMAS Plate w/ Drink – ¥2,060 (Tax Included)

A sweet assortment cute enough to tug your heartstrings.

Q-pot CAFE.'s pastry chefs take their time to delicately handmake the adorable bear's baby face oat milk cookie. The cookie is sat on top of a fluffy duvet of whipped cream, berry jam with fresh berries, and a chocolate génoise cake. It's a sweet and tangy combination of raspberry and strawberry.

The cookie-topped cake is also served with a rich pistachio cream Christmas tree.

Merry "KUMA"STMAS Bitter Caramel Milk Tea – ¥750 (Tax Included)

A warm and cosy beverage to heal your heart, mind, and soul. This baby bear looks sweet but has delightfully rich notes thanks to the caramel. The tea is one of the cafe's originals, the "Sweet Weekend," which has a refreshing after taste and goes perfectly with the caramel cream.

Merry "KUMA"STMAS Afternoon Tea Set | ¥2,400 per person (Tax Included) *Photo shows a set for two

If you love teddy bears, then this afternoon tea set is a dream come true.

Top Plate

The top plate is a delicate assortment of sweet and crunchy oat milk cookies, a glass dessert of fromage blanc and fresh orange jelly, velvet cupcakes topped with pistachio cream made to look like a Christmas tree, and creamy macarons.

Bottom Plate

The bottom plate is the savoury selection and comes with croissants stuffed with roast beef topped with honey mustard sauce, a rich potato potage, and skewers piercing olives, mini tomatoes, and pickles.

Special Novelty <Teddy Bear Message Card>

Customers who book a table in advance to the cafe will receive a free teddy bear message card. These are limited in stock, so if you're in Tokyo don't miss out.

Information

Q-pot CAFE. "KUMA"STMAS

Location: Q-pot CAFE. Omotesando

Running: November 1, 2020 – December 25, 2020

Opening Hours: 11:00-19:00 (Last Orders 18:30)

Online Bookings: Tabelog

TEL :03-6447-1218

Bookable Slots: 11:00/12:30/14:00/15:30/17:00

Pokémon Cafe and Pikachu Sweets by Pokémon Cafe Reveal New Desserts Including Polteageist Tea Set

Pokémon Cafe and Pikachu Sweets by Pokémon Cafe are releasing a new teatime menu at their respective branches on October 24, 2020.

Pokémon Cafe

Polteageist & Sinistea Tea Party! Fruit Tea Set ~Apple Flavoured~ | ¥1,188 (Tax Included)


Polteageist & Sinistea Tea Party! Fruit Tea Set ~Strawberry Flavoured~ | ¥1,188 (Tax Included)

Pokémon Cafe is serving up two different fruit tea sets based on the Ghost-type Pokémon Polteageist and Sinistea. Customers are free to pour in their desired amount of fruit syrup which changes the colour of the tea. The sets come with a cute cookie too.

Pikachu Sweets by Pokémon Cafe

Left: Polteageist's Tea Party! Fruit Tea ~Mixed Berry Flavour~ / Right: Polteageist's Tea Party! Fruit Tea ~Peach Orange Flavour~ | ¥700 Each (Before Tax)

Pikachu Sweets by Pokémon Cafe is also going to serve up some Polteageist themed fruit teas as well as a selection of desserts like macarons and financier almond cakes which have Pokémon tail and ear designs.

After ordering one of the Polteageist fruit teas, customers can place their cups under the Polteageist tea pot as pictured above and activate the pot to dispense their drink, so it's like Polteageist  really pouring tea for you.

Left: Swirlix Strawberry Macaron | Middle: Pikachu Vanilla Macaron | Right: Galarian Ponyta Pistachio Macaron – ¥500 Each (Before Tax)

Treat yourself to one of the super cute Swirlix, Pikachu, or Ponyta macarons each with designs that tell you instantly which Pokémon they're inspired by.


Polteageist Fruit Tea and & Pikachu Macaron Set

Customers can order a tea and macaron combination set too.

Pikachu Parfaits

Pikachu Glass Parfait Set | ¥1,500 (Before Tax)

An adorable set of Pikachu parfaits, one being caramel banana flavoured and the other chocolate.

Pikachu Tea Party Assortment – Pika Pika Pikavee Set | ¥2,800 (Before Tax)

Another set to share between friends and family, this time with two Pikachu glass desserts as well as Pikachu and Eevee cupcakes.

Pikachu Tea Party Assortment – Ghost Type Set | ¥2,800 (Before Tax)

This set comes with the Pikachu glass desserts as well as Ghost-type Gengar and Litwick mousse cakes.

The Polteageist teapot and Sinistea teacup used at the Pokémon Cafe and Pikachu Sweets by Pokémon Cafe will also be released at Pokémon Center Online in Japan on December 5, 2020.

© 2020 Pokémon.©1995-2020 Nintendo/Creatures Inc./GAME FREAK inc.
Pokémon, ポケットモンスター, and ポケモン are registered trademarks of Nintendo, Creatures Inc., and GAME FREAK inc..

Information

Pokémon Cafe (Nihombashi, Tokyo)
Address: Nihombashi Takashimaya SC East Bldg. 5F, 2-1-2 Nihombashi, Chuo Ward, Tokyo
Business Hours: 10:30-22:00
No Fixed Holidays (Except when Nihombashi Takashimaya SC is closed)
Reservations: https://www.pokemoncenter-online.com/cafe/reservation.html

Pokémon Cafe (Shinsaibashi, Osaka)
Address: Daimaru Shinsaibashi Honkan 9F, 1-7-1 Shinsaibashisuji, Chuo Ward, Osaka, Osaka Prefecture
Business Hours: 10:00-21:30
No Fixed Holidays (Except when Daimaru Shinsaibashi is closed)
Reservations: https://www.pokemoncenter-online.com/cafe/reservation.html

Pikachu Sweets by Pokémon Café 

Address: Sunshine City Alpa Floor 2F, 3-1-2 Higashiikebukuro, Toshima City, Tokyo

Opening Hours: 10:00-20:00
Official Website: https://www.pokemoncenter-online.com/cafe/pikachu_sweets/

*Opening hours subject to change, please check in advance before travelling.

*Food served and duration subject to change without notice.

*Photos are for illustrative purposes only.

*Seat reservations are taken online only – phone reservations not available.

Kirby Café Launches Autumn Menu in Tokyo and Fukuoka

The Kirby Café in Tokyo and Fukuoka released three new dishes for autumn last Friday (September 18).

The menu items are made with seasonal flavours like pumpkin, sweet potato, and chestnut.

Filling Autumn Plate – Salmon Cream Pasta & Pumpkin Salad Sandwich | ¥1,480 (Before Tax)

One plate packed with fall flavours including a rich salmon cream pasta and pumpkin salad sandwich. If you look closely, you'll spot cute pieces of Waddle Dee cheese.

Fallen Leaf Waterfall☆Mont Blanc and Baumkuchen With Friends | ¥1,280 (Before Tax)

Rick, Kine, and Coo feature on this tasty-looking dessert plate which is a baumkuchen piled with a chestnut mont blanc cream.

Kirby's Hot Sweet Potato Sticks | ¥1,080 (Before Tax)

Crunchy on the outside, hot in the middle, and seasoned with fresh rosemary. Kirby is a pro at inhaling food, but don't burn yourself with these!


Information

Kirby Café TOKYO
Address: Tokyo Skytree Town Solamachi Floor 4F (1-1-2 Oshiage, Sumida, Tokyo)
Opening Hours: 10:00-22:00 (Last Orders 21:00)

Kirby Café HAKATA

Address: Canal City Hakata North Bldg. B1F, 1-2-1 Sumiyoshi, Hakata, Fukuoka, Fukuoka Prefecture

Opening Hours: 11:00-23:00 (Last Orders 22:00)

Book Here: https://kirbycafe.jp

Kirby Café Official Twitter: https://twitter.com/kirbycafe.jp

McDonald's Japan Reveals Japanese Tea Infused Dessert Beverage Series

McDonald's Japan has announced the release of four limited-time drinks which will be sold at McCafé by Barista branches of McDonald's from September 2. The line-up includes the 'Houjicha Frappe Shiratama Kuromitsu Kinako,' 'Houjicha Frappe,' Matcha Frappe Shiratama Kuromitsu Kinako,' and 'Matcha Frappe.'

The beverage lineup is the perfect pink for an autumn-time dessert drink, each made with authentic flavours from Japan.

Houjicha Frappe Shiratama Kuromitsu Kinako | Regular ¥490, Large ¥530 (Tax Included)

Made using 100% Japanese houjicha powder and delicious milk, this houjicha frappe is topped with soy flour, sweet brown sugar syrup from Okinawa, chewy rice flour dumplings, and a squirt of whipped cream. This is the ultimate McDonald's Japanese dessert drink, laced with fragrant houjicha tea with a creamy texture.

Houjicha Frappe | Regular ¥450, Large ¥490 (Tax Included)

Houjicha frappe is used as the base for this one, and if inished with whipped cream and a dusting of houjicha powder. The subtly sweet houjicha and creaminess of the whipped cream is a deliciously perfect match.

Matcha Frappe Shiratama Kuromitsu Kinako | Regular ¥490, Large ¥530 (Tax Included)

Just like the houjicha variant, except this time it's a latte made with matcha and matcha powder from Uji, Kyoto. A truly all-star Japanese dessert drink.

Matcha Frappe | Regular ¥450, Large ¥490 (Tax Included)

The matcha frappe too is sprinkled with matcha powder from Uji, combined with full-bodied milk, and topped with whipped cream.