Experience the Heart of the Japanese Tea Ceremony This Autumn in Ginza
In line with the annual autumn event Ginchakai―which is held in Ginza and brings together multiple schools of tea in Japan for an open-air tea ceremony―Tokyu Plaza Ginza is hosting an event themed on the heart of the Japanese tea ceremony.
This special event will serve Japanese omotenashi, or "hospitality," thorough various exhibits including a co-project with Tokyo University of the Arts, an exhibition by one of Japan's leading confectionery companies Toraya Confectionery, and more.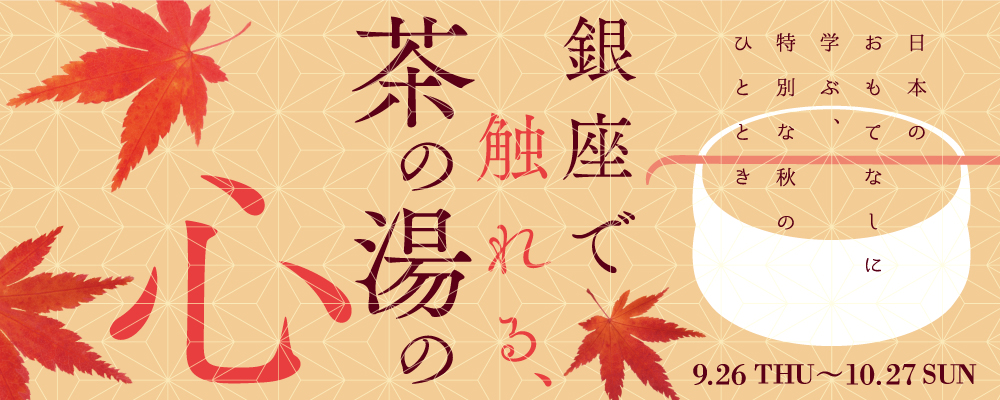 The co-project with Tokyo University of the Arts will feature installations produced by the university that is centred on calligraphy drawn by Japanese calligrapher Shoko Kanazawa, who performs both in Japan and overseas, and the tea ceremony. There will also be several tokonoma alcoves around the event which will be like miniature gardens where one can enjoy the beauties of nature. There will even be covers of famous songs about autumn on October 27 at the KIRIKO TERRANCE on the roof.
Up in the KIRIKO LOUNGE on the 6th floor, Toraya will serve up a selection of traditional Japanese confections, including those that had already been created by the end of the Edo period. You can order a set of two confections and a drink. Sweets include the Kiren Kaki, which is made to look like a Japanese permission, and the Kuri Goyomi, which is made with chestnuts, sugar, and agar-agar.
Soak up the enchanting nostalgia of autumn while enjoying the Japanese tea ceremony at Tokyu Plaza Ginza.
Information
The Heart of the Tea Ceremony in Ginza (Japanese Title: 銀座で触れる、茶の湯の心)
Running: September 26, 2019 – October 27, 2019
Location: Various places around Tokyu Plaza Ginza
GINZA Tokonoma Alcoves: Admire the Season With Tokonoma Art
Running: September 26, 2019 – October 27, 2019
Time: 11:00-21:00
Locations: Floors 3, 4, and 6
Autumn Music Performances
Date: October 27, 2019
Time: 12:00-15:30
Location: KIRIKO TERRACE on the Tokyu Plaza Ginza rooftop
TOKYU PLAZA GINZA x Bunkamura SPECIAL PROGRAM ~ Toraya Confectionery~
Running: October 11, 2019 – October 27, 2019
Time: 11:00-23:00 (Until 21:00 on Sundays and public holidays)
Location: KIRIKO LOUNGE (Tokyu Plaza Ginza Floor 6F)
Tokyu Plaza Ginza
Address: 5-2-1 Ginza, Chuo Ward, Tokyo
Official Website: https://ginza.tokyu-plaza.com/
RECOMMENDED ENTRIES
Take A Tasty Trip to Tokyo Kaikan to Indulge in Mouthwatering Marron Chantilly Desserts

Kiyotaka Katsume (勝⽬ 清鷹) is the first ever confectioner of the 70-year-old Tokyo Kaikan. This autumn, Tokyo Kaikan is selling Mont Blanc Marron Chantilly dessertsーwhich were invented by Katsumeーfor a limited period only.

Earl Grey Marron Chantilly: ¥908

The Earl Grey Marron Chantilly is only available from October 1 to October 31. The flavour and aroma of earl grey tea leaves has been fully extracted to add to the flavour of the cream.

Premium Marron Chantilly: ¥1,500

The premium Marron Chantilly is only available from September 1 to October 31. Japanese chestnuts sourced from Kasama are shredded with whipped cream for a light and fluffy texture. This is a paradise for anyone who loves chestnuts.

Pumpkin Marron Chantilly¥908

The Halloween-themed desserts at Tokyo Kaikan are a big hit every year. This year, the Pumpkin Marron Chantilly will be taking to the scene to deliver the very best flavours of Halloween. Just looking at this Halloween-coloured dessert is enough to make your mouth water. It is such a shame that it is only selling from October 18 to 31.  

Dig into one of these delicious Marron Chantilly desserts surrounded by the luxurious atmosphere of Tokyo Kaikan. 

Winter is Coming But Hotel Chinzanso Tokyo's Yuzu Lemon Afternoon Tea Will Warm You Up

Hotel Chinzanso Tokyo will begin serving its new citrus fruit-packed Yuzu Lemon Afternoon Tea on November 1 at the Le Jardin, the hotel's lobby lounge which offers a view of the beautiful garden.

You'll see yuzu and lemons throughout the year, but it is said that winter is the best season to enjoy them. Both lemons and yuzu are said to have a relaxation effect, and so Hotel Chinzanso Tokyo will beckon guests through its cosy doors with the afternoon tea set's refreshing citrus fragrance, inviting them to an early wonderful winter at the beginning of November.

The set includes an assortment of sweets including a yuzu and lemon flavoured savarin, a lemon cheesecake that squeezes out all the juicy nectar of the citrus fruit, and more. The lemons and yuzu are the citrus kingpins of this afternoon tea.

The seasonal scones are a mix of yuzu and vanilla scones and silky white chocolate scones to relieve some of the sourness. Enjoy together with a mix of dips including salted clotted cream for even more flavour.

On the savoury side of things there is a tempting mix of bites and nibbles, including the use of spicy ginger to warm up your cold body.

Welcome the winter early this year and do it in style with Hotel Chinzanso Tokyo's new afternoon tea set.

Information

Yuzu Lemon Afternoon Tea

Running: November 1, 2019 – November 30, 2019 (*Reservations available only on weekdays)

Time: 12:00-18:00
Location: Le Jardin, Hotel Chinzanso Tokyo

Price: Yuzu Lemon Afternoon Tea ¥4,000 / With Welcome Drink ¥4,500 (Tax and service charge not included in price)

Le Jardin Webpage: https://www.hotel-chinzanso-tokyo.com/dining/le-jardin/

Hotel Chinzanso Tokyo

Address: 2-10-8 Sekiguchi, Bunkyo Ward, Tokyo

Official Website: https://www.hotel-chinzanso-tokyo.com/

Kusatsu Onsen's Emerald Green Pudding is a Must-Try After a Dip in the Hot Springs

Kusatsu Onsen is a hot spring resort in Gunma Prefecture that is one of Japan's three principle hot spring locations. The site opened its new Japanese custard dessert (known as 'purin') shop, Kusatsu Onsen Pudding, on August 24, which serves the most incredibly smooth purin you have ever tried, each inspired by the hot springs.

Once you've stepped out of the nice warm hot springs of Kusatsu Onsen you can refresh yourself with a delicious purin packed full of love from the shop which has created a flavour you can only try by travelling to Gunma and going there. Each and every dessert is made fresh in the shop to further elevate its exclusivity as a local speciality.

Kusatsu Onsen Pudding also makes sure to use local and regional ingredients where it can to help support manufacturers and producers. Their purin is also made with a special type of milk sourced from in Gunma known as Haruna milk. The milk is made as delicious as can be by ensuring cows are raised on a healthy natural diet of grass on green pastures in Gunma bathed in plenty of sunlight.

Yuhata Purin

The Yuhata purin is inspired by the hot spring areas where mineral deposits are harvested, its jelly taking on a gorgeous emerald green colour. It's lemon and lime flavoured, the perfect flavour to enjoy when stepping out of the hot water, and one which goes surprisingly well with purin.

Yumomi Purin

The staple purin of the store, this purin is based on yumomi, a method used for cooling the hot water with paddles from which cold water gushes forth. This velvety delight is made with lots of fresh cream and high-quality vanilla beans from Madagascar for added punch.

Furomage

A pun on the word fromage, with furo in Japanese meaning "bath," the Furomage purin uses a rich cream cheese base which has a seriously smooth texture. It's topped off with strawberry jelly for the perfect combination, packing a perfect balance between sweet and sour.

Yuhata Soft (Milk/Yuhata/Mixed)

Choose from the Yuhata soft serve ice cream which is ramune flavoured and inspired by the flowing water of the hot springs or the Haruna milk-mixed vanilla flavoured Milk soft serve. If you can't pick, then choose mixed for a bit of both. A satisfyingly refreshing pick for when you're done in the hot springs.

The shop has plans to sell purin made using bamboo steamers in the near future, so you're pudding can be steamed like yourself after a dip in the water! The wooden spoons used to eat the desserts are also made in the image of the paddles used in yumomi too.
RELATED ENTRIES
GINZA SIX Christmas 2019: Christmas Cake, New Art by Klaus Haapaniemi & More

Ginza's biggest shopping complex GINZA SIX is celebrating Christmas this year with an upcoming event entitled "Celebration of Life: Hoshi no Umi no Shukusai" (A Festival Under a Sea of Stars) which will take place from November 5, 2019 to December 25, 2019.

Celebration of Life: Hoshi no Umi no Shukusai

The visuals for "Celebration of Life: Hoshi no Umi no Shukusai" were created by Finnish artist Klaus Haapaniemi. The work is titled "Astral Sea" and Haapaniemi arranged the art specifically for the event. It features animals and living beings floating through space amongst the stars, each moving to the rhythm of the stars' revolution. With this grand work, Haapaniemi has created a new myth that makes one think of space and how it connections to the lives of humans.

The space and time-transcending "Lightning Whales" which appear in the Astral Sea will be suspended from the shopping centre's atrium, and tapestries of Haapaniemi will also be draped down the centre, turning GINZA SIX itself into its own Astral Sea. The 10-meter long Lightning Whales floats have been designed in such a way that it looks like they are flying through space. Additional artwork can also be found in the front entrance, show window on floor B2F, and elsewhere.

Klaus Haapaniemi x GINZA SIX Christmas Collaboration Items

Several stores inside GINZA SIX are also releasing items in collaboration with Haapaniemi.

Mimuro Sugi Junmai Daiginjo Imadeya Ginza Limited Edition Model – ¥3,000 @ Imadeya Ginza

This Junmai Daiginjo is part of the Mimuro Sugi Roman Series developed by a sake brewery in Nara. This transparent drink retains the delicate flavour of the rice and leaves a beautiful lingering aftertaste. It's best enjoyed with some tasty food.

Available: November 5, 2019 – February 29, 2020 (While supplies last)

Lightning Whales Frozen Fruit Bar – ¥600 @ PALETAS

These new frozen fruit bars from PALETAS are inspired by Haapaniemi's Lightning Whales. The bar's fantastic colouring is taken from the Astral Sea, while its flavour is blueberry gelato with salt. It's decorated with gold leaf and silver leaf.

Available: November 5, 2019 – January 31, 2020

Gloves – Whale Embroidery ¥9,000 / Swan Embroidery ¥10,000 @ Ginza Tsutaya Book Store

Gloves are a must-have during winter, and these ones come with whale and swan embroidery. You're sure to grab people's attention with these gorgeous fits.

Available: November 8, 2019 – December 25, 2019

*Listed prices don't include tax. Items subject to change without notice.

Christmas Cake & Party Food

Ginza is known for its long list of gourmet restaurants, serving food from around the world. This holiday season, GINZA SIX has plenty of Christmas delights lined up.

Noel Neige – ¥4,630 @ Pavlov Pâtisserie

This gorgeous, light cake uses cream for its snowy landscape, topped with bright-red strawberries.

Panettone Babbo Natale – ¥7,407 @ Café Cova Milano

Cova's panettone is made with a secret recipe that has been handed down since the beginning of the 19th century.

Assorted Mini Sandwiches – ¥3,704

This assortment of mini sandwiches are the perfect choice for Christmas parties, filled with a variety of delicious ingredients like smoked salmon, caviar, pastrami, and more.

*Listed prices don't include tax.

This is just a small look at what GINZA SIX has in store for this Christmas. If you're spending the holiday season in Tokyo, be sure to stop by.

Information

GINZA SIX

Address: 6-10-1 Ginza, Chuo Ward, Tokyo

Opening Hours: Shops/Cafes (B2F-5F) 10:30-20:30 / Restaurants (6F, 13F) 11:00-23:00

*Business hours differ from shop to shop.

No Fixed Holidays (But shops and restaurants will be closed on August 26, 2019)

Access: Directly connected to Ginza Station via the Tokyo Metro Ginza Line, Marunouchi Line and Hibiya Line.

TEL: 03-6891-3390
Website: http://ginza6.tokyo/

Ginza's Gorgeous Ice Cream Shop coisof Releases Halloween Parfait

Ginza's luxury ice cream shop has released a new parfait flavour for the Halloween and autumn season.

They have called it the "Akiiro Murasaki coi Parfait" (Autumn Colour Purple coi Parfait). Coloured like the vivid sumire plant―a species of violet―this mouth-watering parfait contains a jam made in-house with whole natsuhaze, a wild type of blueberry that has been used in Japan since ancient times. It's topped with a dollop of rich and milky ice cream, a puree made from in-season purple sweet potatoes, and assorted nuts for added crunch.

Natsuhaze blueberries contain a lot of polyphenols, giving them an elegant sour flavour which goes unbelievably well with the taste of the milky ice cream and sweet potato. The parfait is served with a liqueur made from sumire extract.

For the Halloween period between October 16 to 31, the parfait can also be topped with various spooky decorations at no extra cost, like chocolate ghosts, spiders and cobwebs.

If you're celebrating Halloween in Japan this year, or want to treat your date to a Halloween treat, then take them to Tokyo's high-class shopping district Ginza for a luxurious parfait.

Information

Akiiro Murasaki coi Parfait

Price: With Liqueur ¥1,200 (Before Tax) / Without Liqueur ¥1,000 (Before Tax)

Running: October 16, 2019 – November 30, 2019

*Free Halloween parfait toppings available October 16, 2019 – October 31, 2019

Coisof

Grand Opening: January 17, 2019

Address: re:Dine GINZA Floor 9F, 4-3-1 Ginza, Chuo Ward, Tokyo

Opening Hours: 11:00-22:00

TEL: 050-3628-5009

Website: coisof.favy.jp/

Japanese Sweets Brand Minamoto Kitchoan to Open Cafe Restaurant K. MINAMOTO in Ginza

Japanese confectionery brand Minamoto Kitchoan will open a new cafe and restaurant called "K. MINAMOTO" on October 19.

K. MINAMOTO will be located on floors 2-5 at THE HOUSE, Minamoto Kitchoan's new company building which it just moved to on October 3. The cafe-restaurant's menu concept is dubbed "Ginza Sunny Fruits." It takes into consideration how daily fruit consumption has greatly decreased today by serving up a luxurious fresh fruit-packed line-up.

Minamoto Kitchoan is a company that has made full use of fruits since its establishment, including the suikanshuku, a Japanese wagashi confection made of whole dried domestic persimmons. We can trust then that K. MINAMOTO will provide us with our 5-a-day.

Roast Beef Sandwich w/ Fruit Soup – ¥2,420 (Tax Included)

Seafood Lemon Cream Fedelini w/ Fruit Soup – ¥1,650 (Tax Included)

Each and every dish on the menu has fruit, all grown in Japan to ensure the a high level of quality. Since the dishes have fruity flavours, prepping them is simple, and they enjoy the colours and textures of each fruit.

Drinks haven't been left out either. They are made with fruit purees and syrup, or are tossed in as they are, allowing for maximum fruity goodness.

Smoked Salmon, Fruit Salad & Potato Galette w/ Fruit Soup – ¥1,980 (Tax Included)

Autumn Fruit Almond Pudding – ¥1,760 (Tax Included)

All the staff at K. MINAMOTO have a wealth of knowledge about the menu and the fruits used in each dish. Their service creates a comfortable atmosphere, and though they are polite they are incredibly friendly, so you can call out to them without worry.

Get your fill of fruit from the all-new K. MINAMOTO, opening October 19.

Information

K. MINAMOTO

Grand Opening: October 19, 2019
Address: Minamoto Kitchoan Shinhonsha Bldg. "THE HOUSE" (Floors 2F-5F), 6-9-8 Ginza, Chuo Ward, Tokyo

Opening Hours: [Mon-Sat] 11:30-20:30 / [Sun & Holidays] 11:30-19:00

No Fixed Closures

Minamoto Kitchoan official website: https://www.kitchoan.co.jp

Experience Art and the Japanese Tea Ceremony Come Together at hotel koe tokyo's Private Lounge

"hotel koe tokyo" isn't your everyday normal hotel. Developed and produced by "koe," the hotel brings together fashion, music, cuisine, and a luxury accommodation experience. In line with DESIGNART TOKYO 2019, the hotel has announced it will hold a reservation-only event entitled "DESIGNART TOKYO 2019: Tea ceremony by artless+asahiyaki" at its third-floor private lounge on October 19 and 20.

Asahi ware is a type of Japanese pottery originating in Uji, Kyoto almost 400 years ago. Hosai Matsubayashi is the 16th generation master of this long-running workshop, known as Asahiyaki, and he's set to collaborate with Shun Kawakami, an artist and art director of global branding agency artless Inc. The collaboration is being held to promote Japanese culture not only to the people of Japan but those overseas too, and "hotel koe tokyo" is the perfect place to do it due to the huge number of foreign visitors that stay at the hotel.

The two of them have taken the traditional Japanese tearoom and have put a modern spin on it. Normally, this private lounge of the hotel is only usable by guests staying there, but this reservation-only event will grant exclusive access to all. It brings together Japanese tea and art in the form of a special tea-making course. Attendees will follow Hosai Matsubayashi's instructions and prepare their own tea. During the session, both Matsubayashi and Kawakami will give talks on their work while you enjoy your tea.

Take advantage of this special occasion to learn about the beauty of Japanese tea.

Information

Tea ceremony by artless + asahiyaki
Dates: Saturday October 19, 2019 / Sunday October 20, 2019
Time: 4 Slots – ①12:00 / ②13:30 / ③15:00 / ④16:30 (60 minutes each)
Capacity: 10 per slot
Location: hotel koe tokyo ("koe lounge" on Floor 3F)
Content: Tea Making + Tea Art
Price: ¥3,000 (Before Tax)
Reservations:  https://www.tablecheck.com/ja/shops/hotelkoe-tokyo-privatelounge/reserve
*This event is reservation-only

Rilakkuma & Korilakkuma Confections by Tabemas Coming to Lawson Convenience Stores

Character-inspired Japanese confectionery series Tabemas has revealed that its next products will be Halloween-themed Rilakkuma and Korilakkuma sweets. They will go on sale at Lawson convenience stores across Japan (excluding Lawson Store 100 branches) on October 15, 2019.

These adorable confections are so cute it's hard to choose where to even start eating them from! Both versions are wearing snug pumpkin hats.

'Tabemas' is an abbreviation of the Japanese words taberareru masukotto, meaning 'mascots that you can eat.' It is a Japanese confectionery series that combines well-known characters and Japanese sweets made from ingredients like red bean paste, sugar and rice flour. The sweets are also made with a dough called "nerikiri" which is used in making traditional Japanese wagashi sweets.

To keep with the theme of autumn, Rilakkuma is pumpkin pudding flavoured (which is his favourite treat) and Korilakkuma is maple flavoured.

Stop by the ubiquitous Lawson convenience store while in Japan and grab yourself one of these treats for Halloween.

©️2019 San-X Co., Ltd. All Rights Reserved.

*The photographs are for illustrative purposes only.

*Actual product may differ from the photographs.

*Please be careful not to choke on the mochi.

*The latest information can be viewed via the Bandai Candy homepage.

*Tabemas and 食べマス are registered trademarks of Bandai.

Kyoto Station's Beautiful Cafe Saryo Fukucha Releases New Herb Tea and Dessert Sets & Autumn Menu

Saryo Fukucha has unveiled new Japanese herb tea and dessert pairing sets as well as a batch of seasonal autumntime menu items.

Kyoto is a city where history and tradition come together, and where every single day, people from all around the world come and go, each encountering new experiences. Saryo Fukucha opened inside Kyoto Station back in April this year. It is managed by long-running tea company Fukujuen.

▼Japanese Herb Tea & Dessert Pairing Menu

Herb Tea & Dessert Sets: ¥900 Each (Before Tax) *Herb teas by themselves are ¥500 each
Running: From October 10, 2019 (Available all year round)

Hibiscus Blend Houjicha x Crème Brûlée Chocolate Berry Confiture

The tea is a luxurious and fragrant blend of light-roasted houjicha, hibiscus and rose hip. It's perfectly paired with a rich chocolate crème brûlée and refreshing berry confiture.

Cinnamon Blend Kukicha x Mascarpone Cream & Apple Tatin

This kukicha, or twig tea, has a distinct refreshing flavour to it. It has been blended beautifully with cinnamon and chamomile. The kukicha is paired with a caramelised apple tatin which is topped with a dollop of rich mascarpone.

Peppermint Blend Kukicha x Seasonal Fruit Tart

Peppermint and chamomile are the blending ingredients for this kukicha tea. It comes with a tart with a full-bodied almond taste topped with seasonal fruits like strawberries and raspberries.

Ginger Blend Genmaicha x Tart Ricotta with Orange

Genmaicha is combined with roasted brown rice, giving it its characteristic sweet-smelling quality. Blended with ginger and dandelion leaves, it's been matched with a fromage blanc cream-topped ricotta cheese tart with a side of orange.

▼Autumn Menu

Running: October 10, 2019 – Late February 2020 (subject to change)

Sasamaki Okowa (Matsutake Mushroom & Daggertooth Pike Conger/Minced Chicken & Yama no Sachi) Houjicha Set – ¥1,200 (Before Tax)

This set was created by Hisato Nakahigashi from Miyamasou, a highly-rated inn in Kyoto. Enjoy the combination of the houjicha tea with the bamboo leaf-wrapped okowa steamed rice.

Chestnut Houjicha Wafer Cake – ¥350 (Before Tax)

Not only does this wafer cake look cute, it's packed full of autumnal ingredients too, including astringent chestnut and coarse sweet red bean paste.

FUKUCHA Specially Made Matcha Koji Sweet Sake Red Bean Soup – ¥700 (Before Tax)

The koji sweet sake used in this dessert has a gentle flavour and a strong aroma. Added to it is matcha, chestnuts, sweet potato, and rice flour dumplings, all set into a mizu manju sweet water jelly.

Japanese confections are always best paired with Japanese tea, so be sure to stop by Saryo Fukucha when travelling around Kyoto.

Information

Saryo FUKUCHA

Address: Kyoto Station Central Exit Floor 2F (901 Higashishiokoujicho, Shiokouji Sagaru, Karasuma-dori, Shimogyo Ward, Kyoto)

Opening Hours: 8:30-21:00 (Last Orders 20:30)

No Fixed Holidays
TEL: 075-744-0552
Official Website: https://fukucha-fukujuen.com/

Dine On Fancy Authentic Japanese Food Casually at SHARI in Ginza

SHARI is a restaurant located on the second floor of Mitsui Garden Hotel Ginza-gochome, a new hotel that opened on September 26 located within walking distance from Ginza Station and Higashi-Ginza Station. This restaurant serves authentic and fancy Japanese-style food as well as luxurious Kobe beef, gozen set meals, and much more.

Ginza is known as the expensive, upmarket part of Tokyo, and when talking about small local restaurants there the pricing threshold tends to be rather high, but at SHARI customers can enjoy proper Japanese cuisine in a more casual manner and at a much more affordable price, with the typical set lunches starting at just ¥1,200.

Sophisticated is the word that springs to mind upon entering this restaurant, as your eyes meet the gorgeous mix of wood on black. As well as table seats, they also have counter seats too, allowing for you to enjoy a little luxury on your own if you so wish.

There is an additional restaurant inside the main restaurant itself that goes by the name Teppanyaki Mitaki, a tiny six-seater restaurant that serves Kobe beef, a type of wagyu beef and one of the top three beefs in Japan.

SHARI Gozen – ¥3,000 (Before Tax)

I ordered the SHARI Gozen which is served during lunchtime. This set comes with six small bowls, each filled with different colourful foods. It's a cute-looking set♡

There's lots of meat and fish included in the set. For meat, they have steak made with domestic beef. It's succulent and drizzled in a rich sauce that fills your mouth deliciously with a single bite. With the sashimi, the restaurant makes sure to serve fish that's in reason. There were 3 types of fish so it was a very satisfying meal.

The set can also be served with a variety of deep-fried foods, stewed foods, and cold fishes, as well as rice, miso soup, desserts and more. No matter what you order you can rest assured you'll be full afterwards.

SHARI is a chic and stylish restaurant with great food, plus it's located in Ginza. And you can enjoy all of this at a super low price!

Lady's Gozen – ¥2,600 (Before Tax)

I have to recommend the Lady's Gozen if you're looking to enjoy fish and vegetables. It comes with two varieties of sashimi and one fried fish, all in season, as well as an assortment of fried food, savoury egg custard, and four side dishes.

It also comes with rice and sushi rolls as well as a dessert like the SHARI Gozen.

The whole dinner menu is lined with Japanese food, including sashimi, tempura, fried food and more. There's also various courses, including the Teppanyaki Mitaki course which is priced from ¥12,000. It comes with Kobe beef of course in addition to various other high quality ingredients.

Shu – ¥1,000 (Before Tax)

I also recommend this Japanese-style cocktail for those thinking of staying late. It's inspired by the colours used in kabuki theatre―a Bloody Mary combining shichimi, nihonshu, and tomato juice. The rim of the glass is lined with more shichmi for a spicy and refreshing kick when you sip.

Check out the cute glass it comes in too.

From affordable lunches to dinner courses made with top quality ingredients, SHARI can be enjoyed throughout the entire day with its diverse menu line-up. Be sure to pay a visit to tuck into authentic Japanese cuisine in the luxury district of Ginza.

Writer: Sayuri Mizuno (MOSHI MOSHI NIPPON)

Translator: Joshua Kitosi-Isanga

Information

SHARI

Address: Mitsui Garden Hotel Ginza-gochome (Floor 2F), 5-13-15 Ginza, Chuo Ward, Tokyo

Opening Hours: Morning 6:30-10:30 (Last Entries 10:00) / Lunch 11:30-15:00 (Last Orders 14:00) / Evening 17:30-23:00 (Last Orders 22:00)

Closures: Morning – None / Lunch & Evening – Mondays (If Monday falls on a Public Holiday, closed the following day)

Access: 4-minutes on foot from Ginza Station's A5 Exit / 1-minute on foot from Higashi-Ginza's A1 and 4 Exits

*¥500 service charge during dinnertime. 10% service charge instead for Teppanyaki Mitaki. Smart-casual dress code. Preschoolers not permitted entry.

Official Website: http://shari-the-tokyo.jp/shari/

Roof Star Gardens Illumination Event to Take Place On GINZA SIX's Rooftop Garden

Ginza's biggest shopping centre GINZA SIX has announced that it's set to light up its rooftop garden with an enchanting illumination event titled Rooftop Star Garden which will begin on November 26 and run until February 24 next year.

Standing at 56 meters high, the rooftop garden is the "closest place to the stars" in Ginza. This will be GINZA SIX's first ever illumination event and it will shine a bright spotlight against the nightscape of Ginza's streets.

Rooftop Star Garden will take place in two areas in the garden: the Water Fountain Area and the Forest Area, both of which will welcome star-themed light shows.

The theme of the Water Fountain Area is "Shooting Star," whose LED lights will elicit a sense of profoundness in its observers. 147 LED lights will form the main monument of this area, with bright, sparkling illuminations that will remind one of shooting and twinkling stars.

The Forest Area is made up of two separate areas between the Water Fountain Area. Lasers will shoot through crystals, creating an ocean of countless specks of light that look like little stars that make it feel like you're in space.

This limited-time event is the perfect way to spend this year's Christmas, so don't miss out.

*Photos are for illustrative purposes only

Information

Rooftop Star Garden

Location: GINZA SIX Garden (Building Rooftop)

Address: 6-10-1 Ginza, Chuo Ward, Tokyo

Running: November 26, 2019 – February 24, 2019

*Will close during bad weather or during invitation-only events

Time: Sunset to 23:00

Entry: Free

GINZA SIX Official Website: https://ginza6.tokyo/

Japanese Cafe Collaborates With Swedish Ceramicist Lisa Larson

Sunday Branch Marronnier Gate Ginza is a cafe in Ginza that has collaborated with a number of different characters and artists, including Shawn the Sheep since 2017, The Very Hungry Catterpillar in 2018, and Leo Lionni since 2019.

The cafe is now collaborating with Swedish ceramicist and designer Lisa Larson to open LISA LARSON Fika TOKYO. The menu will feature dishes inspired by her cute works.

Mikey Plate

​Inspired by Larson's popular cat character Mikey, this healthy dish includes almond milk rice with a side of greens.

Lion Plate

The adorable round Lion looks like he has been taken right out of Larson's works and put onto a plate.

Baby Mikey Gateau Chocolate

These baby Mikey chocolates take on a ceramic appearance like Larson's work and are filled with sesame and cocoa powder.

Bob Plate

Liten Katt Plate

These's even a meatball meal, which is a staple of the Swedish household, as well as semla, a type of sweet roll made in the country.

Enjoy food and art come together at LISA LARSON Fika TOKYO. Keep in mind that reservations get priority, so be sure to book a table in advance.

Information

LISA LARSON Fika TOKYO

Running: October 4, 2019 – January 27, 2020 (Closed January 1, 2020)

Location: Sunday Branch Marronnier Gate Ginza 1 Floor 4F (2-2-14, Ginza, Chuo Ward, Tokyo)

Opening Hours: 11:00-21:00 (Last Orders 20:00)

Website/Reservations: https://www.marronniergate.com/topic/detail/115

Taste Different Japanese Teas in Wine Glasses in Fukuoka

Neworld has teamed up with Asakura, Fukuoka-based tea manufacturing company Seichajo Yamashina to offer an all-new tea-tasting course. Reservations opened on September 25 and can be made via telephone call.

Yamashina Tea Stall first opened its doors to the public back in 1947 in the city of Asakura, Fukuoka. This long-standing tea shop oversees every aspect of their original blends, from the tea leaf selection to the roasting.

The shop's representative, Koya Yamashina, is a tea professional, having worked as an instructor on Japanese tea as well as an established Japanese tea critic. He has travelled up and down Kyushu―one of the five main islands of Japan where Fukuoka sits―which has enabled him to select only the best tea for the shop, considering the taste, smell, season, place of production, and growers themselves.

Yamashina Tea Stall promises a fun and authentic experience when it comes to Japanese tea, for the very fact that it has had its hands on so many different types. That's where their new program comes in to play, where they will pair different Japanese teas into different wine glasses―provided by Tokyo glass makers Kimura Glass―for tasters to get the best out of the tea, including the flavours and fragrance.

Let's take a look at the course.

Piccolo 6oz Flute & Yama no Asatsume

This brand of tea is called Chiran Yama no Asatsume and it comes from Kagoshima Prefecture. It's grown in Ushirodake, an area in Kagoshima with a high altitude, the only place it can be grown. It has a distinct fresh and sweet fragrance. The tea is served in a 6oz Piccolo glass which is a popular glass for champagne. Its delicate rim and form makes it the perfect shape to enjoy the full taste of the tea.

Garson 3oz Grappa & Yame Gyokuro

Yame Gyokuro is known as one of the most luxury teas in Japan. Served in a Garson glass, it has a thin, long shape, making it ideal for smelling the gentle aromas of the gyokuro tea and for enjoying its smooth, sweet taste.

Pivo Orthodox 63224-210 & Sun Rouge

Sun Rouge is an extremely rare variety of tea grown on the distant island of Tokunoshima which is south of Kagoshima. It is served in a classic champagne glass, much different from the flute-type champagne glasses. The liquid is allowed to spread over a wider surface, letting you take in the distinct beautiful purple colour of the tea while enabling the fragrance to dance around the elegant glass.

This is just a snapshot of the many drinks this course has to offer. If you're looking to experience Japanese tea in style, then why not try out this course? They even sell sets of glasses and tea so you can take them home with you!

Information

Yamashina Tea Stall

Address: 1635 Amagi, Asakura, Fukuoka

Opening Hours: 10:00-18:00

Course Name: CRAFT STORE x Seichajo Yamashina Japanese Tea Course (5 Types)

Price: ¥1,800

Reservations: Telephone (Limited number of places, please enquire ASAP)

TEL: 0120-177-515

Homepage: https://www.e-ochaya.net/

Sensuously Scrumptious Mont Blanc Parfait Arrives at GINZA SIX Tsujiri

The Ginza branch of long-standing Uji tea shop Tsujiri has unveiled a seasonal treat that will be available this autumn only. It was released on September 18 and will be served until October 31.

Tsujiri Ginza is the only branch of Tsujiri in the Kanto region of Japan, aiming to offer a "new kind of matcha experience" to the people of Tokyo. This autumnal mont blanc parfait dessert is made from an aromatic chestnut cream made in France, matcha soft serve ice cream made by the Uji matcha experts at Tsujiri, and fluffy fresh cream, creating a seasonal mix of flavours.

Once you're done shopping around the extravagant town of Ginza, why not treat yourself to a tasty matcha-packed delight?

Information

Tsujiri Ginza

Address: GINZA SIX Floor B2F, 6-10-1 Ginza, Chuo Ward, Tokyo

Opening Hours: 10:30-20:30

TEL: 03-6263-9988

Tsujiri Official Website: http://www.tsujiri.jp

This Irresistible Tart is Made From Rare and Delicious Heart-Shaped Grapes

 Fruit tart specialist shop Qu'il fait bon will be selling a brand new kind of lovable tart which is made using a rare species of grape sourced from Yamanashi prefecture. The tart is currently selling at Grand Maison, Ginza and Hamamatsu. These will be available for a limited period only. 


The tart is covered with incredibly rare "My Heart" grapes, which were developed by the grape research institute Shimura Budou Kenkyusho. Growing and cultivating these grapes was no easy task and took an incredible amount of time. There was only a short window of time available to harvest the produce and even then the harvest was small, so stocking up was very difficult. Despite the challenges, these tongue-tantalizing tarts are being sold this year, however, they are in limited supply. 

Shine muscat grapes and loubell muscat grapes were crossbred to create this new kind of grape. The marvellous flavour of both parent grapes can be tasted. The new grapes have a high sugar content, a wonderful scent and the skin is wonderfully crunchy.  

Take a bite into the special Yamanashi Grape My Heart Tart and you will be filled with a sophisticated fruity flavour. The adorable heart-shaped grapes are layered perfectly on top of a bed of white wine custard. You just have to try this delicious and beautiful tart!