Experience the Heart of the Japanese Tea Ceremony This Autumn in Ginza
In line with the annual autumn event Ginchakai―which is held in Ginza and brings together multiple schools of tea in Japan for an open-air tea ceremony―Tokyu Plaza Ginza is hosting an event themed on the heart of the Japanese tea ceremony.
This special event will serve Japanese omotenashi, or "hospitality," thorough various exhibits including a co-project with Tokyo University of the Arts, an exhibition by one of Japan's leading confectionery companies Toraya Confectionery, and more.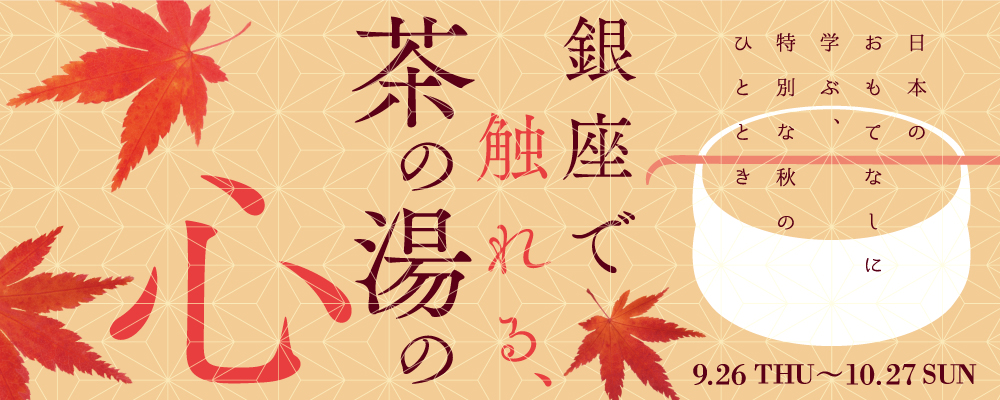 The co-project with Tokyo University of the Arts will feature installations produced by the university that is centred on calligraphy drawn by Japanese calligrapher Shoko Kanazawa, who performs both in Japan and overseas, and the tea ceremony. There will also be several tokonoma alcoves around the event which will be like miniature gardens where one can enjoy the beauties of nature. There will even be covers of famous songs about autumn on October 27 at the KIRIKO TERRANCE on the roof.
Up in the KIRIKO LOUNGE on the 6th floor, Toraya will serve up a selection of traditional Japanese confections, including those that had already been created by the end of the Edo period. You can order a set of two confections and a drink. Sweets include the Kiren Kaki, which is made to look like a Japanese permission, and the Kuri Goyomi, which is made with chestnuts, sugar, and agar-agar.
Soak up the enchanting nostalgia of autumn while enjoying the Japanese tea ceremony at Tokyu Plaza Ginza.
Information
The Heart of the Tea Ceremony in Ginza (Japanese Title: 銀座で触れる、茶の湯の心)
Running: September 26, 2019 – October 27, 2019
Location: Various places around Tokyu Plaza Ginza
GINZA Tokonoma Alcoves: Admire the Season With Tokonoma Art
Running: September 26, 2019 – October 27, 2019
Time: 11:00-21:00
Locations: Floors 3, 4, and 6
Autumn Music Performances
Date: October 27, 2019
Time: 12:00-15:30
Location: KIRIKO TERRACE on the Tokyu Plaza Ginza rooftop
TOKYU PLAZA GINZA x Bunkamura SPECIAL PROGRAM ~ Toraya Confectionery~
Running: October 11, 2019 – October 27, 2019
Time: 11:00-23:00 (Until 21:00 on Sundays and public holidays)
Location: KIRIKO LOUNGE (Tokyu Plaza Ginza Floor 6F)
Tokyu Plaza Ginza
Address: 5-2-1 Ginza, Chuo Ward, Tokyo
Official Website: https://ginza.tokyu-plaza.com/
RECOMMENDED ENTRIES
Take A Tasty Trip to Tokyo Kaikan to Indulge in Mouthwatering Marron Chantilly Desserts

Kiyotaka Katsume (勝⽬ 清鷹) is the first ever confectioner of the 70-year-old Tokyo Kaikan. This autumn, Tokyo Kaikan is selling Mont Blanc Marron Chantilly dessertsーwhich were invented by Katsumeーfor a limited period only.

Earl Grey Marron Chantilly: ¥908

The Earl Grey Marron Chantilly is only available from October 1 to October 31. The flavour and aroma of earl grey tea leaves has been fully extracted to add to the flavour of the cream.

Premium Marron Chantilly: ¥1,500

The premium Marron Chantilly is only available from September 1 to October 31. Japanese chestnuts sourced from Kasama are shredded with whipped cream for a light and fluffy texture. This is a paradise for anyone who loves chestnuts.

Pumpkin Marron Chantilly¥908

The Halloween-themed desserts at Tokyo Kaikan are a big hit every year. This year, the Pumpkin Marron Chantilly will be taking to the scene to deliver the very best flavours of Halloween. Just looking at this Halloween-coloured dessert is enough to make your mouth water. It is such a shame that it is only selling from October 18 to 31.  

Dig into one of these delicious Marron Chantilly desserts surrounded by the luxurious atmosphere of Tokyo Kaikan. 

Winter is Coming But Hotel Chinzanso Tokyo's Yuzu Lemon Afternoon Tea Will Warm You Up

Hotel Chinzanso Tokyo will begin serving its new citrus fruit-packed Yuzu Lemon Afternoon Tea on November 1 at the Le Jardin, the hotel's lobby lounge which offers a view of the beautiful garden.

You'll see yuzu and lemons throughout the year, but it is said that winter is the best season to enjoy them. Both lemons and yuzu are said to have a relaxation effect, and so Hotel Chinzanso Tokyo will beckon guests through its cosy doors with the afternoon tea set's refreshing citrus fragrance, inviting them to an early wonderful winter at the beginning of November.

The set includes an assortment of sweets including a yuzu and lemon flavoured savarin, a lemon cheesecake that squeezes out all the juicy nectar of the citrus fruit, and more. The lemons and yuzu are the citrus kingpins of this afternoon tea.

The seasonal scones are a mix of yuzu and vanilla scones and silky white chocolate scones to relieve some of the sourness. Enjoy together with a mix of dips including salted clotted cream for even more flavour.

On the savoury side of things there is a tempting mix of bites and nibbles, including the use of spicy ginger to warm up your cold body.

Welcome the winter early this year and do it in style with Hotel Chinzanso Tokyo's new afternoon tea set.

Information

Yuzu Lemon Afternoon Tea

Running: November 1, 2019 – November 30, 2019 (*Reservations available only on weekdays)

Time: 12:00-18:00
Location: Le Jardin, Hotel Chinzanso Tokyo

Price: Yuzu Lemon Afternoon Tea ¥4,000 / With Welcome Drink ¥4,500 (Tax and service charge not included in price)

Le Jardin Webpage: https://www.hotel-chinzanso-tokyo.com/dining/le-jardin/

Hotel Chinzanso Tokyo

Address: 2-10-8 Sekiguchi, Bunkyo Ward, Tokyo

Official Website: https://www.hotel-chinzanso-tokyo.com/

Kusatsu Onsen's Emerald Green Pudding is a Must-Try After a Dip in the Hot Springs

Kusatsu Onsen is a hot spring resort in Gunma Prefecture that is one of Japan's three principle hot spring locations. The site opened its new Japanese custard dessert (known as 'purin') shop, Kusatsu Onsen Pudding, on August 24, which serves the most incredibly smooth purin you have ever tried, each inspired by the hot springs.

Once you've stepped out of the nice warm hot springs of Kusatsu Onsen you can refresh yourself with a delicious purin packed full of love from the shop which has created a flavour you can only try by travelling to Gunma and going there. Each and every dessert is made fresh in the shop to further elevate its exclusivity as a local speciality.

Kusatsu Onsen Pudding also makes sure to use local and regional ingredients where it can to help support manufacturers and producers. Their purin is also made with a special type of milk sourced from in Gunma known as Haruna milk. The milk is made as delicious as can be by ensuring cows are raised on a healthy natural diet of grass on green pastures in Gunma bathed in plenty of sunlight.

Yuhata Purin

The Yuhata purin is inspired by the hot spring areas where mineral deposits are harvested, its jelly taking on a gorgeous emerald green colour. It's lemon and lime flavoured, the perfect flavour to enjoy when stepping out of the hot water, and one which goes surprisingly well with purin.

Yumomi Purin

The staple purin of the store, this purin is based on yumomi, a method used for cooling the hot water with paddles from which cold water gushes forth. This velvety delight is made with lots of fresh cream and high-quality vanilla beans from Madagascar for added punch.

Furomage

A pun on the word fromage, with furo in Japanese meaning "bath," the Furomage purin uses a rich cream cheese base which has a seriously smooth texture. It's topped off with strawberry jelly for the perfect combination, packing a perfect balance between sweet and sour.

Yuhata Soft (Milk/Yuhata/Mixed)

Choose from the Yuhata soft serve ice cream which is ramune flavoured and inspired by the flowing water of the hot springs or the Haruna milk-mixed vanilla flavoured Milk soft serve. If you can't pick, then choose mixed for a bit of both. A satisfyingly refreshing pick for when you're done in the hot springs.

The shop has plans to sell purin made using bamboo steamers in the near future, so you're pudding can be steamed like yourself after a dip in the water! The wooden spoons used to eat the desserts are also made in the image of the paddles used in yumomi too.
RELATED ENTRIES
Shiseido Parlour Ginza Salon de Cafe to Hold 'Special Strawberry Day 2022' for Two Days Only

The Shiseido Parlour Ginza Salon de Cafe in Tokyo will hold the 'Special Strawberry Day 2022' event for two days only, on January 14 and 15, 2022. Guests will be able to enjoy a Strawberry Parfait prepared using carefully selected varieties of strawberries from all over Japan. Two varieties of the dessert will be available for the first time in 2022, with twelve varieties available in total–some varieties will only be available on a specific date.

Strawberry Parfait

Special Strawberry Parfait with 'Angel Strawberries' from Saga Prefecture: ¥2,600 (Tax Included)

Special Strawberry Parfait with 'Marihime Strawberries' from Wakayama Prefecture: ¥2,600 (Tax Included) *Only available on January 15

Premium Strawberry Parfait with Strawberries from Saga Prefecture: ¥3,600 (Tax Included)

Premium Strawberry Parfait with 'Mino Musume Strawberries' from Gifu Prefecture: ¥3,600 (Tax Included)

Royal Strawberry Parfait with 'Kotoka Strawberries' from Nara Prefecture: ¥5,000 (Tax Included)

Cocotte de Fraise Sales Period: January 14 – January 15

Information

Shiseido Parlour Ginza 
Address: Tokyo Ginza Shiseido Building 1F (8-8-3 Ginza, Chuo-ku, Tokyo)
Hours: 11:00-20:30 
*Closed during the New Year holiday

FUKUCHA to Offer Limited-Time Strawberry Desserts with Uji Tea Pairings

FUKUCHA Teahouse, a Fukujen cafe in Kyoto, will start a limited-time Strawberries and Uji Tea Fair on January 8, 2022. Last year's Matcha fair was incredibly popular, and certain items will also be available again in 2022. The new menu includes a strawberry version of the popular Herbal Tea Pairing Set, making it even more fun and elegant! Guests can enjoy flavorful Uji green tea along with a number of tasty strawberry treats. 

Mont Fraise: ¥1,150

Mont Fraise means 'mountain of strawberries' in French. This dessert is made with thin white chocolate and sponge cake soaked in matcha syrup with matcha cream and strawberries covering every inch. It is also served with a green tea chocolate sauce. 

Strawberry Pairing Set: ¥1650

The strawberry version of the popular Herbal Tea Pairing Set on the regular FUKUCHA menu.
・Ginger Blend Genmaicha and Strawberry Cheese Tart
・Hibiscus Blend Hojicha and Strawberry Chocolate Bonbons
・Cinnamon Blend Twig Tea with Strawberry Cream
・Peppermint Blend Twig Tea with Large Strawberry

Marscapone Strawberries: ¥1450

Using 10 strawberries, this parfait is designed to look like a herbarium. Putting a spoon into the light mascarpone cream will reveal the bright green color of the matcha chocolate sauce.

Information

Strawberry and Uji Tea Fair

Running: January 8 – May 15, 2022
*Limited to 10 Servings per day.

Official Site: https://www.fukujuen.com/

Wakura Onsen in Ishikawa Prefecture to Hold Special Illumination, Luxurious Tea Time

The Wakura Onsen Tourist Association is sponsoring a new project to illuminate Seirinji Temple, a nationally registered cultural property. Along with this light show, guests can enjoy a luxurious tea time starting on January 8, 2022. This year, the pavilion and garden will be lit up again, and the entrance will be decorated with traditional local paper lanterns. 

The historic property was built in 1909 as a resting place for Emperor Taisho. Only two such buildings exist in Japan: one in Hamada City, Shimane Prefecture, and the other at Wakura Onsen. Both were registered as Tangible Cultural Properties of Japan in 2017. 

 

Last year, the area was photographed for posters and pamphlets as part of the 'Japanese Beauty Hokuriku' campaign organized by JR East, JR West, and the Central JR Railway.

Each Saturday evening through February 26, guests will be invited to enjoy a different kind of atmosphere while enjoying a very fancy tea time. The program has been very well received by visitors, so it shouldn't be missed!


The light-up of the temple and garden, with its slowly changing colors, will transport guests to another world. The entrance to Seirinji Temple will be redecorated and lit up, and a pathway of lights will be created from the gate to the entrance of the pavilion using paper lanterns.

Information

Seirinji Temple Illuminations & Luxury Tea Time

Running: Saturdays from January 8 – February 26, 2022 

First Seating: 17:00  

Second Seating: 18:00

Address: Seirinji Temple, Wakura Onsen (61 Wakuramachi, Nanao, Ishikawa)

*Available for guests of Wakura Onsen

Official Site: https://www.wakura.or.jp

Japanese traditional confectionery brand OKOSHIYA TOKYO opens in Marunouchi Building

Japanese traditional confectionery Okoshiya Tokyo, a brand specializing in okoshi (rice cake), opened in the Marunouchi Building on December 15, 2021.

OKOSHIYA TOKYO is a brand specializing in okoshi, operated by a small Japanese confectionery manufacturer in downtown Tokyo which is celebrating its 60th anniversary. OKOSHIYA TOKYO opened in Tokyo's Marunouchi Building as a store where customers can directly purchase the long-established okoshi, which has been sold only through the online store.

OKOSHIYA Maple Almond(60g)

aun 18 pieces (6 types x 3 pieces)

OKOSHIYA TOKYO's crispy okoshi is a new texture that can be eaten easily. The sweetness is kept low so that you can enjoy the natural flavor of the ingredients. It has a nostalgic and comforting taste.

Marunouchi (3 types x 3pieces) *Marunouchi Building Limited Edition

There are many theories about the origin of the word "okoshi", but it comes from the word "koshi", which means "to rise", and has been eaten as a confectionery for good luck. It can be used as a "friendship blessing" for friends who meet again after a long absence, a "cheering blessing" for those who are working hard towards their dreams and goals, a "love blessing" for a beloved partner, or to " bring good fortune" to newlyweds who are starting a new chapter in their lives. Let's convey not only the delicious taste but also your feelings to your loved ones through OKOSHIYA TOKYO's okoshi.

Information

OKOSHIYA TOKYO

Where: B1 1-4-2 Marunouhi, Chiyodaku, Tokyo, Maru Biliding B1F

Access: One-minute walk from Marunouchi South Exit of JR Tokyo Station, directly connected to Tokyo Station on the Marunouchi Line.

Opening Hours: Weekdays/Saturday 11:00~21:00 /Sunday/Bank Holiday 11:00~20:00

Official site: https://okoshiya.official.ec/

Sweets Brand Made in Pierre Hermè Releases New Sugar-Coated Cookies

Made in Pierre Hermè, a sweets brand dedicated to sharing the wonders of Japan with the world, is now selling karintou, a type of fried-dough cookie coated in brown sugar and sesame seeds. 

Karintou: ¥810

 

The thinly-baked cookies have a gentle sweetness from the domestic flower, and combined with the fragrant sesame seeds baked into the dough, it's impossible to eat only one. 

Left: Shimantogawa Genryu Green Tea: ¥1,404 / Right: Shimantogawa Genryu Roasted Green Tea: ¥1,404

These tea varieties are the best to enjoy with karintou. Grown in the tea fields above the Shimanto River in Kochi Prefecture, these leaves are surrounded by fresh water and clean air. Thanks to the moderate temperature and the natural veil created by the fog, sunlight is slightly blocked, giving a more mellow flavor to each green tea.

Ginza Lion Building, Japan's Oldest Beer Hall, Listed as a Tangible Cultural Property

The Ginza Lion Building, built in 1934, has been officially recognized as a registered Tangible Cultural Property.

On April 8, 1934, a beer hall was opened on the first floor of the building. The interiors were lavish and incredible for the time, and were admired by citizenry and architects alike. During the war, many beer halls were destroyed by air raids or torn down for evacuation, but this location in Ginza survived and was seized in September 1945. It was then made into a beer hall exclusively for the Occupation Forces. In 1952, the site was made available to the public again.

Lion Beer Hall 7-chome / Present Day

Lion Beer Hall 7-chome / Original Construction Completed


Lion Beer Hall 7-chome / Present Day

Lion Beer Hall 7-chome / Original Construction Completed


Large Glass Mosaic Mural at the Bar

Lion Beer Hall 7-chome / Store Interior

Lighting with Grape Motif

Lighting with Beer Foam Motif

The red brick walls of the restaurant are meant to resemble the Earth bearing a rich harvest

A pillar made to look like barley

The banquet hall on the 6th floor of the building, Ginza Classic Hall, was once used as a conference room and is currently used as a party venue. The interior hasn't changed much since its establishment, and guests enjoy the historical setting as they knock back a few brews. Ginza Lion Beer Hall celebrated its 87th anniversary on April 8, 2021.

The interior concept of the hall is 'fertility and harvest,' and the Lion was built with the intention of being the 'best building in the world, and a representative beer hall in Japan that will last for generations to come.'

Adorable Hamster-shaped Cakes from Kyoto Now on Sale

Aoki Koetsudo, a 129-year-old confectionery shop in Kyoto, and 2:00, a Kyoto-based company specializing in unique products, have come together to create some incredibly cute hamster-shaped cakes. These pastries are called monaka, and feature azuki bean jam filling sandwiched between two crisp wafers made from mochi. Each set includes 6 wafers, six helpings of bean jam, and a bag of nuts, so customers can enjoy creating the pastries themselves! 

How to Enjoy Hamster Monaka

Fill the Hamster-shaped monaka with as much azuki jam as you like. 

Cover the monaka with the wafer and add one of the nuts provided. 

Paint the eyes and ears with chocolate to give each pastry some personality!

'Found MUJI Exhibition – Journey to Meet Good Things-' to be Held at ATELIER MUJI GINZA

The 'Found MUJI Exhibition – Journey to Meet Good Things-' event will be held at ATELIER MUJI between November 12 and December 12.

 

 

10 years have passed since Found MUJI Aoyama was founded in Tokyo, having since visited over 30 countries and regions. Found MUJI explores the life and culture of land, researching tools, handicrafts, and techniques   to help improve daily living – Hence the name 'Found' MUJI. From roadside benches and mops dried in the eaves to aluminium stoves, each tool is naturally used on the land without consideration. 

Our daily lives are filled with various items. When, and why, did we start using those in particular? How did we discover them? Why do we keep them so close? If you take a closer look at the items you consider to be precious, you should be able to understand why you were attracted to it, love it, and hold it dear to you. Start by loving the items which are close to you – Look at then with a renewed outlook to find what you think is good about each item. Then, perhaps, visit the 'Found MUJI Exhibition – Journey to Meet Good Things' exhibition to learn more.

Information

Found MUJI Exhibition – Journey to Meet Good Things –

Duration: November 12 ~ December 12 2021

Opening Hours: 11:00 ~ 20:00

Venue: ATELIER MUJI Gallery 1・2,  MUJI Ginza 6F

Free Entry

Official Site: https://atelier.muji.com/jp/ 

Halloween Sweets Now Available at Historical Kyoto Sweets Shop Tsuruya Yoshinobu

Founded in 1803, Tsuruya Yoshinobu is a famous Japanese sweets shop specializing in wagashi, or traditional Japanese confections. To celebrate Halloween, the shop is now selling some themed treats through the end of October. 

Halloween Pumpkin/Halloween Ghost Japanese Sweets

Happy Halloween Cookie Assortment

The celebration of Halloween dates back to the ancient Celtic festival of Samhain, before later being Christianized as All Hallow's Day. A day to ward off evil spirits and celebrate the fall harvest, it has become a much less serious holiday in recent decades. Children dress up in costumes and go door-to-door asking for candy, and the past is largely forgotten. The sweets available at Tsuruya Yoshinobu are decorated with cute expressions and are sure to be a hit at tea time with friends and family. Be sure to keep an eye out for the ghosts, featuring six different expressions!

Japanese sweets aren't as strong as their American counterparts, and each is sculpted like a work of art. These will melt in your mouth and are perfect for enjoying with matcha, tea, or coffee! Be sure to fill out the blank card along with the cookie gift box for a thoughtful gift this holiday season.

Information

Tsuruya Yoshinobu Halloween Wagashi

On Sale: 

Happy Halloween Cookie Assortment, Available October 10 – Late October: ¥1,620 (Tax Included)

Halloween Pumpkin Japanese Sweets, Available October 16-31: ¥486 each (Tax Included)

Halloween Ghost Japanese Sweets, Available October 16-31: ¥486 each (Tax Included)

Where to Buy: Tsuruya Yoshinobu

*Please note that products are only available in-store, not online. 

*Certain locations may not offer these products. 

Official Site: https://www.tsuruyayoshinobu.jp/

Matsuya Ginza to Hold Largest-ever Exhibition of Drawings from Chihayafuru Manga

Yuki Suetsugu's manga series Chihayafuru continues to be a massively popular series in Japan and abroad since its start in 2007. Now, the largest-ever collection of the artist's original drawings will be on display at Matsuya Ginza from December 27, 2021, until January 17, 2022. 

Chihayafuru tells the story of Chihaya, a girl aiming to become the greatest competitive karuta player in Japan. Karuta is a Japanese card game, requiring players to memorize a collection of 100 classical poems in order to play. The Chihayafuru manga series has greatly boosted the popularity of competitive karuta in Japan. Generations of readers have been sucked in by the inspiring and romantic tale, and the series has grown to include an anime adaptation and a live-action film. With the series approaching completion, the three main characters, Chihaya, Arata, and Taichi, will take center stage at this expansive exhibition. 

With more than 500 items on display, guests are invited to take a look back at the story's origins. Some pieces were created for the exhibition, while others will be shown in color for the first time. While the drawings may be the main focus, the exhibition will also include notes, setting materials, and behind-the-scenes footage. 

©末次由紀/講談社 

Information

Chihayafuru Exhibition

Running: December 27, 2021 – January 17, 2022 (Closed January 1) 

Address: Matsuya Ginza 8F Event Space

Advanced Tickets will be available from Lawson Ticket until December 26, 2021

Tickets/Details: https://chihayafuru.exhibit.jp

Official Site: https://www.matsuya.com/ginza/

'Shiseido Parlour Ginza Salon de Cafe' Reveals Limited Autumn Dessert Menu

The 'Shiseido Parlour Ginza Salon de Cafe' has announced that between October 1 and October 31 2021, customers can enjoy a limited edition Autumnal sweets menu. This year their menu includes the Jersey milk 'Japanese Chestnut Mont Blanc Parfait from Kyushu' and the 'Shine Grape Fruit Sandwich.' There will also be two special additions to the menu to celebrate the 96th Azuma Odori.

Japanese Chestnut Mont Blanc Parfait from Kyushu using Jersey Milk: ¥2,500 (Tax Incl.)


 

Strawberry Parfait using "Koihime" strawberries from Nagano's Hatake Kobo: ¥2,100 (Tax Incl.)

 

Weekday / Limited Quantity Products

Shiseido Parlour Story: ¥2,600 (Tax Incl.) (Drink Incl.)


Shine Grape Fruit Sandwich with grapes from Iizuka Orchard: ¥1,700 (Tax Incl.)

Shinbashi Color Ice Cream Soda: ¥1,150 (Tax Incl.)


The Japanese Chestnut Mont Blanc Parfait is made using Jersey milk ice cream, chestnut cream, and fresh cream, along with the "Koihime" Fruit Sandwich, made using Kashu "Koihime" Strawberries are available on both the regular and limited Shiseido Parlour Ginza menus. Meanwhile, the luxurious Shiseido Parlour Story and the seasonal Shine Grape Fruit Sandwich, filled with various Autumnal fruits and centred around the grape, are only served on weekdays and holidays in limited quantities.

In the late Meiji Era, Shinbashi geisha were often seen wearing blue and green kimonos, with the color combination being coined Shinbashiiro (Shinbashi Color.) The elegant and retro Shinbashi Color Ice Cream Soda recreates the iconic look using green apple syrup, lemon, and ginger ale, topped with a traditional vanilla ice cream.

 

 

 Immerse yourself in the season with a feast of Fall sweets in Ginza.

Information

Shiseido Parlour Ginza Salon de Cafe

Address: Tokyo Ginza Shiseido Building 3F, 8-8-3, Ginza, Chuo-ku, Tokyo

Opening Hours:

Tuesday to Saturday:  11:00 ~ 21:00 (L.O. 20:30)

Sunday, public holidays: 11:00 ~ 20:00 (L.O.19:30)

Closures: Mondays (excluding public holidays), New Year 

'Disney Cats & Dogs Exhibition' at Matsuya Ginza Reveals the Secrets of Disney's Animal Productions

While 'animals' are one of Disney's forever-themes, 'dogs and cats' are special amongst them for being like family to us humans. The upcoming 'Disney Cats & Dogs Exhibition,' held at Event Square on the 8th floor of Matsuya Ginza between December 1 and December 25, explores the charms of Disney's beloved pets.

Mickey & Friends Pluto

Lady and the Tramp

101 Dalmatians

Aristocats

The movie 'Bambi' was an opportunity for Disney to challenge the tough task of "animals expressing themselves, while maintaining a realistic drawing style." The crew invited animals into the studio, studying their anatomy and muscles to ensure a sense of realism. The characters were successfully drawn in an expressive way which captivated audiences, leading Disney to produce a large number of animal animations throughout its history. The exhibition will introduce visitors to the evolution   and innovation of Disney's animal animation, along with the trial and error that it took to successfully draw animals expressing their feelings. The event is full of iconic Disney animals such as Pluto, the 101 Dalmations, Lady and the Tramp, and The Aristocats – It's almost as if you've fallen straight into a Disney movie! 

 

The exhibition will showcase a wide collection of over 300 digital and archived works, provided by the Animation Research Library, which hosts, digitizes, and archives everything related to Disney animation. Pieces that could be damaged if removed from storage, such as original watercolor paintings and pastel illustrations, are digitized and exhibited for the world to enjoy in a scale much larger than the original, allowing guests to see the details in each piece of art. This unique digital aspect is one of the highlights of the exhibition.

 

 

 

You won't want to miss out on this exhibition which features some of the most impressive dogs and cats in all of Disney works; You can laugh at Mickey's friend Pluto as he features in some of Disney's earliest gag animations, marvel at the romance of Lady and the Tramp, be thrilled by the dramatic escape from Cruella's magical hands in 101 Dalmations, and even take in both the beauty of Paris and the cuteness of kitten Marie from the Aristocats.

 

Walt Disney himself was known for being a huge dog lover, spending his childhood with his family and their dog. This 'Cats and Dogs' themed exhibition will showcase characters with expressions and gestures that reflect Disney's affection and familiarity with the animals. 

 

 

Why not go walkies around the 'Disney Cats & Dogs' exhibition?

 ©Disney

Information

Disney Cats & Dogs Exhibition

Duration: December 1 ~ December 25 2021 

Location: Matsuya Ginza 8F Event Square

Address: 3-6-1 Ginza, Chuo-ku, Tokyo

Entry Fee: Adult ¥1,100 / High School Student ¥900 (¥700), Elementary and Middle School Students: ¥500 (¥400)

*Number in brackets is the advance ticket purchase price.

Advance tickets can be purchased through Lawson Ticket between mid-October and November 30.

Official Site: https://www.matsuya.com/ginza/