Experience the Heart of the Japanese Tea Ceremony This Autumn in Ginza
In line with the annual autumn event Ginchakai―which is held in Ginza and brings together multiple schools of tea in Japan for an open-air tea ceremony―Tokyu Plaza Ginza is hosting an event themed on the heart of the Japanese tea ceremony.
This special event will serve Japanese omotenashi, or "hospitality," thorough various exhibits including a co-project with Tokyo University of the Arts, an exhibition by one of Japan's leading confectionery companies Toraya Confectionery, and more.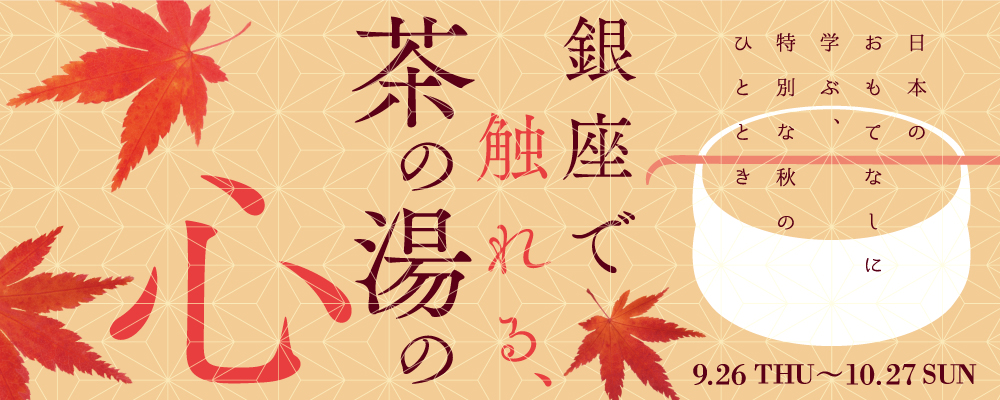 The co-project with Tokyo University of the Arts will feature installations produced by the university that is centred on calligraphy drawn by Japanese calligrapher Shoko Kanazawa, who performs both in Japan and overseas, and the tea ceremony. There will also be several tokonoma alcoves around the event which will be like miniature gardens where one can enjoy the beauties of nature. There will even be covers of famous songs about autumn on October 27 at the KIRIKO TERRANCE on the roof.
Up in the KIRIKO LOUNGE on the 6th floor, Toraya will serve up a selection of traditional Japanese confections, including those that had already been created by the end of the Edo period. You can order a set of two confections and a drink. Sweets include the Kiren Kaki, which is made to look like a Japanese permission, and the Kuri Goyomi, which is made with chestnuts, sugar, and agar-agar.
Soak up the enchanting nostalgia of autumn while enjoying the Japanese tea ceremony at Tokyu Plaza Ginza.
Information
The Heart of the Tea Ceremony in Ginza (Japanese Title: 銀座で触れる、茶の湯の心)
Running: September 26, 2019 – October 27, 2019
Location: Various places around Tokyu Plaza Ginza
GINZA Tokonoma Alcoves: Admire the Season With Tokonoma Art
Running: September 26, 2019 – October 27, 2019
Time: 11:00-21:00
Locations: Floors 3, 4, and 6
Autumn Music Performances
Date: October 27, 2019
Time: 12:00-15:30
Location: KIRIKO TERRACE on the Tokyu Plaza Ginza rooftop
TOKYU PLAZA GINZA x Bunkamura SPECIAL PROGRAM ~ Toraya Confectionery~
Running: October 11, 2019 – October 27, 2019
Time: 11:00-23:00 (Until 21:00 on Sundays and public holidays)
Location: KIRIKO LOUNGE (Tokyu Plaza Ginza Floor 6F)
Tokyu Plaza Ginza
Address: 5-2-1 Ginza, Chuo Ward, Tokyo
Official Website: https://ginza.tokyu-plaza.com/
RECOMMENDED ENTRIES
Take A Tasty Trip to Tokyo Kaikan to Indulge in Mouthwatering Marron Chantilly Desserts

Kiyotaka Katsume (勝⽬ 清鷹) is the first ever confectioner of the 70-year-old Tokyo Kaikan. This autumn, Tokyo Kaikan is selling Mont Blanc Marron Chantilly dessertsーwhich were invented by Katsumeーfor a limited period only.

Earl Grey Marron Chantilly: ¥908

The Earl Grey Marron Chantilly is only available from October 1 to October 31. The flavour and aroma of earl grey tea leaves has been fully extracted to add to the flavour of the cream.

Premium Marron Chantilly: ¥1,500

The premium Marron Chantilly is only available from September 1 to October 31. Japanese chestnuts sourced from Kasama are shredded with whipped cream for a light and fluffy texture. This is a paradise for anyone who loves chestnuts.

Pumpkin Marron Chantilly¥908

The Halloween-themed desserts at Tokyo Kaikan are a big hit every year. This year, the Pumpkin Marron Chantilly will be taking to the scene to deliver the very best flavours of Halloween. Just looking at this Halloween-coloured dessert is enough to make your mouth water. It is such a shame that it is only selling from October 18 to 31.  

Dig into one of these delicious Marron Chantilly desserts surrounded by the luxurious atmosphere of Tokyo Kaikan. 

Winter is Coming But Hotel Chinzanso Tokyo's Yuzu Lemon Afternoon Tea Will Warm You Up

Hotel Chinzanso Tokyo will begin serving its new citrus fruit-packed Yuzu Lemon Afternoon Tea on November 1 at the Le Jardin, the hotel's lobby lounge which offers a view of the beautiful garden.

You'll see yuzu and lemons throughout the year, but it is said that winter is the best season to enjoy them. Both lemons and yuzu are said to have a relaxation effect, and so Hotel Chinzanso Tokyo will beckon guests through its cosy doors with the afternoon tea set's refreshing citrus fragrance, inviting them to an early wonderful winter at the beginning of November.

The set includes an assortment of sweets including a yuzu and lemon flavoured savarin, a lemon cheesecake that squeezes out all the juicy nectar of the citrus fruit, and more. The lemons and yuzu are the citrus kingpins of this afternoon tea.

The seasonal scones are a mix of yuzu and vanilla scones and silky white chocolate scones to relieve some of the sourness. Enjoy together with a mix of dips including salted clotted cream for even more flavour.

On the savoury side of things there is a tempting mix of bites and nibbles, including the use of spicy ginger to warm up your cold body.

Welcome the winter early this year and do it in style with Hotel Chinzanso Tokyo's new afternoon tea set.

Information

Yuzu Lemon Afternoon Tea

Running: November 1, 2019 – November 30, 2019 (*Reservations available only on weekdays)

Time: 12:00-18:00
Location: Le Jardin, Hotel Chinzanso Tokyo

Price: Yuzu Lemon Afternoon Tea ¥4,000 / With Welcome Drink ¥4,500 (Tax and service charge not included in price)

Le Jardin Webpage: https://www.hotel-chinzanso-tokyo.com/dining/le-jardin/

Hotel Chinzanso Tokyo

Address: 2-10-8 Sekiguchi, Bunkyo Ward, Tokyo

Official Website: https://www.hotel-chinzanso-tokyo.com/

Kusatsu Onsen's Emerald Green Pudding is a Must-Try After a Dip in the Hot Springs

Kusatsu Onsen is a hot spring resort in Gunma Prefecture that is one of Japan's three principle hot spring locations. The site opened its new Japanese custard dessert (known as 'purin') shop, Kusatsu Onsen Pudding, on August 24, which serves the most incredibly smooth purin you have ever tried, each inspired by the hot springs.

Once you've stepped out of the nice warm hot springs of Kusatsu Onsen you can refresh yourself with a delicious purin packed full of love from the shop which has created a flavour you can only try by travelling to Gunma and going there. Each and every dessert is made fresh in the shop to further elevate its exclusivity as a local speciality.

Kusatsu Onsen Pudding also makes sure to use local and regional ingredients where it can to help support manufacturers and producers. Their purin is also made with a special type of milk sourced from in Gunma known as Haruna milk. The milk is made as delicious as can be by ensuring cows are raised on a healthy natural diet of grass on green pastures in Gunma bathed in plenty of sunlight.

Yuhata Purin

The Yuhata purin is inspired by the hot spring areas where mineral deposits are harvested, its jelly taking on a gorgeous emerald green colour. It's lemon and lime flavoured, the perfect flavour to enjoy when stepping out of the hot water, and one which goes surprisingly well with purin.

Yumomi Purin

The staple purin of the store, this purin is based on yumomi, a method used for cooling the hot water with paddles from which cold water gushes forth. This velvety delight is made with lots of fresh cream and high-quality vanilla beans from Madagascar for added punch.

Furomage

A pun on the word fromage, with furo in Japanese meaning "bath," the Furomage purin uses a rich cream cheese base which has a seriously smooth texture. It's topped off with strawberry jelly for the perfect combination, packing a perfect balance between sweet and sour.

Yuhata Soft (Milk/Yuhata/Mixed)

Choose from the Yuhata soft serve ice cream which is ramune flavoured and inspired by the flowing water of the hot springs or the Haruna milk-mixed vanilla flavoured Milk soft serve. If you can't pick, then choose mixed for a bit of both. A satisfyingly refreshing pick for when you're done in the hot springs.

The shop has plans to sell purin made using bamboo steamers in the near future, so you're pudding can be steamed like yourself after a dip in the water! The wooden spoons used to eat the desserts are also made in the image of the paddles used in yumomi too.
RELATED ENTRIES
Hyatt Centric Ginza to Display Christmas Tree Made by Social Advocacy Group HERALBONY

From December 1 until December 25, guests at Hyatt Centric Ginza will be able to see the first-ever Christmas tree designed by the social advocacy group HERALBONY. The Light-Hearted ART TREE will welcome guests to the 4F library and lounge area, and the tree lighting ceremony will be streamed on Instagram live.

It's no surprise that the hotel is collaborating with HERALBONY again–from May to November of this year, the HERALBONY ART ROOM was open for guests to enjoy. This is the first time that the unit is designing a Christmas tree, and the piece is inspired by one of their most iconic pieces of art–Yukihito Okabe's Hoo! Hey! Visitors of all ages can enjoy this beautiful piece, filled with color and sure to bring joy.

Along with the tree, the showcase and lounge will also be decorated in a number of HERALBONY pieces. Come enjoy the Christmas season in this one-of-a-kind space!

Information

Hyatt Centric Ginza x HERALBONY

On Display: December 1 – December 25, 2022

Venue: 4F Library / Lounge

Official Site: http://hyattcentricginza.jp

Doraemon's Official Store Launches Limited Edition Dorayaki-Flavored Black Tea

Doraemon's Mirai Department Store, Doraemon's official shop, has announced a limited edition black tea flavored with the character's favorite food: dorayaki! The tea and four special themed plates will be available starting November 11, 2022. The tea itself is provided by the tea specialty shop LUPICIA. 

Doraemon's Mirai Department Store Black Tea (Dorayaki Flavor)

Doraemon's Mirai Department Store is now offering this special tea in an adorable themed tin.

The flavor of the tea is inspired by Doraemon's favorite food, dorayaki, a sweet Japanese pastry filled with red bean paste. The gorgeous blue and red toppings blended into the tea leaves were inspired by Doraemon himself, and fans will want to enjoy a cup as they lose themselves in the classic manga or anime series.

Doraemon's Mirai Department Store Tasty Plate (4 varieties)

These 14cm square plates are perfect for snacks with tea. Dishwasher-safe, fans can pick from four designs, each showing Doraemon enjoying some tasty treats. 

©Fujiko-Pro

Snoopy Tea Brand SNOOTEA Launches Chocola Tea for the Holidays

Since its start in 2007, the Snoopy tea brand SNOOTEA has remained popular with Peanuts fans and tea fans alike. Typically, the brand has sold black tea in cute tins featuring Snoopy and his friends.

Starting November 7, fans can purchase a special Chocola tea made by tea blender Shuntarou Kumazaki. Blended to suit Japanese water and inspired by the world of Peanuts, it promises to be the perfect flavor for the holidays.

Made with cacao nibs, the flavor of standard black tea is punctuated with a chocolate aroma. The tea leaves themselves come from India, Sri Lanka, and Kenya, and are blended together in a balanced way to create an appealing taste that will have tea lovers coming back again and again. This blend is also perfect for making milk tea, and fans can even add whipped cream and marshmallows. This tea also goes well with strawberries, oranges, bananas, and other fruits, as well as nuts!

Snoopy and his friends dressed in winter attire will appear on each tin, adding to the festive holiday spirit. On the online store, customers can also find Darjeeling, Earl Grey, Apple Tea, and other varieties.

© 2022 Peanuts Worldwide LLC

Matsuzaki Shoten to Hold First Collaboration Between Ginza's Matsuzaki Senbei and Cat's ISSUE

Matsuzaki Shoten will hold a special collaboration event between Ginza's Matsuzaki Senbei and Cat's ISSUE starting on August 6, 2022. The Cat's Festival 2022 will be an incredible event for cat lovers, and guests will be able to grab some special hand towels and bowls produced exclusively for the festival. In addition, there will be an exhibition of works by Ayako Ishiguro, a picture book artist associated with Cat's ISSUE.

Ginza's Matsuzaki Senbei x Cat's ISSUE

This Japanese-style hand towel features illustrations of unique cats based on the concept color of Matsuzaki Shoten, the main Matsuzaki Senbei shop in Ginza.

Ginza's Matsuzaki Senbei x Cat's ISSUE

Matsuzaki Senbei's flagship product has been decorated with cat illustrations, each painted by hand. During the event, customers can choose four of their favorite pieces from a total of nine different patterns and pack them in a box wrapped with beautiful paper with a special design.  Guests can also purchase these goods separately. 

Collaboration with Ayako Ishiguro, a Picture Book Artist Specializing in Monster Art

This comical cat scroll created by Ayako Ishiguro will be on display during the exhibition. Hand towels made in collaboration with Ishiguro will also be on sale. These have previously been sold to huge fanfare.


If you love cats and classic Japanese art, this is the event for you!

Information

MATSUZAKI Cat's ISSUE – Cat Festival 2022
Running: August 6 – August 21, 2022
Venue: Matsuzaki Shoten (4-13-8 Ginza, Chuo-ku, Tokyo)
Details: https://cats-issue.com/

Teppanyaki and Yakiniku Restaurant Honten Yamashina Opens in Ginza

On July 18, the upscale teppanyaki and yakiniku restaurant Honten Yamashina opened a new location in Ginza! The hybrid restaurant has taken over the entire top floor of GINZA PLACE, which is directly connected to Ginza Station. Overlooking the Ginza 4-chome intersection, it's a gorgeous place to enjoy some authentic Japanese cuisine. 

Honten Yamashina mainly uses fully-matured Omi beef, the highest grade available among Shiga Prefecture's top-tier beef, from Okazaki Farm. The cows are allowed to fatten for a considerable amount of time and live stress-free lives for over 40 months. Less than 1% of all Wagyu cattle are shipped after 24 months of age, and this delectable meat is characterized by its sharp taste and fattiness. 

Luxurious Wagyu and Sea Urchin Sushi

Early Summer Plate to Enjoy with Seasonal Flowers

Selected Extra-thick Beef Tongue Steak Made with Refined Attention to Detail

Grilled Spiny Lobster Made on a Charcoal Grill

The Playful Yamashina Wagyu Slider

Melt-in-your-mouth Sweet Amala Tomato (Vegetable of the Day)

Hand-selected Omi Beef Steak

Truffle Omurice

Japanese-style Teppanyaki

Guests can enjoy authentic Japanese teppanyaki cuisine with a modern twist. While sitting at the contour, visitors will enjoy a live performance by Taku Osada, a teppanyaki chef with over 20 years of experience.  

The wide variety of meat can be enjoyed in a number of different ways, whether it be raw, grilled, stewed, or properly cooked. From tongue and rump to filet and sirloin, you won't leave hungry. Visitors can also enjoy seafood and seasonal Japanese vegetables along with their meat, and the flowers and leaves that adorn each plate will change depending on the time of year.

In addition to rare teppanyaki dishes like skirt steak and 3cm-thick beef tongue, Honten Yamashina also offers some playful dishes such as sliders. As the temperature differs on different parts of the steel cooking plate, each item can be cooked to a temperature that maximizes its specific flavor. Honten Yamashina also has a massive cellar housin over 1,000 bottles of wine and hard-to-find spirits. 

Japanese-style Yakiniku

For those looking for a more private experience, guests can enjoy yakiniku in a completely separate room. Each private room has a grill that will cook meat to the perfect temperature, and only at Honten Yamashina can you enjoy fully-matured Omi beef. The signature cutlet sandwich is made with chateaubriand cooked at a low temperature and deep-fried in a thin batter, then served on crispy bread with a soft, fluffy interior.

Teppanyaki and yakiniku are typically thought of as meat-based dishes, but the restaurant can accommodate vegetarian guests if contacted in advance. 

When Japan opens up to tourism, will you be visiting this incredible restaurant in the heart of Tokyo?

That Time I Got Reincarnated as a Slime Exhibition 2 in Tokyo to Show Footage from Upcoming Film

The second exhibition for the popular manga, novel, and anime series That Time I Got Reincarnated as a Slime will open at Matsuya Ginza on July 21. With over 30 million copies in print, the series has become massively popular both in Japan and abroad, and an anime film is scheduled to release this November. 

The exhibition will be open until August 9, 2022, and is then scheduled to begin a regional tour.

Certain scenes from the highly-anticipated upcoming film will be shown exclusively at the exhibition. Those who are having trouble waiting until November won't want to miss this rare chance!

During the previous exhibition, guests were able to enter a lottery to win a signboard autographed by Miho Okasaki, the voice of Rimuru. Due to the large number of entries, prizes for the second lottery are even more incredible!

The following autographs, which were previously displayed during the last exhibition, will be given away to some lucky fans. More details are available on the official Twitter page!

Signboard autographed by That Time I Reincarnated as a Slime author Fuse / Signboard autographed by Tenchura! That Time I Reincarnated as a Slime author Fuse / Signboard autographed by That Time I Got Reincarnated as a Slime: Trinity in Tempest artist Tae Tono / Signboard autographed by That Time I Got Reincarnated as a Slime: The Ways of the Monster Nation author Sho Okagiri / Signboard autographed by That Time I Got Reincarnated (Again!) as a Workaholic Slime illustrator Shizuku Akechi / Signboard autographed by The Slime Diaries: That Time I Got Reincarnated as a Slime artist Shiba

*Prizes are awarded at random. 

Information

That Time I Got Reincarnated as a Slime Exhibition 2
Running: July 21 – August 9, 2022
Venue: Matsuya Ginza 8F Event Square
Official Site: https://sp.ten-sura.com/tensuraten2/


Laid-Back Camp Tea Now Available in Limited Quantities

Kimikura, a specialty tea shop in Shizuoka Prefecture, is collaborating with Laid-Back Camp Season 2! Fans will be able to purchase Kimikura's popular green tea in limited edition packaging showing Rin Shima enjoying a piping hot cup. This limited edition item will be available at the Kimikura online store and Kimikura's physical shops starting July 8, 2022. 

The high-quality Kakegawa tea is made from leaves picked after 88 nights and has a lovely mellow fragrance and a full-bodied flavor.


This is the third collaboration with Laid-Back Camp, and fans of the series or Rin won't want to miss it.

Why not rewatch Laid-Back Camp with a nice cup of this tasty tea?

Information

Kimikura's Retreat

Release Date: July 8, 2022

Green Tea (Produced in Shizuoka Prefecture)

Available in limited quantities

Where to Buy: Kimikura Online Shop (https://kimikura.online/item/7078)

Kimikura Main Store, Kimikura Shizuoka Gofukucho Shop, KIMURACAFE

SPYxFAMILY Pop-Up Store Opens at Matsuya Ginza

The SPYxFAMILY pop-up shop, first held inside Tokyo Station's Character Street in April, will be coming to Matsuya Ginza from June 29 until July 12, 2022. 

Limited edition merchandise will be making a return, each featuring exclusive illustrations that saw huge popularity at the Tokyo Station event. Guests will also be able to purchase eight new items!

The lineup includes a rubber coin case (3 varieties, random), a clear multi-use pouch (3 varieties, random), an acrylic keychain featuring Anya, a Peanuts T-shirt with a new Anya illustration, and a mug. Each item is accented with Anya's pink hair, adding to the cute factor.


Bonus Sticker

Bonus Cooling Towel

Goods

Customers spending ¥3,300 or more at the pop-up shop will receive a bonus sticker. Those spending ¥5,500 can choose between a mug or a cooling towel!

©遠藤達哉/集英社・SPY×FAMILY製作委員会  

Pocky on the Rocks, Popular Since the 1970s, Reimagined for Modern Tastes

Pocky is one of the most popular Japanese snacks around the world, and a new way to enjoy it is here. Since the 1970s, Pocky on the Rocks has been a popular way to enjoy the tasty treats during the summer. A modern version has just been unveiled, and six special boxes with exclusive designs will be released on June 14 along with a new campaign, recipe submission contest, and a collaboration with select cafes around Japan. 

Pocky on the Rocks was first introduced in an ad campaign in 1976. People began putting Pocky sticks in a cool glass filled with ice or using the sticks as muddlers for alcoholic drinks. This stylish summer snack has been reimagined for 2022, and customers are inspired to pair the sticks with their favorite drink, stick them into ice cream, or add them to a cup of seasonal fruit!

Pocky on the Rocks in the 1970s

Pocky on the Rocks Today

Collaboration with 5 Cafes in Tokyo and Kansai

Cafe Roman – Takadanobaba, Tokyo

Cream Soda

Cafe Negura – Shimokitazawa, Tokyo
Dark Cherry Soda

DORSIA – Sannomiya, Kobe
Heart Strawberry Milk

Sunshine Cafe – Higashi-Umeda, Osaka
Almond Mixed Juice

Poem Cafe – Motomachi, Kobe
Lemon Squash


Pocky's limited edition packaging, coming June 14, will feature a recipe for the 2022 Pocky on the Rocks. A recipe submission contest will also be held on Instagram, and anyone can participate. On the campaign website, fans can find collaboration recipes made in conjunction with five different cafes around Tokyo and the Kansai region. Of course, you can also grab these treats at each shop!


Fans can win retro goods in another ongoing campaign simply by snapping a picture of a Pocky receipt.

You've probably tried Pocky before, but have you ever tried Pocky on the Rocks? 

Tea Ceremony Brand Saron Launches Customizable Matcha Shaved Ice for a Limited Time

Nara-based tea ceremony brand Saron is serving up a tasty treat perfect for the warm weather! White shaved ice with dark matcha topping is now available until mid-September, and guests are invited to adjust the taste by altering the amount of tea added.

Lately, Nara has been experiencing a major shaved ice boom. Inspired by Himuro Shrine, known for housing a guardian deity of ice, the city introduces plenty of created recipes for the summer treats each year. The tea ceremony brand Saron was founded by Nakagawa Masashichi Shouten, in business since the Edo period–so it's safe to say that the company knows what they're talking about!

Guests can enjoy shaved ice made from pure Yamato ice, which is frozen for 72 hours, gently shaved, and topped with Nara's Kasiya sweet bean paste, shiratama, agar, and condensed milk that has been boiled for four hours. 

To finish off this luxurious dish, guests can add koicha, a thick matcha tea with concentrated flavor and incredible sweetness and depth. Polished twice as much as typical matcha, this is a taste you'll never forget.

Why not come enjoy this traditional Japanese sweet this summer?

Information

Saron – White Shaved Ice with Dark Matcha Topping

Available: May 11 – mid-September

Where to Buy: Saron Nara (31-1 Ganriincho, Nara)

Official Site: https://salon-tea.jp/

The Royal Park Hotel Iconic Kyoto to Offer Immersive Meditation Rooms

The pandemic has caused problems for people all over the world. Mental health has taken a beating over the last few years, and in order to help people take back control of their mental wellness, The Royal Park Hotel Iconic Kyoto will begin offering immersive meditation rooms for guests only! These rooms will allow guests to enjoy a soothing private space and will be available starting April 1, 2022.

Blank meditation 

tea mediation 

The Medicha meditation rooms consist of two spaces: 'blank,' where guests are surrounded by mist, and 'tea,' where guests will immerse themselves in beautiful water patterns. An original program shown on in-room televisions at the hotel will also instruct guests in the art of meditation. 

In 'Blank Meditation,' guests will stand in a cool mist and immerse themselves in layers of diverse sounds and shifting colors of light. This will help quiet the mind and create a 'blank slate' mentally. 

The 'Tea Meditation' room invites visitors to spend time with themselves while getting lost in shimmering water patterns in a dimly lit space as they carefully brew their own tea. Two types of tea are on offer, each with distinct aromas and flavors.


 

Japanese Confectionary Series Tabemas Releases Chiikawa Sweets at FamilyMart Stores

Bandai's Japanese confectionary project Tabemas has been transforming popular characters into tasty treats for years. Starting April 5, over 16,600 FamilyMart stores nationwide will offer sweets inspired by illustrator nagano's popular characters Chiikawa and Usagi!

This is the first time these characters have been featured in the Tabemas series. Fans can grab Chiikawa with sparking eyes or smiling with red cheeks, a sparkly-eyed Usagi, and the adorable cat Hachiware. It will be difficult to eat something so painfully cute, but each is sure to taste delicious! The Chiikawa sweets are milk and custard flavored, Usagi is sweetened with caramel, and Hachiware offers the taste of strawberry milk. 

(C)nagano / chiikawa committee

Information

Chiikawa & Usagi Tabemas

Price: ¥398 each (Tax Included)

Release Date: April 5 ~

Where to Buy: Chilled Dessert Corners at 16,600 participating FamilyMart Stores Nationwide

*Limited quantities available.

*May not be available at all locations.