Soak in the Hot Springs and Enjoy the Luxurious Local Cuisine at Hoshino Resorts in Yamaguchi Prefecture
On March 12, 2020, Hoshino Resorts will open a brand new resort around Yumoto Hot Spring (Nagato, Yamaguchi prefecture). Following plans for a new hot spring district in Nagato that were created in January 2020, Hoshino's hot spring resort brand KAI will be opening a resort in Nagato with numerous spa facilities. With the cooperation of the local government and community, this plan has been put into action. 
As part of the masterplan, Hoshino KAI Nagato will include a cafe called Agebono Cafe. This will be the first KAI resort to extend their cafe services to non-guests. The cafe will sell sweet dorayaki pancakes that guests can enjoy while strolling the streets of the hot spring district. 
KAI is a hot spring ryokan brand owned by Hoshino Resorts and can be found all over Japan. The theme of KAI resorts is traditional yet new. Although the room designs are inspired by nature and old and traditional Japanese culture, they cater to the needs of modern guests.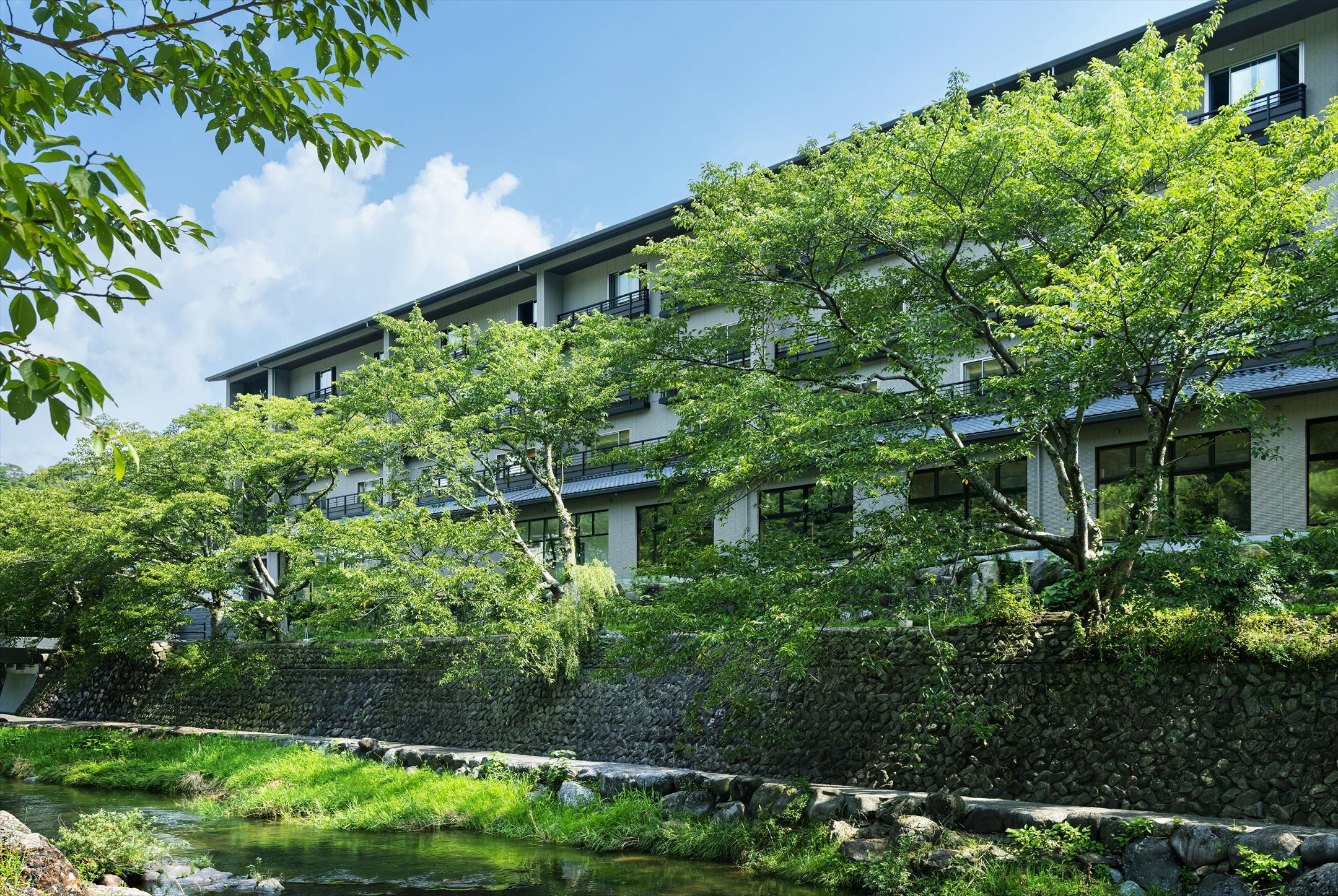 Exterior Appearance
KAI Nagato is the 16th hot spring resort of Hoshino KAI. It is located in the north of Yamaguchi prefecture and is surrounded by grand mountains. The resort sits by the peaceful Otozure River which is the main source of hot spring water for Yumoto Hot Spring. KAI Nagato is located where Agebono bridge stretches across the river. The resort aims to provide guests with an enriching experience of Yamaguchi's traditional old tea house residences (Ochaya Yashiki) as well as the opportunity to indulge in the regions finest traditional culture, food and experiences.  From the lobby to the guest rooms, the resort is full of Yamaguchi's samurai culture.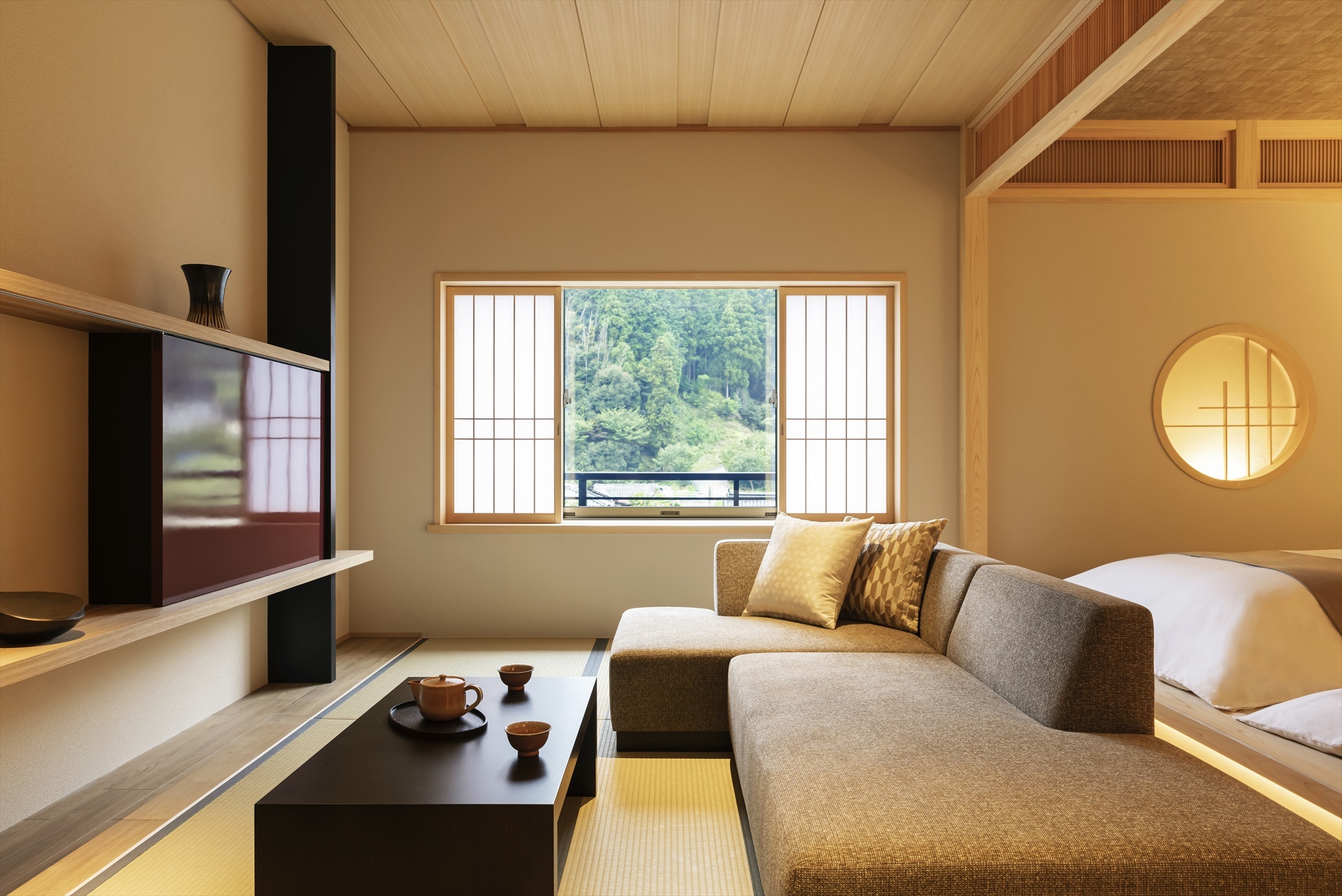 KAI Guest Room
The designs for the guest rooms were inspired by Yamaguchi's samurai. Each room is fit for a Feudal Lord. The beds are located on flooring which is slightly higher than the rest of the room. The surrounding wooden pillars create a luxurious private atmosphere.
Patterned Wall Decoration
The wall behind the bed is decorated with Tokujihori washi paper which is a type of Japanese paper unique to Yamaguchi prefecture and has a history dating back to the Muromachi period over 800 years ago. This special paper has even been acknowledged as an Intangible Cultural Asset to Japan. The beautiful dainty paper has been dyed a variety of bright and elegant colours to create this beautiful masterpiece. 
Hagi Ware *This is currently still in production so the appearance may vary.
 The room even has a Tokonoma, which is a small alcove where artistic pieces are displayed. Old Hagi ware, which was traditionally used for tea-making, is displayed here.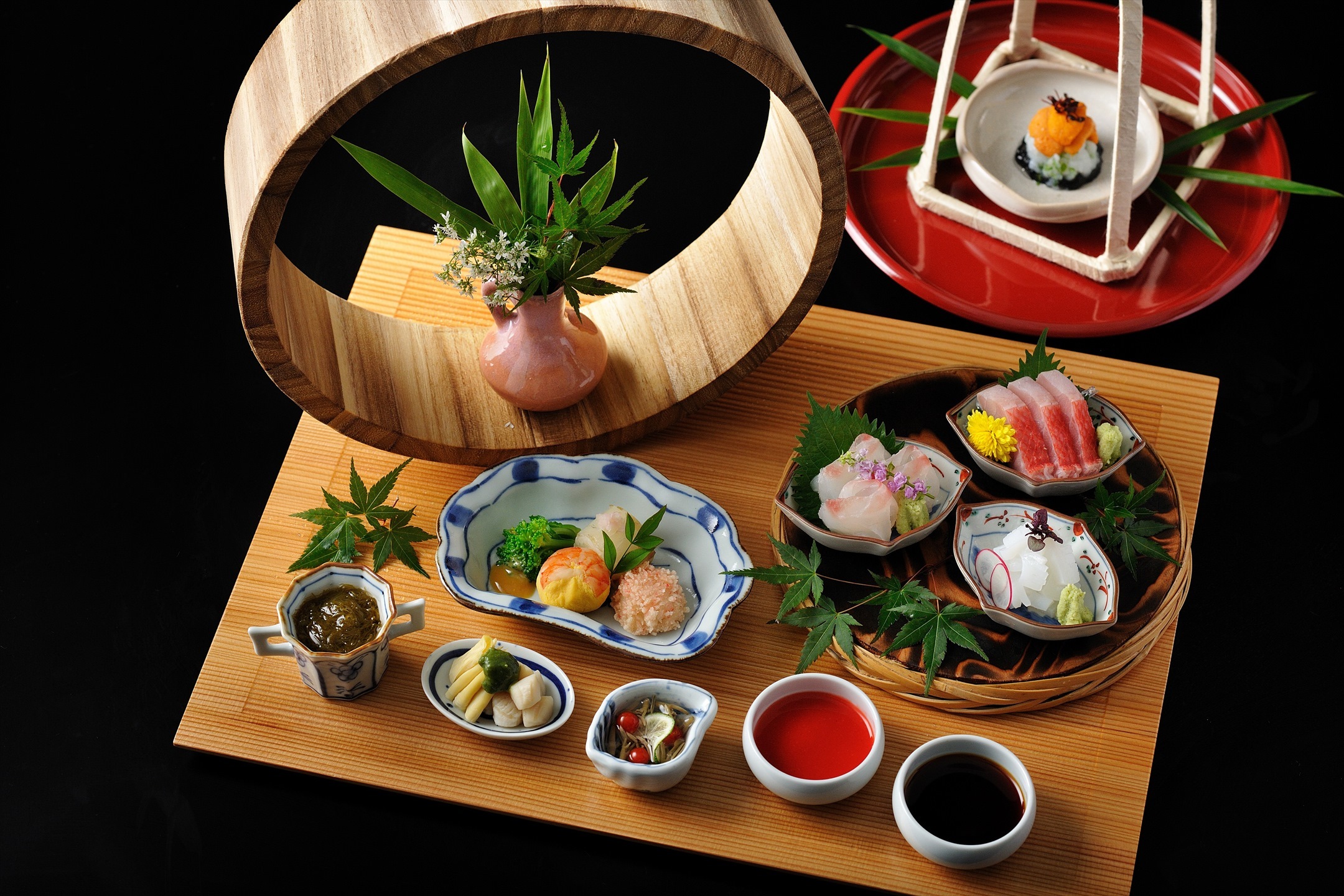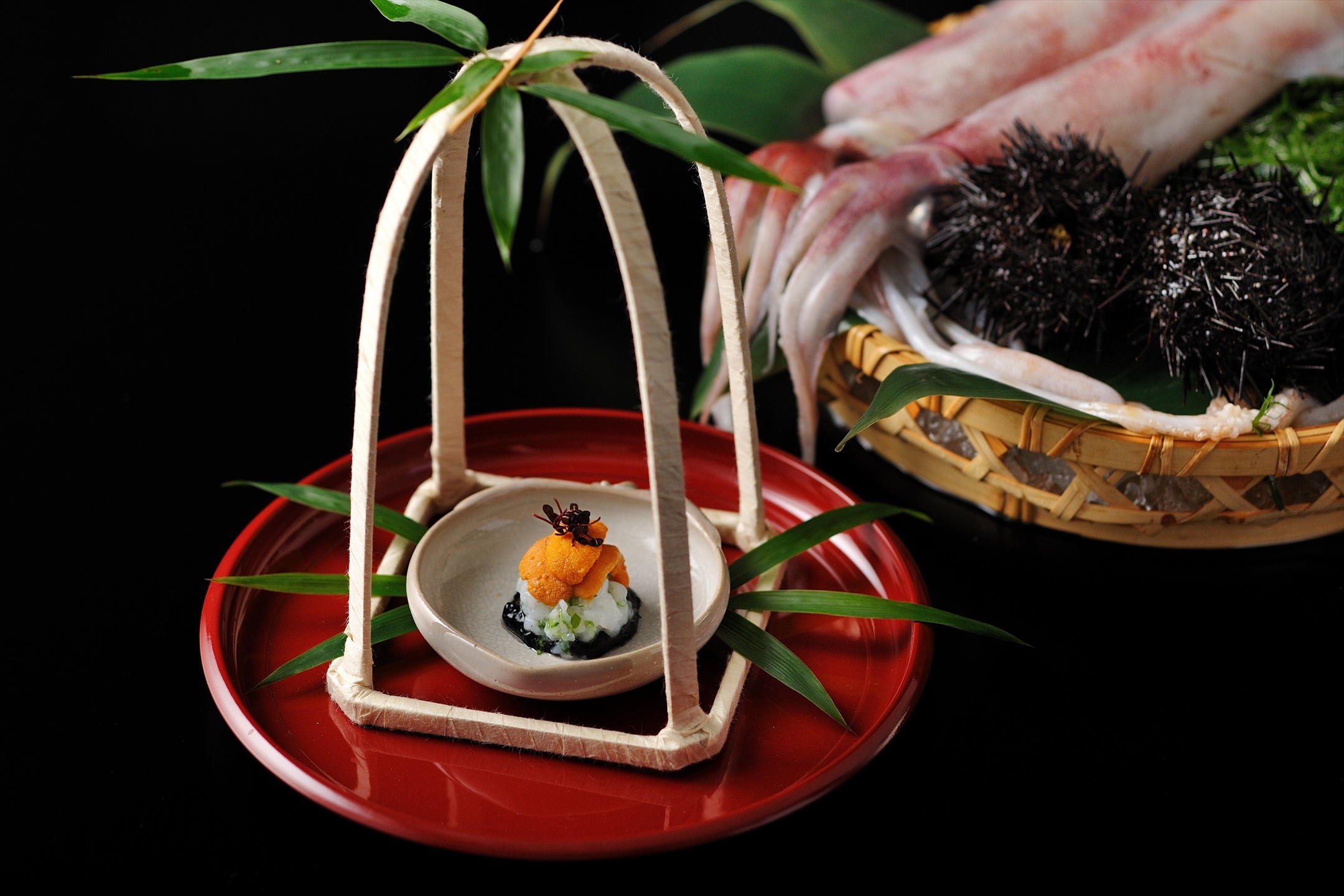 Luxury Banquet for One
Enjoy a luxurious banquet for one made with locally sourced seasonal ingredients in a semi-private dining space. Each meal is served on a dainty dish. As Yamaguchi Prefecture is the second largest squid producer in the country, KAI Nagato serves the region's highly-praised Yamaguchi squid as an appetizer and as sashimi. The sweet, soft and chunky squid will leave your mouth watering for more. The dinner set also includes a range of pickled vegetables and a luxurious plate of seasonal sushi and sashimi. All dishes are served in special Hagi ware. 
KAI Nagato was created to fulfil the goal of creating a relaxing hot spring district where visitors can stroll for a relaxing break. KAI has taken one more step towards achieving this goal by creating the Agebono Cafe, which is the first ever KAI cafe to extend its services to non-guests .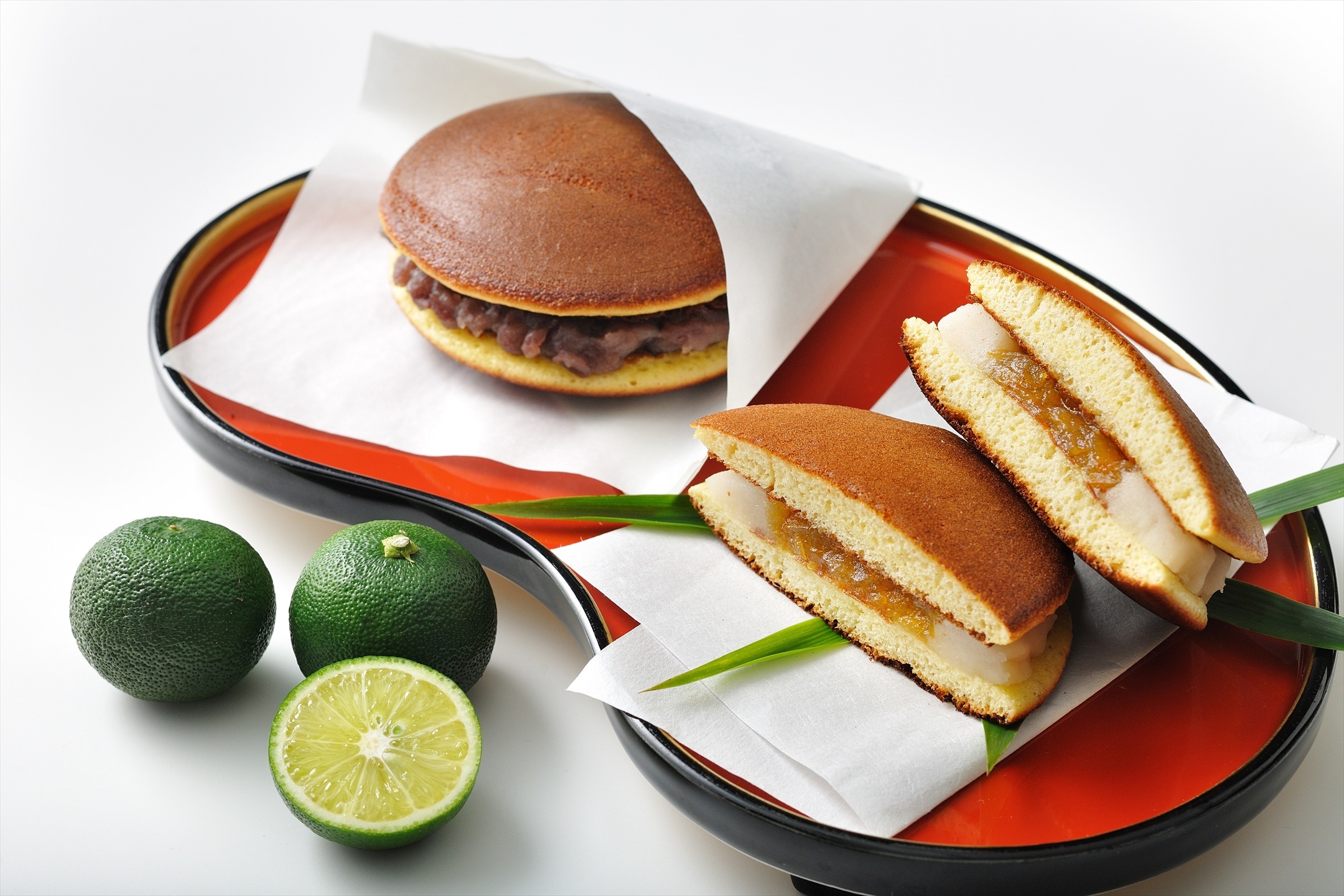 The cafe serves Japanese dorayaki pancakes with sweet jam fillings made using Yamaguchi's original citrus fruits such as Yamaguchi's original Nagato Yuzukichi and the Natsu Mikan. The Natsu Mikan was introduced to Japan from overseas and is now cultivated in Yamaguchi prefecture. Enjoy the refreshing tangy citrus flavour of Yamaguchi prefecture as it perfectly balances with the sweet jam flavour. This is best enjoyed with a cafe latte. 
Hoshino Resorts KAI Nagato is packed with the cultural wonders and flavours of the region. Take a moment to relax in the Yumoto Hot Spring and explore the culture of Japan.
Information
Hoshino Resorts KAI Nagato 
Address: 2229-1 Fukagawayumoto, Nagato, Yamaguchi 759-4103
Open: March 12, 2020
Reservations Open: November 12, 2019
Telephone Number: 0570-073-022 (Hoshino Resorts Reservations Centre)
Price: From ¥22,000 per night (Based on the price per person for one room with two guests. Includes service fee, dinner and breakfast. Tax not included.)
Access: 60-minute drive from JR Shinyamaguchi Station, 90-minute drive from Yamaguchi Ube Airport. 
URL:https://kai-ryokan.jp/en/nagato/ 
RECOMMENDED ENTRIES
Indulge in the Best of Japan's Nature this Autumn at Hoshino Resorts

KAI is a hot spring ryokan brand of Hoshino Resorts which provides the perfect Japanese accommodation experience to enhance your stay. This autumn, KAI is providing guests with an enhanced seasonal experience to fully embrace the beautiful golden and amber autumn atmosphere. Spend some time soaking in the hot springs, taste the finest ingredients of the autumn season and even explore the unique features of the area through art. Hoshino Resorts is offering you a completely unique trip this autumn.

KAI Autumn Plans are being implemented at the following resorts: KAI Hakone, KAI Sengokuhara, KAI Aso, Kai Alps, KAI Kinugawa River, KAI Tsugaru and KAI Kawaji.

Hoshino KAI Japanese Autumn Onsen Ryokan Plans 2019

Hoshino Resorts released a video to show how their different accommodation features allow for guests to maximise their Japanese autumn experience. Today, we will be introducing just one autumn activity that you can experience at each of the resorts.

Autumn Leaf Illumination at KAI Hakone Miyanoshita, Kanagawa

Estimated best time to visit: Late November to early December

From September 6 to December 7, 2019, there will be a beautiful autumn leaf illumination display taking place around the open air baths, which is the perfect opportunity to relax under the auburn atmosphere of autumn. The autumn leaves fall at different times all over the Hakone region due to the mountainous and hilly terrain. This prolonged autumn season provides plenty of opportunities to watch the beautiful illumination display as you enjoy a moment of serenity, soaking in the soothing springs surrounded by the stunning scenery. 

Illumination Times: 16:00 – 01:00

Paint the Picturesque Autumntime at KAI Sengokuhara, Kanagawa

Estimated best time to visit: Mid November- End November

Enjoying a relaxing soak at KAI Sengokuhara Hot Springs is the perfect way to appreciate the picturesque view of any season. On September 1, 2019, they introduced the perfect accommodation plan to fully relax their guests. 

The guest rooms are equipped with traveller's art supplies. From the gorgeous terrace view to the outdoor hot spring view, guests are provided with the opportunity to capture the beauty of the surrounding nature in their own way wherever they feel like it. The autumn view outside every single guest room is breathtaking ― the perfect opportunity for the guests to refresh and relax their minds with a beautiful painting. 

Autumn Leaf Artwork

Available to customers who check in between September 1, 2019 – November 30, 2019 

Price: From ¥43,400 

*Price based on the price per guest per night for a two-person room. Tax and service charge not included. 

Includes: Room fee, dinner, breakfast, rental art set and art museum tickets

Reservations: https://kai-ryokan.jp/sengokuhara/

Your Own Private Outdoor Natural View at Okomori Koyo Onsen KAI Aso (Senomoto Hot Springs, Oita Prefecture)

Estimated best time to visit: Mid October – early November 

KAI Aso is located in Kuju National Park. Each guest room is surrounded by a lush forest, creating the perfect opportunity to soak in the hot springs and take in the beautiful view of the autumn leaves with lots of privacy. 

In the outdoor hot spring, guests can enjoy the beautiful faint yellow Mongolian oak and the natural red leaves. Guests can also get a Japanese citrus bathing set which is scented using a range of Japanese citrus fruits to further enhance your natural autumn colour experience. The guest rooms are equipped with coffee sets which you can enjoy whilst bathing. 

Available to customers who check in between October 1 and 31.

Price: From ¥46,480

*Based on the price per person per night in a 2-person room. Tax and service charge not included. 

Includes: Room fee, dinner, breakfast, bathing set (1 set per room), coffee beans, Aso spring water pet bottle and a range of hot spring rental items: (Pillow for hot spring use, waterproof book cover, coffee mill and coffee dripper)

KAI Reservations Telephone Number: 0570-073-011

Please check KAI's official website to find out more about the wide range of autumn plans on offer.

Stroll the Edo Streets as an Elegant Samurai and Make Tea in the Feudal Lord's Residence

Sakura, Chiba is home to important cultural heritage and even what is also known as the "Samurai Town". Now you can stroll around the beautiful old streets of Sakura dressed as a Samurai, attend a relaxing zen session and even take part in a tea ceremony as part of a limited period tourist plan. The Samurai tour is mainly aimed at foreigners, however Japanese people who are curious about samurai culture are also more than welcome to join. 

Sakura Castle Samurai Stroll

In 2016, Sakura became one of the four cities of the Hokuso region to be designated as a Heritage site under the title "An Edo Travelogue through Four Hokuso Cities" for its preservation of the old Edo culture. Old buildings full of secrets can be spotted all over the town, creating the old atmosphere of the Edo period. Embrace the elegant remnants of the Edo period with a relaxing stroll in Samurai clothing. Who knows what you might discover.

Your relaxing stroll will be led by a tour guide who knows a lot about the history of Sakura. This is a wonderful opportunity to take beautiful pictures of the historical Samurai house (Bukeyashiki). Your tour guide will also show you Hiyodorizaka, which is a natural path lined with a dense forest of tall bamboo trees where Samurai are said to have often pass by. Every year, the bamboo and wooden sword martial arts sessions in the program are also very popular. 

◇ Running:

October 26

 November 9, 23

 December 14, 21

January 11, 25

February 8, 22

March 12, 28

April 9, 25

May 9, 16

◇ Times: 9:30 ー 12:30

 *The program will still run in bad weather excluding stormy or severe weather.

◇ Prices:

¥6,500 per person (Includes lunch voucher and entry to the samurai house)

* ¥6,000 per person when you purchase tickets as a group of 3 or more.

◇ Tickets

Reservation Website: https://www.govoyagin.com/ja

Apply Directly to Sakura City Tourism Association

TEL: 043-486-6000

Email: sakurashi-kankou@catv296.ne.jp

* Phone calls will be answered in Japanese only.

Zen Meditation and Tea Ceremony in the House of a Feudal Lord

There are also guided zen meditation and tea ceremony sessions which are available for a limited period only. These guided zen meditation and tea ceremonies will take place in the Kyuhottatei ー one of Japan's most preserved traditional-style feudal lord residences. This luxurious Edo-style mansion was built 130 years ago and is classified as an Important Cultural Property.  

◇ Running:

October 16,

November 7, 19

December 6, 18

◇ Times: 9:00 ー 12:30

 *The program will still run in bad weather excluding stormy or severe weather.

◇ Prices:

¥10,000 per person (Includes lunch voucher, entry to the Kyuhottatei and tea ceremony participation fee.)

◇ Tickets

Please enquire directly to the Sakura City Tourism Association

TEL:  043-486-6000

Email Address: sakurashi-kankou@catv296.ne.jp

* Phone calls will be answered in Japanese only.

If you are curious about Edo Samurai culture, you won't be disappointed by this program.

Roof Star Gardens Illumination Event to Take Place On GINZA SIX's Rooftop Garden

Ginza's biggest shopping centre GINZA SIX has announced that it's set to light up its rooftop garden with an enchanting illumination event titled Rooftop Star Garden which will begin on November 26 and run until February 24 next year.

Standing at 56 meters high, the rooftop garden is the "closest place to the stars" in Ginza. This will be GINZA SIX's first ever illumination event and it will shine a bright spotlight against the nightscape of Ginza's streets.

Rooftop Star Garden will take place in two areas in the garden: the Water Fountain Area and the Forest Area, both of which will welcome star-themed light shows.

The theme of the Water Fountain Area is "Shooting Star," whose LED lights will elicit a sense of profoundness in its observers. 147 LED lights will form the main monument of this area, with bright, sparkling illuminations that will remind one of shooting and twinkling stars.

The Forest Area is made up of two separate areas between the Water Fountain Area. Lasers will shoot through crystals, creating an ocean of countless specks of light that look like little stars that make it feel like you're in space.

This limited-time event is the perfect way to spend this year's Christmas, so don't miss out.

*Photos are for illustrative purposes only

Information

Rooftop Star Garden

Location: GINZA SIX Garden (Building Rooftop)

Address: 6-10-1 Ginza, Chuo Ward, Tokyo

Running: November 26, 2019 – February 24, 2019

*Will close during bad weather or during invitation-only events

Time: Sunset to 23:00

Entry: Free

GINZA SIX Official Website: https://ginza6.tokyo/
RELATED ENTRIES
Hoshinoya Tokyo Ranks Number One On 'World's Best Awards 2020 Top Hotels in Tokyo'

Travel + Leisure published their "World's Best Awards 2020 Top Hotels in Tokyo" list on July 8, 2020 on which Hoshinoya Tokyo, managed by Hoshino Resorts, placed No. 1.

"World's Best Awards" is a list of the top hotels as ranked by travel magazine Travel + Leisure's user ratings. The hotel category takes into account the facilities, location, service, food, and more offered at each hotel.

Established in Otemachi, Tokyo in July 2016, Hoshinoya Tokyo is a ryokan-style hotel which has two basement floors and 17 upper floors. It has a traditional Japanese ryokan vibe to it with its tatami mats, sliding doors, bamboo materials, and more, plus guests must take their shoes off at the entrance. And while it has traditional elements, it caters to the modern lifestyle, combining the best of both worlds. It offers guests a chance to easily experience Japanese culture and what it's like to stay in a ryokan.

Information

Hoshinoya Tokyo
Address: 1-9-1 Otemachi, Chiyoda-ku, Tokyo

TEL: 0570-073-066

Rooms: 84

Check In @ 15:00 / Check Out @ 12:00

Access: 10-minutes on foot from Tokyo Station's Marunouchi North Exit / 2-minutes on foot from Otemachi Station's A1 and C2 exits (via Tokyo Metro)

Official Website: https://hoshinoya.com/en/

Local Shaved Ice Recipes Whipped Up at Hoshino Resorts KAI This Summer

Hoshino Resorts has brought back its annual local shaved ice festival for the summer which will be served at branches of Hoshino Resorts KAI, a hot spring ryokan brand. It has been held every year since 2017 and gives people the chance to enjoy shaved ice with a variety of syrups and toppings inspired by local regions in which branches of KAI are dotted around.

Strawberry Shaved Ice | Hoshino Resorts KAI Nikko (Chuzenji Onsen, Tochigi Prefecture)

Tochigi Prefecture has enjoy est the largest harvest of strawberries in Japan for the last 50 years. This shaved ice is doused in a sweet strawberry syrup and a bitter matcha sauce. It can be enjoyed while gazing out to Nikko's beautiful scenery where you can see Chuzenji Lake and Mount Nantai from 1,300 meters above sea level in Hoshino Resorts KAI Nikko.

Hydrangea Shaved Ice | Hoshino Resorts KAI Hakone (Hakone Yumoto Onsen, Kanagawa Prefecture)

The Hakone area enjoys long blooming periods of hydrangeas. During their full bloom, the Hakone Tozan Line mountain railway gets nicknamed the "Hydrangea Line" and becomes a popular route for sightseeing. This refreshing shaved ice has hydrangea flavoured jelly and syrup.

Art Shaved Ice | Hoshino Resorts KAI Sengokuhara (Sengokuhara Onsen, Kanagawa Prefecture)

Hoshino Resorts KAI Sengokuhara is surrounded by many art museums, so what better way to keep with the them than with an art-inspired shaved ice dessert? Show your art skills by using strawberry red, orange-flavoured orange, and other colourful syrups to create your own unique design on your fluffy white canvas of shaved ice.

Apple Shaved Ice | Hoshino Resorts KAI Alps (Omachi Onsen, Nagano Prefecture)

Nagano Prefecture is famous in Japan for its apples. There are two types of syrup poured over this shaved ice, including one that tastes like mashed apples, and another made from Bramley apples.

Ginger Shaved Ice | Hoshino Resorts KAI Izumo (Tamatsukuri Onsen, Shimane Prefecture)

The ginger adds a sharp bite to the sweetness of this refreshing shaved ice and is perfect for overcoming the summer heat.

Tomato Shaved Ice | Hoshino Resorts KAI Aso (Sen no Moto Onsen, Oita Prefecture)

Made from tomatoes harvested in summertime, this sweet and sour shaved ice takes on a gorgeous red colour. Tomatoes are low in calories and have many nutritional ingredients, and are a good source of vitamin C and D, making this a healthier option.

And there are lots of other flavours to come from Hoshino Resorts KAI this summer too.

Information

Hoshino Resorts KAI Local Shaved Ice 2020 (Japanese Name: 界のご当地かき氷 2020)
Running: July 11, 2020 – August 31, 2020

Price: Free

Available: At 15 Hoshino Resorts KAI branches
Official Website: https://kai-ryokan.jp/features/kakigori/
Notes: Reservations not required

Hoshino Resorts KAI Official Website: https://kai-ryokan.jp/

A Cafe With a View: Okinawa's New Seaside Cafe 'Hoshino Resorts Banta Cafe' Opens This July

Hoshino Resorts's new cafe Hoshino Resorts Banta Cafe will open in the village of Yomitan in Okinawa on July 1, 2020, offering a spectacular view.

The cafe is split into four distinct areas which overlook the the beach from atop a cliff. Customers are invited to take in the breathtaking scenery with a delicious dessert made from ingredients like mangoes, pineapple, and sugar—or a tasty meal.

An incredible beach cafe overlooking the sea

Banta Cafe runs along the western coast of Yomitan, a village in central Okinawa which is about an hour's drive from Naha Airport. The cafe gets its name from iyumibanta which in Okinawan dialect refers to the cliffs you climb to spot the shadows of fish in the water, and is also the name they give to enormous rocks. The cafe is located atop one of these iyumibanta, or cliffs, making Banta Cafe a fitting name. From the cliff, customers can enjoy a panoramic view of the horizon which stretches across infinity. According to Hoshino Resorts, Banta Cafe sits as the largest beach cafe in Japan, spanning 1600㎡.

4 Unique Areas to Pick From

Having four distinct areas to choose from means you can select where you want to go depending on your mood on the day. Let's take a look at each of them.

Rooftop Deck: A panoramic view welcomes you

Beyond the entrance is the Rooftop Deck which offers an unbroken view of the horizon. With the comfortable shadow cast by the eaves of the roof, and the sound of the rolling waves and wind, it feels like you're sitting on the deck of a boat.

Beach Terrace: Kick back and enjoy the sea breeze

The Beach Terrace is located along a footpath that leads from the top of the cliff down to the beach. This spacious area sits nice and close to the sea. The Okinawan Ryukyu-tatami flooring has cushions for you to sit on as well as cabanas, so you can sit and chat with people while enjoying the view of the ocean, offering the real Okinawan experience.

Rocky Terrace: Lose yourself in the green wild of nature

The Rocky Terrace is enveloped in plants and vegetation that has grown naturally—it's like a hideaway created by nature. The area has a wooden deck and rocking chairs for people to kick back and relax in, and there are tables with towering rocks that offer shade too.

Goro Goro Lounge: Lay down on a sofa and look out to the sea

The final area is the Goro Goro Lounge where an entire wall is made up of open windows. Here, you can relax and lay down nice and comfy on the sofas. There are long tables by the sofas too, perfect for pulling out a map or guidebook and planning the rest of your trip.

A true Okinawan cafe experience


Bubbly Jelly Soda

The cafe's "Bully Jelly Soda" is inspired from a traditional bubbly Okinawan tea called bukubuku cha. It's flavoured with lemongrass and mint and contains different jellies like mango and hibiscus.

Chulato

This gelato ice cream gets its name from the Okinawan word for delicious which is chura. Choose from a variety of classic Okinawan flavours like pineapple and guava and top your ice cream with purple yam and bitter melon chips, chinsuko, and more.

Food Menu


The food lineup is to die for, with tasty bites like pizza toast topped with bitter melon, pork and egg rice ball which is a soul food of Okinawa, hot dogs filled with juicy sausages, shrimp fritters served with mango sauce, fried chicken, and plenty of other finger food.

Witness the magnificent sunset during business hours


Banta Cafe is home to a gorgeous beach with coral. The sea is cobalt blue as far as the eyes can see, there are strangely shaped rocks worn by the waves, and in the evenings is an incredible view of the sunset which can be enjoyed with a cocktail in hand.

Hoshino Resorts Olu Grill


Banta Cafe will also have its own separate grilled food restaurant called Olu Grill. Olu is another Okinawan word which means "blue," in this case referring to the blue ocean. From fried steak served with an original sauce made from Okinawan awamori liquor and kurozu black vinegar to seafood and juicy burgers, there's plenty to fill you up.

Information

Hoshino Resorts Banta Cafe / Olu Grill
Grand Opening: July 1, 2020
Address: 560 Gima, Yomitan, Nakagami District, Okinawa Prefecture
Access: 60-minutes by car from Naha Airport / 90-minutes by limousine bus from Naha Airport

Hoshino Resorts Banta Cafe
Opening Hours: 10:00 until sunset
TEL: 098-921-6810
Official Website: https://banta-cafe.com/
*Breakfast service available from mid-July 2020. Serving hours will be 7:00-9:30

Hoshino ResortsOlu Grill
Opening Hours: [Dinner] 17:00-21:00 (Last Orders 20:30)
TEL: 098-921-6811
Official Website: https://banta-cafe.com/olu-grill/
*Reservations required. Lunch service available from mid-July 2020. Serving hours will be 11:00-15:00.

HOSHINOYA Guguan Listed in Condé Nast Traveler's 2020 Hot List

HOSHINOYA Guguan in Taiwan was listed in the 2020 Hot List of Condé Nast Traveler on May 5, 2020.

Condé Nast Traveler is a travel magazine which showcases the latest information for travel, hotels, restaurants, and shopping around the world. HOSHINOYA Guguan was chosen as "The Best New Wellness Resorts in the World" in their 2020 Hot List which featured new hotels that opened in 34 countries and regions worldwide last year.

HOSHINOYA Guguan opened on June 30, 2019 as the first Taiwan-based luxury hot spring resort produced by Hoshino Resorts, which manages 42 branches outside Japan. It is also the second overseas branch of the company's "HOSHINOYA" brand, whose concept is "taking a break from the modern world." It's located on the outskirts of Taichung in Guguan which is home to natural hot springs. There, it co-exists and blends in naturally with the landscape. All guest rooms have open-air baths, so guests can enjoy the warm water together with the breeze in a spacious environment. They also offer various programs for guests to enjoy Guguan's culture and natural environment.

HOSHINOYA Guguan was also picked as one of Travel + Leisure's "The Best New Hotels in the World (The It List)" on February 20.

If you're planning a trip to Taiwan in the future, be sure to check out HOSHINOYA Guguan.

Information

HOSHINOYA Guguan
Address: No.16, Wenquan Lane, Section 1, Dongguan Road, Heping District, Taichung City 424, Taiwan
TEL: 0570-073-066
Rooms: 49 (All with open-air baths)

Check In: 15:00 / Check Out 12:00

Price: From NT$18,000 per night (1 room, doesn't include tax or service charge, meals charged separately)
Official Website: https://www.hoshinoresorts.com/en/resortsandhotels/hoshinoya/guguan.html

Experience Kyoto Culture in Arashiyama With HOSHINOYA Kyoto's New Hotel Plan

HOSHINOYA Kyoto has introduced a new hotel plan in an attempt to bring a little luxury into people's lives and lift their spirit during this stressful time. The plan will have people going to Arashiyama to experience a bit of Kyoto culture and hospitality to lift their mood.

You will board a small boat located at the port near the hotel entrance and be taken to your private room. During your sail, you will be able to soak in the gorgeous sights of nature all around. Check-in is being carried out in guest rooms, meaning you won't have to come into contact with other guests.

You have arrived at your room. HOSHINOYA Kyoto is located in Arashiyama which was formerly a holiday home destination for the Heian aristocrats. There are 25 rooms inside the garden, all of which look out onto the Ōi River. When you slide the window open, you can feel the gentle wind sweep through the valleys. Guest room walls are plastered with beautiful traditional kyokarakami wallpaper and fitted with HOSHINOYA Kyoto-original tatami sofas. Each and every part of the rooms are imbued with Kyoto culture. The rooms are not only comfortable and provide you with everything you need, but also offer a luxurious stay.

Inside your room, there are sutras which can be used for sutra copying, known as sakyou in Japanese, as well as equipment for making matcha to enjoy your own private tea ceremony without having to worry about the tradition's strict rooms. It's your very own private Kyoto cultural experience without having to worry about other people.

Dinner can be enjoyed in the main dining hall or in your room. The dining hall is fitted with semi-private booths where you can enjoy a seasonal Arashiyama 9 course kaiseki-ryori dinner with rice, vegetables, a special bento assortment, and more. For breakfast you can enjoy a morning hot pot which uses a special dashi stock packed full of seasonal veggies.

There are also activities to enjoy Kyoto's breathtaking green outdoors. Mosquito nets made from Japanese red cedar are provided under which you can take part in a stretch routine which uses breathing techniques and meditation.

Outdoor activities are severely restricted right now as a result of COVID-19, but HOSHINOYA Kyoto has made it so you don't have to do much moving around at all while still enjoying the fruits of nature.

Information

Kyoto Culture in Arashiyama (Japanese Hotel Plan Name: 奥嵐山で京文化に触れる久しぶりの優雅な一日)

Prices

From ¥50,100 per night (Includes dinner/2 people 1 room/service charge and tax not included)
From ¥50,100 per night (Includes dinner and breakfast in dining hall/2 people 1 room/service charge and tax not included)

Booking: https://hoshinoya.com/kyoto/

HOSHINOYA Kyoto Introduces New Rainy Season Themed Kaiseki Dinner Course

HOSHINOYA Kyotoーthe Arashiyama-based hotel where every room offers a river viewーis launching a new kaiseki multi-course dinner this summer which offers the chance to enjoy the early summer breeze together with the spectacular views of the rainy season. Served with nine dishes, the kaiseki meal will be available between June 1 to July 31 this year.

The days of June in Japan are hot that the month itself also goes by the name minazuki which translates to "the month without water." However, the evenings are enjoyed for their cool and refreshing air, and so June is also known as suzukurezuki, or "the month of cool dusk." Not only will guests be able to enjoy the refreshing feeling of the season, but their kaiseki meal will be inspired by the sights of the rainy season, as well as the verdant smells of early summer, too, adding an extra level of freshness.

HOSHINOYA Kyoto's dining concept goes by the name Gomi Jizai, which has people enjoying all five different tastes: sweet, salty, spicy, sour, and bitter. Ichiro Kubota, the Executive Chef at HOSHINOYA Kyoto, has truly honed his cooking abilities over the course of his career. His father was the head chef at one of the most famous restaurants in Kyoto's Gion district. It was there that Kubota really began to learn his craft, and he went on to work at first-class and Michelin star restaurants in both Japan and abroad. He has set the standard for Japanese cuisine for the next generation.

Suzukurezuki Appetisers: See and taste early summer with a Hassun dish

A hassun is a kind of dish or tray often used in kaiseki course meals to serve numerous different foods. This hassun is inspired by Nagoshi no Harae, an ancient and traditional summer purification ritual that takes place at temples and shrines in Kyoto in June. It includes goma-dofu, a food similar to tofu made with crushed sesame seeds that's eaten as a confection during Nagoshi no Harae to cool yourself down during the hot month of June.

It also comes with sweetfish dashi and watershield for that added feeling of coolness, as well as hotarukan which looks like fireflies gathered in the bamboo grass, and a texture-laden bamboo shoot and smoked salmon wrap.

Cool Kamo-nasu Eggplant Assortment: Sweet early summer vegetable appetisers

For appetisers, guests can look forward to some refreshing early summer vegetables, including kamo-nasu eggplant that's been mixed in lots of dashi, fried, and seasoned with eggplant to elevate the sweetness and combined with ice cream. There's also red sea urchin which is rich in sweetness, ginger foam, and new lotus root for bite. The bowl it's all served is made by Nobuyoshi Sasaki and features a lace design. The use of glass serves to enhance that level of freshness from the food.

Conger Eel Hanami: Recreating a hydrangea Hanami in a bowl

The bowl includes fatty conger eel which is topped with more conger eel that has been minced as well as arrowroot daffodils to make it look like blossoming hydrangeas. It is said that conger eels that drink the water at the end of the rainy season become more delicious. Gion Matsuri, a festival held in Kyoto in July, is also called Hamo (conger eel) Matsuri. The dish also includes bonito, tuna, and kombu.

Young Fried & Salted Sweetfish: Smell the verdant fragrances with fried food

Sweetfish is a popular ingredients during early summer in Japan, and this one has been salted and fried. Sweetfish (ayu in Japanese) is also known as kougyo in Japan which means "fragrant fish." It's known for its fresh smell which is likened to that of greenery. It's fried on a charcoal fire for some time which makes the head and tail smell incredible.焼

Cherry Mille-Feuille: A dessert gift from the early summertime

The crowning cherry of this dessert is smothered in acacia honey and then roasted, locking in all of that sweetness. The dessert is made with fresh cream, almond biscuit, and custard cream, all of which is layered to create a multi-textured pie. It's served with a tonka bean ice cream. Tonka beans come from the same rose family as cherries, meaning they work wonders together.

Information

Gomi Jizai Kaiseki
Running: June 1, 2020 – July 31, 2020
Serving: 17:30-20:30
Price: ¥20,000 per person (does not include tax or service charge – hotel fee charged separately)
Available: To both guests and non-guests
Reservations: https://hoshinoya.com/kyoto/en/

Feel Like You're Living On Okinawa's Taketomi Island With HOSHINOYA's New 'Workation' Hotel Plan

HOSHINOYA Taketomi Island in Okinawa rolled out a new hotel plan on March 18 that's set to run until June 30 this year.

Taketomi Island can be said to be home to landscape of what Okinawa used to be, with the Ryukyuan red roof tiles of its buildings, stone walls, and alleys spread with coral sand. Someone plucks away at a three-stringed sanshinーthe Okinawan precursor to the mainland shamisenーas time flows with gentle ease on the island. Taketomi Island is rich in traditional culture which can be felt throughout.

The guest rooms at HOSHINOYA Taketomi Island emulate the island's traditional architecture. All guest rooms have south-facing windows that can be opened to let in the southern winds, which the local islanders say are lucky. HOSHINOYA Taketomi Island developed its new workation plan in response to the current situation when more people are having to do remote work and work from home. It enables people a private abode where they can work and relax simultaneously. And all the necessary amenities have been prepared for a workation.

The guest rooms at HOSHINOYA Taketomi Island are known as guest pavilions, which allow for you feel like you're living like a real islander. They are equipped with Wi-Fi, printers, pand photocopiers too, making it the perfect work environment. And you don't have to worry about hay fever as there are no Japanese cedar or cypress trees around.

The pavilions offer a beautiful view of the bright blue sky and sea. The beaches are also open from March, so you can take a dip in the springtime sea too while basking in the warm climate.

Information

Paikaji Workation

Running: March 18, 2020 – June 30, 2020
Price: From ¥278,460 (Before tax/service charge)

People: Up to 2 people per room

*70% off from the normal price. The above-listed price is calculated for 30 days of stay.

HOSHINOYA Taketomi Island

Address: Taketomi, Yaeyama District, Okinawa 907-1101

TEL: 0570-073-066

Official Website: https://hoshinoya.com/taketomijima/en/
*You must select the meal option if you require food

Witness Mount Fuji and Fully Bloomed Cherry Blossoms at HOSHINOYA Fuji

HOSHINOYA Fuji is offering a very special Hanami flower-viewing experience for guests from April 7 to 21 this year where they can observe the springtime cherry blossoms against the backdrop of Mount Fuji. Offers include cherry blossom desserts, a glamping experience inside a cabin eating curry while enjoying the scenery of the outdoors, a private outdoor dining dinner, and more.

HOSHINOYA Fuji hails as Japan's first luxury camping resort. Located on the hill overlooking Lake Kawaguchi near Mount Fuji. It offers the ultimate glamping experience, with a large outdoor terrace surrounded by nature, cabins that can be enjoyed throughout the year, and more. It's difficult to go out and enjoy the cherry blossoms on the streets right now, but if you'd still like to enjoy spring safely with your special someone, then HOSHINOYA Fuji has created a special springtime experience.

Sakura Apéro: Witness the cherry blossoms during sunset with desserts in hand

"Sakura Apéro" is a chance to take a breather and enjoy all the beauties nature has to offer. It is held in the cabin area of HOSHINOYA Fuji under the towering cherry blossom trees. Sit back, relax, and enjoy an evening treat of cherry blossom flavoured bean paste rice cake, a cup of matcha milk or a matcha cocktail, and a front row seat of the cherry blossoms as the sun sets.

Hanami on the terrace

HOSHINOYA Fuji's cabina area is built in such a way so that guests can enjoy an outdoor experience. One third of the cabin has a terrace area with an enormous window that looks out into the natural landscape. A fireplace and kotatsu is available so you can still enjoy the outdoors even inside while relaxing with a comfortable stay into the late nights. Some of the cabins offer a view of the surrounding cherry blossom trees, inviting spring into your room.

Curry made on one of Mount Fuji's lava plates

At HOSHINOYA Fuji, guests can enjoy outdoor cooking in luxury be it in one of the cabins or the dining restaurant in the forest. Those who want to relax in a cabin are recommended the "Glamping Curry" at the terrace. You grill beef and vegetables yourself on a Mount Fuji lava plate and can combine five spices of your choice to create your own original flavour. In the outdoor dining area, which is exclusive to groups of guests, game meat is also served, such as boar and deer, as well as seasonal vegetables prepared in a dutch oven. For dessert, there's cherry blossom flavoured ice cream. You can also make your own strawberry sauce using fresh strawberries over a fire to pour over your ice cream before topping it with matcha crumbles.

Due to the ongoing situation surrounding the coronavirus, all guest rooms and public areas at all HOSHINOYA facilities are being thoroughly cleaned in line with the recommended guidelines to ensure the health and safety of guests and staff. Alcohol gel is available at all HOSHINOYA facilities, and staff's health and hygiene are being consistently examined.

Information

HOSHINOYA Fuji

Address: 1408 Ōishi, Fujikawaguchiko, Minamitsuru-gun, Yamanashi

Official Website: https://www.hoshinoya.com/

Hoshino Resorts to Open New KAI Poroto Ryokan in Hokkaido in Winter 2021

Hoshino Resorts, which manages 42 ryokan inside and outside Japan serving Japanese tradition and culture, signed a partnership agreement with the town of Shiraoi in Hokkaido on June 28, 2018, which would have them open a hot spring ryokan there. It has been revealed that the new facility will be named Hoshino Resorts KAI Poroto.

Hoshino Resorts KAI Poroto. Built by Japanese architect Hiroshi Nakamura, the site will open its doors in winter 2021 as the 19th branch of Hoshino Resorts's hot spring ryokan brand KAI, of which it operates 16 in Japan. It will be the third branch of KAI in Hokkaido, following from Hoshino Resorts RISONARE Tomamu in Shimukappu village and Hoshino Resorts OMO7 Asahikawa.

Hot springs in Shiraoi, Hokkaido include moor springs, a type of organic spring water that is rare globally. KAI Poroto faces Poroto Lake, which is enveloped in nature and home to creatures such as wild birds. All rooms at the ryokan enjoy a view of the lake, as well as a chance to see the trees and flowers bloom and change in different colours throughout the seasons.


KAI's aim is to offer Japanese hospitality that can only be experienced in that town or city, and during that season, as well as to give guests a comfortable experience in a Japanese-style accommodation. At KAI Poroto, they are set to offer a completely new experience tied to Ainu culture in collaboration with the Upopoy National Ainu Museum and Park currently in development in Shiraoi.

Upopoy is scheduled to open at Lake Poroto on April 24, 2020. "Upopoy" is a word in the Ainu language that means "singing in a large group." The museum is the first national museum in Japan to be dedicated to the indigenous Ainu people. It will serve as the national center for the revival and development of Ainu culture, something which is on the verge of extinction, and it will do this by showcasing Ainu culture and history through exhibitions, hands-on programmes, performances, and more.

Hiroshi Nakamura is the architects that designed Hoshino Resorts KAI Poroto. "Poroto" is also a word in Ainu to mean "large lake." The ryokan's lobby, which is decorated with Japanese white birch, offers a view of the lake and Mount Tarumae. There are also small bath houses called kashi which have been made using Ainu architectural methods, as well as open-air baths that have you feeling like you're taking a dip in the lake.

Information

Hoshino Resorts KAI Poroto

Address: 1-1018-1 Wakakusacho, Shiraoi, Shiraoi District, Hokkaido

Construction Work Start: Mid-May 2020 (subject to change)
Grand Opening: Winter 2021 (subject to change)

Official Website: https://kai-ryokan.jp/

Goldfish Bar to Open at HOSHINOYA Kyoto For a Limited Time This Summer

HOSHINOYA Kyoto's Salon & Bar KURA is being transformed into the new Kingyo Bar ("Goldfish Bar") for a limited time from July 1, 2020 to August 31, 2020. HOSHINOYA is a chain of luxury ryokan managed by Hoshino Resorts with the Kyoto branch located in Arashiyama, Kyoto.

The gorgeous new Kingyo Bar submerges guests amongst schools of fish, and takes on the Japanese custom of "cooling off," with goldfish bowls hanging gracefully from the ceiling. Customers will be able to feel cooled off as they observe the goldfish during the summer evenings deep in Arashiyama.

Enjoy the cool evenings of Arashiyama

HOSHINOYA Kyoto's goal is for people to fully enjoy the ancient capital's summertime, hence the revamp of Salon & Bar KURA into Kingyo Bar. Fish bowls will dangle from the ceiling, which will swim elegantly, their forms illuminated by the warm light of the lamps. Customers can enjoy watching the goldfish dance while sipping on one of the bar's original cocktails.

Arashiyama is known for its history as a summer resort for the Imperial Household during the Heian Period. Since ancient times, watching goldfish has long been a creative way of cooling down from the heat of summer amongst the people of Kyoto, and you'll get to do just that at Kingyo Bar.

See traditional crafts come to life as you admire the fish

The goldfish suspended on long string in their fishbowls are strung in such a way to meet your gaze. Enjoy the twinkling light reflecting from the bowls while the goldfish, with their cute round bodies and long fins, swim around in their cool water.

Sip on cocktails

Two original cocktails will be served: the Ukikusa ("Floating Weed") and the Kyo-kago ("Kyoto Fawn"). The Ukikusa includes a crushed jelly made from Japanese pepper tree buds and mint and is topped off with a lemon liqueur and sparkling wine. The flavour and fragrance of the wine comes through after the refreshing notes of citrus fruits and herbs. The Kyo-kago includes a yoghurt granita and a strawberry and red shiso liqueur. This is combined with Bikkuri Gyoten, a foamed junmaishu.

Catch shadow goldfish to take home

Try your hand at catching goldfish with this fun game. Japanese paper is layered over the top of a fish tank to create a shadow effect. Goldfish scooping is a staple of Japanese summer festivals, and this version puts a spin on the game.

Information

Kingyo Bar

Running: July 1, 2020 – August 31, 2020
Price: Free Entry / Drinks from ¥1,000 (tax and service charge charged separately)
Reservations: Not required
Location: Salon & Bar KURA (HOSHINOYA Kyoto)
Opening Hours: 21:00-23:30
For: Guests of HOSHINOYA Kyoto only

Official Website (English): https://hoshinoya.com/en/

Japanese Hanami 2020: Soak Up the Pink Springtime Cherry Blossoms at Hoshino Resorts KAI

KAI, a hot spring ryokan brand managed by Hoshino Resorts, has announced an exciting new experience at 14 of its branches called "Otsu na Hanami Tabi" (A Chic Flower-Viewing Trip) which will run from March 15, 2020 to May 31, 2020.

The service offers a new kind of Hanami, or flower-viewing, experience for guests that doesn't stop at just admiring the cherry blossoms, but enables them to enjoy both local history and customs too. Guests will be provided with a wicker basket of delicious Hanami goodies to enjoy, just like they did in the past.

We've picked five of the Hoshino Resorts KAI hot spring inns that we think our readers will be most interested in. Let's take a look!

Hoshino Resorts KAI Tsugaru | Aomori

Hoshino Resorts KAI Tsugaru is located in the town of Owani, which sits in southern Tsugaru in Aomori Prefecture. They are offering an exciting experience this May: "Shidare-zakura Hitorijime Taizai," which lets a single group have exclusive access to an area of seven shidare-zakura weeping cherry trees blooming in the inn's spacious garden, which sit far away from guest rooms. Those lucky enough to experience this service can sip on cider and tuck into some delicious apple pie while listening to a Tsugaru-style shamisen performance, known as tsugaru-jamisen.

Shidare-zakura Hitorijime Taizai

Running: May 1, 2020 – May 7, 2020

Price: ¥5,000 per person

No. of People: 1 group per day (2-4 people per group)

Booking: 0570-073-011 (KAI Reservation Centre)

Note: The tsugaru-jamisen performance will take place 15:30-16:30

Hoshino Resorts KAI Kawaji | Tochigi


Feel what it's like to live the life of someone living in a satoyamaーa village centred around an agricultural lifestyleーby waking up with the sunrise to start work early. Your morning job will be making tea at the watermill. You will use traditional and ancient tools like the suribachi mortar and the houroku pan to make tea grown from tea leaves in the area which you can enjoy a cup of to start your Hanami. As well as making tea, you'll be able to enjoy a quiet breakfast while gazing at the Yoshino cherry trees, so you can get that real satoyama spring experience.

Running: April 18, 2020 – April 25, 2020

Hoshino Resorts KAI Izumo | Shimane

Hoshino Resorts KAI Izumo is located in Tamatsukuri Onsen in Shimane Prefecture, where all guest rooms have their own open-air bath. The hot spring ryokan's "Sakura Koraku" experience gives you a chance to try wariko sobaーa style of soba noodles originating in Shimane's city of Matsueーunder the cherry blossom trees.

Sakura Koraku

Running: April 1, 2020 – April 20, 2020

Time: 15:00-19:00

Price: ¥500 for one Hanami picnic set for two people (5 sets prepared per day)

Booking: Hoshino Resorts KAI Izumo front reception

Notes: Rickshaw will run from April 1, 2020 to April 7, 2020 costing ¥1,300 per person. 30 minute ride. 5 groups per day (2 people per group).

Hoshino Resorts KAI Kaga | Ishikawa

Head to one of Kaga's famous weeping cherry blossom tree spots to enjoy a cup of Japanese tea prepared yourself. This plan offers the chance to experience Ishikawa culture in a spot that has been loved by locals for decades.

Running: April 1, 2020 – April 30, 2020

Hoshino Resorts KAI Aso | Kumamoto

Hoshino Resorts KAI Aso stands in Aso-Kuju National Park. Gaze at the five peaks of Mount Asoーthe largest active volcano in Japanーwhile sipping on water drawn from one of Japan's 100 famous water sources. Change up the water of the water to your liking: carbonate it, add syrup, and so on. You'll also get some refreshing fruits that have sat in carbonated water. Sit amongst the colourful flowers, like tulips and baby blue eyes, while soaking up the beautiful sights of Aso.

Tansan Ohanami

Running: April 20, 2020 – May 31, 2020

Price: ¥3,000 per person

No. of People: 3 groups per day (two people per group)

Booking: 0570-073-011 (KAI Booking Centre)

Note: In the case of rain, Tansan Ohanami will not run on that day

This is just 5 of the 14 Hoshino Resorts KAI branches offering a chic Hanami experience. If you're travelling to Japan this spring, be sure to check out what they're offering.

3 Breathtaking New Rooms to Open at Hoshino Resorts OMO7 Asahikawa

Hoshino Resorts OMO7 Asahikawa, a branch of Hoshino Resorts' hotels for tourists and travellers, has announced that it is opening three new room types to guests from April 1 to make their stay and travels that much better. They are the "Double Room," "Superior Room," and "Family Room."

OMO7 Asahikawa opened in Hokkaido April 2018 as the first branch of Hoshino Resorts's "OMO" brand of city tourism hotels. The hotel offers not only a great sleep, but enjoys the benefit of its location with must-see sights surrounding it, and all of this to make guests' stay the best it can be.


The hotel's Studio Rooms, formerly named the DANRAN Room before the renovation, have received praise from guests that have stayed there for offering everything they needed while being compact, as well as it being easy to kick back and relax in them. It was revealed that in 2019, the average number of people staying in a single room at Hoshino Resorts OMO7 Asahikawa was higher than the average of that in other city hotels in Asahikawa, as well as the hotel being popular for catering to tourist and sightseers' needs.

The hotel has now renovated 111 of its rooms in response to it being used by a lot of people because of its catering towards tourists' needs. It has also added the three new types of roomsーDouble, Superior, and Familyーwhich incorporate the well-received functionality of the Studio Rooms. That's 226 room renovations out of the hotel's 237 rooms.

All beds have storage space underneath them. Those travelling in big groups like families will especially benefit from this if they have a lot of luggage as they can save on plenty of space in rooms.

New rooms are furnished with new sofas and tables for maximum comfort amongst friends and family where they can talk about their trip while enjoying local drinks and snacks.

Also, in the Superior Rooms and Family Rooms, where there is a small amount of guests, beds can be folded and turned into spacious sofas.

The OMO brand promises "a reasonable price for your travels," and this rings true: the new Family Rooms start at ¥5,500, allowing an affordable stay so you can spend more on the local sights.

Room bookings will open on February 3, 2020, so if you're visiting Hokkaido, be sure to check out Hoshino Resorts OMO7 Asahikawa.