Indulge in the Best of Japan's Nature this Autumn at Hoshino Resorts
KAI is a hot spring ryokan brand of Hoshino Resorts which provides the perfect Japanese accommodation experience to enhance your stay. This autumn, KAI is providing guests with an enhanced seasonal experience to fully embrace the beautiful golden and amber autumn atmosphere. Spend some time soaking in the hot springs, taste the finest ingredients of the autumn season and even explore the unique features of the area through art. Hoshino Resorts is offering you a completely unique trip this autumn.
KAI Autumn Plans are being implemented at the following resorts: KAI Hakone, KAI Sengokuhara, KAI Aso, Kai Alps, KAI Kinugawa River, KAI Tsugaru and KAI Kawaji.
Hoshino KAI Japanese Autumn Onsen Ryokan Plans 2019
Hoshino Resorts released a video to show how their different accommodation features allow for guests to maximise their Japanese autumn experience. Today, we will be introducing just one autumn activity that you can experience at each of the resorts.
Autumn Leaf Illumination at KAI Hakone Miyanoshita, Kanagawa
Estimated best time to visit: Late November to early December
From September 6 to December 7, 2019, there will be a beautiful autumn leaf illumination display taking place around the open air baths, which is the perfect opportunity to relax under the auburn atmosphere of autumn. The autumn leaves fall at different times all over the Hakone region due to the mountainous and hilly terrain. This prolonged autumn season provides plenty of opportunities to watch the beautiful illumination display as you enjoy a moment of serenity, soaking in the soothing springs surrounded by the stunning scenery. 
Illumination Times: 16:00 – 01:00
Paint the Picturesque Autumntime at KAI Sengokuhara, Kanagawa
Estimated best time to visit: Mid November- End November
Enjoying a relaxing soak at KAI Sengokuhara Hot Springs is the perfect way to appreciate the picturesque view of any season. On September 1, 2019, they introduced the perfect accommodation plan to fully relax their guests.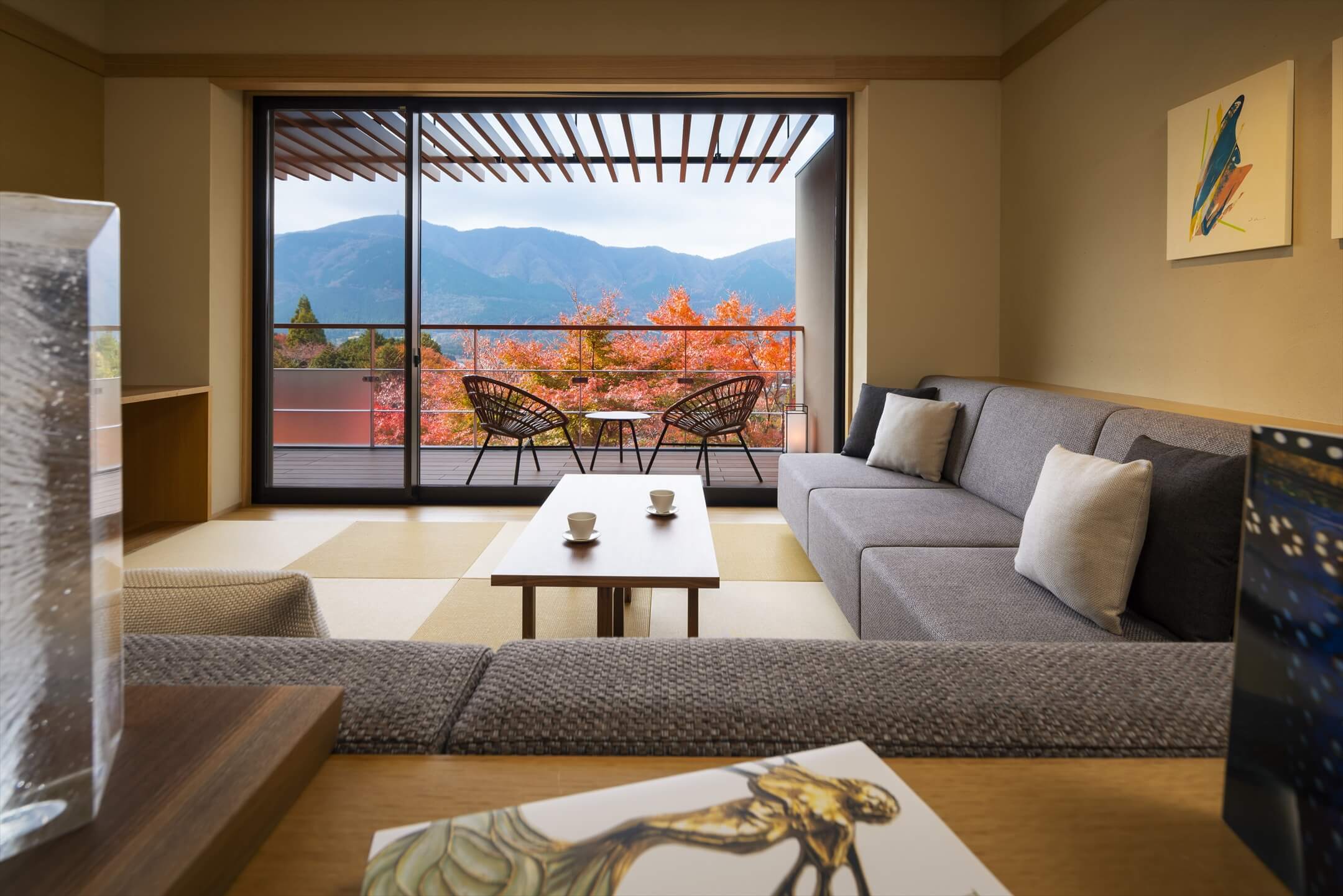 The guest rooms are equipped with traveller's art supplies. From the gorgeous terrace view to the outdoor hot spring view, guests are provided with the opportunity to capture the beauty of the surrounding nature in their own way wherever they feel like it. The autumn view outside every single guest room is breathtaking ― the perfect opportunity for the guests to refresh and relax their minds with a beautiful painting. 
Autumn Leaf Artwork
Available to customers who check in between September 1, 2019 – November 30, 2019 
Price: From ¥43,400 
*Price based on the price per guest per night for a two-person room. Tax and service charge not included. 
Includes: Room fee, dinner, breakfast, rental art set and art museum tickets
Reservations: https://kai-ryokan.jp/sengokuhara/
Your Own Private Outdoor Natural View at Okomori Koyo Onsen KAI Aso (Senomoto Hot Springs, Oita Prefecture)
Estimated best time to visit: Mid October – early November 
KAI Aso is located in Kuju National Park. Each guest room is surrounded by a lush forest, creating the perfect opportunity to soak in the hot springs and take in the beautiful view of the autumn leaves with lots of privacy. 
In the outdoor hot spring, guests can enjoy the beautiful faint yellow Mongolian oak and the natural red leaves. Guests can also get a Japanese citrus bathing set which is scented using a range of Japanese citrus fruits to further enhance your natural autumn colour experience. The guest rooms are equipped with coffee sets which you can enjoy whilst bathing. 
Available to customers who check in between October 1 and 31.
Price: From ¥46,480
*Based on the price per person per night in a 2-person room. Tax and service charge not included. 
Includes: Room fee, dinner, breakfast, bathing set (1 set per room), coffee beans, Aso spring water pet bottle and a range of hot spring rental items: (Pillow for hot spring use, waterproof book cover, coffee mill and coffee dripper)
KAI Reservations Telephone Number: 0570-073-011
Please check KAI's official website to find out more about the wide range of autumn plans on offer.
RECOMMENDED ENTRIES
Autumn 2019: Maple Trees and Roses Adorn Karuizawa Lake Garden in Full Bloom

Karuizawa Lake Garden is a natural garden that displays creative harmony between humans and nature, where one can enjoy its bountiful selection of plants throughout all four seasons along with the lake across a 33,000m² area.

This year's autumn season at the garden is scheduled from October 12 to November 4 where you can enjoy the breathtaking scenery of the red and yellow leaves simultaneously alongside colourful roses.

Beautiful Japanese maple trees aren't the only thing you can enjoy during the fall season at Karuizawa Lake Garden. Soak in the sight of an abundance of autumnal plants and inhale the floral scent of the many roses. They will open across eight areas, including the main Rose Garden, by the waterside.

Welcome the autumntime this year at the incredible Karuizawa Lake Garden.

Information

Karuizawa Lake Garden Autumn Season

Running: October 12, 2019 – November 4, 2019

Address: Address: Lake New Town, Hotchi, Karuizawa, Kitasaku District, Nagano Prefectur

Autumn Season Opening Hours: 9:00-16:00 (Last Entries 15:30)

Official Website (Japanese): http://www.karuizawa-lakegarden.jp/

ONSEN GUEST HOUSE TSUTAYA to Open in Hakone This November

ONSEN GUEST HOUSE TSUTAYA is a new hot spring and guest house facility set to open in the town of Sokokura in Hakone on November 26. The building is being renovated from an old guest house that has enjoyed a long history of hot springs since the Edo period.

Sokura Onsen is about a 90 minute car drive from the city centre and is considered one of Hakone's "7 Hot Springs," a list that has been around since the Edo period. The place is said to have been used and loved by many military commanders back in the day for the high water yield gifted by the water source.

When the building was first constructed it was known as "Tsutaya Ryokan" and became a famous guest house with not only locals but travellers who would arrive all the way from Tokyo. ONSEN GUEST HOUSE TSUTAYA combines history of both Sokura Onsen and Tsutaya Ryokan.

The renovated building was built 29 years ago. Though it has been revamped, it still maintains a nostalgic air to it in the style of a traditional guest house. It's home to 6 spacious ryokan-type rooms and 46 compact rooms.

There is a space where one can gaze at the river after taking a dip in the hot springs, as well as a lounge with tables which encourages you to socialise with people you have just met. There are male and female open-air baths and indoor baths as well as a cooking space and laundry service for those looking to stay longer.

 The facility offers a retro environment in which each guest can relax and enjoy their own time as they please. Throughout the guest house is original old-fashioned furniture that has been upcycled, including kotatsu tables and shelves, to give that sense of traditional Japanese culture. This has been combined with contemporary art to create a fusion of the old and new.

It is a harmonious combination of a traditional Japanese hot spring ryokan, or inn, and a guest house, which means travellers from abroad will be able to enjoy the beauty of the country's traditional culture.

Escape the noisy city and enjoy peace and tranquillity surrounded in the colours of autumn at ONSEN GUEST HOUSE TSUTAYA

Information

ONSEN GUEST HOUSE TSUTAYA (Sokokura no Yu Tsutaya Ryokan)
Address: 240-1 SokokuraHakone, Ashigarashimo-gun, Kanagawa 250-0403
Arrival: 10-minutes on foot from Miyanoshita Station or 12-minutes on foot from Kowakidani Station, both via the Hakone Tozan Line 
Grand Opening: November 26, 2019 (Bookings begin in late October)

Official Website: https://hakone-tsutaya.com/

Taiwanese Bookstore Chain Eslite Opens New Outlet in Nihonbashi, Tokyo

Eslite Bookstore is one of the prominent bookstore chains in Taiwan that opened an all-new outlet in Nihonbashi, Tokyo on September 27, 2019 that promotes reading, culture and lifestyle.

This will be the first Eslite Spectrum shopping mall to open outside Greater China. Its concept is "a cultural wonderland for reading and living" under wh ich Eslite has curated Nihonbashi's rich history and culture to promote to the people of Tokyo.

Eslite Spectrum is always in the front row when it comes to the latest in Taiwanese trends, and it's a place I never fail to visit when I travel to Taiwan. When I heard they would be expanding to Tokyo, I couldn't wait for the day of the grand opening to arrive. I made my merry way there, excited and eager to see what kind of place it would be, and what kind of items they would stock.

The outlet is split into 4 different zones: the bookshop zone, the stationery zone, the miscellaneous item and workshop zone, and the restaurant zone. The bookshop features a line-up of carefully selected reading material and book recommendations.

One hundred brands from around the world make up the miscellaneous and eating areas. Half of the brands are Taiwanese, meaning you can get your hands on authentic goods from Taiwan itself.

The building was designed by leading Taiwanese architect Kris Yao, whose concept for the design was "interweaving the old and new." It's a stylish, welcoming building with elements of the traditional Japanese aesthetic in there. The store front has indigo blue noren entry curtains, which is both stylish and quintessentially Japanese.

This new branch of Eslite Spectrum is home to stores setting up shop in Japan for the very first time. There are also many shops here selling items exclusive to Nihonbashi. I'm going to showcase four of the places I was particularly interested in.

Kuo Yuan Ye

Kuo Yuan Ye is a confectionery shop based in Shinlin, Taipei. Since opening, they have continued to use traditional confectionery-making methods, serving sweets with deep, rich flavours.

As well as having maintained tradition, they have also released products in collaboration with rising designers. I encourage you to try their beautiful line-up yourself to taste their long, delicious history.

Sarutahiko Coffee

We have covered Sarutahiko Coffee on MOSHI MOSHI NIPPON in the past when we visited the branch in Ebisu.

The first thing that struck me upon visiting this new branch is how different the interior design is to other places. The design and its concept of "coffee and words" were created by book director Yoshitaka Haba. Quotes pulled from the books can be found written all around the cafe. There is also a space underneath the chairs for storing books. No matter where you look in the cafe, it's nothing less than stylish.

The cafe has their own special hot cakes and original coffee blends exclusive to Nihonbashi. The hot cakes are topped lavishly with mont blanc, giving it an extremely rich taste and one reminiscent of autumn-time. Both the hot cakes and this original coffee blend are limited-time menu options available until November 14, so you'll want to get in there quick.

Wonder Chuan

For the first time ever, long-standing Taiwanese tea store Wonder Chuan arrives on the shore of Japan. The shop takes great care in the growing and brewing of its tea leaves, pouring their heart and soul into every cup.

The Taiwanese oolong tea drank was a similar colour to matcha. It had a sweet flavour and a much smoother taste compared to Japanese oolong. The shop also serves a selection of cocktails made with oolong tea as well as perform traditional tea-making methods for customers. They even have plans to host their very own Taiwanese tea workshops in the future.

Fujin Tree

The last place I want to introduce is Fujin Tree, also a first in Japan. This is another one of my favourites, so I was thrilled when this one was coming to Tokyo too!

It's uncommon to be able to drink wine in restaurants in Taiwan, but the popular Fujin Tree serves Taiwanese cuisine and champagne in style.

Their dishes are packed full of fresh vegetables and fruit. One of their popular picks is their springstar and century egg with spicy minced pork. It's a tasty dish with full, rich flavours that goes well with sake. It's also great with rice. There are many amazing options on the menu, but if you're spoilt for choice then I recommend this one.

Eslite is the bridge between Japanese and Taiwanese that aims to become a hub for Asian culture. Centred around reading, there are countless experiences to look enjoy here. Discover a new side of Nihonbashi by paying a visit.

Writer: Sayuri Mizuno (MOSHI MOSHI NIPPON)

Translator: Joshua Kitosi-Isanga

Information

Eslite Spectrum Nihonbashi

Address: COREDO Muromachi Terrace 2F, 3-2-1 Nihonbashimuromachi, Chuo Ward, Tokyo

Opening Hours: 10:00-21:00 (Fuji Tree is open 11:00-23:00)

No Fixed Holidays

Official Website: http://www.eslitespectrum.jp
RELATED ENTRIES
Gorgeous Project Mapping Event Coming to Yamashiro Onsen in Kaga, Ishikawa

DMM.com will sponsor a projection mapping project titled Yamashiro Night Promenade Fall 2021 on Yamashiro Onsen Street in Kaga, Ishikawa prefecture from October 30 until November 28, 2021. 

The limited-time project is being organized by the Yamashiro Onsen Tourist Association with support from DMM. Under the themes of harmony and local tradition, brilliant images of flowers, water, and geometric patterns will illuminate the hot spring resort while accompanied by music. There will also be traditional Taiko performances during the event. 

Information

Yamashiro Night Promenade Fall 2021

Running: October 30 – November 28, 2021

Hours: 20:20-21:20 (Canceled for rain) 

Address: Yamashiro Onsen Street in front of Hatori Ryokan (17 Onsen-dori, Yamashiro Onsen, Kaga City, Ishikawa) 

Official Site: https://sousei.dmm.com/

Hoshino Resort's Banta Cafe in Okinawa to Open Limited-Time Night Cafe During Winter

Located in wonderfully warm Okinawa, Hoshino Resort is the perfect getaway for those wanting a warmer winter. The Banta Cafe overlooks the ocean, offering unmatched views. From December 1, 2021, until January 31, 2022, the cafe will hold the 'Illumi-Banta: Night Lights by the Sea' event. Of course, Illumi-Banta is a portmanteau of the words 'Illumination' and 'Banta,' but the Okinawan word iyumibanta means 'a cliff overlooking the fish.' The entire location, from the top of the cliff all the way to the sea, will be bathed in otherworldly light. A special menu will also be available during the event period, serving up food perfect for eating as guests wander by the seaside. A number of Okinawan workshops will also bring local craftsmen to the site to show off their creations. Why bundle up when you can enjoy a warm winter by the ocean? 

A Fantastic World of Light and Ocean Life

Banta Cafe sits on a cliff above the water, and the waters beneath it hide gorgeous coral reefs. Watch the sea come to life, as the ocean, white sand beach, and rock formations are illuminated. The lights will change colors during the daily light show along with the tides, so don't miss it!

Light Show Times: 18:30, 20:00, 21:00 *Each show lasts about five minutes.

Playful Plant Shadows

On the large roof deck located at the entrance, large fern and palm leaves have been arranged to welcome guests along with other plants local to Okinawa. Using lights, the shadows from these plants reach massive heights on the 4-meter high Ryukyu limestone walls, and guests are encouraged to try making some fun shadow puppets for the perfect snapshot!

Enjoy a Lantern-Lit Night Picnic with the Strolling Soup Set

The night cafe will be selling a special Strolling Soup Set menu, inviting guests to venture out onto the sandy shore with a lantern in hand to enjoy a meal beside the sea. Guests can choose two of the available four soups along with a crispy baguette and herb butter. 

Hours: 18:00 – 20:30 (Last Order)

Price: Strolling Soup Set for Two, ¥2,600

Includes: Two types of soup and bucket for two people, lantern and basket rental

Four Types of Soup

・ Minestrone
Filled with colorful vegetables, such as tomato, bitter melon, and yellow carrot

・Clam Chowder

Packed with seafood flavor and a unique mix of Okinawan spices

・Consomme with Yushi Tofu
A lightly-salted soup made with Okinawa's fluffy Yushi Tofu and thick-cut bacon

・Yam and Cauliflower Potage
Creamy potage with white cauliflower and brightly colored yam

The Night Light Market, a Gathering of Proud Okinawan Artists

On Saturday nights from January 8 to January 29, the Night Light Market will bring various artists and craftsmen from Okinawa to the Hoshino Resort. These artists will be excited to share the culture of Okinawa and will offer a range of products made of locally sourced materials. Guests can even try their hand at local crafts at the indoor Gorogoro Lounge!

Running: Every Saturday Night from January 8 – January 29, 2022

Hours: 18:00-21:00

Wouldn't you prefer a warm Okinawan winter? 

Information

Illumi-Banta

Running: December 1, 2021 – January 31, 2022 (Closed from January 17-21)

Hours: Sunset – 21:30

Official Site: https://banta-cafe.com/

Kurobe Gorge Trekking Tour Offers Breathtaking Two-Day Trolley Journey

The Kurobe Gorge Trolley in Toyama will offer a special two-day journey through the fall foliage on October 29 and November 1, 2021. 

Atobiki Bridge

Okukane Bridge

Promenade

Babadani Jigoku

On the day of the tour, guests will enjoy a leisurely journey through nature as a Kurobe Gorge tour guide explains the features of the surrounding environment. 

Solo One-Day Hot Spring Plan Offers Complete Relaxation and Rejuvenation in Karuizawa

Karuizawa Hoshino Area, a place known for bringing nature and culture lovers together, will be offering a new one-day hot spring spa plan from November 4, 2021, until March 19, 2022. This is the perfect way to unwind from the stresses of the past year while getting away from crowds and responsibilities. Because it's only one day, it's perfect for those who can't take a long vacation, but who are still desperate for some relaxation! The package will include access to hot spring baths, body care, a choice of lunch and drinks, and plenty of skincare amenities.

Tonbo-no-Yu Hot Spring, open since the Taisho era, will serve as the main location for the getaway. The springs themselves are bicarbonate and chloride springs with soft and thick waters in which to achieve the perfect soak and detox. Getting out of the water will leave a veil of salt on your skin, moisturizing it and cleansing every inch of your body. The open-air bath is surrounded by trees, while the indoor baths offer excellent views through oversized windows. 

Five Luxuries to Enjoy on the One-Day Getaway

[Power Up] Proper Bathing Instructions for the Best Hot Springs Experience

For those looking to maximize their hot spring experience, a comprehensive bathing guide will be provided to all guests, including breathing exercises and techniques for a great facial massage. The plan includes rental towers, and guests can feel free to enter the springs as many times as they like. At the reception desk, guests will also be given a bottle of Apple Vinegar Water to help them stay properly hydrated while soaking. 

[New] Gentle Skin Care while Relaxing in the Spring

Those participating in the one-day plan will be given OSAJI amenities to use during their stay. The brand is made up of safe and organic products approved by dermatologists, to be applied before and after bathing. 

[Power Up] Improve Gut Health with Healthy Beverages

When guests get out of the bath, a warm brown rice amazake will be waiting, shown to improve the intestinal environment and boost natural immunity. By using brown rice, the drink contains larger amounts of Vitamin E and dietary fiber than traditional amazake. This tasty drink will be served at Cafe Hungry Spot, adjacent to the springs. 

Relieve Stiff Joints with Attentive Body Care

At Tokoyo, located within the Harunire Terrace in the Karuizawa Hoshino Area, guests will get a 30-minute body care treatment with their choice of foot massage or shoulder and neck massage. Unwind and let go of all of your stress. 

Choose From Six Different Restaurants for Lunch

For lunch, six restaurants in the Hoshino area are at your beck and call, from Japanese cuisine to Italian. There's no need to make reservations in advance; choose what you're craving the day of, and don't stress! 

Information

Solo One-Day Hot Spring Spa Plan

Running: November 4, 2021 – March 19, 2022 (Excluding Dec. 29 – Jan. 3 and Jan. 11 – 20)

Reservations: https://www.hoshino-area.jp (Reservations required by 18:00 the day before) 

Location: Tonbo-no-Yu, Karuizawa, Nagano

Applause Square Nagoya to Offer Autumn Dinner with Birthstone-inspired Sweets

Wedding venue Applause Square Nagoya will be opening a limited-time restaurant for eight days only during October and will offer some of the most artful desserts you've ever seen. The wedding hall is not normally open to the public, so this will be an opportunity to see this incredible mansion up close while savoring some unique fall flavors. 

Jewel Art Topaz Parfait, made with Rum Raisin and Iced Chestnut Mont Blanc with Orange Parfait, and three Chocolate Bonbons

Six hors-d'oeuvres, each a vibrant and unique color

Sea Bream Vapeur with Eggplant and Chips that resemble Autumn Leaves, paired with Hot consommé soup scented with sherry and served in front of guests

Roasted Chita Pork with Tomato Chutney Sauce and Ginger, covered with Brown Mushrooms


Each of the six hors d'oeuvres were inspired by birthstones. Following are a number of luxurious meat and fish dishes, followed by a rich and abundant parfait filled with autumn flavors.

'Shiseido Parlour Ginza Salon de Cafe' Reveals Limited Autumn Dessert Menu

The 'Shiseido Parlour Ginza Salon de Cafe' has announced that between October 1 and October 31 2021, customers can enjoy a limited edition Autumnal sweets menu. This year their menu includes the Jersey milk 'Japanese Chestnut Mont Blanc Parfait from Kyushu' and the 'Shine Grape Fruit Sandwich.' There will also be two special additions to the menu to celebrate the 96th Azuma Odori.

Japanese Chestnut Mont Blanc Parfait from Kyushu using Jersey Milk: ¥2,500 (Tax Incl.)


 

Strawberry Parfait using "Koihime" strawberries from Nagano's Hatake Kobo: ¥2,100 (Tax Incl.)

 

Weekday / Limited Quantity Products

Shiseido Parlour Story: ¥2,600 (Tax Incl.) (Drink Incl.)


Shine Grape Fruit Sandwich with grapes from Iizuka Orchard: ¥1,700 (Tax Incl.)

Shinbashi Color Ice Cream Soda: ¥1,150 (Tax Incl.)


The Japanese Chestnut Mont Blanc Parfait is made using Jersey milk ice cream, chestnut cream, and fresh cream, along with the "Koihime" Fruit Sandwich, made using Kashu "Koihime" Strawberries are available on both the regular and limited Shiseido Parlour Ginza menus. Meanwhile, the luxurious Shiseido Parlour Story and the seasonal Shine Grape Fruit Sandwich, filled with various Autumnal fruits and centred around the grape, are only served on weekdays and holidays in limited quantities.

In the late Meiji Era, Shinbashi geisha were often seen wearing blue and green kimonos, with the color combination being coined Shinbashiiro (Shinbashi Color.) The elegant and retro Shinbashi Color Ice Cream Soda recreates the iconic look using green apple syrup, lemon, and ginger ale, topped with a traditional vanilla ice cream.

 

 

 Immerse yourself in the season with a feast of Fall sweets in Ginza.

Information

Shiseido Parlour Ginza Salon de Cafe

Address: Tokyo Ginza Shiseido Building 3F, 8-8-3, Ginza, Chuo-ku, Tokyo

Opening Hours:

Tuesday to Saturday:  11:00 ~ 21:00 (L.O. 20:30)

Sunday, public holidays: 11:00 ~ 20:00 (L.O.19:30)

Closures: Mondays (excluding public holidays), New Year 

Starry Night Bonfire Event in Nikko Invites Guests to Relax Under the Full Moon

Nikko-Yumoto, a hot spring hotel located near the picturesque Nikko National Park, will hold a limited-time event starting October 6. On select nights in October and November, guests are invited to sit around a bonfire and enjoy the full moon, new moon, and meteor showers while learning about astrology!

Harvested throughout the autumn months, Natsuotome strawberries grown in nearby Senjogahara are used to make a hot fruit wine to enjoy while gazing at the night sky. A warm drink will be perfect for cold nights in Oku-Nikko, located over 1,500 meters above sea level. In October, the night temperature can be as low as 40 degrees Fahrenheit! For those not wanting something alcoholic, feel free to enjoy some tasty hot cocoa. 

What's the first thing you think of when you see a bonfire? Roasting marshmallows, of course! During the event, a bag of magical powder will be tossed into the fire, turning the flames into different colors. Don't worry–the powder itself contains no harmful substances and is safe for both humans and the environment. 

Information

Starry Night Bonfire

Dates: October 6, October 9, October 20, October 21, November 5, November 18, November 19 / 19:30-20:30

Fee: Free *The event may be canceled in the case of inclement weather. 

Official Site: https://www.qkamura.or.jp/nikko/activity/

Kyoto Brighton Hotel Offers New Morning Plan to Admire Autumn Leaves

The Kyoto Brighton Hotel is offering a special morning plan that will charter temples and shrines exclusively for hotel guests between November 17 and November 30 2021.

 

Hougon-in

Anrakuji

Kitano Tenmagu Shrine

        

Koudaiji

Shisendou

Taizouin

Touji

Even throughout Japan, Kyoto has one of the highest amounts of Autumn leaf viewing spots. This unique viewing plan allows guests to enjoy the vivid autumn leaves by charter, with special permission to visit each spot before it opens to the general public. With this plan, you can experience the wonders of Kyoto in Autumn while avoiding the crowds.

 

The "Morning Plan" proposed by the Kyoto Brighton Hote offers guests the chance to spend a peaceful time in the fresh, dignified early morning air while avoiding the crowds. This popular plan has been running for 20 years.

Not only is the viewing private, but you will also learn more about the area with guidance from the priests and staff. 

After returning to the hotel, you will be treated to a special "Kyoto Breakfast" which uses local ingredients arranged in both Japanese and Western styles. This breakfast will taste even better following the cleansing of body and mind in the crisp early morning air.

 

Why not take part in this purifying "Morning Activity" and immerse yourself amongst the Autumn leaves?

Information

Autumn Leaves Special Morning Activity Plan

Location: Kyoto Brighton Hotel

Duration: November 17 ~ November 30 2021

Official Site: https://kyoto.brightonhotels.co.jp/ 

Autumn Sweet Potato Frappuccino Now Available at Starbucks Japan

Fall is in the air, which means seasonal treats are back at Starbucks! The Sweet Potato Frappuccino will be available at participating Starbucks locations beginning September 22, which also happens to be the first day of autumn. 

The 4th annual Artful Autumn @ Starbucks promotion is back for 2021! This year's concept is 'Made by Earth,' and the lineup of new products features fall ingredients that highlight the bounty of the planet. 

Tall Sweet Potato Frappuccino To-Go: ¥638 / In-store: ¥650

The new drink is filled with the flavor of baked sweet potato, honey, and molasses. Each beverage is made with roasted sweet potatoes that have been cut into pieces, keeping some of their unique texture. Sweet potato flakes sprinkled on top add a bit of crunch!

If you're in Japan, be sure to grab one before they're gone!

Information

Sweet Potato Frappuccino®

Available: September 22, 2021 – October 19, 2021 (While supplies last.) 

Where: Participating Starbucks locations nationwide. 

Official Site: https://www.starbucks.co.jp/

Autumn Scenery Coming to teamLab Forest Fukuoka for a Limited Time Only

The permanent museum teamLab Forest Fukuoka is bringing autumn scenery to the virtual exhibition for a limited time only beginning September 18, 2021. A number of animals made of autumn foliage will be roaming through the space, and you won't want to miss this memorable experience!

teamLab Forest Highlights

Shifting Valley, Living Creatures of Flowers, Symbiotic Lives – teamLab, 2020

Animals of Flowers, Symbiotic Lives II – teamLab, 2019

Soft Terrain and Granular Topography –  teamLab, 2020

Flutter of Butterflies, Ephemeral Life –  teamLab, 2020

The prolific works of the teamLab art collective change with the seasons. In the Forest of Movement, guests can enter the 'Shifting Valley, Living Creatures of Flowers, Symbiotic Lives' exhibit, where creatures made of flowers exist in a three-dimensional space. For this fall event, these flowers will be those found in the autumn months. The 'Soft Terrain and Granular Topography' will display tons of colorful grains raining down on visitors, while the 'Flutter of Butterflies, Ephemeral Life' will change the usual butterflies to have autumn colors as they fly around guests. 

teamLab Forest is a new museum created by art collective teamLab. The museum consists of two sections: the first, 'The Catching and Collecting Forest,' invites guests to explore with their smartphone to capture various unique creatures, while the second, 'The Athletics Forest,' is a physical creative space which asks visitors to use their body to immerse themselves in interactive areas. 

Would you like to visit this distinctive museum in Fukuoka on your next trip to Japan?

Information

teamLab Forest Fukuoka – SBI SECURITIES Co., Ltd.

Autumn Scenery Coming on September 18, 2021

Venue: BOSS E・ZO FUKUOKA 5F, Next to Fukuoka PayPal Dome (2-2-6 Jigyohama, Chuo-ku, Fukuoka)

Official Site: http://forest.teamlab.art

GU Web Commercial Features New Cast in 2021 Fall/Winter Collection

Japanese fast-fashion retailer GU is promoting the 2021 Fall/Winter Collection with a new cast and new image. In a fun and goofy web commercial recently uploaded to YouTube, the five faces of the collection are seen rocking some of the new pieces available now.

In addition to Ayami Nakajo and Sota Fukushi, three new cast members–Noritake Kinashi, Chara, and Yutaro–are joining the 2021 Fall/Winter campaign. The commercial highlights GU's stylish and warm knit cardigans, which are currently a huge trend for autumn.

Using these unique individuals, GU hopes to show that these new pieces can fit anyone of any age, gender, or size. Chara and Noritake Kinashi show that adults can still have fun with their fashion, while Yutaro claims that fashion isn't just following trends, but accentuating your individuality.

In an upcoming commercial set to air on television in October, Ayumi Nakajo, Chara, and Yutaro will be shown in more trending knitwear, while a November commercial will feature all five cast members in easy-to-wear and stylish winter pants.

Which of these new pieces would you like to add to your wardrobe?

Information

GU Web Commercial 'FashiON!'

Out Now

The Westin Tokyo Hotel to Offer Premium Autumn Parfaits for Limited Time

Three delicious desserts are coming to The Westin Tokyo for a limited time! Beginning October 1, visitors to the hotel can enjoy a collection of premium parfaits filled with seasonal ingredients and western liquors unique to the executive bar, simply named The Bar. These will be available until November 28, on Friday, Saturday, Sunday and holiday nights only.

Chocolate Parfait with Figs and Red Berries

Chestnut and Apple Parfait

Chestnut and Hazelnut Mont Blanc Parfait

The chocolate parfait includes whole figs and bright red berries, and is finished with rich port. Calvados was added to the Chestnut and Apple Parfait, allowing guests to enjoy a refreshing combination of nuts, fruits, and mascarpone. The Mont Blanc Parfait includes a fragrant rum from Martinique, and has a richer dessert flavor.

The executive pastry chef carefully layers each parfait by hand, and these unique treats combining flavors of both east and west can only be found at The Westin Tokyo!

Information

Premium Autumn Parfait

Available: October 1 – November 28, 2021 (Only available Friday, Saturday, Sunday & Holidays)

Hours: 16:30-20:00

Price: ¥3,000 each (Tax and Service Charge Included)

Location: Executive Bar "The Bar" (1F)

Reservations: 03-5423-7285

Official Site:www.westin.com