Tokyo's Poop Museum Announces Halloween Event 'MAX UNKO HALLOWEEN'
Unko Museum Tokyo, a poop-themed (unko in Japanese) museum located on the second floor of DiverCity Tokyo Plaza in Odaiba, opened its Halloween event "MAX UNKO HALLOWEEN ~Unko & Dancing Halloween~" last Friday which will run all the way up to October 31. They are serving "max unko kawaii-ness" in this all-new Halloween event.
Unflushed Poop Resurrects For a Poop Monster Parade
At the Unko Museum this Halloween, expect to see nnko idol monsters, unko mummies, and lots of other cute and fashionable unko critters. All of them will be part of a spooky parade together with the museum's mascot character Umberto. Join in as they show the audience how to do the unko dance which the museum created themselves!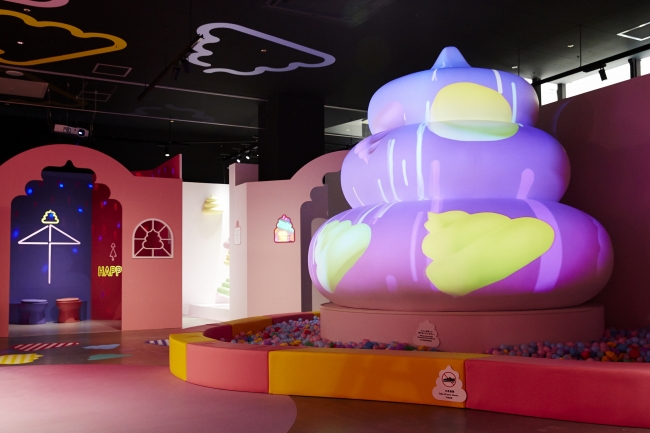 Candy Rains From the Unko Volcano
You'll find Halloween decorations all around the Unko Museum for the duration of the event. If you've visited before, you'll be familiar with the Unko Volcano which normally spurts out poop. Well, for Halloween, it will instead offer up candy. Its design has also changed so it's more fitting for the spooky season.
By the way, if you go up to one of the museum staff members and say, "Trick or Unko?" you'll receive a special present. Don't miss out―pluck up the courage and just say those words!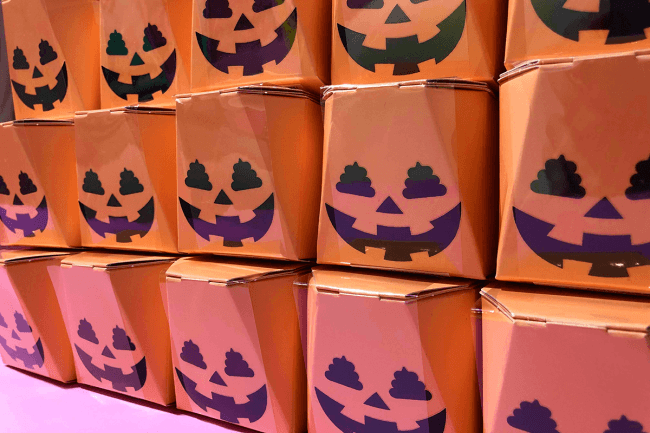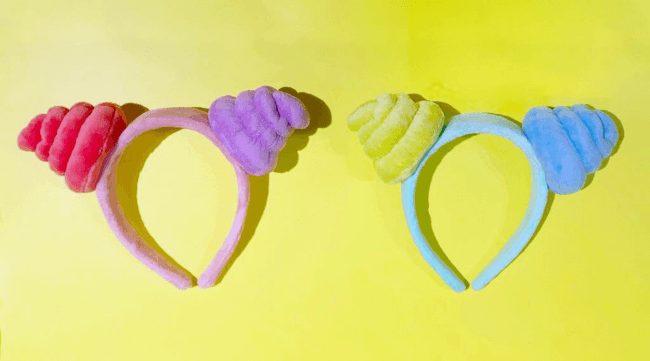 Exclusive Unko Museum Halloween Merchandise
The museum's popular "My Unko Maker" feature, where you sit on a toilet and colourful poop appears at the bottom, will also take on a Halloween theme. Halloween items will also be sold including the above-pictured unko headbands.
Visit the quirky Unko Museum for a Halloween event like no other.
Information
MAX UNKO HALLOWEEN ~Unko & Dancing Halloween~
Location: Unko Museum Tokyo
Address: DiverCity Tokyo Plaza Floor 2F, 1-1-10 Aomi, Koto Ward, Tokyo
Opening Hours: 10:00-21:00 (Last Entries 20:00)
No Fixed Holidays (Except when DiverCity Tokyo Plaza is closed)
Ticket Reservations: https://reserve.ale-box.com/reserve/169
Official Website: https://unkomuseum.com/tokyo
RECOMMENDED ENTRIES
Starbucks Brews The Perfect Potions to Possess Your Heart This Halloween

Starbucks Japan is opening the portal to a whole new realm of flavour from October 11, 2019. Premonitions reveal that two devilishly delicious masquerade-themed drinks are to emerge for the Halloween season and infiltrate the menus of Starbucks branches across Japan. The two drinks called Halloween Red Night Frappuccino® and Halloween Masquerade Raspberry Mocha, are sure to give you an out-of-body experience. 

Just one sip of the Halloween Red Night Frappuccino® will pull you into a masquerade party world. The mysterious full red appearance of this devilish drink is tinged red with a tangy sauce which is a blend of raspberries, cranberries and strawberries. White chocolate brownies have been blended to make the frappuccino base. This is topped with a ghostly cloud of whipped cream sprinkled with dark cocoa powder. Red sauce can be seen trickling down the sides of the cup, tainting the white whipped cream. You will immediately be tricked into treating yourself to this irresistible drink. 

Like a luxury dessert, not only do the colours of the frappuccino contrast, but the sweet fruity tang makes for the perfect contrast with the white chocolate brownie

If your regular Starbucks order is the White Mocha, then make way for your new Hallow-queen: The Halloween Masquerade Raspberry Mocha. This is made with a startling shot of espresso which has a sweet yet tangy mixed berry flavour. This is masked with a white mocha flavour. 

Starbucks has brewed the perfect potions to steal your heart this Halloween. Dare you try one?

* The above image is an illustration.

Information

Halloween Red Night Frappuccino®

Price: (Tall only) ¥590


Halloween Masquerade Raspberry Mocha

* Contains less than 5% raspberry juice

Price: Short ¥450/ Tall ¥490 / Grande ¥530 / Venti® ¥570 

*All prices stated before tax

Available: October 11, 2019 – October 31, 2019

*Sales will end once stock has been depleted.

Available at most Starbucks Cafes across the country 

Website: https://www.starbucks.co.jp/

KAWAII MONSTER CAFE Halloween 2019: Vampires, Werewolves, Frankenstein's Monster & More On the Menu

Harajuku hot spot the KAWAII MONSTER CAFE will hold a Halloween event entitled "KAWAII HARAJUKU Halloween PARTY 2019" for the entire month of October.

The Halloween season is almost upon us in Japan, where the spooky season's festivities often begin a little earlier in October as cafes, restaurants and shops start serving up their own unique Halloween-themed menus.

This year at the KAWAII MONSTER CAFE, the Monster Girls are inviting you to their kaleidoscopic Halloween party. From vampires to werewolves, Frankenstein's monster and beyond, prepare to encounter a Halloween like no other with a line-up of colourful dishes.

Colourful Pop Burger: Frankenstein's Monster – ¥1,580 (Before Tax)

The cafe's mascot character Mr. Choppy has been turned into Frankenstein's monster! This fat and juicy burger is filled with salsa sauce and melted cheese. Even the bun is cute and colourful too!

Choppy Baron's Dark Curry – ¥1,400 (Before Tax)

This time, Mr. Choppy has turned into a vampire for this pitch-black curry, laced with other Halloween colours too like purple and orange. This vivid plate isn't just tasty, its appearance has life to it too.

Nameless Cemetery Cheese Glutton – ¥3,200 (Before Tax) *Recommended for 3+ people

This surreal dish is a giant breaded coffin filled with gratin, rainbow-coloured cheese, and white sauce. Surrounding it are bats, eyeballs, and gravestones.

Monster Bongo Bongo Tiramisu – ¥1,080 (Before Tax)

An assortment of ice creams like matcha and houjicha all coated in Halloween-coloured chocolate. Hidden underneath the ghoulish pile is colourful cereal.

Midnight Pumpkin Chiffon Cake – ¥1,580 (Before Tax)

A fluffy chiffon cake topped with black sesame ice cream and a pumpkin lathered in pumpkin-flavoured fresh cream. The trickling bloody chocolate completes that Halloween look.

Bark At The Moon – ¥980 (Before Tax)

This adorable wolf dessert appeared during a full moon. It includes a crunchy doughnut on top of which is sat a sweet black sesame mousse werewolf.

Non-Alcoholic Basil Seed Jelly Cocktail – ¥900 (Before Tax) / Shake Hip Shake Chocolate – ¥950 (Before Tax)

There are two drinks to pick from this Halloween: a dark chocolate shake with a pumpkin floating on top and a cocktail filled with basil seed and jelly for an enjoyable texture. The cocktail can be served non-alcoholic or alcoholic.

There's plenty to look forward to at the KAWAII MONSTER CAFE this Halloween, so if you're in Harajuku this October, don't miss out!

*The food menu is limited to lunch time hours
*The drinks menu is available at all times

Information

KAWAII HARAJUKU Halloween PARTY 2019

Running: October 1, 2019 – October 31, 2019

Address: YM Square Bldg. 4F, 4-31-10 Jingumae, Shibuya, Tokyo
Access: 5-minutes on foot Harajuku Station via JR / 1-minutes on foot from Meiji-Jigumae Station via Chiyoda Line and Fukutoshin Line
TEL/FAX: 03-5413-6142/03-5413-6143

Business Hours
Weekdays & Saturday:
[Lunch] 11:30-16:30 (last entry 15:30 / last orders 16:00 – 90 min stay max)
[Dinner] 18:00-22:30 (last orders 22:00)

Sundays & Holidays:
11:00-20:00 (last orders 19:30)

*During busy times, a max stay time of 2 hours may be implemented.

Official Website: http://kawaiimonster.jp

Top 5 Halloween Treats to Pick Up at Japanese Convenience Stores This Year

October is here, meaning Halloween is right around the corner. If you're not up for dressing up in a costume or going out this year, then you can still get in the Halloween spirit by picking up one of the many Halloween exclusive goodies now being sold at Japanese convenience stores. We've picked out our top 5 favourite for you.

Starbucks® Sweet Caramel Pudding Latte

Starbucks Japan is now stocking its sweet caramel pudding latte across most convenience stores in Japan. The golden-capped cup features a spooky Halloween design, decorated with ghosts, pumpkins and bats. Enjoy Halloween in a cup with the beverage's rich and sweet caramel pudding flavour.

▼Starbucks® Sweet Caramel Pudding Latte

Price: ¥200
Available: Most convenience stores across Japan. Select branches not stocking.

Calbee Jagabee Black Consomme

These crunchy potato sticks are a popular savour snack in Japan. This Halloween, Calbee has coloured their sumptuous sticks black, and made them taste like delicious consomme. This is a 7-Eleven and Ai Group-exclusive. Its cute pot design will have you grabbing one off the shelf without even thinking.

▼Calbee Jagabee Black Consomme

Price: ¥138 (Before Tax)
Available: 7-Eleven and Ai Group

KOIKE-YA Karamucho Hot Chili Flavour

The classic thick-cut Karamucho potato chips have been sprinkled with extra spiciness for that heated kick. The packet features all the familiar faces of Halloween, from a witch to a pumpkin, bats, a graveyard and more. If you're a spice-seeker then this one's for you. Also a 7-Eleven and Ai Group exclusive product.

▼KOIKE-YA Karamucho Hot Chili Flavour

Price: ¥128 (Before Tax)
Available: 7-Eleven and Ai Group

7-Eleven Marshmallow Chocolate Ganache Daifuku

7-Eleven is also releasing a range of its own original Halloween treats, including this sweet white daifuku which looks like a marshmallow and is filled with rich chocolate ganache. A Japanese and Western-combined confection you can enjoy with one hand.

▼7-Eleven Marshmallow Raw Chocolate Daifuku

Price: ¥118 (Before Tax)
Available: 7-Eleven (Except in Okinawa)

7-Eleven Black Cat Sachertorte

Black cats are a popular symbol of Halloween, particularly in Japan. This cake is made with chocolate cream and vanilla cream and is coated in a crunchy chocolate coating for even more tasty texture. This is a seriously cute choice you're sure to love!

▼7-Eleven Black Cat Sachertorte

Price: ¥308 (Before Tax)
Release Date: October 15, 2019
Available: 7-Eleven

Did you enjoy our picks? There are plenty of Halloween-themed foods, confections and sweets to look forward to this year at convenience stores in Japan. Head to your closest one and see what they have in stock.
RELATED ENTRIES
Hotel W Osaka x PIERRE HERMÉ PARIS Unveil Limited Halloween Dessert Menu

Opening in March 2021, Japan's first luxury lifestyle Hotel W Osaka works with PIERRE HERMÉ PARIS to produce the 'MIXup' Art & Pastry Bar, which has unveiled a new Halloween themed dessert course and  à la carte cake, available from September 15.

Pumpkin & Choux Cream / Ghost Montblanc / Frankenstein Cheesecake

Rock'n'Roll

Osaka is said to be the birthplace of Japanese cuisine, and in a similar vein,  this unique  'MIXup' dessert course serves 'CHEEKY' sweets which are finished one-by-one in front of the customer. The counter-style serving has proven popular since it began in May of this year, known for the playful presentation and customer participation.

This Autumn, the menu has been transformed into the 'TRICKY CHEEKY HALLOWEEN' course, with eight playful new desserts available to try. The desserts feature well-known Halloween monsters, and incorporate the taste of Autumn with pumpkin, chestnut, and pear, among other seasonal flavors.

The take-out Halloween sweets lineup includes a matcha and red bean Frankenstein Cheesecake, a spooky Ghost Montblanc, jack-o-lantern shaped Pumpkin Choux Creams, and more. A limited Halloween variation of the bar's iconic rose and raspberry Rock'n'Roll cake is also available! The recipe and baking techniques are based on the methods of PIERRE HERMÉ PARIS, with arrangements by The W Osaka.

Try out some scarily tasty sweets this Halloween with The W Osaka and PIERRE HERMÉ PARIS!

Nihonbashi Art Aquarium Museum Closes for Renewal and Relocation

The Nihonbashi ART AQUARIUM will be closed on September 26 2021 to make way for new exhibits and works. The museum is scheduled to be relocated in the first half of 2022.

The ART AQUARIUM Museum opened in Nihonbashi, Tokyo on August 28 202 with the concept of "a museum where life dwells." This will be the largest renewal in the history of the museum Museum, opened by writer and general producer Hidetomo Kimura, with the addition of more exhibits and new and improved interactive areas.

The Nihonbashi Art AQUARIUM Museum opened alongside the 2020 Tokyo Olympics and Paralympic, with the expectations that visitors would come from both within Japan and overseas, thanks to the exhibitions which easily explain and represent Japan's proud traditional culture and performing arts, but due to Covid restrictions, foreign tourists are still unable to enter the country. Despite this, the Museum saw many customers and with the closing of the Olympic and Paralympic Games, the museum will be closed in preparation to relocate to the new ART AQUARIUM. If you want to see the Nihonbashi location for yourself then this is your last chance!

In addition, the "ART AQUARIUM" digital tour is being held from September 12, allowing you to appreciate the Museum in a digital format until the reopening.

Make sure to check out the Nihonbashi ART AQUARIUM while you have the chance!

Information

ART AQUARIUM Museum

Address::1-3-9 Nihonbashihonchō, Chuo-ku, Tokyo

Opening Hours: 10:00~19:00 (L.A 18:30)

Official Site: https://artaquarium.jp

Hyatt Centric Kanazawa Reveals Halloween Inspired Menu for October

All-day restaurant FIVE – Grill & Lounge, located within the Hyatt Centric Kanazawa hotel, will begin serving up a selection of Halloween-inspired treats beginning October 1, including cake sets, parfaits, muffins, and various lunch and dinner items.

Guests will also be able to enjoy some mischievous cocktails and mocktails inspired by witches and ghosts!

Halloween Cake Set 

Black Sesame Pudding

Mummy Macaron

Ghostly Mousse

Pumpkin Ice Cream Sandwich

Coffin Tart

Monster Cream Puff

Halloween Parfait Set

Halloween Dinner/Lunch Course

Halloween Muffin Box

Halloween Cocktails 

Spooky Night

Hallo-Wine Sangria

I sWitch (Mocktail)

The Halloween Cake Set is filled with ghoulish treats, each one displaying incredible attention to detail. In the Halloween Parfait Set, guests can enjoy a tower of different sweets, including black currant and chocolate. Themed with creepy eyeball decorations throughout, it offers a variety of overlapping textures and tastes guests will want to savor until the last bite.

 

When thinking of Halloween, the colors orange and purple instantly come to mind. For the Halloween Dinner/Lunch Course, the menu's creators went with a more dark theme, envisioning a ghost appearing at any moment. The entire restaurant will be decorated in black and gray, creating a truly haunting dining experience.

Don't miss out on the Halloween Muffin Box, a set of mini-muffins made with fresh autumn ingredients, and offering a much cuter feel. Quantities are limited!

The gin-based Spooky Night cocktail is refreshing, with a bold blue color and red-rim on the glass, sure to turn your mouth bright crimson. Hallo-Wine Sangria, house-made with autumn fruits, has a unique design, with a skeleton rising from the glass! For those wanting a mocktail, the I sWitch asks guests to pour the accompanying red syrup over the cotton candy, changing both the appearance and flavor of the drink as if by witchcraft!

Which of these treats would you be after?

RIHGA Royal Hotel Osaka to Offer Extremely Limited Halloween Accommodations

The RIHGA Royal Hotel Osaka has announced a spectacularly limited Halloween accommodation plan, titled 'A Terrifying Banquet in the Mysterious Lord's Castle.' Only one lucky person per day can book the decorated room, which features in-room meals and more treats to discover. Reservations are open through October 28, and the room will be available from September 10 until October 31.

'A Terrifying Banquet' Dining Table

Living Room

Skeletons in hotel uniform, ready to greet guests in the front room

This spooky setup will be held in the Fontainebleau suite, themed as a French palace. Guests will enjoy a western dinner course in the comfort (or discomfort) of the room. Decorated with black cats, ever-watchful owls and skeletons, guests can also look forward to taking plenty of photos at a designated photo spot on the sofa.

As the COVID-19 pandemic continues to keep people in their homes, the hotel created this room as a way to experience a new kind of cozy Halloween getaway. Visitors will enjoy plenty of other perks, including free parking, soft drink coupons, and breakfast the following morning.

Would you be able to sleep in this room filled with skeletons and specters?

Information

Special Halloween Room: 'A Terrifying Banquet in the Mysterious Lord's Castle'

Reservations Open: September 1 – October 28, 2021

Room Available: September 10 – October 31, 2021

*Reservations accepted until 8:00AM, 3 days in advance.

Official Site: https://www.rihga.co.jp/osaka/stay/plan/halloween2021

New Halloween Sweets Collection Arrives at Tokyo's Q-pot CAFE.

Halloween is arriving early at Omotesando's popular Q-pot CAFE. A collection of sweet, scary, grotesquely-adorable sweets are now available for a limited time. Each cake set and macaron set are made to order.

Q-pot CAFE. Three Cake Set: ¥2,030 (Tax Included)

This collection of three unique cakes includes the stomach-turning brain cake, and the much more palatable eye-patch ghost cake. Guests can also enjoy the popular cookie tiramisu.

Halloween Limited Edition ~Eye-Patch Ghost Cake~

As you dig into this fluffy dessert, enjoy the flavor of chopped almonds and feuillantine, wrapped in gyuhi, a type of Japanese traditional confectionery. The pistachio and berry sauce blends into the vanilla mousse, and is sure to appeal to any fan of sweets.

Halloween Limited Edition ~Brain Cake~

This frightening dessert is made with strawberry and other red berry jellies, milk mousse, Genoise, and savory almonds. Dissecting it won't be easy, but the taste is well worth it.

~Cookie Tiramisu~

Mascarpone mousse with chocolate sponge dipped in espresso, topped with bittersweet coffee-flavored ganache cream with caramelized hazelnuts…what more could you want?

Q-pot CAFE. Halloween Macaron Set (3 pumpkin/3 apple cinnamon): ¥2,430 (Tax Included) *Also available at the cafe individually for ¥360 (Tax Included)

Jack-o-Lantern macaroons and spooky eyeball macaroons are available for takeout for a limited time only! Order at the cafe, the online shop, or through Uber Eats.

~Jack-o-Lantern Macaroon~

Full of the rich, sweet taste of pumpkin, these will put you in the mood for the Halloween season.

~Eyeball Macaron~

These scary snacks are filled with apple jelly, cinnamon, and spicy ganache cream.

Do these sweets put you in the Halloween spirit?

Adorable Halloween Dessert Buffet to be Served at Conrad Osaka

Hotel Conrad and Sebastian Masuda, known worldwide for his 'kawaii' works, are collaborating for the second year for a scrumptious Halloween event. Titled OWNER OF A COLORFUL HEART Halloween Sweets Buffet, the tasty treats will be available starting September 2. The buffet was held in Tokyo last year, but is moving to Osaka for 2021.

Guests can enjoy a variety of colorful Halloween sweets, created by Executive Pastry Chef Jimmy Boulet and supervised by Sebastian Masuda!

「OWNER OF A COLORFUL HEART」Halloween Sweets Buffet

Sweet Potato Mille-feuille

Orange Cupcake with Cassis Chantilly Cream

Spider Mousse Cake

Caramel and Persimmon Bellini

Crash the Halloween

Colorful Palette

Galaxy

Daisy Celebration

Halloween Caterpillar

Playful Macaroon

Blueberry Mousse and Fig Compote with Sesame Pralines

Black Cardamom Chocolate and Pear

Colorful Curries & Stews

The buffet tables are decorated with dark purple tones and welcome guests with Bouley's playful collection of sweets. His iconic mille-feuille uses ample amounts of cream and purple yams, with a chocolate spider web on top. The spider mousse cake, with its gentle shortcake-like texture and unusual combination of coffee and mango, is sure to surprise. Each treat uses autumn ingredients, and will surely have guests enjoying Halloween to the fullest.

Though the sweets buffet is sure to be filling enough, Conrad Osaka also serves a variety of savory items. For this event, five different colorful curries and stews from India, Thailand, and Hungary will be available. Along with naan bread, diners can sample Udon, French baguettes, rice crackers, waffles, and countless other goodies.

Anyone who comes to the event dressed in Halloween attire can post a photo with the hashtag #ownerofacolorfullheart on Instagram to receive a free glass of sparkling wine. A photo booth will also be on site, and guests can take pictures with some of Sebastian Masuda's most popular works.

Which goodies would you be picking up from the buffet?

Namco and Sanrio Team Up for Collaborative Halloween Campaign

BANDAI NAMCO AMUSEMENT has announced Namco de Halloween 2021 -Skulls Festival!- coming September 10. The campaign will take place at over 200 Namco amusement centers nationwide, and at the online crane game site Torumo. Those participating can snag some spooky and super adorable Sanrio goodies!

Namco Limited Edition Prizes

Sanrio Characters Big Plushies

Cinnamoroll / My Melody / Kuromi (In stock second week of September)

Sanrio Characters Skull Festival! Plushies

Pom Pom Pudding / Cinnamoroll / Pochacco / My Melody / Kuromi (In stock second week of September)

Sanrio Characters Skull Festival! Cushions

All characters (Back side: Blue) / My Melody & Kuromi (Back side: Pink) / Cinnamoroll, Pom Pom Pudding & Pochacco (Back side: Orange) (In stock second week of September)

Sanrio Characters Jiangshi Night Plushies 2021

Pom Pom Pudding / Cinnamoroll / Pochacco / My Melody / Kuromi (In stock second week of September)

Sanrio Characters Spooky Night 2021 Plushies

Pom Pom Pudding / Cinnamoroll / Pochacco / Hello Kitty / My Melody / Kuromi (In stock third week of September)

Sanrio Characters Dreamy Dark Halloween 2021 Plushies

Pom Pom Pudding / Cinnamoroll / My Melody / Kuromi (In stock fourth week of September)

Sanrio Characters Exciting Halloween 2021 Plushies

Pom Pom Pudding / Cinnamoroll / Hello Kitty / My Melody / Kuromi (In stock first week of October) 

Use the Namco Point App to get one limited-edition shopping bag each day. 

Exclusive Presents

Clear cards

Colorful bag

During the Torumo gift campaign, 100 winners will be randomly selected to win a special Halloween blanket. 

The prizes available during the campaign were designed for the event. Also, limited-edition plushies to appear in the past have returned in brand new colors! Those who use the Namco Point App and place ¥500 into one of the crane machines will receive one of five clear cards and a colorful bag. (Not available using Torumo.)

© 2021 SANRIO CO., LTD. APPROVAL NO. S620926

Spooky and Super-cute Halloween Treats Coming to Mister Donut

Japanese donut shop Mister Donut is bringing back its popular Ouchi de MISDO HALLOWEEN event starting on September 3, featuring five spooky sweets.

Black Choco Cat

Fluffy Mummy

Floating Ghost

Pink Frankenstein

Pon de Chocolate Devil

MISDO HALLOWEEN Party Set

This year's theme is 'cute ghosts coming to visit you for Halloween!' Rather than aiming for scares, these sweets are intended to make guests smile as they envision themselves playing with ghostly guests. These donuts are perfect for eating at home with friends and family.

The lineup includes some new designs, like the Fluffy Mummy, made with strawberry, chocolate, and whipped cream designed to look like bandages. There are 10 different eye designs, so customers never know which expression these characters will make when the box is opened!

As the COVID-19 pandemic continues, the takeout-only MISDO HALLOWEEN Party Set was created to allow parents and children to enjoy Halloween festivities at home. The set includes a bag and sun visor with an original Pon de Lion Halloween design!

Which donut are you dying to try?

Information

Ouchi de MISDO HALLOWEEN

Running: September 3 until sold out

Where to Buy: Most Mister Donuts shops nationwide

Official Site: https://www.misterdonut.jp

Sanrio Puroland Announced Pumpkin-themed PURO HALLOWEEN Event

The cutest theme park on Earth, Sanrio Puroland has announced that this year's PURO HALLOWEEN event will run from September 10 until October 31. The theme for this year's event is "pumpkins," and fans will be able to pick up some special spooky merch during the celebration!

New Show 'Halloween Pumpkin Time' 

Limited-time Stage Show 'Mewkledreamy March, Gather! ☆Dreamy Mates' 

Photo Spot

PURO HALLOWEEN Special Greeting, featuring characters in Halloween costumes

Event Menu

PURO HALLOWEEN Merchandise

PURO HALLOWEEN x Gyuunyuu Special Collaboration

Gyuunyuu Collab Game 'Let's Go to the Pumpkin Party!'

Gyuunyuu Collab Food and Merchandise





This event aims to be happy and bright, something to be expected of a place with so many adorable characters. Visitors will be able to catch a new show, 'Halloween Pumpkin Time,' on the first floor of Puroland. Featuring Hello Kitty and Cinnamoroll in new Pumpkin-themed costumes, it's not to be missed!

Plenty of dancing and games will take place during the event, and the popular show 'Mewkledreamy March, Gather! ☆ Dreamy Mates' will be updated with a Halloween theme. At the end of the show, visitors can catch characters Myu, Peko, and Suu in special costumes.

Popular photo spots throughout the park will be updated for the event, and PURO HALLOWEEN Special Greeting will welcome guests to spend time with their favorite characters. (Fee required for Special Greeting.)

The PURO HALLOWEEN menu utilizes plenty of fall goodies like pumpkin and sweet potato. After eating your fill, pick up some country-style merchandise featuring Sanrio characters enjoying the pumpkin harvest! Limited-edition goods feature these new illustrations, and can only be bought during the event period. The Sanrio Puroland Online Shop will also begin selling original goods starting September 3, and limited-edition Acrylic Stands (13 varieties) will only be available online.

Sanrio Puroland is also collaborating with Gyuunyuu, a popular manga artist and illustrator on social media. The artist created an original character, Pumpkin-chan, for the event, and the little girl will be joining Hello Kitty and Cinnamoroll in various places throughout the park.

The collab game 'Let's Go to the Pumpkin Party!' will ask guests to complete an original comic strip by solving puzzles while exploring Puroland, perfect for children and parents. (Fee required for collab game.)

Which Sanrio character would you like to meet during the Halloween season?

© 2021 SANRIO CO., LTD. TOKYO, JAPAN  著作 株式会社サンリオ

Japan's Manga Artists Gather at Tokyo's Museum of Contemporary Art

The Museum of Contemporary Art, Tokyo is set to host the Moshimo Tokyo Exhibition as part of Tokyo Tokyo FESTIVAL's 13 special exhibits from August 4 to September 5. The event is free to enter but tickets, which are now available, must be ordered in advance.

Japan's top manga artists drew exclusive pieces for the exhibition

©Inio Asano – taken from TP

©Shinichi Ishizuka – taken from Tokyo Sound

©Taiyō Matsumoto

©Sumito Oowara – taken from East East

The theme of Moshimo Tokyo is "Tokyo" and will exhibit works from 20 big Japanese manga artists, such as Taiyō Matsumoto (Ping Pong; Tekkonkinkreet; Sunny), Inio Asano (Goodnight Punpun; Dead Dead Demon's Dededede Destruction), and Shinichi Ishizuka (Blue Giant). Each artist has illustrated special pieces in line with the exhibition's theme which will be shown at the in and around museum.

Information

Moshimo Tokyo Exhibition

Running: August 4, 2021 – September 5, 2021
Venue: Museum of Contemporary Art, Tokyo

Address: 4-1-1 Miyoshi, Koto-ku, Tokyo 135-0022, Japan

Closed: Monday (except August 9 so will be closed August 10)  / Mondays during Tokyo 2020 (except August 30)

Opening Hours: 10:00-18:00 (Last Entries 17:30)
Price: Free

Book Here: https://artsticker.app/events/646

Official Website: https://mangamoshimotokyo.jp/

Minerva Cafe to Open at The Promised Neverland Jailbreak Arc Museum Exhibition

Roppongi Museum is set to open its The Promised Neverland exhibition on July 17 where it will run until December 30. The exhibition covers the Grace Field House Jailbreak Arc, where guests can feel like they're really walking through the house.

Cafe Logo


As part of the exhibition, a themed cafe called the Minerva Cafe will open inside the museum serving food and drink inspired by the anime series.

BLT Sandwich & Salmon Cream Cheese | ¥1,740 (Tax Included)

Minerva & Phil's Chocolate Banana Pancakes | ¥1,600 (Tax Included)

The Minerva Cafe menu includes the mysterious William Minerva who Emma, Norman, and Ray are pursuing, chocolate banana pancakes with Minerva and Phil designs, and more, including a range drinks.

Latte Art | ¥770 (Tax Included)

Isabella's Brown Sugar Milk Tea | ¥540 (Tax Included)

The Emma, Norman, and Ray lattes also come with a coaster you can take home, and there's a special Isabella milk tea you can buy at THE ALLEY, a food truck at Roppongi Musuem that's popular for its Taiwanese milk teas.

©白井カイウ・出水ぽすか/集英社・約束のネバーランド製作委員会

Information

The Promised Neverland Grace Field House Jailbreak Arc Exhibition

​Running: July 17, 2021 – December 30, 2021

Venue: Roppongi Museum
Address: 5-6-20 Roppongi, Minato-ku, Tokyo

Opening Hours: 10:00-18:00 (Until 20:00 on Saturdays)

Tickets: On sale June 30, 2021

Event Page: https://neverland.taiken-museum.com

Kyoto's National Museum of Modern Art Announces 'Modern Crafts' Exhibition

The National Museum of Modern Art, Kyoto has announced a new exhibition. A Chronicle of Modern Crafts: Works from the National Museum of Modern Art, Kyoto Collection will run from July 9 to August 22.



Crafts are one of the pillars of the activities at the National Museum of Modern Art, Kyoto, a facility that opened in 1963. This emphasis has helped form one of Japan's premiere collections of crafts. Moreover, they have on occasion presented exhibitions such as the International Exhibition of Contemporary Ceramic Art, Contemporary Ceramic Art: Canada, U.S.A., Mexico and Japan, Fiber Works: Europe and Japan, and Contemporary Glass: Europe and Japan, which introduced and compared crafts from other countries with Japanese works, and exerted a strong influence on the Japanese art and crafts scene.

In this exhibition, the museum takes a look back at some of these events from the past based on works from the museum collection while retracing the development of modern crafts. This includes the exhibiting of 305 pieces, 231 from Japanese craftsmen and 74 from those overseas.

Information

A Chronicle of Modern Crafts: Works from the National Museum of Modern Art, Kyoto Collection
Running: July 9, 2021 – August 22, 2021

Venue: National Museum of Modern Art, Kyoto
Opening Hours: 9:30-17:00 (Until 20:00 on Fridays and Saturdays)

Closed: Mondays (but open August 9) and August 10
Price: General ¥1,200 / University Students ¥500 / Free for those aged 18 and below

Official Site:https://www.momak.go.jp/

*Opening hours subject to change depending on COVID-19