Rilakkuma & Korilakkuma Confections by Tabemas Coming to Lawson Convenience Stores
Character-inspired Japanese confectionery series Tabemas has revealed that its next products will be Halloween-themed Rilakkuma and Korilakkuma sweets. They will go on sale at Lawson convenience stores across Japan (excluding Lawson Store 100 branches) on October 15, 2019.
These adorable confections are so cute it's hard to choose where to even start eating them from! Both versions are wearing snug pumpkin hats.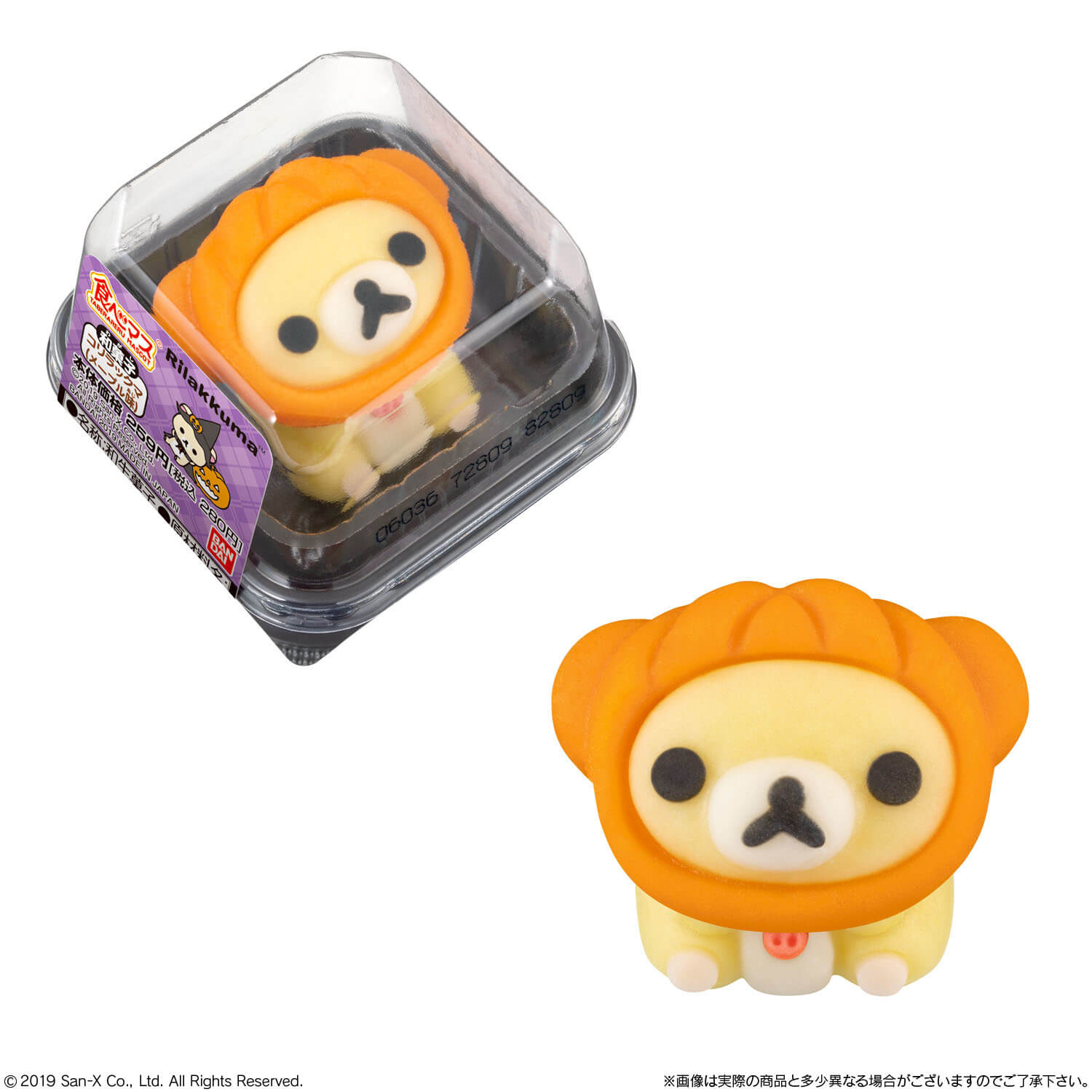 'Tabemas' is an abbreviation of the Japanese words taberareru masukotto, meaning 'mascots that you can eat.' It is a Japanese confectionery series that combines well-known characters and Japanese sweets made from ingredients like red bean paste, sugar and rice flour. The sweets are also made with a dough called "nerikiri" which is used in making traditional Japanese wagashi sweets.
To keep with the theme of autumn, Rilakkuma is pumpkin pudding flavoured (which is his favourite treat) and Korilakkuma is maple flavoured.
Stop by the ubiquitous Lawson convenience store while in Japan and grab yourself one of these treats for Halloween.
©️2019 San-X Co., Ltd. All Rights Reserved.
*The photographs are for illustrative purposes only.
*Actual product may differ from the photographs.
*Please be careful not to choke on the mochi.
*The latest information can be viewed via the Bandai Candy homepage.
*Tabemas and 食べマス are registered trademarks of Bandai.
RELATED ENTRIES
Adorable Mini Penguin and Polar Bear Confections to Arrive in Family Mart

Tabemas is a Japanese confectionery series of small, traditional sweets designed to look like characters. For the first time, Tabemas is collaborating with the popular fictional character series Sumikko Gurashi to release Shirokuma and Penguin? sweets. The new confections will be sold in the chilled desserts corner of Family Mart convenience stores across Japan from November 12, 2019.

The lovable characters who have been transformed into delicious sweets are Shirokuma: the shy polar bear who tends to get cold easily; and Penguin?, who has no confidence in their identity as a penguin. 

The series name "Tabemas" means "edible mascot" and as the name suggests, these are traditional nerikiri confections which are made from bean paste and soft mochi, creating an adorable plump appearance.  Shirokuma's body is white with pink ears whereas Penguin? has a pea-green body with a white stomach and yellow feet and beak. Both confections are kneaded with the characters' charm and stand joining their tiny hands, staring at you with their adorable round eyes. 

Both confections are filled with the mild flavour of red bean paste. To match the colour schemes of the characters, the white Shirokuma is milk-flavoured and the pale green Penguin? is apple-flavoured. The flavours of these confections are just as irresisitble as their appearance. You're bound to be taking lots of photos of them for your next social media post in no time!

As these confections are in limited supply, make sure to buy them as soon as possible if you are interested.

(C)2019 San-X Co., Ltd. All Rights Reserved.

Information

Tabemas Confectionery Series: Sumikko Gurashi

Confections: Shirokuma (Milk), Penguin? (Apple)

Recommended Retail Price: ¥369 each (Before Tax)

Release Date: November 12, 2019

Available at: The chilled desserts section of Family Mart convenience stores across Japan.

* These are in limited supply and sales will end once all stock has been depleted.

*The days on which the Tabemas Confectionery series is sold may vary from store to store.

* Some Family Marts may not sell the Tabemas series.

More Information on the Tabemas Sumikko Gurashi Series (Japanese Only):https://www.bandai.co.jp/candy/products/2019/4549660424444000.html

These Hello Kitty Kintsuba Japanese Confections are the Perfect Souvenir From Japan

Confectionery company Nakataya has teamed up with Sanrio to release the Hello Kitty Kintsuba.

Kintsuba is a type of traditional Japanese confection of sweet beans wrapped in wheat-flour dough. Nakataya is famous for their kintsuba, which are made with large-grained beans and red bean paste. They have maintained the flavour and quality of these confections, each of which is made with the utmost precision, and all individually.

This year marks the 85th anniversary since Nakataya opened. The long-standing store hopes to bring in more foreign and younger customers by collaborating with Hello Kitty.

They have crafted several flavours. Pictured above is the apple pie flavour, Hello Kitty's favourite. It's made with fuji apples from Aomori Prefecture which is known for its incredible apples. It's mixed with white bean paste and is lightly flavoured with cinnamon.

The mixed berry flavour is a fruity sweet and sour mix of strawberries, raspberries and blueberries which have been mashed together with white bean paste.

The confection comes in two kinds of packaging: one designed by Nakataya's founder Nakata (中田憲龍), and a Hello Kitty version where she is dressed as a dragonーa symbol of the shop. This is a completely original Hello Kitty design made specially for the collaboration.

The outer packaging is made with a wrapping cloth to both pass down an aspect of traditional Japanese culture while also catering to the eco-friendly lifestyle of the modern age. It's made from amuzen fabric and can be reused. The inner packaging is a simple paper tray so can be recycled. And if you take the wrapping cloth back to the store, they can refill it with the three Hello Kitty kintsuba confections at a discounted price.

Information

Hello Kitty Kintsuba

Released: November 1, 2019

Contains: One box of 6 (x3 mixed berry/x3 apple pie)

Price: Hello Kitty Kintsuba – ¥2,500 (Before Tax) *Comes with wrapping cloth

Hello Kitty Kintsuba Refill – ¥1,800 (Before Tax)

*The refill is only available to those with a wrapping cloth

Available: At participating Nakataya branches and the online shop

Official Website: www.kintuba.co.jp

Kyoto Station's Beautiful Cafe Saryo Fukucha Releases New Herb Tea and Dessert Sets & Autumn Menu

Saryo Fukucha has unveiled new Japanese herb tea and dessert pairing sets as well as a batch of seasonal autumntime menu items.

Kyoto is a city where history and tradition come together, and where every single day, people from all around the world come and go, each encountering new experiences. Saryo Fukucha opened inside Kyoto Station back in April this year. It is managed by long-running tea company Fukujuen.

▼Japanese Herb Tea & Dessert Pairing Menu

Herb Tea & Dessert Sets: ¥900 Each (Before Tax) *Herb teas by themselves are ¥500 each
Running: From October 10, 2019 (Available all year round)

Hibiscus Blend Houjicha x Crème Brûlée Chocolate Berry Confiture

The tea is a luxurious and fragrant blend of light-roasted houjicha, hibiscus and rose hip. It's perfectly paired with a rich chocolate crème brûlée and refreshing berry confiture.

Cinnamon Blend Kukicha x Mascarpone Cream & Apple Tatin

This kukicha, or twig tea, has a distinct refreshing flavour to it. It has been blended beautifully with cinnamon and chamomile. The kukicha is paired with a caramelised apple tatin which is topped with a dollop of rich mascarpone.

Peppermint Blend Kukicha x Seasonal Fruit Tart

Peppermint and chamomile are the blending ingredients for this kukicha tea. It comes with a tart with a full-bodied almond taste topped with seasonal fruits like strawberries and raspberries.

Ginger Blend Genmaicha x Tart Ricotta with Orange

Genmaicha is combined with roasted brown rice, giving it its characteristic sweet-smelling quality. Blended with ginger and dandelion leaves, it's been matched with a fromage blanc cream-topped ricotta cheese tart with a side of orange.

▼Autumn Menu

Running: October 10, 2019 – Late February 2020 (subject to change)

Sasamaki Okowa (Matsutake Mushroom & Daggertooth Pike Conger/Minced Chicken & Yama no Sachi) Houjicha Set – ¥1,200 (Before Tax)

This set was created by Hisato Nakahigashi from Miyamasou, a highly-rated inn in Kyoto. Enjoy the combination of the houjicha tea with the bamboo leaf-wrapped okowa steamed rice.

Chestnut Houjicha Wafer Cake – ¥350 (Before Tax)

Not only does this wafer cake look cute, it's packed full of autumnal ingredients too, including astringent chestnut and coarse sweet red bean paste.

FUKUCHA Specially Made Matcha Koji Sweet Sake Red Bean Soup – ¥700 (Before Tax)

The koji sweet sake used in this dessert has a gentle flavour and a strong aroma. Added to it is matcha, chestnuts, sweet potato, and rice flour dumplings, all set into a mizu manju sweet water jelly.

Japanese confections are always best paired with Japanese tea, so be sure to stop by Saryo Fukucha when travelling around Kyoto.

Information

Saryo FUKUCHA

Address: Kyoto Station Central Exit Floor 2F (901 Higashishiokoujicho, Shiokouji Sagaru, Karasuma-dori, Shimogyo Ward, Kyoto)

Opening Hours: 8:30-21:00 (Last Orders 20:30)

No Fixed Holidays
TEL: 075-744-0552
Official Website: https://fukucha-fukujuen.com/

Experience the Heart of the Japanese Tea Ceremony This Autumn in Ginza

In line with the annual autumn event Ginchakai―which is held in Ginza and brings together multiple schools of tea in Japan for an open-air tea ceremony―Tokyu Plaza Ginza is hosting an event themed on the heart of the Japanese tea ceremony.

This special event will serve Japanese omotenashi, or "hospitality," thorough various exhibits including a co-project with Tokyo University of the Arts, an exhibition by one of Japan's leading confectionery companies Toraya Confectionery, and more.

The co-project with Tokyo University of the Arts will feature installations produced by the university that is centred on calligraphy drawn by Japanese calligrapher Shoko Kanazawa, who performs both in Japan and overseas, and the tea ceremony. There will also be several tokonoma alcoves around the event which will be like miniature gardens where one can enjoy the beauties of nature. There will even be covers of famous songs about autumn on October 27 at the KIRIKO TERRANCE on the roof.

Up in the KIRIKO LOUNGE on the 6th floor, Toraya will serve up a selection of traditional Japanese confections, including those that had already been created by the end of the Edo period. You can order a set of two confections and a drink. Sweets include the Kiren Kaki, which is made to look like a Japanese permission, and the Kuri Goyomi, which is made with chestnuts, sugar, and agar-agar.

Soak up the enchanting nostalgia of autumn while enjoying the Japanese tea ceremony at Tokyu Plaza Ginza.

Information

The Heart of the Tea Ceremony in Ginza (Japanese Title: 銀座で触れる、茶の湯の心)

Running: September 26, 2019 – October 27, 2019

Location: Various places around Tokyu Plaza Ginza

GINZA Tokonoma Alcoves: Admire the Season With Tokonoma Art

Running: September 26, 2019 – October 27, 2019

Time: 11:00-21:00
Locations: Floors 3, 4, and 6

Autumn Music Performances

Date: October 27, 2019

Time: 12:00-15:30

Location: KIRIKO TERRACE on the Tokyu Plaza Ginza rooftop

TOKYU PLAZA GINZA x Bunkamura SPECIAL PROGRAM ~ Toraya Confectionery~

Running: October 11, 2019 – October 27, 2019

Time: 11:00-23:00 (Until 21:00 on Sundays and public holidays)

Location: KIRIKO LOUNGE (Tokyu Plaza Ginza Floor 6F)

Tokyu Plaza Ginza

Address: 5-2-1 Ginza, Chuo Ward, Tokyo

Official Website: https://ginza.tokyu-plaza.com/

Snoopy, Joe Cool & Charlie Brown Confections by Tabemas Are Coming to Lawson Convenience Stores

Character-inspired Japanese confectionery series Tabemas has unveiled its new Snoopy, Joe Cool and Charlie Brown wagashi confections that will go on sale at Lawson convenience stores across Japan on August 20.

The characters are made from a type of dough called "nerikiri" which is used in making traditional Japanese wagashi sweets. Each of their charm points have been recreated, including Snoopy's collar, Joe Cool's shades and folded arm pose, and Charlie Brown's instantly-recognisable outfit.

Their cute designs make it hard to decide where to start eating from, with Snoopy's beady eyes, Joe Cool's composed manner, and Charlie Brown's smiley face.

Each character is filled with different flavoured bean pastes, maintaining that traditional wagashi touch. Snoopy is chocolate flavoured, Joe Cool is salted vanilla, and Charlie Brown is custard. The three of them line up perfectly for a cute Instagrammable photo. They are limited in stock so if you're in Japan this summer be sure to stop by a Lawson store.

©️2019 Peanuts Worldwide LLC

Information

Tabemas – Snoopy Series

Flavours: 3 Snoopy (Chocolate) / Joe Cool (Salted Vanilla) / Charlie Brown (Custard)

Price: ¥259 Each (Before Tax)

Release Date: August 20, 2019

Available: At chilled desserts section of Lawson convenience stores across Japan

*Not available at Natural Lawson or Lawson Store 100

*Available while supplies last

*Stock date may differ from branch to branch

*Select stores not participating

Product Page: https://www.bandai.co.jp/candy/products/2019/4549660393474000.html

Rilakkuma Umbrella by Felissimo Can Be Used in Clear or Rainy Weather

Felissimo released a new Rilakkuma-inspired beige-pink umbrella on their website on June 10.

The umbrella's design is subtle and sophisticated. The outer rim is lined with a brown coloured lace reminiscent of Rilakkuma. It also has a handle made from high quality wood carved into Rilakkuma's face. The umbrella also cuts 98% of UV rays meaning it can be used in both clear and rainy weather.

Its beige pink colour with brown lacing gives it a sophisticated feminine design.

Rilakkuma's facial features on the handle were made using laser cutting and together with the frilly cotton rope tied to it give it a polished and refined look.

There is also a name tag on the umbrella with a nonchalant Rilakkuma logo printed on it.

There is also a separate bag you can purchase to put your umbrella in after it rains so you don't get the floor wet if you go inside anywhere.

©San-X

Japanese Desserts Shop Mme KIKI Sells Doraemon Dorayaki and Unmissable Delicacies in Italy

Japanese chocolatier Mme KIKI opened up their first ever Dorayaki shop in Rome, Italy called DORAYAKI- DOLCEZZE GIAPPONESI on 11th May. The shop is located at Via Del Porto Fluviale 3E, Rome.

As the anime Doraemon is also popular in Europe, Doraemon's face decorates the dorayaki pancakes of this shop. Besides the standard sweet Red Bean Paste filling, there is also Yuzu Orange Mascarpone, or Tiramisu Cream, Matcha Ice Cream and many other delicious flavours. For the dorayaki pancake, you can either choose standard wheat flour-based pancakes or gluten free pancakes that are made from organic rice flour.In fact, this shop mostly caters for a gluten-free diet. They also sell savoury pancakes called Doyrayaki Sandwiches. Flavours include avocado miso, tuna mayo, and ethnic vegetables.

Besides dorayaki, there is also Japanese tea and matcha. These are served with original teapots and teacups for you to enjoy a full experience. 

There are also other Japanese sweet treats such as Dango (sweet dumplings on a stick), Matcha Tiramisu, and much more. You can also enjoy Japanese drinks such as the Matcha Latte or Hojicha Latte. There are also small Japanese Otsumami (snacks served with drinks) such as potato salad, crispy karaage chicken, green edamame beans and much more. You can enjoy these alongside Japanese beer, sake, and cocktails made from sake. This cafe bar is full of delicious desserts, snacks and drinks.

Last summer in Rome, a test kitchen was run where LEXUS ITALIA, the Embassy of Japan, and many others teamed up to hold workshops and set up food stands to carry out intense research. Finally as a result, this shop opened. The interior is a sakura pink colour and a round moss-like green plant hangs from the ceiling. Art by modern artist Rui Sakurai is also being displayed here.

This is becoming a very popular cafe in Italy. On just the first day, a queue of over 600 people formed before the shop!

Traditional Japanese sweets are taking over the world so don't miss out!

Information

DORAYAKI- DOLCEZZE GIAPPONESI

Address: Via Del Porto Fluviale 3E Roma Italia

Rilakkuma & Kiiroitori Confections by Tabemas Coming to Lawson Convenience Stores

Character-inspired Japanese confectionery series Tabemas has revealed that its next products will be based on Rilakkuma and Kiiroitori. They will go on sale at Lawson convenience stores across Japan from May 21, 2019.

Both characters are made from a type of dough called "nerikiri" which is used in making traditional Japanese wagashi sweets. Their tiny hands, ears and facial features have all been carefully and delicately crafted to create some seriously adorable sweets which, as Tabemas describes all their products, are just too cute to eat.

Rilakkuma is filled with Japanese custard pudding flavoured bean paste while Kiiroitori is filled with chocolate flavoured bean paste. Both sweets are made with natural colouring and have the deliciously moist texture that wagashi have. They are also made with chickpeas which have become popular for their high nutritional value so are a better option for the health-conscious individual.

Whether as a treat to yourself or a friend, don't miss out on these cute and tasty sweets.

©2019 San-X Co., Ltd. All Rights Reserved.

Information

Tabemas – Rilakkuma / Kiiroitori

Price: ¥259 Each (Before Tax)

Release Date: May 21, 2019

Store: Chilled desserts section of Lawson convenience stores across Japan

*Not available at Natural Lawson or Lawson Store 100.

*Available while supplies last.

Product Page: https://www.bandai.co.jp/candy/tabemas/rilakkuma2/

Enjoy your chores more than ever before with this cute Rilakkuma-themed laundry bag by Felissimo! ♪

Felissimo is making washing more fun with the new character-themed Rilakkuma laundry bag.

Rilakkuma's everyday outfit is now a laundry net?! If you take a look inside the bag from the back zipper, you will notice that the inside of the bag has been accurately created and firmly secured to look just like Rilakkuma.

You'll feel as if Rilakkuma has come to stay at your house! Without realising, you'll be smiling at the sight of your new laundry bag swaying gently in the breeze alongside the rest of your laundry no matter where you are. If you're concerned about your delicates or socks, you can still wash them together with the rest of your laundry using this bag. You can put this bag directly in the washing machine! After you've finished the washing, you can easily carry the bag to the washing line by the handle! How useful!

The bag isn't fully transparent and it's made using mesh. This makes it perfect for carrying a change of clothes to the gym or your bath set for when you go to the hot springs!

Now you can finally enjoy doing the chores around the house thanks to the Rilakkuma laundry bag!

Information

Rilakkuma Dararinno hohon ♪ Character laundry bag

Price: ¥1,950 (+ tax)
Material: 100% polyester  ※ machine washable
Size :  50.5cm long X 35 ー 55cm wide,  handle length: 25cm
Maximum weight: 6kg

You can also choose to have a brand new laundry bag delivered to you each month (charges apply).

Made in China

Click here to purchase: https://feli.jp/s/pr190425/2/

Japanese confectionery series Tabemasu makes Kirby and the Warp Star!

 Tabemasu is a Japanese confectionery series that features sweets designed to look like characters. A new Tabemasu series is about to be released called Tabemasu Asorto (Tabemasu assortment). The design for this series is based around Kirby, Kirby's Dream Land and the Warp Star which Kirby rides in the game. This series will be released on Tuesday 23rd April 2019. Tabemasu has plans to release another round of the Tabemasu Asorto series later!

The new Tabemasu Asorto series includes two traditional Japanese-style sweets in a set. The sweets are based on the world of Kirby. Kirby comes in the form of a chewy mochi sweet, and the Warp Star comes in the form of a soft, nerikiri sweet.

The name "Tabemasu" is a combination of the word "tabemasu" (eat) and "mascot". As the name implies, the entire sweet is made from traditional Japanese ingredients, and so you can consume it all!

 

 Kirby is a chewy pink ball of mochi dough filled with custard cream. There are a range of expressions to choose from, from smiley Kirby to sleepy Kirby and even a winking Kirby! There is also one secret design! There are six Kirby designs in total. Which of these squishy, round, cute Kirbys will you encounter? You'll just have to head to the store to get one to find out!

 The Warp Star is a chocolate cream nerikiri. Both the sweets are made with natural colourings. Put your squishy Kirby on the Warp Star to enjoy an image straight out of the game! Of course you won't be able to help but take photos of this edible mascot before eating it! Don't forget to post your pictures on social media!

 You have to try this cute, photogenic Kirby!

©Nintendo / HAL Laboratory, Inc. KB19-P1654

Rilakkuma-themed Japanese-style cafe Rilakkuma Tea House opens in Itsukushima, Hiroshima

Japanese-style Rilakkuma cafe Rilakkuma Tea House will permanently open up its second shop in Itsukushima, Hiroshima.

Itsukushima shrine located in Miyajima of Aki is the symbol of the shop. The large, elegant scarlet shrine gate that floats in the water is built entirely of wood and is one of the most beautiful shrine gates in Japan. The main shrine building has a long, honourable history as a world heritage site. As it was built by the sea, the beautiful wooden structure is famous worldwide.

 The Rilakkuma Tea House represents the shrine's traditional wooden architecture style and the warm atmosphere created by wood. Rilakkuma's favourite food, honey, is also a main theme.

The healthy menu and Japanese-style dessert menu which are popular at the Rilakkuma Tea House will also be available at the Itsukushima cafe. There are also dishes that use Miyajima and Hiroshima's famous delicacies including oysters and lemons. This is a flavour adventure you can only enjoy in Hiroshima!

Rilakkuma eel and oyster tempura gozen ¥1,580 (tax included)

Rilakkuma is taking a nap on a bed of fried eggs. Enjoy the crunchy eel and oyster tempura along with three varieties of traditional Japanese-style sides.

Yellow bird and fried oyster curry ¥1,280 (tax included)

This yellow bird is made from saffron rice and is topped with crispy fried oyster, which is the perfect match for the deep-flavoured curry!

There is also a dessert menu and a takeaway menu too! All the menus are packed with Hiroshima goodness!

Rilakkuma chilling out in the autumn leaves ー Japanese-style chocolate banana parfait ¥1,280 (tax included)

A bridge made from banana stretches over a valley of autumn leaves in a beautiful arch shape. The banana ice cream is complemented with gyuhi mochi cake and warabi mochi. The chewy texture of this Japanese parfait resembles banana daifuku cake!

Korilakkuma Seto Inland Sea lemon chiffon  ¥980  (tax included)

This is a fluffy chiffon cake that uses Seto Inland Sea lemons and honey. The cake is sprinkled with berries, and lemons slices decorate the cake to resemble flowers, creating a sweet yet sour flavour.

Delicious Rilakkuma/ Korilakkuma honey sandwich  ¥600  (tax included)

The Rilakkuma Brioche Bread and Korilakkuma White Bread are filled with different ice cream flavours! Those cute round eyes will win you over in no time! ♪

*Takeaway item

Rilakkuma autumn leaves manju (pack of 2) ¥350  (tax included)

These cute Rilakkuma autumn leaf-themed manju are an Itsukushima original!
*Takeaway item

Momiji manju (includes 8)  ¥1,200/Decorated wooden paddle(small, 5 patterns) ¥1,600 each/Kumano makeup brush /small dish (7 varieties) ¥800 each  (all prices with tax included)

There will also be Itsukushima Rilakkuma Tea House original goods! Of course, this includes the Itsukushima's speciality momiji manju buns, momiji wooden paddles and art overflowing with Itsukushima's specialities such as lemons!

There is just so much on the limited edition menu and there are just so many goods too! Check out the official website too! ♪

Information

Itsukushima Rilakkuma Tea House
Address:537, Nakanochohama, Miyajimacho, Hatsukaichi 739-0500,
Opening hours (subject to change):
Tea House :10:30 ー 17:30 (Lunch last orders: 16:30  Cafe last orders: 17:00)

Takeaway:10:00 ー 17:30
Shop:10:00 ー 18:00

Open all year round
Open from:Thursday 25/04/2019
※ It is possible that the reception is closed even during order times.

Rilakkuma Tea House official website:http://rilakkumasabo.jp

8 Character Themed Cafés Running in April 2019

Character cafés are an exciting experience in Japan which sees a café collaborate with well-known anime series, game series and various franchises by decorating the café interior with designs and illustrations based on them and meals and drinks inspired by them.

Before continuing this article be sure to check out our March 2019 list of character cafes as some are still running.

The Very Hungry Caterpillar x Cafe Cucina & Company (March 20 – April 3)

Cafe Cucina & Company in Shibuya, Tokyo is collaborating with Eric Carle's internationally-beloved picture book The Very Hungry Caterpillar for two weeks from March 20 to April 3 to serve up a themed menu inspired by the colourful world. A total of 6 items will decorate the menu from hearty dishes to fruity drinks. This café will soon close on April 3, so don't miss out!

Full Details: https://www.moshimoshi-nippon.jp/185739

Devil May Cry 5 x CAPCOM CAFE AEON Lake Town (March 7 – April 24)

CAPCOM CAFE AEON Lake Town is celebrating the release of Devil May Cry 5―which hit consoles on March 8, 2019―with a themed cafe. A whole range of inspired dishes are on offer as well as drinks based on Nero, Dante and V. Reservations can be made online.

Full Details: https://www.moshimoshi-nippon.jp/180331

Pokémon Cafe 1 Year Anniversary Menu (March 14 – April 26)

Nihombashi's Pokémon Cafe is currently celebrating its one-year anniversary with a special commemorative menu. Order a latte with latte art of any of the original 151 Pokémon, sips on smoothies, tuck into desserts and more.

Full Details: https://www.moshimoshi-nippon.jp/178933

Pompompurin Café Birthday Menu (March 15 – April 30)

Pompompurin's birthday falls on April 16, and to celebrate, the Harajuku, Umeda, Yokohama and Nagoya branches of the Pompompurin Café is holding a celebratory birthday event. Food includes the "Hamburger Plate" which is made from a hamburger and a layer of mashed potato served with a rice ball Purin. For dessert you can enjoy a delicious creamy cheese pudding. Head to the Pompompurin Café to celebrate Purin's 23rd birthday!

Full Details: https://www.moshimoshi-nippon.jp/181662

Gudetama Cafe x MACCHA HOUSE (March 14 – May 6)

The Gudetama Cafe located in HEP FIVE is now collaborating with MACCHA HOUSE, a cafe that has received huge media coverage for its Uji matcha tiramisu. For the collaboration MACCHA HOUSE have created Gudetama versions of their Uji Matcha Tiramisu and Houjicha Tiramisu. These fun treats will only be available for a limited time so don't miss out! There are lots of other Instagram-worthy delights to enjoy too such as the "Gudetama White Curry," "Hot Matcha Latte" and more.

Full Details: https://www.moshimoshi-nippon.jp/181060

Sword Art Online: Alicization x SEGA Akihabara 4th (March 23 – May 6)

Sword Art Online: Alicization now has its own themed cafe on the fifth floor of SEGA Akihabara 4th which is running until May 6. Enjoy a line-up of original dishes, desserts and drinks inspired by the series, and get your hands on an original coaster and limited-edition merchandise!

Full Details: https://www.moshimoshi-nippon.jp/181099

Kaido Kid x BOX CAFE&SPACE (April 19 – June 12)

Two cafés themed on the Detective Conan character Kaito Kid, or the "Phantom Thief Kid" will open in Harajuku and Umeda on April 19. These will be the first ever Detective Conan cafés themed on Kaito Kid with a menu named by the manga's author Gosho Aoyama. There will even be exclusive Kaito Kid merchandise you can't get anywhere else sold, and the cafés will be decorated in all things Kaito Kid. The cafés will be decorated in all things Kaito Kid, so fans won't want to miss out!

Full Details: https://www.moshimoshi-nippon.jp/184611

Leo Lionni Cafe x Sunday Brunch Marronnier Gate Ginza 1 (April 3 – July 31)

Leo Lionni was a children's picture book illustrator and author whose famous works include Swimmy and Frederick. His works were so popular that they even appear in textbooks! Dishes will be inspired by both Frederick and Swimmy. These are the world's first ever collaborative cafes with Lionni, so check the link below to see all the different delicious dishes!

Full Details: https://www.moshimoshi-nippon.jp/181236

Did you enjoy this list? If you're in Japan this spring, be sure to dine at all the character cafés you can!