Following up from the opening of their Shinjuku branch back in 2016, BEAMS JAPAN has announced that it will open a second branch in Shibuya on December 5, 2019. It will be found inside the new Shibuya FUKURAS which is also set to open beside Shibuya Station to this December.
Shibuya-Exclusive Field Watch – ¥15,000 (Before Tax)
BEAMS JAPAN Shibuya is set to be the second hub for BEAMS "TEAM JAPAN," a project which aims to build a community around the brand and promotes products made in Japan. Opening with a completely original line focused on "super basic" clothing, it is sure to be a welcome addition to the streets of Shibuya―one of Japan's leading districts when it comes to Japanese fashion and culture.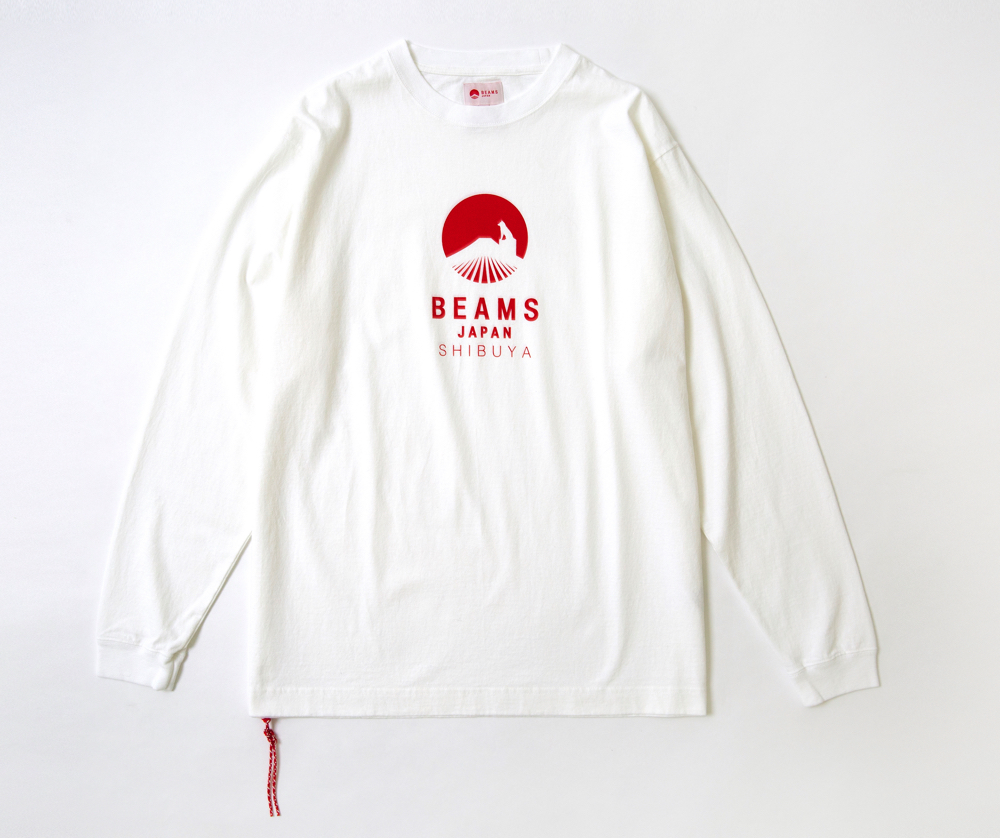 BEAMS JAPAN Hachiko Logo Long T-Shirt – ¥7,800 (Before Tax)
Scramble Crossing/Traffic Safety Caps – ¥5,800 Each (Before Tax)
The new store will stock a whole range of different clothing items, including attire exclusive to the branch such as the above-pictured caps and watch inspired by Shibuya;s tourist sites like the Scramble Crossing and Hachiko statue.
Information
BEAMS JAPAN SHIBUYA
Grand Opening: December 5, 2019
Address: Tokyu Plaza Shibuya 2F, 1-2-3 Dogenzaka, Shibuya, Tokyo
Opening Hours: 10:00-21:00
Stocked Labels: Men's <BEAMS> / Women's <Ray BEAMS> <BEAMS BOY> / Other <BEAMS JAPAN> <TOKYO CULTUART by BEAMS>
BEAMS JAPAN Official Website: https://www.beams.co.jp/beams_japan/
RELATED ENTRIES
Disney Princesses Help You to Answer the Question 'What is Love?' at This Tokyo Event

As part of Disney's Ultimate Princess Celebration, a worldwide festival themed on courage and kindness that began in April, an event titled "What is Love? ~The Secret to Shining Bright Lies in the Princess World~" will take place at Shibuya Marui in Tokyo from June 23 to July 29 this year. It will subsequently move to JR Nagoya Takashimaya from August 4 to 23 and finally conclude next year in Shizuoka where it will run from January to March.

This event tries to answer the question "What is Love?" through a range of content that encourages the use of all five senses: visually, digitally, musically, through scent, and more.

 

What is Love? ~The Secret to Shining Bright Lies in the Princess World~

Visitors are guided by 12 Disney princesses who will take them on a journey of their 'love' in six different areas.

 

A Look at the Event

1. Introduction: 12 Shining Princesses

At the event, you will meet the 12 princesses and learn their story, what their personality is like, and more.

2. Opening Theater: Discover the Secrets to Shining Bright

Attend the theatre and watch the stories of the princesses with your own eyes.

3. 7 Keywords Unravelled From Their Stories

Seven keywords that appear in the princesses' stories will be explored, each of which are tied back to love. This will include exhibits of scenes from the Disney animated movies, an AR experience using smartphones, and more.

From Beauty and the Beast

Using their smartphones, visitors can hold up their phones and utilise AR technology to see various scenes from Beauty and the Beast in an area inspired by the library that Beast bestowed upon Belle.

From Tangled

In Tangled, the King and Queen release lots of sky lanterns on Rapunzel's birthday each year in hopes that she will see them and return. Let your own lanterns fly like in the movie and witness a beautiful spectacle.

4. Music and Fragrance: Clad in Radiance Unseen to the Eye

A unique experience combining music and fragrances inspired by the princesses, who radiate from love, will let visitors feel closer to them.

5. Glowing Lines: Words That Make the World Shine

At the Closing Theater, words and lines said by the princesses will be displayed, offering another way of enjoying their world that radiates from love.

6. Prologue: Your Own Unique Story Begins

Pick up a range of merchandise featuring designs of the exhibition's main visual, the seven key words, and more.

 

Services and Content Offered by Disney at the Exhibition

Disney+

Disney+ is a streaming service that brings together all Disney, Pixar, Marvel, Star Wars, and National Geographic content in one place, as well as exclusives. Those at the exhibition can watch the content offered by Disney+ at the Opening Theater.

 

Disney DX App

The Disney DX is an app exclusive to Japan that comes as a set with Disney+. It offers the chance to see cut scenes from movies, behind-the-scenes content, and more. The exhibition utilises this app through AR experiences, so if downloaded, you're sure to have an even more fun time.

A curated list of Disney Princess music is played at the exhibition. If you head to the shop, you can pick up movie soundtracks and other albums. Disney even created a playlist themed on the princesses that's now available on music streaming services.

Information

What is Love? ~The Secret to Shining Bright Lies in the Princess World~

Japanese Event Title: WHAT IS LOVE? ~輝くヒミツは、プリンセスの世界に。~

Running: June 23, 2021 – July 29, 2021

Where: Shibuya Marui (Floors 7F & 8F) *Reception is on floor 7F

Address: Shibuya Marui, 1-22-6 Jinnan, Shibuya-ku, Tokyo

Opening Hours: 11:00-20:00

Official Website: https://PrincessExhibition.jp

*Exhibition will subsequently move to JR Nagoya Takashimaya (August 4, 2021 – August 23, 2021) and Shizuoka (January 2022 – March 2022)w

Blue Lock Manga Series Announces Exhibition in Shibuya to Promote 14th Volume

In promotion of the 14th volume of Muneyuki Kaneshiro's manga series Blue Lock, an exhibition will take place at SpaceHACHIKAI inside Tower Records Shibuya in Tokyo from May 15 to June 6.

Buy merch and receive these items free

Character illustrated cards


Vinyl-style panels

This will be Blue Lock's first-ever exhibition since it began serialisation in 2018. It will feature displays of manga drafts, uncoloured illustrations, and more. There will also be a special spot for taking photos. A collection of exclusive merchandise will be available for fans to buy, as well as free bonus items when a purchase it made.

© 金城宗幸・ノ村優介/講談社

BEAMS JAPAN Shinjuku Launches Event to Promote Japan's Sento Bath Houses

The Sento no Susume 2021 event being held by BEAMS JAPAN and Cow Brand Soap has now headed to BEAMS JAPAN Shinjuku. As part of the event, Mizuno has held designed a 'running course' is collaboration with sento bath house owners who have listed their recommended spots for running.

From Left: Hiroshi Fukui (Managing Director at Cow Brand Soap), Aya Terakawa (Sports Caster), Mari Yamazaki (Manga Author), Ryozo Naganuma (Kotobukiyu's 3rd Generation Owner), Hikaru Ikeuchi (Chairman of Board of Directors)

BEAMS JAPAN Shinjuku Floor 1F – Sento no Susume 2021 Pop-Up

BEAMS JAPAN Shinjuku Floor 1F – Sento no Susume 2021 Pop-Up

BEAMS JAPAN Sento no Susume 2021 Virtual Venue

For many years, sento public bath houses have been big part of Japanese culture and are located up and down the country. They are places people go to unwind, relax, and destress. However, with times changing, they are because less part of people's lives, and the facilities themselves are seeing significant wear and tear as well as not having successors to take over the businesses. Sento no Susume aims to revitalise sento and raise their cultural value once again by showing how they can be enjoyed. The first event was held in January and February in 2019.

The event arrived at BEAMS JAPAN Shinjuku on April 26 and  invites manga artist Mari Yamazaki on board who has given the store a makeover with her iconic artwork themed on exercise and bathing. This event combines sento bath houses with sports, and so as well as discovering bath houses to visit, you can learn find out about great running courses at the Sento Run no Susume corner. There's also a virtual venue accessible on the official website that creates the store in 4K 3D so everyone around the world can get involved regardless of their location.

Information

Sento no Susume 2021
Srart Date: April 26, 2021

Special Areas

BEAMS JAPAN Shinjuku




Running: April 26, 2021 – May 31, 2021

MIZUNO OSAKA CHAYAMACHI




MIZUNO TOKYO

Sento no Susume 2021 Merchandise

Available at BEAMS in-store and online

Participating Branches: BEAMS JAPAN (Shinjuku)

Dates: April 26, 2021 – June 30, 2021

Future participating branches depending on Japan's state of emergency: BEAMS JAPAN SHIBUYA/BEAMS JAPAN KYOTO/BEAMS STREET UMEDA/HEP FIVE 



Event Details: https://www.beams.co.jp/special/teamjapan/sentou/
Virtual Venue: https://my.matterport.com/show/?m=pMV2FmHUg4M

BEAMS Official Website: https://www.beams.co.jp/

Peter Luger Steak House Opens First Japanese Branch at Ebisu Garden Place

Hailing originally from Brooklyn, the 130-year-old Peter Luger Steak House has announced the opening of its first-ever Japanese branch which will welcome customers at Ebisu Garden Place in Tokyo this September with its 3-storeys of red brick.

Peter Luger is credited with spreading the mouth-watering wonder of dry-aged beef steak to the world which has made the restaurant's name globally famous. The restaurant of course wields a Michelin Star and has been featured high on the Zagat Survey for over 30 years.

The secret behind Peter Luger's signature ingredient

The restaurant's beef fillet and New York strip are signature items on the menu, both of which are made from porterhouse steak. Their steak is also made from USDA Prime beef which is dry-aged by hand to intensify the flavour and aroma.

The porterhouse is placed directly onto the broiler and seasoned solely with salt. The steak is flipped only once during the broiling process. A knob of melted butter is added to a serving platter and the steak is sliced atop it. It's then placed back into the broiler for a few minutes depending on the doneness requested by the customer. It's this process that gives Peter Luger's steaks their deliciousness. 

 

Brooklyn red brick building and theatre decor

The Japanese branch takes inspiration from the Brooklyn restaurant with its red brick exterior.

The first floor is home to the bar where customers can enjoy food and cocktails. There's also a takeout shop with gifts and other items.

The second floor is the spacious dining space which is home to Peter Ruger's first-ever open kitchen. The third floor is another seating area with balcony-like seats so you can look out over the city.

There are seven private dining rooms of varying sizes for those looking a little more intimacy and privacy. The restaurant's lighting was also designed by a New York designer.

Information

Peter Luger Steak House Tokyo

Grand Opening: September 9, 2021

Address: 4-19-19 Ebisu, Shibuya, Tokyo

Bookings: From August 2021

Peter Luger Steak House Japan Official Website: https://peterluger.co.jp/

Coji-Coji's Jiro Becomes Legendary Japanese Mermaid Amabie at Harajuku Event

Nippon Animation began holding the Amabie Jiro Fair at KIDDYLAND Harajuku's Maruko & Coji-Coji Store on April 29, selling merchandise of the character Jiro from Momoko Sakura's manga series Coji-Coji.

Pre-sale merchandise

Free hand towel


Jiro has turned into Amabie once again this year, a legendary Japanese mermaid who is said to emerges from the sea and prophesise either an abundant harvest or an epidemic. People are instructed people to make copies of its likeness to defend against illness.

Fans who spend over ¥8,000 at the Maruko & Coji-Coji store will receive a free original hand towel as pictured above.

BEAMS Scraps Vinyl Shopping Bags For Sustainable and Environmentally-Friendly Alternative

BEAMS Japan will begin selling cotton shopping bags starting on May 1, scrapping the vinyl shopping bags it has been using until now in an effort to become a more sustainable and environmentally-friendly brand. Being made from natural cotton means no throwing away of plastic, plus it can be reused for a long time.

The BEAMS vinyl shopping bag has been in circulation since 1986

The new cotton bag being introduced on May 1, 2021

BEAMS-original paper water packs

The iconic BEAMS vinyl shopping bag was first introduced in 1986 and was adored for its convenient draw cord function, durability, and reusability. It became synonymous with BEAMS for etching its mark into the history of Shibu Kaji, or Shibuya's casual culture. These bags were free to customers and were made down to the finest details just like clothing attire, from the inking to the braiding. Since their release, the bags have never undergone design or shape changes. The only thing that has been changed over the years is the material used for the eyelet where the cord is strung through in order to make it easier to separate. Additionally, part of the raw materials were changed to plant-based in order to reduce the reliance on oil resources.

BEAMS, which has been in operation for 45 years now, is now getting involved with the sustainable recovery efforts that have come even more to the forefront of the international stage during the pandemic. Their vinyl bags, of which 390,000 are made every year, will be abolished, and replaced with GOTS-certified organic cotton bags and sold for ¥550 (tax included) to customers who purchase something at BEAMS.

BEAMS has been making efforts to reduce since 1999, when it first introduced its scheme to gives shoppers the option to donate ¥100 to the OISCA Children's Forest Program which "educates school children and communities about the environment through tree planting and other related environmental activities." In total, it has raised over 30 million yen. With the introducing of the new cotton bags, this scheme will continue, with 10% of all proceeds made from sales of the bags to be donated to the program.



Additionally, BEAMS introduced FSC-certified paper bags to all BEAMS OUTLET and BEAMS GOLD stores in November 2020 and January 2021 respectively. It also released paper water packs in September 2020 which has saved on 60,000 PET bottles every year.

Information

BEAMS Cotton Shopping Bags

Release Date: May 1, 2021

Price: ¥550 (Tax Included)

Available: All BEAMS stores in Japan

BEAMS Official Website: https://www.beams.co.jp

Cow Brand Soap x BEAMS Japan Take Over Kotobukiyu Bath House in Tokyo

BEAMS Japan and Cow Brand Soap have teamed up to an event titled Sento no Susume 2021 which began on April 23. As part of the event, the two brands have come together at the popular Tokyo-based bath house Kotobukiyu where illustrations for the collaboration drawn by manga artist Mari Yamazaki (Thermae Romae, Olympia Kyklos) has been put up on the outside, inside, and along the walls.

See the illustrations being plastered in the video below.

At the bath house entrance, along the walls, and everywhere else

Fashion shoots are being held at the bath house

Limited-edition merchandise for Sento no Susume 2021

For many years, sento public bath houses have been big part of Japanese culture and are located up and down the country. They are places people go to unwind, relax, and destress. However, with times changing, they are because less part of people's lives, and the facilities themselves are seeing significant wear and tear as well as not having successors to take over the businesses. Sento no Susume aims to revitalise sento and raise their cultural value once again by showing how they can be enjoyed. The first event was held in January and February in 2019.



This year will be the second hosting of the event and invites manga artist Mari Yamazaki on board who has given Kotobukiyu a makeover with her iconic artwork themed on exercise and bathing. Six sports are featured in her drawings for the bath house including basketball, climbing, javelin, surfing, judo, and volleyball.

Have you experienced a Japanese sento before?

Enjoy a Healthy Junk Food Menu at Shibuya LOFT's New Cafe 2foods

Shibuya LOFT opened its new '2foods' cafe on April 15 which serves junk food healthily.

2foods uses absolutely no eggs or milk in their menu – everything is plant based and healthy, making it a haven for vegan foodies, especially in Japan where there aren't as many vegan places as other countries. What's better is that everything's reasonably priced too. There are around 60 menu items to choose from, like curry and soba as well as desserts, organic coffees and lattes, cold pressed juice, and more.

Artist's rendition of the cafe

Curry | ¥1,023 (Tax Included)

A hearty and spicy curry served with brown rice which is better for digestion.

Tantanmen Ramen | ¥968 (Tax Included) | Shibuya LOFT exclusive

A ramen soup with 100% gluten free rice flour noodles, soy milk, sesame seeds, peanuts, soy meat, and other healthy and natural ingredients.

Egg Doughnut Sandwich | ¥528 (Tax Included)

A vegan egg sandwich that doesn't use eggs but tastes just like them.

Gateau Chocolate | ¥528 (Tax Included)

A rich chocolate gateau made with brown rice powder and soy cream.

Information

2foods Shibuya LOFT

Opened: April 15, 2021

Address: Shibuya LOFT (Floor 2F), 21-1 Udagawacho, Shibuya, Tokyo
Opening Hours: 11:00-20:00 
TEL: 03-6416-4025 

Official Website: https://www.loft.co.jp/

Music-Eating Space Hamsters BLUE HAMHAM Get Pop-Up Store in Tokyo and Osaka

CHOCOLATE Inc. is set to open the BLUE HAMHAM POP UP STORE at Shibuya PARCO in Tokyo on May 14 May 28 and Shinsaibashi PARCO in Osaka on June 4  July 2. The pop-up shops are centred on Arimura Taishi's characters BLUE HAMHAM.

BLUE HAMHAM are four music-eating space hamster brothers from a planet called 'Proxima b.' Their animations on Twitter, TikTok, and other social media platforms have garnered over 300 million views worldwide. In 2020, they began collaborating with overseas artists. Their musical animations have garnered popularity across the globe.

At the pop-up shop, fans can get their hands on over 30 new BLUE HAMHAM items. This also marks the brothers' first pop-up shop in Osaka. From exclusives to free novelties, there's plenty to enjoy.

At the store, fans will also be greeted by four 1-meter tall BLUE HAMHAM statues, the only ones in the world. There will be a display showing their animations, a chance to learn about the characters, and more.

©CHOCOLATE Inc.

Information

BLUE HAMHAM POP UP STORE

Tokyo Store: Shibuya PARCO B1F GALLERY X

Address: 15-1 Udagawacho, Shibuya, Tokyo

Running: May 14, 2021 – May 30, 2021

Tokyo Store: Shibuya PARCO B1F GALLERY X

Address: 15-1 Udagawacho, Shibuya, Tokyo

Running: May 28, 2021 – June 14, 2021

Osaka Shinsaibashi PARCO 10F EVENT SPACE

Address: 1-8-3 Shinsaibashisuji, Chuo-ku, Osaka-shi, Osaka

Running: June 4, 2021 – June 21, 2021

Osaka Shinsaibashi PARCO 10F EVENT SPACE

Address: 1-8-3 Shinsaibashisuji, Chuo-ku, Osaka-shi, Osaka

Running: July 2, 2021 – July 18, 2021

Special Page: https://art.parco.jp/shinsaibashi/detail/?id=656

BEAMS Japan Gets Involved in Crowdfunding Project to Raise Money For Tohoku Earthquake

BEAMS Japan has announced its participation in the 3.11 Fukkou ni Yorisou Project on the crowdfunding service READYFOR to help raise money for restoration efforts in places that are still affected by the 2011 Great East Japan Earthquake. The apparel brand has created the Bakabon Family Charity T-Shirt, the proceeds of which will be used as a return to supporters of the project. READYFOR launched the project on April 14, 2021, the proceeds of which will be donated to six groups working to restore Tohoku.

From the READYFOR Project page

READYFOR launched back in 2011 as Japan's first crowdfunding service. In the past 10 years, 1,529 crowdfunding pages have been set up for restoration efforts of the Tohoku earthquake, which have brought in over 1 billion yen.

The charity tee by BEAMS Japan is available in nine sizes.

Sustainable Fashion Week Event to Take Place at Earth Day Tokyo 2021

Earth Day Tokyo 2021 is set to run from April 17 to April 25 both online and offline. Messages of eco-friendliness, organic products, sustainability, ethics, and inclusiveness will be at the core of various events held as part of the festival and it will bring together environmental NPOs, charities, and locals.

As part of this year's Earth Day Tokyo, sustainability and fashion are set to interweave with the SUSTAINABLE FASHION WEEK 2020+1 event which is running on April 24 and 25.

With less than nine years to go until the world must achieve the 17 Sustainable Development Goals (SDGs), Earth Day Tokyo believes individuals need to be doing more to change their lifestyles and the way they do certain things. Fashion is an area that enrichens people's lives—but it's also one that can call for environmental action by changing our consumption habits.


SUSTAINABLE FASHION WEEK 2020+1 will bring together various teams and organisations to hold booths and talk sessions online and offline where people can learn about these issues. It's a collaboration between Fashion Revolution Japan, the Japanese branch of the global Fashion Revolution campaign to reform the fashion industry by enabling a greater transparency in the fashion supply chain amongst other problems. Fashion Revolution Week takes place every year on April 24, the same date as the 2013 Dhaka garment factory collapse where 1,134 people died and more than 2,500 people were injured.

The main visual for SUSTAINABLE FASHION WEEK 2020+1 features Japanese singer and artist KOM_I who is best known as a member of the Japanese music group WEDNESDAY CAMPANELA. It was created by HYPE FREE WATER, an artist collective headed by KOM_I and art director Minori Murata. KOM_I will participate in a planned talk program at MIYASHITA PARK on April 24 and 25.


A Message From KOM_I

"HYPE FREE WATER will be taking part in Sustainable Fashion Week at Earth Day this year. Our organisation focuses on the future of water. We want to be able to wear something beautiful without having to make sacrifices like selling out the future or destroying the environment. I'm looking forward to new people getting involved with us as this discussion takes off."

Information

Earth Day Tokyo 2021

Running: April 17, 2021 – April 18, 2021

Earth Day Tokyo Official Website: https://www.earthday-tokyo.org

SUSTAINABLE FASHION WEEK 2020+1

Running: April 17, 2021 to April 25, 2021

Time: 11:30-18:00
Where: Shibuya Miyashita Park / RAYARD MIYASHITA PARK

Address: 1-26-5 Shibuya, Shibuya-ku, Tokyo

Fashion Revolution Japan: https://www.fashionrevolution.org/asia/japan/

Little Glee Monster and Other Japanese Artists Announced For Tokyu Musix Challenge

Tokyu Musix Challenge is set to take place at Bunkamura Orchard Hall this year on March 7 at 18:00.

2020 saw the cancellation of music events across the world, with Japan being no exception. Shibuya, Tokyo's hub of countless live music venues and halls, was particularly affected by the effects of the pandemic. But the energy and power that music artists hold is one they can offer to brighten up peoples' time during today's times. That's where Tokyu Musix Challenge comes in, a new kind of music festival that will bring together a multitude of genres, and where better for it to be held than the cultural melting pot that is Shibuya.

This year will be the first run of the festival, where a collaboration between classical music and contemporary pop music will clash at Bunkamura Orchard Hall. The Tokyo Philharmonic Orchestra, which is recognised as Japan's oldest symphony orchestra, will play alongside acts such as Little Glee Monster, Ai Higuchi, Win Morisaki, Meimi Tamura, Kayoko Yoshizawa, ROTH BART BARON, and more. And the line-up is set to grow as more performers will be announced in the lead up to the event.

Comments from the Artists

Little Glee Monster

"We are really looking forward to feeling the fresh breeze of our music colliding with the grand scale of an orchestra. We'll be sure to play our part so that we don't lose to the overwhelming performance of everyone in the Tokyo Philharmonic Orchestra, but also so that our music complements theirs. We hope that everyone can have a good time and feel good from the strength that music has."

Ai Higuchi

"In 2020, we may have all lived kind of complicit with so many options in front of us leading down different paths. A certain friend might have gone to a drinking party, another might not have seen their lover for a long time. What choices do we make? We become darker depending on our choices. In Shibuya, a city that continues to change, I will sing my unchanged songs."

Win Morisaki

"Over this past year, the respect I have for the position I'm in where I can express myself has really sunk in. I'm so happy I've been able to get involved with this challenge. And getting to sing with an orchestra, it's magnificent. I'm so excited about what's to come."

Meimi Tamura

"I can't contain my excitement at a genre collaboration between classic, which is the foundation of music, and pop which is strongly tied to Shibuya. I think I'm going to start feeling tense at getting to perform alongside everyone in the Tokyo Philharmonic Orchestra and singers of all different kinds of music. We don't have a lot of freedom today during the pandemic, but I will work my hardest so that I can deliver love through music from the city of Shibuya."

Kayoko Yoshizawa

"My chest roars and having the opportunity to perform along side Japan's oldest and longest-running Tokyo Philharmonic Orchestra at the legendary Orchard Hall. It's my first time experiencing singing with an orchestra, so I'm looking forward to seeing how the songs will be structured, and how my voice will sound, when we do it."