The mysterious world of frost that you can only see in severe winter /Rime bus 2017
In Miune mountain (1235meter's high) and Takami mountain (1248meter's high) between the Nara prefecture and Mie prefecture, you can see the beautiful frost iced on the trees glittering in the world of white during the severe winter which is from January to February.
Nara traffic association offers a special "frost bus" that you can enjoy this fantastic world during a limited time this season only on Saturdays, Sundays and holidays. (The schedule might change depending on the weather.)
This bus is known as the popular winter mount climb course in Kinki area because it directly takes you to the starting point of a trail up a  mountain, so there are so many mountain climbers during this season. And also they are going to hold the event called "Mt.Miune frost festival" at Mitsue Seishonen Ryoko Mura along with the special frost bus schedule. They are will serve local food sometimes during this event.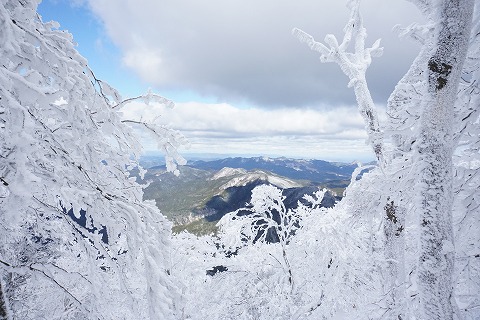 At the impressive pyramid shaped Takami Mountain, of course you can enjoy the beautiful frost, but also the view from the top of the mountain is incredible. It is amazing that you can see the other mountains such as Daiko Mountains and Soni plains.
And for the Watasa Mountain (1344meter's high) and Kannon Peak (1347meter's high) where you can see the magnificent view and enjoy looking at the frost in severe winter, there also will be running "frost bus" by Nara traffic association.
It is good that you can get the coupons for the hot springs and other facilities, if you use this bus. It is good idea to take a bath and warm up after seeing the frost.
Any mountain has from about eight kilometer's to ten kilometer's trails for experienced climbers.  You should prepare for the climbing deliberately like taking the crampons since it severe winter. It is freezing time of the year, but that's the reason why you have chance to see the beautiful scenery.
■Information
・Schedule
Miune Mountain and Takami Mountain: Saturday, Sunday and holidays from January 7th to February 26th
Wasamata Mountain and Kannon Peak: Saturday, Sunday and holidays from January 21st to February 19th
*The schedule might change depends on the weather.
<Miune Mountain>
One hour and twelve minutes' drive on rime bus from Kintetsu Osaka line, Haibara train station to Seishonen Ryoko Mura bus stop (1350yen for one way trip.) The bus leaves for the mountain at 8:15 and 9:15, and 3:00PM and 4:00PM for coming back.
<Takami Mountain>
Thirty eight minutes' on rime bus from Kintetsu Osaka line Haibara train station to entrance of Takami mountain bus stop (1060yen for one way trip.) For coming back, forty three minutes' drive from Takasumi Onsen Mae bus stop to Haibara train station. (1100yen for one way trip. Leave 3:00PM and 4:00PM for coming back to the station.)
< Wasamata Mountain>
Two hour and three minutes' drive on rime bus from Kintetsu Osaka line or Kashihara line Yamato-yagi train station to get to the entrance of Wakasa Mountain (2050yen for one way trip) the bus leaves for the mountain at 7:55AM and leave for the station at 4:00PM. This bus also stops by the Kintetsu Kashihara line or Minami Osaka line, Hashihara Jingu Mae train station and Kintetsu Yoshino line, Yamato Kamiichi train station.
<Kannon Peak>
One hour and forty minutes' drive on rime bus from Kashihara line, Yamato-yagi train station to the entrance of Kannon Peak (1450yen for one way trip.) One hour and fifty one minutes' to Dorogawa Onsen (1550yen.) Leaves Yamato-yagi train station at 8:00AM, and leaves for coming back to the station from Dorogawa Onsen at 3:30PM and next stop, Kannon Peak at 3:36PM. This bus also stops by the Kintetsu Kashihara line or Minami Osaka line, Hashihara Jingu Mae train station and Kintetsu Yoshino line, Yamato Kamiichi train station.
* This rime bus accepts "PiTaPa", "ICOCA", and other ten different IC cards.
 ☎ 0742-20-3100 (Nara traffic Customer Service Center)
RELATED ENTRIES
Hotel Nikko Nara Teams Up with JR Tokai for Special Shinkansen Shaved Ice

Two new tasty types of shaved ice are now on sale at Hotel Nikko Nara! The Shinkansen Shaved Ice will be available until November 30, 2021, at the Lobby Lounge Fountain on the hotel's third floor. 

Shinkansen Shaved Ice – N700S

Sliced Mango, dried apricots, and almond jelly

Shinkansen Shaved Ice – Inspection Train

Caramel sauce, chocolate syrup, and dried apricots

This collaboration with JR Central Japan Railway is only available for a limited time, though Hotel Nikko Nara serves up tasty shaved ice year-round. This collaboration began on October 1 to celebrate the opening of the Tokaido Shinkansen. These treats are created with nitrous oxide, which transforms the shaved ice into a mousse-like foam!

For those able to make it to Nara in time, which of these special sweets will you be trying? 

Information

Shinkansen Shaved Ice

Available: October 1 – November 30, 2021, from 13:00-18:00 (Closed Thursdays)

Where to Buy: Hotel Nikko Nara Lobby Lounge Fountain (3F)

Official Site: https://www.nikkonara.jp/pr/

Sebastian Masuda and Felissimo Release Kawaii Multicoloured Miwa Soumen Noodles

Felissimo and Sebastian Masuda's cute and happy KAWAII COMPANY project released a new collection of multicoloured soumen noodles at Senjutei Somen Chaya on July 11 which are available for a limited time until August 31. The colours of the noodles are naturally-derived.

KAWAII COMPANY 5 Kawaii Soumen Noodles | 1 Set = ¥2,420 (Tax Included)

Digital Catalogue

The cute Miwa soumen noodles are made by Ikeri, a long-standing shop that was established in Nara over 170 years ago. Each noodle colour signifies a different colour: Japanese purple sweet potato, plum, kabosu citrus, beefsteak, and plain. The noodles are packaged in a wooden box featuring KAWAII COMPANY's key visual designed by Sebastian Masuda along with golf leaf.

The noodles aren't designed just to look cute – they are authentic in flavour and in how they are made with traditional Japanese techniques.

Japanese Artist Aki Kondo Opens Exhibition in Nara

NARA TSUTAYA STORE is set to host an exhibition in promotion of Japanese artist Aki Kondo's new artbook Koko ni Aru Shiawase (The Happiness Here) which is running from July 1-15.

Front cover of Aki Kondo's artbook Koko ni Aru Shiawase

Koko ni Aru Shiawase "A Hundred Flowers" Special Edition

Examples of drawings at the exhibit

Koko ni Aru Shiawase hit the shelves in March of this year as Aki Kondo's first artbook release. Her colourful, imaginative, and humorous works have captured the hearts of many. But her works also touch on the deeper topic of her view on life and death, having experienced the suffering wrought by the Great East Japan Earthquake as well as knowing loss.



Her new artbook focuses on her paintings of flowers as well as themes of fleeting life and our relationships with others. Everything from the book's design to the works shown, the printing, and so on were crafted with the utmost care to capture the full essence of Aki Kondo and to create a book the owner will always want by their side.

Embroidered Eco Bag Fair Opens at TSUTAYA BOOKS in Nara

Nara TSUTAYA BOOKS opened the Ball & Chain Fair on May 11, stocking a wide selection of thick embroidered polyester eco shopping bags.

Ball & Chain is a shopping bag brand focused on spreading happiness and energy to the world through its products and designs. Its stylish eco bags are high quality and made to be long-lasting with fun and colourful designs that make you want to take it out when shopping. The bags are made from thick polyester so are waterproof and durable.

The Ball & Chain Fair features the brand's signature RED LABEL bags and welcomes the all-new BLUE LABEL models. Help protect the environment by picking up your very own eco bag.

Japan's Biggest Goldfish Museum Reopens After Refurbishments

The Kingyo Museum, which stands in Nara as the biggest goldfish aquarium and museum in Japan, reopened on April 27 after undergoing refurbishments.

AQUA oasis, an aquatic display and power spot

JAPANESE AQUARIUM DISCO

JAPONE Lane

Goldfish have been tied to Japanese culture since the beginning of the 16th century during the Muromachi Period when they were imported from China. The city of Yamatokoriyama in Nara Prefecture is the oldest location in Japan that has been raising goldfishes.

Due to COVID-19, many summer festivals and events where goldfish would be present have been cancelled up and down the country. That's where Kingyo Museum's renovations come in as a way to bring in tourists and sightseers. The museum has expanded to almost double its previous size to bring in new areas that utilise projection mapping and art, such as the AQUA oasis and the JAPANESE AQUARIUM DISCO which has brought in Japan's first die-cut fish tanks. Visitors can enjoy 38 of Japan' most prominent goldfish species, from familiar faces to rarer kinds.

Information

Kingyo Museum

Reopened: April 27, 2021

Opening Hours: 10:00-18:00 (Last Entries 17:30)

Official Website: https://kingyomuseum.com/

Poké Lid Project Lays Down New Manhole Covers in Nara Prefecture

Five new Pokémon manhole covers were laid in Japan's Nara Prefecture on Wednesday (January 20) as part of the Poké Lid  project to place Pokémon-design manhole covers across the country. There are now a total of 148 lids in 13 locations in Japan.

Nara's 5 new Poké Lids

All of the Poké Lids placed across Japan feature completely original Pokémon designs making each individual one the only one in the world. The Pokémon Company is also working to make each one of them PokéStops for Pokémon GO.

If you're planning a trip to Japan, be sure to check if there are any Poké Lids at your destination.

©2021 Pokémon. ©1995-2021 Nintendo/Creatures Inc./GAME FREAK inc.
Pokémon, ポケットモンスター, and ポケモン are registered trademarks of Nintendo, Creatures Inc., and GAME FREAK inc.

Fufu Nara: The First Luxury Hotel Set to Open in Nara Park is Designed by Kengo Kuma

Fufu Nara is set to be the first luxury hotel to open inside Nara Park on June 5, 2020. Designed by industry-leading Japanese architect Kengo Kuma, the hotel promises a unique dining experience with food served using herbal medicines that can only be tasted here, and guest rooms that are covered in art made by Nara-based artists who use traditional techniques. Both the dining and accommodation experiences aim to immerse guests in the culture of Nara.

Witness the handiwork of Nara's artists

Nara is a city steeped with beautiful history and culture. This has been captured by the artists who have collaborated with Fufu Nara in the form of paintings, crafts, entrance decorations, and more. A stay at Fufu Nara is an opportunity to witness first hand the deep traditions and techniques of Nara's art world.

There are 30 rooms in total which are split into five different types. For example, one room type is designed around the old Japanese style of sitting on the floor. Inks and woods are used in the room to enhance that feeling that you're in Nara, and the colour tones too are chosen to bring to mind the ancient city.

Fufu Nara's dining concept

Nara Prefecture is closely tied to herbal medicines. Herbal medicine came about in the year 611 during the monarch of Empress Suiko. It is written in the Nihon Shoki that the use of herbal medicine had already been adopted by the time Prince Shōtoku was serving under the Empress. Many different traditional herbal medicines are still used in Nara today, including Angelica root, shakuyaku peonies, fennel, and so on. Traditional herbal medicines have become popular again in the prefecture in recent years.

The food prepared at Nara Fufu makes use of ingredients grown and produced in Nara, from vegetables to herbs and beyond. Breakfast, lunch, and dinner all incorporate Japanese and Chinese herbal ingredients.

Spa by sisley

The hotel also has a spa made in collaboration with French luxury skin care brand Sisley. There, guests can enjoy Fufu Nara's medicated baths.

Information

Fufu Nara
Address: 1184-1 Takabatakecho, Nara, Nara Prefecture
Grand Opening: June 5, 2020
Price: From ¥77,000 (for 1 night and 2 meals for 2 guests in 1 room) *Tax and service charge included; spa charged separately
TEL: 0557-52-6606
Official Website: https://fufunara.jp

New shop on the block GRAN CHA makes brand new must-have Nara souvenir: Matcha daifuku!

Yamatocha is a type of green tea famously produced in Nara prefecture. It is said to be the origin of Japanese tea. With the ambition of creating a new kind of go-to souvenir that represents Nara prefecture, Yamatocha daifuku shop GRAN CHA will open on 28th April 2019.

*Side note*: Daifuku is a type of traditional Japanese sweet consisting of a rice cake filled with a delicious creamy filling.

Tea culture is said to have been started in Japan during the Heian period (794-1185) when Japanese missions returned from China's Tang Dynasty with tea seeds. Yamatocha seeds are planted more than 300m above sea level in cold highland. They are raised patiently so that they produce a wonderful aroma and the leaves maintain its juicy and aromatic flavours. These are the key characteristics of Yamatocha that make it so wonderful.

GRAN CHA struggled to find a method of maintaining the wonderful aroma of Yamatocha. After a lot of trial and error, the shop finally managed to produce daifuku that allows customers to enjoy a new matcha aroma as a result of different concentrations of matcha.

The daifuku is filled with only the ingredients for Yamatocha. GRAN CHA created five different strengths of matcha daifuku on a scale of 1 ー 5 in order of matcha strength. GRAN CHA put themselves up for the challenge of making their number 5 matcha daifuku the strongest matcha daifuku in Japan.

GRAN CHA even prepared a version of their matcha daifuku that comes on a skewer, making it easy for you to eat while on the move. You can also enjoy the traditional Japanese atmosphere of the interior of the cafe. They've even gone as far as to make an original daifuku shaved ice treat which is only available for a limited period!

Looking to take a breather during your Nara trip? Come refresh yourself with matcha daifuku! ♪

Information

Yamatocha daifuku specialist shop GRAN CHA

Address: 22, Higashimuki Nakamachi, Nara

Access: 3-minute walk from Kintetsu Nara Station

Opening hours: 10 am ー 5 pm

Shop information:  https://grancha-nara.com/

Tsuzuri Project Dedicates High Resolution Facsimile of Japanese Artwork to Tanzan Shrine in Nara

The Tsuzuri Project is a joint project organised by Canon and the Kyoto Culture Association (NPO). Their latest facsimile work is of Birds and Flowers of Autumn and Winter (Kano School) for Stage 11 of the project. The high-quality copy has been offered to Tanzan Shrine in Sakurai, Nara Prefecture. The original copy is currently preserved at the British Museum.

The project aims to "create and make use of high resolution facsimiles of cultural assets from Japanese antiquity, with keeping the original cultural assets in more favourable environments." This is achieved with Canon's SLR cameras which capture high resolution digital images that are then processed and printed.

Canon have updated their equipment including cameras and lenses to achieve even higher resolution and produce a faithful copy of Birds and Flowers of Autumn and Winter. That copy has been given to Tanzan Shrine, the original owners of the piece.

Birds and Flowers of Autumn and Winter is of the Edo Period's Kano School of painting. It's painted on fusuma, vertical rectangular panels, and depicts images of autumn and winter such as wild geese, ducks, white camellia and the Japanese 1000 ryou coin. The original belonged to Tanzan Shrine in Nara Prefecture where Fujiwara no Kamatari is enshrined, a Japanese statesmen and politician who was central to the Taika Reform (645). It's an important piece of work which displays the skills of the Kano School of Japanese painting which stretched across the Momoyama Period to the beginning of the Edo Period.

The facsimile is now on permanent display at Tanzan Shrine and available for public viewing. Film footage of Tsuzuri Project's 11th Stage work will be made available on the Canon homepage and at an exhibition from mid-August.

Christmas is coming soon! Seven popular illumination events in the Kansai Area.

Many popular illumination events are held in the Kansai Area, not just in the  Kanto Area. In this article, I will introduce to you some popular illumination events held in the Kansai Area.

Kyoto-illumiere Otogi no Mori ~Saigo no Okurimono~

This is the largest illumination event held in the Kansai area. One million electric bulbs are used creating a unique and colorful world. It seems as though a forest made of lights floats in the sky. You can enjoy a fantastic world consisting of the sparkling main tree and illuminations representing a  grasslands made of lights. The aurora show where you can enjoy the combination of 3D projection mapping and aurora lights will be held four times per day (17:30、18:20、19:20、20:30).

■Information

Venue: Kokoro to Karada no Iyashi no Mori Rurikei Onsen Pote Pote Park

Address: 1-14, Hirotani, Okawauchi, Sonobecho, Nantanshi, Kyoto

Date: 2017,10,28 (Sat.) to 2018,01,08 (Mon.)

Time: 17:00 to 21:00 / last entrance 20:30

The number of electric blubs: about one million

TEL: Kyoto illumiere bureau / 050-3786-3863

Nanba Parks

Nanba Parks will hold many illumination events with "rainbow flowers" as their theme. Colored flowers (7 colors) will be set up inside the park and the renewed version of the super flower will be set up in the arena theater (8F). Let's visit this beautiful shining woods located in the center of Osaka.

■Information

Venue: 2F Canyon Street (and other places), Nanba Parks Garden

Address: 2-10-70, Nanbanaka, Naniwaku, Osakashi, Osaka

Date: 2017,11,10 (Fri.) to 2018,2,25 (Sun.)

Time: 17:00 to 24:00

The number of electric bulbs: 70 thousand

Note: the date and time differs depending on the facility

TEL: 06-6644-7100

Osaka Castle Illuminage

In memory of the 150th year since the Boshin War (a war which triggered the end of the Edo Period and the start of the Meiji Period), they will hold a Japanese-style illumination. In addition to exhibiting a gourd-shaped Christal illumination, the members of Shinsengumi (special police forces which was formed near the end of the Edo Period) and ninjas will preform theatrical combat using illuminated Japanese swords. At the illumination experience area, an installation called "LED STEP" where the lights will change according to the move of the user will be installed. Also, in commemoration of the fact that Osaka Castle became affiliated with Château des Ducs de Bretagne (a name of the castle in France), various "Bretagne Area" symbols such as the motifs of a champagne glass and photogenic heart-shaped monuments will be set up.

■Information

Venue: Special venue, Nishinomaru Garden, Osaka Castle Park

Address: Osaka Castle 2, Chuoku, Osakashi, Osaka

Date: 2017,11,22 (Wed.) to 2018,02,25 (Sun.)

The event will not be canceled even if it rains, but it might be canceled if weather conditions become severe.

Time: 17:30 to 21:30 / the business hours of the venue – 17:00 to 22:00

TEL: Illuminage bureau – 06-6452-6452

>>next page

Seven recommended spots where autumn leaves will be lit up at nighttime【Kyoto/Kobe/Nara】

For those of you who are planning to visit the Kansai area this autumn, here are some recommended autumn color spots. Many of these spots will be lit up at night after November so why not visit some temples at nighttime. In this article, I will introduce to you some recommended autumn color spots.

Kyoto Kiyomizu Temple

Kiyomizu Temple in Otowa Mountain holds a viewing event (three times per year – spring, summer and autumn).  They will hold a viewing event at nighttime from the 11th of November (Sat.) to the 3rd of December (Sun.). You can enjoy the wonderful autumn view where thousands of maple leaves are lit up along with the temple. Jojuin which usually cannot be seen is open for viewing during this season. The quiet night view of Jojuin's garden (the garden is known as one of the best gardens in Kyoto) which is also called "the moon garden" is a must-see.

■Information

Kiyomizu Temple / Akino Yoru no Tokubetsu Haikan

Address: 294m 1st street, Kiyomizu, Higashiyamaku, Kyoto

Date: 2017,11,11 (Sat) to 12,03 (Sun.)

Time: 17:30 to 21:00

Fee: Adult (older than high school) 400 yen, elementary/junior high school 200 yen, Younger than elementary school – free

Access: http://www.kiyomizudera.or.jp/access.php

URL:http://www.kiyomizudera.or.jp/

 

Kyoto Ruri Kouin

Ruri Koin will hold a special viewing event at nighttime. The light up event called "Momiji (maple tree) komichi" (third time to be held) will be held at the same time as the viewing event is held. The light up event will be held at "Cable Hiei Station" where the city of Kyoto can be viewed. I am sure that you will be able to enjoy the autumn colors as you catch a fresh, cold breeze, something you cannot feel in the big cities.

■Information

Ruri Koin / special viewing event at nighttime

Address: 55, Higashiyamacho, Kamitakano, Sakyoku, Kyoto

Date:2017,11,11 (Sat.), 12 (Sun.), 18 (Sat.), 19 (Sun.), 23 (Thurs/holiday), 25 (Sat.), 26 (Sun), 12,02 (Sat.), 03 (Sun.) -9 days in total.

Time: 19:00 to 20:30 (Last reception 19:45)

Fee: 5,000 yen per person (including the round trip ticket for Eizan Cable Car) ※up tp 100 persons (reservation must be made / first-come-first-served-basis)

Viewing method: Make a reservation from the website of Eizan Cable Car / Ropeway (  HYPERLINK "http://eizan.keifuku.co.jp/" http://eizan.keifuku.co.jp ) Tickets will be handed out at Cable Yase Station on the day you ride the cable/ropeway.

Access: Eizan Train / 5 minutes on foot from Yase Hieizanko / 8 minutes on foot from Eizan Cable Car, Cable Yase Station and Momiji no Komichi

Kyoto Kakuyuzan Rokuoin

From the 26th of November (Sun.) to the 9th of December (Sat.), a special viewing event at nighttime will be held this year too. Rokuoin is famous for its autumn colors and Kosansui Garden which is known as the first plane garden in Japan was designated as one of the official beauty spots of Kyoto. In the viewing event, a 300m long stone path, Shariden and the garden will be lit up. The number of the visitors who can enjoy this event is limited (100 persons). Let's enjoy the night view of the Zen temple.

■Information

Kakuyu Mountain Rokuoin

Address: 24, Kitaboricho, Saga

Date: 11,26 (Sun.) to 12,09 (Sat.)

Time: 17:30 to 19:30 (reception office will closed at 19:00)

Fee: 1,500 yen (snacks to go with tea and a commemorative gift will be offered) ※100 persons per day (first-come-first-served-basis)

Method of participating in the event: Make a reservation from the event application website of Randen's website (randen.keifuku.co.jp)

Access: 4 minutes on foot from Randen / Rokuoin Station

TEL: 075-277-2877 (Kyofuku Denki Testudo / railway office)

Kyoto "Toji" ×  Keihan Hotels & Resorts

Keihan Hotels & Resorts (Kyoto, Shimogyoku, CEO: Toshihiko Inaji) will collaborate with "Toji (Kyoo Gokokuji) and sell Keihan Hotels & Resorts-limited premium plan where you can view the important cultural properties including Toji and stay at the hotel. The plan comes with a ticket to enter the venue of the light up event where you can enjoy the autumn views of Toji such as a mysterious five-story tower surrounded by vivid colored autumn leaves lit up at nighttime. You can enjoy the night in Kyoto thinking about the Heian Era 1,200 years ago.

■Information

Kyoto "Toji" × Keihan Hotels & Resorts Toji Aki no Light Up Nyujoken Tsuki Plan

Date: 2017,10,28 (Sat.) to 12,10 (Sun.)

Time: 18:30 to 21:30 <last entrance 21:00>

Touring: the venue can be toured within the time noted above.

URL:http://www.keihanhotels-resorts.co.jp/toujiplan/

* this plan does not include a guided tour by a priest

>>next page

Reaching Himeji From Tokyo, Osaka And Kyoto – Routes And Souvenirs!

Himeji is a city in Hyogo prefecture's southwestern region and is a day trip spot from Osaka and Kyoto. Here are the best routes from Tokyo, Osaka, and Kyoto to Himeji and information on souvenirs from Himeji Station.

▶The Location of Himeji

Himeji is a city located in the Harima region, the former name for the southwestern part of Hyogo prefecture. A popular tourist area, Himeji is well-known for being a great day trip location from Osaka and Kyoto.

Other than the popular sightseeing spots, the World Heritage site Himeji Castle, and Engyoji Temple, Himeji is also known for its traditional handicrafts, such as the popular Myochin-hibashi (special metal tongs for sacred fires and braziers), and Himeji Koma, a type of spinning top. First, let's take a look at how to reach Himeji.