THE MACHIYA SHINSEN-EN: Kyoto's New Traditional & Modern Fused Hotel
THE MACHIYA SHINSEN-EN is a new hotel that just opened on Tuesday (October 15) located just a five-minute walk from Kyoto's world heritage site Nijō Castle. Renovated from an old Kyoto-esque townhouse, this 21-room hotel fuses traditional Japanese architecture with the modern, complete with a lounge on the first floor decked with an open space where guests can enjoy a gorgeous breakfast if they choose the option. The friendly staff will be waiting to welcome guests to the hotel like friends.
The hotel's name derives from Shinsenen, a Japanese Buddhist temple and Kyoto sightseeing  spot located just a one-minute walk from the site. The temple is home to Japan's only "ehomaki shrine" where Toshitokujin, the goddess of auspicious directions for the current year, is enshrined. The temple is also home to an enormous and beautiful lake, and is said to provide good luck with marriage ties, something which is known to everyone in Kyoto. The "machiya" part of the hotel's name means "townhouse" in Japanese.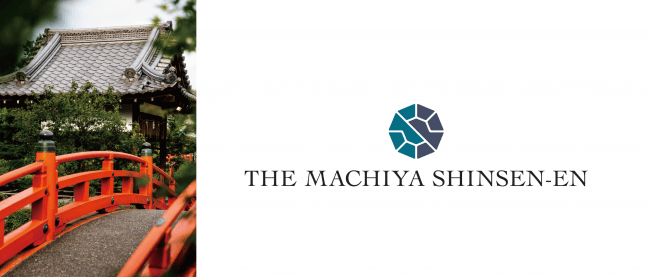 The hotel combines the traditional with the modern effortlessly, with four types of suite rooms available including the spacious corner suite rooms, as well as suite rooms that focus more on traditional Japanese architecture, namely that of the old-fashioned townhouse. All suite rooms have a kitchen, washer/dryer, and other convenient amenities for those looking for a longer stay, as well as for families and larger groups.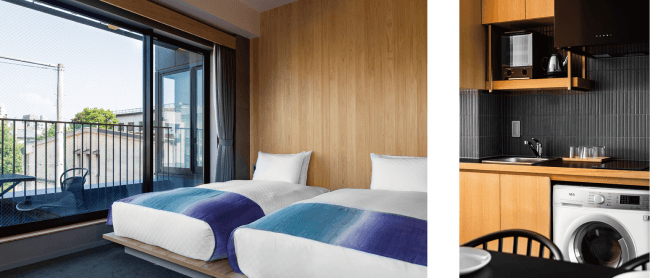 THE SHINSEN-EN Deluxe Suite
Located on the top floor, this corner suite room offers a spacious environment and enjoys plenty of natural lighting for the window which takes up an entire wall. There are both beds as well as a tatami area with futons so you can pick how you want to sleep. There's also a roomy washroom as well as a dining space with a fully-equipped kitchen and washer dryer. The room also has a sofa, TV, refrigerator, free WiFi, and more for your convenience.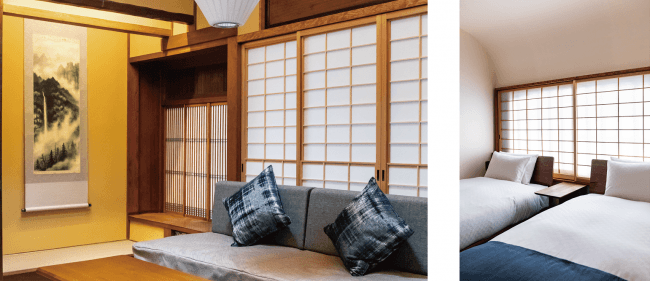 THE MACHIYA Deluxe Suite (Dragon)
This suite room has a Japanese aesthetic with its paper sliding doors and hanging scrolls. Natural light seeps in from the ceiling window fitted to the high ceiling. As well as the Japanese-style bedroom, it also has a western-style bedroom and living room, as well as both beds and futons, so you can pick if you want a Japanese sleep or a western sleep. There is a fully-equipped kitchen and washer dryer. The room also has a sofa, TV, refrigerator, free WiFi, and more for your convenience.
THE SHINSEN-EN Suite
The entrance to this suite room has lattice doors and stone paving, welcoming you with that traditional Japanese aesthetic. The spacious room basks in natural lighting from the enormous windows. There is a fully-equipped kitchen and washer dryer. The room also has a sofa, TV, refrigerator, free WiFi, and more for your convenience.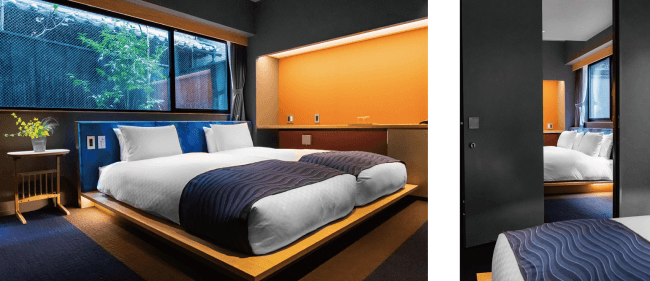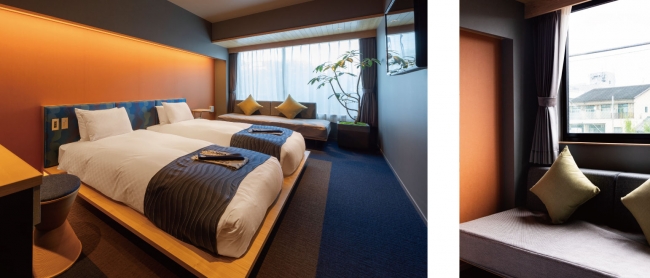 In addition to suite rooms there are four other types including Deluxe Twin, Superior Hollywood Twin, Hollywood Twin, and Classic Hollywood Twin. The rooms enjoy indigo blue and orange colouring for a relaxed and modern feel. Each have their own washrooms, toilets, sofas and desks. Additionally, all first floor rooms can be connected, so you can turn them into full 2-3 or 4-5 people spaces.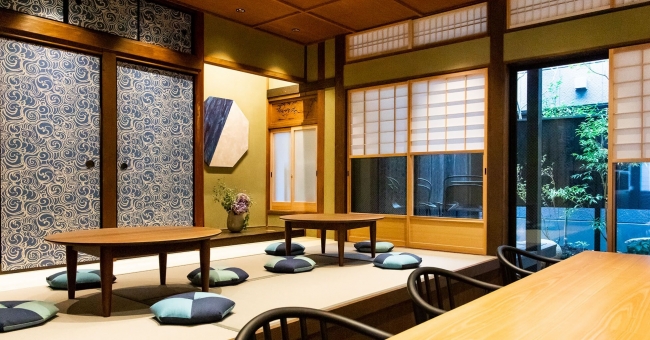 Guests can use the first floor lounge space freely and at their own leisure. And if they choose so they can also enjoy breakfast there.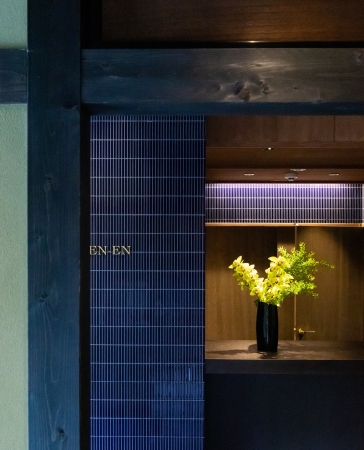 The front desk staff can speak both English and Japanese so can support foreign travelers. The hotel is situated in a great place for sightseeing, so be sure to consider booking at the all-new THE MACHIYA SHINSEN-EN if travelling to Tokyo.
Information
THE MACHIYA SHINSEN-EN
Opened: October 15, 2019
Address: 17-1 17 Shinsenencho, Nakagyo Ward, Kyoto
Access: 5-minutes on foot from Nijōjō-mae Station
Rooms: 21 (approx. 22-45㎡)
Capacity: 2-5 people
Breakfast: Served in first floor lounge for an additional fee
Official Website: https://shinsen-en.com/
RECOMMENDED ENTRIES
10 Things You Can Do at the MOSHI MOSHI ROOMS Hotel in Harajuku | Girls' Night In Edition

MOSHI MOSHI ROOMS is a hotel accommodation service run by MOSHI MOSHI NIPPON located in Harajuku and bookable via Airbnb. Our hotel isn't just popular for sleep, however: it has become a hot spot with stylish girls who get together and use it as a party space.

This is our Top 10 list of things you can do in SAKURAーone of the hotel roomsーso you can discover the best way to enjoy your stay in Harajuku.

①Take advantage of the room decor and decorations to snap all the photos you can!

MOSHI MOSHI ROOMS opened its first room SAKURA in December last year, and more recently ORIGAMI in August. From the walls to the furnishing, SAKURA is cherry blossom pink throughout, decked out with countless gorgeous Instagram-worthy spots popular with our female guests.

You can always get a beautiful photo together with the cherry blossom flower monument in the background, located behind the bed and bloomed right up to the ceiling.

The enormous and comfy pink bed is piled full of lots of fluffy cushions. You can take some pretty romantic pictures too when snuggled on top or in the bed.

Photographer: Kayo Sekiguchi

Don't forget about the neon sign either, a symbol of the room and the Japanese kanji character for cherry blossom (桜 sakura). Sit on the sofa in front of it and make use of the sign's lighting to get a more dreamy and fantastical shot.

②Popular Harajuku takeout food perfect for a night at MOSHI MOSHI ROOMS SAKURA

MOSHI MOSHI ROOMS is located in Tokyo's fashion and culture hub of Harajuku, and that means it's within walking distance of some quintessential kawaii and Instagrammable food shops. We've picked out three we think are perfect for ordering takeout to enjoy back in your room at SAKURA.

GOOD TOWN DOUGHNUTS

Smile Mango ¥420 / Raspberry Pistachio ¥400 / Sea Salt Caramel ¥390 (All Tax Inclusive)

GOOD TOWN DOUGHNUTS is a really popular doughnut shop in Harajuku. Their big size doughnuts not only look cute, they're the real deal taste-wise, and are also made with natural yeast, wheat flour from Hokkaido, sea salt sourced in Okinawa, sugar from Tanegashima, and organic oils. They are high-quality doughnuts full of flavour and plenty filling.

GOOD TOWN DOUGHNUTS

Address: J-cube B1F, 6-12-6 Jingumae, Shibuya, Tokyo)

TEL: 03-5485-8827

Opening Hours: 10:00-20:00

No Fixed Holidays

Official Website: http://good-town.com/

AND THE FRIET

Box (2 Friet Types) w/ Dip – From ¥800 (Before Tax)

This French fry shop makes their fries from a variety of carefully selected in-season potatoes, including potatoes from Belgium. They are crunchy on the outside and fluffy in the centre. They're also delicious even when eaten cold, making them a great takeout option. You can pick two types from six varieties for one box, plus a dip of your choice. A perfect party accompaniment.

AND THE FRIET Laforet Harajuku

Address: Laforet Harajuku 2F, 1-11-6 Jingumae, Shibuya, Tokyo
TEL: 03-6434-7568

Opening Hours: 11:00-21:00

No Fixed Holidays (Except when Laforet Harajuku is closed)

Official Website: http://andthefriet.com/

TOAST LUCK

<Macarons> From Left: Soybean Flour / Crunky / Cheese – ¥371 Each (Before Tax)

At TOAST LUCK, you can enjoy a whole range of different South Korean foods, including toast which is their main menu item. They also sell these marble-coloured macarons which are a little bigger than Japanese macarons. There's lots of flavours to choose from, all of which give you a different take on your regular macaron!

TOAST LUCK

Address: 3-27-15 Jingumae, Shibuya, Tokyo

TEL: 03-6812-9499

Opening Hours: 11:00-20:00

No Fixed Holidays

Official Website: https://www.toast-luck.com/

③Line up all your food in your hotel room for a girls' night in

Gather all of your takeout goodies from around Harajuku for a girls' night in at MOSHI MOSHI ROOMS SAKURA! The room has its own kitchen equipped with utensils, a microwave and refrigerator, so you can even prep your own food too.

The living room is nice and spacious so you can really let your hair down and relax. There's a limited number of beds but there's no limit to the amount of people that can stay over, so invite all of your friends along!

④Watch movies on the projector

The room is equipped with an Android TV mobile projector which has Netflix, Hulu, YouTube and other services on it as well as games. There's endless amounts of fun to be had, so grab your snacks and put on a movie or compete together in a game. The screen projects onto the white walls, so you can pick the best spot for viewing.

Projecting it on the wall beside the bed means you can relax while watching films or music videos together.

The cherry blossom pink MOSHI MOSHI ROOMS SAKURA offers a memorable accommodation experience like no other. We will continue the Top 10 list in the next article entitled Birthday Edition.

Remember, if you're looking to stay in Harajuku, be sure to book with MOSHI MOSHI ROOMS.

Models: Aiko / Ringo
Photographer: Haruka Yamamoto
Writer: Sayoko Ishii

Translator: Joshua Kitosi-Isanga

Indulge in a Strawberry Heaven at Hoshino Resorts KAI in Tochigi Prefecture

A new hotel plan has arrived at three branches of Hoshino Resort's hot spring hotel brand KAI in Tochigi Prefecture where guests can enjoy the luxury of strawberries together with their stay. Tochigi is famous for growing strawberries, and so all three hotels will serve up their own unique succulent strawberry experiences. The branches in question are KAI Kawaji, KAI Kinugawa, and KAI Nikko.

For roughly the past 50 years, Tochigi has enjoyed the largest cultivation of strawberries in the whole of Japan. Hoshino Resorts KAI is taking advantage of this milestone by presenting guests with a strawberry experience they won't forget, with the delicious fruit comprising the whole of their stay from checking in to checking out. Each hotel branch will have different varieties of strawberries in stock, and guests will discover new ways to enjoy them. They will also be presented a map highlighting different locations to indulge in strawberry desserts, so they can carry on their fruitful after checking out on the road home too.

KAI Kawaji: Strawberry Picking at a Japanese-Style Hot Spring Inn

KAI Kawaji's "Satoyama Ichigo Taizai" (Satoyama Strawberry Stay) plan offers a one-night stay with a strawberry picking session by the watermill in the hotel grounds. The strawberries there are juicy and sweet and ripen on the stalks. During your stay, you can go and pick them at your leisure. The strawberries grown there are a variety called tochiotome which have a full-bodied aroma are sweet with the perfect amount of sourness. In the evenings, a sunken hearth will be lit at the watermill so you can stay warm in the fresh winter outdoors while you pick your strawberries. Guests can also enjoy a strawberry sweet red-bean soup made with rare white strawberries which came out as a new variety of Tochigi Prefecture strawberry in 2018. They have less sourness and are super sweet with a smooth texture.

Running: January 15, 2020 – February 29, 2020 (Check In)

Price: From ¥25,000 (1 room for up to 2 people / Service charge included / Tax not included)

Reservations/Official Website: https://kai-ryokan.jp/kawaji/

KAI Kinugawa: Taste and compare seasonal strawberries

KAI Kinugawa's "Mingei Ichigo Taizai" (Folk Craft Strawberry Stay) plan will see the appearance of the tochihime strawberry which has been dubbed the "phantom strawberry." This sweet variety is large and has a soft flesh and is exclusive to Tochigi. Guests will be able to taste and compare this and a handful of other types, as well as tuck into various strawberry confections. They will pick from 300 cute different bowls from the bowl gallery and pile inside them strawberries and assorted confections. In the evenings, strawberries will also be served boiled in white wine. A two-day and one-night experience you'd expect from the place that boasts the biggest strawberry haul in Japan.

Running: December 10, 2019 – February 29, 2020 (Check In)

Price: From ¥29,000 (1 room for up to 2 people / Service charge included / Tax not included)

Reservations/Official Website: https://kai-ryokan.jp/kinugawa/

Note: Limited to 5 separate bookings per day

KAI Nikko: Revel in wintertime Okunikko

KAI Nikko is located beside the grand Lake Chūzenji. Their "Zekkei Ichigo Taizai" (Spectacular View Strawberry Stay) plan will see their lobby, which offers a panoramic view of Mount Nantai, turn into a tearoom inspired by the rest stops of Nikkomou, an event that took place during the Edo Period when the Tokugawa Shogunate made their pilgrimage to Nikko. Guests can enjoy the contrast between the setting sun and the snow, as well as the pink-coloured sky when morning breaks. Taking place between sunset and sunrise, guests can tuck into rare white strawberries and warm confections made with yōkan―a Japanese jellied dessert made from red bean paste, agar, and sugar―which is a local specialty of Nikko.

Running: December 1, 2019 – February 29, 2020 (Check In)

Price: From ¥28,000 (1 room for up to 2 people / Service charge included / Tax not included)

Reservations/Official Website: https://kai-ryokan.jp/nikko/

Note: Limited to 2 separate bookings per day

Enjoy you're a seasonal strawberry fill like never before at Hoshino Resorts KAI.

Izu Shaboten Zoo Opens New Hotel Izushaboten Village

Izu Shaboten Zoo in Ito, Shizuoka has opened its very own hotel Izushaboten Village Petit Hotel which is less than a minutes' walk from the zoo itself, making it an ideal location for those looking to see the animals so they can take their time at their own leisure.

The hotel offers various different rooms, from modern and chic to the Izu Shaboten Zoo Room, Pirate Room and more. Each room has its own unique touch you won't find anywhere else. The hotel also offers an accommodation plan that comes with entry tickets to the zoo.

For food, guests can enjoy dining at La Chic, a new restaurant that opened in spring this year that makes use of homegrown vegetables and produce sourced from contracted farmers. Food is served in a semi-buffet style in mornings and evenings so you can make up your own dish. Non-guests can eat here too if they make a reservation*.

*Reservations for non-guests are dependent on free tables and other conditions. The menu style and ingredients and subject to change without notice.

If you're looking to visit Izu Shaboten Zoo, consider booking a room at their official hotel.
RELATED ENTRIES
You Can Take Your Pets to These Hotels and Accommodations in Japan

Online travel booking website Rakuten Travel has released this year's list for the most popular hotels and accommodations you can stay at with pets in Japan. The list is based off travellers' reviews taken from the website. This list has been updated and published every year since 2014, making this its 6th run.

Placing number one on the list for the first time is Yutsura, a ryokan Japanese-style inn which opened in Shizuoka in April 2018 and can be rented by one person or group for one night. Up to six people in a single group can stay there along with up to 5 small dogs weighing 5kg or less. It's highly favoured amongst travellers who want to take their dogs on the road due to the extent the inn caters for pets. Guests can enjoy having the dogs in their rooms as well as feed their pets there, all without being a bother to other guests.

Nipponia Sawara Merchant Town Hotel in Chiba Prefecture came in second place. You can feel the history of this hotel accommodation which is renovated from a traditional storehouse and townhouse. It allows up to three pets in a room which collectively weigh 25kg. There are three types of rooms to choose from, including one with a dog park. It also offers various services, including a free night for one dog, snacks and amenities for dogs, and more.

In third place is Dog Pension R65 in Shizuoka Prefecture which allows not only big and small dogs, but cats and other pets too. It offers large footbaths for dogs to use, dog parks, and many other services that cater to pets. The hotel also offers cottage-type accommodation rooms separate from the main building too if you're looking to spend some peaceful time away with your beloved companion.

If you're looking to travel around Japan with your pet, be sure to check if a hotel allows animals. Check the link below for the full Top 10 list.

Bunjee Jump From the Top of Kyoto Tower With Their New VR Experience

Have you ever wondered what the thrill of bungee jumping would be like, but are too afraid of heights to even consider putting it on your bucket list? Have no fear, because Kyoto Tower is bringing a new VR bungee jumping experience to the top of the building which will be available to experience from February 1 for a limited time.

This VR experience was first brought to the tower in the fall of 2018, and this year it is making its grand return. After the event originally ended, there was huge demand for it to be held again.

Those brave enough to have a go at this VR bungee jump (or bungy, depending where you are from), will go above and beyond the 100 meter observation deck to the highest accessible point of Kyoto Towerーup 120.9 metersーwhich is normally closed off to the public, to the special VR deck which has been prepared.

The experience will offer you not only the thrill of jumping from Kyoto's tallest structure, but the chance to gaze upon a panoramic view of the beautiful city too.

Information

Kyoto Tower VR Bungy Jump

Running: February 1, 2020 – March 31, 2020

Time: 12:00-21:00 (Last Entries 20:45)

Location: Kyoto Tower Observation Deck – Floor 1F (the 11th floor of Kyoto Tower)

Price:

・VR Bungy Ticket: ¥800 (Tax Included)

・Observation Deck & Bungy Set Ticket (Tax Included): Adults: ¥1,400 (Individual Purchase: ¥1,600)/High School Students: ¥1,300 (Individual Purchase: ¥1,450)/Elementary & Junior High Students: ¥1,100 (Individual Purchase: ¥1,350)

*Ages 7+ only

*Set tickets are available to purchase on floor 1F of Kyoto Tower

*Run times subject to change

*Ticket charges applied for ages 7+; those aged below 7-years-old are not permitted to use the VR system

*An entry ticket to the Kyoto Tower observation deck is not necessary to experience the VR system

Official Website: https://vr-bungee.com/

Top Matcha Desserts in Kyoto Perfect for Your Next Instagram Post

 When you think of Kyoto, matcha immediately comes to mind. Today with the help of the Kansai region's expert dessert Instagrammer Tiara, we'll be introducing you to the top matcha dessert shops of the Kansai region. 

Kawatomo, Fushimi 

Matcha Ganache Cake

This matcha ganache cake looks just as good as it tastes. The beautiful smooth matcha coating is delicious and rich. The cake is best enjoyed with a cup of coffee and is the perfect sophisticated treat. 

▼Kawatomo

Address: 792 Nishishujakuchō, Fushimi Ward, Kyoto,

Opening Hours: 11:30-18:00

Closed: Mondays, Tuesdays and Wednesdays

Official Instagram: https://www.instagram.com/chika_ara/

Chasho Shimizu Ippoen Kyoto

A delicious spun sugar decoration rests on top of the melt-in-the-mouth matcha tiramisu parfait. The mascarpone and matcha ice cream is made completely from Hokkaido milk. The balance of flavours and moderate sweetness makes this parfait irresistible. 

▼Chasho Shimizu Ippoen 

Address: 665 Honkawaracho, Higashiyama Ward, Kyoto

Entry:11:00-16:00

Closed: Mondays*

*Open on National Holiday Mondays but closed the following day. Closed during the New Year Period.

Official Website: https://ippoen.co.jp

MATCHA REPUBLIC, Shimogyō Ward

Rock Salt Cheese Bubble Matcha Latte/ Bubble Matcha Latte

This unique drink belongs on Instagram. A cute ink bottle is filled with a mildly sweet matcha drink accented with a hint of salt. You've never tried anything quite like this before.

▼MATCHA REPUBLIC

Address: Floor 1, 721-1 Higashishiokojicho, Shimogyo Ward, Kyoto

Opening Hours: 9:00-21:00

Official Website: https://www.matcha-republic.com

JTRRD cafe KYOTO, Nakagyō 

Uji Matcha Smoothie (Kyoto-Limited)

Pink, red, orange, yellow, purple, green – this Uji matcha smoothie is a rainbow of colours. There are four different designs and you can choose from three varieties of fruit to decorate the inside of your cup. Each smoothie is made of fruit and vegetables, making this a healthy way to indulge in matcha. It is so beautiful you won't want to drink it.

If you're looking for a shop to satisfy your matcha cravings, you can't go wrong with Tiara's recommendations.

Tiara's Instagram never fails to keep us updated on the most delicious and beautiful desserts in the Kansai region so check it out.  

Article Contents and Photos by @happy_pinkrose_tiara

5 Must-Eat Succulent Strawberry Desserts in Kyoto That Are Simply Kawaii

Winter is here, which means that the season of strawberries has finally fallen upon Japan. Today we are joined by Instagrammer Tiara, who enjoys posting their adventures around Japan's Kansai region to try out all of the sweets and desserts. We are taking a look at must-visit locations in Kyoto for a taste of their tempting strawberry delights.

LITT UP.KYOTO in Gion-Shijō

At LITT UP.KYOTO, their "ichigoame" lets you enjoy strawberries in their original cute form.

They are coated in sweet strawberry candy and served on sticks in cups reminiscent of something from a Japanese festival. Part of their allure is how perfect they are as a tasty treat for walking around with. There's even popping candy attached to the strawberries for an even sweeter textural treat.

▼LITT UP.KYOTO Gion

Address: 533 Gionmachi Minamigawa, Higashiyama Ward, Kyoto

Opening Hours: 10:00-18:00

Official Instagram: https://www.instagram.com/litt_up_kyoto/

Kissa Zou in Imadegawa

The "Kisetsu no Babaroa" (Seasonal Baravois) at Kissa Zou has an springy texture and sits in a sweet and sour strawberry sauce.

I recommend ordering one of the separate elephant cookies to place on top too to make this an even cuter dessert.

▼Kissa Zou

Address: 440-3 Santeicho, Kamigyo, Kyoto

Opening Hours: 9:00-18:00 (Last Orders 17:00)

No Fixed Holidays

Official Instagram: https://www.instagram.com/kissa_zou/

Chounohane in Fushimi

At Chounohane they are serving strawberry barquettes as well as mini versions of them. The dessert itself is of course beautiful, but is made even more so by the antique plate♡

▼Chounohane

Address: 791 Nishishujakucho, Fushimi Ward, Kyoto, Kyoto Prefecture

Opening Hours: [Tues/Sat/Sun] Shop & Cafe 11:00-17:00 / [Fri] Shop Only 11:00-17:00

Official Instagram: https://www.instagram.com/chounohane/

Utanekodo in Kyoto Shiyakusho-mae

Utanekodo was renovated from a 100+ year old building and has its own cat cafe. The cafe space is located on the first floor.

Their "Nyanko Strawberry Milk" speaks for itself, topped with adorable kitty ice cream and delicious with its subtly sweet taste.

▼Utanekodo

Address: 155-4 Tachibanayanagicho, Nakagyo Ward, Kyoto, Kyoto Prefecture

Opening Hours: 13:00-20:00 (Last Orders 19:00)

No Fixed Holidays

Official Website: http://utanekodo.com/

MASHOLA in Kyoto Shiyakusho-mae

Finally we have the "Strawberry Tiramisu Cube Cake" served at MASHOLA, a Korean-style cafe. This cake is made with refreshing homemade tiramisu cream, delightful sponge, and is packed full of sweet and sour strawberries which complement the entire thing.

▼MASHOLA

Address: 1-A MOVIX, 406 Sakuranocho, Nakagyo Ward, Kyoto, Kyoto Prefecture

Opening Hours: 10:00-20:00

Official Website: https://mashola.business.site/

All of these cafes are wonderful, so if you're in Kyoto for the strawberry season, be sure to visit as many as you can.

Tiara has plenty of other recommendations over on their Instagram page, so if you're a sweet tooth looking for something sweet to indulge in around the Kansai area, be sure to give them a follow.

Text & Photos: @happy_pinkrose_tiara

Translation: Joshua Kitosi-Isanga

Hyakudan Hinamatsuri 2020: Hotel Gajoen Tokyo Announces Hina Doll Festival at 100 Step Staircase

Hotel Gajoen Tokyo, a historical museum and hotel in Japan, has announced that it will host the Hyakudan Hinamatsuri 2020 doll festival from January 24 to March 15 next year. It will take place at the hotel's Hyakudan Kaidan, or '100 Steps Staircase'―which was registered by Tokyo Prefecture as a Tangible Cultural Property in 2009 for its exceptional architecture and artistic beauty.

Hinamatsuri is an annual festival in Japan celebrated on March 3 every year where ornamental dolls are displayed. Hotel Gajoen Tokyo boasts the biggest Hinamatsuri festival in Tokyo, with over 600,000 visitors having attended across the 10 years it has been held.

A First For The Festival: Photography Permitted

Up to now, photography at the hotel's Hinamatsuri has been restricted to protect the displays. However, for the first time ever, next year's event will allow photography in all of the rooms, which will house dolls symbolising each period of Japanese period: Edo, Meiji, Taisho, Showa, Heisei, and the current Reiwa, not to mention the 500+ zashikibina dolls. There will also be hanging decorations with rabbit designs in the elevator hall created by Nippon Tsurushibina Kyoukai, a non-profit organisation. Also for the first time this year, visitors will be able to dress up in a beautiful uchikake wedding coat and take a photo at the designated photo spot. This is so they can further fill a part of the hina doll world.

Tottori, Shimane & Yamaguchi Get Involved For The First Time

Visitors will be able to enjoy dolls in a variety of ways from different places across  Japan, including a giant 2-meter long wall decoration and old hina dolls handed down from families past from the city of Yonago in Tottori, tiny tsuchi dolls from Hokuei in Tottori which can fit in the pal of your hand, renbei dolls, and more. The spectacular collection will have visitors feeling like they are inside a hina doll palace.

The Hina Doll of the Ishitani Residence (Chizu, Tottori)

The town of Chizu is located in the southeast portion of Tottori Prefecture and is surrounded by mountains. It flourished during the Edo period as a post town and place of rest for the Tottori Domain as part of sankin-kōtai, a policy which had feudal lords alternate living for a year in their domain, as it headed towards Edo. The Ishitani Residence, which is built facing the Inaba Kaidō―a type of route built during the Edo period for transportation―has almost 40 rooms and spans 4,000 square meters. It is listed as an Important Cultural Property of Japan for its modern Japanese-style architecture. The enormous mansion, which is home to a doma dirt floor supported by great beams as well as a Japanese-style garden which can be seen from all the tatami rooms, is decorated with ancient handed-down hina dolls when early spring settles in. This includes dolls from the Meiji periodo with vibrantly embroidered outfits, gorgeous decorations for the hina doll steps, special hina bowls used when celebrating Hinamatsuri at the Ishitani Residence, and more.

Hyakudan Hinamatsuri Memorial: Display Of Over 500 Zashikibina Hina Dolls (Iizuka, Fukuoka)

Iizuka in Fukuoka formerly thrived for its coal mines and bustled as a business dealing in coal. The Former Den'emon Ito Residence spans 2,300 square meters and speaks volumes of the cultural significance of the city's ties to coal as it belonged to Den'emon Ito who was known as the "King of Coal Mining." Every year during the Hinamatsuri season, the Itsuzuka Hina no Matsuri festival is held at the residence where hina dolls from 16 areas throughout the town are displayed. The Former Den'emon Ito Residence is the main venue for Itsuzuka Hina no Matsuri, which sees a huge number of zashikibina hina dolls put out. The Residence has been involved with Hyakudan Hinamatsuri twice in the past, and this time, their overwhelming showcasing of 500+ dolls, which has garnered popularity every time, will be put on as a special display. The display will keep with the festival's theme of tales of Izumo as well as the myth of the Hare of Inaba.

Hina no Shitsurai: Table Laying

Another special display will also be put on for the festival with the theme "Hina no Shitsurai," meaning "setting up a hina living space." There will be gorgeous table laying by Tomiko Ishibashi, who is an interior decorator working internationally, as well as displays of hina decorations in home living rooms and genkan. Select parts of this exhibition will be available to purchase in the museum shop, so people can take away a memory and try setting up their own hina decorations. And for the first time ever, the festival is opening the Hina Cafe for a limited time between January 24 to February 14 where visitors can sip on Japanese tea and eat Japanese snacks. Hina decorations will serve as the theme for the cafe.

Discover the beauty of the Hinamatsuri, a festival unique to Japan, at the 11th Hyakudan Hinamatsuri.

Information

Hyakudan Hinamatsuri 2020

Running: January 24, 2020 – March 15, 2020

Time: 10:00-17:00 (Last Entries 16:30)

*Photography allowed (However please refrain from using tripods and flash and from taking photos for commercial or business purposes. Photography prohibited for select displays.)

*The venue will not use heating in order to protect the displays

Entry Prices

Same-Day: ¥1,600 / Official Online Ticket: ¥1,600 (Special ¥1,100 price available on January 23)

External Ticket Sellers: Adults ¥1,500 / University and High School Students ¥1,000 / Elementary and Junior High Students ¥600

*School ID required. Entry free for preschoolers.

Special Tickets

Pair Ticket (For the first half of the festival period): ¥2,000

Ticket With Postcard (Limited Quantity): Advance ¥1,200 / Same-Day ¥1,500

Ticket With Designated Date and Time, Gallery Talk & Guidebook: ¥1,800

Location: Hotel Gajoen Tokyo

Event Page: https://www.hotelgajoen-tokyo.com/event/hinamatsuri2019

Winter is Coming: Warm Up With Hot Pot at Hot Spring Hotel Hoshino Resorts KAI

The cold weather is here, and it's only set to get colder. When winter falls in Japan, one of the best things people like to do is cook hot pot. Hoshino Resorts is offering the same service for guests this winter at 14 branches of their 'KAI' onsen ryokan (hot spring Japanese inn) brand hotels up and down Japan, with each hot pot filled with the taste of local cuisine.

Winter is truly the best time to eat hot pot for Japanese people, as they huddle around the table nice and toasty and tuck into their piping hot dinner. We're showcasing 9 of the hot pots you can enjoy at Hoshino Resorts KAI this winter season.

Hoshino Resorts KAI Tsugaru: "Gyu Shabu" – Dashi made delicious with plentiful dried tuna

KAI Tsugaru is situated in Aomori, and this hot pot is made one with one of the prefecture's most famous ingredients: tuna, which is caught during the autumn and winter seasons. The main player of this beef shabu hot pot is its dashi which is made from the sweet juices of tuna which go deliciously well with the beef. If you're looking for a hot pot that's a little different from the usual options, you'll love this one.

Running: September 1, 2019 – February 29, 2020 (Except December 29-January 1)
Plan Name: Ooma no Gaguro Zukushi Kaiseki (大間のまぐろづくし会席)
Price: From ¥24,000
Reservations: https://www.hoshinoresorts.com/en/resortsandhotels/kai/tsugaru.html

Hoshino Resorts KAI Kaga: "Kani Sukinabe" – Zuwai-gani snow crab

At KAI Kaga, which is located in Yamashiroonsen, Ishikawa, this hot pot they have cooked up is made in a kombu dashi and is filled with legs of zuwai-gani snow crab and a variety of winter vegetables like bok choy and edible chrysanthemums.

The dish makes full use of the delicious flavour of the crab. It's also served in kunitani-ware made by a young craftsman and Yamanaka lacquer ware, adding to the originality of this hot pot.

Running: November 7, 2019 – March 10, 2020 (Except December 29-January 6)
Plan Name: Katsu Kani Zukushi no Tagu Zuki Kani Kaiseki (活蟹づくしのタグ付き蟹会席)
Price: From ¥47,000
Reservations: https://www.hoshinoresorts.com/en/resortsandhotels/kai/kaga.html

Hoshino Resorts KAI Alps: "Yuki Nabe" – Thawing of spring

The hot pot at KAI Alps in Nagano includes fluffy cotton candy which is based on the snowy mountains of the alps. When you pour the soup over, the cotton candy melts, symbolising the thawing of spring, to reveal the beef and vegetables. The cotton candy adds a light sweetness to the soup as well as fun visual effect.

Running: December 1, 2019 – May 31, 2020 (Except December 31-January 3)
Plan Name: Yuki Nabe Kaiseki (雪鍋会席)
Price: From ¥25,000
Reservations: https://www.hoshinoresorts.com/en/resortsandhotels/kai/alps.html

 

Hoshino Resorts KAI Kinugawa: "Ise Ebi & Roast Beef Ryujin Nabe" – The dragon god's hot pot

KAI Kinugawa in Tochigi has created a hot pot based around the legend of the Ryuokyo dragon god, capturing its malevolence. It's cooked over stones heated to almost 800℃.The soup bubbles as the pot begins to boil and cooks the seafood and other local ingredients from Tochigi, making sure to draw every last delicious drop of flavour from them.

Running: December 1, 2019 – February 29, 2020 (Except December 28-January 4)
Plan Name: Ise Uni to Gyuu Roosu no Ryuujin Nabe Kaiseki (伊勢海老と牛ロースの龍神鍋会席)
Price: From ¥31,000
Reservations: https://www.hoshinoresorts.com/en/resortsandhotels/kai/kinugawa.html

Hoshino Resorts KAI Sengokuhara: "Uni & Beef Sukinabe" – Satisfying spices from the mountains and seas

KAI Sengokuhara in Kanagawa has created a hot pot that's made with lots of ingredients from the mountains and the seas. By using a bounty of uni, which goes incredibly well with beef, it adds a rich sweetness to the overall flavour. There is also a secret flavour hidden under it all: syrup made from the ao mikan citrus which grows in the city of Odawara. This not only adds an exquisite sourness to the hot pot, but also serves to elevate the sweetness of the uni.

Running: June 1, 2019 – February 29, 2020
Plan Name: Uni to Gyuu no Sukinabe Kaiseki (雲丹と牛のすき鍋会席)
Price: From ¥46,000
Reservations: https://www.hoshinoresorts.com/en/resortsandhotels/kai/sengokuhara.html

Hoshino Resorts KAI Ito: "Sankai Nabe" – Soaking up the mountains and seas of Ito

Shizuoka is home to KAI Ito, where guests can enjoy yet another hot pot lavish with ingredients from the mountains and the seas, like splendid alfonsino―which Ito enjoys an abundance of―as well as seasonal vegetables and beef. There are two soups to combine these ingredients with: a bouillabaisse which contains a dashi made from fish from Ito filled with splendid alfonsino and vegetables, and a beef soup.

Running: October 1, 2019 – February 29, 2020 (Except December 31-January 3)
Plan Name: Sankai Nabe (山海鍋)
Price: From ¥25,000
Reservations: https://www.hoshinoresorts.com/en/resortsandhotels/kai/ito.html

Hoshino Resorts KAI Enshu: "Tecchiri" – A taste of the Torafugu tiger pufferfish

KAI Enshu is another hot spring inn, located in Hamamatsu in Shizuoka. Their "Tecchiri" is made with Torafugu tiger pufferfish. None of the flavour of the fugu is wasted in this hot pot, and that is proven as the entire thing is made right in front of customers' eyes. The zōsui is made with a KAI Enshu-original blend of sencha green tea called souka (爽華), which ensures that element of locality is included in the dish as Shizuoka is famous for its tea.

Running: October 5, 2019 – March 31, 2020 (Except December 29-January 3)
Plan Name: Fugu Zukushi Kaiseki (ふぐづくし会席)
Price: From ¥31,000
Reservations: https://www.hoshinoresorts.com/en/resortsandhotels/kai/enshu.html

Hoshino Resorts KAI Izumo: "Kani Sukinabe" – Collaboration between Katsu Matsubagani & Shijimi

KAI Izumo is situated in Tamatsukuri Onsen, an onsen hot spring in Tamayu, Shimane. Their "Kani Sukinabe" is made with rich snow crab crab which has an exquisite sweetness and is soft in texture. From beginning to end, this hot pot is a crab party in your mouth.

Running: November 7, 2019 – March 10, 2020 (Except December 31-January 4)
Plan Name: Tagu Zuki Katsu Matsubagani Zukushi Kaiseki (タグ付き活松葉蟹づくし会席)
Price: From ¥45,000
Reservations: https://www.hoshinoresorts.com/en/resortsandhotels/kai/izumo.html

Hoshino Resorts KAI Aso: "Netakuri Nabe" – Rich miso and cheese

The base of the soup in KAI Aso, located in Kumamoto, is a mix of milk from Jersey cattle and miso. It contains wagyu Japanese beef and seasonal vegetables. Its appearance is based on the Aso Caldera region of Kumamoto Prefecture and its incredibly vast grasslands.

Running: September 1, 2019 – February 29, 2020 (Except December 29-January 3)
Plan Name: Wagyuu to Caciocavallo o Tanoshimu Netakuri Nabe (和牛とカチョカヴァロを楽しむねたくり鍋)
Price: From ¥46,000
Reservations: https://www.hoshinoresorts.com/en/resortsandhotels/kai/aso.html

Below is a video which showcases each of these local hot pot dishes, so be sure to check it out if you're not already watering at the mouth


All of these hot pots are made with only the best local ingredients as expected of KAI, and all are available for the rest of winter only. Guests can experience the local regions not only through the food, but in the tableware each hotel uses. If you're in Japan this winter, be sure to book with one of the many Hoshino Resorts KAI branches and stay warm with a delicious serving of hot pot.

Kiyomizu Cheese Kobo: Kyoto's Dessert House Releases Matcha Tiramisu and New Cheese Products

Kiyomizu Cheese Kobo opened in Kiyomizu Gojozaka, Kyoto in July this year as the first place in Kyoto to specialise in "bottled cheesecakes." This month, they are releasing four new products to continue the cheese craze right to the end of 2019.

The first is a revamp of their number one most popular soft serve cheese ice cream: the "Chocolate Mont Blanc Cheese Soft." The soft serve ice cream is a mix of refreshingly sweet milk and rich cheese topped with a full-bodied mont blanc-style chocolate—a welcome addition during the winter months when you want to stay in and indulge in some chocolate. The ice cream is finished with crushed chocolate pieces and a crowning raspberry to create a chocolate cake in a cone. You're sure to become a frequent customer after a bite of this.

And for the Christmas season only, between December 18th-25th the shop is also selling another special soft serve that's made to look like a Christmas tree. The cheese soft serve is covered with a sprinkling of Uji matcha powder and adorned with chocolate pearls and stars.

Kiyomizu Cheese Kobo is also releasing hot versions of its "Kiyomizu Cheese Drink" and "Matcha Cheese Tea," the iced versions of which were greatly enjoyed in summer. The Matcha Cheese Tea can also now be ordered with tapioca topping, creating a delicious combination between the expertly crafted rich matcha cheese tea and the chewy and sugary tapioca pearls.

Also released this month is the "Homemade Matcha Tiramisu" when is served in a traditional masu box and served only on the second floor eat-in section. This irresistible delight is made with flavourful mascarpone cheese and bitter Uji matcha from Kyoto to create a dessert that's perfect during a trip or day out in Kyoto. Because of the hard labour that goes into creating this dessert, only 5-10 are served per day, so be sure to arrive early to not miss the opportunity.

Information

Chocolate Mont Blanc Cheese Soft – ¥550 (Before Tax)

Christmas Cheese Soft – ¥400 (Before Tax) *Available December 18-25, 2019 only

Matcha Tapioca Cheese Tea – ¥550 (Before Tax)

Homemade Matcha Tiramisu – ¥540 (Before Tax)

Kiyomizu Cheese Kobo

Address: 569-10 Shiraitochō, Higashiyama Ward, Kyoto, Kyoto Prefecture

Official Website: http://kiyomizu-cheese.com/

Cherry Blossom Themed Menu to be Served at InterContinental Tokyo Strings in Spring 2020

InterContinental Tokyo Strings has revealed adelightful cherry blossom-themed menu line-up that is set to hit the hotel in spring 2020. They will be served at the hotel's Rhythmos Café and Bar and from March 1 to April 30 next year.

Sakura Strawberry Afternoon Tea

This cherry blossom afternoon tea set can be found at Rhythmos, a cafe and bar in InterContinental Tokyo Strings. Hanami, or 'flower viewings,' is a fundamental part of Japanese culture during the spring when people go out to see the cherry blossoms. This custom has been recreated with this afternoon tea set, with which customers can enjoy hanami on their plate in a mix of strawberries and cherry blossom Japanese sweets.

The green colours add accent to the overall presentation, and represent the young budding leaves of springtime. The tempting selection of cherry blossom pink bites are not only mouthwatering to look at but have a cute appearance to them, one that you want to keep gazing at like the cherry blossoms during hanami. The flavours are a combination of strawberry and cherry blossom, inviting you on board for some early spring vibes. Even better is that both the sweets and savoury items, which look like spring in full bloom, are made with high quality, in-season ingredients for maximum tastiness.

The fraisier is a strawberry cake said to represent the coming of spring in France. At Rhythmos, it's served in a glass so you can see all the delicious insides, from the round-sliced strawberries to the beautiful green pistachio mousseline cream. The pure white crémet d'Anjou has a fluffy texture and is mixed with refreshing and sour strawberry and raspberry sauce which elevates the flavour of the fromage blanc.

Other treats to pick from include the cherry blossom ganache tart which has a faint cherry blossom fragrance, cherry blossom and strawberry cream-stuffed macarons, strawberry daifuku, and more―all with spring flavours and colours.

The savoury line-up too offers some elegant and unique items. There's the sandwich wraps which include cherry blossom leaf-topped grilled chicken with a lining of shredded dried plum, strawberry ceviche with grilled scallops, and much more.

▶︎Sakura Strawberry Afternoon Tea

Running: March 1, 2020 to April 30, 2020

Location: Rhythmos Café and Bar (InterContinental Tokyo Strings)

Time: 14:00-18:00 (Last Orders 16:30)

Price: ¥4,800 per person

"The Breath of Spring" Cocktail

Rhythmos will also serve a very special and oriental cocktail called "The Breath of Spring" which uses cherry blossom and chai tea as its base. It arrives served in a ceramic cup and captures the Japanese spirit and love of cherry blossoms and their joy at the arrival of spring. It mixes a cherry blossom vodka made in-house with chai tea and a dash of maple syrup for an added subtle sweetness. It's topped with a milk foam made with cherry blossom bean jam which is sure to not only elicit a kind of nostalgic taste to the Japanese palate, but offer an oriental flavour too with the addition of chai tea. This is the perfect drink to enjoy on an evening after observing the cherry blossoms during Hanami.

▶︎The Breath of Spring

Running: March 1, 2020 to April 30, 2020

Location: Rhythmos Café and Bar (InterContinental Tokyo Strings)

Time: 17:00-Midnight (Last Orders 23:30)

Indulge in the culture of cherry blossoms in Japan at InterContinental Tokyo Strings next spring.

Furoshiki-Wrapped Matcha and Strawberry Sandwich Biscuits Released at PRESS BUTTER SAND

PRESS BUTTER SAND released two new sandwich biscuit products on December 13. PRESS BUTTER SAND Kyoto Station will release the Tsutsumi Uji Matcha and PRESS BUTTER SAND Hakata Station the Tsutsumi Amaou Strawberry. Both are limited in stock.

Both boxes of these delicious treats contain five of the store's famous "PRESS BUTTER SAND" sandwich biscuits, and they come gift-wrapped in an original furoshikiーa type of Japanese wrapping cloth. The appearance of both products in their packaging maintain an artisanal aesthetic and capture the vibe of their respective cities.

The furoshiki were designed by Yumiko Kakizaki (BAKE Inc.), the creative director at PRESS BUTTER SAND, and several creators active around Kyoto and Fukuoka. Each design was made to represent the characteristics of Kyoto and Hakata.

Also available is the Tsutsumi Black, a set each of 5 original and black flavoured butter biscuit sandwiches.

PRESS BUTTER SAND boasts over 2.5 million sales a year on average. If you've get to try their scrumptious biscuit sandwiches then don't pass up the opportunity to try these new flavours.

Information

Tsutsumi Uji Matcha (Includes 5 Uji Matcha and 5 Original Biscuit Sandwiches)

Price: ¥3,240

Available: PRESS BUTTER SAND Kyoto Station

Running: December 13, 2019 until stock sells out

Tsutsumi Amaou Strawberry (Includes 5 Amaou Strawberry and 5 Original Biscuit Sandwiches)

Price: ¥3,240

Available: PRESS BUTTER SAND Hakata Station

Running: December 13, 2019 until stock sells out

Official Website: https://buttersand.com

Handmade Christmas Chocolate Santa and Snowman Released at ATELIER de GODIVA in Kyoto

GODIVA Japan released two new chocolate products at the Daimaru Kyoto branch of ATELIER de GODIVA, a chocolate shop which combines GODIVA's skilful craftsmanship with chocolate artistry. Named "ATELIER Christmas Showpiece Santa Claus" and "ATELIER Christmas Showpiece Snowman," the two chocolate artworks were released on Wednesday and are available until December 25.

Each and every one of these chocolate sculptures are handmade in-store by the shop's chefs. They are exclusive to ATELIER de GODIVA Daimaru Kyoto and the perfect Christmas treat to adorn any Christmas party this holiday season.

These cute Christmas-exclusives not only taste delicious, but are fun to look at. Santa is sat in a chimney ready to deliver the presents while the snowman is sat next to a Christmas tree looking warm with its scarf.

Both of these are limited in stock and won't be available ever again after they sell out, so don't miss out.

Information

ATELIER Christmas Showpieces

Running: December 11, 2019 – December 25, 2019

Price: ¥1,500 Each (Before Tax) *Takeout only

Available: ATELIER de GODIVA Daimaru Kyoto (Daimaru Kyoto B1F, 79 Tachiuri Nishimachi, Shimogyo Ward, Kyoto, Kyoto Prefecture)

Opening Hours: 10:00-20:00

GODIVA Japan Official Website: https://www.godiva.co.jp

Top Six Hotels on Booking.com for Nighttime Sceneries and Light Displays in Japan

The diverse range and large number of accommodations and trip services found on Booking.com is phenomenal. As one of the world's largest travel accommodation booking websites, this is the first port of call for many who want to guarantee seamless travel plans. Today we're announcing Booking.com's top accommodations for heart-warming light up events and nighttime views. For couples looking for a romantic getaway in Japan, let this article be your guide.

Hotel La Suite Kobe Harborland (Kobe, Hyogo)

Hotel La Suite Kobe Harborland is a five-star hotel located near Harborland Waterfront which enjoys an extraordinary view of the sea. The rooms are fitted with a spa bath and there is even a rooftop terrace with comfy sofas to relax. All guests are treated to a romantic view right from their window. The hotel is situated just a 20-minute walk from Kobe's grandest winter illumination event called 2019 Kobe Luminarie. If you want to get up close to magnificent works of art, this hotel is for you.

Review Rating: 9.5/10.

Click here to view Hotel La Suite Kobe Harborland on Booking.com

Yokohama Royal Park Hotel (Yokohama, Kanagawa)

Yokohama Royal Park Hotel is situated on floor 52 and upwards in Yokohama Landmark Tower. Being located in the second tallest building in Japan surely has its perks. Soak in the beautiful cityscape and the best view of Yokohama Bay Bridge to your heart's content. You can only imagine the breathtaking view available in every room. Facilities in the hotel include a fitness centre with an indoor pool, eight diverse restaurants and a massage facility (fee applies). A brand new shopping mall called Yokohama Hammerhead recently opened in close vicinity which is the perfect place to spend the afternoon or have a bite to eat.  

Review Rating: 9.0/10.

Click here to view Yokohama Royal Park Hotel on Booking.com

The Prince Park Tower Tokyo, Minato, Tokyo

With the iconic figure of Tokyo Tower glowing right outside your window, the Prince Park Tower Tokyo stands tall in Shiba Park. Prince Park Tower Tokyo enjoys spacious rooms, entertainment facilities such as bowling and karaoke, and relaxation facilities such as saunas, massage services and much more. Limited facilities include access to the fitness centre, onsen spas, indoor swimming pool and the lounge on floor 33. You can purchase a room with the view of Tokyo Tower on Booking.com 

Review Rating: 8.9/10 

Click here to view Prince Park Tower Tokyo on Booking.com 

Garden Terrace Nagasaki Hotel & Resort (Fukuoka, Nagasaki)

Located on Mount Inasa, this hotel offers a beautiful view of Nagasaki. There is a wide variety of facilities including an outdoor swimming pool (open depending on the season) and bars. Guests can enjoy the mystical and romantic nighttime scenery from the poolside. The hotel even offers a wedding plan, making it the perfect place for couples. 

Review Rating: 8.9/10.

Click here to view Garden Terrace Nagasaki Hotel & Resort on Booking.com

mizuka Nakasu 3mizuka Nakasu 3 -unmanned hotel (Fukuoka)

This hotel is located in Nakasu, Fukuoka just 500m away from Seiryu Park, the old municipal guest palace Kihinkan Hall and the historic monument Hakata Machiya Kishin Takatoro. Each room has two bunk beds and can fit up to four guests. Enjoy the hotel's barbeque or takoyaki set with friends or family with the fantastic nighttime view of Fukuoka. 

Review Rating: 8.8/10

Click here to view mizuka Nakasu 3 -unmanned hotel on Booking.com

Ryukyu Onsen Senagajima Hotel (Naha, Okinawa)

Ryukyu Onsen Senagajima Hotel's magnificent outdoor pools, onsen, massage services and buffet restaurant that overlooks the picturesque sea at night should be enough to get your attention. You can enjoy a SPA OSa beauty treatment and even water sports or golf in the area. This is a wonderful way to celebrate the first Christmas of the Reiwa Era with your friends or family.

Review Rating: 8/7/10

Click here to view Ryukyu Onsen Senagajima Hotel on Booking.com

If you're visiting Japan this Christmas, consider one of these relaxing hotels and their glorious views.

*Review Ratings are based on reviews received in the past two years (from December 2017 to December 2019) on Booking.com and are calculated based on scores given in the following categories: cleanliness, comfort, location, facilities, staff and value for money.

Hotel Royal Classic Osaka: A Museum & Hotel Fusing Tradition and Innovation in an Art Museum-Style Space

Shin Kabuki-za is an old theatre in Osaka that has been loved by locals since it opened in 1926. The theatre is set to find new life as Hotel Royal Classic Osaka, a new hotel developed by Japanese architect Kengo Kuma which is set to open on December 1, 2019. The MOSHI MOSHI NIPPON editorial team received exclusive access to view the hotel before it opens to report on it and showcase how it differs completely from other hotels with its characteristic charms.

Its direct connect to Namba Station means super easy access

Hotel Royal Classic Osaka is situated in the central part of Osaka Minami. Direct access to the hotel from the Osaka Metro section of Namba Station will be made available from March 2020, allowing for easy access and the reassurance that you won't get lost wandering the streets trying to find your accommodation. Its location means easy access for tourists and travellers with a lot of luggage, working professionals who want to shorten the distance between commutes as much as possible, and pretty much any other scenario where accessibility is a priority.

An iconic building exterior combining tradition and modern innovation

Shin Kabuki-za is known by the locals who live in the area for its magnificent karahafu roof gables. The hotel will inherit this symbolic part of the theatre's design and restore the lower part of the building. The upper part makes use of multiple layers of aluminium to create a dynamic and intricate design, resulting in a unique appearance that fuses both the traditional formation of the original theatre with a modern touch. Thanks to Kengo Kuma's skillful architectural work, the building merges effortlessly with the surrounding buildings while retaining the local culture.

It's as much of an art museum as a hotel

Olympic Girl 100m by Ay-O (Takao Iijima)

The hotel also stands tall and proud as an art museum. As you walk down its corridors, your eyes will meet a plethora of gorgeous pieces of artwork which serve to lay guests into a sense of calmness and tranquility. These works are scattered throughout the hotel, both at the front desk, guest rooms, and elsewhere, making it feel like you have really stepped into a museum of art. High-class pieces also line the walls nonchalantly, so give yourself time to appreciate the many masterpieces you'll find there.

  

High ceilings create spaceーspace which is nothing less than relaxing

There are 150 guest rooms in total, consisting of Standard Rooms, Premium Rooms, and Suite Rooms. Not only does each and every room boast a beautiful and panoramic window view of Osaka's nightscape, they also enjoy high ceilings, creating a sense of space and freedom.

Wood is the base of all the rooms, giving them a natural and relaxed feeling. The furniture is simple which gives the rooms a minimalist design, again adding to the space and sense of luxury. We stayed in one of the Standard Rooms. Don't let going for Standard make you feel inferior, however, as we felt the room was incredibly spacious with plenty of space to store luggage.

Room lighting is controlled with a tablet located next to the bed. The tablets are compatible in four languages. Each icon on them also has universally easy-to-recognise pictures for easy use.

Also, the bathtubs in Standard Rooms have a little window that looks into the main bedroom. If you're with someone you're on good terms with, whether friends, family or a loved one, you can communicate back and forth while you take a soak. (There is of course a sliding door so you can close it off too!)

We were also shown around one of the Suite Rooms which are fitted with a living room and spacious washroom. It really is penthouse-level extraordinary.

The bathrooms have a window that looks out across the city nightscape, allowing for an indulging soak with a breathtaking view. It's not one we could afford every single time we book a hotel, on a special occasion one time it's an absolute definite.

 

Amenities galore to pamper your hair and body

The rooms come with a long line-up of fantastic amenities, like comfy cotton PJs, fluffy slippers, and our personal favourite: a compressed bag for your clothing. 

The amenities in the washroom were bountiful too, from shampoo to conditioner, shower gel and body gelーall of which, by the way, are by the Thai organic brand Panpuri. They all smelled incredible and filled the bathroom with their gorgeous scent.

They have all your ordinary must-haves too like a hair comb, cotton buds, toothbrush, and so on.

KUMO KUMO: The bar and lounge with comfy sofas

The hotel building has a total of twenty floors. After enjoying our time in the hotel portion, we headed up to the bar and lounge KUMO KUMO on the 20th floor. Inside the elevator, piano music plays while you gaze at the several pieces of art fitted inside. There was even a piece by Yayoi Kusama, so be sure to take a look.

When entering KUMO KUMO, there's not only seats at the counter, but lots of sofas too with a window view.

Jazz music flowed through the bar and lounge, which is best enjoyed with a cup of delicious sake while staring out over nighttime Osaka.

HAFU is a restaurant for guests only that serves breakfast.

Their menu consists of lots of healthy options, from fruits to salads.

The chef will also prepare fresh hotel-grade egg and meat dishes too, amongst other delicious delights. There's also a range of slim-friendly menu items made with foreign guests in mind. The assortment was truly incredible, we can't recommend this place enough.

Of course, there's yogurt, mini sweets and other dessert-like morning treats to indulge in too. It was a breakfast for the gods.

YURAYURA: A restaurant that combines Japanese and Western cuisine


The team enjoyed lunch at YURAYURA too, a buffet-style restaurant that also seats non-guests. Their menu is an amalgamation of the Japanese and Western palate, serving carefully-selected ingredients from countries around the world.

They had various foods from around Asia too like nasi goreng from Indonesia, as well as Korean japchae, and more.

Other things we spotted were pincho and small-cut sweets too.

For Japanese food there were things like freshly-fried tempura, and large cuts of roast beef which were cut there and then by the chef.

What I was personally happy about was their cafe menu, with things like cafe latte and other hot drinks. It was a satisfying 90-minutes spent, wolfing down food and then enjoying some sweets with a cafe latte.

5 spaces that can be used for weddings, parties & more


The hotel building even houses two chapels, as well as banquet halls, which can be used for weddings, parties and more. The chapels have large windows that let in plenty of natural sunlight. The use of natural wood also gives the room a warm feeling to it.

Floor 8's HANAEMI

There are five banquet halls in total each on a different floor and each with their own concept. Those on floors 7, 8 and 9 even have terraces for parties too. Whether you're having a party, a wedding, or a conference, there is a room for you.

Hotel Royal Classic Osaka's speciality is its inclusion of leaving a part of traditional Japan in there while still letting you feel the Japan of today. Whether you're travelling to Osaka for some sightseeing and fun, or you're in the business scene and need a regular-use hotel, look no further. We felt connected to Osaka in our experience there, so if you're planning a trip to Osaka, be sure to book with Namba's newest landmark.

Information

Hotel Royal Classic Osaka

Address: 4-3-3 Namba, Chuo Ward, Osaka

Grand Opening: December 1, 2019

Access:

①From March 2020, the hotel will be directly connected to Exit 12 of Namba Station in the Osaka Metro section

②4-minutes on foot from Namba Station via the Nankai Main Line

③3-minutes on foot from Namba Station via the Hanshin Namba Line

④10-minutes on foot from Namba Station via the JR Line by way of Namba Walk (underground)

Official Website (English): https://hotel-royalclassic.jp/en/