10 Things You Can Do at the MOSHI MOSHI ROOMS Hotel in Harajuku | Birthday Party Edition
MOSHI MOSHI ROOMS is a hotel accommodation service run by MOSHI MOSHI NIPPON located in Harajuku and bookable via Airbnb. Our hotel isn't just popular for sleep, however: it has become a hot spot with stylish girls who get together and use it as a party space.
This is the Birthday Edition of our Top 10 list of things you can do at MOSHI MOSHI ROOMS. Enjoy a very special birthday in Harajuku you'll never forget!
Girls' Night In Edition: https://www.moshimoshi-nippon.jp/262308
⑤Get your hair and eyelashes done at Harajuku's popular salon L by HOME for your special day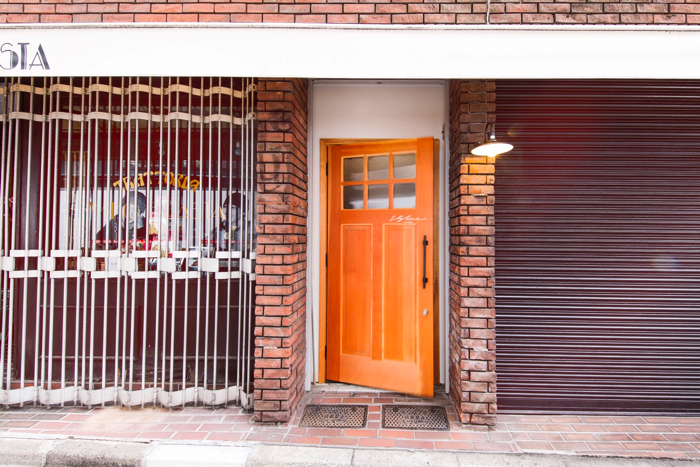 L by Home is a popular salon in Harajuku that's just a 2-minute walk from MOSHI MOSHI ROOMS. The salon offers a special plan in collaboration with MOSHI MOSHI ROOMS.
If you book a room at MOSHI MOSHI ROOMS you can receive a special price at L by HOME. Celebrate your special hair by getting a cute hair arrangement and eyelash extensions. The extensions come in different colours depending on which room you book at the hotel, be it SAKURA or ORIGAMI. You will receive a message about it after booking on Airbnb.
▶︎Hair Arrangement
Price: ¥3,000 per 30 minutes
*Shampoo is available at an extra cost
▶︎Eyelashes
Price: ¥10,000 per hour
Service: The base colour is brown and you can pick an additional colour of your choice
SAKURA Colours (brown×cotton, aqua, pink, magenta)
ORIGAMI Colours (brown×burg, lite brown, purple, gold)
▶︎L by HOME
Address: 2F, 3-27-15 Jingumae, Shibuya, Tokyo
TEL: 03-5411-0366
Opening Hours: Hair Salon 11:00-21:00 (10:00-19:00 on Sundays & holidays) / Eyelash Lason 11:00-20:00 (10:00-19:00 on weekends & holidays)
URL:http://l.home-harajuku.com/
⑥Adorn your hotel room with cute decorations
Guests are free to use rooms as they please, so be sure to decorate it for the big day with cute decorations, so long as you use tape that doesn't damage the walls or furniture. There are lots of shops in the Harajuku and Omotesando area that sell birthday goods: FLYING TIGER COPENHAGEN, ASOKO, AWESOME STORE, and DAISO to name a few.
⑦Experience a kawaii birthday like no other at MOSHI MOSHI ROOMS
Enjoy an unforgettable birthday in one of our special rooms, like SAKURA which is completely pink throughout. There are a limited number of beds in the rooms but there is no limit to how many people stay in a single room, so invite all your friends over for a huge party! And if you tell us in advance that you're bringing a cake in, you can borrow a cake stand from us so you can make the cake even cuter. The stand is 18cm in diameter so it should hold a whole cake, but be sure to check the size of yours in advance.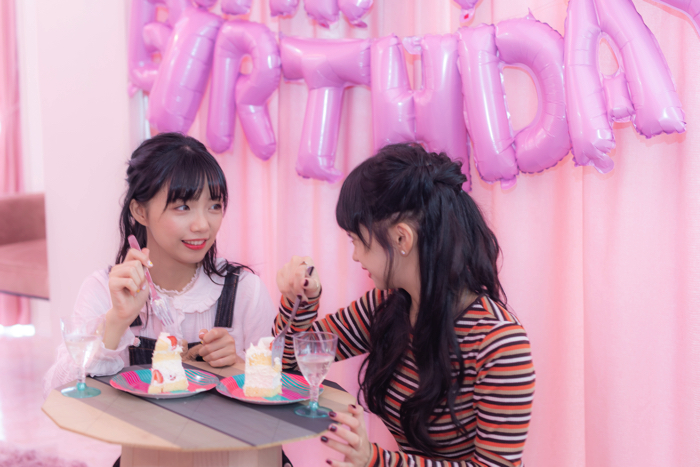 There's no doubt you'll enjoy your birthday party even more if you spend it in our pink haven. There is a kitchen with plates, cutlery and everything you need to cook up more snacks and food for your party too.
We will continue the Top 10 list in the next article entitled Food Edition. Remember, if you're looking to stay in Harajuku, be sure to book with MOSHI MOSHI ROOMS for a hotel stay like no other.
Models: Aiko / Ringo
Photographer: Haruka Yamamoto
Writer: Sayoko Ishii
Translator: Joshua Kitosi-Isanga
RELATED ENTRIES
HOSHINOYA Guguan Chosen as Best New Hotel in the World by Travel + Leisure Magazine

HOSHINOYA Guguan, a ryokan in Taiwan managed by Japanese ryokan operator Hoshino Resorts, was picked as one of Travel + Leisure's "The Best New Hotels in the World (The It List)" on February 20, 2020.

Travel + Leisure is a New York-based travel magazine. "The Best New Hotels in the World (The It List)" shines a light on hotels around the world that have newly-opened or have been renovated that year.


HOSHINOYA Guguan opened on June 30, 2019 as the first Taiwan-based luxury hot spring resort produced by Hoshino Resorts, which manages 41 branches outside Japan. It is also the second overseas branch of the company's "HOSHINOYA" brand, whose concept is "taking a break from the modern world." It's located on the outskirts of Taichung in Guguan which is home to natural hot springs. There, it co-exists and blends in naturally with the landscape. All guest rooms have open-air baths, so guests can enjoy the warm water together with the breeze in a spacious environment. They also offer various programs for guests to enjoy Guguan's culture and natural environment.

If you're planning a trip to Taichung, why not consider staying with HOSHINOYA Guguan?

Information

HOSHINOYA Guguan

Address: 424, Taiwan, Taichung City, Heping District, 東關路一段溫泉巷16號
TEL: 0570-073-066 (HOSHINOYA Booking Centre)

Official site:https://hoshinoya.com/

Japanese Hanami 2020: Soak Up the Pink Springtime Cherry Blossoms at Hoshino Resorts KAI

KAI, a hot spring ryokan brand managed by Hoshino Resorts, has announced an exciting new experience at 14 of its branches called "Otsu na Hanami Tabi" (A Chic Flower-Viewing Trip) which will run from March 15, 2020 to May 31, 2020.

The service offers a new kind of Hanami, or flower-viewing, experience for guests that doesn't stop at just admiring the cherry blossoms, but enables them to enjoy both local history and customs too. Guests will be provided with a wicker basket of delicious Hanami goodies to enjoy, just like they did in the past.

We've picked five of the Hoshino Resorts KAI hot spring inns that we think our readers will be most interested in. Let's take a look!

Hoshino Resorts KAI Tsugaru | Aomori

Hoshino Resorts KAI Tsugaru is located in the town of Owani, which sits in southern Tsugaru in Aomori Prefecture. They are offering an exciting experience this May: "Shidare-zakura Hitorijime Taizai," which lets a single group have exclusive access to an area of seven shidare-zakura weeping cherry trees blooming in the inn's spacious garden, which sit far away from guest rooms. Those lucky enough to experience this service can sip on cider and tuck into some delicious apple pie while listening to a Tsugaru-style shamisen performance, known as tsugaru-jamisen.

Shidare-zakura Hitorijime Taizai

Running: May 1, 2020 – May 7, 2020

Price: ¥5,000 per person

No. of People: 1 group per day (2-4 people per group)

Booking: 0570-073-011 (KAI Reservation Centre)

Note: The tsugaru-jamisen performance will take place 15:30-16:30

Hoshino Resorts KAI Kawaji | Tochigi


Feel what it's like to live the life of someone living in a satoyamaーa village centred around an agricultural lifestyleーby waking up with the sunrise to start work early. Your morning job will be making tea at the watermill. You will use traditional and ancient tools like the suribachi mortar and the houroku pan to make tea grown from tea leaves in the area which you can enjoy a cup of to start your Hanami. As well as making tea, you'll be able to enjoy a quiet breakfast while gazing at the Yoshino cherry trees, so you can get that real satoyama spring experience.

Running: April 18, 2020 – April 25, 2020

Hoshino Resorts KAI Izumo | Shimane

Hoshino Resorts KAI Izumo is located in Tamatsukuri Onsen in Shimane Prefecture, where all guest rooms have their own open-air bath. The hot spring ryokan's "Sakura Koraku" experience gives you a chance to try wariko sobaーa style of soba noodles originating in Shimane's city of Matsueーunder the cherry blossom trees.

Sakura Koraku

Running: April 1, 2020 – April 20, 2020

Time: 15:00-19:00

Price: ¥500 for one Hanami picnic set for two people (5 sets prepared per day)

Booking: Hoshino Resorts KAI Izumo front reception

Notes: Rickshaw will run from April 1, 2020 to April 7, 2020 costing ¥1,300 per person. 30 minute ride. 5 groups per day (2 people per group).

Hoshino Resorts KAI Kaga | Ishikawa

Head to one of Kaga's famous weeping cherry blossom tree spots to enjoy a cup of Japanese tea prepared yourself. This plan offers the chance to experience Ishikawa culture in a spot that has been loved by locals for decades.

Running: April 1, 2020 – April 30, 2020

Hoshino Resorts KAI Aso | Kumamoto

Hoshino Resorts KAI Aso stands in Aso-Kuju National Park. Gaze at the five peaks of Mount Asoーthe largest active volcano in Japanーwhile sipping on water drawn from one of Japan's 100 famous water sources. Change up the water of the water to your liking: carbonate it, add syrup, and so on. You'll also get some refreshing fruits that have sat in carbonated water. Sit amongst the colourful flowers, like tulips and baby blue eyes, while soaking up the beautiful sights of Aso.

Tansan Ohanami

Running: April 20, 2020 – May 31, 2020

Price: ¥3,000 per person

No. of People: 3 groups per day (two people per group)

Booking: 0570-073-011 (KAI Booking Centre)

Note: In the case of rain, Tansan Ohanami will not run on that day

This is just 5 of the 14 Hoshino Resorts KAI branches offering a chic Hanami experience. If you're travelling to Japan this spring, be sure to check out what they're offering.

Tokyo Cherry Blossoms 2020: Hotel Gajoen Tokyo Reveals Cherry Blossom Food Menu

Hotel Gajoen Tokyoーwhich is both a museum and hotelーhas announced its plans to serve up cherry blossom themed food at its numerous restaurants this spring beginning in March.

Hotel Gajoen Tokyo is situated along Meguro River, which is one of the most famous cherry blossom spots in Tokyo during springtime and Hanami season. To chime in this year's sakura season, the hotel's restaurants are preparing a selection of gourmet cherry blossom food and desserts.

Sakura Dining – From ¥7,000 (Before Tax/Service Charge) @ RISTORANTE "CANOVIANO" / Serving: March 20, 2020 – April 5, 2020


Dine in style at RISTORANTE "CANOVIANO" where they're serving up their 'Sakura Dining' course. Based on the idea of a cherry blossom bento meal, the heapfuls of veggies conjure up the image of the budding flowers of springtime.

Sakura Lunch – ¥5,000 (Before Tax/Service Charge) @ RISTORANTE "CANOVIANO" / Serving: March 16, 2020 – April 10, 2020


An assortment of hors d'oeuvres such as the "Cherry Blossom Carpaccio," "Sakura Ebi Pasta," and other spring-inspired delights.

Sakura Afternoon Tea – ¥4,000 (Before Tax/Service Charge) @ New American Grill "KANADE TERRACE" / Serving: March 14, 2020 – April 12, 2020


Treat yourself to a luxurious afternoon tea with cherry blossom bon bon chocolates, panna cotta, and moreーand wash it all down with a cup of floral cherry blossom tea. Available this spring only.

SAKURA LADY – ¥1,200/ Shizuku Sakura drops – ¥1,000

KANADE TERRACE also has two cherry blossom cocktails: the "SAKURA LADY" (¥1,200) and "Sakura Drops" (¥1,000). These drinks are inspired by blooming cherry blossoms and dancing cherry blossom petals. The "SAKURA LADY" is a gin-based White Lady cocktail.

Sakura – ¥600 (Tax Included) @ PATISSERIE Lien 1928 / Serving: From March 1, 2020

This luxurious dessert is surrounded by white chocolate and is made up of strawberry biscuit topped with strawberry jam and cherry blossom cream, creating a tempting and extravagant fragrance of strawberries and cherry blossom flowers. It also contains a bit of jelly with Japanese sake in it which adds a full-bodied flavour to the overall dessert.

Experience Japanese spring in luxury this year at Hotel Gajoen Tokyo.

J-Pop Group Perfume to Open Fashion Pop-Up Shop 'Perfume Closet' at Laforet Harajuku

Worldwide famous Japanese pop group Perfume are taking their fashion project "Perfume Closet" to Laforet Harajuku where it will run in a pop-up shop from February 20-26 this year.

Perfume Closet is a fashion project helmed by Perfume which aims to connect with fans through Perfume's music by making outfits. This is the fourth time Perfume Closet has opened, and will feature a line-up entitled "Perfume Closet 2020SS" which is part of what Perfume are calling "Phase 2," which started in January this year and centres on clothing. It follows on from "Phase 1" which featured a line-up of miscellaneous items.

SATIN COMBI TRENCH COAT – ¥49,500 (Tax Included) / FLOWER PLEATS DRESS – ¥44,000 (Tax Included)

SHEER COMBI KNIT ¥17,600 (Tax Included) / 2 WAY PLEATS SKIRT ¥35,200 (Tax Included)

RELAX WEAR (LADIES) – ¥16,500 (Tax Included) / PLEATS SLEEVE TEE (WHITE) – ¥9,900 (Tax Included) / SHEER COMBI RELAX PANTS – ¥22,000 (Tax Included)

The pop-up shop will stock a plethora of items made by the Perfume members, who worked on the designs, chose the materials, and crafted the silhouettes. It includes everything from coats to one pieces, blouses, bottoms, as well as unisex items men can wear too like pants, shirts, and more.

Fans of Perfume and fans of Japanese fashion aren't going to want to miss out on the new Perfume Closet, open for one week only starting next Thursday!

Information

Perfume Closet

Running: February 20, 2020 – February 26, 2020

Location: Laforet Harajuku (Floor 2F CONTAINER)

Laforet Harajuku Official Website: https://www.laforet.ne.jp/

Japan Airlines Offers Special Travel Plan to the Love Live! Sunshine!! Setting in Hakodate

JALPAK, a division of Japan Airlines (JAL), has announced a very special collaboration with the anime series Love Live! Sunshine!!.

Titled "Go And See Saint Aqours Snow in Hakodate!" (Saint Aqours Snowに会いに函館へ行こう!), the travel plan offers fans of Love Live! Sunshine!! to visit Hakodate, the setting of episodes 8 and 9 of the anime series. Hakodate was also newly-entered into Anime Tourism 88's "Real Life Anime Locations I Want To Visit" for 2020. The plan comes in two packages: the "JAL Dynamic Package" which departs from locations across Japan, and the "JAL Inbound Dynamic Package" which departs from Thailand.

Exclusive Merchandise – Folder

Exclusive Merchandise – Hakodate "Saint Snow" Acrylic Stand


Those to take part in the tour will receive some exclusive Love Live! Sunshine!! collaborative merchandise. Guests will stay at Hakodate Kokusai Hotel, where the Aqours members stay in the anime series. They will get the full Hakodate experience just like the members.

Hotel Image

The package also includes a digital stamp rally held across 11 locations where the Aqours and Saint Snow characters appear, and you'll get to wear the same pyjamas the members wear in the animeーwhich aren't available anywhere else as of yet.

Jump into the world of Love Live! Sunshine!! and feel like you're really living the anime series!

Information

"Go And See Saint Aqours Snow in Hakodate!" (in Japanese: Saint Aqours Snowに会いに函館へ行こう!)

JAL Dynamic Package Tour

On Sale: February 14, 2020 at 10:00 (JST) – April 27, 2020 at 17:00 (JST)

Tour Dates: Between February 28, 2020 – May 4, 2020 (Hotel stays available until May 8, 2020)
Departing: From participating airports in Japan (please check the website)

Arriving: Hakodate Airport
Hotel Destination: Hakodate Kokusai Hotel
Website (PC):  https://www.jal.co.jp/domtour/jaldp/lovelive/
Website (Mobile): https://sp.jal.co.jp/domtour/jaldp/lovelive/

JAL Inbound Dynamic Package Tour

On Sale: February 28, 2020 at 10:00 (JST) – April 30, 2020 at 17:00 (JST)
Tour Dates: Between March 6, 2020 – May 7, 2020
Departing: From participating airports in Thailand (please check the website)

Website (PC): http://www.th.jal.co.jp/thl/th/jaldp/campaign/lovelive/

IKEA Harajuku to Open in April 2020 as IKEA Japan's First Central Tokyo Branch

IKEA Japan has announced the opening of its first central Tokyo branch. Located inside WITH HARAJUKU, and just a 1-minute walk from Harajuku Station, the store will officially open its doors on April 25, 2020.

Harajuku is the hub of Japanese youth fashion culture, and is known the world over as one of the main tourist spots for those travelling to Tokyo. IKEA is taking its Swedish roots and planting them in the ground of central Tokyo with its spacious new storeーwhich will also have its own cafe.

If you're travelling to Tokyo, make sure to pay IKEA Harajuku a visit during your inevitable Harajuku shopping spree.

Information

IKEA Harajuku

Address: WITH HARAJUKU, 1-14-30 Jingumae, Shibuya, Tokyo

Grand Opening: April 25, 2020

Access: 1-minute on foot from Harajuku Station via JR Line / 1-minute on foot from Meiji-Jingumae Station via Tokyo Metro

IKEA Japan Official Website: https://www.ikea.com/jp/en/

Stay at Miyazaki Prefecture's Phoenix Seagaia Resort For the Ultimate Springtime Experience

Spring is the season for relaxationーa time for kicking back and letting your mind and body chill in its cool embrace. If you're looking for the ultimate relaxation this spring, say, to be treated like a princess, then look no further than Phoenix Seagaia Resort.

Located in Japan's Miyazaki Prefecture, this resort offers the perfect springtime experience, with an all-you-can-eat dessert buffet, a walk through the flower-filled garden, massages, a bath with an ocean view, and much more.

All-you-can-eat dessert buffet with 50 different treats – Available Spring Only

The pastry chefs at Sheraton have poured their hearts and souls into this ambrosial line-up. Fifty beautifully colourful delights make up this all-you-can-eat dessert buffet, which features a bountiful of berries such as strawberries, raspberries, and blueberries. The line-up will change for the second month of this limited-time service to introduce a different fifty items. That makes 100 options over the course of two months. Even better, all the soft drinks are all-you-can-drink too.

Sheraton Sweets Buffet" Very Very Berry"

Running: March 1, 2020 – April 30, 2020 (Except March 22, 2020)

Time: 14:00-15:30

Location: "Pine Terrace" Garden Buffet at Sheraton Grande Ocean Resort (Floor 1F)

Price: Ages 13+ ¥2,500 / Ages 4-12 ¥1,250

Information Page: https://seagaia.co.jp/article/641

*Members of the Segaia Premium Members Club receive a discount: Ages 13+ ¥2,300 / Ages 4-12 ¥1,150

*Those looking to eat lunch at the Sheraton restaurant can pay the following price on the day only: Ages 13+ ¥1,000 / Ages 4-12 ¥625

Drink tea and feel like a princess around the pool

"THE LIVING GARDEN" is a garden area attached to Sheraton Grande Ocean Resort, where guests can enjoy a "springtime garden party" in a gorgeous, Instagrammable-looking space. Purchase a "Picnic Basket" set for takeout and enjoy some well-deserved princess teatime either on one of the sofas surrounding the pool or in a gazebo, the latter of which you can rent.

FLOWER LIVING ~Spring Garden Party~
Running: February 21, 2020 – May 24, 2020
Price: Free (For Sheatron guests only)
Information Page: https://seagaia.co.jp/article/641

Hog that breathtaking ocean view all to yourself

Sheraton Grande Ocean Resort's favourable location places it by the sea, meaning all rooms guests stay in enjoy an ocean view. There are also two very special rooms called "Corner Suites" which boast a panoramic view of the Pacific Ocean from the bathtub. The blue sea and sky can be enjoyed from every part of the room too, not just the bath, meaning everyone can enjoy their own private little resort experience without being intruded upon by anyone else.

Special Club Suite – Grand View Bath

Location: Sheraton Grande Ocean Resort – Club Floor (Floors 39/41) 109㎡

No. of People: 2

Information Page: https://seagaia.co.jp/hotel/sgor/club-floor/20

Unwind at the spa

Experience true luxury at the Banyan Tree Spa, a pioneering Asian spa brand that was established in Phuket, Thailand. Enjoy nature and beauty come together in your treatment with quiet music, natural light from the towering windows, and the scent of original essential oils.

Banyan Tree Spa

Location: Sheraton Grande Ocean Resort (Floor 39)

Opening Hours: 10:00-20:00 (Reservation Only)

Information Page: https://seagaia.co.jp/hss/254

Eye-catching artisanal cocktails to complete your spring evenings

Left: Berry Rose Bouquet / Right: Cherry Blossom Tonic

The KURO BAR offers an unbroken view of the lit-up garden area. Sip on one of their delicious and expensive-looking cocktails, like the "Berry Rose Bouquet," a full-bodied beverage made with a tea liqueur, rose syrup and cranberry juice. Or you can order the "Cherry Blossom Sonic" at Pacifica, a cocktail lounge with live music. This drink is fragrant with cherry blossom and mixes together cherry blossom liqueur and gin.

Flower Cocktails

Available: March 1, 2020 – April 30, 2020

Prices: Berry Rose Bouquet ¥1,300 / Cherry Blossom Tonic ¥1,600

Taste the flavours of a Miyazaki Prefecture spring

At the resort's main restaurant, Pine Terrace, they are serving a buffet-style menu with seasonal springtime ingredients. Enjoy a line-up of typical Miyazaki flavours, like shimaura sea bream and steamed kumquat white wine, spring cabbage and sakura shrimp spaghetti aglio e olio, tempura, and more.

Pine Terrace's Spring Dinner Buffet

Available: March 1, 2020 – April 30, 2020

Time: 17:30-22:00 (Last Orders 21:30)

Prices: Ages 13+ ¥4,500 / Ages 4-12 ¥2,250

*Prices for the dinner buffet will change from the start of April to: Ages 13+ ¥4,600 / Ages 4-12 ¥2,300

Information Page: https://seagaia.co.jp/article/641#paragraph_1557

Make some springtime memories this year at the incredible Seagaiaシーガイアで春の楽しい思い出を作ろう!

*Listed prices include tax. Photos are for illustrative purposes only.

Information

Phoenix Seagaia Resort

Address: Hamayama Yamasakicho, Miyazaki, Miyazaki Prefecture

Official Website: https://seagaia.co.jp/

Visiting @cosme TOKYO in HarajukuーThe Place That Satisfies All Of Your Makeup & Cosmetic Needs

@cosme TOKYO is a new flagship store that opened in front of Harajuku Station in Tokyo on January 10, 2020.

@cosme is a web portal centred on makeup and cosmetics. Offering a wealth of beauty information from a number of perspective, the website lets you see the latest trending items in the makeup world from the word on the streetーby letting people comment on and rank itemsーoffers solutions to skincare and makeup-related problems, and more.

@cosme TOKYO is the first-ever physical store by @cosme. Its floor space spans over 1,300 square meters where it houses an enormous selection of cosmetics and makeup products, from inexpensive and affordable quality items to luxury brands. Since opening, it has become the talk of the town in Harajuku.

It's comprised of three floors, each with their own highlights. Let's go and check it out.

1st Floor: A Hall of Fame for the latest most popular cosmetics

When you walk into the first floor area, the first thing that's sure to catch your eye is the incredible "Best Cosmetic Award Tower," a collection of items that have have won past cosmetic awards for being the best. All the cosmetics are stacked up high in their own little display case.

As you proceed further across the shop floor, there is the "@cosme Weekly Ranking" corner which ranks the most popular items on the website for that week, so customers can always know what products are the best to incorporate into their makeup and beauty routine.

But perhaps the centrepiece of @cosme TOKYO is the "Tester Bar," where customers are free to try out products using the puffs and cotton pads provided. There's also a tap and sink for rinsing. You can't deny how great this service is; without worrying about others, you can try out all the cosmetics to your heart's desire and then buy them if they're to your liking.

There are also smart lockers so you can lock your things away, allowing for your hands to be free while you test makeup and shop. But it doesn't stop there, as there's even a foreign currency exchange machine which caters for 85 currencies in 120 countries.

2nd Floor: Men's cosmetics, beauty equipment, and more

Up on the second floor, you'll find another area that ranks products, this time the ones with the most sales at @cosme TOKYO. Everything is displayed in such a way that it's easy to find products as they are separated by base makeup, mascara, lipsticks, and so on. You'll find pop artwork hand drawn by the staff to highlight products, so enjoy comparing and considering all the different items.

Recently in Japan, men's products have been garnering attention, and so @cosme have created an entire section dedicated to male and unisex makeup items. Picking out makeup with your partner is goals, and now it's finally becoming a reality.

Another area that's popularーwith both Japanese people and foreignersーis one that stocks cosmetics made with naturally-derived ingredients from Japan, as well as products with Japanese-style packaging. It's perfect if you're looking for Japanese-specific items or for gifts and souvenirs.

Also on the second floor are beauty mirrors so you can check yourself out as well as two Tester Bars, so you can try out products here too.

If you have kids, you can drop them off in the kid's area while you shop. There's also bread-feeding rooms and places for changing diapers. They have it all!

3rd Floor: A place to relax exclusive to @cosme app users

The third floor is home to a lounge that can only be used by those who have the @cosme app installed on their phone. It can be used for relaxing or for hanging out with friends. It's hard to find a such a quiet and relaxing place like this so close to Harajuku Station.

If you want to retouch your makeup, there's a powder space you can do that for free, as well as oxygen boxes. This floor is packed full of different great services.

@cosme also has its own points system. One point equals one yen, and you get five for just visiting the store.

Anyone and everyone can enjoy a fun and easy shopping experience

 

Each product in the store has a JAN code on it which when scanned at one of the tablets in store will give you information about that product in multiple languages, including English, Simplified/Traditional Chinese, and Korean. This goes for the map of each floor too, so you can find out what each floor offers without getting lost.

@cosme TOKYO also has free Wi-Fi, and can also ship products around Japan. It offers a comprehensive shopping experience that caters to both Japanese and foreign customers.

You're sure to find many items you like when visiting @cosme TOKYO, so you can't miss out on visiting if you're travelling to Harajuku or Tokyo. Enjoy shopping!

Information

@cosme TOKYO
Opened: January 10, 2020

Address: 1-14-27 Jingumae, Shibuya, Tokyo
Opening Hours: 10:00-21:00
No Fixed Holidays
Official Website: https://www.cosme.net/flagship/

Japan's First CBD Shop 'HealthyTOKYO' to Open in Harajuku in February

HealthyTOKYO is set to open as the first shop in Japan specialising in the selling of CBD oil, and it's doing so in Harajukuーone of Tokyo's most famous towns that's at the forefront of trends and pop culture. It is both a shop and a cafe.

CBD oil has seen a spike in sales over the past year. Made from hemp, research shows that there are many health benefits to using CBD. The main gains are from helping reduce stress, relieving pain, improving sleep, and helping prevent skin inflammation.

CBD is used by mixing it with food or drink. It's also been recognised as having an effect as an ingredient in cosmetics and creams. While CBD oil is legal in Japan, the country's law is strict when it comes to traces of THC, and so only allows oils with 0%.


As well as the oil itself, HealthyTOKYO will also stock a variety of vegan sweets and drinks containing CBD. The food line-up includes vegan-friendly cheesecake, mont blanc, and gateau chocolate, as well as gluten-free lasagne, amongst many other things. For drinks, there's a variety of organic matcha, coffee, and more. A lot of these foods and drinks can be ordered with CBD oil too.

HealthyTOKYO brand CBD products all use naturally derived CBD oil, and the shop offers degrees of strength and different flavours too. They sell cosmetics, creams, and other products too.

If you've been looking for CBD while in Japan, or even vegan-friendly or gluten-free foods, then make sure you pay a visit to the country's first CBD shop and cafe in Harajuku.

Kissho Caren: Gaze at Shizuoka's Moonlit Night Sky From Your Hot Spring With New Hotel Plan

Kissho Caren is now offering a new hotel plan for women only which is available until the end of March 2020.

Kissho Caren is an incredible hideaway resort and inn located alone the quiet shores of Hokkawa Hot Spring in Shizuoka. All rooms offer a breathtaking ocean view, and all rooms, plus the restaurant and infinity pool open-air baths, offer a panoramic spectacle where the sky and sea meld together into one beautiful scene. Guests can also witness the "Moon Road," a popular power spot of Hokkawa Hot Spring which was chosen as one of Japan's "100 Moon Views."

Kissho Caren boasts two of its own water sources for its flowing water. It houses 18 water spots, including hot springs in seven locations around the inn and its sister facility Tsuruya Kisshotei, as well as rentable baths, foot baths, and the beachside "Kurone Rock Bath." All of these hot water spots are fully equipped with bath towels, face lotion, and other amenities. The inn's hospitality is also well-praised, including its salon which offers barely tea, soft drinks, and tokoroten made in the city of Izu. In the evenings, it also offers beer amongst other things.

After checking in, guests choose a yukata and obi of their liking and enjoy a luxurious and tranquil afternoon tea. The seasonal pancakes are prepared in front of you by the chef and are topped with sweet and refreshing soft serve ice cream and served with beautiful tea. The pancakes are mixed with whey which has a lot of skin benefits, and the teas vary from Izu guricha tea to Izu aloe tea which have anti-ageing benefits and strengthen the immune system. All of this takes place at Aodake which is open 14:00-15:30.

At the Kissho Spa, one can spy the gorgeous ocean from the window. Guests can enjoy some relaxing thalassotherapy with the warm climate of the beach and seaweed, oils prepared in Izu Ōshima, guricha tea, and other local treatments, all of which are popular.

The French course dinner comes with a free drink and flambéed dessert. All rooms also come with lots of other hopsitable gifts too, including a free mini bar and snacks, 20% off from the Kisso Spa, and more.

If you're looking for a place to stay with your girlfriends in Japan, then we recommend putting this place on your list. Don't miss out on this limited-time, girls-only offer.

Information

Girls-Only Amenity-Packed, Wine & Flambéed Dessert Plan

Running: January 6, 2020 – March 31, 2020

Prices (1 Night With Breakfast/Prices Per Person):

From ¥26,500 (2 People/1 Room)
From ¥24,500 (3 People/1 Room)
From ¥23,500 (4 People/1 Room)

*An extra ¥5,000 on public holidays. An extra ¥2,000 from February 9, 2020. Includes tax and service charge.

Meals:

Dinner: French dinner course at "Four Season" restaurant
Breakfast: Japanese breakfast at "Four Season" or teppanyaki breakfast at "Aodake"

Includes:

1 free drink (White or Red Wine/Sparkling Wine/Soft Drink)
Flambéed dessert after dinner
Free mini bar in all rooms and confectionery set
20% off Kissho Spa (Discounted: ¥8,000 / Usual Price: ¥10,000): 60-minute body lymphatic drainage/60-minute facial treatment

Kissho Caren

Address: 1130 Naramoto Higashiizu, Higashiizu, Kamo District, Shizuoka

Official Website: https://www.kissho-caren.com/en/

Kyoto Brighton Hotel Offers 5 New Hotel Plans For Springtime, Cherry Blossom & Temple Experiences

Kyoto Brighton Hotel is now selling reservations for its new "Haru no Asobi Plan" (Springtime Fun Plan) which is taking place between March and May this year and offers guests the opportunity to enjoy Kyoto in the spring and its cherry blossoms.

Spring in Kyoto is the most popular season for tourists and travellers who flock from not only across Japan but from around the world. The Haru no Asobi Plan is made up of 5 exciting plans to see the ancient capital's breathtaking cherry blossoms, vibrant green maples, and other offerings.

"Asakatsu" – An early morning temple visit and stroll

Get away from the crowded streets and enjoy the rare opportunity to experience incredible early morning sights you don't normally get to see. Spend a quiet morning in a gorgeous environment in this plan. Several temples and gardens are in place for the experience: Kōdaiji Temple, Bishamon-do Temple, Taizō-in, Haradanien, and Tenryū-ji.

Kiyomizu-dera Temple special night viewing

One of the must-visit spots when travelling to Kyoto is Kiyomizu-dera, officially a World Heritage Site. This plan rents out the temple for you to experience it at nighttime. The main building is currently undergoing large-scale renovation to secure the roof as well as the inner construction of the temple. Seeing the temple is truly a sight to behold.

You are guaranteed a view of the famous "Stage of Kiyomizu," an enormous veranda attached to the main hall. The surrounding trees will be lit with enchanting lights, and you'll be able to gaze at the distant city nightscape. Experience Kyoto like never before as the warm lights illuminate the Niōmon (Deva Gate), 3-storey pagoda, and purified water which runs from the Otowa Waterfall.

Discover the world of Kyoto embroidery

The traditional practice of Kyounui, or Kyoto-style embroidery, has continued since the Heian Period and is even garnering attention overseas. It's a delicate and refined style of embroidery unique to Kyoto.

After your embroidery session which will take place in a Kyoto town house nearby the cherry blossom-filled Hirano Shrine, you'll look at kimono and yukata so beautiful they'll look like they should be in an art museum, before heading to eat together with the creator.

See the green maple trees of Hōgon-in on a private train

Board the private 1-2 carriage Randen train on the Keifuku Electric Railroad, which runs from Shijō-Ōmiya to Arashiyama. This cute retro train will take you Arashiyama where the green maples are breathtakingly beautiful.

You'll also get to stroll through the quaint gardens of Hōgon-in Temple, view artwork painted by Noriko Tamura, and more.

Sky Bus

Enjoy a panoramic view on a private ride of the Sky Bus, a double-decker bus which is gaining huge popularity right now. You will ride through the city of Kyoto and see the rows of pink cherry blossoms. In April, they will also do an evening tour of the cherry blossoms so you can see them at night, and in May they'll do a green maple tree tour.

Discover the beauty of Kyoto in this very special hotel plan at Kyoto Brighton Hotel.

Star Wars Theme Cafe Opens in Tokyo, Osaka, Nagoya, Hokkaido & Fukuoka

With The Rise of Skywalker concluding the Skywalker saga of the Star Wars film franchise, fans are left craving more from the galaxy far far away.

If you're one of those people, and need a fix before season two of The Mandalorian, which is coming in late 2020, then you'll want to hit up the all-new Star Wars-themed cafes now open for a limited time at branches of OH MY CAFE across Japan in Tokyo, Osaka, Nagoya, Hokkaido, and Fukuoka.

We visited the Tokyo branch of the cafe which is located inside Tokyu Plaza Omotesando Harajuku. Here's our report of this must-see cafe for Star Wars fans, a museum-like space chock-full of concept art.

Ready to greet you as you walk into the cafe is none other than Darth Vader. This life-size recreation of the Sith Lord is really striking, but don't worryーthough he is realistic, he won't use his Force choke on you, he only wishes for you to have a nice meal.

Plastered across the cafe walls are pieces of concept art used during the production of the Star Wars film series.

Here's a galactic showcasing of the cafe's menu. There are 7 food items and 5 drinks to choose from, all inspired by the franchise and its characters.

<STAR WARS> Far Far Away Galaxy Black Curry – ¥1,590

A signature dish of the cafe, this black curry features the Star Wars logo which is actually an edible wafer. The space design is bamboo charcoal-cooked rice which is mixed with spicy sauce and topped with peanuts for stars.

<BB-8> Seafood BB-8 Gratin – ¥1,690

Fans of BB-8 won't be able to resist this delicious gratin, served with salad and French bread for a full belly.

<Yoda> Root Leaf Stew – ¥1,590

This stew is inspired by Yoda living his final years in his little shack in Dagobah during Star Wars: Episode V – The Empire Strikes Back. It's packed full of vegetables and will no doubt be enjoyed by both kids and adults alike.

<R2-D2 & C-3PO> Buddy Burger Plate – ¥1,990

This set of two chicken burgers comes with an R2-D2 seasoned with béchamel sauce and a C-3PO burger seasoned with meat sauce. You can take the flags home with you too. We recommend sharing this between two people.

Portion Bread – ¥500

This is the one I was most interested in personally, because I was curious to know from its appearance how it would taste. It's the portion bread that Rey tries eating in the film. At first glance it looks crunchy, but to my surprise it was soft with a subtle sweet flavour.

Lightsaber Drinks – ¥600 Each (w/ Coaster ¥1,300)

From the left, the flavours are Darth Vader blood orange, Luke Skywalker ramune, and Yoda melon. When you draw your straw from the paper wrapping, it turns into a lightsaber!

<STAR WARS > Jet Black Coffee – ¥600 (w/Bottle ¥1,750)

These limited edition bottles of black coffee feature the famous Star Wars opening crawl credits. Which one you get is randomーa must-have for all fans!

After enjoying some Star Wars food and drink, it's time to check out the cafe's exclusive merchandise. There are 13 types of merch in total all bearing artwork from across the film series.

Folder – ¥350

I recommend picking up one of these folders made in collaboration with the cafe. It has illustrations of the food and drinks being sold there.

Tote Bag – ¥3,500

This tote bag has illustrations of characters from Star Wars and how they are all connected.

There's plenty of other must-grab merch too, from music to stationery and more.

Customers who spend over ¥1,000 (excluding tax) on any of these exclusive items will receive the above-pictured limited edition bag. These are limited in stock so are available while supplies last.

There's plenty of places inside for fans to take great photos, so make sure you snap lots.

Also, if you book a table in advance and order something from the menu, you'll receive one of these 25 possible A5 folders, so be sure to book before you go!

© & TM Lucasfilm Ltd.

*All listed prices are pre-tax. Photos are for illustrative purposes only.

Information

"Star Wars" at OH MY CAFE

Locations/Dates:

■Tokyo: OH MY CAFE TOKYO (Tokyu Plaza Omotesando Harajuku) / January 18, 2020 – February 23, 2020

■Osaka: kawara CAFE&DINING Shinsaibashi / January 17, 2020 – February 23, 2020
■Nagoya: kawara CAFE&KITCHEN Nagoya PARCO / January 23, 2020 – February 25, 2020

■Hokkaido: Cafe Interlude, Coach & Four Shinkawa-dori / January 24, 2020 – February 24, 2020

■Fukuoka: kawara CAFE & DINING KITTE Hakata / January 24, 2020 – February 26, 2020

"Star Wars" OH MY CAFE Official Website: https://sw.ohmycafe.jp/