New Pokémon Anime OP Theme be Performed by Mafumafu and Soraru
The all-new Pokémon anime series is set to begin airing on TX Network on November 17. It has been revealed that Mafumafu, a talented creator and music producer active online, is producing the series' new opening theme in addition to writing the lyrics, composing the song, and arranging the music.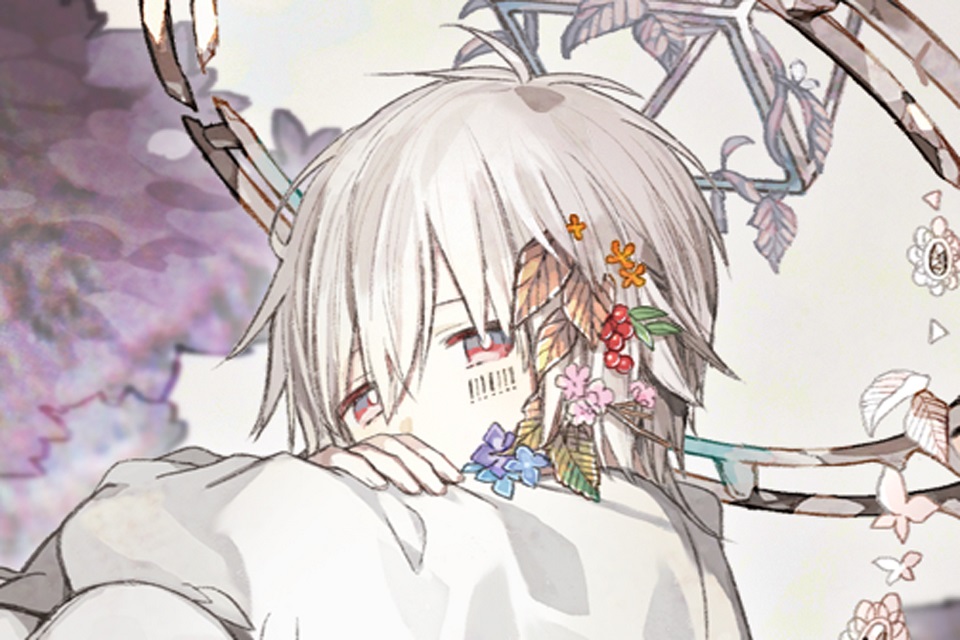 Mafumafu is known for getting a diverse range of artists on board to sing the vocals, and this time they have paired up with Soraru to form the collaborative duo "After the Rain."
The two artists have a big online presence, with Mafumafu having over 850 million views on YouTube and 1.6 million followers on Twitter, and Soraru having over 180 million views and 1.4 million followers. They were chosen to perform the opening theme to create that sense of partnership, like Ash and Gou, Ash and Pikachu, or Gou and Scorbunny.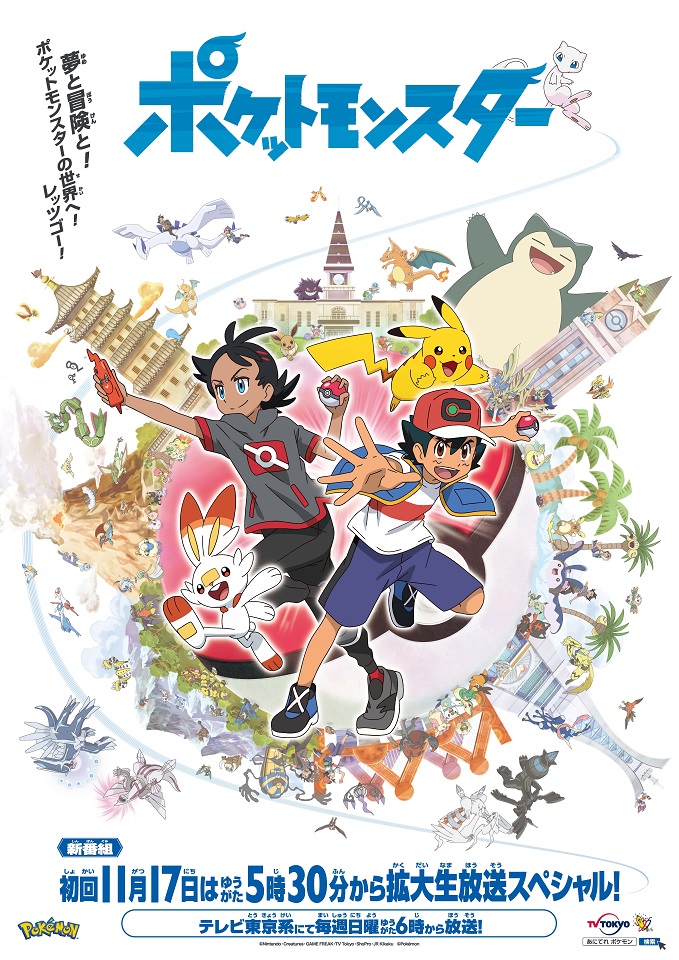 The song title and release details will be announced right before the anime airs. We look forward to hearing how it ties in to and plays up to the Pokémon discography.
RELATED ENTRIES
Pikachu Meets Traditional Japan With Edo Kimekomi Doll

Mataro Doll released its new Pikachu Edo Kimekomi Ningyo doll on November 13. The doll is available in store and on the company's website while supplies last.

Mataro Doll was established in 1919. The company is a a creator of traditional Japanese dolls and is recognised by Kamigamo Shrine as the founder and only legitimate creator of the kimekokomi ningyo doll. It drew much attention in 2018 for creating a Hatsune Miku hina doll, and is about to get another wave of interest as it has created an official Pikachu kimekokomi doll, retaining the Pokémon's character and cuteness.

Pikachu is loved by kids and adults alike. This traditional Pikachu craft too can be enjoyed by people of all ages with its more sophisticated and high-quality appearance.

Mataro Dolls makes all of their items and wares by hand without the use of 3D printers or CAD. They studied Pikachu in great detail to create their new doll. Although the people working at Mataro Dolls are experts in their field, they explained how capturing the characteristic qualities of the character was no easy task.

Pikachu's yellow fur features a flowery design which is typical of traditional Japanese dolls. Catch your own one of these Pikachu dolls for a combination of traditional Japan and Japanese pop culture.

©Nintendo・Creatures・GAME FREAK・TV Tokyo・ShoPro・JR Kikaku ©Pokémon

Information

Pikachu Edo Kimekomi Ningyo
Price: ¥13,200 (Tax Included)
Set Includes: Doll/Stand/Folding Screen/Wooden Tag
*Limited quantity available while supplies last at Mataro Doll and their online store

Product Page: https://www.mataro-doll.com/products/detail/318325

Pokémon Shirts Original Stitch Collection Gets Overhaul

Back in February, American custom shirt brand Original Stitch, which offers over one billion design customisations, launched a collaboration with the Pokémon franchise. That very same Pokémon Shirts collection has received a product overhaul

The line-up offers two options: either a shirt featuring one of the original 151 Pokémon, or a plain shirt which you can fully customise. Orders are made online and delivered to your home.

The collection is launching in the US this time around. To celebrate and help promote the collaboration, you'll find four Pokémon Shirts designs in the Pokémon GO style shop: Snorlax, Vileplume, Lickitung, and Magikarp.

There are three styles of this short-sleeved shirts to choose from just as before: the Dress Shirt, Casual Shirt, and Relax Shirt. To ensure that each shirt matches  any occasion, all the patterns for each style have been revamped.

Dress Shirt

Made to fit the body line, the dress shirt is made for the business scene. It works best as an inner to a suit or other formal dress. The shirt retains the same high level of quality as before, with the bust line and space around the arm length being altered. Its revision has made it so it caters to more people's needs.

Casual Shirt

The casual shirt is of course made for everyday wear. The waist line has no shape and the shirt has been made more roomy to create a more overall loose fit. By wearing the shirt untucked you can create an even more stylish silhouette. The collar is also now more compact.

Relax Shirt

The relax shirt has more of a box silhouette than the casual shirt, as well as an open collar. This style is perfect for trips and travel. The body line has been made more loose and they have gotten rid of the waist line shape. The lining of the collar has been changed too, resulting in a more relaxed look.

Larger sizes have also been added to the collection including 3XL, 5XL, and 7XL. Full details can be found on the Original Stitch Support Centre page.

There are also now 10 colours to choose from, including colours from before as well as redesigned ones, meaning there's plenty of customisable options.

Even the buttons have been improved. They are still as colourful as ever but have been made into more of a pop style to match what you'd expect from a Pokémon shirt. There are 11 colours to choose from, but for an extra ¥500 you can get one of 8 marble buttons as pictured in the lower row above.

Try designing your very own Pokémon shirt!

©2019 Pokémon. ©1995-2019 Nintendo / Creatures Inc. / GAME FREAK inc.

Pokémon, ポケットモンスター and ポケモン are registered trademarks of Nintendo, Creatures Inc. and GAME FREAK inc.

Information

Pokémon Shirts
Types: Men's / Women's
Styles: Dress Style / Casual Style / Relax Style
Sizes: XS/S/M/L/XL/XXL/3XL/5XL/7XL
Customisable Parts: Body/Collar/Back Collar/Cuffs/Back Cuffs/Pockets
*Crest customisation no longer available in line with revamp
Price: From ¥10,000 (Does not include shipping charges)
Orders: 151 Pokémon Shirts + 10 Plain Shirts
Available Countries: Japan/Us/Hong Kong/Taiwan/Singapore/Malaysia/Philippines/India/Indonesia

Official Website/Orders: https://ja-jp.originalstitch.com/pokemon/

Charge Your iPhone With These Adorable Pokémon Cable Huggers

Gray Parka Service is releasing their fifth line of cute sleepy Pokémon cable huggers this December.

A common problem iPhone users face is their phone cable disconnecting so they can't charge. This cable figure series was developed to tackle this issue.  Leave it to your Pokémon to look after your cable while they sleep adorably.

The series so far has sold over 600,000 units (as of October 2019). The line-up this time includes Pikachu, Jigglypuff, Meowth, Chikorita, Torchic, and Piplup. They are sold in "blind boxes" meaning the Pokémon you get will be completely random.

The series has been greatly received by fans who have praised not only how cute they look, but their effectiveness too. Which one are you hoping to get?

©Nintendo・Creatures・GAME FREAK・TV Tokyo・ShoPro・JR Kikaku ©Pokémon

Information

Pokémon Suya Suya☆On The Cable Vol.5

Release Date: December 2019 (subject to change)

Size: 5cm-6cm

Designs: 6

Price: 1 Box – ¥556 (Before Tax)

Available: At character goods stores

Gray Parka Service Official Website: http://grayparkaservice.com/

Pokémon Cosmetic Series: Hand Cream to Protect Your Hands Catching Pokémon During the Winter

The Pokémon Cosmetic Series is the gift that keeps on giving. Trainers who missed out on catching the immensely popular Pokémon Hand Cream from last year will be happy to hear that a new line of hand creams just dropped on Thursday (September 26).

This time around, Slowpoke and Mew have joined the fray, in addition to Pikachu and Eevee returning. Their fragrance has been made even more tempting.

The cosmetic series has enjoyed incredible popularity with its diverse line-up, which has spanned face masks, lip cream, hand cream, lip gloss, point packs, mirrors, and body gel. The hand cream in particular was a huge hit amongst fans, who can delight in two new additions: Slowpoke with his cute expression, and the mysterious Mew.

Pokémon Hand Cream – ¥800 (Before Tax)

Pikachu and Eevee's tube designs have been updated too and made even cuter than before. The four creams are a great gift to either yourself or friends.


Each bottle has a different fragrance: Pikachu's floral pink bouquet, Eevee's refreshing oriental lime, Slowpoke's luxurious cherry blossom, and Mew's soft and pure soap.

These creams aren't just cute and for show however, they really work: moisturising your skin with their fresh texture and leaving it nice and smooth without that unwanted stickiness. Their small size makes them a super ideal thing to have in your bag alongside your Poké Balls and Pokédex during the dry weather. No Trainer should leave home without one!

Catch the Pikachu and Poké Ball Doughnuts at Mister Donut This Winter

Mister Donut has announced another collaboration with Pokémon following the success of last year's doughnut line-up. It will hold a campaign entitled "Let's Catch Pokémon at Mister Donut!" beginning on November 15. In the run up to Christmas, the doughnut chain will sell a range of products and merchandise that both kids and adults can enjoy.

The Pikachu doughnut was such a hit last year that they are bringing it back for 2019 together with two all-new doughnuts.

Mister Donut is also teaming up with the upcoming video games Pokémon Sword and Shield, which are also releasing on November 15 on the Nintendo Switch, to bring fans a range of new doughnuts themed on the new game. Details on the products and merchandise will be announced in the near future, so stay tuned.



©2019 Pokémon. ©1995-2019 Nintendo/Creatures Inc./GAME FREAK inc.
Pokémon, ポケットモンスター and ポケモン are registered trademarks of Nintendo, Creatures Inc., and GAME FREAK inc.

Information

Let's Catch Pokémon at Mister Donut! (Japanese Title: ミスドでポケモンに会おう!)

Start Date: November 15, 2019

Mister Donut Japan Official Website: https://www.misterdonut.jp/

Cute Pikachu, Mew, Eeevee and Snorlax Blush & Powder Release in Pokémon Cosmetic Series

The next set of beauty items in the popular Pokémon Cosmetic Series has finally been revealed: the Pokémon Cheek and Pokémon Pressed Powder will be released on September 10. The line-up includes Pikachu, Eevee, Mew, and Snorlax.

Pokémon Cheek – ¥1,300 (Before Tax)

The Pokémon Cheek is a cream-type blush that spreads smoothly on your skin without any stickiness. It's comfortable on the skin and is durable. It also contains micropearls and so gives your skin a natural shine.

It comes in four colours: Pikachu Milky Pink, Eevee Rose Pink, Snorlax Coral Pink, and finally Mew Pearl White which brightens your natural skin tone. The blush comes as a stick and so is ncie and easy to apply and carry around.

Pokémon Pressed Powder – ¥1,500 (Before Tax)

The pressed powder comes with its very own powder puff featuring a cute original design. The powder is mixed with minerals that are gentle on the skin as well as collagen. It leaves your face looking smooth and natural without any unwanted shiny patches.

Pick from four different colours: Pikachu Pink which brightens natural skin colour, Eevee Mint which elevates transparency, Snorlax Yellow which conceals blemished, and Mew Purple which brings out transparency and shimmer.

When out there in the wild catching Pokémon, why not look good at the same time? Be sure to check out the Pokémon Cosmetic Series, and stay tuned for any new products that are released.

Information

Pokémon Cosmetic Series – Pokémon Cheek / Pokémon Pressed Powder

Release Date: September 10, 2019

Available: Pokémon Center,  ITS'DEMO, Tokyu Hands, Village Vanguard, and elsewhere

Official Website: https://lovisia.jp/pokemon/

Baskin-Robbins Extends Pokémon Collaboration and Releases Free Goods Scheme

As we know, Baskin-Robbins released their first ever Pokémon-themed ice creams to celebrate the brand new Pokémon movie Mewtwo Strikes Back: Evolution. The collaboration, which is currently taking place, was going to end on August 30th. However, the collaboration period has been extended to September 13th, 2019 due to popular demand.

Find out more here: Baskin-Robbins Releases Pokémon Ice Creams, Sorbets and Cakes

Furthermore, from September 1 they are introducing a new scheme where those who purchase the Pokémon Double Cup will receive an original BR Pokémon-themed clear file for free. 

The clear file comes in two very cute designs. There are a limited number of these files, so get your hands on them before they run out.

* The current size upgrade discount scheme (Turn your Small Double into a Regular Double for an extra ¥100) will end on August 30th. 

Enjoy a never ending Pokémon summer with Baskin-Robbins! 

(c)Nintendo・Creatures・GAME FREAK・TV Tokyo・ShoPro・JR Kikaku (c)Pokemon (c)2019 Pikachu Project

Tokyo's Pokémon Cafe Unveils Halloween Themed Menu Line-Up

The Pokémon Cafe in Nihonbashi, Tokyo has revealed its Halloween food and drink line-up for the spooky season which will arrive early on September 7 be served until October 31.

The cafe is known for always having a cute selection of meals and beverages inspired by each season. So, what do they have in store for Halloween 2019?

Pikachu's Greedy Halloween Plate 2019 – ¥1,706 (w/ Plate ¥2,894)

This year's Halloween plate features Pikachu wearing a witch's hat. This filling plate features a pumpkin salad, spaghetti and more. Plenty to keep you going until the late-night candy snacking!

Discovering Celebi!? Oak Forest Pesto Pasta – ¥1,706

This adorable and healthy, vegetable-packed Celebi dish includes basil flavoured short pasta and a cute.

Zorua's Halloween Roast Beef Burger – ¥1,706

This hearty burger is packed with a generous serving of roast beef. You'd best not leave a crumb or Zorua might play a trick on you!

When ordering a drink at the cafe you'll receive one of six possible coasters. One of the designs is being kept a secret!

And for the duration of the Halloween event, there's also a limited-edition lunch mat and clear coaster to get your hands on. These are limited in stock so you'll want to catch 'em all quickly! And don't forget, you have to book a table in advance to dine at the Pokémon Cafe.

© 2019 Pokémon.©1995-2019 Nintendo/Creatures Inc./GAME FREAK inc.

Pokémon, ポケットモンスター and ポケモン are registered trademarks of Nintendo, Creatures Inc. and GAME FREAK inc.

Information

Pokémon Cafe
Address: 2-1-2 Nihombashi | Nihombashi Takashimaya SC East Bldg. 5F, Chuo 103-0027, Tokyo Prefecture
Business Hours: 10:30-22:00

Access: 5-minutes on foot from Tokyo Station's Yaesu North Exit via JR Line / 5-minutes on foot from Nihonbashi Station's B2 Exit via Tokyo Metro Ginza Line and Tozai Line / 4-minutes on foot from Nihonbashi Station via Toei Asakusa Line

TEL: 03-6262-3439

Reservations: https://reserve.pokemon-cafe.jp/

Official Website: https://www.pokemoncenter-online.com/cafe/

Pikachu Outbreak 2019: Day One Report Of This Year's Event – MOSHI MOSHI NIPPON

The Pikachu army has returned again this year for Pikachu Outbreak 2019 which is running from August 6 to 12 in Minato Mirai, Yokohama. This year, the event also features an evening show which takes advantage of Minato Mirai's gorgeous nightscape and couples it with exciting lighting technology.

We visited the first day of the event with Chinese talent Etsuna and 7-year-old Yuugo-kun. Here's our report!

Upon arrival at Minato Mirai Station we were immediately met by lots of Pikachu decorations and event advertisements. And when you go through the ticket gate it plays Pikachu's cry! If you're visiting the event this year then be sure to listen out.

There are lots of Pikachu to spot after leaving the ticket gates, so be sure to try finding them all.

We alighted at Minato Mirai Station and headed straight to Rinko Park.

When we hit the park we were greeted by a huge balloon Pikachu!

There's lots of other Pokémon to catch too, such as Lapras, Psyduck, and many other popular names.

This tiny Pikachu was so cute.

There are food trucks set up by the Pokémon Cafe for the event at Rinko Park so you can get your hands on some food, drinks, and ice pops.

The Pikachu designs on the trucks are super kawaii♡

Pikachu Pineapple Ice Bar – ¥500 (Tax Included)

The ice pops they sell comes with one of four possible Pikachu facial expressions. They're given randomly.

They're so cute they seem a waste to eat!

Pikachu Orange Lemonade Soda – ¥500 (Tax Included)

The drink cups have Pikachu designs too, even the lids.

Wherever you look there's a Pikachu, so you can take pictures literally everywhere.

After we had strolled around Rinko Park, we headed to Nippon Maru Memorial Park. Usually when you visit this park they have huge boats on display but for Pikachu Outbreak, the Pikachu have swarmed the area.

There are lots of walls with various Pokémon illustrations on them around Nippon Maru Memorial Park, such as Ho-Oh's wings and a Pikachu balloon. They are scattered here and there, so make sure to find all of these too!

Below is where you can watch the Pikachu march wearing illuminating LED costumes.

Even the Ferris wheel at Yokohama Cosmo World was lit up with Pokémon motifs―the Pikachu and Poké Ball ones in particular were beautiful.

After a little while, several Pikachu arrived on a boat to greet everyone. And then…

…out came the LED Pikachu! Their synchronised pattering walk was beyond adorable. They even danced.

But the fun doesn't stop there. If you head to Queen's Square Yokohama right next to Nippon Maru Memorial Park then you'll catch the Eevee march too. Their cute pattering walks too are enough to heal your soul♡

What we've shown you is just a snippet of the fun happening this year―there are many other exciting events happening for Pikachu Outbreak 2019.

Photos: CHIHIRO (@chiicd5)

These last photos were taken at the show in Grand Mall Park at Yokohama Art Museum which makes stunning use of projection mapping. The Pikachu don their LED costumes and perform an incredible light show for the crowd.

For more details on each event check out the official website. Pikachu Outbreak is a fun day out for kids and adults alike, so enjoy this year's event and be careful not to catch heatstroke.

Information

Pikachu Outbreak 2019
Running: August 6, 2019 – August 12, 2019
Location: Minato Mirai area

Event Page: https://www.pokemon.co.jp/ex/pika_event/

Drink & Ice Shop by Pokémon Cafe

Running: August 6, 2019 – August 12, 2019

Locations:

①Yokohama Red Break Warehouse (Open 12:00-20:00)

②Rinko Park (Open 12:00-20:00)

③Yamashita Park (Open 10:00-17:00)

New Snorlax & Poké Ball Meals Arriving at the Pokémon Cafe in Nihonbashi

The Pokémon Cafe in Nihonbashi is introducing a new Snorlax plate―inspired by the huge Snorlax that is sitting outside Pokémon Center Tokyo DX―and Poké Ball dessert bowl to its menu on August 10. These will be served with certain dishes in the cafe and can also be bought as merchandise there too so you can use them at home.

Snorlax's Stomach-Filling Afternoon Nap Lunch Plate – ¥1,922 (Tax Included)

If you want a satisfied belly like Snorlax then you'll want to order the hearty lunch plate. And after that you can take a nice afternoon nap. Just make sure not to block any routes or anything!

I Choose You!! Poké Ball Dessert Bowl – ¥1,706 (Tax Included)

What does it look like inside the Poké Ball? It's being kept a secret by the Pokémon Cafe so you can only know if you visit! What kind of Pokémon could be sleeping inside…?

Ingredients: Berry flavoured jelly, strawberry spongecake, strawberries, wafers, whipped cream, crepe, mint

Pokémon Café Snorlax Plate – ¥2,160 (Tax Included)

Pokémon Café Poké Ball Donburi Bowl – ¥2,160 (Tax Included)

If you want your own Snorlax plate or Poké Ball bowl then keep in mind that supplies at the cafe are limited. And don't forget that you must make a reservation at the cafe if you want to dine there.

© 2019 Pokémon.©1995-2019 Nintendo/Creatures Inc./GAME FREAK inc.

Pokémon, ポケットモンスター and ポケモン are registered trademarks of Nintendo, Creatures Inc. and GAME FREAK inc.

Information

Pokémon Cafe
Address: 2-1-2 Nihombashi | Nihombashi Takashimaya SC East Bldg. 5F, Chuo 103-0027, Tokyo Prefecture
Business Hours: 10:30-22:00

Access: 5-minutes on foot from Tokyo Station's Yaesu North Exit via JR Line / 5-minutes on foot from Nihonbashi Station's B2 Exit via Tokyo Metro Ginza Line and Tozai Line / 4-minutes on foot from Nihonbashi Station via Toei Asakusa Line

TEL: 03-6262-3439

Reservations: https://reserve.pokemon-cafe.jp/

Official Website: https://www.pokemoncenter-online.com/cafe/

Third Pokémon Smart Device Collaboration Launched by CASETiFY

CASETiFY is a global lifestyle brand established in LA that has enjoyed hugely popularity with celebrities and influences around the world for their services that enable you to customise your digital devices from smartphones to Apple Watches and more.

The company launched its "Day & Night" themed collaboration with Pokémon back in May. The third collection in the line has finally been unveiled which will be released worldwide on August 15 at 10:00pm (JST).

1st Collaboration: https://www.moshimoshi-nippon.jp/206562

2nd Collaboration: https://www.moshimoshi-nippon.jp/229807

For the third collection, CASETiFY has New York and London-based artist duo Craig & Karl. Titled "The Icons by Craig & Karl," the new collection incorporates the two artist's signature style and shines the spotlight on four Pokémon―Pikachu, Charmander, Bulbasaur and Squirtle―and three Poké Balls.

Pokémon Trainers out there can choose from CASETiFY's signature Impact Case, the DTLA Case, and for this third collaboration, the Floaty Glitter Case, and there's a bunch of cool tech accessories too with limited-edition designs. You also have the option to put your name on your case.

Back when the second drop launched on July 10, CASETiFY set up a waiting list which gave people priority access to purchase these limited edition items before they sold out. The waiting list surpassed a whopping 90,000 people. The waiting list has returned for the third drop which you can sign up to right now.

As a fan of the Pokémon franchise, Craig Redman of the artist duo spoke about how enjoyable it was to be able to collaborate with Pokémon on this project and implement their signature style. He also praised the customisable aspect of the collection which he said can bring you closer to Pokémon.

This marks the final drop of the CASETiFY & Pokémon Day & Night collection which you can also catch at pop-up shops in Tokyo, London, Paris, Los Angeles, and the Landmark shopping mall in Hong Kong.

©2019 Pokémon. ©1995-2019 Nintendo/Creatures Inc. /GAME FREAK inc.

Information

CASETiFY & Pokémon Collaboration – 3rd Drop

Release Date: August 15, 2019

Items: iPhone cases, Macbook cases, wireless charging pads, iPad cases, AirPods cases, card holders
Price: ¥2,700-¥7,800

Official Website & Waiting List: https://www.casetify.com/pokemon

Pokémon Design Manholes to Begin Appearing All Across Japan

The Pokémon Company has announced its plans to begin placing more Poké Lid manholes across Japan. To date there have been appearances of them in Ibusuki in Kagoshima Prefecture and within 13 towns and villages of Iwate Prefecture, but that number is about to skyrocket.

Hokkaido, Fukushima Prefecture, Tottori Prefecture and Kanagawa Prefecture are all participating in the Pokémon Local Acts programme which will see an increase of Poké Lids this fall and winter. But it doesn't stop there as there are plans to expand the number even further going into 2020. This is the first nationwide manhole design project of its kind to ever hit Japan.

Each lid features completely original Pokémon designs making each individual one the only one in the world. The Pokémon Company plans to make each one of them PokéStops for Pokémon GO in the future.

In line with the upcoming Pikachu Outbreak event in the Minato Mirai area of Yokohama, which is taking place from August 6, five Pikachu manhole covers will be placed around Yokohama on August 5. Only one of the designs has been revealed as pictured above, and this one will be placed in front of Sakuragichō Station. The remaining four will only be placed for a limited time―until September 1 this year―around Minato Mirai. The locations will be announced on the official website.

Most of the Poké Lids are cast iron and are carefully handcrafted by artisans in a factory in Saga Prefecture. The use of craft iron allows room for intricate detail from the thickness of the lines to the angles and colours.

Make sure to be on the lookout for Poké Lids when visiting in Japan in the future. Their locations will be posted on the official website once they have been placed.

©2019 Pokémon. ©1995-2019 Nintendo/Creatures Inc. /GAME FREAK inc.
Pokémon, ポケットモンスター and ポケモン are registered trademarks of Nintendo, Creatures Inc. and GAME FREAK inc.