Scotland-Approved Hello Kitty Tartan Bags to be Released by Sanrio
Scotland has given the seal of approval for Sanrio to release six new Hello Kitty bags with tartan designs in-store and online on October 24.
Red Tote Bag – ¥4,500
The classy collection is perfect for the autumn/winter seasons and can be worn for general daily use with their subtle, nonchalant Hello Kitty designs.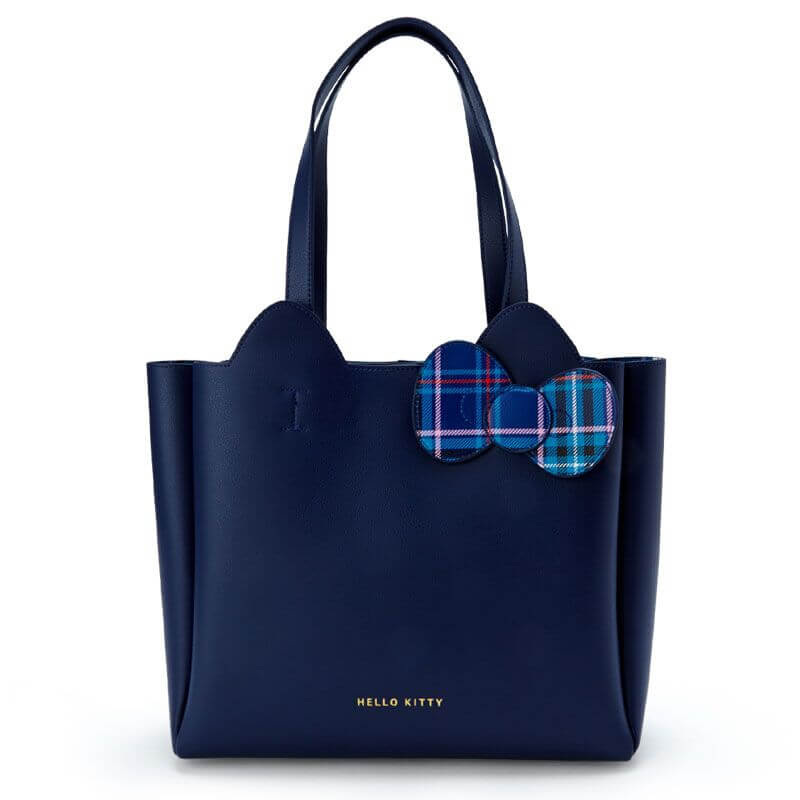 Navy Tote Bag – ¥4,500
The designs were accepted into The Scottish Register of Tartans. Sanrio now have four original tartan designs recognised by the register.
The registration began in 2009 where they received approval from the register for the rights to a pink Hello Kitty tartan design to celebrate her 35th anniversary. Three new designs were subsequently added each year between 2016-2018 and were used for Hello Kitty birthday commemoration merchandise, a bag series worn by parents and children, and more.
Black Tote Bag – ¥4,500
There are two types of bags in this new collection including the standard tote bag and a two-way mini tote bag, both which come in red, navy and black colours for a total of six. They are nice and roomy to carry your everyday things.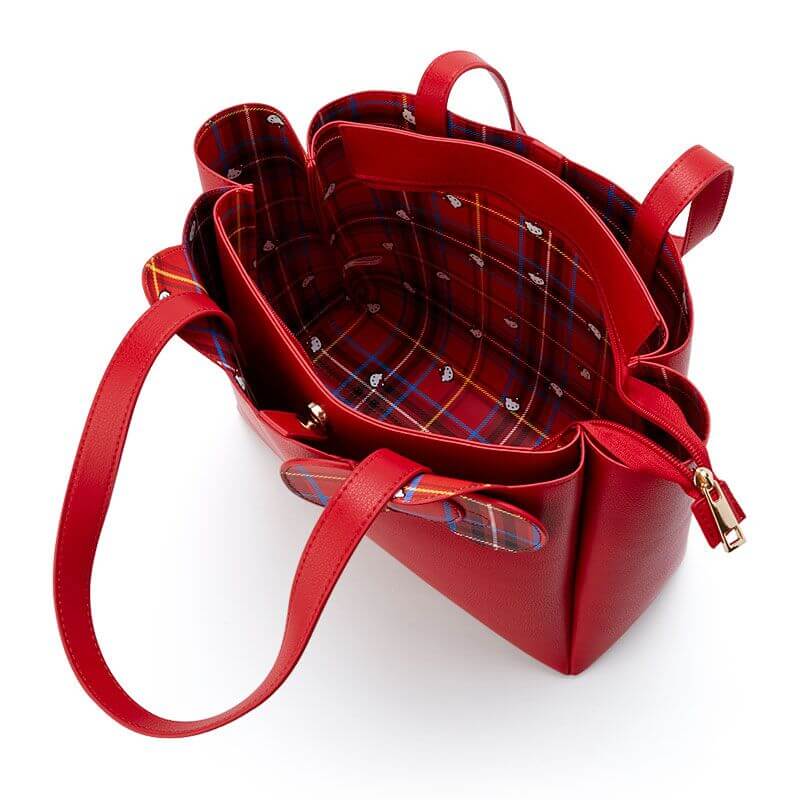 Red 2-Way Mini Tote Bag – ¥4,000
Though the mini tote bag is on the smaller side, it has a 13cm gusset so holds plenty too. It also comes with a removable shoulder case strap so you can coordinate it how you like.
Which bag do you want for the autumn/winter season?
*All listed prices include tax
© 1976, 2019 SANRIO CO., LTD.
RELATED ENTRIES
These Hello Kitty Kintsuba Japanese Confections are the Perfect Souvenir From Japan

Confectionery company Nakataya has teamed up with Sanrio to release the Hello Kitty Kintsuba.

Kintsuba is a type of traditional Japanese confection of sweet beans wrapped in wheat-flour dough. Nakataya is famous for their kintsuba, which are made with large-grained beans and red bean paste. They have maintained the flavour and quality of these confections, each of which is made with the utmost precision, and all individually.

This year marks the 85th anniversary since Nakataya opened. The long-standing store hopes to bring in more foreign and younger customers by collaborating with Hello Kitty.

They have crafted several flavours. Pictured above is the apple pie flavour, Hello Kitty's favourite. It's made with fuji apples from Aomori Prefecture which is known for its incredible apples. It's mixed with white bean paste and is lightly flavoured with cinnamon.

The mixed berry flavour is a fruity sweet and sour mix of strawberries, raspberries and blueberries which have been mashed together with white bean paste.

The confection comes in two kinds of packaging: one designed by Nakataya's founder Nakata (中田憲龍), and a Hello Kitty version where she is dressed as a dragonーa symbol of the shop. This is a completely original Hello Kitty design made specially for the collaboration.

The outer packaging is made with a wrapping cloth to both pass down an aspect of traditional Japanese culture while also catering to the eco-friendly lifestyle of the modern age. It's made from amuzen fabric and can be reused. The inner packaging is a simple paper tray so can be recycled. And if you take the wrapping cloth back to the store, they can refill it with the three Hello Kitty kintsuba confections at a discounted price.

Information

Hello Kitty Kintsuba

Released: November 1, 2019

Contains: One box of 6 (x3 mixed berry/x3 apple pie)

Price: Hello Kitty Kintsuba – ¥2,500 (Before Tax) *Comes with wrapping cloth

Hello Kitty Kintsuba Refill – ¥1,800 (Before Tax)

*The refill is only available to those with a wrapping cloth

Available: At participating Nakataya branches and the online shop

Official Website: www.kintuba.co.jp

Keio Plaza Hotel Tama's Hello Kitty & Sanrio Rooms Celebrate 5th Anniversary

To celebrate 5 years since the grand opening of the Hello Kitty Room at Keio Plaza Hotel Tama, guests are being treated to a very special present.

Friday November 1 marked the 45th anniversary of Hello Kitty. Together with the 5th anniversary of the hotel room, all guests who stay in any of the Sanrio character-themed hotels at Keio Plaza Hotel from now until February 29 next year will receive an application paper. Once they fill it out and then post it in the box in the lobby on the second floor they will be entered for a chance to win a one-night ticket to one of the three Sanrio character rooms. Exclusive merchandise will also be sold to commemorate the 5-year milestone.

The hotel poster promotional videos for the three rooms over on their homepage. This includes the revamped Hello Kitty Room, the My Melody Room which opened back in June, and the Little Twin Stars Room.

Information

Sanrio Character Room Ticket Campaign

Running: November 1, 2019 – February 29, 2020

Keio Plaza Hotel Tama

Address: 1-43 Ochiai, Tama, Tokyo

Official Website: https://www.keioplaza.com/tama/index.html

HELLO KITTY SHOW BOX Theatre-Restaurant Announces New Show Based On the Seven Lucky Gods

The official Hello Kitty theatre and restaurant HELLO KITTY SHOW BOX, which opened back in August on Awaji Island, updated its show program on October 10 and is now hosting a new show themed on the Seven Lucky Gods titled "A Record of the Seven Lucky Gods of Awaji Island."

A Record of the Seven Lucky Gods of Awaji Island

The HELLO KITTY SHOW BOX is home to a gallery that makes use of media art like 3D holograms. The theatre's shows incorporate song, dance and musical performance, while the restaurant serves healthy, vegetable-packed meals including vegan-friendly options.

The building itself is situated within farmlands and is crowned with the adorable hidden face of Hello Kitty which can't be seen from the ground.

The all-new show will feature an original story based around the Seven Lucky Gods of Awaji Island, a mystical island that is even mentioned in the Kojikiーa sacred text and first written recording of Japan.

©1976, 2019 SANRIO CO., LTD. APPROVAL NO. G602779

Information

HELLO KITTY SHOW BOX – "A Record of the Seven Lucky Gods of Awaji Island" (淡路島七福神録)

Running: October 10, 2019 – November 12, 2019

Performances: 3 per day during lunch (from 11:00), cafe time (from 15:00), and dinner (from 18:00)

Script/Lyrics/Performance/Choreography: Tamae Sha (謝珠栄)

Cast: Tatsuya Tomoishi as Ebisu, God of Business Prosperity and Wealth / Miki Maishiro as Bishamonten, God of War and Battle Fortune / …and more

*Please note that Sanrio characters will not appear in this performance

HELLO KITTY SHOW BOX

Address: 177-5 Nojimahirabayashi, Awaji, Hyogo Prefecture
Business Hours: 11:00-20:00
Closed: Wednesdays
Weekday Hours: Lunch 11:00 / Cafe 15:00 / Dinner 18:00
Weekend Hours: Lunch 11:00 / Cafe 14:15 & 16:15 / Dinner 18:15

Reservations
①Reservations can be made via the homepage here (*Discount applied to all reservations)
②Reservations can also be made at the restaurant on the day depending on the number of available tables
Allotted Time: 2 hours max.

Official Website: https://awajiresort.com/hellokittyshowbox/

Hello Kitty Launches #HelloGlobalGoals Project With the United Nations

Sanrio launched its #HelloGlobalGoals (#HelloSDGs) co-project with the United Nations at the UN headquarters on September 24 which sees their popular character Hello Kitty helping to spread the words about Sustainable Development Goals (SDGs).

The Sustainable Development Goals (SDGs) are a set of 17 global goals established by the United Nations General Assembly in 2015 to be reached by the year 2030. This includes "No Poverty," "Zero Hunger," "Climate Action" and so on.

Since September last year, Hello Kitty has been helping to promote SDGs on her YouTube channel as part of Japan's involvement in the global efforts. The UN recognised this, and had Hello Kitty join them at the headquarters in New York at the SDG Media Zone presentation, which was attended by people around the world, where they announced #HelloGlobalGoals.

Hello Kitty dressed up in the SDG promotional colours and appeared alongside Amina Mohammed, the Deputy Secretary-General of the United Nations, who expressed her wish for more people around the world to come to learn about SDGs, as well as to create a world where everybody can get along harmoniously and with kindness.

At the event, all 17 goals were showcased on a huge art piece featuring Hello Kitty to break the project down and make it easier for people to understand.

Up to now, Hello Kitty has posted videos about what Japan has been doing for the SDGs on her channel, but now she will begin posting about countries around the world at the behest of Amina Mohammed in a new video series as shown above.

Hello Kitty's dress for the #HelloGlobalGoals is rainbow-coloured, representing each of the goals. This is the dress she will wear for her forthcoming SDG promotional activities.

Join Hello Kitty in her mission to spread word about SDGs and the #HelloGlobalGoals project.

©️'76,'19 SANRIO

Information

Hello Kitty YouTube Channel

Adorable Hello Kitty Plush Toy & Key Ring Releasing by Steiff

As part of this year's celebrations to commemorate Hello Kitty's 45th anniversary, Sanrio are teaming up with German-based plush toy company Steiff to release an original Hello Kitty teddy and key ring. Orders will open on October 5 and they will be released on November 1 at Sanrio stores and select department stores stocking Sanrio goods.

The plush toys and key rings are all individually handmade in Germany and each comes with a unique serial number and packaged in a special gift box.

The left ears are tagged with Steiff's company logo. These tags feature the serial number and the time the item was manufactured.

Embroidered on the foot of the Hello Kitty teddy is her name in gold together with a red and gold ribbon. Her arm, legs and neck are adjustable so you can pose her how you like. Both of these products are limited in stock and will discontinue once all have been sold, so if you're looking to add to your collection you'll want to get in there quick.

©️1976,2019 SANRIO CO., LTD. ©️Margarete Steiff GmbH 2019 

Cute Hello Kitty Dumb Phone Can Feature As Extension To Your Smartphone

As part of the ongoing celebrations for Hello Kitty's 45th anniversary, Sanrio just launched the all-new Hello Kitty FIGURINE KT-01BT in Japan on September 2.

This Hello Kitty Smart Mate features the same design of the popular original Hello Kitty FIGURINE KT-01 released back in 2016. Featuring as both a flip dumb phone and figurine, the device is small enough to fit in the palm of your hand.

Everything from its design and shape to the packaging it comes in is inspired by 1970's Hello Kitty―the year she first showed her cute face to the world―clad in an pink adorable dress and ribbon.

The device connects to both smartphones and Bluetooth, meaning it can serve as an extension to your smartphone, allowing you to take calls from it when your smartphone is in the bottom of your bag. It can also copy over your contacts and phone history from your smartphone, making it a very handy addition indeed. It features all the basic functions too including a calculator, clock and more.

Check out how cute that design is!

Pre-orders first opened on Amazon Japan on August 1, but the device is still available to purchase right now. It also arrived at Sanrioworld GINZA in Tokyo on September 2. Announcements for future stock will be made available on OLA and Yoozi will be made available in the near future.

©1976, 2019 SANRIO CO., LTD. APPROVAL NO.S 601882 ©2019 OLA Inc. ©2019 Yoozi Inc.

Information

Hello Kitty FIGURINE KT-01BT
Release Date: September 2, 2019
Price: ¥8,980 (Before Tax)
Available: Amazon Japan / Sanrioworld GINZA (NISHIGINZA Floor 1F, Ginza, Chuo Ward, Tokyo)

70's Inspired Superalloy Hello Kitty Figure Releasing Worldwide

BANDAI SPIRITS is teaming up with Hello Kitty and the 1974's brand Chogokin, which started as the name of a fictitious material in Go Nagai's mecha manga series Mazinger Z meaning "superalloy" and ended up becoming a new line of die-cast metal toys. They will release the new Superalloy Hello Kitty toy in Japan in December 2019 and it will subsequently roll out in 22 countries around the world.

The toy celebrates the 45th anniversaries of both Chogokin and Hello Kitty. It takes on the 1970's Hello Kitty design and comes with a range of items including a pedestal, milk bottle, goldfish bowl, and a sign.

Her head is also rotatable. The toy itself is heavy as you would imagine something claiming to be "superalloy" would be! Make sure you don't miss out on this special collaboration.

©️1976, 2019 SANRIO CO., LTD.

Information

Chogokin (Superalloy) Hello Kitty – 45th Anniversary

Price: ¥4,400 (+10% Tax)

Release Date: December 2019 (Subject to change)

Ages: 15+

Height: Approx. 60mm

Materials: Die Casting, ABS

Contents: Figure, Milk Bottle, Fish, Chogokin Logo Panel, Pedestal

Product Page: https://tamashii.jp/item/13036/

Hello Kitty Collaborates With Licca-chan For 45th Anniversary

Hello Kitty is teaming up with Takara's dress-up doll series Licca-chan to release the "Hello Kitty 45th Anniversary Style" doll outfit as part of the LiccA Stylish Doll Collections. Pre-orders will open on September 2 and go on sale on Hello Kitty's birthday, November 1.

This is Hello Kitty's second collaboration with the doll franchise following the success of the "Hello Kitty Celebration Style" which dropped back in January this year. The first outfit sold out in just a few days, receiving adoration from fans of both Hello Kitty and Licca-chan alike.

The first style was uniformly red, from the Hello Kitty ribbon to the dress and bag. This time the outfit takes on a pure white colour inspired by Hello Kitty. Licca-chan is serving a white knitted one piece with Hello Kitty ribbons. The inner part of the coat is also decorated with ribbons. Everything from the earrings to the accessories and even the gold-leaf packaging breathes the world of Sanrio's most recognisable character.

The outfit also comes with a red apple-shaped bag and message card which is packaged in its own gift box―a congratulations to Hello Kitty on her 45th anniversary.

 

©TOMY ©1976,1985, 2019 SANRIO CO., LTD.TOKYO,JAPAN

Information

LiccA Stylish Doll Collections – Hello Kitty 45th Anniversary Style
Pre-Orders: From September 2, 2019

Release Date: November 1, 2019

Price: ¥14,000 (Before Tax

Ages: 15+
Available: Omocha no Yoshida (Ashikawa, Hokkaido),  Hakuhinkan Toy Park (Ginza, Tokyo), KIDDY LAND Harajuku (Harajuku, Tokyo), KIDDY LAND Osaka Umeda (Umeda, Osaka), Takara Tomy Online Store, Sanrio Online Shop, and elsewhere


LiccA Official Website: licca.takaratomy.co.jp/official

Hello Kitty and Where's Wally to Release Collaboration Goods

Hello Kitty will be collaborating with Where's Wally? to release a lineup of general goods from November 2019.

Where's Wally? is a picture book we are all familiar with. Wally first made his debut 32 years ago and soon became a famous picture book character known all over the world. Where's Wally original illustration exhibitions in Japan have been met with a hugely positive response, being visited by people of all generations and nationalities.

The company Plazastyle holds a license to use the character Where's Wally in Japan.  With this license, they have created the WHERE'S WALLY? HELLO KITTY collaboration, which is based on Where's Wally encountering Hello Kitty while on his travels around the world. 

Just some of the collaboration goods include T-shirts, socks, pouches, compact mirrors, mobile phone accessories such as smartphone cases and chargers, and much more.

All we can do is wait in excitement for the goods to be released!

ⓒ DreamWorks Distribution Limited. All rights reserved.ⓒ 1976, 2019 SANRIO CO., LTD.

Prepare for New Year by Ordering a Minion or Hello Kitty-Themed New Year Osechi Food Bento in Advance

 To properly celebrate a Japanese New Year, Osechi cannot be overlooked. Osechi is a Japanese term referring to special food traditionally served during the New Year holidays. The food is filled with the hopes, wishes and happiness of people. This year, Belle Maison has released Minion-themed and Hello Kitty-themed osechi bento boxes.

Belle Maison opened their reservation website for these Osechi Bento boxes on August 23rd. 

2-Tier Minion Osechi Bento Box: ¥22,000 (after tax)

Underneath the dazzling smiling face of the minion is a bento box packed with delicious New Year's goodness. The box contains a mix of traditional flavours as well as small appetizer-style bites. This is something that children as well as adults would love. The box even includes a delicious soup and a cured and steamed white fish kamaboko, which bears the image of a minion.

3-Tier Hello Kitty Osechi Bento Box: ¥19,900 (after tax)

The Hello Kitty Osechi comes in a Hello Kitty 45-year anniversary box. From the Hello Kitty ribbon-shaped mochi to the pink lilies made from yokan jellied red bean paste, this bento box is packed with cute and beautiful Hello Kitty goodness. There is also Hello Kitty mousse made from whipped cream and a Hello Kitty steamed bun with a sweet potato and chunky adzuki bean paste filling. This box is packed tightly with so many delicious desserts. 

Order online during one of the following advanced sale periods for a discount:

Period 1 (10% off): August 23 ー September 30, 2019

Period 2 (7% off): October 1 ー 28, 2019

Period 3 (3% off): October 29 ー November 25, 2019 

 The earlier you order, the larger the discount so if you are interested, you should order earlier rather than later. 

There is no better way to experience a Japanese New Year than with a Minion or Hello Kitty-themed Osechi Bento Box. 

ⒸUniversal City Studios LLC. All Rights Reserved ©1976,2019 SANRIO CO.,LTD. APPROVAL NO.G600783

Information

2-Tier Minion Osechi Bento Box

List Price: ¥22,000 (after tax)

Best Before:  Store in the freezer and consume before January 31, 2020 

* Deliveries to Okinawa or the outer islands of Japan are not accepted. Delivery available to majority of locations in Japan.

*Sales will end once stock has completely sold out. 

 

3-Tier Hello Kitty Osechi Bento Box

List Price: ¥19,900 (after tax)

Best Before:  Store in the freezer and consume before January 31, 2020 

*Sales will end once stock has completely sold out. 

Websites

2-Tier Minion Osechi Bento Box: https://www.bellemaison.jp/minion

3-Tier Hello Kitty Osechi Bento Box: https://www.bellemaison.jp/kosechi

 

Deadlines to Order

Online: December 19, 2019 (17:00)

Catalog: December 18, 2019 (Wednesday)  

 

Delivery Dates

December 29 ー 30, 2019

* Requests for specific delivery times and dates are not accepted. 

Hello Kitty & Mickey and Minnie Mouse New Year Osechi Food Orders Now Open

Osechi is a Japanese term referring to special food served during the New Year holidays. The food is filled with the hopes, wishes and happiness of people. Kibun Foods began taking reservations for new Hello Kitty and Disney osechi assortments via their online shop on August 1. Reservations will also began rolling out at retail stores throughout the year.

The Hello Kitty box contains a selection of traditional osechi items including red and white kamaboko cured fish paste and datemaki sweet rolled omelette as well as more modern cuisine like smoked duck.


The cute box comes with the original 1970's Hello Kitty design to celebrate her 45th anniversary. It's exclusive to Kibun Foods and can be reused as a lunchbox.

The Disney box design features Mickey and Minnie Mouse wearing traditional kimono. This box also contains traditional foods like red and white kamaboko cured fish paste and datemaki sweet rolled omelette as well as chicken in tomato sauce, smoked duck and more.

The plum blossoms and peonies give a traditional and luxurious feel to the box.

Enjoy a kawaii-charged New Year's this year with these beautiful osechi gifts.

©1976,2019 SANRIO CO., LTD. APPROVAL NO.G601662

ⒸDisney

*Photos are for illustrative purposes only

Information

Hello Kitty Osechi
Foods: 21
Price: ¥10,000 (Before Tax)
Delivery: Cold Storage
Box Size: 16.5×16.5 ×10.8cm

Disney Osechi
Foods: 25
Price: ¥11,000 (Before Tax)
Delivery: Cold Storage
Box Size: 16.5×16.5×9.7cm

Kibun Shop: https://www.kibun-shop.com

Adorable Moving Ear Hats to be Released by Sanrio

Sanrio has announced that it will release six hats with moving ears inspired by six of its characters at Sanrio stores, its online store, and shops stocking Sanrio goods in Japan on August 21.

The hats move by using an air pump that you pump with your fingers. Look adorable at events, on your Instagram story posts and pretty much anywhere by choosing from one of the six characters: Hello Kitty, My Melody, Pompompurin, Cinnamoroll, Kuromi and Pochacco.

The hats are fluffy, comfortable to wear, and of course make you look kawaii as you walk along with the ears bouncing up and down. The hats are also one size fits all and so can be worn by both kids and grown-ups!

©️1976, 1989, 1996, 2001, 2005, 2019 SANRIO CO., LTD.

Information

Sanrio Character Moving Ear Hats
Release Date: August 21, 2019

Available: At most Sanrio stores, select stores stocking Sanrio merchandise, and online via the Sanrio Shop, Rakuten, and Yahoo

Designs: Hello Kitty, My Melody, Pompompurin, Cinnamoroll, Kuromi and Pochacco

Price: ¥2,052 Each (Tax Included)

Sanrio Official Website: https://www.sanrio.co.jp/goodsinfo/mx-mimiga-ugoku-201908/