Natural Ice Area to Open at KERA-IKE Ice Rink in Karuizawa Hoshino Forest Area
The "Natural Ice" area is set to return to KERA-IKE Ice Rink, an outdoor ice skating area managed by Hoshino Resorts, again this winter, something made possible only by the cold winter weather and without cooling devices.
KERA-IKE Ice Rink is connected to the Karuizawa Wild Bird Sanctuary where countless wild birds and animals roam free. The ice rink opened for the winter season last Friday (October 18) and will run until March 8 next year.
The rink is formed of two areas: the "Man-made Area" which is made together with the cold air and the help of cooling devices, and the "Natural Area," which appears only during the coldest time of winter and sees the water freeze up naturally, allowing people to skate across 1,080 square meters of land. This Natural Area will open on December 20 and run until February 20, 2020.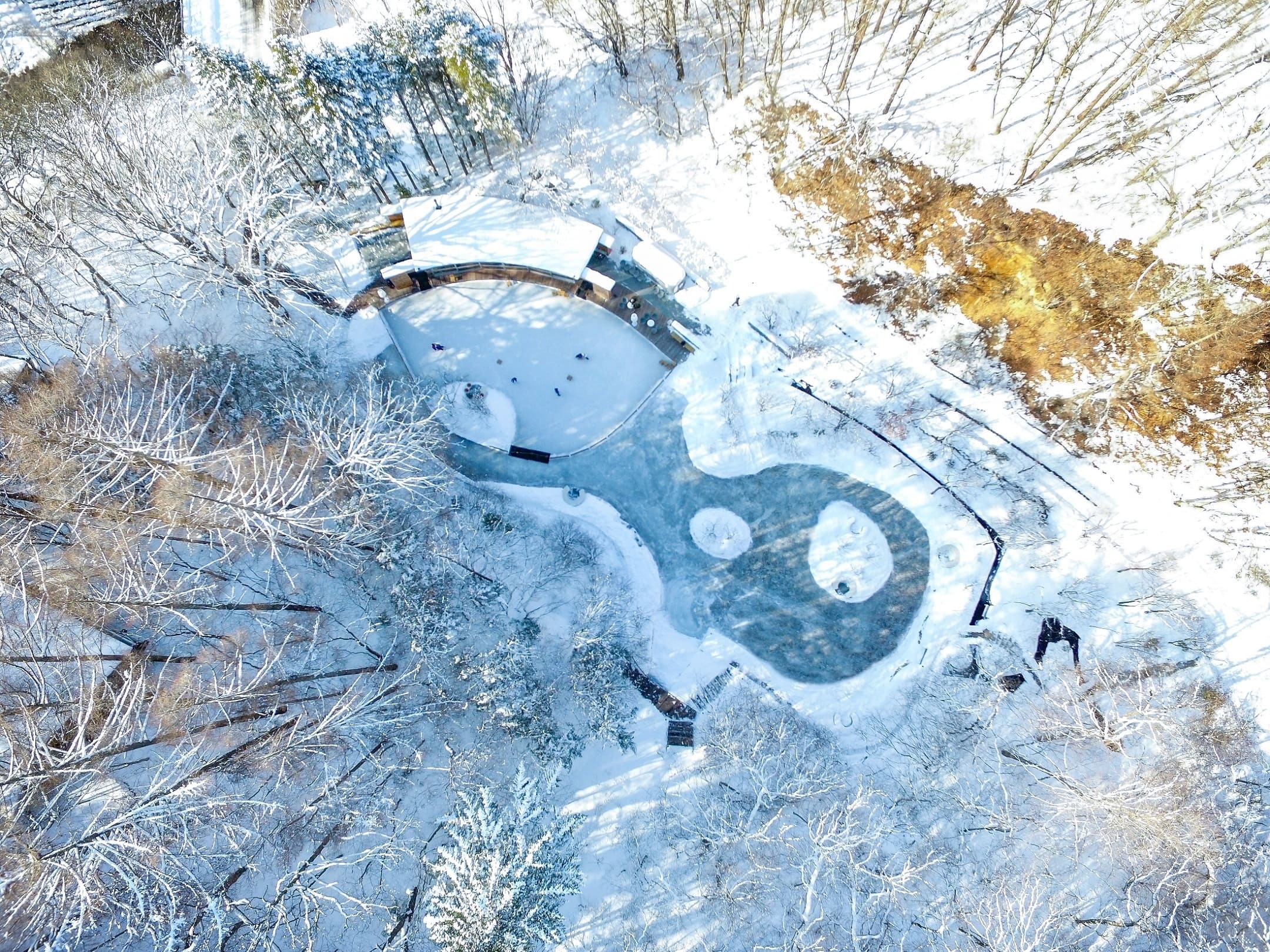 Stroll across the forest's icy landscape
The freedom of skating across the natural ice is like taking a stroll through the forest. Enjoy skating around the little islands in the middle of the lake and finding the fallen leaves from the forest trees locked inside the ice.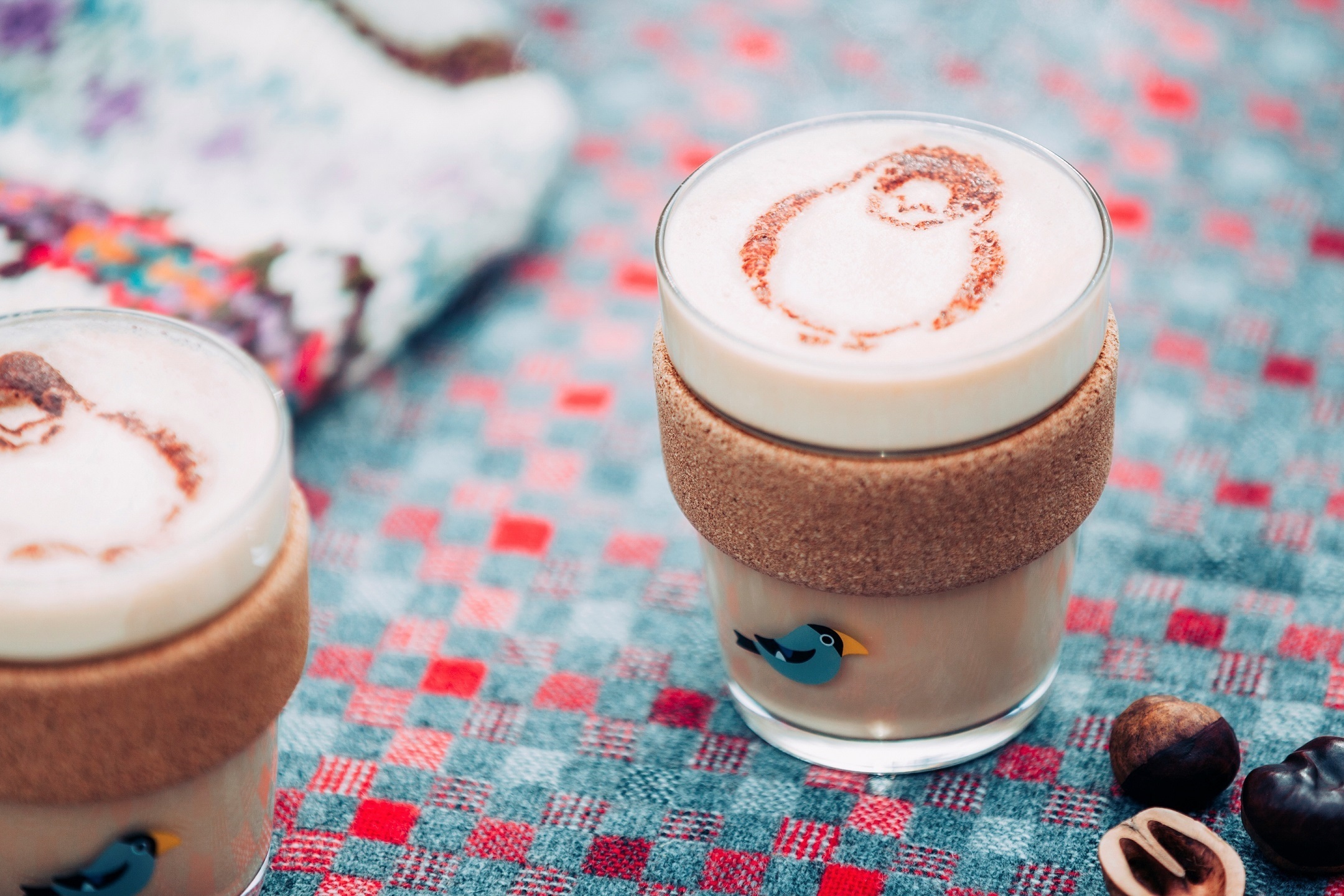 Enjoy hot drinks with the sound of the wild birds as your soundtrack
Enjoy a coffee or hot chocolate at the neighbouring cafe. We recommend getting the Wild Bird Cafe Latte which comes with four different latte art designs of the wild birds you'll often spot around the ice rink. The drink can be enjoyed in the cafe or can be taken out so you can enjoy sipping it on the benches on top of the ice.
Wild Bird Cafe Latte – ¥600 (Tax Included)
 Coffee/Hot Chocolate – ¥500 (Tax Included)
Couples can enjoy the "Starry Sky Nighter Skate" Valentine's event
For Valentine's season, the ice rink has a special event in store for couples: the first ever "Starry Sky Nighter Skate." Not only do they get the luxury of skating after-hours, they can also bask under the radiance of Karuizawa's incredible star-filled sky. There will also be a guide providing commentary on the stars. After the event, all lights will be turned off to allow everyone to enjoy the pure light of the stars.
There will also be hot chocolate with heart-shaped marshmallows for the Valentine's event.
Starry Sky Nighter Skate
Running: February 10, 2020 – February 16, 2020
Time: 17:30-19:00 (Reception open 17:00)
Price: ¥3,500 per person (Includes skating fee, skate rental fee, drink, binoculars, and consumption tax)
Age: 18+ years
Reservations: By 17:00 the same day by telephone or online. Reservations are mandatory.
Capacity: 20 per day (Must book for at least 2 people)
Information
Kera-Ike Ice Rink Natural Area
Running: December 20, 2019 – February 20, 2020
*Man-made area running October 18, 2019 – March 8, 2020 (Except November 20, 2019, and January 7-9, 2020)
Time: 10:00-16:00
Price: General (Junior High Schol students and older) – ¥1,900 / Elementary School Students and younger – ¥1,300
Official Website: http://www.hoshino-area.jp/archives/area/skate
RELATED ENTRIES
Karuizawa's New Apple Farm Opens in Collaboration With Hoshino Resorts and Local Farmers

The Karuizawa-based hotel and hot spring complex Hoshino Onsen Tombo-no-yu joined hands with local apple farmers last year to help support apple cultivation for their apple hot springs. This is now being taken to the next level with the opening of Ringo Tsuchi, an apple farm that Tombo-no-yu staff helped to build. The farm opened on March 19, and locals will be able to visit part of the farm for free starting on April 26.

The project ties in with the global Sustainable Development Goals (SDGs) initiative, specifically the 12th goal: "Responsible Consumption and Production," which looks to ensure sustainable consumption and production patterns. Karuizawa is located in Nagano Prefecture which is ranked as the 2nd biggest producer of apples in Japan. When growing apples, those fruits which incur any kind of damage or grazing isn't shipped to the country's supermarkets or stores. It's these not-so-perfect apples that Tombo-no-yu uses for its apple hot spring experience. Though it may just be a small step towards that goes, it still goes a small incremental way towards achieving it.

Free entry to Ringo Tsuchi

The main raw materials at Ringo Tsuchi ("Apple Earth") are the apples used in the apple hot springs and fallen leaves from around the Hoshino area. In addition to compost and water, the materials are fermented, which adds the necessary nutrients to growing apples and creates soft and breathable soil. And since compost is added, it creates an environment where gardening tools can be used in the earth without any prior preparation.

The completion of Ringo Tsuchi

In the mid-October last year, work was carried out at Nomoto Kajuen Orchards in Mimakigahara Okubo, Nagano, to carefully select picked apples and not-so-perfect apples. These apples were used for the apple hot springs at Tombo-no-yu over a three day period from October 23 to 25. The apples are placed in both the male and female hot springs to float on the water.

After that three-day period, the apples were collected, washed, and cut to be used for compost. Since fermentation removes water content, the staff also had to add water twice a month to manage the compost.

Working with the locals

Katsuya Nomoto is a representative of Nomoto Kajuen Orchards, a farm that grows apples, prunes, and more. The farm takes advantage of the area's high altitude and takes pride in its work to cultivate produce that is healthy to the body and environment using soil microbes as an organic fertiliser. It's also officially recognised as a farm dedicated to supporting Nagano's environment, and carries out school trips for children to visit, creating ties with the local community.

K Confect released a batch of its new 'SNOW SAND' chocolate sandwich cookies for the winter season on Wednesday (January 20) made with ingredients from Hokkaido and within just 30-minutes the online stock sold out. The company has now been launching a new limited batch every day since January 21st. All orders come with an original polar bear postcard.

Front and back of polar bear postcard

The SNOW SAND sandwich cookie brings some warm and cosy love this cold winter season with its delicious combination of butter made in Hokkaido, wheat flour, and sugar. The cookie packaging comes in two designs based on two works of art by Japanese painter Otani Kazuyoshi.

Japan declared a state of emergency on January 5, 2021 in response to the COVID-19 pandemic, and so those unable to make it to the company's pop-up shops at Daimaru Sapporo and Daimaru Tokyo, which will open on January 27, can order the cookies online too.

Information

SNOW SAND Raw Chocolate Sandwich Cookie
Online Orders: From January 20, 2021

Buy Here: https://www.snowsand.jp/

Daimaru Pop-Up Shop Orders: January 27, 2021 to February 14, 2021

Daimaru Official Website: https://www.daimaru-matsuzakaya.jp/valentine/

Daimaru Pop-Up Shops
Daimaru Tokyo: Available on Floor 1F's sweets section

Daimaru Sapporo: Available on Floor 1F's Valentine's section

Opening Hours: 10:00-20:00

*Those who spend over ¥3,160 (Tax Included) will receive an original mini tote bag – available while supplies last

TALENT PROFILE

Ema Tanioku

"Emaeri" is the nickname for models Ema and Eri Tanioku, who are Aomoji fashion model twins. Ema and Eri Tanioku specialise in twin fashion coordination. Over the years their fanbase has increased due to their cute looks. Ema Tanioku spreads Harajuku culture within Japan as well as overseas and works as a Harajuku Tourism Ambassador. Starting off as a model, Ema has broadened her talent range from fashion magazines to TV, and from playing the lead role in dramas to movies.

Starbucks Japan Reveals Earl Grey Honey Whip Frappuccino®and 3 New Tea Lattes

Starbucks Coffee Japan is pouring four new beverages into its ongoing winter beverage series starting on December 26: the Earl Grey Honey Whip Frappuccino®, Earl Grey Honey Whip Tea Latte, Chai & Whip Chocolate Tea Latte, and Houjicha Cream Tea Latte.

Fragrant Frappuccino® combining Earl Grey and sweet honey

Earl Grey Honey Whip Frappuccino®: Tall ¥590 (Tall Size Only)
Earl Grey Honey Whip Tea Latte (Hot Only): Short ¥450 / Tall ¥490 / Grande ¥530 / Venti® ¥570

Serving: December 26, 2020 – January 19, 2021

What better way to enjoy the winter season than with a cup of the Starbucks Earl Grey Honey Whip Frappuccino® or Earl Grey Honey Whip Tea Latte, both of which fuse the fragrant and elegant flavour of Earl grey with refreshing milk, sweet honey, and a topped of whipped cream. Both beverages are finished with a snow-dusting of white chocolate flakes.

Tea, tea, tea! Three tea lattes with distinct flavours

Earl Grey Honey Whip Tea Latte (Hot Only): Short ¥450 / Tall ¥490 / Grande ¥530 / Venti® ¥570

Chai & Whip Chocolate Tea Latte (Hot Only): Short ¥450 / Tall ¥490 / Grande ¥530 / Venti® ¥570

Houjicha Cream Tea Latte: Short ¥430 / Tall ¥470 / Grande ¥510 / Venti® ¥550
Serving: December 26, 2020 – January 19, 2021

As well as the Earl Grey Honey Whip Tea Latte, there's the spicy Chai & Whip Chocolate Tea Latte topped with white chocolate and nutmeg as well as the Houjicha Cream Tea Latte which contains houjicha tea, white chocolate syrup, and whipped cream dusted with brown sugar. The mix of tea and milk makes for a harmonious indulgence.

Butterscotch Latte returns for winter

Butterscotch Latte (Hot/Iced): Short ¥420 / Tall ¥460 / Grande ¥500 / Venti® ¥540
Serving: December 26, 2020 – March 16, 2021

Taking inspiration from Starbucks Reserve® Roastery Tokyo, all Starbucks branches in Japan will serve the Butterscotch Latte, using different ingredients from Roastery Tokyo, a combination of rich buttery and caramelly butterscotch sauce, a shot of espresso, and steamed milk.

Winter Travelling in Japan With Hoshino Resorts Promises Cosy Solitude

Hoshino Resorts is offering many ways for guests to enjoy themselves this winter with a range of activities and vistas, whether it be gazing at the starry sky, enjoying a holiday season glamping session, and more—all of which can be done while avoiding the Three C's during the pandemic, meaning you won't have to come into contact with others.

A Wintertime Agriturismo Resort Experience in Tochigi

At Hoshino Resorts RISONARE Nasu, guests can enjoy an authentic, vegetable-packed Italian course dinner, indoor bathing in their own guest rooms in an accommodation surrounded by nature, open-air hot springs to warm up during the winter season, and more. There's also a "Farmer's Lesson" for that true agricultural tourism experience ('agriturismo') so guests can feel at one with nature in Nasu.

▼Hoshino Resorts RISONARE Nasu
Address: 2301 Takakuotsu, Nasu, Nasu District, Tochigi
Running: December 1, 2020 – March 15, 2021

Stargazing On the Ice in Nagano

Guests can lose themselves in the stars while they enjoy a glass of Nagano wine or fondue from Hoshinoya Karuizawa's cafe and bar. One group of two guests can rent the area all to themselves for a romantic and memorable time.

▼HOSHINOYA Karuizawa
Address: 2157-428 Nagakura, Karuizawa, Kitasaku District, Nagano
Running: December 1, 2020 – February 28, 2021

Winter Season Glamping in Yamanashi

HOSHINOYA Fuji is offering a special glamping program this winter where guests get their very own private space to enjoy the outdoors. They can chop their own woods, build their own fires, and more. It's the perfect program to get your body warmed up during the cold winter months.

▼HOSHINOYA Fuji
Address: 1408 Ōishi, Fujikawaguchiko, Minamitsuru District, Yamanashi
Running: December 1, 2020 – March 15, 2021

An Unbeatable Ocean View With Hanami Flower Viewing in Shizuoka

Hoshino Resorts RISONARE Atami is offering a special program where guests can enjoy the earliest bloom of Japan's plum blossoms together with a panoramic ocean view. The hotel's rooftop Sora no Beach Books&Cafe is a cafe designed to look like a beach and serves as the perfect vantage point for this exclusive experience.

▼Hoshino Resorts RISONARE Atami
Address: 2 Chome-13-1 Minaguchicho, Atami, Shizuoka
Running: January 8, 2021 – March 12, 2021

Acquire Knowledge of the Blue Zone in Okinawa

HOSHINOYA Taketomi Island sits on Taketomi Island which is located inside one of the world's four Blue Zones, regions where it's claimed that a higher than usual number of people live longer. There, guests can gain knowledge on how to live a healthy lifestyle. They will spend time moving their bodies as they work out on the farm, learn the secrets to sunbathing and eating nutritional food, and more, all to rebalance the rhythm of their lifestyles.

▼HOSHINOYA Taketomi Island
Address: Taketomi, Yaeyama District, Okinawa
Running: From December 1, 2020 (Not running on select days)

Shizuoka's Strawberry Cafe Ichigo BonBonBERRY ATAMIHOUSE. Releases Winter Menu

Ichigo BonBonBERRY ATAMIHOUSE. is the first cafe to open in Atami specialising exclusively in strawberry desserts. This Christmas, the cafe is serving up a new Christmas cake, winter afternoon tea set, and strawberry milk beverage, all of which hit the menu on Friday (December 4).

Hitorijime Christmas Cake | ¥1,000 (Before Tax) *Comes with drink

A dreamy Christmas cake for one loaded with cream and sweet strawberries. There's a strawberry on top and more in the middle squished between soft sponge.

Winter Afternoon Set | ¥1,200 (Before Tax)

The cafe has turned its popular afternoon tea into a wintertime version for Christmas, served with a mini bavarois in the shape of a strawberry, strawberry ice cream, melty fondant chocolate, and a rum raisin chocolate tiramisu. A delightful combination of sweet, tangy, and rich flavours.

Hot Strawberry Milk | ¥400 (Before Tax)

A hot strawberry milk to feel cosy in the cold winter weather, topped with plenty of cream and a sprinkling of strawberry powder. Enjoy it as it is or mix together for a creamier beverage.

The winter menu is seasonal and so will only be available this wintertime.

Information

Ichigo BonBonBERRY ATAMIHOUSE.
Address: 3-16 Tawarahonchō, Atami, Shizuoka
Opening Hours: 10:00-18:00
Access: 2-minutes from Atami Station (JR Line side)
Official Website: http://www.atami-bonbonberry.com

Golden Island Zipang 2020 Illumination Event Lights Up Matsue in Shimane

The splendid Yuushien Garden in Matsue, Shimane, is now hosting a dazzling winter illumination event titled Kogane no Shima Zipang 2020 (Golden Island Zipang 2020) until January 11, 2021.

Golden Island Zipang 2020

Yuushien Garden is located on the eastern side of Matsue on Daikon Island, a volcanic island in Nakaumi. The garden has been called the most beautiful Japanese-style garden in all of Japan, which makes it the perfect setting for the illumination event. 50 projectors at the garden are using projection mapping to create a flurry of flashy illuminations.

It's a full pixel illumination display coupled with music that's sure to dazzle all who visit. this winter.

Information

Golden Island Zipang 2020 (Japanese: 黄金の島 ジパング 2020)
Event Schedule
Autumn Illuminations: November 14, 2020 – November 30, 2020

Christmas Illuminations: December 1, 2020 – December 27, 2020

New Year Illuminations: January 2, 2021 – January 11, 2021
Event Page: https://www.kankou-matsue.jp/rehappy/feature/illumination

Yuushien Garden
Address: 1260-2 Yatsukachō Hanyū, Matsue, Shimane
Opening Hours:9:00-17:00
Closed: December 30-31
TEL: 0852-76-2255
Official Website: https://www.yuushien.com

Karuizawa Shiraito Falls Midwinter Light Up Arrives For 2020-2021

Shiraito Highland Way has announced that this year's Karuizawa Shiraito Falls Midwinter Light Up will run from December 19, 2020 to February 14, 2021.

The illumination event will take place at Karuizawa Shiraito Falls, a 3-meter tall waterfall that spans 70-meters in length. The lights will add a warmth to the cool evening and glow under a starry night sky.

The event creates a different atmosphere from the summer light-up, allowing visitors to enjoy the enveloping nature in a way that they normally can't and see beauty they may not have noticed in the area before. The waterfall is located in Jōshin'etsu-kōgen National Park, a protected area which means the lights will be set up in a way that's considerate to the park.

If you're in Japan this winter then don't miss out on this year's Karuizawa Shiraito Falls Midwinter Light Up which will be split into three sessions: the Christmas Session, New Year Session, and St. Valentine Session. More details below.

Information

Karuizawa Shiraito Falls Midwinter Light Up
Location: Karuizawa Shiraito Falls
Running: December 19, 2020 – February 14, 2021
・Christmas Session: December 19th-20th, 24th-27th (17:00-19:00)
・New Year Session: January 2nd-3rd,  8th-11th (17:00-19:00)
・St.Valentine Session: February 11th-14th (17:30-19:30)

Access: https://karuizawa-shw.com/access/
*Please see the website for the latest information

*Entry restrictions may be made depending on the number of visitors

Official Website: https://karuizawa-shw.com/

UNIQLO x JW ANDERSON Unveil Their First Ever Holiday Collection For 2020

London-based fashion brand JW ANDERSON is following up its Autumn/Winter collaboration with UNIQLO with the two companies' first ever holiday collection. Centring around the theme "A Cozy Countryside British Cottage," the collection captures the vibe of spending time in a cozy cottage on the outskirts of London.

Traditional and uplifting British prints for a brighter winter

The holiday collection is made up of everything you need for surviving winter: beanies, gloves, socks, and snoods, all decorated with traditional British prints like argyle and jacquard. All the colours match together perfectly so the line-up works perfectly as a set. It features an JW ANDERSON-esque twist and incorporates HEATTECH technology to get you through the cold months.

Limited-edition argyle gift boxes

Gift Box | ¥290 (Small/Medium/Large)

This collection is boxed in an argyle gift box to make for the perfect Christmas packaging.

Stay warm this winter with the soft and cozy new JW ANDERSON x UNIQLO holiday collection, rolling out December 4, 2020.

Sanrio's Little Twin Stars Kiki & Lala to Feature in Special Christmas Event in Shinjuku

Sanrio's beloved character pair Kiki & Lala, also known as the Little Twin Stars, will feature as part of a special winter event titled "TWINKLE COLOR CHRISTMAS" in collaboration with Odakyu Electric Railway. It will take place at Shinjuku Southern Terrace from December 1 to 25, illuminating the area with beautiful Christmas lights.

Kiki & Lala's Twinkling Christmas Tree

Shinjuku Southern Terrace will dazzle visitors with its pink and blue illuminations as will its towering 4-meter tall Christmas Tree which was made in collaboration with the installation art group MIRRORBOWLER. It will be decorated in countless mirror balls which will reflect beautifully both during the day from the sun and at night with Kiki & Lala's illuminations. The tree will also be adorned with numerous Christmas decorations like clouds, moons, and stars—all very reminiscent of Sanrio's pastel-coloured pair.

Kiki & Lala Food & Drink

Kiki & Lala Ruby Chocolate Latte ¥400 (Tax Included) | Kiki & lala Twinkle Crepe ¥600 (Tax Included)

On weekends, as well as from December 19 up to Christmas Day, a food wagon will make an appearance at the event serving Kiki & Lala food and drink like the pink and fruity Ruby Chocolate Latte and fruit-filled Twinkle Crepe.

Limited-Edition Design Clip

Customers who spend over ¥2,000 (tax included) at the wagon will get themselves a free limited-edition design clip.

Cafe Wagon Schedule
Running: December 5th-6th, 12th-13th, 19th-25th, 2020
Opening Hours: 10:00-19:00

AR Kiki & Lala Tree

Those unable to visit Shinjuku this Christmas can access the "TWINKLE COLOR CHRISTMAS AR TREE" digitally This will have Kiki & Lala's Christmas tree appear on your phone when taking photos. You can access it here.

©'76,'20 SANRIO  著作(株)サンリオ

Information

Little Twin Stars x Shinjuku Southern Terrace TWINKLE COLOR CHRISTMAS
Running: December 1, 2020 – December 25, 2020
Tree Light-Up Schedule: December 1 = 17:00-24:00 / December 2-24 = 16:30~24:00 / December 25 = 16:30-21:00
Address: 2-2-1 Yoyogi, Shinjuku, Tokyo
Entry: Free
Official Website: https://www.sanrio.co.jp/news/ts-odakyu-twinkle-color-christmas-20201119/

Starbucks Japan Reveals Matcha x Matcha White Chocolate Frappuccino®

Starbucks Coffee Japan has revealed that its second instalment of its limited-edition holiday season 2020 beverages will be the "Matcha x Matcha White Chocolate" and "Matcha x Matcha White Chocolate Frappuccino®" which customers can order from November 24. A new batch of festive Starbucks merch will also hit Japanese branches on November 30.

A harmonious fusion of matcha and sweet white chocolate

Matcha x Matcha White Chocolate Frappuccino® Tall ¥590 (Tall-size only)

Matcha x Matcha White Chocolate: Short ¥450 / Tall ¥490 / Grande ¥530 / Venti® ¥570 (Hot option only)

Matcha is one of Starbucks Japan's signature flavours and just to happens to have been in the spotlight in last year's holiday season drinks. This year sees marbling mixture of of rich matcha sauce and sweet white chocolate syrup with the Frappuccino®, finished with a squirt of whipped cream, brownie bits, and snowy powdered sugar. The hot version comes as a marriage of matcha and white mocha mixed together with steamed milk to warm the cockles of hearts during the cold months.

New holiday season merchandise

The theme of the second batch of merchandise is "Brilliant Season" which capture the bright and sparkly vibe of winter like with the snowflake-covered stainless steel bottle, a glass mug with beads in it that move around when shaken, a snow globe, and more. The perfect line-up for capturing the holiday season mood during your coffee break.

Starbucks Japan is currently serving the Berry x Berry No-Bake Cheesecake Frappuccino® and Berry x Berry White Mocha holiday season drinks for the holiday season until November 24 when they will be replaced by the Matcha x Matcha White Chocolate and Matcha x Matcha White Chocolate Frappuccino®. It is also serving the Starbucks® Christmas Blend, Gingerbread Latte, and Macadamia Toffee Latte until Christmas Day.

Information

Matcha x Matcha White Chocolate and Matcha

Matcha White Chocolate Frappuccino®

Running: November 1, 2020 – December 25, 2020

Available: Starbucks in Japan
Starbucks Japan Official Website: https://www.starbucks.co.jp/

Hoshino Resorts Tomamu's Ice Village Will Be Open For Winter 2020-2021

Hoshino Resorts Tomamu, Hokkaido's top snow resort where you can stay, has announced that this year's Ice Village will open from December 10, 2020 to March 14, 2021.

Ice Village opens up at Tomamu in wintertime only and has done so every year since 1998. It boasts 3.2 hectares of land and houses 10 enormous igloos to create a little village of ice. At its lowest, the temperature there can drop to -30°C which is what works the magic behind the Ice Village.

Many events around Hokkaido have been cancelled this year as a result of the pandemic, and so Tomamu has decided to remain open to both guests and non-guests while operating under strict countermeasures against COVID-19. This way, people can still enjoy the wonderful winter season of Hokkaido. This year sees the opening of the Ice Milk Cafe and Ice Fruit shop in the Ice Village where they can order a variety of food and drink to take out onto the Ice Terrace. There's even the Ice Hotel and Ice Chapel.

Draw fresh milk from the Ice Milk Cafe

The one-meter tall Ice Milk Bottle lets visitors who order a glass of Ice Milk at the Milk Cafe draw fresh Tomamu Milk which has a distinctly deep flavour during winter. You can also mix the milk on an ice sheet to create gelato.

Ice Milk Cafe

Opening Hours: 17:00-22:00 (Last Orders 21:30)

Enjoy chilled fruits at the Ice Fruit Shop

Visitors can enjoy a range of whole frozen fruits that have been shaved into smaller pieces as well as frozen fruit beverages. They also serve fruits on skewers you can pick which fruit combinations you like to enjoy out on the Ice Terrace.

Ice Fruit Shop
Opening Hours: 17:00-22:00 (Last Orders 21:30)

Enter a magical frozen world at the Ice Terrace

Once you've ordered your takeout drink or dessert, you can go out onto the terrace to sit at the tables and chairs, which are also made of ice, and enjoy the frozen world around you, like the giant snowflakes.

Ice Terrace
Opening Hours: 17:00-22:00

Order a crisp drink at the Ice Bar

The ice bar serves over 50 different alcoholic beverages at the ice counter, with drinks like colourful cocktails served chilled in ice cubes.

Ice Bar

Opening Hours: 17:00-22:00 (Last Orders 21:45)

Dogs are allowed at the Ice Hotel

Everything at the Ice Hotel, from the ceiling to the walls, is made from ice. It's available to one group per day and has its own ice bath and hot springs. Dogs are also allowed and get their own pup igloo.

Running: January 18, 2021 – February 28, 2020
*Reservations required 7 days in advance

The Ice Chapel made entirely of ice

A chapel made entirely of ice which represents "the unbreakable love between two pure souls which shall last forever." From the altar and crucifix, to the wedding aisle and benches, everything is made of ice and snow. Firework displays will take place to congratulate newly-wed couples.

Running: January 18, 2020 – February 14, 2020

Visiting Times: 17:45 / 19:45 / 21:45 (10 minutes each)
Ceremony Times: 14:00 / 17:00 / 19:00 / 21:00

Crafts at the Ice Atelier and shopping at the Ice General Store

Visitors can craft things made from ice at the Ice Atelier as well as buy a selection of ice and snow-themed items like crafts, accessories, mugs, and more at the shop.

Ice Atelier / Ice General Shop
Opening Hours: 17:00-22:00

Kids and adults can have fun at the Ice Slide and Ice Rink

The Ice Slide is the most popular part of the Ice Village where kids and adults alike can slide down and overlook the bustling village. Right next to the slide is the Ice Rink, another bustling spot popular with visitors.

Ice Slide Opening Hours: 17:00-22:00
Ice Rink Opening Hours: 17:00-21:45 (Last Entries 21:30)

Information

Hoshino Resorts Tomamu Ice Village
Running: December 10, 2020 – March 14, 2021
Opening Hours: 17:00-22:00 (Last Entries 21:30)
Official Website: https://www.snowtomamu.jp/special/icevillage/en/
*Dates and content subject to change depending on the weather

Pokémon Illuminations to Light Up Lake Sagami Pleasure Forest This Year

Lake Sagami Pleasure Forest's annual SAGAMIKO ILLUMILLION winter event is set to run from November 14, 2020 to April 4, 2021, and this year, it has been announced that a new Pokémon area will be set up at the event with Pokémon illuminations.

About SAGAMIKO ILLUMILLION

SAGAMIKO ILLUMILLION is an annual winter event held at Lake Sagami Pleasure Forest. About an hour from the main city, the event takes place up a high slope with the 6 million lights becoming one with the surrounding natural environment. The event uses the latest in lighting technology and has gotten bigger and better every year. In 2018, it was chosen as one of Kanto's three biggest illumination events.

Pokémon Illuminations

This year marks the 12th run of SAGAMIKO ILLUMILLION, and this time around it's collaborating with the Pokémon franchise with lots of colourful illuminations set to light up forest and trees. Wild Pokémon illuminations roam everywhere and there are plenty of Pokémon photo spots to take your picture with including Pikachu sleeping in the forest, Charmander taking a nap by an open-air, and more.

Eevee Friends Rainbow Lift

The Rainbow Lift this year features nine colours inspired by Eevee and all of its evolutions. Ride up high with a carpet of colourful lights underneath.

Pokémon Gondola

The Pokémon decoration-wrapped gondola will ride visitors up 420m high. There are 36 different Pokémon gondola designs to see.

Pokémon Street

There are plenty of photo opportunities to be had at the event, from a Pikachu 100,000 volt exhibit to Pikachu napping by a fire and more. Take a picture with your favourite Pokémon.

Pikachu's Forest of Light

Visitors will definitely want to check out the forest too which is filled with Pikachu. Deep in the forest stands a giant, towering Pikachu too. Various Pikachu-related events will also take place including a Pikachu light show, a photo meeting, and more.

・Illumination Show: Tickets
・Photo Meet-Up: To attend, visitors can buy a ticket at the Pleasure Station or visit the site's official Twitter

Coaster (For illustrative purposes only)

Visitors who order from the ILLUMILLION menu at the park's Wild Dining restaurant will receive a Pokémon lunch mat, and if they order a drink one of eight possible coasters. They can also receive a Pokémon eco-bag if they spend over ¥3,000 at Pleasure Station.

©2020 Pokémon. ©1995-2020 Nintendo/Creatures Inc. /GAME FREAK inc.

Pokémon, ポケットモンスター, and ポケモン are registered trademarks of Nintendo, Creatures Inc., and GAME FREAK inc.

Information

SAGAMIKO ILLUMILLION
Address: 1634 Wakayanagi, Midori-ku, Sagamihara, Kanagawa
Running: November 14, 2020 – April 4, 2021

Illumination Times: 16:00-21:00 (Last Entries 20:30)

*Illumination times to begin from 17:00 starting in February

Official Website: https://www.sagamiko-resort.jp/illumillion/