Krispy Kreme Releases Winter-Limited Doughnuts in Nagoya
Krispy Kreme Japan released two new doughnuts for a limited period only starting from November 1, 2019. The two new doughnuts are part of the Krispy Kreme Premium series and are only available to purchase from the JR Nagoya Takashiyama branch. The two new flavours are the Holiday Gorilla and Brûlée Glazed Fruity Sangria.
The Krispy Kreme Premium series is only available at the Nagoya Takashiyama branch. These doughnuts have a cake-like texture and are filled with a luxurious serving of whipped cream. Each doughnut is carefully made with the utmost care and decorated in the shop. These are sold fresh every day and enjoyed by customers as they are made.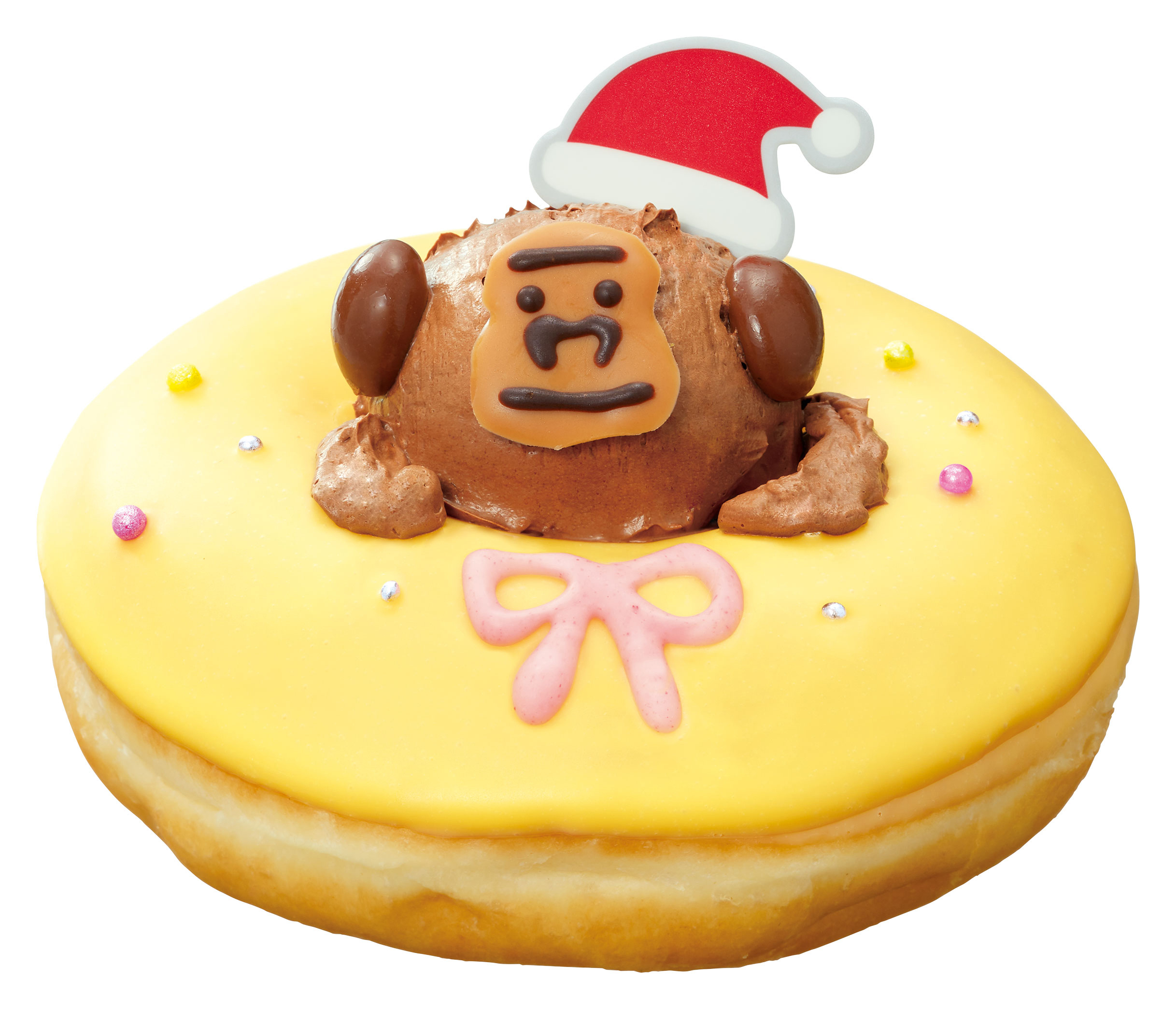 The Krispy Kreme Premium Holiday Gorilla consists of a yellow purin-flavoured chocolate wreath. A ferocious bear made of fluffy whipped chocolate can be seen peeking through the doughnut hole. After a sprinkling of sparkling silver balls and a strawberry chocolate ribbon, the doughnut is complete. The gorilla's face is made of caramel chocolate and bitter chocolate. The ears are made of chocolate coffee beans and the doughnut hole is filled with marshmallow cream. The fusion of chocolate and marshmallows makes for the perfect winter treat. 

The Krispy Kreme Premium Brûlée Glazed Fruity Sangria is an enhanced version of KKDJ's most popular doughnut series: the Original Glazed®. The surface of the doughnut is covered in a crunchy brûlée layer which is full of flavour. Red wine paste is combined with a sweet and tangy marmalade to make the luxurious filling for the doughnut, creating the flavour of sangria which is perfect for adults. 
Don't miss the opportunity to grab a delicious winter doughnut from Krispy Kreme!
Information
Krispy Kreme Premium Holiday Gorilla
Selling: November 1 – December 25, 2019 
Price: ¥300 (Before Tax)
Krispy Kreme Premium Brûlée Glazed Fruity Sangria
Selling: November 1 – December 25, 2019 (Subject to change)
Price: ¥270 (Before Tax)
Krispy Kreme Doughnuts JR Nagoya Takashiyama, Nagoya 
Address: JR Nagoya Takashiyama Kita Block 1st Floor, 1-1-4, Meieki, Nakamura Ward, Nagoya, Aichi 
Opening Hours: 10:00 – 20:00
Krispy Kreme Doughnuts Official Website: https://krispykreme.jp/
RECOMMENDED ENTRIES
5 Christmas Desserts to Buy at Tokyo Station | Christmas 2019

Shops in and around Tokyo Station are starting to roll out their Christmas products this month. We've select our Top 5 must-buy Christmas cakes and desserts if you're travelling in Tokyo or passing through Tokyo Station this year.

Christmas Koisuru☆Kumagoron – ¥980 (Tax Included) @ Siretoco Donuts (ecute Keiyo Street)

The perfect, most adorable doughnut treats to pick up this Christmas to share with friends and familyーor to enjoy yourself!

*Exclusive to the ecute Keiyo Street branch. Online orders available.

Suica Penguin Waffle Cake – ¥540 (Tax Included) @ RL waffle cake (GRANSTA)

Inspired by the adorable Suica penguinーthe mascot for Suica travel cardsーthis mini cake is a fluffy waffle rolled into whipped cream and yellow peach and is coated in chocolate.

*Only 100 to be sold. Sales begin from November 5 and is are first-come, first served. Reservation-only. Online reservations available.

*Delivery Window: December 20-25, 2019.

*Exclusive to GRANSTA.

©︎Chiharu Sakazaki/East Japan Railway Company/DENTSU by East Japan Railway Company

Suica is a registered trademark of East Japan Railway Company

Christmas Box (4 Included) – ¥1,940 (Tax Included) @ Fairycake Fair

Cute cupcakes decorated for Christmas. Also available in boxes of 6 and 9.

*Reservation Window: November 5 – December 20, 2019

*Delivery Window: November 30 – December 25, 2019

*Available for direct purchase in-store between November 30 – December 25, 2019

*Online reservations available. Exclusive to GRANSTA.

Chestnut Yule Log – ¥3,780 (Tax Included) @ le billet (ecute TOKYO)

This Christmas yule log is a mix of chestnuts and hazelnuts and contains a rich tiramisu-style chestnut cream.

*Online reservations available.

Noel – ¥6,200 (Tax Included) @ Tokyo Station Hotel

This chestnut cake is inspired by the pine pillars that supported the Tokyo Station Marunouchi station building until it was restored. It has a chestnut and sweet potato base and is layered with chestnut mousse and coffee mousse to recreate the rings of a tree which are used to tell a tree's age.

*10 served per day

*Reservation Window: November 5 – December 17, 2019

*Delivery Window: December 22-25, 2019

*Online reservations available. Exclusive to GRANSTA.

Eat all of the cute treats you can this Christmas and holiday season.

Christmas Gifts, Delicious Desserts & More Coming to Tokyo Skytree Town This Holiday Season

The dessert shops and and bakeries on the second floor of Tokyo Solamachiーthe shopping facility at the base of Tokyo Skytreeーare reading themselves for Christmas by baking up a whole range of festive delights for the holiday season, perfect for parties, gifts, or as a little self-indulgence. Let's dive in and take at what's on offer this year.

The perfect cakes for spending Christmas at home

Bonheur du Noel – ¥6,480 @ Ginza BOUL'MICHI (Tower Yard Floor 2F) [Reservations: November 1 – December 13 / Serving: December 21-25] *Tokyo Solamachi exclusive

Macarons are in this year in Japan, so BOUL'MICHI has whipped up the perfect strawberry chocolate cake adorned with colourful macarons and fresh strawberries to give it that Christmas-y look. Only 50 of these precious cakes will be sold, so don't miss out.

Fromage Citron @ – ¥2,970  Ginza Ginger (Tower Yard Floor 2F) [Reservations: November 1 – December 10 / Serving: December 23-25] *Tokyo Solamachi exclusive

This no-bake cheesecake is made with Oceania cheese and layered with an almond base followed by a sumptuously sour lemon cream.

16cm Yule Log – ¥4,104 @ Sweet Heart Tree (Tower Yard Floor 2F) [Reservations: November 1 – December 20 / Serving: December 15-25]

A gourmet yule log made with rich chocolate and packed with fruits and nuts. This sophisticated dessert is one for the adults to enjoy.

Takeout Sweets & Christmas Merchandise

 

Tiny Waffles (Dark Chocolate/White Chocolate) – ¥486 Each @ RL waffle cake (Tower Yard Floor 2F) [Reservations: November 1 – December 23 / Serving: December 20-25]

If you're looking for something a little smaller, perhaps as a Christmas present to friends and family or as a little gift to yourself, then check out these fluffy waffles made with strawberries, chocolate and whipped cream. Simple, but delicious!

Mamegui Towels (Santa Clause/White Christmas/Snowman) – ¥550 Each @ Mamegui (East Yard Floor 4F) [Available From November 1] *Gifts inside sold separately from ¥388

Mamegui are a type of towel used in Japan to wrap gifts in for people. These Christmas versions are perfect for wrapping up small presents for people, like Japanese snacks and candy.

Crispy Cakes (Happy Wreath/Santa/Reindeer) – ¥508 Each @ pon pon×Chris.P (East Yard Floor 2F) [Available From November 15]

These tiny crispy cakes are another great little bite to eat. The cute Santa version is cookie and milk flavoured and has marshmallows as the fluff of his hat.

Tokyo Skytree's THE SKYTREE SHOP Christmas Items

THE SKYTREE SHOP is the official souvenir store of Tokyo Skytree®. This Christmas they are selling a new batch of themed items, including plenty featuring their cute official mascot Sorakara-chan.

TOKYO SKYTREE Premium Chocolates – ¥1,706 @ Tokyo Skytree Floors 345 & 450 [Available From November 7]

This luxurious assortment of Tokyo Skytree-shaped chocolates come in a variety of flavours, including ruby chocolate.

Left: Sorakara-chan Winter Collection S – ¥2,200 / Right: Sorakara-chan Winter Collection Mascot – ¥1,375 @ Tokyo Skytree Floors 1, 5 & 450 [Available From November 7]

You can't leave Tokyo Skytree without a little memento, so why not pick up a cute duffle coat clad Sorakara-chan? Available this winter only.

Sorakara-chan Compact Mirrors – ¥968 @ Tokyo Skytree Floors 1, 5 & 450 [Available From November 7]

Also part of the Sorakara-chan winter collection are these compact mirrors which are filled with glitter that falls like stars or snowflakes depending which one you go for. They are small enough to fit into your pocket or bag making them super convenient.

And that's not allーTokyo Solamachi has countless other goodies, from desserts to souvenirs, to pick up this Christmas too. If you're in Tokyo this winter season and are planning a trip to Tokyo Skytree, be on the lookout.

*All listed prices include tax. Applicable tax rate may vary on certain products in line with Japan's consumption tax increase.
*Products and sale periods subject to change. Products available while supplies last.
*Pictured photos are for illustrative purposes only.

©TOKYO-SKYTREE

McDonald's Japan Unveils Marshmallow Cream Tart & Chocolate Raspberry Cupcake

McCafé by Barista branches of McDonald's Japan will release its new "Marshmallow Cream Tart" and "Chocolate Raspberry Cupcake" on November 6, both of which will be available for a limited time until the end of March 2020.

Marshmallow Cream Tart – ¥340

The tart has a dough base made from baked Graham crackers. It's layered with almond cream and chocolate ganache and topped with marshmallow that has been browned on the top. It offers a delicious variety of textures, from the smooth ganache to the sweet and fluffy cream and crunch tart base.

Chocolate Raspberry Cupcake – ¥340

The cute cupcake is a bitter dark chocolate decorated with a smooth sweet and sour raspberry cream.

You will be able to order either of these desserts as a set with either a regular size hot or iced Americano or latte until January 14, 2020 once they are released.

Information

Marshmallow Cream Tart & Chocolate Raspberry Cupcake

Running: November 6, 2019 – Late March 2020

Available: At McCafé by Barista branches of McDonald's in Japan

Official Website: http://www.mcdonalds.co.jp/shop/barista/
RELATED ENTRIES
RAYARD Hisaya-odori Park: The New Landmark of Nagoya Combines Shopping Experience With the Outdoors

Hisaya-odori Park is a park and shopping complex which opened on Friday (September 18, 2020) in Nagoya, Aichi. It will serve culture, experience, and products next to the newly renovated Nagoya TV Tower.

Hisaya-odori Park


Hammock Day


Park Wagons

The park is split into five areas like Hammock Day where you can kick back in one of the hammocks while listening to music, pick up some produce at the Farmer's Market, do some morning yoga, and more. The park will also have a line of trucks and wagons selling food, drink, items, and more.

RAYARD Hisaya-odori Park

RAYARD has also opened its second shopping complex at Hisaya-odori Park following the opening of RAYARD MIYASHITA PARK in Shibuya. The complex houses 35 restaurants and shops, 22 of which have never opened a branch in Nagoya before, which will deliver fashion, sports, food, communication, and so on.

A variety of popular cafes in RAYARD are opening in Nagoya for the first time, like the Snoopy-themed PEANUTS Cafe, the the bakery and cafe ESPRESSO D WORKS which is known for its "100 one hundred" bread which is world's first made with 100% water content, and Karuizawa's very popular cafe and restaurant Eloise's Cafe.

There'll be plenty of sweet treats to tuck into too, like crepes from ROCCA&FRIENDS CREPERIE to TEA which is so popular in Osaka that people can be waiting up to 2 hours in line, matcha desserts from Kyoto-based sweet shop Shimizu-Ippoen, and bonbons from South Korea's number one cafe Cafe de paris.

If you're wanting a real meal, enjoy some casual Italian dining at Arcoba which is managed by the former head chef of Kyoto's famous restaurant IL GHIOTTONE. Or perhaps yakiniku from Yakiniku Tokugawaen which uses Japanese black wagyu from Kyushu as the main meat on its menu. Kouji MARUTANI will also be there serving up local ingredients from Mikawa, food made with koji, a variety of craft sakes, and more.

RAYARD Hisaya-odori Park will offer a wide range of interactive experiences too such as at the creative community cafe FabCafe Nagoya which makes use of 3D printing and digital fabrication, Snow Peak which provides a live view of nature, T4 NAGOYA where you can play ping pon indoors and outdoors, narifuri which sells bicycle apparel, and so on.

There is much and more to see at RAYARD Hisaya-odori Park, so if you're in Japan this year, head to Nagoya to enjoy the autumn atmosphere.

Halloween Doughnuts Creep Their Way Into Krispy Kreme Doughnuts in Japan

Halloween arrived at Krispy Kreme Doughnuts in Japan on September 16 with the "monster HARVEST" collection of themed doughnuts. Available until November 1, the spooky lineup incorporates a selection of Japanese autumn flavours like pumpkin and purple sweet potato.

The doughnut collection is here to put us in the Halloween spirit nice and early. Krispy Kreme Japan's popular jack-o'-lantern doughnuts are back this year, as are the new black cat doughnuts which first arrived last year. A completely new purple sweet potato flavour was also introduced to the menu on September 1.

Pumpkin Pudding Jack-o'-lantern | ¥240 (Before Tax)

The jack-o'-lantern doughnuts have been made even more delicious for Halloween 2020 by using pumpkins from Hokkaido and filling them with velvety pumpkin Japanese-style pudding. Add to that the chocolate facial features and you've got yourself a tantalising treat for the spooky season.

Black Cat Caramel | ¥250 (Before Tax)

A black cat made with big white chocolate eyes and a dark chocolate face topped with crunchy almond pieces and stuffed with caramel cream.

Muchimochi Purple Sweet Potato Mont Blanc | ¥240 (Before Tax)

The tasty, chewy, and hot purple sweet potato doughnut is made with sliced sweet potato and coated in powdered sugar. It's served hot which makes the flavour even more intense.

Halloween Dozen (12 Doughnuts) | ¥2,000 (Before Tax)

Share a dozen with friends this Halloween which includes not only two of each of the ones already shown, but Krispy Kreme's popular "Chocolate Sprinkle" and "Original Glazed®" too.

Halloween Mini Box (20 Doughnuts) | ¥2,000 (Before Tax)

There's also a colourful box of 20 mini versions of the doughnuts too.

Information

monster HARVEST
Running: September 16, 2020 – November 1, 2020

Krispy Kreme Doughnuts Official Website: https://krispykreme.jp

Hikari no Sumika Winter Illuminations 2020-2021 to Take Place at Gotemba Kogen Toki no Sumika

Toki no Sumika is set to host its 19th annual winter illumination event "Hikari no Sumika" from September 19, 2020 to March 21, 2021.

Forest of Trees Illuminations


The Forest of Trees was created together with locals and wraps visitors in a magical fantasy land of lights underneath the shimmer of stardust. This trail of trees leads visitors to the next area, the Royal Palace on the Hill.

Royal Palace on the Hill


The "Versailles Lights" water laser show entertains onlookers with a rhythmic show. A new spot has also been developed this year called "It's a colorful world" where cuter balls of light change colour to the sounds that play. There's also one of the world's biggest "Bells of Love" clad in colours galore to radiate the dark night, "Slow House Twinkle," and "Super Searchlight."

Tunnel of Lights


Spanning 370m along, the "Tunnel of Lights" changes colours as time passes, enveloping people in a sparkling galaxy of illuminations. There'll be plenty of photo opportunities.

Twin Trees & First Dream Bridgeツインツリーと初夢の橋

The colour of the 120-year-old fir tree at the site this year will be white. The 20 meter-tall tree will be decorated simply and gently, with more LED lights than ever before, to enhance its beauty. The "First Dream Bridge" will give rise to the "Stardust Road" of countless illuminations that run along it.

Underwater Paradise Aquarium

Around 4,500 goldfish of 200 species, including rare kinds, from all around Japan are collected here. It continues to grow as Japan's only goldfish aquarium both in name and reality. Enjoy seeing them swim while gorgeous lights light up the room.

Information

Hikari no Sumika 2020-2021

Running: September 18, 2020 – March 21, 2021

Address: Gotemba Kogen Toki no Sumika, 719 KōyamaGotemba, Shizuoka

Illumination Times: 17:30-22:00

Car Park Spaces: 2,000
Enquiries: 0550-87-3700 (9:00-20:00)

Official Website: http://www.tokinosumika.com/illuminations2017/renewal/

5 Character Themed Cafés Running in September 2020 – MOSHI MOSHI NIPPON

Character cafés are an exciting experience in Japan which sees a café collaborate with well-known anime series, game series and various franchises by decorating the café interior with designs and illustrations based on them and meals and drinks inspired by them. Let's take a look at 5 must-visit cafés in September 2020.

KUROMI♡MY MELODY CAFE @ EGG&SPUMA, Shinjuku Lumine EST

Sanrio's beloved characters Kuromi and My Melody are taking over EGG&SPUMA in Shinjuku this summer with the new KUROMI♡MY MELODY CAFE which is open for a limited time from August 1, 2020 to October 31, 2020 and is split into two separate phases.

There is an adorable menu line-up including two-tiered afternoon tea set with lots of sweet treats, like waffles and ice cream, all topped with Kuromi and My Melody.

Full Details: https://www.moshimoshi-nippon.jp/340782

▼KUROMI♡MY MELODY CAFE

Location: EGG&SPUMA

Address: Shinjuku Lumine EST 8F, 3-38-1 Shinjuku, Shinjuku-ku, Tokyo

Running: August 1, 2020 – October 31, 2020

Opening Hours: 11:00-21:00 (Last Orders 20:00)

TEL: 03-6273-0255

Official Website: http://salt-group.jp/shop/egg-spuma/

© 1976,  2020 SANRIO CO., LTD. APPROVAL NO. L611679

PIXAR FEST @ OH MY CAFE, Harajuku Tokyu Plaza

OH MY CAFE, a chain of cafes in Japan, is holding a special Pixar-themed food event called 'PIXAR FEST' which is currently running in Tokyo and Osaka from August 28 and will open in Nagoya on September 4.

"Keep On Smiling" is the the concept of the event, which will serve up a whole range of different foods including a Lightning McQueen exclusive on September 5, a special drink inspired by Disney Pixar's Onward which released earlier this year, a collection of strawberry desserts centred on Lots-o'-Huggin' Bear to celebrate Toy Story's 25th anniversary, and more.

Full Details: https://www.moshimoshi-nippon.jp/351140

▼PIXAR FEST OH MY CAFE

Tokyo

OH MY CAFE TOKYO / August 28, 2020 – November 15, 2020
Address: Tokyu Plaza Omotesando Harajuku (Floor 3F), 4-30-3 Jingumae, Shibuya, Tokyo

Osaka

kawara CAFE&DINER Shinsaibashi / August 28, 2020 – November 17, 2020
Address: Shinsaibashi OPA (Floor 9F), 1-4-3 Nishishinsaibashi, Chuo Ward, Osaka, Osaka Prefecture

Nagoya

kawara CAFE&KITCHEN Nagoya PARCO / September 4, 2020 – November 24, 2020
Address: Nagoya PARCO South Building (Floor 5F), 3-29-1 Sakae, Naka Ward, Nagoya, Aichi Prefecture

Pixar Fest OH MY CAFE Official Website: https://pf2020.ohmycafe.jp/

©Disney/Pixar

Sanrio Character Collaboration Café @ POWDER ART CAFE HARAJUKU

POWDER ART CAFÉ HARAJUKU is collaborating with Sanrio until mid-January 2021.

At POWDER ART CAFE HARAJUKU, customers can draw their own designs on their orders, like latte art. They can also look forward to a super cute menu line-up inspired by the adorable character roster.

Full Details: https://www.moshimoshi-nippon.jp/338947

▼POWDER ART CAFE HARAJUKU

Address: IMON Bldg. B1F, 6-3-9 Jingumae, Shibuya, Tokyo

TEL: 03-6450-6037

Opening Hours: 11:00-21:00 (Last Orders 20:00)

Official Website: https://k-tanuma.com/company#04

© '76,'79,'89,'96,'01,'05,'20 SANRIO CO., LTD. APPROVAL NO.L611638

Miffy Café @ Tokyo Solamachi®

In commemoration of Miffy's 65th anniversary, the themed Miffy Café will open on the first floor of Tokyo Solamachi from September 11, 2020 for a limited time.

The menu will serve a healthy lineup of Netherlands cuisine—in line with the heritage of Miffy's Dutch creator Dick Bruna—and customers can get their hands on a selection of original Miffy merch.

Full Details: https://www.moshimoshi-nippon.jp/356067

▼Miffy Café

Address: TOKYO BOX cafe&space, Tokyo Solamachi 1F, 1-1-2 Oshiage, Sumida-ku, Tokyo

Running: September 11, 2020 – November 3, 2020

Reservation Fee: ¥500

Official Website:  https://miffy-skn-65.cafe.jp/

Illustrations Dick Bruna © copyright Mercis bv, 1953-2020  www.miffy.com

Hello Kitty Café @ Narita Airport

KADOKAWA opened a Hello Kitty themed cafe on the Narita Anime Deck—which is located on the Main Building second floor of Narita International Airport Terminal 2—earlier this year which will be open for limited time until October 2, 2020.

As well as themed food, drinks and merchandise, customers can take a Hello Kitty quiz, learn the history behind Hello Kitty, and more.

Full Details: https://www.moshimoshi-nippon.jp/336417

▼Narita Anime Deck – Hello Kitty Collaboration Cafe
Running: July 3, 2020 – October 2, 2020
Location: Narita Anime Deck Entertainment Cafe
Address: Narita International Airport Terminal 2 Main Building Floor 2F (1-1 Furugome, Narita, Chiba)
Opening Hours: 10:00-20:00 (Food Last Orders 19:30)

No Fixed Holidays

Narita Anime Deck Official Website: https://www.animedeck.jp/en/narita/

 

© 1976, 2020 SANRIO CO., LTD. APPROVAL NO. L611439

Did you enjoy this list? If you're in Japan for the end of summer and start of autumn, then be sure to visit all the character cafes you can.

LEGOLAND Japan Resort Announces 'BRICK-OR-TREAT' Halloween 2020 Event

LEGOLAND Japan Resort has announced a special Halloween event for Autumn 2020 called "BRICK-OR-TREAT" which will run from September 11 to November 3.

Halloween at LEGOLAND Japan Resort this year invites the whole family for a fun-packed time of activities, from mysteries to be solved to getting to create your own Halloween mask.

The park will also serve up special Halloween themed food and be decorated in all things spooky.

LEGOLAND RIDDLE 2020: A Written Challenge From the Phantom Thief (?) Ron Regado -Prologue-

This year's LEGOLAND RIDDLE using their brain to solve the mystery behind Ron Regado. They can pick up a Challenge Pack from the riddle counter to begin their adventure which will have them solving 5 riddles around the park. The second part of the mystery, the Epilogue, will take place around Christmastime.

Price: ¥500 (free for those with an Annual Passport)

Location: Ticket Counter Entrance and various shops around the park

Draw your own Halloween mask

Guests are invited to create their own Halloween masks which they can draw on, whether it be pumpkins, ghosts, or whatever Halloween nod they want to illustrate. The staff will teach you how to make the mask, so kids can get involved too.

A Halloween themed menu

LEGOLAND Japan Resort is serving up a menu inspired by familiar motifs of Halloween, like Jack-o'-lanterns and ghosts.

Halloween Food (Park)


Halloween Food (Hotel)

Halloween Floats (Melon Soda/Cola) | ¥550 Each @ Oasis Snacks, LEGOLAND Japan Resort

The park's creepy-cute Halloween floats are a must-try. Pick between melon soda or cola, both of which are topped with a chocolate eyeball.

Ghost Hayashi Rice Set | ¥2,300 @ Knight's Table Restaurant, LEGOLAND Japan Resort

The cute white ghost on top of this rich Hayashi rice dish is a fluffy omelette made from egg white.

Purple Tapioca Latte | ¥420 @ Factory Sandwich Co., LEGOLAND Japan Resort

A super cute purple latte filled with chewy tapioca and topped with a smiling chocolate ghost who's popping out of a portal of whipped cream.

PEANUTS Cafe's New Nagoya Branch to Open at RAYARD Hisaya-odori Park

The opening date for PEANUTS Cafe Nagoya has been confirmed as September 18, 2020. It will be opened at RAYARD Hisaya-odori Park by Potomak, the company that develops the Snoopy-themed "PEANUTS Cafe" chain of cafes.

PEANUTS Cafe Nagoya – RAYARD Hisaya-odori Park

The menu lineup for PEANUTS Cafe Nagoya includes food inspired by the baseball team members in the Peanuts comics, food exclusive to the Nagoya branch, and more.

The cafe is also introducing a new version of the signature "The Goose Egg Slider" from the PEANUTS Cafe in Nakameguro. It will be inspired by the Pelicans—the baseball team spearheaded by Peppermint Patty.

PEANUTS Cafe Nagoya will also serve takeout food that reflects the green verdure of RAYARD Hisaya-odori Park, such as the two-tone lemonade, so you and other members of the Peanuts gang can enjoy some refreshing delights while sat in the park.

The cafe will even have its own merchandise, including Nagoya exclusives. "Functional" and "Relax" and the themes of the item lineup, which you will be able to check out on the online shop once the cafe officially opens.

Skateboard Decks | ¥15,000 Each (Before Tax) *Limited edition

Fans can also get their hands on some pennant design skateboards as part of the PEANUTS Vintage Collection, which can be used as a board or for displaying indoors.

PEANUTS Cafe x A4 "tumi-isi | ¥"13,500 (Before Tax) *Only 100 available

There's also an exclusive tumi ishi balancing block set which tests your balance and creative ability. Each block has an illustration of the familiar faces from Peanuts.

Don't miss the chance to visit the new PEANUTS Cafe in RAYARD Hisaya-odori Park when travelling to Nagoya.

© 2020 Peanuts Worldwide LLC

Pixar Animated Film Themed Food to be Served for 'PIXAR FEST' in Japan

OH MY CAFE, a chain of cafes in Japan, has announced a special Pixar-themed food event called 'PIXAR FEST' which will run in Tokyo and Osaka from August 28 and Nagoya from September 4.

"Keep On Smiling" is the the concept of the event, which will serve up a whole range of different foods including a Lightning McQueen exclusive on September 5, a special drink inspired by Disney Pixar's Onward which released earlier this year, a collection of strawberry desserts centred on Lots-o'-Huggin' Bear to celebrate Toy Story's 25th anniversary, and more. Let's take a closer look.

Food

Pixar Ball Bread: ¥790 / With Plate ¥1,690

Any fan of Pixar will be able to instantly recognise what this subtly sweet bread is inspired by. You can order it together with a special plate too.

Left: Ratatouille – Remy's 5 Star Restaurant Ratatouille | ¥1,190

Right: Monster's Inc. – Sully & Mike's Spaghetti Plate | ¥1,790

Ratatouille is a comfort food of southern France, and the one served for PIXAR FEST is of course inspired by the titular film. Sully and Mike also have their own pasta dish, combining a Sully cream cheese paste and Mike guacamole potato salad.

Left: Finding Nemo – Mr. Ray's Friendly Tortilla Sandwich | ¥1,590

Right: Toy Story 3 – Toy Box Cream Stew Loaf | ¥2,390

Mr. Ray's tortilla sandwich contains garlic chicken and egg salad, while everybody's favourite toys have sprung out of a whole bread loaf filled with chicken stew.

Drinks

Left: Pixar – Juicy Grape Squash | ¥590, With Coaster ¥1,490
Middle: Toy Story 3 – Straight Iced Tea | ¥490, With Tumbler ¥1,990

Right: The Incredibles – Jack-Jack's Chocolate Chip Cookie Smoothie | ¥990, With Coaster ¥1,590

The drink line-up includes a bubbly grape soda, an iced tea which you can order in a tumbler featuring the Sunnyside Daycare logo, and a cute cookie smoothie that comes in a baby bottle.

Lots-o'-Huggin' Bear's Strawberry Fair

Lots-o'-Huggin' Bear will have his own special menu items too. These are available for a limited time only from October 10 to November 24.

Left: Toy Story 3 – Lots-o's Strawberry Chicken Hamburger | ¥1,990

Right: Toy Story 3 – Lots-o'-s Strawberry Drink | ¥590

Pick from a cute and hearty chicken, vegetable, and strawberry burger and a pink-coloured strawberry beverage.

Lightning McQueen & Onward's Special Menu

Left: Cars – Lightning McQueen's Kachow Lightning Hamburger Sandwich | ¥1,890
Right: Onward – Ian & Barley's Pink Sunset Blue Mallow Tea | ¥1,090

The tire-shaped bread is fitting for Lightning McQueen's burger. The Onward drink is served with a side of lemon syrup which transforms the the colour of the drink into a gorgeous concoction. These items are available for a limited time only from August 28 to October 9.

Merchandise

The cafes will sell their own collection of PIXAR FEST merchandise in three different types: the "PIXAR FEST Series" which uses the cafe's main visual for its design, the "Vintage Series" which uses a cute purple, and the "Alien Mix" which has a pop design with the Little Green Men from Toy Story.

PIXAR FEST Series

Acrylic Key Rings (12 Designs) | A4 Folder | Lunch Mat (set of 4)

Vintage Series

Pin Badges (16 Designs) | Stickers (8 Designs)

Alien Series

Eco Bag | Bath Towel | Letter Set

Bonus Items

Face Mask Cases (12 Designs) | Stickers (12 Designs)

Customers who book a table in advance and order from the themed menu will receive one of 12 possible face mask cases. And for every ¥2,000 (tax included) they spend on the cafe-exclusive merchandise, they'll receive one of 12 possible stickers.

But that's not all. If you order from the Lots-o'-Huggin' Bear menu and spend over ¥1,000 (tax included) on cafe-exclusive merchandise, you'll receive two postcards of the fuzzy bear. These are available while supplies last.

Customers can also receive a limited-edition OH MY CAFE sticker if they order something from the menu, buy some merchandise, and post their thoughts about the cafe and their items on Twitter with the hashtags #キャンペーン #PIXAR FESTカフェで最高の思い出を作ろう #OHMYCAFE.

©Disney/Pixar

Information

PIXAR FEST OH MY CAFE

Tokyo

OH MY CAFE TOKYO / August 28, 2020 – November 15, 2020
Address: Tokyu Plaza Omotesando Harajuku (Floor 3F), 4-30-3 Jingumae, Shibuya, Tokyo

Osaka

kawara CAFE&DINER Shinsaibashi / August 28, 2020 – November 17, 2020
Address: Shinsaibashi OPA (Floor 9F), 1-4-3 Nishishinsaibashi, Chuo Ward, Osaka, Osaka Prefecture

Nagoya

kawara CAFE&KITCHEN Nagoya PARCO / September 4, 2020 – November 24, 2020
Address: Nagoya PARCO South Building (Floor 5F), 3-29-1 Sakae, Naka Ward, Nagoya, Aichi Prefecture

Pixar Fest OH MY CAFE Official Website: https://pf2020.ohmycafe.jp/

Inuyasha Spin-Off Anime 'Yashahime' Releases First Trailer, Promotional Exhibition to Take Place Across Japan

The first trailer for the upcoming TV anime series Yashahime: Princess Half-Demon is here. The anime, which will air from October 3, serves as a spin-off series of the anime adaptation of Inuyasha which originally ran from 2000-2004 and wrapped up with Inuyasha: The Final Act in 2010.

Confirmed cast members for Yashahime: Princess Half-Demon include Sara Matsumoto as Towa Higurashi, Mikako Komatsu as Setsuna, and Azusa Tadokoro as Moroha.

To promote the series, a series of exhibitions celebrating the history of Inuyasha will take place across Japan including Tokyo, Osaka, Nagoya, Fukuoka, and Niigata—the latter of which is the hometown of Inuyasha author Rumiko Takahashi. Merchandise will also be available for fans to buy.

The main visual for the exhibition

Details on tickets, merchandise, and the full content of the exhibition will be announced in the near future, so stay tuned.

ⒸRumiko Takahashi / Shogakukan・Yomiuri Telecasting Corporation・Sunrise 2009

Information

Inuyasha Exhibition

Tokyo Exhibition

Running: November 7, 2020 – November 23, 2020
Time: 10:00-21:00 (Last Entries 20:00)
Location: Ikebukuro PARCO 7F PARCO FACTORY
*Open until 18:00 (Last Entries 17:00 on November 23
*Advance tickets to be sold but are not required
*Opening hours subject to change depending on the COVID-19 situation at the time
*Exhibition subject to sudden changes, postponement, or cancellation depending on the COVID-19 situation at the time
*For the latest details and updates, check the event's official website and Twitter page

Niigata, Nagoya, Osaka and Fukuoka Exhibitions
Details TBA

TV Anime "Yashahime: Princess Half-Demon"
Initial Broadcast: October 3, 2020
Sunrise Official Website: http://hanyo-yashahime.com/
YTV Official Website: https://www.ytv.co.jp/hanyo-yashahime/

Gourmet Shaved Ice Served Up at the New VERMICULAR PREMIUM SHAVED ICE SALON in Nagoya

For this summer only, a limited-time gourmet shaved ice shop called "VERMICULAR PREMIUM SHAVED ICE SALON" is opening up inside VERMICULAR VILLAGE in Nagoya from July 2 to September 13.

The exquisite shaved ice options are topped with fruit confitures which are made without any water involved, allowing for the original flavour of the fruits to come through, as well as adzuki beans cooked with Vermicular cookware, and more. The shaved ice is served inside Vermicular's high quality mini pots, which have been kept cool, meaning the ice doesn't melt when it's put inside, meaning it stays nice and fluffy until the end.

There are three to pick from, and underneath each the shaved ice is a blancmange which goes hand in hand with the shaved ice flavours.

Strawberry, Pistachio, & Condensed Milk: ¥1,300 (Before Tax)

This ice pot is topped with a strawberry jam which was made using no water, and pistachios—which go really well with the fruity confiture. At the very bottom is a condensed milk blancmange, making it delicious down to the last spoonful.

Nishio Matcha, Adzuki Beans, Brown Cane Sugar Warabimochi, & Houjicha: ¥1,500 (Before Tax)

Next is a matcha flavoured shaved ice pot made with adzuki beans and matcha grown in Nishio, Aichi. Sat at the bottom of the pile is a houjicha tea blancmange and brown cane sugar warabimochi.

Mango, Passion Fruit, & Coconut: ¥1,300 (Before Tax)

Lastly is a mango and passion fruit sauce covered shaved ice with coconut milk and a topping of fresh mango. At the bottom is a coconut blancmange.

Information

VERMICULAR VILLAGE
Address: 2-4 Funatocho, Nakagawa Ward, Nagoya, Aichi

Bookings: https://www.tablecheck.com/shops/the-foundry/reserve

Enquiries: VERMICULAR RESTAURANT THE FOUNDRY (052-355-6800)

Dining: 50 minutes max

*Photos are for illustrative purposes only

Mobile Game BanG Dream! Girls Band Party Gets Themed Cafe in Tokyo, Osaka, & Nagoya

LEGS COMPANY is opening three cafes in Tokyo (Ikebukuro), Osaka (Umeda), and Aichi (Nagoya) based on the popular mobile game Game BanG Dream! Girls Band Party for a limited time from July 31, 2020.

Game BanG Dream! Girls Band Party is a rhythm and adventure mobile game that was released in Japan in 2017. It is part of Bushiroad's "BanG Dream!" music media franchise which is centred on all-female bands.

Since summer 2017, LEGS COMPANY has opened themed cafes based around the game every year. 2017 saw the cafes focus on the vocalists of the bands in the game. In 2018, it was the keyboardists and DJs, and last year the drummers. Each theme brought with it illustrations and decorations created specifically for the cafes, as well as a food menu inspired by the characters, original merchandise, and more.

This year marks the 4th run of the annual summer cafe which will hit Tokyo, Nagoya, and Osaka. The theme this time around focuses on the seven main bands from the game. Seven characters from the bands, including one from a new band, will welcome fans in the form of kawaii-packed dishes, drinks, and desserts.

Yamabuki Bakery's Mini Croissant Plate (Poppin'party): ¥1,590 (Before Tax)


Kitazawa Butcher's Stamina Croquette Curry (Hello, happy world!): ¥1,490 (Before Tax)

All of the main dishes on the menu are colourful and vivid, plated with hearty portions of delicious and nutritional goodies.

Strawberry Rock Parfait (Afterglow): ¥1,290 (Before Tax)


Colourful Doughnut Sandwich (Pastel*Palettes): ¥1,290 (Before Tax)

This gourmet dessert is topped with fruit, so gorgeous it seems a waste to eat.

Grape: ¥890


Ramune: ¥890

There are colourful drinks too with each colour representing a different band. Support your favourite band by getting a glass!

Pin Set 2020 ver. (7 Designs): ¥3,100


Canvas Art (7 Designs): ¥3,500 Each


Birthday Pins (4 Designs): ¥650 Each

Fans can get their hands on plenty of exclusive merchandise too, and there's even birthday items and food available too.

Online Birthday Cake (4 Designs): ¥3,850 Each (+¥950 shipping fee)


Cushions (22 Designs): ¥3,800 Each

You can even order your own special birthday cake in Japan from the cafe, and they're not short on exclusive merchandise.

©BanGDream! Project ©Craft Egg Inc. ©bushiroad All Rights Reserved.

Information

Game BanG Dream! Girls Band Party Cafe 2020
Tokyo

IKEBUKURO BOX cafe&space / July 31, 2020 – September 6, 2020
Address: Matsumoto Kiyoshi Ikebukuro Part 2 (Floor 4F), 1-22-8 Higashi-Ikebukuro, Toshima-ku, Tokyo

Osaka

UMEDA BOX cafe&space / July 31, 2020 – September 6, 2020
Address: Umeda LOFT (Floor 1F), 16-7 Chayamachi, Kita-ku, Osaka, Osaka Prefecture

Aichi

NAGOYA BOX cafe&space / July 31, 2020 – August 30, 2020
Address: LACHIC (Floor B1F), 3-6-1 Sakae, Naka-ku, Nagoya, Aichi Prefecture

Booking Price: ¥650 (Before Tax) *Max 4 people per booking, comes with gift

Game BanG Dream! Girls Band Party Cafe 2020 Official Website: https://bang-dream-cafe.jp/

PEANUTS Cafe to Open Nagoya Branch in Autumn 2020

Sony Creative Products has announced that it is set to open the first Nagoya branch of the PEANUTS Cafe inside Hisaya-odori Park this autumn.

What is the PEANUTS Cafe?

PEANUTS Cafe first opened in Nakameguro in 2015. This was followed by Cafe Blanket which opened inside Roppongi's limited-time Snoopy Museum in 2016, both of which closed in September 2018. Then came the PEANUTS DINER which opened in the Minato Mirai area of Yokohama in 2017, and 2018 saw the grand opening of the 18-room PEANUTS HOTEL in Kobe in 2018. Last year, the Snoopy Museum was moved to Minami-Machida in Tokyo where another PEANUTS Cafe opened. The new PEANUTS Cafe Nagoya will be the first to open in the Tokai region of Japan.

The PEANUTS Cafe is an American west coast-style cafe based on the Peanuts comics by Charles M. Schulz. Customers can enjoy food, drinks, and desserts inspired by familiar faces from the comics like Snoopy and Woodstock. The cafe even has its own merchandise corner with exclusive items. The new Nagoya branch too will have merchandise available only in Nagoya.

Join Snoopy and his friends when PEANUTS Cafe Nagoya opens this autumn.

©2020 Peanuts Worldwide LLC

Information

PEANUTS Cafe Nagoya
Grand Opening: Autumn 2020

Address: Hisaya-odori Park, Naka Ward, Nagoya, Aichi Prefecture

Official Website: http://www.peanutscafe.jp/

Disney's Beauty and the Beast Themed Cafes to Open in Tokyo, Osaka and Nagoya

OH MY CAFE is set to take a Beauty and the Beast theme at three of its branches in Tokyo and Osaka from June 19, and subsequently Nagoya from June 26, for a limited time.

The concept of the cafe is based on the Beast gifting Belle a library. The main visual for the collaboration sees Belle wearing a green dress which she only wears during the library scene. The cafe too will fittingly take on a library look.

<Beauty and the Beast> Night Sky Cream Curry Rice: ¥1,890

A mild curry themed on Beast and Belle's romantic ball.

<Something There> Snow Thawed Love Cream Pasta: ¥1,990

Inspired by the scene in which Belle and Beast come closer together. Mushroom cream penne served with truffle meringue.

<The Mod Song> Chip's Assistance Afternoon Tea: ¥1,090 / With Spoon: ¥1,690

A tea set with the cute chipped cup Chip, a scone, and tea jelly. The perfect after-meal conclusion.

<Enchanted Rose> Rose Water: ¥890 / With Coaster: ¥1,590

A refreshing rose water mixed with lemon. Maybe you too will be able to find true love with a sip.

Message Cards (9 Designs): ¥450


Tinned Tea (Red/Blue): ¥1,600 Each

The cafe will also sell lots of special, exclusive merchandise.

Additionally, those who book a table in advance and order from the menu will receive one of 4 possible lunch mats chosen randomly. And if you spend over ¥2,000 (tax included) on merchandise at the cafe you'll get one of 9 possible bookmarks.

Information

Beauty and the Beast OH MY CAFE
Tokyo: OH MY CAFE TOKYO / June 19, 2020 – August 16, 2020
Address: Tokyu Plaza Omotesando Harajuku (Floor 3F), 4-30-3 Jingumae, Shibuya, Tokyo

Osaka: kawara CAFE&DINER Shinsaibashi / June 19, 2020 – August 16, 2020
Address: Shinsaibashi OPA (Floor 9F), 1-4-3 Nishishinsaibashi, Chuo Ward, Osaka, Osaka Prefecture

Nagoya: kawara CAFE&KITCHEN Nagoya PARCO / June 26, 2020 – August 25, 2020
Address: Nagoya PARCO South Building (Floor 5F), 3-29-1 Sakae, Naka Ward, Nagoya, Aichi Prefecture

Beauty and the Beast OH MY CAFE Reservations: https://bandb.ohmycafe.jp