Baby Star is a cherished snack that originated in Japan in 1959. Popular singer and model Natsume Mito appeared in the brand's latest commercial for a new product, "Baby Star Panmen." The ad is scheduled to start appearing nationwide from Monday February 6th.
It was announced at the end of 2016 that the mascot character for Baby Star, "Bei-chan," would retire – a character that defined a generation. Now, a new, third character will step in: Hoshio-kun. You can expect to see Hoshio-kun package designs on shelves from February 6th for the new product Baby Star Panmen.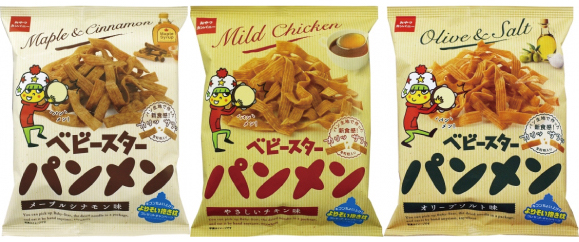 Model and artist Mito Natsume appears in the commercial for the new product eating Baby Star while doing a fun and upbeat dance. In the background is a tie-up track from Mito titled "Hanabira" produced by Yasutaka Nakata which will be released on February 22nd. FISHBOY of RADIO FISH was in charge of the choreography for the video. Make sure you don't miss out on seeing this cute commercial with Natsume Mito and Hashio-kun.
■Information
Baby Star Panmen (Original Salt / Yasashii Chicken / Maple Cinnamon)
Price:¥120 each ※Prices may vary from shop to shop
Release Date: Monday February 6th, 2017
On sale at supermarkets and convenience stores nationwide around Japan
—
Related Article: Natsume Mito's new single "Puzzle" will be released for sale on 22nd February and you can watch the music video now!
Related Article: Natsume Mito to release new single "Puzzle" and embark on tour next year!