Mickey Mouse Will Throw a Magical Birthday Celebration at Yokohama World Porters
Mickey Mouse will be celebrating his birthday with a special event called HAPPY&MAGIC at Yokohama World Porters. The event will run for a limited period starting from November 18.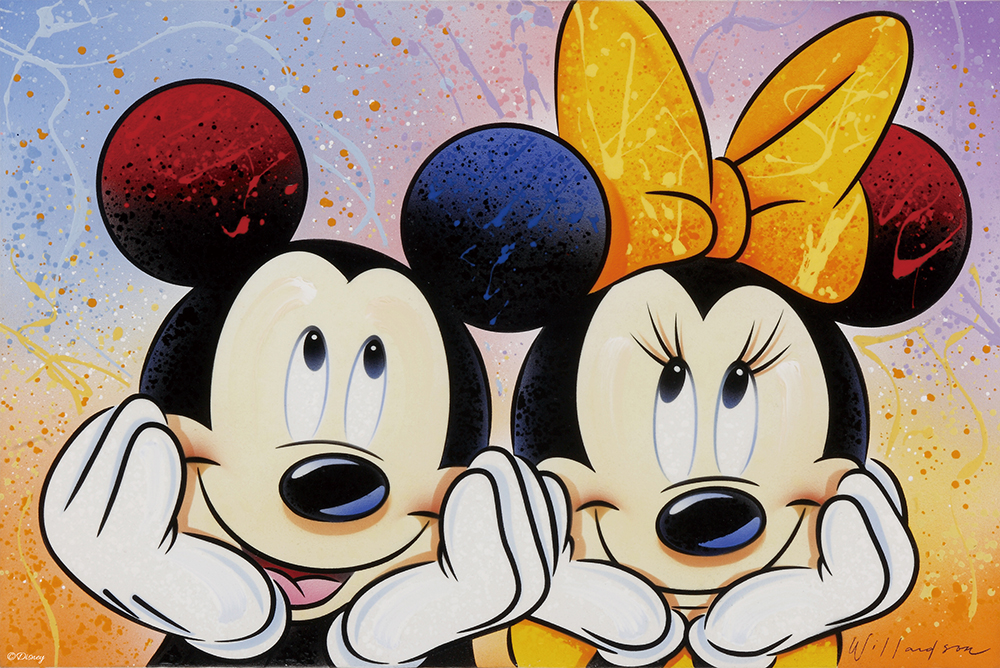 David Willardson《DREAMERS》(Original) ©Disney

The event will feature a range of artistic pictures, famous works and original images of Mickey Mouse which were created by officially licensed Disney artists.
Original Clear File(Not for Sale) ©Disney
There will also be a photo spot at the event venue where you can take a photo with Mickey Mouse. If you reserve a spot at the event online, you will receive an original clear file so don't miss out.
*The clear file cannot be purchased.
Information
HAPPY&MAGIC! (ハッピーアンドマジック!)
Running: November 13 – 18, 2019 (11:00 – 19:00)
Opens at 14:00 and closes at 18:00 on the first day of the event (November 13)
Venue: Event Hall A, 6th Floor, Yokohama World Porters 
Free Entry
HAPPY&MAGIC! Special Edition Website: https://artvivant-handm.net
Reservations: https://artvivant-art.net
RECOMMENDED ENTRIES
Life-Sized Godzilla Theme Park Attraction Stomps Its Way to Japan in Summer 2020

This year is a towering year for Godzilla, marking 65 years since the first Godzilla film was first released in 1954. The third-ever Hollywood studio adaptation from the franchise, Godzilla: King of the Monsters, was released on May 31 this year. A new film from Hollywood, entitled Godzilla vs. Kong, will be released on March 13, 2020.

Nijigen no Mori, a theme park on Awaji Island in Hyogo Prefecture, has announced that a new Godzilla-themed attraction entitled "Godzilla Interception Operation Awaji ~National Awaji-Island Institute of Godzilla Disaster~" will open at the park in summer 2020.

Zip Line

Shooing Game

The new attraction imagines Godzilla landing on Awaji Island, ready to display his immense size and power to the people living there. Those brave enough to go head-to-head with the giant monster can look forward to a variety of missions, including zooming along a zip line straight through a detailed recreation of Godzilla's insides, a shooting game, and more.

There will also be official and exclusive themed merchandise and food too. If you're looking for a real Godzilla experience when visiting Japan, then look no further (and try not to get eaten!)

TM & © TOHO CO., LTD.  

Information

Godzilla Interception Operation Awaji ~National Awaji-Island Institute of Godzilla Disaster~

Grand Opening: Summer 2020 (Subject to Change)

Location: Nijigen no Mori, 2425-1 Kusumoto, Awaji, Hyogo

Official Website: https://nijigennomori.com/godzilla_awaji

*Listed information is correct at the time of this article's publication but is subject to changes. Please visit the park's official website for the latest information.

4 Best Winter Illumination Events in Japan | 2019 Edition

Winter is almost here, which means the wintertime illuminations are set to warm the streets of Japan once again this year with their radiance. Here are 4 must-visit illuminations taking place in and around Tokyo this year.

Meguro River Minna no Illumination 2019 in Nakameguro

This year, Meguro River will be decorated with an unmissable illumination display to warm the heart. What's more is that 100% of the energy for the illumination will be produced by recycled oil.

As Shinagawa will also be lit up at the same time, visitors will be able to treat themselves to a glorious view of 410,000 cherry blossom-coloured lights. The beautiful illuminations along the riverbank of Meguro River will also be the largest illumination project along the Yamanote Line with a total length of 2.2km of riverbanks covered (counting both sides of the river).

Full Details: https://www.moshimoshi-nippon.jp/266636

▼Meguro River Minna no Illumination 2019

Locations: Gotanda Fureai Mizube Hiroba (2 Chome-9-11 Higashigotanda, Shinagawa City, Tokyo)

Gotanda Minami Park and Meguro Riverside (2 Chome-8-8 Higashigotanda, Shinagawa City, Tokyo)

Running: November 8, 2019 – January 1, 2020

Times: 17:00 – 22:00 

*The illumination project will still run in rainy weather but will be postponed in stormy weather.

Website: http://www.minna-no-illumi.com/ 

Tobu Zoo Winter Illuminations 2019-2020

The "Illumination Show" will make use of the biggest LED display in Japan's Kanto region, combining music with CG visuals, and illuminated decorations will twinkle in front of it. This year, the display will also feature new full-colour lasers. Three magical and dynamic shows will light up the area, including the Amatsuki Live Illumination show.

Full Details: https://www.moshimoshi-nippon.jp/260368

▼Tobu Zoo Winter Illuminations 2019-2020

Running: October 26, 2019 – February 11, 2020

*Open on weekends and public holidays in November including Saitama Day on November 14, 2019

*Open every day from December 1, 2019 to January 5, 2020

*Open on weekends and public holidays only from January 6, 2020

Opening Hours: 17:00-20:00 (Until 21:00 on December 24-25, 2019)

Location: Throughout Tobu Zoo (110 Suka, Miyashiro, Minamisaitama-gun, Saitama)

Price: Please check the official website or at the zoo

Event Page: http://www.tobuzoo.com/event/teiki/illumination/

Roof Star Garden at GINZA SIX

Ginza's biggest shopping centre GINZA SIX is set set to light up its rooftop garden with an enchanting illumination event titled Rooftop Star Garden. Standing at 56 meters high, the rooftop garden is the "closest place to the stars" in Ginza. This will be GINZA SIX's first ever illumination event and it will shine a bright spotlight against the nightscape of Ginza's streets.

Full Details: https://www.moshimoshi-nippon.jp/259779

▼Rooftop Star Garden

Location: GINZA SIX Garden (Building Rooftop)

Address: 6-10-1 Ginza, Chuo Ward, Tokyo

Running: November 26, 2019 – February 24, 2019

*Will close during bad weather or during invitation-only events

Time: Sunset to 23:00

Entry: Free

GINZA SIX Official Website: https://ginza6.tokyo/

Omotesando Hills Christmas 2019

This winter's lights at Omotesando Hills will be provided with contemporary design studio we+.The illuminations at the main large staircase of the atrium will take on the theme "Christmastime seduced by water magic." "The water-based illuminations will constantly change colour and appearance.

Full Details: https://www.moshimoshi-nippon.jp/255660

▼Omotesando Hills Christmas 2019

Running: November 13, 2019 – December 25, 2019

Illumination Time: 11:00-23:00

Omotesando Hills Official Website: https://www.omotesandohills.com/en/

Did you enjoy our picks? Seeing the illuminations is a must when travelling to Japan during wintertime. Choose your location and take your friends, family and loved ones.

Take a Fun Photo at Narita Airport's Christmas Photo Spot Before Soaring Off

Narita Airport, Tokyo will be sprinkling some Christmas magic around the terminals from November 1 to December 25, 2019. This year the bright and jolly colours Christmas will be fused with Japanese style to create a giant Christmas tree photo spot. As Narita Airport is a gateway to the rest of the world, the Christmas photo spot is something that foreigners will enjoy just as much as the locals.

Enter the passageway into the tree and poke your head through one of the star-shaped windows for the perfect photo. This giant photo spot will completely transform your photos with a touch of Christmas magic. 

Before soaring away on your adventure this Christmas, make sure to take a fun photo!

Information

Christmas Decoration 

Running: November 1 – December 25, 2019

Location: Near Counter G of the 4th floor Departure Lobby, South Wing, Terminal 1

Narita International Airport: https://www.naa.jp/en/
RELATED ENTRIES
Japan's Tom and Jerry Exhibition Celebrates 80 Years of the Animated Series

Tom and Jerry is an animated franchise created in 1940 by William Hanna and Joseph Barbera. Adored worldwide for its titular rival characters, the hit series has won Academy Awards for Animated Short Film.


The series is now getting its first ever exhibition, and it will take place in Japan, celebrating 80 years of the beloved franchise. Fans can look forward to seeing 250 original illustrations, animation cels from the debut animation short in the series Puss Gets the Boot, rough sketches, storyboards, and more. There will also be exhibits of the Hanna-Barbera cartoons loved by Japanese children.

The Exhibition Break-Down
Chapter One: The Birth of the Legendary Duo

Chapter One of the exhibition will look at the history behind the birth of Tom and Jerry in 1940, and visitors will be able to watch the episodes that received Academy Awards.

Chapter Two: The Charm of the Tom and Jerry Series

The episodes, layout, secondary characters, title backgrounds, and more will be explored in detail. There will also be 3D recreations of Tom being out-done by Jerry.

Chapter Three: Passing Onto Future Generations

This chapter will explore Tom and Jerry from 1986 onwards. Visitors will also be able to see a recreation of the desk of American animator Spike Brandt who worked on numerous Tom and Jerry films.

Chapter Four: Onto Television

Chapter Four will explore the limits of what Hanna-Barbera were able to do in the early days on a low budget. Episodes and sounds nostalgic to Japanese people who grew up with their animations will also be played.

Chapter Five: Tom and Jerry's Eternal Chase

Exhibits of the Tom and Jerry Show, as well as an exclusive animation made for this exhibition, will be showcased. Visitors can also get their hands on a selection of 200 pieces of exclusive merchandise and pre-sales on original items.

TOM AND JERRY and related characters and elements ⓒ & ™ Turner Entertainment Co. (s20)

Mickey & Friends Disney Christmas Cupcakes to be Released at Ginza Cozy Corner

Japanese confectionery company Ginza Cozy Corner is teaming up with Disney once again to release a new Christmas collection of cupcakes on December 1.

Colourful Disney treats for the holiday season

This sweet seasonal collection is inspired by Mickey & Friends and contains nine unique cupcakes which depict the characters getting ready for their Christmas party.

Disney Christmas Collection (Contains 9) | ¥2,500 (Before Tax)

Cupcakes include a Santa-hat wearing, chocolate ganache-filled Mickey cream cheese cake, a strawberry jam-filled Minnie mousse cake, a lemon and mint cream-packed, Christmas decoration-adorned Donald tart, a banana and mint cream Pluto tart, an orange cream Goofy chocolate cake, and more.

The cakes are packed in a special Disney Christmas box which is sure to catch the attention of sweet tooths this holiday season, perfect for stay-at-home Christmas parties.

Information

Disney Christmas Collection
Running: December 1, 2020 – December 25, 2020

Ginza Cozy Corner Official Website: https://www.cozycorner.co.jp/

Disney's Fantasia Gets Sweets Collection by Tokyo Banana

GRAPESTONE is releasing a new sweets collection at Disney SWEETS COLLECTION by Tokyo Banana, which is located in Tokyo Station, in collaboration with the Disney classic Fantasia. The confections will be released in limited quantities from October 30, 2020.

© Disney Disney SWEETS COLLECTION by Tokyo Banana JR Tokyo Station

Disney SWEETS COLLECTION by Tokyo Banana opened on the JR Line side of Tokyo Station in November of last year. The shop is a joint-collaboration with Tokyo Banana—the official souvenir sweet of Tokyo—and Disney. The shop sold over 100,000 products in the first week of its opening, and caught the attention of Disney fans on social media who described the shop and the packaging of their sweets as cute.

Disney Fantasia Chocolate Sandwich (Contains 28) | ¥3,024 (Tax Included)

The cute packaging features Mickey Mouse as The Sorcerer's Apprentice in the 1940 animated film Fantasia. The light and crunchy cat tongue cookies at filled with chocolate banana milk shake flavoured cream

The confections serve as the perfect gift or souvenir from Japan to yourself or any fan of Disney.

© Disney

Information

Disney Fantasia Chocolate Sandwich
Running: October 30, 2020 – Mid December 2020

Available: Disney SWEETS COLLECTION by Tokyo Banana JR Tokyo Station

Purchasing: 70 available per day, max 2 per person
Official Website: https://www.tokyobanana.jp/disney/index.html

Tokyo's Mickey Mouse Exhibition 'THE TRUE ORIGINAL & BEYOND' Previews 5 Japanese Artworks

The Asahi Shimbun and Nippon TV are set to host an exhibition centred on Mickey Mouse at the MORI ARTS CENTER GALLERY in Roppongi, Tokyo, from October 30, 2020 to January 11, 2021, in celebration of 90 years since Mickey Mouse's screen debut. The exhibition will showcase works shown at the Mickey: The True Original Exhibition held in New York in 2018-2019.

Before the exhibition opens, five participating Japanese artists have each revealed their never-before-seen artworks which will be on display.

The Tokyo exhibition will be a travel back through time, looking at Mickey Mouse from the past to the present. It will be split into three zones: "The Origin," "The True Original," and "Beyond." The five artists showcasing their work early will be featured in the "Beyond" zone and include Tomoko Oshima, Kosuke Kawamura, Nana Soeda, Calligrapher MAMI, and WAKU. Below are their featured pieces along with their comments.

Tomoko Oshima | Comment

"What's fascinating about Mickey Mouse is, for reasons I can't begin to work out, how he became a part of each person's life. I was raised in a household that banned cartoon characters, so it always felt like something unobtainable. Mickey Mouse is like a hero to all of us. He's dazzling and radiant, a kind of being I can't look directly in the face of. When working on my Mickey Mouse art [for the exhibition], my concept was to create a Mickey that's special only to me, so I challenged myself to turning that Mickey Mouse that everyone feels happy looking at and loves into my usual art style."

Oheya (Bedroom), Tomoko Oshima

Kosuke Kawamura | Comment

"What I find fascinating about Mickey Mouse is that no matter how old I get, he always transports me away from the real world to a world of dreams. He's an idol of mine. I even have my own collection of merchandise I've been collecting over the years. For the exhibition, I needed to creating something for the Beyond [zone], so I tried shaping Mickey Mouse from how I see him in my head. I've always made sure to balance my artwork in such a way that it can be seen in two ways. When you stand close, you can see the detailed composition, but when you step away, it looks different. This time around I gave myself a little challenge and made the silhouette of his face and hands using flowers. If you get close to it you'll see that it's made up of lots of flowers, but stand from afar and you'll be able to see the facial expressions and his pointing figure. I'd like people to give both a go, so when you've looked at it up close then take a step back."

Untitled, Kosuke Kawamura

Nana Soeda | Comment

"I feel Mickey Mouse's appeal from his long history and how he has changed overtime, so I tried to express these aspects in the piece I made. The theme for it is centred on Mickey Mouse in the future, so when I was thinking about what he might look like in the future, I looked to past [designs] and tried fixing them up. So in my piece there's a trace of looking back at past Mickey Mouse while giving him an update. Creating those 'futures' made me feel like I was walking through my own past and processes. You can't know exactly what's to come in the future even for someone as internationally popular as Mickey Mouse. But by learning from past memories and mistakes, you can draw on those to create a future, don't you think? That's something I wanted to convey in this piece, and I did so by creating something that's close to the Mickey Mouse of the past with both 2D and 3D surfaces. The Mickey Mouse I drew is the one of ages past that looks completely different to his appearance today. But those look at it might feel something newer about it than older. That, or they might feel uncomfortable seeing him in a way they're not used to. I want people to take their time looking at both and feeling whatever they feel when they do."

LOVE, Nana Soeda

Calligrapher MAMI | Comment

"I've captured Mickey Mouse's silhouette as its own kanji by using calligraphy. His appearance is iconic worldwide, and by making him recognisable through this common language, I've tried to create a new kanji, effectively breaking the language barrier of calligraphy, something which is difficult in itself to overcome for people. Another thing with calligraphy is that you can write the same piece hundreds of times which means it can be fine tuned over and over. I believe that overlaps with Mickey Mouse's design as he has too has evolved for a hundred years. But by no means have his designs he just spring out of existence immediately. He has undergone trial and error through the times, and always shines bright. It's because of everyone who will see my piece as this exhibition that I've been able to create something I can feel from the heart."

ZEN Mickey, Calligrapher MAMI

WAKU | Comment

"I think the appeal of Mickey Mouse lies in the fact that people around the world all remember him from their childhoods. We form memories during our childhoods, and ever I've been able to recognise those memories inside of me, Mickey Mouse was something that was always close to me. When I see three circles together, Mickey Mouse's face comes into my mind. He might be the first internationally recognisable symbol. I felt that the affinity between symbolism and neon signs is very high. So for my piece, I incorporated the techniques used for traditional Japanese neon signboards, something which I see less of these days. I took that and created the three Mickey Mouse circles using light."

Untitled (Still Being Worked On), WAKU

Information

MICKEY THE TRUE ORIGINAL & BEYOND
Running: October 30, 2020 – January 11, 2021

Time: 10:00-20:00

Venue: MORI ARTS CENTER GALLERY (Roppongi Hills Mori Tower Floor 52F)

Entry Price: General ¥2,800 / Junior & High School Students ¥2,000 / Elementary School Students ¥1,200 / Preschoolers – Free
Official Website: mtob.exhibit.jp

Mickey Mouse Exhibition 'THE TRUE ORIGINAL & BEYOND' to be Held in Roppongi

The Asahi Shimbun and Nippon TV are set to host an exhibition centred on Mickey Mouse at the MORI ARTS CENTER GALLERY in Roppongi, Tokyo, from October 30, 2020 to January 11, 2021, in celebration of 90 years since Mickey Mouse's screen debut. The exhibition will showcase works shown at the Mickey: The True Original Exhibition held in New York in 2018-2019.

 

Walt Disney's concepts and ideas are formed around innovation, creativity, imagination, and storytelling. And one character who walked that journey with him and continues to this day is none other than the iconic Mickey Mouse, who since making his first appearance in Steamboat Willie in 1928, has gone on to be a symbol of the Walt Disney Company loved by people the world over.

Mickey: The True Original Exhibition in New York

The Mickey: The True Original Exhibition held in New York looked at how Mickey Mouse has influenced art and pop culture over the years, covering everything from Steamboat Willie which hailed as Walt Disney's first black and white sound film to over 100 colour short animations, artwork, and more.

Keiichi Tanaami – "Mickey's Japan Tourism"

Javier Sanchez Medina – "Studio for Mickey's hands"

The exhibition was ran from November 2018 to February 2019 and saw installations from over 20 international artists including New York-based artist Daniel Arsham and Los Angeles-based artist and graphic designer Brian Roettinger.

Brian Roettinger – "(L)imitation of Sound"

DRx – "3000% Mickey Be@r"

The Tokyo exhibition will be a travel back through time, looking at Mickey Mouse from the past to the present. It will be split into three zones: "The Origin," "The True Original," and "Beyond."

The Beyond zone will welcome original artwork from five Japanese artists.

 

Original Merchandise – Pin Badge

Original Merchandise – Ballpoint Pen

The exhibition's museum shop will have exclusive Mickey Mouse merchandise for sale, as well as pre-sales on other items. See new official goods from works like Steamboat Willie and Fantasia as well as items designed by Japanese artists. It's a chance to see Mickey in a variety of different ways.

Free eco-bag

Visitors to the exhibition will also receive one of four original eco-bags for free upon arrival.

Information

MICKEY THE TRUE ORIGINAL & BEYOND
Running: October 30, 2020 – January 11, 2021

Time: 10:00-20:00

Venue: MORI ARTS CENTER GALLERY (Roppongi Hills Mori Tower Floor 52F)

Entry Price: General ¥2,800 / Junior & High School Students ¥2,000 / Elementary School Students ¥1,200 / Preschoolers – Free
Official Website: mtob.exhibit.jp

Tokyo Banana's New Disney Sweets Collection Looks Delicious

Japan's popular confectionery souvenir shop Tokyo Banana is collaborating with Disney for one week from July 29 to August 7 at the Hankyu Umeda branch of Tokyo Banana in Osaka.

Officially named the "Disney SWEETS COLLECTION by Tokyo Banana," the line-up brings together the iconic Disney characters and centres them around the company's brand concept which is to bring happiness to all who see and taste their products.

Mickey Mouse Pancake Sandwich: ¥1,080 for 4 / ¥1,382 for 6 (Tax Inclusive)

A box of "Mickey Mouse Pancake Sandwiches" contains baked, deliciously fluffy treats filled with soft cream. They come in two shapes: Mickey's face and the iconic Tokyo Banana. The Mickey ones contain caramel cream and roasted almonds while the Tokyo Banana designs are filled with banana milk cream and chocolate chips.

Mickey Mouse Chocolate Sandwich: ¥1,080 for 12 / ¥2,160 for 24

The "Mickey Mouse Chocolate Sandwich" are crunchy cat tongue biscuits which have Tokyo Banana's distinct milky flavour. They are made to be like a delicious banana milkshake you can eat and contain rich chocolate.

 © Disney

Information

Mickey Mouse Pancake Sandwich / Mickey Mouse Chocolate Sandwich
Running: July 29, 2020 – August 4, 2020

Available: Tokyo Banana Hankyu Umeda
Official Website: https://www.tokyobanana.jp/disney/

Pompompurin Celebrates 24th Anniversary With Birthday Menu at the Pompompurin Cafe

Sanrio's popular character Pompompurin is celebrating his 24th anniversary at three branches of the Pompompurin Cafe in Harajuku, Yokohama, and Umeda with a special birthday menu that will be served for the whole month of April.

A special celebratory menu for the floppy-eared golden retriever

The official date for Pompompurin's birthday is April 16. The birthday menu line-up includes two food items, a drink made in collaboration with popular Japanese picture book author Yukako Ohde, and some novelty gifts.

Birthday Menu

Happy Birthday Flower Bouquet Bisque – ¥1,590 (Before Tax)

This cute bisque soup has Pompompurin and Muffin holding a colourful boquet made from broccoli and mashed potatoes made to look like roses. It has a rich but mild flavour, and is both adorable and filling.

Happy Birthday Strawberry Mousse – ¥790 (Before Tax)

The strawberry mousse has a fluffy texture and refreshing, sweet taste. It can be eaten as it is or drizzled with the accompanying raspberry sauce.

Yukako Ohde x Pompompurin Lemonade – ¥550 (Before Tax)

Take a sip from this delicious lemonade from a straw adorned with a cute, warm illustration of Pompompurin by Yukako Ohde.

Exclusive Anniversary Novelty Gifts

Lunch Mat Design

Customers who dine at any of the three cafes during the anniversary celebration will receive a free lunch mat.

Coaster Designs

And those who order the lemonade will receive a coaster with designs illustrated by Yukako Ohde. The designs are different at each branch of the Pompompurin Cafe. You can also receive another special coaster if you spend over ¥1,000 each (tax included) at Pompompurin Cafe Umeda and KIDDY LAND Osaka Umeda. Simply show your receipts at the cafe.

©1996,2020 SANRIO CO., LTD. APPROVAL NO.S605291

Information

■Pompompurin Cafe Harajuku

Address: CUTE CUBE HARAJUKU 3F, 1-7-1 Jingumae, Shibuya, Tokyo

Opening Hours: 11:00-21:00 (Food Last Orders 20:00 / Drinks Last Orders 20:30)

Access: 3-minutes on foot from the Takeshita Exit at Harajuku Station

TEL: 03-5786-0770

■Pompompurin Cafe Yokohama

Address: Yokohama Sotetsu Square, 2-1-5 Minamisaiwai, Nishi-ku, Yokohama-shi

Opening Hours: 10:00-21:00 (Last Orders 20:30)

Access: 5-minutes on foot from West Exit at Yokohama Station via JR Line

TEL: 045-311-6750

■Pompompurin Cafe Umeda
Address: Hankyu Sanbangai South Wing B2F, 1-1-3 Shibata, Kita-ku, Osaka-shi
Opening Hours: Weekdays 11:00-22:00 (Last Orders 21:30) / Weekends & Holidays 10:00-22:00 (Last Orders 21:30)
Access: 3-minutes from Osaka Station via JR Line
TEL: 06-6292-7140

Pompompurin Cafe

Official Website: http://pompom.createrestaurants.com

Kaori's Easy Recipe: Learn to Make Mickey & Minnie Mouse Cookie Cupcakes

With just a small bit of ingenuity, turn everyday food into something cute using Kaori's easy recipe! With a few simple ideas, an ordinary recipe magically transforms into a cute dish.

For this edition of Kaori's Easy Recipe, I used a recipe from the Disney dessert cookbook Oishii Disney Sweets Recipes to make "Mickey & Minnie Cookie Cupcakes" which make for the perfect Valentine's Day treat. It's a super easy recipe to follow – I even made the cookies and ribbon using ingredients readily available at the supermarket. So don't hesitate, give this easy recipe a go for yourself.

1: Ingredients (Makes 6 cupcakes measured 7cm)

2 medium eggs (40g egg yolk/60g egg white)

60g granulated sugar

2tsp vegetable oil

1-2tsp lemon juice

45g weak flour

2:

①Put the egg yolk, vegetable oil, and lemon juice into a bowl and mix well.

②In a separate bowl, whisk the egg white and gradually add in the granulated sugar. When adding the sugar, I recommend doing it in four portions. So add one quarter of the sugar, mix, repeat.

③Once you've added all the sugar, mix well to incorporate into the egg white.

④Gradually add the weak flour. Do this in three portions like in step ②. Please be careful as to not mix too vigorously when adding the flour as it will result in the dough losing its loose texture and becoming firm.

3: Pour the mix into the cups so that 70-80% of the cups are full. Bake at 190℃ for 12 minutes, then bring the heat down to 170℃ and cook for a further 3 minutes.

4: Now it's time to make Mickey Mouse. I used one big Oreo cookie and two little ones, the latter of which don't have filling. Like in the photo below, half the bigger cookie, place the smaller ones inside, and place the bigger half back on. If you don't have anything to stick the cookie back on, you can use the filling of the Oreo.

5: I used melted to chocolate to fix my Mickey Mouse together. If you add red M&M's like I did in the photo below, Mickey transforms into Minnie.

6: Once the cupcakes are done baking, make an incision in the top to place the Mickey and Minnie cookies into.

7: Add some fresh cream to decorate, and your Valentine's Day Disney cupcakes are complete!

Kaori invites you into her world of character-themed food dishes in her recipe series. Be sure to check out her Instagram where she has uploaded many pictures of her character dishes!

There are many other cute Disney recipes available in the book that Kaori used too, so if you're in Japan or have access to Japanese books, then why not pick up a copy?

©️Disney

Kaori Kubota (@kaopan27)
I live in Hokkaido and I love to make character themed foods, desserts and pastries♡

I want to see my family smile, so I enjoy putting in a bit of effort to make character foods and changing food into something cute♡

You can see more of my character foods and character bento boxes on my Instagram page→@kaopan27

Information

Oishii Disney Sweets Recipes (Japanese Title: おいしい ディズニー スイーツ レシピ)

Price: ¥1,200 (Tax Included)

Available: Amazon Japan, Rakuten, and elsewhere

Haikyu!! Season 4 To The Top Fair to be Held at Animate Stores Across Japan

Animateーa chain of anime and manga related merchandise storesーhas announced that it will hold a fair to promote season four of the ongoing TV anime series Haikyu!! from February 15.

Haikyu!! is a popular manga series written and illustrated by Haruichi Furudate and serialised in Weekly Shonen Jump. The series has spawned an anime series and stage adaptation. The fourth season of the anime series began airing on January 10 this year.

The event will be held at Animate stores from February 15 to March 8 where fans of the series can get their hands on exclusive merchandise. Those who purchase or pre-order items will receive one of 8 possible postcards as pictured above featuring the cast of characters.

A special pop-up shop at the Sendai and Yokohama Vivre branches of Animate will also be open from February 15 to March 1, which will include not only merchandise, but a chance for fans to deepen their love of the series even more. Those who purchase any of the items at those shops will receive one of the above-pictured postcards. Exclusive big-size badges will also be sold in Sendai and Yokohama, so don't miss out.

©Haruichi Furudate/Shueisha・"Haikyu!!" Production Committee・MBS

Information

Haikyu!! TO THE TOP Promotional Fair

Running: February 15, 2020 – March 8, 2020

Location: Animate stores in Japan

Notes: If you purchase Haikyu!! related merchandise or pre-order the season 4 DVD or Blu-ray during the fair you will receive one of 8 possible postcards. For every ¥1,000 spent on the manga, books, or character merchandise, for every CD, DVD or Blu-ray bought, and for every DVD or Blu-ray pre-ordered (collectively over ¥1,000), you'll receive a present.

Haikyu!! TO THE TOP Animate Only Shop

Running: February 15, 2020 – March 1, 2020

Location: Animate Sendai / Animate Yokohama Vivre

Notes: If you purchase Haikyu!! related merchandise you'll receive one of 12 possible postcards. For every piece of character merchandise bought, and for every CD, DVD or Blu-ray bought, you'll receive a present.

Fair Website: https://www.animate-onlineshop.jp/contents/fair_event/detail.php?id=103322

Animate Only Shop Webpage: https://www.animate.co.jp/onlyshop/302652/

Artist FUKI Collaborates with LINE MUSIC to Make Romantic Bubble Tea at Tai Parfait Cafe

LINE MUSIC-Bu is LINE MUSIC's research team that studies popular music trends among teen girls. LINE MUSIC-Bu teamed up with love song-writer FUKI, who is releasing one love per month for 12 months, in order to produce a new bubble tea drink and tapioca dessert especially for couples. The drink and dessert is being sold at Tai Parfait Cafe, Yokohama World Porters. FUKI will also perform at a free live gig at Yokohama World Porters on December 25, which is the last day of collaboration drink and tapioca dessert sales. 

The collaboration pair-tapi contains two different drinks in a twin split cup. One side of the cup is filled with cafe au lait and the other with a strawberry-flavoured drink. Both sides are stuffed with yummy tapioca pearls and are topped with a mountain of cream. This cute drink sees the perfect opportunity to get closer to your partner. 

The second collaboration treat is the Tai Parfait Tapi which is stuffed with strawberries and tapioca pearls. The adorable tai fish is made from sweet dough – and it has cute eyelashes too. The fish's enormously wide mouth can be seen chomping down on the delicious dessert. 

Enjoy a romantic bubble tea and make sure to check out FUKI's love song LOVE and CRY, which is based on a true story. The song is currently available on a number of digital music services. 

Teen girls full of love problems find FUKI'S songs highly relatable. As Yokohama World Porters will be lit up for Christmas, you just can't miss FUKI's performance on December 25.

Information

LOVE and CRY / FUKI

Digital Release: November 11, 2019

Link: https://jvcmusic.lnk.to/loveandcry

Tai Parfait Cafe

Selling Until: December 25, 2020

Location: Tai Parfait Cafe, Yokohama World Porters (Floor 5) 

Address:  2 Chome-2-1 Shinko, Naka Ward, Yokohama, Kanagawa 

Opening Hours: 11:00 ー 22:00

Christmas Free Live Gig

Event Name: FANTASTIC CHRISTMAS

Dates: November 8 ー December 25

FUKI's Performance Date: December 25

Times: 14:00 ー 14:30 and 16:00 ー 16:30 (Stage 2)

Location:Yokohama World Porters Kishamichi Promenade, 2nd Floor Stage 

Price: Free

Pompompurin Cafe Reveals Christmas Menu For Harajuku, Yokohama & Umeda Branches

The Harajuku, Yokohama and Umeda branches of the Pompompurin Cafeーthe cafe chain centred on Sanrio's popular character Pompompurinーis serving up two cute Christmas menu items this year from December 1 to 25.

*Food names below are translated from Japanese

Hurry Up Santa – Pompompurin Cheese Keema Curry – ¥1,290 (Before Tax)

This rich and spicy keema curry is made with Parmesan cheese, cheddar cheese, and natural cheese. The colourful stars are made from carrot and paprika, while the spiralled Christmas cheese is a combination of spinach and mashed potato. Purin is made of rice and is waiting in anticipation for Santa to deliver his present. You'll see he's holding a stocking which is a made from bread and walleye pollack mayo. A hearty dish that is both delicious and adorable

Snowman Pompompurin – Snow Covered Chocolate Tart ¥1,190 (Before Tax)

Pompompurin has turned into a vanilla ice cream snowman and is standing next to a pistachio cream Christmas tree. They are both atop a rich chocolate tart. This cute dessert is like a Christmas garden straight out of a children's picture book.

If you decide you want to spend your Christmas with Pompompurin this year, then you'll receive a free lunch mat when you order food and a free coaster when you get a drink. These are both limited in quantity, so don't miss out!

©1996, 2019 SANRIO CO., LTD. APPROVAL NO.S603310

Information

■Pompompurin Cafe Harajuku

Address: CUTE CUBE HARAJUKU 3F, 1-7-1 Jingumae, Shibuya, Tokyo

Opening Hours: 11:00-21:00 (Food Last Orders 20:00 / Drinks Last Orders 20:30)

Access: 3-minutes on foot from the Takeshita Exit at Harajuku Station

TEL: 03-5786-0770

■Pompompurin Cafe Yokohama

Address: Yokohama Sotetsu Square, 2-1-5 Minamisaiwai, Nishi-ku, Yokohama-shi

Opening Hours: 10:00-21:00 (Last Orders 20:30)

Access: 5-minutes on foot from West Exit at Yokohama Station via JR

TEL: 045-311-6750

■Pompompurin Cafe Umeda
Address: Hankyu Sanbangai South Wing B2F, 1-1-3 Shibata, Kita-ku, Osaka-shi
Opening Hours: Weekdays 11:00-22:00 (Last Orders 21:30) / Weekends & Holidays 10:00-22:00 (Last Orders 21:30)
Access: 3-minutes from Osaka Station via JR
TEL: 06-6292-7140

Pompompurin Cafe

Official Website: http://pompom.createrestaurants.com

Disney Store: Find the Perfect New Year's Souvenirs From Japan

Walt Disney Japan is celebrating the New Year by rolling out a new batch of celebratory character merchandise at Disney Stores across Japan as well as the online website on December 3.

From the quintessential Japanese daruma to pine decorations and more, take home some of Japan with you for friends and family in the form of classic Japanese New Year items made into Disney souvenirs.

Plush Toys: Mickey/Minnie Mouse ¥2,000 Each, Winnie the Pooh ¥2,800, Piglet/Roo ¥1,500, Eeyore ¥1,600, Chip/Dale ¥1,200 Each Mascots: All ¥1,000 Each Memo Pad: ¥650 Pine Decoration: ¥1,500

The line-up includes a selection of daruma-dressed Disney character plush toys, plush toys of Winnie the Pooh, Piglet, Eeyore and Roo in rat costumes for the 2020 Year of the Rat, and more. Perfect as gifts, souvenirs, and for decorating your room and desk.

Celebrate the New Year with your favourite Disney characters.

©Disney ©Disney. Based on the "Winnie the Pooh" works by A.A. Milne and E.H. Shepard. ©Disney/Pixar 

Information

Product Page: https://store.disney.co.jp/c/c5680/ 

*Select branches not stocking these products (*and not available at outlets)

*Available while supplies last

*Product designs, price, release date, branches, and so on are subject to change