Omotesando Hills Christmas 2019: Water Tank Christmas Tree Wrapped in Illuminations
The Omotesando Hills shopping complex has begun rolling out information for its Christmas celebrations for 2019. Omotesando Hills Christmas 2019 is set to run from November 13 to December 25 during which artistic illuminations will decorate the building. The illuminations at the main large staircase of the atrium will take on the theme "Christmastime seduced by water magic."
Omotesando Hills has been adorning its interior with artistic Christmas illuminations since 2017. This winter's lights will be provided with contemporary design studio we+. The studio has showcased its works both inside Japan, including at Salone del Mobile.Milano, which have presented new perspectives and values to spectators. "Water" is the theme for the illuminations at Omotesando Hills this year, which will constantly change colour and appearance.
A 7-meter-tall Christmas tree surrounded by around 40 water tanks will stand beautifully in the atrium as the centrepiece of the illuminations. Strung down from the ceiling in the open air space will be large golden frames, offering a dynamic adornment throughout.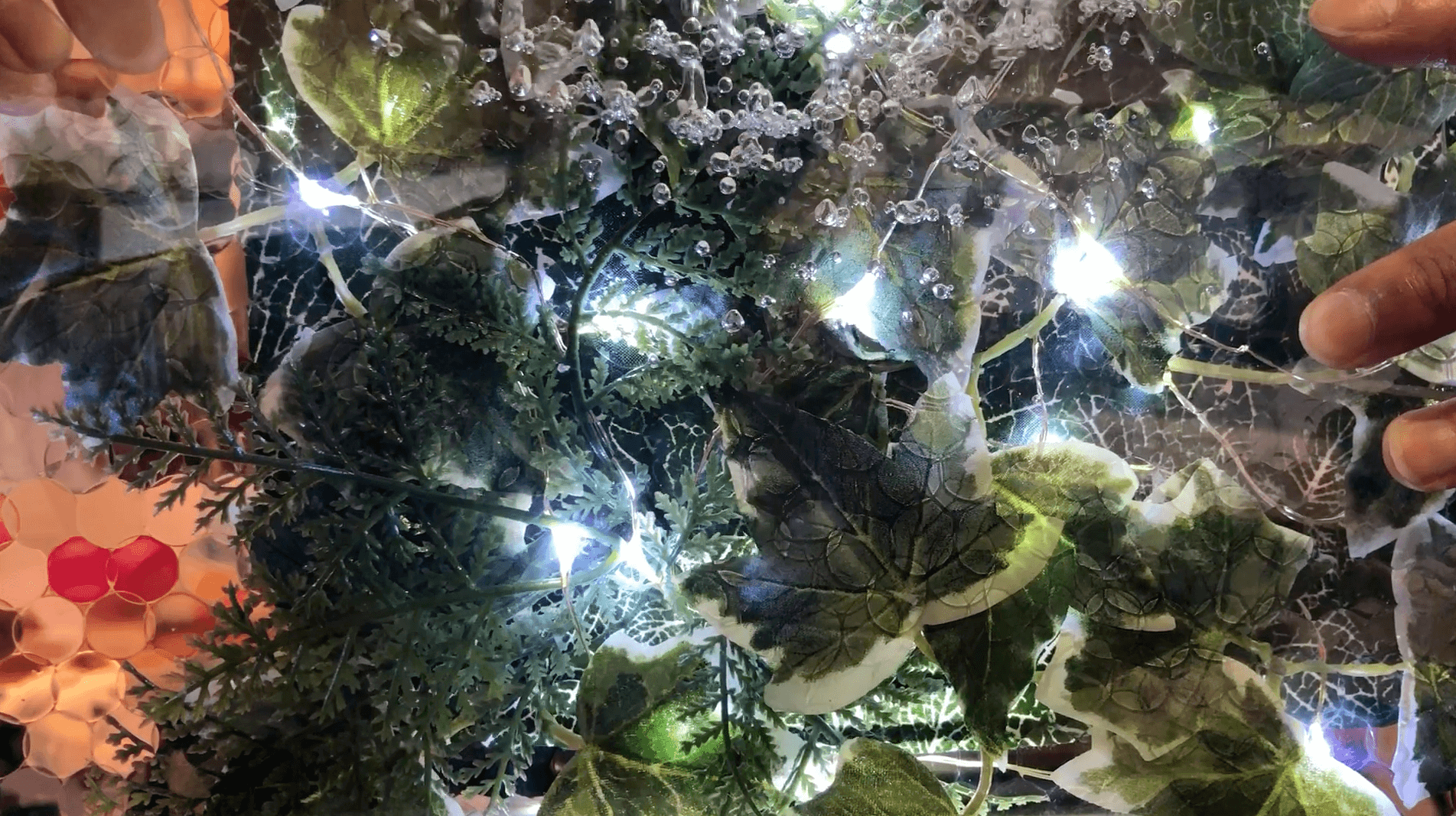 Superabsorbent polymers will float inside the water tanks on various sizes. These polymers will greatly elevate the tanks' level of transparency. Because of their refractive index in the water, they in fact become one with the water and so you won't be able to see them, enabling one to also see the Christmas tree hidden within the tanks.
Each water tank will change to the music one by one depending on the level of water in them, as will the Christmas tree and its LED lights, creating a mosaic-like appearance. The tree will alter every moment, making you forget about the time and want to just keep gazing at it.
Information
Omotesando Hills Christmas 2019
Running: November 13, 2019 – December 25, 2019
Illumination Time: 11:00-23:00
Omotesando Hills Official Website: https://www.omotesandohills.com/en/
RECOMMENDED ENTRIES
This Week's Breakfast: French Toast at Bread, Espresso & in Omotesando

One thing I do at least once a week without fail is treat myself out to some delicious food or dessert. It's very important time well spent in order to live a happy life.

Today, I went out for breakfast. I got up a little earlier than usual and headed to my favourite cafe, Bread, Espresso & which is located in Omotesando.

It's really easy to get to: it's just a 5-minute walk from the A2 exit of Omotesando Station. Mornings are quiet in Omotesando, you don't see many people walking around, so it feels like a completely different place compared to its busy streets during the day.

When you enter the cafe, the smell of freshly-baked bread is the first thing to hit your senses. I sat down on one of the comfy sofa-seats and ordered myself the French toast breakfast set.

There's plenty of space between tables, so it's an environment that's easy to kick back and relax in.

Inside and outside the cafe are cute signs with that day's recommended menu items written on them. Next time I visit I think I'll try one of the lunchtime desserts. That's what I daydreamed about while waiting for my French toast to arrive.

French Toast Set w/Drink – ¥800

The French toast has a subtly sweet scent. It's made with one of the cafe's popular foods: the butter-loaded bread known as "Muu."

The toast's crusts were nice and crunchy while the middle part was fluffy. The soft bread just melts in your mouth when taking a bite, and your taste buds are treated to the sweet flavour of the egg.

The toast is delicious as it is, and you can totally leave it at that and enjoy your morning breakfast. But if you want to take it to the next level then you can drizzle the accompanying honey over the toast, giving the sweetness an even richer flavour.

I'm usually not good with the characteristic sweet taste that honey has, or the bitterness layered into the overall flavour, but this honey was on the milder side so I really enjoyed it.

After my food, I enjoyed the cappuccino the barista beautifully made for me which comes as part of the set.

My 1-hour morning was spent even more relaxed than usual here. It's much different from lunchtime which is a much busier and hurried time, so I could sink in my chair and really enjoy my drink too.

Waking up early and enjoying a relaxing breakfast. That's all I did, but it helped ease my busy mind and soul. I'm a simple person, and I think I'll be able to face my week and work hard at it after this.

Today's Presents

Futsu Furu Fig Sandwich – ¥420

Futsu Uni Fruits – ¥400

I wanted to share the happiness between friends and family on this fine day where I got to eat a delicious breakfast. These sandwiches are packed full of fruits―seasonal fruits which are best enjoyed right now. If you're wondering what other sandwiches they sell then be sure to visit.

Writer: Sayuri Mizuno (MOSHI MOSHI NIPPON)

Translator: Joshua Kitosi-Isanga

Information

Bread, Espresso &

Address: 3-4-9 Jingumae, Shibuya, Tokyo

Business Hours: 8:00-20:00

No Fixed Holidays

The "Pancake Prince" Opens A Brand New Pancake Restaurant in Omotesando

After a year of extensive research eating pancake after pancake, the one known as the "Pancake Prince" will open another branch of the Pancake restaurant VERY FANCY® in Omotesando on September 11. This restaurant will feature a unique Omotesando menu. 

The real identity of the legendary Pancake Prince is Satoru Sugimoto. In just one year, he visited a total of over 200 pancake restaurants in Japan and even overseas. His endless research led him to crafting a series of special recipes, which consist of high quality ingredients such as low viscosity wheat flour, aluminium-free baking powder, buttermilk and homemade cheese. The pancakes are fried carefully, creating a fluffy pancake with a new half-baked texture. 

VERY FANCY® has launched a brand new online advanced booking system which allows customers to quickly take to their seats without having to wait. Thanks to this new system, the restaurant has now become queueless. 

The menu at the brand new restaurant is based on the restaurant's standard pancake menu. The additional Omotesando menu is full of original ingredients and toppings that are unique to Omotesando. If you turn up to this branch, you can enjoy a lot more than just pancakes as there will be a variety of collaboration contents offered as well. This restaurant has also prepared a kid's menu and baby chairs. 

Homemade cheese kneaded into pancake batter and then fried to perfection ー this is just one example of the new fluffy "half cooked" texture pancakes that you absolutely must try. Come spend a wonderful moment munching marvelous pancakes surrounded by a cute and photogenic atmosphere.  

Information

VERY FANCY®︎ OMOTESANDO
Grand Opening: September 11, 2019

Address: AF Lohas St.Bidg 2F, 5-3-8 Jingumae, Shibuya, Tokyo
Opening Hours: 11:00-22:00
No regular holidays.

Reservation Website: http://veryfancy.me

L'OCCITANE Omotesando: Japan's First Spa & Cafe Combination Store

The new L'OCCITANE Omotesando Voyage Sensoriel will open in the Omotesando and Harajuku area―Tokyo's hub of trends and culture―on July 27. This new concept store is Japan's first ever spa and cafe establishment where customers can enjoy L'OCCITANE with all five of their senses.

1st Floor: VERBENA CAFÉ by L'OCCITANE

Nestled in the corner of the first floor is the chic VERBENA CAFÉ where customers are treated to a menu blooming with fresh verbena, an ingredient you don't see everyday.


Fresh Verbena Blanc Manger – ¥1,280 (Tax Included)

Mango Verbena Parfait – ¥1,480 (Tax Included)

Sweet Tea Float Series – ¥1,280 Each (Tax Included)

The menu is tied to the seasons, so for this summer, you can look forward to cooling yourself off with the Fresh Verbena Blanc Manger and Mango Verbena Parfait, both made with fresh seasonal fruits, or a choice of one of the refreshing Sweet Tea Floats.

1st Floor: petit Spa L'OCCITANE

Also located on the first floor is the petit Spa L'OCCITANE which is opening as the first spa attached to a main branch. Their beauty menu covers everything from ageing care to relaxation. They also offer facial treatment services using Immortelle Divine Harmony―the latest in L'OCCITANE's skincare range―as well as the relaxing L'OCCITANE spa service which is guaranteed to send you off into a beautiful sleep.

1st Floor: VOYAGE SENSORIEL

The shop will also sell the elusive 86 Collection, a series of fragrances made in collaboration with Pierre Hermé Paris and sold at select stores only across the world.

Additionally, to celebrate the opening of the VERBENA CAFÉ, the shop will also sell limited edition verbena products and kits which can be gift wrapped.

If you're looking for a little luxury while in Tokyo then look no further than the spectacular new  L'OCCITANE Omotesando Voyage Sensoriel, opening July 27.

Information

L'OCCITANE Omotesando Voyage Sensoriel

Grand Opening: July 27, 2019
Address: Emoto Bldg. 1F/B1F, 4-29-4 Jingumae, Shibuya, Tokyo
Business Hours: 11:00-21:00 (Cafe Last Orders 20:00)
Official Website: https://jp.loccitane.com/omotesando
RELATED ENTRIES
Kiyomizu Cheese Kobo: Kyoto's Dessert House Releases Matcha Tiramisu and New Cheese Products

Kiyomizu Cheese Kobo opened in Kiyomizu Gojozaka, Kyoto in July this year as the first place in Kyoto to specialise in "bottled cheesecakes." This month, they are releasing four new products to continue the cheese craze right to the end of 2019.

The first is a revamp of their number one most popular soft serve cheese ice cream: the "Chocolate Mont Blanc Cheese Soft." The soft serve ice cream is a mix of refreshingly sweet milk and rich cheese topped with a full-bodied mont blanc-style chocolate—a welcome addition during the winter months when you want to stay in and indulge in some chocolate. The ice cream is finished with crushed chocolate pieces and a crowning raspberry to create a chocolate cake in a cone. You're sure to become a frequent customer after a bite of this.

And for the Christmas season only, between December 18th-25th the shop is also selling another special soft serve that's made to look like a Christmas tree. The cheese soft serve is covered with a sprinkling of Uji matcha powder and adorned with chocolate pearls and stars.

Kiyomizu Cheese Kobo is also releasing hot versions of its "Kiyomizu Cheese Drink" and "Matcha Cheese Tea," the iced versions of which were greatly enjoyed in summer. The Matcha Cheese Tea can also now be ordered with tapioca topping, creating a delicious combination between the expertly crafted rich matcha cheese tea and the chewy and sugary tapioca pearls.

Also released this month is the "Homemade Matcha Tiramisu" when is served in a traditional masu box and served only on the second floor eat-in section. This irresistible delight is made with flavourful mascarpone cheese and bitter Uji matcha from Kyoto to create a dessert that's perfect during a trip or day out in Kyoto. Because of the hard labour that goes into creating this dessert, only 5-10 are served per day, so be sure to arrive early to not miss the opportunity.

Information

Chocolate Mont Blanc Cheese Soft – ¥550 (Before Tax)

Christmas Cheese Soft – ¥400 (Before Tax) *Available December 18-25, 2019 only

Matcha Tapioca Cheese Tea – ¥550 (Before Tax)

Homemade Matcha Tiramisu – ¥540 (Before Tax)

Kiyomizu Cheese Kobo

Address: 569-10 Shiraitochō, Higashiyama Ward, Kyoto, Kyoto Prefecture

Official Website: http://kiyomizu-cheese.com/

Starbucks Japan Reveals New Matcha White Chocolate Hot and Iced Drinks For Christmas

Starbucks Coffee Japan is celebrating Christmas 2019 with two new delicious beverages: the Matcha White Chocolate Frappuccino🄬 and Hot Matcha White Chocolate, both of which will be available to order between December 19 and 25 for this year only.

Both versions of this delightful holiday season drink are the perfect accompaniment to the winter days, combining richly fragrant matcha with smooth white chocolate. The Frappuccino🄬 enjoys the addition of maple syrup for a distinct sweetness which mixes gorgeously with the matcha and milkiness of the white chocolate.

The hot version is made with foamed milk which too is soaked in the full-bodied kick of the matcha. The fluffy texture of the foamed milk together with the sweet taste and velvety white chocolate is a combination sure to get you addicted.

If you're in Japan for Christmas this year, be sure to stop by Starbucks for a cup of Matcha White Chocolate.

Information

Matcha White Chocolate Frappuccino🄬

Tall: ¥570 (Tall size only)

Hot Matcha White Chocolate

Short: ¥430 / Tall: ¥470 / Grande: ¥510 / Venti®: ¥550

Running: December 19, 2019 – December 25, 2019

Available: At most Starbucks branches in Japan

Notes: Listed prices do not include tax. Both drinks contain less than 0.5% cocoa.

Starbucks Coffee Japan Official Website: https://www.starbucks.co.jp/

Handmade Christmas Chocolate Santa and Snowman Released at ATELIER de GODIVA in Kyoto

GODIVA Japan released two new chocolate products at the Daimaru Kyoto branch of ATELIER de GODIVA, a chocolate shop which combines GODIVA's skilful craftsmanship with chocolate artistry. Named "ATELIER Christmas Showpiece Santa Claus" and "ATELIER Christmas Showpiece Snowman," the two chocolate artworks were released on Wednesday and are available until December 25.

Each and every one of these chocolate sculptures are handmade in-store by the shop's chefs. They are exclusive to ATELIER de GODIVA Daimaru Kyoto and the perfect Christmas treat to adorn any Christmas party this holiday season.

These cute Christmas-exclusives not only taste delicious, but are fun to look at. Santa is sat in a chimney ready to deliver the presents while the snowman is sat next to a Christmas tree looking warm with its scarf.

Both of these are limited in stock and won't be available ever again after they sell out, so don't miss out.

Information

ATELIER Christmas Showpieces

Running: December 11, 2019 – December 25, 2019

Price: ¥1,500 Each (Before Tax) *Takeout only

Available: ATELIER de GODIVA Daimaru Kyoto (Daimaru Kyoto B1F, 79 Tachiuri Nishimachi, Shimogyo Ward, Kyoto, Kyoto Prefecture)

Opening Hours: 10:00-20:00

GODIVA Japan Official Website: https://www.godiva.co.jp

Kaori's Easy Recipe: Learn to Make Rilakkuma Santa Cookies

With just a small bit of ingenuity, turn everyday food into something cute using Kaori's easy recipe! With a few simple ideas, an ordinary recipe magically transforms into a cute dish.

In this recipe, you'll learn how to make Santa Rilakkuma cookies 

1: Ingredients: (For 10 Rilakkumas)

Unsalted butter: 55g

Icing sugar: 25g

White sesame seeds: 30g

Weak flour: 75g

2: Leave the unsalted butter out for a while until it reaches room temperature and then mix until smooth. Next, mix in the sugar, sesame seeds and then flour in that order. 

3: Next, split the dough into portions. To make one cookie, you need 15g for the face and 1g of dough for each ear. Arrange your face and both ears as shown in the photo below. 

Top tip: Rilakkuma's face is oval-shaped so don't make it circular.

4: After you've formed all your Rilakkumas, bake them at 180℃ for 15 minutes.

 

5: Please refer to the video below to decorate Rilakkuma's face:


Before the cookies get cold, coat them in icing sugar, using a small brush to dust off the excess. Then, wait for the cookies to cool completely before decorating the face. Place a Meiji Apollo Strawberry Chocolate on Rilakkuma's head for the Santa hat and you're done. 

This is the perfect way to contribute to your next Christmas potluck and it is a flawless plan to impress all your friends.

Kaori invites you into her world of character-themed food dishes in her recipe series. Be sure to check out her Instagram where she has uploaded many pictures of her character dishes!

Kaori Kubota (@kaopan27)

I live in Hokkaido and I love to make character themed foods, desserts and pastries♡

I want to see my family smile, so I enjoy putting in a bit of effort to make character foods and changing food into something cute♡

You can see more of my character foods and character bento boxes on my Instagram page→@kaopan27

Starbucks Unleashes Festive Spirit with Santa Boots Chocolate Frappuccino®

Now it's December, we can unleash our festive spirits without anyone telling us "it's too early". The streets are glistening with Christmas decor and Christmas dinners, drinks and desserts are around every corner. Every year, Starbucks never fails to hype us up with their Christmas drinks and so without a moment to waste, I headed over to check them out. 

For many, the excitement of Christmas starts to unfold at one moment: opening the stocking. Starbucks has hit home once again with the Santa Boots Chocolate Frappuccino®, which not only takes on the appearance of a stocking stuffed with treats, but tastes as jolly as one too. The Frappuccino® was released on December 4, 2019 and is enough to leave you with a very merry belly. 

Once you place your order, you will be handed a sealed straw transformed with Christmas magic to become an edible cookie straw. This drink is the first of its kind for Starbucks and is on a whole new level of excitement. Just holding the straw in your hand waiting for your drink will have your heart racing in anticipation.

Here it is:

The small, bright red baubles of chocolate will immediately catch your attention. The Christmassy cup is literally a stocking packed with a range of delicious flavours and textures.

Now it's time to insert the straw. You will be surprised at just how strong and sturdy it is. Alternating between a few refreshing gulps and an odd chomp on the crispy straw creates a new kind of flavour experience. Rest assured that you are also provided with a regular straw so no need to worry about devouring the straw before finishing the drink.

The frappuccino® base contains a rich chocolate sauce and is sprinkled with crispy potato chips. There are also some potato chips on top of the drink to moderate sweetness and add texture. 

Not only will this fill your stomach, but just seeing the jolly drink will leave you fully topped up with the festive spirit. Sales will end once stock is depleted so make sure to try it asap if you are interested. 

Have a jolly Christmas filled with excitement and love. 

Information

Santa Boots Chocolate Frappuccino®

Only Available in Tall: ¥690 (Before Tax)

Selling: December 4 – 25, 2019

Available at most Starbucks Coffee shops across Japan 

* Sales will end once stock is depleted.

Starbucks Coffee Japan: https://www.starbucks.co.jp/

PEANUTS Cafes and Diners Across Japan Release Christmas-Limited Snoopy Courses

If you're a Peanuts fan, you can't miss out on the gorgeous Christmas menu which will served up at the PEANUTS Cafe Nakameguro, PEANUTS DINER Yokohama and PEANUTS DINER Kobe from December 2 – 25. 

Order the Christmas Dinner course for a large angus beef steak drizzled with a sweet and tangy sauce made of berries and raspberry vinegar.

After your dinner enjoy the luxurious Christmas desserts plate of bite-sized treats such as a soft and tender canelé and sweet madeleine. The plate is decorated with a Christmas Snoopy pick where Snoopy's face can be seen peeking through a wreath. 

You don't have to book in advance but we recommend you do. This can be done via the links in the information section below.

Order the Salmon Cheese Gratin Christmas Plate for a luxurious course of mains, salad and dessert all on one tray. The sautéd salmon is the steal of the show as it sits in a bath of creamy stew and is topped with a generous layer of cheese. This is served alongside fluffy bread branded with Christmas designs that will definitely put you in the Christmas spirit. A Snoopy pick replaces the traditional cherry on the sundae that will leave you with a sweet aftertaste after your meal.

The White Hot Chocolate is the perfect way to ward off the cold of winter. Like a white blanket of snow, white chocolate milk fills the cup and is topped with the traditional colours of Christmas. Allow yourself to be soothed by the drink's mild sweetness.

Make the most of your Christmas with Snoopy and friends. 

© 2019 Peanuts Worldwide LLC

Information

Christmas Dinner Course

Price: ¥3,900 (Before Tax) Per Person

Locations: PEANUTS DINER Yokohama and Kobe

Reservations:

PEANUTS DINER Yokohama: http://www.peanutsdiner.jp/christmas_2019

PEANUTS DINER Yokohama and Kobe: http://www.peanutsdiner.jp/christmas_2019_kobe

* Reservations can also be made on the day.

Salmon Cheese Gratin Christmas Plate

Price: ¥2,500 (Before Tax)

Location: PEANUTS Cafe Nakameguro

White Hot Chocolate

Price: ¥800 (Before Tax)

Location: PEANUTS Cafe Nakameguro

PEANUTS Cafe Nakameguro

Address:  2-16-7 Aobadai, Meguro-ku, Tokyo

Official Website: http://www.peanutscafe.jp/

PEANUTS DINER Yokohama

Address: MARINE & WALK YOKOHAMA 2F, 1-3-1 Shinko, Naka Ward, Yokohama, Kanagawa 

Official Website: http://www.peanutsdiner.jp/

PEANUTS DINER Kobe

Address: PEANUTS HOTEL 1F, 1-22-26 Nakayamatedori, Chuo Ward, Kobe, Hyogo

Website: http://www.peanutsdiner.jp/kobe/

Japan's ROLL ICE CREAM FACTORY Releases Christmas Themed Menu

ROLL ICE CREAM FACTORYーan ice cream chain in Japan specialising in 'rolled' ice creamーreleased its Christmas menu today.

From Left: Reindeer's Christmas / Pink Pink Christmas / Blue White Christmas / Royal Pink Christmas

This will be ROLL ICE CREAM FACTORY's third-ever Christmas menu, which they have made even more fun. There are three festive ice creams to choose from, including two featuring Santa Claus and a reindeer. The ice creams can be served in either their regular cups, or the store's new "Fuwamoko" snowstorm cups, which looks like snow blowing in the wind. Check out the video below.

Until now, people would take photos of the ice cream being made, but these new cups make for an even more Instagrammable post. Edit in a Christmas song or your favourite music to make your own cute video for your Instagram Stories. The Christmas menu is available until December 25, but these cups will be served until late February 2020. You'll find the Christmas menu at the select branches and pop-up stores listed below.

Information

Christmas Menu (4 Flavours)

Running: December 1, 2019 – December 25, 2019

①Royal Pink Christmas

Price: Fuwamoko Cup ¥1,350 / Regular Cup ¥1,300

②Pink Pink Christmas

Price: Fuwamoko Cup ¥1,100 / Regular Cup ¥1,050

③Blue White Christmas

Price: Fuwamoko Cup ¥1,100 / Regular Cup ¥1,050

④Reindeer's Christmas

Price: Fuwamoko Cup ¥1,100 / Regular Cup ¥1,050

*Listed prices do not include consumption tax

Participating Branches

・ROLL ICE CREAM FACTORY Stores: Harajuku Omotesando (Tokyo), Dotonburi (Osaka), Aeon Mall Sakai Kitahanada (Osaka), LACHIC (Nagoya), Don Quijote Yamashita (Yokohama), Shinkyogoku (Kyoto)

・ROLL ICE CREAM FACTORY Pop-Up Shops: Shiki 0101 (Saitama) *December 18, 2019 – January 7, 2020 / TOKIWA (Oita) *December 21, 2019 – December 30, 2019

Official Website: https://rollicecreamfactory.com

Instagram Sensation Unicorn Ice Cream Shop Now Selling Christmas Reindeer Ice Cream

Looking for Instagram-worthy ice cream in Japan? You definitely need to check out Asakusa Tsuno Koi. Soon after opening in Tokyo's traditional Asakusa on July 5, 2019, their soft serve unicorn ice cream instantly earned its fame on social media. From November 28 to December 24, the ice cream shop will be releasing a series of Christmas-limited ice creams that are sure to become a hit sensation.

This shop is famous for being the only ice cream shop in the world to make unicorn-shaped cones out of financier cake dough and filling them with a sweet spiral of soft serve ice cream for the unicorn's horn. This Christmas, the shop is introducing Christmas-limited toppings, flowers and wreaths to the decorations menu, making customising your ice cream more fun than ever before. 

* According to research conducted by Asakusa Tsuno Koi. Protected status has been received for America, Korea and Japan. Applications are still being processed in the EU, Singapore and Mongolia.  

For the Reindeer Soft Serve Ice Cream (¥780), each and every single financier cone is baked carefully, but this time in the shape of a reindeer – and it's chocolate flavoured. Filled with soft serve ice cream, this reindeer is too cute to eat. 

The Christmas Tree (¥830) is a soft serve pistachio ice cream made using high-grade pistachos: the reigning queen when it comes to nut varieties. The ice cream is finished with one of Asakusa Tsuno Koi's original Christmas trees. 

The Santa Claus Soft Serve (¥500) is made using Asakusa Tsuno Koi's rich-flavoured vanilla ice cream. Young or old, the moment you set eyes on Santa Claus' face, a smile will automatically appear on yours! 

The Christmas-limited toppings include stars, candy, and gingerbread men (¥100 each). Can't choose? There is set including all three which costs ¥250.

The shop interior is also looking more Christmassy. The interior is a fusion of Asakusa's traditional heritage and the unicorn motif, which is popular in western countries. A colourful flowery background and Asakusa's traditional folding fans and umbrellas perfectly finish the western-Japanese fusion scene, which is currently soaking in fame on Instagram.

Asakusa Tsuno Koi is serving up a totally unique kind of ice cream that has not been spotted anywhere else in the world. The Christmas-limited ice creams are definitely worth the hype. 

 

* Prices Before Tax

Information

Asakusa Tsuno Koi 

Address: 1- chome-14-7 Asakusa Taito City

Closed: Wednesdays

Opening Hours: 11:00 – 18:00

Website (Japanese Only): http://www.38cogp.com/tsunokoi/

Starbucks Japan Unveils Santa Boots Chocolate Frappuccino® With Edible Straw

Starbucks Japan has revealed its drink in its line of holiday season beverages for 2019. The Santa Boots Chocolate Frappuccino® will be released at Starbucks branches across Japan on December 4, but will receive an early release at four branches in Shibuya on December 3.

The best moment during Christmastime is when you open a present. This drink is inspired by the candy and gift-stuffed stockings from childhood.

The drink contains everybody's favourite indulging ingredients: chocolate, cookies, and potato chips. The base of the drink is filled with dipping chocolate sauce and crunchy chocolate chips. The potato chips on top add a delicious salty flavour to the sweetness.

The drink is closed off with a squirt of snow-white whipped cream covered in red chocolate balls and an edible cookie straw. Suck up all of those delicious flavours through the straw and then enjoy munching on it afterwards, ensuring nothing goes to waste. A perfect beverage to enjoy this holiday season!

Information

Santa Boots Chocolate Frappuccino®

Price: Tall ¥690 (Before Tax) *Tall size only

Running: December 4, 2019 – December 25, 2019

Available: At most Starbucks branches in Japan

Shibuya Pre-Sale On December 3, 2019

・Starbucks Shibuya cocoti (cocoti SHIBUYA, 1-23-16 Shibuya, Shibuya Ward, Tokyo)

・Starbucks Shibuya MODI (1-21-3 Jinnan, Shibuya, Tokyo)

・Starbucks Shibuya Koen-dori (Shibuya Koen-dori JN Bldg. 1F, 1-7-5 Jinnan, Shibuya, Tokyo)

・Starbucks Shibuya Fire-dori (1-21-10 Jinnan, Shibuya, Tokyo)

Starbucks Coffee Japan Official Website: https://www.starbucks.co.jp/

Indulge in Omotesando This Christmas With Q-Pot CAFE.'s Afternoon Tea Set

Christmas is almost here, and at Q-pot CAFE. in Omotesando, the festivities have already begun as they begin serving a selection of special Christmas-exclusive menu items. These will be available until December 25.

Q-pot. is known for its accessory brand, which features jewellery made to look like sweets and desserts. It is also known for the Q-pot CAFE. which flips that concept, instead making sweets and desserts that look just like real accessories.

I visited Q-pot CAFE. to treat myself to their exciting Christmas afternoon tea.

Q-pot. Omotesando is a 7-minute walk from Omotesando Station's A2 exit. You'll spot the entrance by its sparkly illuminations as pictured above.

The cafe is split into seven concept rooms, such as Melt, Chocolate, BisQuit, SAKURA, and so onーso you can pick which sounds good to you and sit there. It also gives a reason to go back more than once!

The Story of Sweet Kingdom Afternoon Tea Set ¥2,400 (Tax Included/Drink Included)

The afternoon tea set: an indulgence any cafe-lover craves for at least once. And since Christmastime is coming, you want to enjoy a little treat too, right? Well, this two-tiered set comes with desserts, sweets, and some light food too.

The top plate includes gingerbread man pops, cupcakes, vanilla panna cotta, and macarons.

The gingerbread man pops are filled with caramel ganache, while the red velvet cupcakes topped with pistachio cream and made to look like a Christmas tree. The panna cotta is also sprinkled with dragees to look like stardust.

The macarons are strawberry and melon flavoured. The melon one has a particularly rich flavour and contains red melon pieces. This macaron is so popular that there are people who go to Q-pot CAFE. just to sink their teeth into one of them.

The bottom plate contains some hearty and crunchy  croissants filled with roast beef, mini tomatoes, and broccoli. It also comes with a side of rich cheese soup with onions and potatoes inside.  It's a great palate cleanser after the desserts.

Pistachio Cream Tea Latte ¥750 (Tax Included) *Also sold separately

The drink that's served with the afternoon tea set is a Christmas-only pistachio cream tea latte.  It's a latte made with one of the cafe's original flavoured tea brews called "Flower Garden." The tea ensures the drink isn't overly-sweet and leaves it with a mild flavour. It also comes with a holly-shaped cookie. This drink is also available to order separately from the drinks menu.

The set comes with a special fairy tale-like Christmas lunch mat.

CHRISTMAS CAKE ~The Story of Sweet Kingdom~ ¥3,800 (Tax Included)

The cafe is also selling a cake that looks like something out of a children's picture book. It's topped with a coconut meringue snowman, gingerbread man, and strawberry Santa. This would make a great addition to a home party.

Saku Saku Meringue ¥600 (Tax Included)

Take away some crunchy snow-white meringues too, so addictive you won't be able to stop after just one!

The cafe is also selling a Christmas collection of their dessert-like accessories too.

Christmas Tree Cupcake: Necklace ¥10,000/Bag Charm ¥8,000 (Before Tax)

The Christmas tree cupcake features a chocolate cookie-like base topped with a realistic pistachio cream adorned with pearls.

Strawberry Santa Claus: Necklace ¥10,000/Bag Charm ¥8,000 (Before Tax)

Check out these adorable bright-red strawberry Santas too!

Q-pot CAFE. has lots of other Christmas food and accessories in addition to these too, so if you're in Tokyo anytime from now up to Christmas Day, then be sure to visit.

Writer: Ellie (MOSHI MOSHI NIPPON)

Translator: Joshua Kitosi-Isanga

Information

Q-pot. Omotesando

Address: 3-4-8 Jingumae, Shibuya, Tokyo

Opening Hours: 11:00-20:00 (Last Orders 19:30)

Closed: New Year's Holidays

Official Website: https://www.q-pot.jp/eng/

The Fairy Godmother Waves her Wand to Transform Tokyo Disney Resort for Christmas

Disney magic flows through the veins of Disney Resort throughout the year. However, when the clock strikes Christmas time, the entire resort transforms for Disney Christmas: the annual event where the streets sparkle the most compared to any other yearly event.

With Christmas just over the horizon, the Fairy Godmother waved her magic wand over all areas of the park ー including the hotels. This year, a whole load of delicious Christmassy afternoon tea dishes have poofed onto the menu at Disney Ambassador Hotel's Hyperion Lounge. Today, we'll be looking at a few.

Disney Christmas Cake Set: ¥1,800

The Hyperion Lounge's Disney Christmas Cake Set is shaped like a wreath and is garnished with your favourite Disney characters. 

The wreath, which is sat on a bed of chocolate mousse, is woven from pistachio dough that is full of flavour and soft mousse. The sweet tanginess of the raspberry and cherries mixes with the sweet chocolate for a refreshing flavour that will fill your mouth. It is just too cute to eat. 

Disney Christmas Special Drink: ¥1,300 *with Drink Coaster

The Christmas Special Drink is an iced tea coloured with a raspberry and strawberry syrup. Above the syrup is a mixture of milk tea and peach juice which will send a fruity scent floating to your nose. Mix the syrup with the milk tea thoroughly for a magical flavour adventure. Mixing the drink will turn it a cute light pink colour, too.

Two yellow chocolate stars shine in the middle of the drink. Can you spot them?

This drink was created to look just like Santa Claus and the two stars represent the buttons on his clothes.

This drink comes with a free original coaster, however, the coasters are in limited supply. Many restaurants around the resort are serving up special drinks which come with a free Disney Christmas coaster. The design available at Hyperion Lounge is Mini Mouse. Try collecting them for an extra special Disney Christmas. 

Collect all the drink coasters and put them together for a Disney Christmas masterpiece!

Whether inside the park or not, Tokyo Disney Resort never fails to make our hearts race with excitement. If you're staying at the resort, don't miss out on the restaurant's irresistible Christmas drinks and desserts.

Original Text Author: Sayuri Mizuno (MOSHI MOSHI NIPPON)

teamLab to Take Their Interactive Installation 'The Tree of Resonating Colors of Life' to Odaiba in Tokyo

Christmas is about to fall upon VenusFort in Odaiba, Tokyo, with a snow-pile of Christmas content set to take place at the mall from November 30 onward. This will include the exhibiting of teamLab's hugely popular "The Trees of Resonating Colors of Life" installation.

teamLab, The Tree of Resonating Colors of Life, 2018, Interactive Installation, Endless, H: 8000 mm W: 6000 mm D: 6000 mm Sound: Hideaki Takahashi© teamLab

Located in the Olive Plaza, this interactive art piece is a three-dimensional tree made up of many light spheres which change colour as people touch them.

The popular annual "SNOW WISH" event will also take place again this year, where delicate snow falls gracefully from the ceiling. This year the event is collaborating with "VenusFort Illumination 2019-2020 -Grateful Harmony-" to create a heart-warming and enchanting Christmas display that's sure to put you in the Christmas mood.

There will also be a Christmas raffle where you can win prizes, a special VenusFort Christmas party menu, as well as a Black Friday Market where you can grab some serious bargains.

Be sure to add Odaiba on your list of places to visit if you're celebrating Christmas and the holiday season in Tokyo this year.

Information

teamLab: The Tree of Resonating Colors of Life

Running: November 30, 2019 – March 1, 2020

Location: Odaiba VenusFort Floor 2F Olive Plaza (1-3-15 Aomi, Koto Ward, Tokyo)

teamLab Official Website: https://www.teamlab.art/

VenusFort Christmas 2019 Events:  http://55vf.jp