Roppongi Hills Christmas Market 2019: Authentic German Food, Christmas Ornaments, Desserts & More
Christmastime has fallen on Roppongi Hills as it kicked off Roppongi Hills Christmas 2019 on Monday. The event sees the return of the gorgeous Keyakizaka illuminations from last year.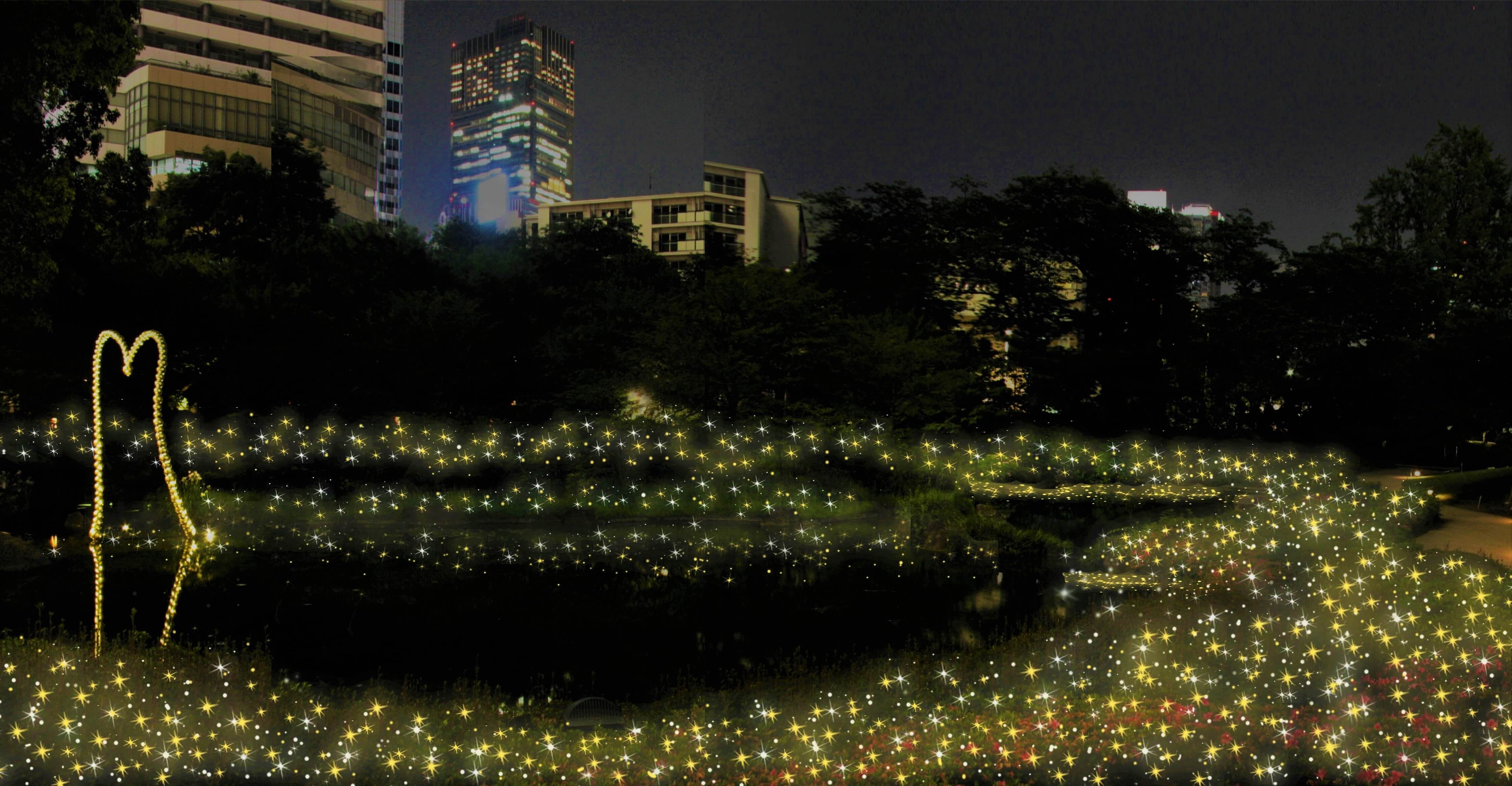 Keyakizaka-dori Street runs almost 400 meters, along which "Snow & Blue" LED lights glow and glisten like frost-covered trees, turning the street into a winter wonderland. For 2019, a very special photo spot has been designed by Japanese illustrator Yu Nagaba as pictured above amongst the ocean of illuminations. Over on the West Walk, passersby will spot a draped Christmas tree.
Starting this Friday (November 15), more illuminations will light up over at Mori Garden, which will reflect enchantingly from the garden lake, and 66 Plaza will be lit up too. All of these illuminations will glow until late in the night, making them a perfect spot for a little evening date.
A Christmas market will take place starting on November 30 which will feature German food and drinks, a shop where you can buy a real fir Christmas tree, and more. And on November 15, restaurants and cafes at Roppongi Hills will adorn their menus with Christmas cakes, sweets, and dinner plans.
Christmas Market 2019
2019 marks the 13th year of the Roppongi Hills Christmas Market, and this year, many of Japan's leading shops are taking part. The market will recreate the atmosphere and decor of a German Christmas market, with gorgeous decorations lining the roof, as well as the 11 stalls which will sell German-made Christmas sundries, German mulled wine, frankfurter sausages, and more. There will be over 2,000 individual items to find.
Christmas Cakes & Merry Desserts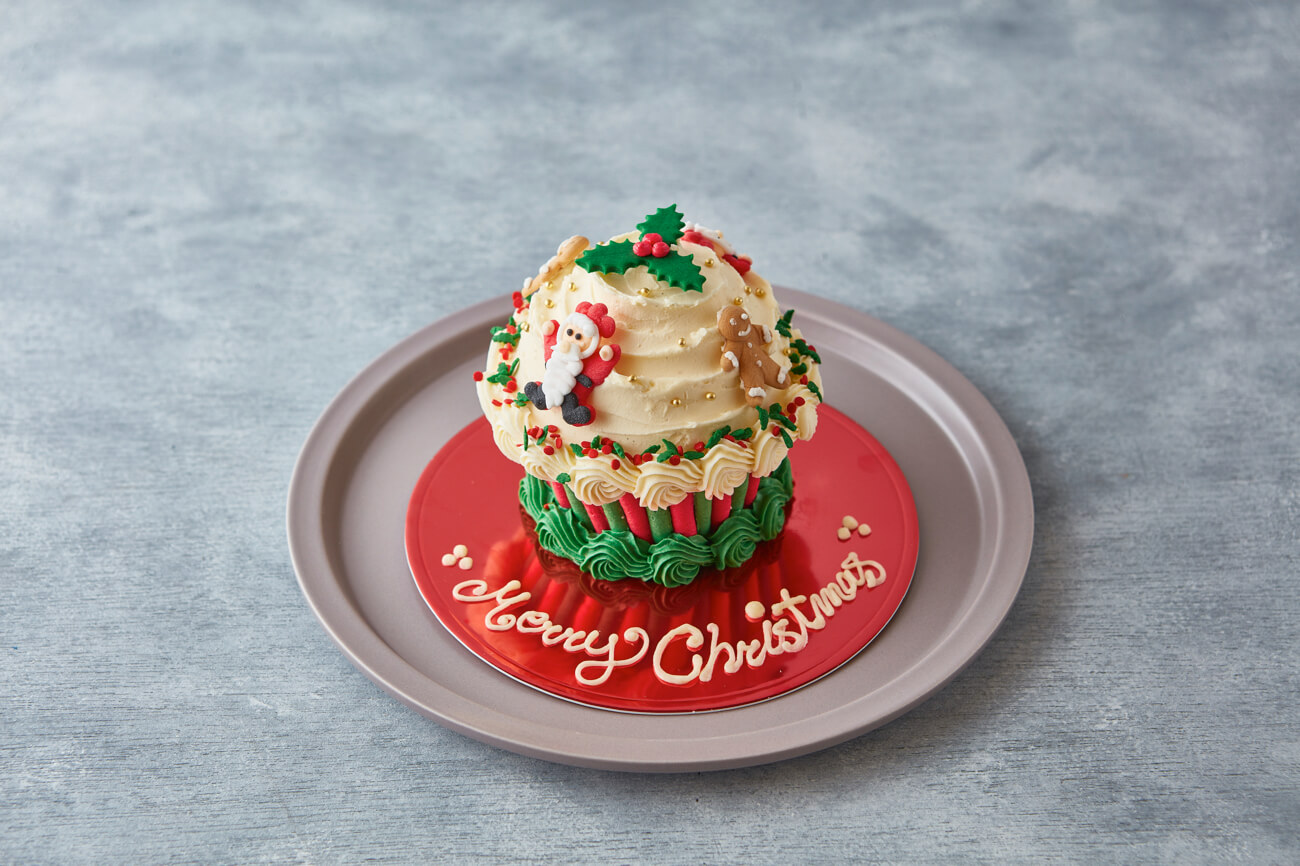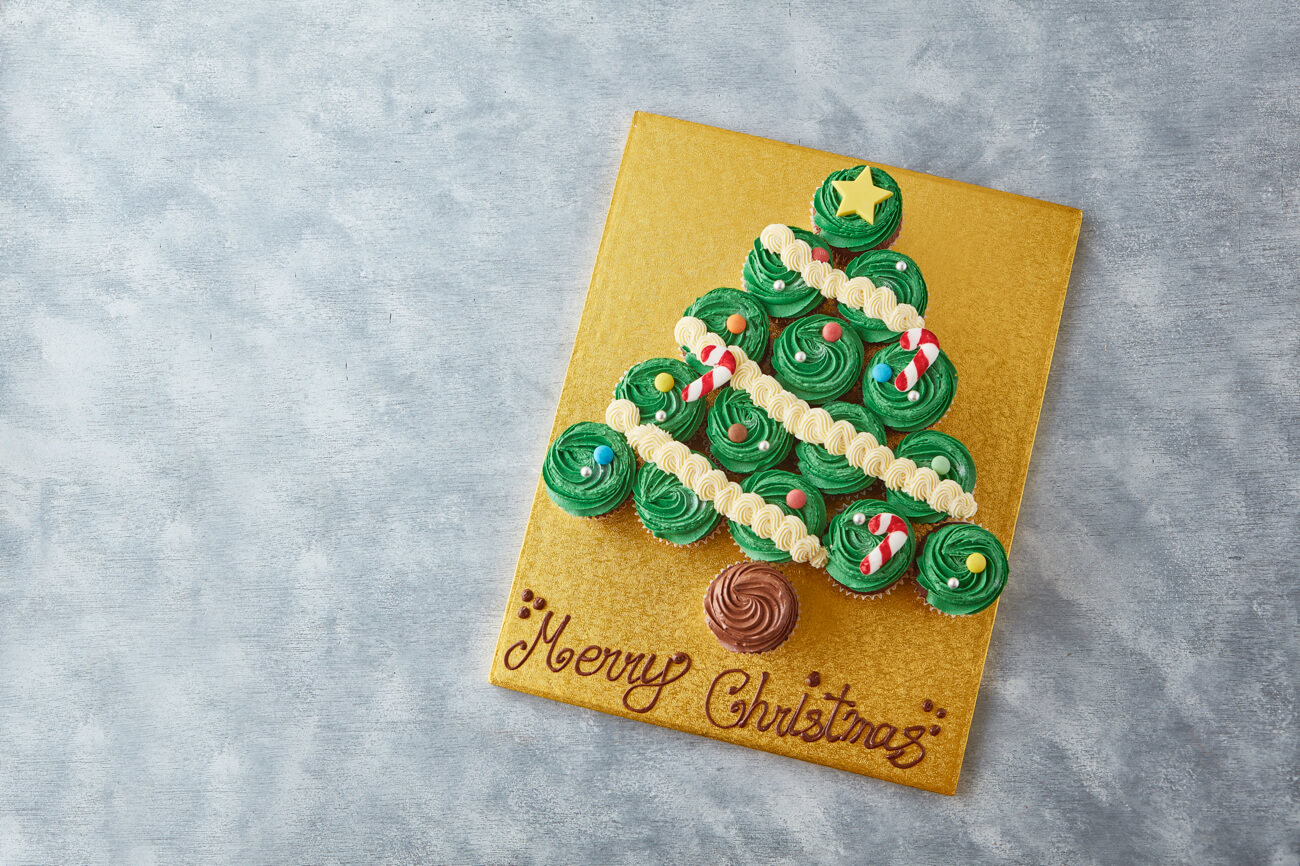 Top: Christmas Show Girl ¥3,672 / Bottom: Christmas Tree ¥10,800 @ LOLA'S Cupcakes Tokyo
Cafes and restaurants have cooked up various treats for the Christmas season which will be sold between November 15 to December 25, including Christmas cakes to complete your Christmas dinner, desserts so cute they almost seem a waste to eat, and little items perfect to give as gifts. There's plenty on the menu to be enjoyed with friends, family and loved ones.
Have a very special and merry little Christmas this year at Roppongi Hills.
Information
Roppongi Hills Christmas 2019 
Running: November 11, 2019 – December 25, 2019
Locations: Roppongi Hills (Roppongi Keyakizaka-dori, 66 Plaza, West Walk, Roppongi Hills Arena, Rooftop Plaza, and elsewhere)
Official Event Page: https://www.roppongihills.com/en/sp/christmas/2019/
Christmas Market 2019
Running: November 30, 2019 – December 25, 2019
Time: 11:00-21:00 (Until 22:00 on Fridays, Saturdays & Christmas Eve)
Location: Rooftop Plaza
Keyakizaka Illuminations
Running: November 11, 2019 – December 25, 2019
Time: 17:00-23:00
Location: Roppongi Keyakizaka-dori
RECOMMENDED ENTRIES
Laforet Harajuku Announces 2019 Christmas Market, Menu & More

Laforet Harajuku is set to hold LAFORET CHRISTMAS 2019 from November 15 to December 25. Stores throughout the shopping centre will sell various holiday season fashion items that make perfect Christmas gifts, and up on the second floor at GOOD MEAL MARKET, you can look forward to the Laforet Christmas Menu.

All customers who spend over ¥3,000 (tax included) from November 15 onward will receive an original mirror, and those who spend over ¥5,000 (tax included) from December 14 onward will receive an original handkerchief. Both of these items will be available on a first-come, first-served basis until December 1 at Dinalog in Laforet Museum Harajuku.

Additionally, the main Christmas visual for this year's event was designed by Japanese art director YUNI YOSHIDA.

A two-day market will take place on Saturday December 14 and Sunday December 15 in Laforet Museum Harajuku titled Laforet Market vol.9 "Christmas."

CHRISTMAS GIFT

If you're searching for the perfect surprise gift to friends, family, a special someone or yourself, you're bound to find a fitting match for them during the event as stores in Laforet Harajuku display their Christmas goods in their windows.

Kailijumei/5F

Kailijumei 2019 Christmas Coffret – ¥5,500 (Tax Included)

Charles Chaton/4F

Flower Frill Cushion – ¥5,500 (Tax Included)

JUEMI Syncretic/1F

e.m.OrganicCollegeStarRing – ¥24,200 (Tax Included)

Les Merveilleuses LADURÉE/1F

Limited Edition Rose Ladurée – ¥13,200 (Tax Included)

CHRISTMAS FOOD "Laforet Christmas Menu"

"Pink" is the themed of the Christmas menus being whipped up at Laforet's restaurants.

Chipoon /2F

Tomato Soy Milk Cream Noodles – ¥935 (Tax Included)

This vegan noodle dish combines the full-bodied taste of soy milk with refreshing tomatoes to create a tempting mild flavour.

machi machi /2F

Strawberry Cheese Tea (Taro Topping) – ¥858 (Tax Included)

A fusion of Jasmine green tea and fresh strawberries to create a unique and delicious beverage.

Cafe de paris /B1F

Kumono Smoothe – ¥605 (Tax Included) / Whipped Cream Topping +¥110 (Tax Included)

Cafe de paris opened on November 1 and will be selling their exclusive cute drinks.

Laforet Market vol.9 "Christmas"

The Laforet Market is an opportunity for 40 shops to come together to sell fashion, food and miscellaneous Christmas goods. There will be workshops carried out be creators and artists, performances, and more.

If you'll be in Harajuku the holiday season then don't pass up the opportunity to visit Laforet Harajuku this Christmas.

Christmas Gifts, Delicious Desserts & More Coming to Tokyo Skytree Town This Holiday Season

The dessert shops and and bakeries on the second floor of Tokyo Solamachiーthe shopping facility at the base of Tokyo Skytreeーare reading themselves for Christmas by baking up a whole range of festive delights for the holiday season, perfect for parties, gifts, or as a little self-indulgence. Let's dive in and take at what's on offer this year.

The perfect cakes for spending Christmas at home

Bonheur du Noel – ¥6,480 @ Ginza BOUL'MICHI (Tower Yard Floor 2F) [Reservations: November 1 – December 13 / Serving: December 21-25] *Tokyo Solamachi exclusive

Macarons are in this year in Japan, so BOUL'MICHI has whipped up the perfect strawberry chocolate cake adorned with colourful macarons and fresh strawberries to give it that Christmas-y look. Only 50 of these precious cakes will be sold, so don't miss out.

Fromage Citron @ – ¥2,970  Ginza Ginger (Tower Yard Floor 2F) [Reservations: November 1 – December 10 / Serving: December 23-25] *Tokyo Solamachi exclusive

This no-bake cheesecake is made with Oceania cheese and layered with an almond base followed by a sumptuously sour lemon cream.

16cm Yule Log – ¥4,104 @ Sweet Heart Tree (Tower Yard Floor 2F) [Reservations: November 1 – December 20 / Serving: December 15-25]

A gourmet yule log made with rich chocolate and packed with fruits and nuts. This sophisticated dessert is one for the adults to enjoy.

Takeout Sweets & Christmas Merchandise

 

Tiny Waffles (Dark Chocolate/White Chocolate) – ¥486 Each @ RL waffle cake (Tower Yard Floor 2F) [Reservations: November 1 – December 23 / Serving: December 20-25]

If you're looking for something a little smaller, perhaps as a Christmas present to friends and family or as a little gift to yourself, then check out these fluffy waffles made with strawberries, chocolate and whipped cream. Simple, but delicious!

Mamegui Towels (Santa Clause/White Christmas/Snowman) – ¥550 Each @ Mamegui (East Yard Floor 4F) [Available From November 1] *Gifts inside sold separately from ¥388

Mamegui are a type of towel used in Japan to wrap gifts in for people. These Christmas versions are perfect for wrapping up small presents for people, like Japanese snacks and candy.

Crispy Cakes (Happy Wreath/Santa/Reindeer) – ¥508 Each @ pon pon×Chris.P (East Yard Floor 2F) [Available From November 15]

These tiny crispy cakes are another great little bite to eat. The cute Santa version is cookie and milk flavoured and has marshmallows as the fluff of his hat.

Tokyo Skytree's THE SKYTREE SHOP Christmas Items

THE SKYTREE SHOP is the official souvenir store of Tokyo Skytree®. This Christmas they are selling a new batch of themed items, including plenty featuring their cute official mascot Sorakara-chan.

TOKYO SKYTREE Premium Chocolates – ¥1,706 @ Tokyo Skytree Floors 345 & 450 [Available From November 7]

This luxurious assortment of Tokyo Skytree-shaped chocolates come in a variety of flavours, including ruby chocolate.

Left: Sorakara-chan Winter Collection S – ¥2,200 / Right: Sorakara-chan Winter Collection Mascot – ¥1,375 @ Tokyo Skytree Floors 1, 5 & 450 [Available From November 7]

You can't leave Tokyo Skytree without a little memento, so why not pick up a cute duffle coat clad Sorakara-chan? Available this winter only.

Sorakara-chan Compact Mirrors – ¥968 @ Tokyo Skytree Floors 1, 5 & 450 [Available From November 7]

Also part of the Sorakara-chan winter collection are these compact mirrors which are filled with glitter that falls like stars or snowflakes depending which one you go for. They are small enough to fit into your pocket or bag making them super convenient.

And that's not allーTokyo Solamachi has countless other goodies, from desserts to souvenirs, to pick up this Christmas too. If you're in Tokyo this winter season and are planning a trip to Tokyo Skytree, be on the lookout.

*All listed prices include tax. Applicable tax rate may vary on certain products in line with Japan's consumption tax increase.
*Products and sale periods subject to change. Products available while supplies last.
*Pictured photos are for illustrative purposes only.

©TOKYO-SKYTREE

Warm Up With Tokyo Disney Resort's New Hot DrinksーRuby Chocolate, Matcha & More

Are you feeling the cold yet? Don't worry if you're in Tokyo this year, because Tokyo Disney Resort has you covered with its new batch of hot drinks which they began serving on November 1.

 

Left: Ruby Chocolate & Raspberry Milk – ¥500 / Right: Cheese Caramel Milk Tea

The Ruby Chocolate & Raspberry Milk drink is sold at Squeezer's Tropical Juice Bar and Ice Cream Cones at Tokyo Disneyland. It is made with the elusive ruby chocolate and retains its characteristic sour taste which melds temptingly with the sweet and sour raspberry syrup to create a luxurious hot beverage. Enjoy the gentle sweet notes of the chocolate and fruitiness of the cacao tickle your nose.

You'll find the Cheese Caramel Milk Tea at either Cafe Orleans or Rackety's Raccoon Saloon at Tokyo Disneyland, or Sultan's Oasis at Tokyo DisneySea®. The drink is a caramel-lined milk tea topped with a rich cream cheese. The subtle sweetness of the caramel milk tea coupled with the salty cream cheese is a flavour you're sure to become addicted to.

Hot Matcha Milk (Tapioca & Strawberry) – ¥450

Roll up to Hudson River Harvest in Tokyo DisneySea for a cup of this Hot Matcha Milk which has been filled with chewy matcha flavoured tapioca pearls, a texture that's deliciously enjoyable when fused with the faint fragrance of the strawberry.

Hazelnut Milk Hot Cocktail – ¥760

And if you head to Ristorante di Canaletto, also at Tokyo DisneySea, you can enjoy this cocktail served hot with a hazelnut liqueur and foamy milk. The added chocolate only makes the milk more delicious.

The drinks are a part of the Sweets & Sips campaign now running around Tokyo Disney Resort.

There are plenty of other drinks as well as churros, doughnuts, crepes and more to enjoy too, so be sure to check out the official websiteーor better yet, head to Tokyo Disneyland and DisneySea!
RELATED ENTRIES
60th Anniversary Sanrio Exhibition: The Beginning of Kawaii to Open at Roppongi Hills

From Hello Kitty to Pompompurin, Cinnamoroll, My Melody, and more – Sanrio's internationally adored cast of characters can be universally agreed to be representatives of Japan culture of 'kawaii.' In celebration of Sanrio's 60th anniversary, the company have announced an exhibition centred on the beginning of kawaii culture. The event will take place at TOKYO CITY VIEW from September 17, 2021 to January 10, 2022.

60th Anniversary Sanrio Exhibition: The Beginning of Kawaii recently finished up at the Matsuzakaya Art Gallery in Nagoya on June 12 and is set to move to Ōita Prefectural Art Museum where it will run from July 10 to September 5 before heading to TOKYO CITY VIEW. This exhibition will not only look back over Sanrio's 60-year history, but will also dive into how Japan's culture of 'kawaii' came about. Fans of Sanrio and Japan's kawaii can expect product and design showcases, in-depth explanations, and more.

Sebastian Masuda's iconic artwork is the centrepiece of the exhibition

Entrance exhibit in the daytime

At the entrance of the venue is the Unforgettable Tower, a symbolic art piece by Sebastian Masuda created exclusively for this exhibition which towers 6 meters tall. It's made up of countless plushies of Sanrio characters such as Hello Kitty.

Entrance exhibit in the evening


The kawaii installation stands gorgeously against the cityscape of Tokyo which makes for an Instagrammable photo in the evenings when the city is lit up. The piece, as its name suggests, hopes to create unforgettable memories. The exhibition is set to run through Halloween, Christmas, and New Year, so visitors are sure to make some memorable ones.


© 2021 SANRIO CO., LTD. APPROVAL NO. SP610376

Shouta Aoi's voice as the tour guide

Having lent his voice to other Sanrio events, including at Sanrio Puroland and in collaboration with the Little Twin Stars, the Japanese singer, actor, and voice actor Shouta Aoi has recorded announcements for the exhibition which will be played to guide people around the event.

A themed menu created for the Tokyo exhibition

From Left: Anniversary Afternoon Tea / Hello Kitty Daisuki Fried Apple Mille-Feuille / Cinnamoroll's Balloon Trip

© 2021 SANRIO CO., LTD. APPROVAL NO. SP610376

THE SUN & THE MOON, a cafe and restaurant fusion on the same floor of the exhibition, will serve up food, desserts, and non-alcoholic cocktails inspired by the Sanrio characters. Special seasonal afternoon tea sets will also be sold on Halloween, Christmas, and more too.

Dates
Restaurant: September 17, 2021 – January 10, 2022

Cafe: December 15, 2021 – January 10, 2021

*Closed December 21-26

The main exhibition

The exhibition will be split into six zones with 10 different themes. Over 800 products, documents, and materials related to Sanrio will be presented, many of which will shine a spotlight on some of their most famous characters out of their roster of 400, such as Hello Kitty and My Melody, and other characters that might not be known to those outside Japan such as best friends Patty & Jimmy. It's a chance to walk through the history of Sanrio and Japan's culture of kawaii.

© 2021 SANRIO CO., LTD. APPROVAL NO. SP610376

© 2021 SANRIO CO., LTD. APPROVAL NO. SP610376

© 2021 SANRIO CO., LTD. APPROVAL NO. SP610376

One of the six zones will look into secrets of Sanrio through the globally-beloved kawaii icon Hello Kitty. Another will display outfits such as the Hello Kitty dress worn by Lady Gaga.

Original merchandise

A small peek at just some of the items available

© 2021 SANRIO CO., LTD. APPROVAL NO. SP610376

Sanrio fans can also get their hands on a collection of merchandise with designs ranging from the exhibition's main visual to classic designs. There will be over 100 items to sift through.

Tickets for the exhibition will be available from August 1. A limited number of special tickets that include free merch will also be released.

© 2021 SANRIO CO., LTD. APPROVAL NO. SP610376

Information

60th Anniversary Sanrio Exhibition: The Beginning of Kawaii

Running: September 17, 2021 – January 10, 2022

Where: TOKYO CITY VIEW (Roppongi Hills Mori Tower Floor 52F)

Address: 6-10-1 Roppongi, Minato-ku, Toky0

Price: TBA

60th Anniversary Sanrio Exhibition: The Beginning of Kawaii Official Website: https://sanriocharactermuseum.com/

Minerva Cafe to Open at The Promised Neverland Jailbreak Arc Museum Exhibition

Roppongi Museum is set to open its The Promised Neverland exhibition on July 17 where it will run until December 30. The exhibition covers the Grace Field House Jailbreak Arc, where guests can feel like they're really walking through the house.

Cafe Logo


As part of the exhibition, a themed cafe called the Minerva Cafe will open inside the museum serving food and drink inspired by the anime series.

BLT Sandwich & Salmon Cream Cheese | ¥1,740 (Tax Included)

Minerva & Phil's Chocolate Banana Pancakes | ¥1,600 (Tax Included)

The Minerva Cafe menu includes the mysterious William Minerva who Emma, Norman, and Ray are pursuing, chocolate banana pancakes with Minerva and Phil designs, and more, including a range drinks.

Latte Art | ¥770 (Tax Included)

Isabella's Brown Sugar Milk Tea | ¥540 (Tax Included)

The Emma, Norman, and Ray lattes also come with a coaster you can take home, and there's a special Isabella milk tea you can buy at THE ALLEY, a food truck at Roppongi Musuem that's popular for its Taiwanese milk teas.

©白井カイウ・出水ぽすか/集英社・約束のネバーランド製作委員会

Information

The Promised Neverland Grace Field House Jailbreak Arc Exhibition

​Running: July 17, 2021 – December 30, 2021

Venue: Roppongi Museum
Address: 5-6-20 Roppongi, Minato-ku, Tokyo

Opening Hours: 10:00-18:00 (Until 20:00 on Saturdays)

Tickets: On sale June 30, 2021

Event Page: https://neverland.taiken-museum.com

Gas Mask Plant Pots Showcased as Part of TENEO's Exhibition Tour

Japanese men's brand TENEO and Shibakusa Pottery, which was founded in 1841 in Hida-Takayama, are set to begin their first exhibition tour on July 9 which aims to make traditional Japanese craftsmanship part of our modern lives as contemporary art.

FULL HAND MADE with HAMAMOTO 

TENEO is rooted in the concept of combining and evolving the differing cultures and backgrounds of Japan and France. Shibakusa Pottery has been producing pottery in Gifu's city of Takayama since the Edo Period and operates on the motto of "Handing down tradition is on the decline; tradition is the continuation of innovation." Both TENO and SHibakusa have come together to launch a project that aims to develop and advance traditional craftsmanship, and so they are opening a series of exhibition pop-up shops beginning at DiEGO Omotesando in Tokyo on July 9 before heading to Discover Japan Lab. in Shibuya PARCO, g GIFT AND LIFESTYLE in Roppoingi Hills, and elsewhere.


Pre-orders for the products to be showcased at the pop-up shop are now available to pre-order online in Japan at TENEO and will be shipped in October. Exhibits include works by the young bonsai master Yusuke Hamamoto, flower arrangements Ayayoshi Ozono who maintains long-time traditional Japanese styles and techniques, and more.


The project will  collaborate with the international tattoo artist Hiro in October as well as many other traditional artists and craftsmen from inside and outside Japan. The pop-up shop also sees the release of the 'GAS MASK POT/VASE.' The purpose of these works is to show people new forms and ways of expressing tradition.

Information

TENEO POP UP  

Location: DiEGO Omotesando
Running: July 9, 2021 – July 24, 2021

Address: Oriental Harajuku 205, 4-17-8 Jingumae, Shibuya, Tokyo

Opening Hours: 13:00-18:00 (Wednesday to Saturday only)
Official Website:  https://www.di-ego.net

Location: Discover Japan Lab.
Running: July 30, 2021 – August 5, 2021

Address: 15-1 Udagawacho, Shibuya, Tokyo

Opening Hours 11:00-20:00
Official Website: https://shibuya.parco.jp/shop/detail/?cd=025804

Location: g GIFT AND LIFESTYLE
Running: August 6, 2021 – End of August 2021

Address: Roppongi Hills HILLSIDE B1F, 6-10-2 Roppongi, Minato-ku, Tokyo
Opening Hours: 11:00-21:00
Official Website: https://g-roppongi.jp



Project Details: https://prtimes.jp/main/html/rd/p/000000003.000068928.html

TENEO Official Website: https://teneo.work

The Promised Neverland Jailbreak Arc Museum Exhibition Announces Exclusive Merchandise

Roppongi Museum is set to open its The Promised Neverland exhibition on July 17 where it will run until December 30. The exhibition covers the Grace Field House Jailbreak Arc, where guests can feel like they're really walking through the house.

Newly illustrated artwork to be used on exclusive merchandise

Limited-edition museum exclusive merch line-up

Hangers | 3 Designs: Emma, Norman, Ray | ¥1,430 Each (Tax Included)

Pins | 10 Designs | ¥440 Each (Tax Included)

Acrylic Figures With Stills | 3 Designs: Emma, Norman, Ray | ¥1,430 Each (Tax Included)

Croquis Notebook | ¥990 (Tax Included)

Folder | ¥440 (Tax Included)

3D Postcard Set | ¥990 (Tax Included)

Stainless Steel Bottles | 3 Designs: Emma, Norman, Ray | ¥1,870 Each (Tax Included)

Key Keyring | ¥990 (Tax Included)

4C Ballpoint Pens | 4 Designs: Emma, Norman, Ray, Little Bunny | ¥880 Each (Tax Included)

Flat Pouches | 3 Designs: Emma, Norman, Ray | ¥1,760 Each (Tax Included)

Compact Mirror | ¥2,200 (Tax Included)

Little Bunny Pouch | ¥3,080 (Tax Included)

The exhibition artwork and 136 pieces of merchandise focus on the strong bond between Emma, Norman, and Ray. Dive into the world of The Promised Neverland at the special exhibition arriving this summer.

Information

The Promised Neverland Grace Field House Jailbreak Arc Exhibition

​Running: July 17, 2021 – December 30, 2021

Venue: Roppongi Museum
Address: 5-6-20 Roppongi, Minato-ku, Tokyo

Opening Hours: 10:00-18:00 (Until 20:00 on Saturdays)

Tickets: On sale June 30, 2021

Event Page: https://neverland.taiken-museum.com

The Promised Neverland Museum Exhibition Opening in Roppongi Cover the Jailbreak Arc

Roppongi Museum is set to open its The Promised Neverland exhibition on July 17 where it will run until December 30. The exhibition covers the Grace Field House Jailbreak Arc, where guests can feel like they're really walking through the house.

Grace Field House entrance

Venue map

The exhibition is split into seven 'chapters' which recreate various scenes from the manga and anime series. The areas are littered with props such as the truck that Conny goes into, the test room desks, ​William Minerva's pen, and so on. They even have the rooms smelling like they would in the series.

Information

The Promised Neverland Grace Field House Jailbreak Arc Exhibition

​Running: July 17, 2021 – December 30, 2021

Venue: Roppongi Museum
Address: 5-6-20 Roppongi, Minato-ku, Tokyo

Opening Hours: 10:00-18:00 (Until 20:00 on Saturdays)

Tickets: On sale June 30, 2021

Event Page: https://neverland.taiken-museum.com

BEAMS Showcase Their Historical Fashion Archive at The National Art Center in Tokyo

BEAMS is celebrating its 45th anniversary this year. At such an important milestone, it's important to take a look back at where the brand has come from, and so BEAMS is taking part in the Fashion in Japan 1945-2020 exhibition that opened at The National Art Center, Tokyo, last Wednesday. Followers of the Japanese fashion are able to see their early products when they first opened in the late 1970's to their Shibuya Casual style, known as Shibu-Kaji, from the late 80's. It's an historical, nostalgic throwback across their archive. Exclusive merchandise is also being sold featuring the 'American Life Shop BEAMS' logo which they branded upon establishing the brand.

A look at just some of the exhibits on display

BEAMS shopping bag from 1977

Shibu-Kaji outfit from late 1980's

Exhibition-exclusive souvenir merch inspired by vintage BEAMS

This exhibition follows the unique trajectory of Japanese clothing, especially in post-World War Ⅱ Japan, as seen from both sides: that of designers who transmit culture by creating clothes and ideas, and that of users who receive it by wearing the clothes and at times create era-defining grassroots fashion movements. It offers a comprehensive overview that references the predominant media of each era, such as newspapers, magazines, and advertisements.

In the mid to late 1970's, BEAMS was at the forefront of spreading casual wear to people, stocking some of the country's most notable brands and designers. BEAMS opened its first store in Harajuku in 1976 where it sold shirts, shoes, and other items. In 1977 they introduced their own shopping bag, and the following year opened up their first BEAMS F selling traditional men's style clothing. It was around this time that beams released their POPEYE magazine too. All of this and more is explore at the exhibition along with commentary.

A talk event titled "Lifestyle Tips: POPEYE & BEAMS" will also take place on July 3 at the museum.

Information

Fashion in Japan 1945-2020
Running: June 9, 2021 – September 6, 2021

Venue: The National Art Center, Tokyo

Address: 7-22-2 Roppongi, Minato-ku, Tokyo
TEL: 03-5777-8600
Opening Hours: 10:00-18:00 (Until 20:00 on Fridays and Saturdays)

*Last entries 30 minutes before closure

*Exhibition content subject to change
Official Website: https://www.nact.jp/english/exhibitions/2020/fij2020/


Talk Event
Title: Lifestyle Tips: POPEYE & BEAMS
Date: July 3, 2021

Time: 14:00-15:30
Venue: The National Art Center, Tokyo

3D Phantom®: Experience 3D With the Naked Eye at Media Ambition Tokyo 2021

Life is Style, a company that develops 3D holographic advertising signs, is set to showcase its new 3D Phantom® at Media Ambition Tokyo (MAT) which is taking place at Tokyo City View from May 12 to 23.

3D Phantom® is a 3D holographic display that uses LED lights on fast-spinning blades to create eye-popping 3D effects. At the event, the technology is set to transform the horizon that can be seen from the Roppongi Hills observations deck by forming light and images at the boundary between the land and sky.

Yoichi Ochiai (New Media Artist) | Comment

"My works are themed on change and transformation, visuals and materials, calculated nature and mass. I continue to attend MAT every year as I'm creating expression using media equipment. This time, I've endeavoured to create something that takes advantage of MAT's location behind high above the city. I wondered what it would look like if I created something on the horizon that can be seen from the 52nd floor of Roppongi Hills, how I could change the horizon digitally to make it something more material. After searching to see if there was some kind of transparent display that would build on top of the horizon that not damage the beauty of the location, I came across 3D Phantom. With this technology, I believe I've been able to transform the view beautifully into one long line. Please see it for yourself." (Translated from Japanese by MMN)

(C)Ninagawa Mika

Sanrio Announces 60th Anniversary Exhibition 'The Beginning of Kawaii'

From Hello Kitty to Pompompurin, Cinnamoroll, My Melody, and more – Sanrio's internationally adored cast of characters can be universally agreed to be representatives of Japan culture of 'kawaii.' In celebration of Sanrio's 60th anniversary, the company have announced an exhibition centred on the beginning of kawaii culture. The event will take place at TOKYO CITY VIEW from September 17, 2021 to January 10, 2022.

60th Anniversary Sanrio Exhibition: The Beginning of Kawaii is currently taking place at Matsuzakaya Art Gallery in Nagoya until June 12 and will move to Ōita Prefectural Art Museum where it will run from July 10 to September 5 before heading to TOKYO CITY VIEW.

 

© 2021 SANRIO CO., LTD. APPROVAL NO. SP610376

This exhibition will not only look back over Sanrio's 60-year history, but will also dive into how Japan's culture of 'kawaii' came about. Fans of Sanrio and Japan's kawaii can expect product and design showcases, in-depth explanations, and more.

Over 800 products, documents, and materials related to Sanrio will be presented, many of which will shine a spotlight on some of their most famous characters out of their roster of 400, such as Hello Kitty and My Melody, and other characters that might not be known to those outside Japan such as best friends Patty & Jimmy.

What to look out for at Sanrio's 60th anniversary exhibition

Unforgettable Tower by Sebastian Masuda

Sebastian Masuda, a pioneer of kawaii culture, will showcase his symbolic art pieces at the event at TOKYO CITY VIEW's observation deck, combining his iconic work against a breathtaking background.

 

The Beginning of Kawaii

Learn about the history of Sanrio's culture of kawaii, beginning as a service to 'move people's hearts' through gifts and products. Visitors will get a chance to see the secrets of Sanrio's iconic style which draw a line under fancy products from other companies.

There will also be a chance to see Japanese illustrators Takashi Yanase, Ado Mizumori, and Rune Naito's work with Sanrio.

The Birth of the Characters

What makes something kawaii or not kawaii? Why do characters not necessarily need to have a story to become so popular? These questions are more will be answered as the exhibition looks at the birth of Sanrio's characters.

Sanrio's Characters

How did their hit characters come to be? During the 1980's, Japan was a warzone for characters. Sanrio changed how characters became popular, moving from characters that were popular with everyone to creating characters that people wanted for themselves – their own personal characters. Discover how Sanrio's long list of characters came about, including ones that have stood the test of time and ones that have declined in popularity.

Ichigo Shimbun

Ichigo Shimbun is a magazine published by Sanrio all about Sanrio and their characters – a familiar read to all fans in Japan. The magazine will be featured at the exhibition.

Hello Kitty: The Character Who Turned Into a Global Icon

Hello Kitty is known the world over, with even Lady Gaga having worn a dress of Hello Kitty plush toys in the past. This dress will be exhibited at the event, amongst many other things related to Sanrio's global idol.

A Battle Between Artists

Artists from various artistic background will participate in the exhibition by creating a range of different Sanrio works. Participating artists and their specialities include Ryūsuke Fukahori (objects), Hajime Nakatomi (bamboo art), Takaya Mori (sculptor), Mio Hashimoto (sculptor), and Risa Fukui (paper cut-outs).

Information

60th Anniversary Sanrio Exhibition: The Beginning of Kawaii

Running: September 17, 2021 – January 10, 2022

Where: TOKYO CITY VIEW (Roppongi Hills Mori Tower Floor 52F)

Address: 6-10-1 Roppongi, Minato-ku, Toky0

Price: TBA

60th Anniversary Sanrio Exhibition: The Beginning of Kawaii Official Website: https://sanriocharactermuseum.com/

teamLab Reveals Sauna Art Experience in Collaboration With TikTok

Japanese art collective teamLab has announced a brand new digital art experience which fuses art with saunas. Entitled teamLab & TikTok, teamLab Reconnect: Art with Rinkan Sauna, the interactive exhibition will take place in Roppongi from March 22 to August 31. Bookings are now open.

teamLab & TikTok, teamLab Reconnect: Art with Rinkan Sauna Roppongi

"Every Life Survives in Fluctuating Space"

teamLab Reconnect is a new art and sauna exhibition where visitors experience art in their finest mental state. At the event, visitors take alternating hot and cold baths to open their minds and experience an ever-expanding physical sensation, effectively becoming one with the art.

The event will feature numerous exhibits, one which is entitled Every Life Survives in Fluctuating Space, a collaboration between TikTok and teamLab that can event be experienced at home. It makes use of the TikTok app, which is also part of the art and sauna experience at the exhibition, and so your home, or wherever you are based, can become its own art space.

Every Life Survives in Fluctuating Space captures the life cycle of a flower, which grows according to the size of the space displayed through the camera on Tiktok. The size of the flowers is not predetermined; it is instead determined by the size of the space where you are. If you're outside, the flowers can grow enormously.

If you download TikTok and sign up for a new account you can get a 500 yen discount coupon for teamLab Reconnect. Visit the official website below for more details.

Information

teamLab & TikTok 

Running: March 22, 2021 – August 31, 2021

Where: 5-10-25 Roppongi, Minato-ku, Tokyo

Bookings: Now Open

Tickets/Event Details: https://reconnect.teamlab.art/en

Roppongi Readies For 2021 New Year Celebrations at Tokyo Midtown

Tokyo Midtown in Roppongi is set to celebrate the New Year with a festival that will run from January 2 to 11 in 2021.

New Year's Feast


From Left: Miyagawacho Suiren / SILIN Fuan Long Yuen / UNION SQUARE TOKYO/Kisentei

Restaurants in Tokyo Midtown will be serving up a feast for the New Year from Japanese wagyu beef to seafood and more, all to prepare everyone for a luck-filled and positive 2021.

Running: January 2, 2021 – January 11, 2021
Participating Restaurants: Miyagawacho Suiren / SILIN Fuan Long Yuen / UNION SQUARE TOKYO/Kisentei SILIN / Philippe Mille Tokyo / Le Pain Quotidien / RIO BREWING & CO. BISTRO AND GARDEN / Pizzeria-Trattoria Napule / HAL YAMASHITA Tokyo / NIRVANA New York / Maruya / THE COUNTER Roppongi

New Year's Greeting Souvenirs

SAKE SHOP Fukumitsuya / Toraya

There will be no shortage of New Year's greetings souvenirs at Tokyo Midtown, whether it be a set of sake with a special 2021 Year of the Ox label from SAKE SHOP Fukumitsuya or a fruity and colourful confection from Toraya. The pictured confection is made up of colourful layers to represent building up the fruits of one's labour to achieve your dreams.

Shishimai Lion Dance

The traditional shishimai lion dance is an annual New Year's-must in Japan. This year's performance will see the return of taiko drumming and the fue flute, all carried out with proper social distancing measures.

Running: January 2, 2021 – January 3, 2021

Time: 4 times per day

Location: Tokyo Midtown Galleria

Information

Tokyo Midtown New Year 2021
Address: 9-7-1 Akasaka, Minato-ku, Tokyo

Running: January 2, 2021 – January 11, 2021

Official Website: https://www.tokyo-midtown.com/jp/index.html
*Opening hours different on January 2 and 3

*Opening hours subject to change or full closure – check the official website for the latest information

Shizuoka's Strawberry Cafe Ichigo BonBonBERRY ATAMIHOUSE. Releases Winter Menu

Ichigo BonBonBERRY ATAMIHOUSE. is the first cafe to open in Atami specialising exclusively in strawberry desserts. This Christmas, the cafe is serving up a new Christmas cake, winter afternoon tea set, and strawberry milk beverage, all of which hit the menu on Friday (December 4).

Hitorijime Christmas Cake | ¥1,000 (Before Tax) *Comes with drink

A dreamy Christmas cake for one loaded with cream and sweet strawberries. There's a strawberry on top and more in the middle squished between soft sponge.

Winter Afternoon Set | ¥1,200 (Before Tax)

The cafe has turned its popular afternoon tea into a wintertime version for Christmas, served with a mini bavarois in the shape of a strawberry, strawberry ice cream, melty fondant chocolate, and a rum raisin chocolate tiramisu. A delightful combination of sweet, tangy, and rich flavours.

Hot Strawberry Milk | ¥400 (Before Tax)

A hot strawberry milk to feel cosy in the cold winter weather, topped with plenty of cream and a sprinkling of strawberry powder. Enjoy it as it is or mix together for a creamier beverage.

The winter menu is seasonal and so will only be available this wintertime.

Information

Ichigo BonBonBERRY ATAMIHOUSE.
Address: 3-16 Tawarahonchō, Atami, Shizuoka
Opening Hours: 10:00-18:00
Access: 2-minutes from Atami Station (JR Line side)
Official Website: http://www.atami-bonbonberry.com

Sarutahiko Coffee Releases Pistachio and Mixed Berry Coffee Beverage For Christmas

Sarutahiko Coffee released a Christmas-exclusive seasonal flavour of its popular Jellatte dessert drink on Tuesday (December 1) which it's calling the "Maroron Merry Pudding Jellatte."

Maroron Merry Pudding Jellatte | ¥750 (Before Tax)

The beverage is the second in this year's Christmas themed drinks to be released by Sarutahiko Coffee. It uses a coffee jelly base made from Ethiopian coffee beans and contains layers of mascarpone cheese from Italy, a chocolate sauce made from Cacao Hunters chocolate, milk pudding, four kinds of mixed berry jellies, pistachio milk pudding, milk foam, and to top it all off, chocolate pieces and pistachios.

The pistachio and mascarpone bring a richness to the dessert drink which blends deliciously with the freshness of the berries and full-bodied coffee for a combination that's like a warm and cosy Christmas hug.

Information

Maroron Merry Pudding Jellatte
Serving: December 1, 2020 – December 25, 2020
Available: Sarutahiko Coffee in Japan
Official Website: https://sarutahiko.co