Roppongi Hills Christmas Market 2019: Authentic German Food, Christmas Ornaments, Desserts & More
Christmastime has fallen on Roppongi Hills as it kicked off Roppongi Hills Christmas 2019 on Monday. The event sees the return of the gorgeous Keyakizaka illuminations from last year.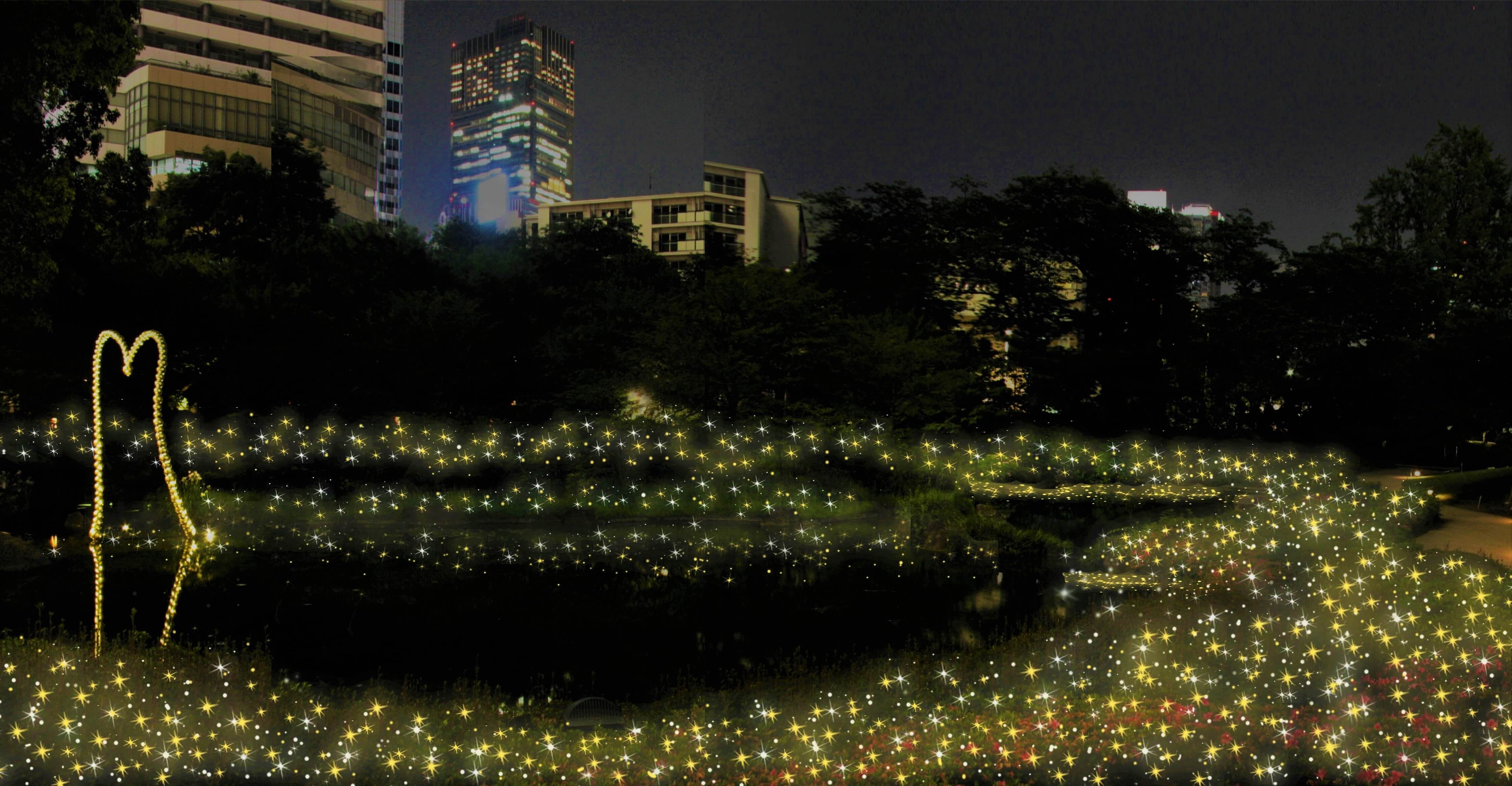 Keyakizaka-dori Street runs almost 400 meters, along which "Snow & Blue" LED lights glow and glisten like frost-covered trees, turning the street into a winter wonderland. For 2019, a very special photo spot has been designed by Japanese illustrator Yu Nagaba as pictured above amongst the ocean of illuminations. Over on the West Walk, passersby will spot a draped Christmas tree.
Starting this Friday (November 15), more illuminations will light up over at Mori Garden, which will reflect enchantingly from the garden lake, and 66 Plaza will be lit up too. All of these illuminations will glow until late in the night, making them a perfect spot for a little evening date.
A Christmas market will take place starting on November 30 which will feature German food and drinks, a shop where you can buy a real fir Christmas tree, and more. And on November 15, restaurants and cafes at Roppongi Hills will adorn their menus with Christmas cakes, sweets, and dinner plans.
Christmas Market 2019
2019 marks the 13th year of the Roppongi Hills Christmas Market, and this year, many of Japan's leading shops are taking part. The market will recreate the atmosphere and decor of a German Christmas market, with gorgeous decorations lining the roof, as well as the 11 stalls which will sell German-made Christmas sundries, German mulled wine, frankfurter sausages, and more. There will be over 2,000 individual items to find.
Christmas Cakes & Merry Desserts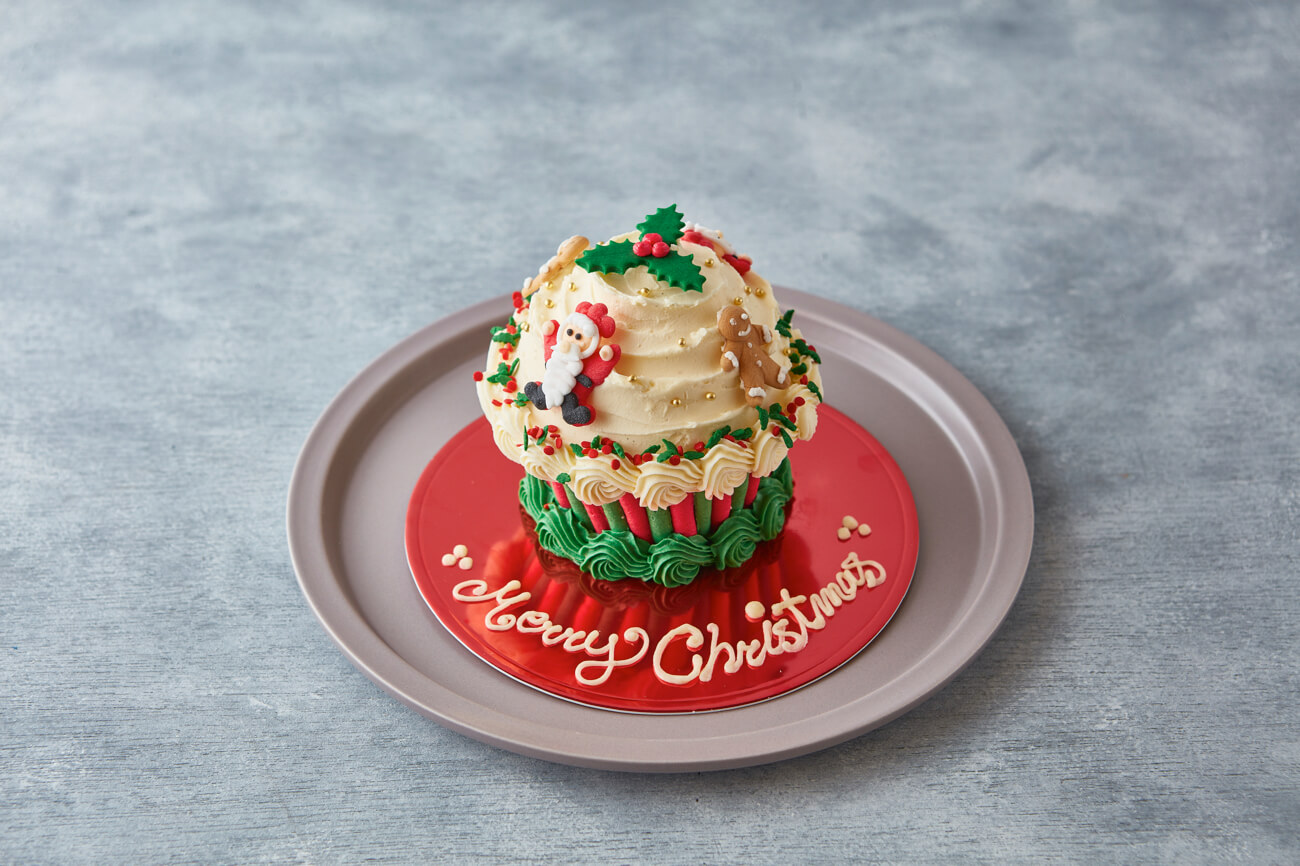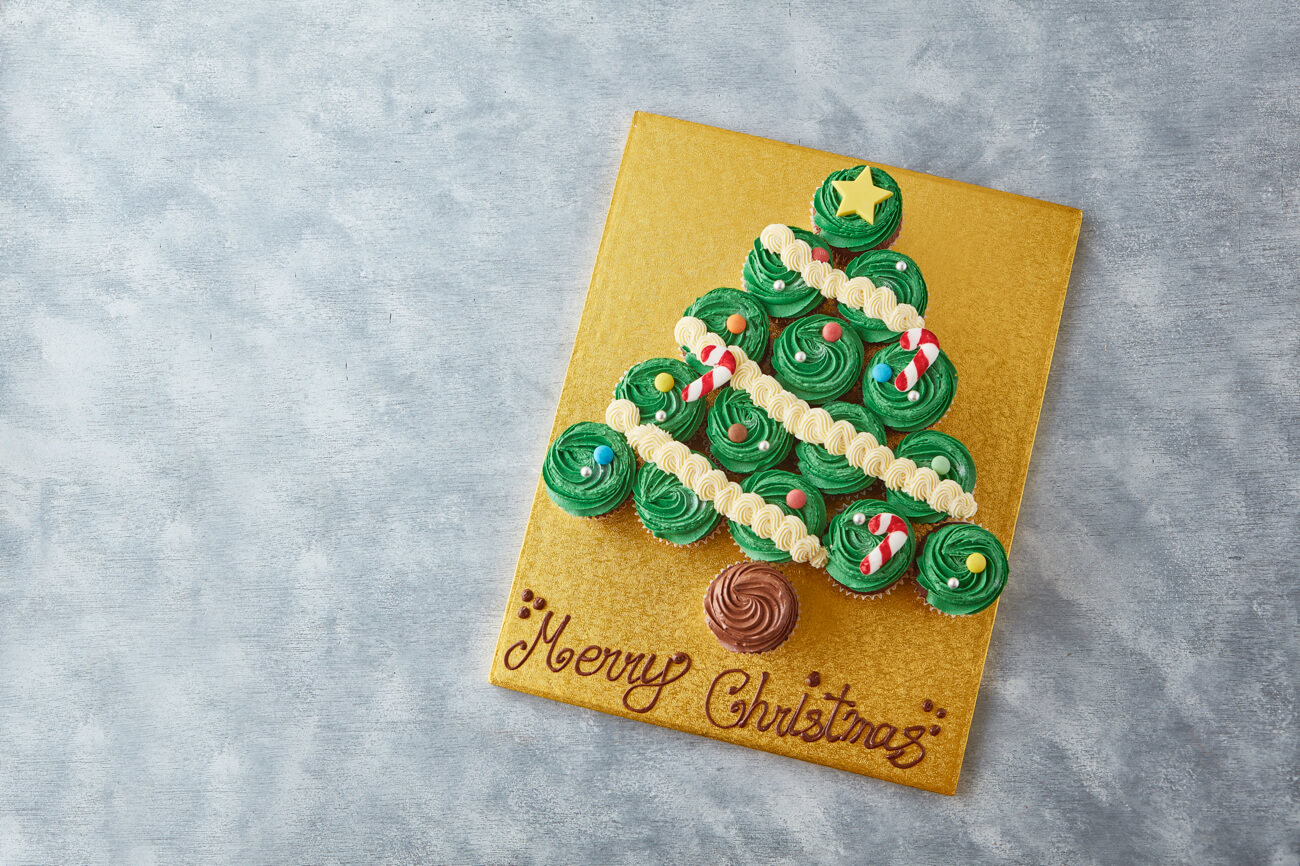 Top: Christmas Show Girl ¥3,672 / Bottom: Christmas Tree ¥10,800 @ LOLA'S Cupcakes Tokyo
Cafes and restaurants have cooked up various treats for the Christmas season which will be sold between November 15 to December 25, including Christmas cakes to complete your Christmas dinner, desserts so cute they almost seem a waste to eat, and little items perfect to give as gifts. There's plenty on the menu to be enjoyed with friends, family and loved ones.
Have a very special and merry little Christmas this year at Roppongi Hills.
Information
Roppongi Hills Christmas 2019 
Running: November 11, 2019 – December 25, 2019
Locations: Roppongi Hills (Roppongi Keyakizaka-dori, 66 Plaza, West Walk, Roppongi Hills Arena, Rooftop Plaza, and elsewhere)
Official Event Page: https://www.roppongihills.com/en/sp/christmas/2019/
Christmas Market 2019
Running: November 30, 2019 – December 25, 2019
Time: 11:00-21:00 (Until 22:00 on Fridays, Saturdays & Christmas Eve)
Location: Rooftop Plaza
Keyakizaka Illuminations
Running: November 11, 2019 – December 25, 2019
Time: 17:00-23:00
Location: Roppongi Keyakizaka-dori
RECOMMENDED ENTRIES
Laforet Harajuku Announces 2019 Christmas Market, Menu & More

Laforet Harajuku is set to hold LAFORET CHRISTMAS 2019 from November 15 to December 25. Stores throughout the shopping centre will sell various holiday season fashion items that make perfect Christmas gifts, and up on the second floor at GOOD MEAL MARKET, you can look forward to the Laforet Christmas Menu.

All customers who spend over ¥3,000 (tax included) from November 15 onward will receive an original mirror, and those who spend over ¥5,000 (tax included) from December 14 onward will receive an original handkerchief. Both of these items will be available on a first-come, first-served basis until December 1 at Dinalog in Laforet Museum Harajuku.

Additionally, the main Christmas visual for this year's event was designed by Japanese art director YUNI YOSHIDA.

A two-day market will take place on Saturday December 14 and Sunday December 15 in Laforet Museum Harajuku titled Laforet Market vol.9 "Christmas."

CHRISTMAS GIFT

If you're searching for the perfect surprise gift to friends, family, a special someone or yourself, you're bound to find a fitting match for them during the event as stores in Laforet Harajuku display their Christmas goods in their windows.

Kailijumei/5F

Kailijumei 2019 Christmas Coffret – ¥5,500 (Tax Included)

Charles Chaton/4F

Flower Frill Cushion – ¥5,500 (Tax Included)

JUEMI Syncretic/1F

e.m.OrganicCollegeStarRing – ¥24,200 (Tax Included)

Les Merveilleuses LADURÉE/1F

Limited Edition Rose Ladurée – ¥13,200 (Tax Included)

CHRISTMAS FOOD "Laforet Christmas Menu"

"Pink" is the themed of the Christmas menus being whipped up at Laforet's restaurants.

Chipoon /2F

Tomato Soy Milk Cream Noodles – ¥935 (Tax Included)

This vegan noodle dish combines the full-bodied taste of soy milk with refreshing tomatoes to create a tempting mild flavour.

machi machi /2F

Strawberry Cheese Tea (Taro Topping) – ¥858 (Tax Included)

A fusion of Jasmine green tea and fresh strawberries to create a unique and delicious beverage.

Cafe de paris /B1F

Kumono Smoothe – ¥605 (Tax Included) / Whipped Cream Topping +¥110 (Tax Included)

Cafe de paris opened on November 1 and will be selling their exclusive cute drinks.

Laforet Market vol.9 "Christmas"

The Laforet Market is an opportunity for 40 shops to come together to sell fashion, food and miscellaneous Christmas goods. There will be workshops carried out be creators and artists, performances, and more.

If you'll be in Harajuku the holiday season then don't pass up the opportunity to visit Laforet Harajuku this Christmas.

Christmas Gifts, Delicious Desserts & More Coming to Tokyo Skytree Town This Holiday Season

The dessert shops and and bakeries on the second floor of Tokyo Solamachiーthe shopping facility at the base of Tokyo Skytreeーare reading themselves for Christmas by baking up a whole range of festive delights for the holiday season, perfect for parties, gifts, or as a little self-indulgence. Let's dive in and take at what's on offer this year.

The perfect cakes for spending Christmas at home

Bonheur du Noel – ¥6,480 @ Ginza BOUL'MICHI (Tower Yard Floor 2F) [Reservations: November 1 – December 13 / Serving: December 21-25] *Tokyo Solamachi exclusive

Macarons are in this year in Japan, so BOUL'MICHI has whipped up the perfect strawberry chocolate cake adorned with colourful macarons and fresh strawberries to give it that Christmas-y look. Only 50 of these precious cakes will be sold, so don't miss out.

Fromage Citron @ – ¥2,970  Ginza Ginger (Tower Yard Floor 2F) [Reservations: November 1 – December 10 / Serving: December 23-25] *Tokyo Solamachi exclusive

This no-bake cheesecake is made with Oceania cheese and layered with an almond base followed by a sumptuously sour lemon cream.

16cm Yule Log – ¥4,104 @ Sweet Heart Tree (Tower Yard Floor 2F) [Reservations: November 1 – December 20 / Serving: December 15-25]

A gourmet yule log made with rich chocolate and packed with fruits and nuts. This sophisticated dessert is one for the adults to enjoy.

Takeout Sweets & Christmas Merchandise

 

Tiny Waffles (Dark Chocolate/White Chocolate) – ¥486 Each @ RL waffle cake (Tower Yard Floor 2F) [Reservations: November 1 – December 23 / Serving: December 20-25]

If you're looking for something a little smaller, perhaps as a Christmas present to friends and family or as a little gift to yourself, then check out these fluffy waffles made with strawberries, chocolate and whipped cream. Simple, but delicious!

Mamegui Towels (Santa Clause/White Christmas/Snowman) – ¥550 Each @ Mamegui (East Yard Floor 4F) [Available From November 1] *Gifts inside sold separately from ¥388

Mamegui are a type of towel used in Japan to wrap gifts in for people. These Christmas versions are perfect for wrapping up small presents for people, like Japanese snacks and candy.

Crispy Cakes (Happy Wreath/Santa/Reindeer) – ¥508 Each @ pon pon×Chris.P (East Yard Floor 2F) [Available From November 15]

These tiny crispy cakes are another great little bite to eat. The cute Santa version is cookie and milk flavoured and has marshmallows as the fluff of his hat.

Tokyo Skytree's THE SKYTREE SHOP Christmas Items

THE SKYTREE SHOP is the official souvenir store of Tokyo Skytree®. This Christmas they are selling a new batch of themed items, including plenty featuring their cute official mascot Sorakara-chan.

TOKYO SKYTREE Premium Chocolates – ¥1,706 @ Tokyo Skytree Floors 345 & 450 [Available From November 7]

This luxurious assortment of Tokyo Skytree-shaped chocolates come in a variety of flavours, including ruby chocolate.

Left: Sorakara-chan Winter Collection S – ¥2,200 / Right: Sorakara-chan Winter Collection Mascot – ¥1,375 @ Tokyo Skytree Floors 1, 5 & 450 [Available From November 7]

You can't leave Tokyo Skytree without a little memento, so why not pick up a cute duffle coat clad Sorakara-chan? Available this winter only.

Sorakara-chan Compact Mirrors – ¥968 @ Tokyo Skytree Floors 1, 5 & 450 [Available From November 7]

Also part of the Sorakara-chan winter collection are these compact mirrors which are filled with glitter that falls like stars or snowflakes depending which one you go for. They are small enough to fit into your pocket or bag making them super convenient.

And that's not allーTokyo Solamachi has countless other goodies, from desserts to souvenirs, to pick up this Christmas too. If you're in Tokyo this winter season and are planning a trip to Tokyo Skytree, be on the lookout.

*All listed prices include tax. Applicable tax rate may vary on certain products in line with Japan's consumption tax increase.
*Products and sale periods subject to change. Products available while supplies last.
*Pictured photos are for illustrative purposes only.

©TOKYO-SKYTREE

Warm Up With Tokyo Disney Resort's New Hot DrinksーRuby Chocolate, Matcha & More

Are you feeling the cold yet? Don't worry if you're in Tokyo this year, because Tokyo Disney Resort has you covered with its new batch of hot drinks which they began serving on November 1.

 

Left: Ruby Chocolate & Raspberry Milk – ¥500 / Right: Cheese Caramel Milk Tea

The Ruby Chocolate & Raspberry Milk drink is sold at Squeezer's Tropical Juice Bar and Ice Cream Cones at Tokyo Disneyland. It is made with the elusive ruby chocolate and retains its characteristic sour taste which melds temptingly with the sweet and sour raspberry syrup to create a luxurious hot beverage. Enjoy the gentle sweet notes of the chocolate and fruitiness of the cacao tickle your nose.

You'll find the Cheese Caramel Milk Tea at either Cafe Orleans or Rackety's Raccoon Saloon at Tokyo Disneyland, or Sultan's Oasis at Tokyo DisneySea®. The drink is a caramel-lined milk tea topped with a rich cream cheese. The subtle sweetness of the caramel milk tea coupled with the salty cream cheese is a flavour you're sure to become addicted to.

Hot Matcha Milk (Tapioca & Strawberry) – ¥450

Roll up to Hudson River Harvest in Tokyo DisneySea for a cup of this Hot Matcha Milk which has been filled with chewy matcha flavoured tapioca pearls, a texture that's deliciously enjoyable when fused with the faint fragrance of the strawberry.

Hazelnut Milk Hot Cocktail – ¥760

And if you head to Ristorante di Canaletto, also at Tokyo DisneySea, you can enjoy this cocktail served hot with a hazelnut liqueur and foamy milk. The added chocolate only makes the milk more delicious.

The drinks are a part of the Sweets & Sips campaign now running around Tokyo Disney Resort.

There are plenty of other drinks as well as churros, doughnuts, crepes and more to enjoy too, so be sure to check out the official websiteーor better yet, head to Tokyo Disneyland and DisneySea!
RELATED ENTRIES
Sailor Moon Museum Details Second Round of Exclusive Merchandise

The Sailor Moon franchise's 30th-anniversary museum will run from July 1 to December 30 at Tokyo's Roppongi Museum. The series became a global phenomenon in the 1990s and remains massively popular to this day.

 
The exhibition will feature the largest-ever exhibition of original illustrations by Sailor Moon's creator Naoko Takeuchi, at over 600 pieces. The museum will have three phases, each swapping out different pieces, so fans can have a different experience depending on when they visit!

The event will include an 'immersive experience theater,' which will display colored images on a massive 4.5 x 8-meter screen with special effects. Fans can also enjoy a 'hologram manuscript exhibit,' which will display the Sailor Scouts' famous dialogue. Plenty of merchandise will also be available for purchase, with the second round of available goods just announced!

Original Merchandise (Second Lineup)

Clear Folder ('90s Anime Logo)

Clear Folder (Random, 5 varieties)

Masking Tape Holder

Masking Tape (Luna, Artemis & Diana)

Hat ('90s Anime Logo)

Cloth Shirt ('90s Anime Logo)

Aurora Sticker (Random, 10 varieties)

Reversible Cushion (Luna & Artemis)

Pochette (Luna)

Face Powder Collection (5 varieties)

The second round of original merchandise features many items utilizing the '90s anime logo, including a shirt, hat, and clear folders. A themed masking tape holder was made to resemble Sailor Moon's Moon Stick, and the tape itself features the cats Luna, Artemis, and Diana.

 

The interior of the special store created for the exhibition was designed by Wataru LINDA Igarashi, an art director known for his cute pieces based on the concept of 'window shopping.' 

Come experience some serious nostalgia at the Sailor Moon museum later this year!

© Naoko Takeuchi

Information

Sailor Moon Museum

Running: July 1 – December 30, 2022

Vol.1: July 1 – September 4

Vol. 2: September 10 – November 6

Vol. 3: November 12 – December 30

Closed: September 5-9, November 7-11

Hours: 10:00-18:00 (Last entry at 17:30)

Venue: Roppongi Museum (5-6-20 Roppongi, Minato-ku, Tokyo)

Official Site: sailormoon-museum.com

Tokyo City View at Roppongi Hills Welcoming Guests for Rainy Season Fun

During late spring and early summer, Japan enters the rainy season. From mid-June until early July, Tokyo City View, the indoor observatory at Roppongi Hills, will be giving people a way to enjoy this dreary time. From photo spots to afternoon tea and cute menu items at the on-site restaurant and cafe, this is one of the best places to spend time in Tokyo. 

Photo Spot Transforms Rainy Weather into Sunny Weather

Starting June 13, three photo spots featuring colorful umbrellas will appear around Tokyo City View. Even if it's pouring rain outside, it's always sunny under these pop-art umbrellas! Take some shots 250 meters above the streets of the city and post them on social media!

Normally, Tokyo City View ticket holders can enter the Sky Deck rooftop deck for an additional ¥500. For a limited time, a special set ticket including Sky Deck will be available at the on-site ticket counter! On rare sunny days during the rainy season, guests can enjoy the open-air Sky Deck, a perfect place to refresh and unwind.

Running: June 13 – July 4, 2022

Admission: ¥2,000 (General Admission, Weekdays) 

Details: https://tcv.roppongihills.com/jp/news/2022/06/5723/

*Certain areas of the indoor observatory will be closed during this period. 

Spend a Rainy Day at THE SUN & THE MOON Cafe & Restaurant

NY Cheesecake with Caramel Sauce: ¥1,280 (Tax Included)

Banana Split: ¥1,150 (Tax Included)

THE SUN & THE MOON Cafe and Restaurant is attached to Tokyo City View. At the cafe section, guests will be able to order some cute new items from the dessert menu to sweep away the rainy day blues. 

The restaurant section offers a spectacular city view and is filled with greenery, intending to make guests feel like they're in a forest in the sky. On a rainy day, you may feel like you're in the rainforest! Come enjoy a cup of tea and gaze out at the city.

The Roppongi Hills Observation Deck regularly hosts the Roppongi Astronomy Club. On July 7, the Tanabata Special Viewing Event will invite guests to enjoy a sparkling night view of Tokyo and the stars above. On July 15, a special Moonrise Viewing will be held, where visitors can watch the moon rise from the direction of Tokyo Skytree.

How would you like to spend a rainy day in this spectacular Tokyo landmark? 

The Rose of Versailles Celebrates 50th Anniversary with Exhibition at Tokyo City View

Tokyo City View in Roppongi Hills will hold The Rose of Versailles 50th Anniversary Exhibition -The Rose of Versailles Forever- from September 17 until November 20, 2022. 

Riyoko Ikeda's historical romance manga was first serialized in Shueisha's Weekly Margaret manga magazine from April 1972 to December 1973. The epic historical drama set in the French Revolution-era overturned the common perception at the time that historical stories were not appropriate for girls' manga, and the series was a huge hit, winning the hearts of girls from the start. It became so popular that it received tens of thousands of fan letters per month, and became an immortal masterpiece that changed the history of shoujo manga.

The Rose of Versailles tells a story over 2,000 pages long, but this exhibition focuses specifically on Marie Antoinette and Oscar François de Jarjayes, the two main characters of the story. Guests will be able to see rare original drawings, along with Ikeda's thoughts and words at the time. Ikeda was only 24 years old at the time when she drew some of these incredible pieces, and she continued studying painting during the series' serialization. 

Even after serialization ended in 1973, the series only continued to grow in popularity. Adapted for the stage by the Takarazuka Revue in 1974, it became a social phenomenon, and an anime series followed in 1979.

In the Takarazuka Revue section of the exhibition, Oscar's room from the play will be recreated, and stage costumes and props will be on display.

Come enter the dreamlike world of The Rose of Versailles while enjoying a spectacular view of Tokyo from 250 meters up!

©池田理代子プロダクション

©池田理代子プロダクション/集英社

©大野愛子

Information

The Rose of Versailles 50th Anniversary Exhibition – The Rose of Versailles Forever –

Running: September 17 – November 20, 2022
Venue: Tokyo City View
Official Site: https://verbaraten.com/



Junkissa Journey Reveals Third Collaboration Menu Featuring Unique Cream Sodas

Key Coffee is teaming up with Junkissa Journey, a website helping people find the best cafes for a third collaboration. Guests are welcome to visit Almond Roppongi to test a new menu inspired by old-fashioned junkissa, or cafes that don't serve alcohol. A selection of unique cream sodas in retro glasses and other tasty treats will be available from March 17 until April 10, 2022.

Blooming Cream Soda

Tokimeki Coffee Shop Plate A

Tokimeki Coffee Shop Plate B

Roppongi Pastry Ring with Anko & Butter

Strawberry Milk Sandwich

Morning Tea Set 

Two different lunch sets, a scrumptious dessert, and a breakfast option will be available alongside colorful cream sodas and milkshakes. The drinks are inspired by spring and look just like cherry blossoms and violets! The Adelia Retro glasses are stamped with a Showa-era retro decal, allowing customers to enjoy the charm of a nostalgic pure coffee shop not only in taste but also in appearance. 10 other limited-edition menu items will appear at the event, so keep an eye out for more info!

Imagine the Future at a New Design Exhibition from NTT Docomo in Roppongi, Tokyo

In order to explore a future made possible by telecommunications, NTT DOCOMO will hold the 'Peek into the Future of Design: Imaginary Margins' exhibition at 21_21 DESIGN SIGHT Gallery 3 in Roppongi, Tokyo, from March 19 until March 27. The event will explore the future of technology through the lens of design. 

The exhibition asks an important question: "Can people and technology exist in harmony in the future?" A number of product and device prototypes will be on display along with interviews with the designers and creators. All of these products are unfinished, which will allow for more unique perspectives!


Because these are unfinished products, we can see traces of the thought process that went into the shapes, colors, and materials used. These prototypes range from speakers to projectors and more. Along with the prototypes, keywords related to the inspiration, sketches, design drawings, and materials used in the conception process will decorate the space from the floor to the ceiling.

Information

Peek into the Future of Design: Imaginary Margins

Running: March 19 – March 27, 2022
Hours: 10:00-19:00
Admission: Free
Location: 21_21 DESIGN SIGHT Gallery 3
Official Site: https://design.idc.nttdocomo.co.jp/event/

Detective Conan: The Bride of Halloween Limited Edition Merchandise Revealed

Starting February 11, the Roppongi Museum will begin a new event to celebrate the upcoming release of Detective Conan: The Bride of Halloween, coming to theaters in April 2022. The 'Halloween Gift' event combines a museum experience with aspects of the real world, and guests will be able to visit and enjoy until June 5, 2022. 

Called a 'Live Museum,' the new brand of entertainment combines theater, puzzle-solving, and a museum exhibition. Each visitor will become a character working with Conan and his friends to solve riddles based on The Bride of Halloween film.

Merchandise at a Glance

RM Acrylic Figure (10 varieties)

RM Pin

RM Pâtissier Conan / RM Pâtissier Furuya

RM Poster Card Set

RM Bruno Hot Sandwich Maker / RM Bruno Kettle

RM Mini Towel Conan/ Furuya / Haibara / Matsuda

RM Embroidered Pouch Conan / Furuya / Haibara

RM Drifter Backpack / Tote Bag / Shoulder Bag

RM Secret Book

Special merchandise only available during this event has been unveiled, and fans can snag items featuring Conan and Furuya, a major player in the new film. Other popular characters also make appearances, so Detective Conan fans should try to grab their favorites before they're gone!

Information

Detective Conan: The Bride of Halloween Live Museum ~Halloween Gift~

Running: February 11 – June 5, 2022 *Open every day during the event period

Location: Roppongi Museum

Hours: 10:00-18:00 (Open until 20:00 on weekends, holidays, and during Golden Week)

Official Twitter: www.twitter.com/conan_museum

Official Instagram: www.instagram.com/conan_museum

Tickets/Official Site: www.conan-livemuseum.com

Starbucks Reserve® Roastery Tokyo Launches Second Edition of Collaboration Collection with Ron Herman

Starbucks Coffee Japan has launched the second product in its "double the love" collection, the first collaboration with fashion brand Ron Herman, at Starbucks Reserve® Roastery Tokyo.

Castanets (white and navy) ¥2,200 each / Guiro ¥3,960/ Bell ¥4,400

The theme of "double the love" expresses the moment when you and your loved one can feel the love by choosing and giving a gift while thinking of the joy on the face of the recipient. For the second edition, under the theme of "sharing together," a variety of musical instruments made of wood, such as castanets, guiro, and bells, as well as wooden ornaments are available to make your time with family and loved ones more enjoyable.

Ornament heart/star (red, navy, white) ¥1,320 each

Wooden ornaments in the shapes of stars and hearts can be hung on the tree or used as decorations to accentuate your room, adding to the Christmas spirit! As you reflect on this year, spend a happy time with your family and loved ones, thinking of each other and overflowing with love.

With the desire to deliver a heartwarming moment of sharing and caring for each other, the greeting card workshop "Make your gift double of your love" is scheduled to be held online from 10am on December 18 and at RHC Ron Herman Kawasaki on December 19. While drinking coffee, think of the face of the person you are sending a gift to, and spend a moment making a greeting card to express your feelings.

Information

double the love Collation

Stores: Starbucks Reserve Roastery Tokyo (STARBUCKS RESERVE(R) ROASTERY TOKYO), Starbucks Online Store.

*As for the limit on the number of items sold, each person can purchase up to 10 items per product.

 

Special Event 'Make your gift double of your love'

Online Event: December 18, 2021 from 10:00 for 1 hour.

Join Here: rtmp://a.rtmp.youtube.com/live2

Where: RHC Ron Herman Kawasaki

When: December, 19, 2021.

https://ronherman.jp/news/2404

Peanuts Cafe and Peanuts Diner Locations to Offer Special Christmas Menu

Six Peanuts Cafe and Peanuts Diner locations across Japan are currently offering a special Christmas menu inspired by the world of Snoopy until December 25, 2021. 

Christmas Stew Set with Bonuses: ¥3,520 (Tax Included) 

Participating Locations: Peanuts Cafe Nakameguro, Snoopy Museum, Nagoya, Sunny Side Kitchen

Nagameguro:https://www.peanutscafe.jp/product_nakameguro_xmas2021/
Snoopy Museum:https://www.peanutscafe.jp/product_smt_xmas2021/
Nagoya:https://www.peanutscafe.jp/product_nagoya_xmas2021/
Sunny Side Kitchen:https://www.peanutscafe.jp/product_sunnysidekitchen_xmas2021/

Christmas Hamburger Set with Bonuses: ¥3,960 (Tax Included) 

Participating Location:Peanuts Diner Yokohama

Reserve:http://www.peanutsdiner.jp/product_yokohama_xmas2021/

Woodstock's Merry Christmas Plan: ¥4,950 per person (Tax Included)

Participating Location: Peanuts Cafe Nakameguro

Reserve:

https://www.peanutscafe.jp/product_nakameguro_sproom_xmas2021/
*Price per person based on two-person reservation. 

*Reservations can be made up to two days in advance.

Snoopy's I CAN'T WAIT Christmas Parfait: ¥1,430 (Tax Included)

Snowy Christmas Latte ~Cheesecake Flavor~: ¥880 (Tax Included) 

Those who order a special food set will receive a tote bag with an adorable Snoopy and Woodstock design. 

(C) 2021 Peanuts Worldwide LLC (短縮形 (C) 2021 Peanuts)

Information

Snoopy's Christmas Menu

Available: December 10 – December 25, 2021

Participating Locations: Peanuts Cafe Nakameguro, Peanuts Diner Yokohama, Peanuts Diner Kobe, Peanuts Cafe Snoopy Museum, Peanuts Cafe Nagoya, Peanuts Cafe Sunny Side Kitchen

Official Site: http://www.snoopy.co.jp/

HOLOLIVE x TOKYO SKYTREE TOWN(R)" to Launch Collaborative Cafe and Merchandise.

A limited time event featuring the VTuber group "Hololive" will be held at Tokyo Skytree Town(R) from December 17, 2021 to January 31, 2022. It will feature a variety of special activities, including a riddle-solving event, a photo spot on the Tokyo Skytree(R) Observation Deck, and a pop-up store and concept cafe in the official TV station store, Tree Village.

Concept Cafe

【Christmas Menu】Running: December 17~December 25.

【Winter Manu】Running: December 26~January 31, 2022.

【Member Motif Drink】Running: December 17~January 31, 2022.

Merchandise


The original merchandise limited to the event includes "acrylic stand" and "New Year's Eve udon set" featuring newly drawn illustrations of Sora Tokino and 10 other VTubers from "Hololive" in Christmas costumes and kimonos.



In addition, there will be a lottery to win a "life-size acrylic stand (installed on the watchtower deck)" with a special illustration for the 2nd anniversary. The products will be available at the event from December 17 and online from January 1, 2022.

Don't miss this special Christmas event with Horolive!

Ⓒ 2016 COVER Corp.
ⒸTOKYO-SKYTREE

Winter at Roppongi Hills Observation Deck 2021-2022 Event to Ring in the New Year

Until the New Year, the Roppongi Hills Observation Deck will be hosting a number of winter events for those wanting to celebrate with the Tokyo skyline. 

The Observation Deck will be decorated especially for the New Year's holiday, and in addition to being able to see the first glimpse of Mt. Fuji for 2022, guests can take advantage of a special photo service and Twitter campaign. Seeing Japan's most famous mountain covered in snow is a magnificent way to bring in what will hopefully be a better year. 

THE SUN & THE MOON, the restaurant attached to the 52nd floor indoor observatory Tokyo City View, will also feature a special Tiger-themed drink inspired by the 2022 Chinese zodiac. The Geminids meteor shower viewing event will also be held on the Sky Deck on December 13 and 14, while the Christmas star gazing event can also be enjoyed on these dates.

The '60th Anniversary Sanrio Exhibition: The Beginning of Kawaii' exhibition is currently underway at Tokyo City View. Starting on December 26, the exhibition's main piece called the 'Unforgettable Tower' will be transformed into its anniversary edition. At THE SUN & THE MOON, both the cafe and restaurant will also offer anniversary-themed dishes for a limited time in collaboration with the Sanrio exhibition. Photo spots around the venue will also be revamped for the New Year. 

The Roppongi Hills Observation Deck is currently hosting 'Christmas in the Sky 2021.' 

Information

Tokyo City View (Indoor Observatory) / Roppongi Hills Mori Tower 52F

Sky Deck (Rooftop Observatory) / Roppongi Hills Mori Tower Rooftop

Hours: 

Tokyo City View – 10:00-22:00 (Last Entry at 21:30) 

Sky Deck – 11:00-20:00 (Last Entry at 19:30) *From 11:00-22:00 on December 26 (Last Entry at 21:30)

Official Site: http://tcv.roppongihills.com/

Yokohama Spaghetti & Cafe Offering Afternoon Tea with Cute Miniatures

If you're looking to feel like a kid again, Yokohama Spaghetti & Cafe is offering a chance to have afternoon tea with some adorable miniatures in a dollhouse atmosphere. The popular set will be reimagined during December to feature a Christmas motif, and is the perfect backdrop for Twitter or Instagram pictures!

'Afternoon Tea for 'me' and 'my friends,' drink included: ¥1,380 per person (Tax Included)

The set includes seven beautiful desserts crafted by a pastry chef and features seasonal fruit. Whether you enjoy tea and cakes by yourself or with friends, feel free to take pictures of the miniatures for a jolt of cuteness. 

Information

Yokohama Spaghetti & Cafe

'Afternoon Tea for 'me' and 'my friends' 

Available: Daily after 15:00

No reservations needed

Address: Tokyu Square 1 B1F, 2-3-2 Minatomirai, Nishi-ku, Yokohama (Connected to Minatomirai Station)

Hours: 11:00-21:00 

Official Instagram: https://www.instagram.com/hama.spa/

Universal Studios Japan Celebrates 20th Anniversary with Special Christmas Event

Prior to the event's commencement on November 26, Universal Studios Japan released a press preview to highlight this year's Christmas event, including images of the first Christmas tree in two years since the pandemic began. This year's theme is 'NO LIMIT!' and will also celebrate the park's 20th year of operation. 

The popular stage show NO LIMIT! will feature a special Christmas theme, with popular park characters like Elmo, Snoopy, Hello Kitty, and others clad in holiday costumes. The collaboration with popular girl's band NiziU has been a major hit so far and will feature their original song FESTA! The goal of the event is to kick off a year filled with smiles. 

The 20th Anniversary NO LIMIT! Christmas tree stands at the center of Gramercy Park, offering guests an excellent view from all sides. Be sure to snap a photo with your friends and loved ones to start 2022 off right!

WIZARDING WORLD and all related trademarks, characters, names, and indicia are © & ™ Warner Bros. Entertainment Inc. Publishing Rights © JKR. (s21)
Minions and all related elements and indicia TM & © 2021 Universal Studios. All rights reserved.
© Nintendo
TM & © 2021 Sesame Workshop
© 2021 Peanuts Worldwide LLC
© 2021 SANRIO CO., LTD. APPROVAL NO.  EJ1111901
TM & © Universal Studios & Amblin Entertainment
©吾峠呼世晴/集英社・アニプレックス・ufotable
© Sony Music Labels Inc./JYP Entertainment.
TM & © Universal Studios. All rights reserved.