Tokyo DisneySea Celebrates Christmas With Spectacular Show & Evening Illuminations
This year heralds another heart-warming Christmas celebration at Tokyo Disney Resort® with the official Disney Christmas event, which kicked off at Tokyo Disneyland and Tokyo DisneySea on November 8 and will run up to Christmas Day.
Today, we're reporting on Tokyo DisneySea's entertainment programme "It's Christmas Time!" as well as the park's photo spots which can be enjoyed in the evenings.
It's Christmas Time!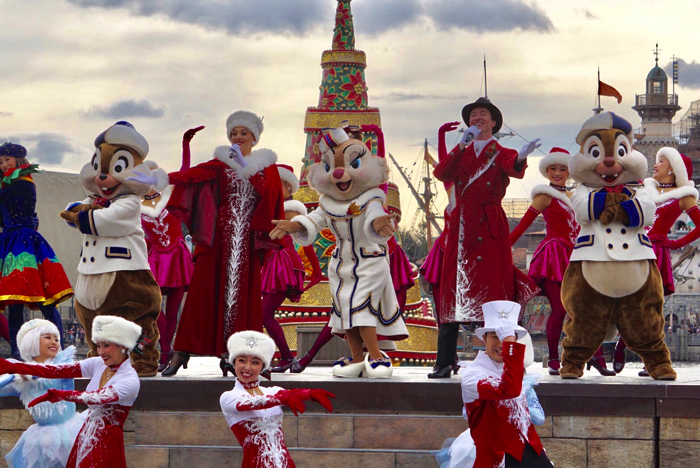 Returning again to Mediterranean Harbor this year is It's Christmas Time!, a show which brings together the Disney character cast for a performance of Christmas song and dance.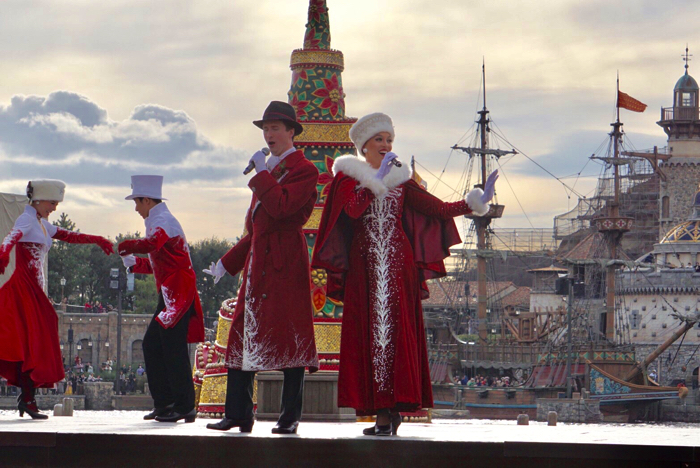 The show begins with the performers stepping out in their bright-red Christmas outfits and singing with beautiful voices.
Lots of Disney friends were gathered together, including Mickey Mouse, Minnie Mouse, Donald Duck, Pluto, Goofy, and Chip & Dale.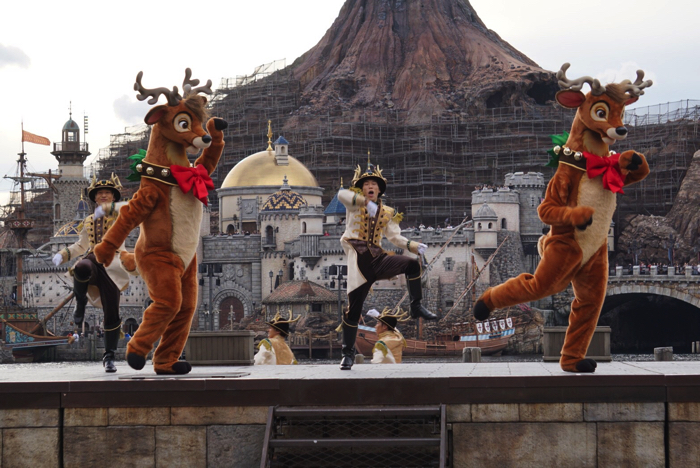 "Let's have all have a wonderful Christmas together," announced Mickey, who danced the waltz with everyone.
That's when the snow began to fall, and the colourfully-clad performers began the real dance show, consisting of tap dancing, line dancing, and more. They played lots of classic Christmas songs, and we found ourselves naturally singing along too.
Duffy the Disney Bear, ShellieMay, Santa Claus and many more made an appearance too to join in the festivities.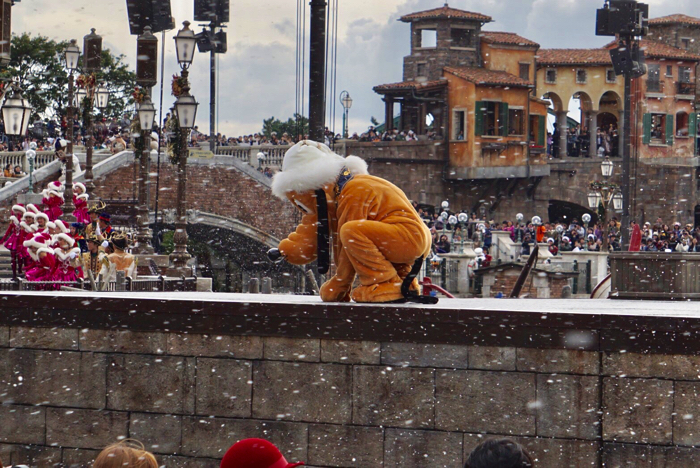 Speaking of which, Pluto was there too, but he seemed kind of lonely… I wonder what happened?
When visiting Tokyo DisneySea this year, be sure to go all-out when celebrating with the Disney characters and performers too!
Romantic Photo Spots♡
If you head down to American Waterfront, you'll see a 15 meter high Christmas tree in front of the S.S. Columbia. And if you continue from there towards Cape Cod Cook-Off, you can get a really beautiful photo from the bridge.
Reds, yellows, greens and other colours decorate the surrounding area of Cape Cod Cook-Off, where Duffy & Friends are celebrating their Christmas.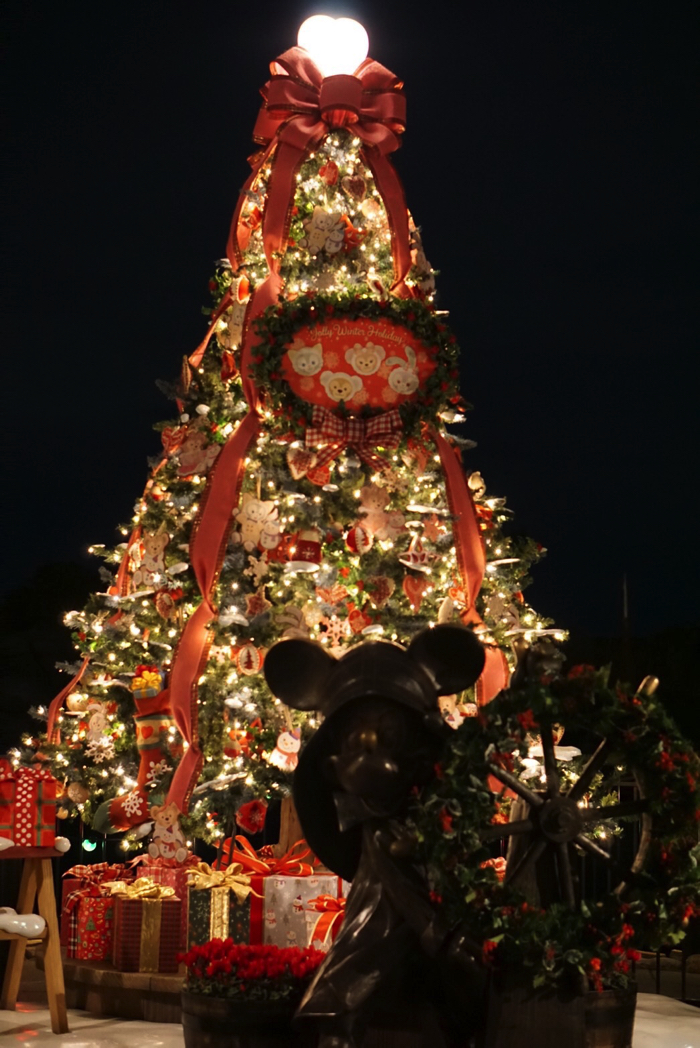 There's also photo spots where you can take some cute photos in front of the Christmas tree.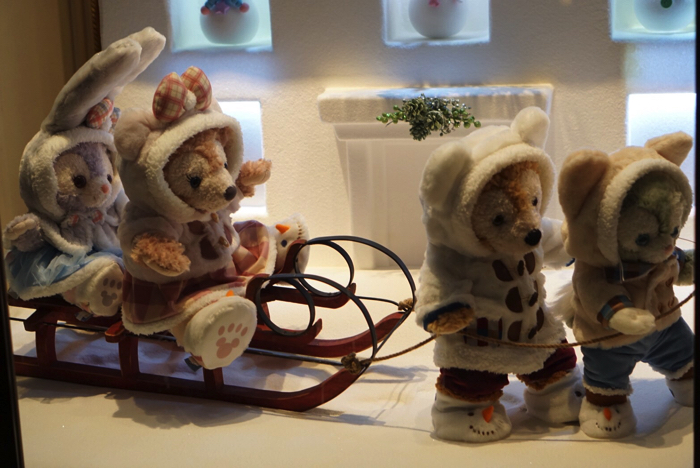 Be sure to find the characters dressed in their winter clothes riding a sled too, you can snap a picture with them as well.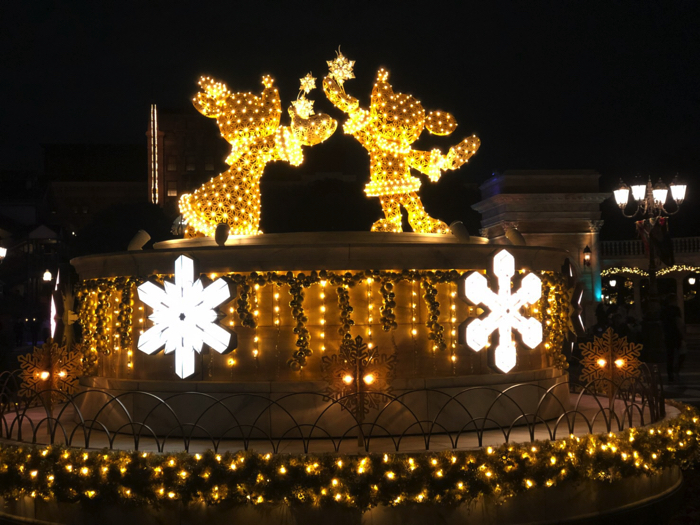 At each themed port in the park they have spectacular illuminations at night too, which are sure to warm you with that Christmas spirit.
Writer: Ellie(MOSHI MOSHI NIPPON)
Translator: Joshua Kitosi-Isanga
©️Disney
RECOMMENDED ENTRIES
Sleigh Bells Ring at Tokyo Disneyland This Year With Plenty Of Food & Merchandise to Go Around

Jolly faces are all around at Tokyo Disney Resort right now as Disney Christmas kicked off last Friday. It's set to sleigh its way up to Christmas Day this year.

The editorial team at MOSHI MOSHI NIPPON jumped ahead and got a taste of the festive fun at the parks recently, so we're going to showcase some more of the seasonal food and merry merchandise you can get your hands on this Christmas at Tokyo Disneyland.

Food that makes you want to kick back and enjoy a nice break

 

Special Set – ¥1,500 @ Grandma Sara's Kitchen

Grandma Sara's has created the perfect hot lunch for warming up cold guests this year, adorned with a clam and seafood tomato cream, cheese and white sauce. Dip your bread into the rich sauce and tuck in! For dessert, you get a cranberry cake inspired by the look of a snow-tipped Christmas tree.

Hot drinks of all kinds

'Tis the season to stay warm, and so Tokyo Disneyland has devised a line-up of tasty drinks to warm the cockles of your heart, with flavours ranging from ruby chocolate to matcha and tapioca cheese teaーa unique flavour that's all the rage right now.

We actually covered these drinks in detail last Monday, so check out our report here.



Deck the halls with these dessert & souvenir sets

Cranberry & Tea Cake With Souvenir Cup – ¥800 @ Sweetheart Cafe and elsewhere

Strawberry Dessert With Souvenir Cup – ¥800 @ Sweetheart Cafe and elsewhere

Head to the Sweetheart Cafe to enjoy some desserts which come with cute take-home souvenirs, like cups and plates. The cranberry and tea cake is a subtly sweet cake with a fragrant tea flavour and filled with sweet and sour cranberries.

The strawberry dessert is like strawberry shortcake with ascending layers of cake batter, cream, and strawberries. It's topped with holly to give it that Christmas-y finish.

Chocolate Doughnut – ¥380 @ Cleo's and elsewhere

The chocolate doughnuts at Cleo's are completely lathered in a chocolate danish-like dough and custard cream.

The doughnuts even come in this cute Mickey and Minnie packaging, who are dressed ready and for giving gifts to guests.

If you pay an extra ¥700 you can get this adorable pouch featuring Mickey, Minnie, Donald and Daisy as snowmen.

Have a merry little Christmas with these holiday season goodies

Headband – ¥1,800

Fun Cap – ¥3,000 / Plush Toy Wristband – ¥1,700

Feel happy simply by placing these Mickey & Minnie headband ears and getting into party mode. The park has also developed a Christmas version of the Pluto fun cap so he has reindeer antlers and holly attached. Both items were previously available in a pre-sale on the park app, so depending on the shop you visit, they may have none left in stock. But if you see one, be sure to grab it quick!

There's also a Mickey version of the Minnie Mouse plush toy wristband. Wear one and have your friend or loved one wear the other!

Popcorn Basket – ¥2,400 @ The Gazebo (Popcorn Wagon)

Pick up some popcorn served in a Christmas present basket decorated with cute illustrations of Mickey and company celebrating Christmas.

It comes strung with a ribbon decorated with green, red and white colouring like a candy cane.

Spend a Disney Christmas this winter at Tokyo Disneyland where you can stay warm with some comfort food and dress up!

Model: Yuna Yabe

Writer: Sayuri Mizuno (MOSHI MOSHI NIPPON)

Translator: Joshua Kitosi-Isanga

Roppongi Hills Christmas Market 2019: Authentic German Food, Christmas Ornaments, Desserts & More

Christmastime has fallen on Roppongi Hills as it kicked off Roppongi Hills Christmas 2019 on Monday. The event sees the return of the gorgeous Keyakizaka illuminations from last year.

Keyakizaka-dori Street runs almost 400 meters, along which "Snow & Blue" LED lights glow and glisten like frost-covered trees, turning the street into a winter wonderland. For 2019, a very special photo spot has been designed by Japanese illustrator Yu Nagaba as pictured above amongst the ocean of illuminations. Over on the West Walk, passersby will spot a draped Christmas tree.

Starting this Friday (November 15), more illuminations will light up over at Mori Garden, which will reflect enchantingly from the garden lake, and 66 Plaza will be lit up too. All of these illuminations will glow until late in the night, making them a perfect spot for a little evening date.

A Christmas market will take place starting on November 30 which will feature German food and drinks, a shop where you can buy a real fir Christmas tree, and more. And on November 15, restaurants and cafes at Roppongi Hills will adorn their menus with Christmas cakes, sweets, and dinner plans.

Christmas Market 2019

2019 marks the 13th year of the Roppongi Hills Christmas Market, and this year, many of Japan's leading shops are taking part. The market will recreate the atmosphere and decor of a German Christmas market, with gorgeous decorations lining the roof, as well as the 11 stalls which will sell German-made Christmas sundries, German mulled wine, frankfurter sausages, and more. There will be over 2,000 individual items to find.

Christmas Cakes & Merry Desserts

Top: Christmas Show Girl ¥3,672 / Bottom: Christmas Tree ¥10,800 @ LOLA'S Cupcakes Tokyo

Cafes and restaurants have cooked up various treats for the Christmas season which will be sold between November 15 to December 25, including Christmas cakes to complete your Christmas dinner, desserts so cute they almost seem a waste to eat, and little items perfect to give as gifts. There's plenty on the menu to be enjoyed with friends, family and loved ones.

Have a very special and merry little Christmas this year at Roppongi Hills.

Information

Roppongi Hills Christmas 2019 

Running: November 11, 2019 – December 25, 2019
Locations: Roppongi Hills (Roppongi Keyakizaka-dori, 66 Plaza, West Walk, Roppongi Hills Arena, Rooftop Plaza, and elsewhere)

Official Event Page: https://www.roppongihills.com/en/sp/christmas/2019/

Christmas Market 2019

Running: November 30, 2019 – December 25, 2019

Time: 11:00-21:00 (Until 22:00 on Fridays, Saturdays & Christmas Eve)

Location: Rooftop Plaza

Keyakizaka Illuminations

Running: November 11, 2019 – December 25, 2019

Time: 17:00-23:00

Location: Roppongi Keyakizaka-dori

Witness the Breathtaking Illuminations and Tokyo City Night Lights at Shinagawa Season Terrace Illumination 2019

Shinagawa Season Terrace Illumination 2019 is set to run from December 1 to 25.

The event will take place at Shinagawa Season Terrace, a towering office building in Tokyo, where the rolling grass lawn will be lit up beautifully with enchanting blue lights. They offer a breathtaking view against the city nightscape of Tokyo's skyscrapers. Last year's event saw nearly 17,000 people in attendance.

2019 marks the 4th run of the event, and this year, the long staircase leading up to the lawn will also be lit up, welcoming visitors to see the illuminations from their first step upon arrival. The lights will flicker in 10 different patterns from the first floor (ground floor) up to the second.

Entry is free, and visitors will be able enjoy an unbroken view of the structural spectacle that is Tokyo Tower too. If you're in Tokyo this December, be sure to mark Shinagawa Season Terrace Illumination 2019 in your calendar for the holiday season.

*Pictured photos are for illustrative purposes only

Information

Shinagawa Season Terrace Illumination 2019

Running: December 1, 2019 – December 25, 2019

Time: 17:00-22:00

Location: Shinagawa Season Terrace (1-2-70 Konan, Minato Ward, Tokyo)

Access: 6 minutes on foot from Shinagawa Station's Konan Exit (JR Line side)

Entry: Free

Event Website: https://sst-am.com/

*The event will take place if there is light rainfall but will be suspended in the case of stormy weather
RELATED ENTRIES
Akiyoshido Cave in Yamaguchi to be Illuminated for Christmas & Valentine Theater Event

The Mine City Tourism Association has announced a Christmas & Valentine's Day event at Akiyoshido Cave, one of the largest limestone caves in Japan. The event will see the natural wonder illuminated by a number of colorful lights. The Christmas event will run from December 21 to 25, 2022, while the Valentine's Day event will run from February 10 to 14, 2023.

Akiyoshido Cave is one of Yamaguchi Prefecture's most popular tourist attractions. The interior will be decorated with colorful lights and unique soundscapes, creating a once-in-a-lifetime setting for visitors. These illuminations and sounds were directed by world-renowned lighting designer Motoko Ishii, known for her work on Tokyo Tower and the Akashi-Kaikyo Bridge.

Information

Christmas & Valentine Theater ~ Akiyoshido Cave 'Fantasy of Light and Echoes'

Dates:
Christmas Theater: December 21 – December 25, 2022
Valentine Theater: February 10 – February 14, 2023
Times: (1) 10:00-11:00 (2) 12:00-13:00 (3) 14:00-15:00
3 events per day

Venue:
Akiyoshido Cave, Shuhocho Akiyoshi, Mine, Yamaguchi

Tickets/Details:  https://karusuto.com/event/christmas-valentine-theater-2022/

Eve to Hold YouTube LIVE on Christmas Eve with Afterparty for Premium Members

Eve has announced a special YouTube LIVE scheduled to take place on December 24 at 19:00. The stream will take place on the artist's official YouTube channel and those with YouTube Premium memberships will be able to take place in an Afterparty starting at 19:30. 

Starting at 19:00 on Christmas Eve, fans can enjoy a rare live studio performance complete with a full band. The Afterparty will include a special chat with Eve in which the artist reflects on the past year and gives hints on what's to come. Fans won't want to miss this exclusive opportunity!

British Beauty Brand Elemis Sponsors Christmas Afternoon Tea Bus Tour Through Tokyo

There are plenty of events going on in Tokyo to celebrate the holiday season, but this one might be the most peculiar. Elemis, a skincare brand from England, has teamed up with bus operator Upstar for Japan's first bus tour featuring afternoon tea! This extremely limited event will drive guests around the city to see some of the most impressive Christmas lights in Shibuya, Roppongi, Omotesando, and other spots. Only 60 seats are available each day and the bus will run from December 1 until December 25, 2022.

 

5 Unique Features of the Elemis Special Christmas Afternoon Tea Bus Tour

① Enjoy a Special Christmas Afternoon Tea Menu by Elemis

A special Christmas menu will be available on board, including a Santa Claus shortcake and a party popper-inspired sandwich. 

② Travel on a Bus Filled with Elemis Christmas Decorations

Inside the bus, guests can enjoy fir trees and original decorations inspired by the Elemis holiday collection!

③ Best-Selling Elemis Goods will be Gifted to Guests!

Guests will receive a trial size of Elemis' best-selling Pro-Collagen Cleansing Balm as a Christmas present!

④ A Special Gift Campaign will run from November 15 until December 25

Prior to the start of the bus tour, a campaign will be held on Instagram and Twitter. Winners will snag tickets for the bus tour and an Elemis makeup set worth over $12,000!

⑤ Travel on a Special Route to Enjoy Tokyo's Christmas Lights!

The bus tour will take visitors to some of Tokyo's best Christmas locales, from Shibuya and Omotesando to Keyakizaka and Roppongi. The 90-minute journey starts and ends in Omotesando.

How would you like to enjoy Tokyo's Christmas lights on a British bus enjoying some of the best beauty products on Earth? Get into the holiday spirit with this unusual and unique tour!

Information

Elemis Christmas Afternoon Tea

Running: December 1 – December 25, 2022 *Not running December 12, 13

Times:
1st Service / 15:00~16:30
2nd Service / 17:00-18:30
3rd Service / 19:00-20:30

Length: 90 minutes

Departure Point: In front of the Shioda Building (5-10 Minamiaoyama, Minato-ku, Tokyo)

Price: ¥6,800 (Adults, Tax Included) / ¥3,000 (Children, Tax Included)

Reservations: https://www.upstar-londonbus-travellingnewtokyo.com/booking

Eve to Sing Theme Song for Christmas Comedy Film 'Black Night Parade'

Popular singer Eve will sing the theme song for the film Black Night Parade, coming to theaters nationwide on December 23, 2022. A new trailer featuring the track has also been released alongside the announcement.

Eve's YouTube channel has over 4.2 million subscribers with video views of over 1.9 billion. The new song, Shirayuki, was written by the singer himself, who has become incredibly popular with overseas music fans as well. The track manages to be both gentle and powerful in equal measure, combining an orchestra with Eve's unique vocals. In conjunction with the release of the trailer, an exclusive pre-release version of the song has been posted to TikTok.

Black Night Parade Trailer: https://youtu.be/57CkdVMky4o

Black Night Parade was originally manga series by Hikaru Nakamura, the creator of Arakawa Under the Bridge and Saint Young Men. The live-action film will be directed by Yuichi Fukuda, who has worked on a number of live-action film adaptations of manga series including Gintama and Kyo Kara Ore Wa! Fukuda also wrote the screenplay along with Tetsuo Kamata. The protagonist Miharu Hino will be played by Ryo Yoshizawa, while Shino Hojo will be played by Kanna Hashimoto. Taishi Nakagawa will play Kaizer Tanaka and Keisuke Watanabe will play Teppei Kohira.  

The story follows Miharu Hino, a man who is completely hopeless at everything he does. He failed his entrance exam, failed at job hunting, and has no love life to speak of. After working at a convenience store for three years, he meets a man in a black Santa suit who kidnaps him, offering him a job. Miharu then begins working at Santa Claus House, a mysterious company at the North Pole that delivers gifts to children around the world.

Comment from Eve

"I'm incredibly honored because I loved both the original manga and Fukuda's past works. I wrote this song Shirayuki with the hope that Christmas could be an important day for everyone. I would be so glad if this song makes you nostalgic for winter, making you imagine the cold air that stings your nose and the stars in the clear night sky. I love Kunehito, so I am looking forward to seeing him in the film."

©︎2022「ブラックナイトパレード」製作委員会 ©︎中村光/集英社

Sailor Moon Museum Releases New Christmas Menu

The Sailor Moon franchise's 30th-anniversary museum is open from July 1 to December 30 at Tokyo's Roppongi Museum. The series became a global phenomenon in the 1990s and remains incredibly popular with audiences around the world to this day. The museum itself is located near Azabu-Juban, where Sailor Moon took place.


 
Volume 3 of the museum, the final installment, will take place from November 12 until the museum closes on December 30. During this period, fans can see over 100 pieces of rare Sailor Moon goods from its run in Nakayoshi magazine.

 

All of the original color drawings currently on display will be replaced, with over 60 new pieces being added including previously unreleased works. Fans will also get a glimpse of the original drawing that appeared on the cover of Nakayoshi when the final chapter of Sailor Moon was published!

Christmas Menu

Sailor Moon Museum Christmas Pancake

Sailor Moon Museum Cheese Melt Muffin

Latte Art featuring Famous Quotes

THE ALLEY Collaboration Drinks

Christmas Tapioca Banana Pumpkin

Princess Serenity Cream Cheese Yogurt

New Christmas menu items will also be available during Vol.3. Guests can enjoy the cafe's original Christmas tree-inspired pancakes and collaboration drinks with THE ALLEY. The main menu has also been overhauled and now includes plenty of dishes perfect for the cold winter months. The drink menu will also feature original coasters and straw tags only available at the museum.




Will you be visiting the museum during its last few weeks?

(c) Naoko Takeuchi

Information

Sailor Moon Museum

Running: July 1 – December 30, 2022

Vol. 3: November 12 – December 30, 2022

Hours: 

Weekdays: 10:00-18:00 (Last entry at 17:30)
Weekends/Holidays: 10:00-20:00 (Last entry at 19:30)
*Open from 10:00-20:00 from December 26 – December 30
Venue: Roppongi Museum (5-6-20 Roppongi, Minato-ku, Tokyo)
Official Site: www.sailormoon-museum.com


Mister Donut Reveals Limited-Time Pokemon Christmas Collection

Mister Donut has revealed its annual Pokemon Christmas collaboration. This marks the 5th year that the popular sweets chain is teaming up with the legendary franchise, and starting on November 9, fans can find themed sweets and merchandise for a limited time. 

Pikachu Snowman Donut

Christmas Collection Donut Set

New to the lineup in 2022 is the Pikachu Snowman Donut. This will be sold alongside the always-popular standard Pikachu Donut which will be sold in a cute Christmas sleeve. Customers can also look forward to the sleepy Pikachu Donut and the fluffy Jigglypuff Donut this holiday season.

Mister Donut Blanket (White)

Mister Donut Glasses (Set of 2)

The Christmas Set will include the Mister Donut Pokemon Blanket, which is available in two patterns, as well as a pair of Pokemon glasses. Fans are sure to enjoy these new illustrations of Pikachu and Jigglypuff made exclusively for the collaboration. 

Pikachu Donut

 

The popular Pikachu Donut is back! The fluffy yeast pastry is filled with whipped cream with a pudding flavor and chocolate coating. 

Pikachu Snowman Donut

 

Also filled with whipped cream, the Pikachu Snowman Donut is coated with white chocolate.

Be sure to check out this exclusive collection of sweets and goods before they're gone!

©2022 Pokémon. ©1995-2022 Nintendo/Creatures Inc. /GAME FREAK inc.

ポケットモンスター・ポケモン・Pokémonは任天堂・クリーチャーズ・ゲームフリークの登録商標です。
Nintendo Switchのロゴ・Nintendo Switchは任天堂の商標です。

Information

Mister Donut Pokemon Christmas Collection

On Sale:

Donuts: November 9 – late December 2022 (While supplies last)

Goods: November 9 (While supplies last)


Official Site: https://www.misterdonut.jp

The World of Peanuts to Take Over Grandberry Park this Winter

The limited-time Christmas event 'SNOOPY Merry Colorful Christmas' will be held at the Grandberry Park shopping mall from November 12 until December 25, 2022. The complex is directly connected to Manami-Machida Grandberry Park Station on the Den-en-toshi Line. 

This year's event is the most colorful one yet, focusing on diversity and individuality. Fans of Snoopy and friends are in for a treat, as the area around Grandberry Park will be illuminated in beautiful colors and decorated with unique Christmas decorations that will excite the whole family. 

Colorful Sculpture

Colorful Illuminations

Snoopy Ice Rink

Snoopy Happiness Float 2022

During the event period, a giant 8-meter-tall Christmas tree decorated with Peanuts-inspired ornaments will be set up for guests to enjoy. A huge and very colorful sculpture measuring 6 meters across and over 2 meters tall will also welcome visitors to this Christmas wonderland. In addition, colorful lights will be scattered around the entirety of Grandberry Park, and a special Christmas menu filled with cakes and hors d'oeuvres is sure to delight.

On December 10, the Snoopy Ice Rink will open at Oasis Plaza, and the Snoopy Happiness Float 2022, a giant Snoopy that has traveled across Japan, will return for another year of fun.

Come have a fun time this holiday season with Snoopy and friends! A series of events will be held over the next year to market the Colors of Peanuts marketing campaign throughout the country, so keep an eye out for more news!

*Sample images only.

Grand Front Osaka to Hold Harry Potter Christmas Event

The Grand Front Osaka mall has announced an incredible Christmas celebration in collaboration with the magical world of Harry Potter! Fans will want to visit the massive shopping center between November 10 and December 25 to take part in the festivities.

Standard Decorations

Showtime Decorations

Harry Potter-Inspired Decorations

The highlight of the event is the 13-meter-tall Christmas Tree, which will be set up on the first floor of the mall's North Building. The tree will be decorated with Harry Potter-inspired ornaments like moving staircases and window frames, which will look as though they are floating in the air. At night, a light show will take place around the tree, complete with projections inspired by the four houses of Hogwarts. 

Decorated Ted E. Bear

Stamp Rally Card

House Flag Decorations

Tully's Coffee and Harry Potter Collaboration Goods and Menu

Special Harry Potter-themed decorations will be attached to many trees in the area around the nearby Umekita Plaza, and fans can also find a Harry Potter panel exhibition. An Instagram photo campaign will be held in which visitors can enter to win collab merch, so don't miss out!

Come make some magical memories at this Harry Potter event in Osaka this winter.

Information

Grand Wish Christmas 2022

Harry Potter: An Invitation to the Wizarding World of Christmas

Running: November 10 – December 25, 2022 *Excluding certain contents
Venue: Grand Front Osaka North & South Wings, Umekita Plaza, etc.
Details: https://www.grandfront-osaka.jp/xmas2022/ 

Q-pot CAFE to Release Colorful and Creative Christmas Cake

Q-pot is known for incredible Christmas cakes, and this year's dessert might be their most glorious yet. This year's motif is the 'Christmas Wreath,' meant to symbolize peace, eternity, and happiness. Featuring a massive Morello cherry, this is the perfect way to celebrate the season with friends and family.

The cake features a pistachio ganache and cheese ganache transformed to look like powdery snow, with each dessert decorated with chocolate candy canes, teddy bears, stars, and ribbon cookies.

The beautiful cross-section shows four luxurious layers: Morello cherry mousse, caramel mousse, crepe dough filled with hazelnuts and chocolate, and rich chocolate genoise. Cakes are available to order from anywhere in the country and are delivered in a beautiful box.

Orders will be accepted in-store and at the Q-pot. Online Shop starting November 1, 2022. Why not enjoy a decedent and heartwarming Christmas this year?

Information

Q-pot CAFE. 2022 Christmas Cake

Order Period: November 1 – December 11, 2022

Delivery Period: December 22 – December 25, 2022

Price: ¥3,240 (Tax Included)

Details/Orders: http://www.q-pot.jp/news/2022/10/1765.html

Midtown Christmas 2022 to Bring Gorgeous Lights and Sounds to Tokyo

From November 17 until December 25, Tokyo Midtown will hold the popular Midtown Christmas event for 2022!

Adults and children are sure to love this massive Christmas event. Each year, a massive Christmas tree appears in Tokyo Midtown, but this year's festivities will also throw some more unique pieces of art into the mix.

This year, visitors will see golden lights on the city's trees, as well as a pop-up Christmas tree inspired by party poppers. Lights and music will join together to make guests feel as though they've walked into an outdoor theater, and the popular ice skating rink will once again be open for everyone to enjoy. Why not enjoy the Christmas season in Tokyo's shimmering midtown?

Bubbles Fill the Air for a Limited Time at the Christmas Story Lights

A Massive Dome Filled with 300 Lights Invites Visitors to Celebrate the Season

Hands-on Experiences at the Party Popper Tree

Information

Midtown Winter Lights

Running: November 17 – December 25, 2022

Venue: Midtown Garden, Plaza 1F

Light Hours: 17:00-23:00

*Some event times and details are subject to change.

Admission: Free

Sponsored by Netflix

Keyakizaka Lights, a Tokyo Winter Tradition, to be Held Again in 2022

From November 11 until December 25, 2022, Roppongi Hills Christmas will cover Tokyo in glittering lights once again. The Keyakizaka Lights, one of Tokyo's most popular winter attractions, will also take place in 2022, with the 400-meter-long Keyakizaka street covered in over 800,000 blue and white LED lights.

For the first time in three years, the Mohri Garden will be covered in lights as well. The annual Christmas market will invite guests to experience an authentic German Christmas, and Christmas cakes and gourmet food unique to Roppongi Hills will be for sale. 

The Roppongi Hills Christmas event utilizes LED lights and has done so since the first event was held in 2003. Clean power will be used again this year, and the lights will be switched on from 5 PM until 11 PM each night. 

Information

Roppongi Hills Keyakizaka Lights

Running: November 10 – December 25, 2022 *Daily from 5:00 – 11:00 PM

*Lights may begin at a different time on November 10 only.

Location: Roppongi Keyakizaka Street

Official Site: https://www.roppongihills.com

Universal Studios Japan Announces NO LIMIT! Christmas Event

From November 11, 2022 until January 9, 2023, Universal Studios will hold its NO LIMIT! Christmas event!

Christmas is associated with romance for many in Japan, but this year, USJ wants to give visitors a new way to celebrate this special winter holiday. Under the theme of a 'Red Hot Christmas,' this super-energetic event is sure to be the most exciting Christmas event on the scene this year.

This year, the Crystal Christmas tree will make its return this year after a 3-year hiatus. The tree broke the Guinness World Record for nine consecutive years from 2011 to 2019 for the World's Most Illuminated Tree. In 2019, the tree had 591,850 lights and also received Guinness certification for the World's Largest Christmas Snowflake Ornament.

The Super Nintendo World area will be decorated for winter for the first time in 2022, while Minions and other popular characters will appear in special Christmas costumes. Limited-time food and merchandise will be available as well. 

 

An Exciting Christmas Experience for All Five Senses! The NO LIMIT! Crystal Tree

NO LIMIT! Crystal Tree

This year, the Crystal Christmas tree will make its return after a 3-year hiatus with a totally new look! Guests will be bathed in colorful lights and visitors won't want to miss taking a photo with this magnificent sight. 

*On October 28, 2019, the tree won the Guinness World Record for Most Lights on an Artificial Christmas Tree with 591,840. 

The Spectacle of Lights, Complete with Heart-Pounding Music

NO LIMIT ! Christmas

During the event period, the Spectacle of Lights will be held in Gramercy Park. 

The entire area around the Crystal Tree will be completely transformed, and the space will feature projection mapping and countless lights. The blend of Christmas music fused with the magical lights will create a moment you'll never forget.

Super Nintendo World to be Decorated for Winter!

Super Nintendo World's Winter Decorations

Super Nintendo World, the newest area in the park, will feature winter decorations for the first time in 2022. At the entrance to the area, Super Star Plaza, guests will be greeted with a giant gift box and Mario and Luigi-themed snowmen. 

Guests will find wreaths and garland decorating Peach's Castle, along with another Christmas tree decorated with iconic Nintendo characters and items. 

Limited Time Greetings and Stage Shows

Limited-Time Special Greeting & Stage Shows

Guests won't want to miss meeting their favorite characters while they're dressed in holiday outfits! A special meet and greet will be held for children and adults to join the Minions for a special winter celebration. 

Hello Kitty's Christmas Happiness with the Happiness Brass Band

Hello Kitty's Christmas Happiness with the Happiness Brass Band

Hello Kitty and the Happiness Brass Band will perform Christmas music multiple times a day, so families are invited to sing and dance along while getting into the Christmas spirit! You won't want to miss Hello Kitty in her special winter wardrobe.

The Peacock Theater's Popular Universal Party–Reimagined for Christmas!

In 2022, Universal Studios Japan will introduce Universal Party ~ The Showtime & Taste of Christmas. This dinner show requires a separate ticket and will offer some incredible entertainment and menu items. The experience will be held at the Peacock Theater on select days during December 2022.

*A Studio Pass or Annual Pass is required to enter the park. 

WIZARDING WORLD and all related trademarks, characters, names, and indicia are © & ™ Warner Bros. Entertainment Inc. Publishing Rights © JKR. (s22)

Minions and all related elements and indicia TM & © 2022 Universal Studios. All rights reserved.

© Nintendo

TM & © 2022 Sesame Workshop

© 2022 Peanuts Worldwide LLC 

© 2022 SANRIO CO., LTD. APPROVAL NO. EJ2091601

TM & © Universal Studios & Amblin Entertainment

TM & © Universal Studios. All rights reserved.