Tokyo Station's Top 10 Edible Winter Souvenirs as Chosen by Station Staff
There is just a month and a half left of 2019, with Christmas, the winter holidays and New Year celebrations right around the corner.
Tokyo Station City has compiled a list of must-grab food-related souvenirs and gifts at Tokyo Station. If you've ever visited Tokyo Station, you'll know that you can be spoilt for choice from the amount of goodies you can get your hands on. The list is based on the votes of 305 station staff members working at Tokyo Station who have voted on their Top 10 most recommend souvenirs to pick up this winter.
The staff members went around the shopping area and taste-tested different edible souvenirs across an 8-day period. Their early thoughts as they went down the list were how delicious or unique things were, but they soon began to take it more seriously to consider things like price, how easy an item was to carry and transport, and what certain people might like in particular.
If you're travelling to or from Tokyo Station during the holiday season, be sure to bookmark this list so you know what to buy for on the flight back home!
1st Place
Rakumadoka @ Terra Saison (GRANSTA) – 5 Set ¥1,080 (Tax Included) / 8 Set ¥1,728 (Tax Included)
This cheesecake is like a cream cheese-stuffed souffle-like sandwich. Branded with the words "Gin no Suzu" (a place in Tokyo Station) and "Tokyo," this seasonal product is exclusive to Tokyo Station. In December last year, they sold over 1,500 in a day.
2nd Place

Mount Baum Kuchen @ Nenrinya (Meihinkan) – ¥1,080 (Tax Included)
With its French bread texture, this delightful treat has a fragrant scent, is moist, and is simply delicious. It has a rich buttery taste and is baked slowly to perfection.
3rd Place
Shinjuku Curry Arare Ebi @ HANAGATAYA (GRANSTA) – 6 Set ¥600 (Tax Included)
This rich curry snack is made by Shinjuku Nakamuraya, and has a light melt-in-the-mouth texture with spicy curry seasoning and shrimp flavour. The shrimp flavour comes from a mix of shrimp powder and shrimp oil. The mix of curry powder and spices gives it a really authentic curry taste.
4th Place
Tokyo Vegetable Rice Crackers @ nomono (GRANSTA Marunouchi) – 12 Set ¥950 (Tax Included) / 18 Set ¥1,598 (Tax Included)
An assortment of rice crackers with three different flavours: great burdock, onion, and pumpkin. They have a set of 18 too which is perfect for handing out to lots of people.
5th Place
Maple Pie Sandwich @ The Maple Mania (GRANSTA) – 8 Set ¥1,944 (Tax Included)
Coated in caramel, this crunchy pie is made with a cream laced with maple sugar. Exclusive to Tokyo Station, the packaging design for this dessert is made with souvenirs in mind as it's made so it's easy to carry and take around with you.
6th Place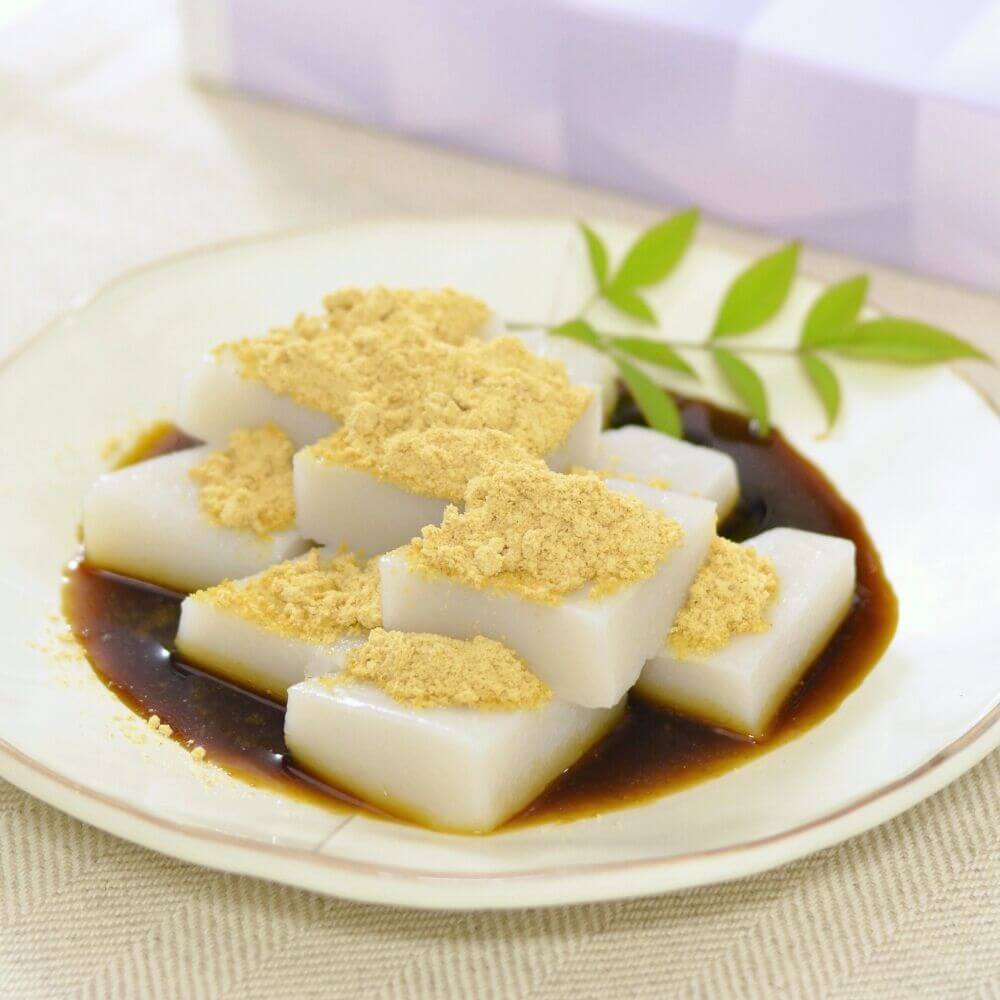 Kuzumochi @ Funabashiya Koyomi (ecute Tokyo) – 24 Cut (Serves 1-1.5) ¥790 (tax Included) / 36 Cut (Serves 2-3) ¥895 (Tax Included) / 48 Cut (Serves 4-5) ¥1,200 (Tax Included)
Funabashiya's kuzumochi is made with wheat starch that is fermented over a 450 day period before being cooked. It claims to be "the only fermented Japanese wagashi confection." Since it is fermented over such a long period of time, it takes on a unique flavour and elasticity.
7th Place
Cheddar Cheese Pie Sandwich @ Tokyo Milk Cheese Factory (ecute Keiyo Street) – 6 Pack ¥1,620 (Tax Included)
A crunchy pie filled with an addictive cheddar cheese cream. Exclusive to ecute Keiyo Street.
8th Place (Joint)
Premium Cacao Full Shortbread @ HANAGATAYA (GRANSTA) 8 Set ¥648 (Tax Included) / 18 Set ¥1,350 (Tax Included) / 27 Set ¥2,052 (Tax Included)
This is a premium edition of the store's Cacao Full Shortbread, made using the methods used to make the chocolate brand Merry Chocolate. The crunchy texture and full-bodied flavour of the cacao has been left as it is, while a few things have been added to make it a little more luxurious: French sour cream butter, strawberries, and raspberries.
8th Place (Joint)
Yaoki Senbei @ Mankaso (Meihinkan) – 16 Set ¥1,080 (Tax Included)
These plump senbei rice crackers are made with 100% domestic rice and come in six different delicious flavours: agodashi soy sauce, salted, shrimp, seaweed, plum and coarse sugar, and chirimen pepper.
10th Place
Tartlette Neuf @ le billet (ecute Tokyo) – 6 Pack ¥1,728 (Tax Included) / 9 Pack ¥2,592 (Tax Included)
la billet make their own tarts, and this assortment comes in a variety of flavours. Exclusive to Tokyo Station. A great option as a gift for meeting a business in Japan.
Which of these looks most tempting to you? Let us know on Twitter or Facebook!
RELATED ENTRIES
Official Chiikawa Store Opens on Tokyo Character Street

The official Chiikawa store, Chiikawa Land Tokyo Station, will open on September 16, 2022 on Tokyo Character Street beneath Tokyo Station!






Chiikawa is a popular character created by Japanese illustrator Nagano on Twitter. In December 2020, the character's official online store, Chiikawa Market, was opened, and the many comics featuring the character posted on Twitter were compiled into a book. Now with a massive fanbase, Nagano's follower count on social media has reached 1.3 million, and a number of collaboration cafes and exhibitions featuring his characters have popped up around Japan. Chiikawa even has his own anime series broadcast on Mezamashi TV!

Purchase Bonus

One Hologram Sticker included with each purchase.

Manmaru Bottled Water with each purchase of ¥3,300 (Tax Included) or more

Small Plushie Friends (6 varieties) with each purchase of ¥8,800 (Tax Included) or more

Not for Sale / Limited Quantities Available

Chiikawa Land Shopping Bag (4 varieties)

Chiikawa Land Tokyo Station Exclusive Items


Layered Acrylic Stand / Smartphone Ring

Square Magnet

Clear Folder

Washi Paper Sticker in Smartphone Size

Printed Card

Large Face Towel / Bath Towel

Towel (Set of 3)

Large Tote Bag

Cookie Set in Cube Box

Salt (Set of 5)

Japanese Paper-style Pin in Capsule (12 varieties)

Commemorative Opening Stamp

The Harajuku and Umeda, Osaka Chiikawa Land stores, which opened last August, have seen massive success. In June 2022, the Fukuoka PARCO store opened, followed by the Kyoto Shijo Kawaramachi store in July. In August, the limited-time Magical Chiikawa store opened on Tokyo Character Street, and due to its massive popularity, it will now be permanent.

The Chiikawa Land Tokyo Station store features special commemorative products using newly-drawn illustrations, including exclusive purchase bonuses and exclusive shopping bags.

©nagano / chiikawa committee

Information

Chiikawa Land Tokyo Station

Opening Day: September 16, 2022

Tokyo Station Hotel to Offer Accommodation Plan in Conjunction with the 150th Anniversary of Railway in Japan Exhibition

Starting on October 8, Tokyo Station Gallery will begin the 150th Anniversary of Railway in Japan Exhibition. To celebrate the opening of the event, Tokyo Station Hotel will begin offering a special lodging plan which includes a special ticket for entry starting September 15. 

2022 marks the 15th anniversary of Japan's first railroad. The exhibition will look back at the history of railroads from their inception in 1872 to the present day, and will also feature modern and contemporary Japanese art.

 

Over 150 works will be on display, from oil paintings to photographs. The exhibition will also include Kawanabe Kyosai's Jigoku Gokuraku Meguri-zu and Utagawa Hiroshige's masterwork Steam Train Running Along the Shore at Yokohama. The train headmark was designed by Katsuhiko Hibino in 2021.

 

The accommodation plan will include a special tour held on the morning of check-out day before the gallery opens to the public. Visitors can enjoy the exhibition in depth while listening to explanations by the curators who planned the exhibition. After the tour, visitors can enjoy the exhibition again. The special ticket features Utagawa Hiroshige's painting Steam Train Running Along the Shore at Yokohama and is perfect as a souvenir.

Enjoy a rare moment surrounded by the historic architecture of Tokyo Station's Marunouchi Station Building and immerse yourself in the history of the railroad.

Chiikawa Store to Open for Limited Time on Tokyo Character Street

From August 19 until September 1, a special Chiikawa shop will open on Tokyo Character Street, located inside Tokyo Station!

Chiikawa is a popular character first revealed by Japanese illustrator Nagano on Twitter. The artist's creations have become massively popular, with Nagano's follower count on social media reaching over 1.2 million fans. From collaboration cafes and exhibitions to a recent anime series, the sky's the limit for these adorable characters!

Commemorative Stamp

Purchase Bonus: Holographic Card (6 varieties, random) *Not for Sale

Bonus for Guests Spending ¥3,300 (Including Tax): Heart Fan *Not for Sale

Bonus for Guests Spending ¥8,800 (Including Tax): Bath Towel (2 varieties) *Not for Sale
*Available while supplies last.

Exclusive Merchandise

At this limited-time Magical Chikawa shop, fans can find exclusive products featuring new illustrations, as well as special purchase bonuses and commemorative stamps for guests!

©nagano / chiikawa committee

Popular Character Shirotan Inspires Limited-Time Store at First Avenue Tokyo Station

Tokyo Character Street, located within First Avenue Tokyo Station, has opened a special pop-up shop dedicated to the popular character Shirotan! The store will be open until May 26, 2022. 

Shirotan, an adorable harp seal, represents "comfort, healing, encouragement, and connectedness." 

Aiming to cover Tokyo Station in this cute and inspiring character, the pop-up shop isn't the only Shirotan appearance going on. Those strolling from the Nozomi Plaza in front of the Yaesu Underground Central Exit ticket gate towards Character Street will see Shirotan covering the walls, welcoming guests.

In addition to standard Shirotan products, fans can also grab 17 brand-new items being sold exclusively at the pop-up shop. 

 

The book Welcome to Shirotan's World will be available on July 7, so be sure to preorder!

Information

Shirotan's Fluffy Store
Address: First Avenue Tokyo Station (1-9-1 Marunouchi, Chiyoda-ku, Tokyo)
Open: May 13 – May 26, 2022
Hours: 10:00AM – 8:30PM (Closing at 6:00PM on May 26, 2022)

Chibi Maruko-chan 35th Anniversary Pop-up Shop Coming to First Avenue Tokyo Station

To commemorate the 35th anniversary of Chibi Maruko-chan, the Momoko Sakura Pop-up Shop will open from March 18 to March 31, 2022, at Ichiban Plaza on Tokyo Character Street in the First Avenue Tokyo Station mall.

The Chibi Maruko-chan manga series began in 1986, and was serialized in the popular shojo manga magazine Ribon until 2018. Written by Momoko Sakura, it tells the everyday life of the third-grade troublemaker Maruko and her family. The series is set in the Irie district in Shimizu, now a part of Shizuoka City, where Momoko Sakura was born.


 

About 40 never-before-seen items will be available at the shop with new illustrations by Momoko Sakura. From stationary to accessories, fans of the series shouldn't miss it!

Information

Momoko Sakura Pop-up Shop

Running: March 18 – March 31, 2022
Address: First Avenue Tokyo Station, Tokyo Character Street B1, Ichiban Plaza (1-9-1 Marunouchi, Chiyoda-ku, Tokyo)
Official Site: https://www.tokyoeki-1bangai.co.jp

Limited Time Shop Selling Items from Ise, Mie Prefecture Opens at Aobadai Tokyu Square

The Ise Shop, offering products from one of the most beautiful coastal cities in Mie Prefecture, is now open at Aobadai Tokyu Square in Aobadai Station, Yokohama, from February 2 until February 27, 2022. The store sells items that are usually only available in Ise!

Akafuku Mochi (8 pieces): ¥760 (Tax Included)/Akafuku Mochi(12 pieces): ¥1,100 (Tax Included)

The Ise Shop sells about 100 food items and other goods, but the most popular item by far is Akafuku mochi. Only sold on Saturdays, these treats are often sold out by the afternoon!

Available on February 19, February 26

ISE Cardamon Cola (720ml): ¥4,860 (Tax Included)

Traveling Ise Tea Assortment Pack: ¥900 (Tax Included)

Ise Shrine houses the guardian deity of food, so these foods and drinks on offer are extra tasty. ISE Cardamom Cola is a healthy soda that contains no added color, preservatives, or flavors. It includes a blend of over a dozen spices and lemons from Mie Prefecture. The tea assortment pack is made with tea leaves from Mie, which offer plenty of natural sweetness.

Nakano Yogurt: ¥216 (Tax Included)

This yogurt is made from Nakano Milk, which has been producing and selling milk in Ise since the Taisho Era. Served in a retro-style jar, it has a low acidity and is well-loved by the locals.

Ise Shrine Guidebook: ¥1,100 (Tax Included)

The shop also has a number of goods related to the famous Ise Shrine.

Ise Lululun (Tree Scented / 7 packs x 4 bags): ¥1,870 (Tax Included)

Hand Cream with Water from the Isuzu River (50g): ¥1,100 (Tax Included)

Ise Lululun is a face mask containing Sakaki leaf extract from Ise Sakaki trees. The moisturizing ingredients help brighten the skin. 

The Ise Shop also provides guests with information on sightseeing in Ise City! With travel still restricted due to the pandemic, this is a great way to feel as though you're getting away to this lovely seaside town.

Information

Ise Shop
Running: February 2 – February 27, 2022
Location: Aobadai Tokyu Square South Building 1F (2-1-1 Aobadai, Aoba-ku, Yokohama)

Hours: 10:00-20:00 (Closes at 18:00 on February 27)

*Business hours are subject to change.


Aobadai Tokyu Square Official Site: https://www.aobadai-square.com/

Vintage Furniture Exhibition 'Life in Art: Tokyo Modernism 2022' to Open at Three Venues Including MUJI HOTEL GINZA

Ryohin Keikaku, which operates the interior design brand IDÉE, will open the 'Life in Art: Tokyo Modernism 2022' exhibition from February 25 until April 10, 2022. Vintage stores and galleries from all over Japan that deal mainly with furniture from the 1940s to 1960s will come together to introduce audiences to exquisite designs from around the world. Shinichiro Nakahara and Takahiro Goko have organized the exhibition in an effort to spread the word about modern design in the golden age. The exhibition will be held in three parts, beginning with a showing at ATELIER MUJI GINZA and continuing to an auction at IDÉE Tokyo. The final exhibition will be held at MUJI HOTEL GINZA.

Modernism Gallery

This exhibition is composed of items from a number of unique galleries and stores. Intended to promote the beauty of mid-century vintage furniture and interior design, each piece will be introduced alongside stories from the original designers. 

Modernism Auction #Chairs

Store owners, creators, and artists participating in TOKYO MODERNISM 2022 will be auctioning off a selection of unique chairs during this unique event.

Modernism Show

About 30 galleries and vintage shops from around Japan will transform the guest rooms on the 7th and 8th floors of MUJI HOTEL GINZA into stores for this special show. This is the main event and will gather together masterpieces of modern design from the United States, Brazil, Scandinavia, and Japan.

Information

Life in Art "TOKYO MODERNISM 2022"


Modernism Gallery

Running: February 25 – April 10, 2022

Address: ATELIER MUJI GINZA (Muji Ginza 6F / 3-5-3 Ginza, Chuo-ku, Tokyo)

Free Admission

 

Modernism Auction #Chairs

Part 1: February 25 – March 16, 2022

Part 2: March 18 – April 10, 2022

Address: IDÉE TOKYO (Square Zero Area #48, B1F, Gransta Tokyo inside the ticket gates of JR Tokyo Station)

Free Admission: 

 

Modernism Show

Running: April 7 – April 10, 2022

Address: MUJI HOTEL GINZA 7F/8F Guest Rooms (3-3-5 Ginza, Chuo-ku, Tokyo)

Admission:
April 7, 17:00-20:00 / ¥5,000 (Tax Included) *Preview
April 8-9, 11:00-20:00 / ¥3,000 (Tax Included)
April 10, 11:00-17:00 / ¥2,000 (Tax Included)

Tickets: https://idee-lifeinart.peatix.com/

Official Site: https://www.idee-lifeinart.com/


Tokyo Gift Palette at Tokyo Station Selling Seasonal Strawberry Sweets

Tokyo Gift Palette, located near the Yaesu North Gate at Tokyo Station, offers a wide selection of unique souvenirs. From December 26, 2021 until January 11, 2022, the location will be holding the Exciting New Year's Fair, with the Strawberry Sweets Fair coming soon after from January 5 until January 25, 2022. 

Konigs-Krone Luxury 'Strawberry Parfait'


Patisserie Ginza Sembikiya 'Strawberry Omelet'


Strawberry Shop by FRANCAIS 'Strawberry Parfait'


*Only available at Tokyo Gift Palette
Tokyo Kaikan 'Reward Parfait ~Strawberry & Chestnut~

Strawberry Shop by FRANCAIS 'Fresh Strawberry Milk Cake'

Oosumi Tamaya 'Strawberry Daifuku'

Oosumi Tamaya 'Chinese New Year Daifuku'

Tokyo Kaikan 'Chocolate & Orange Tart' 

Paq & Mog Terrace 'Calbee and Tokyo Banana Bonito & Kelp Umami Dashi Potato Chips

The New Year's Fair will feature cute cakes and sweets inspired by the Chinese Zodiac, along with traditional Japanese goods. The Strawberry Sweets Fair will see a number of popular goodies on sale, including desserts that won top prizes in the 'Favorite Fruit Survey' conducted by Tokyo Gift Palette on Instagram in June 2021.

Tokyo Michi Terrace 2021 Event to Illuminate the City's Marunouchi Area

East Japan Railway and Mitsubishi Estate Company are teaming up for Tokyo Michi Terrace 2021, a special light-up event being held at Tokyo Station from December 14 until December 25. This year's theme is 'Scenery at Dawn,' and was inspired by the phrase 'after the night comes the day.' 2021 was another difficult year for people around the world, and this event signifies the dawn of a new era. 

The Tokyo Station Marunouchi Station Building, the trees in the Station Square, and the trees along Gyoko-Dori Avenue will all be decorated with lights that gradually change color. Hopefully, 2022 will be an easier year!

2021 Event Theme: 'Scenery at Dawn' 

After all of the hardships of the year, Christmas 2021 will be the dawn of a new era. 

Tokyo will give citizens and guests a beautiful moment illuminated with the morning sunlight.

Information

Tokyo Michi Terrace 2021 

Running: December 14 – December 25, 2021

Hours: 15:00-21:00

Location: Tokyo Station Marunouchi Station Building, Tokyo Station Marunouchi Station Square, Gyoko-Dori Avenue

*Event period, hours, and contents are subject to change. 

*Content may be altered or canceled due to various circumstances. 

Tokyo Revengers Characters Speak Local Dialects on New Posters Across Tokyo Station

Starting September 13, characters from the popular anime series Tokyo Revengers are taking over Tokyo Station in a unique new poster campaign! In addition to one main poster featuring all main characters, 47 local posters–one for each Japanese prefecture–are being displayed throughout the massive train station, with characters speaking in local dialects to promote different areas of Japan. For those learning Japanese, this is a neat way to learn more about the unique vocabulary used throughout the country. 





A fun Twitter campaign is also underway, asking fans to tweet #オレの地元が最強 (#MyHometownIsTheStrongest). The special prize will be a B0 Japan Revengers poster, given to only one winner, with the remaining 47 winners able to snag a B2-size poster. 

A special advertisement for Japan Revengers will appear in the morning edition of the September 17th edition of the Asahi Shimbun newspaper. Additionally, to celebrate the release of the 24th volume of the Tokyo Revengers manga series, those who purchase the new volume will receive one randomly-selected 47-prefecture illustration card during the in-store campaign.

Be sure to check out which prefecture your favorite character is repping! 

Tottori Prefecture's White Rabbit of Inaba Wins Top Prize in Japan's Indie Souvenir Contest

From July 29 to August 11, over 320,000 people from around Japan voted for their favorite lesser-known local souvenir. Sponsored by Japanese e-commerce site Mercari, the contest highlighted 47 unique goods from around the country, one for each prefecture. The winners have been announced, and the White Rabbit of Inaba from Tottori Prefecture has won first place, receiving more than 60,000 votes.

A music video-style web commercial featuring the winning product is now being produced to support the shop and particular region of Tottori. The music will be performed by electro-pop group Frasco.

In Japan, the rabbit is known for bringing good fortune, and has been a beloved symbol since ancient times.  The white rabbit in particular, featured in the local Izumo myth 'The White Rabbit of Inaba,' plays a major role in connecting the characters Onamuchi-no-kami and Princess Yakami. In 1968, the famous confectionery 'White Rabbit of Inaba' was created in the hopes of bringing good luck to those visiting the area.

Much like how an indie music group has a small group of hardcore fans but may not be well-known outside of small circles, these indie souvenirs are popular with locals, but may not be known to those outside the community. On the official website, fans can see their favorite treats displayed on what looks like album covers as an homage to this fitting comparison.

On social media, there was incredible support for the project from all kinds of people: those who made the souvenirs in the first place, those who love their local area, and those who were seeing these treats for the first time and dying to try them.

Which of the 47 souvenirs would you be most happy to receive?

Special Area for Doraemon Tokyo Banana Opens in JR Tokyo Station

Popular souvenir brand Tokyo Banana is celebrating 30 years! These tasty treats are a must-buy for those visiting Japan, and now, a familiar face will be popping up at a special area in the JR Tokyo Station Tokyo Banana shop: Doraemon Tokyo Banana Tokyo Station opens on August 6, 2021. Our favorite blue robot-cat just turned 50 in 2020, and this is the perfect way to celebrate!

Doraemon Tokyo Banana 'Found it!' 

Shop Image

Package Design

The Doraemon Tokyo Banana is a fluffy, gluten-free sponge cake. Created to celebrate the original creation of these dreamy sweets, the special Doraemon Tokyo Banana Tokyo Station area is now open at JR Tokyo Station. Adorned with various super cute designs, you'll also be able to find these treats at convenience stores across Japan!

Visitors will also be able to purchase a special gift box, complete with a gently smiling Doraemon design. The box contains eight Tokyo Banana sweets, and is perfect as a souvenir for family and friends–or even for yourself! The sweets within are decorated with random Doraemon designs, so you'll have to open the box to find out which ones you got! This item is sure to bring joy to all Doraemon fans both young and old.

A two-pack Doraemon Tokyo Banana will also be available. Three different Take-copter varieties and three different Anywhere Door varieties will be on sale, each with uniquely adorable designs to make you want to collect them all. Be sure to check out this special area, and pick up some memorable gifts!

(Please note that the shop has certain quantities of each package, and not all packages may be available depending on the date.

This product is manufactured in the same facility as products containing wheat flour.)

©Fujiko-Pro,Shogakukan,TV-Asahi,Shin-ei,and ADK