Interview: Go! Go! Curry President Hirokazu Miyamori & Sakura President Toshiaki Yuasa Discuss Progressive Innovation and Generating Added Value
Kanazawa, also known as Kaga Hyakuman-gokuーan old name with a long history that originally marked the city's tradition of wealth, and can also be used to refer to anything that is quintessentially Kanazawa. Capital of Ishikawa Prefecture, the city of Kanazawa is known as a place rich in art and traditional culture, and enjoys no shortage of popular tourist and sightseeing spots. At the core of all of this is the creative mind of the Kanazawan people from which these things have formed. We had the chance to speak with two company presidents, both of whom were born in Kanazawa: Hirokazu Miyamori of GO GO CURRY GROUP CO.,LTD., and Toshiaki Yuasa of Sakura Inc.
The interview was carried out at the Show House Gallery at Sakura Inc.
ーーーMr. Yuasa, this is a really wonderful place, isn't it? I'd like to begin the interview by asking for a brief explanation of each of your companies.
Yuasa: Thank you very much. My name is Yuasa, and I work at Sakura. We are a company specialising in custom housing, and have done so for the past 26 years since establishing. We centre on the Ishikawa Prefecture area, but also have galleries in Toyama, Gifu, and Kyoto.
Miyamori: I'm Miyamori, and I work at Go! Go! Curry Group. We opened the first Go! Go! Curry branch in Shinjuku in May 2004. We specialise in curry and sell pre-packed curry products. Today, we have restaurants not only in Japan, but America, Brazil, and elsewhere too.
ーーーIf I'm not mistaken, you were both born in Kanazawa, correct?
Miyamori: Yes. I've had "The Nation of Kaga Hyakuman-goku" chiseled into my head since I was small. I didn't know what it meant back then, but after I travelled to Tokyo and went overseas, I realised how beautiful a place Kanazawa is for its history, traditional arts, and culture. Those two characters* had more meaning than I thought. They have weight, are a brand, and contain soul and spirit.
*Referring to the Japanese reading of Kanazawa, "金沢."
Yuasa: It's just as Mr Miyamori says. I feel a yearning when hearing the word Kanazawa. I believe anyone and everyone there has an interest in its traditions and culture. And that's because Kanazawa is a region with history, with style.
Miyamori: From being a young age, it's been normal to know and have artisans around you. For instance, you go to someone's house, and their father would be a yuzen fabric weaver. When we would go on field trips, we would go to facilities specialising in traditional crafts, go to see a Noh play at a Noh theatre, get involved in various cultural and seasonal events. But these days, those kinds of things aren't as tied to people anymore. It's something I realised by going outside.
ーーーーI feel like I now understand a little more the reason behind why there are so many creative people in Kanazawa. Both of you are founders, correct?
Miyamori: When I was 20, I went to New York. I said to myself that I would definitely go back there again. It was a dream of mine. But I ended up forgetting about it when I became a member of society. One day, I saw that a local [baseball] player and star transferred to the New York Yankees. I was so happy hearing that, and at the same time I remembered, "Oh yeah, I went there one time too." I had no intention of opening a curry shop or becoming a company president. I just wanted to go to New York.
Yuasa: I completely get that <laughs>. I worked for a local company for 15 years, and had some unexpected luck which led to what I'm doing today. I established the company in the latter half of my 30s, but at the time I really had the same kind of authority that Mr Miyamori has <laughs>. Being young is scary in a sense. 'Management' has a generational appeal to it, but Mr Miyamori is young, so I think he's got much more to offer yet!
Miyamori: Haha!
Yuasa: When I look at Mr Miyamori here, I can tell he's really close with his staff. Do you wear this uniform in Tokyo, too?
Miyamori: I do. I go about like this on the bullet train and plane too! The people in New York get me pretty well as well.
Yuasa: I bet! <laughs> You're a man of nerve.
Miyamori: We're a team, so even at this moment in time, my heart is connected to the hearts of all my hardworking staff across the country. They wear the same thing too. I don't think of myself as a company president or an employee. I think I'm more of a captain.
ーーーーTell me about how you're putting strength into each of your businesses today.
Miyamori: Up to now we've focused our efforts on opening more stores, but now we're pouring our energy into building our brand. We now have consignments not only for Go! Go! Curry, but Turban Curry, Hot House, and Samrat too. And all of these brands have real soul. That's why I don't only want to open restaurants. I also want to sell pre-packaged curry and curry for business use, as well as polish our brand to attract more customers.
Yuasa: I too am putting the majority of our attention into our brand. Branding involves a lot of things, like the image our customers have of us, and putting value in various different things, and by not responding to that structure when running a company, I believe there is no future for you. It's difficult to find the right words to convey to customers who are particular about things, but is that feeling that the customer has not important?
Miyamori: You've got to show them, don't you?
Yuasa: That's right. There are many things here in this gallery like that which have added value, but even if I were to put them into words it would be difficult to get through, so I want to actually show them by preparing land and buildings. By adopting new things people have never seen before in properties, it adds value for customers so they don't see it as just a building. To do that, it's important to keep our eyes open and always work on innovating. If you want to innovate, but don't have a clear vision or concept, your mind will become clouded before you can achieve it. And even when you do, every day is still a struggle.
Miyamori: Everyday, that's for sure. <laughs>
Yuasa: Speaking of which, I'm the only impatient one. I leave it to my employees. Akira Yoshino, who won the Nobel Prize [in Chemistry] this year, also said it was for research for the generations of young people to come. He was right.
Miyamori: If there's no challenge, there's no growth, and it's not fun. It's blood, sweat and tears. I'm taking part in the next Kanazawa Marathon, and training for it has been really tough.
Yuasa: You'll be running in that uniform, right? You're sure to stand out from the crowd!
Miyamori: The people along the roadside cheer you on. That's a huge source of strength. I can only relax once the run is over. That sense of accomplishment when you reach the goal is difficult to put into words. I want young people to experience this same feeling.
Yuasa: That sounds really good. If one of our workers signs up for the Kanazawa Marathon, I wonder if they'd be able to borrow a uniform from you?
Miyamori: If you've got someone who'd bear the responsibility of our company I'll be sure to cheer them on! The people being cheered on, too. Even if it looks like you'll be crushed, you keep at it. You'll make bonds in the company. It's the same with managing too. It's tough to keep going, but when you achieve that goal, all of those troubles and hardships disappear in an instant.
Yuasa: It's a cycle of achieving, and then aiming toward your next objective.
Miyamori: You completely forget about the troubles, don't you? <laughs>
ーーーI see. And do you ever feel a sense of fulfilment at work?
Miyamori: It makes me happy when the customers call the curry we serve delicious. Other things too, like our curry being the first curry a child has ever eaten, or a family coming together again over it. We distribute curry to disaster-stricken areas, so we're happy if we can become a source of energy for people too. I feel happy when our workers set high goals, we achieve them and grow from it, too.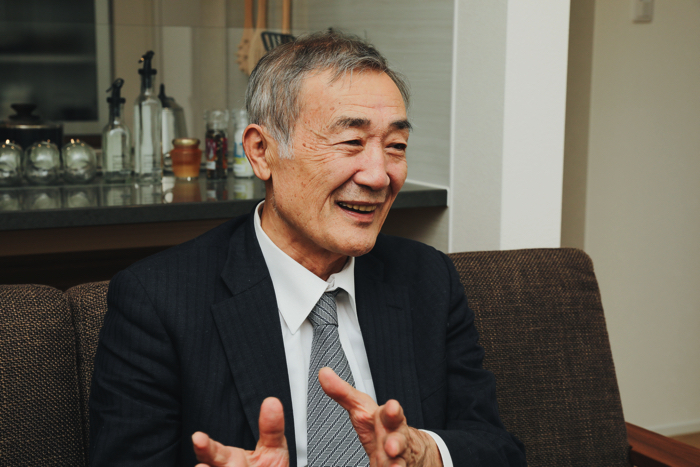 Yuasa: It really makes me happy when I meet with a customer who bought a house from us a year later and they say that it's a really great house. A house isn't something you go and buy multiple times, so I feel relieved when they are satisfied. And although we're a small company, I'm happy I can leave it to my staff so that they can grow. Because they try and they move forward, then the future will open for them. And with that, it's the responsibility of the company president to bring about results from their hard work. Managing such a task is a tough job alone, but that's what being a company president is. And if you don't have that, you'll fail.
Miyamori: I get that. You've got to pour in blood, sweat and tears if you want to grow. If you don't go all out, you're not going to sweat. You will grow greatly if you continue to go all out with everyone involved and achieve a monumental goal.
ーーーYou both have warm feelings towards your staff and workers, don't you?
Miyamori: They feel like my own children. So it makes me really happy when they get married, have kids, and build a home.
Yuasa: That's true. And also, if your company doesn't grow, you can't continue to exist. It's important to always look towards growth and strive with everyone.
ーーーFor my last question, I'd like to ask you about your visions for the future.
Miyamori: Curry will save the planet! I'm aiming for the world with curry! For instance, if we were talking about ramen, and someone asked me which is more deliciousーeating ramen at a restaurant or at homeーI'd say eating it at a restaurant. But when it comes to curry, your mother's is the most delicious. Basically, the curry you eat out isn't growing or improving. Just like how Starbucks serves delicious coffee all around the world, I also want to serve delicious curry around the world.
Yuasa: Your vision is really easy to understand <laughs>.
Miyamori: Curry is actually a delicious form of Chinese food therapy. We can divide up allergies, so we make it delicious for everyone from children to the elderly. Also, when you eat curry, your bowel warms up, so with curry you can also look at increasing healthy life expectancy, building immunities, and fighting cancer. This curry is a Nobel Peace Prize meal! How about you, Mr Yuasa? What are you looking towards for the future?
Yuasa: I want to build a company that tackles problems faced by customers, like adding value to buildings by making them earthquake-proof and lowering electricity costs, as well as seeing how to incorporate that into housing. Our customers are valuable so we're seeking value. We want to make lots of houses that answer the question, "How can I live happily in this house?" I believe how people live happy lives in a house changes generation by generation, so I want to catch onto that and keep up with the times.
Miyamori: You really are a company president, Mr Yuasa! I don't even think of myself as well, and I don't think my employees do either <laughs>. But it's amazing how much thought you're putting into ways of living, and I think that's wonderful.
Yuasa: Thank you. Before I met you, I thought you were a nonstandard person, but after listening to your story today, and seeing you in that uniform, my opinion has changed to conviction. It's not everyday something like the Nobel Prize comes into conversation <laughs>. I believe things will get better for both yourself and your employees!
Curryーand property. Two completely different worlds, but two company presidents hooked on innovation and growing their brands. Their ambitions and warm feelings they have towards their staff will encourage the people they work with and pave the way for new challenges brought about by adding new value to their companies. The day when the people of Japan are living in their wonderful Sakura homes and eating delicious Go! Go! Curry in them may already be on the horizon.
Interview & Text: Yuki Yokoo
Photographer: pon
Translator: Joshua Kitosi-Isanga